Unfortunately, despite being in one of the furthest away C gates, we didn't get a buggy ride. I have no idea what the buggy criteria are for TG F but I will say this, I've more often had to walk than take the buggy with this airline that is so famous for always providing them to First Class passengers…
As I headed down the jet bridge a flutter of anticipation formed in my chest. Any of you who've flown TG in the past will know why. Last minute equipment swaps – TG is legendary for them. Given how different the various First Class products are, an equipment swap can make for a very unpleasant surprise.
You can imagine my relief and delight when I stepped on board to see the new 'suites'.
There was a pair of off-brand noise cancelling headphones waiting for me in one of the seat pockets. They were ok but certainly not as high quality or comfortable as Bose (even if the case looks similar)
I love how there are two conveniently located USB ports so that you can charge a phone or camera whilst still being able to operate the screen
Even more storage space, as well as a universal power socket for the more power hungry appliances you may have

Despite being quite new, the seats are showing some signs of wear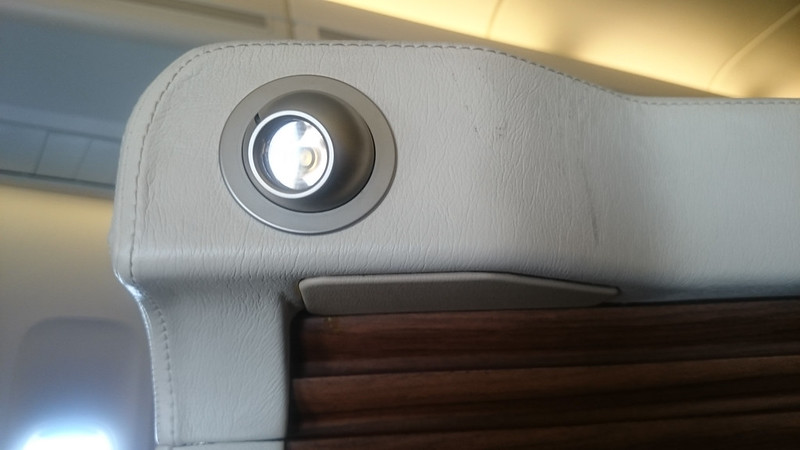 Even without the logo on the headrest, you would never confuse this colour combo for anything else. Unmistakably Thai

After takeoff the FAs came around offering more drinks, more warm nuts and some small canapés

Crunchy and salty. In no way exciting but perfect to entertain you whilst you are sipping on Dom

I had already pre-ordered my meal online but I had a quick look through the menu, just in case something really exciting grabbed my attention

I was asked by an FA if I was happy with my pre-order choice or if I'd like to change or add anything. I said that I was happy with the meal but would like to start with the caviar. "No problem", he said. Soon enough he returned with what is quite possible the coolest thing that still happens in commercial aviation today.
Don't get me wrong, suites are cool. Showers are cool. But we all sleep and shower every day. Yes, it's nice to have those things on a plane but in and of themselves they aren't recognisably luxurious outside of an airplane cabin.
You know what is luxurious? A silver trolley draped in freshly starched linen, being wheeled over to your seat and used as a base of operations to deliver a delicious plate of caviar and garnishes to you. That's luxurious even on the ground. On a plane, in this day and age, it's amazing.

K also taking the opportunity to snap pics

Happy face

This is how I like my caviar, served Black and White. In my opinion, adding egg yolk and onions is like adding coke to a dram of Lagavulin.

I resisted the temptation to eat this whole thing although I did have a cheeky bite of the garlic bread at one point. I love how much variety of textures and flavours there is here.

The First Course: Tiger Prawn with Pressed Tomato and Pesto Sauce. This was tepid, slightly bland and mostly unmemorable.

In the past I've ordered Lobster Thermidor on TG and not been massively impressed. On SQ it is a dish which can be a little bit hit or miss. I get that freshly cooked lobster is delicious and can be expensive, so it seems a waste not to order it. However, over time I've come to realise that the best airline dishes are usually slow cooked. If sous vide is good enough for the top Michelin starred kitchens in the world, it's a safe bet that this heating method is going to be ok in the air.
To that end, I ordered one of TG's exclusive set menus. Let me cut to the chase. The whole thing was fantastic. As in: Thai Airways ought to be famous for having this in First. The cornucopia of authentic Thai dishes that I was presented with was truly fantastic. In my opinion, having numerous different dishes to pick and choose from is far more of a luxury on a plane than being served a single (often rubbery) crustacean.
Tom-Khlong : Dry fish in a spicy soup. Tender and delicious.

Beef Massaman. Heavy on the beef and light on the potato, exactly the way I like it. This beef must have been cooking for over a day, it disintegrated in a similar way to the best Boeuf Bourguignon.

Stir fried Gourd and Egg served with Thai Hom Mali rice. I left the rice but was psyched to be getting yet another serving of protein!

The tables in TG F are a great size, no issues with real estate despite having numerous glasses, condiments and a bread basket in addition to the many main courses

After all of that I wasn't feeling up to the task of eating the coconut milk ice cream with peanuts but found it very hard to resist at least getting some fruit, from the cheese trolley. I was fortunate enough to spend a few days in France every summer as a child and still equate the cheese trolley with those childhood memories, of amazing culinary experiences.
Great selection of fruit too: Rose apple, dragon fruit and pomelo

I finished the meal off with an intensely rich and syrupy espresso. It didn't have a crema but tasted great nonetheless

After that enormous meal I had a bit of a nap but woke up after 2 hours or so. I find it best to get a little bit of sleep in when headed West from Asia. That way I don't accidentally fall asleep too soon when arriving into London in the early evening.
At that stage I got into one of my favourite headspaces. Deeply satisfied, comfortable and quite full of food with 8 hours of the flight still ahead of me. I spent the time listening to music with the moving map on the screen, whilst drinking coffee, sunbathing, writing trip reports and watching the world go by. Perfection.

Around two hours before landing the second meal was served. This was not quite as spectacular as the lunch (which, given my still full stomach, was a blessing in disguise).
The starter: Mini Timbale of Tomato and Mozzarella with Peppered Beef Bresaola. This was pretty good.

Boiled Chicken Coconut Milk Soup Thai Style. Excellent, the only dish as consistently good as a soup, on a plane, is a spicy soup. Bonus points for the birds eye chillies, lime and coriander on the side.

I couldn't resist having one last Pad Thai before coming home. Thankfully this one was not bad, although given how long it had been stored for, the noodles were beginning to stick together.

K snapped a picture of her main course: Beef with Eggplant in Green Curry. Definitely a smaller portion than the beastly bowls that I was served at lunch.

This was served with steamed Thai Hom Mali rice and a Thai style omelette

Finally, we decided to skip a heavier dessert and instead split the Thai dessert sampler. These are nowhere near as sweet as western desserts and can be something of an acquired taste. I'm happy to say that I have acquired this taste and these desserts totally hit the spot! A great end to a fantastic flight and an amazing holiday.

The equipment often gets switched at the last minute. The buggy service at BKK is completely hit and miss. There are no OTT amenities like enclosed suites, showers or a bar (even on their A380).
Hearing the clunk as the landing gear descends, the wind howling against it – then watching as the earth rushes back into focus, the might of the elegant beast thudding down onto a wheel only a couple of metres beneath you. There's nothing like it. Nothing like it at all.