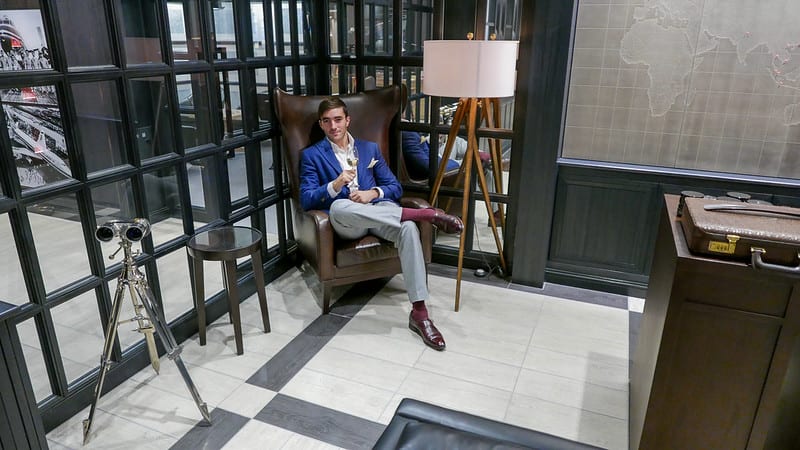 REVIEW – JAL First Class Lounge, Tokyo HND (October 2015)
October 18, 2016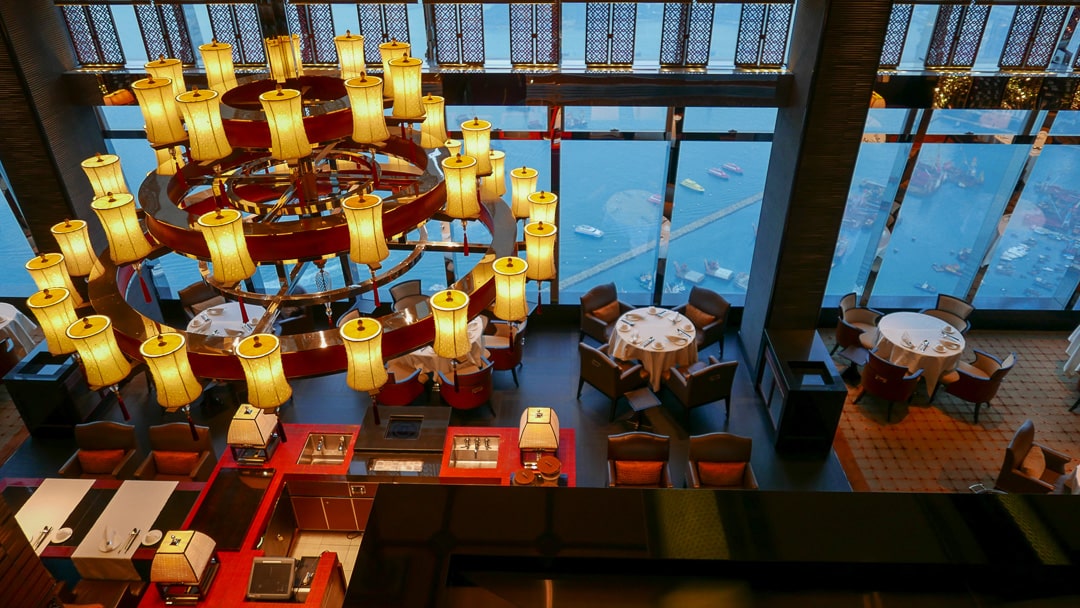 REVIEW – Ritz Carlton Hong Kong
October 18, 2016
Cathay Pacific (CX)
Flight: CX 543
Class: First
From: Tokyo (HND)
To: Hong Kong (HKG)
Duration: 4hr35
Aircraft: Boeing 747-400
Seat: 1A
Total Cost: Europe to Asia for 100k US Airways Miles in First/ Business

Full route: LHR-HND-HKG-CGK-NRT/HND-HKG-LHR

Date: October 2015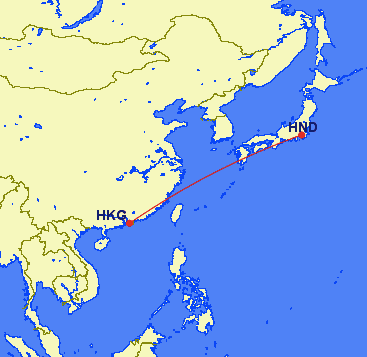 ---
Sad though I was to leave the JAL First Class lounge, I was unbelievably psyched to be stepping back on board a CX 744 in seat 1A.
Make no mistake, every minute spent in the presence of the Boeing 747 is precious. The symbol of the jet age. Before the internet, this was the greatest revolution in human communication. Nothing beats the elegance of her silhouette. A spectacular feat of human achievement.
Our gate for this flight was the furthest one in the whole terminal. When we got there there was an outrageously long line of people, before boarding had even been announced. Worse still, this line was for priority boarding! CX allows even its entry level Marco Polo club members to board in the priority line, so if you're in Business you're screwed, you're boarding with 80% of the plane. I know that there is usually a separate First Class line though, which is reserved for One World Emeralds and First Class passengers.
This line did not appear to exist on the day of our flight.
This is where reading FlyerTalk and understanding SOP come in handy. I approached the desk and asked where the First Class line was. The FA didn't look up and just gestured towards the shit show…
"So sorry", I said. "But that appears to be the business class queue. I was wondering where we should queue for First Class". This got her attention. She stopped her typing, called over her supervisor and opened the steel barrier for us. We were then escorted onto the plane before boarding was announced.
Pulling a DYKWIA doesn't need to be a loud and classless act. Sometimes a small nudge in the right direction can yield rather better results than sitting meekly by.
As we stepped into the First Class cabin we saw a guy with a pretty serious looking camera snapping away. The Cabin Supervisor explained that he was permitted to board early to take pics but today we were the only passengers in First. All of this was just for us!!!
As she poured me a glass of the quite spectacular Amour de Deutz Rose 2006, the FA reminded me that it was my duty to finish all the food and drink on board !

You can imagine how insanely happy I was at this stage. The entire nose of a 744 to ourselves for more than 4 hours. It really doesn't get much better than this.

There is a huge amount of storage space in row 1 of the CX 744

Such an amazing feeling having only this storage cupboard ahead of you.

I've seen far more wear and tear on other airlines' brand new A380s. Cathay obviously takes pride in the appearance of its cabins

Not the best headphones but then again we didn't have to worry about ambient noise from other passengers

This is new since my last CX 744 flight. Glad to see they added universal power sockets. Previously they had those ones that require a special power pack.

Fresh orchids placed at every seat, adding to the ambiance of the cabin, despite us being the only guests. Quite a contrast to miserly BA, who not only lack flowers at the seats but have now even removed them from the First Class bathrooms, in a bid to further cut costs.

Some people complain that the CX First Class seat is too big. I bet they're a ton of fun at parties…

What a great job the guy at the RED Suite did on my John Lobbs. Is it even worth mentioning legroom in F?

I love my GoPro, it is so good at capturing the actual feel of your personal space within a cabin environment. For the record I'm 5'11" and around 75kg. This seat dwarfs me.

Whilst we were still on stand I took the opportunity to peruse the menu for today. I really like the new presentation, tying in with theme of the Ilse Crawford designed lounges and featuring the new logo.

CX always has a wine promotion running.

The Western menu looked pretty good…

…but I knew before boarding that I was definitely going to order the Japanese Kaiseki.

I hate to say it but I think that the Deutz Rose is actually better than Krug. No joke. CX are not cutting costs on this route, at all.

As we began our taxi, we passed R2D2 getting a final checkup before his maiden voyage.

Peering into the ANA Hangar

Once we got above the clouds, the grey drizzle of Tokyo was a distant memory. This global metacountry, the cloud kingdom. This is where I belong. So yeah, this was glass number three of the Deutz Rose, accompanied by some Japanese rice crackers.

After seeing how quickly I polished off the rice crackers the FA came back with another dish as well as some cashews and of course a top up for my champagne.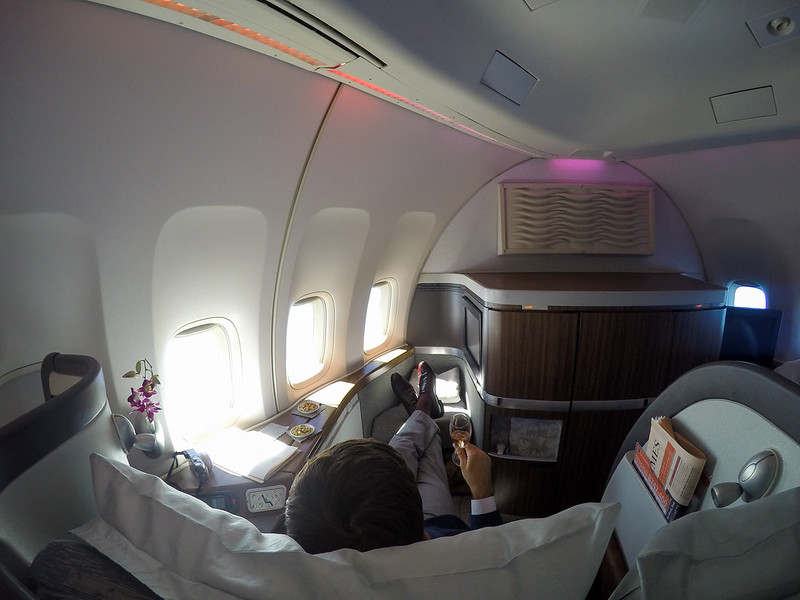 After destroying all those dishes of snacks I decided to wait a while before taking on the Kaiseki. I took the opportunity to sit in seat 3.5A, surveying the kingdom of the clouds below, through twenty four gleaming windows.

Although I had ordered the Kaiseki the FA talked me into trying the iberico ham starter. "We have so much food Mr Marcos, you need to help us to eat it!"
The dish was simple but effective. The ham had been allowed to reach room temperature which is absolutely necessary to truly appreciate the flavour.

The opening salvo of the menu. Exquisite presentation. The tableware, even at this early stage of the meal was clearly a cut above JAL. The satisfying chopstick pebble and the intricate detailing on the dipping dish have clearly had some thought put into them. The rice had a pleasant balance of sweet and sour although it was still quite cold when it came out. The scallop and salmon were both enormous and very fresh.
Again, far better presentation and better attention to detail than JL. The CX serving board is slightly tacky on its surface, which prevents items from slipping around during minor turbulence. It is also totally devoid of any scratches or marks and elegantly branded with a small Cathay Pacific detail.

A testament to a great dish is your ability to recall precisely the flavours and textures, months after eating it. This prawn was incredibly sweet and fresh tasting but the star was the duck and egg cake. It had been reconstructed to resemble a cube of pork belly and was a joy to experience. So rich and savoury, offset perfectly by the accompanying green apple liqueur.

Next up was the braised dish. Very well executed indeed. The vegetables still retained a satisfying crunch. The grilled sillago and yuzu soup was insanely good. Outlandishly perfect. Borderline incomprehensible. It looked like a cup of totally clear water but contained an endless ocean of flavour.

Then came the main course. What an exquisite display. The tableware is thoughtfully and elegantly selected, nothing matches anything else but still the elements work together in perfect harmony. The aim of Kaiseki of course is that this ethos should underpin not only the choice of tableware but also the ingredients contained therein. I am still something of a neophyte when it comes to this style of cuisine but even my primitive mind could comprehend that something very special indeed was going on here.

Soba noodles, maitake mushroom, yam paste and egg julienne. A wonderful combinations of flavours and textures. Soft, springy, crunchy, smooth – creamy, sour, sweet salty.

Matsutake mushroom, chrysanthemum flower and greens in bonito-flavour soy sauce

A selection of different pickles

The showstopper. Yaki style grilled red snapper and grilled beef with sansho pepper teriyaki suace. Both were cooked to perfection. The fish flaked effortlessly upon being touched, the beef appeared to have been slow cooked rather than being grilled, the tender meat melted after a single chew.

At this stage I was in a europhic state of near ecstasy. The food was incredible, the service was perfect – synchronised precisely with my pace. I had finished off a bottle of champagne and the sun was shining into our private haven, the entire nose of this majestic craft – our private sanctum.

Thankfully the dessert was a simple and palate cleansing plate of fresh fruit.

Of course I needed a coffee to keep me awake after all of that. CX has to have the best coffee presentation of any airline. The dish of pralines totally negates the need for a larger dessert.

As I sat sipping my espresso, with this view beneath me I couldn't help but marvel at the wonder of what our community is capable of. I never in my life imagined that I would find myself in Business class, let alone First. Every time I'm up here I know how special this is; sure the novelty factor has worn off a little but in its place has come a sense of deep comfort and familiarity. This is my happy place, this borderless utopia almost free of the Earth's gravitational grip.

With only 30 minutes or so before landing I went to freshen up (i.e. wash chocolate residue off of my hands and face). Nice to see a complement of full size Aesop amenities here. My absolute favourite. The sink is also very cool.

The best feature of the bathrooms on the 744 is clearly the windows though. Why doesn't every plane have these?

After returning to my seat I marvelled at the views below. The approach to HKG has to be one of the most beautiful in the world. I love seeing all of the boats moving around below, wondering what life must be like for the people aboard them.

---
Conclusion
---
Spectacular. So, so, so good. We had the entire nose of a 747 to ourselves, the food and drink is probably the best of any CX route and the service was perfect. Friendly, slightly mischievous and wonderfully paced.
I honestly struggle to find fault with anything that took place here.
---
Back to Bali
Part 1:

Part 2:

Part 3:

Part 4:

Part 5:

Part 6:

Part 7:

Part 8:

Part 9:

Part 10:

Part 11:

Part 12:

Part 13:

Part 14:

Part 15:

Part 16:

Part 17:

Part 18:

Part 19:

Part 20:

Part 21:

Part 22:

Part 23:

Part 24: