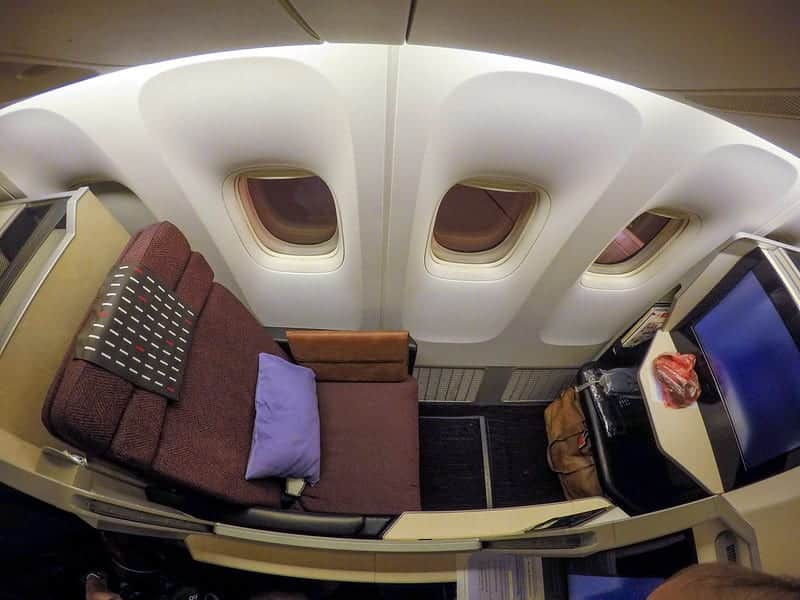 REVIEW – JAL : Business Class – Jakarta to Tokyo Narita (B77W)
October 20, 2016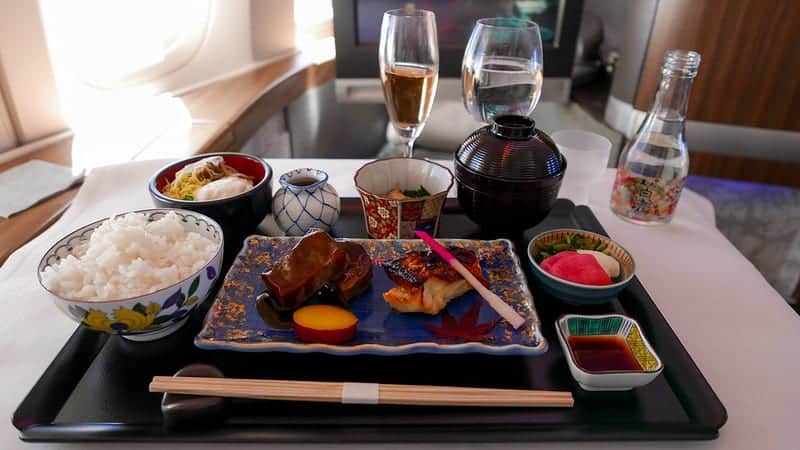 REVIEW – Cathay Pacific : First Class – Tokyo Haneda to Hong Kong (B747) – [twice in a month!]
October 20, 2016
Conrad
Location: Tokyo – Japan
Loyalty Program: Hilton Honors

Status During Stay: Diamond

Room Type: Executive City Twin Room
Cost:
---
Arrival
---
After two amazing weeks in Bali, it was time to return in quasi palindromic fashion, through Tokyo and Hong Kong, back home to London.
The three pieces of sushi for dinner and lack of breakfast on the redeye JAL Business Class flight had left us both with an insatiable hunger, which is definitely a great position to be in, in Tokyo.
I honestly think it is impossible to have a bad meal in this city, every single dining establishment just seems to take so much pride in every aspect of serving food. We were so hungry that we decided to get some food at the first place we set eyes on, after getting through the barriers at Shimbashi station.
Suitably sated we walked through the myriad labyrinthine twists and turns that link Shimbashi station with Shiodome station and The Conrad Tokyo.
---
The Hotel
---
Check-in was handled by the amazing Ari, head of guest relations and one of the nicest people I've ever come across in the hotel business. He was effusive and friendly in his welcome, he explained that as a returning guest and (at the time) HHonors Gold, I had been upgraded to an executive floor room. He also went on to explain in depth about the Toko Shinoda exhibition, telling us about her life and how she came to work with the hotel.
---
Executive Twin City Room
---
Given how many times I've been to Tokyo I didn't feel the need to go out and walk just for the sake of it. Instead I just hung out in the room, a room which I can only ever hang out in whilst I'm in Tokyo – catching up on trip reports and photo editing.
After a few relaxing hours I made my way to meet my friend Mossy in Omotesando, one of my favourite neighbourhoods in Tokyo, after he finished work.
---
Omotesando Koffee
---
Since we were so close by, I suggested that we should check out Omotesando Koffee – the notorious hipster coffee shop, whose enormous queues had thwarted me in the past. We picked up some cans of Strong Zero at a Family Mart, to entertain ourselves, incase the line was long… this was a solid strategy.
I'm not sure if the coffee here was necessarily better than what you get at places like Nude, Milkbar or Kaffeine in London but the atmosphere and overall experience were definitely cool. I'm also glad I went because this place was only ever meant to be a one year pop-up and two short months after my visit, it abruptly closed its doors for good.
There are now a few other locations in the Koffee family though, including one in Toranomon, right by the Andaz. So I'm sure I'll have a chance to try the cakes on another occasion.
---
The Executive Lounge
---
Whilst Rangali (Maldives) and Koh Samui are undoubtedly the crown jewels of the Conrad brand; when it comes to their city hotels, Tokyo is head and shoulders above the rest.
Unfortunately we weren't able to stay for cocktail hour as we had arranged to meet Mrs M and a couple of other friends at the Hilton Shinjuku. The Hilton recently underwent an extensive remodeling of its F&B outlets and it now looks pretty great, the design is very open plan, sleek and modern. A far cry from the staid, traditional and slightly depressing atmosphere that the place used to have.
---
Visit to the Hilton Shinjuku
---
As soon as Mrs M showed up she greeted us with a bag full of liver drinks. For those of you that don't know what a liver drink is: Japan has a multi-million dollar industry which churns out tiny metal bottles, with bright colouring, which purportedly cure hangovers. These are sold at every convenience store in Tokyo (i.e. they are sold every 3 metres you walk). Some of these drinks contain turmeric, some contain taurine. Hepalyse contains that plus a load of liquefied calves liver… and it is the bomb. It is as close as I've come to genuinely feeling bulletproof before going out drinking.
Mrs M knew what she was doing.
The drinks at the new bar, Zatta, are really well executed, I also love how you get oshibori service and cheese sticks too.
---
Junisoh
High end Teppanyaki restaurant at the Hilton Shinjuku
---
After a couple of drinks we headed over to the new Teppanyaki restaurant: Junisoh. Mrs M pulled some serious strings with her contacts at Hilton to get us the chef's undivided attention for the evening. The first time I ever stayed at the Conrad was on her friends and family discount rate, if it wasn't for that I probably never would have strayed away from the PH and never would have realised how good the top end Hiltons can be.
---
After that intensely amazing banquet and the various bottles of red wine, white wine and sake that accompanied it, we headed into Shinjuku.
We ended up in one my favourite bars in the entire world. At the time I was there, my eagle eyed readers may have noticed, Mojitos were a shade over $2… and they are premium drinks. Regular spirits with mixer are 5 for 1000JPY, or $8 back in October 2015.
We drank and sang until our lungs and legs didn't work anymore. I didn't take a huge amount of pictures, in fact I only took one.
---
Breakfast
---
The next morning, I felt… OK. Not great but certainly far better for having woken up in a cloud-like bed, in one of my favourite hotels in the world, hanging out with one of my favourite people in the world; who was feeling just as bad as me.
The buffet here is slightly limited, compared to the main room, but the staff are more than happy to head over to the other buffet and retrieve anything you want.
---
Conclusion
---
The Conrad Tokyo is one of my favourite hotels in the world.The decor is modern, elegant and understated; the service is friendly and effusive without being overly stuffy and formal; the views are fantastic, the beds are super comfy and it's close to HND.
---
Book the Conrad Tokyo with Hilton Impresario Benefits
---
Hilton Impresario Partner Booking
Click the image to get the best fully flexible rate and also receive:
Upgrade of one category,

subject to availability at time of check-in.
Full breakfast for up to two in-room guests.
$100 Hotel Credit.
Welcome amenity.
Early check-in/late check-out, subject to availability.
Double Hilton Honors points and stay credit.
The Conrad Tokyo can be booked directly online, by clicking the "BOOK NOW" image.
First time booking with us? Here's how to quickly get set up:
---
Back to Bali
Part 1:

Part 2:

Part 3:

Part 4:

Part 5:

Part 6:

Part 7:

Part 8:

Part 9:

Part 10:

Part 11:

Part 12:

Part 13:

Part 14:

Part 15:

Part 16:

Part 17:

Part 18:

Part 19:

Part 20:

Part 21:

Part 22:

Part 23:

Part 24: