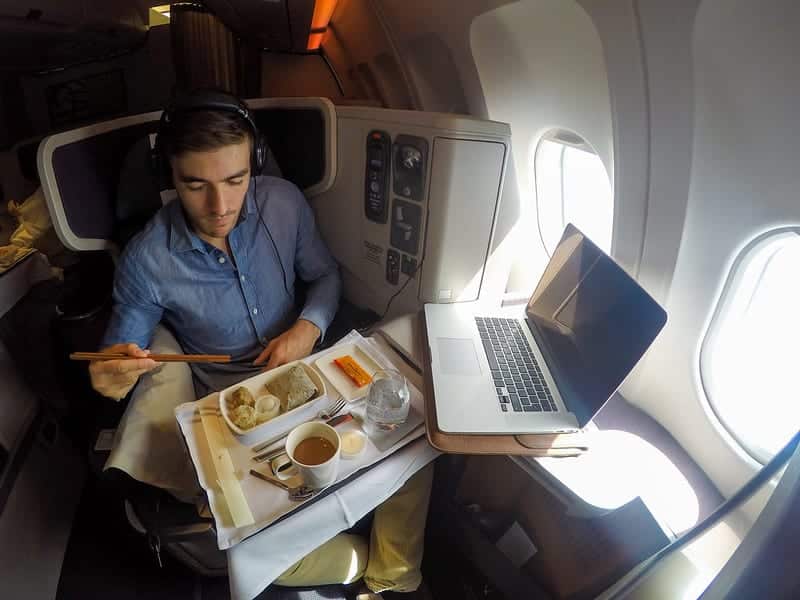 REVIEW – Cathay Pacific : Business Class – Hong Kong to Jakarta (A330 Longhaul config)
October 18, 2016
REVIEW – Garuda Indonesia : Economy Class – Semarang to Bali (B738)
October 19, 2016
Mesastila
Location: Magelang, Central Java – Indonesia
Chain: Mesa Hotels and Resorts
Room Type: Arum Villa
Loyalty Program: N/A
---
Arrival
---
Upon landing in CGK we collected our bags and checked in for our connecting flight on GA to SRG (Semarang, central Java).
We met up with our friends from New York – Mr and Mrs R – airside and went looking for a lounge. There are all manner of lounges at the CGK Terminal 2, running the range from distinguished to distinctly shocking.
I was hoping that my EY Gold status would get us into the GA lounge but we were told this was only valid on international flights. Mr and Mrs R had various US credit cards which matched the logos on a couple of lounges but they were told that their cards needed to be Indonesian issued.
So, we headed to Starbucks for a coffee instead.
Our flight was delayed for a total of 3 hours and the gate area was an absolute zoo. The one hour flight in Economy was ok though, we managed to all get exit row seats and there was even a small snack box and soft drinks service.
Unfortunately our late arrival meant that we didn't touch down until after dark. The problem in this part of Central Java is that heavy industrial vehicles are only allowed on the roads after sunset. What should have been a one hour drive to the resort ended up taking more than two.
Nevertheless, the driver was very fun and upbeat and not bothered at all by having so much of his day taken up by waiting for us. He gave a fantastic first impression of our resort, from the minute he helped us with our bags, handing us cold towels and water in their place, to the moment he smiled and waved us goodbye at the reception area.
---
Mesastila Resort
---
We arrived late at night but were told that the restaurant had been kept open for us as we must be hungry. After the great first impression made by the driver, this small touch showed that perhaps his attitude was indicative of a deeper sentiment running through the staff.
We initially booked Amanjiwo for this stay but then started looking around for other options because honestly, I hadn't really heard much about any other places to stay in the area. Mesastila jumped out for a few reasons: the resort is housed on a working coffee plantation and I love coffee maybe even more than I love flying. The reviews on all the major websites were positively glowing. The location near SRG meant we could avoid flying into and out of JOG, which meant far better flight times from CGK and to DPS. Also, the rate of $150 per villa per night, including breakfast, afternoon tea and one daily activity per couple each day, meant that the entire three night stay for four of us ended up costing as much as one night for one couple at Amanjiwo.
---
Resort Grounds and the Arum Villa
---
Guests first arrive at this former railway station which now serves as the reception area of Mesastila. Check in was quick, simple and efficient. Usually guests are given a full tour on arrival but due to our late arrival this was instead given to us on the first morning.
Walking past the reception carriage you find yourself in the breathtaking central lawn, surrounded by the majestic volcanoes for which this country is renowned. The joglo to the left of this image is the main restaurant, where dinner is served. Walking towards the orange wall, towards the volcano…

…you come to the pool. The orange dome is actually the roof of one of the steam rooms. The entire spa is one level below the pool, with balconies and windows offering sweeping views of the jungle landscape.
Whilst the pool/ restaurant area is quite open and 'resort like', once you start walking towards the villas, everything is more private and intimate. The ground staff did a fantastic job of keeping all of the foliage in check and would always smile and greet us as we walked past.
The Villas are all very traditional looking on the outside. We would later come to find that brightly coloured houses are quite popular in this area.
We were staying in two of the larger Arum Villas.
Our Arum villa was decorated in a very rustic and traditional fashion but was spotlessly clean, with no visible scuffs or marks on any of the walls, floors or furnishings. It was very impactful, walking into such a well preserved space.
We never turned the TV on but I'm sure it could come in useful on a rainy evening.
A day bed for relaxing when it is too hot to stay outside on the terrace.
I love the little details, like the old-fashioned alarm clock.
The grand four poster bed faces out towards the jungle and volcanoes. It was slightly firm but very comfortable. Housekeeping would always fold our PJs and tidy up loose charger cables.
No Nespresso machine but there were some great teas, complimentary bottled water and packets of the Mesastila estate's own coffee.
The bathroom was a great size, with white marble counter space and an amazing copper sink.
The soap is actually made in-house using coffee grounds!
Mesastila is a very eco-conscious resort, so the shower gels, shampoos etc were all supplied within refillable containers. Various other amenities were provided, inside a leather box.
The bath was the biggest I've ever seen in any hotel room, ever.
With an awesome view to boot.
The shower may not look like much but you could peel paint off a car with this thing.
The Arum villas also feature a large outdoor terrace, with a dining table…
…and a day bed, perfect for enjoying a sunrise cup of tea.
---
Food and Drink
---
Our rate included both breakfast and afternoon tea each day. We ate lunch out of the resort, whilst sightseeing, but paid extra for dinner back at the resort.
Dinner
The main restaurant is a beautiful display of minimalism as luxury. Much like the rooms, this area was simply and elegantly decorated with traditional furnishings, maintained to very exacting standards.

I've never been to a resort that has such an abundance of space, allowing the tables to be spaced out in this way. It really helps add to the impression that you're a guest on a private estate rather than a tourist at a resort.

Something that really stood out to me: the dining staff always asked us specific questions about our excursions and activities each day.
"You went on the plantation tour today? Which was your favourite coffee"?
"What did you think of Borobudur? Did you prefer that or Prambanan"?
This was most notable at dinner, as we were a captive audience. However it seemed that pretty much every member of staff knew what we were up to and was interested to see how things were doing.

The service, presentation and taste were all outstanding. The menu was varied enough that you could order different dishes and not get bored for a week. The wine was also very reasonably priced, given the usual prices in Indonesia.
Breakfast
Each day began with a shot of jamu at the entrance to the breakfast area, on the fringes of the main pool. Jamu is a Javanese concoction made of various leaves, spices and often sugar.

These shots ran the range from delicious to, well let's just say there's a reason they're only served in a shot size…

The breakfast area. The four of us represented 50% of the resort's clientele during our stay, so everywhere we went was like this. Talking to the GM, he said that they had been at 100% a few days earlier, so we definitely lucked out!

Kamara was chewing in this pic so an 'executive decision' was made to remove her. Sitting on the water's edge, immersed in the jungle foliage, with volcanoes looming large in the distance – being served an a la carte breakfast with a french press of Mesastila's own coffee. Wonderful.

The service was unsurprisingly very attentive, given the small number of guests. Our preferences were proactively remembered and suggested to us on subsequent days. The food was freshly cooked to order and quite good on the whole.
The Bircher muesli was fantastic.

The Nasi Goreng was colourful but lacking in flavour, with little spice and a negligible amount of meat.

The egg white omelettes were decent but I was not a fan of the chicken sausages at all.

---
In-House Activities
---
The Clubhouse
One of my favourite features of Mesastila is the Clubhouse. The owners of the coffee plantation used to live here and when you step inside it is like taking a step back in time. We loved whiling away evenings reading books, playing board games and playing the piano. During the day the Clubhouse is where you'll usually find the GM and the administrative staff as their offices are also here.

During the day, the Clubhouse is also a great place to unwind. There is a giant chess set…

…and what soon became a favourite for the four of us: Croquet!

Those wanting to just lounge in the shade are also well catered for.

The Sunset Bar
Just across the lawn from the Clubhouse was the Sunset Bar, where we were served our complimentary afternoon tea, watching the sun set amongst the volcanoes. [sticking little fingers out whilst drinking tea, not compulsory, but encouraged.]

In the evenings, pre-clubhouse, we would plug our music into the sound system at the Sunset Bar, knock back some bottles of wine and play pool. Mr R pictured taking a regular shot. Something of a rarity for him, his pool playing is on a savant-like level where he has to play either left-handed, one handed or both.

Coffee Plantation Tour
On our second full day we chose the coffee plantation tour as our free activity. We were taken around by two members of staff, one of whom was filming the other for a promotional video. Both staff members were very engaging and knowledgeable, if there was a language barrier of any kind it was only because our Latin was not up to their standard. They knew the names of every plant imaginable!
A few plants near the coffee roasting area.

We tasted a few different coffee types as well as the local palm sugar.

Mesastila also has some stables where a small number of beautiful racehorses are kept.

Including baby racehorses!

Yoga

A complimentary activity for all guests, regardless of stay package, are the morning yoga classes. They are hosted in a huge pavilion facing the jungle.
As tends to be the case in Indonesia, the classes can be adapted to suit your level, with very high level practitioners catered for. Here Kamara does the crow pose for the first time.
Bike Riding
Whilst Bali has some amazing rice terraces, the ones we saw on our bike ride near Mesastila were totally unspoilt. The majority of people we saw seemed genuinely shocked and happy to see us. It was amazing to see people just tending to their private little plots in the massive fields.
To begin with, we passed through the outskirts of a nearby town, where we spotted this group of schoolgirls on their way home for lunch.
A lot of the houses were very brightly coloured but this one definitely took the crown for most garish home in Central Java.

Heading into the terraces.

Where the buffalo roam…

Fields of green.

---
Central Java Sights
---
Prambanan Temple
Whilst everything else at Mesastila was very keenly priced, their rates for visits to the temples of Java were very high. We opted instead to use one of the drivers recommended on the FT Asia forum. He charged us $150 for a full day tour taking in all of the sights below.
I can't quite figure out the point of having to wear a sarong when the dress underneath is longer…

Prambanan temple is located around 20 minutes drive from Yogyakarta (or Jogja as the locals call it). It is a Hindu temple built in the 9th century and is still very much in the process of reconstruction. The piles of rubble are slowly being sorted and categorised so that more of the temple can be rebuilt. Indonesia has experienced countless earthquakes and volcanic eruptions over the years, so very few temples last more than 500 years before going through a major reconstruction.
Outside the temple we were astonished to see a Cassowary. Although evidently not as surprised as he was to see us. We spent a few days in 2014 in Queensland, right in the the middle of the Cassowary coast and never saw so much as a feather!
There was a market outside the exit selling all of the usual tourist stuff too, although we were more interested in a cat we found, between two stalls, that had a litter of tiny kittens with it.
Whilst trinkets are not really my thing, I always like to try the local cuisine when I find myself at a market. I'd never really paid much attention to salak a.k.a. snakefruit before but this was an absolute revelation. All four of us were instantly hooked, buying it throughout the trip whenever we got the chance. I've since tried it on return journeys to Bali, Thailand and Cambodia but I can honestly say that none of those places come close to the snakefruit you get in Java. The flavour is like a lychee dipped in custard and the texture is utterly unique, it isn't at all juicy but not dry either, almost like an apple made of rubber.
Pimp my ride (possibly literally).

After Prambanan we stopped briefly at Candi Sambisari, a sunken temple on the outskirts of Jogja, heading back towards Borobudur and Mesastila.

Our guide initially told us he had a good place in mind for lunch. My scam sense started tingling (see also: my cousin has an art shop, I gave a tour to Robert DeNiro and he buys suits at this great local tailor etc.) but I gave him the benefit of the doubt… then the car pulled up to a giant restaurant with two coaches parked outside and signage in multiple languages stating that the restaurant was a "Traditional Colonial Buffet". I quickly checked Foursquare for something a little less horrendous and came up with this:
I don't know many words in Bahasa Indonesia but Bebek, Goreng, Sambal and Pedas are all very useful. We tried pretty much everything on the menu and still managed to spend less than $20 between the four of us. Mr R says that this was the best meal of the trip, I'm not sure if I'd go quite that far but it was good; crunchy, spicy, fatty, salty good.
Borobudur Temple
After our late lunch we continued on to Borobudur, the largest Buddhist temple in the world and the main reason why people visit Central Java. We went in around 45 minutes before sunset and paid the regular daytime rate. I hoped that this would give us some beautiful light and a chance to see the temple with less crowds. There is a transition period where everybody with day tickets is cleared off to make room for those with the more expensive sunset tickets, that would be our chance!
I put my stick mounted Gopro to great use by using it to spy on another group of very shy kittens that were playing amongst the stupas.
The crowds were already thinning out just as we arrived.

Which meant we could take some cheesy pictures…

…and by evading the guards a little we were able to get some very cool shots too. The feeling of tranquility here is quite something. If you are able to get the place during a quiet period, you will find yourself hugely outnumbered by Buddha statues inside their stupas, surrounded on all sides by mountains, with a light mist filling in the gaps on the ground. Magical.

Amanjiwo
After visiting Borobudur we decided to check out Amanjiwo, which is a fifteen minute drive away. We wanted to get a feel for the place and see if we could get a handle on why it would cost six times as much as Mesastila. The approach was pretty interesting, we drove up a winding road and turned left into a barricaded forest road, protected by armed guards. Our guide explained that we were there for drinks and the guards smiled and waved at us before asking the driver to pop the trunk and running mirrors on sticks underneath the vehicle. You certainly don't see that kind of security at something like a Four Seasons or a Park Hyatt.
Upon entering we were welcomed and briefly shown around the main building. The architecture of the restaurant resembles that of Borobudur and is certainly very striking, although the silver furniture looks a little tacky and the tables are far closer together than at Mesastila.
We settled into one of the outside tables, hoping to catch the final stage of the sunset, over Borobudur. The decor outdoors is quite elegant and minimal, although the flowers looked a little basic and wilted.
Round the corner from our table were the steps leading down to the rooms. Although the resort ostensibly has Borobudur views, you do have to squint quite a bit to make it out. The valley setting, surrounded by mountains is very atmospheric though.
Amanjiwo also has a jamu lady although she really puts some hours in, the one at Mesastila shut up shop at 11am, this lady was still going strong at 6pm!
Jamu ingredients.

We ordered a round of cocktails which were quite reasonably priced. Same ballpark as what you pay in a bar in London, £10 or so. Far worse bars in Bali charge similar prices as a result of the draconian taxes on imported alcohol in Indonesia. I have to say that the drinks took an inordinate amount of time to serve though, around 30 minutes or so.
The drinks were accompanied by some very tasty bar snacks.

Our second round of drinks took a little less time but they did make a mistake and bring out one of the drinks incorrectly. No big deal I guess but far from the ecstatic accounts of perfection of some Aman junkies.
The sunset however was quite special.

After drinks I quickly went to check out the library, I remember reading that every Aman has a library and that they are a focal point, giving you a feel for the resort as a whole. The library was quite nice but I was surprised to see a cheap portable air conditioning unit.
As well as a frankly shameful excuse for a computer.

The fresh orchids were a nice touch but overall I have to say that this library falls far short of the ones at Alila Villas Uluwatu or Soori (resorts started by former Aman staff).
After our relaxing sunset drinks our driver pulled up the van, ready to contend with the heavy duty trucks on the road back to Mesastila.
---
Conclusion
---
I'm so glad that I made the decision to visit Central Java, Indonesia is such a vast and fascinating country. To visit only Bali is to do oneself a complete disservice. Mesastila is one of the most relaxing stays I've ever had, we had so much space, such dedicated and personalised service, free activities and a wondrous setting, the ever present volcanoes never failed to put a smile on our faces.
The staff showering us with petals as we left Mesastila.
Amanjiwo looked very nice but from my admittedly limited experience, it seemed to be in the same league as Mesastila and definitely not worth six times the price. Aman has a certain cachet because it is a hotel chain that has such high prices and often provides a unique option to explore a remote setting. There are other Amans that are far more unique in terms of their location though: I'd love to have after hours access to the Summer palace in Beijing or hop from lodge to lodge throughout the Kingdom of Bhutan. Amanjiwo has long lost its privileged access to Borobudur though, and guests must now share the temple with everybody else.
Given that Mesastila offers such a close alternative, I feel like staying at Amanjiwo would have been like paying cash for a SWISS First ticket when you could have Cathay First using Alaska miles.