Garuda Indonesia (GA)
Flight: GA 447
Class: Economy
From: Semarang (SRG)
To: Bali (DPS)
Duration: 1hr16
Aircraft: Boeing 737-800
Seat: 31F (exit-row)
Date: October 2015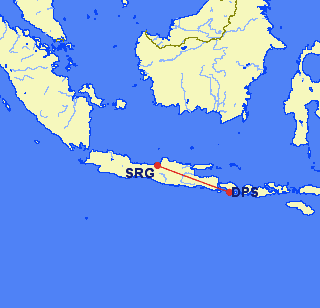 ---
We left
Mesastila
with heavy hearts, although the free snacks in the airport car took the edge off a little!
After a quick and painless drive to SRG we entered the melee that was the check-in area. It seemed like a cross between a market auction and a bus station. All kinds of obscure packages (and money) were changing hands and none of it seemed to make much sense.
We thought we did a good job of blending in with the locals, taking our pan galactic papaya beast with us. Fun fact, it was bigger than Mrs R's head, hell it was probably bigger than my head. Must be something in the water…
I love getting up close to the planes when the sun is shining!
Once again we all managed to get exit row seats and this flight even had decent IFE. Can't complain for a one hour flight !
I'm not sure why nobody but us took exit row seats this time. Maybe people in Indonesia just don't care about legroom?
Surprisingly sharp screen, there was also a decent selection of Western sitcoms and documentaries
Box of carbs

At 4:25pm we touched down in Bali Denpasar airport; finally we had made it back. We loved Bali the last time and were so excited to see what this return journey would bring.
We had no idea just how good it could get…
---
Back to Bali
Part 1:

Part 2:

Part 3:

Part 4:

Part 5:

Part 6:

Part 7:

Part 8:

Part 9:

Part 10:

Part 11:

Part 12:

Part 13:

Part 14:

Part 15:

Part 16:

Part 17:

Part 18:

Part 19:

Part 20:

Part 21:

Part 22:

Part 23:

Part 24: