Japan Airlines (JL)
Location: Tokyo (HND)
Class: First
Access:

OneWorld First Class ticket holders
OneWorld Emerald status holders

Date: October 2015
---
After an all too brief visit to Tokyo it was time to gather our bags, hop on the monorail and head back to HND.
The proliferation of international routes from this city centre airport has had a hugely positive impact on my travels recently. Whilst travel to and from NRT requires significant time and a not insubstantial cost, HND is a quick half hour trip costing around $10.
The airport itself also features newer facilities and is less busy than its sister airport.
I love this temple-like shop/ restaurant which overlooks the check-in counters
We arrived around 2.5 hours before boarding for this morning flight. We were checked in and through fast track security in around ten minutes.
It is worth noting thought that security lines are something of a bottleneck at HND. If you are not in F, even the J lines can be quite overwhelming. I've never quite understood it because once you're airside everything seems quiet again.
---
JAL First Class Lounge
---
It's no secret that JL's new F lounge is one of the best lounges in the world. Having recently visited for a short while I was excited to come back and spend a more significant amount of time at this beautiful new facility.
Once past the lounge dragons you are faced with this amazing hallway lined with Japanese screens, capped with a screen depicting a pair of contrails intersecting. I love how this serves to build both physical and metaphorical distance between the lounge and the terminal.
Immediately to the left is a quiet area with amazing runway views. In terms of views, this really has to be one of the best lounges in the world. It was definitely designed by an #AVGeek.
Past this small room is the main dining area. The chef makes an absolutely amazing breakfast galette.
There are also countless hot and cold buffet options. The small plates are particularly creative and delicious.
A freshly made egg galette, curry with scrambled eggs, braised vegetables, double espresso and a glass of Laurent Perrier. Not a bad breakfast!
Followed by more LP and a chicken liver parfait.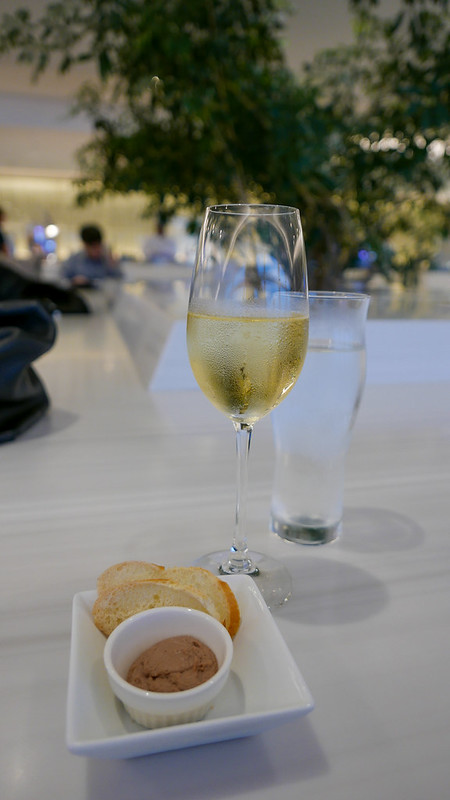 On the far side of the restaurant area there is another quiet seating zone

Beautiful lacquer sculpture

Here you can also find some more relaxed lounge chairs, with foot stools, facing the runway. During fine weather, the outdoor viewing platform (landside) is usually full of spotters.

Also located within this quiet area is a large self serve bar. The Hibiki was trying to hide from me but did not succeed.

I also took the opportunity to have a quick go on one of the massage chairs. You can actually get a massage performed by a genuine human but honestly the chairs can just deliver way more pressure and there's no wait… and they look like Gundams.

On to the best part of the lounge. The absolute heaven of aviation geekery. The RED Suite.

Upon entering you are immediately faced with a display cabinet containing all manner of amazing JAL memorabilia.

This room is where the John Lobb shoe shine area is located. This guy did an awesome job on my Ashills. He was great to talk to and was keen to talk to me about Jermyn street, visits to Northampton shoe factories and the rise of Japanese bespoke makers. As both an AV Geek and a shoe geek, this place is my nirvana.

One day I will own a house with a study that looks like this and a living room that looks like The Pier in HKG

To the right of the polishing room is the champagne room.

A selection of chilled sake

Doesn't look like they'll be running out any time soon

To the left of the main room there is an area with even more memorabilia, including this amazing desk.

I spent a good hour here editing photos for this trip report: The Singapore Four – SQ new J, A380 J, 77W F, 380 Suites + Fairmont Singapore Suite

This is as busy as I've ever seen the RED Suite. I honestly don't get it. It is such an amazing place!

At the far end of the RED Suite is the games room. The stitching on the stools is reminiscent of the new SQ F seats.

---
Conclusion
---
This is truly one of the best lounges in the world. No question about it. I would way rather spend time here than the Thai Airways Royal First lounge in BKK or the Concorde Room at LHR. Great food, decent champagne, beautiful glassware, fantastic views, a ton of airline memorabilia, massages and John Lobb shoe shining. If I personally had to design a lounge from scratch this would probably it.
---
Back to Bali
Part 1:

Part 2:

Part 3:

Part 4:

Part 5:

Part 6:

Part 7:

Part 8:

Part 9:

Part 10:

Part 11:

Part 12:

Part 13:

Part 14:

Part 15:

Part 16:

Part 17:

Part 18:

Part 19:

Part 20:

Part 21:

Part 22:

Part 23:

Part 24: