Thai Airways (TG)
Location: Bangkok (BKK)
Class: First
Access:

First Class Star Alliance passengers.
Top tier, Thai Royal Orchid Plus Platinum card holders

Date: May 2015
---
We were met at the gate by a Thai Airways agent, bearing a sign with our names on it. We did not get a buggy this time, instead we were walked to the lounge. Kamara had really been looking forward to a buggy ride through the airport but I assured her there was a good chance we'd get the buggy from the lounge to the plane.
TG First class transfer service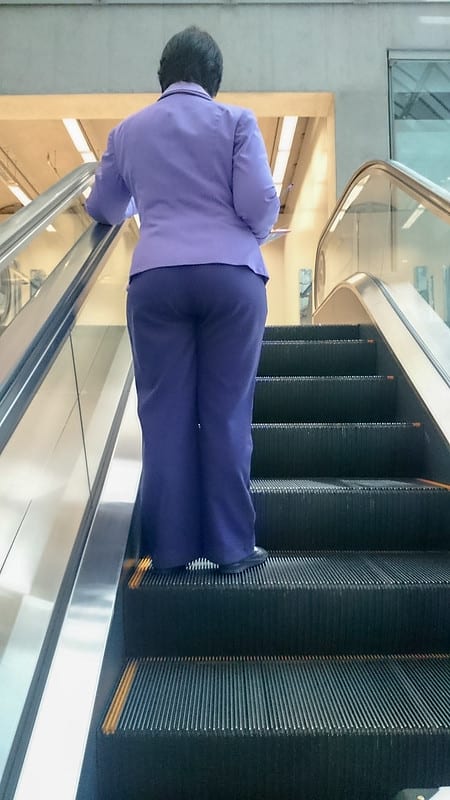 The entrance to the Royal First Lounge.
We were escorted from the reception area to the main lounge, where I requested one of the private rooms. The main lounge is a sprawling mass of chairs, similar to countless other business class lounges in the world. I've never really understood the obsession with this place.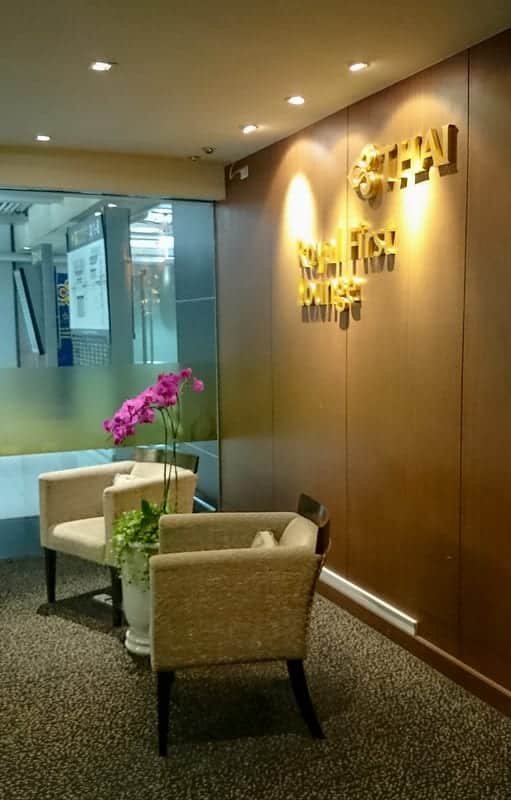 Trinkets and ornaments in the hallway, on the way to the main lounge
Our private lounge offered a decent amount of privacy and managed to incorporate a dining area, lounge and workstation into quite a compact space
As soon as we sat down a server appeared offering us an iPad menu, this contained numerous pages of Western and Thai food options

I ordered grilled pork with chilli sauce and sticky rice. This was washed down with a perfect macchiato and a glass of what tasted like Moet.

This was absolutely fantastic. Simple but oh so effective.

After my light brunch I made my way to the Spa, where I had booked myself in for a complimentary 1hr massage. I was offered a ginger and lemongrass tea as well as a thick, hot towel; I was then given a health waiver to sign. You know, in case the massage was so intense that I suffered an attack of some sort.

The private spa treatment room came with a separate changing room. This featured L'Occitane amenities.
The massage was much better this time than on my last visit to the lounge. Last time I was literally shivering from how cold the aircon was and nothing could be done to fix it. This time I got a perfectly decent massage and left relaxed and ready for my flight.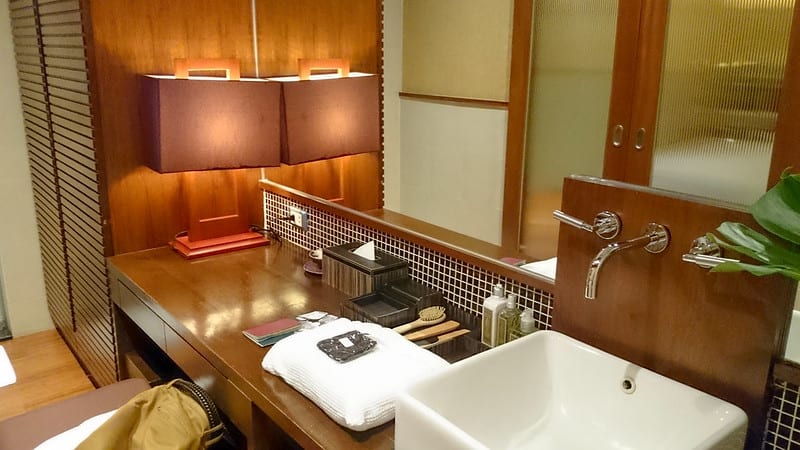 After the massage I headed back to the Lounge to meet Kamara and get our things ready for the flight home in First on the newly refurbished 747.
Of course, I couldn't resist having another macchiato and another glass of champagne.

---