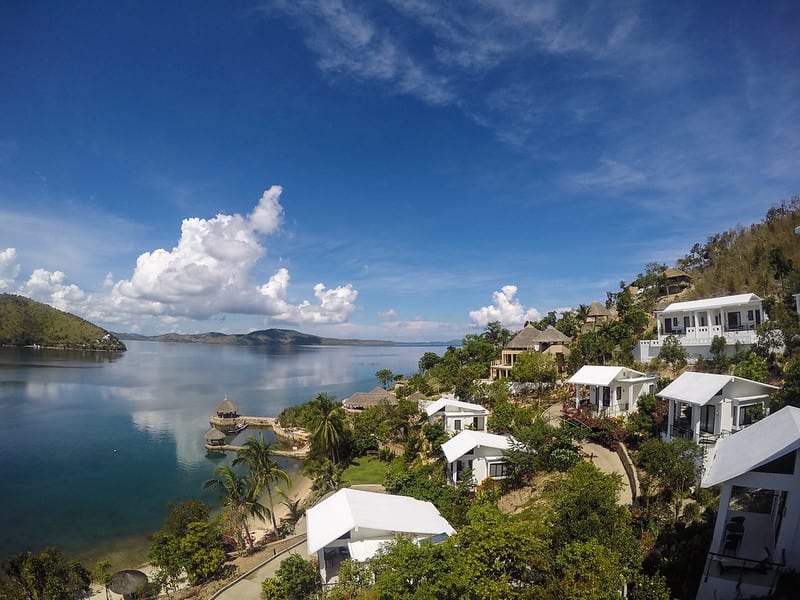 REVIEW – Busuanga Bay Lodge : Palawan, Philippines (Part 1)
October 14, 2016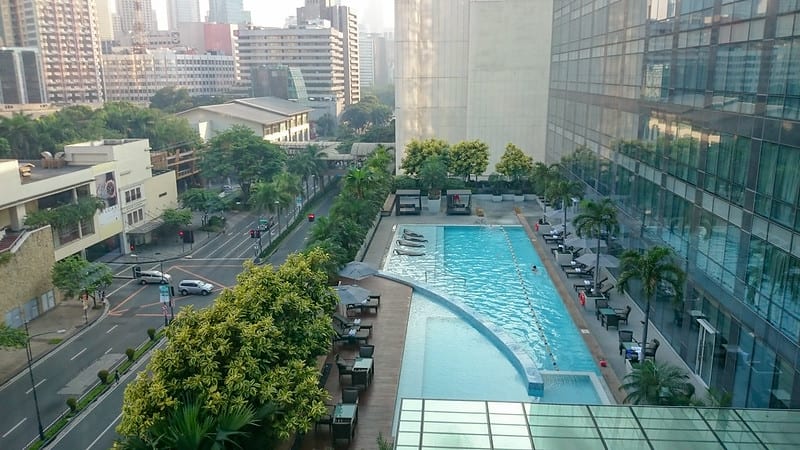 REVIEW – Fairmont Manila
October 14, 2016
Busuanga Bay Lodge
Location: Busuanga, Philippines
Room Type: Clubhouse Suite
Cost: 60,800PHP total for 4 nights in a Clubhouse Suite including transfers, breakfast, lunch and 7 dives per person
---
This is Part II of a two part review. Click here for Part I showcasing the arrival experience, the food and drink and our Clubhouse Suite.
---
Activities
---
The pool
I'm not sure if this exactly counts as an activity, per se, but the pool is certainly one of the defining features of BBL and we did spend a lot of time there. So I'm going to count it!
In addition to loungers right in the sun, there were rattan sofas under the shade of the restaurant/ lobby pavilion. Staff were always quick to bring fresh glasses of ice cold water and if you wanted something more substantial, the prices were extremely reasonable.
If there wasn't so much else to do I could have easily spent all day here looking out at the serene tranquility of the bay.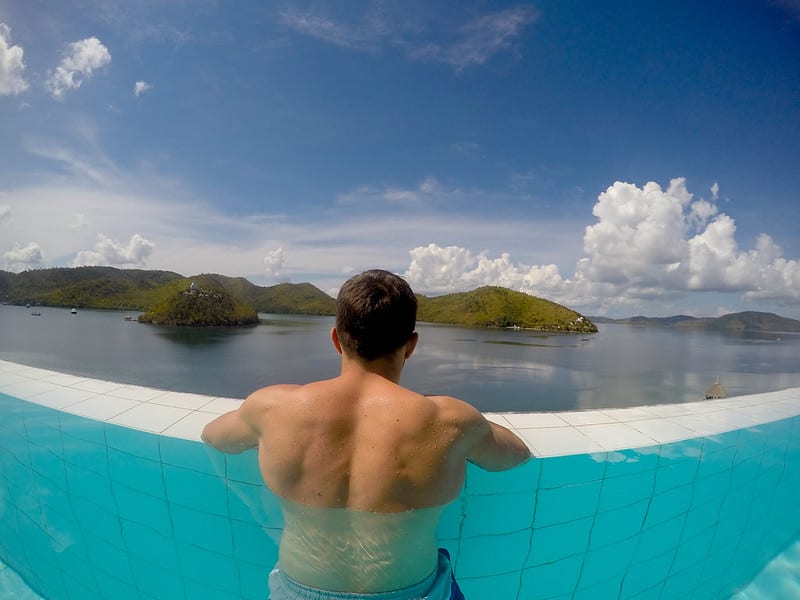 ---
Island Hopping
---
One of the main draws of the Philippines are the pristine beaches and crystal blue waters. Whilst green was the dominant colour of Busuanga Bay, some truly idyllic, picture postcard islands were only about 20 minutes boat ride away.
On our first full day we chartered a boat to take us Island hopping to a series of uninhabited islands.
Thankfully some bamboo and palm leaf bales had been built to shield us from the intense midday sun.

Our trusty boat.

For lunch, we stopped at an Island that had a single family living on it. There we had a 3 course lunch prepared for us by our guide. We were also joined by a couple of super playful puppies who would come over and lick us every few minutes when we tried to catch some sleep in the shade after our meal.

Overall this was a really peaceful and relaxing experience, the perfect way to decompress (literally) before starting our dives on day 2.
---
Diving
---
We booked a special dive package that included a total of 7 dives per person. The diving school is located across the bay and is run by a German ex-pat named Gunther. He has been in Busuanga since the 80s and lives and breathes diving. He discovered a lot of the dive sites in Palawan and charted the cavernous interiors of numerous wrecks, which the area is famous for.
Busuanga was home to a Japanese fleet during World War II, the fleet was well hidden by all of the various coves and bays but one day the American intercepted a communication which revealed the location of these warships. Overnight 14 of them were sunk. A major coup for the allied forces. Now they form the most extensive and diverse series of wreck diving seen on planet earth.
As K and I are only certified to open water level we didn't dive extensively inside the wrecks but I would say that the experience was utterly worthwhile. Nothing quite compares to suddenly spotting the hull of a giant ghostlike ship as it emerges from the darkest depths below.
Our dive master Mensoy had a kind smile and friendly demeanour, his skin like leather from years of continuous sun exposure. His stocky stature and powerful movements in the water gave you the impression that he was not somebody to mess with, whilst also giving you the reassurance that you were in extremely safe hands.
Mensoy guiding our boat.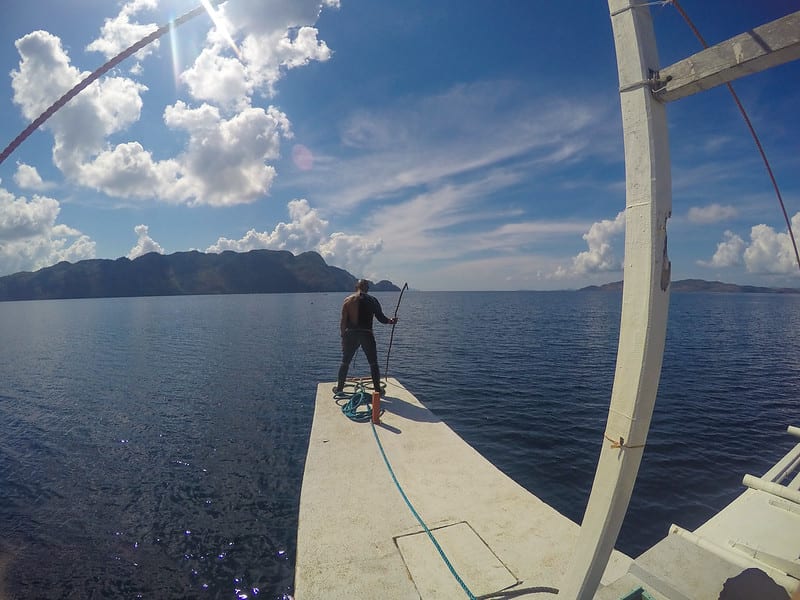 This wreck ended on its side, almost upside down, so that when you first approached all you could see was the giant, coral mottled surface of its expansive hull.
We found Nemo.
You may recognise this fish from the critically acclaimed film, 'Deuce Bigalow, Male Gigolo'.
The wrecks that are closer to the surface tend to deteriorate far quicker than those in the depths. Much like the temples of Cambodia, which have fused with trees over a thousand years; here you see a wreck which has undergone a similar process in only 50.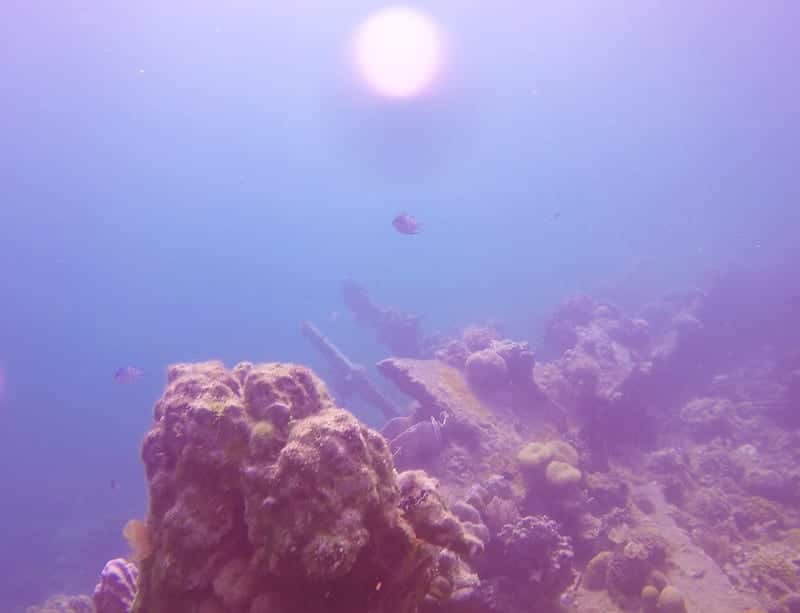 The ever changing island weather meant that we often went from monsoon to magnificent sunshine in a matter of minutes. One of the most relaxing aspects of diving in Busuanga is that you can sleep during surface intervals, as your boat slowly gurgles along to the next wreck site.
Alternatively you can spend your time playing 'King of the World' on the front of the boat.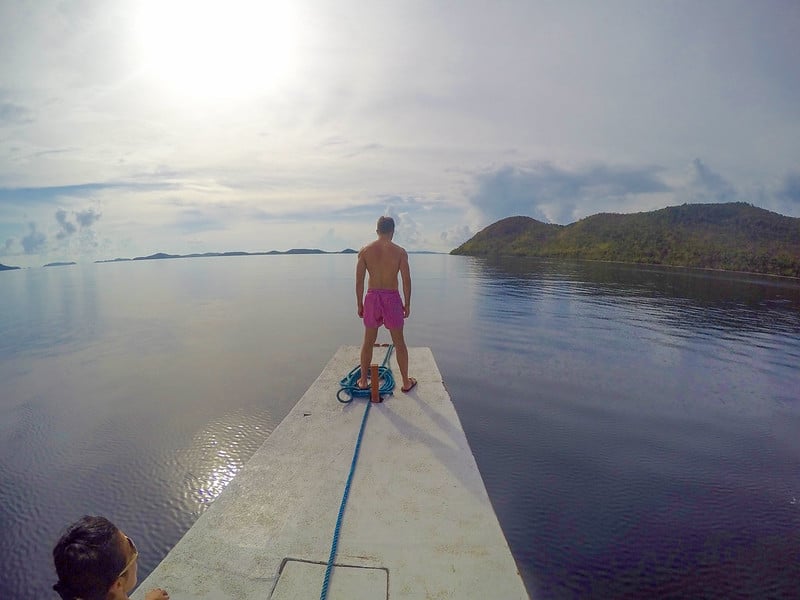 One slightly shocking aspect of diving in Busuanga was the sheer number of jellyfish. We were right in the middle of their 'season' and there were millions of them! As a swimmer they can be scary but as a diver they are breathtaking to watch, elegantly propelling themselves through the water.
One thing that surprised me is that other fish don't seem to mind them at all.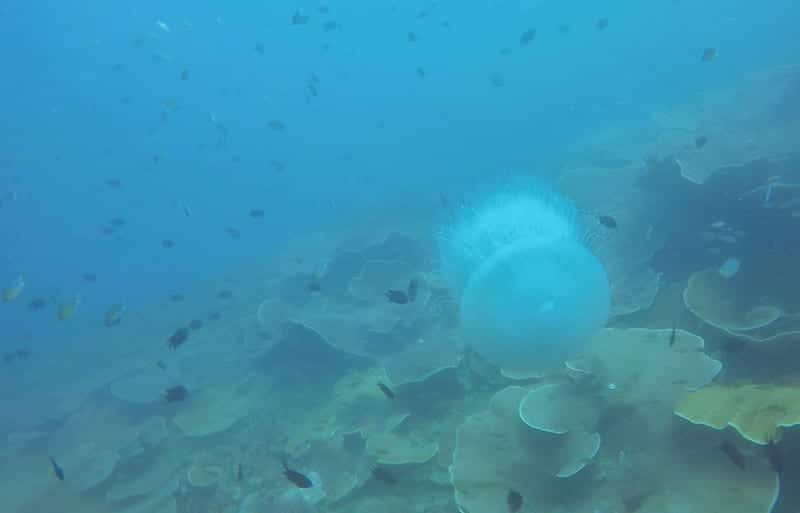 This poor guy even had other fish nibbling at him as he'd gotten stuck in the hull of one of the wrecks.
The amount of plankton in the water leads to reduced visibility and increased jellyfish activity, but it also meant there was plenty of food to go around.
Aside from the wrecks, there is one very special dive near the town of Coron: Barracuda lake. This is a skin dive (no wetsuit), which begins with you diving from your boat into the sea.

You then swim towards a small pier that looks like something out of Waterworld.

Mensoy on the lookout.

Here, you exit the water and remove your fins and proceed to walk along some rickety wooden walkways, weighed down by your tank and BCD.

Until finally you reach Barracuda lake. A beautiful and secluded spot but one which these snorkelers cannot fully appreciate (I liken their predicament to that of somebody flying EY J on the A380).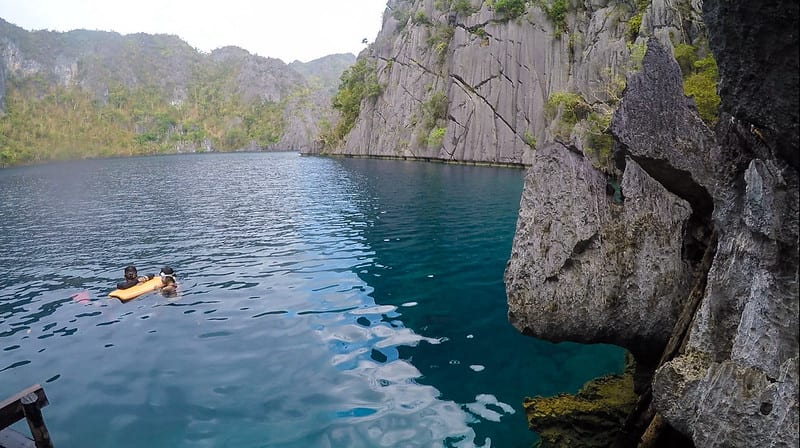 This is a freshwater lake that has a crack in it, permitting salt water to enter. This saltwater is sandwiched between two layers of far colder fresh water. You can clearly see a thermocline as you descend from one water type into another. The effect of passing into the saltwater is like suddenly entering a giant bathtub… underwater.
Diving this lake is nothing like any other dive I've been on. It is more like diving on the surface of the moon.

The catfish and small shrimp are the only inhabitants other than one reclusive, giant barracuda for whom the lake is named.

Also, in lieu of coral, there are a couple of trees at the bottom of the lake.

If you have even a passing interest in diving, I think you should absolutely make it a priority to head to Busuanga. There is enough to keep you entertained for weeks. The prices are (like everything else in this part of the world) hugely reasonable, the instructors are highly experienced and safety conscious and the feel of just drifting from one spot to another on your own private little boat is a world away from the often overcrowded and hectic experiences you get in other more popular dive sites in Asia.
Heading back to BBL, just in time for happy hour!

---
Jet Skiing
---
On our final day, we knew we wouldn't be able to dive. The human body cannot withstand the pressure of going from the depths of the ocean and then taking to the skies without taking at least 12 hours (or 24 to be safe) to recuperate.
Given the low cost and the amazing number of islands and bays to explore, we decided to give jet skiing a try for the first time. I'm so glad we did.
Going in a straight line across the front of a beach resort must be fun. This was something else though. This was unbelievably awesome. Having the freedom to spot an island and say, "let's go check it out", walk on it for a bit and then head to the next one – it was similar to the feeling you get when you first learn to drive…. only there's no speed limit!
The antenna you can see is part of Huma resort. The most expensive resort in the area, featuring Maldivian style overwater villas.

---
Sunset Cruise
---
You may have noticed the badass looking yachts in my earlier pictures. These are available for charter, if you want to go big game fishing. However rather than just leaving these parked in the evenings, there is a complimentary sunset cruise organised for guests three times per week.
On the day we went, it was just us and one other couple. The crew encouraged us to take loads of pictures and go wherever we wanted.
Kamara
looking great as always.
Did I mention there was unlimited free Prosecco?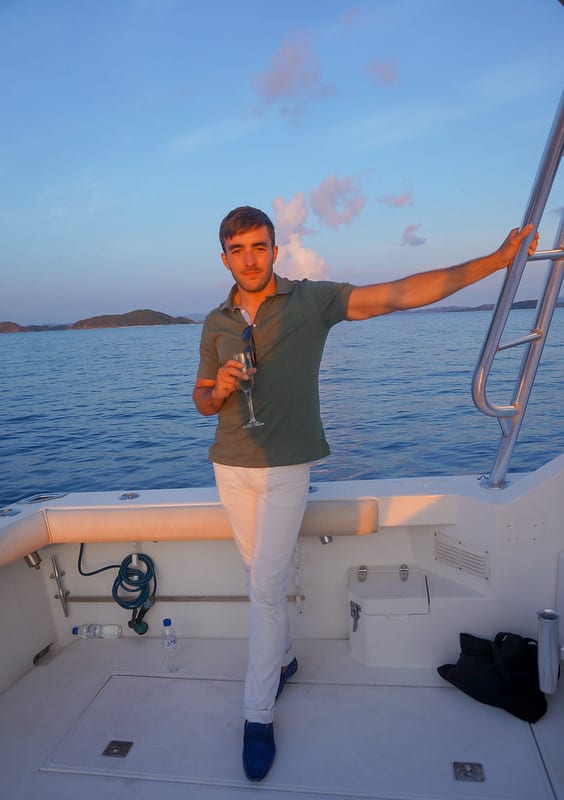 Steering with one foot: Thug life.
The best part? Our friends, the singers, came along too! Unbelievably, they played Stairway, having never heard it before! One of them had an app with the musical notation on it and they both gathered round to play along. They made it as far as the big solo! Ridiculously impressive.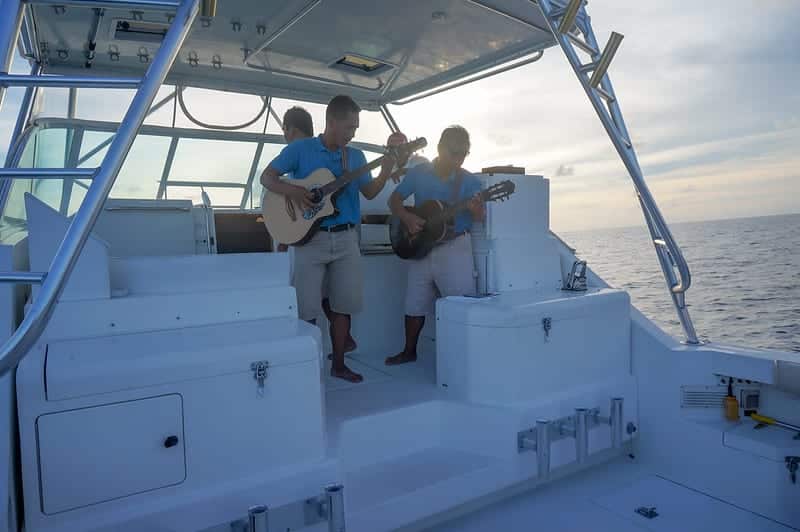 As the sun began to set, the picture taking kicked into high gear.
That night we saw the most remarkable sunset of our lives. Being in the middle of the ocean, surrounded by uninhabited islands, with a yacht almost to ourselves, music on request and unlimited booze… unforgettable.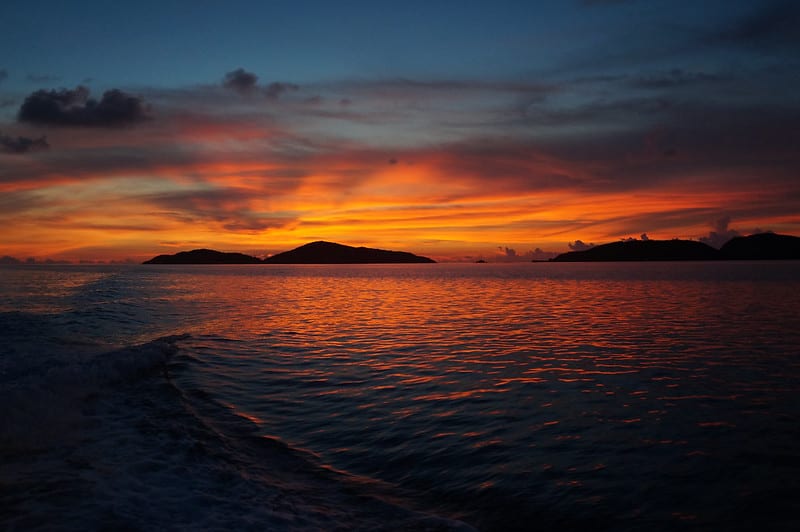 …and they let me drive a little bit.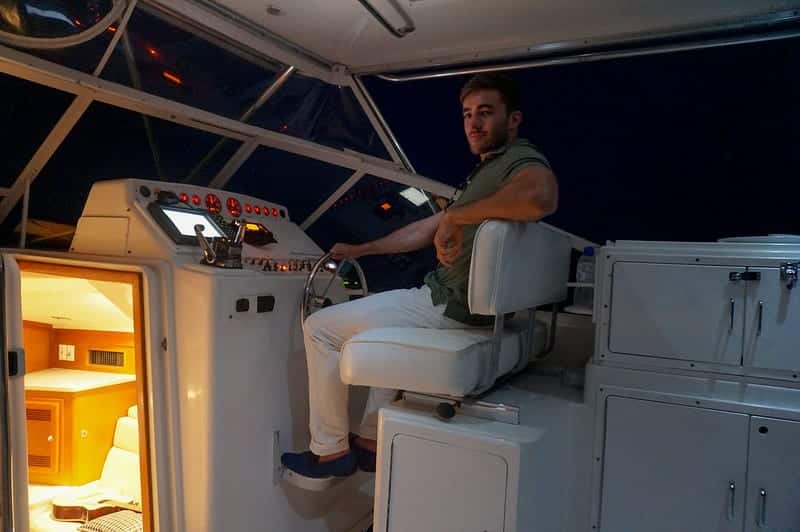 ---
Conclusion
---
Our stay at BBL exceeded our expectations.
The location is absolutely spectacular and worth the 1 hour connecting flight from MNL plus 1-1.5 hour car transfer. Yes it's remote but that's the appeal.
The diving was like nothing else on this planet.
The food definitely leaves some room for improvement, but this tends to be the case in isolated resorts.
The room was very comfortable, spacious, well designed and had an amazing view. It was also kept very clean.
The price of everything was phenomenal, particularly when you consider that you don't have many options once you're there. Obviously, this is a part of the world that can't support higher pricing right now, but I don't think it'll stay like this for long.
I almost regret writing this trip report as I hope to return and don't want the place to get overrun with people, once people realise how good it is! (I'm still annoyed that I never got to book an NH F redemption using EY miles before they found out, I'd been eyeing that chart for months…)
---
Departure
---
Back at Busuanga airport.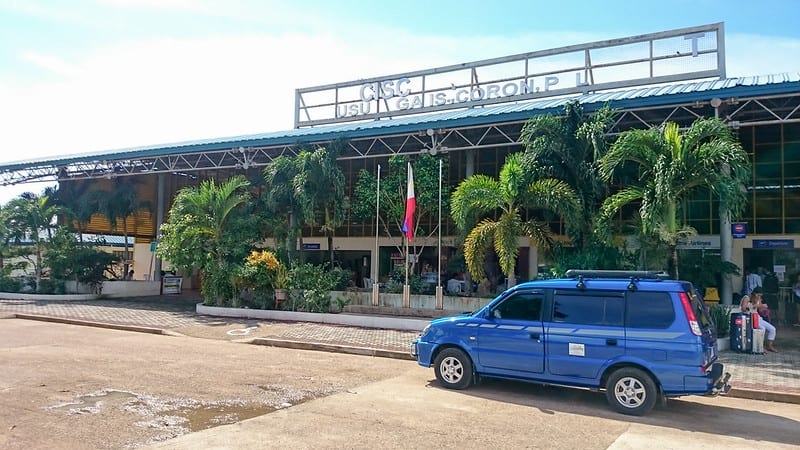 Soaking up a few more rays of sunshine before heading into the terminal.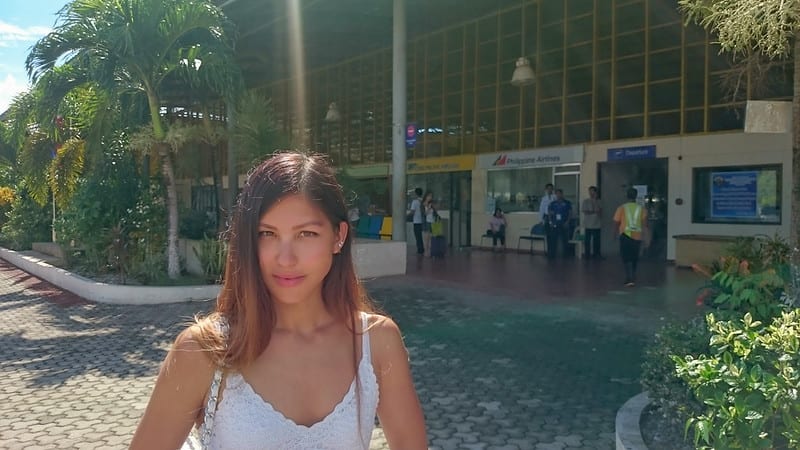 Once in the terminal we realised we had made a rookie mistake. We had no pesos with which to pay the departure tax. We asked at the PAL check-in counter, to see what they thought we should do. They said we could go outside (back through security) and talk to a van driver, because usually they can change money. We held our ground saying that we didn't want to go through security again on the off chance that we'd find an amenable driver.
So a compromise was found. We would wait at the desk and one of the agents, would call his friend 'a good van driver' who would change the money for us. We got a horrendous exchange rate but given the sums involved, it was worth paying a couple of pounds just for the ridiculous story. There was a door that was marked as a lounge but the room appeared to be deserted:
So instead we headed to the gate area and used the last of our pesos to buy a coffee in the air conditioned area by Gate 1.
I can't say we were overly worried about making it all the way to our gate : Gate 2.
---