Busuanga Bay Lodge
Location: Busuanga, Philippines
Room Type: Clubhouse Suite
Cost: 60,800PHP total for 4 nights in a Clubhouse Suite including transfers, breakfast, lunch and 7 dives per person
---
Arrival
---
Transit in MNL was actually a lot less painful than I had been expecting, we exited the international terminal and made our way over to the domestic terminal where our itineraries were checked before access to the check-in area was granted.
MNL has a policy of only allowing people with valid itineraries to enter the airport and this is primarily down to security concerns. There is a lot to be said for the resulting reduction in footfall within the terminals, given how busy the domestic terminal was, I doubt it could have handled a doubling in the number of people, assuming conservatively that every departing passenger has a single well-wisher alongside them.
Our flight with PR was really enjoyable, in as far as that can be said for flying on a proper plane. We were driven to a bus gate and given a chance to experience the warmth of the Philippine sun as well as our first breath of fresh air in nearly a day.
The crew was outrageously polite and friendly, insisting on helping us with our carry ons and asking us all about our trip and our impressions of the Philippines so far. There was even a brief snack run where we were all offered bootleg Oreos and water.
I'd be lying if I said I wished this flight would never end but I definitely enjoyed it, particularly given the fact that nobody on that flight was there for business. Everyone was upbeat and ready to travel to paradise.
Our flight was blocked for one hour but ended up arriving half an hour early at USU.
Cebu air is the other major carrier which flies this route. Gotta love the livery.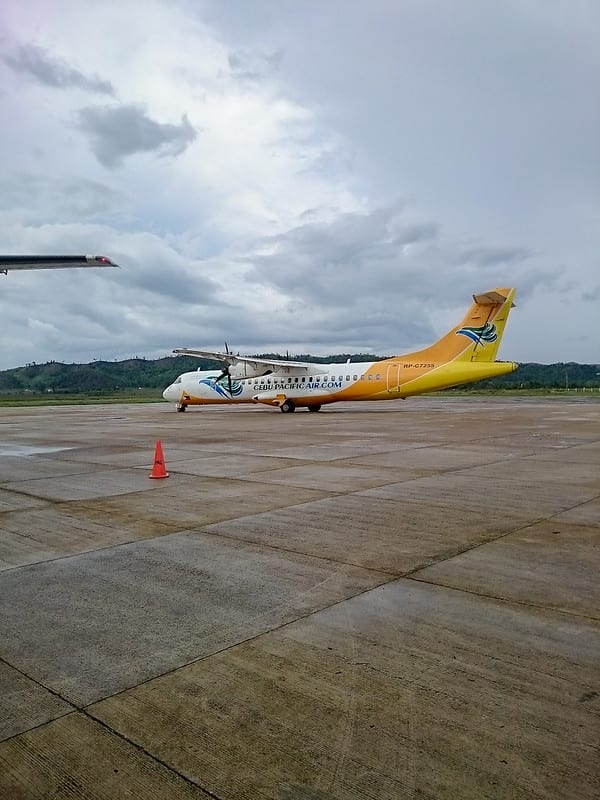 The airport is definitely somewhat on the rustic side and unmistakably SE Asian.
Baggage claim was certainly unique. We all walked off the plane into the arrival hall and stood behind a low wooden table/barrier.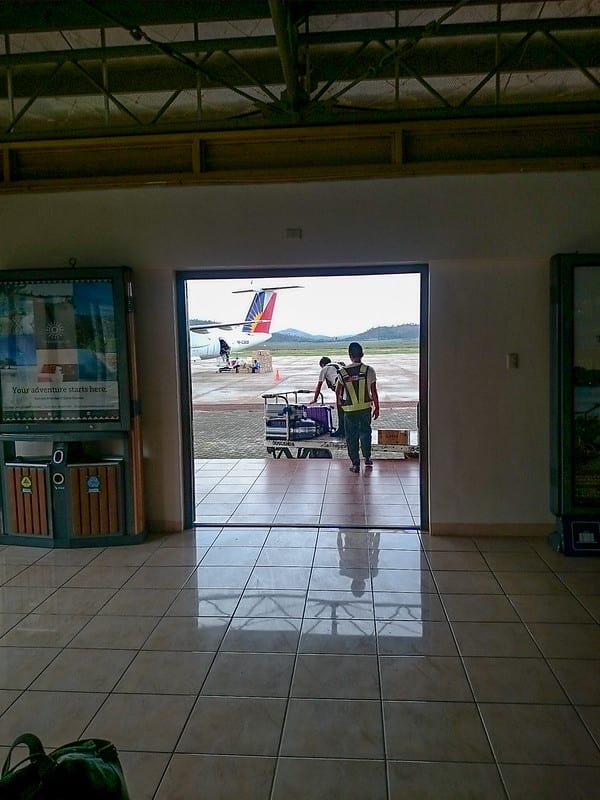 The ground crew then brought our bags over by hand.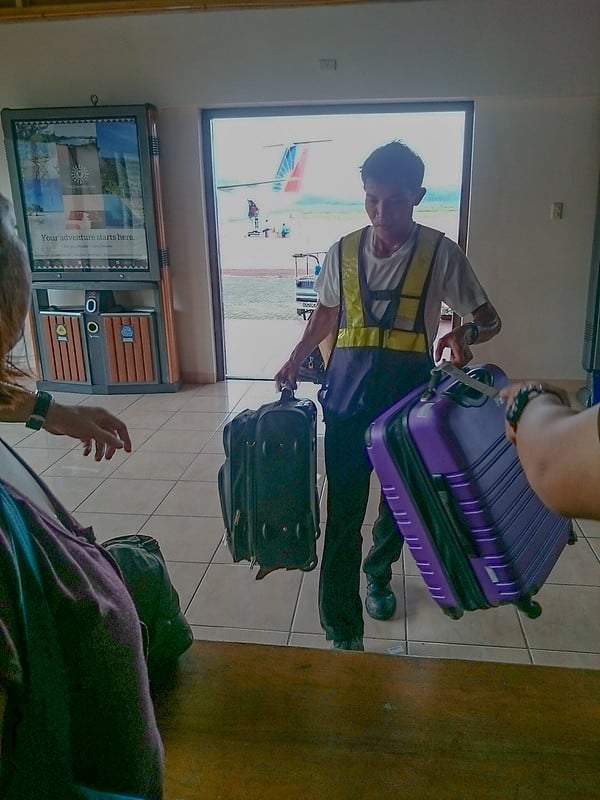 Despite our early arrival, the driver from Busuanga Bay Lodge (BBL) was there waiting for us. He said that the flights usually arrive early and only arrive on time if they're late!
We drove for around one and a half hours along some seriously bumpy roads and even avoided one particular turn as it appeared that an armed militia was manning a makeshift barricade at the end. As you can imagine I was not overly inclined to take pictures.
The Philippines is a poor country with certain areas in the South of the country classified as being as dangerous as Syria, in the eyes of the British home office.
The island region of Palawan with its hubs in Puerto Princesa and Coron is one of the more tourist friendly in the country and has been put on the map by the El Nido resorts (which we briefly considered visiting). However, we wanted to try something different. Chain hotels don't exist here, I felt wonderfully liberated, picking a resort on its merits rather than a complex web of external ramifications relating to bonus points, upgrades, qualifying stays etc.
As soon as we arrived we were warmly greeted by a cohort of staff wearing khaki shorts and bright blue polo shirts. The initial impression from the lobby was striking almost as impressive as Alila Villas Uluwatu!
View from the lobby of BBL.
The main lobby and restaurant building.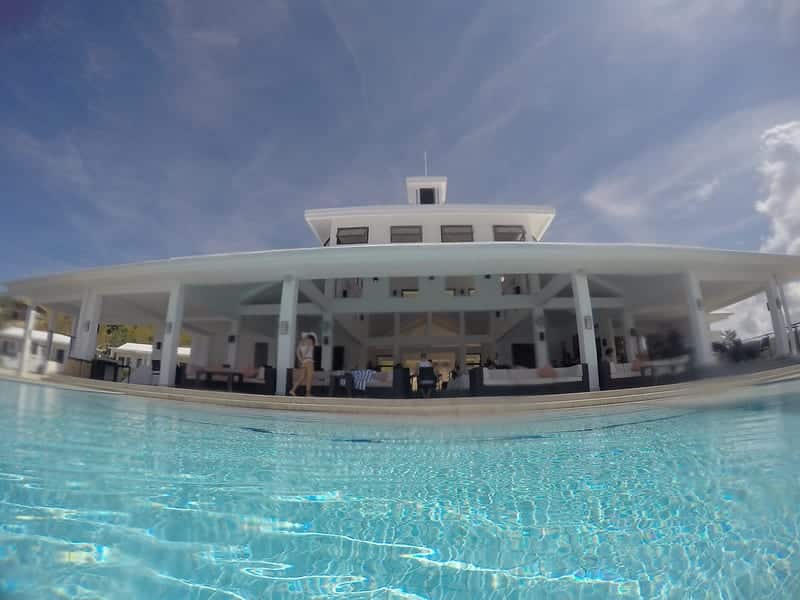 The pool at the lobby.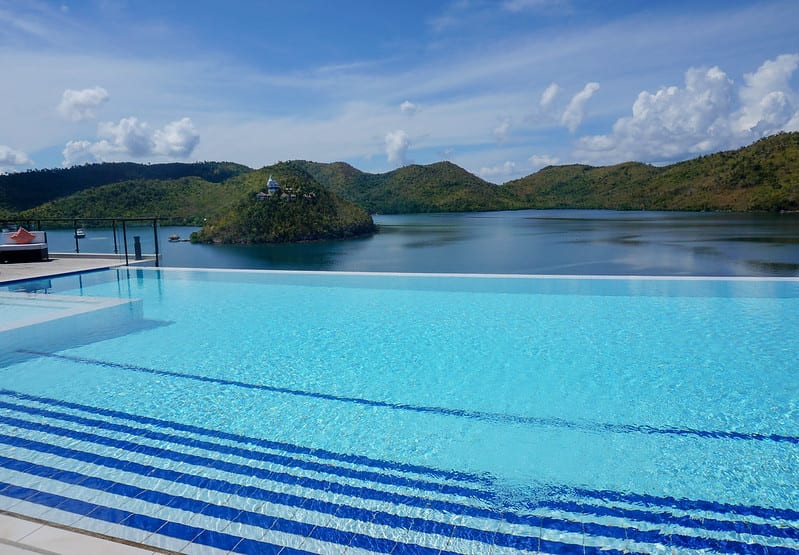 We were in paradise. Not one I had ever imagined or seen before. A lush and verdant paradise of low lying hills, so brimming with plant life that the foliage touched the ocean.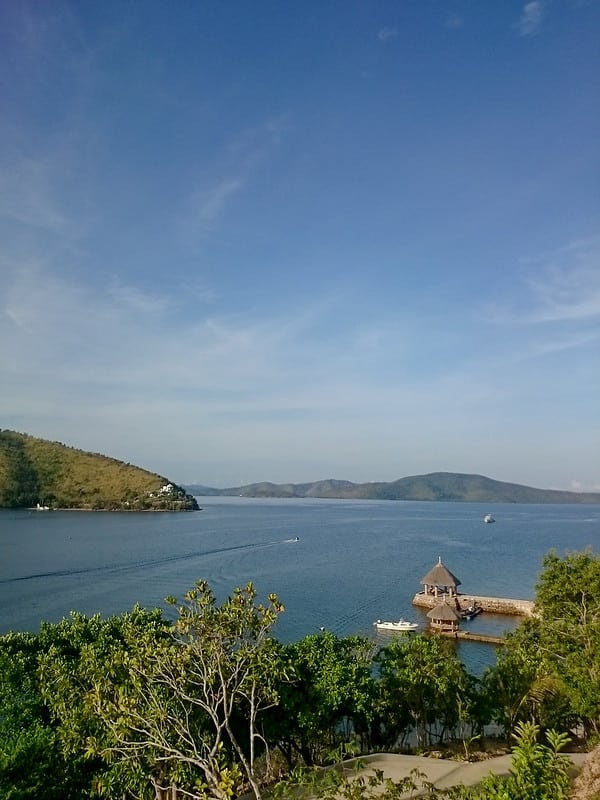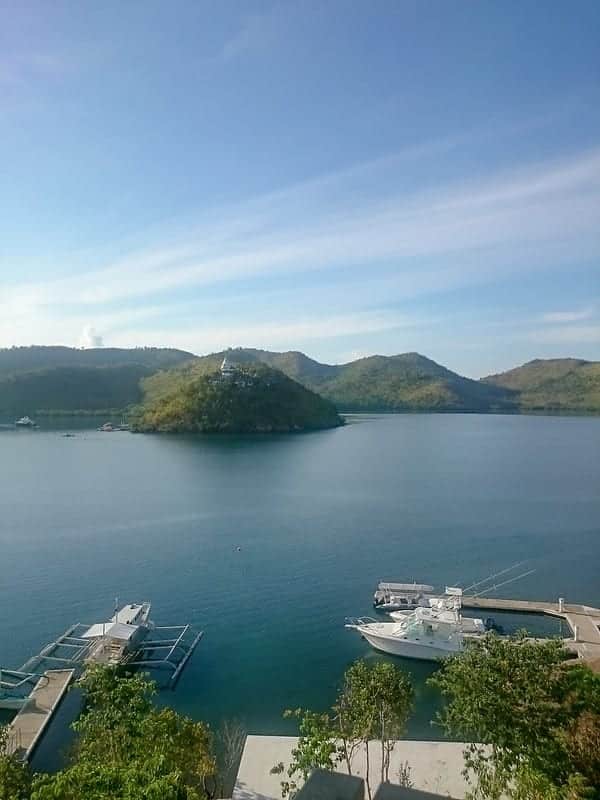 ---
Our Room – Clubhouse Suite
---
There are several room options at BBL, none of which break the bank. We opted for the best available room: a Clubhouse Suite. Whilst the standalone casitas also looked appealing we liked the idea of the the sweeping views, unobstructed by foliage and being close to the pool.
As you can see, there aren't exactly any bad room options at BBL.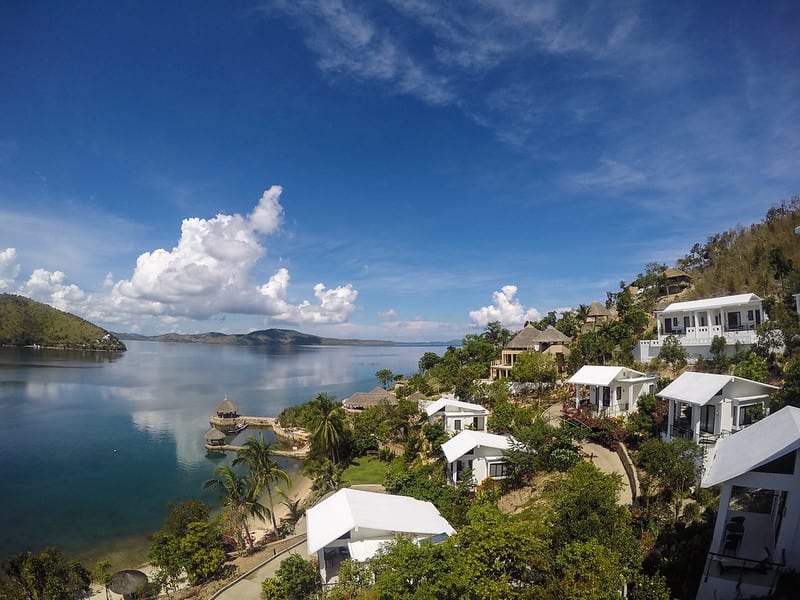 Kamara
walking amongst the Casitas.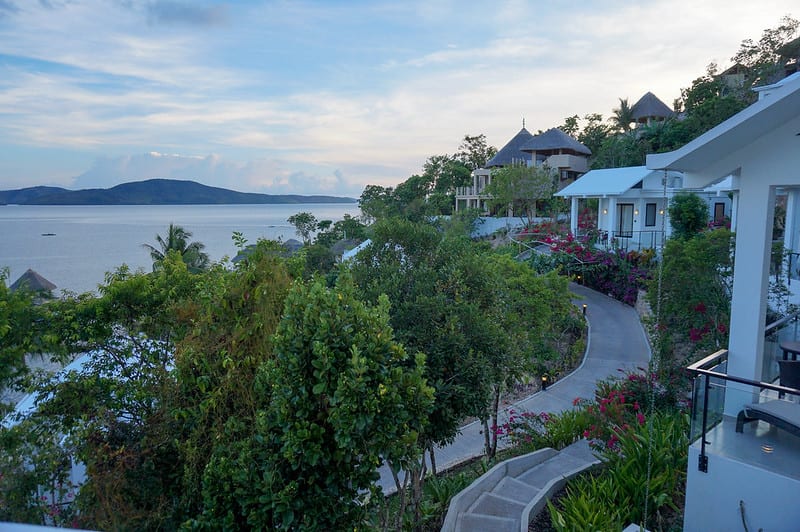 The Clubhouse suites are located one floor beneath the lobby and pool and the view is no less impressive.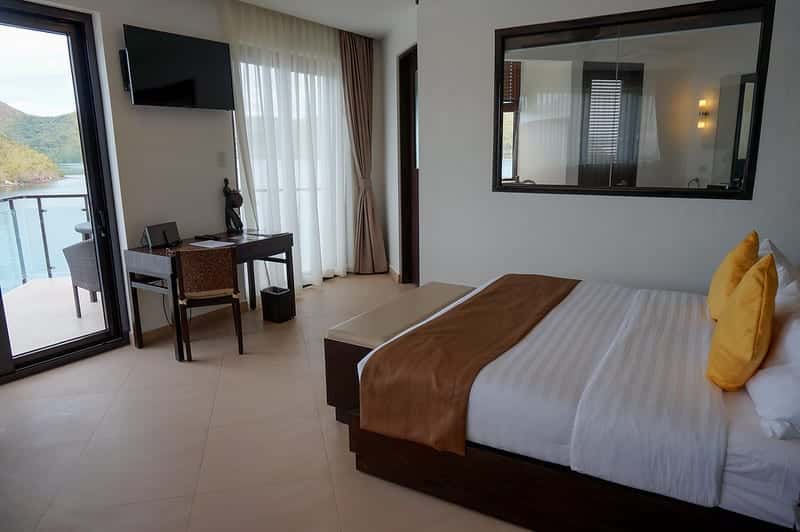 Quilted leather headboard, ottoman, dark wood, in-built reading lights. Very nice for an unknown resort in the middle of nowhere.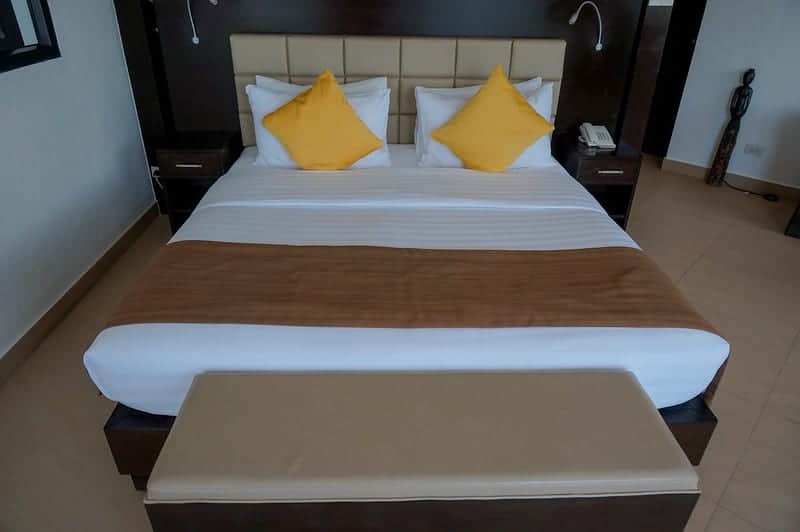 A window into the bathroom. A divisive feature which I personally like, as it opens the room up immensely and really allows you to enjoy the full expanse of the magnificent vista. To the right, behind the bed, was the wardrobe and the tea and coffee making facilities… which I just now realised I didn't photograph!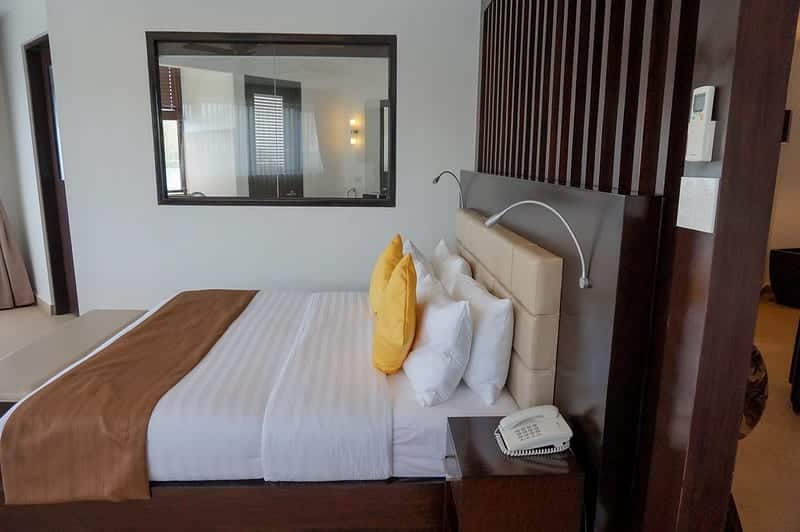 The indoor sitting area (which we really only used as a dumping ground for our clothes).
We slept with the curtains open every night. This is what morning looked like from bed.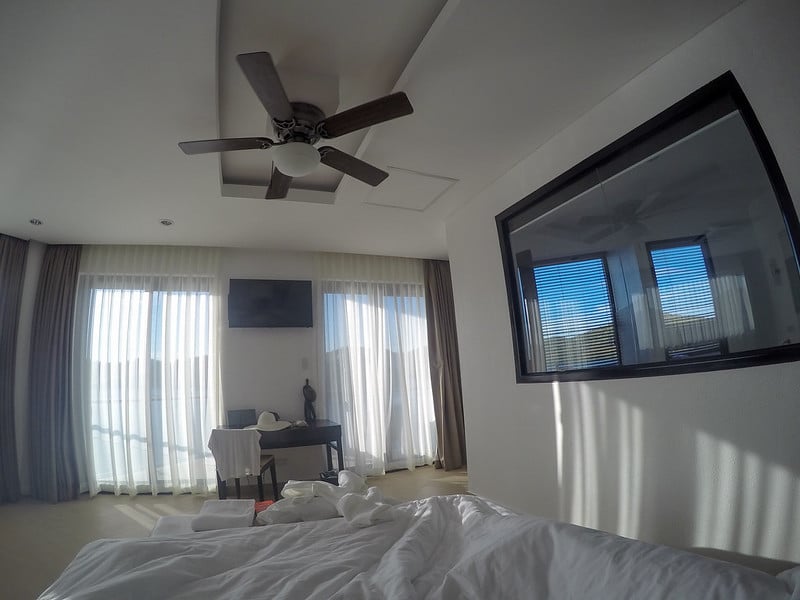 The bathroom had a very modern and open design, with designer free standing bath tub and sinks. Thankfully, the toilet was not open plan.
Showering each morning was a joy. The nearest foot path was stuck to the building and a good 15ft beneath this window, so there were no issues at all with privacy.
Not only a stupendous view but also an enormously refreshing and powerful shower.
The view into the bedroom, which has the possibility of being just as impressive as the view outside… let's face it, nobody is coming here to share this room with their grandma or a business associate!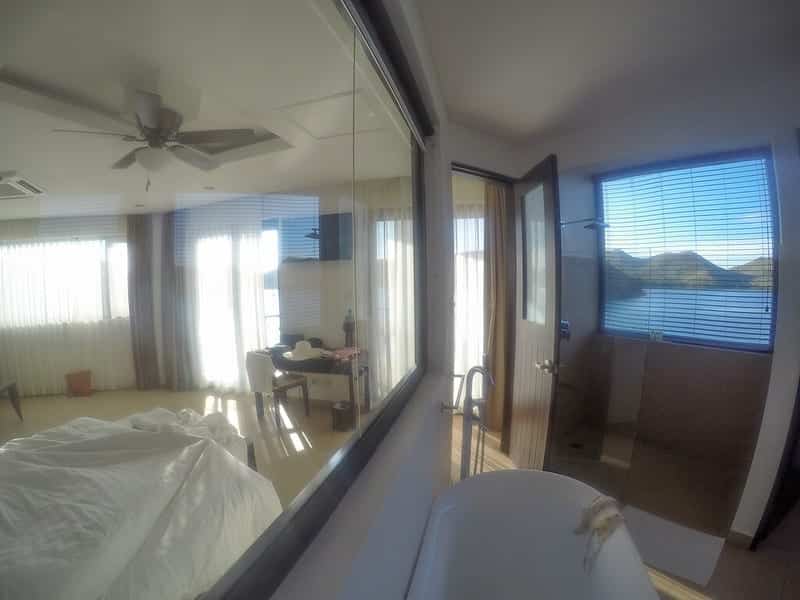 All the usual amenities were provided; the brands were local to the region.
One of my favourite parts of the room was the outdoor terrace, where I whiled away an hour or so each morning before Kamara woke up, reading my book, eating the Bakkwa I bought in SIN and drinking coffee. The only noises I heard, being those of boat propellers gurgling gently through the bay.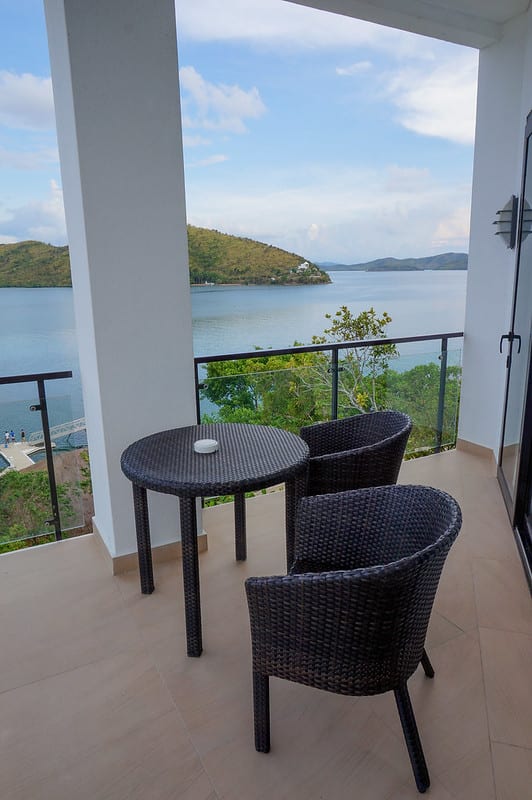 We would also spend time out here in the evenings until the sky got to more or less this colour.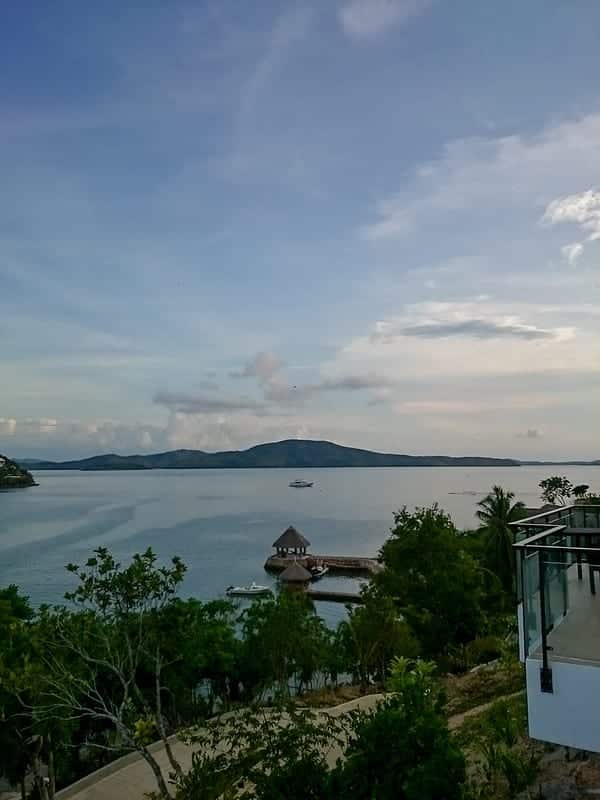 Which meant that it was time for happy hour at the bar on the water's edge…
---
Food and Drink
---
The bar staff were ludicrously friendly and polite and the price of happy hour drinks? $2 for a gin and tonic potent enough to give Oliver Reed pause for thought. Not that we would have quibbled too much over higher prices, given the setting.
This is the kind of sunset that's worth travelling for. Every day was this good, or as you'll soon see; sometimes far better…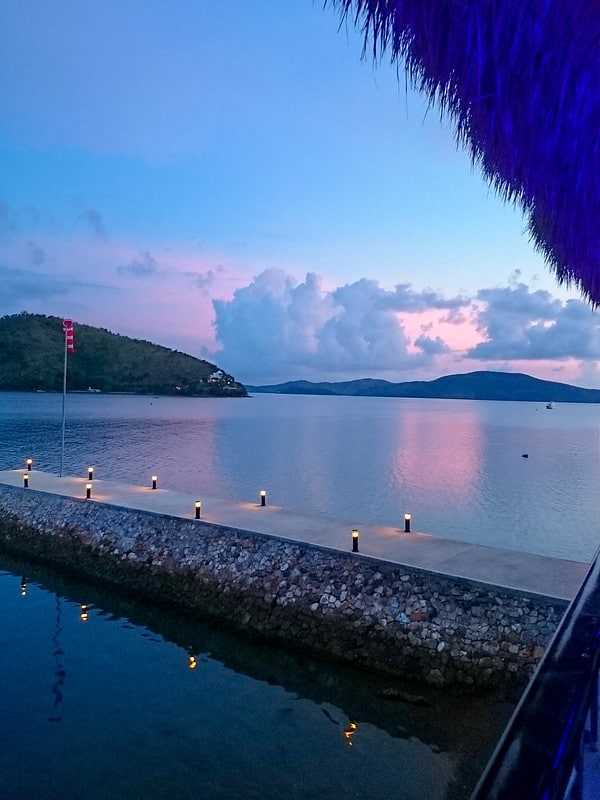 Our room rate included breakfast which was served buffet style alongside a number of a la carte options. It included a variety of western options as well as a large number of delicious local dishes.
The staff got to know our preferences very quickly and would immediately bring a French press as well as two double espressos for us as soon as we sat down.
We took it in turns to sit facing outwards.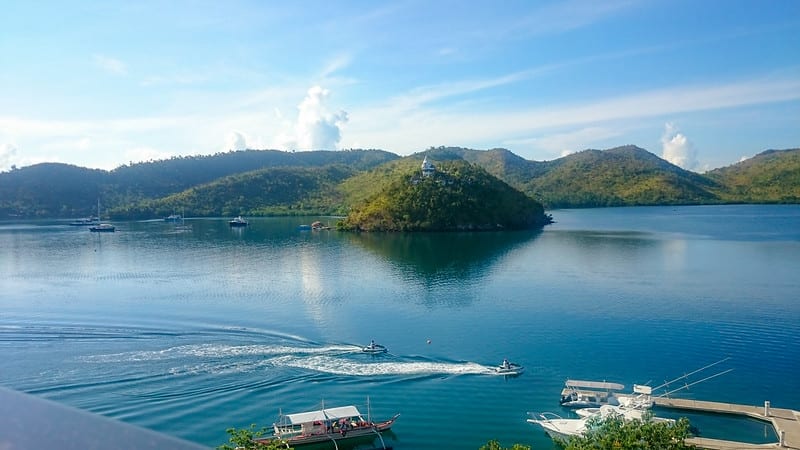 Our package also included 7 dives each, which entitled us to packed 3 course lunches that came in a variety of tupperware containers with all manner of condiments and cute banana leaf wrapped proteins. Dinner was served a la carte in restaurant, there really wasn't much choice of dining options given the remote location of the hotel.
The food was all pretty decent although we did get some severely undercooked prawn spring rolls one day.
Also, there was a band who would come around towards the end of the evening, serenading tables. Singing is a big deal in the Philippines. If you don't believe me, Google the My Way karaoke murders.
On our first night we absolutely dreaded the band coming over to us; inevitably they made their way to our table as we were waiting to sign the cheque.
I have learned in life that when faced with an inevitable horror, you have two choices, meekly submit or take the bull by the horns like Colonel Kurtz and embrace it. Getting serenaded is part of the experience of going on holiday in the Philippines (except for maybe at Amanpulo).
I quickly racked my brain for requests and knew immediately what it had to be; it seems that all singers on cruise ships and hotels are permanently stuck in the 70s. It's as if some Amish stop button was hit before Culture Club and Wham! could enter their vernacular. Actually, thinking about it, that's probably not so bad.
I set my challenge: America's classic – Horse with No Name. They totally nailed it. By the end Kamara and I were both smiling and nodding our heads along. After that first night we made sure to arrive with requests ready and waiting, for the inevitable moment to creep up on us again!
---
Continue on to Busuanga Bay Lodge : Palawan, Philippines – Part 2
---