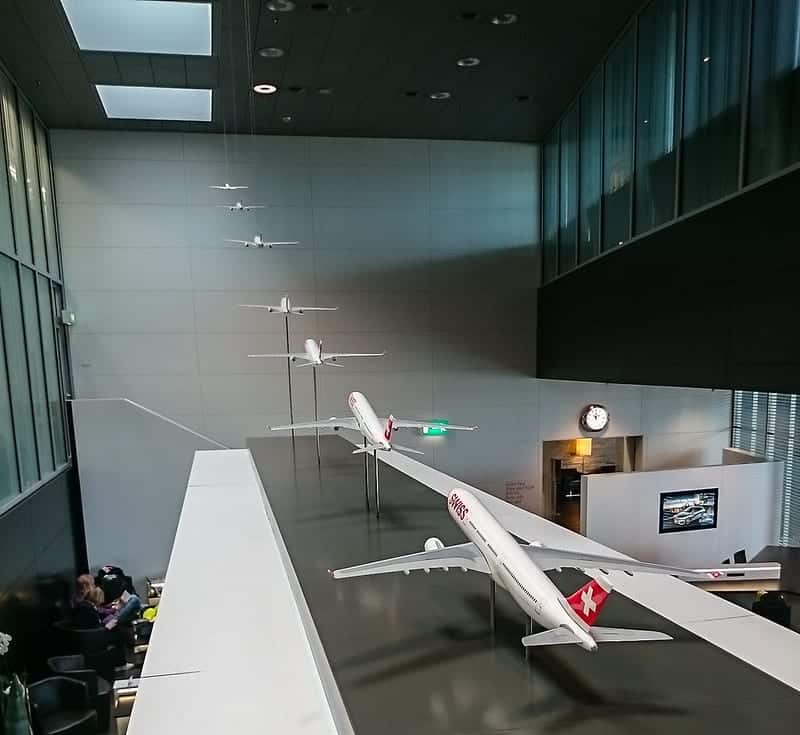 REVIEW – Swiss Senator Lounge, Zurich ZRH (A Gates))
October 14, 2016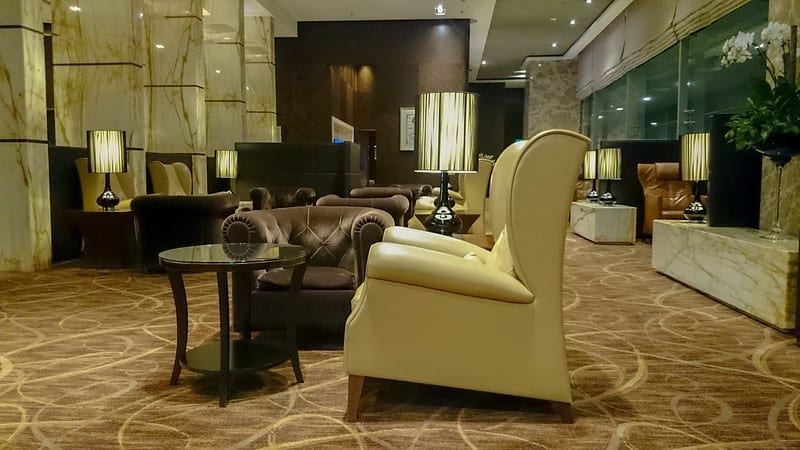 REVIEW – Singapore Airlines : The Private Room First Class Lounge, SIN T3
October 14, 2016
Singapore Airlines (SQ)
Flight: SQ345
Class: First Suites
From: Zurich (ZRH)
To: Singapore (SIN)
Duration: 12hr10
Aircraft: Airbus A380
Seat: 3A (dining room and lounge),3K (Kamara's lounge),2D & 2C (our double bedroom)
Cost: ZRH-SIN-MNL in First Class for 91,375 KrisFlyer miles (converted from UK Amex points) + £212.85 taxes
Flight date: May 2015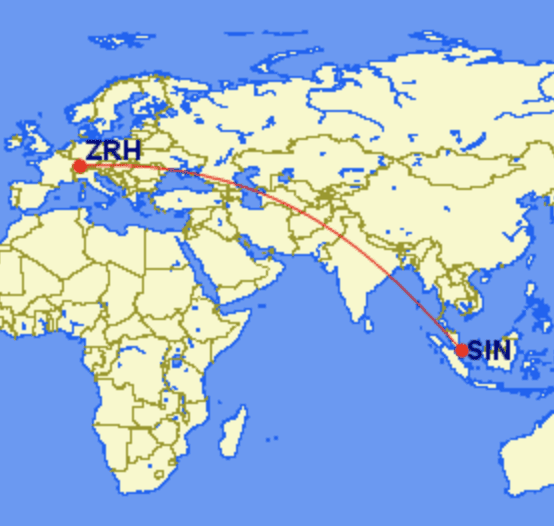 ---
Jump straight to the Conclusion
---
We arrived towards the tail end of boarding and were immediately sent through to board via the jet bridge at the front of the lower deck of the enormous SQ A380.
The crescendo of anticipation was reaching its peak. As we stepped aboard, the experience wasn't quite as exciting as my first time in Suites, however K's facial expression and small squeal of delight made up for the lack of novelty on my part.
We chose seats 2C and 2D as we wanted to be guaranteed a double bed. We needn't have worried as there was only one other passenger in the whole of the Suites cabin with us!
We were warmly greeted by a cavalcade of crew members, including the cabin supervisor and flight manager. The most important part of the greeting process?
Krug of course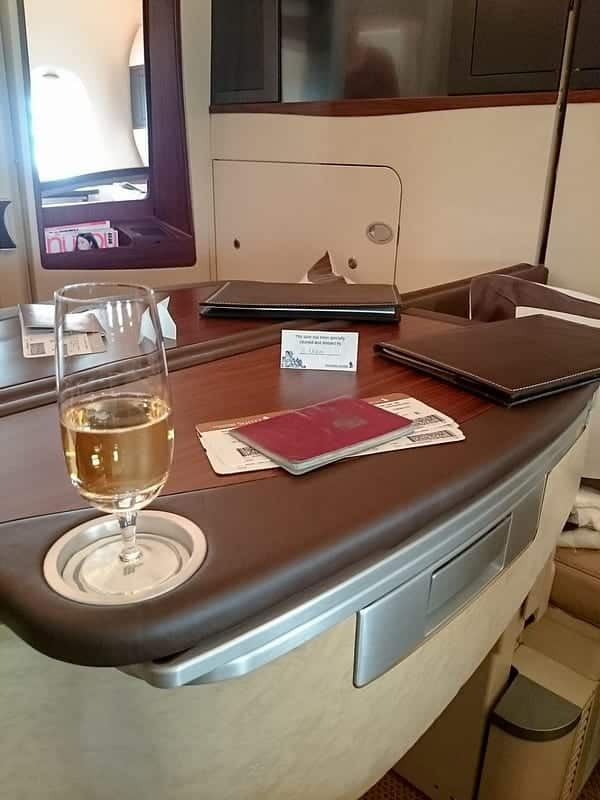 Given that we had the whole cabin more or less to ourselves, we shifted to 3A and 3K for takeoff (the best window seats in Suites, given their complement of 3 fully aligned windows. I know this gets mentioned a lot but I'm a really big fan of this design touch, demarcating the separation between the aisle and the Suites by using an entirely different carpet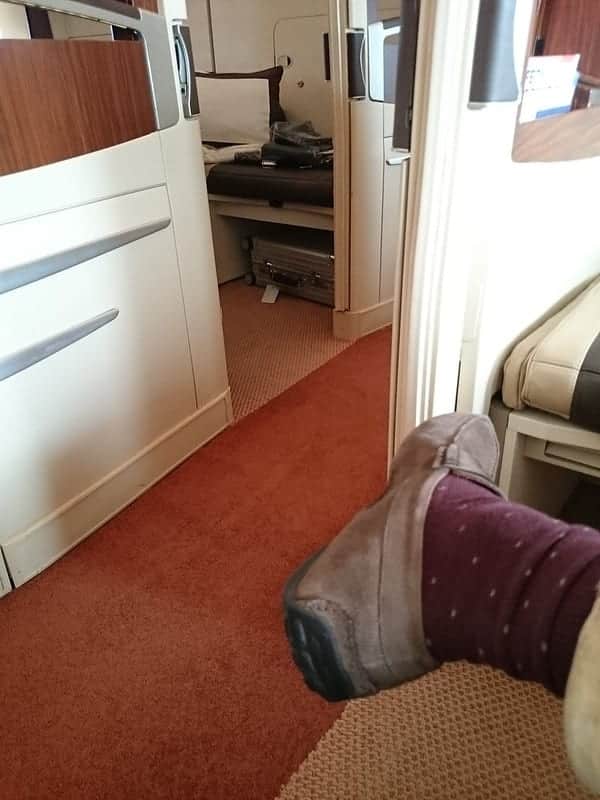 An AirBerlin flight comes in to land as we begin to taxi
As soon as the seatbelt sign was switched off, K rushed over to join me in 3A. Being an upstanding gentleman I took the opportunity to reprise my regular role as 'buddy'. Likewise the delightful CSS reprised her role as Krug distributor with aplomb.
The instant we were left alone we would take the opportunity to photograph ourselves enjoying the cabin. As I'm sure all good #AVGeeks would. The lunch service commenced with a delicious trio of pork, chicken and beef satay. I absolutely love this dish and was blown away when it came as a pre-meal starter in business. Here in Suites it is every bit as good although of course the Givenchy tableware ups the presentation stakes a little.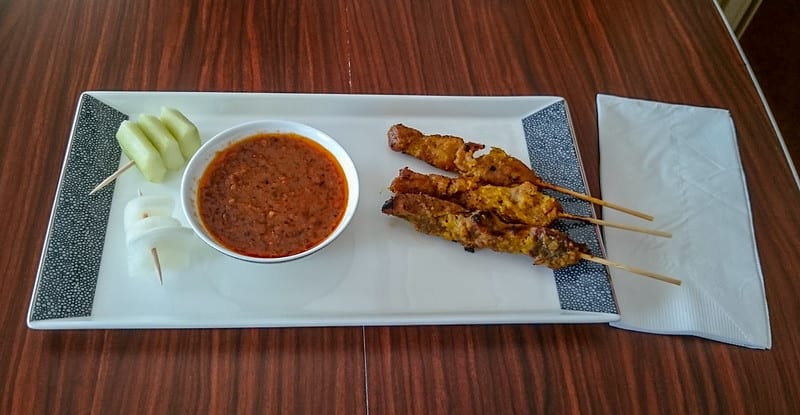 Your intrepid adventurer staring wistfully into the middle distance, holding a glass of Krug. There was a lot of this going on, on this flight. Satisfied sighing also featured heavily on the agenda.
In the background: The only other passenger on this flight secures a double bed of her own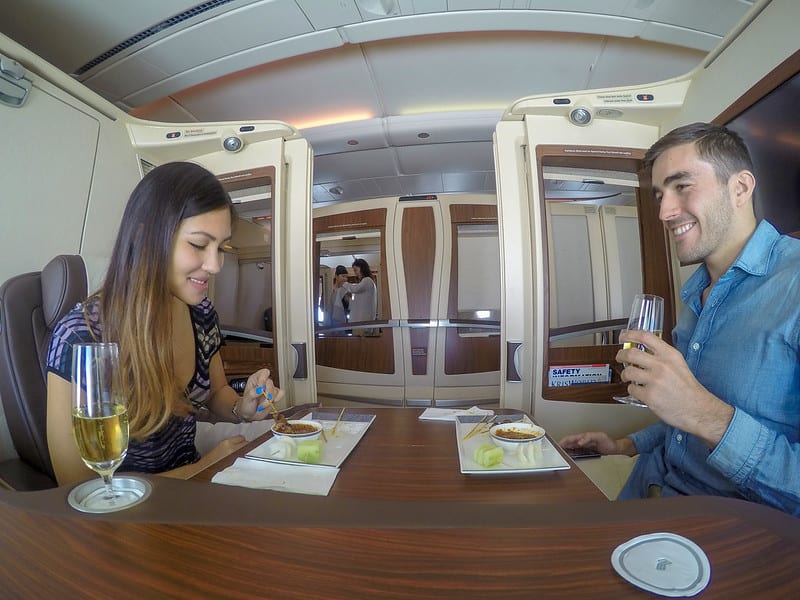 After the satay was cleared the CSS and LSS set our table. This is where things really started to take a turn towards restaurant territory. White linen tablecloth and napkins, side dishes for our garlic bread and a selection of wines to choose from. I liked that we had two of the crew serving us at a time, it really allowed the whole service to flow much more smoothly. Eating at a fine restaurant involves an element of service orchestration and I think SQ really gets this.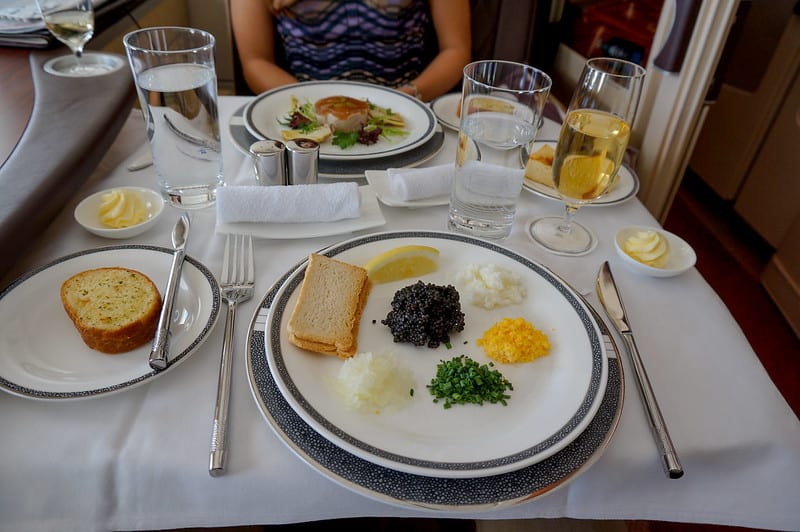 Next up was the soup course. It's a shame that you don't tend to get soups in J as I think they are one of the foods that does best on a plane. The method of preparation is perfect for a galley setting. Nothing is lost in the re-heating.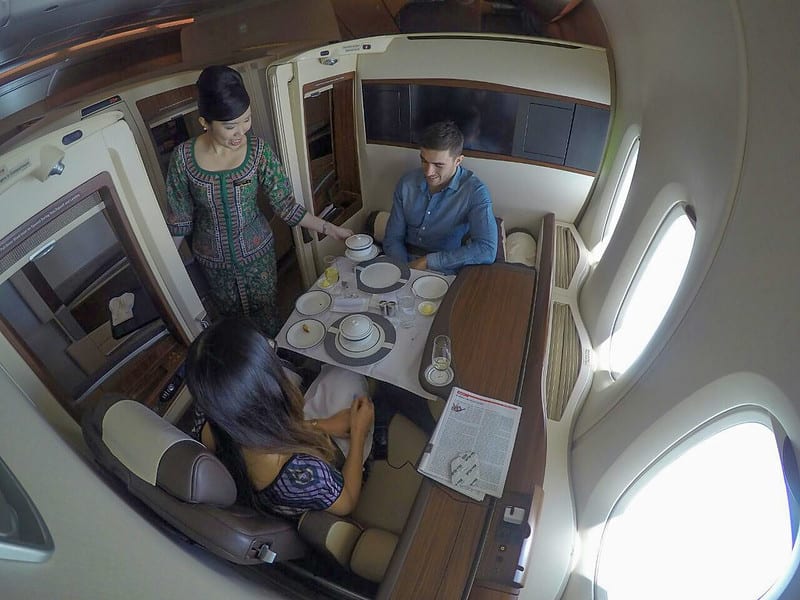 This clear soup was perfectly executed and just the right amount of food, given how many courses we were due to do battle with.

Next up was the salad course. The ingredients were all extremely fresh and clearly a little thought had gone into the selection of the non-green constituents.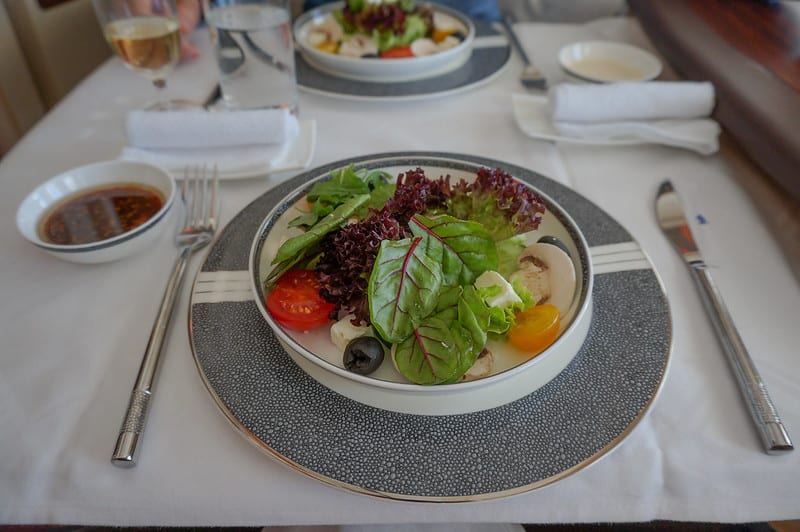 We opted to Book the Cook for our main courses. I selflessly endeavoured to try yet another lobster, in my undying mission to try SQ lobster ex-everywhere. K went for the Swiss sausage dish, unique to this route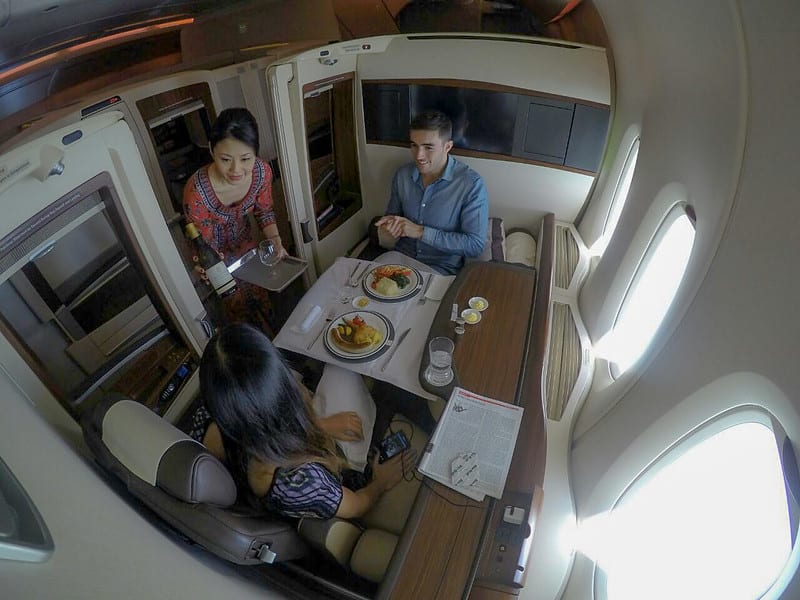 Sometimes I like to be a bit of a rebel, throw caution to the wind, play by my own rules. So I switched to Dom for the main course… like an absolute renegade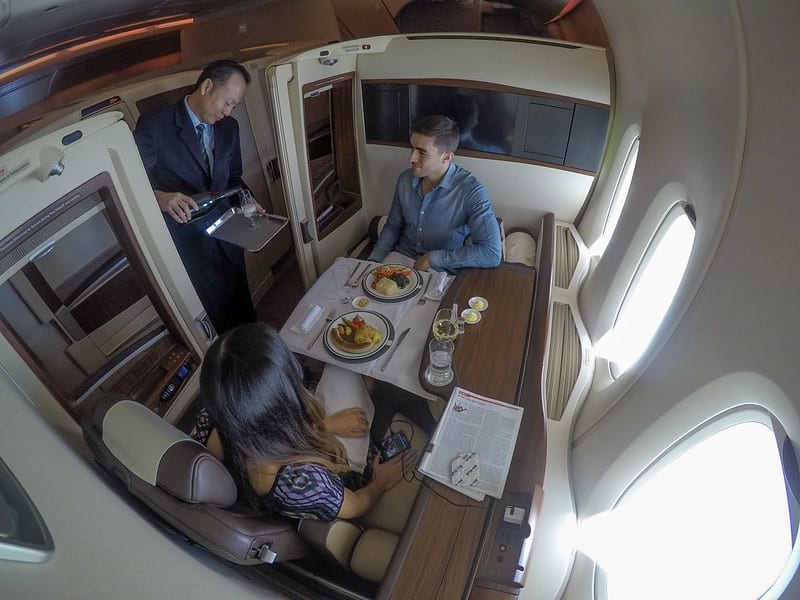 Kamara's sausage dish was absolutely fantastic. Every element was cooked to perfection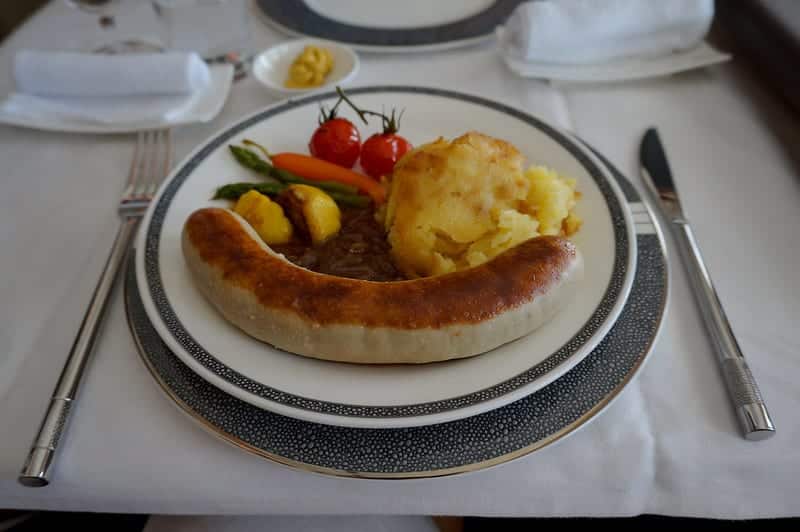 My lobster was great and actually had a slightly Indian flavour profile, somewhat reminiscent of a Peshwari Naan. Still not a patch on my J lobster ex-LHR though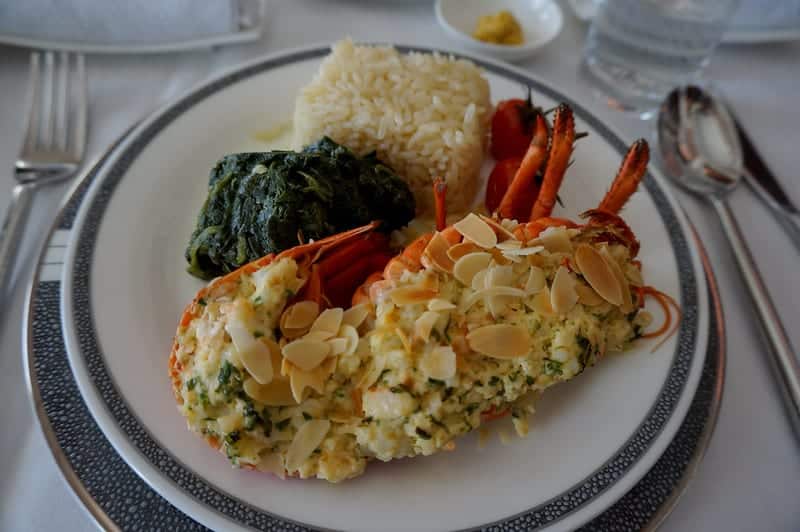 In a bid to maintain some structural integrity on the waistbands of our clothing we opted to take fruit as our dessert. The presentation was beautiful and the selection was very varied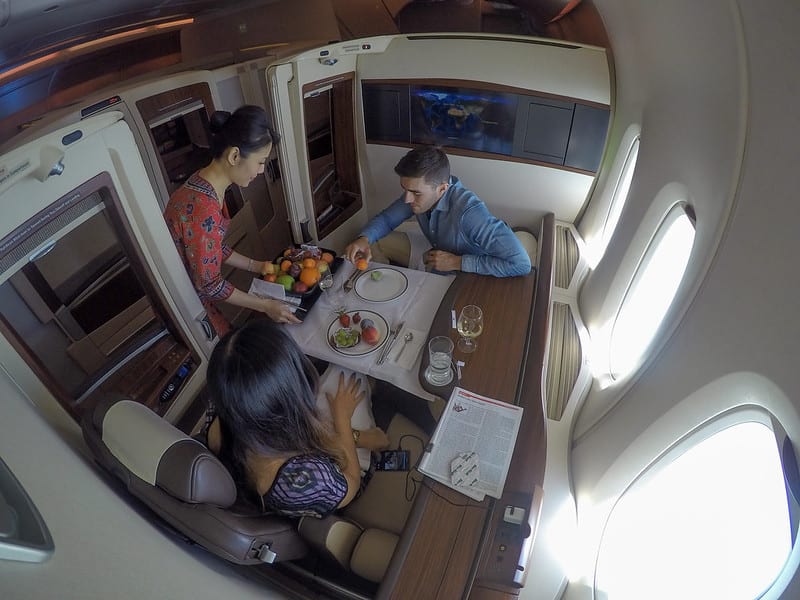 I can still taste how fresh the fruit was. With my eyes.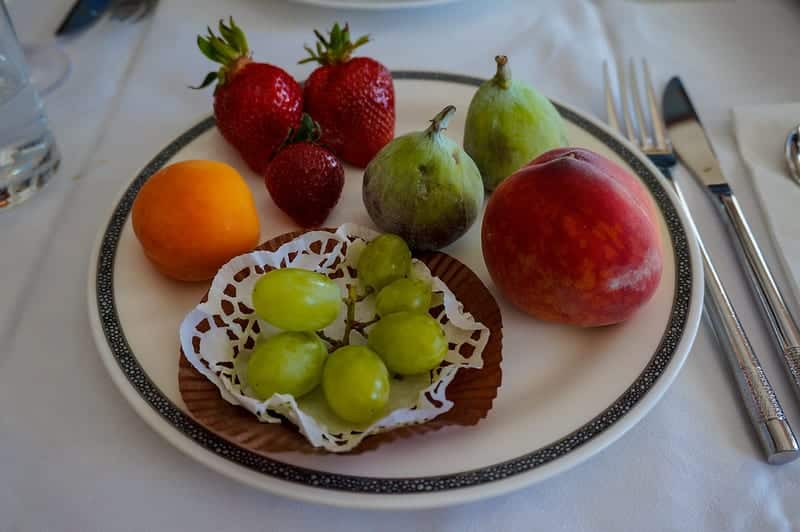 After the meal we asked for some tea and an espresso. Meanwhile another FA offered to make the bed up for us. We tried to play it cool but I'm pretty sure our giant grins gave away how excited we were to have our own double bed
Kamara playing it cool. She is far more prolific with her trip reports than me. Don't forget to check out her site! www.euriental.com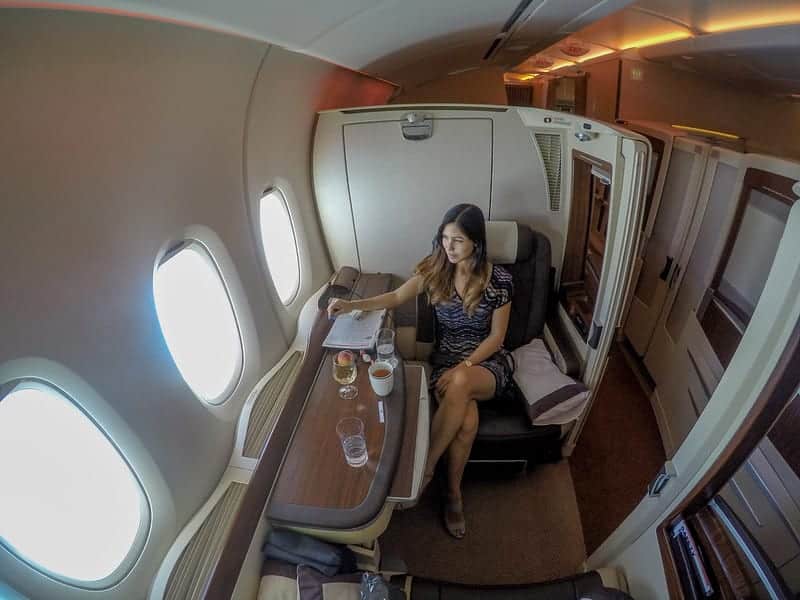 Our awesome pillow kingdom

Bliss

We spent the next few hours watching movies and having naps. SQ provided us with a Ferragamo amenity kit each featuring full sized colognes, we also got some sleeper suits that were more like tracksuits, one area where I think SQ could improve. Right now CX's PYE organic cotton PJs are the ones to beat.
K drank a prodigious quantity of tea whilst I did my best to drink all of the Krug in the universe. Given how empty the cabin was we left the doors open most of the time, which I think helped the service to flow smoothly. I always prefer making eye contact with a passing FA rather than going through a call button rigmarole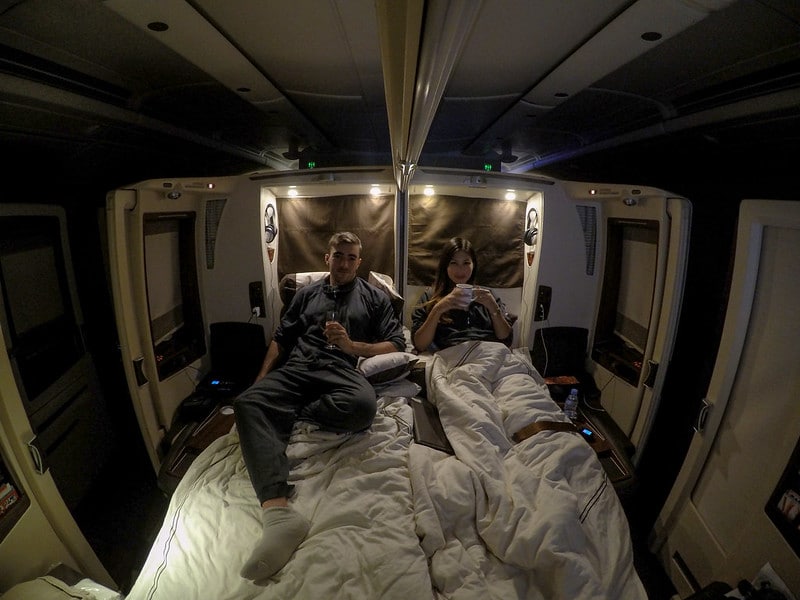 As the evening wore on, we decided to eat again. I went for some caviar whilst K ordered the dessert she'd been pining over ever since we opted for fruit. At this time of night only the LSS in the green was on duty. She apologised profusely for the fact that service might be a little slow as she'd not been trained to plate the dessert.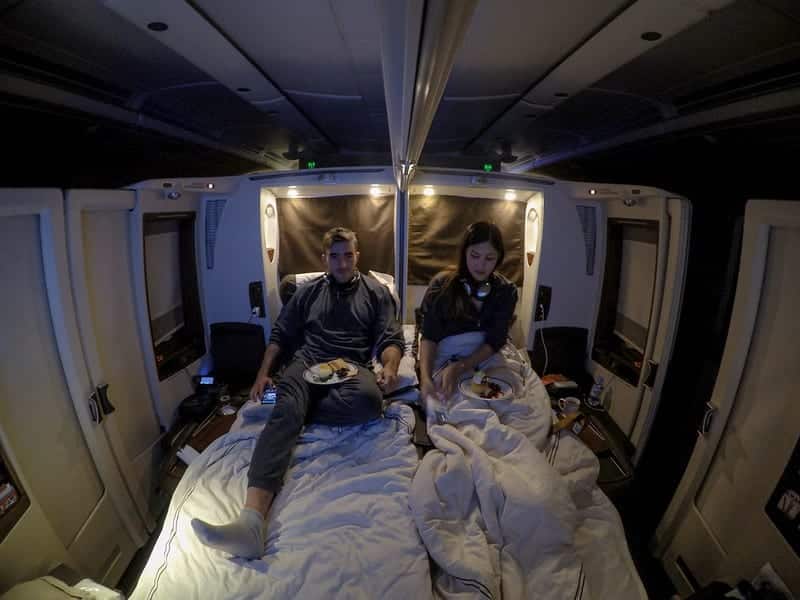 The presentation was pretty good and the flavour… let's just say K ended up getting more of a helping hand than she would have liked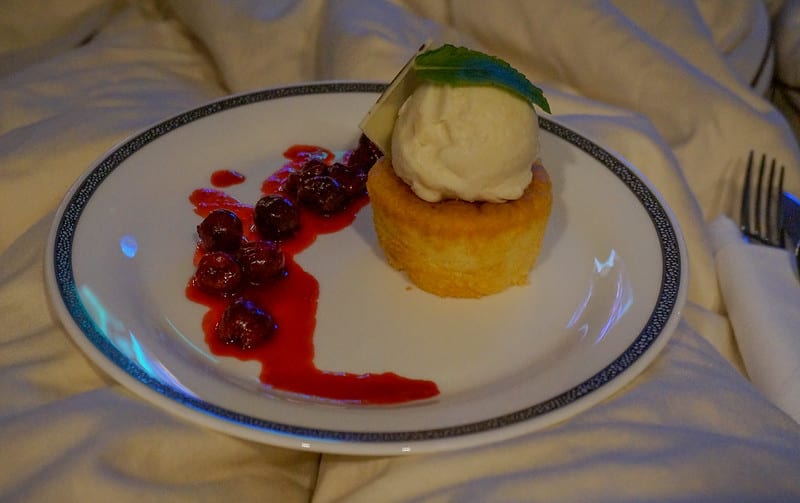 After our midnight snack we finished up watching Ex-Machina (what a film!) and then got a few hours of sleep
We awoke around 2 hours before landing, an FA immediately came over to see if we would like some juices and water, we thanked her and said we were ready for breakfast. The juices tasted freshly squeezed and once again the fruit was excellent

Next up was a super tasty Bircher Muesli

For the main course we both opted for the BTC Swiss Roesti potatoes with smoked salmon and creme fraiche. The best First Class breakfast I've ever had. The potatoes were insanely crispy and not at all greasy. Having all the little side dishes for condiments really made it feel like we were having breakfast at a Four Seasons.

After breakfast we sat together and watched some TV. It's amazing how different the cabin looks with all of the blinds down and the doors open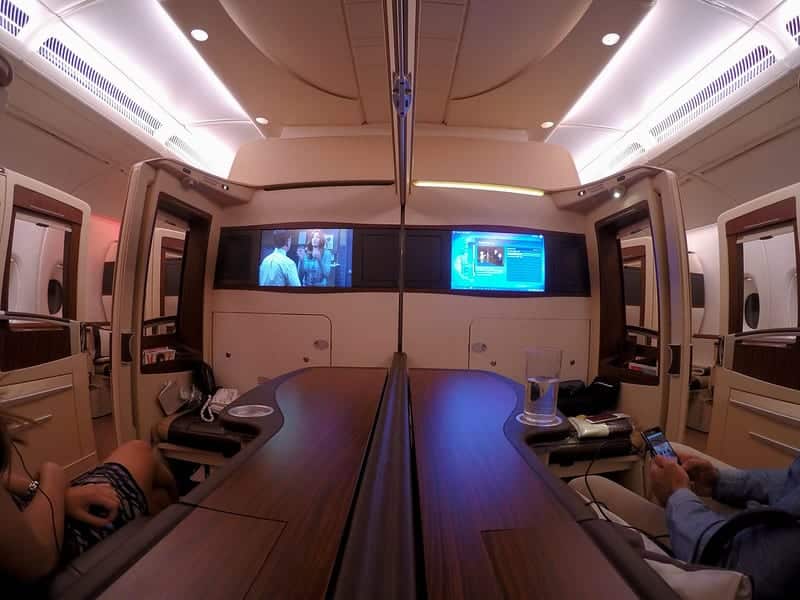 Can you tell that Kamara was sad to see this flight draw to a close?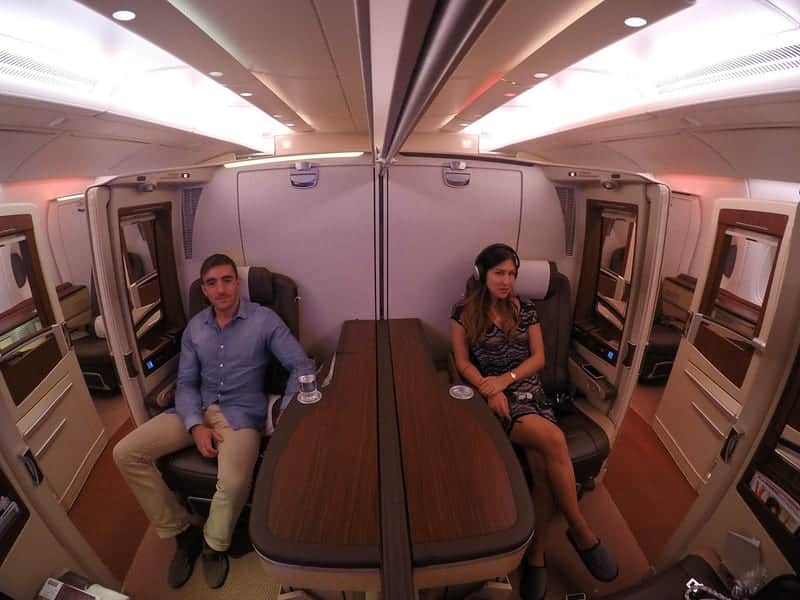 ---
Conclusion
---
The service was spectacular and the fact that we had a dining room, a private reading room each and also a bedroom definitely took things to another level. Add to this the insanely high quality of the F&B and you basically have the perfect flight. I've yet to fly EY apartments although I am currently sitting on 6 upcoming sectors! I have to say, whilst the apartments may have the slight edge in terms of hard product, I seriously doubt that the experience is going to rival SQ Suites as a whole. Make no mistake, SQ is the airline to beat. They have an eye for detail and innovation which is inimitable. Long may they reign.
---