Thai Airways (TG)
Flight: TG 621
Class: Business
From: Manila (MNL)
To: Bangkok (BKK)
Duration: 2hr15
Aircraft: Boeing 777-200
Seat: 12A
Cost: 25,000 Avianca lifemiles + $0 tax
Flight date: May 2015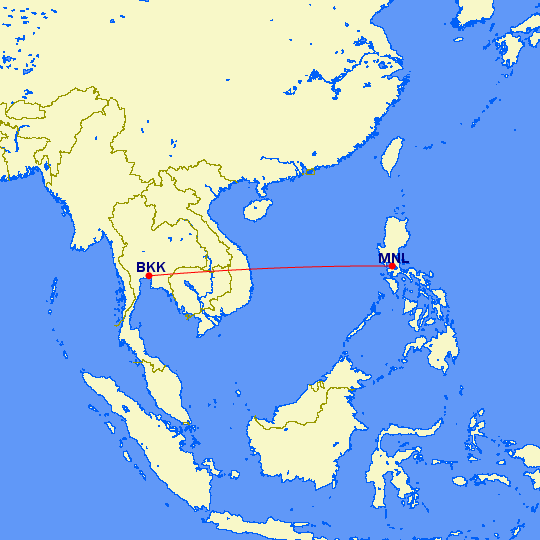 ---
Upon exiting the lounge we got a great view of our plane

This was the first modern business class product I ever flew on. As we stepped onboard a wave of nostalgia hit me. I remember thinking this was the most amazing thing ever, back in 2010. Now, I was happy to have this for a short hop but of course, thanks to FlyerTalk.com, I've experienced countless better products.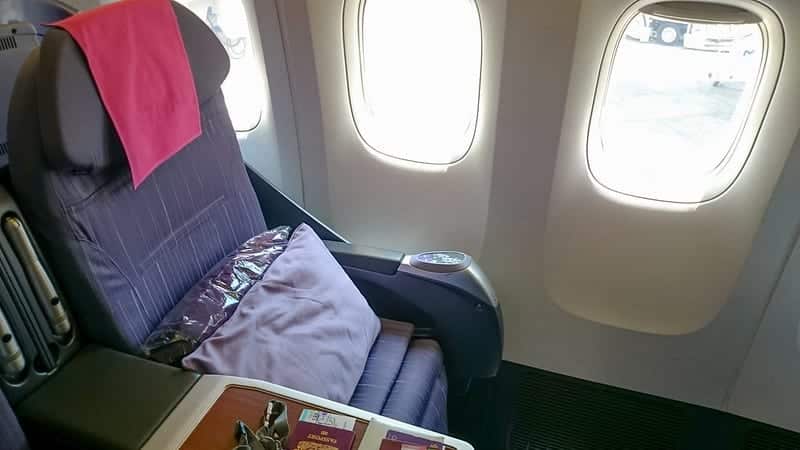 Still, for a daytime flight it is nice to sit next to your travelling companion.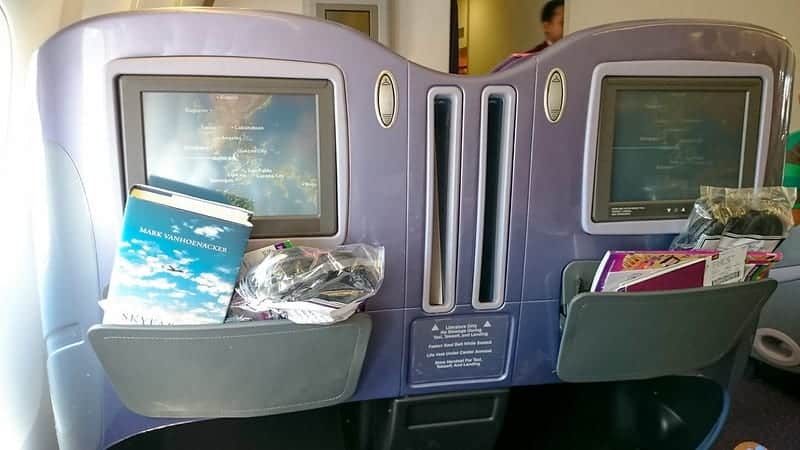 We had a full flight but the cabin actually felt very spacious. These planes used to be 2-3-2 so the aisles now feel insanely wide in the current 2-2-2 configuration.

The seats are starting to show their age but at least the in seat power is modern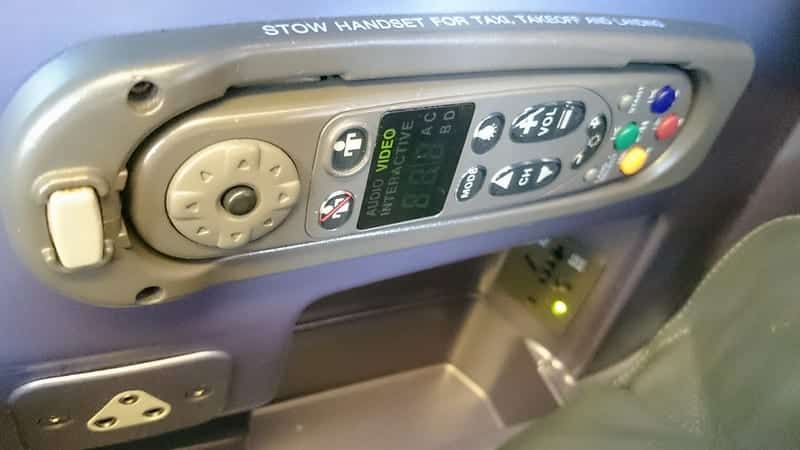 Got to love that massage function

Shortly after settling into our seats, the plane began to taxi. The brutalist airport terminal is certainly pretty dated and actually reminds me of a building that I grew up with. The Tricorn Centre in Portsmouth.
When you see where I grew up, I guess it makes sense that I decided to GTFO and see the world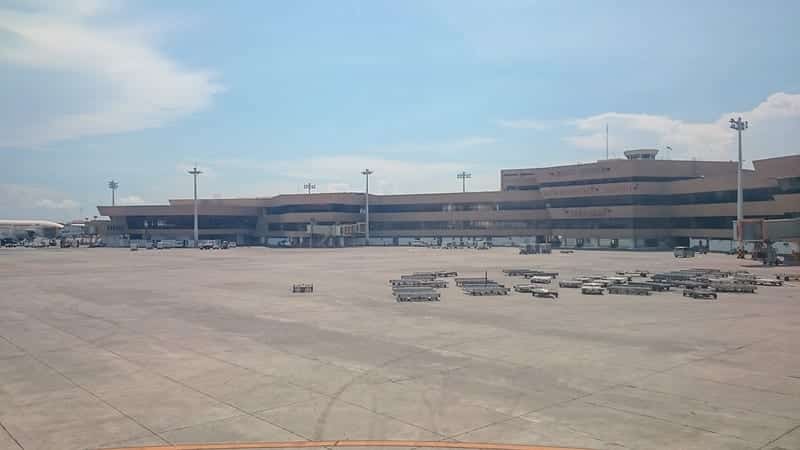 An LH A340 outside the Lufthansa Technik hangar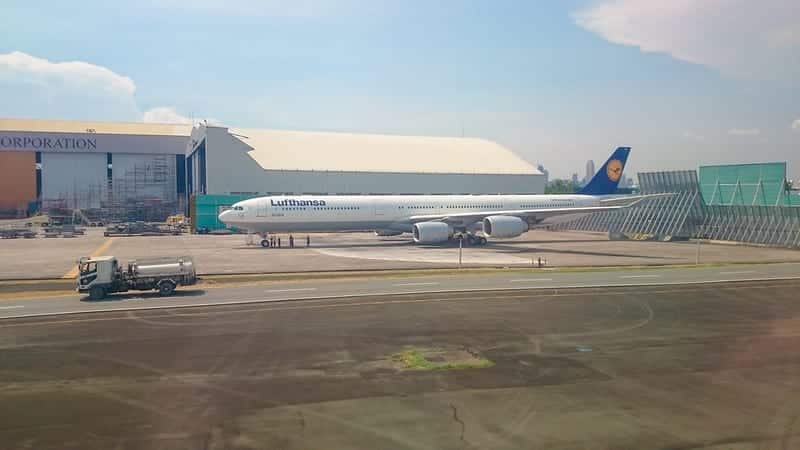 View of the metropolitan sprawl of Manila shortly after takeoff

One thing I love about TG is how they serve from old school trolleys, draped with linen cloths. Sadly my favourite: the caviar trolley, didn't make a special guest appearance in Business Class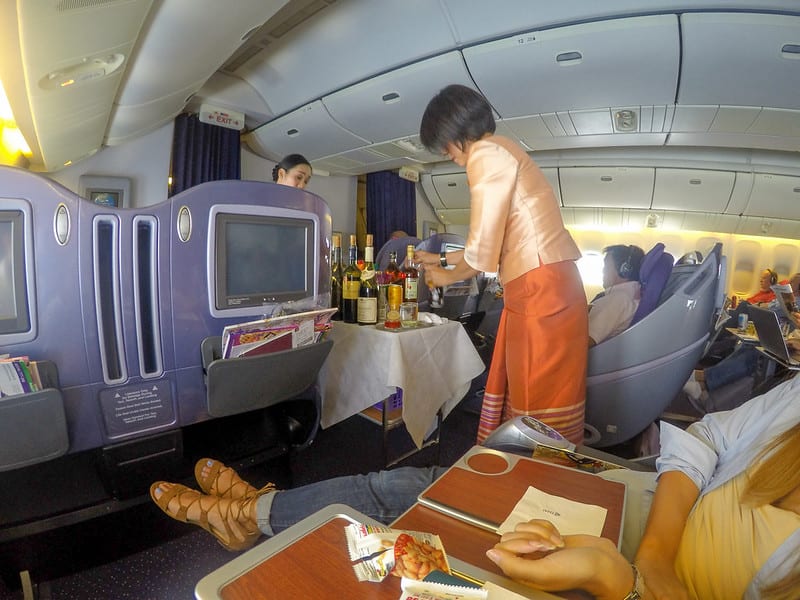 There were two full runs of drinks before meals were served

Somebody is ready for sleepy time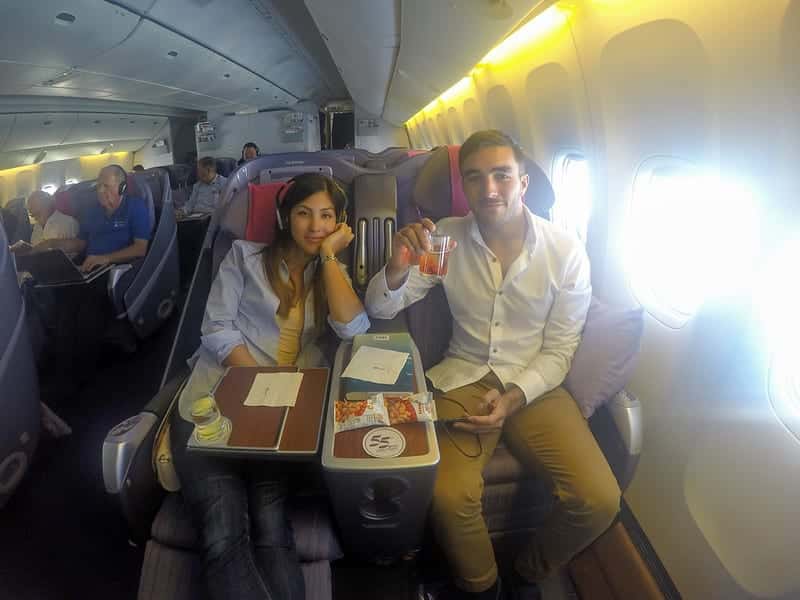 The Drinks list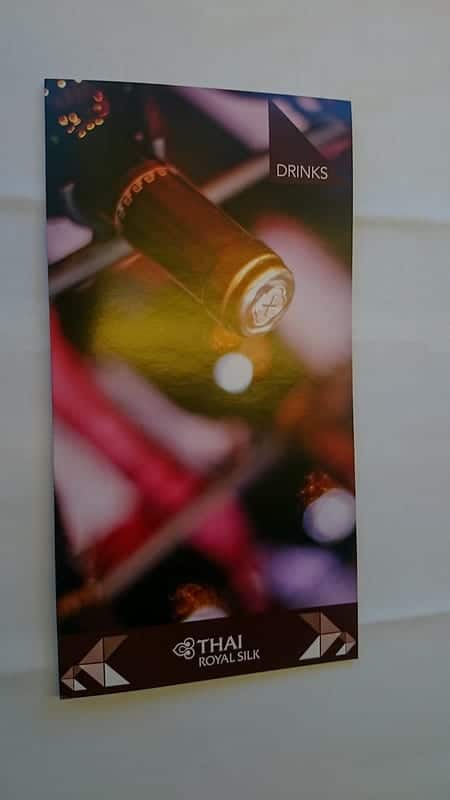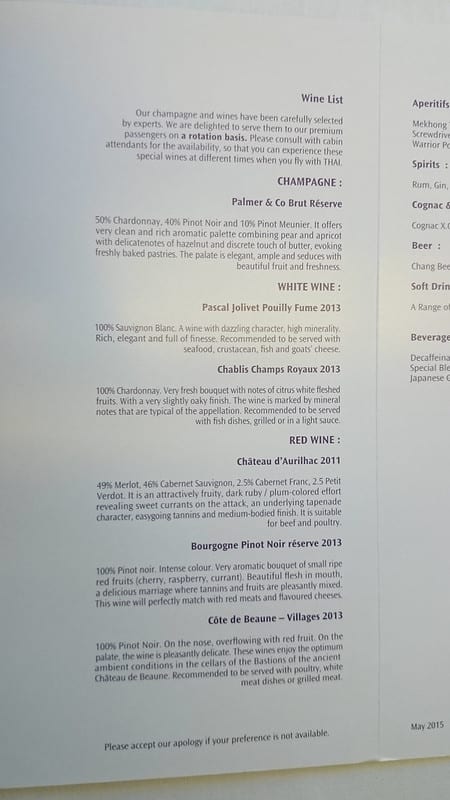 The Menu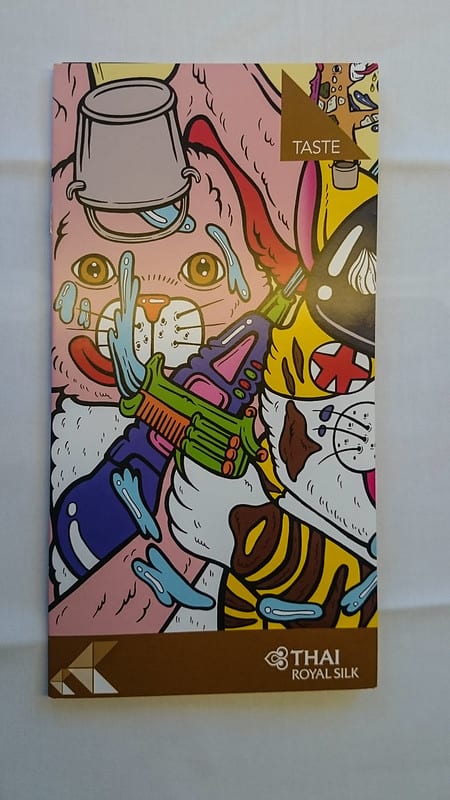 TG serves its business class meals on a single tray, setting a linen cloth underneath. I prefer when airlines put the cloth on top of the tray, hiding the cheap plastic and eliminating the need for paper cloths. This is less wasteful, easier for the crew and looks much better.
The starter of Smoked Chicken with Mango salsa was fantastic. I welcome healthy food on the rare occasions that it presents itself on airplanes, particularly when it is tasty and somewhat interesting.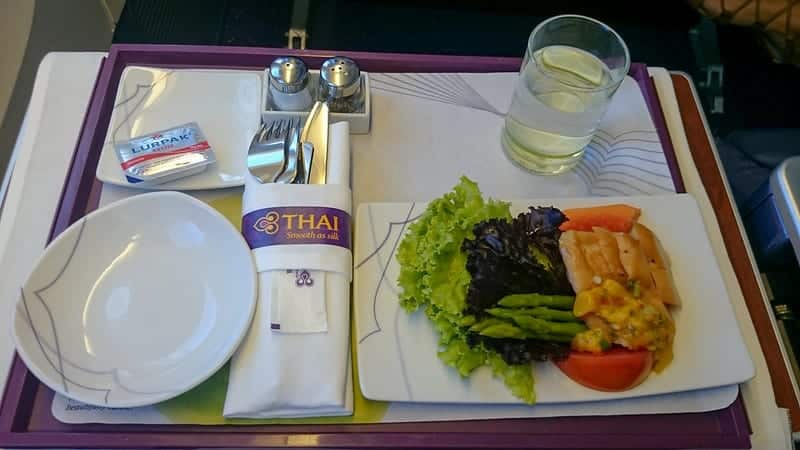 K opted for the Sauteed shrimp in Tamarind sauce

I had the beef tips Tagalog. Both dishes were pretty rudimentary in their appearance but passable as a means of sustenance

I ordered the cheese in lieu of dessert. An attempt had been made to present this in a professional fashion. All the ingredients were bland and lifeless, in both appearance and taste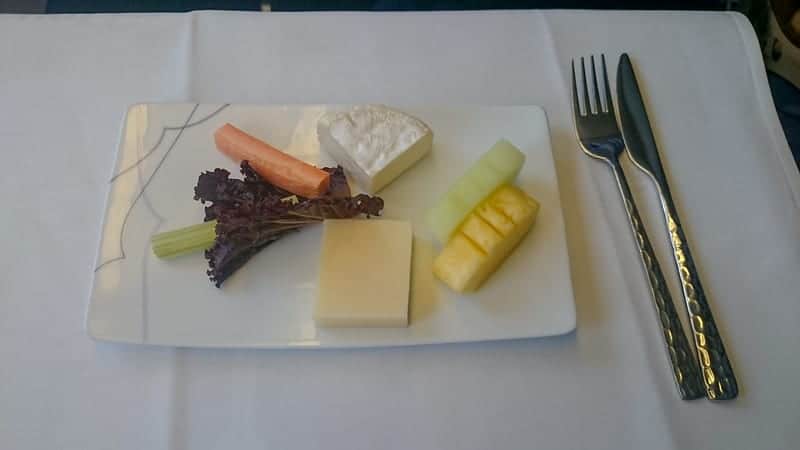 Thankfully I looked closely at my food before eating it, one of the benefits of photographing my travel extensively. Unacceptable.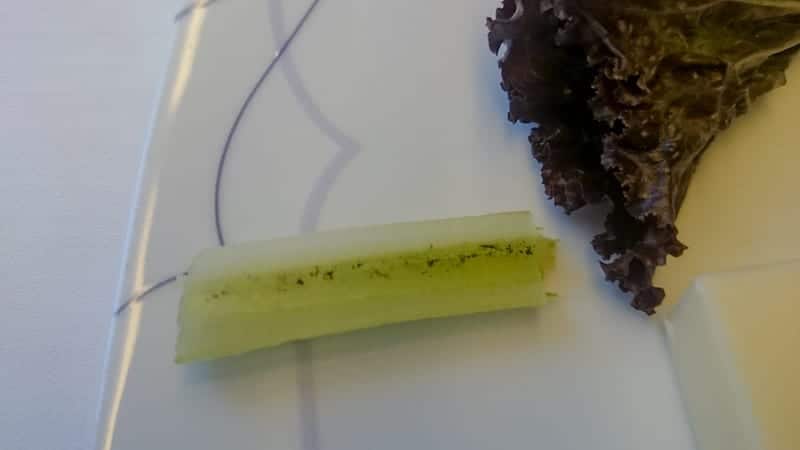 K ordered the Choco Orange Bavarois which was a considerably more salubrious choice. I drank the Kahlua to wash the dirty feeling out of my mouth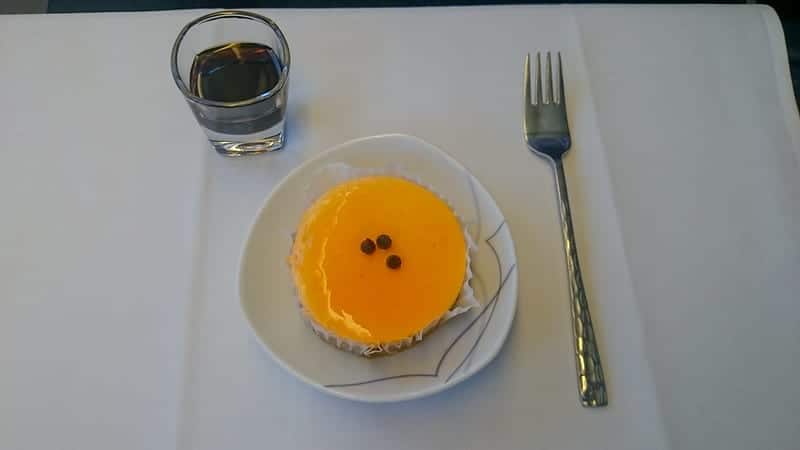 We only had an hour or so to relax before commencing our descent. So I indulged in my favourite pursuit of taking in the view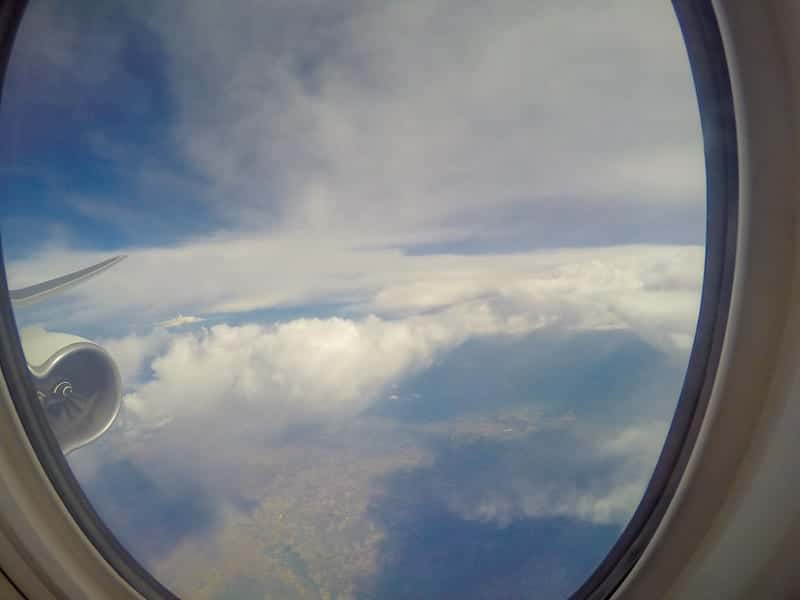 I always get a flutter of anticipation, seeing the elongated fields outside of Bangkok. Usually it means I'm about to spend time in one of my favourite places on Earth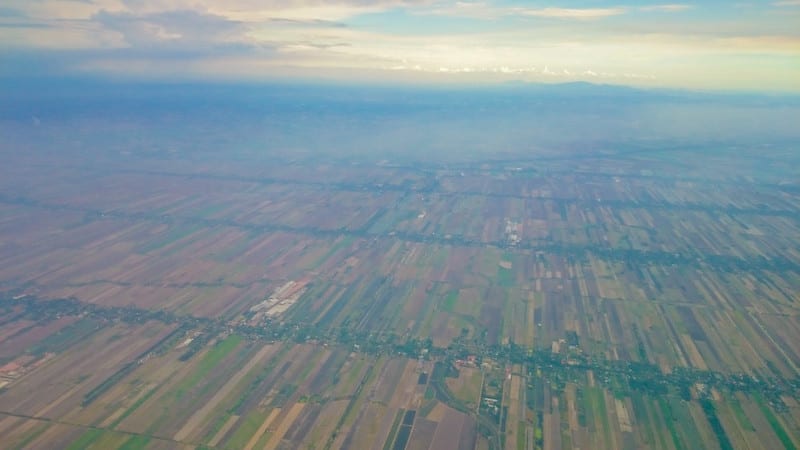 Unfortunately, today we were on a tight schedule and would only be seeing Suvarnabhumi without a chance to visit the city itself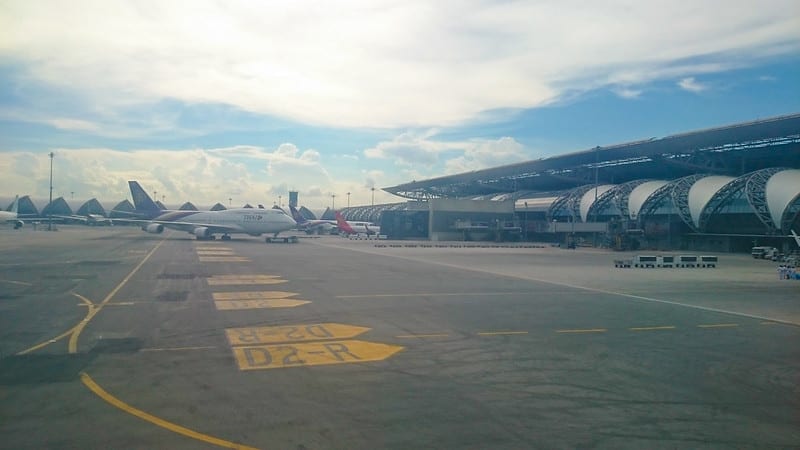 ---
Conclusion
---
The slopey lie flat seats are more than adequate for a short flight. All I was looking for was somewhere to catch a comfortable power nap after lunch. In that regard the flight delivered.
The crew were very attentive and I do enjoy an elaborate trolley service when a multitude of delicious options are presented. The food itself was average at best though and this will forever be the flight in which I drank Kahlua to wash a dirty taste out of my mouth.
This was still infinitely superior to any European carrier in short haul business but a clear notch below Singapore and Cathay within the region.
---