REVIEW – British Airways Cityflyer : Economy Class – London City to Zurich (E170)
October 14, 2016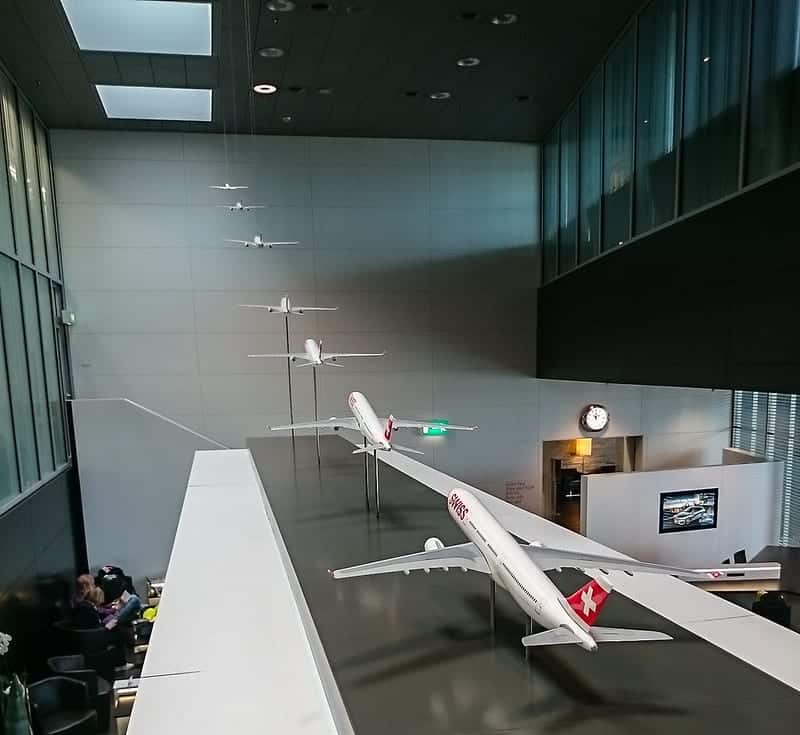 REVIEW – Swiss Senator Lounge, Zurich ZRH (A Gates))
October 14, 2016
Hilton
Location: Zurich
Chain: Hilton
Loyalty Program: HHonors
Loyalty Status During Stay: Gold (thanks to UK Amex Platinum)
Room Type: Executive Room
Cost: 131 CHF per night
Date: May 2015
---
We got into ZRH at around 9pm, a ruthlessly clean and rather deserted facility. We spent some time wandering around looking for the Hilton shuttle until we found an information booth. There was a lot of construction work going on and the bus stop sign was hidden behind some scaffolding. Uncharacteristically inefficient for the Swiss.
The first minibus that came by was packed full but the driver said we could stand if we wanted. We hopped aboard and got talking to a few of the other passengers. Inevitable really given that we were all practically on top of each other! The Hilton is about 10 minutes away form the airport and is actually the second stop that the bus makes.
With these late night arrivals – particularly when followed by early morning departures – I think that it makes a lot of sense to go for a hotel which is attached to the airport. At least this shuttle was free though (OSL I'm looking at you).
I whispered to K in a conspiratorial fashion as we pulled up to the Hilton. She knew what to do. The second we stopped she got off and made a beeline straight for the check-in desk, whilst I waited to collect our bags. When a group arrives into a hotel late at night, you'd best be sure you're near the front. Otherwise you may find that you're still checking in as breakfast is being prepared.
As HHonors Gold (at the time) we were upgraded to an executive room. The lounge was closed for evening service but we'd be able to make use of it in the morning for breakfast.
Perhaps I'm being a little harsh with my critique of the room. I know that airport hotels can be pretty nondescript and formulaic but I've also been in some remarkable ones (the former Hyatt Regency, now Grand Hyatt Incheon comes to mind). The room was very clean and spacious and the bed was adequate but a major city like Zurich could do with upping its game.
After dropping off our bags, Kamara and I went to the bar to grab a quick bite to eat. I have to say that the service there was a great and the atmosphere was made very lively by lots of groups of excited travellers – very few of whom appeared to be away on business. We ordered a selection of the 'Swiss tapas' and came away well fed for about £15 per person. Hard to complain about that in a city as notoriously expensive as Zurich.
I didn't sleep as much as I would have liked but I always find it really hard to get to sleep when I'm excited for a flight the next day. Most people I speak to don't understand my fascination with flying. I guess I'm lucky to be able to capture that sleepless, pre-christmas excitement of childhood; on numerous occasions, each year of my adult life.
I went to the gym in the morning with a view to working up a suitable appetite for the flight ahead. The facilities were as spartan as the bedrooms though… and a lot more antiquated. I did some intervals on the elliptical and called it a day. Luckily K was already up when I returned so we headed to the lounge for breakfast.
The main restaurant looked really busy so it was nice to have the cosy little lounge to ourselves for a while. The attendant was extremely friendly and helpful and the decor was warm and inviting.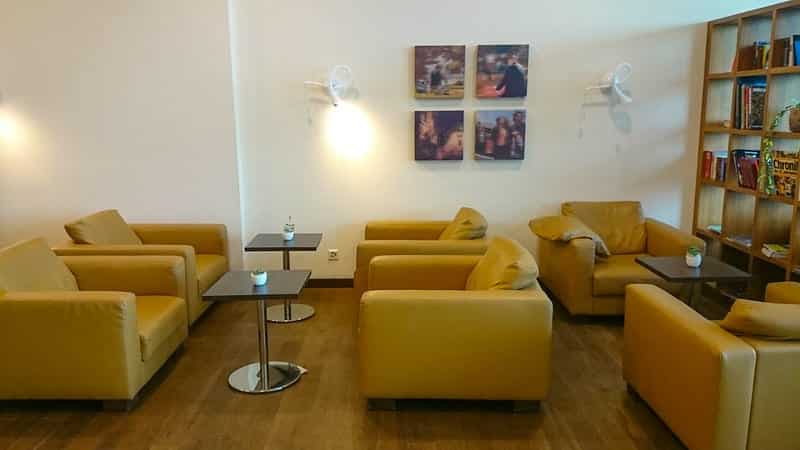 Kamara and I both ordered omelettes from the a la carte menu and they were ok although a little overcooked for my taste, I tend to prefer them more fluffy and pale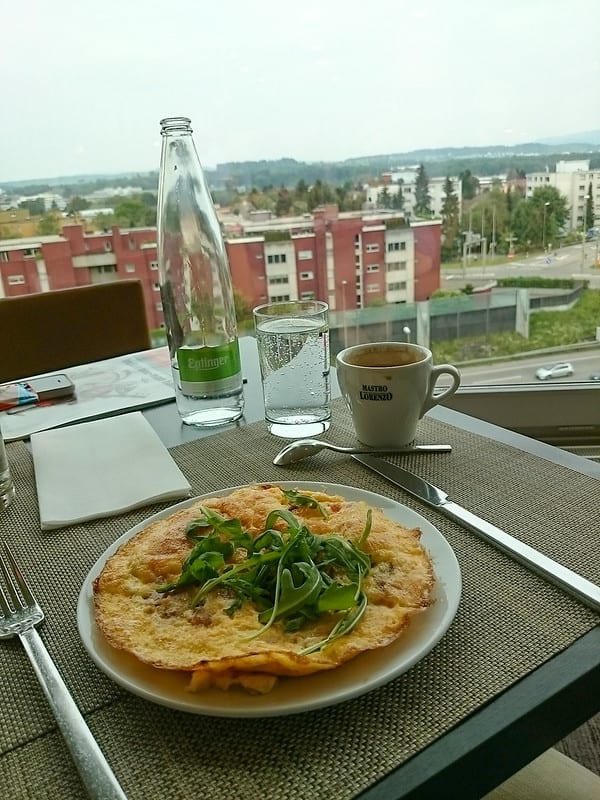 ---
Conclusion
---
The Hilton Zurich Airport is clean and the rooms are decently sized. The bar is lively and functions into the wee hours, so you actually feel like you're on holiday here. The lounge is also very pleasant, with fantastic staff.
However, the lack of decent gym facilities and the sanitised feel of the decor, coupled with the distance from the airport terminal, means that I will likely try the Radisson Blu next time. (Note: I did, it was much better!)
---