REVIEW – Conrad Koh Samui – Part 1
October 14, 2016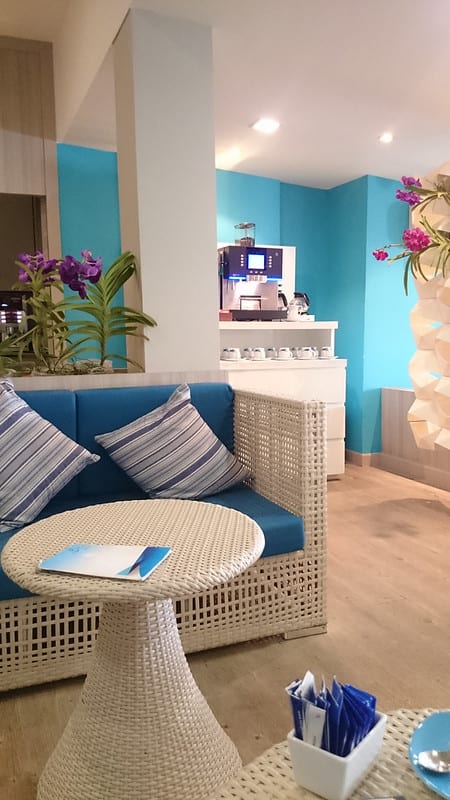 REVIEW – Bangkok Airways : Blue Ribbon Business Class Lounge , Koh Samui [International Side]
October 14, 2016
Conrad
Location: Koh Samui
Loyalty Program: HHonors
Loyalty Status During Stay: Gold (courtesy of UK Amex Platinum)
Room Type: 1 Bedroom Oceanview Retreat Pool Villa
---
This is Part II of a two part review. Here is Part I : REVIEW – Conrad Koh Samui – Part 1
---
Dinner at Zest Restaurant
---
As we arrived quite late on our first night, we thought it would be quicker and easier to have dinner at Zest, the casual dinner option.
The service was immensely friendly and helpful, which I guess you'd expect when the place was this empty!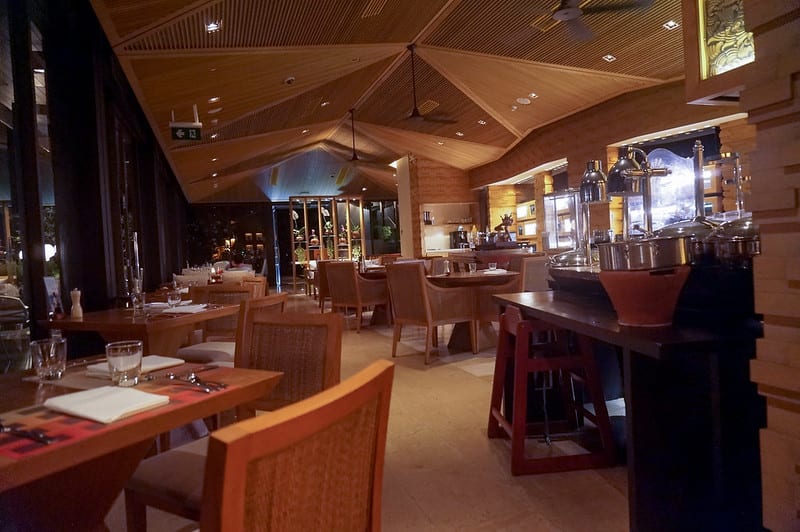 I like how the space looks so different at night versus breakfast time. Conrad hotels always seem to make great use of lighting.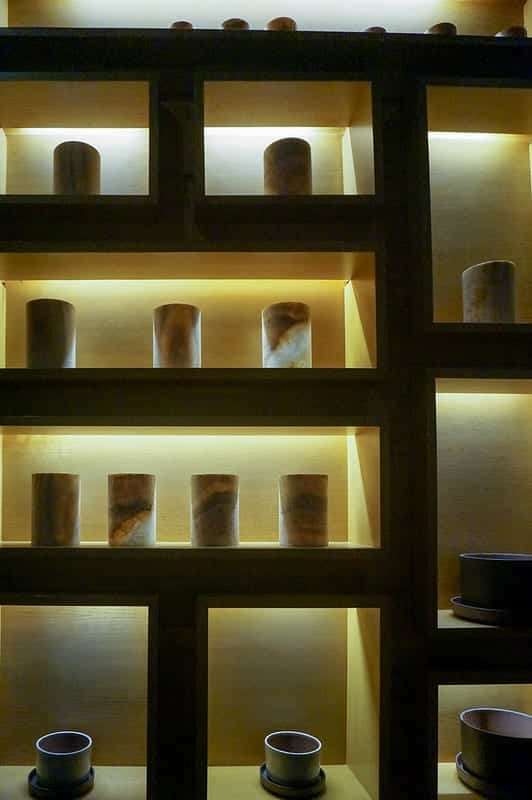 We loved the mixed bread basket. The bread came with oil/balsamic mix as well as a basil oil dip. The spicy Thai crackers were served with shrimp chilli oil.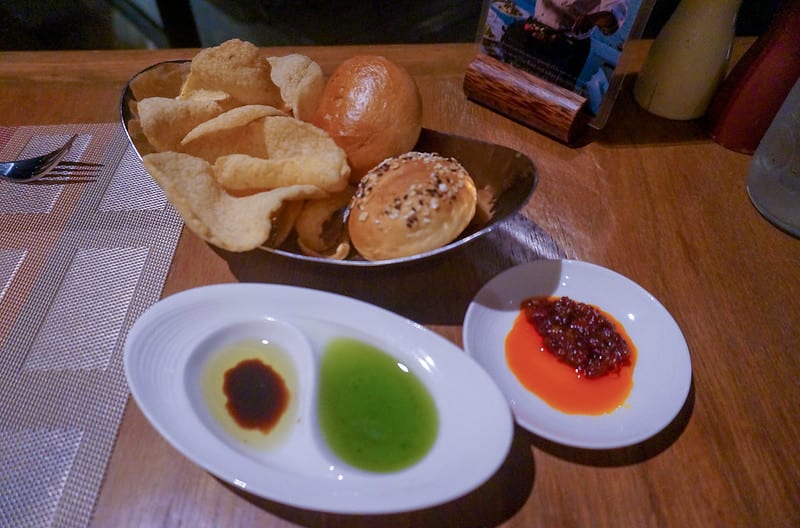 K ordered mint tea with her dinner. This was presented in a somewhat elaborate fashion.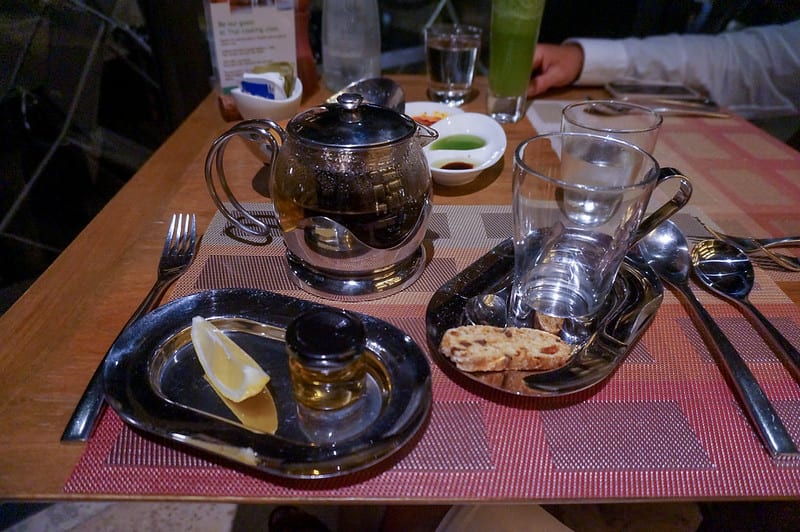 The Gaeng Jued Woonsen Gai Sub. A giant portion of rich and flavourful chicken, tofu, noodles and vegetables. This starter could serve as a meal in itself.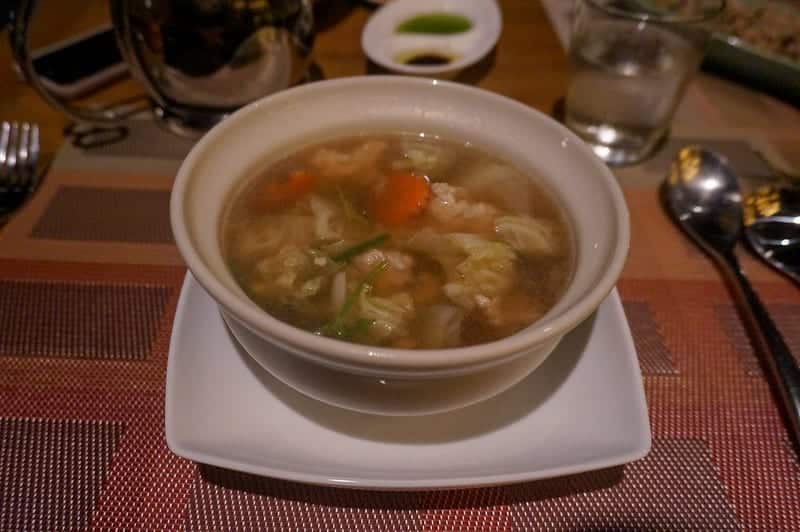 One of the things I look forward to the most, when I visit Thailand: Larb. I was asked how spicy I wanted it. I said "unbelievably spicy" (In England I tend to use the terms "ludicrously spicy" or "the kind of spicy you'd serve to your worst enemy"). It was pretty spicy but I guess they're scared of hospitalising the customers here. This is less of a concern for the owners of street carts in Bangkok…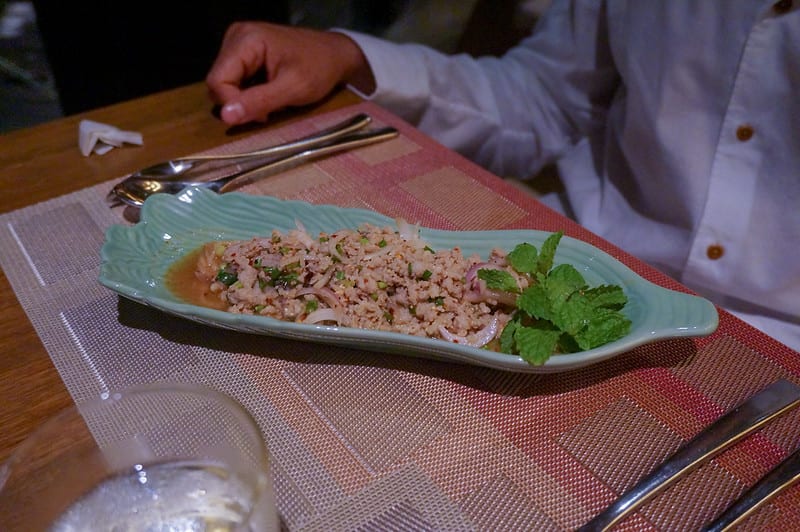 Kamara went for the Penne Pomodoro, which she said were cooked al dente but not particularly exciting (which is probably as good as this dish can get).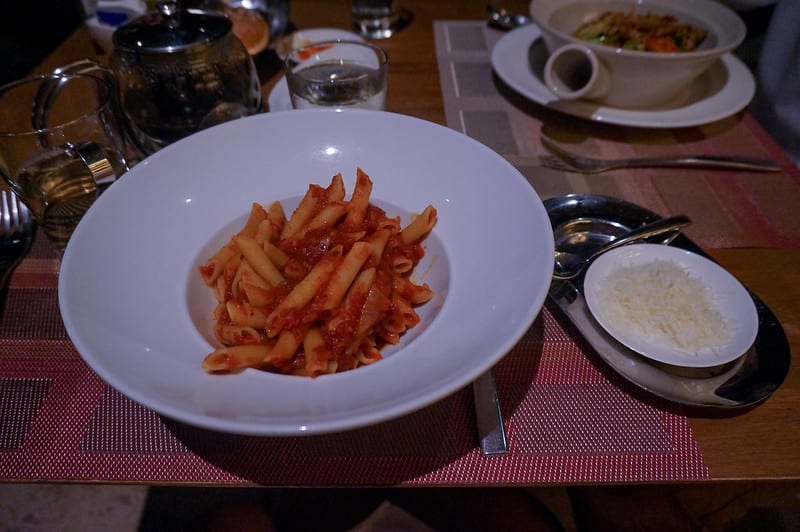 I'm not sure what my main course was. It looks a little like Pad Siew. I can tell you this though. All the Thai food as CKS was great, whereas the Western dishes were usually just ok. This, for me, was not a problem.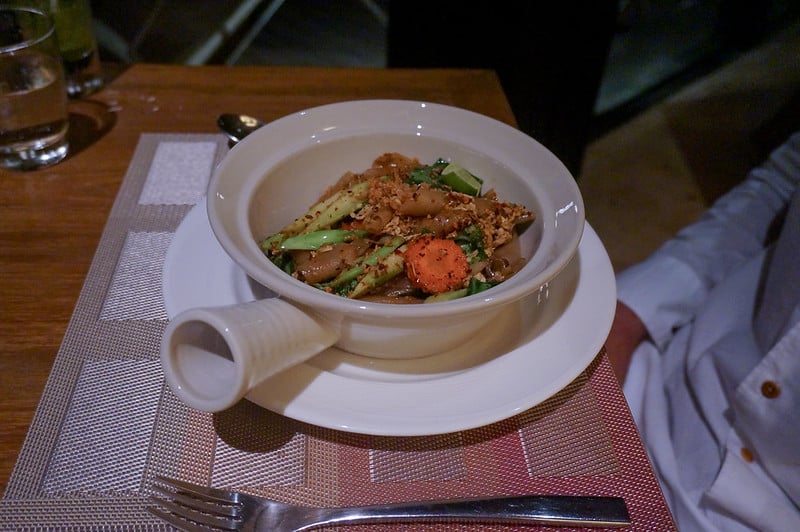 ---
Dinner at Jahn Restaurant
---
Whilst the food thus far had been perfectly adequate, we were hoping that the CKS' fine dining restaurant Jahn, would kick things up a notch.
The building is located a buggy ride away from the rest of the resort and has expansive and uninterrupted views of the five islands (up above and to the right is the main lobby).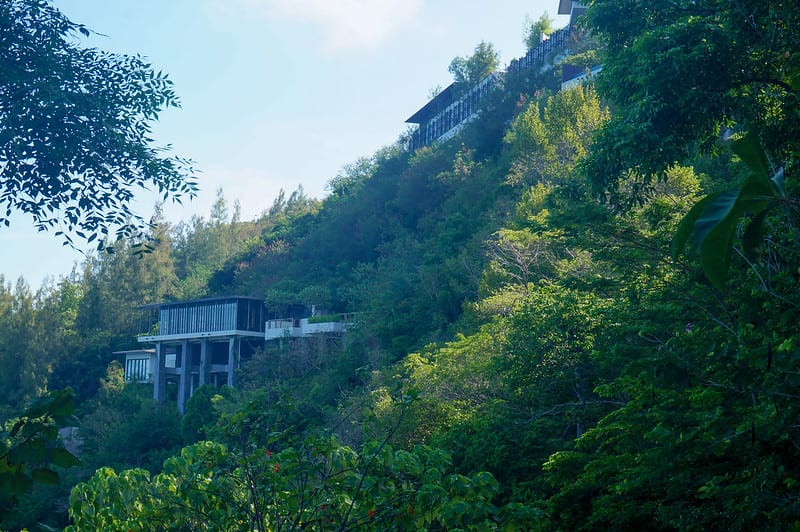 As we arrived, we spotted a family posing for a photo.

This is what they were looking at.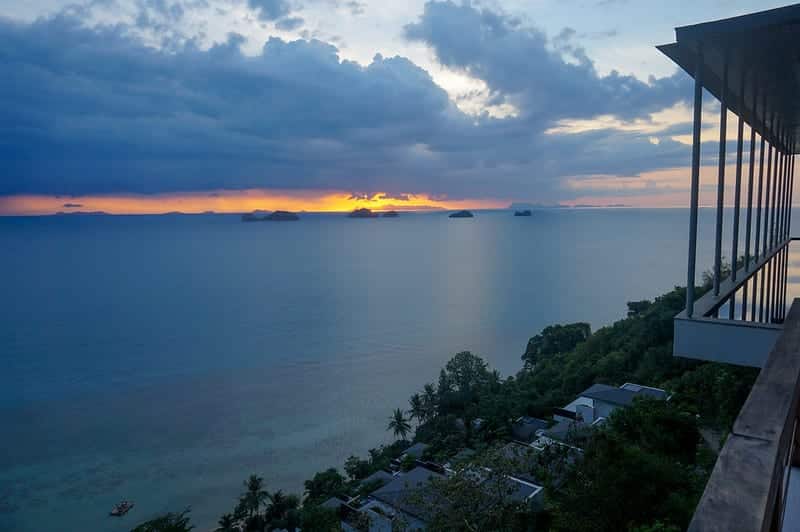 Aura bar and lounge is a small outdoor seating area, more so than an actual bar. It is located to the left of the stairs in the family pic.

Jahn is on the right.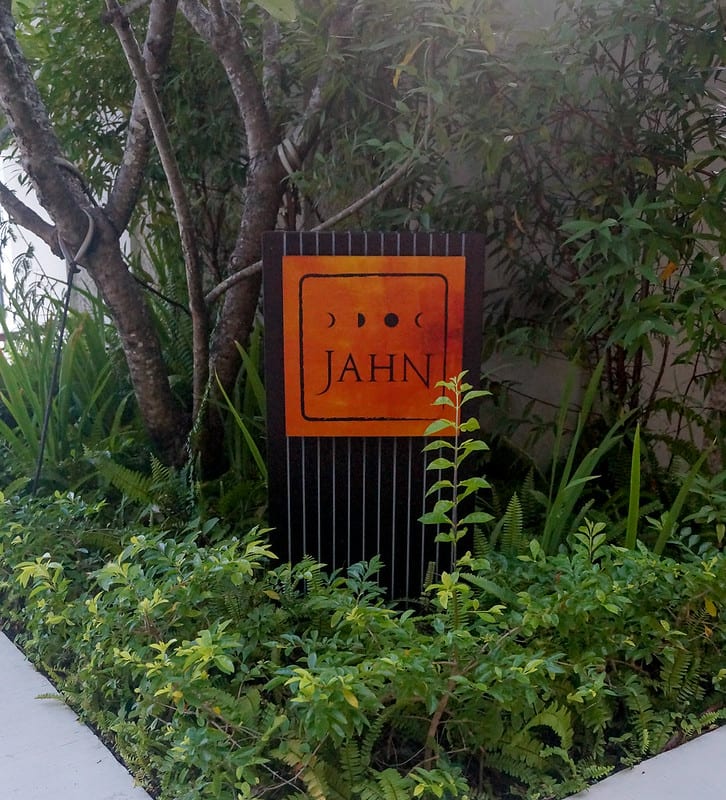 The building itself is beautiful, the glass walls really serve to highlight the astonishing view.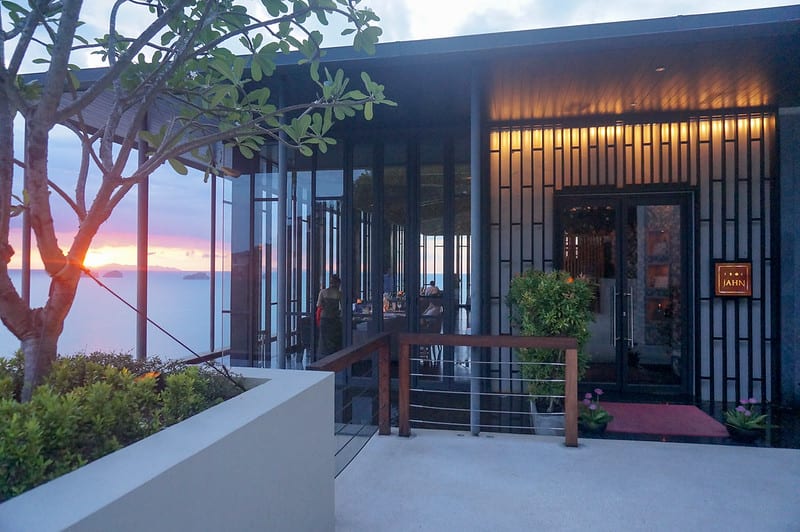 The staff at Jahn are really friendly and will repeatedly offer to take pictures of you.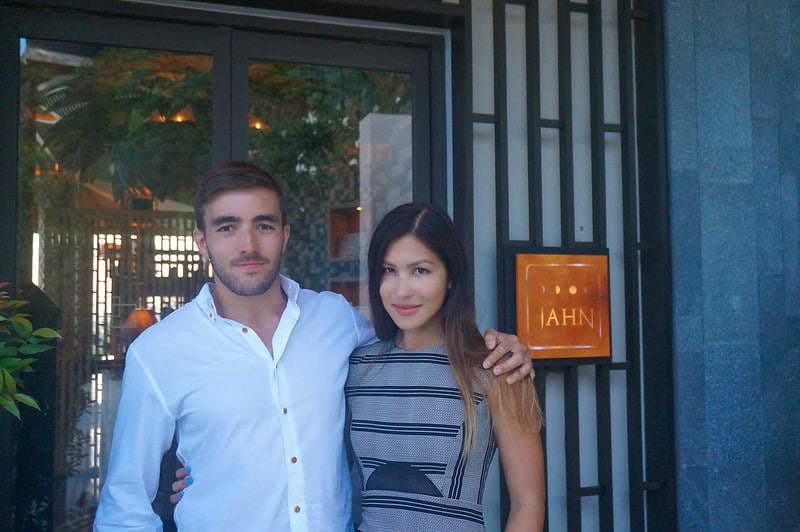 We arrived early so that we could catch the sunset.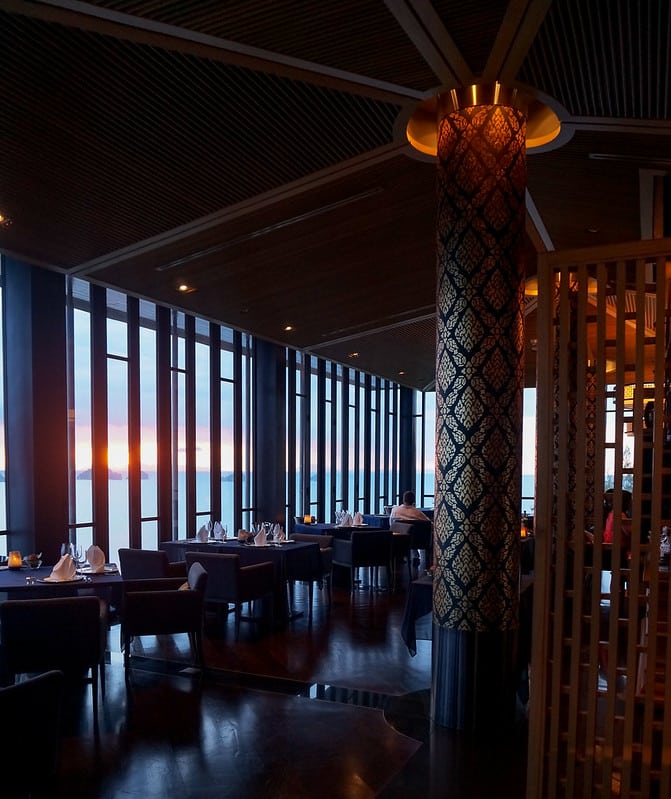 The dining room is quite small so reservations are a good idea.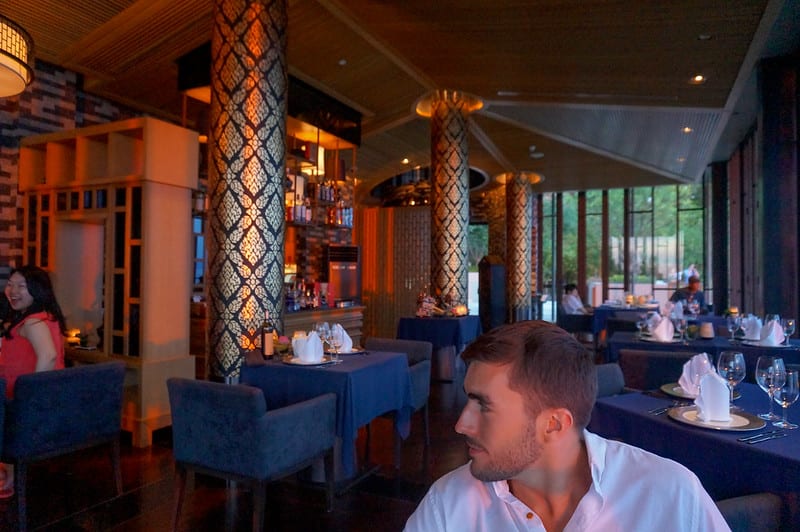 Jahn certainly boasts an extensive drink selection.

Our server suggested the table one in from the corner, to us. She said she preferred the view because the corner column is quite thick and blocks the islands slightly. She said we were welcome to move though, if we liked the other table better.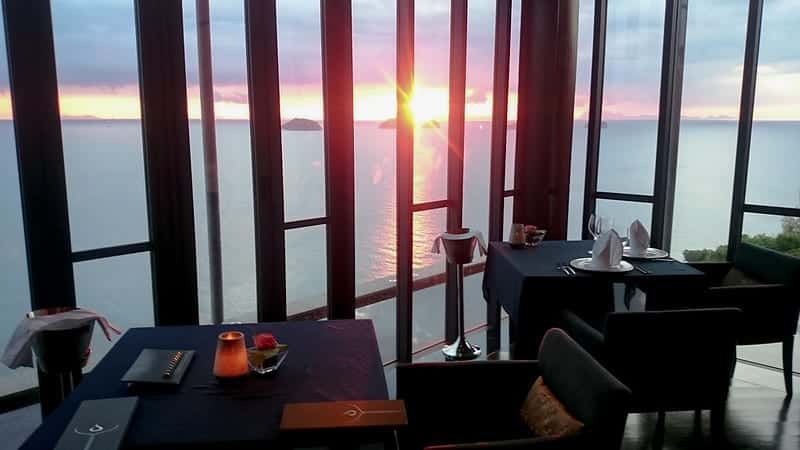 We liked the view just fine.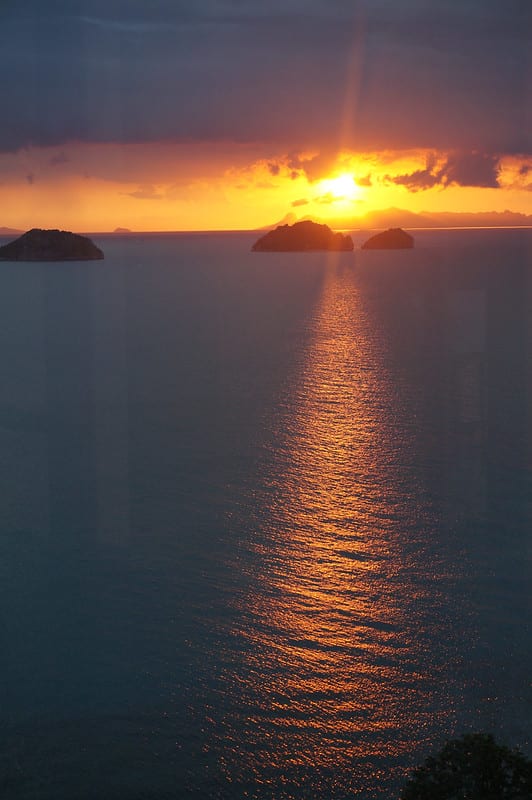 When we checked in we were given coupons for 2 free drinks, as part of our HHonors gold welcome. We figured that this would be the perfect venue to redeem them. I went for a delicious Tequila based drink.

You can just about make out the rim of K's Martini here.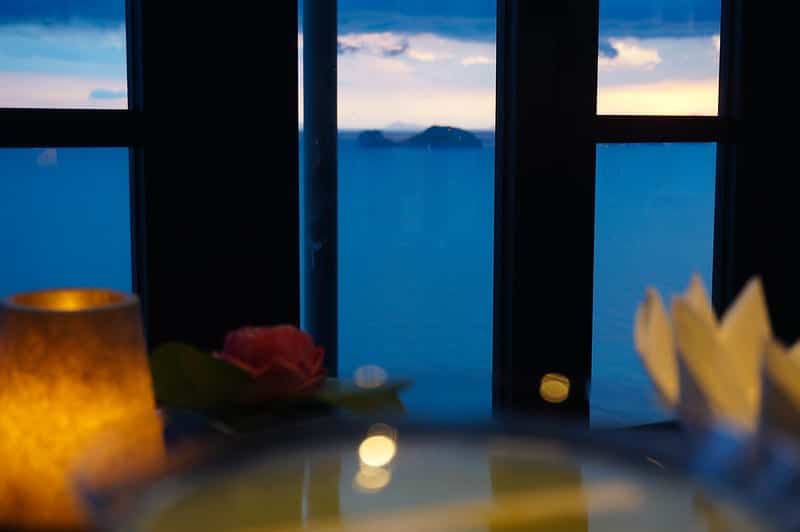 OK, one final sunset shot.

Whilst Jahn offers a tasting menu, we decided against it. We had been eating so much up until this point and still had an even more elaborate dinner booked for the following evening. Nonetheless, our a la carte meal was served with numerous amuse bouches, sorbets and mignardises.
First up was a very fresh tuna tartare.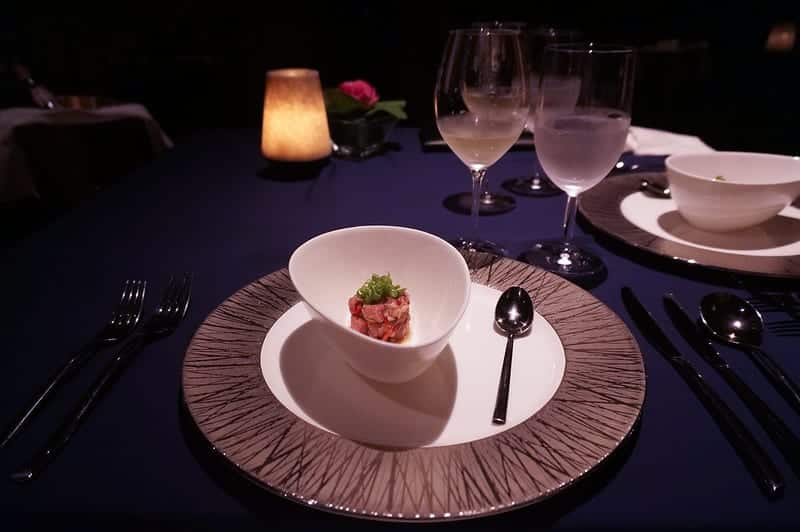 We both ordered the Tom Yum soup as our starter. It was prepared table-side. The herbs were sat in an infusion chamber within a teapot and stock was poured on top. Immediately the spectacular aroma filled the air around our table.

The soup was then poured from the teapot onto our dishes, each containing two enormous grilled prawns.

K's main course was a phenomenal interpretation of the classic Pad Thai Thalay. It was served as three mounds of rich noodles, encased in egg nests (just like at Longgrain in Melbourne!). Each nest was then topped with a freshly grilled piece of seafood: prawn, lobster tail and scallop. The dish was accompanied by a miniature buffet of spices, condiments and sauces.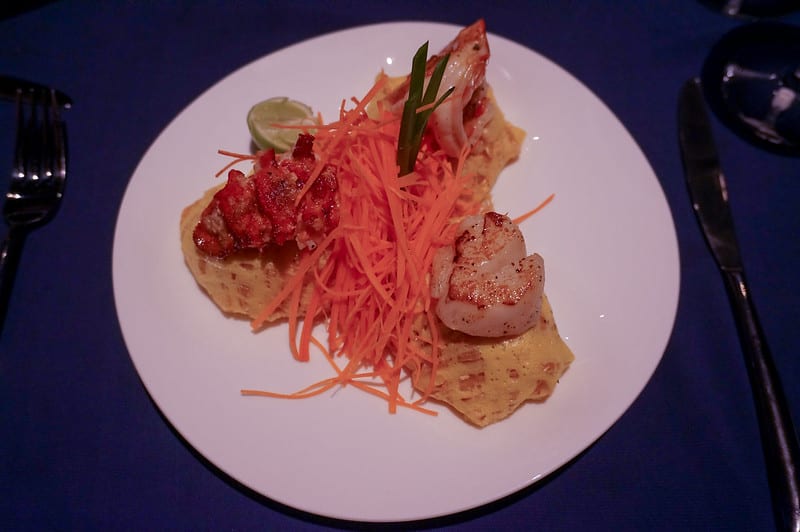 I opted for the Barbary duck curry with pear puree, galangal and purple potato dumplings. The presentation and execution were great but flavour wise I preferred the Pad Thai (which was actually the cheapest main course on the menu).

We were almost ready to burst after our dinner, so we decided to forego a dessert. This meant that we were able to navigate the after dinner mignardises which ended the meal, with our dignity (mostly) intact.

---
Private Wine Cellar Dinner
---
One aspect of the stay that we were really looking forward to was a private truffle dinner in The Cellar.
Our server was truly fantastic and delivered a warm, attentive and personal service. She actually happened to be the same lady who took care of us the night before in Jahn (she also recognised us when we returned to the Conrad Koh Samui ten months later, yes I'm that far behind on trip reports…)
The wine cellar can accommodate up to 8 guests but looked a little bare when only set up for two. Perhaps they could place some decoration, even just wine bottles, to fill the space.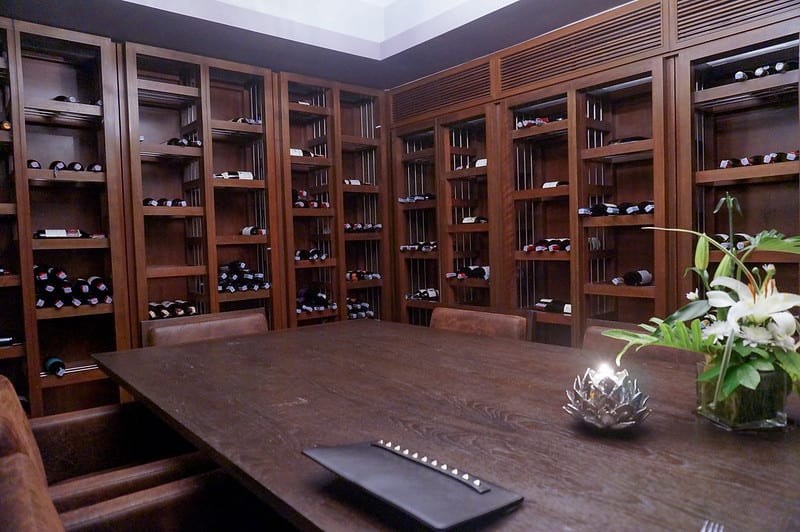 You know you're in for a good meal when you have less glassware in your whole apartment than what is set down in front of you.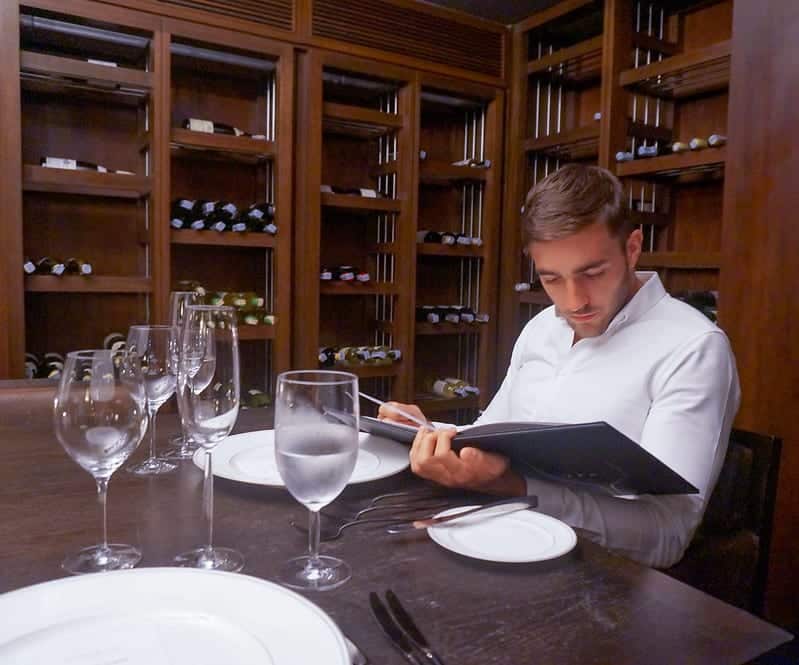 Our Tasting of Truffle menu.
We took the opportunity to snap some pics whilst our server was bringing us our starter.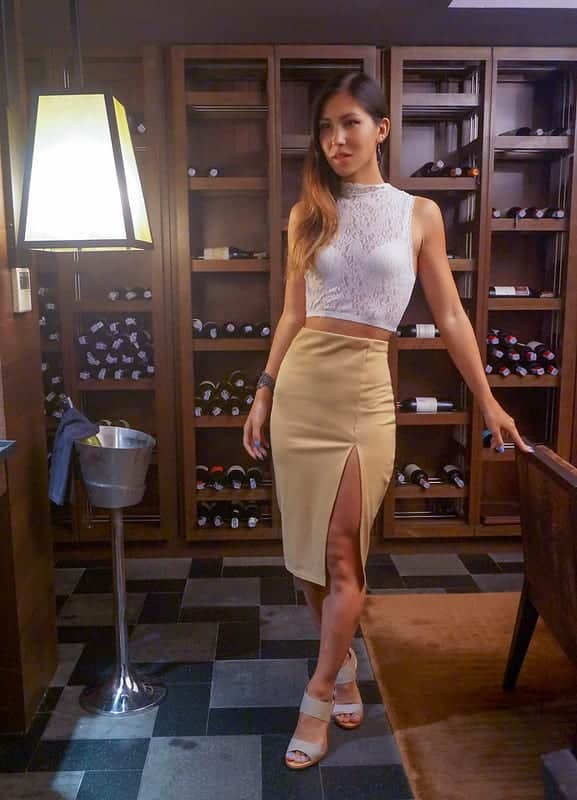 Mega carbs.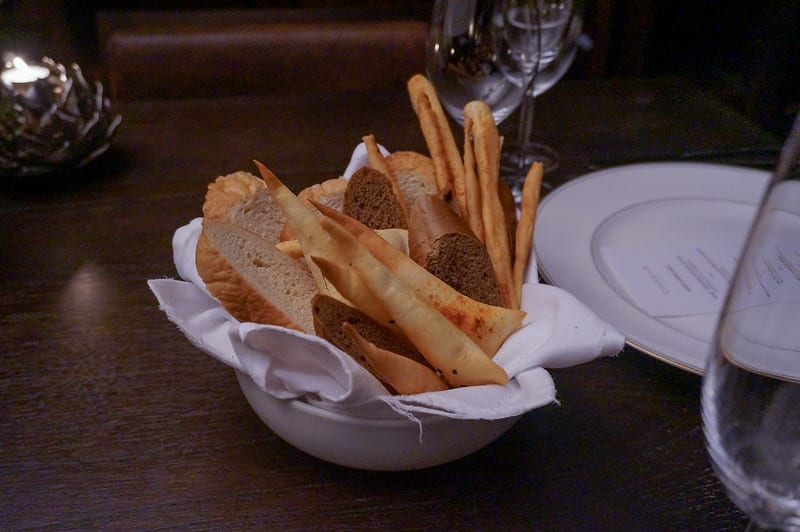 Ready for action.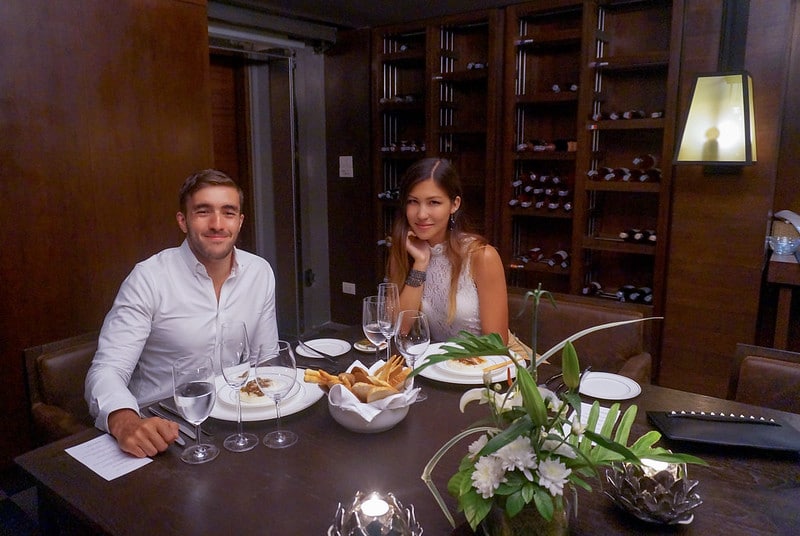 The meal started off with a bang. The scallops were ultra fresh, the cauliflower puree was a delicious meringue of opulence and the truffle vinaigrette really added an intense spark of flavour to marry all of the elements together wonderfully.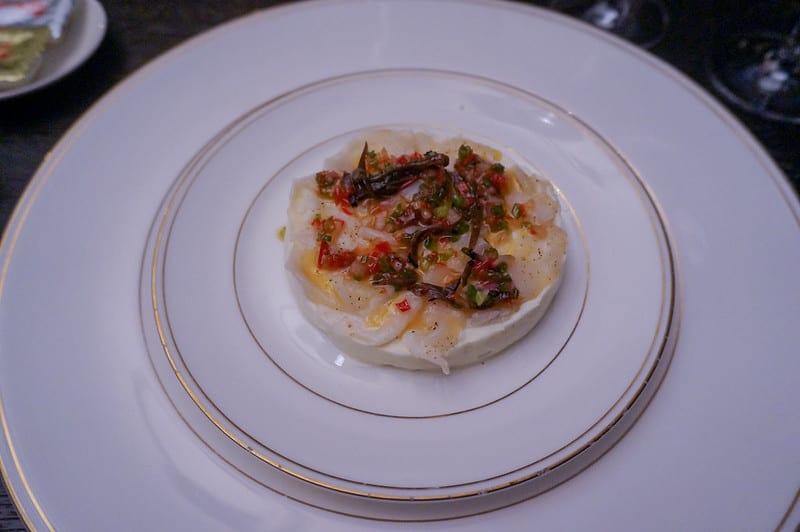 We accompanied the meal with a Schubert Sauvignon Blanc from New Zealand, it was keenly priced and was versatile enough to work well with all of our dishes.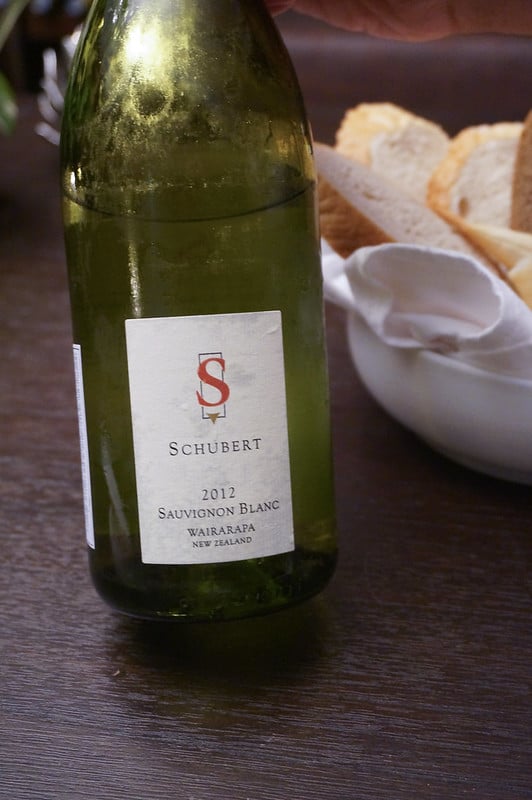 The Artichoke and Black Truffle veloute was small but packed a huge flavour punch.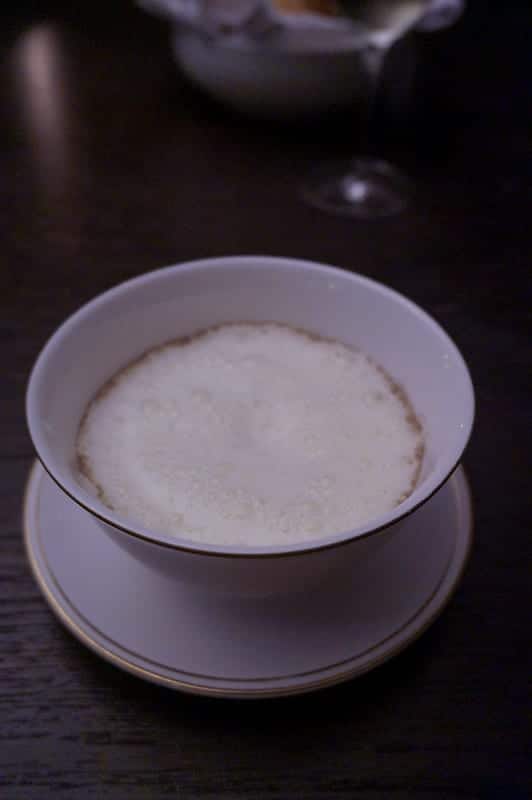 It was like drinking a Piedmontese meadow. Earthy, salty, creamy and fresh all at once. Divine. They sure as hell didn't hold back on the truffles either.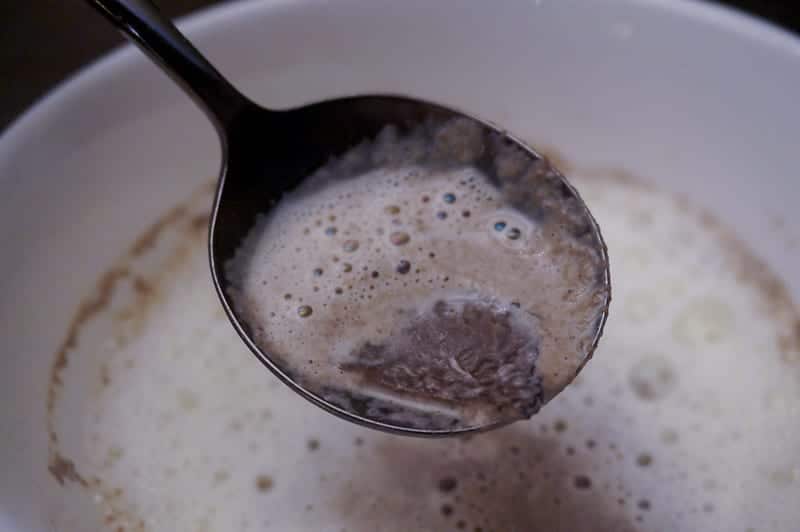 Next came the prawn (also a repeat feature of the Jahn menu), served this time on a thick, unctuous and rich risotto of wild mushroom and truffles. What this dish lacked in presentation it more than made up for in flavour. We may or may not have licked the plates clean (an advantage to having a private dining room).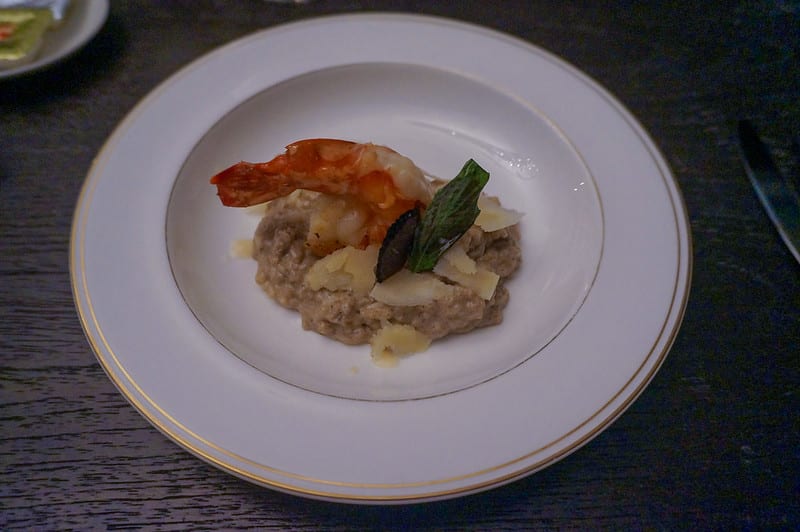 Before the main course, we were served a grapefruit sorbet to ready our tastebuds. I found it to be too sweet and would have preferred something a little more bitter.

The main event: Beef Tournedos Rossini.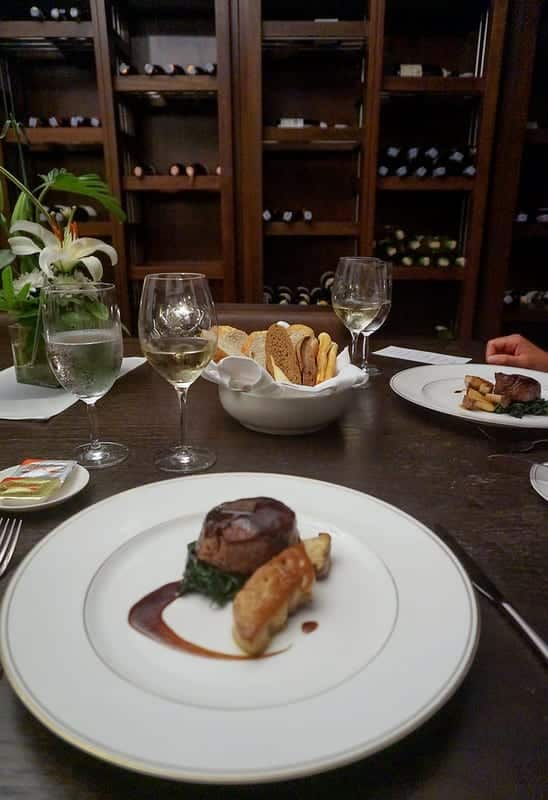 This was just unreal. The meat was perfectly rare yet still managed to deliver a satisfyingly charred crust. The foie gras was similarly cooked to perfection. Just a little pink inside and almost as big as the Tournedo. The sauce? Oh man, it was out of this world. Insane. More plate licking.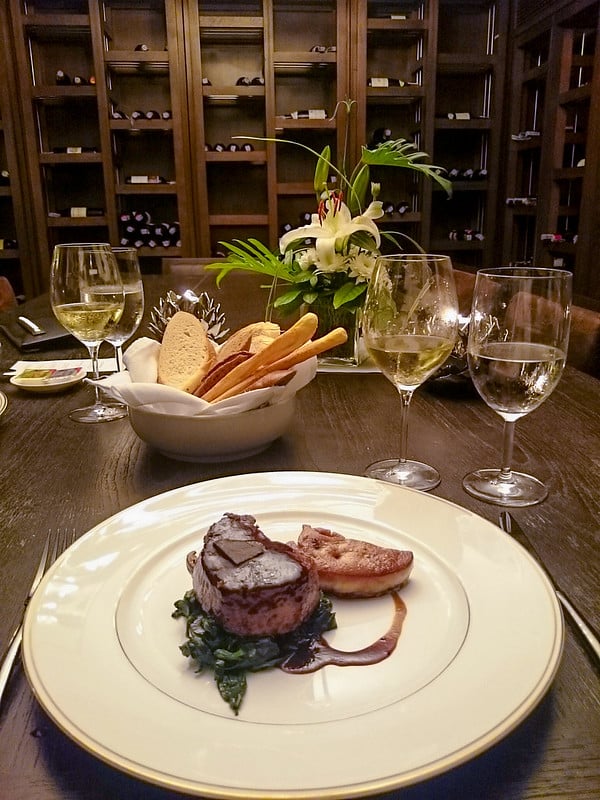 At this point we were already loosening belt buckles and increasing the power of the air con. Yet still we had two courses to come. Firstly the dessert: Black truffle panna cotta with an almond biscotto. I'm not much of a dessert guy but this thing was pretty damn good.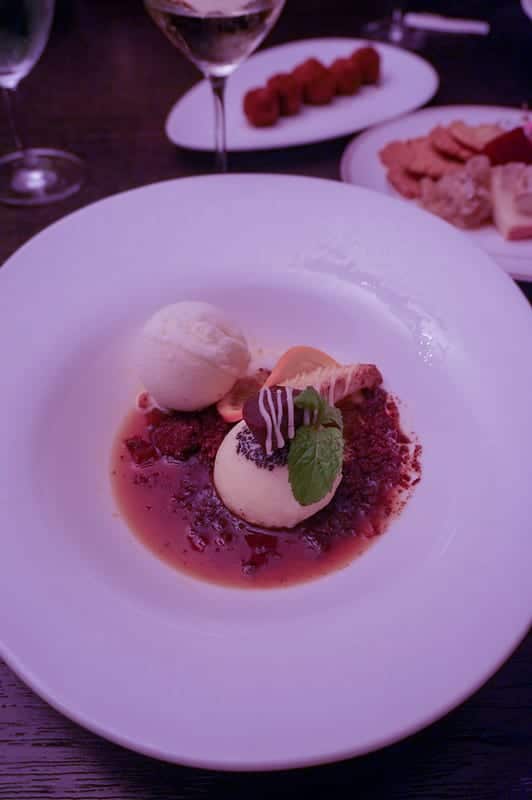 Finally a deliciously ripe and smelly Taleggio. Served with membrillo and candied macadamias… plus a selection of handmade chocolate truffles. We got this to go. We had a snorkelling excursion planned for the following morning and we didn't much fancy sinking to the bottom of the ocean. The professional manner in which the take-away boxing took place, makes me believe that we aren't the only ones who've elected to tap out and live to eat another day.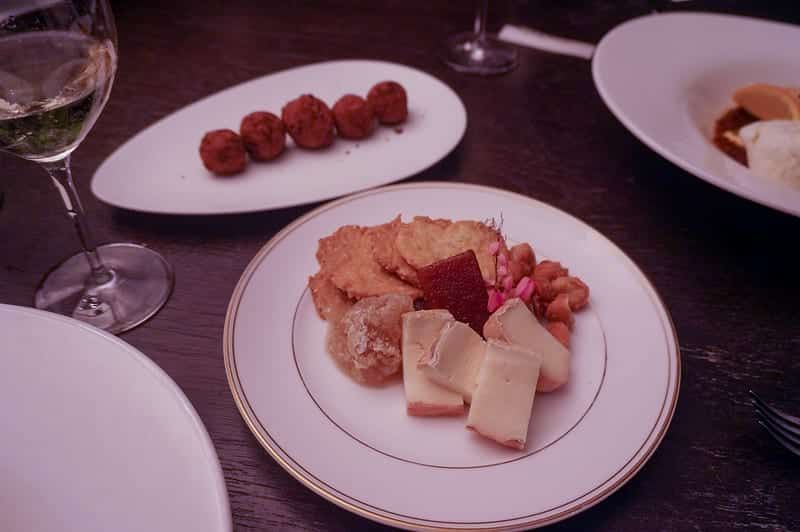 ---
The Snorkelling Trip
---
One cool thing about the CKS is that they offer a complimentary speedboat trip out to some nearby islands, where you can snorkel , sunbathe and explore.
The excursion happens three times per day. You meet in the lobby and are driven to a nearby port where the Conrad speedboat is ready and waiting for you. On one of the islands the locals have stalls set up selling food and drinks. Annoyingly we weren't told this before we set off, so make sure you pack some THB with you!
The journey to the reef.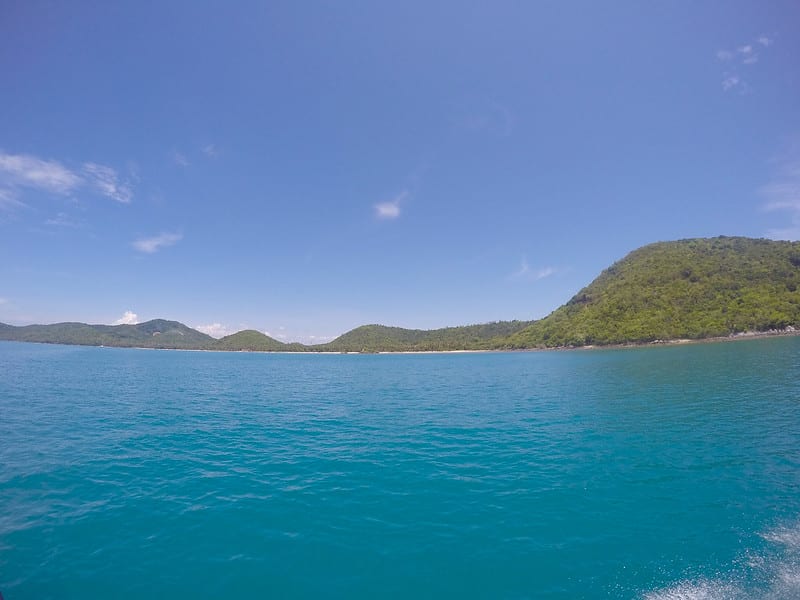 As you can see, this particular reef is pretty busy. Both above the water…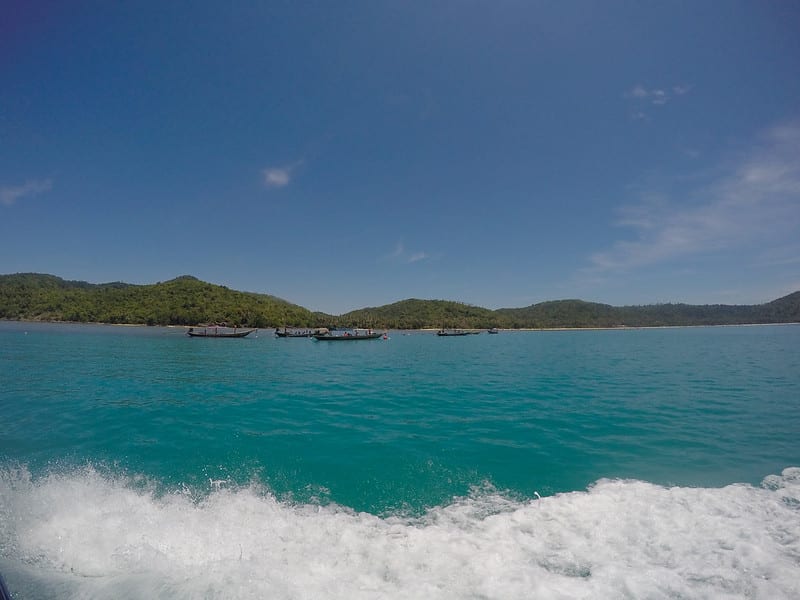 …and beneath.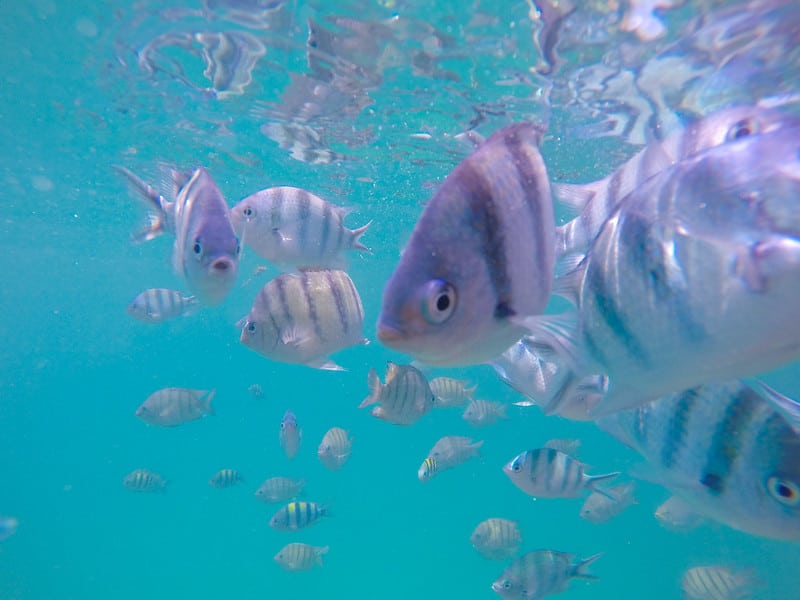 We definitely had the coolest boat out of everybody on the reef!
Looking pretty cool with my pink snorkel.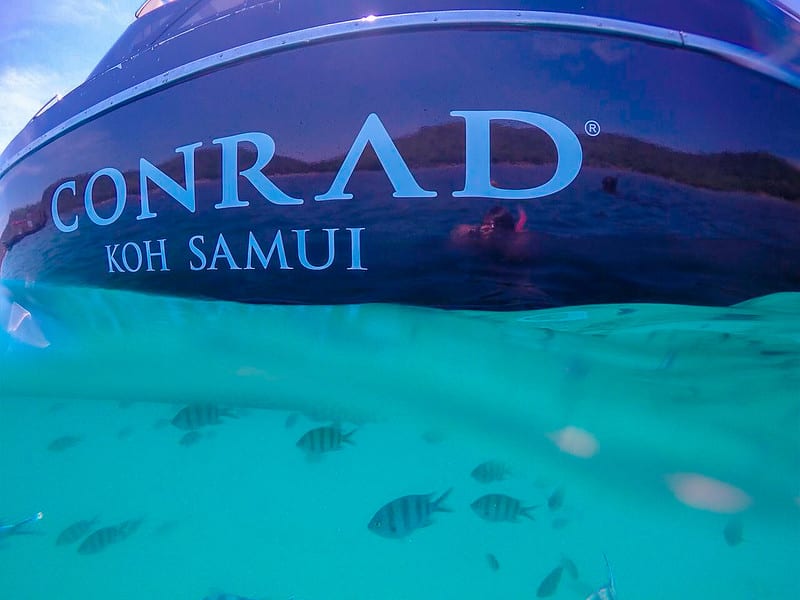 After the reef, the next stop was a beach located on a beautiful bay. We had pre-ordered some quite expensive and almost entirely protein free lunches before departure. If you do this trip I would definitely recommend against this and instead bring some cash to buy something from the locals. We enquired with the boat crew to see if they had an arrangement for us to charge anything from the beach sellers to the room. One of the crew members, Nil, said no but he insisted on lending us some cash to buy a coconut. We told him not to worry but he kept insisting that it was ok so we thanked him profusely and made sure to put some cash in an envelope with his name on it and left it with reception as soon as we got back.
Picture postcard views from the bay.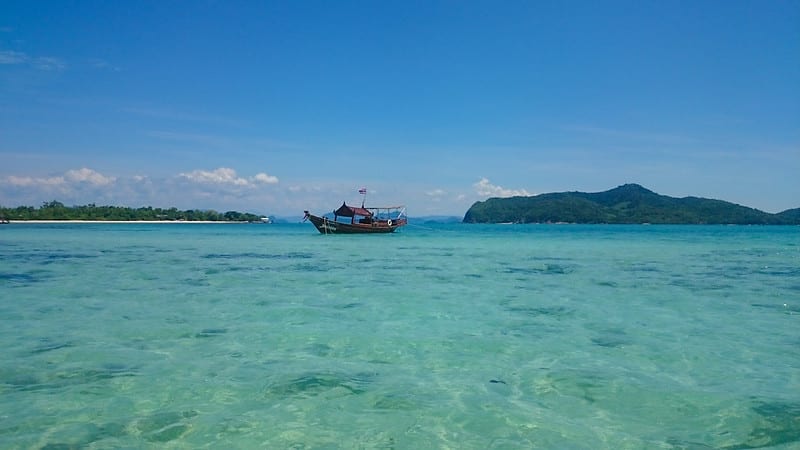 Our beach. You can see the red parasols of the local food vendors under the trees.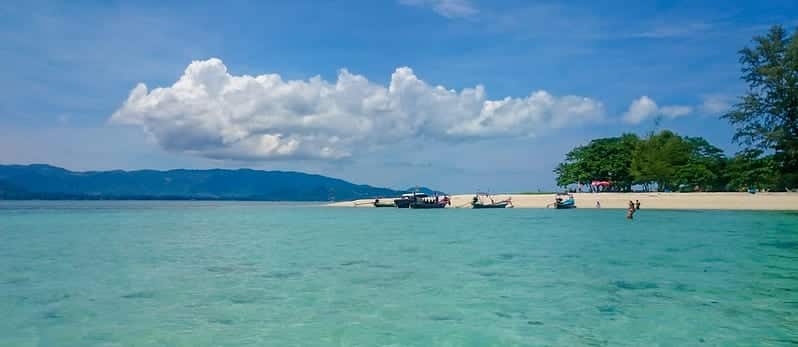 Abs rapidly disappearing as a result of the mammoth food consumption.
---
Conclusion
---
The Conrad Koh Samui is rightfully considered to be one of the top Hilton hotels in the world. Given the rates at other resorts in Koh Samui the Conrad is priced quite appropriately.
If you use Premium Club discounts, 40% off worldwide sales or better yet free night certificates then this becomes one of the best value holidays I can think of.
This is not a place to come to if you are looking to party in Chaweng; it is isolated and that is its appeal. You come here, you switch off and you just let the day pass by. There's no real need to look at your watch. You can always see the sun and you have a good idea of the time based on its location. As a Londoner I find that immensely appealing for a multitude of reasons.
The Thai food is consistently better than the Western food, with the exception of The Cellar, which served European food that I'd gladly travel to the other side of London for.
Aside from the obviously spectacular hardware, what really shines through here is the service. Everybody greets you with a Wai and a smile. Even if they are just driving by in a buggy, they slow down in order to greet you.
If they think you'll be too hot with a table-side window they'll offer you something nearer the air con. If you look like you're struggling to finish your food they'll offer to pack it up for you. We even had dessert included in our dinner at Zest and weren't hungry enough to eat it. No problem they said. Just come and order it for free another day!
When the poolside bar ran out of coconuts we said no problem and ordered iced coffees instead. They refused to charge us for them.
When we started working our way through the Shanghai Tang toiletries they didn't just replenish one or two they gave us another entirely full caddy containing a full set of all the amenities.
As I mentioned earlier. We actually just came back from a return visit and aside from being delighted that we were recognised by the staff, the other thing that we noticed is that if anything it was even better than we had remembered it.
If you're the kind of person that gets bored easily 3 nights will be enough. If not, then you could happily spend 5 nights here and wonder where the time went.
Personally, I can't wait to go back.
---
---