Japan Airlines (JL)
Flight: JL 44
Class: First
From: London (LHR)
To: Tokyo (HND)
Duration: 11hr45
Aircraft: Boeing 777-300ER
Seat: 1K
Cost: Europe to Asia for 100k US Airways Miles in First

Full route: LHR-HND-HKG-CGK-NRT/HND-HKG-LHR

Date: October 2015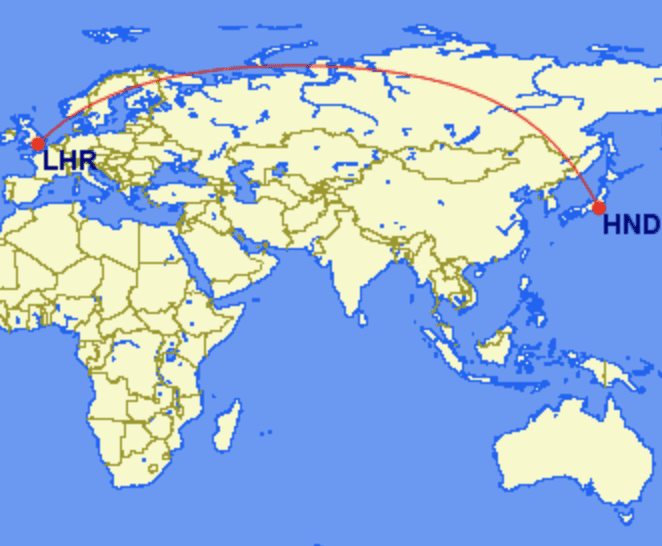 ---
With mechanical Japanese precision, our flight's boarding was announced exactly at the expected time.
Stepping aboard I immediately felt like I was in Japan. This is one of those awesomely cool things about air travel, particularly in the premium cabins, where the airline can really differentiate itself and make its mark. In a way airplanes are like small, flying embassies. They are a concentrated expression of the underlying culture. This is why Fifth Freedom Routes are such a thrill, all of a sudden you are immersed in the culture of a nation which is neither that of your origin nor that of your destination, it may even be a culture with which you are entirely unacquainted.
This time though, I was stepping straight into one of my favourite countries. As soon as I was within eyesight of the crew, the bowing began. I instantly felt myself bowing back. There's a pleasing ritualism to this Japanese tradition, it makes you feel like you're part of an unseen social ocean, just bobbing along.
The JL First Class Suite is not as enclosed and private as the latest generation of suites on Emirates,
Etihad
,
Singapore
etc but the actual seat itself is one of the most comfortable in the sky, the thick leather armchair is easy to spend long periods of time relaxing in. The fact that it does this whilst also providing an exceptional sleep quality is a testament to JL's eye for detail.When the seat is upright for take off and landing, there's almost too much legroom.
There's a huge amount of space for a carry on underneath the ottoman too.
Bose QC25 headphones are pretty much the benchmark in quality and it's great to see JL providing them in F.
The amenity kits in JAL First are physically my favourite of any airline. Being half Spanish I have always been aware of Loewe (aka. the Spanish Hermes – not to be confused with Lexus, which we all know is the Japanese Mercedes…). I love seeing this brand getting exposure in this most auspicious of settings.
The main kits are supplemented by additional, gender based, skincare kits.

My previous complaint with the contents of the JL F kits was that there was only a moist towelette scented with Loewe cologne inside. Would it really be so hard to get a small sample cologne inside? Somebody was obviously listening as we did end up getting some small bottles of Agua de Loewe this time.

K absolutely loves the Loewe lip balm. Although the rest of the contents are fairly mundane.

Once we'd settled in and had our jackets hung we were offered PDBs. I was surprised when I was brought a full glass of champagne as opposed to being shown the bottle and having it poured at my seat. The contents was clearly not Salon either. I checked around my seat, no menu, I expected that I would be handed one before take off. I was wrong.
None of that would be remarkable elsewhere but on JL this was the equivalent of the FA coming over, looking me straight in the eye, lowering down onto her haunches and flipping me off. Something was wrong.
Once the crew were released, the same FA handed us our menus and asked us what drinks we wanted. I asked for Salon and Kamara went for her beloved Queen of Royal Blue Tea. A Tea so rare and mysterious that it can only be harvested for three days a year and costs as much as a bottle of Dom. The FA was really haphazard with her pouring, spilling both of our drinks a bit. Again not the biggest deal but highly conspicuous for JL.
Continuing the theme of slight disappointment, the canapés were a bready assortment of carbs.
Usually JL knocks it out of the park when it comes to food. This was uncharacteristically weak.
After taking our meal order the FA returned with some packages of Japanese bar snacks. These were as awesome as always.
I ordered the Japanese Kaiseki menu with the Caviar as a starter. This was back before Kamara realised that she absolutely loves caviar (a realisation she made on a recent Qatar First Class flight, no more double portions for me now). She asked for just the Kaiseki, no extra caviar and no main course, as she wasn't feeling too hungry.
First up we got the starters in the usual JL five dish presentation. Things were starting to look up: these dishes were well varied, fresh and delicious.

Unfortunately we didn't get cedar chopsticks this time. On my previous travels with JL I had really enjoyed getting that amazing aroma of cedar wood with each mouthful of my meals. In fact we still use JL cedar chopsticks at home, since the CSM very kindly gave me two sets as a gift on a flight from HND-LHR.

Next up was the clear soup course. In the challenging environment of an airplane cabin I feel a soup is one of the foods that has the greatest opportunity to shine (it also benefits from being very simple to store and prepare). This soup was no exception.

At this point the FA brought me my caviar, the presentation was more akin to what you tend to see on other carriers. Not a patch on the spectacular Caviar with scallop and salmon tartare which I had last time. Still, it's caviar and it's delicious and I'm eating it in a metal tube thirty five thousand feet above the earth. So not all bad I guess!

Whilst I was eating the caviar, the FA cleared K's dishes and brought her the next course (K's allocated seat was the empty one across the aisle). Meanwhile I still had both the caviar and a soup on the go.

By the time I was ready for the next Kaiseki course, K had already finished hers. This course was quite interesting flavour wise but a little too subtle I think, given that your tastebuds are desensitised at altitude.

It was at this point in the meal that I switched from the Salon to one of the Japanese white wines. In my opinion JL has the best drinks list of any carrier. Sure, there's no Hennessy Paradis but there is a variety of exceptionally high quality wines and spirits, many of which are hard to find elsewhere. It is a wonderful and exciting experience getting to try all of these new flavours, discovering new favourites along the way.

The main course was phenomenal. I would gladly eat this every day. Unagi (grilled eel), with Akamiso, pickles and freshly cooked rice topped with Ikura (salmon roe). K looked a little bit forlorn when she saw how good this was. Being the gentleman that I am, I shared with her (this, of course, had nothing to do with the fact that I wanted to save room for an extravagant cheese plate)

I've never been hugely into desserts so was very glad to see that the Japanese menu featured only a small (and delicious) bite. I still don't really understand the concept of the bamboo splinter that comes with it though. It's like the three shells in Demolition Man…

Much like the rest of the meal: the cheese plate was top tier, better than most other carriers but not as good as what I've previously had on this route with JL. There were only two crackers and no variety to choose from. There was no fresh fruit either, although I do have to give JL props for adding the Membrillo (quince cheese) and honey.

As the service wore on the FA became more and more confident, I think she wasn't too used to dealing with Western passengers. She must have seen Kamara taking a bit of one of my cheeses, as she quickly came over with a small plate and some additional cutlery for her. These sorts of little touches are what tends to set Japanese service apart, an unrelenting eye for detail.
After this immense feast I was ready to get some sleep. The FA saw me heading to the bathroom to get changed and immediately offered to make my bed. She said that Western passengers prefer soft beds and asked it this is what I wanted, I told her that that would be great.
I returned to find my bed ready for me. There was only a single airweave pillow however, the FA forgot the regular pillow which goes on top. No problem, I reached into the overhead and grabbed two extras for myself and Kamara.


As I said earlier, the JL bed is probably the most comfortable in the sky. The airweave mattress, plush duvet and abundant space make for a great sleep. However, there was one annoyance getting between me and a good night's sleep. The dreaded JL inferno. This was the first time that I experienced a super hot cabin on JL, up until this point I thought that this was all an exaggeration. Shortly after taking this picture I changed out of the top, into a thin short sleeved t-shirt. Even so, it was still significantly hotter than the surface temperature of the sun.
Thankfully, a sleeping tablet quickly took care of the problem.
Before I knew it we were an hour out of Haneda. I had managed to sleep 8 hours, on the first flight of a trip! In a way I was a bit disappointed that I had missed out on gorging myself further and trying all the wines and sakes on the list. On the other hand I had a delicious Kaiseki dinner, polished off a bottle of Salon and slept soundly, this meant that jet lag was not going to be an issue and I still had room of eat once I got to Tokyo. This was the first time that I had ever come close to using First Class in a functional rather than an aspirational way… and I feel like it was a great decision.
---
Conclusion
---
It may seem that I was being harsh in my remarks on this flight but in the context of JL's impressively high bar, this flight was slightly underwhelming.
Put into perspective versus most other carriers though, this was still a superb flight. I ate well, I rested well and I had a cool amenity kit to add to the collection. Shortly before landing my Pasmo card fell out of my pocket and straight down into the mechanism of the seat. The lead FA tried to help to retrieve it but we didn't have much luck.
She told me she'd call an engineer to pull apart the seat for me. I told her that this really wasn't necessary but thanked her for her help. I left the plane thinking that that was the end of it. Just as I got to the front of the immigration line, a JL engineer came running up to me, handed me the Pasmo card and apologised for taking so long. That is the kind of service you tend to get throughout flights with JL and this really ended the experience on a high note for me. I'm fortunate that I fly First often enough that I can wear a couple of bad experiences with rookie FAs, where sitting on the other side of the plane would yield an entirely better experience, and not worry too much. However, I do still hugely look forward to First and for those 12 or so hours it really seems as if the lens of time is focused just that little bit more sharply .
Still, I always have another chance. My biggest problem with inconsistency is that it may hit somebody who has saved their whole life for a First Class flight, where every minute aspect of the flight is experienced in pinpoint clarity. For that person, this flight would not have delivered and I know JL is better than that.
Even on a bad day though, JL is still a hell of a way to fly.
---
Back to Bali
Part 1:

Part 2:

Part 3:

Part 4:

Part 5:

Part 6:

Part 7:

Part 8:

Part 9:

Part 10:

Part 11:

Part 12:

Part 13:

Part 14:

Part 15:

Part 16:

Part 17:

Part 18:

Part 19:

Part 20:

Part 21:

Part 22:

Part 23:

Part 24: