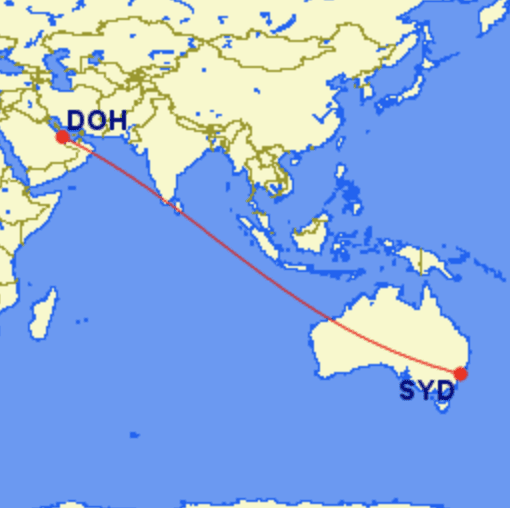 Qatar (QR)
Flight: QR909
Class: First Class
Seat: 2K
From: Sydney (SYD)
To: Doha (DOH)
Duration: 14h00
Aircraft: A380-800
Status during flight: OneWorld Emerald (AA Executive Platinum)
Cost: £1080 return Cash fare

upgraded to Fist with 50k Qatar Miles
---
My booking nightmare
---
Booking this upgrade was actually one of the more onerous activities I've ever been involved in since I got into the world of points and miles.
Firstly Q Miles can't be collected using an ordinary UK denominated Amex Platinum card instead I needed to open an Amex Platinum International Dollar Card and convert those IDC Amex points to Q Miles.
I was able to locate two empty mileage seats (Z class) in First, via the portal on Qatar Airways website and being a fine and upstanding gentleman I upgraded Kamara's ticket first. All was going according to plan.
I then went to upgrade my business class ticket, taking the one remaining Z class seat in the cabin and got an error when I reached the final screen.
I went to try again but the additional Z class seat was gone…and my seat was still in business. The two of us were split across two cabins and I now had I was now stuck with 50k Q Miles that I couldn't use.
I tried calling Qatar and to be fair the phone agent was really friendly and sympathetic, trying everything she could to assist but her hands were completely tied.
I then embarked on a Kafkaesque back and forth with an email support team that either didn't understand the situation or wasn't permitted to give a salient answer. This included such copy paste gems as:
"We completely understand your concern and we would like to bring to your notice that redemption seat subject to available and fluctuate without prior notice and revenue booking availability differs from redemption availability. So, there will be variation in the availability for the same."
"Unfortunately, redemption seats for upgrade to first class are currently unavailable and hence, we are unable to process your request. Redemption seats are limited and capacity controlled and hence, there are limitations on the number of seats available for redemption on any given flight. Certain days/periods may have no award seat availability; this is a global industry practice and is a function of flight forecast. "
After explaining that I understood the dynamics of award seats but still didn't understand why I was shown two available Z class seats and then lost one due to a technical error, I miraculously received an email from a customer relations team – ten days after first contacting Qatar:
"Please note, we have tried all possible ways to grant your upgrade request and we are pleased to confirm that your Award Upgrade request has been processed as few redemption seats have become open due to the cancellation of few tickets."
I had gone so far down the rabbit hole with the copy paste emails that I was pretty much just venting at this stage. I couldn't quite believe that somebody somewhere had understood my frustration and actually opened award space for me!
The only other time I've been able to do this was when I proactively taught two different customer service agents about the existence of alliance liaisons and orchestrated the opening of a CX F award seat between CX and AA (a special kind of hell that was probably several orders of magnitude more complicated than my actual job!)
Why am I telling you all this? Because I want you to understand what I went through to get on this flight and how much it meant to finally be boarding it. I've done plenty of things that people would consider borderline insane in order to try out First and Business class cabins and have arguably worked harder at it than the people who earned the cash to pay the normal fare.
This was definitely one of those times.
I had previously tried out Qatar First on an old A330 to London and had been upgraded at the gate on a 6h redeye on the A380 from DOH-BKK but this was different. This was a rare chance to fly on one of the world's longest First Class routes with a chance to experience two full meal services and full night's sleep.
This was going to be awesome…
---
Pre-Departure
---
The Qatar A380's initial delivery was notoriously delayed because Qatar's CEO Akbar Al Baker was so uncompromising in his search for perfection in the First Class cabin. This was my first time seeing it in anything other than a red glow and I have to say it looked very impressive. I'm not sure if the Red Lighting is a special theme reserved for Bangkok flights but the pale bluish purple is more in keeping with Qatar's branding and really imbued the cabin with a sense of elegance.
In fact, the cabin looks so amazing that an Indonesian instagrammer actually stole this shot of me and photoshopped his own head onto it. The story ended up breaking in in the Indonesian press and I gained 3,000 followers overnight!
But I digress… back to the review.
You can always tell how good a flight will be within a few moments of setting foot in the cabin. The second we approached the door to the upper deck and were escorted to our seats, I knew this was going to be good.
The crew asked if I wanted anything to drink before take off but noticing my proclivity for taking photographs, they asked whether I'd prefer to wait and stayed away as I took all of my close ups of the seat.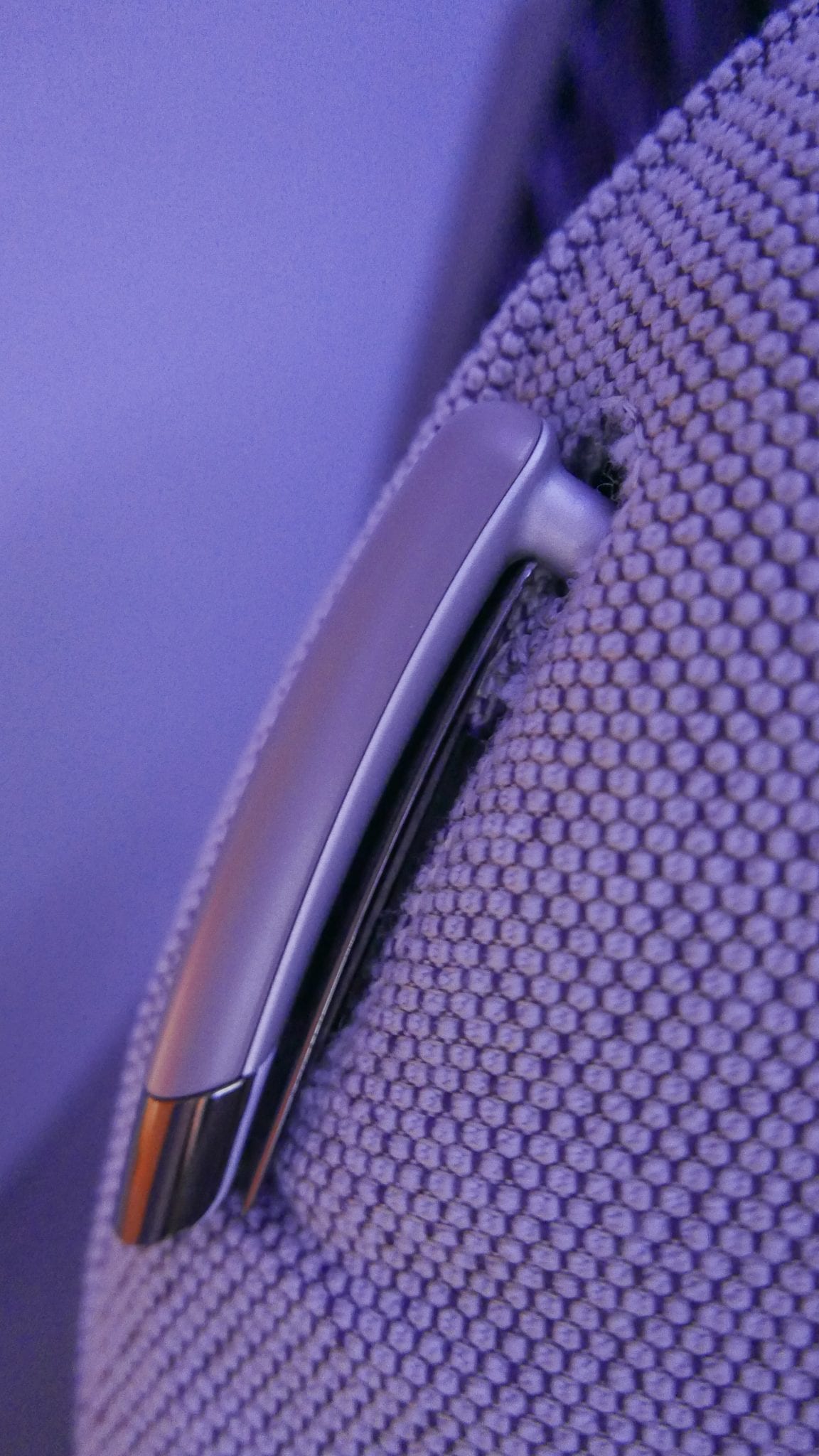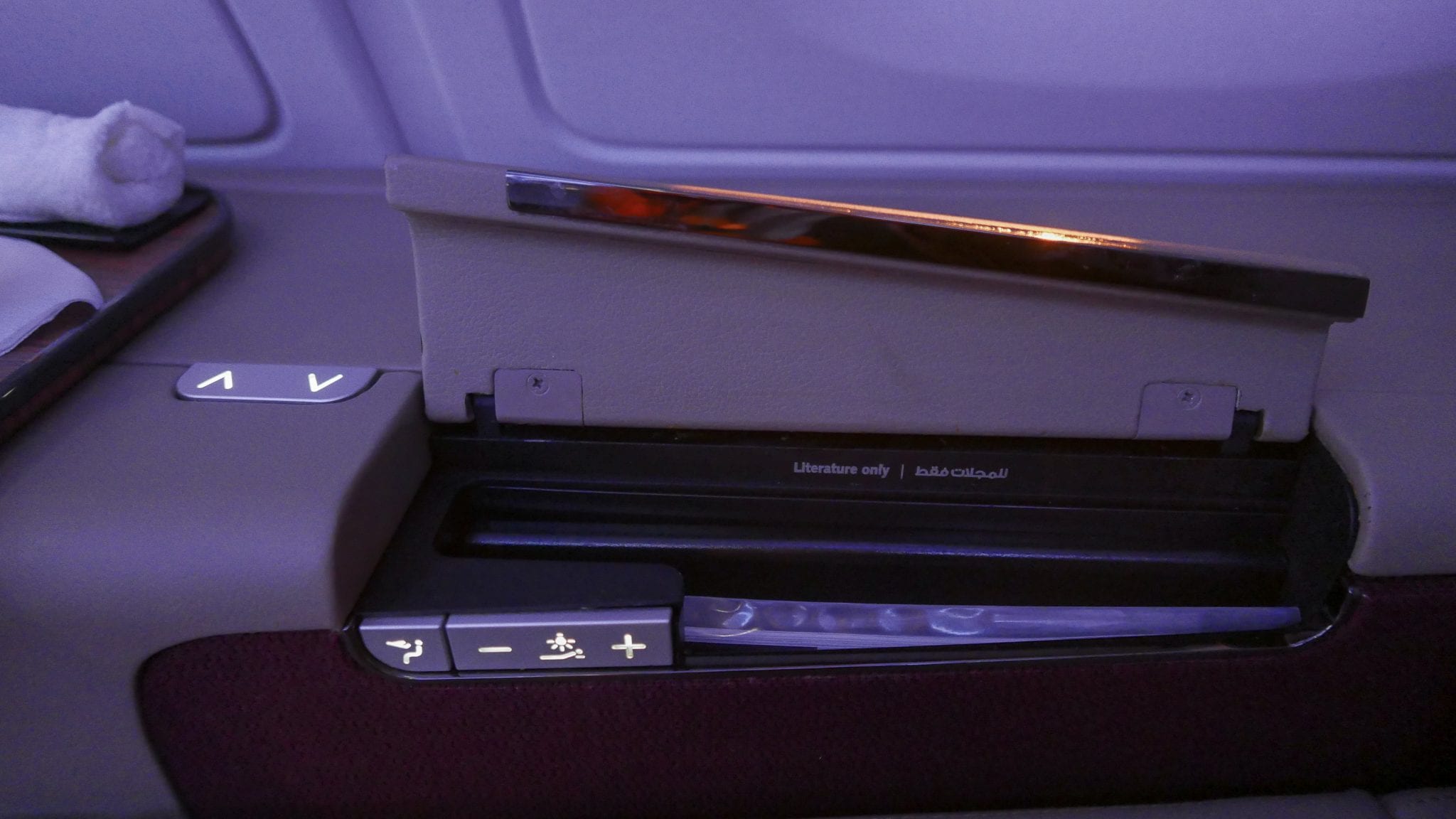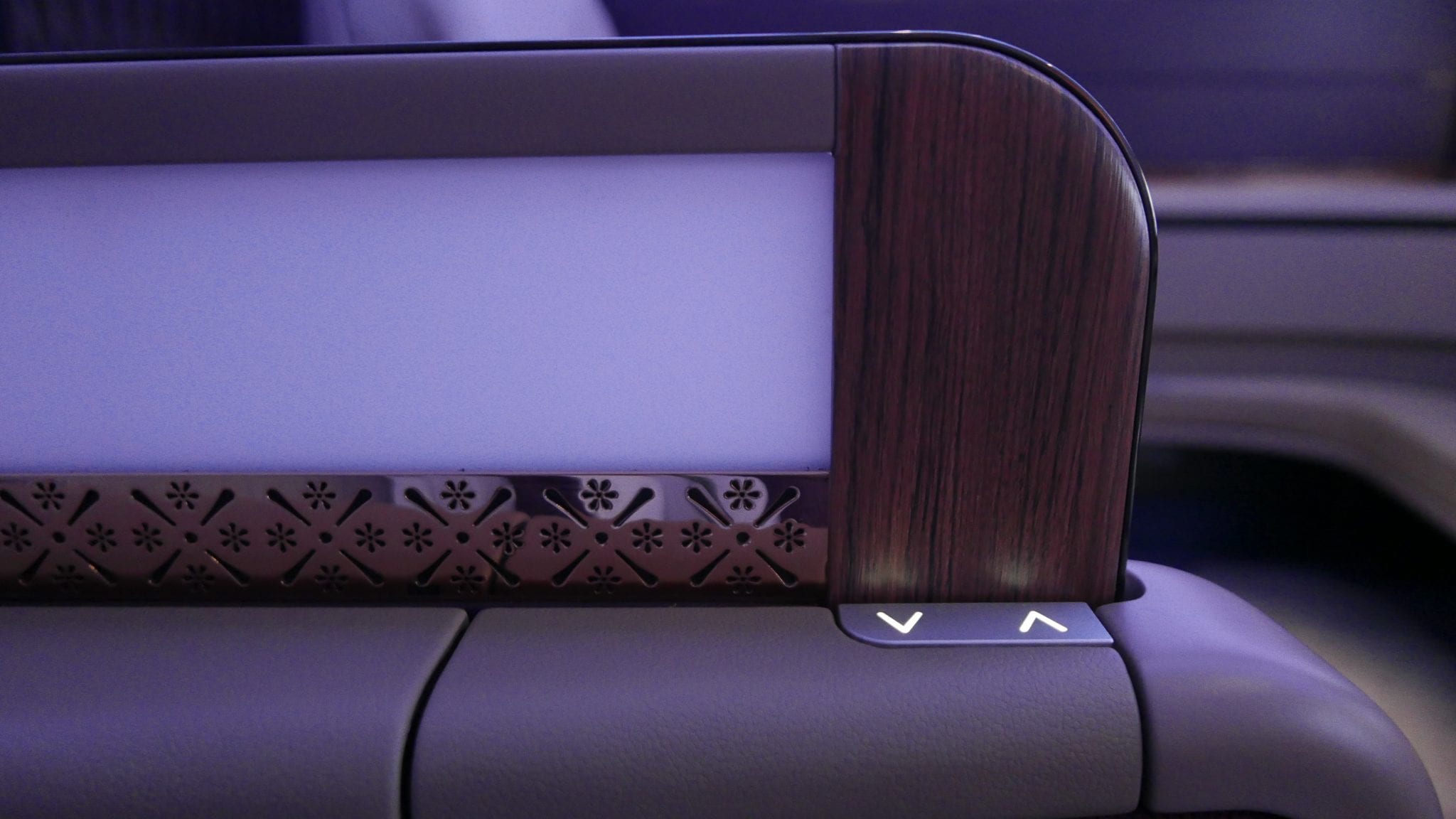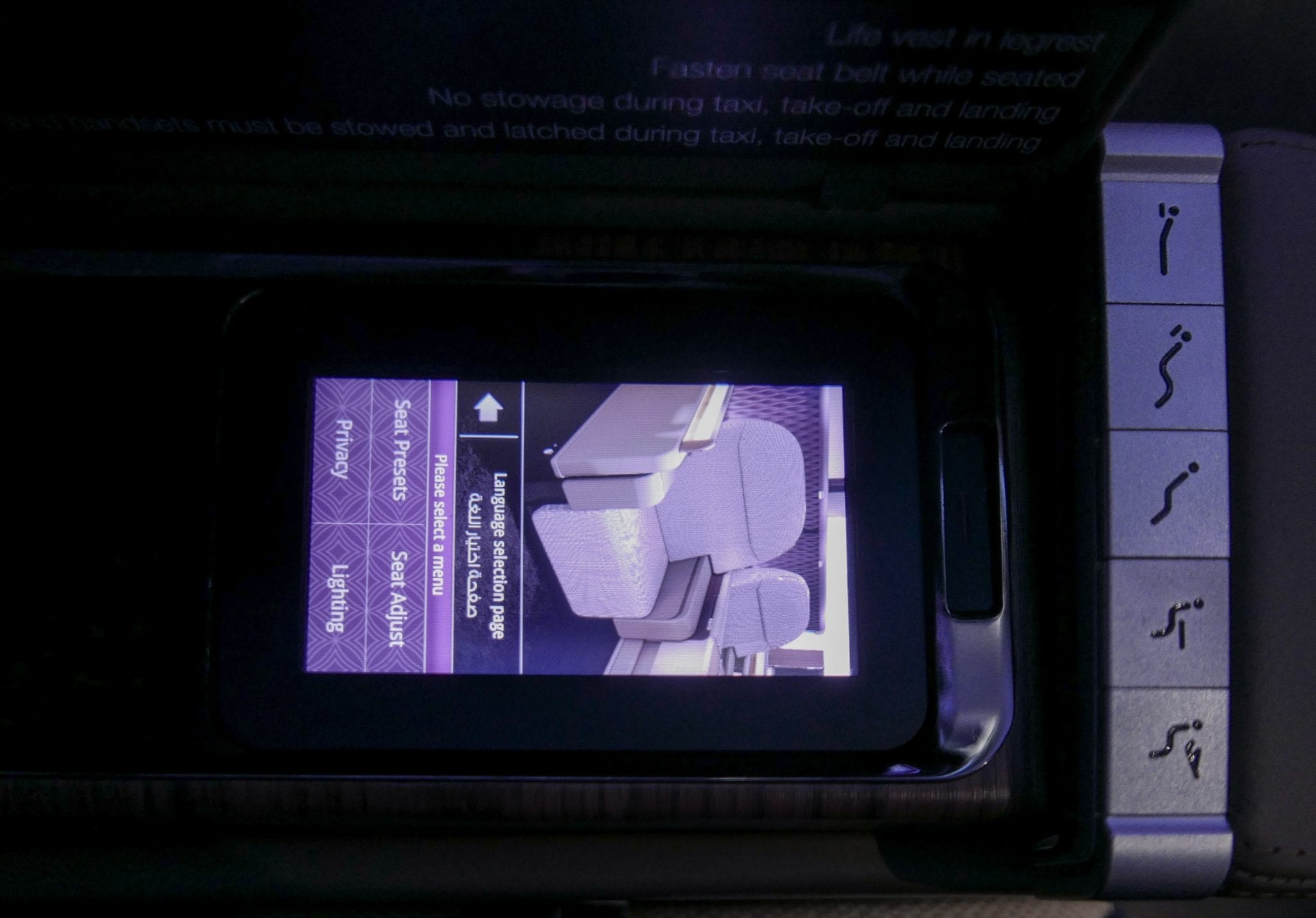 The second that I put my camera down and sunk back into the embrace of the oversized seat, an FA came over to pour a glass of Krug at my seat. I was also offered my choice of hot or cold scented towel. This is a brand standard across both of Qatar's premium cabins and really sets the airline apart. Not only is there a choice of temperature, the towels are also very thick and smell amazing. The only criticism I had at this stage was the choice of snack to accompany the champagne: a bowl of stale croutons. Other airlines like Qantas offer proper canapes with pre-departure drinks in First, so not even getting some simple cashews seemed strange and not very fitting for Qatar's most prestigious cabin.
After the champagne came the customary Arabic ritual of offering cardamom coffee with dates. If you've ever spent time in the Middle East this little touch gives you an immediate sense of warm nostalgia, even if you haven't it serves to subtly reinforce the airline's provenance in a tasteful and endearing fashion.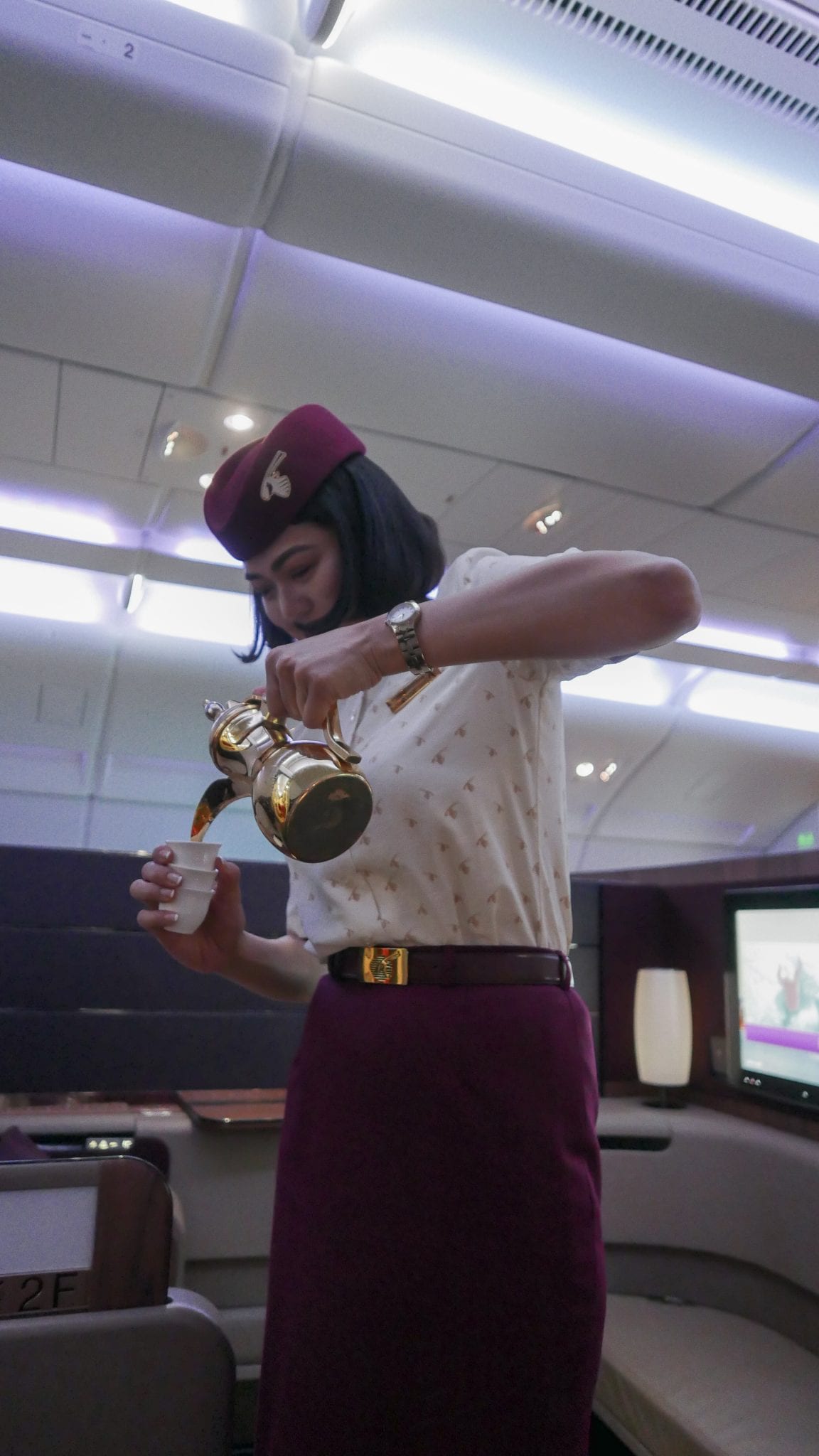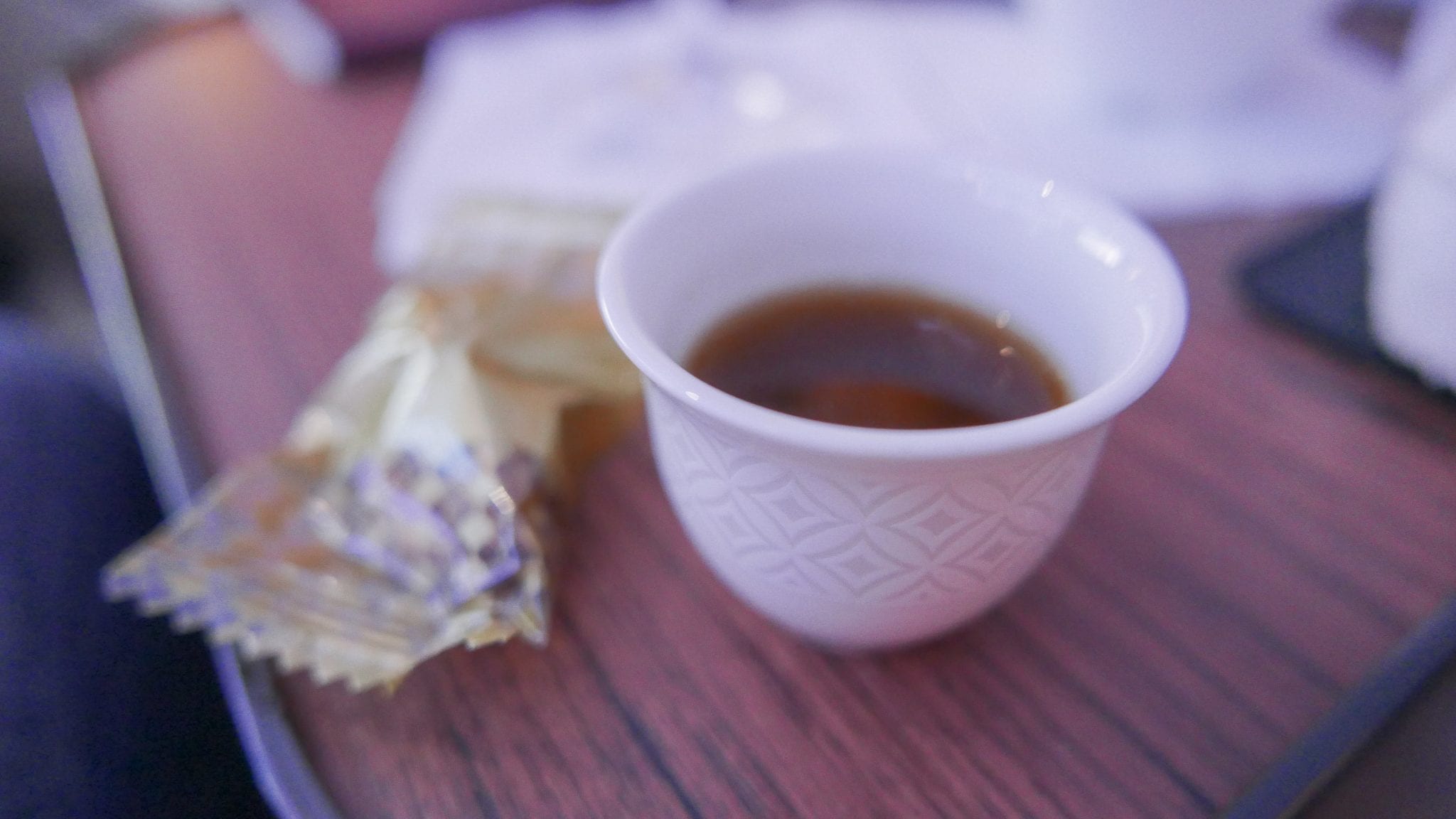 After the coffee ritual the crew came over to distribute Armani Amenity kits – stocked with generously proportioned cologne, Missoni pyjamas and a voucher for complimentary wifi. I have always thought it immensely stingy and somewhat classless for airlines to charge premium cabin passengers for use of wifi (can you imagine the uproar if baggage and meals were chargeable extras in First?), so I was very pleased to see Qatar taking care of passengers in this way. Unfortunately the execution was somewhat lackluster though, with the WiFi speed unusably slow throughout the flight – even checking emails was a chore.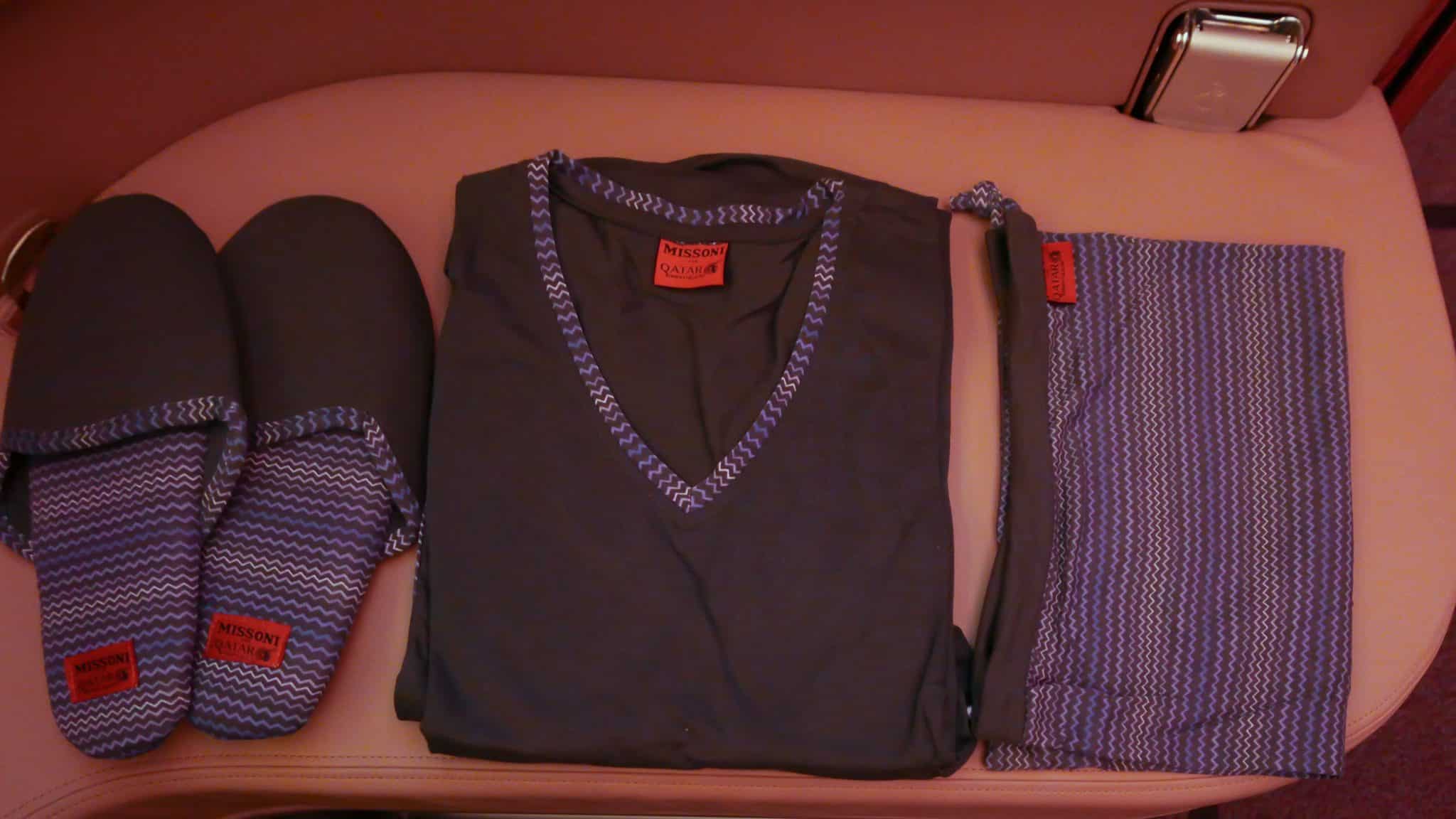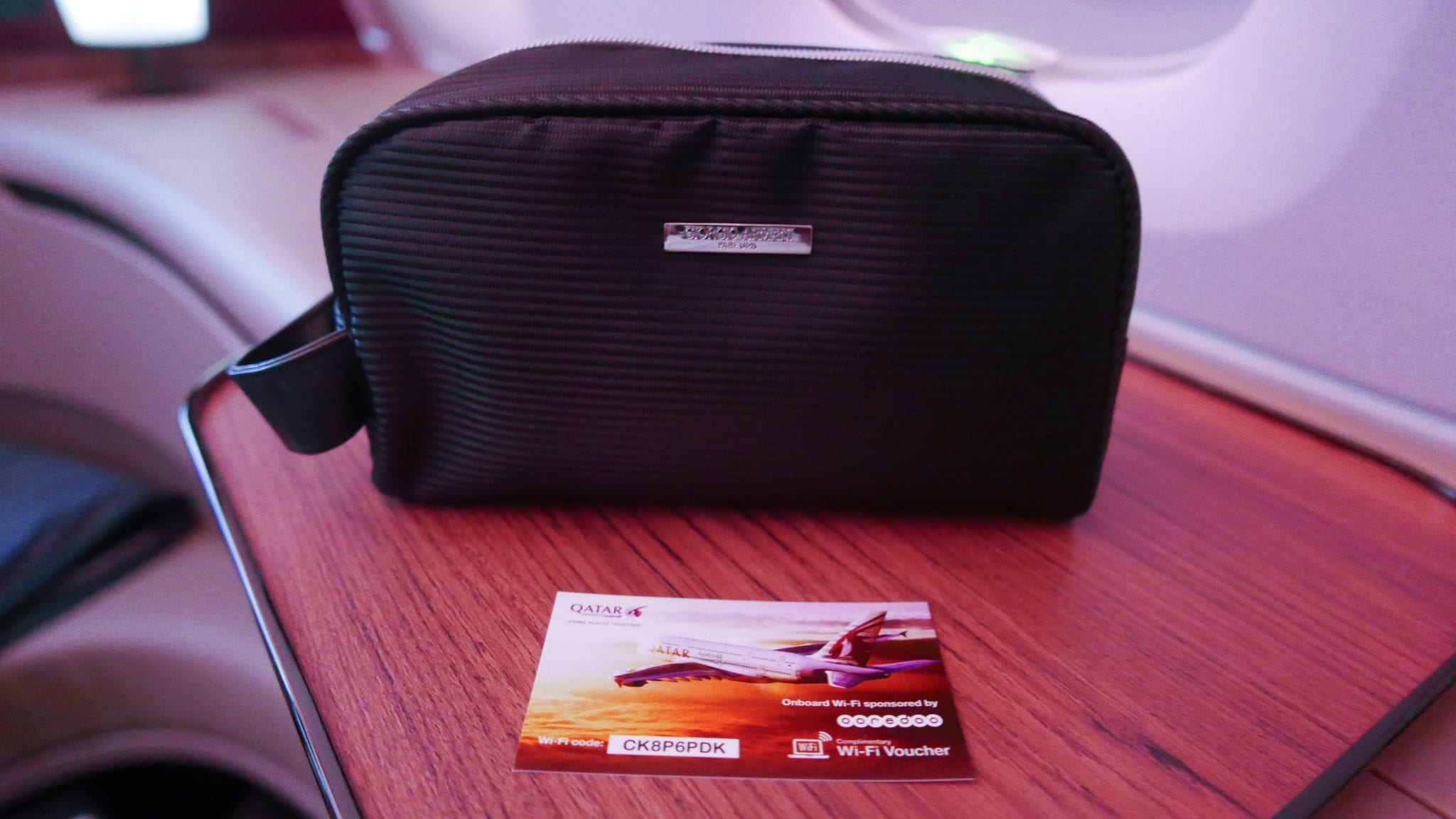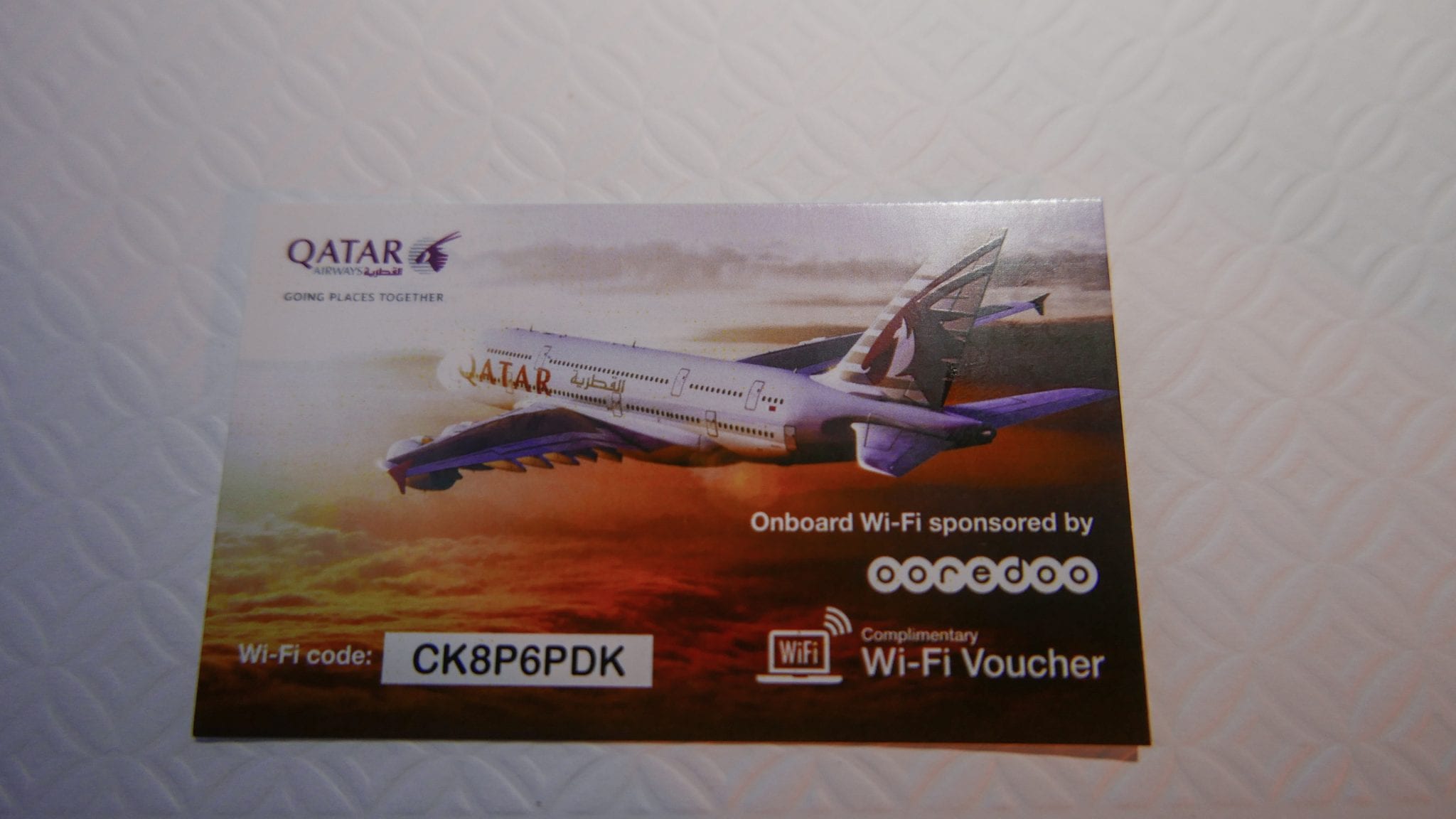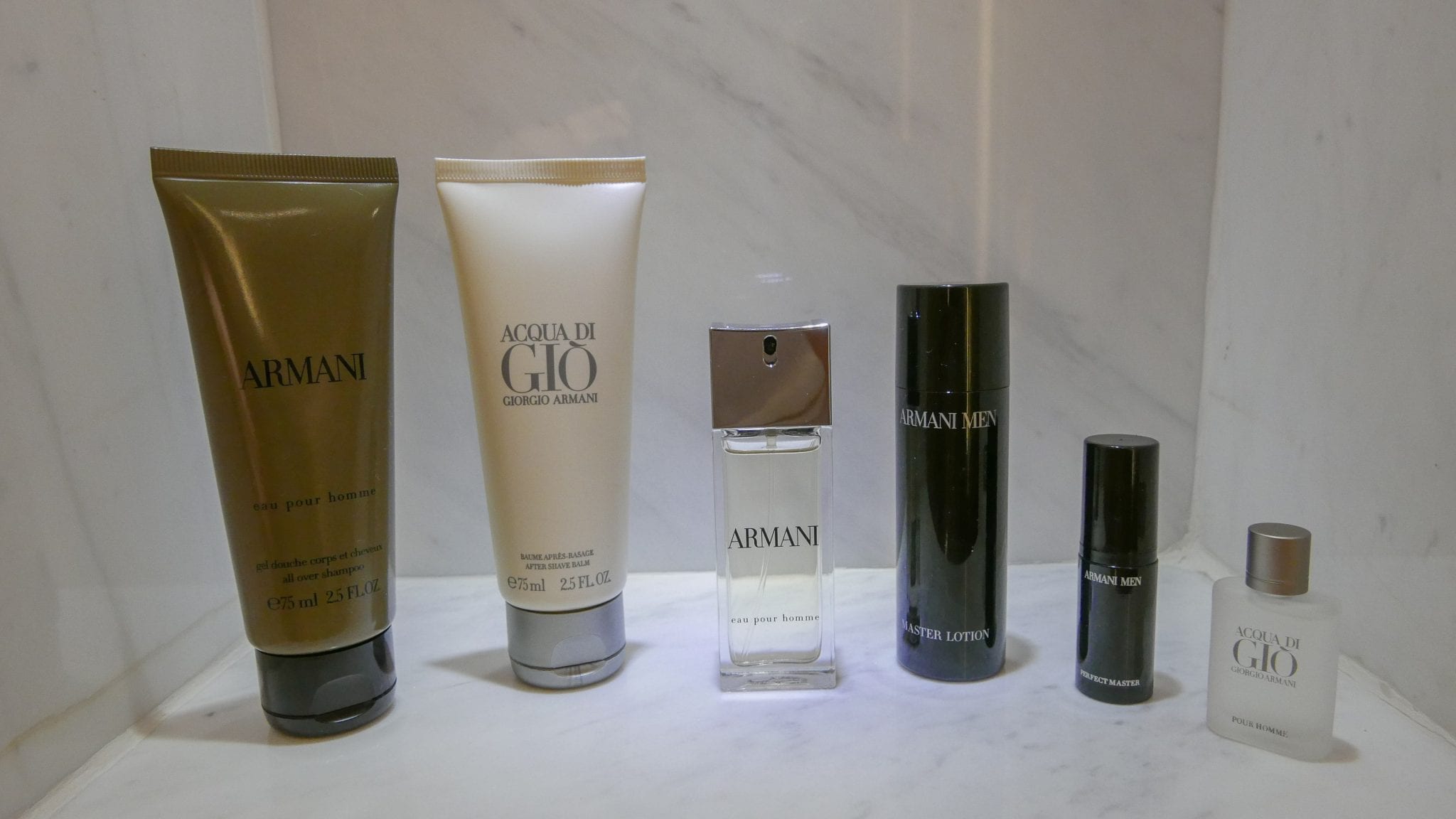 After a second glass of Krug the crew came to clear away empty glassware and offer us menus, before asking what drink we'd like after take-off (no prizes for guessing what I went with!). Soon after, we pushed back and rose ever so gently into the sky, in that inimitable and effortless way that only the A380 can…
---
The Flight
---
The drinks list almost seemed like a disappointment relative to the embarrassment of riches delivered to us in business class on the flight over to Sydney. Although this is hardly surprising from an airline that has closing doors and dine on demand in Business Class and a CEO that has famously declared First Class to be obsolete.
On the other hand there was still Krug and an exceptional (if slightly young) second growth Bordeaux: Léoville Poyferré, so this still puts the wine list up above most other airlines' offerings in First.
There has sometimes been a criticism levelled at the big 3 Middle Eastern carriers, people say that the food in First Class is not markedly different to Business. Qatar's counter to this:
Truffles
Oscietra caviar
Foie Gras
Lobster
After enjoying the take-off views from 1K, Kamara moved her things over to seat 2F across the aisle from me. The crew suggested that this would be more private and enjoyable for us and they were absolutely right.
We opted to eat as soon as possible, given that late departure time. There was ample space to do this sitting opposite one another and sharing a table.
After the caviar we faced a dilemma: we were both way too full to eat a proper meal, given how much we'd eaten in the Qantas First Class Lounge. However the aroma of truffles was filling the cabin and we just couldn't resist ordering a soup each
Getting ready for bed in a spacious and beautifully designed bathroom is still something of a rarity in First Class. Most airlines don't have A380s and even those that do are sometimes limited by space on the lower deck. Thankfully Qatar does not suffer from either problem…at all.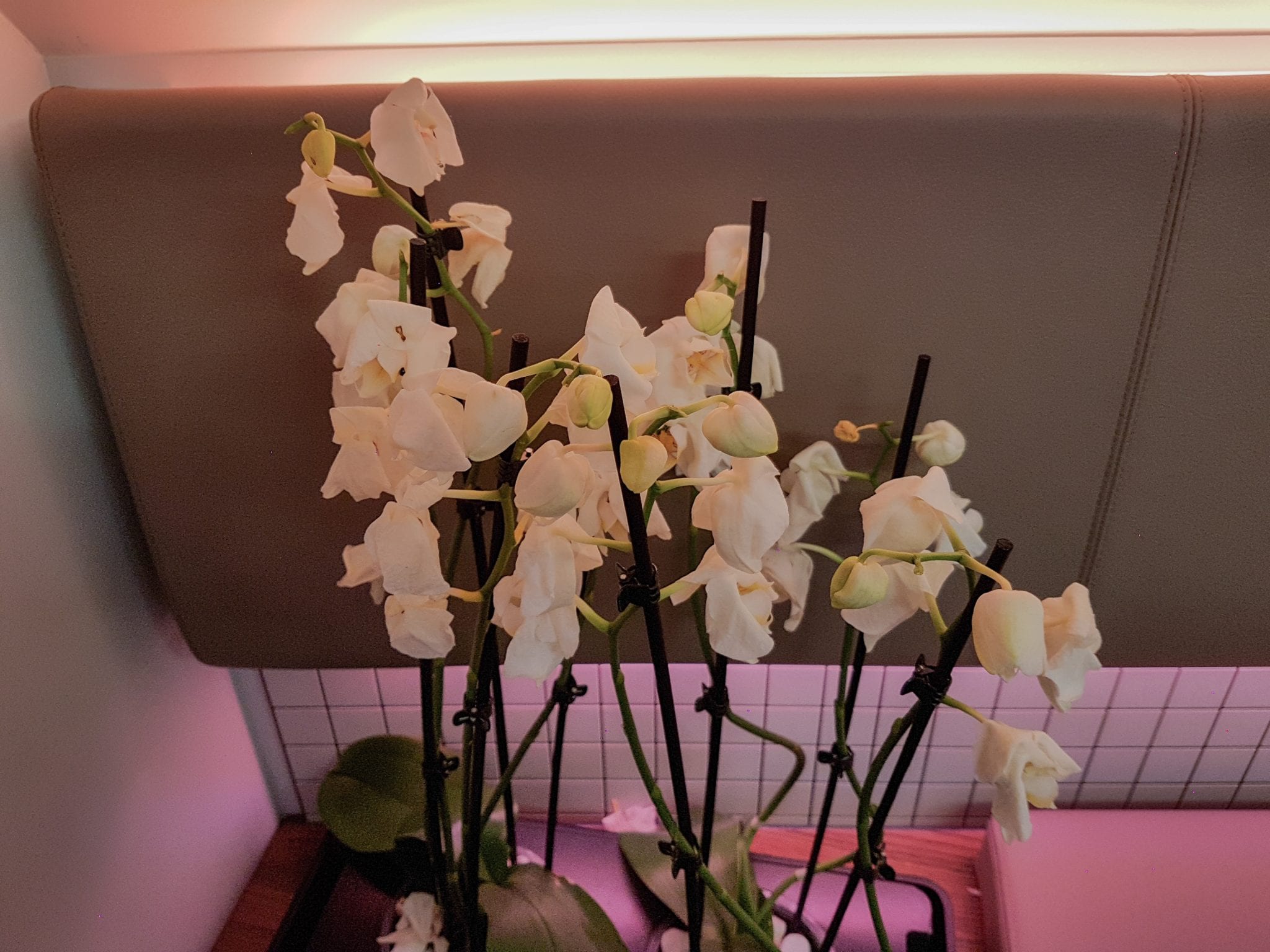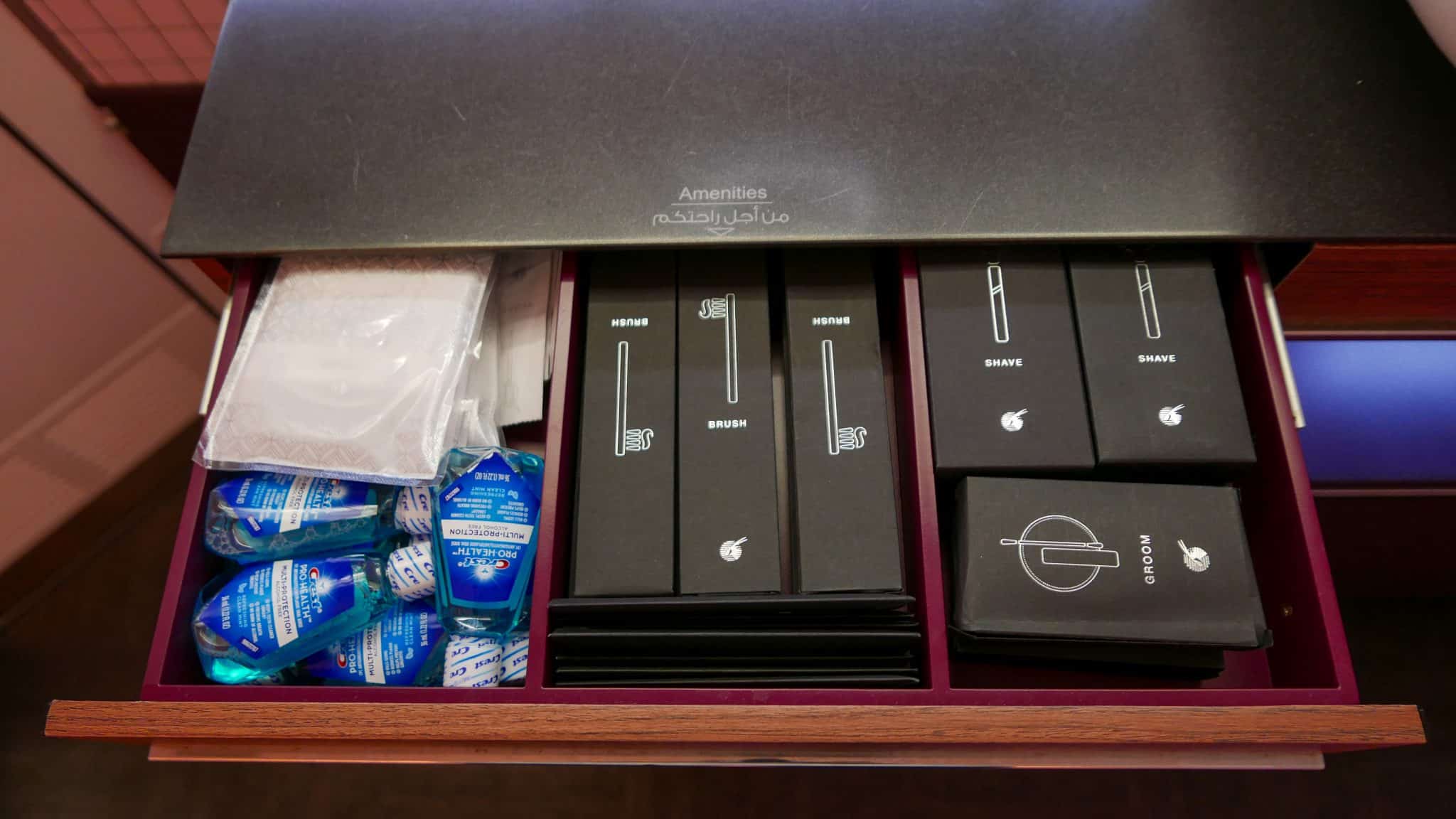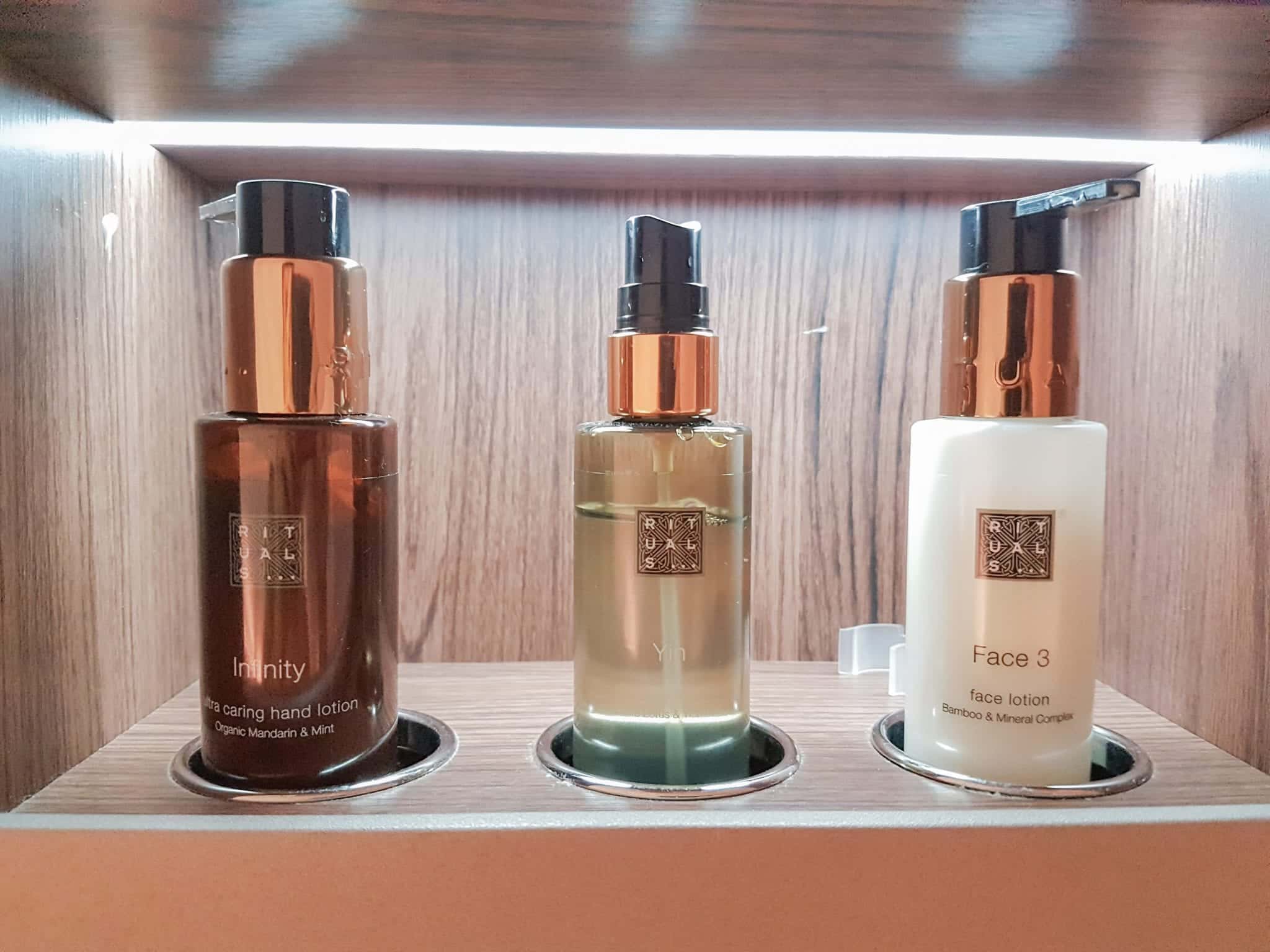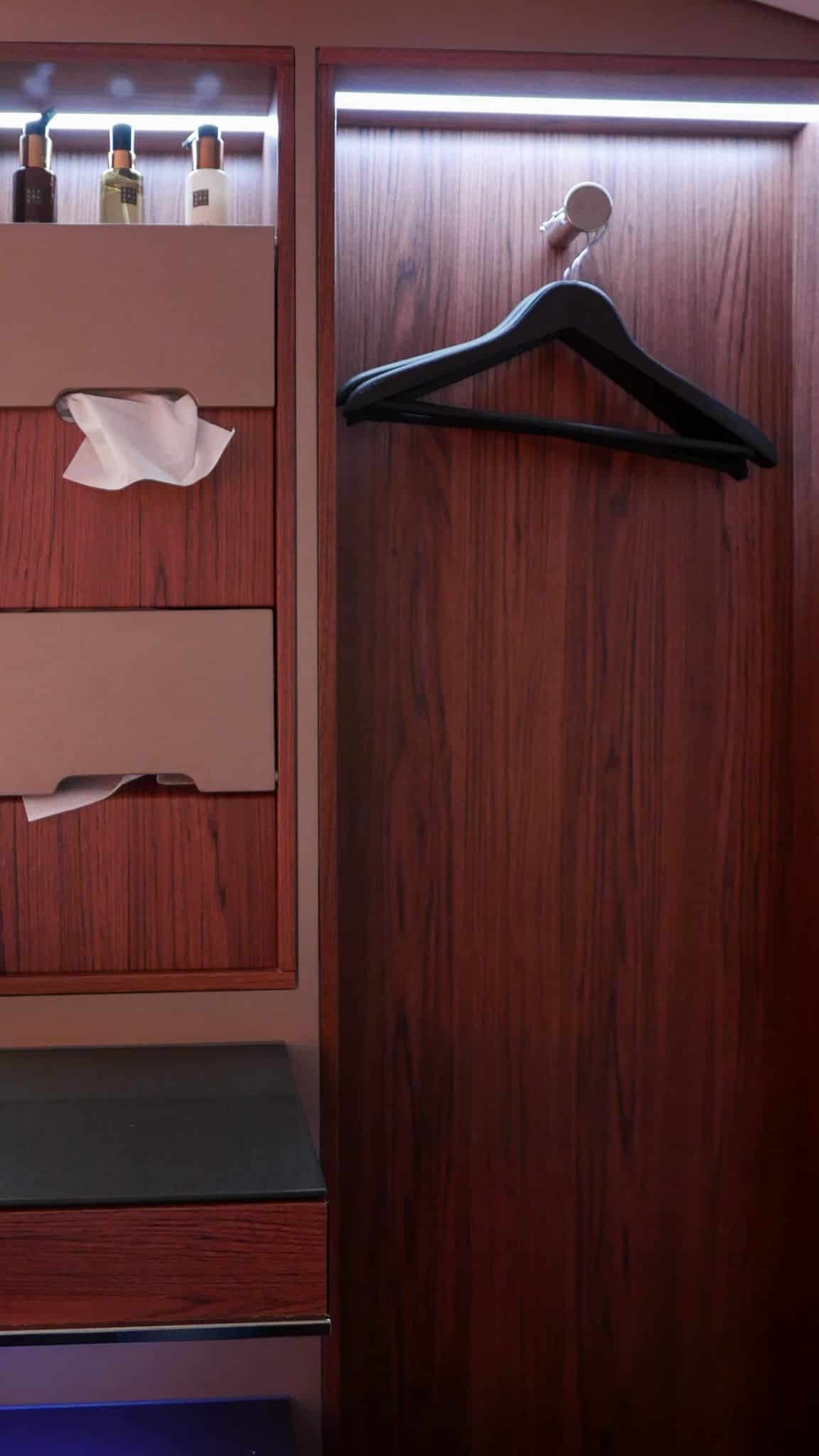 The Bed
I would have slept longer but unfortunately this side of the cabin seemed to be in constant use throughout the night by crew heading back and forth to use the First Class bathrooms. When I decided to fully wake up, I turned and put my slippers on, with my legs hanging into the aisle. At this exact moment a member of the crew came rushing past and almost tripped right over me. She exclaimed loudly in Mandarin and immediately disappeared in the direction of the stairs.
After this shocking encounter I pressed the call button to order some Krug and caviar to settle my nerves…
I had actually woken up pretty hungry and decided to eat a full meal, ordering the coconut crab cakes with green mango salad as my next course.
I then spent the next few hours typing up trip notes, editing photos and reading. I periodically ordered a glass of Krug or an espresso to keep me going and by the time we were three hours away from Doha most of the cabin was awake.
Of course at this point most people were pretty hungry since they slept for at least 8 hours but I opted to keep things light and simple. With even more Krug and even more caviar.
All too soon the pilot announced that we were around 40 minutes away from Doha and that this flight would soon be coming to an end. At this point the crew entered a phase of focused energy, clearing all the bedding from the cabin and thanking us all for flying Qatar.
---
Conclusion
---
I was quite sad when this flight came to an end. The First Class crew were very warm and friendly and truly did whatever they could to anticipate our needs. They held back and served others when they saw that I was busy taking photos. They brought me an extra pillow when I was sat up in bed and everyone else was asleep. They even asked whether I preferred my champagne on the side table or a full table when coming around to do the pre-meal drinks as they'd noticed I had camera equipment nearby. These are little details but they show that the crew cared about delivering a high level experience. Good service seemed to come very naturally to them.
The bedding was comfortable, the bathrooms were spacious and inviting and much though I tried, my efforts to test the limits of the caviar and champagne supply were easily rebuffed.
The food and drink weren't quite on the level of JAL or ANA and the seats don't have closing doors like Singapore Suites or Etihad Apartments but the overall product ticks a lot of boxes. On a long haul flight Qatar First Class is exceptional and actually my main criticism is that it is sometimes deployed on routes that don't have the demand for First (like BKK where the crew basically half ass things because they consider it 'upgrade class') and the product is cut back to the point of absurdity (like daytime flights London or Paris where neither bedding nor pyjamas are loaded – even though passengers may be on wildly different sleep schedules, having flown all the way from the other side of the planet).
When all the pieces are in place and you have enough time to enjoy it, Qatar First Class is most certainly a top tier product.
---