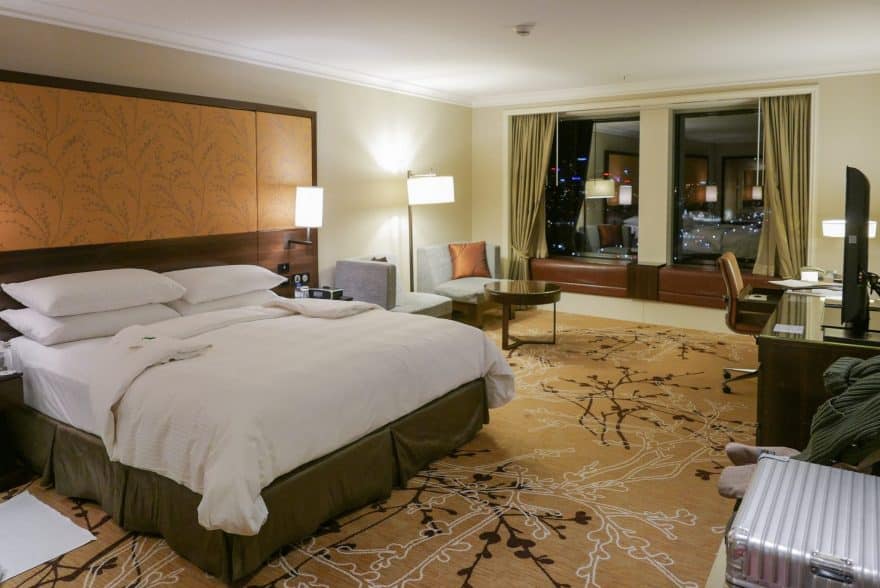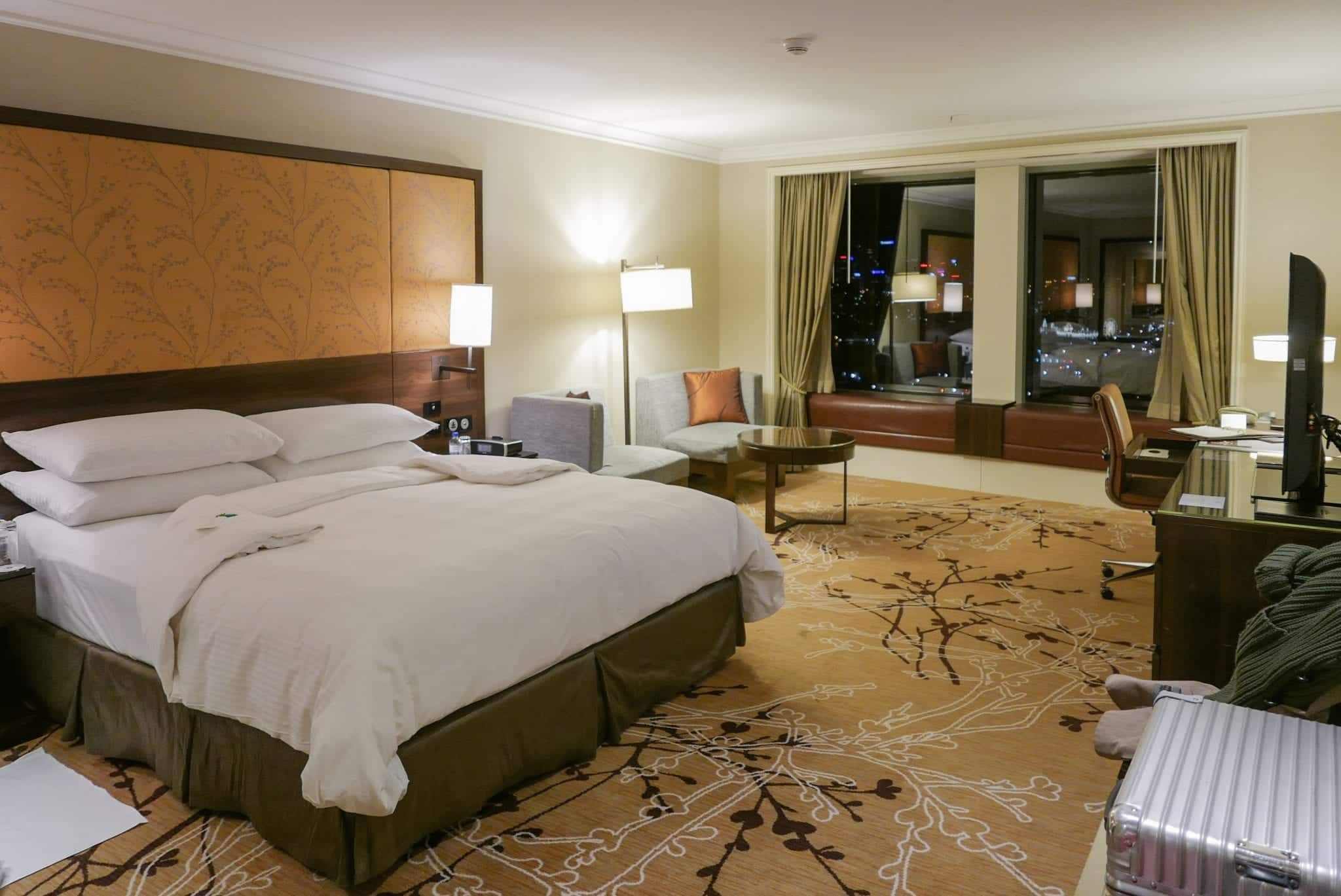 REVIEW – Shangri-La Sydney
January 16, 2019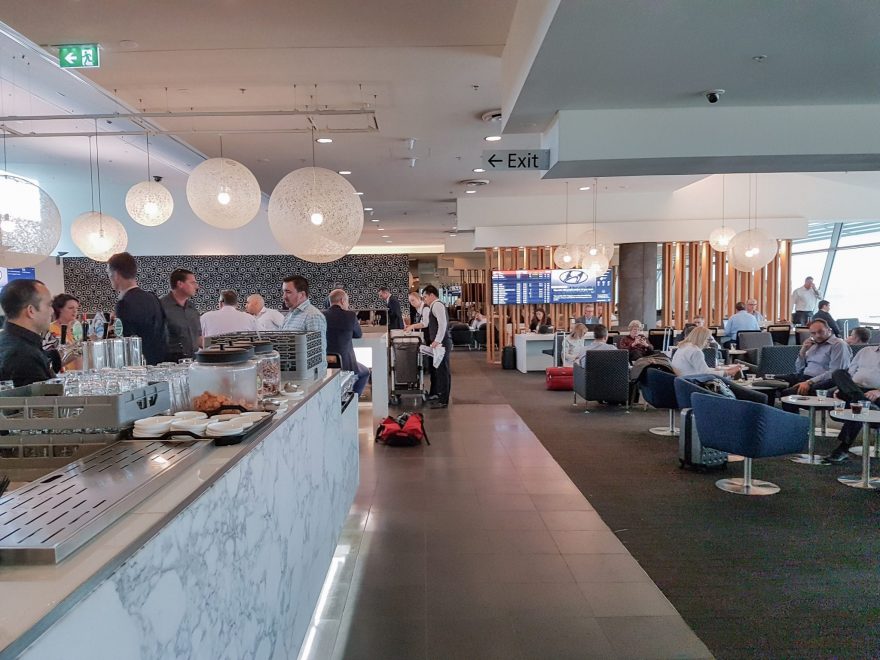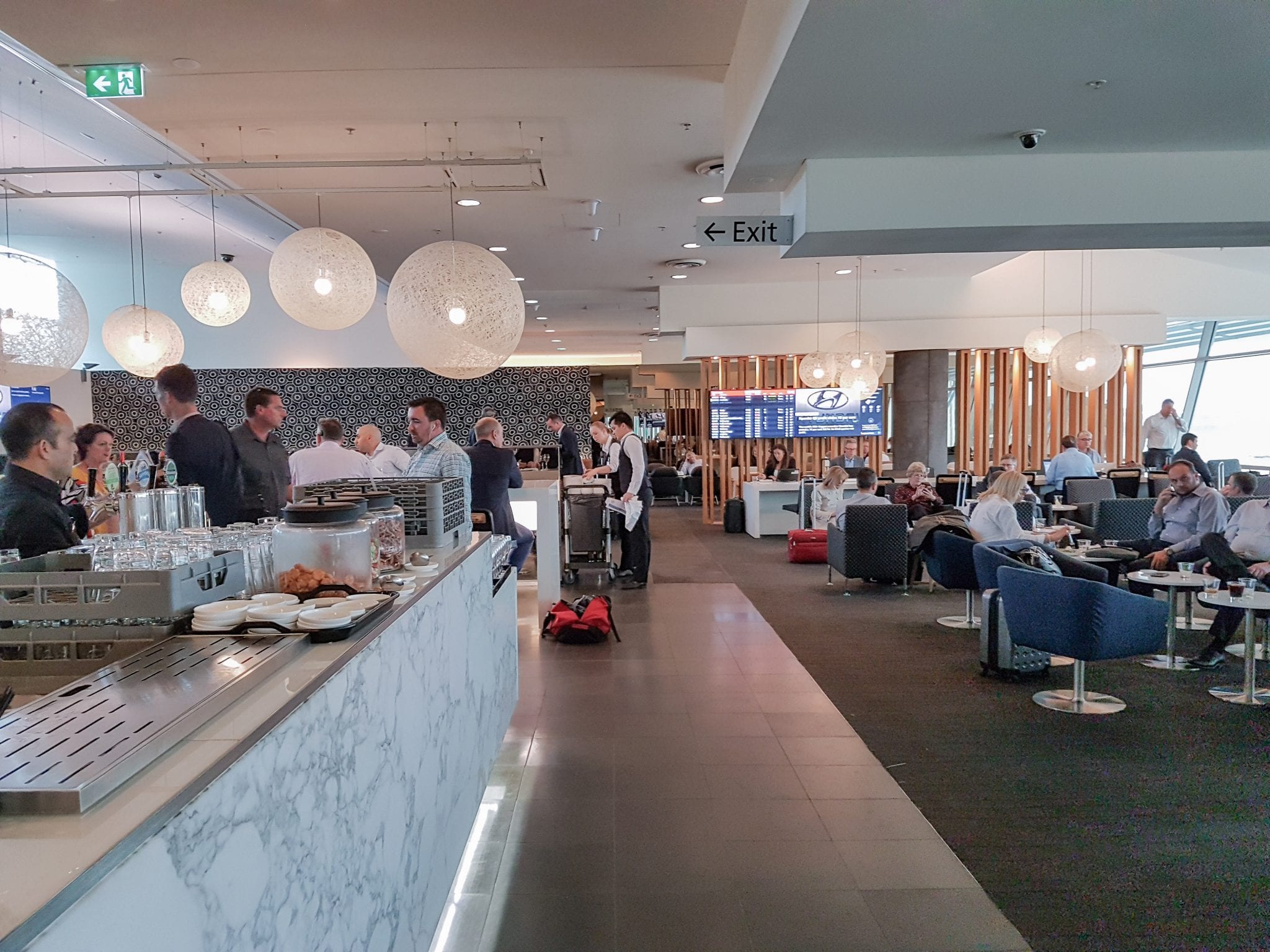 REVIEW – Qantas Business Lounge – Sydney (Domestic T3)
February 9, 2019
---
Intro
---
The Park Hyatt Sydney has a location which is beyond compare. Directly beneath Sydney Harbour Bridge, with an unobstructed eye-level view of the world famous Opera House.
This booking was made at a time when the cash and points feature of the Hyatt program still offered a considerable value. With a fixed price of 333AUD plus 15,000 Hyatt points this gave me over 700AUD of value for my points – rooms at this crown jewel in the Hyatt chain seldom retail for under 1000AUD per night. I had previously visited this hotel and thoroughly enjoyed the experience of staying in an Opera View Room. This time however I wrote to the team in advance of my stay and requested a complimentary upgrade to a far larger Opera Deluxe Room, in light of my top tier Hyatt Status. I was informed by the concierge that I could confirm an upgrade in advance at the following cost:
City Harbour King/Twin: $150
Opera King/Twin: $250
City Harbour Deluxe: $300
Opera Deluxe: $670
Otherwise I could take my chances on the day, with the assurance that they would do everything in their power to secure me the upgrade that I had requested. I decided to take my chances. We made our way from the Shangri-la Sydney with a real spring in our step, excited both to head back to one of our favourite hotels on Earth and to see whether we'd score the elusive upgrade!
---
Booking
---
Our clients are able to access Hyatt Privé rates at Park Hyatt Sydney.
Hyatt Privé bookings always match the best available rate on the Hyatt website, but ALSO offer extras such as:
• Priority room upgrades, subject to availability.
• Full breakfast for up to two in room guests.
• $100 Hotel Credit.
• Welcome amenity.
• Early check-in/late check-out, subject to availability.
Note: You will still earn stay credit and ALL elite benefits, exactly like a direct booking with Hyatt.com.
You can book a Hyatt Privé rate at Park Hyatt Sydney for yourself by using our online booking portal:
BOOK PARK HYATT SYDNEY WITH HYATT PRIVÉ BENEFITS
If you're booking with us for the first time, here's a quick guide on how to use the booking portal:
If you are planning an itinerary involving multiple rooms or properties, please get in touch for immediate booking assistance:
---
Arrival
---
It's a curious feeling entering a hotel lobby halfway across the world and feeling instantly like you're home. There are a select number of hotels globally that just feel 'right' to me. This is one of them.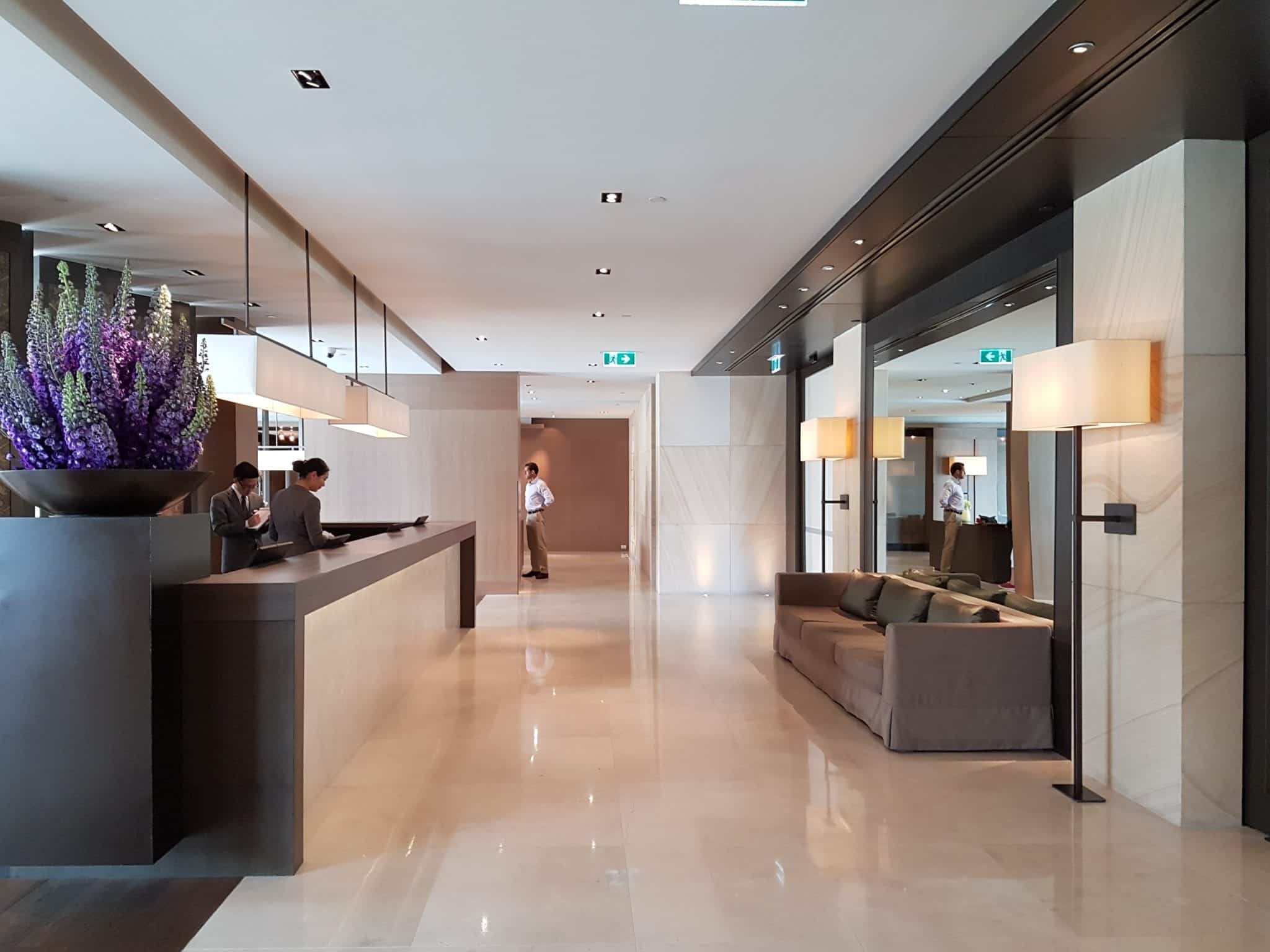 I approached the counter and as soon as I gave my name, a gentleman came over and said he'd take care of us from then on. He introduced himself as the deputy manager, thanked us for our continued loyalty and walked us to our room to complete the check-in formalities.
We were led past the concierge desk, flanked by one of the hotel's beautiful aboriginal carving walls and up a small flight of steps to the hotel's first floor.
At this stage I was trying to figure out if being so close to ground level was a good sign or a bad sign. Whenever you're walked to a room, without any mention of type, there are always two competing voices in your head, one telling you that there's no way you'll get an upgrade whilst another, in my case louder, voice tells you that for sure you'll luck out this time.
The further we walked down the corridor, the closer we were getting to the Opera House. We kept walking and walking; I was starting to get a good feeling about this…
---
Opera Deluxe Room
---
Video Tour
Upon entering the room I could see that the layout looked very different to what we had during our previous stay. Could it be…?
With that we were told, "I'm pleased to inform you that as a loyal returning guest, we were able to upgrade you to an Opera Deluxe Room for your stay, even though we are at 100% occupancy." It must be fun to give that kind of news and see people's reactions on a daily basis. This is the magnificent room that awaited us:
I was doing everything in my power to try and keep my cool but I couldn't help but laugh when I saw how large this room was, with multiple floor to ceiling glass doors facing straight out onto the Sydney Opera House. This is truly a million dollar view. Over the course of four days it never got old… not even for a second.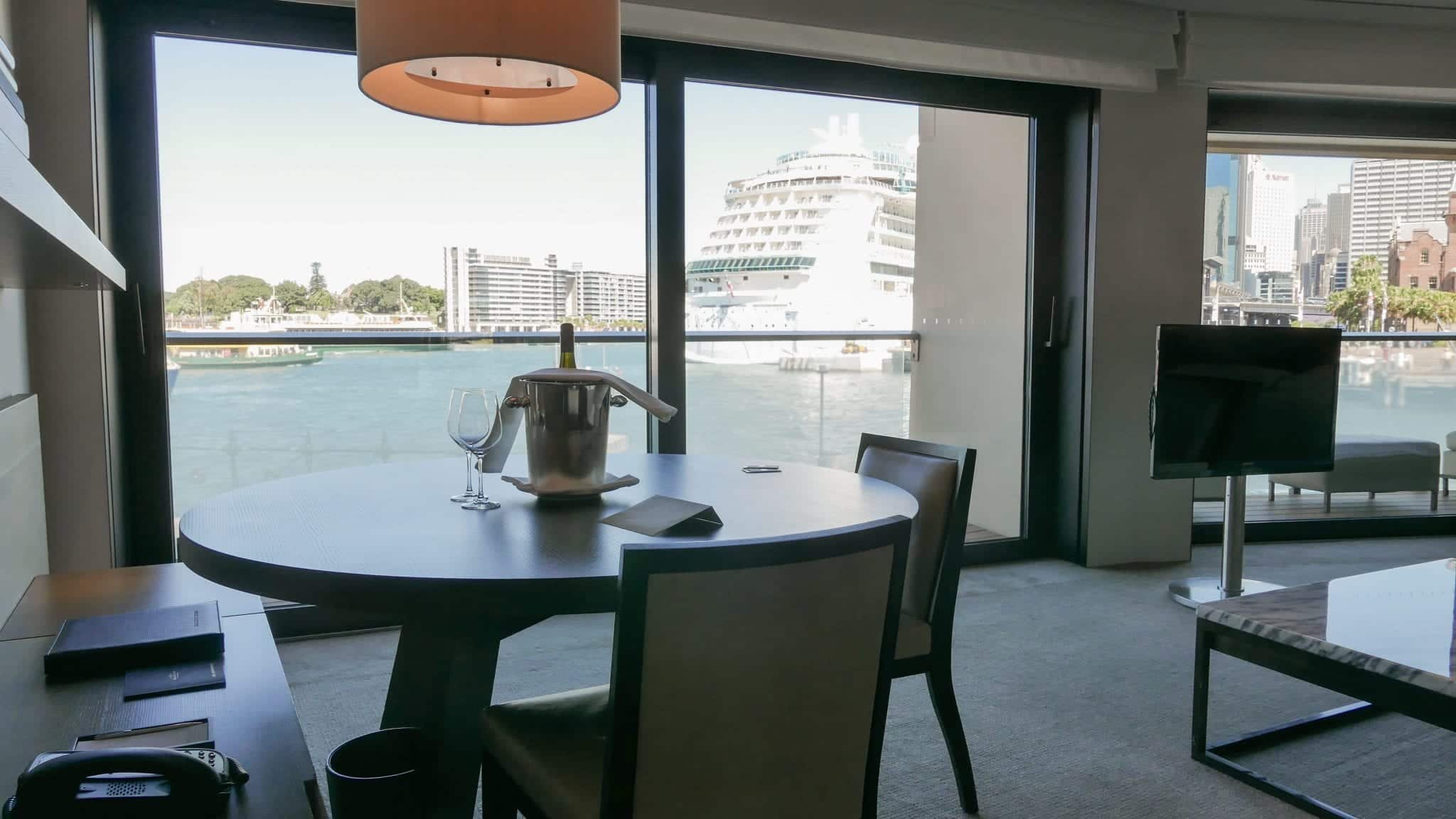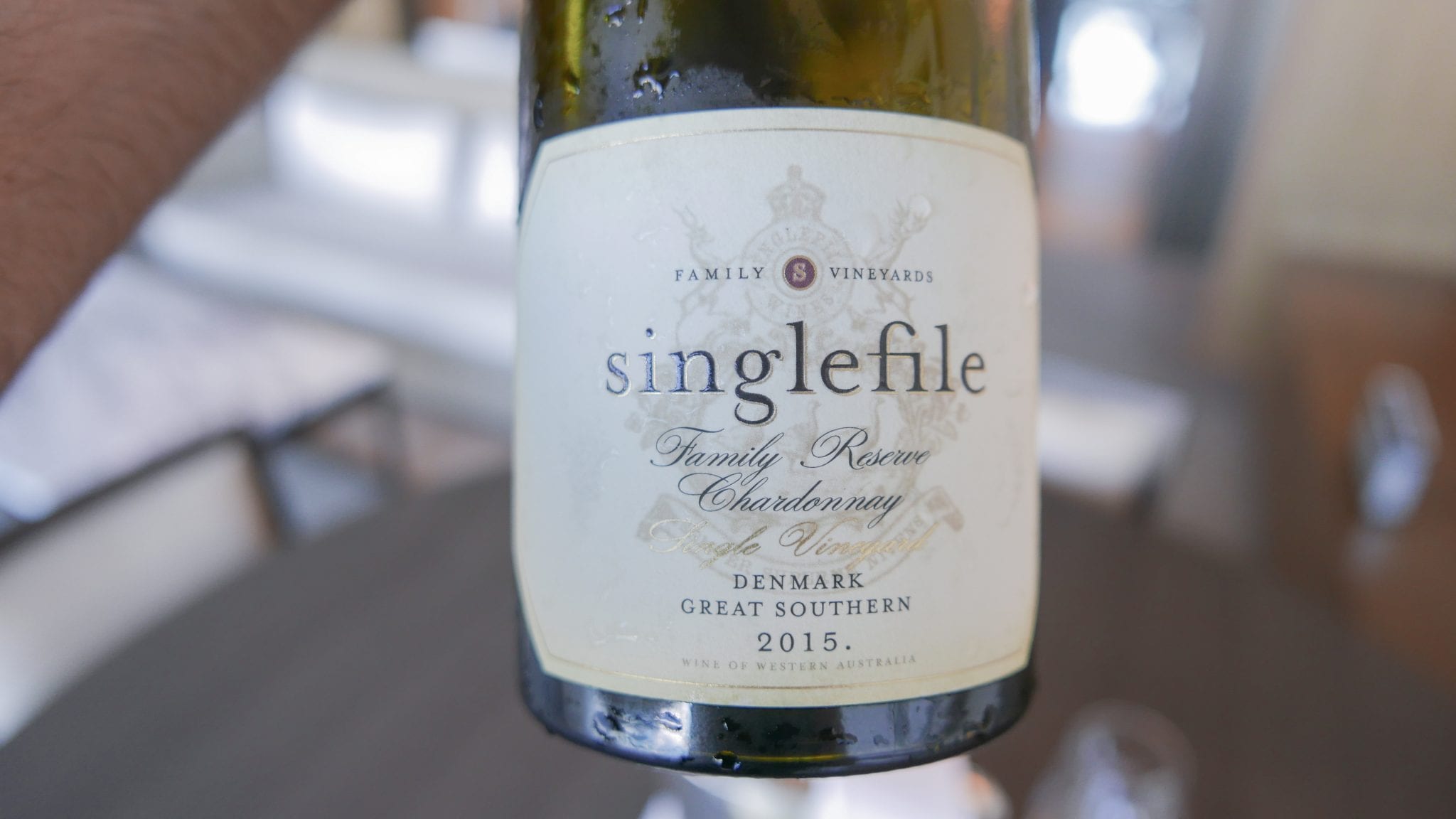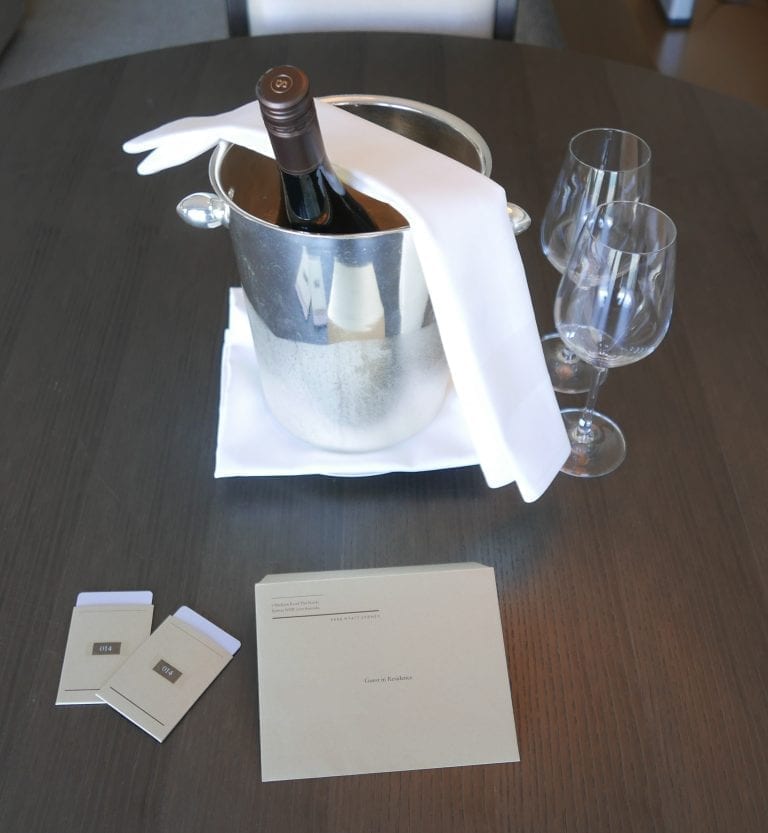 As we were being shown around the room, the DM said that he'd left us a bottle of wine to enjoy whilst taking in the view. He then added, "keep the points too, this one's on us" – what a lovely touch!
Not only was the view outside spectacular, our room was also elegantly decorated in the sleek, minimalist aesthetic for which the Park Hyatt chain is so widely renowned.
The room lacks the separately walled bedroom it needs to be recognised as a true suite but the sofa and chairs are more than adequate for hosting a small gathering, especially when you factor in the additional seating on the terrace. At 75m² there is certainly more space here than a great number of suites that I've experienced during my travels.
Our room from the reverse angle. Even forgetting the view, the abundance of natural light really transforms this space and is something I can truly appreciate, living in a city where the sky is almost perpetually grey…
Our room 014 was located right at the end of the hotel building, almost exactly facing toward the Opera House.
Outside & View
Our room spanned the middle two balconies, on the ground floor, in this picture.
As soon as the DM left the room, we ran around giggling like a pair of schoolchildren, unable to contain our excitement any longer. The first thing we did was run outside to fully appreciate our view.
Although we were quite close to an area where the general public is walking around, we were set a good 6ft above the ground, with frosted glass for privacy. Besides, we were hardly the star attraction here!
You know your room has a good view when professional camera crews are flying in from around the world to take wedding pictures, immediately below you!
Living Room/Bedroom
As you'd expect, all the furniture felt really heavy and solid with hardly a scratch or a mark to be seen anywhere. I can only imagine what it takes to maintain a room with such light decor to this high a standard. My only gripe is that although B&O TVs look good the actual technology seems a little outdated, with the sharpness and responsiveness not up to the standard of a lot of LG or Sony screens.
At the far end of the room was a small dining table (with a view that most restaurants would kill for) as well as a Bose sound system and some well-hidden power sockets and ports for the TV.
I loved the fact that we could leave a laptop on the table and connect it to the TV via HDMI, without running messy cables across the room. I didn't love the fact that the power sockets were not international. Quite the oversight given that the far cheaper Shangri-La down the road manages this.
Our bed was massive and actually very similar in terms of both size and firmness to the Park Hyatt Tokyo, albeit slightly softer given local tastes. There was a single Australian/ Chinese socket at each side of the bed and no USB ports, multiple labelled light switches were also placed on either side.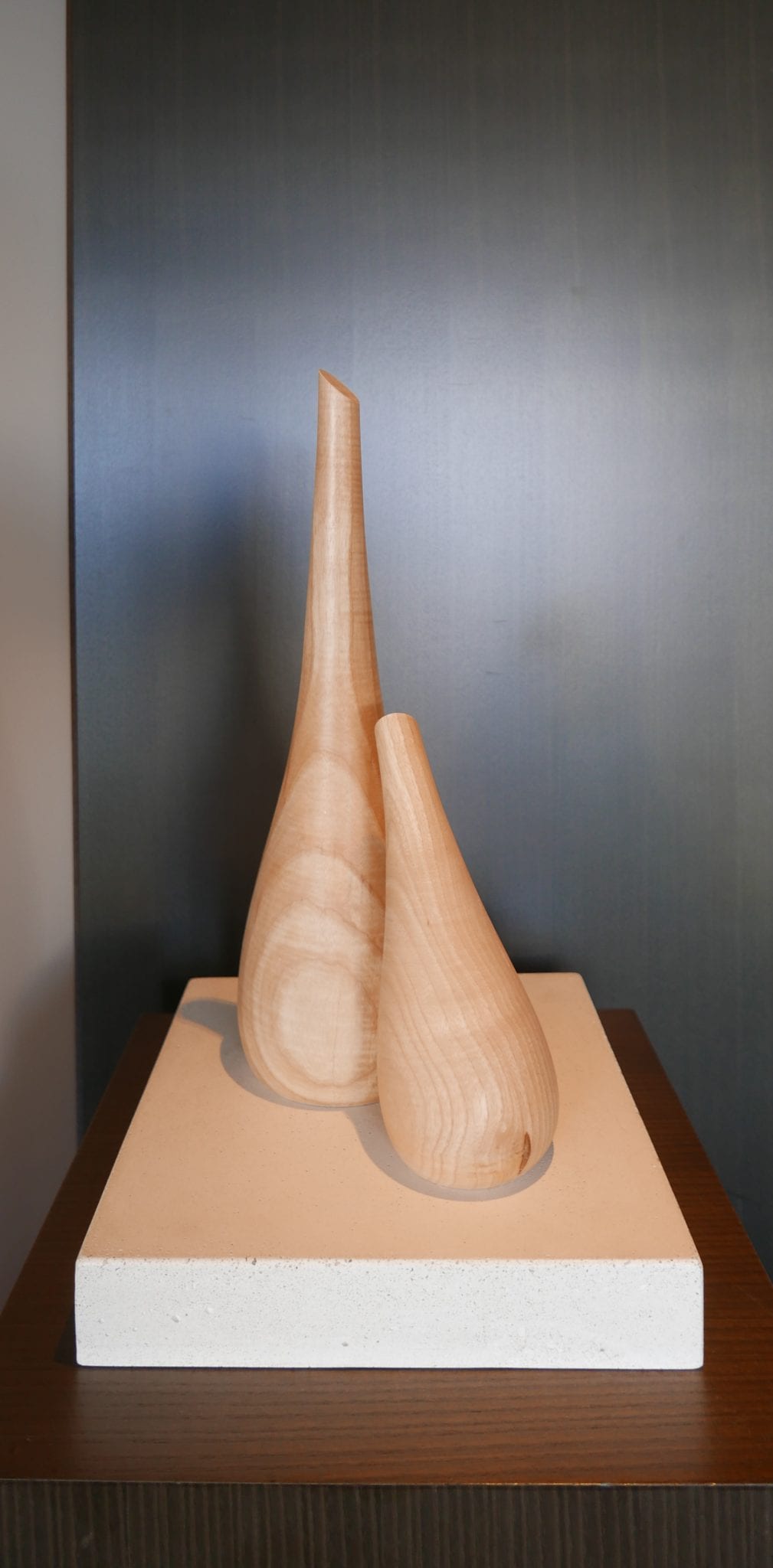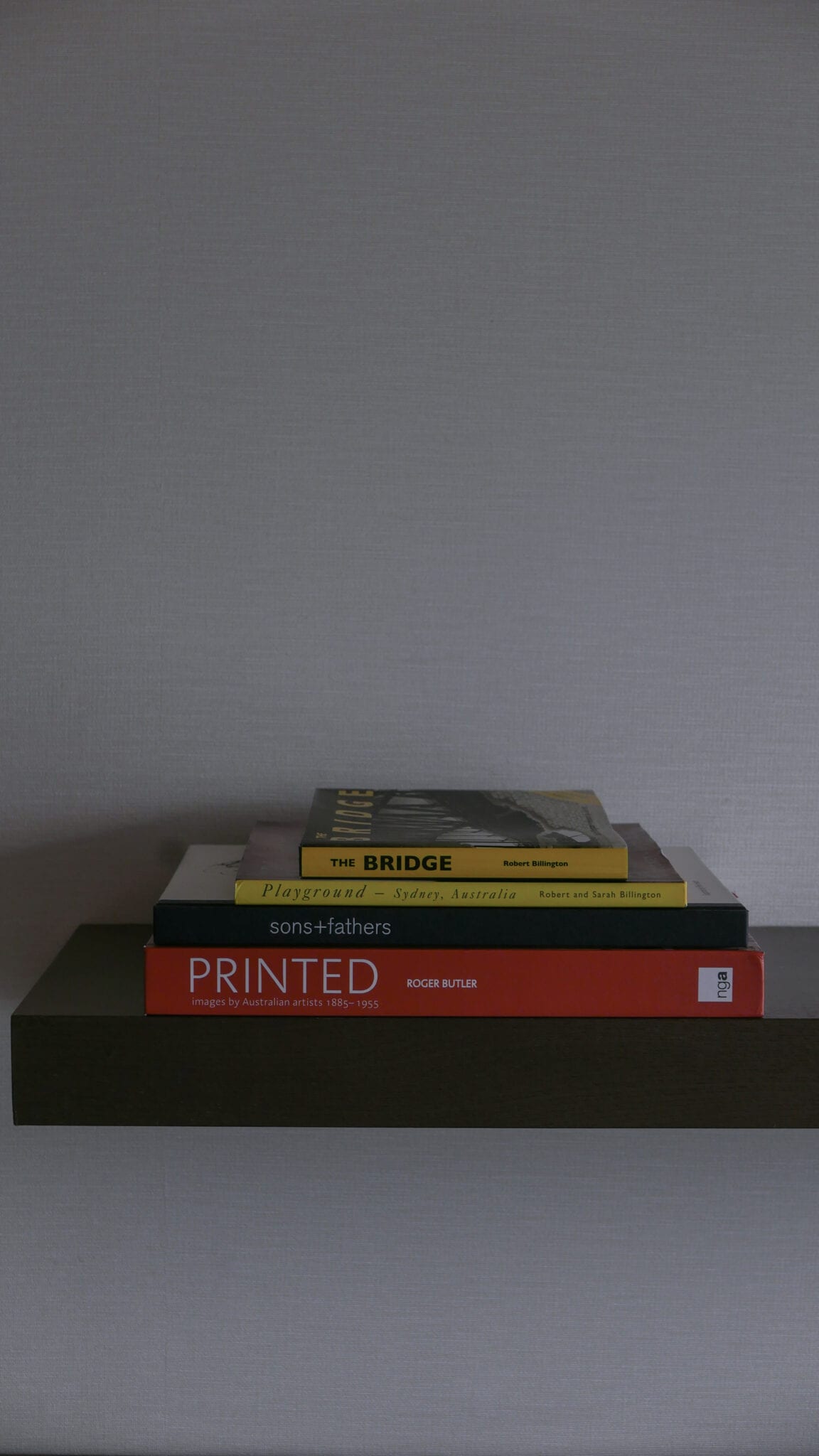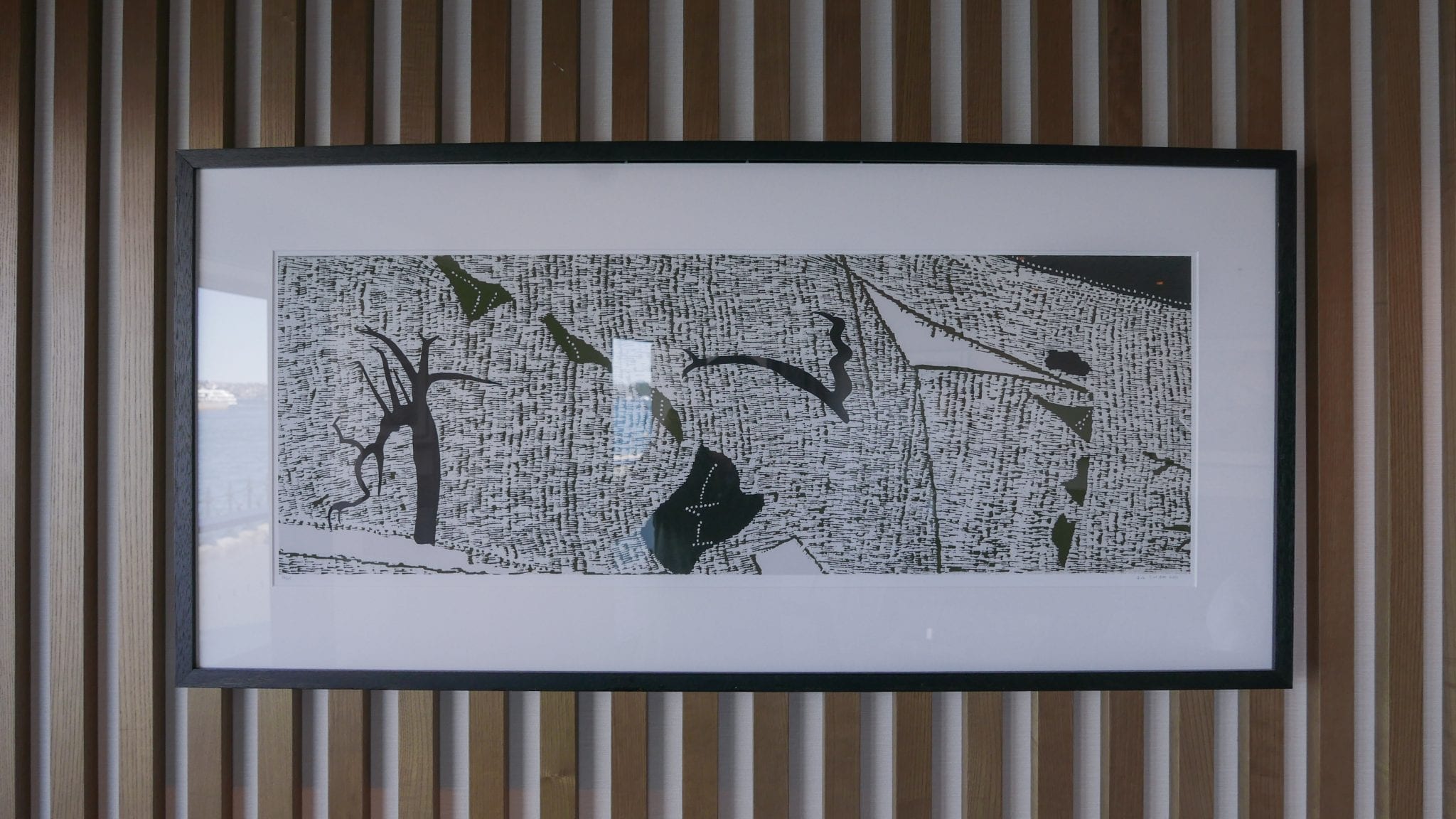 The room design perfectly balanced the feeling of space without it turning to emptiness. Sculptures, paintings and books were carefully dotted around the room in a way which organically tied the whole place together, making it feel more like a home than a room.
Bathroom
One of the best features of the Opera Deluxe rooms has to be the sliding wooden partition which opens the bathroom up to the rest of the room, flooding it with light and allowing you to see the Opera House from the bathtub!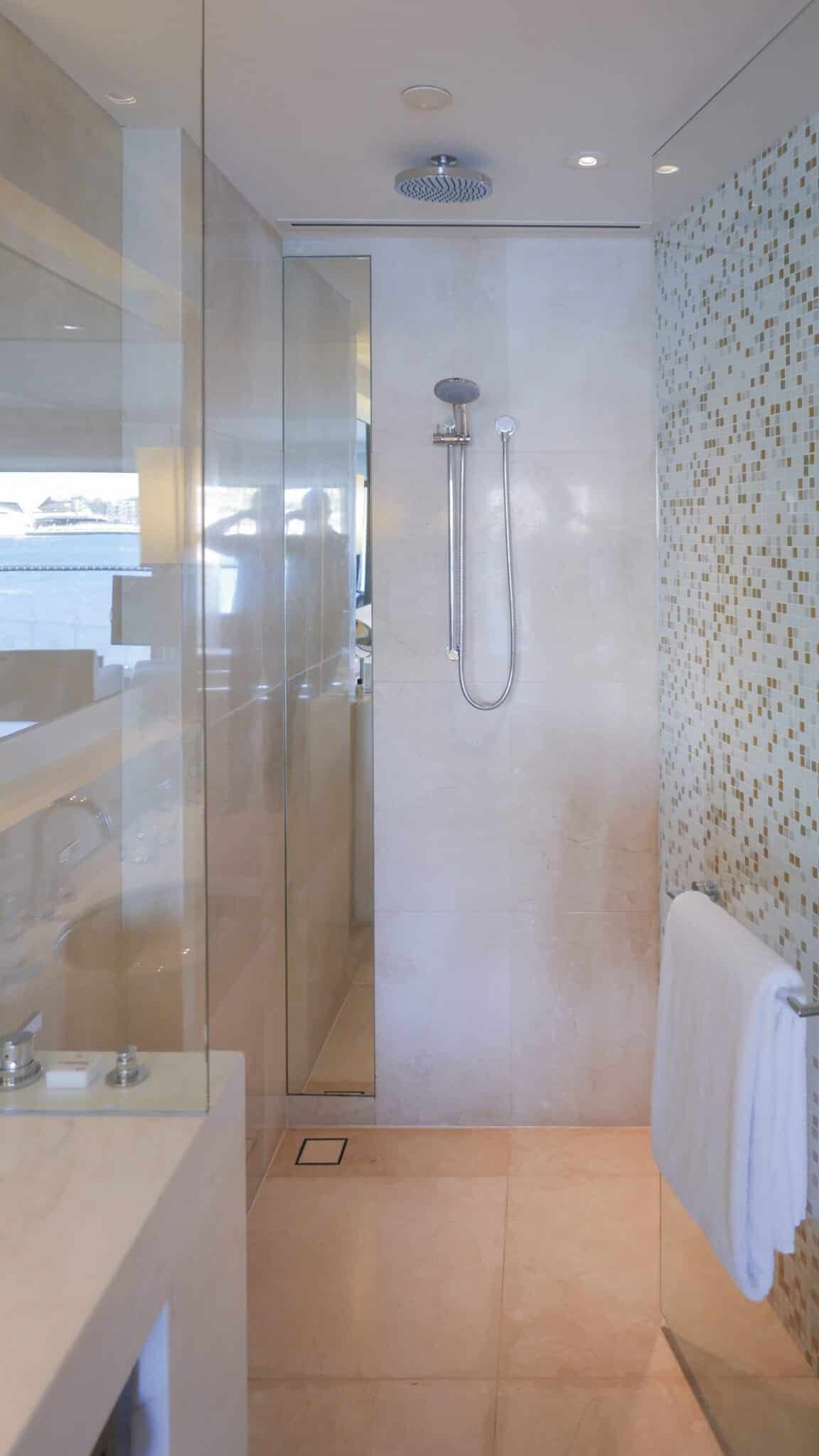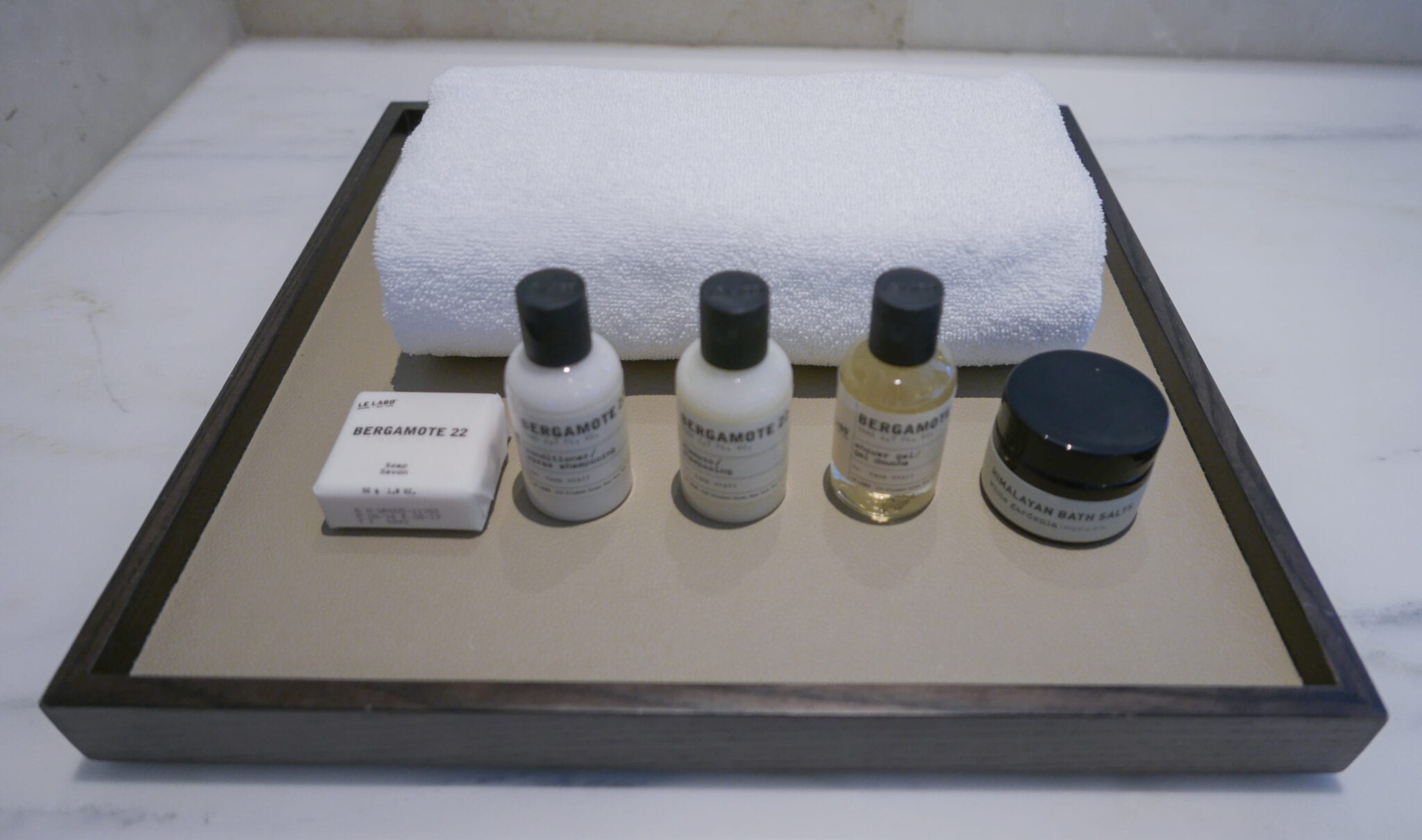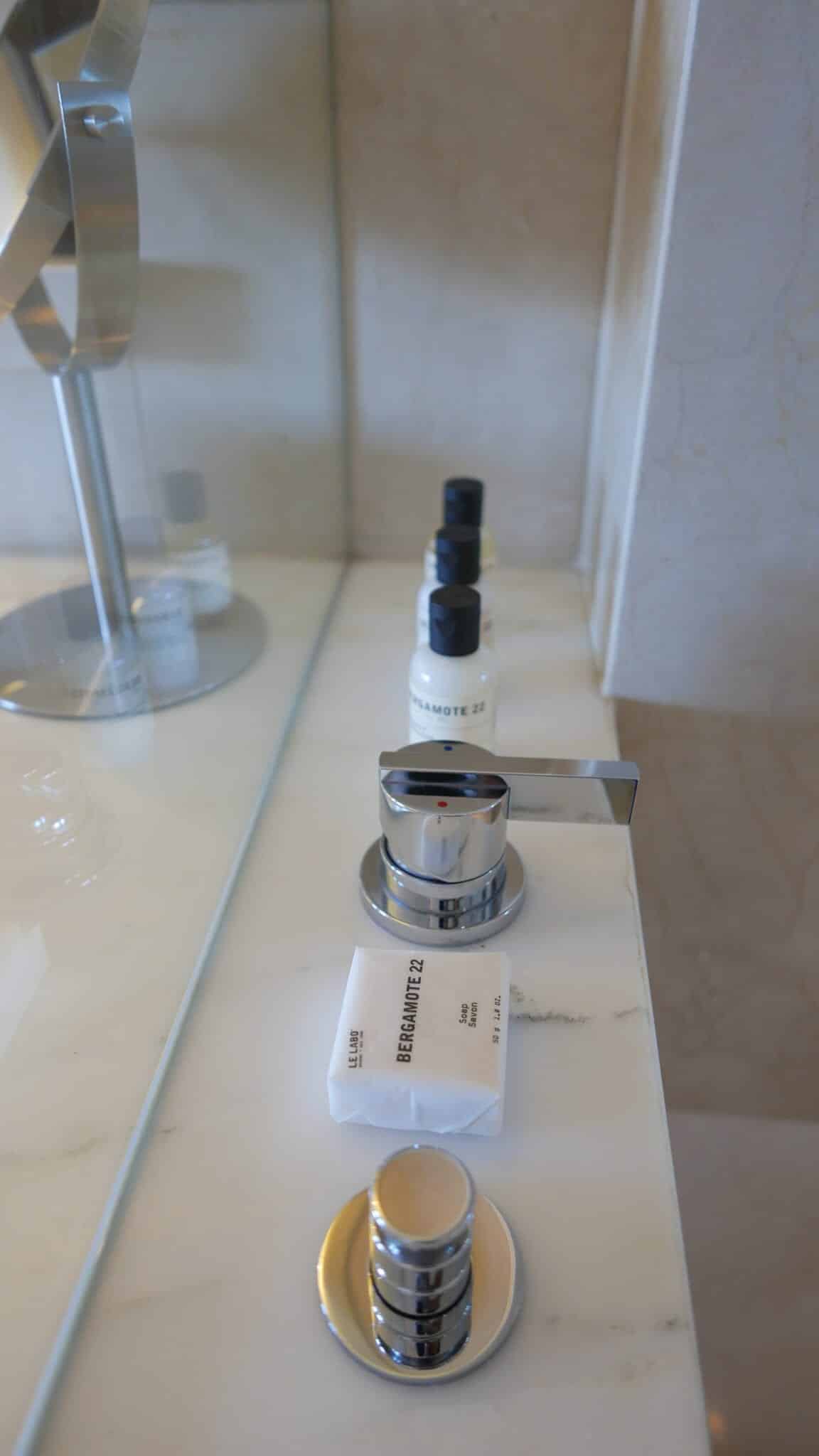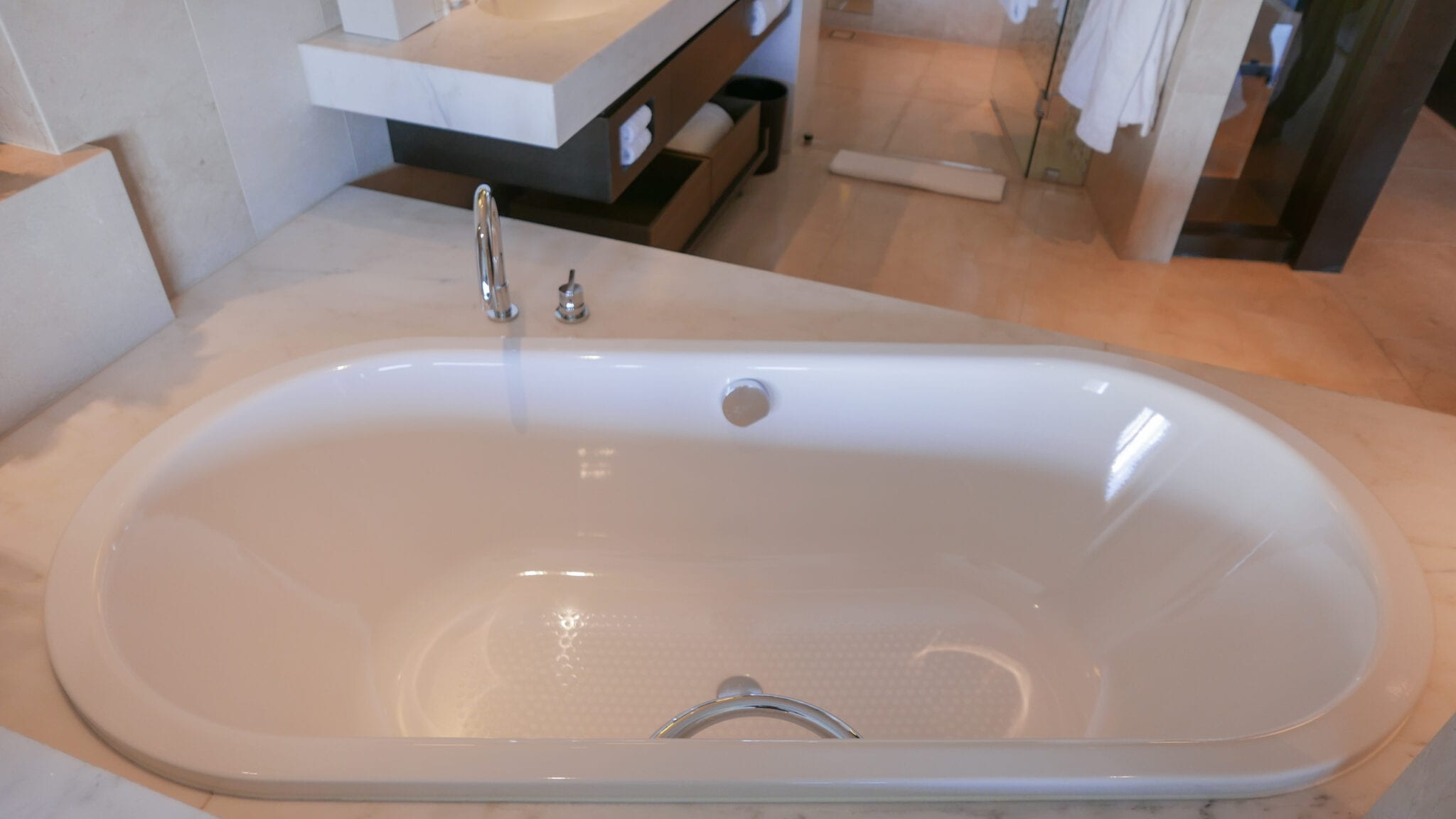 The Park Hyatt Sydney uses the PH standard Le Labo toiletries which smell great but leave my skin feeling dry. I've always thought it was weird that the Park Hyatt Tokyo uses Australian Aesop toiletries but none of the Hyatts in Australia do.
The bathroom had so much space, everywhere you turned there seemed to be another wide countertop or marble surface on which to leave things. Of course if my home bathroom had this much space it would get instantly cluttered but every time we returned to our room the toiletries were neatly placed in a little row and any of our own items were placed on folded out towels by the sinks.
I love how all the supplied amenities slot together like a puzzle. Big props for supplying a proper natural sponge loofah too.
Given the open plan nature of the bathroom, the toilet is hidden away in its own separate room right by the entrance to the room.
I love the fact that they have a Toto washlet installed too. I can't believe these aren't a thing everywhere in the modern world.
Minibar & Storage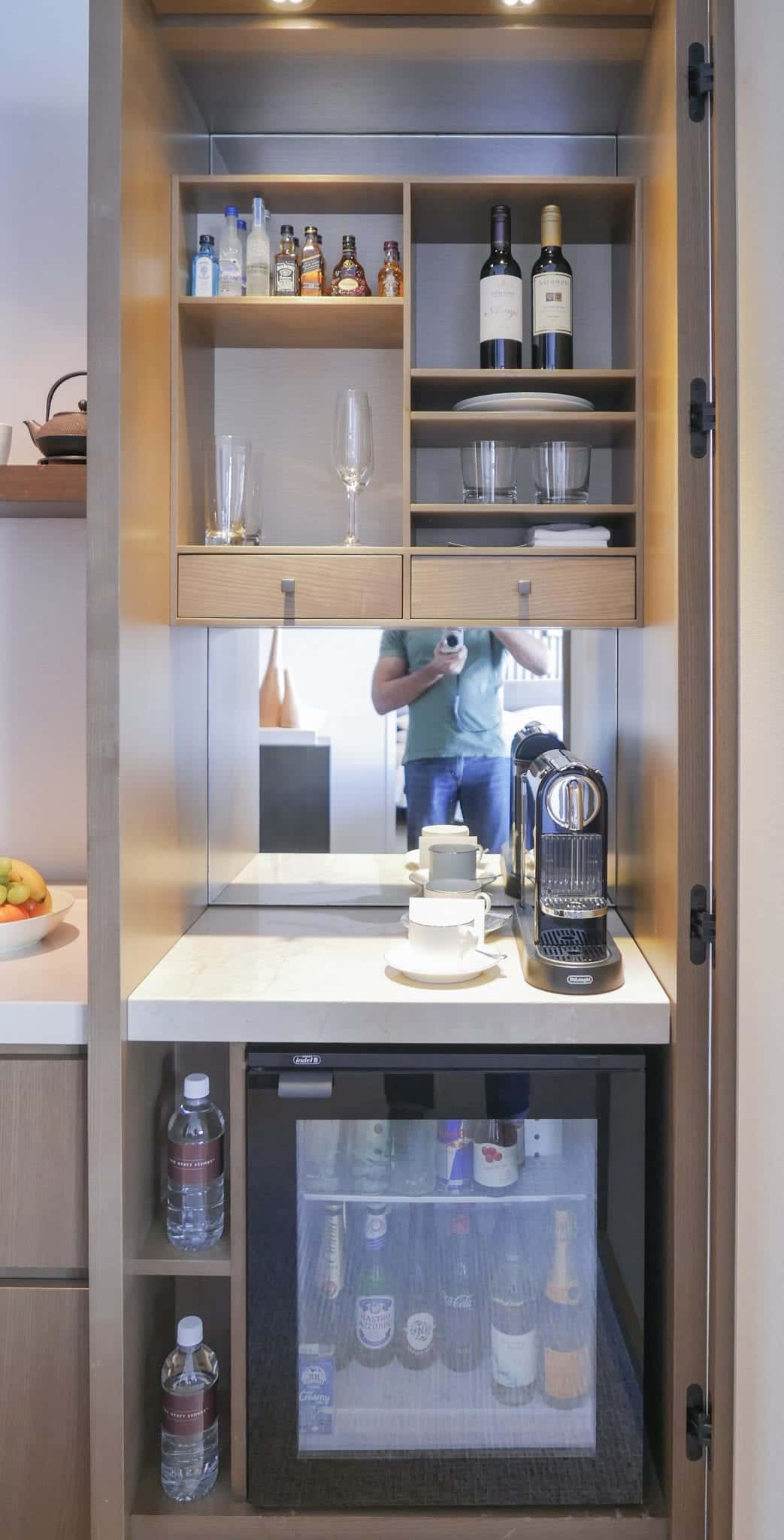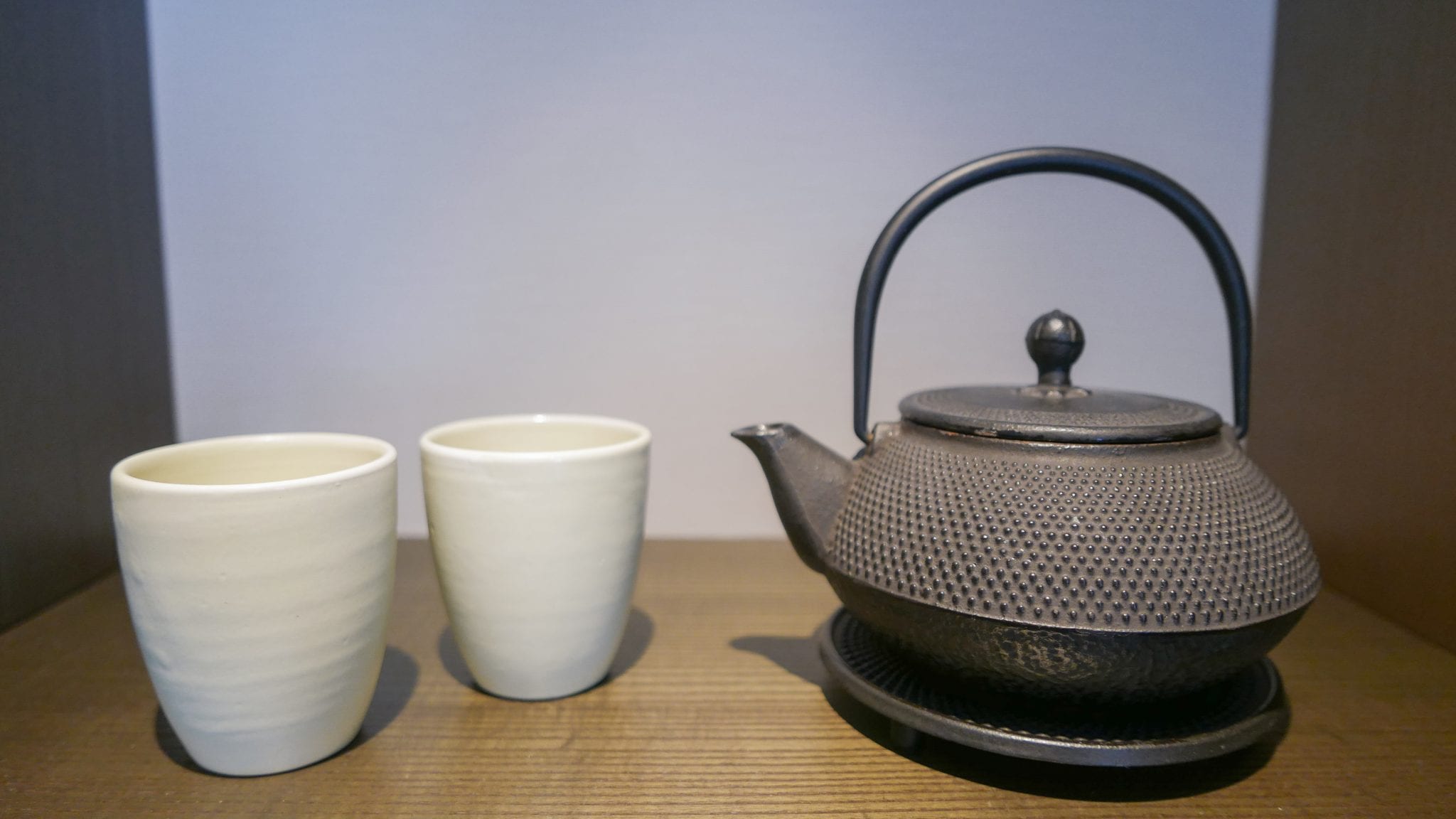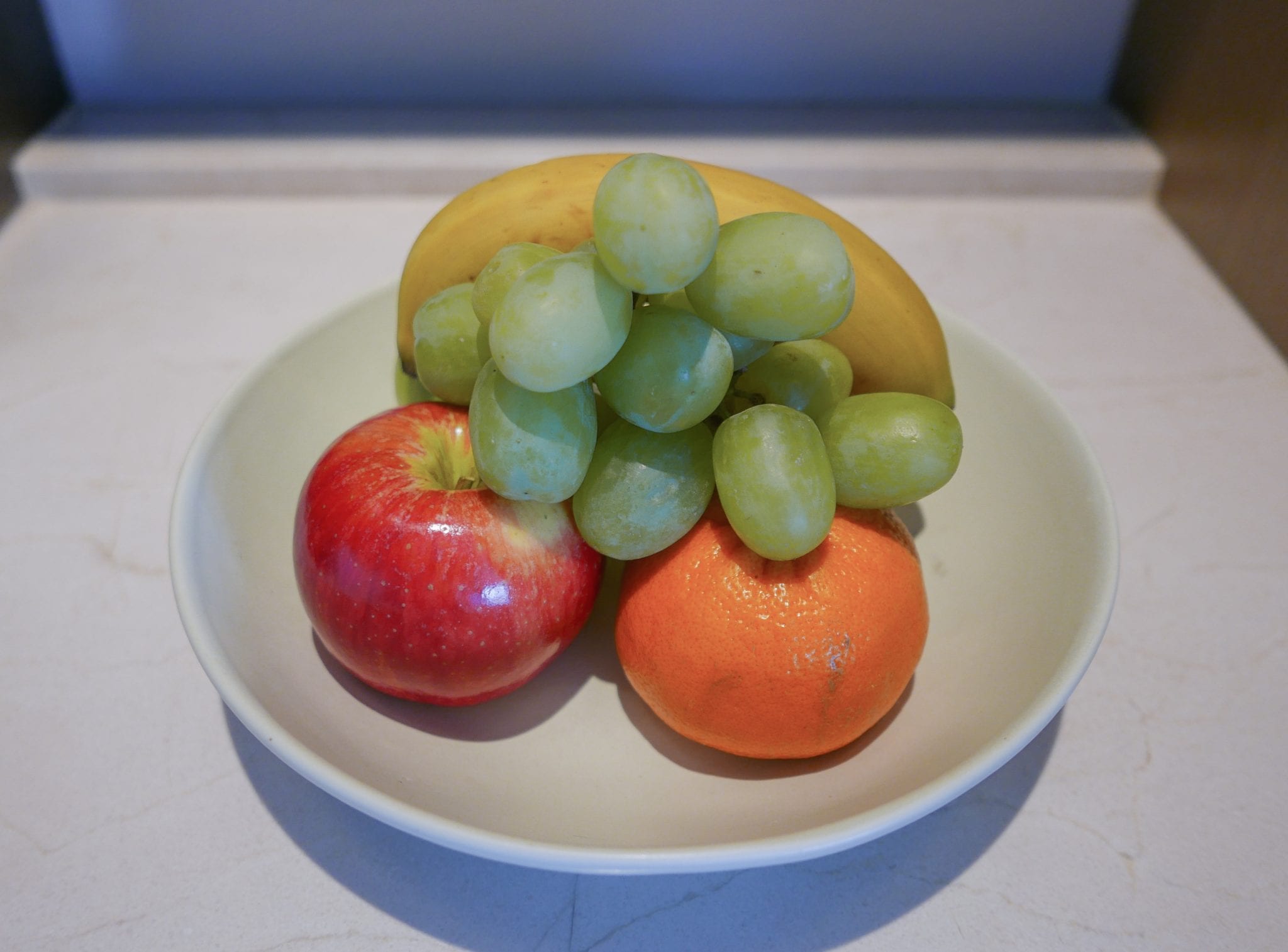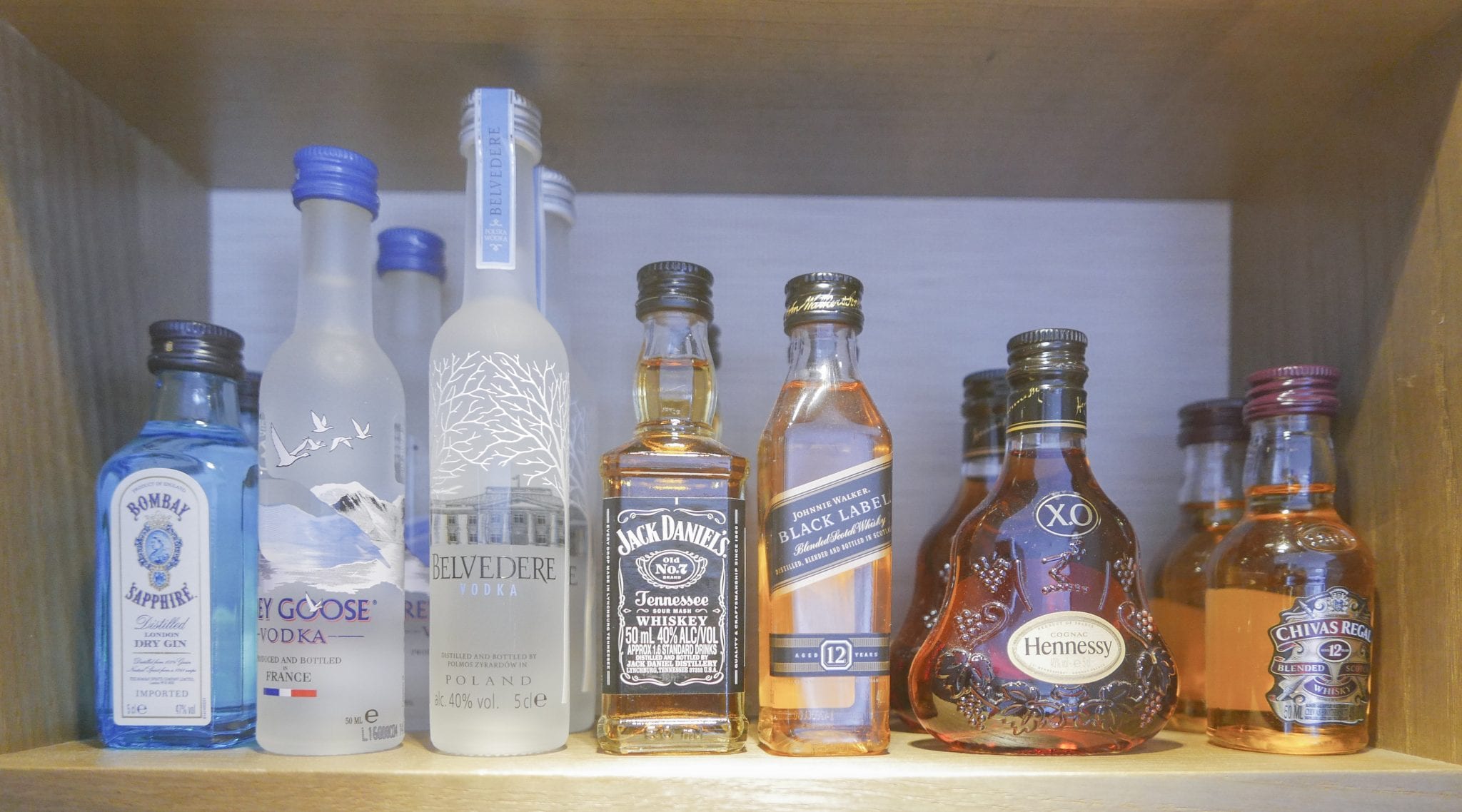 The minibar in our room was relatively high end. The coffee machine was a standard Nespresso – for a hotel of this calibre it would have been nice to see an Illy or Segafredo machine but at least they kept the capsules constantly topped up. Similarly, we were given fresh fruit every day.
One of my favourite little details was the cast iron Japanese teapot. I'm not usually much of a tea drinker (my 8 cups of coffee a day keep me occupied). However, I love these traditional pots so much that I couldn't help but run a bath and sip green tea one evening, whilst watching the boats pass in front of the Opera House.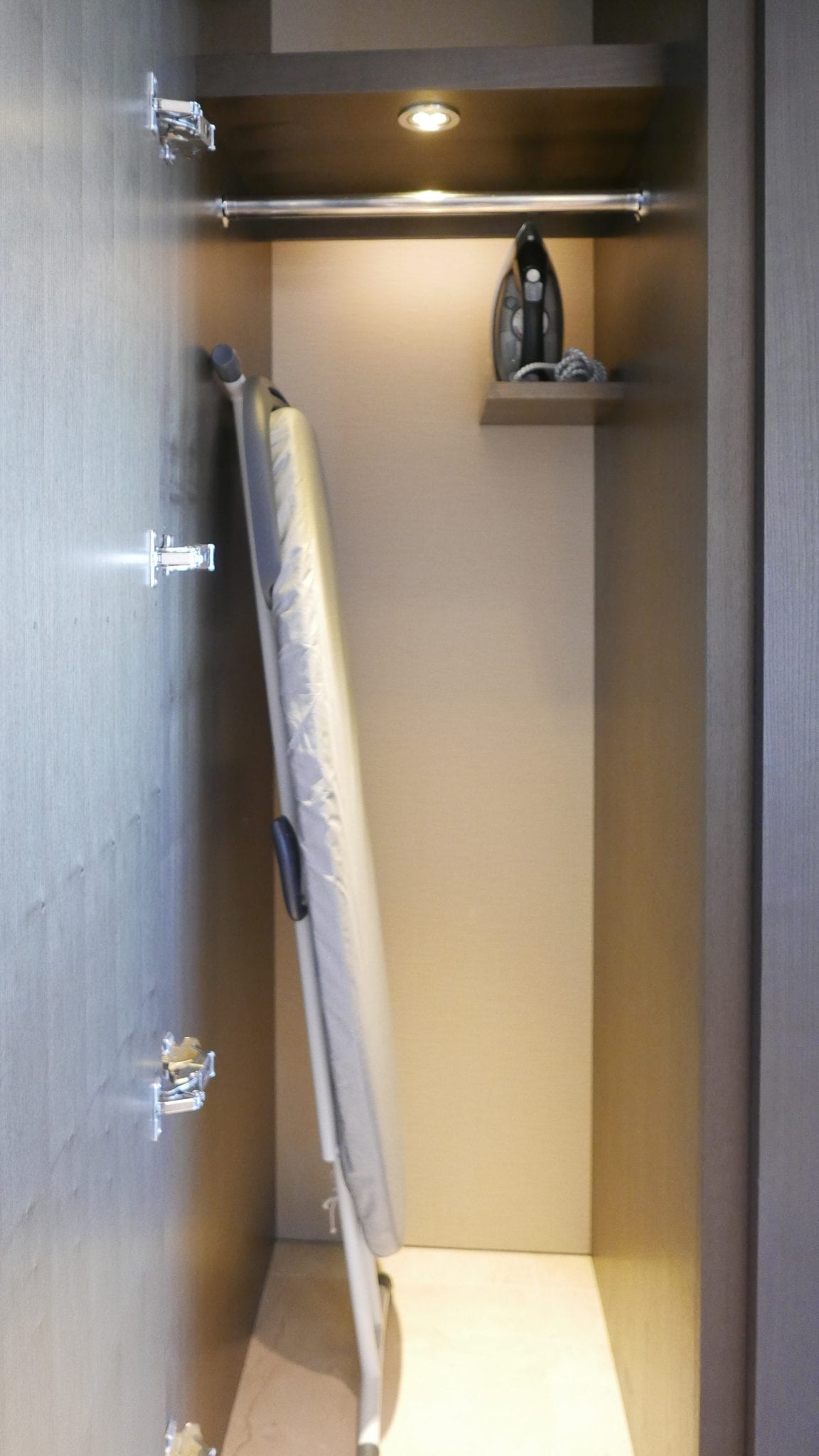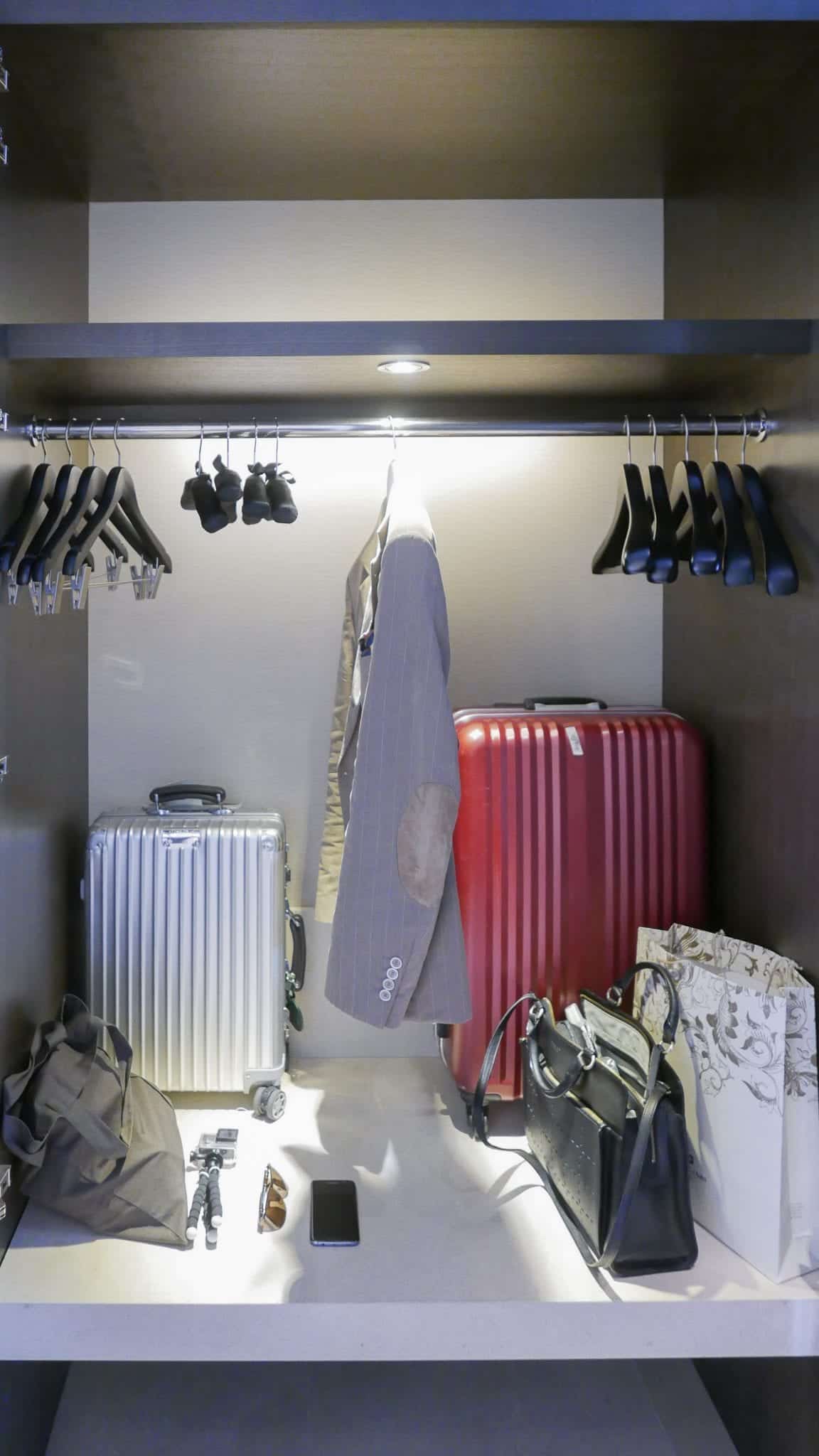 Just along from the minibar were some ample cupboards with automatic lights and an abundance of hangers. The ironing board was one of the best I've ever used. I always find it strange when high end hotels have ironing boards that resemble cardboard cutouts. Getting ready for dinner was a breeze with this setup. Given how spectacular our room was, we made sure to spend as much time as possible relaxing and enjoying the view.
Jet lag comes with benefits. This quiet sunrise was absolutely magical. For a fleeting few minutes there wasn't a single person anywhere to be seen. Just me and one of the most iconic buildings on Earth.
Leaving the room each morning was a real struggle (although the fantastic breakfast that awaited us certainly helped). Conversely, returning to the hotel each evening was a real treat. Approaching on foot the hotel is a gleaming landmark, beautifully framed by the illuminated Harbour Bridge and the shimmering water below. This is the kind of place that you feel proud walking towards, "that's my hotel!"
When taking an Uber home from the other side of town, we entered the building on the Hickson Road side, via an entrance that looked like a Bond Villain's desert lair:
Entering the room at night, the glowing Opera House took our breath away all over again.
Turndown was performed each evening, with water, slippers and the TV remote prepared for us.
The hotel didn't provide any gifts or chocolates during turndown but we were given a daily Sydney Insight
---
Food and Drink
---
Breakfast
Monday to Friday: 6.30am to 10.30am Saturday and Sunday: 6.30am to 11.00am
I really enjoyed the walk from the room to breakfast each morning. The public spaces are just so beautiful that if feels like a true privilege to pass through them.
Dining Room
The Dining Room was quiet early in the morning but if you arrive from 9:30 onwards this place is a hive of activity. This bright room with its giant windows offers a perfect view of the Opera house and is truly worth a visit in its own right, even if you're not staying at the hotel.
The service during our stay was exceptional, we were always seated immediately with coffee orders taken as we sat. Once coffee was brought over our a la carte orders were taken. Ten minutes later our dishes would arrive, without fail. Interestingly on this occasion there was quite some variety between the buffet offerings. It seems that hot buffet items are only laid out on weekends. During the week all hot items are a la carte only.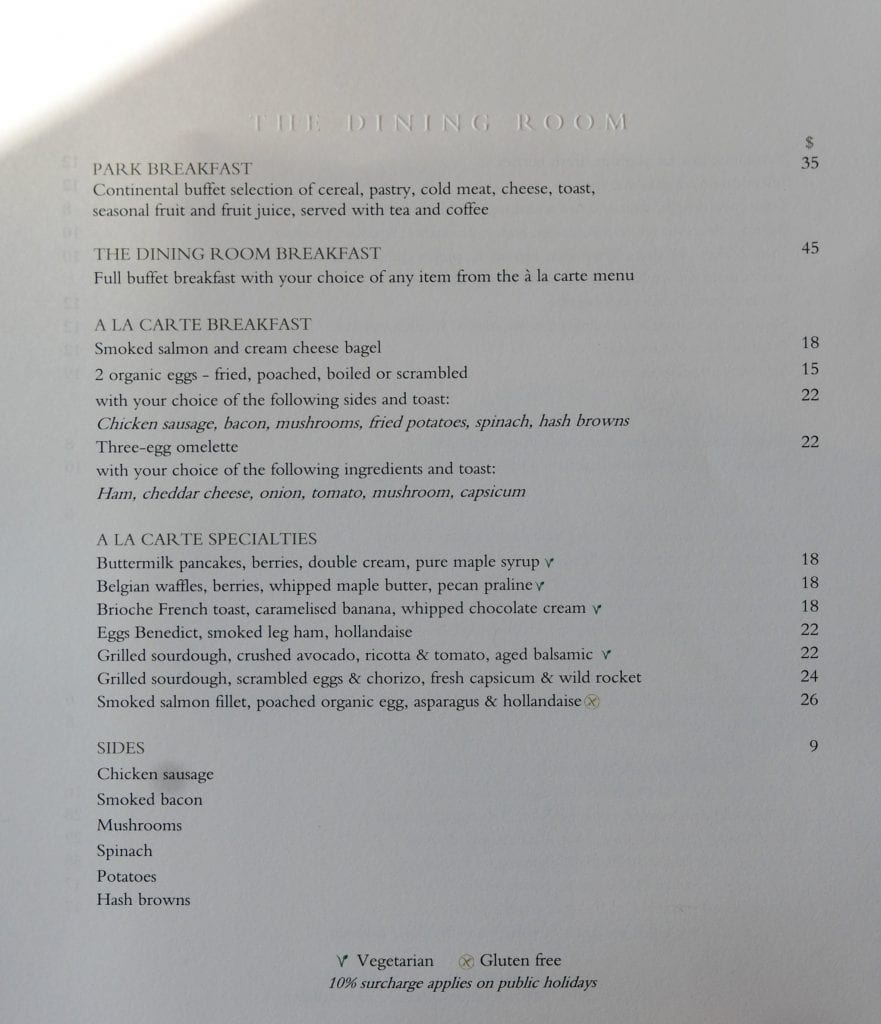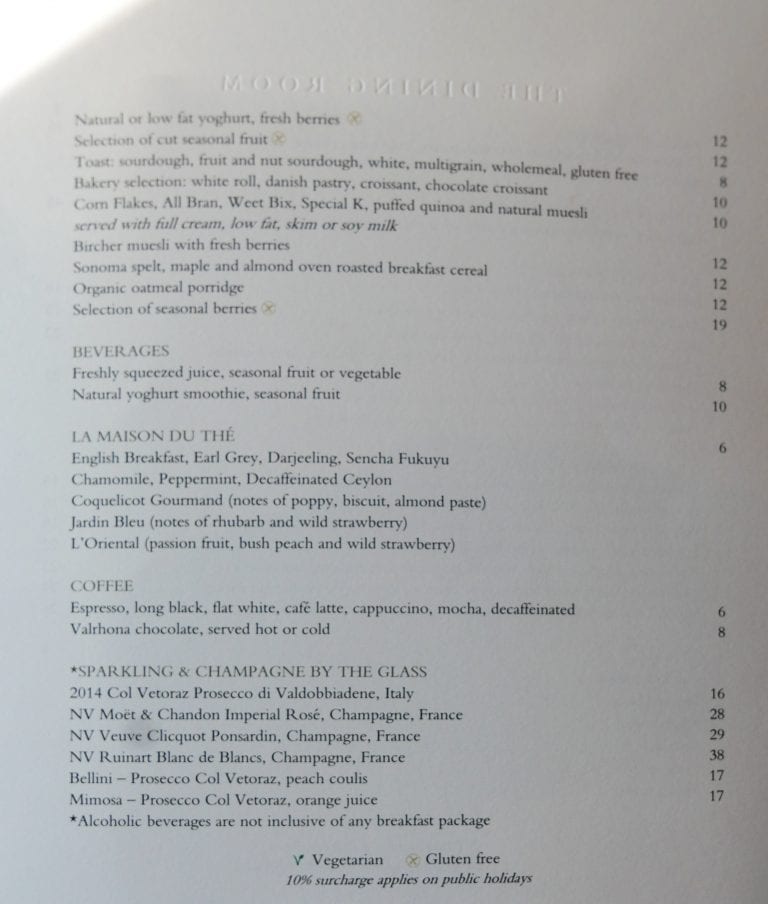 As top tier Hyatt elite members we were given free reign of the menu. The $45 Dining Room breakfast is included in some rates at this hotel (including via Amex FHR and Hyatt Privé) and is actually an exceptional deal even if you're not staying here. The atmosphere, service and quality of food more than justify the cost. In fact I've since returned just to eat breakfast when staying at other hotels!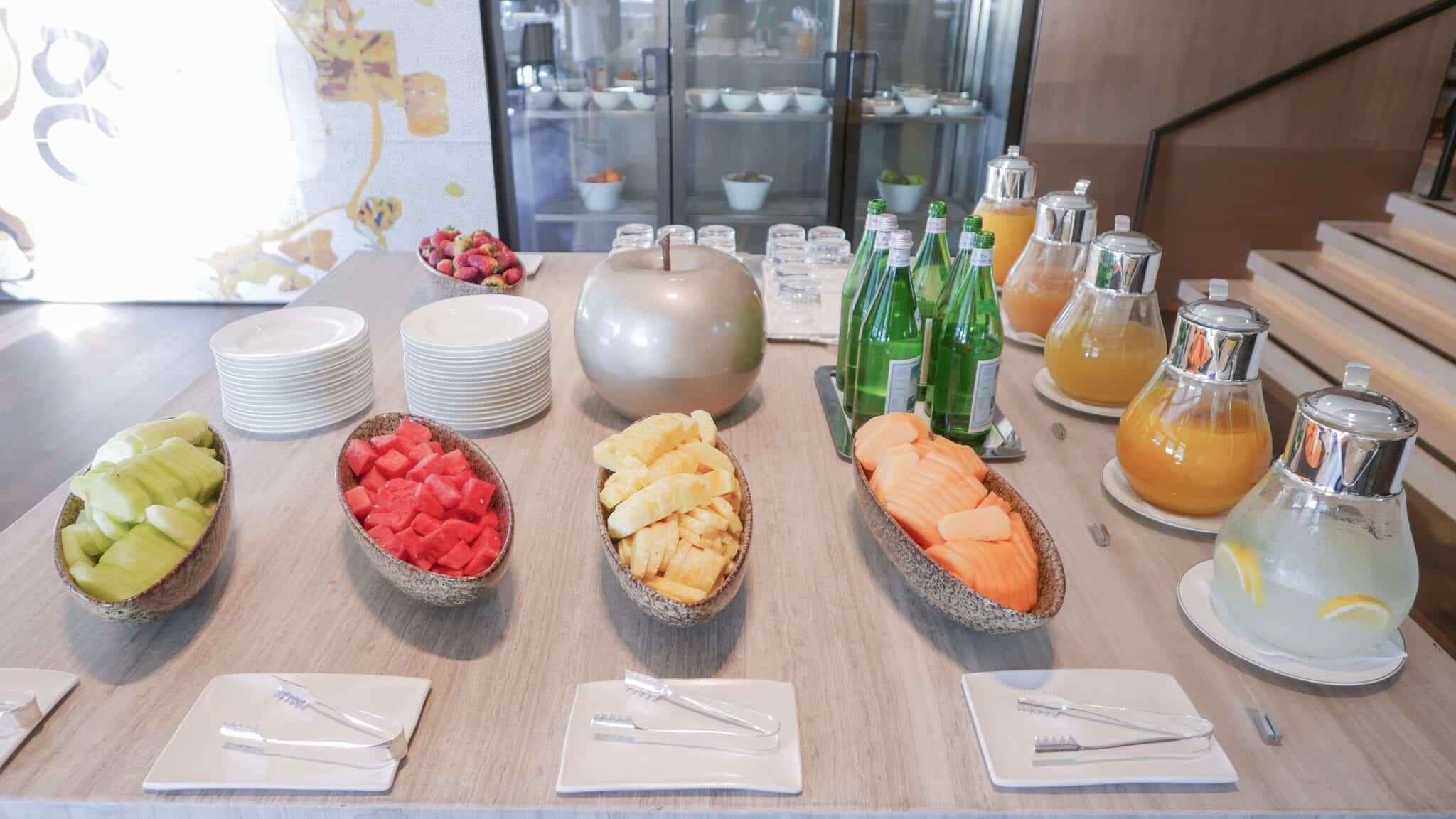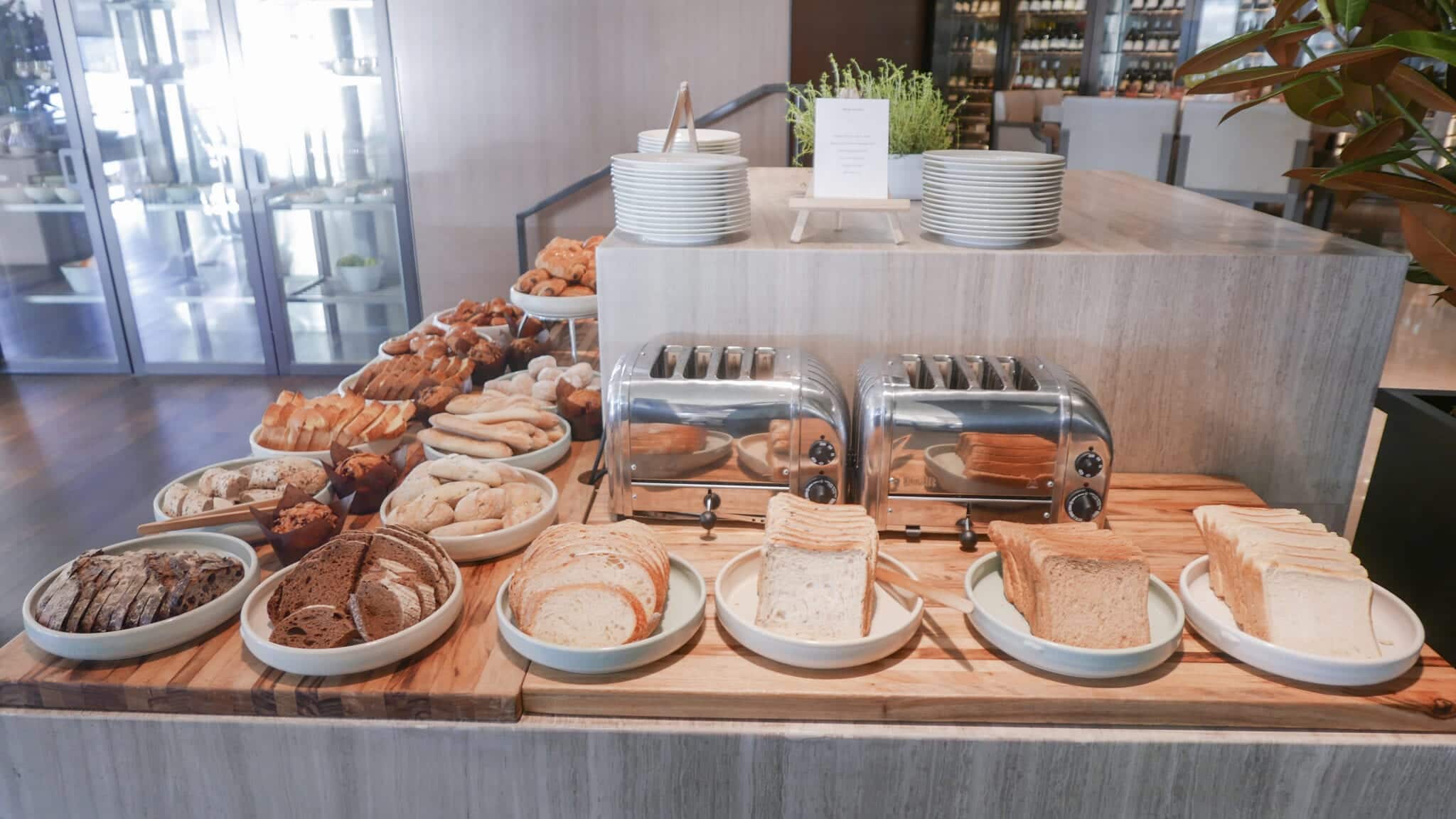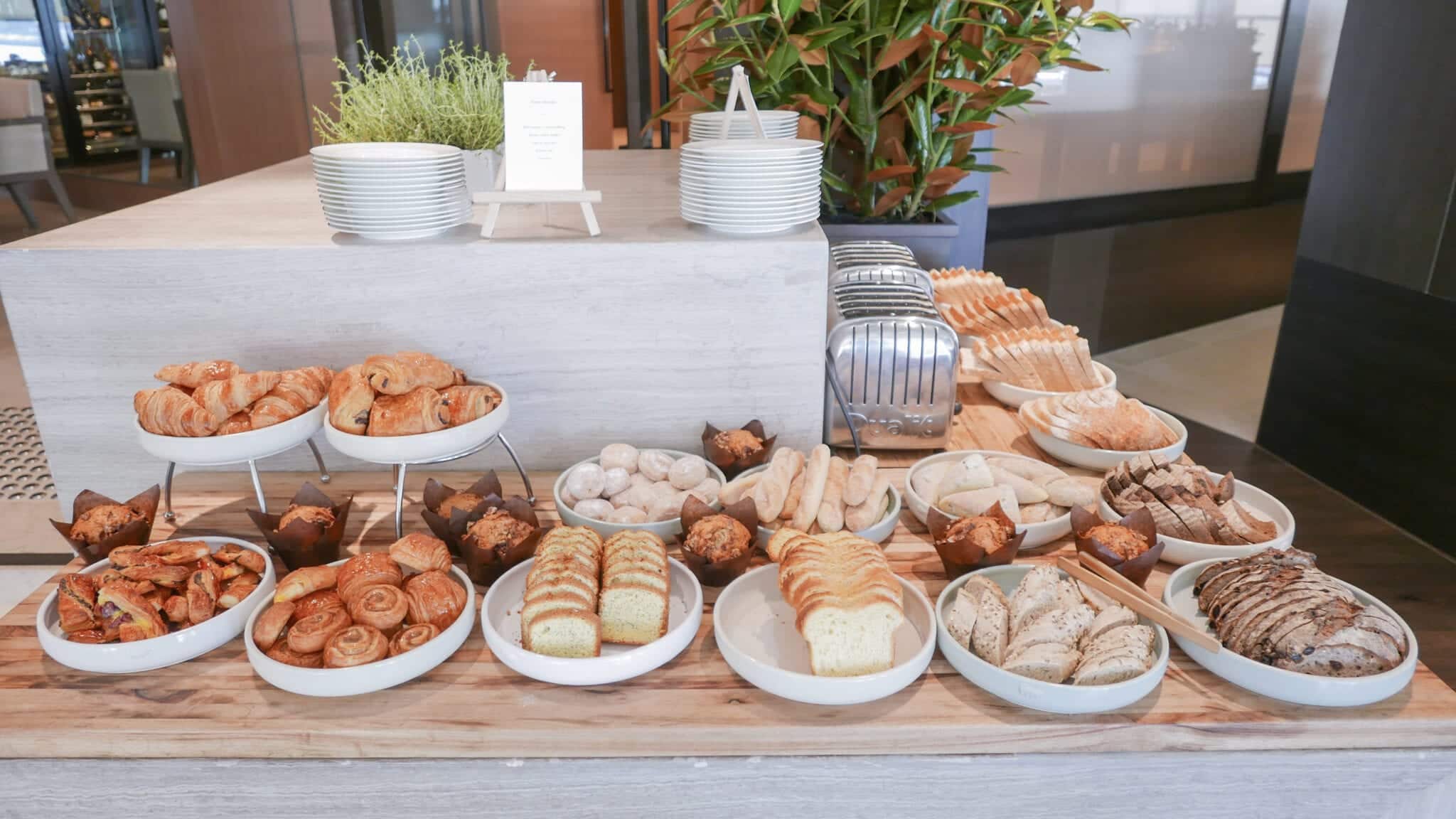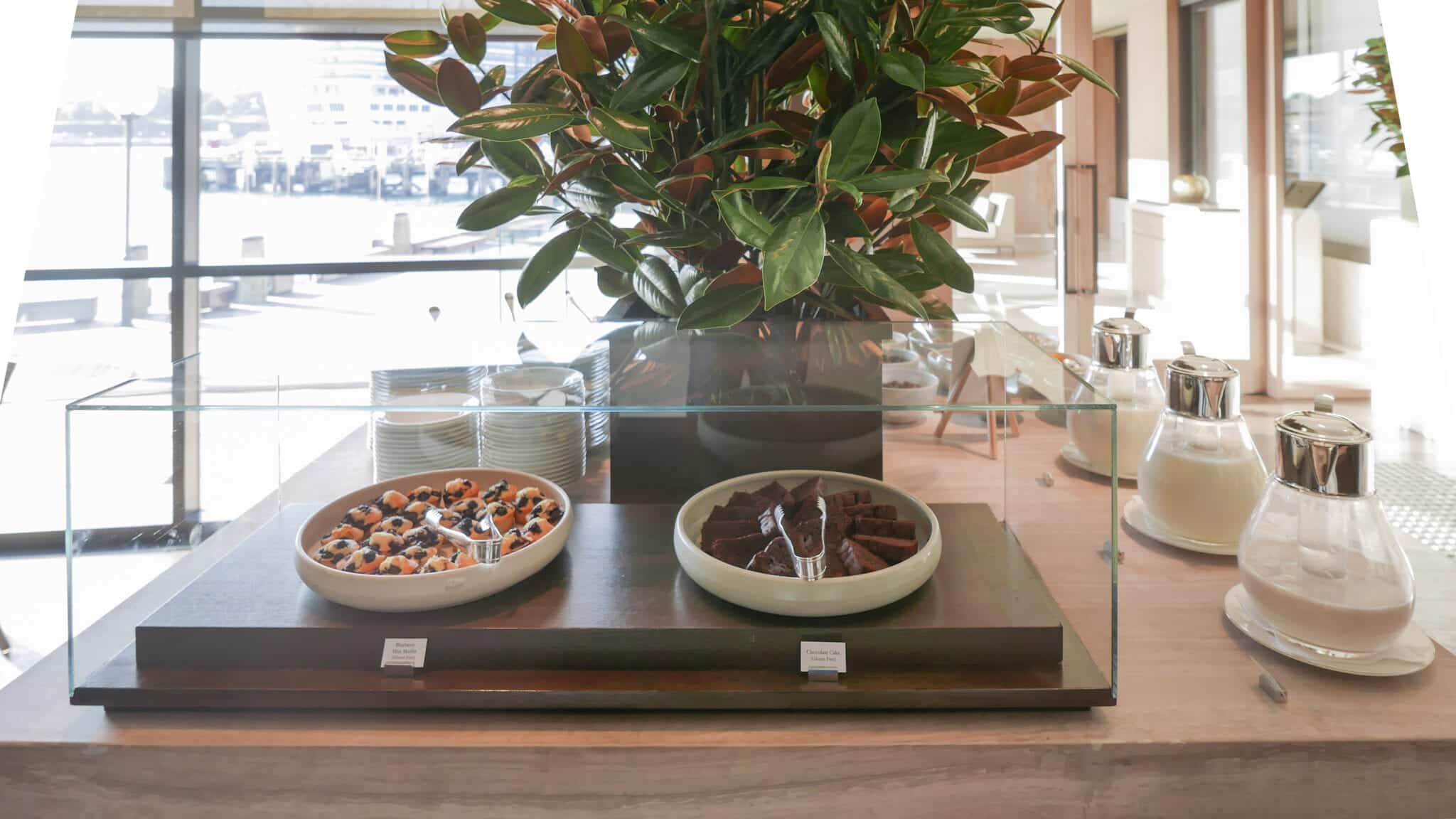 Cereals, fruit, pastries and juices were served at room temperature.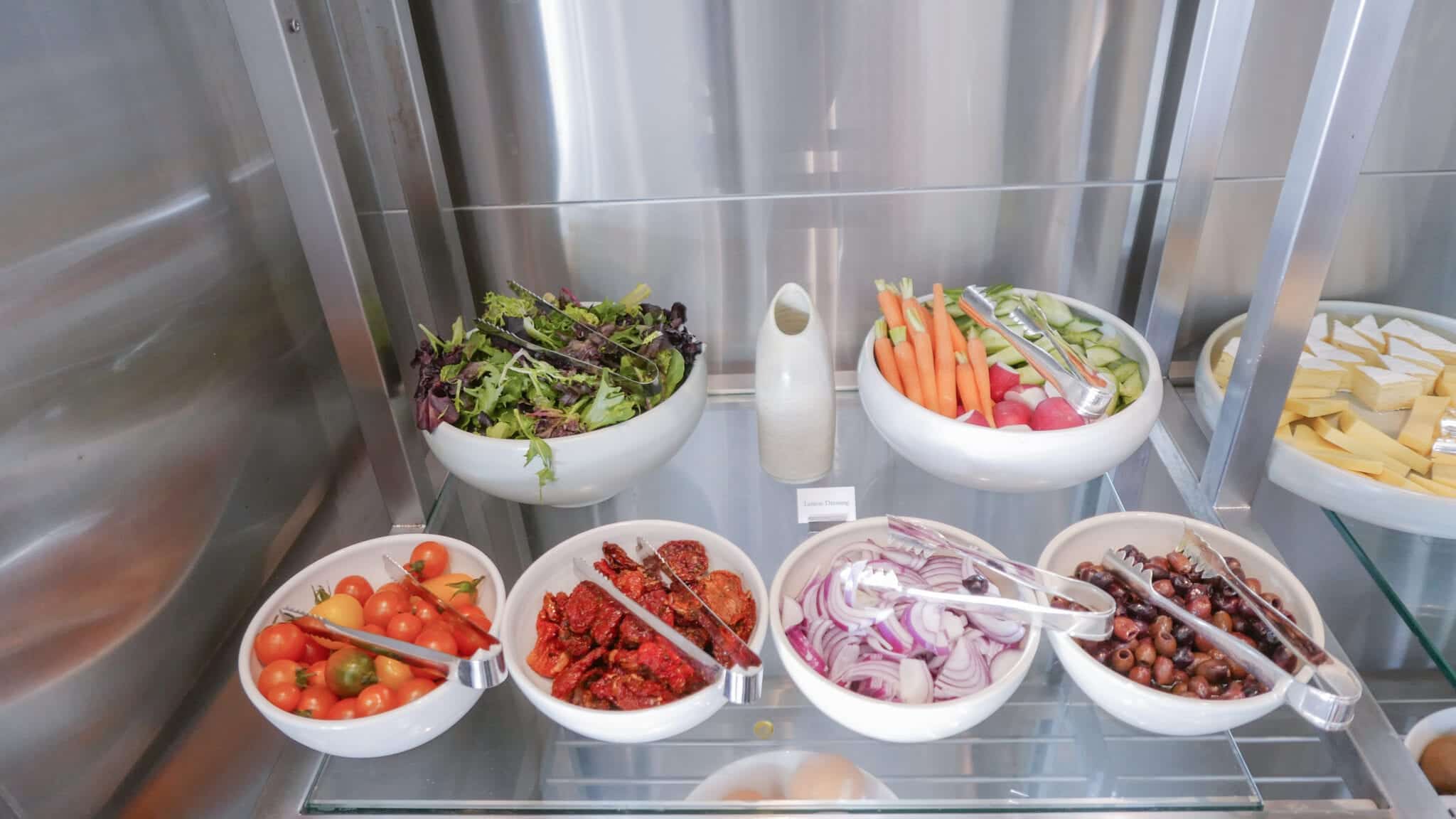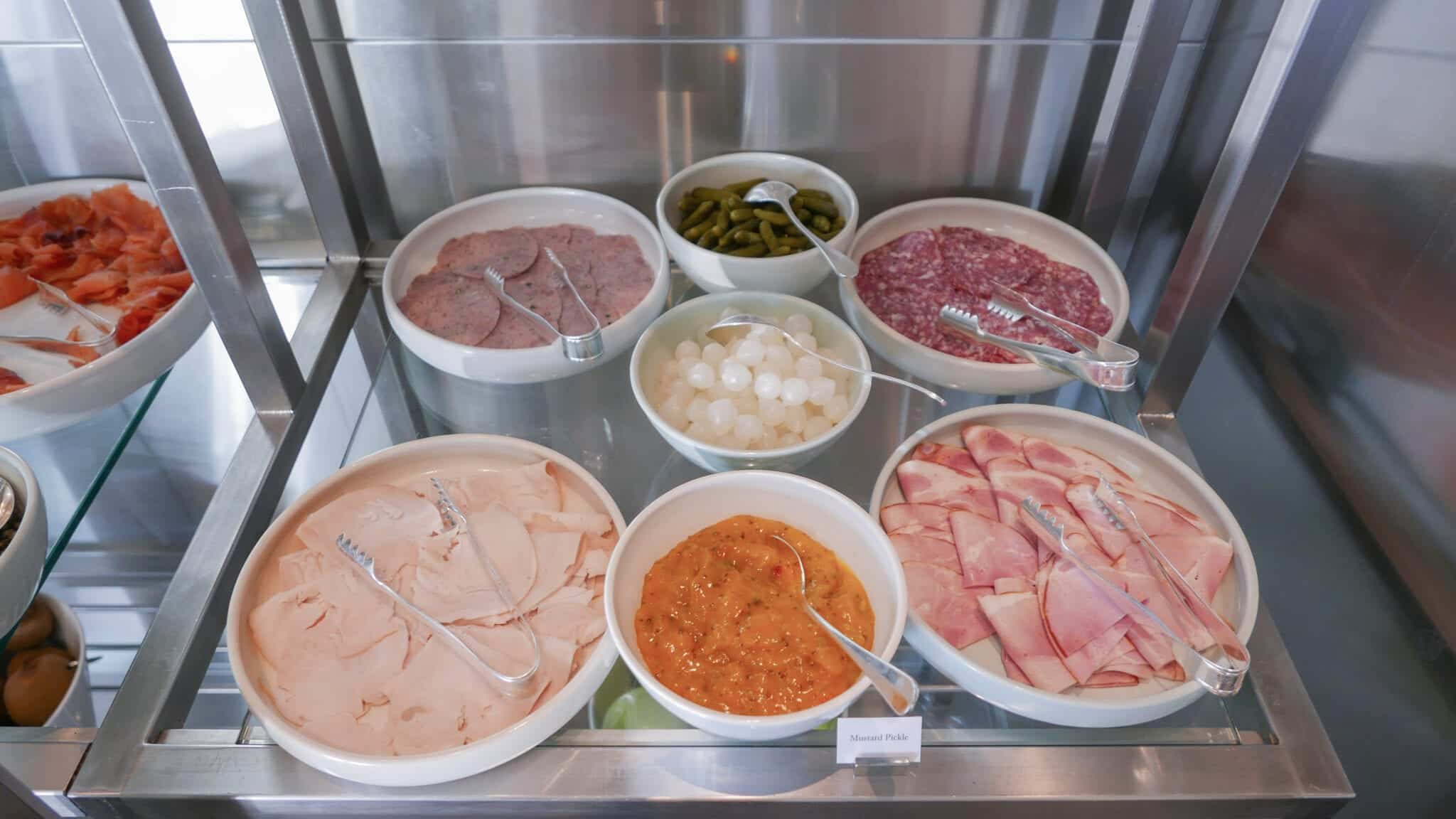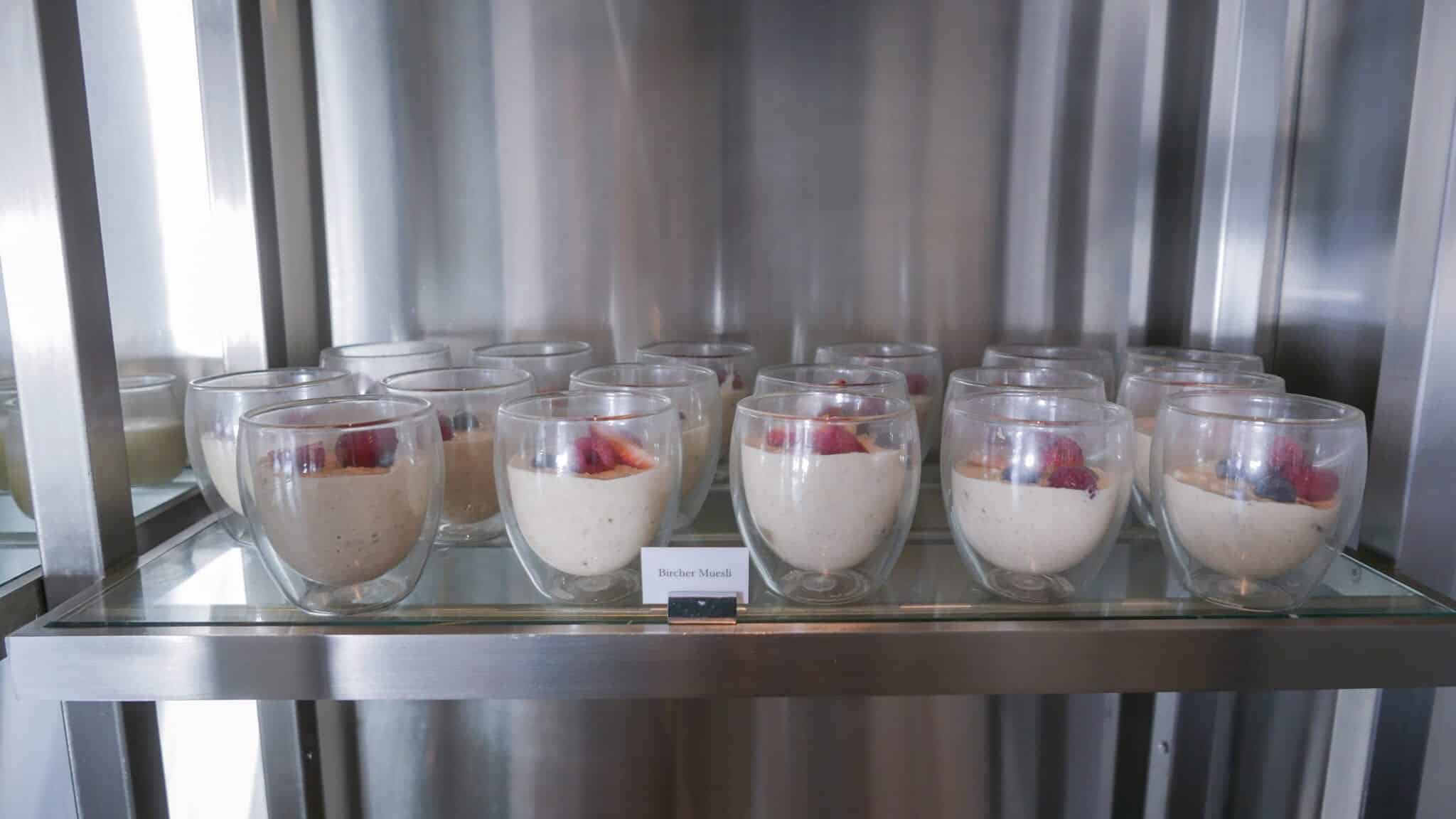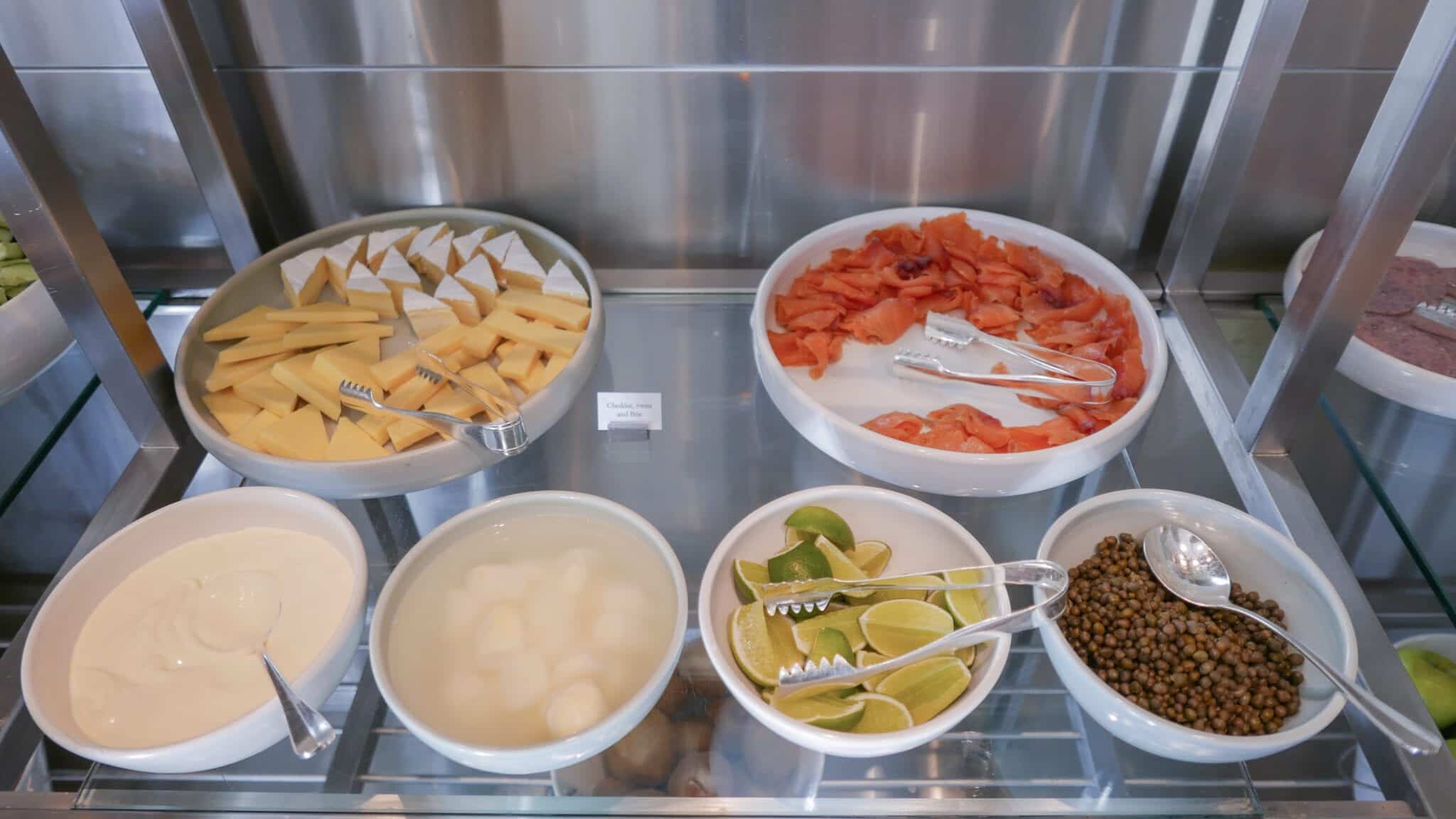 There were also some large steel refrigerators filled with chilled cold cuts, salad, yoghurt and chia pudding. The salmon was just standard stuff rather than the thick Balik fillets that we so enjoyed on our last visit though.
The hot offering, which was only available on the weekend, was very high quality. The scrambled eggs were slightly runny, buttery and creamy. Perfection.
Crispy bacon, a little on the greasy side but also about three times the thickness of any other crispy bacon I've ever had.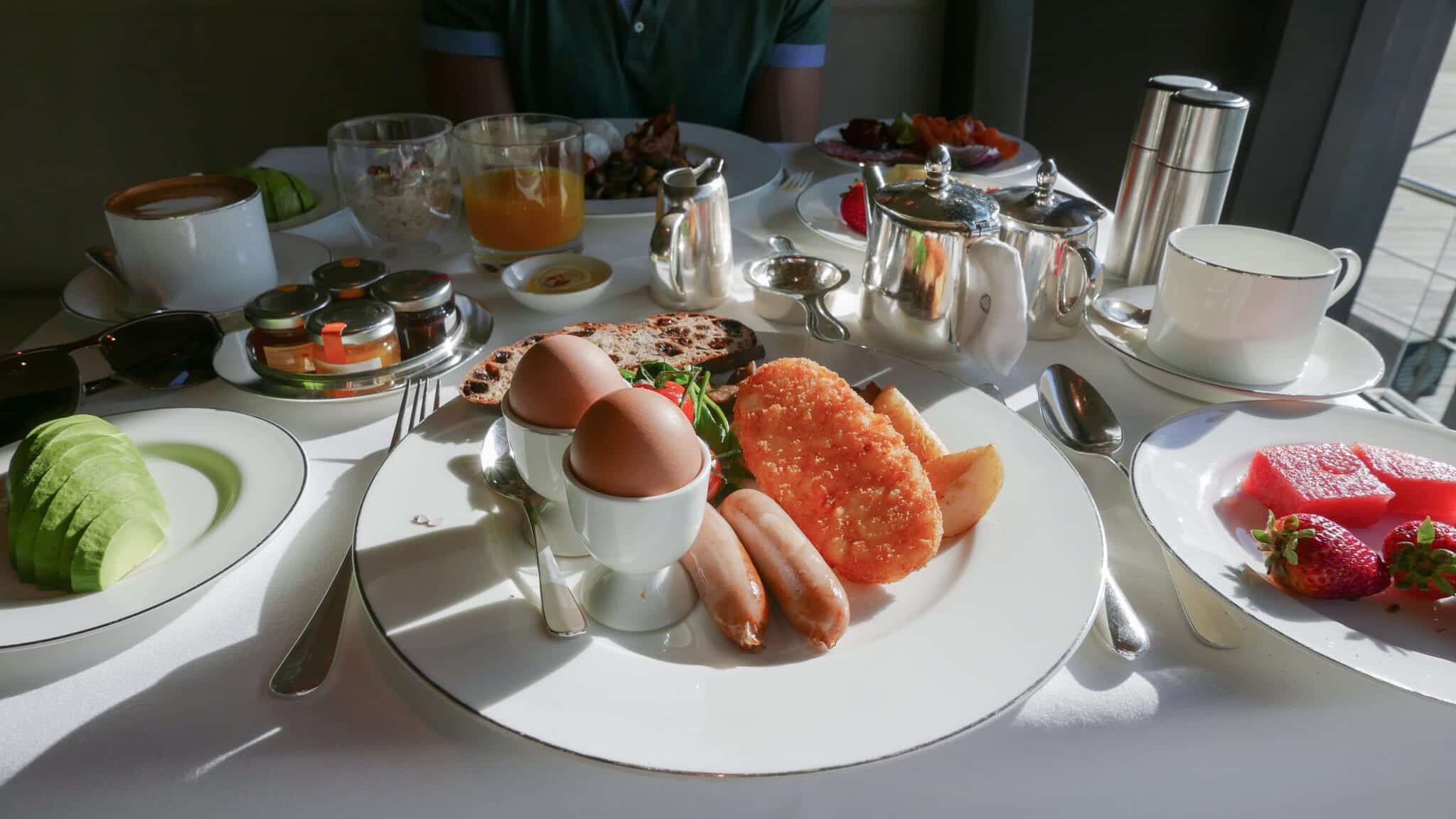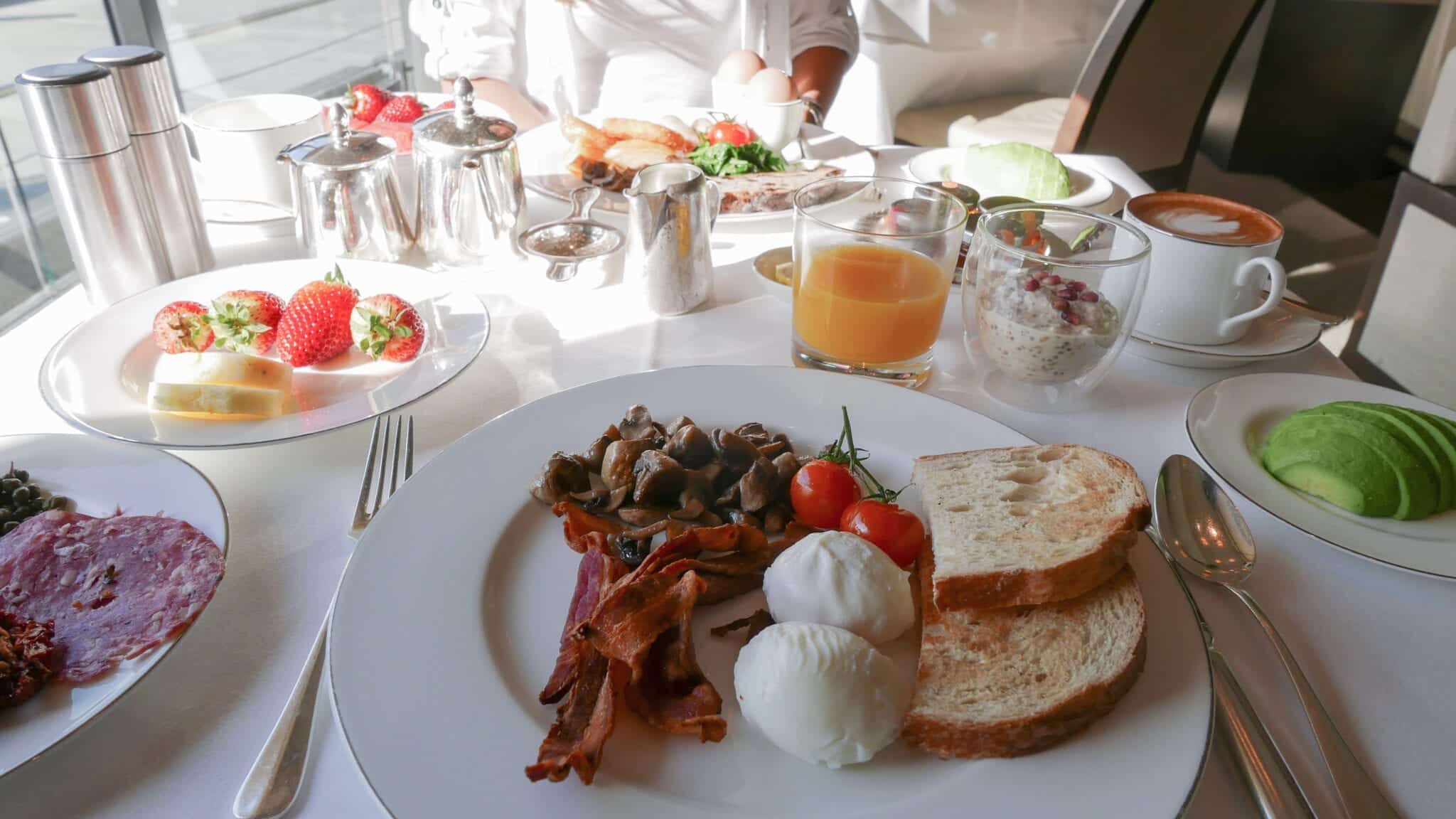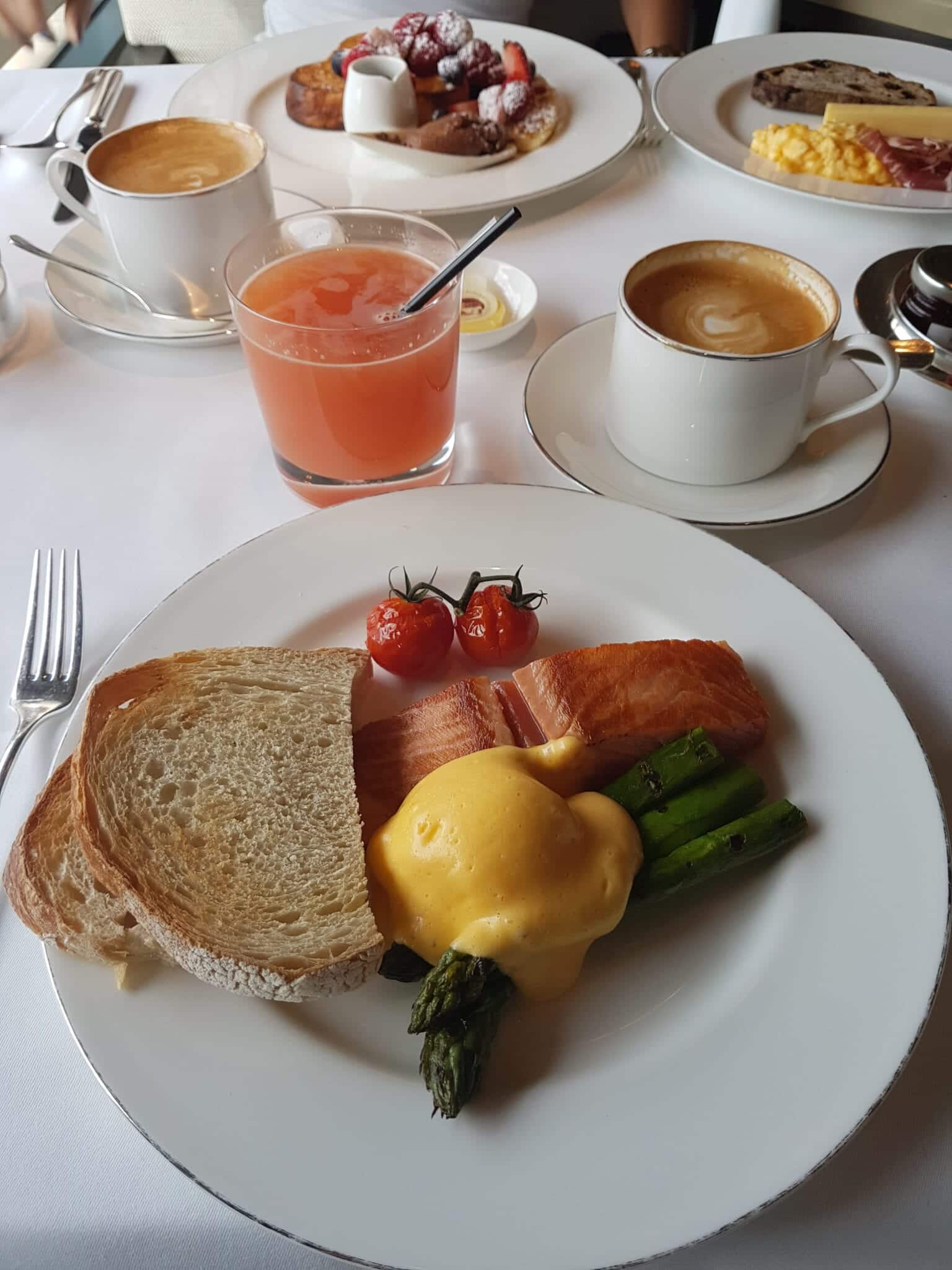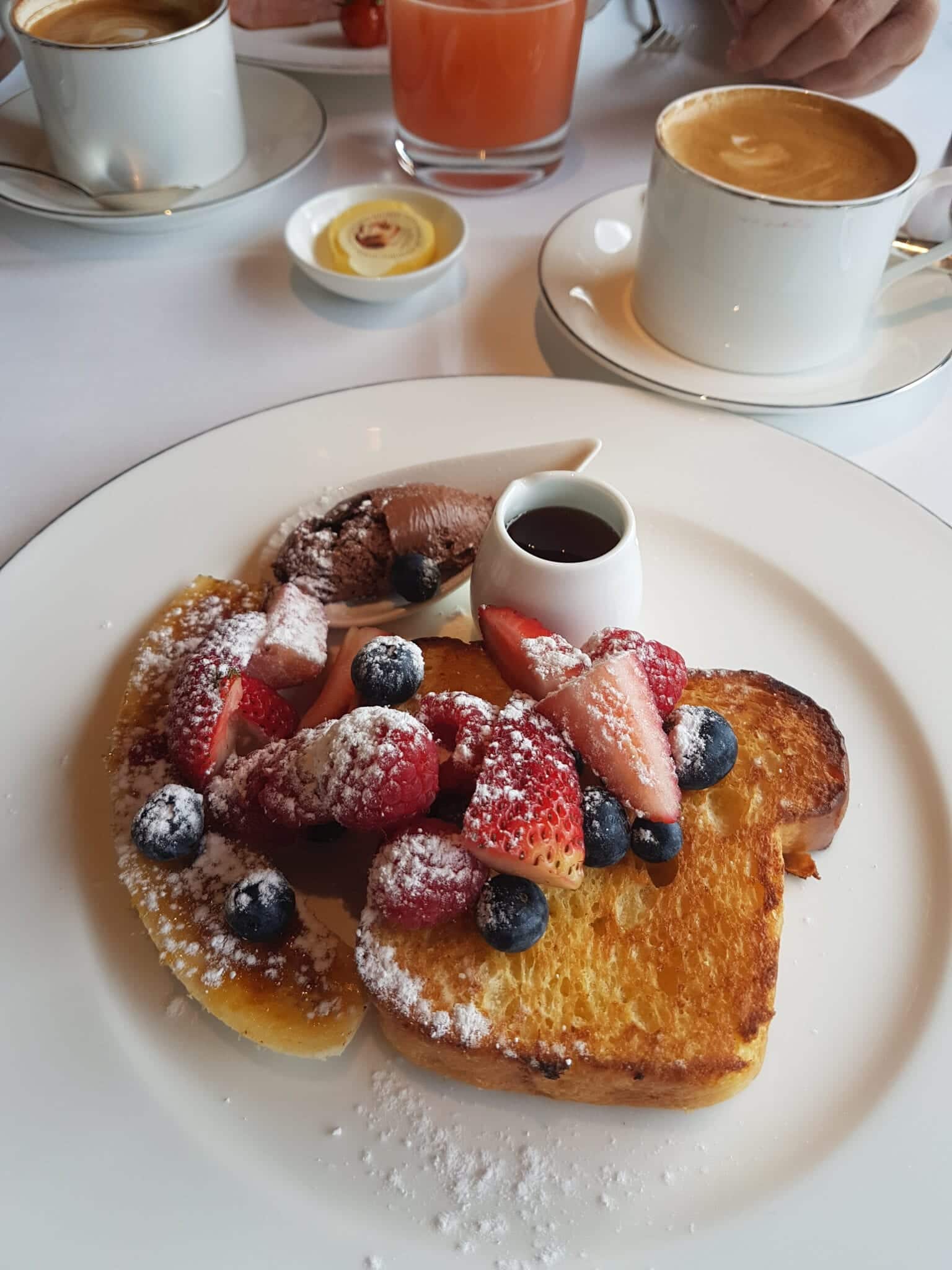 Every single a la carte dish that we ordered over the course of our four night stay was truly superb. Every yolk was perfectly runny, each slice of toast was just crunchy enough, the hollandaise was sharp yet creamy, the salmon was better than any I've had before (or since) and the coffees and juices were all freshly made and utterly delicious. In the world of hotel breakfasts this is the one to beat.


Living Room
An alternative location for breakfast is the Living Room (effectively the lobby bar). There is only a la carte offered here but the upside is that it doesn't close at all, so you can have a super leisurely, or late, breakfast without feeling rushed. Technically the breakfast service ends at 10:30am but there is no lunch service so the staff are happy for you to stick around.
View this post on Instagram

? (@jarvismarcos) on
Dinner
Monday to Sunday: 6.00pm to 10.00pm Since I plan most of my travel well in advance, I always sign up to Groupon or some local equivalent in the places I'm travelling to. The deals can be really great and as luck would have it, Sydney's Lime and Tonic consistently offers meals at the Park Hyatt at super discounted rates. We booked a three course dinner for 68 AUD per person, which was the perfect start to an evening of Beethoven at the Opera House, only 10 minutes walk away.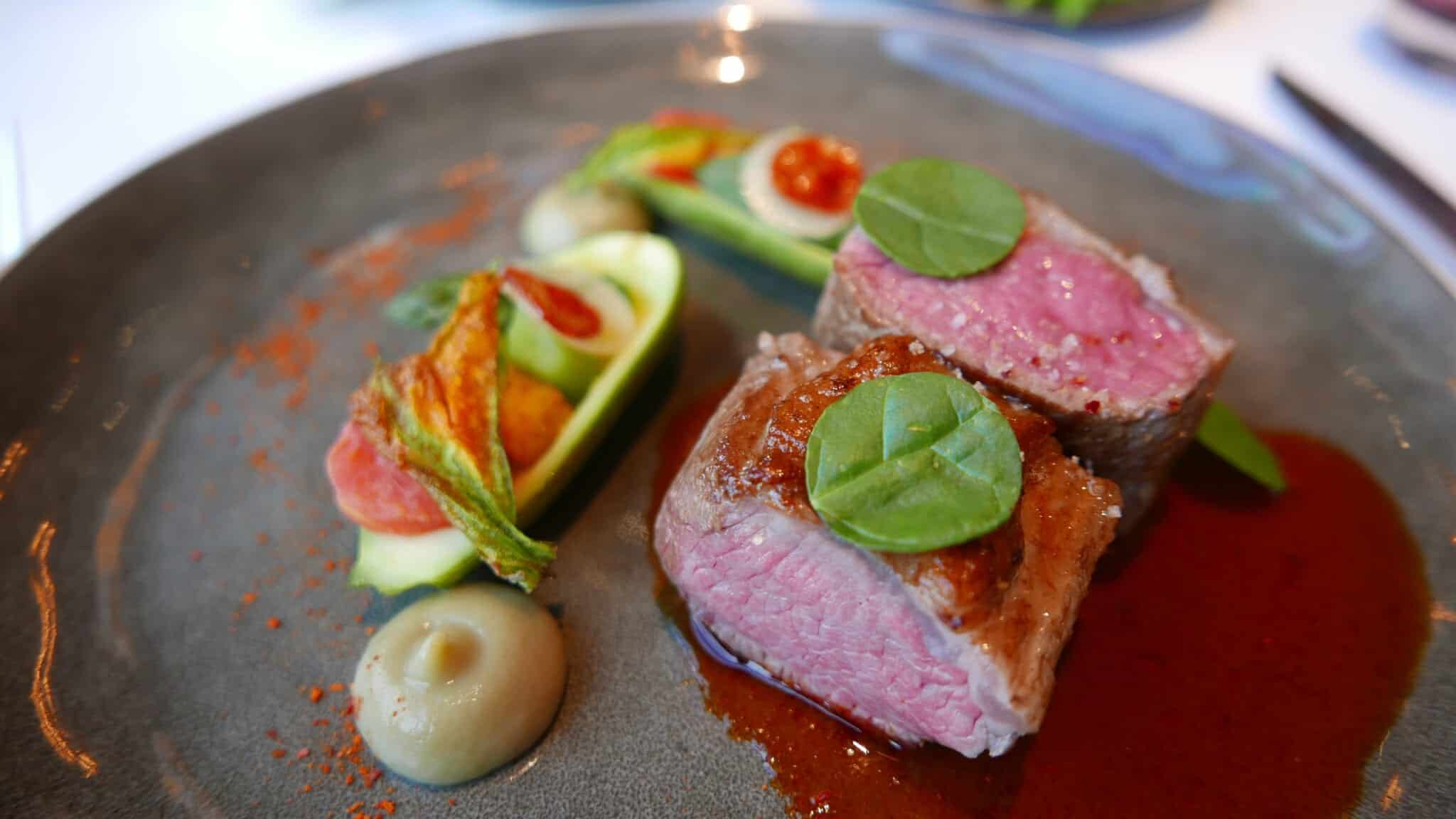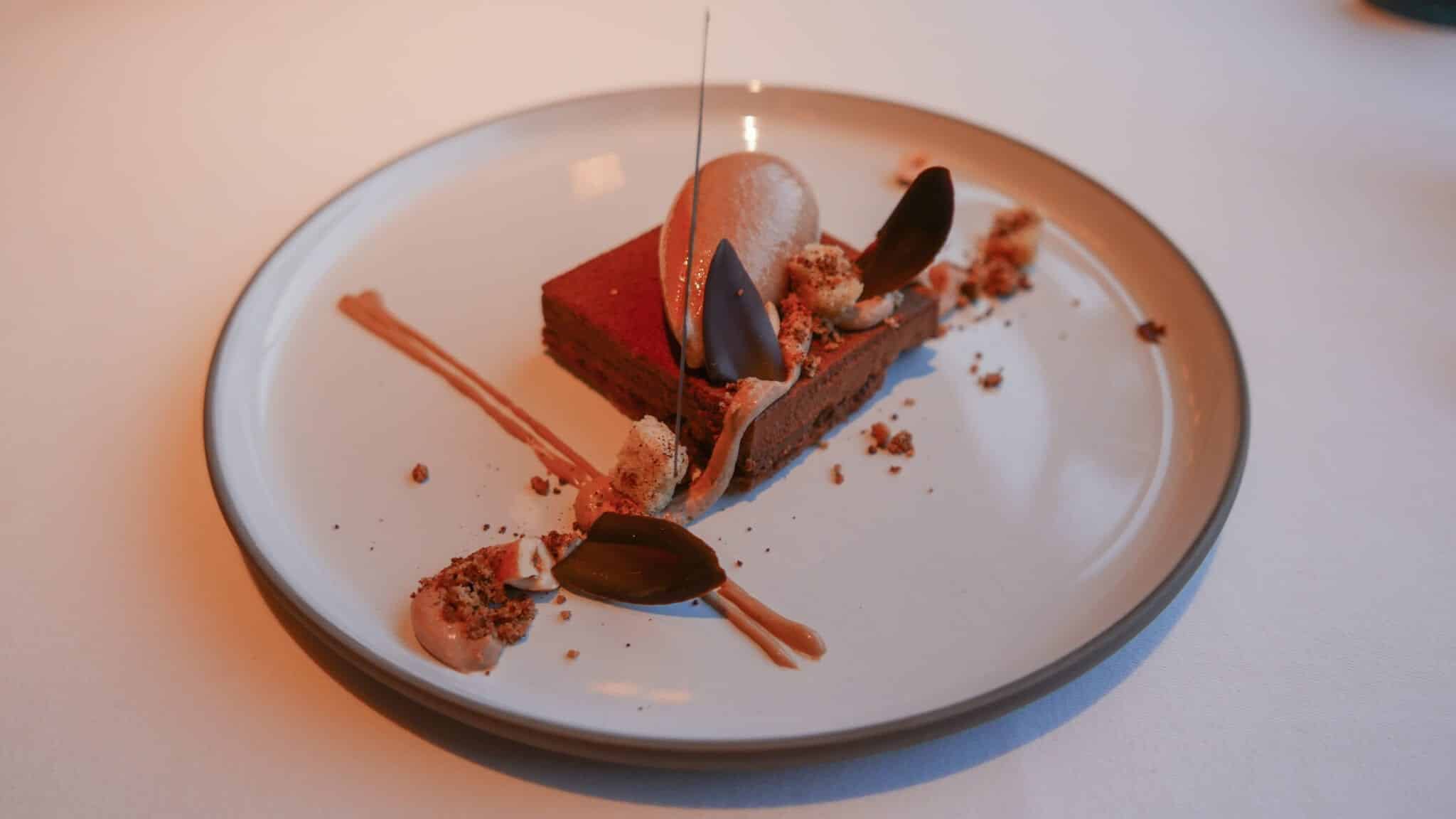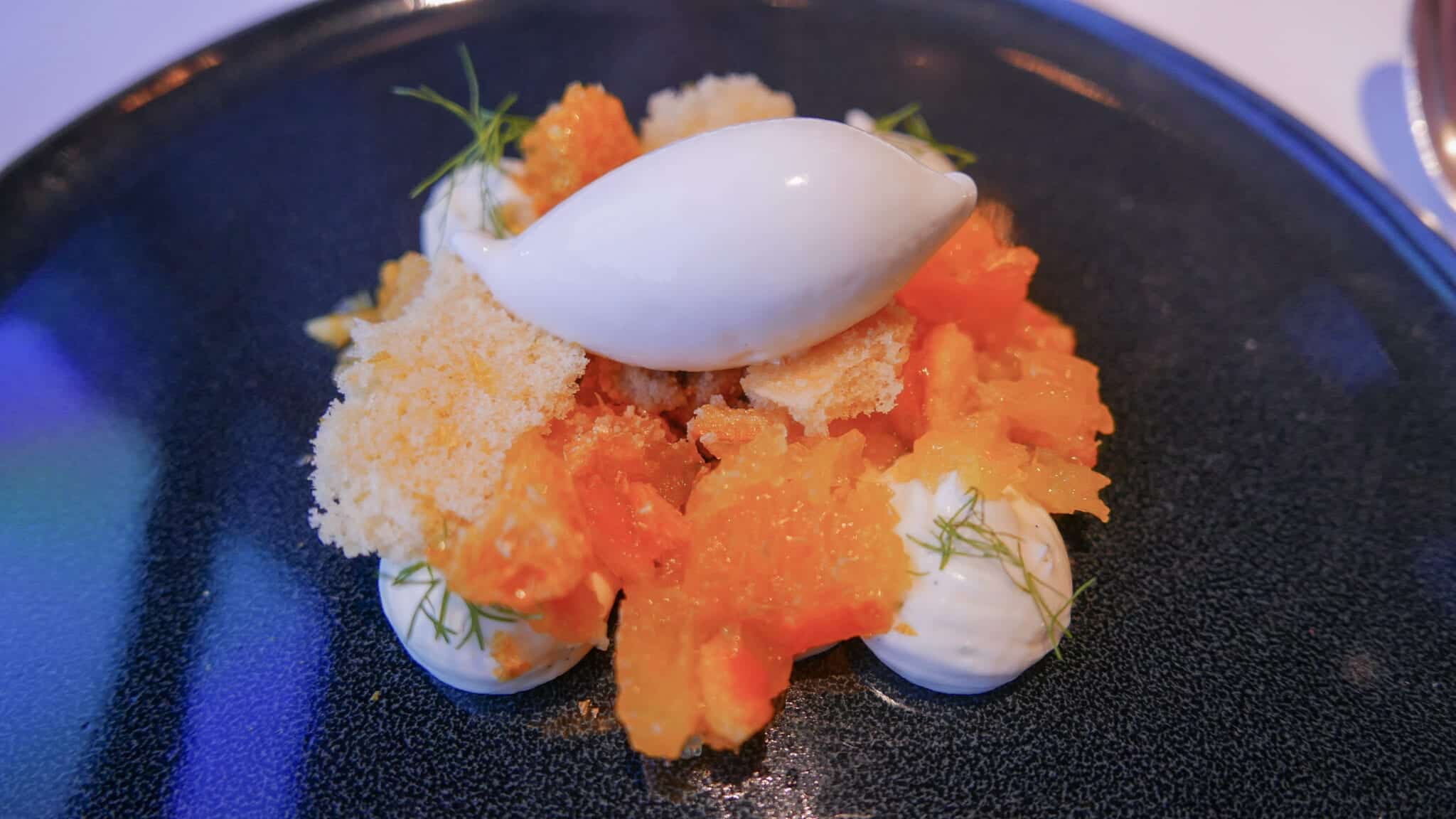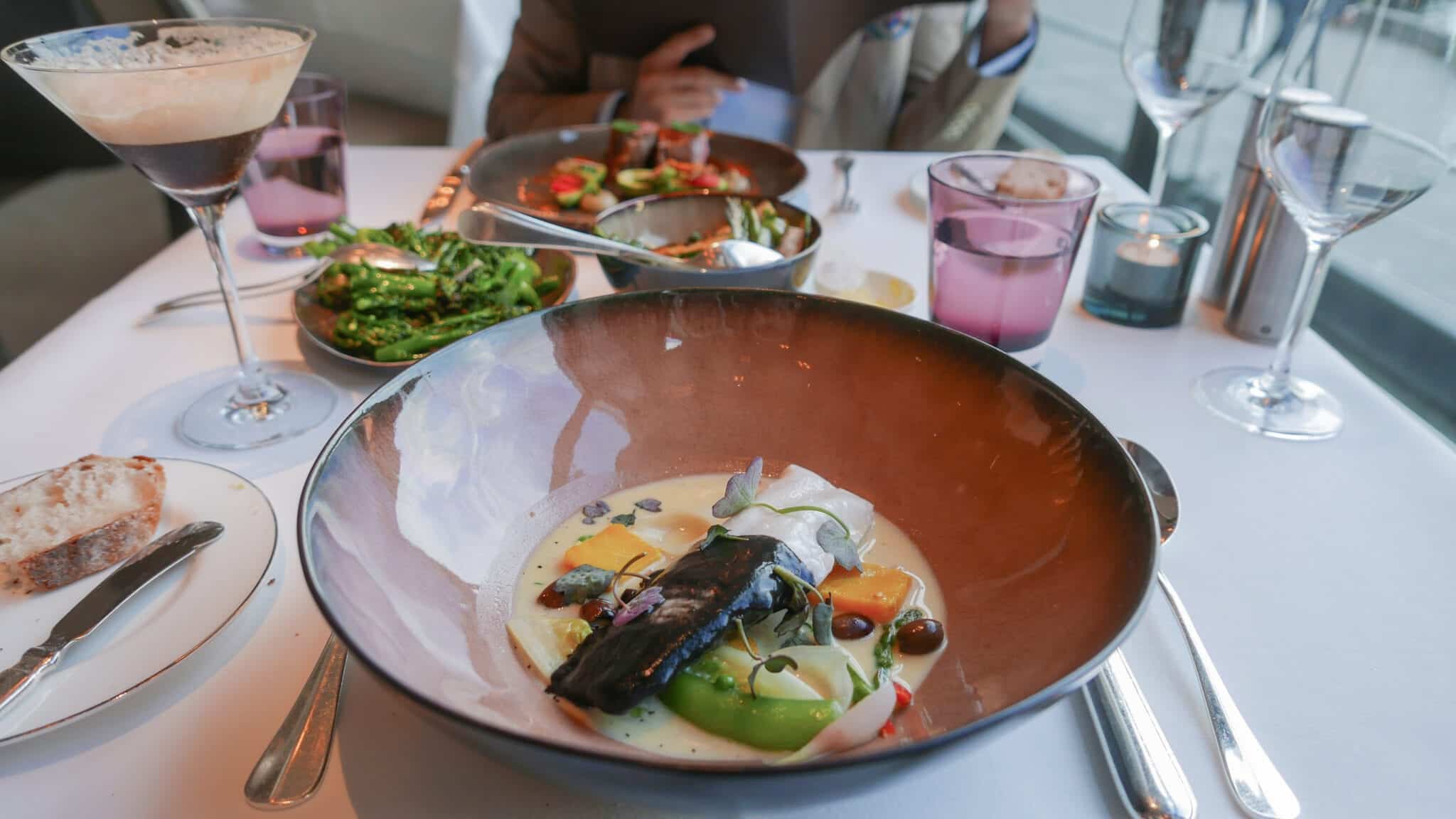 The food was seriously good. Not only was it all delicious but the plating was absolutely beautiful.
The standout in terms of both flavour and presentation was the salmon starter with a quenelle shaped like the Opera House.
---
Concierge
---
Speaking of our evening at the Opera house; this was arranged for us in advance of our stay, by the concierge team. I emailed them with a few questions about different restaurants and day trips too, all of which were answered promptly and thoughtfully. Unfortunately they weren't able to bill my room or credit card automatically for tickets though, which I found quite odd. Instead they insisted on taking my credit card details again via email (I wasn't overly worried though since Amex are so good at shooting down fraudulent transactions).
I highly recommend seeing a performance at the Sydney Opera House, the interior is just as spectacular as the exterior.
Despite the good service from the concierge ahead of our visit, the service when we were on property was distinctly lacklustre. At other properties, our concert tickets would have been left in the room for us or at least proactively offered the first time we spoke to the concierge. Here we had to actively chase for them to be tracked down. On our first night we headed to the concierge desk to ask for a dinner reservation three days in advance. After receiving no follow up, we asked again on the day of our dinner, only to find out that they'd forgotten to make the reservation.
On another occasion we asked about details for a trip to Blue Mountains. The concierge was super helpful and marked a route on a map for us, circling a few key stopping points for taking photos too. Since we were on our way to dinner we asked if he could keep the map for us and we'd pick it up when we returned. On our return however the concierge desk was closed, so we headed back to the room expecting it to have been put into an envelope and slipped under our door… No such luck.
We went back the next morning, where a different staff member was unable to find either our marked map or indeed a clean copy of it. Instead he showed us a zoomed out map of the whole state of NSW and kept insisting that it was just as good as the detailed map of the Blue Mountains. In the end we just used a combination of Google maps and reviews that Kamara found during the drive up from Sydney.
---
Leisure Facilities
---
The hotel gym is quite compact but well equipped and very elegant. The lighting and carpets seamlessly match the decor of the rest of the property.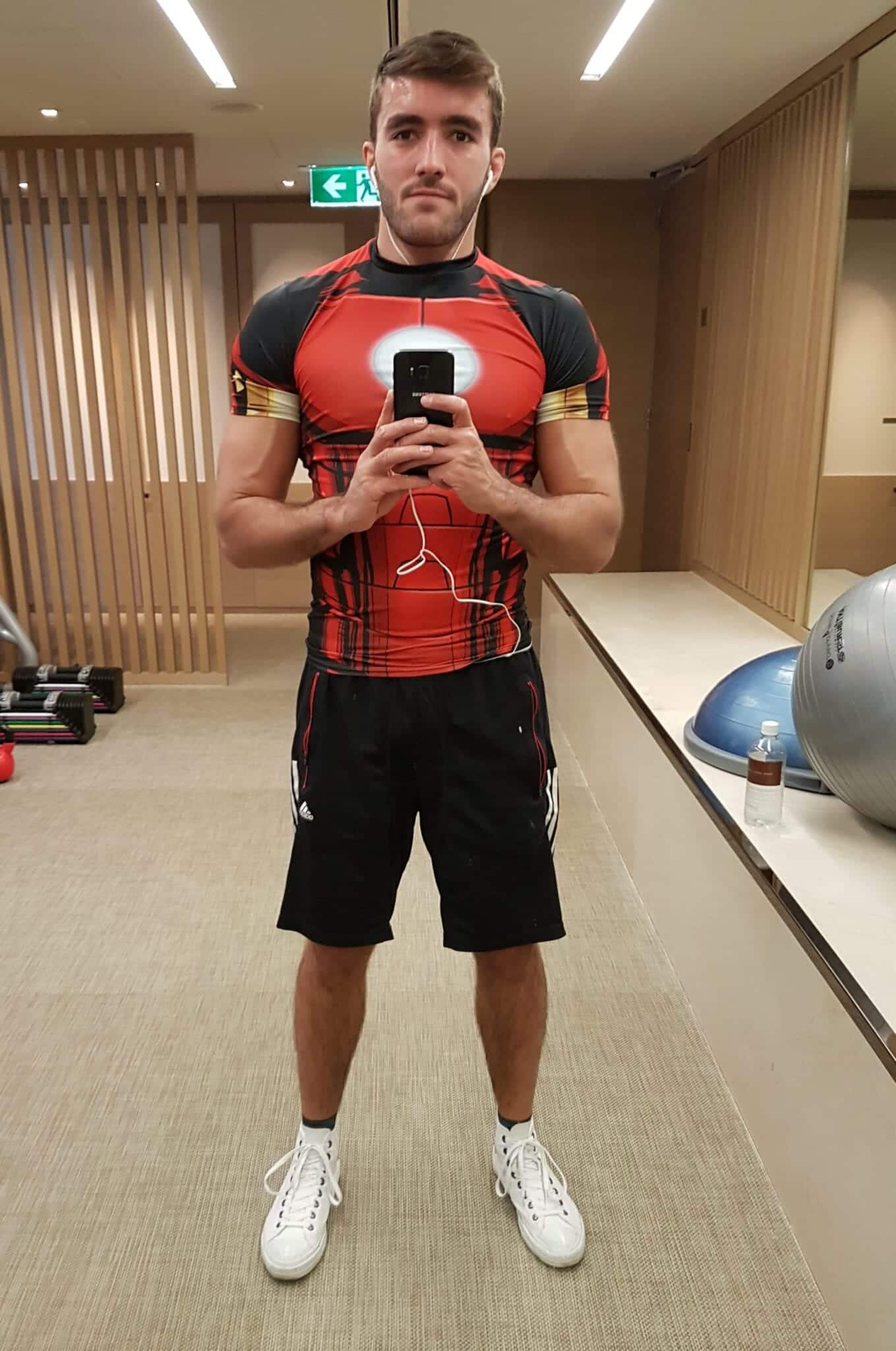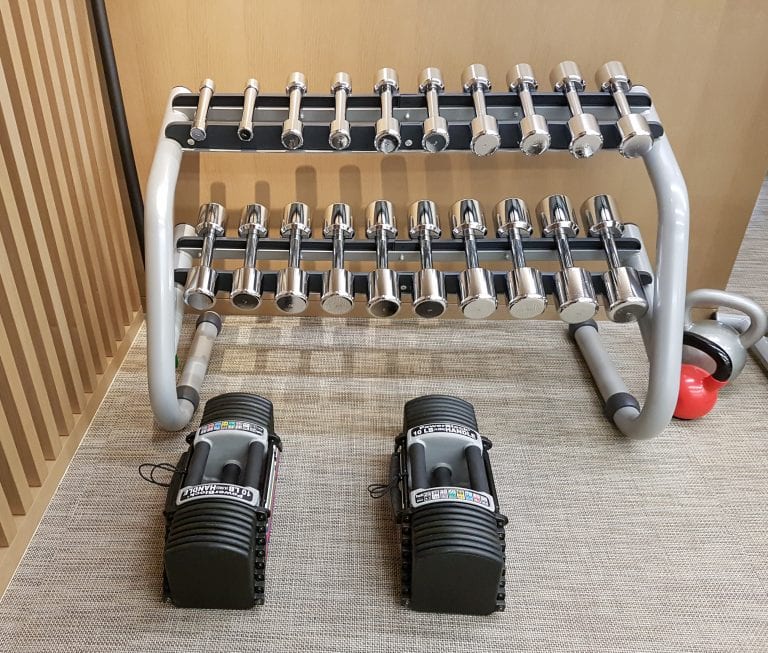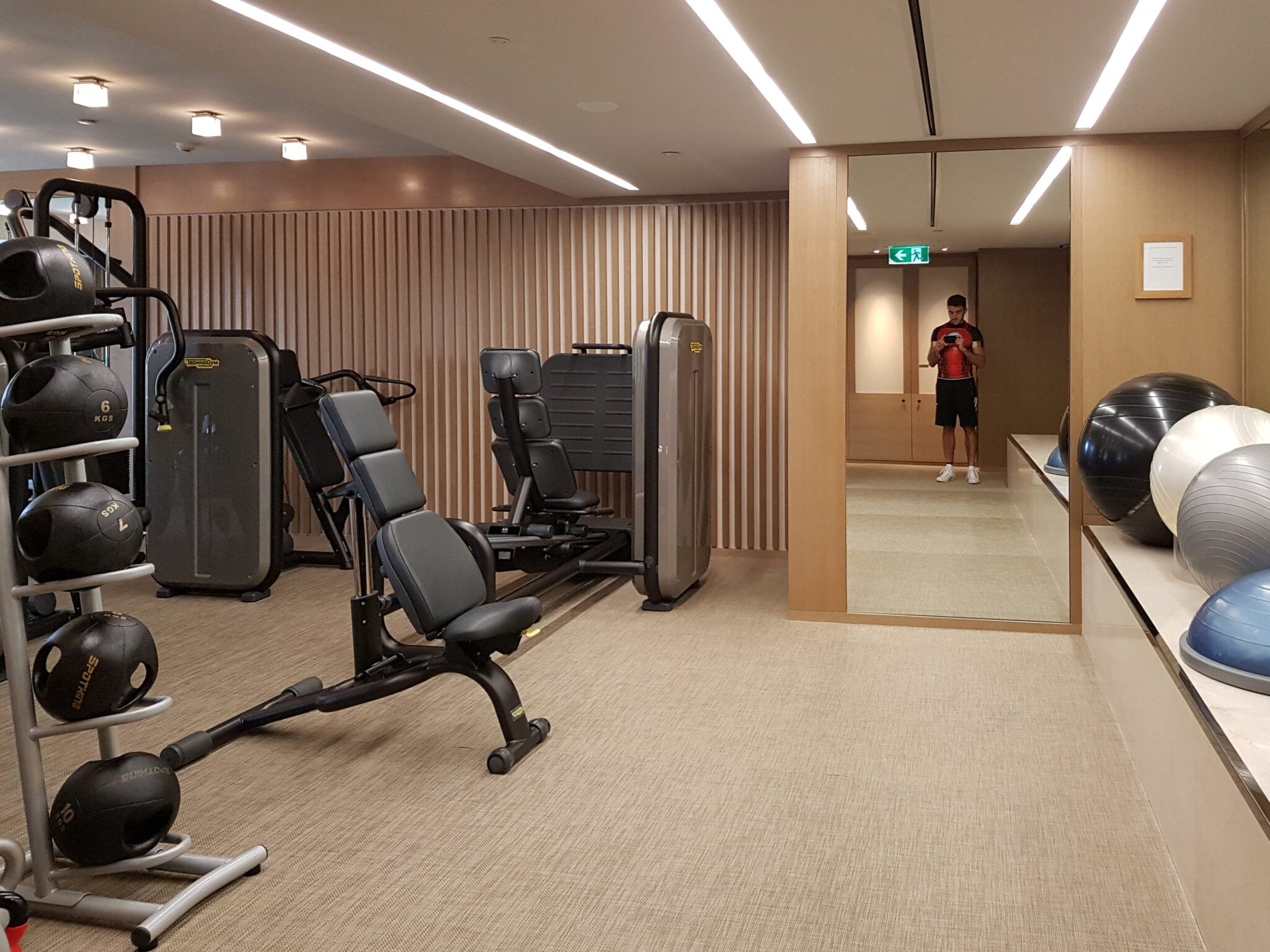 The tiny chrome dumbbells aren't in any danger of putting muscle on anybody but the selectable Powerblocks go up to 90lbs, which is not bad at all for a hotel gym. The Technogym equipment was all very well maintained too. Bottled water, fruit and fluffy towels were, of course, in limitless supply.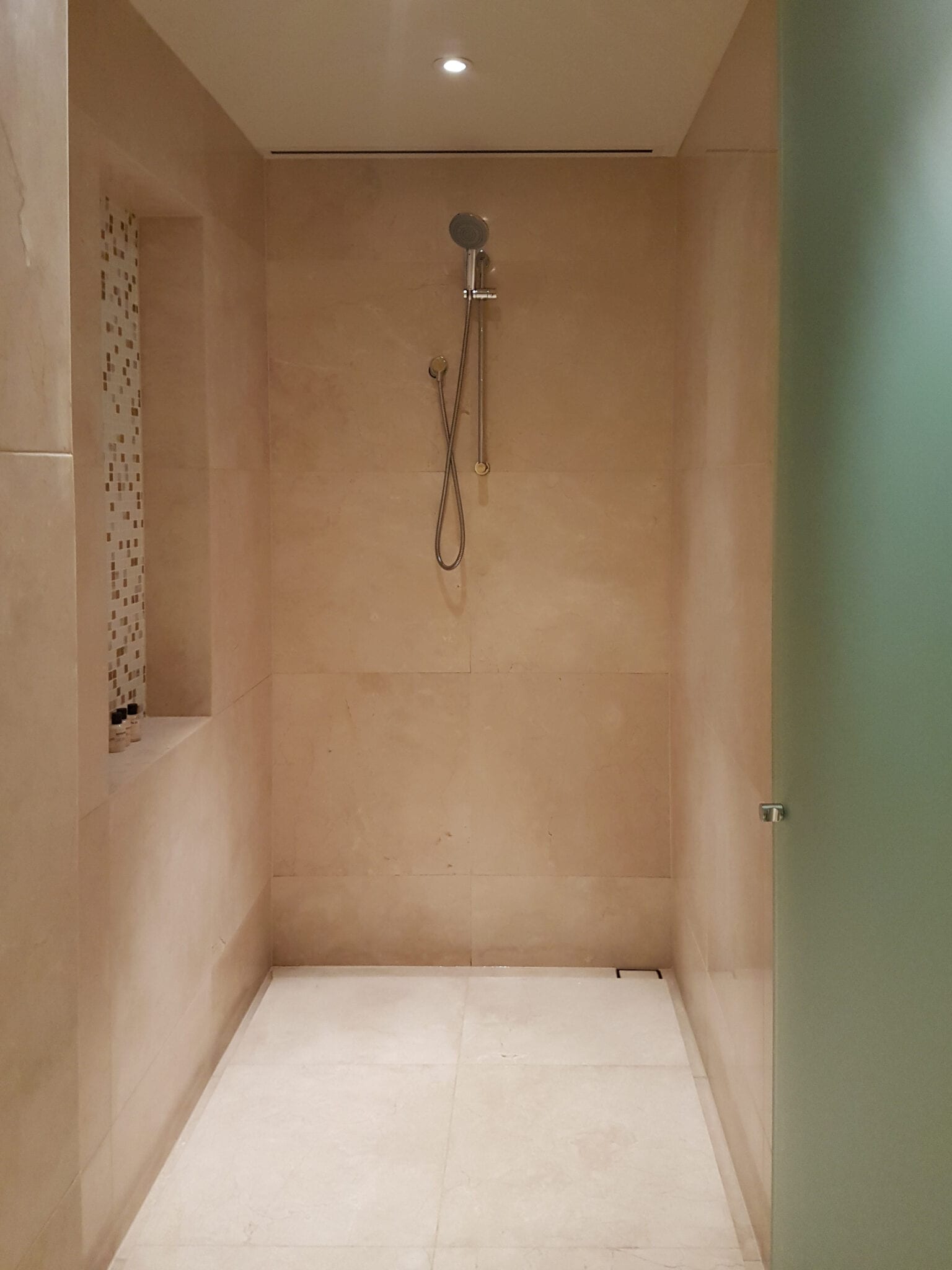 There is a changing room and steam room shared by gym and pool. The facility is quite small though and most people either headed to the gym in sports clothes or went directly to the pool in swimwear and bathrobes.
The pool is one of the defining features of this property, it sits directly beneath the Harbour Bridge…
…and has a pretty special view of the Opera House.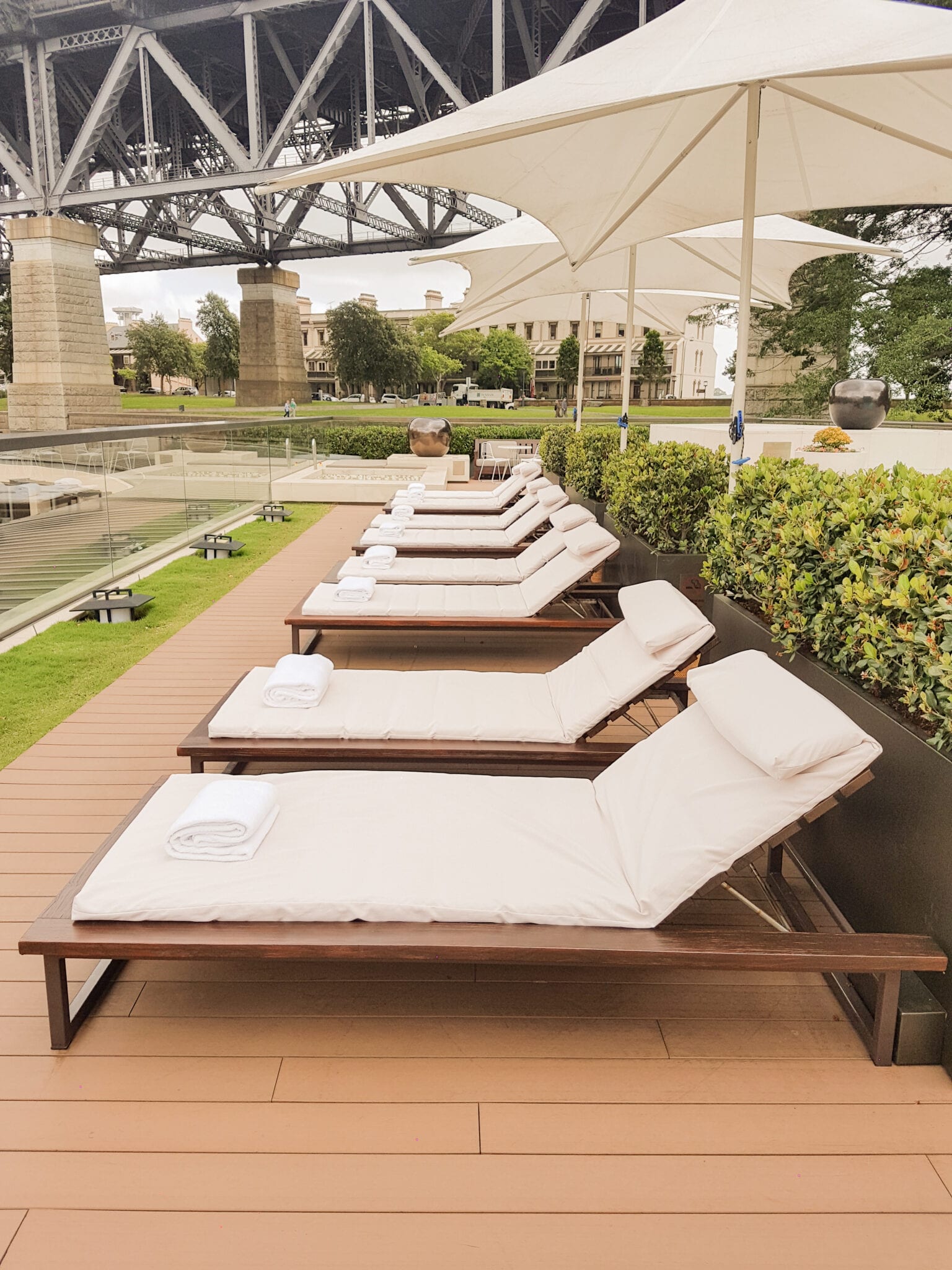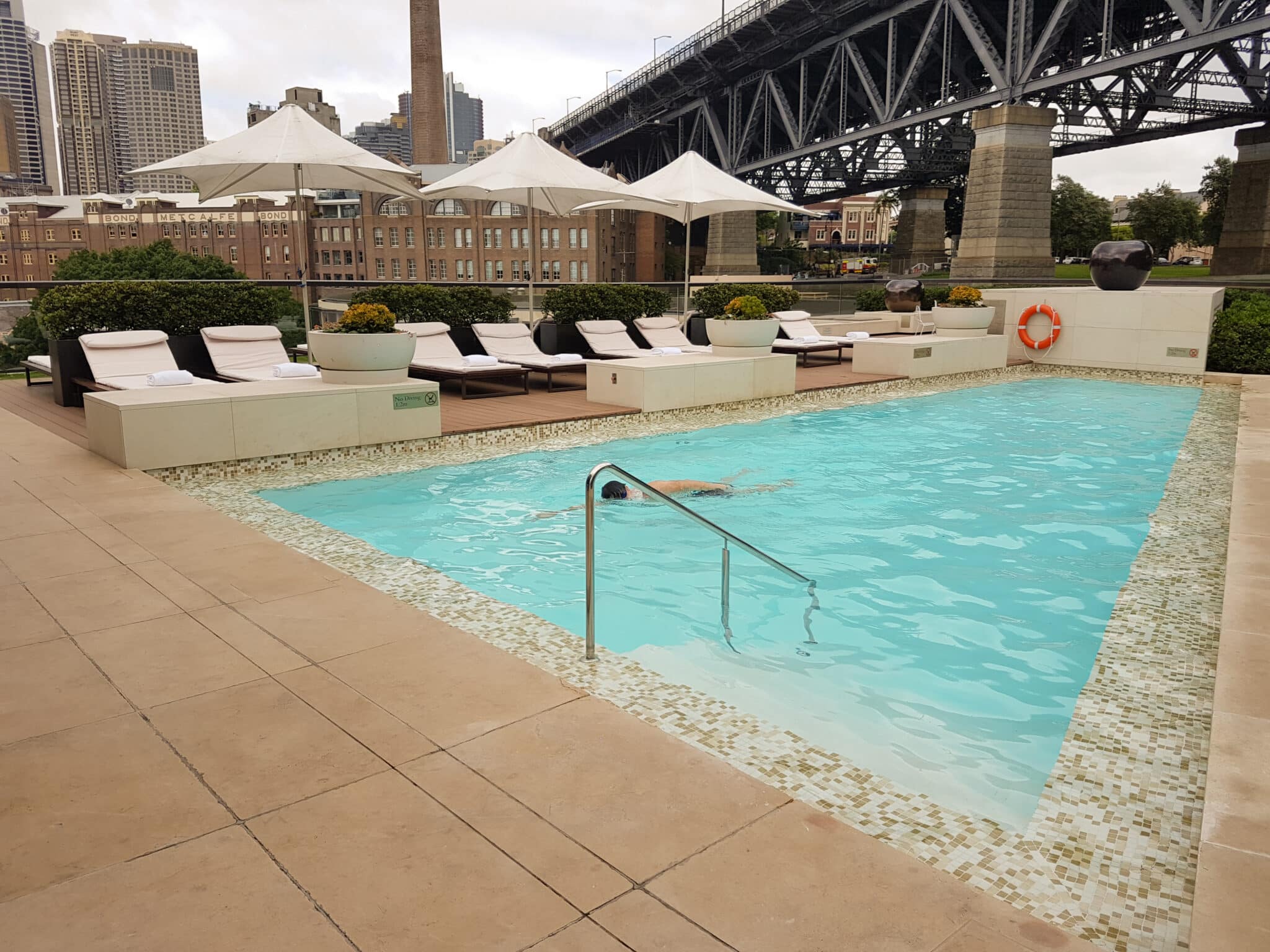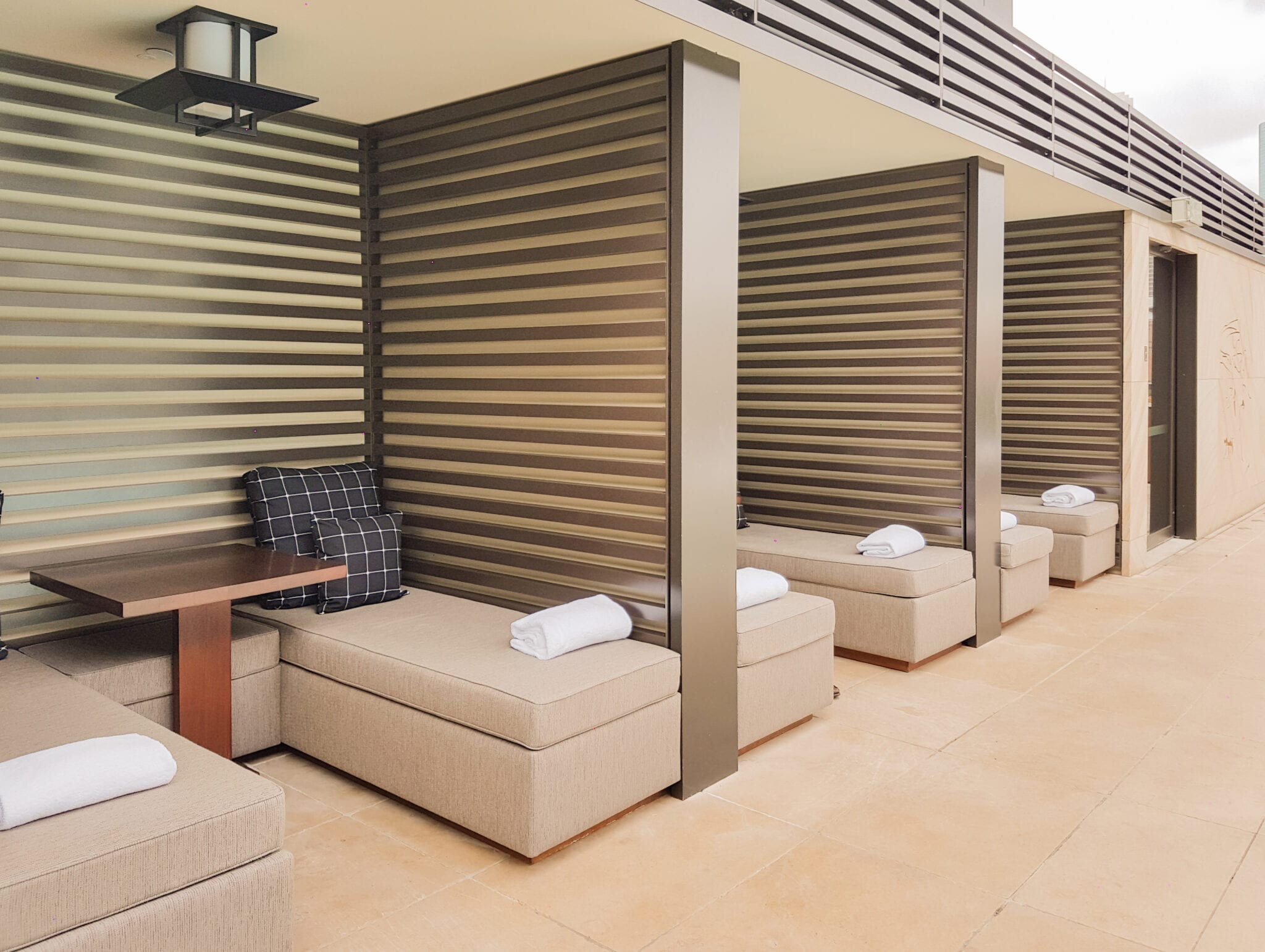 The pool area feels really special, the fact that you can see so many iconic buildings as well as a beautiful park, whilst sitting in a hot tub with a glass of wine is pretty amazing.
The cabanas were often busy, with lots of guests opting to eat their lunch here. Unfortunately the service at the pool was a little off and staff seemed unable to cope as soon as more than three or four people were up here. One afternoon we sat out on the sun loungers hoping to enjoy a glass of wine, after a ten minute wait we were finally able to get a server's attention and ordered two glasses of wine. Ten minutes later she came over to ask for our room number. Then she disappeared.
There was no member of staff at the pool for thirty minutes.
Just as we were getting up to leave a different staff member came over with the wrong wine. We apologised, saying that we didn't have any more time to spend at the pool since we had plans. She was very apologetic herself, saying that there were lots of new staff undergoing training. She said she'd ensure that the charge was taken off our room bill and sent chocolates and flowers to the room as an apology.
The gifts were a lovely thought. However we did see two strange room service charges on our bill during check out. Both for wine. Neither of which were ours. I can only assume they were accidentally put on our account by the pool server undergoing her training.
---
Conclusion
---
Basics Checklist
☑︎ Power sockets near the bed (local only)
☑︎ Easy to understand light switches
☑︎ Coffee machine
☑︎ Separate shower and bath (with a view of the Opera House!)
☑︎ Blackout blinds
☑︎ Stable, fast and free Wifi
☑︎ Feather pillows
☑︎ Quiet and powerful aircon
Despite some issues with the service, our stay was exceptional. For the most part we were extremely well taken care of and felt as though we spent four days in a waking dream. This hotel isn't even remotely cheap and now that I no longer have Hyatt status I doubt I'd return given how expensive it would be to replicate this experience, even at double the cost. However for a fleeting moment this was one of the greatest Hyatt points redemptions available anywhere on Earth and to this day this remains the best city hotel I've ever stayed in.
---
Book online with Hyatt Privé benefits
---
Hyatt Privé Partner Booking
Our clients are able to access Hyatt Privé rates at Park Hyatt Sydney.
Hyatt Privé bookings always match the best available rate on the Hyatt website, but ALSO offer extras such as:
• Priority room upgrades, subject to availability.
• Full breakfast for up to two in room guests.
• $100 Hotel Credit.
• Welcome amenity.
• Early check-in/late check-out, subject to availability.
Note: You will still earn stay credit and ALL elite benefits, exactly like a direct booking with Hyatt.com.
Park Hyatt Sydney can be booked directly online, with Hyatt Privé benefits, by clicking the "BOOK NOW" image.
If you're a first time client and want to learn how our free service works and how to get set up on our booking portal, click below for the guide:
If you are planning an itinerary involving multiple rooms or properties, please get in touch for booking assistance:
---