---
Booking
---
Given that we were arriving late into Sydney I decided to look for somewhere close to the Park Hyatt, where we'd be spending the following four nights, without breaking the bank.
Sydney is an interesting city for hotels. The area around the Opera House has a number of options around the 350AUD mark: a Four Seasons – which many say is the worst in the entire portfolio; an Intercontinental – which has a Club Lounge that is widely praised but also has some very basic looking rooms, and the hotel I decided on: The Shangri-La.
None of these hotels are particularly modern and none were going to be in the same league as the Park Hyatt, however my limited exposure to Shangri-La has been very positive. They have a beautiful property at the top of The Shard in London and the buffet at the Shang in Shanghai is the stuff of dreams. Quite possibly the single greatest display of food I have ever seen in my life. Even better than the Wynn in Vegas!
All three hotels offered similar benefits when booking via Classic Travel, these offered remarkable value on a one night stay:
$100 USD dining credit (effectively a 40% rebate)
late checkout/ early check-in subject to availability
room upgrade subject to availability
free breakfast for two people
What swayed my choice the most is that WHEN BOOKING VIA CLASSIC TRAVEL THE ROOM UPGRADE AT THE SHANGRI-LA WAS CONFIRMED AT THE TIME OF BOOKING (rather than being subject to availability). I could book a room one category below an Opera House view at the Shangri-La for cheaper than the equivalent room at the other two, the breakfast here looked to be the best and the in house bars and restaurants at the Shangri-La were more alluring places in which to spend the dining credit.
I also have Jade status with Shangri-La as a benefit of my Amex Platinum card and was hoping that this would stack with the Shangri-La Luxury Circle benefits to get me a double upgrade (Four Seasons doesn't have a proper loyalty program and IHG… well you could argue that they don't either)
However you look at it: 375AUD for a 5* hotel room with full harbour view, dinner for two and breakfast for two, is borderline larcenous.
---
Arrival
---
We took an Uber from Sydney airport which was quick, cheap and relatively simple. Uber has a designated parking lot area for pickups which is a 5 minute walk from International Arrivals.
Check-in was very quick and efficient, with a full list of our Luxury Circle benefits detailed to us. The front desk agent explained to us that the $100USD credit was good for whatever we wanted to charge to the room, other than tips and minibar expenses. He also explained that we had indeed received a double upgrade to a Deluxe Sydney Harbour Room. We were not escorted to the room but our bags did follow a couple of minutes after we settled in.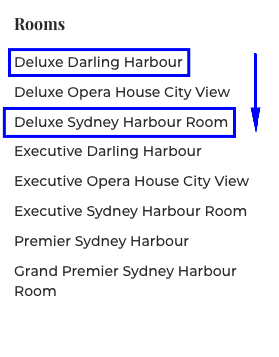 ---
Deluxe Grand Harbour View Room
---
Speaking of which, the view during the day is quite something: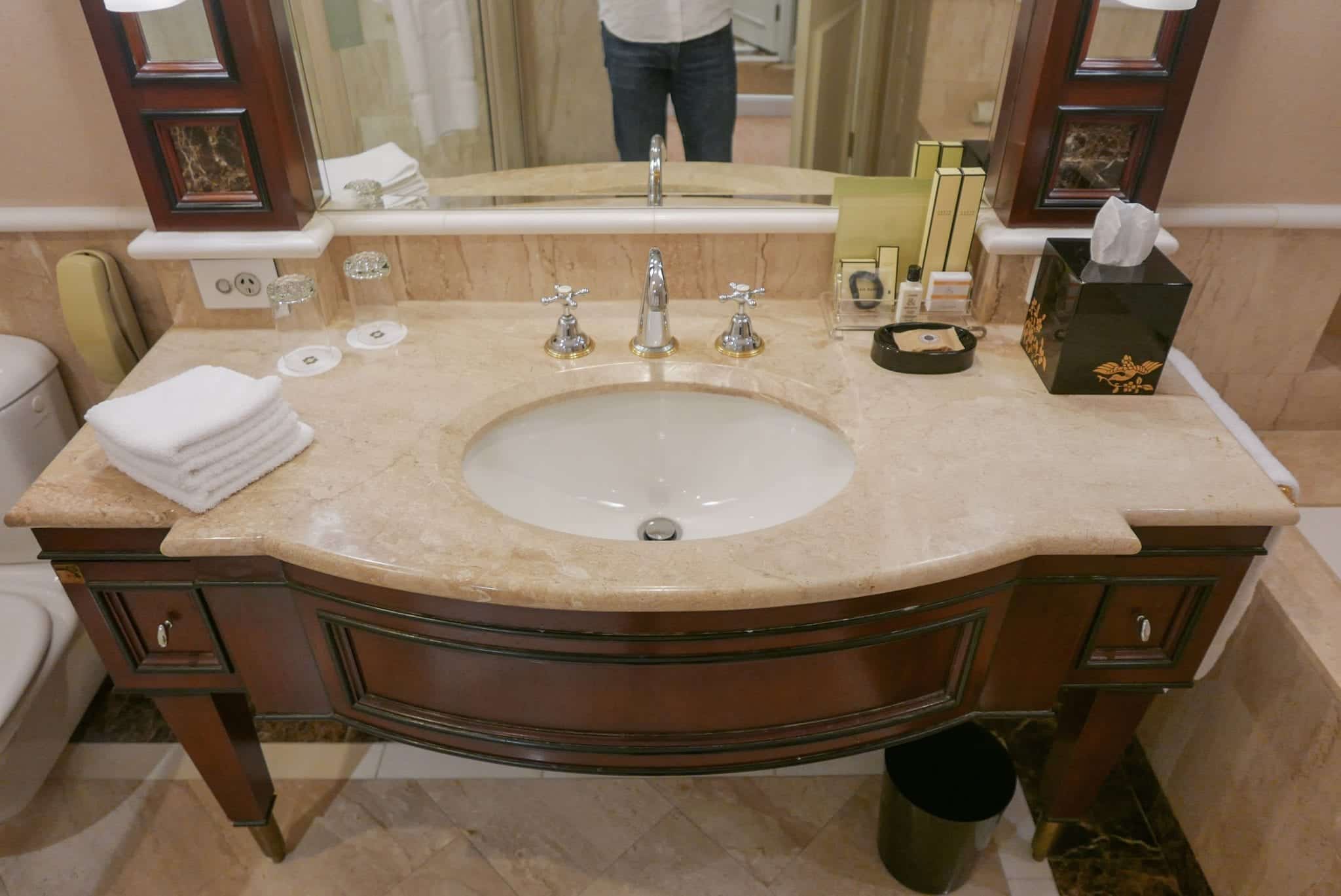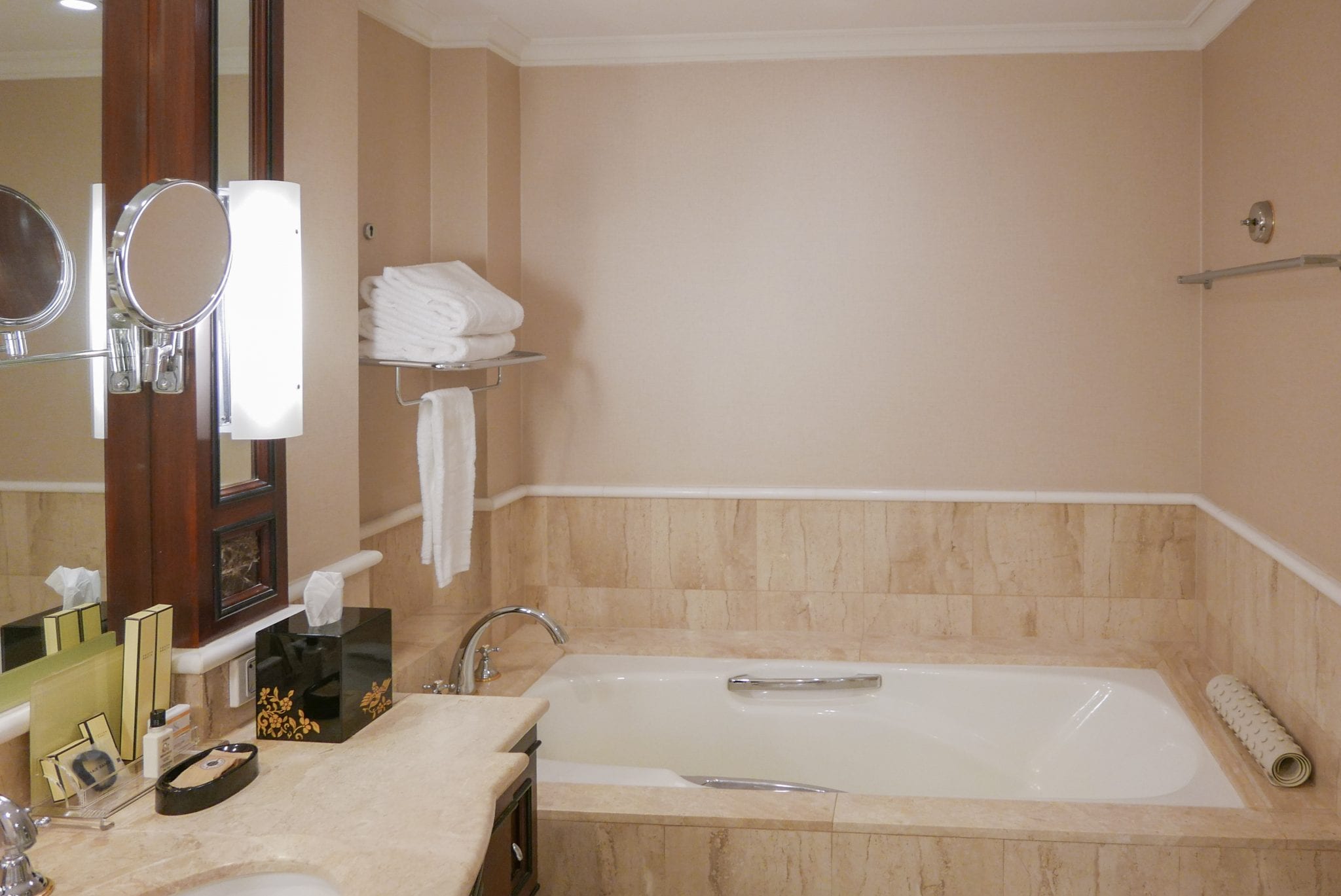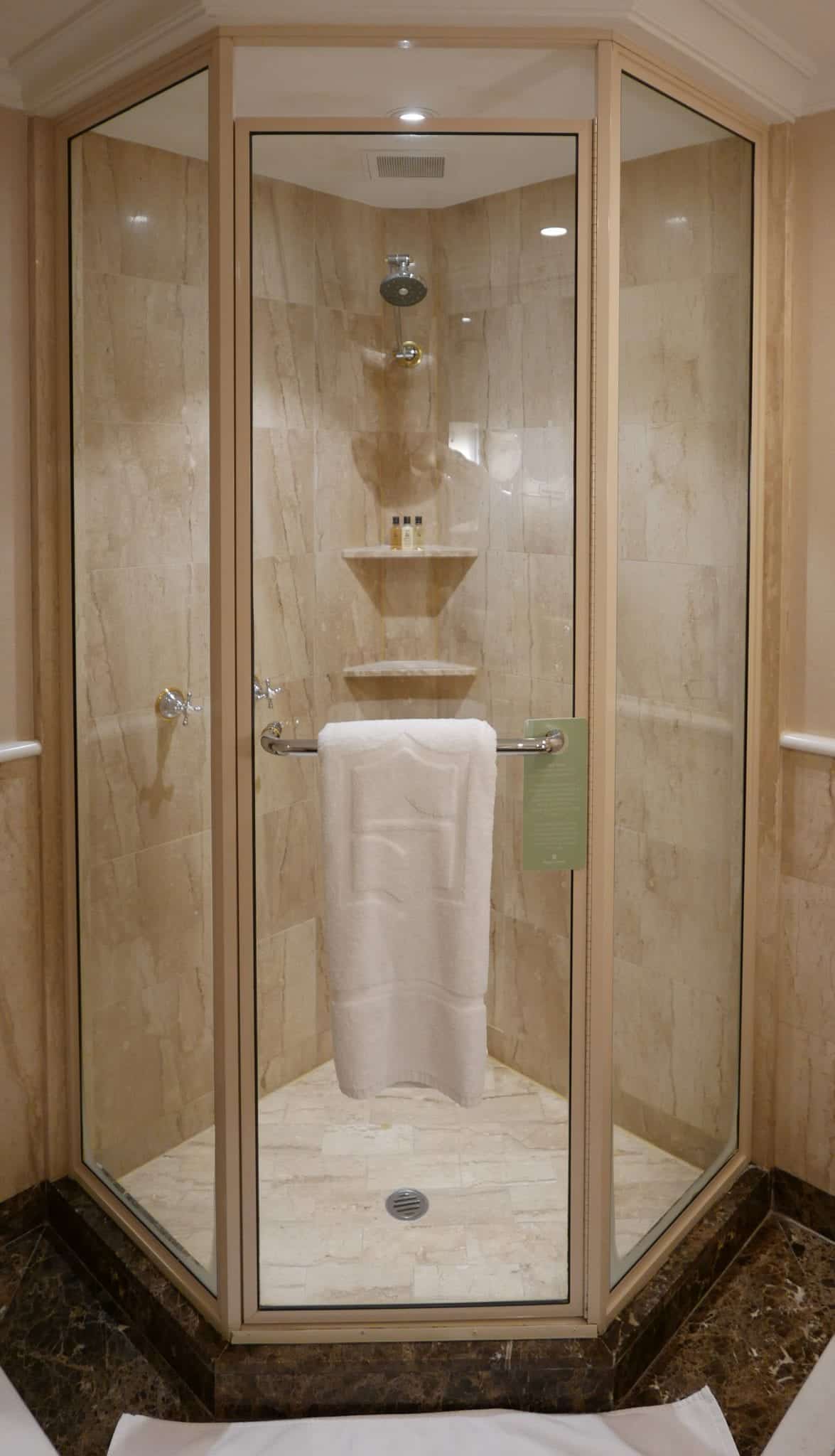 The fixtures were quite high-end though and actually rather reminiscent of an English countryside hotel. I particularly appreciated having a separate bath and shower. The shower had a high pressure but was not without problems of its own. The temperature oscillated seemingly at random between scalding hot and ice cold. A millimetric turn of the tap would only exacerbate things…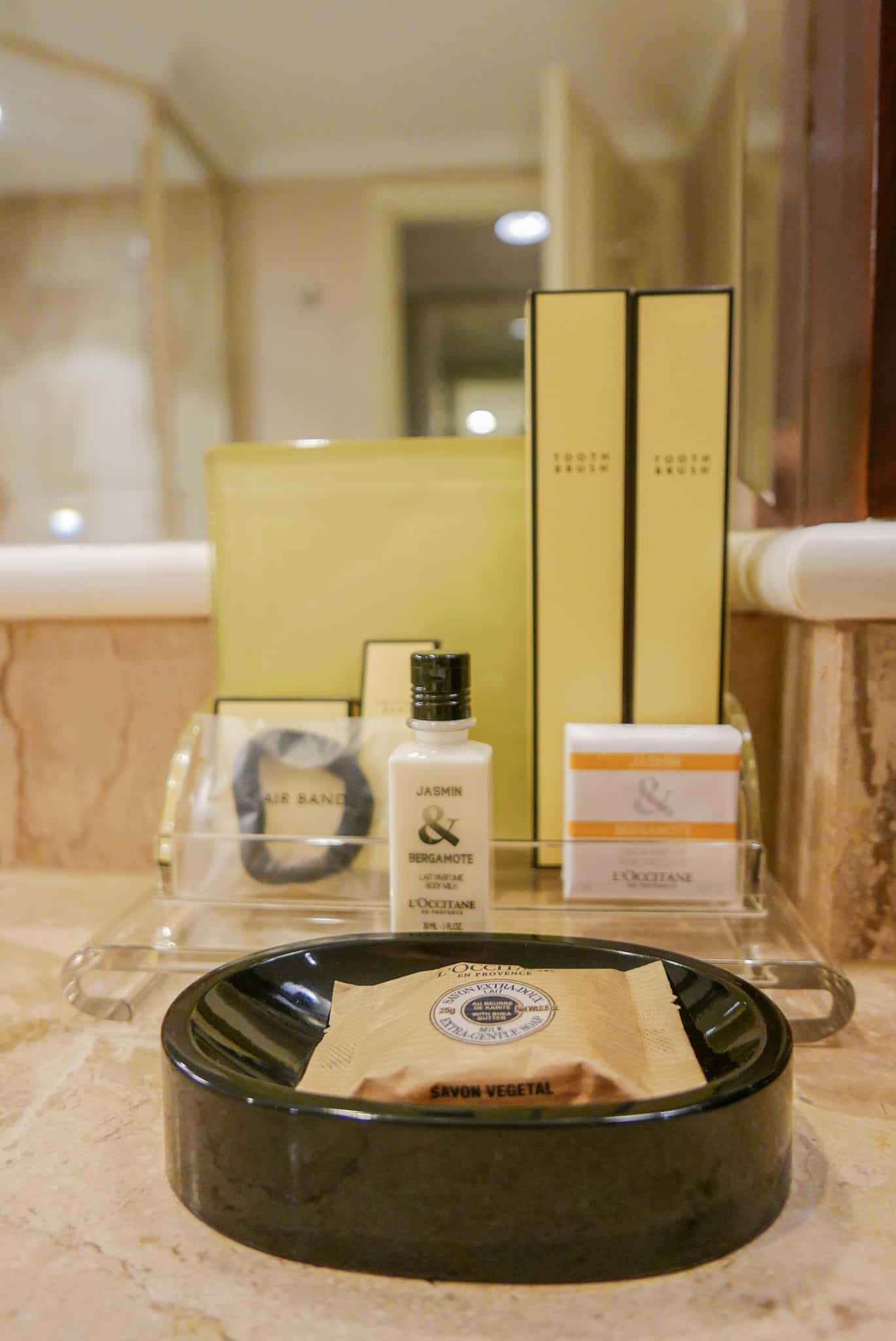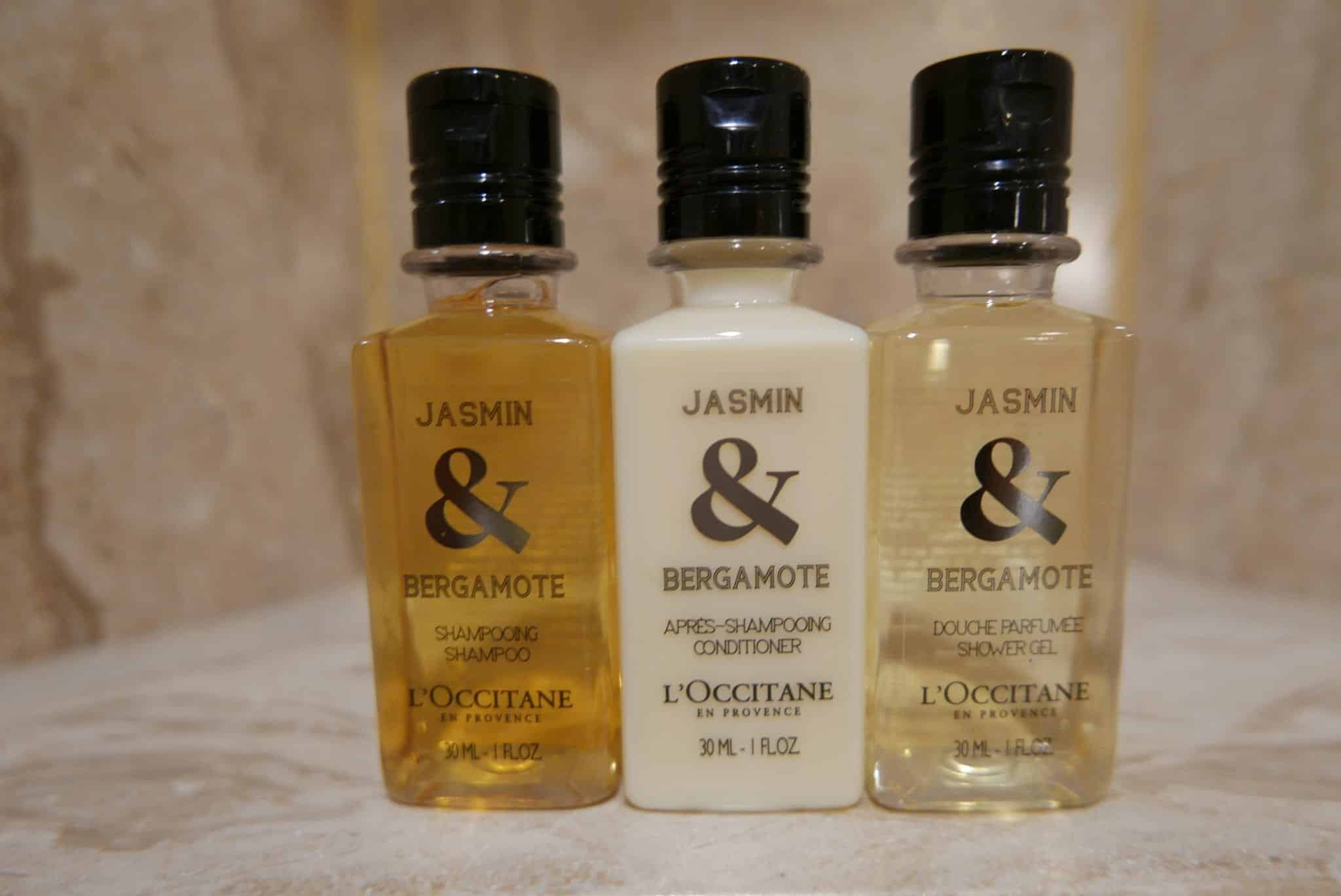 A wide range of L'Occitane toiletries were provided. I like when things like toothbrushes are readily available in the room, rather than having to call for them late at night.
---
Food and Drink
---
Dinner
Our first port of call after settling into our room was the hotel's casual dining option: Café Mix, located on the 1st floor. This is also the location of the morning breakfast buffet.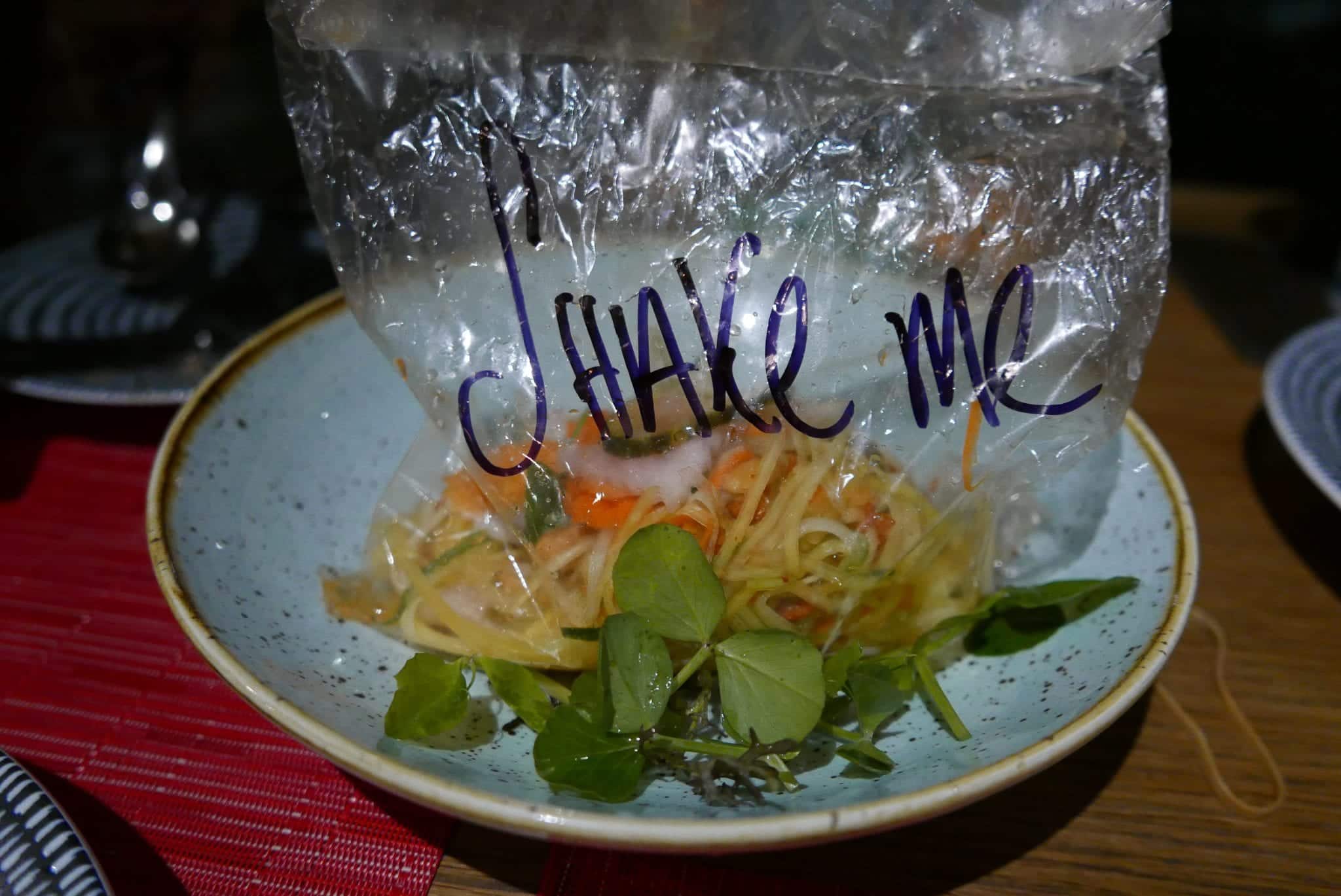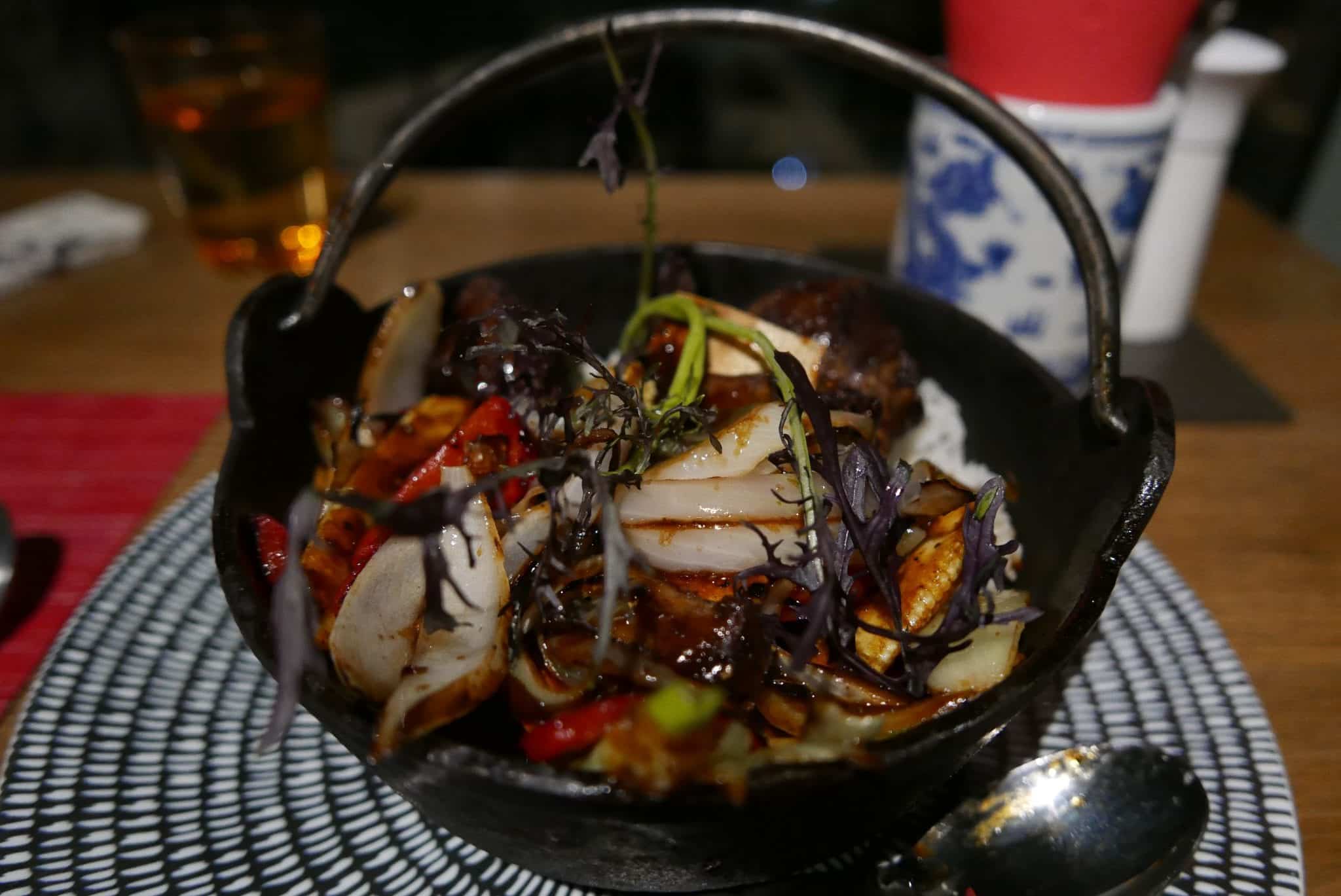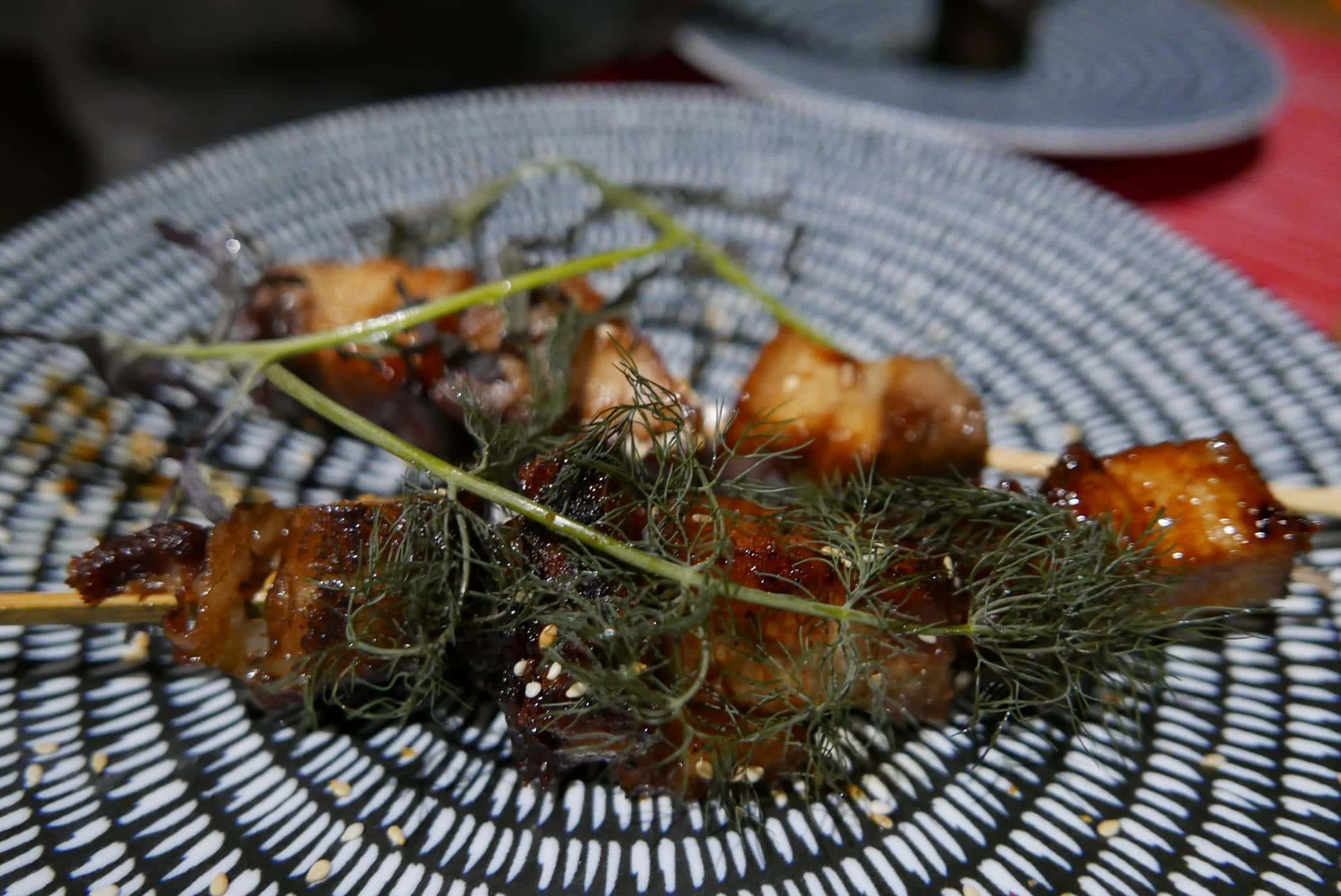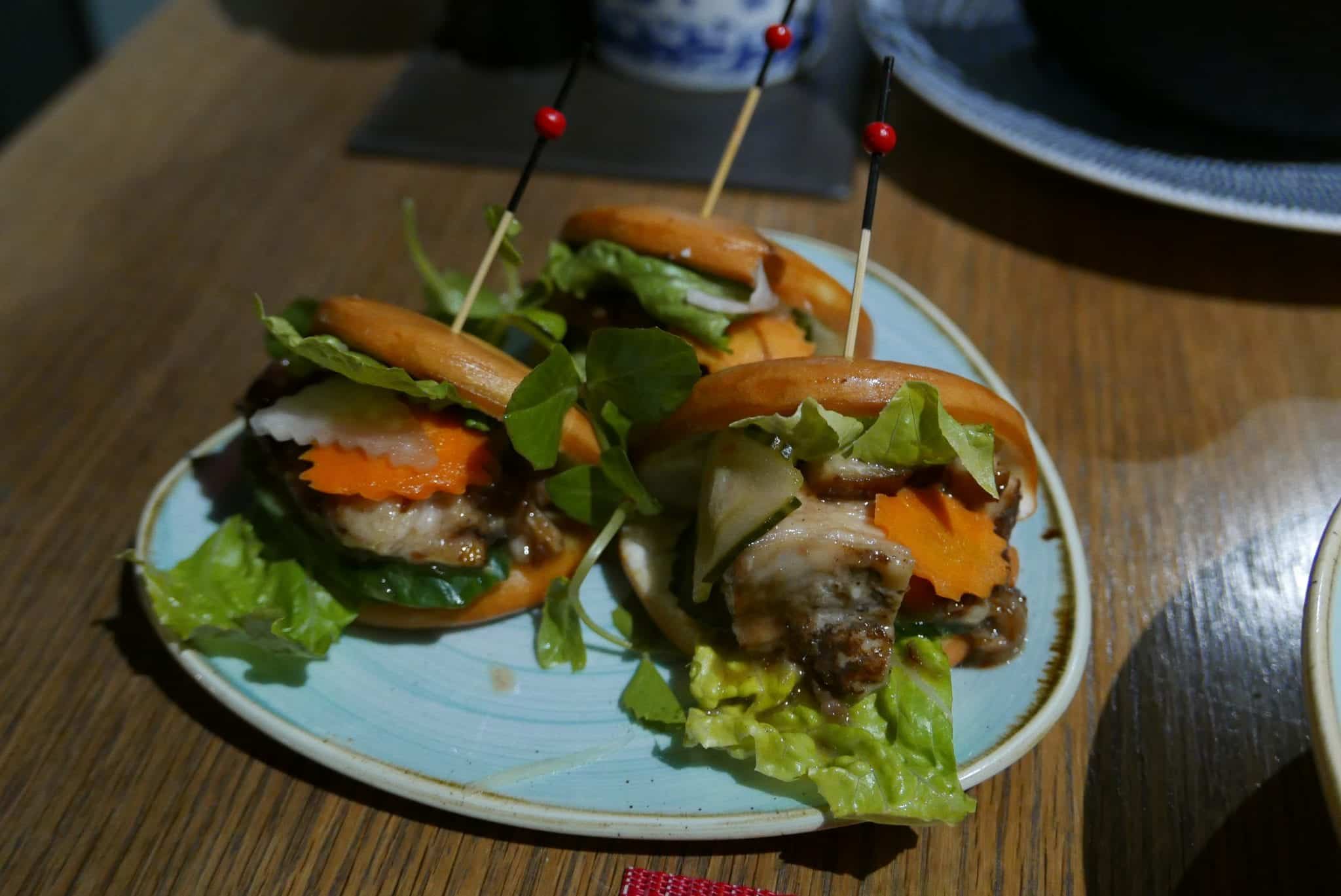 The room was a little depressing, with few tables occupied, but the service was sincere and friendly. The food was the typical Pan Asian fare although some effort had been made with regards to the presentation. The Som Tam (Papaya Salad) came in a bag labeled 'Shake Me' but was woefully under-spiced for what is usually one of the more ferocious staples of Northern Thai cuisine. The Pork ribs were chewy but the pork neck kurobata was excellent.
The bill came to around 100AUD, which left us with 40 AUD of credit still to spend.
Breakfast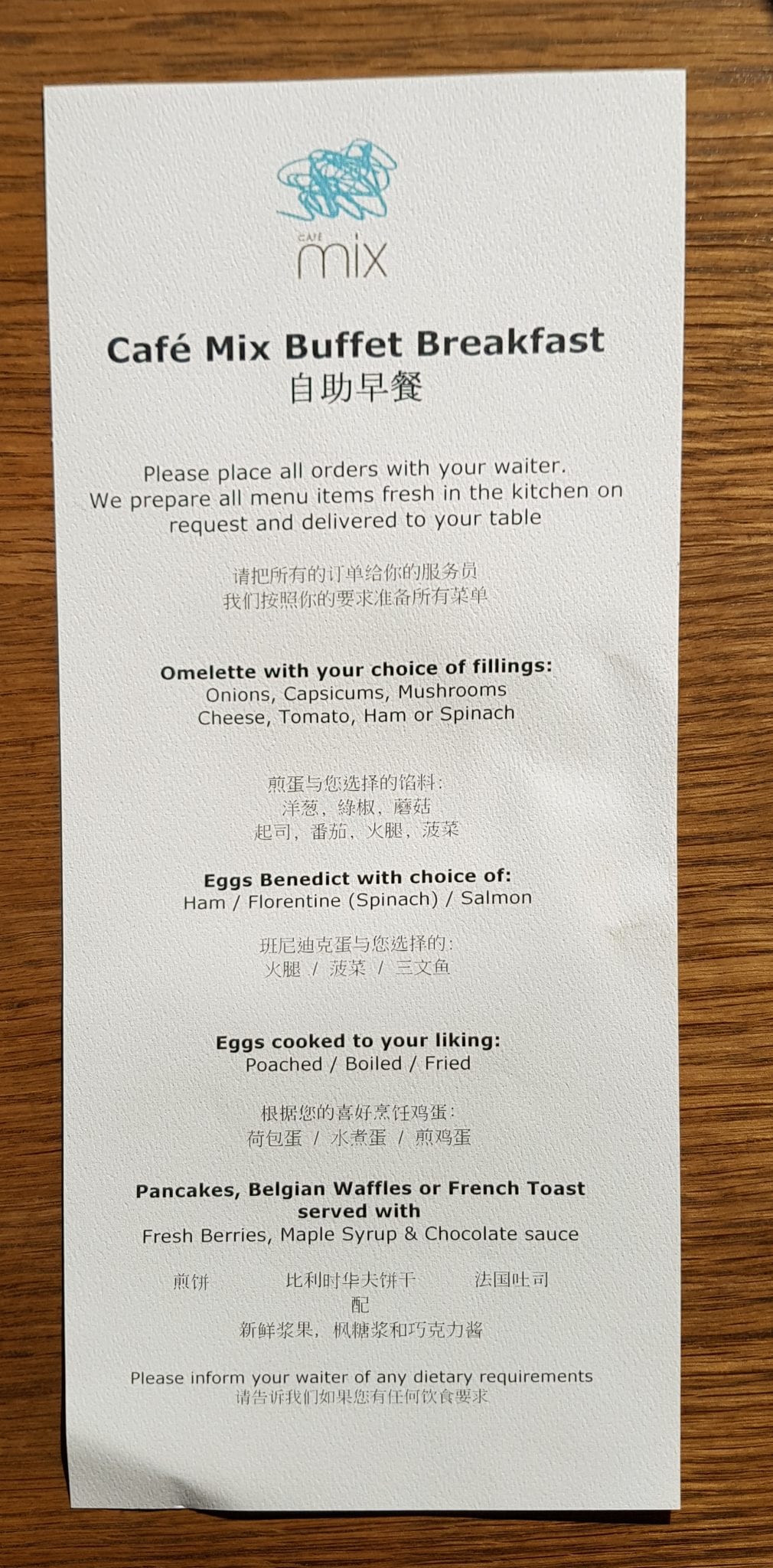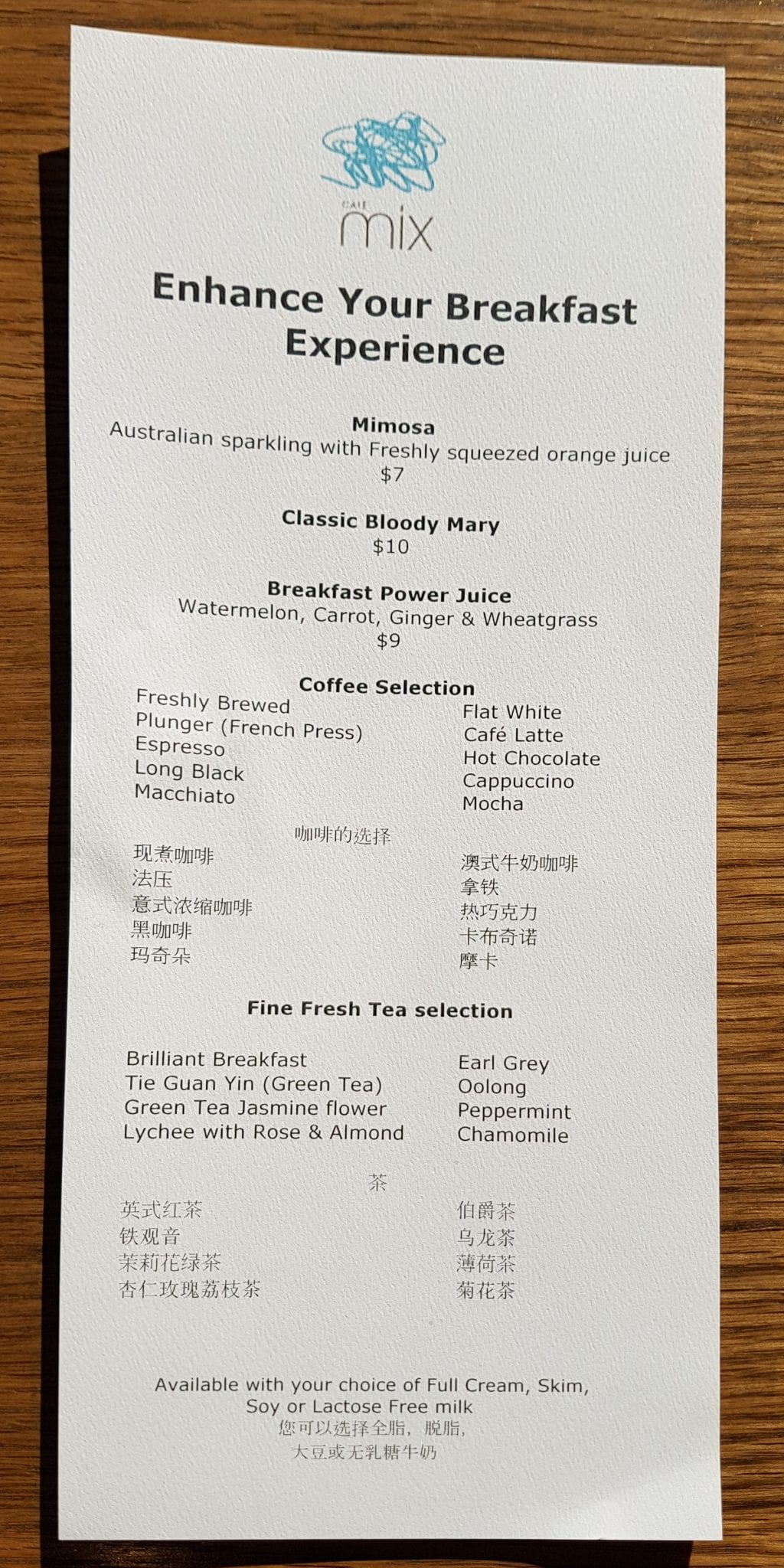 Our server escorted us over to a table by the window and handed us a menu each. I find it needlessly disruptive when you are forced to line up at a buffet 'cooking station', it wastes your time and creates an unnecessary blockage to the flow of people. I was therefore pleasantly surprised to see a variety of a la carte options offered via table service. I can't say I was overly tempted by the $9 juice though…
The buffet breakfast was very good – better than what you see in most European 5* hotels. A lot of items were freshly prepared in house, rather than being brought in mass produced. I particularly liked the range on offer, there were multiple options within each category of breakfast food: cold cuts, fruit, cereal etc.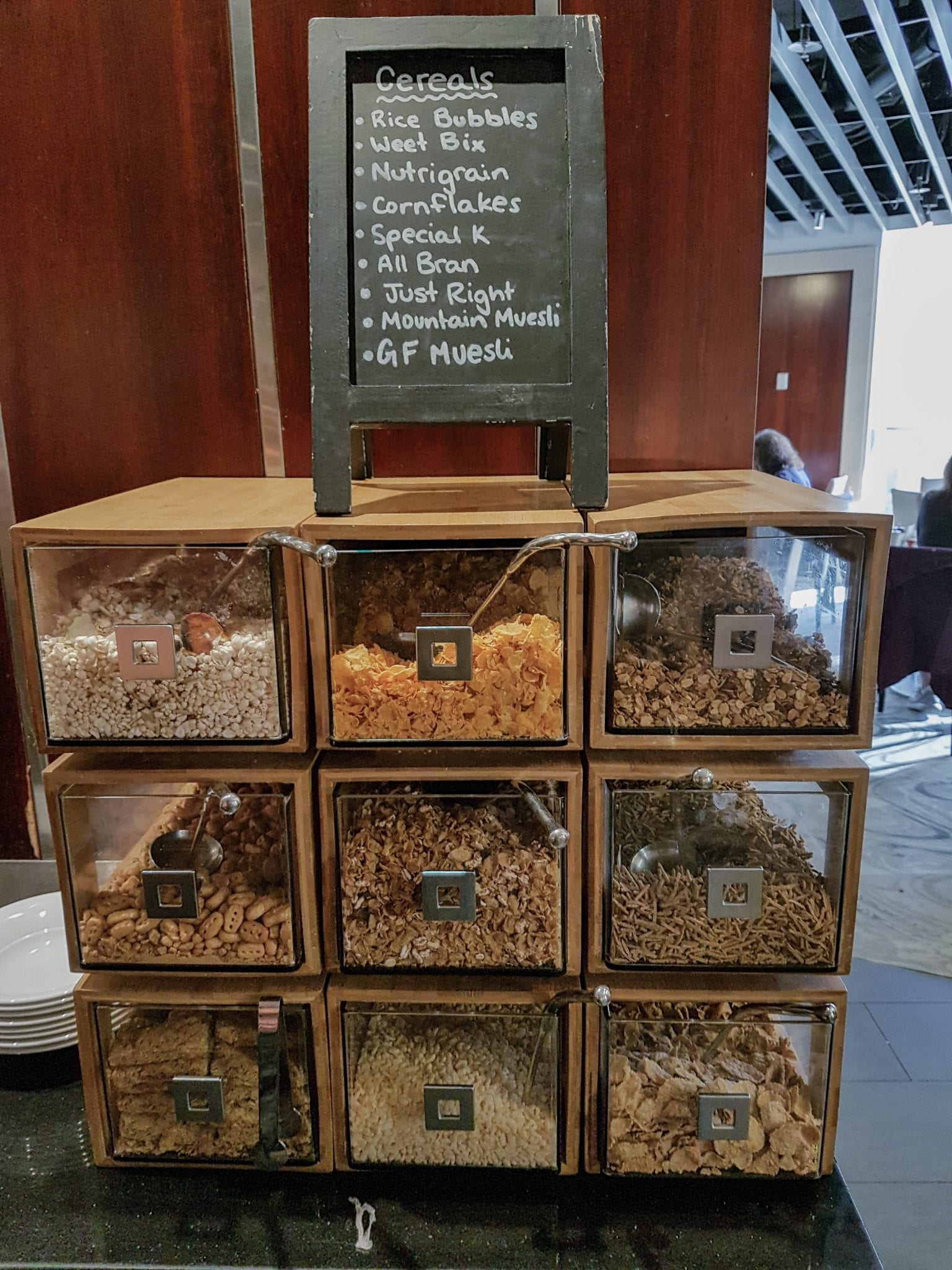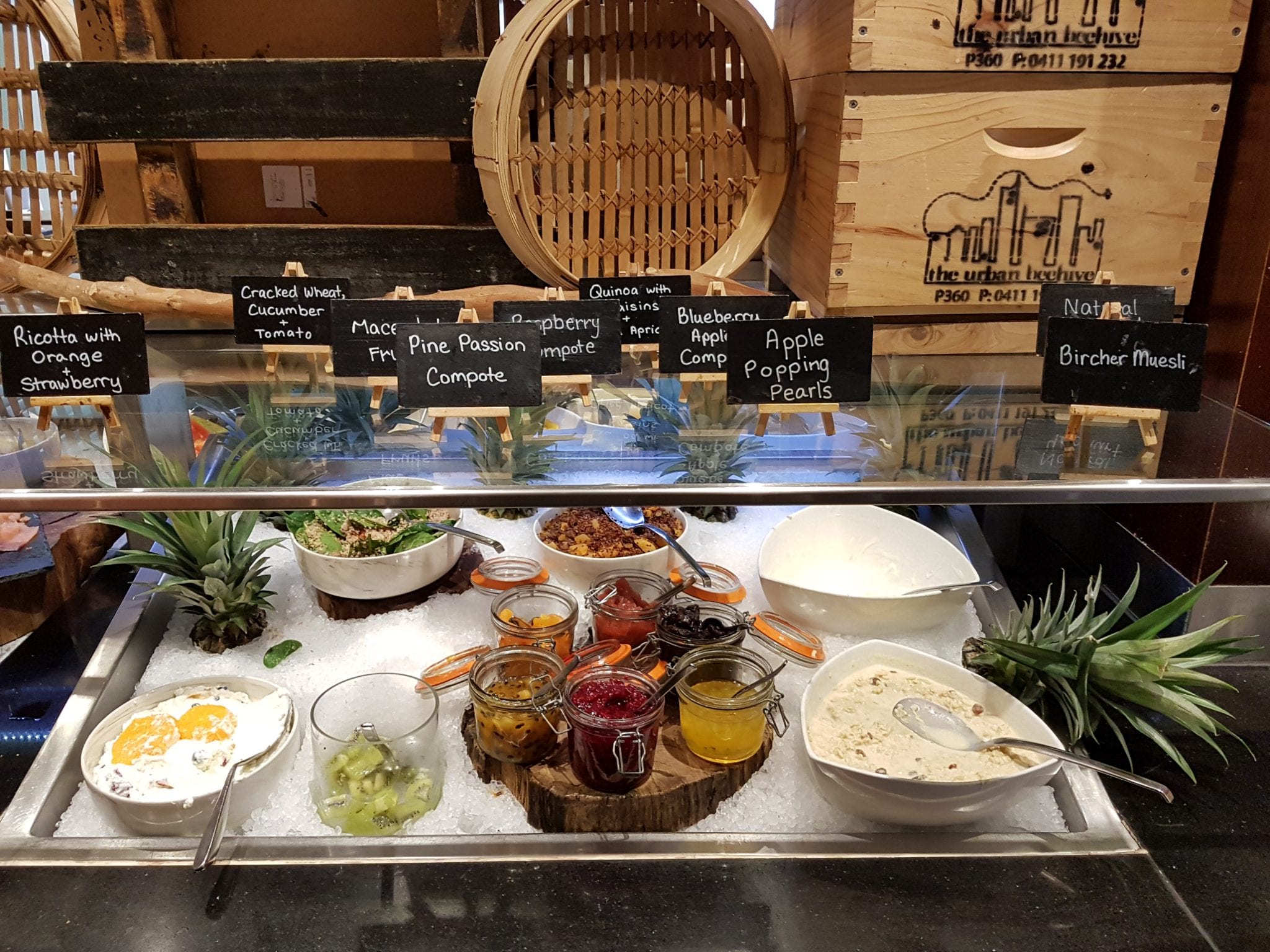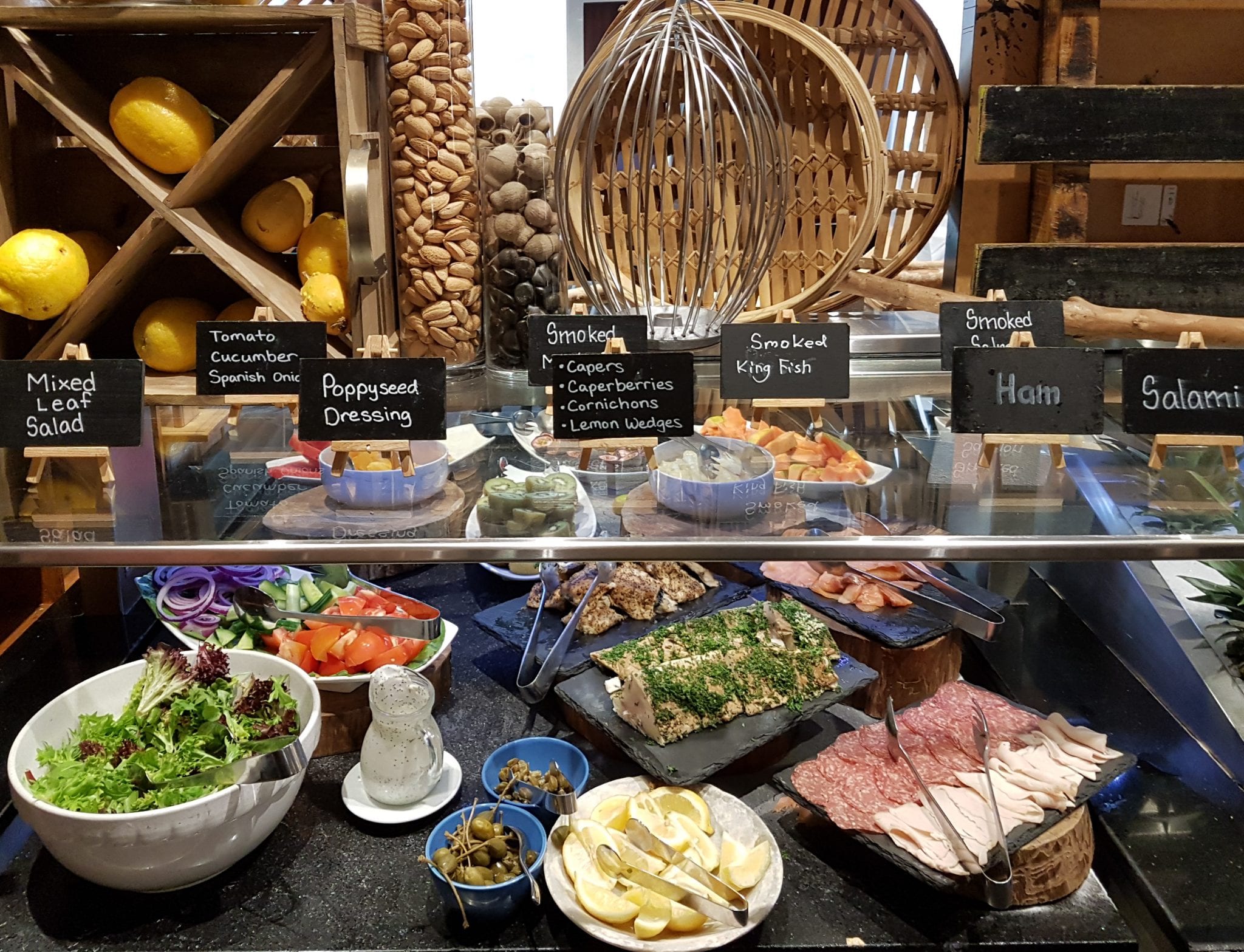 A wide variety of cereals, including a freshly made bircher muesli. The house cured salmon was delicious and came with a variety of garnishes including my favourite giant caper berries.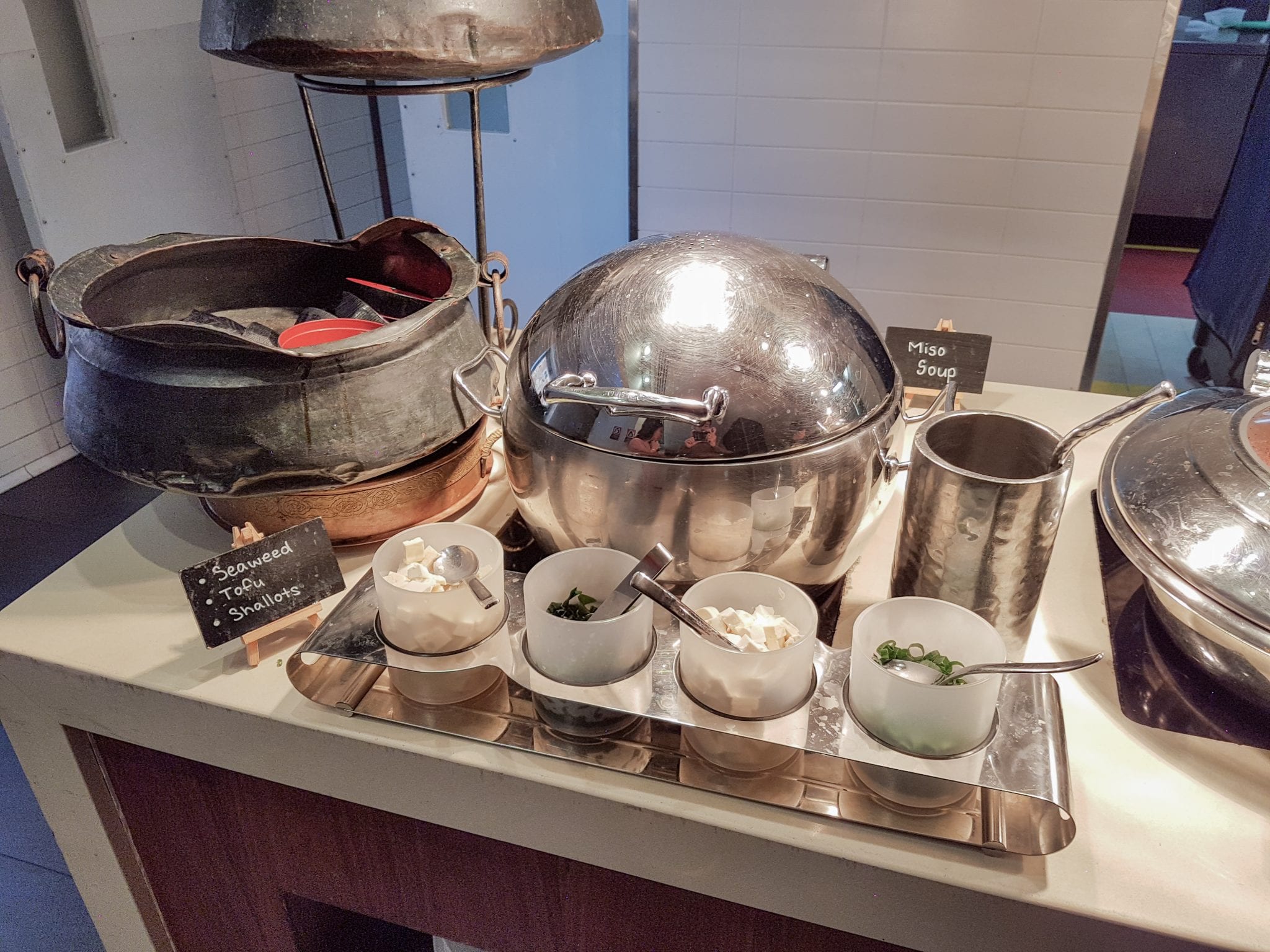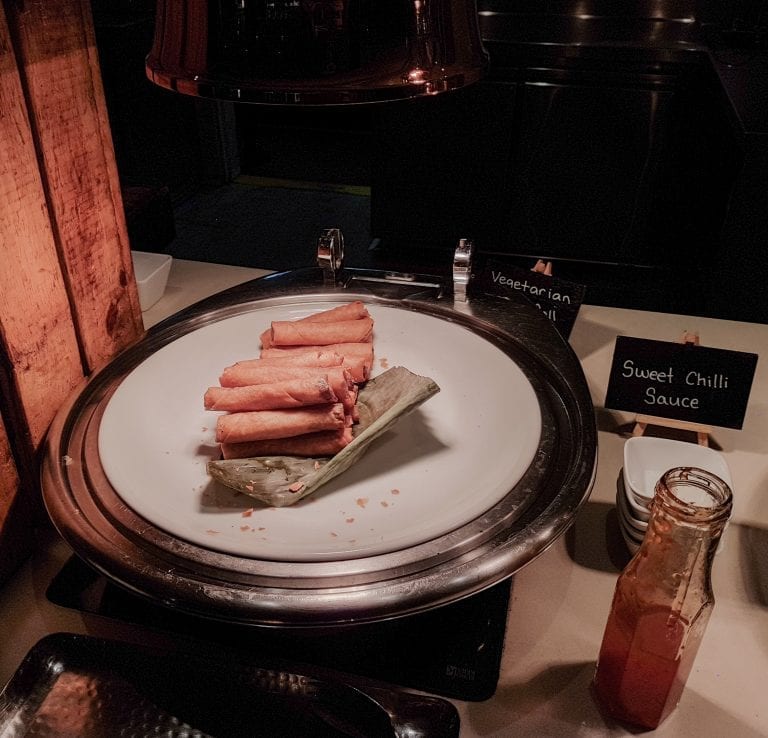 Miso Soup and Spring Rolls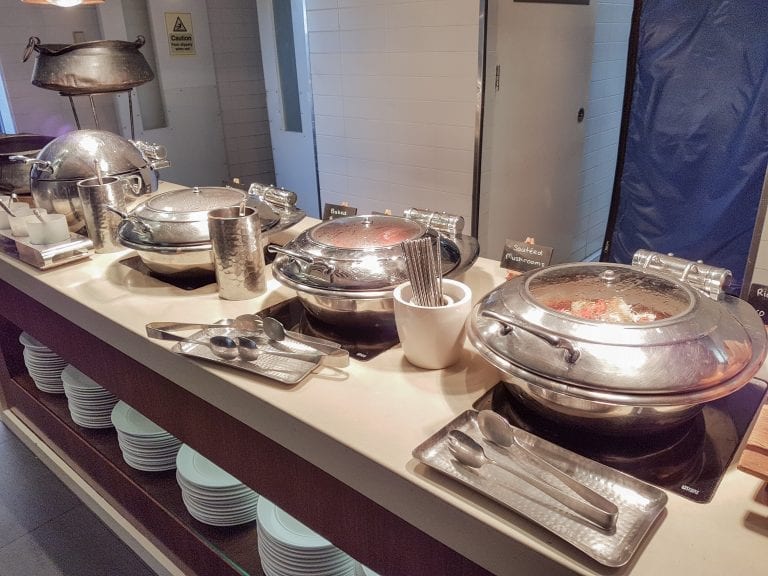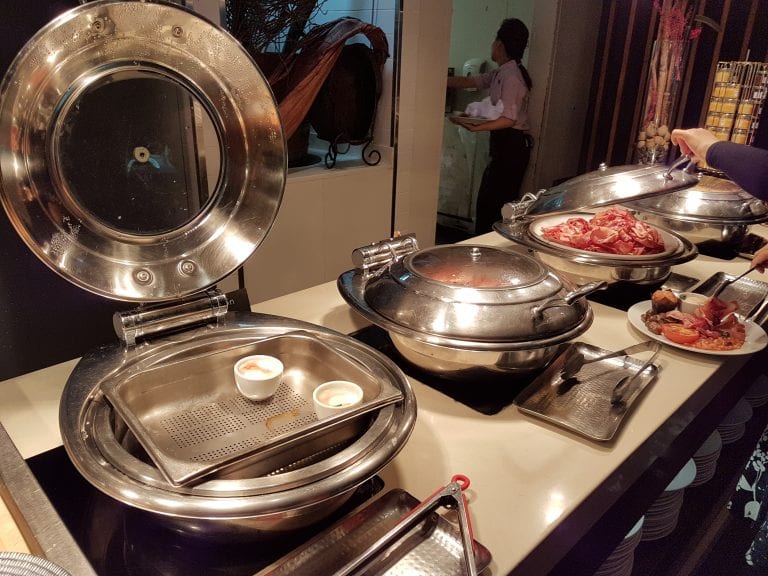 Eggs, bacon, mushrooms, beans and tomatoes. Be warned though, this is English style lean back bacon not the crispy US variety.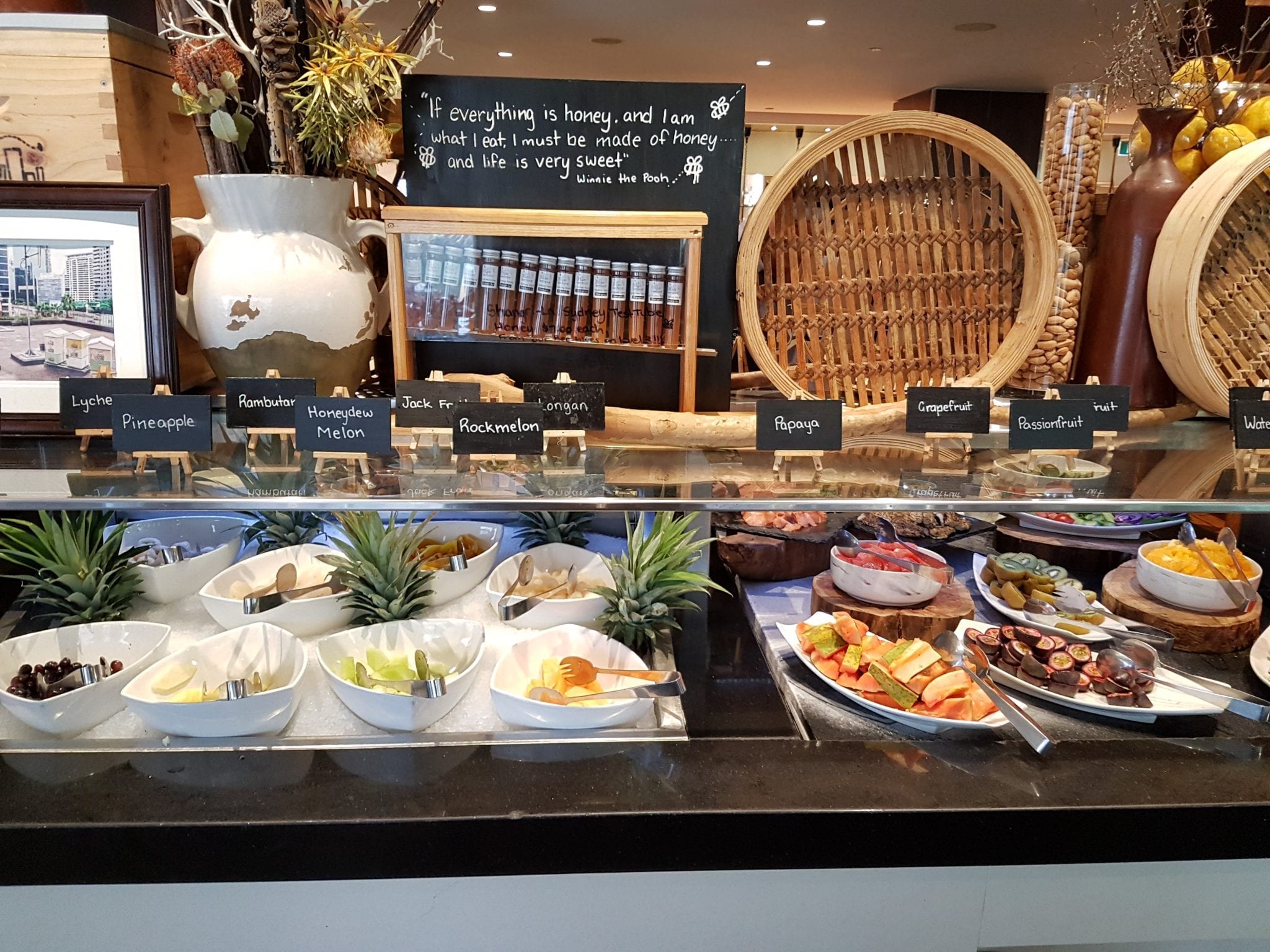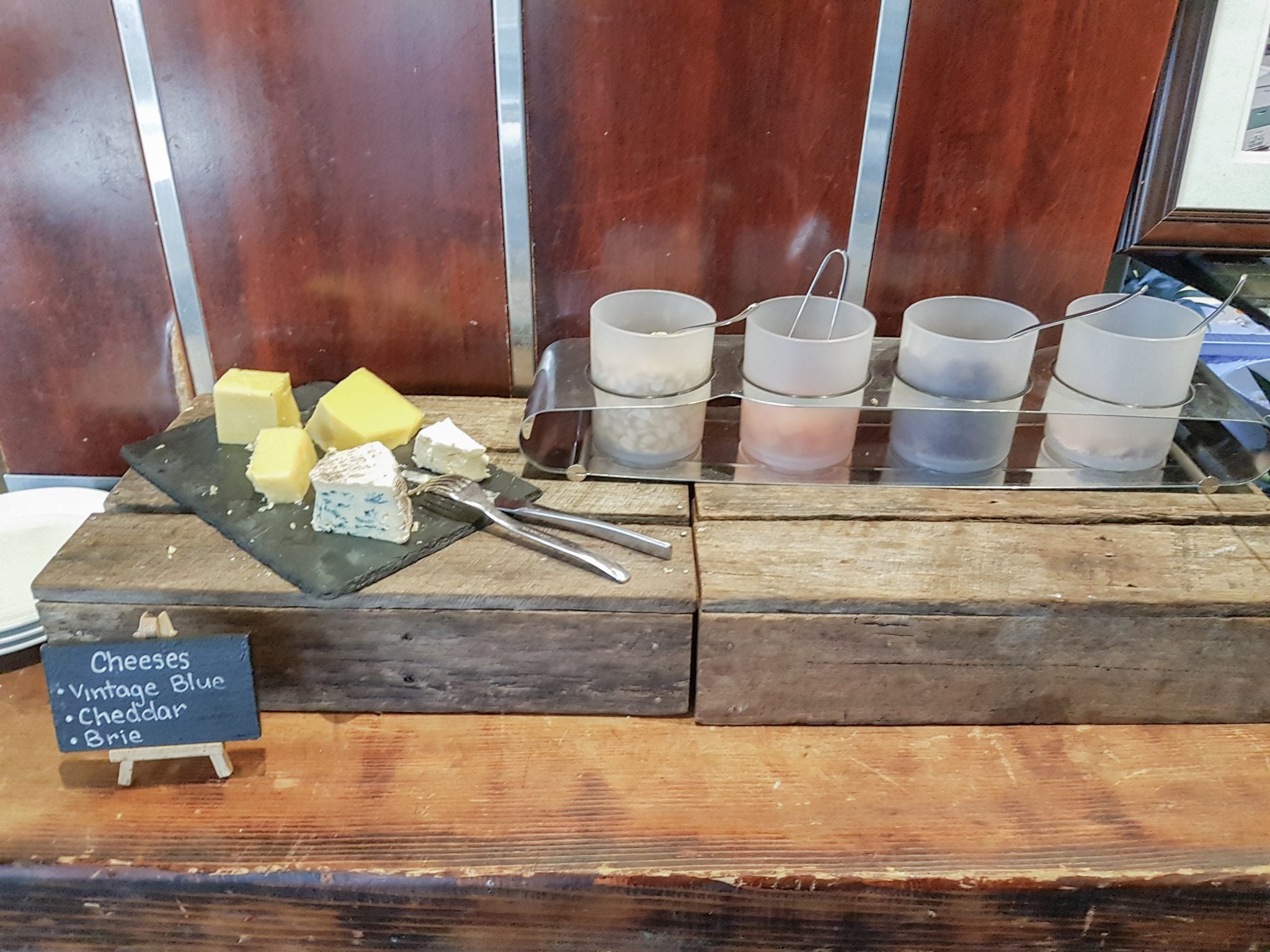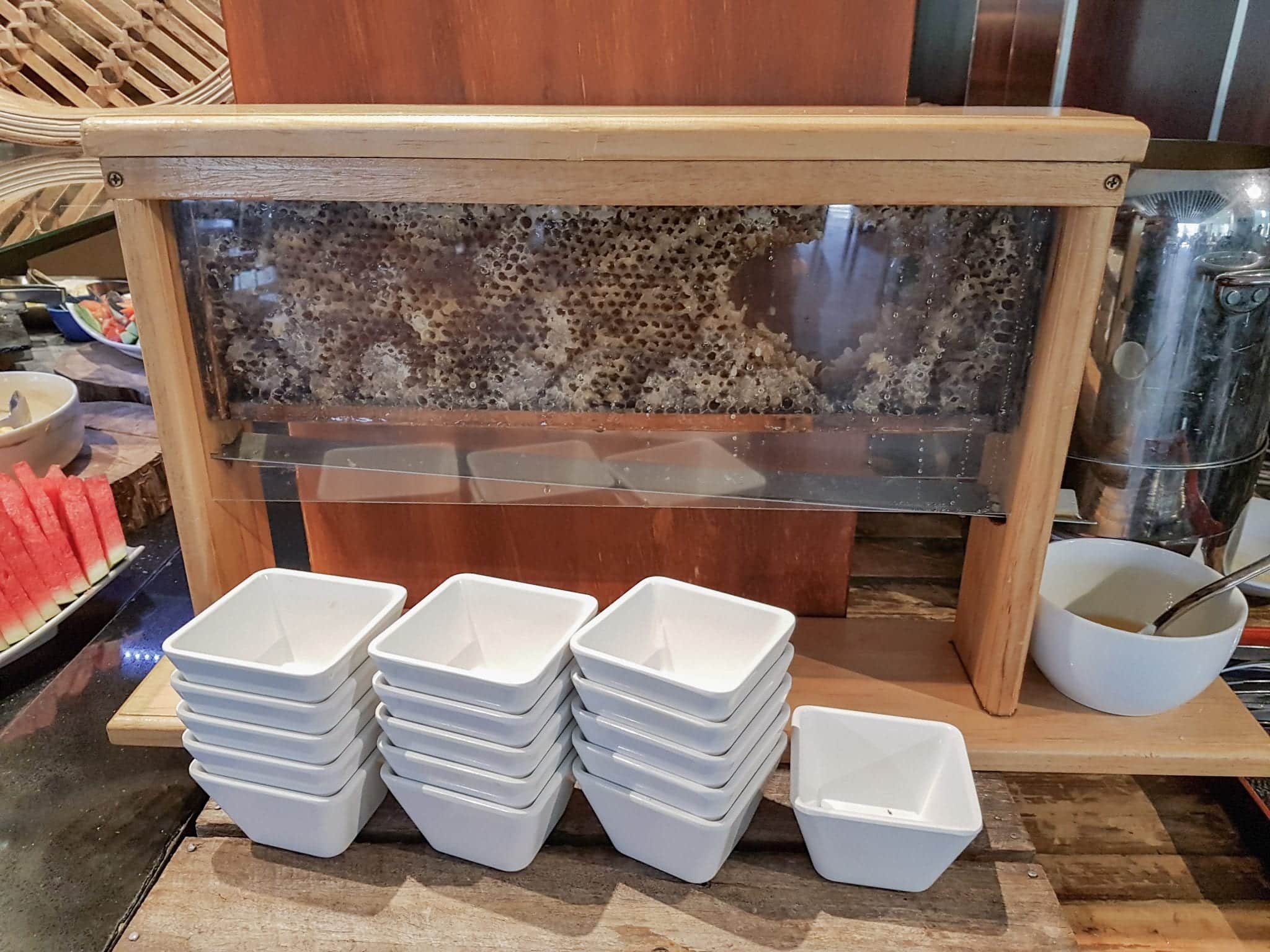 Fresh fruit, cheese and honey
Lunch
After a morning spent strolling around the botanical gardens we returned to the hotel to check-out. With around 40AUD of credit still to spend, we ordered some salads to enjoy on the Lobby Lounge's outdoor terrace.
---
Conclusion
---
Basics Checklist
☑︎ Power sockets near the bed
☑︎ Easy to understand light switches
☑︎ Coffee machine
☑︎ Separate shower and bath
☑︎ Blackout blinds
☑︎ Stable, fast and free Wifi
☑︎ Feather pillows
☑︎ Quiet and powerful aircon
This is not the most modern hotel and is not somewhere you'd really come to enjoy the public spaces. It has a destination bar on the 36th floor but tables aren't reserved for hotel guests and it is extremely busy on weekends.
The rooms however are large and furnished to a high standard, with ample power sockets, a coffee machine and a very comfortable bed. The views of the Opera House and Harbour bridge are also very special indeed.
Having stayed at the Park Hyatt before this most certainly feels like second best but this is hardly a fair comparison when one hotel is four times the price of the other.
On a one night stay with Luxury Circle benefits this property offers spectacular value for money and if it fits your budget I would not hesitate to recommend it.
---
Book online with Luxury Circle benefits
---
Shangri-La Luxury Circle Partner Booking
Shangri-La Luxury circle rates are fully flexible and match the direct price from Shangri-La.com. In addition you will receive:
• Upgrade to the next room type category at the time of booking
• $100 USD or 10% of room rate in Hotel credit (whichever is higher)
• Daily Breakfast for two
• A VIP Welcome Amenity
• Early check-in/late check-out subject to availability
Note: You will still earn stay credit and ALL elite benefits, exactly like a direct booking with Shangri-La.com.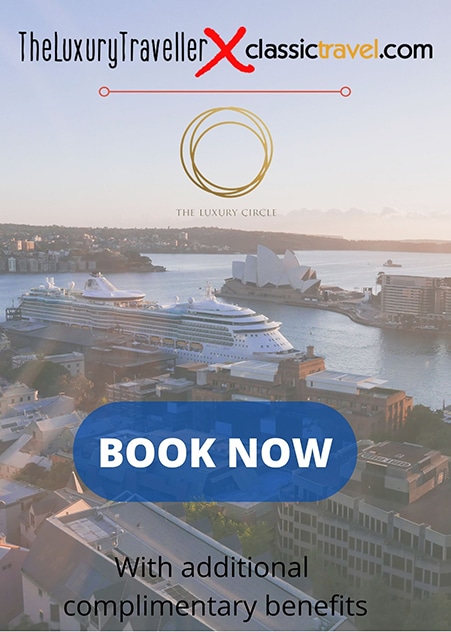 ---