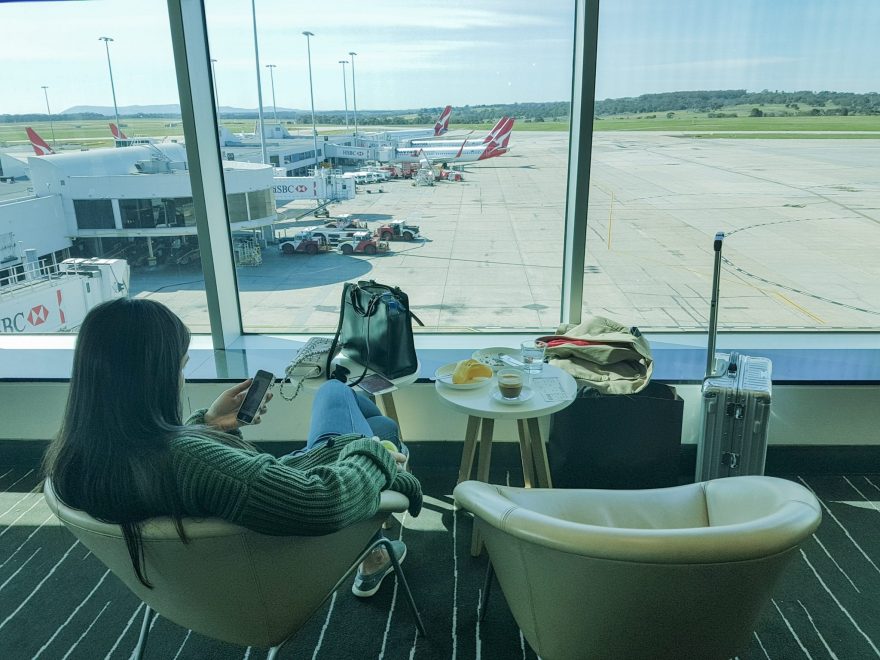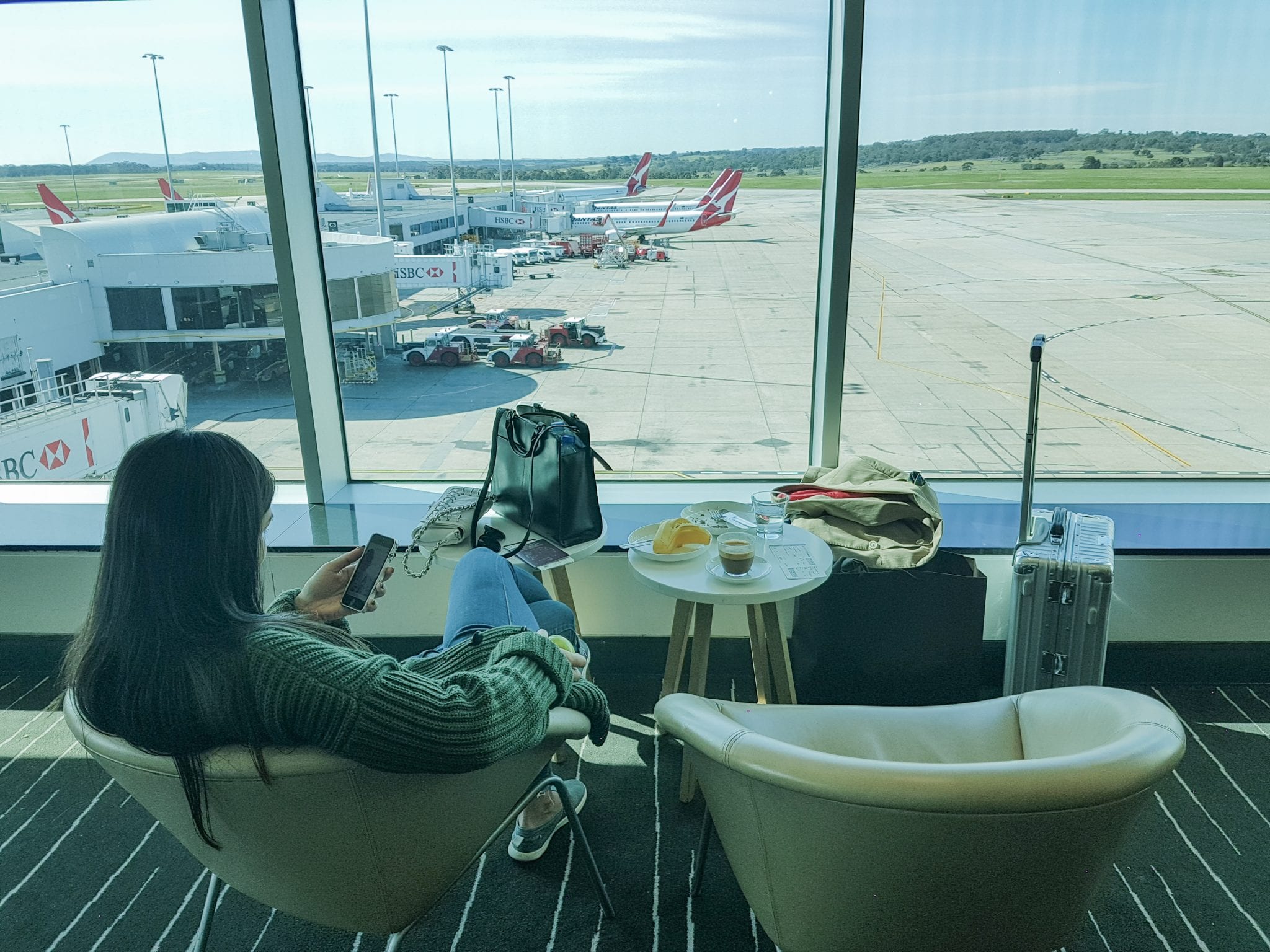 REVIEW – Qantas Business Lounge – Melbourne (Domestic T1)
March 24, 2019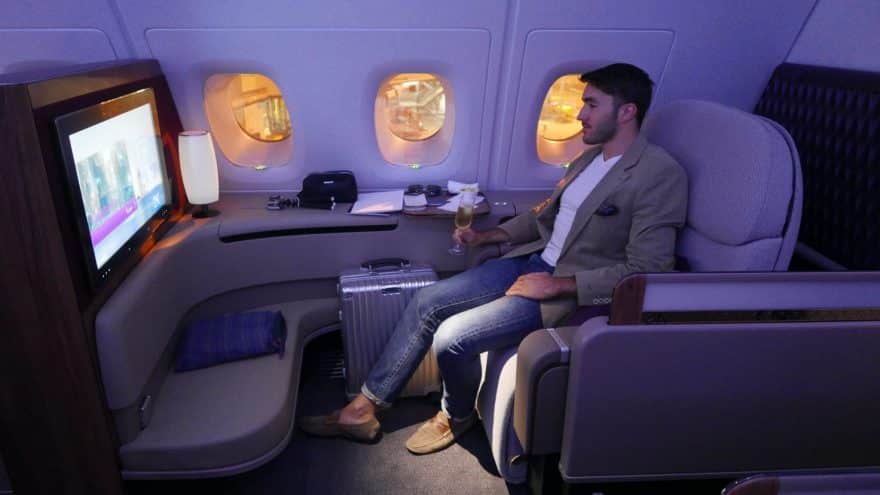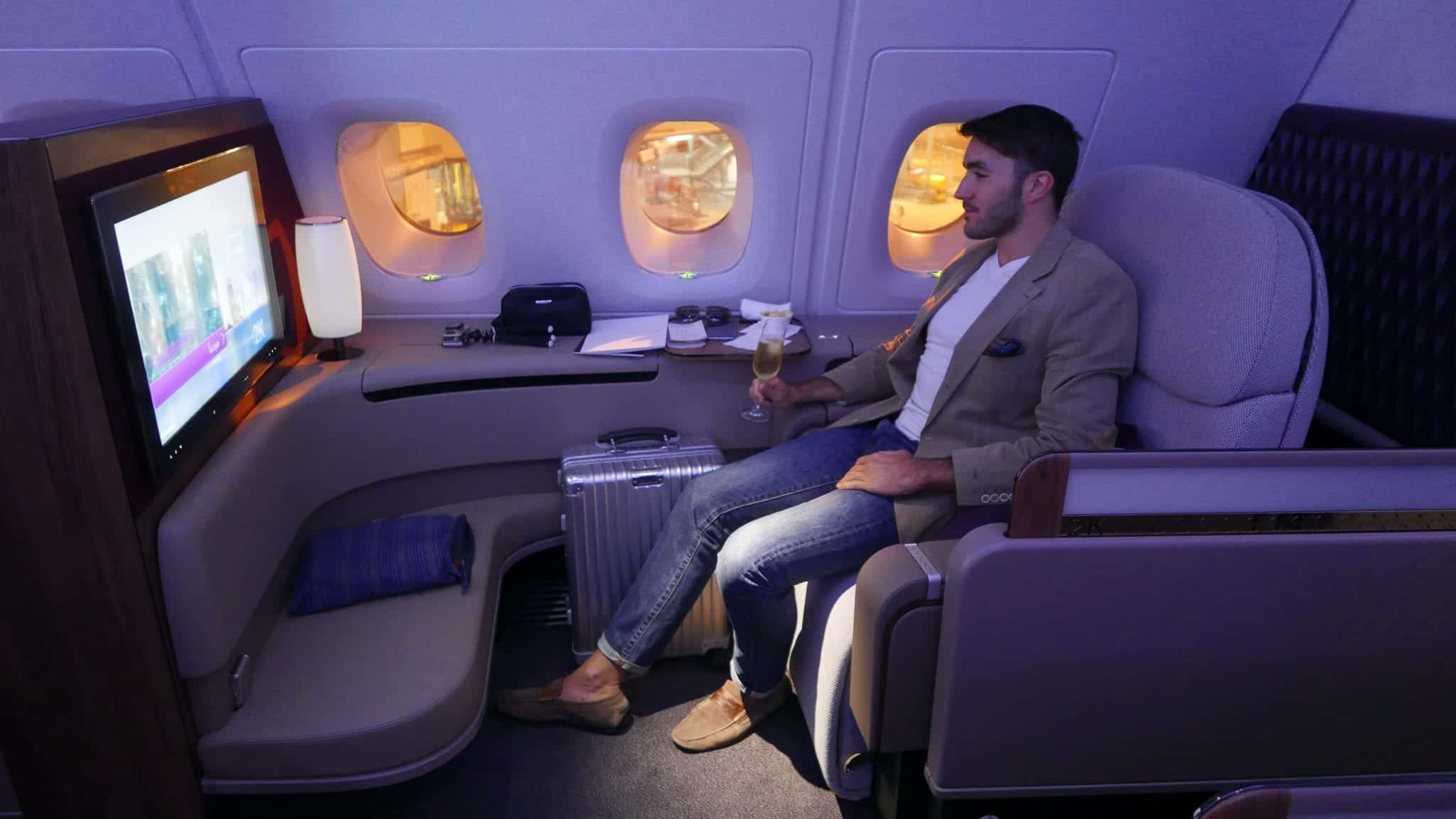 REVIEW – Qatar : First Class – Sydney SYD to Doha DOH (A380)
April 6, 2019
Qantas (QF)
Class: First
Access:

OneWorld First Class Passengers
Oneworld Emerald status holders
---
Intro
---
The Qantas First Class Lounge in Sydney is widely praised as being one of the top ten airline lounges in the world and was actually one of the parts of my trip to Australia that I was looking forward to the most.
Having read countless reviews detailing the views, the old school departure board, the wine list and the salt and pepper squid, I was really excited to finally experience all of this for myself!
The entrance to the lounge is located one level above the main shopping concourse, behind a set of glass doors that feature the same honeycomb pattern used throughout the Qantas A380 First Class cabins.
Immediately beyond the glass doors is an expansive waiting area, flanked by a resplendent living wall on one side and a fantastic view of the nearest gates on the other. If I didn't have lounge access this is where I'd spend my time in the terminal since there is nobody checking your eligibility for access until you get up the escalators…
The upstairs reception area is a sleek mid-century ode to aviation. The old school departure board is fully functional and the siren song of its clackety clack can be heard long before the greeting desk comes into view.
The glistening white marble and recessed lighting make a great first impression. Having already passed the living wall and close up views of jets downstairs, my excitement level was sky high at this point! The friendly staff asked us if this was our first time in the lounge and offered to show us around, an offer which we were happy to take them up on.
A view of the lounge as taken from the far end, when turning right from reception, aka the quiet end.
The lounge is dominated by two key features:
Floor to ceiling windows that run its entire length, providing a ton of natural light and some of the best views of any lounge ever.
The wooden dividing panels, like the skeleton of a whale, effectively creating discrete zones whilst also retaining an open feel by allowing light to pass through.
As an absolute sucker for details I loved the fact that the air con vents have the exact same design as the personal air vents in First Class on the Qantas A380 .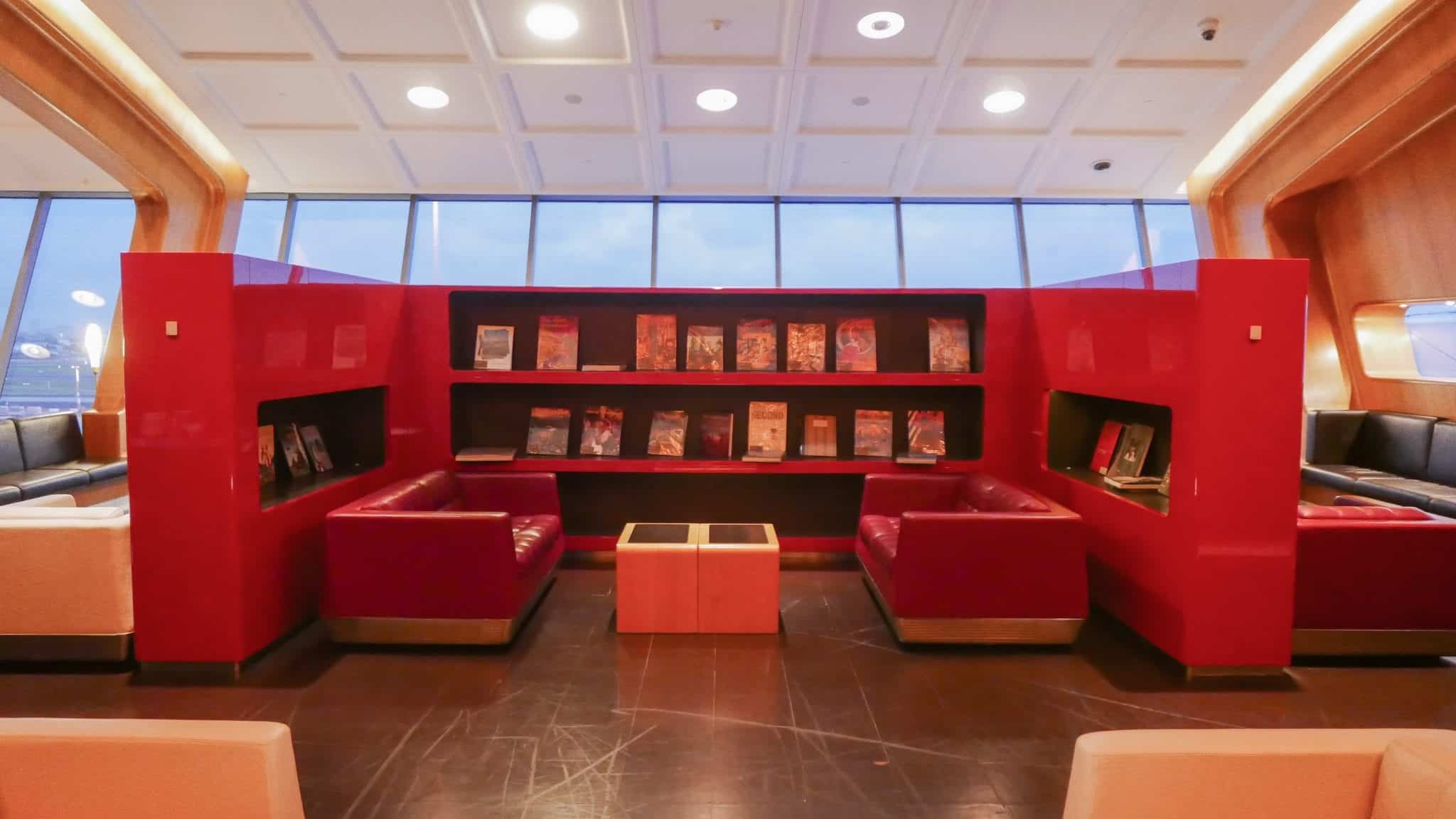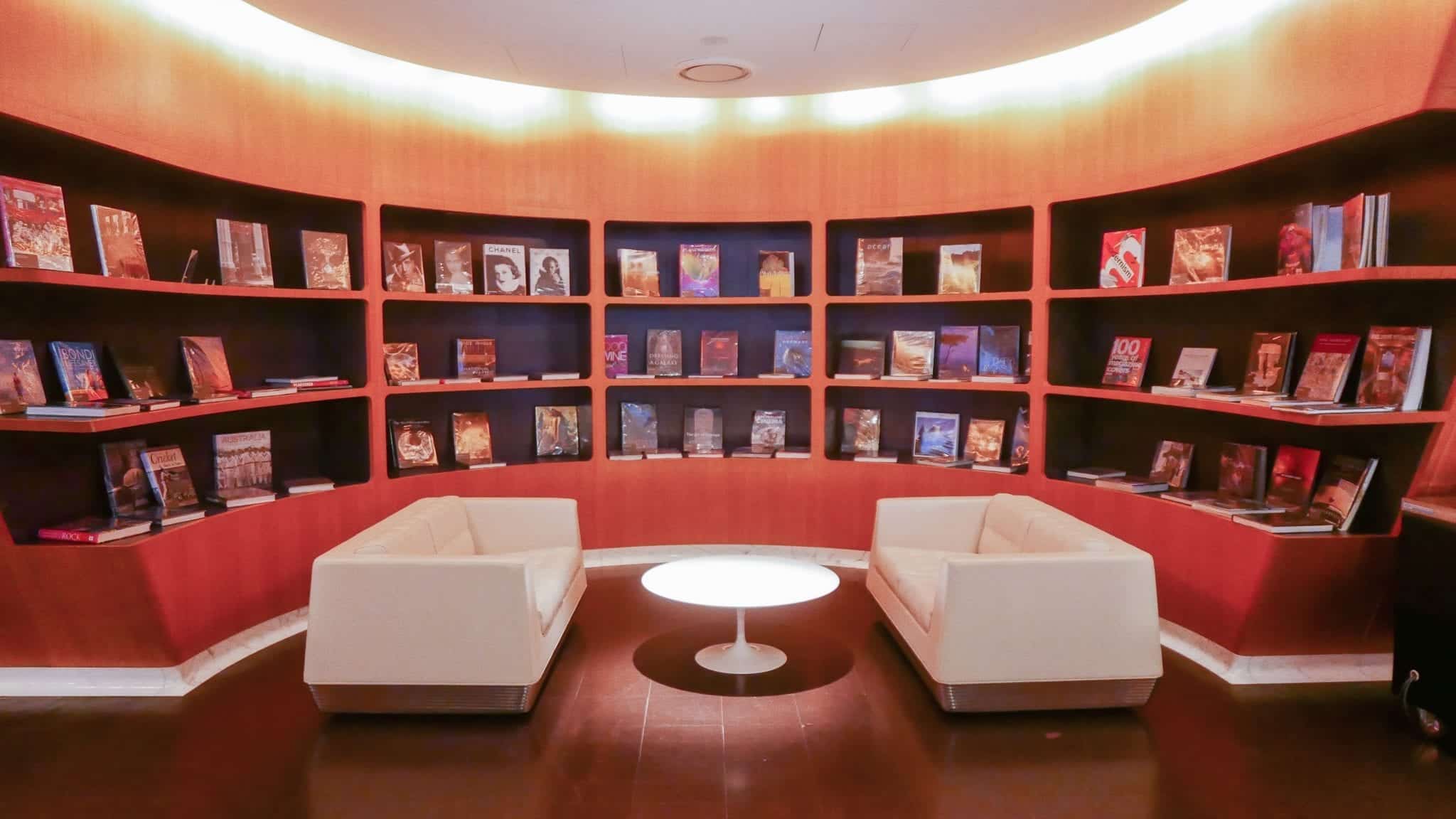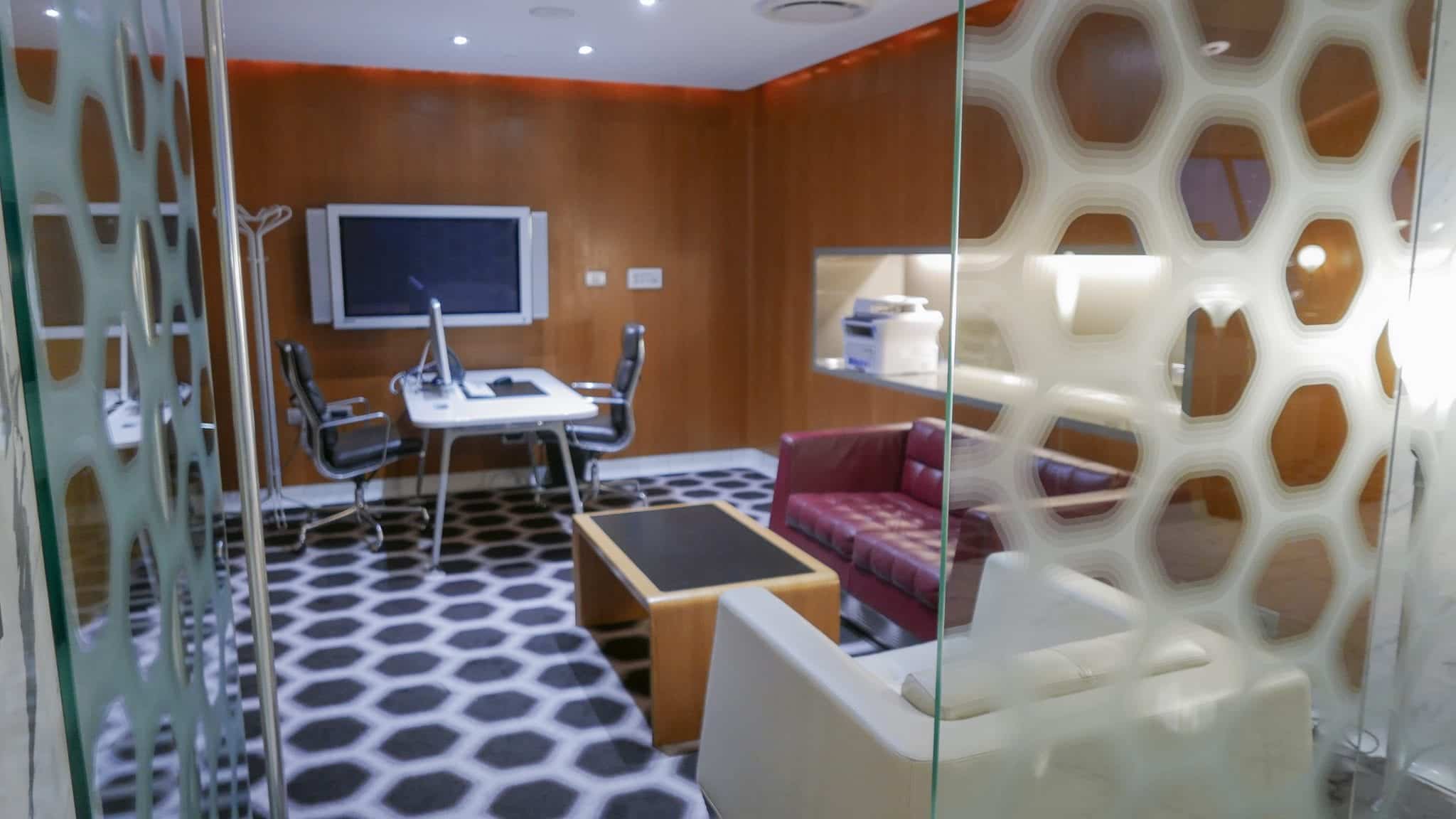 The quiet end of the lounge is designed to look like a library and despite the fact that almost nobody was reading the books and magazines. I think the design works well to convey the sense that this is an area for relaxing quietly. Even when the lounge was at its busiest, this area retained an aura of tranquility. In addition to the various nooks and seating areas there are some small meeting rooms, which appeared to be available without booking.
Moving towards the centre of the lounge the sections become brighter and more open.
The marble bar acts as the de facto epicentre of the lounge and is adjacent to a pair of restaurant style seating areas, for those that prefer more formal table service.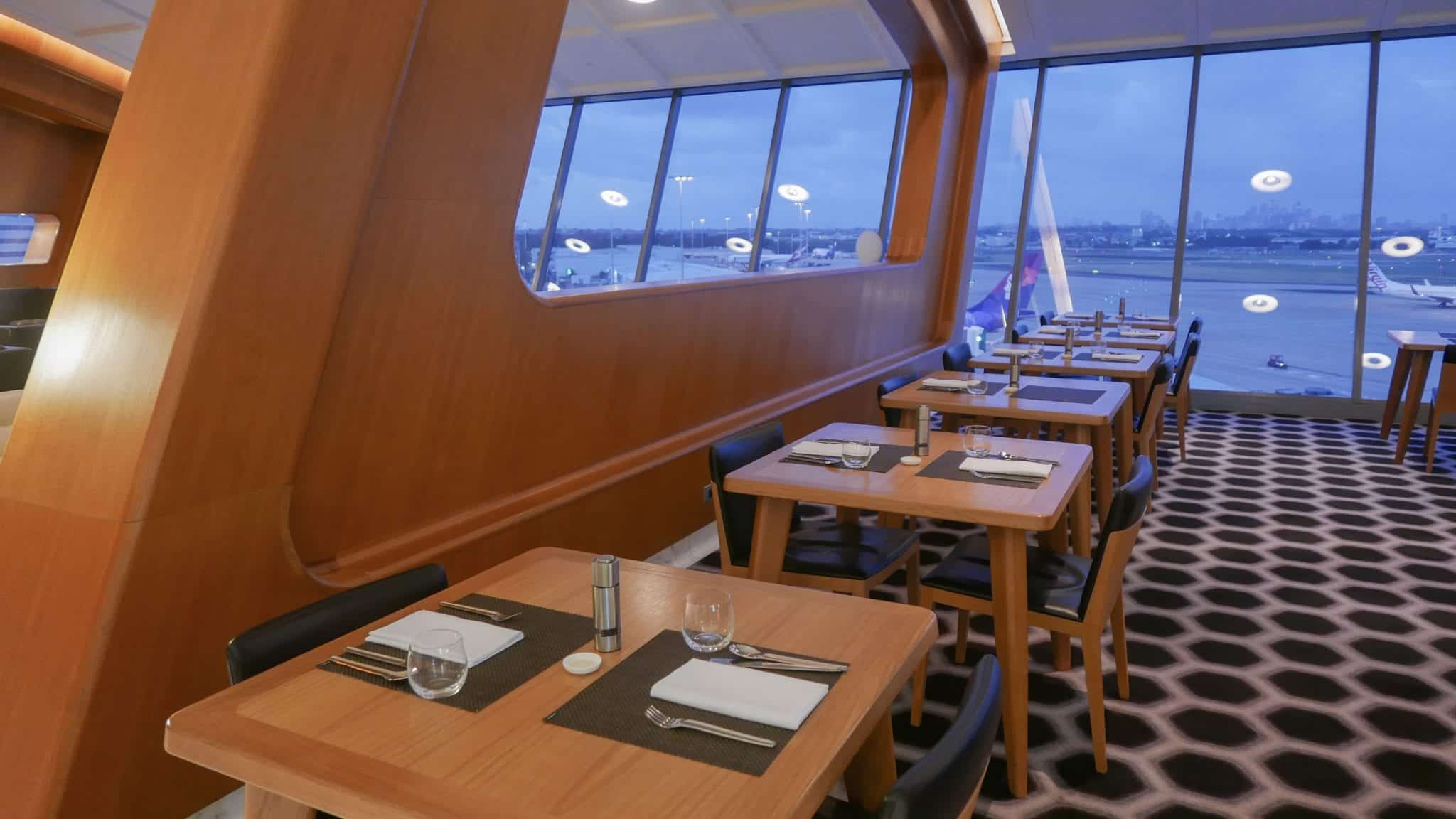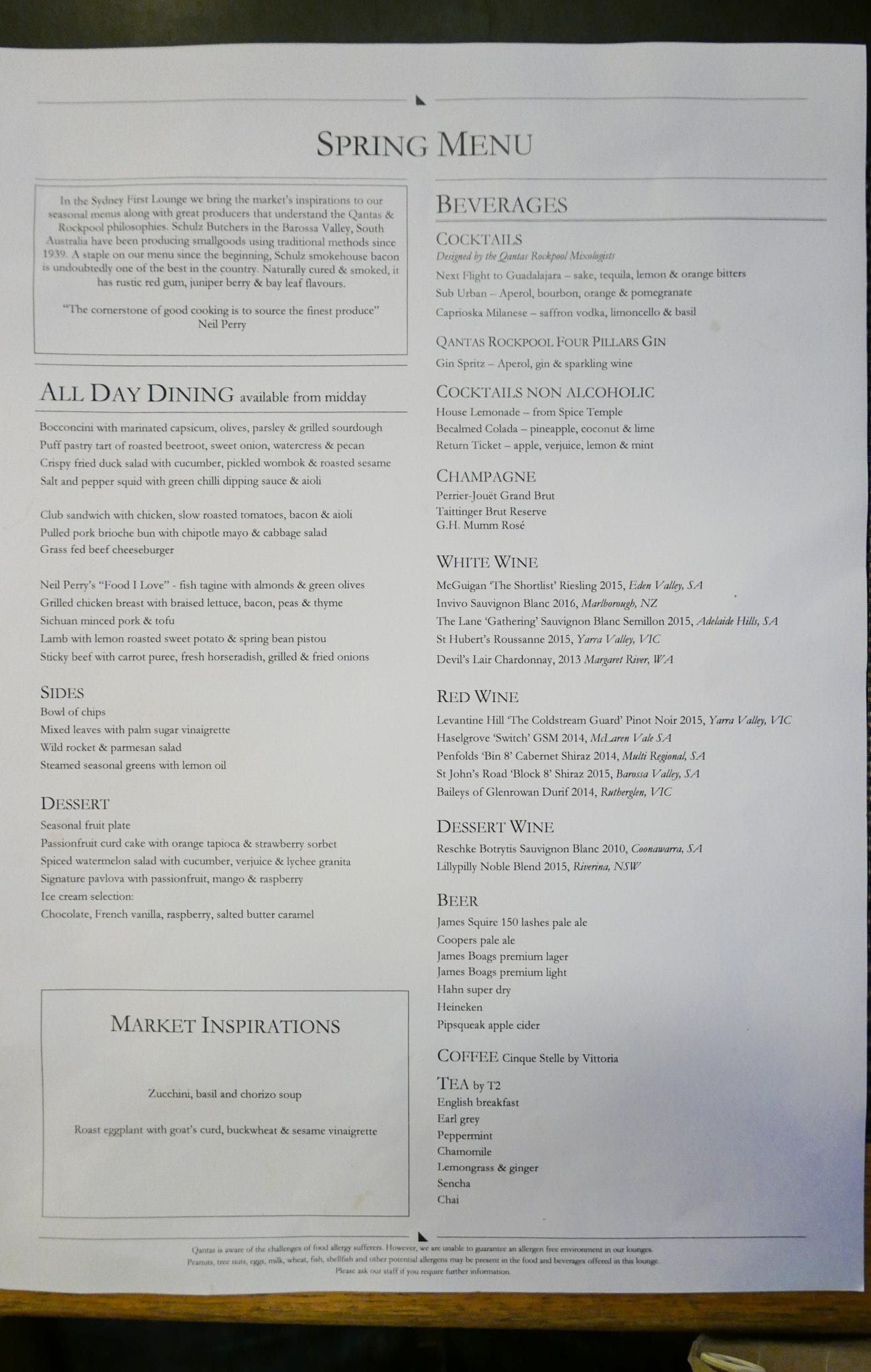 The service in the restaurant area was that exact perfect combination of polished and friendly that Qantas does so well in their first class cabins. Our server was prompt, efficient and polite but also able to laugh and joke with us. In a way, the meal was bittersweet as it reminded me of why I love spending time in Australia so much.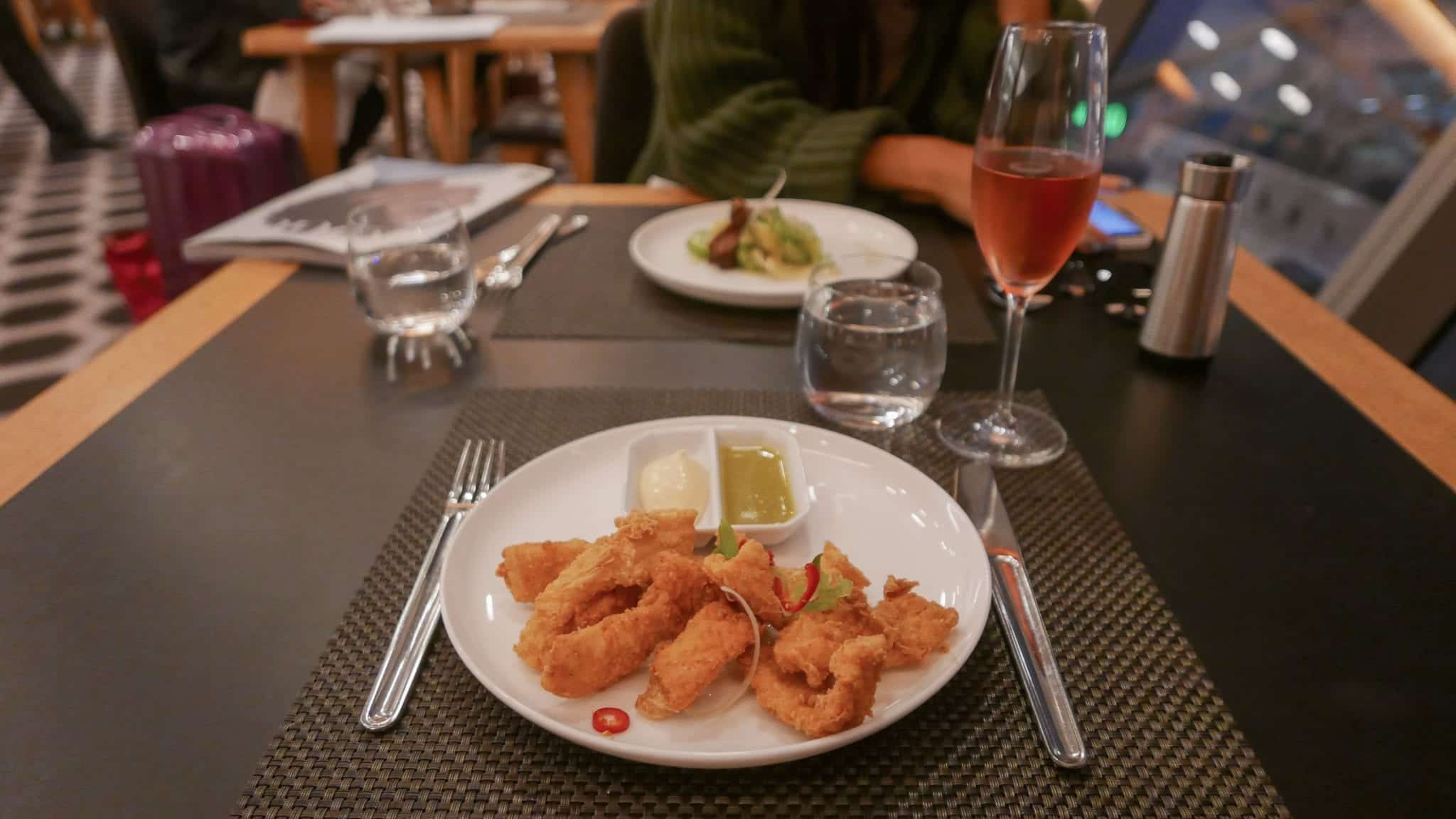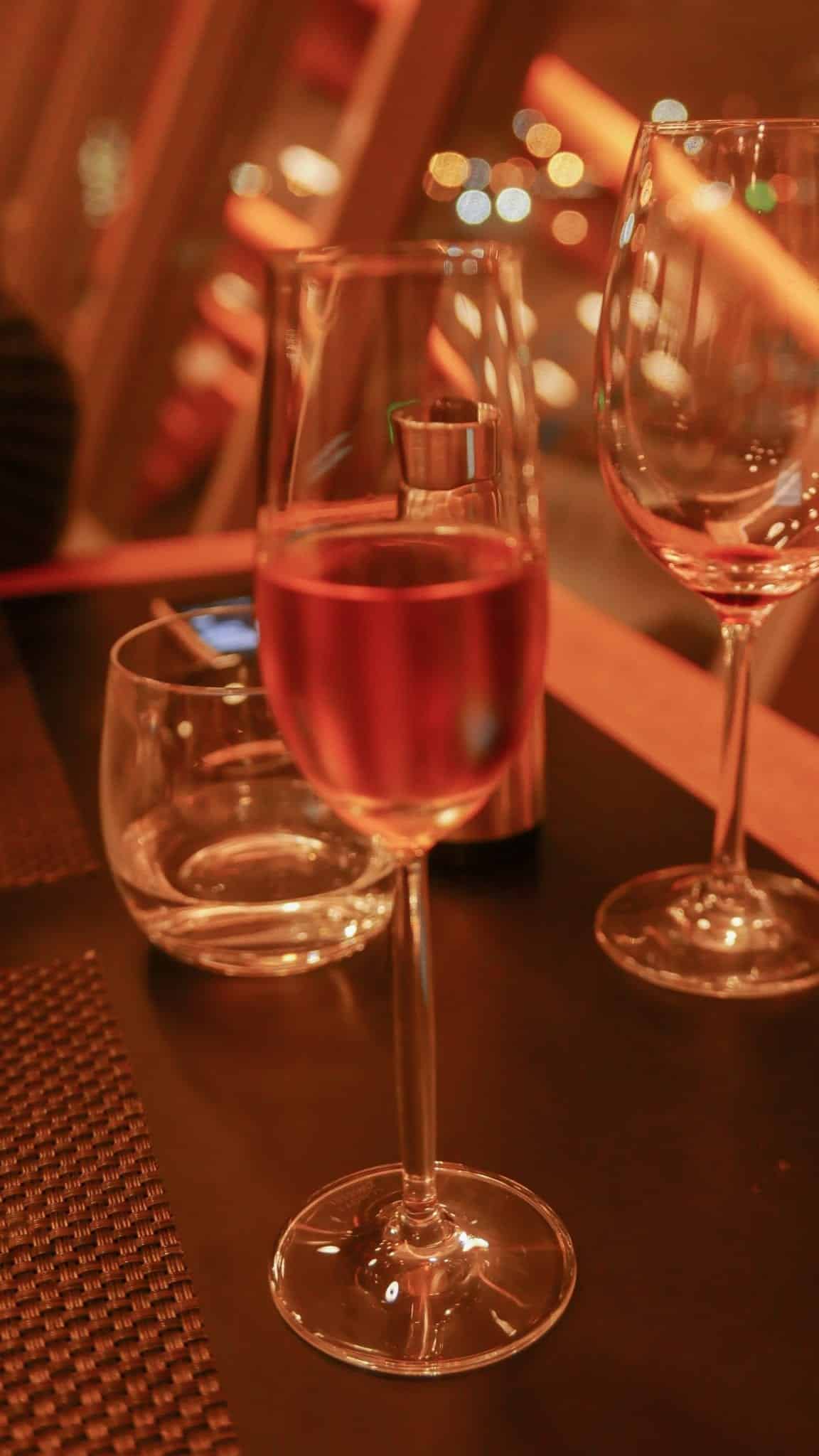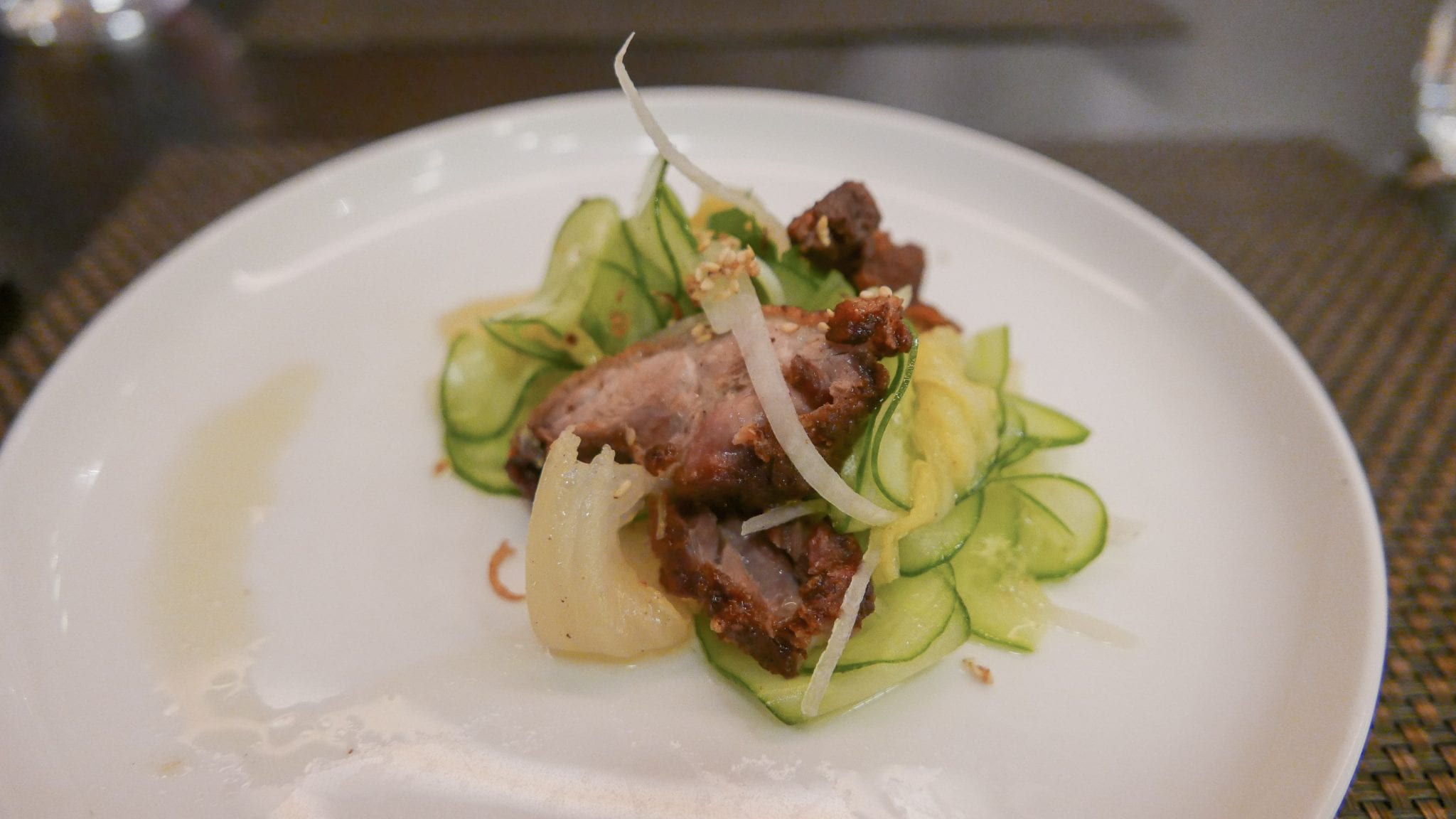 Having heard so much about the mythical salt and pepper squid (and having really enjoying the version served in the LAX Qantas First Lounge ) I couldn't resist ordering it here. Best. Decision. Ever. I don't know how they make the batter so light and crispy, yet simultaneously adhesive. Most other examples of this dish either end up with shells that fall away from the squid or something resembling a donut with a squid filling. Here, every bite was an explosion of flavour and there was absolutely zero oiliness whatsoever.
Kamara ordered the crispy fried duck salad with cucumber, pickled wombok and roasted sesame. This was a very different dish but excellent nevertheless – fresh and acidic to counterbalance the crisp, rich and fatty meat. In case you were wondering, wombok is another name for Chinese cabbage… and yes I had to look that up.
There were three champagnes to choose from:
Perrier-Jouët Grand Brut (my favourite NV after Krug)
Taittinger Brut Reserve
G.H. Mumm Rosé
I started with a glass of PJ before our food arrived and then moved on the Mumm rosé as I thought this would probably work better with the spiciness of the squid. None of these champagnes are on the level of what is served in the Singapore Private Room, Qatar Al Safwa Lounge or the BA Concorde Room but then again this lounge doesn't restrict access in the way that they do. In any case these are all very respectable bottles and still in the top quartile of First class lounge selections globally.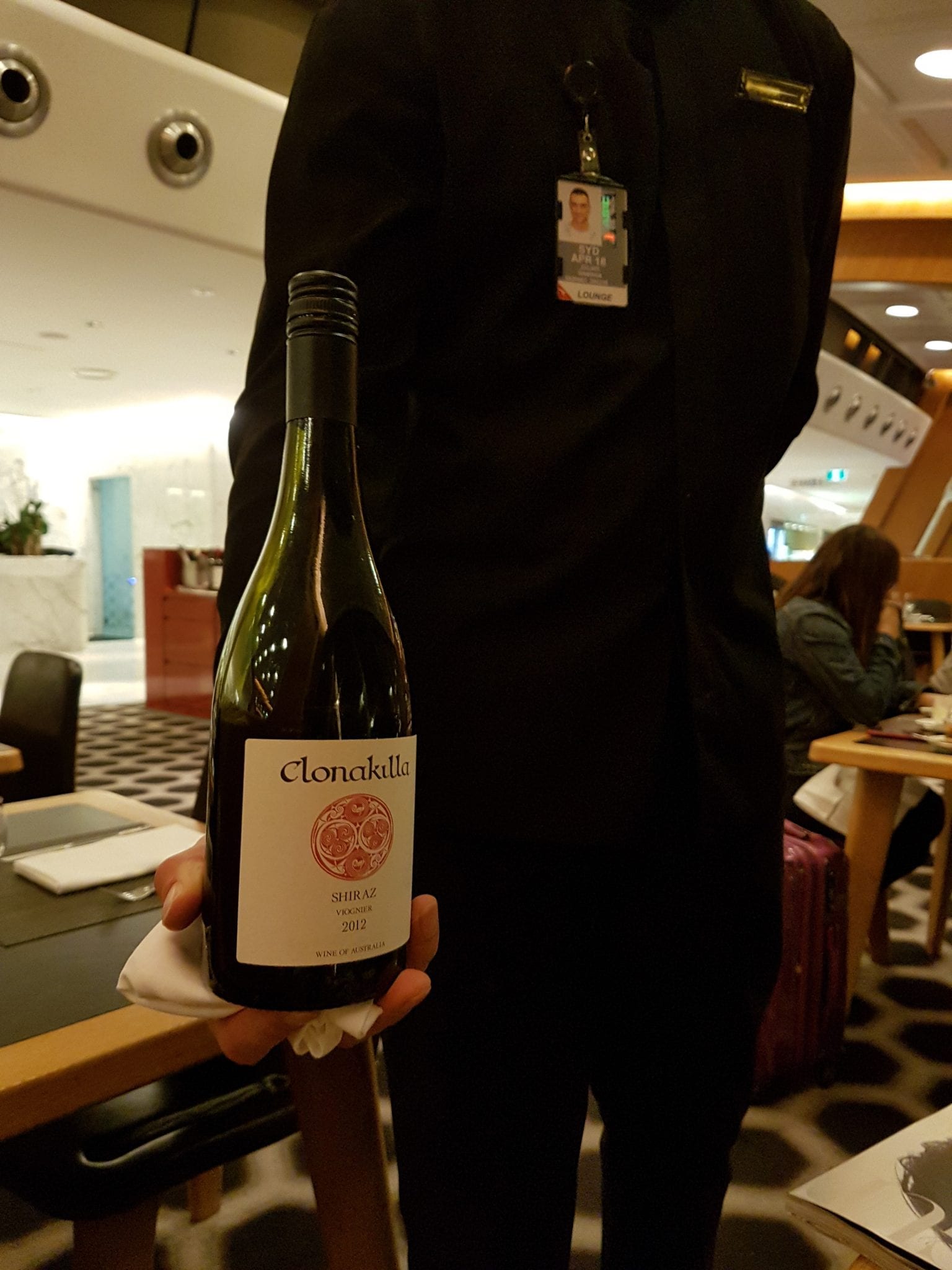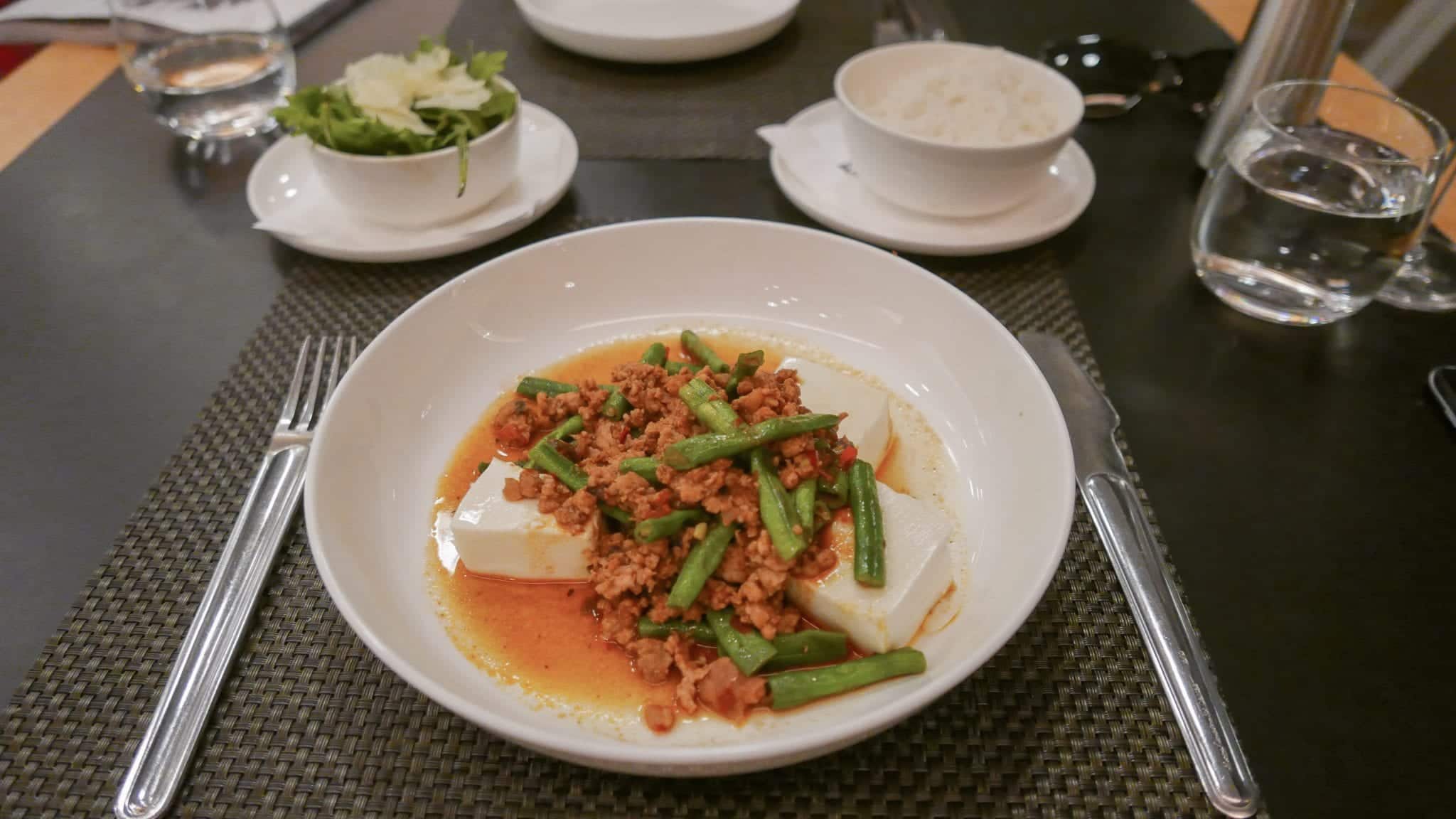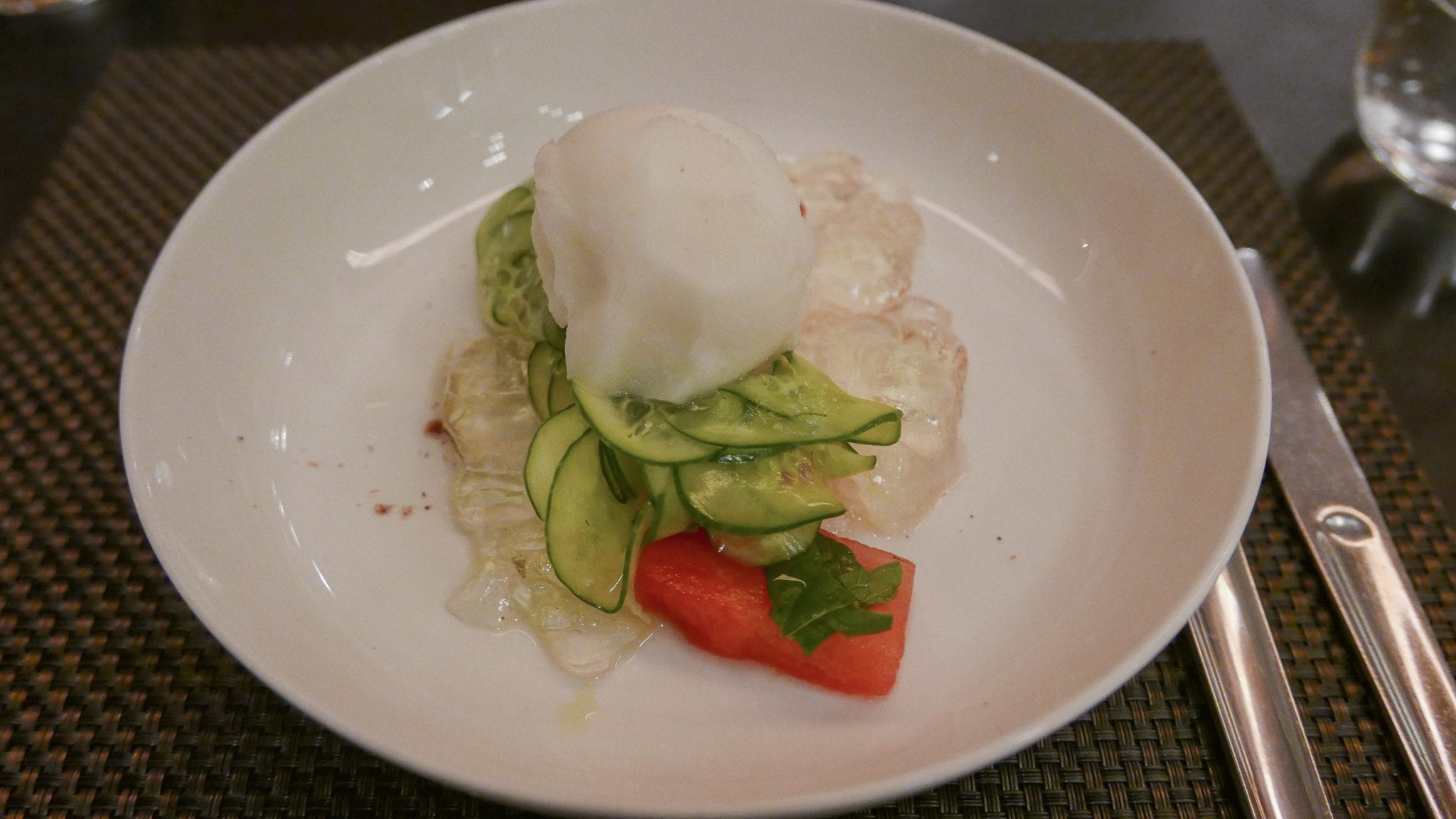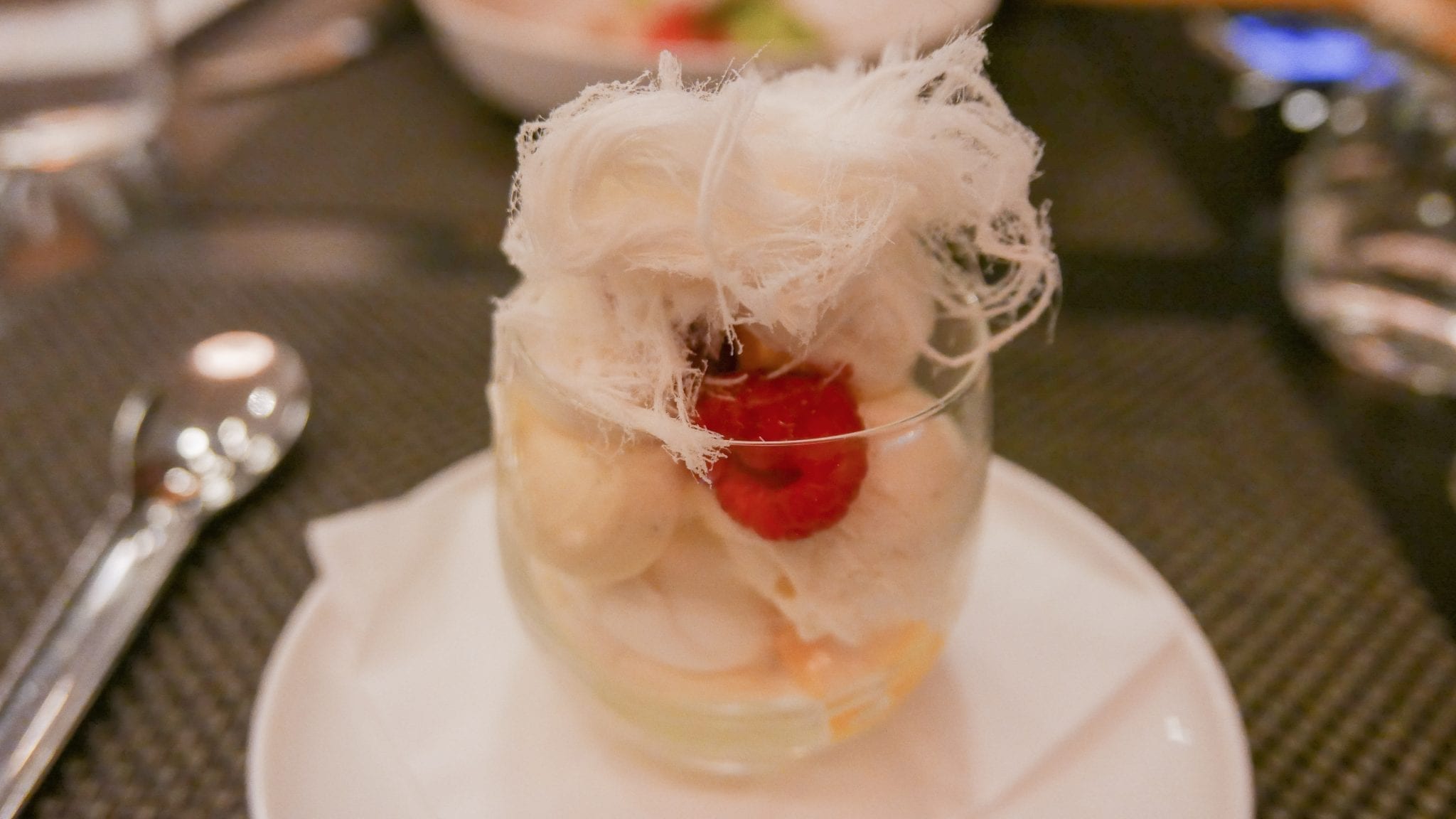 I opted for the lighter main courses, given that we intended to eat on our upcoming flight on Qatar First.
My Sichuan minced pork and tofu was very well executed, with a generous meat to tofu ratio and green beans that were just this side of squeaky. It could have been spicier but in fairness I would probably say that about a straight bowl of chilli peppers.
I had been strongly advised by some of my Australian Instagram followers to ask my server if there were any off menu wines available, as there will often be a bottle or two of something very special hidden away behind the bar.
I was in luck! The Clonakilla is a blend of Shiraz with the addition of just enough white Viognier grapes to add a depth of perfumed flavour that you rarely expect in a red wine. Red and white grapes are almost always mixed to produce champagne but this was my first ever experience of a red and white combo that was either a still or a red dominant wine. The result was very good indeed and was equal parts enjoyable, exciting and educational to drink.
Kamara chose to forego a main course entirely, instead opting for a wildly unorthodox spiced watermelon salad with verjuice and lychee granita. She loved it and to be fair it was pretty great. Definitely not the kind of dish you serve if you're trying to play it safe.
We then shared the deconstructed pavlova, a dish that I felt compelled to order since it is a national icon (although whether the nation in question is New Zealand or Australia is entirely a different matter…). It was every bit as good as it looked, with a really interesting and playful combination of textures and temperatures running through it.
After our meal we settled into this area at the far left hand side of the lounge. We had the place entirely to ourselves for an hour or so before boarding.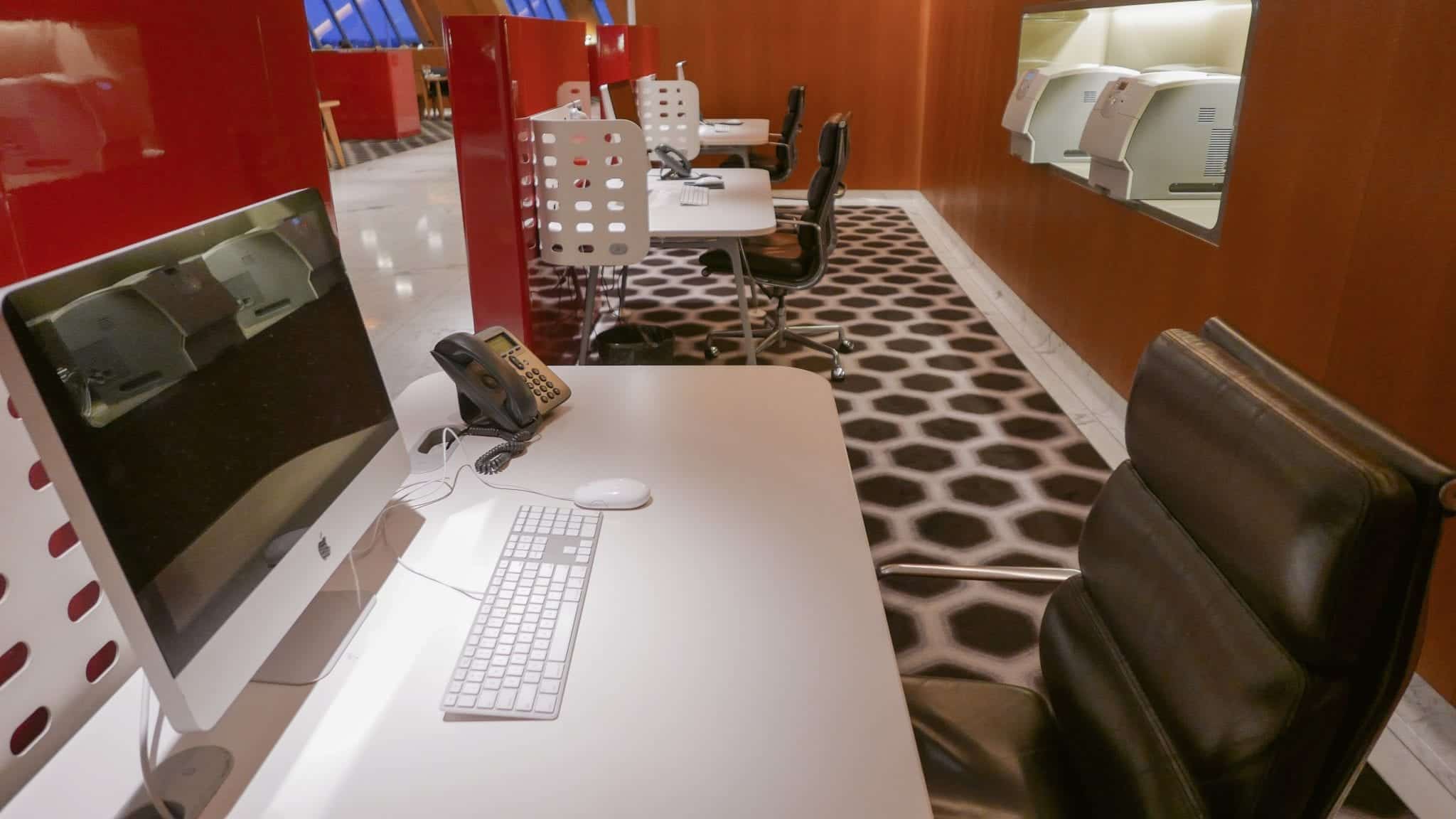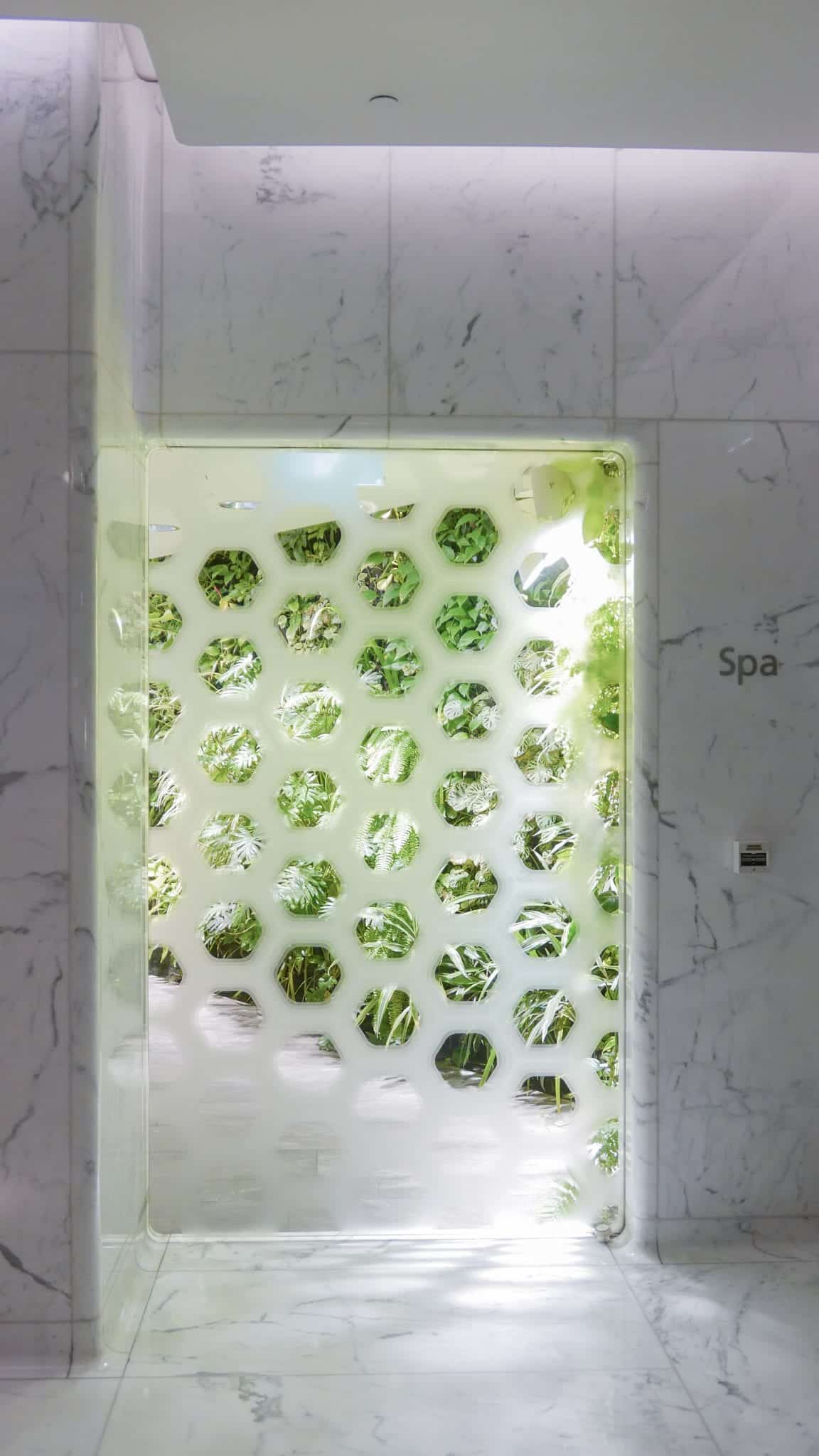 Immediately adjacent to this area was an open plan business centre and a spa, which was unfortunately closed for the duration of our evening visit (and remained so when we came here again in the morning, a couple of months later).
Showers are available without pre-booking. You just head in and grab the first clean cubicle.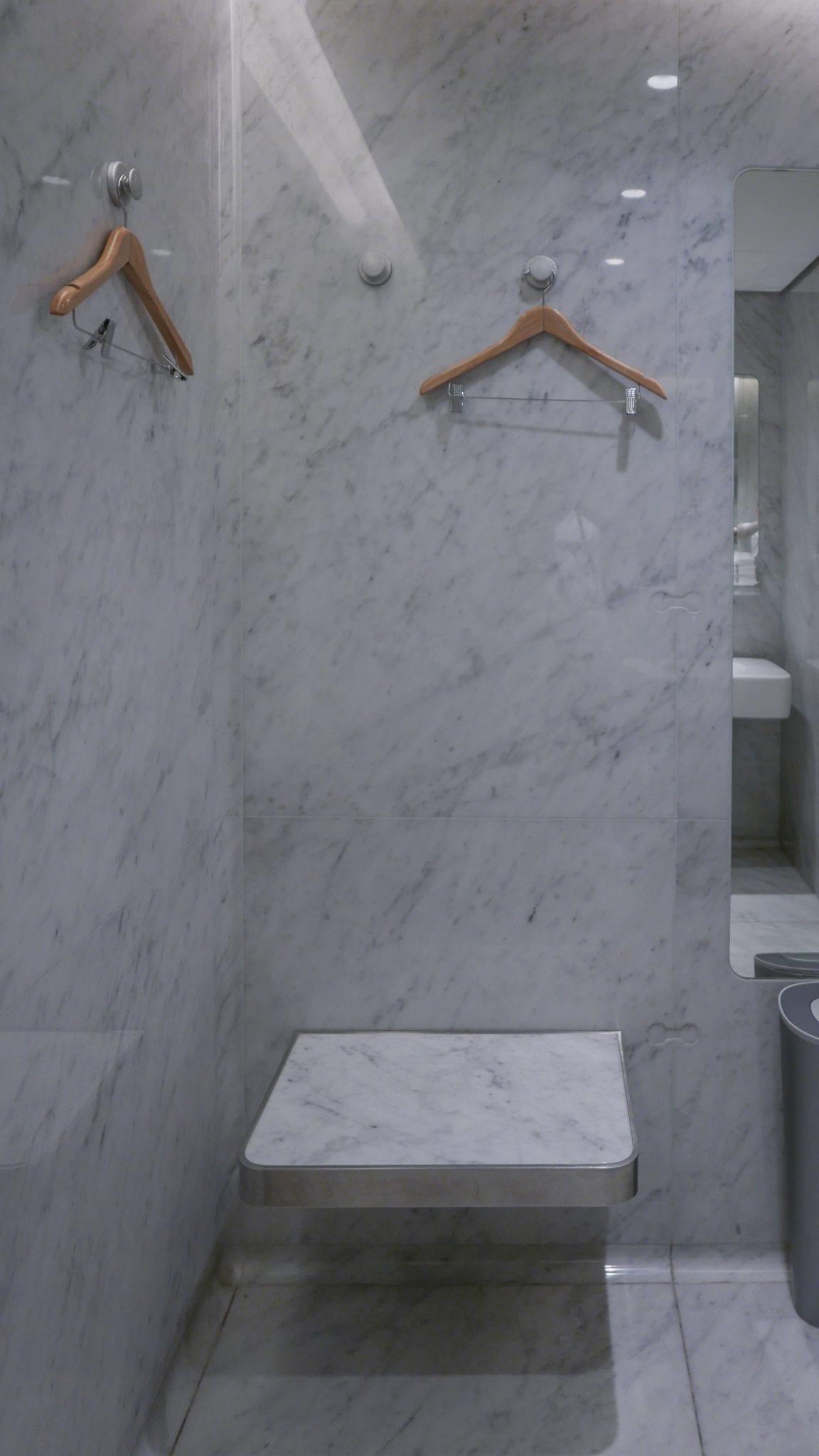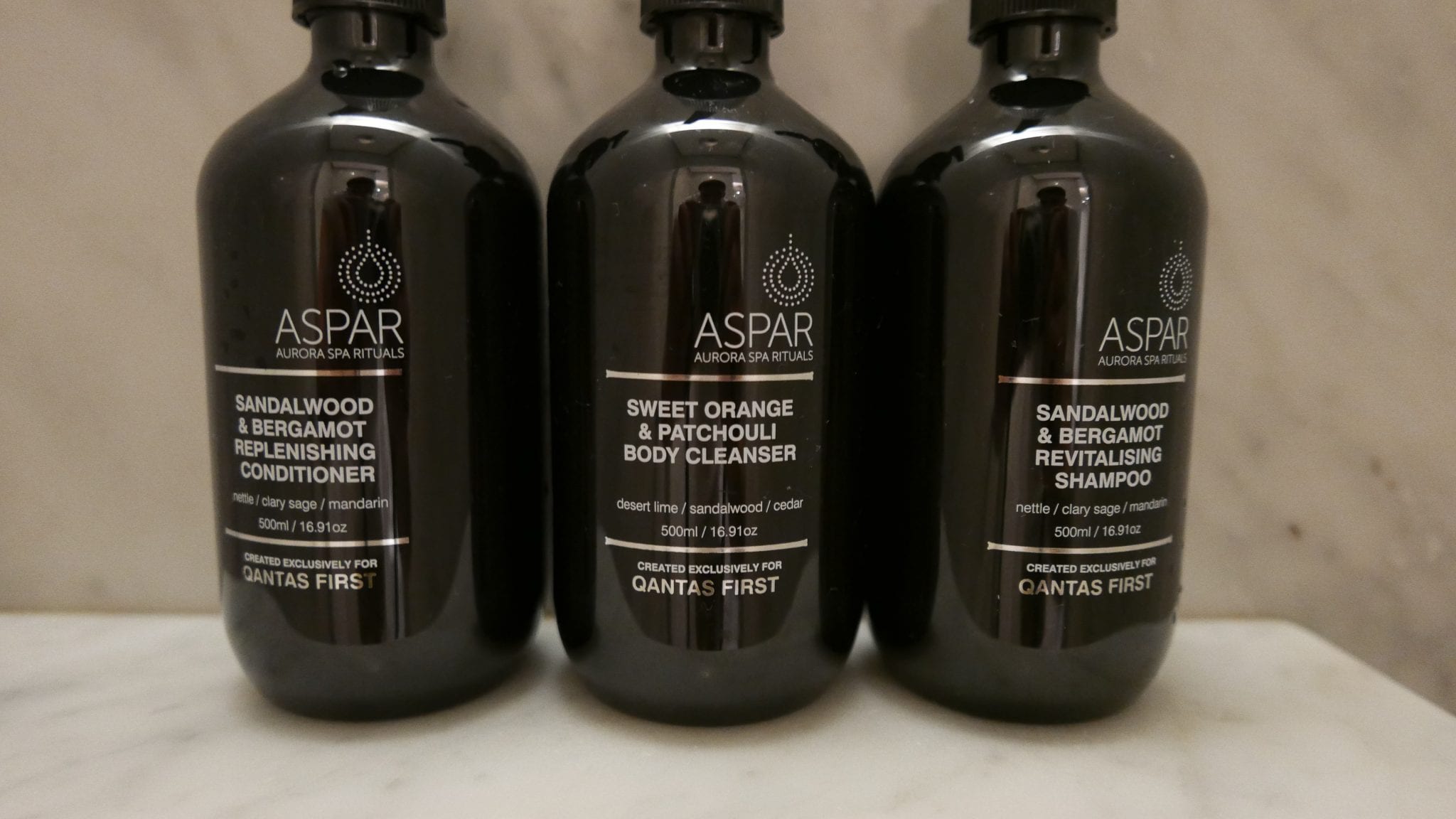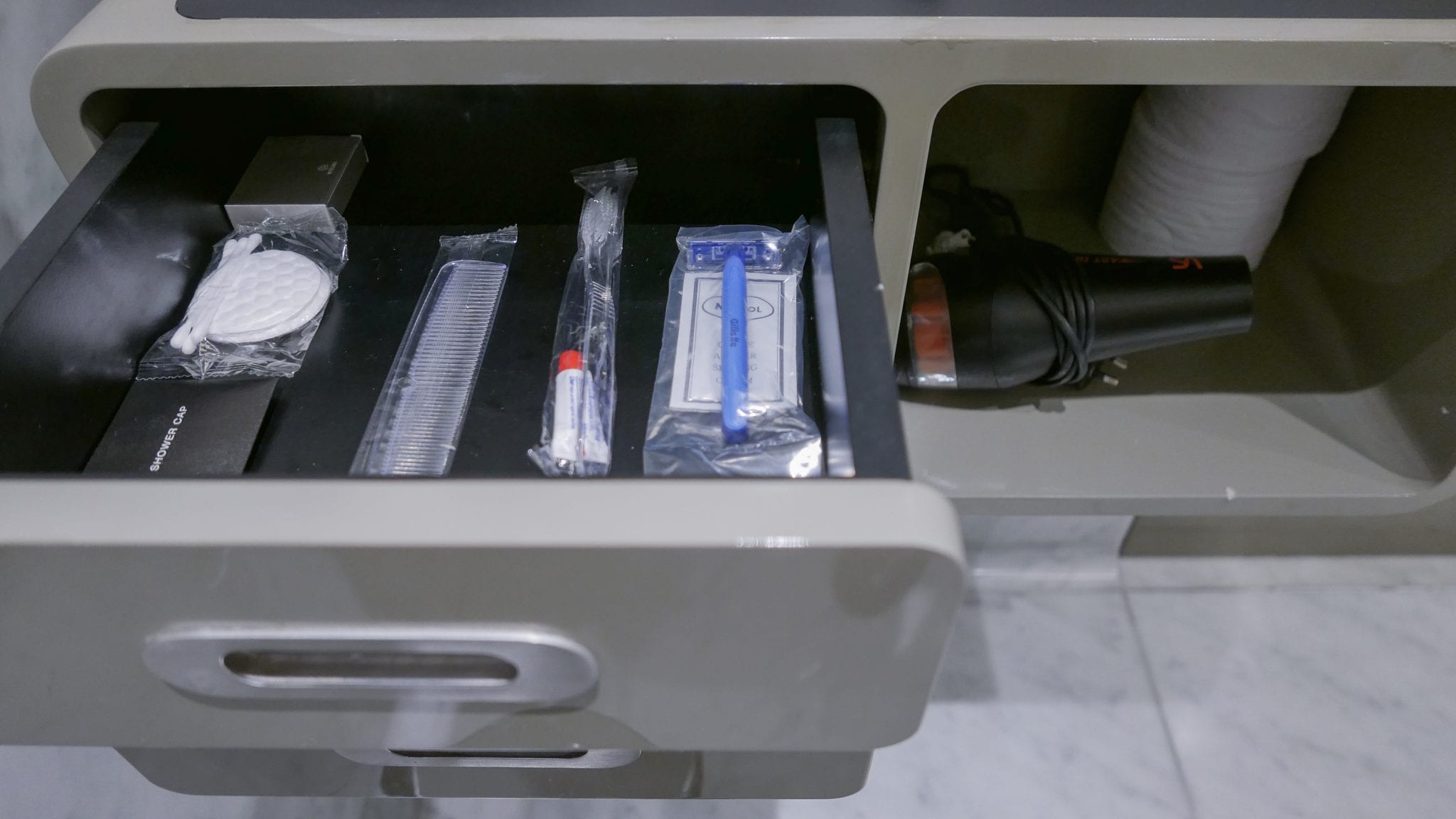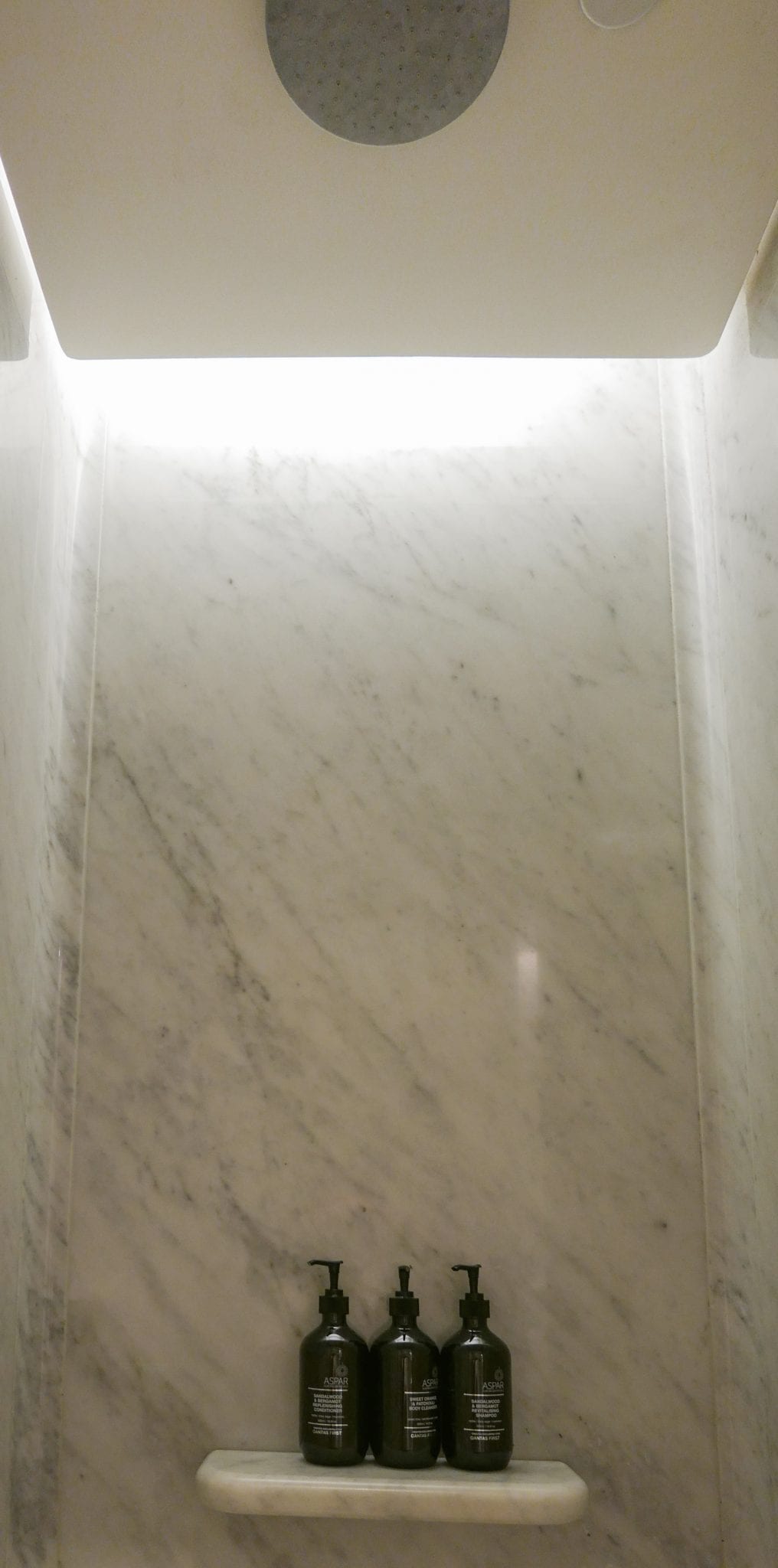 The shower suite is lined in the same white marble as the rest of the lounge and was kept very clean. Various amenities are available in the drawers and the Aspar products provided in the shower were definitely in keeping with the quality you'd expect from a First Class lounge. The difference between this and the facilities at BA's lamentable Heathrow lounges is remarkable.
All too soon, it was time to bid farewell to this beautiful facility and head onwards to the Qatar A380 that was awaiting us…
---
Conclusion
---
Qantas' flagship lounge is a fantastic space that feels undeniably Australian and very special indeed. The sleek white marble, mid-century nods to the golden age of aviation and expansive runways views make visiting this facility feel like a real occasion. The dining experience is genuinely worth making time for, with dishes and wines that will excite and surprise you just as they would in a top restaurant in the city.
My only complaints are that all the power sockets are Australian and quite sparsely distributed (although adapters are available at reception and extremely plentiful) and the spa facility never seems to be open.
Otherwise this is absolutely one of my favourite lounges in the world. I could easily while away a whole day here, sampling a variety of wines, eating crispy squid and watching the planes come and go.
I just wish that this lounge was a little closer to home!
---
Australia Hotel Reviews
---
Here is a selection of our most recent Australia hotel reviews:
---