REVIEW – Andaz West Hollywood
September 1, 2016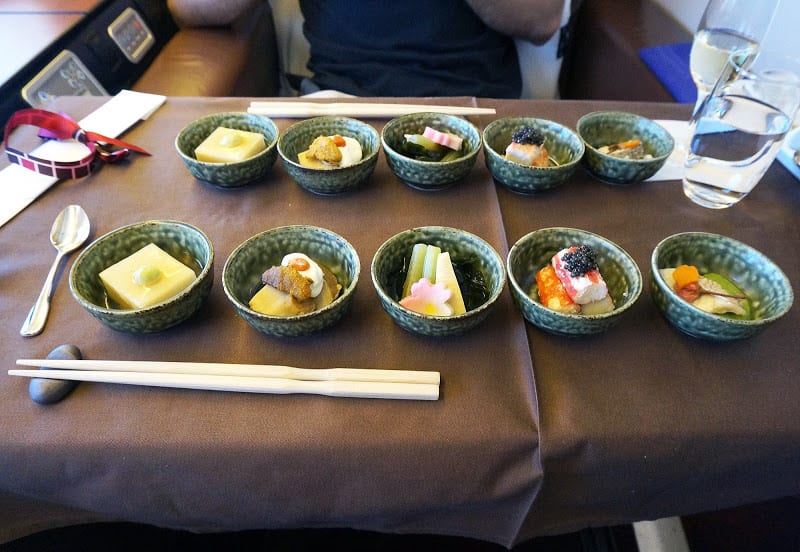 REVIEW – JAL : First Class- Los Angeles to Tokyo Narita (B77W)
September 2, 2016
Qantas (QF)
Location: Los Angeles (LAX)
Class: First
Access:

First Class passengers OneWorld airlines
OneWorld Emerald status holders

Date: March 2015
---
The drive to the airport was fairly eventful. It was the first time we actually had to share our ride when requesting Uber Pool but this was no big deal.
The driver was the first female Uber driver I've ever had. She was also a hot Brazilian model and actress. Seriously. It turns out that driving Ubers has become a preferred profession for those looking to make it big in Hollywood. When you're a server you have flexibility but you can't always run away at the last minute for an audition. Uber, it transpires, is the perfect fit for LA.
The guy we were pooling with was also pretty interesting. A fellow Brit, he was also an actor and was on his way to an audition in the area near LAX. As a huge fan of 2D fighting games I was pretty stoked to hear that he also wrote and starred in the Netflix series Streetfighter : Assassin's Fist. I made sure to watch it as soon as I got back. Whilst it is no Kung Fury, it's still pretty entertaining!
Anyway. We got to LAX with no problems at all. For all I've heard about LA traffic it really was never an issue during our stay. We were dropped at the AA domestic terminal as we needed to go and check on the status of our missing bags.
It turns out that they had arrived a day before us rather than being scheduled to arrive a day after. The AAgent looking at the baggage system had misunderstood why our bags weren't on the carousel when we first arrived. Oh well, we were reunited with the bags, safe and sound, with the AAgent's incompetence netting us $900 of new clothes, so no complaint from us.
The walk to the TBIT was quick and simple, we were checked in and made our way through fast track security in no time at all.
Whilst I was tempted to check out the OW Business lounge with its fireplace and 'food trucks' I figured that we should take a look at the First Class lounge, seeing as we had the option.
As you can see, there was plenty of space and absolutely nobody in the lounge around midday. The carpet has that same dizzying effect as the one used in the Qantas First Class lounges in SYD and MEL. I remember reading that this was done deliberately although I'm not exactly sure why.
We took a seat in the dining area and were quickly greeted by a server who brought us some menus.
Given that we were planning on having an enormous amount of food and drink on our 12 hour flight to Tokyo, we took it easy and just ordered a couple of things.
Kamara opted for the the Bel Gioso burrata with prosciutto, piquillo peppers and basil. She absolutely loved it. A dish like that is all about the ingredients so that speaks to the quality of the lounge's supply.
After our food we made some coffees and settled down in the maroon relaxation chairs by the windows.
My favourite part of the lounge. I feel that this was the most relaxing area as well as being the most tastefully decorated. I definitely prefer the wooden floors to the psychedelic carpet!
The biggest drawback to this lounge is the lack of outdoor views. Seeing the planes come and go is great but so is the ability to take a final parting look at the city that you are leaving. Of course you get this once you're on board but I really enjoy those parting moments of contemplation sat in the lounge.
Boarding was announced just as we were making coffee. So after another ten minutes we gathered our belongings.
LA was great and we were sad to leave but we remained sanguine. The beauty of flying like this is that there's always something else to look forward to. In this case JAL First Class and the powder filled slopes of Niseko!
---