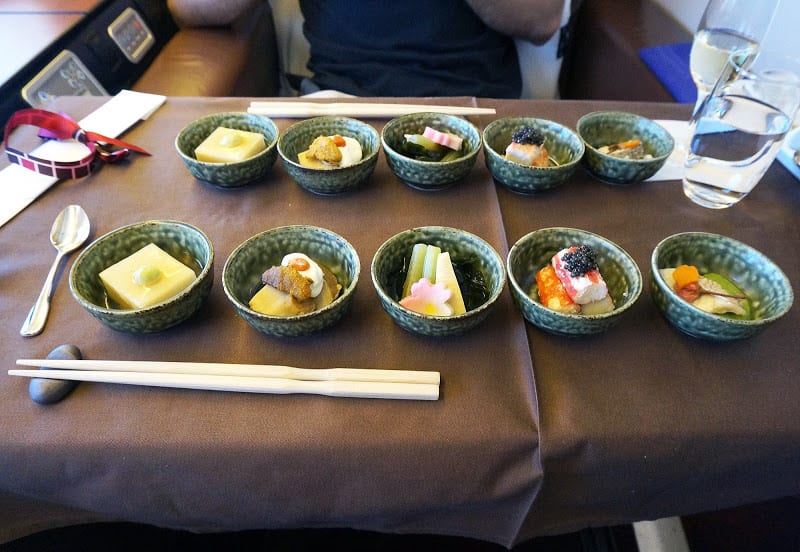 REVIEW – JAL : First Class- Los Angeles to Tokyo Narita (B77W)
September 2, 2016
REVIEW – Dai-Ichi Seafort Hotel (Tokyo)
September 2, 2016
Hilton Niseko
Location: Niseko, Japan
Loyalty Program: HHonors
Status during stay: Gold (thanks to Amex Platinum)
Room Type: Triple Room
---
Intro
---
After arriving in NRT, we only had an hour or so before our domestic flight to CTS. The transfer to the domestic terminal was very simple and efficient.
We made our way to the lounge and met up with my old friend Mr M, who was waiting for us outside. Although we had bought J seats (I love how JL actually brands them as "J" rather than business) for an extra 1000JPY (about $8), this doesn't come with lounge access.
Since we were transferring from international First Class, we had no trouble guesting him in though.
---
JAL Domestic Lounge – Tokyo Narita Airport
---

I think Kamara was starting to get a bit tired here.

This was as quiet as the lounge got.

Nothing groundbreaking here. A coffee machine, some simple sandwiches and packaged snack mix.

A slightly larger display of the same stuff.

I think I may have worn the espresso button out.
I definitely wouldn't be making my way to the airport early to use the domestic lounge but it was nice to have a place to catch up and have coffee for 20 minutes or so before our flight.
JAL (JL)
Flight: JL 3049
Class: J
From: Tokyo (NRT)
To: Sapporo Chitose (CTS)
Duration: 1h50m
Aircraft: B737
Seat: 4K
Frequent Flyer status during flight: AA Platinum
Booking type: 4,500 Avios + £5 tax + 1000JPY upgrade
---
The Flight
---

Bus gate fun.
The J cabin on this 737 occupied the first 4 rows of the cabin in a 2-3 layout. We grabbed 3 seats together in Row 4.
The seats are more comfortable and spacious than what BA offers in their short haul business class cabins and the upgrade only cost us $8.

…and I thought Ryanair was bad.
Once at CTS, we rushed to a convenience store to grab some provisions for our 2 hour shuttle bus to the Hilton Niseko.
---
Hilton Niseko
---
We arrived at the grand illuminated entrance of the Hilton just after midnight. Kamara ran ahead to check us in, whilst Mr M and I took care of the bags. I had a feeling there wouldn't be many check-in counters open at this time to process everybody on the bus. Given that this leg of the trip had begun at around 10am on Monday, when we left the Andaz in West Hollywood, and it was now almost quarter past Wednesday – I was ready to get to the room asap.

How cool is that fireplace?!

The monolithic lobby bar
The lobby was pretty empty when we arrived. If this had been a European ski hotel there would be loads of hammered people wandering around, making noise, ready to feel like hell on the slopes a few hours later.
In Japan it seems like people actually go skiing to enjoy a wholesome outdoor holiday of sport and healthy food. How odd.
I booked us a triple room during the January sale so this only worked out at $30 per person for a hotel located on the slopes, right next to the gondola.
Check-in was very quick and efficient. My HHonors Gold status was acknowledged and a late 4pm check-out offered, I asked for 6pm, given that we were booked on an evening flight back – no problem.
We were handed some slope maps, a list of restaurants with opening times and keys to our room.
---
Triple Room
---

HHonors Gold welcome amenity.

I drew the short straw(berry).

I like how the room had an additional sink outside of the bathroom.

Standard Peter Thomas Roth amenities.
I didn't get any pics of the tiny bathroom, sorry!
Given that we were in Japan we didn't use the shower at all, opting instead to don our Yukatas (lightweight kimonos) and head to the Onsen (natural outdoor hot springs) instead.

Trying to look tough in our Yukatas.

Realising we're not tough, in our Yukatas.
I tell you what, nothing beats sitting outside in a hot spring, looking up at the stars, surrounded by snow after a long day of travel.
I obviously didn't get any pics in the onsen, but here's a stock pic to give you an idea. For me, the best part was that unlike the Conrad Tokyo and Park Hyatt Tokyo, this hotel does not discriminate against guests with tattoos. It is an absurdity that Japanese hotels ban foreign guests with tattoos from using their spa facilities, on the grounds that they may be Yakuza, when the primary acceptance criteria of the Yakuza is that you have to be Japanese!
We couldn't see anything out of the windows when we arrived so it was a fantastic surprise to wake up to this view!

As much as I love cities and airports, I feel that you haven't really explored or gotten a sense of deep relaxation until you've seen what a country has to offer geographically.

Japan has a lot to offer.
---
Breakfast
---
After a quick dip in the onsen, we put on our snow gear and made our way to the breakfast buffet at the Hilton's Yotei restaurant, named for Mt Yotei the volcanic dominator of the local skyline.
Mt Yotei view from the restaurant. The pool of water below is the overflow from the onsen.
If you were to ask me what my favourite meal is, I wouldn't even hesitate: Asian hotel buffet breakfast. I still remember the first time I saw a hotel breakfast spread in a Marriott in Malaysia, at the age of 13. My jaw nearly hit the floor. Noodles, dim sum, fresh tropical fruit, an omelette chef, full english breakfast meats, endless coffee – I was in heaven. Little did I realise that this was absolutely standard practice.
Seeing as we'd be doing tons of exercise to work up an appetite and Hokkaido is famed as the source of the best food in Japan, you can imagine how psyched I was for this!
The Yotei restaurant is beautifully bathed in natural light and has a phenomenal panoramic view of Mt Yotei and the surrounding countryside. As soon as you enter, before you've even sat down, you are both relaxed and totally awake – ready to take on the day.
The service was excellent, every day our coffees would be waiting for us on the table before we'd even had a chance to fill our first plate of food.

Cereal and pastries.

Omelette Station.

Cod Roe, Pickled greens, grated radish.

Grilled fish and hotpot station.

Hotpot garnishes.

Pancakes!

Green tea.
Healthy choice.
The food was excellent and I was glad to see that there was always some daily variety. Whilst you can see that I mainly went for Japanese food, there were also loads of European continental options as well as bacon, pancakes and even spaghetti bolognese!
It is at times like this that HHonors gold (thanks to my UK Amex platinum) really shines. It has definitely had a meaningful impact on how I travel. Had we paid for breakfast it would nearly have doubled the price of our stay.
After breakfast, Kamara spent the morning doing snowboarding lessons whilst Mr M and I headed off in search of inventive ways to hurt ourselves.

It was pretty bright up on the mountain.

It got a little slushy one afternoon, so we all switched our boards for snowmobiles.

Videoing our ride with my new toy.
The slopes at Niseko are incredibly well maintained and it was particularly good to be able to ski this late into the season (early April). There were numerous snow parks as well; I was amazed at how good some of the Japanese kids were, hitting 360s into rail slides like it was nothing.
---
Lunch
---
There were a few different lunch options on the mountain but unfortunately none with outdoor seating. The Japanese don't really seem to like sitting outdoors to eat, something which I really enjoy in the Alps. There's nothing like coming back from a ski holiday with an awesome tan accumulated over a number of long lunches.
There were a few cafeteria style places dotted around but my absolute favourite spot was an old blue roofed shack hidden underneath the Hirafu gondola cables, called Bo-yo-so.
---
---
The centre of the shack had an open fire with metal rails around it, where people hung their glove and hats, getting them warm and toasty whilst they ate.
We hung our things up, dumped our goggles and coats at a table and headed to the counter to order. The man taking our order must have been, no word of a lie, at least 85 years old. He was awesome. The food coming out of his kitchen was the best I've ever had on the slopes… by a long way. $12 gets you this:

Two set lunches: Miso soup, ginger and rice covered in fresh hokkaido crab and salmon roe.

The king crab meat was sweet, succulent and piled high in a super generous serving. The glossy red pearls of salmon roe were fresh, springy and perfectly salty. Amazing. Absolutely amazing.

Give me fuel, give me fire, give me that which I desire.
---
---
One day, we came back to the hotel for lunch but weren't hungry enough to go for a full buffet (and didn't much fancy tearing down the backcountry with two pounds of fish in our stomachs), so we checked out a noodle bar in the food village by the hotel.
The food village is about 50m from the back entrance of the hotel and features numerous horrifically overpriced restaurants specialising in the local Hokkaido seafood (we're talking $100 per person to share one crab). Two Sticks Izakaya & Bar was the only one we saw that looked reasonable. It turned out to be pretty great.

Pretty quiet during the day.

Sunbathing indoors.

Hokkaido Ramen.
I'd wanted to try Hokkaido Ramen ever since seeing Anthony Bourdain talk about it on No Reservations. The Ramen noodles are topped with local shellfish (always crab, in this case prawns and scallops too), the equally famous Hokkaido sweetcorn and finally a large lump of Hokkaido butter (again, dairy being something for which this region of Japan is renowned). They were utterly fantastic.
At the end of a long day on the slopes, this was a great spot to grab a coffee before taking the bus back to the Hilton. Although the Hilton is right on the slopes, the final run leading up to it is really long and winding. By 5pm when the snow has become slushy it is impossible to get to the end without unclipping your board and walking.
After our end of day coffees our daily ritual involved dropping all of our gear at the concierge desk. The Hilton has a really efficient system for storing and drying your equipment. It is handed back to you from within a dedicated ski locker area each morning
We would then order a round of boozy coffees by the fire in the lobby bar.

Round 2 would be purchased from the convenience store on the edge of the lobby. Along with some local snacks:
Most of the bars had a happy hour from 5-7pm. Other than the lobby bar our favourite was the casual Ezo pub. The place was open until 4am and was the closest thing to an apres ski bar as we know them back in Europe. Also they had an awesome selection of 90s rock music.
Pre-dinner, we would watch the sunset from our room and then enjoy a visit to the onsen.
---
Dinner
---
For our first dinner, we tried to find some reasonably priced food at the food village but failed. Slightly deflated, we headed back to the Hilton and braced ourselves for something expensive and terrible.
Lucky for us, the food was neither.
Whilst certainly not cheap, at roughly $80 the sushi chef's omakase (tasting menu) at Rera was plentiful, fresh and absolutely delicious.

Ludicrously fresh tuna and salmon sashimi.

Eel, flame broiled salmon, sweet omelette and scallop nigiri sushi.

Grilled fish.

Tempura shrimp with lime and pepper.

The master hard at work.

A mixture of nigiri and my favourite: Ikura (salmon roe) and Uni (sea urchin) gunkan.
I really enjoyed this quiet and relaxing pace of life. After a tough day smashing the slopes; sitting down for drinks followed by a long soak in an outdoor spring and then a delicious meal in a calm and elegant room made for a fantastic end to the day. Definitely a million miles from my usual hectic life in London.
---
---
On our final night, we decided to take the shuttle to a nearby hotel, The Green Leaf Niseko Village. This was a really nice hotel, in more of a small boutique style right in the middle of the action in the main town of Niseko.
At an all you can eat buffet, much like in my day to day life, my rule is this: no extraneous carbs.
I'd taken quite a shining to Hokkaido crabs and scallops, so my meal consisted of this:
Repeated 5 times.
---
Conclusion
---
The Hilton Niseko is a fantastic resort hotel with numerous food and drink establishments, a great outdoor hot spring and a privileged position next to one of the main ski lifts. The service is excellent and the atmosphere is very relaxing. HHonors benefits were recognised and the hotel delivered a 6pm checkout, over and above their requirements as well as a beautiful in-room amenity at check-in.
As somebody with tattoos I was also happy that the Hilton exercised some common sense and did not forbid people with tattoos from using the onsen (The Conrad and Park Hyatt in Tokyo both indulge in this silly anachronism despite being large hotels with a sizeable international clientele).
I would not hesitate to return to the Hilton Niseko and would absolutely recommend visiting if you have plans to travel to Northern Japan. If you've never considered skiing in Japan I hope you'll all be inspired to look into it. All told this trip was significantly better value than an equivalent trip in Europe and the snow conditions, food and service were all world class. Skiing in Hokkaido can also be easily combined with a visit to see the cherry blossoms in Tokyo/ Kyoto.
---
I was sad to leave Niseko behind but all this travelling was starting to make me quite tired.

Quite tired 1 : after dinner at The Green Leaf Niseko Village.

Quite tired 2 : An inventive use for K's hood.
It was time to start heading home. Although there's still a bit of a twist to come in this tale…
---