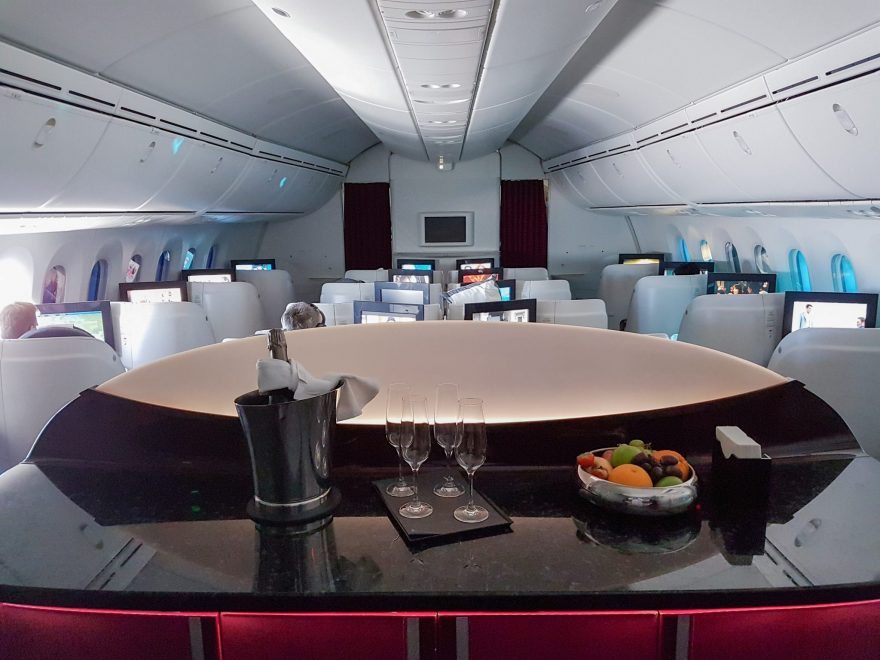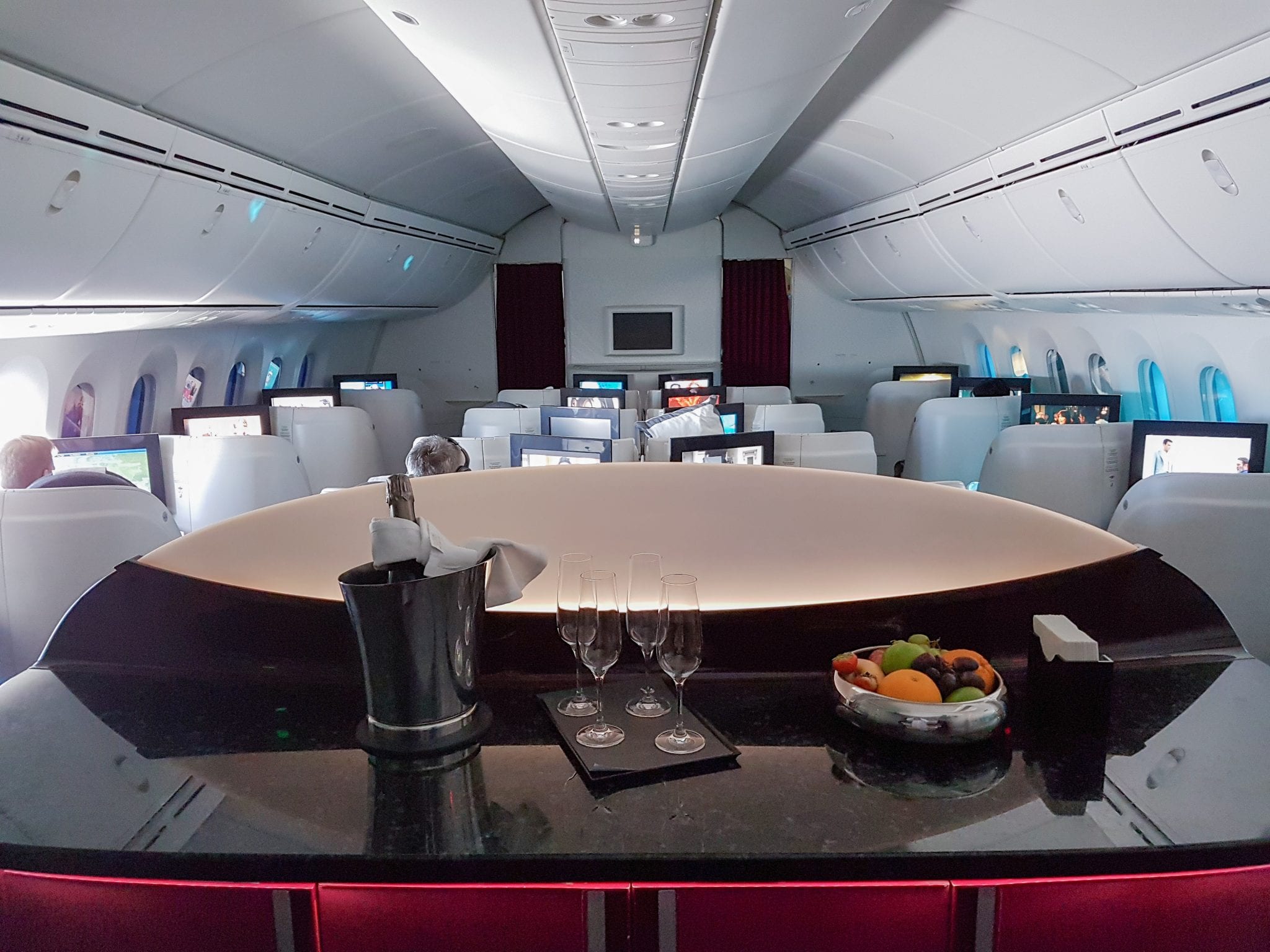 REVIEW – Qatar Airways : Business Class – Oslo OSL to Doha DOH (B787)
December 10, 2018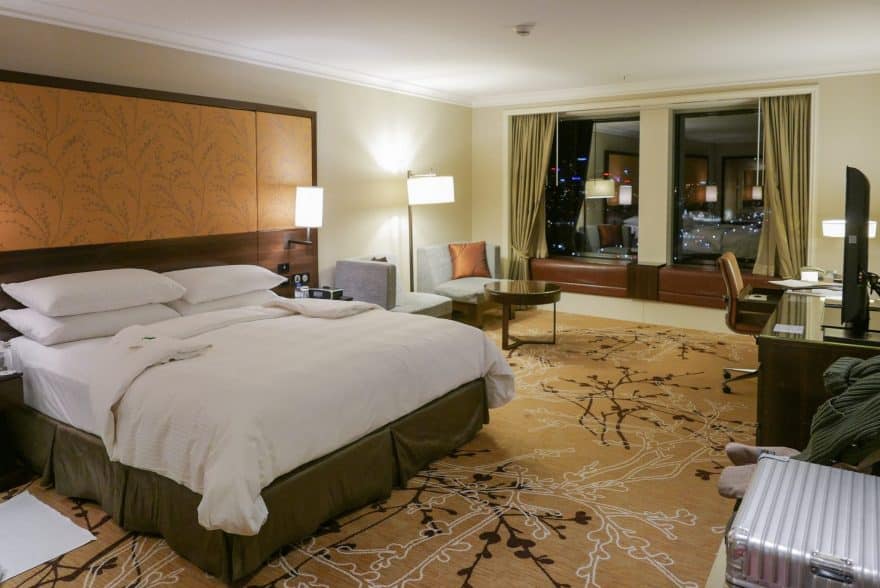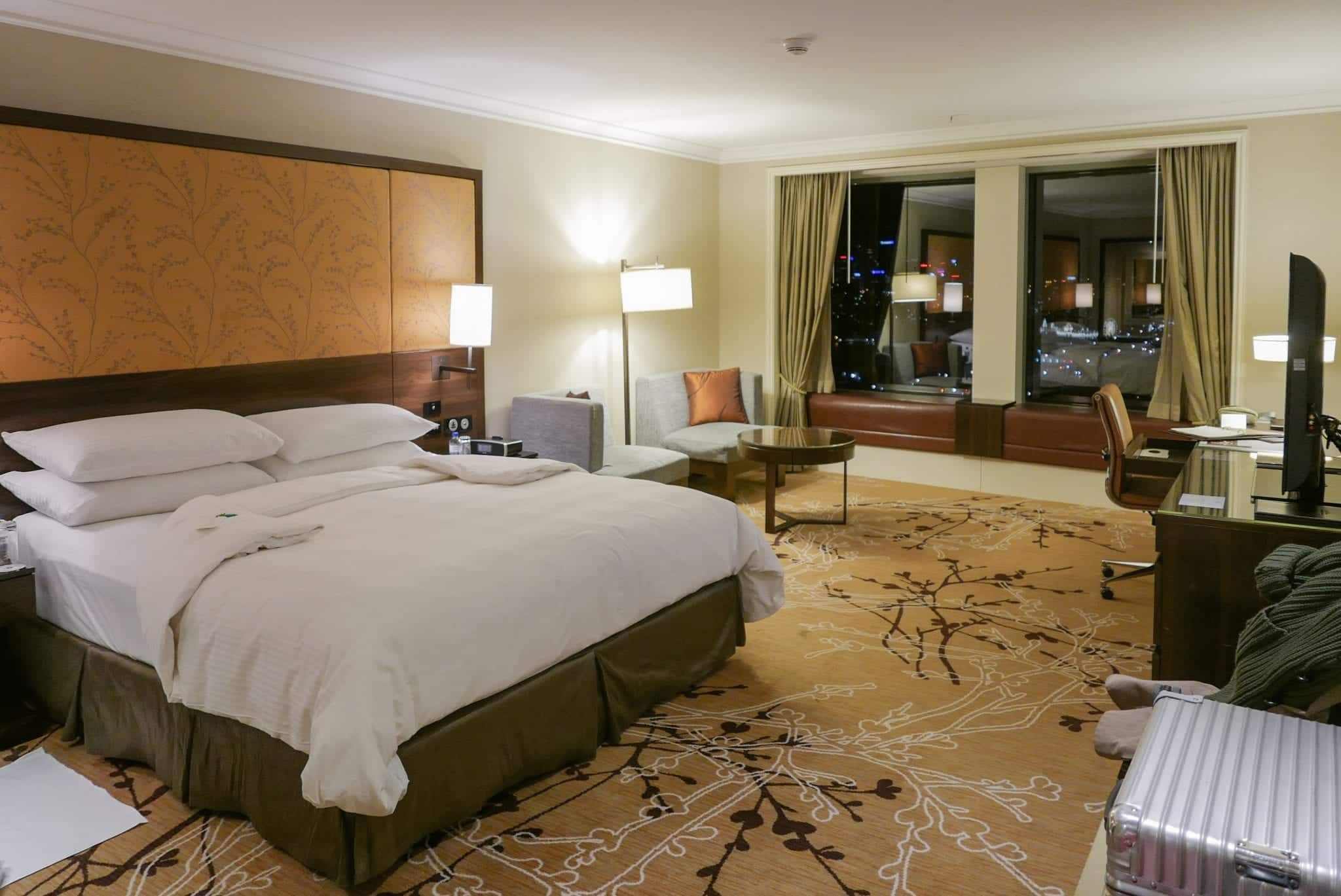 REVIEW – Shangri-La Sydney
January 16, 2019
Qatar Airways (QR)
Flight: QR 176
Class: Business Class
Seat: 17A
From: Doha (DOH)
To: Sydney (SYD)
Duration: 14h45
Aircraft: A380-800
Status during flight: OneWorld Emerald (AA Executive Platinum)
---
Intro
---
There isn't a huge degree of rhyme or reason to transfer security in Doha airport. I've sometimes been lucky enough to disembark directly into the departure concourse, with only a short walk to the lounge. Other times, like this one, I find myself unceremoniously dumped into the transfer system.
We landed at the furthest possible gate and had quite a walk ahead of us. After spending a few hours eating, sleeping and drinking I didn't mind getting my heart rate up with a bit of a speed walk (you can always tell a Londoner abroad, we're the ones walking twice as fast as everybody else).
After ten minutes or so we reached the chaos of the transfer security hall. Thankfully there is a premium lane there which is always super fast, primarily because the security system is a total farce.
The guy manning the controls to the screening machine fell asleep twice during the time we were waiting in line. Every single person set off the metal detector and not a single one of them was asked any follow up questions or checked at all when doing so.
After that complete waste of time we made our way to the spectacular Al Mourjan business class lounge.
Architecturally, this is without a doubt the most awe inspiring business class lounge in the world.
---
For a full review of my first visit to the Al Mourjan lounge CLICK HERE
---
Pre-Departure
---
Strange though it may sound, the idea of trying out business class on this route was so alluring that I was actively hoping not to get an upgrade. I was really intrigued to see what level of service they'd deliver on such a long route
Dine on demand is incredibly time consuming and labour intensive to deliver and few airlines manage it in cabin of more than 12 passengers. The cynic in me doubted that Qatar could pull this off with 48 people to take care of, over the course of nearly 15 hours
The seats on the A380 are almost identical to those on the Dreamliner but the overall feel of the cabin is quite different. Where the 787 feels very spacious and private, here the uninterrupted expanse of seats gives the feel of a railway carriage.
The boarding process was relatively quick and easy, with FAs on hand to distribute our choice of drinks and to hang our jackets.
My biggest complaint about this seat has always been the lack of a privacy 'wing' at eye level. Almost every other airline adds these to increase privacy, with US Airways' original reverse herringbone seat being one of the few others to lack it. In a cabin of this size this was all the more evident.
Amenity kits were distributed prior to take off. I prefer the BRICS case to the old Armani one, which was made of a silky material that would catch and bobble very easily.
I also appreciate the fact that the contents are geared specifically towards maintaining hydration whilst flying: A facial spray, lip balm and hand cream. Still, you can't help but feel like this is a qualitative step down from the old Armani cologne and moisturiser.
I really appreciated having a pair of slippers for this flight, having not previously received them when flying on shorter QR business routes. BA crews often 'forget' to hand out slippers in First, in a bid to cut costs, so the fact that Qatar hands these out to all business class passengers is commendable. There are few worse sensations than the grotesque realisation that your socks have soaked up a puddle, of indeterminate origin, during a visit to the toilet…
Being more used to flying on the Dreamliner I couldn't help but geek out over a few of the differences, the large storage bins being the most obvious.
The IFE controls are also more responsive and you can listen to music whilst watching the map, or the A380's tail and body cameras! Unfortunately there's still no way to skip the two solid minutes of adverts before every single show and film though!
The A380 also has spare slots for extra connections, perhaps they'll install HDMI one day? The 787 also has these ports up by the IFE remote.
The A380 windows are unobstructed (and have manual shades) where the Dreamliner has a sweeping, underlit plastic wall that obstructs some of the view. The A380 also has matte wooden finishes whilst the 787 has shiny piano gloss.
I asked for a glass of champagne before take off and this was served with an ice cold towel. I thought that the champagne tasted a lot better than the Billecart Salmon I'm used to on QR but thought nothing of it until I looked at the menu. In fact it was so good that I forgot to take a picture…
Food Menu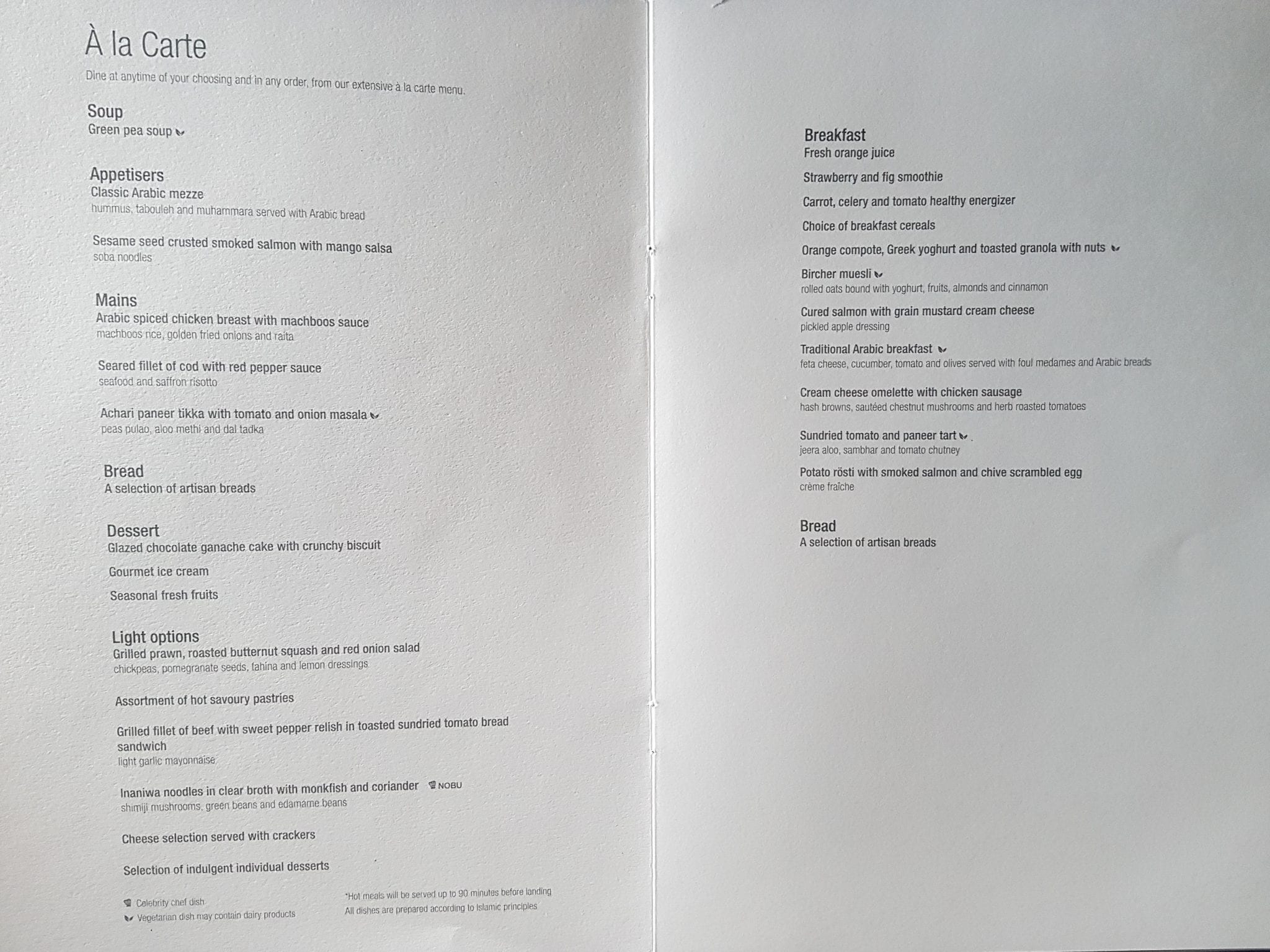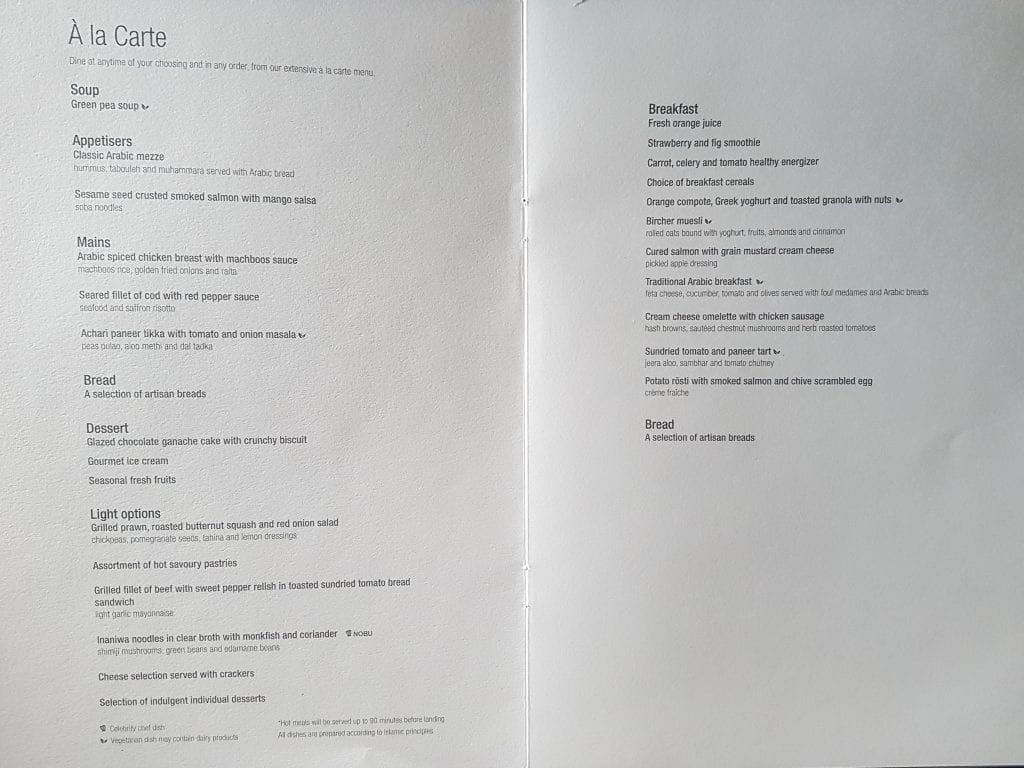 The food menu had a decent variety of options and I appreciate the sentiment behind having a light options section, something crucial when eating multiple meals over the course of such a long flight. In practice though I struggle to see how pastries, cheese and indulgent desserts classify as 'light'.
Drinks Menu
The drinks menu however was quite something. Without question the greatest drinks list I've ever seen in a business class cabin and with the exception of ANA, JAL and Singapore First Class, one the best I've ever seen in any class. This wasn't a wine list with just one star bottle but rather a tome of real depth, showcasing superb wines across a multitude of styles.
Pommery Cuvée Louise 2002 – A prestige cuvée that is easily the equal of Krug or Dom Perignon
Chartron et Trébuchet 2014 – A classic and rich Pouilly-Fuissé, a beautiful Burgundy
Château Bon Pasteur 2011 – A standout Bordeaux, keenly chosen from one of the best value districts in the region
Chateau Dereszla 2008 – A wonderful 5 Puttonyos Tokaji. Rich, golden and simultaneously sweet and refreshing.
---
The Flight
---
After take off the crew came around quickly to distribute drinks and confirm meal orders.
Given that I'd already eaten a lot, earlier in the day, I opted to go for a single bowl of noodles rather than a full meal. Despite having the Nobu name on the menu these were pretty average, with the extra soggy tempura detracting from, rather than adding to the balance of the dish.
At this point I feel that I should mention how long the meal service took. As a Oneworld Emerald my order was taken first, which I thought was a nice touch. However my bowl of noodles wasn't served until others around me had received their main courses, despite the fact that I had asked to skip the nuts and the starters so I could get to sleep as soon as possible.
When the food was placed down the FA didn't even look at me, much less apologise for the wait or check if my water needed refilling.
I later pressed the call button to ask for a top up of my wine and recognised a familiar face. She in turn recognised me, from my lacklustre flight in QR F earlier in the year. She was much friendlier this time but every bit as inept. She initially got my drinks order wrong and returned to spill wine down my leg as she filled my glass, saying nothing, just making an awkward face as it happened.
Elsewhere the crew were bumping into each other on a fairly frequent basis with a very loud and prolonged crash emanating from the galley at one point. When I went to use the bathroom after eating, there was a full portion of butter smeared across the aisle floor with a footprint in it. There is no question about it, Qatar's service is nowhere near as polished on the A380 as it is on the Dreamliner. Everything here takes place on an industrial scale and the staff seem constantly frantic and harried.
The Bed
After my noodles were cleared I decided to get some rest.
You have to give credit to Qatar for being one of the few airlines to give business class passengers pyjamas. The PJs are generic but fit well and aren't overly hot. The noise cancelling headphones are similarly unbranded but quite comfortable and do a good job of blocking out the noise of a meal service. Maybe it's just the unusual length of this flight but as I drifted off I couldn't help thinking that the IFE should have an alarm function for people who want to manage their sleep, in order to avoid jet lag.
I awoke to a dark cabin after about 6 hours of sleep. I opened the windows just a slither in order to help me acclimate since it was already around 1pm in Sydney. I found that the crew had left me a pack of Varhona chocolates as I slept. These made an excellent breakfast. However, I was actually pretty hungry at this stage so I decided to order a full on lunch, to help my stomach adjust alongside my eyes.
I went for a rather unorthodox pairing of a macchiato with my tsar cut salmon.
Qatar serves Business Class passengers proper espresso based coffee, I think this is a bare minimum requirement in a premium cabin, other airlines do not… The salmon was excellent but the addition of the plastic pot detracted somewhat from the overall presentation.
Since I was now wide awake I went with a glass of the truly superb Cuvée Louise to accompany my main course. The chicken breast was tender as always and the rice was perfectly cooked. A wonderful dish and well plated too.
The above image demonstrates why Qatar are so highly regarded. Full sized cutlery and champagne flutes, geometric plates, proper salt and pepper pots and a crisp white linen table cloth. Much like the wine list, the majority of what you're looking at here is ordinarily the domain of First Class. To see all of these elements together in Business is remarkable.
Great food, spectacular champagne and the interactive map to keep me entertained. Totally content. This is my happy place..
---
The Bar
---
Qatar has without a doubt the coolest looking and largest bar area of any commercial airline. After eating lunch, Kamara and I headed over here and had the place to ourselves, since almost everybody else was still sleeping.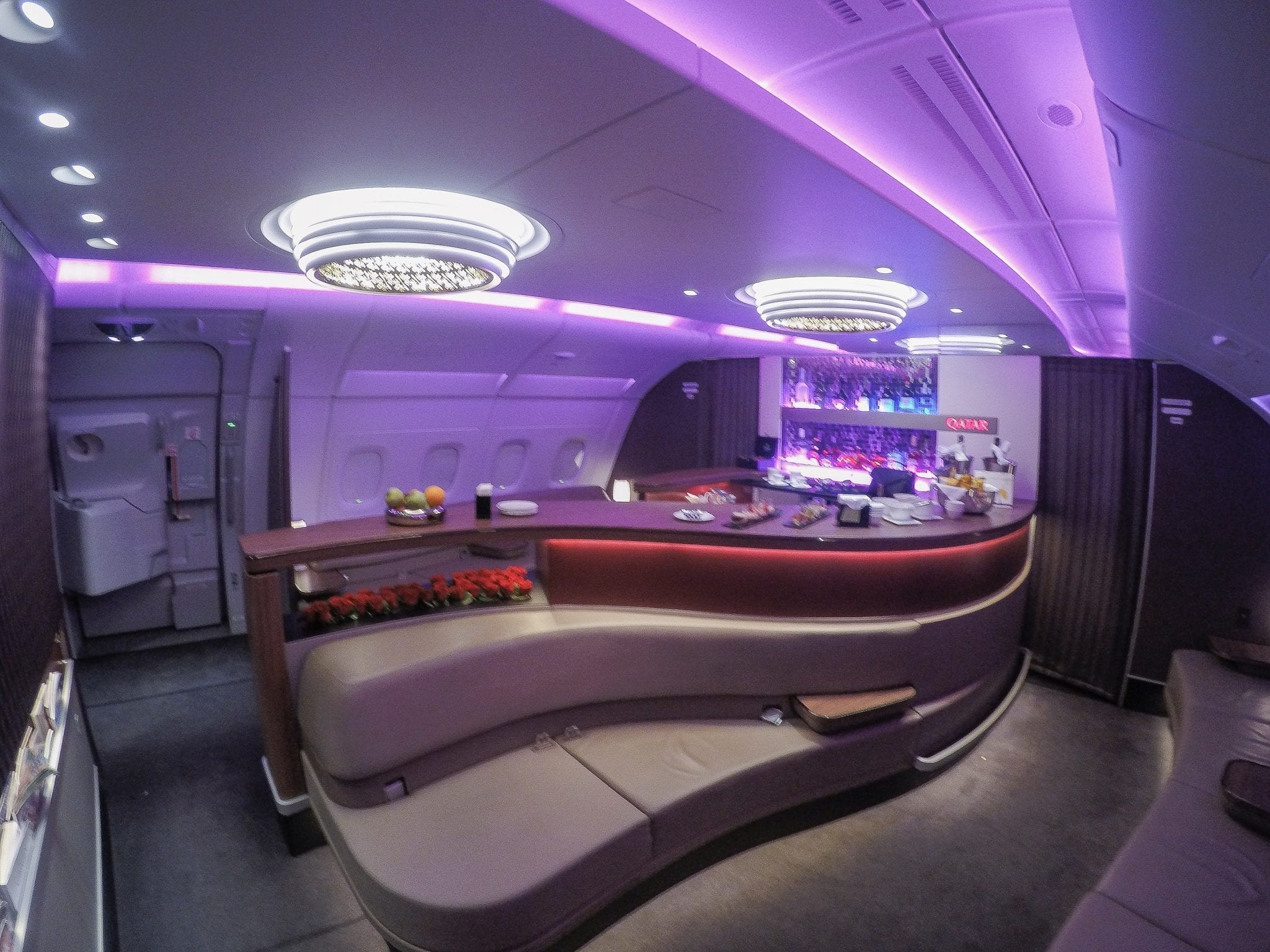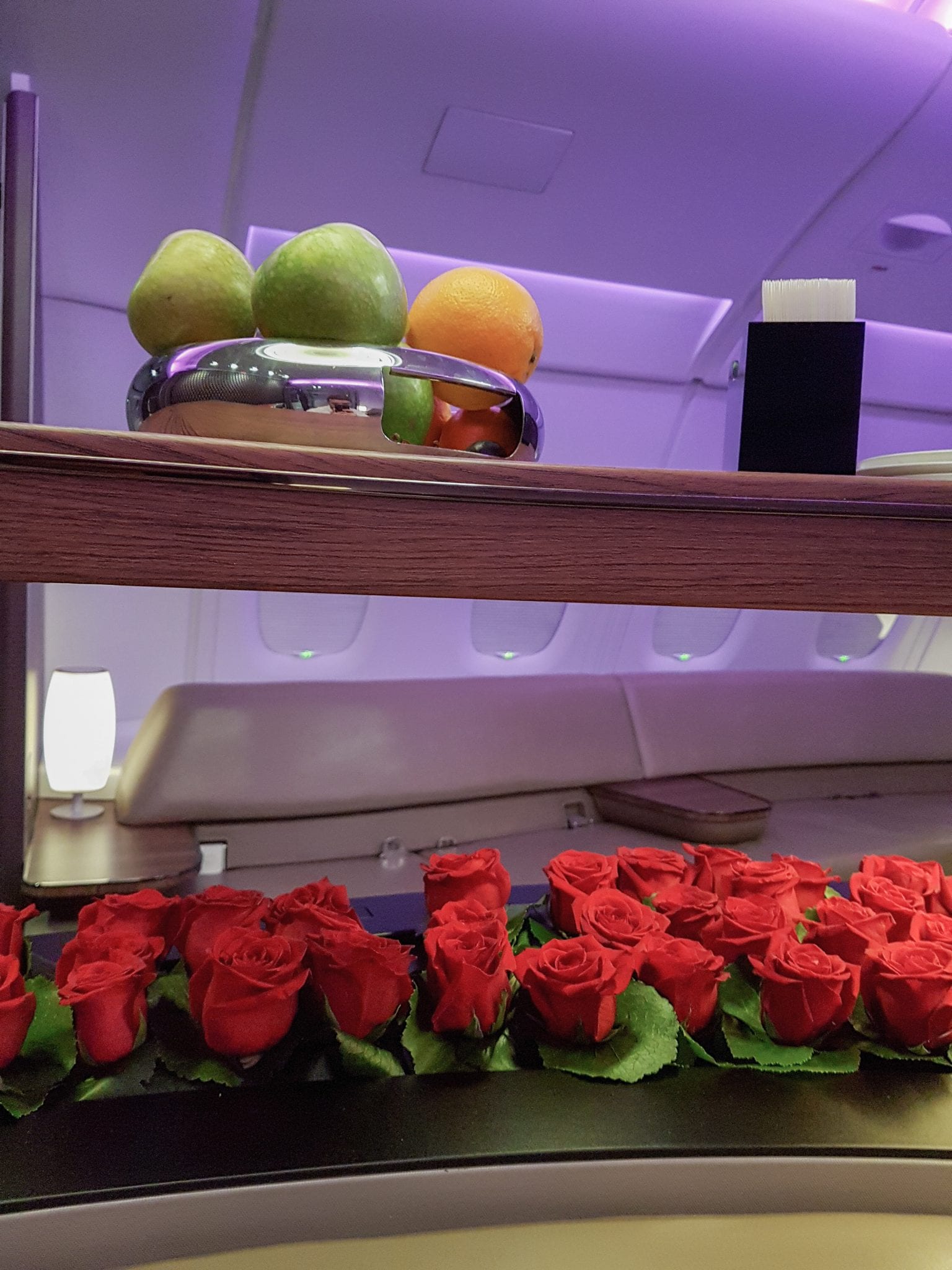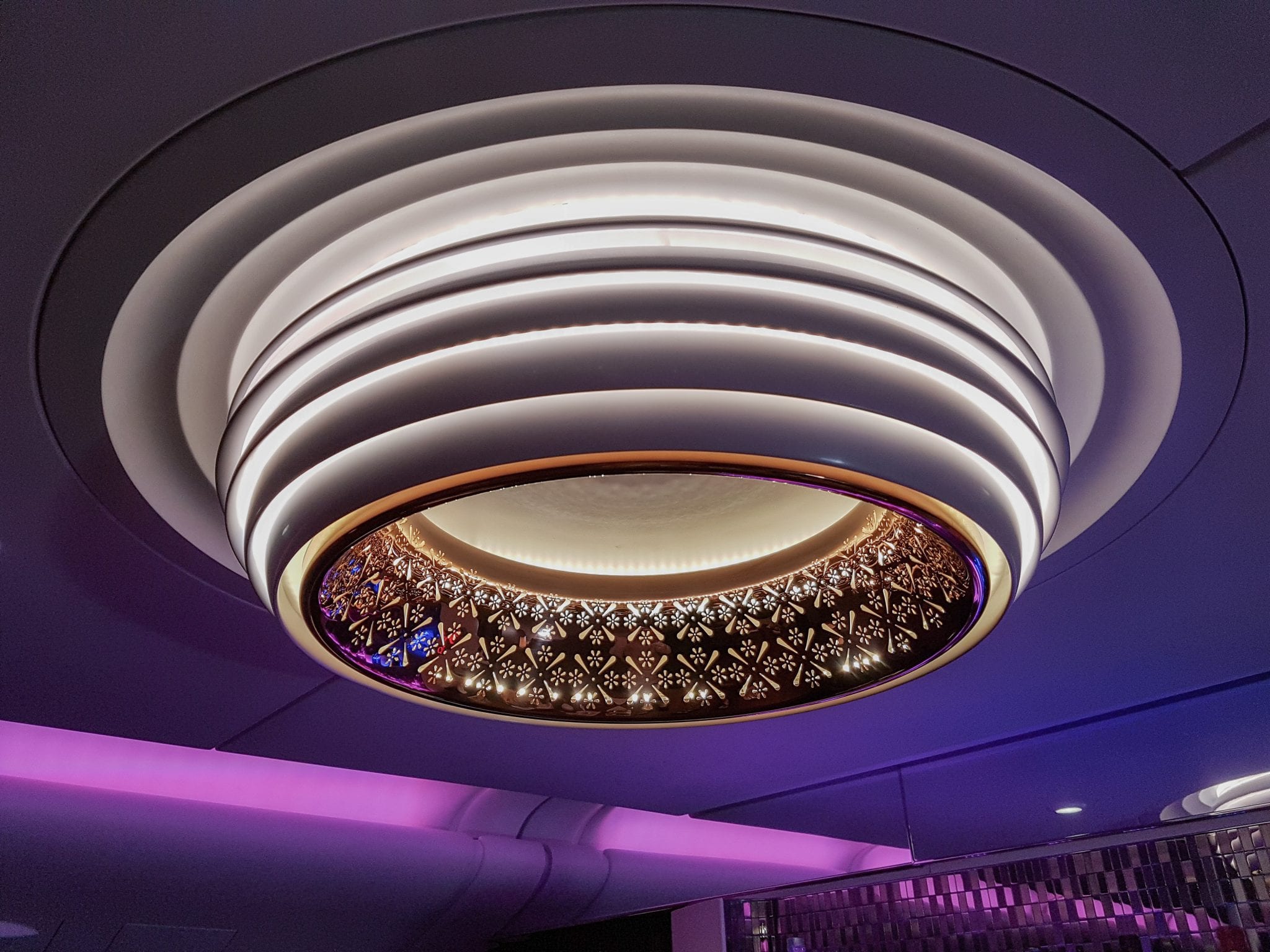 The sleek curves of the leather banquettes, the freshly cut roses, the recessed lighting, the Arabic chandeliers; it all combines to spectacular effect. A bar with this design would be a standout on the ground. The fact that there are ten of these things flying around the globe, is a fact that fills me with a deep and sincere happiness.
The cocktail menu. Unfortunately Qatar no longer serves Krug at the bar, as they did when they first took delivery of their A380s. However the Cuvée Louise on this flight was a more than capable substitute.
Cold snacks.
These little appetiser and dessert pots are a nice idea but honestly they looked like they'd been sat on the bar for quite some time. I wonder if they could get some chiller plates to but these on.
We spent an hour or so hanging out here and chatting to the British FA. She was great fun to talk to and had a really interesting life story, she was working as cabin crew in order to pay the bills, whilst she trained to get her pilot's license. Given the glacial pace at which I crank out these trip reports, I'm sure she's a captain by now!
The bar is also a great spot from which to capture shots of the A380's gargantuan wings. I snapped this shot just before the seatbelt sign came on for landing.
---
Conclusion
---
As another flight with Qatar drew to a close, I looked out of the window and saw the Sydney Harbour Bridge and Opera House beneath me, illuminated fittingly in a wash of sunset pastels. I couldn't help but smile.
The main service was chaotic, no doubt about it. However, the dine on demand really came into its own when I wanted to set my own schedule and here, much like at the bar, the service was sincere, friendly and professional.
Speaking of which, the sleek and stylish bar is reason enough to try out the Qatar A380 at least once.
The food was as good as ever but the wine list was the real standout on this flight. Prestige cuvée champagne, Bordeaux, Burgundy and even a Tokaji.
The seat is great, there are PJs and slippers. The list goes on.
Here's what it all boils down to, Qatar have such a superlative hard product that the odd slip up still doesn't detract from their overall 5* standing.
On balance this was easily one of my favourite business class flights ever.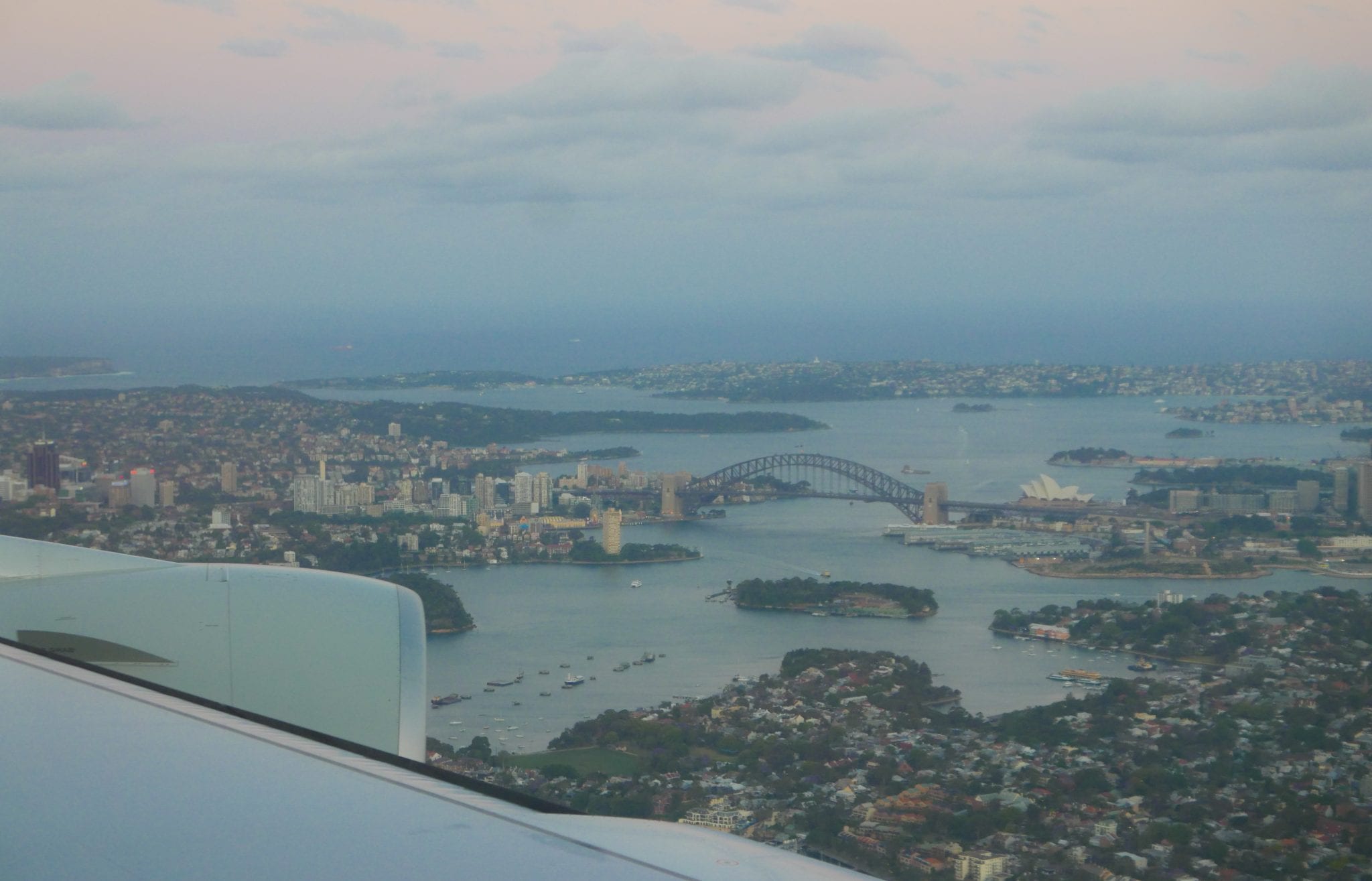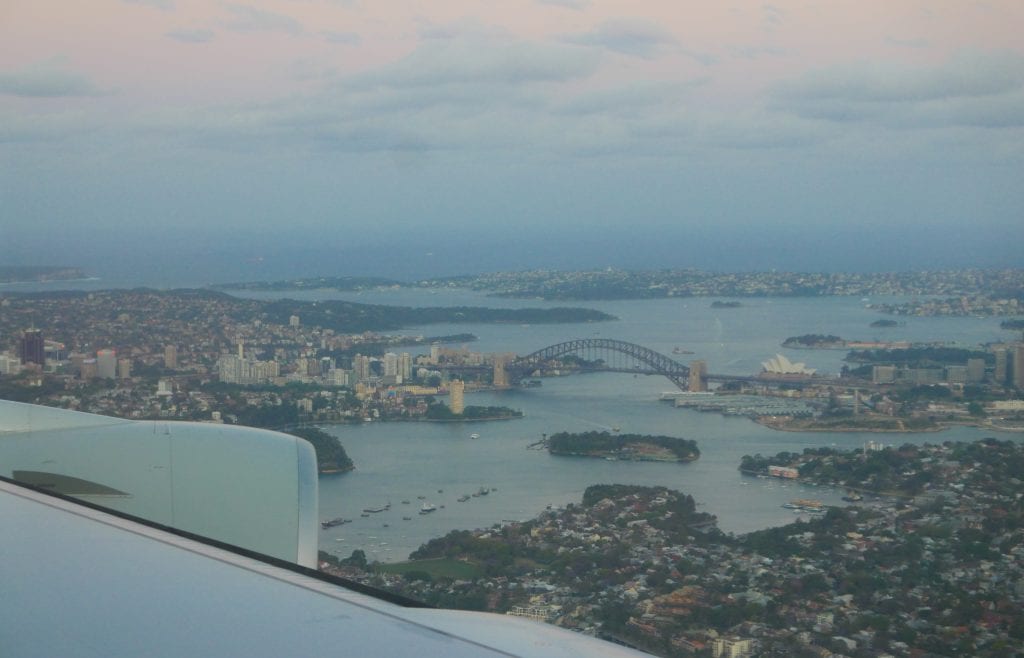 ---
Australia Hotel Reviews
---
Here is a selection of our most recent Australia hotel reviews:
---