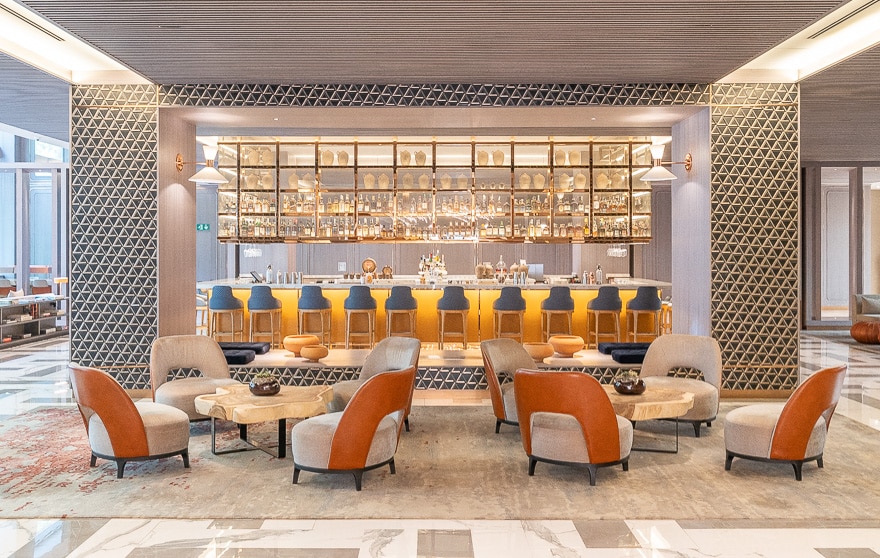 REVIEW – Intercontinental Barcelona
February 24, 2023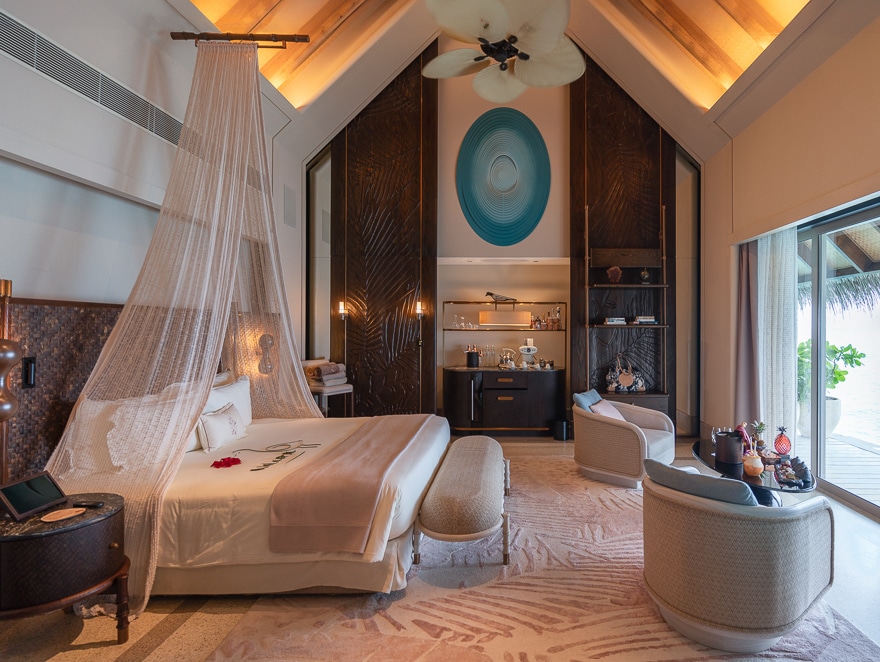 SPECIAL SUMMER OFFER – Joali Maldives
June 10, 2023
Four Seasons Geneva
Room Type: Presidential Lakeside Suite
Typical Nightly Rate: 15,000 CHF
Price Paid: Hosted stay
Loyalty Program: FSPP
---
Intro
---
As the owner of a Four Seasons Preferred Partner agency I've made it something of a mission to personally visit and review every hotel in the Four Seasons portfolio.
Given my personal travel preferences, I've largely gravitated towards Asian properties that are either brand new or have been very recently refurbished, like Four Seasons Singapore and Four Seasons Bangkok. However, I felt that I would be doing myself and our clients a disservice if I didn't also take the time to visit some older heritage properties in Europe.
When the opportunity presented itself to travel to Geneva and visit the legendary Four Seasons Hotel des Bergues, on the banks of Lake Léman in Geneva, I jumped at the chance!
Geneva is a city which is no stranger to luxury, indeed it is no exaggeration to say that the Swiss invented the concept of modern luxury hotels. As such, I was excited to see how one of the world's most prestigious hotel chains would fare in this most highly competitive of markets.
---
Booking
---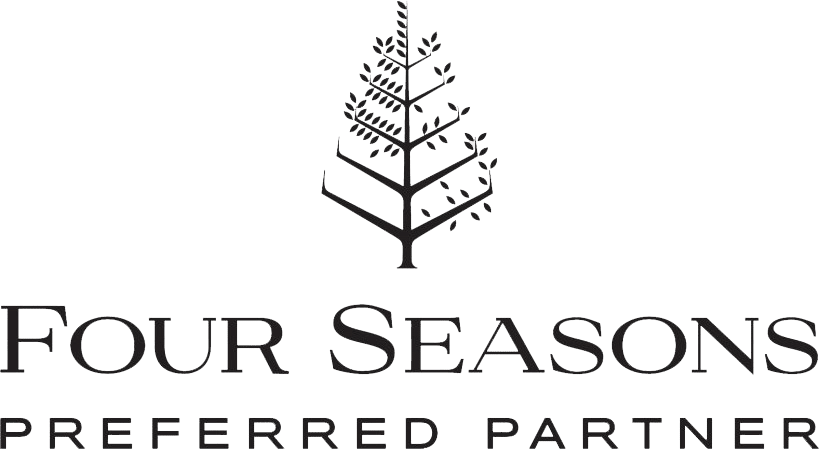 Our clients are able to enjoy Four Seasons Preferred Partner (FSPP) benefits when booking any Four Seasons hotel through us.
An example of FSPP benefits, which may be available on your stay:
Upgrade of one room category

, based on availability at time of check-in.
Full breakfast, for up to two in room guests. Either at the restaurant

or via in-room dining

.
$100 Hotel Credit.
Early check-in/late check-out, subject to availability.
There are numerous additional offers available throughout the year too, including:
free nights
guaranteed upgrades
Your booking will be direct with Four Seasons. However, since we manage the booking on your behalf, we are able to negotiate all the above extras for you.
Additionally, if you find a cheaper rate elsewhere, we can help to get the price matched AND STILL add the FSPP benefits to your booking!
EMAIL FOR FSPP BOOKING ENQUIRIES
---
Arrival
---
Since we were travelling light we opted to take the train from GVA airport to the city and then walk in a straight line, downhill to the hotel. A taxi would have taken slightly longer but traffic is never particularly bad in Geneva, if we had more luggage we definitely would have opted to go by road instead.
The Four Seasons building occupies a prime piece of real estate right on Lake Léman, in the centre of Geneva. The appeal of course is that despite being a major international city, there are no crowds, no traffic, a crystal clear lake in front and mountains surrounding you. In the summer months in particular, it feels like an infinitely wiser choice to enjoy time here, rather than battling the stifling heat and oppressive crowds of the Mediterranean.
As we approached the building we were immediately greeted by members of door staff, who took our cases and directed us to the check-in desk. The hotel lobby manages to feel at once incredibly grand and also rather residential.
The craftsmanship is impeccable and the Four Seasons signature floral display is spectacular, yet the relatively low ceiling and lack of tourist footfall gives one the impression of being in an opulent residence, rather than the lobby of an international chain hotel.
Just beyond the lobby was a lounge area where people were sitting and enjoying drinks but there was a clear separation between this and the lobby. The lack of seating in the lobby itself was clearly intentional.
It is worth noting that there is also a side entrance for those who prefer to come and go discreetly. We ended up using this the majority of the time, since it was right next to a lift which took us almost directly to our room.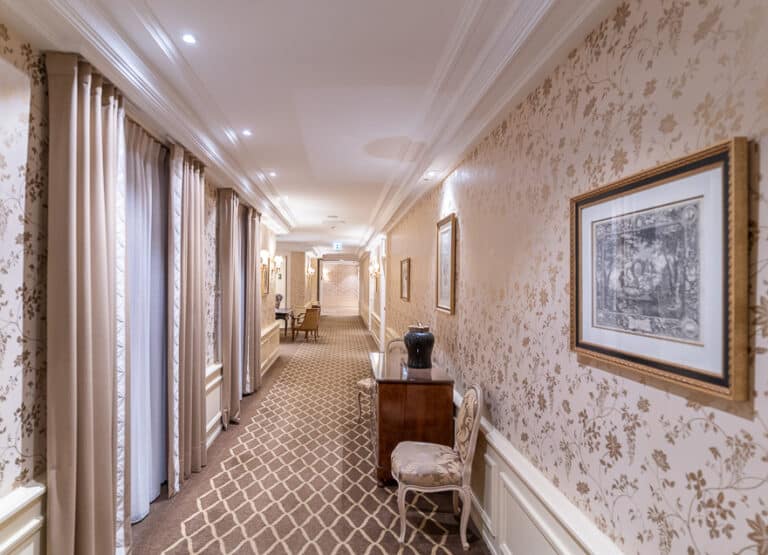 Check-in
The reception staff all seemed to be very young, as seems to be the case everywhere in hospitality these days. However, they were very polished and professional; what they may have lacked in experience they more than made up for in enthusiasm.
Over the course of our stay we really enjoyed our interactions with the front of house team and they effortlessly adapted to deliver more casual and friendly service as our stay went on. When we asked for the best way to get to a Slipknot concert one evening, we were asked the following morning if they'd played 'Duality' and 'Before I Forget'. I certainly hadn't been expecting to have these kinds of conversations in a hotel that looks like a prim and proper palace.
From the moment we first checked in, it was clear that the staff here understood and embraced the fact that true luxury is about feeling comfortable and relaxed in one's surroundings.
During check-in it had not been revealed to us exactly which room type we were in. As we were escorted through the hallways to our room the usual sense of anticipation built up, the hope that perhaps we'd end up with a fantastic suite…just like our FSPP clients often experience!
---
Presidential Suite – Lake View
---
As we entered the room, it was immediately clear that we had been assigned a VERY spacious room. I certainly had not been expecting to be greeted by an entrance hall and guest bathroom!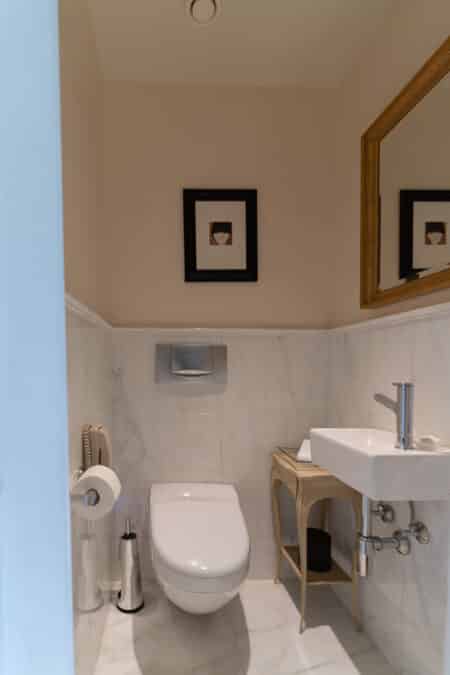 Seeing the look of awe on our faces, the front desk agent revealed that we had been upgraded to one of the hotel's Presidential Suites. In this case the Presidential Suite with Lake View.
The hotel is rather unique in having Four different Presidential Suites, of which this is both the smallest (at 80m²) and the most modern in terms of decor.

Living Room
The Living room was very spacious, impeccably furnished and awash with natural light, which came flooding in from a multitude of directions.
In one corner of the room there was a glass desk where I set up my office for the next couple of days.
A variety of ports were built into the desk drawer, with additional power sockets hidden inside a leather box, on top of the desk.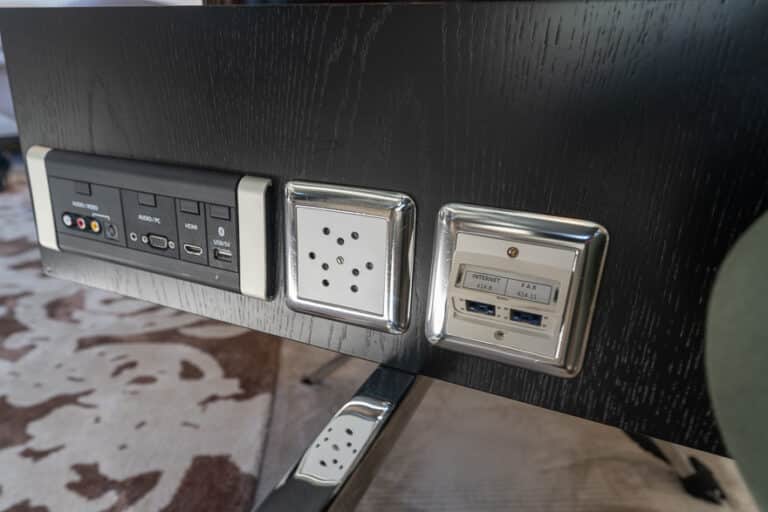 The main sitting area featured a large coffee table, which was overflowing with welcome amenities!
It's safe to say the the property goes above and beyond to make guests in the top suites feel very welcome! Indeed on the second day of our stay it was Swiss national day; in honour of this we were presented with a traditional Swiss cake and a fan to help us to keep cool in the record breaking heat.
Heading towards the windows, we were greeted with a spectacular view of the crystal clear water and the surrounding mountains. It's hard to imagine a view that could more perfectly capture the beauty of this utterly pristine city.
Dining Room
At the far end of the living room there was a dining area, with a window that faced out onto a city view.
An endless mountain of fruit awaited us here, together with an absolutely delicious fruit platter, shaped like a tartelette.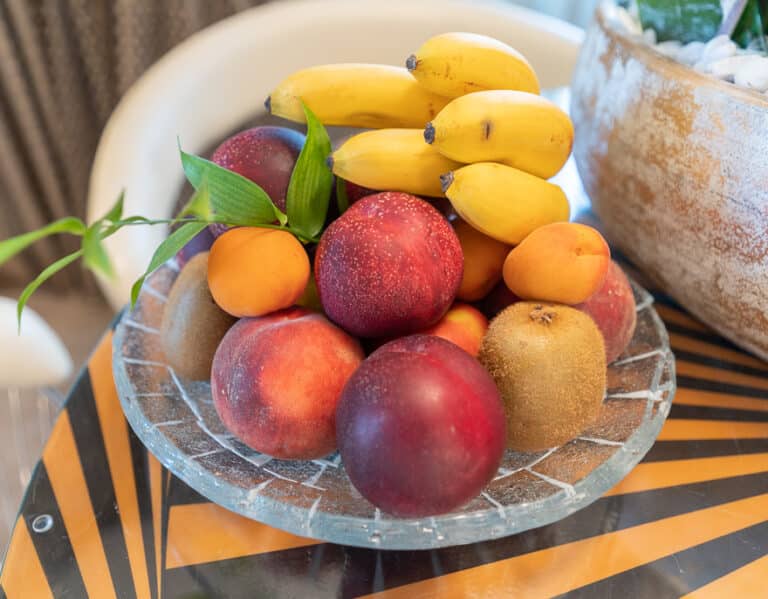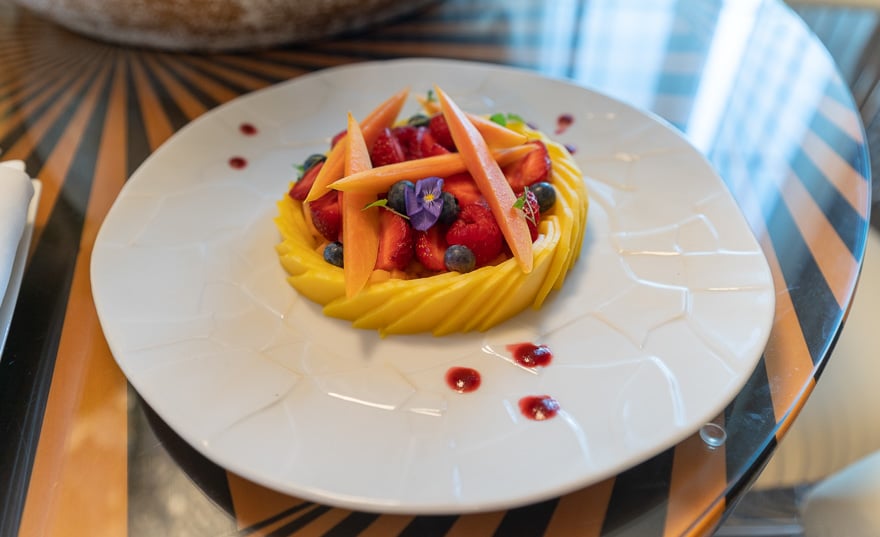 In addition to the usual Nespresso machine and a wonderfully whimsical porcelain kettle, there was also the most unbelievably well stocked minibar that I've seen in my entire life.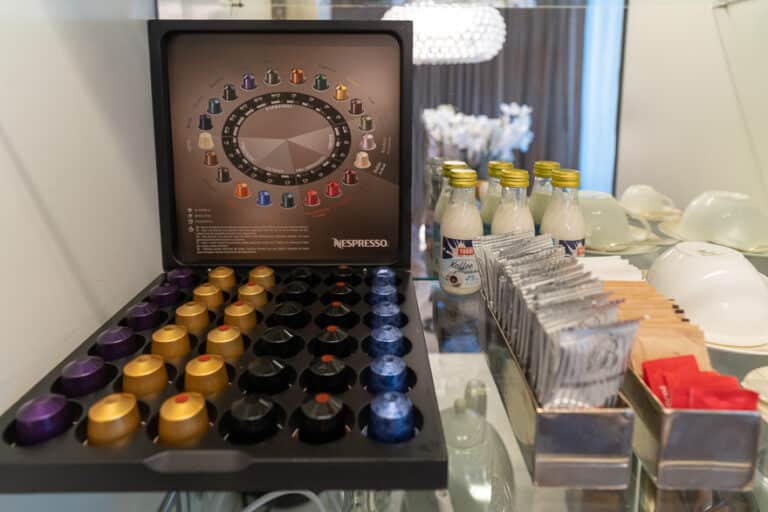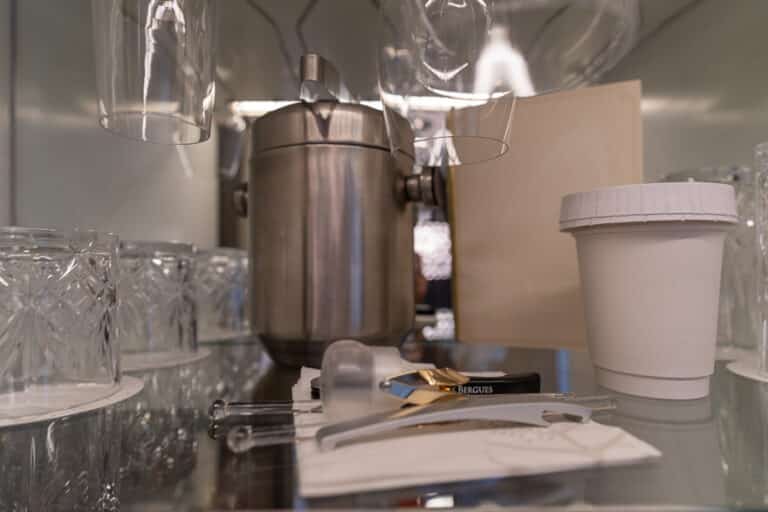 The top drawer of the wine fridge featured a 2017 Sassicaia and a bottle of 2005 Mouton Rothschild…
…meanwhile the drawer beneath revealed a 2013 Cristal and 2006 Dom Perignon Rosé and even a 750ml bottle of 1990 Chateau d'Yquem!
I've had the good fortune to spend numerous nights in similarly priced suites around the world but honestly the level of attention to detail, the overall polish of this suite, was absolutely breathtaking.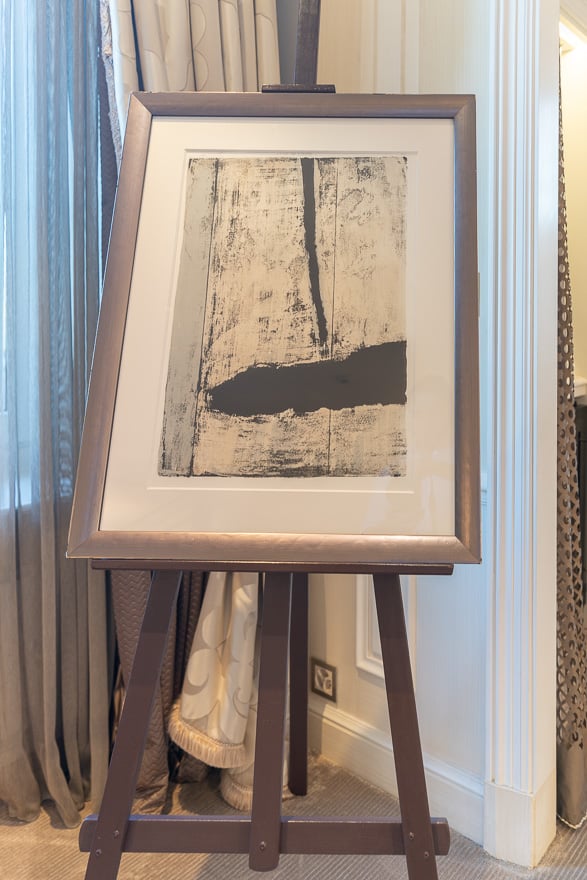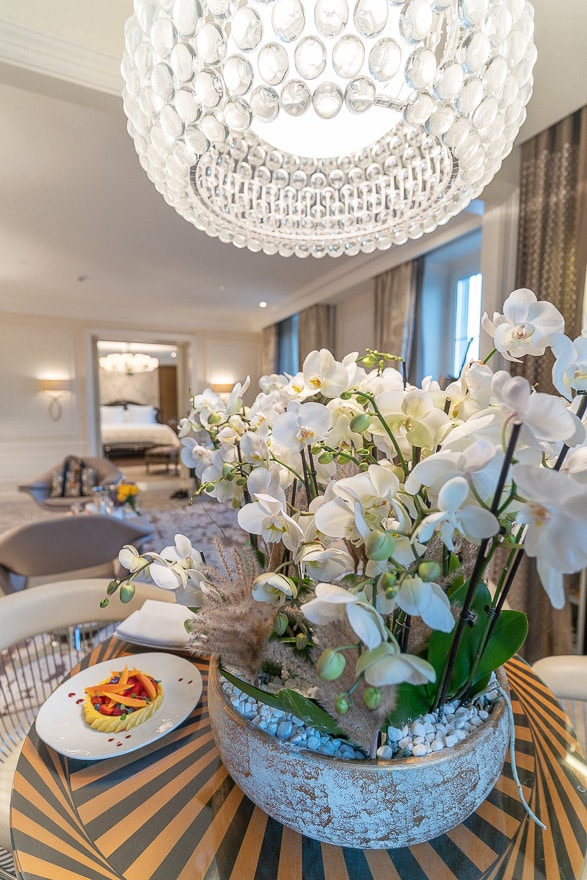 Bedroom
Where the living and dining space was bright and filled with light, the bedroom was awash in darker tones. This colour palette combined with the plush carpet and heavy curtains to create a wonderful sense of stillness and warmth in the bedroom.
Each side of the bed featured bedside tables with clearly labelled light switches and a local power port. The lack of international power sockets or USB ports was slightly disappointing, as were the finishes. The glass didn't quite reach the edge of the wood and the wooden patterns on the walls were not only mismatching tonally, the grain was running in opposite directions.
There's no question that this is nitpicking but at this price point, I'd say it's fair criticism.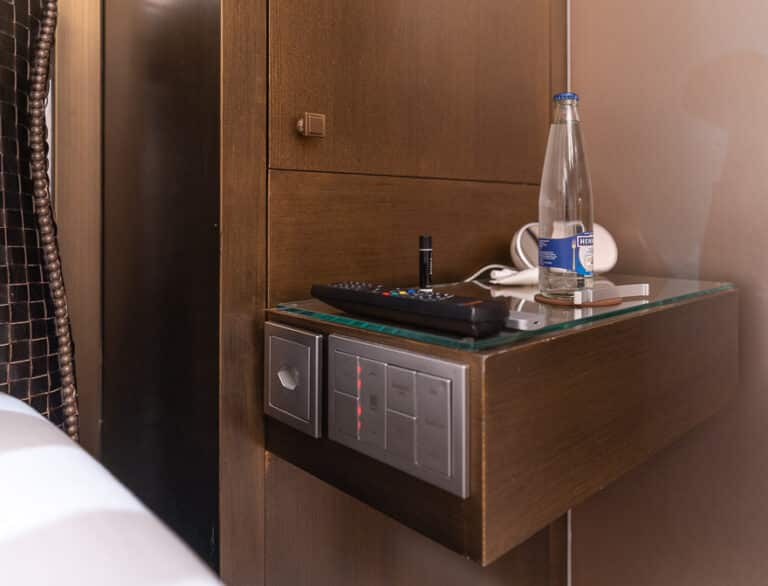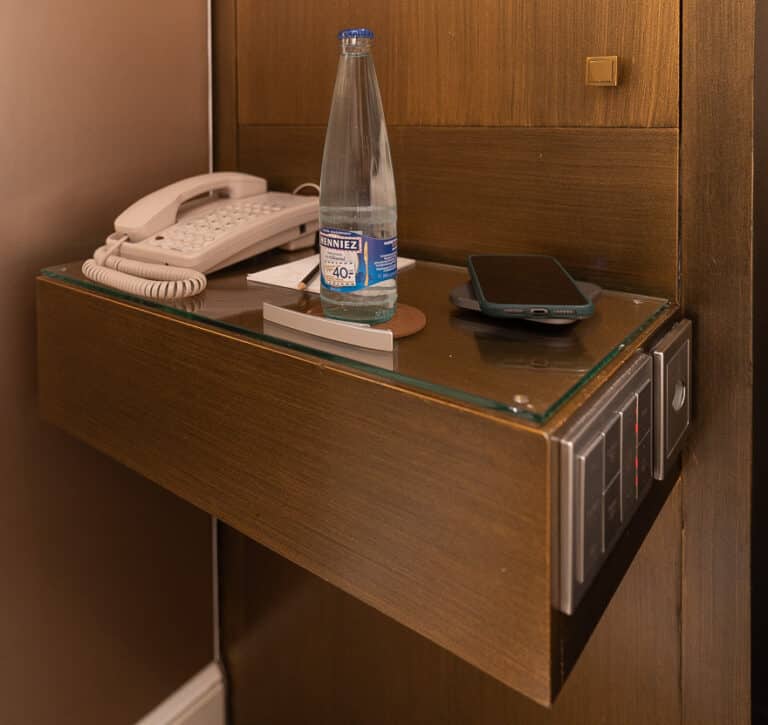 The Four Seasons bed was as soft and comfortable as always and the feather pillows were as thin and limp as always too. I really wish that Four Seasons would invest in firm feather pillows like the ones made by Ploh. This would make a world of difference in terms of sleep quality.
At the far end of the bed was an extravagant armchair, which wouldn't have looked out of place in a Bill Bensley hotel.
Bathroom
The bathroom featured two pocket doors, which made the combined space feel very large and inviting.
The finishes and the lighting in the bathroom were impeccable and given that this also doubled as a walk in wardrobe, the amount of storage space on offer was exceptional.
I was particularly impressed with the boutique style glass fronted drawers, located either side of the twin sinks.
The bathroom's toilet and hammam style steam shower were located behind frosted glass doors at one end of the room. The shower was absolutely incredible but the bidet seems like a pointless waste of space, in an era when Toto washlets exist.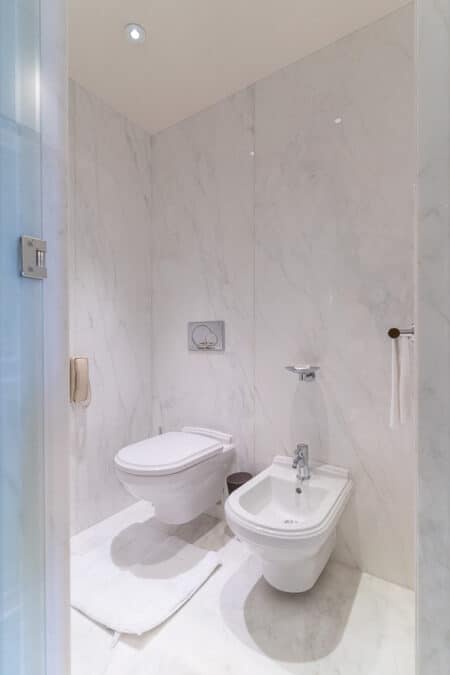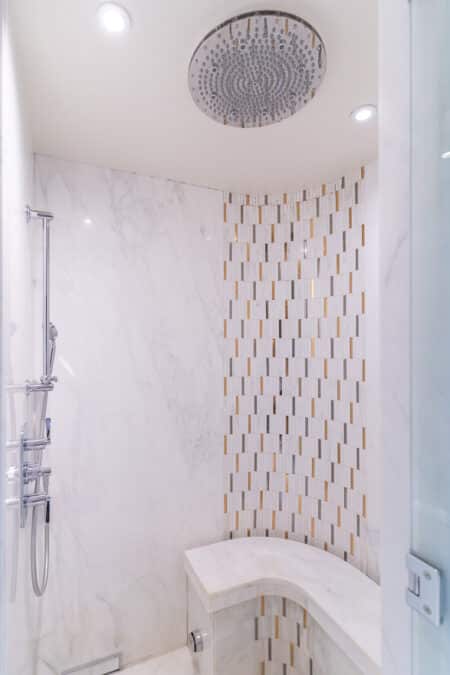 Toiletries were provided in small disposable containers and were by Guerlain.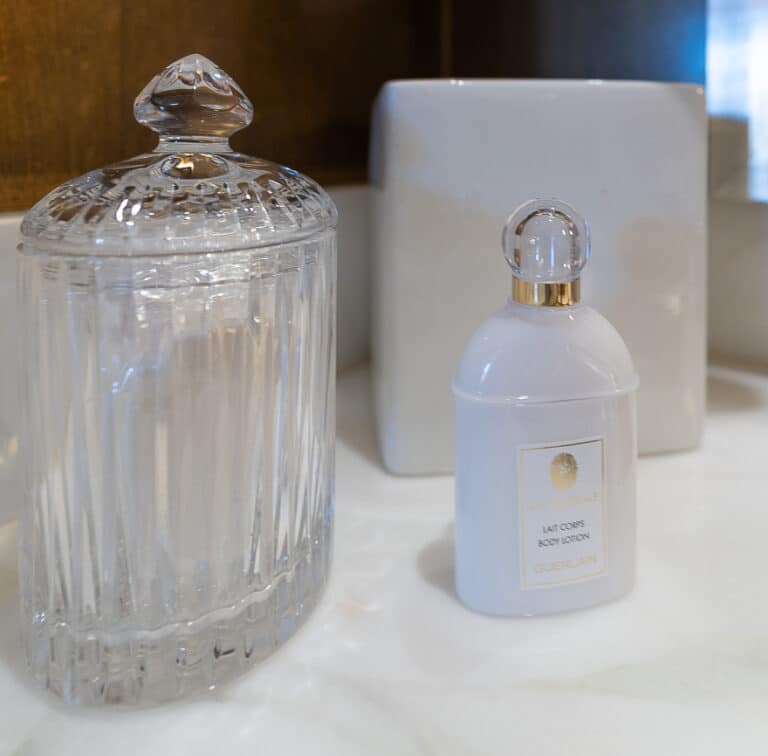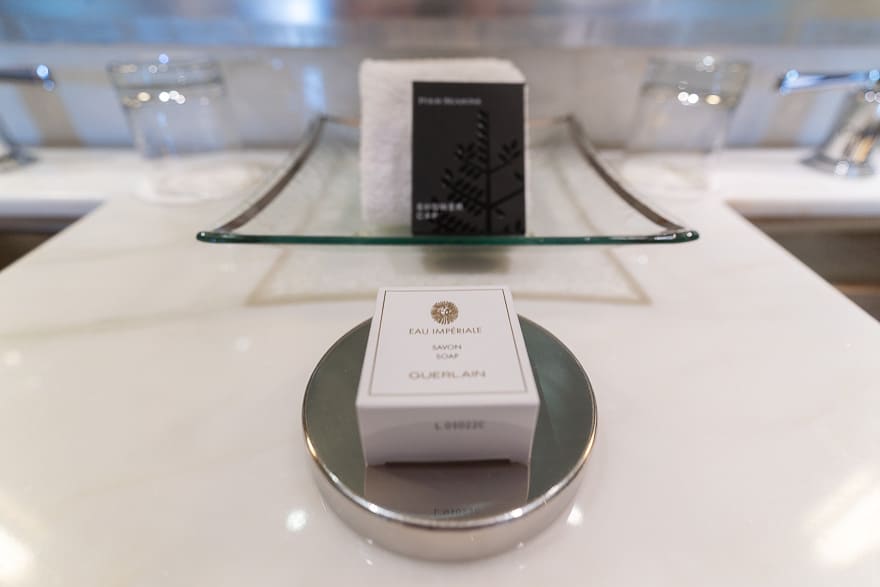 Housekeeping
Housekeeping throughout our stay was truly exceptional. Equalling the incredible experiences at Four Seasons Bangkok and Four Seasons Landaa Giraavaru.
Complimentary lens-cloths were placed under any pair of glasses that was ever left out of a case.
I even learned that special anti static screen cleaners exist!
Elsewhere, toiletries were neatly tidied.
The complimentary shoe shine service was a nice touch, although my Santoni loafers still had a few visible scratches when they were delivered back to me. A light application of a darker Saphir cream wouldn't have gone amiss!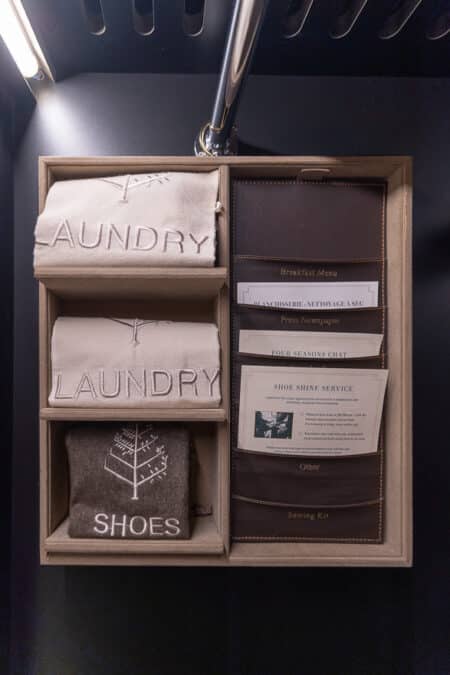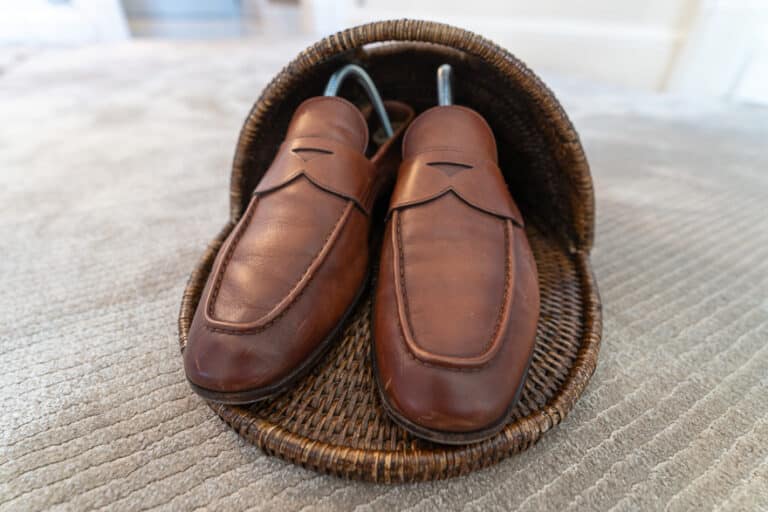 When I requested and extra pair of shoe bags from housekeeping as we were packing up our cases (for my beer soaked shoes from the aforementioned Slipknot concert) I was delivered a gigantic ziplock bag, filled with shoe bags. Presumably in case I wanted to use them as makeshift packing cubes.
---
Suite Léman
---
As part of our site inspection of the hotel we were able to view the only two unoccupied rooms at the hotel, on the final day of our stay. The first of these was a very traditionally styled Suite Léman and the second was the diametric opposite – one of the hotel's very modern Loft Junior Suites.
The Suite Léman looked exactly how you'd expect the rooms at a grand old hotel to look. In many ways it reminded me of a more polished version of our suite at the Belmond Mount Nelson hotel in Cape Town.
Living Room
The living room was very spacious, bright and resplendent in polished surfaces. The gigantic orchid placed on the dining table was every bit as impressive as the one in our suite!
One key selling point of these suites is that they have small balconies facing the lake, perfect for people who want to smoke without leaving their room.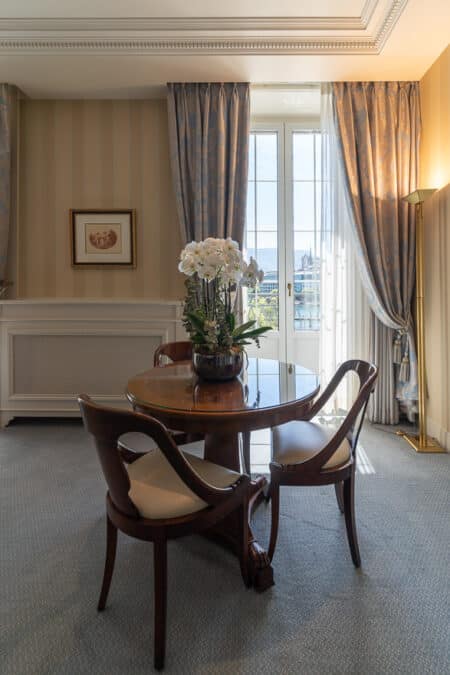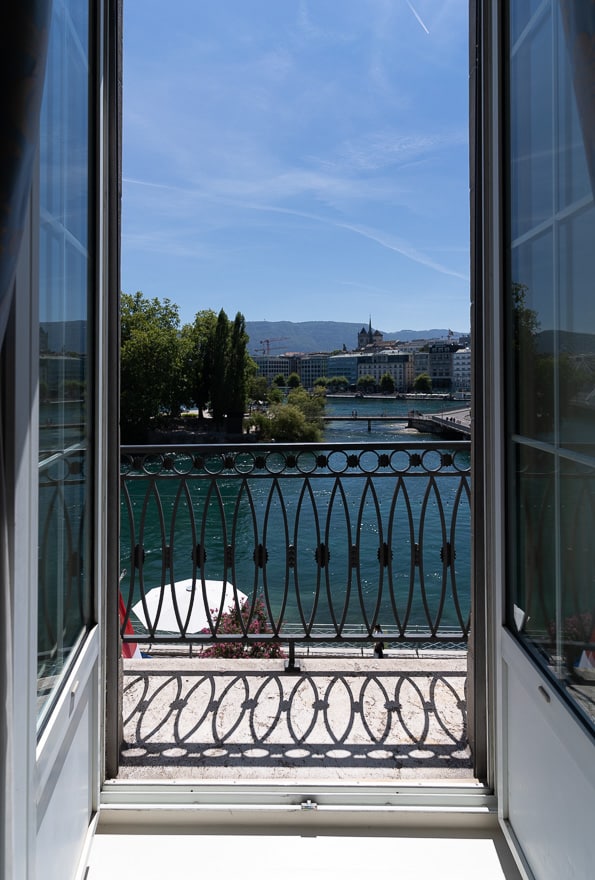 Bedroom
The fact that the bedroom had two doors, one on either side of the television, really worked to make the suite feel more open. This is the same trick that was employed in the bathroom of our Presidential Suite (and one which we would see once again in the Loft Junior Suite).
What I liked most about the design here is that despite being a more classical style of design, the room still felt very fresh and bright. This is a world away from the mahogany with red, gold and purple which some antiquated properties still insist on.
Bathroom
Between the bedroom and the bathroom was a large walk-in wardrobe space.
Despite being undeniably spacious, the bathroom felt too plain and lifeless for my liking. A plant or the addition of some colour would have done a world of good. The overall style most reminded me of the bathrooms at the Four Seasons Johannesburg, albeit more beige and less brown.
---
Loft Junior Suite
---
The 6th floor of the hotel houses the spa and all of the rooms and suites with the "loft" designation. This floor has been designed in a very different style to the rest of the property, with the idea being that the rooms and hallways are an extension of the spa itself.
Given the style of the decor, you'd be forgiven for thinking that you'd somehow found yourself at the Mandarin Oriental!
Bedroom
The bedroom of the Jr suite had a very cosy and modern feel to it, with recessed lighting used to great effect, accentuating the architecture of this floor.
Each of the bedside tables featured a leather box, containing a Swiss power socket and two USB ports.
The desk area also featured a connectivity panel for the television.
Speaking of which, the wall mounted TV sat above an electric fireplace, flanked by doors to the bathroom on either side.
Bathroom
The bathroom was very luxurious and spa-like, in keeping with the theme of this floor.
The shower and toilet were located within frosted glass cubicles on either side of the twin sinks. The shower featured the exact same, very impressive, hammam style steam room as the one in our Presidential Suite!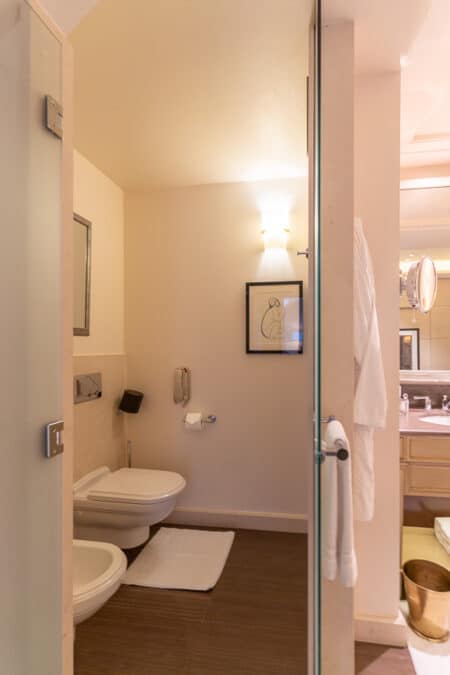 ---
Facilities
---
Mont Blanc Spa
Heading outside of the loft junior suite we walked towards the incredibly impressive spa reception area. The spa actually spans the top 3 floors of the hotel building, easy access between the various spa areas was possible via internal stairs.
The changing rooms here are very sleek and elegant, featuring minimalist designer furniture and very flattering lighting. There are numerous hammam style showers…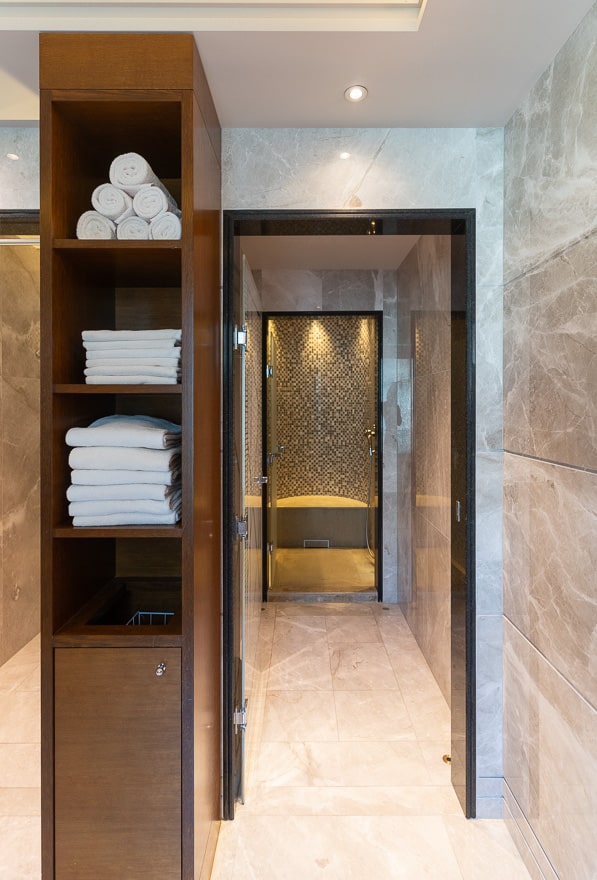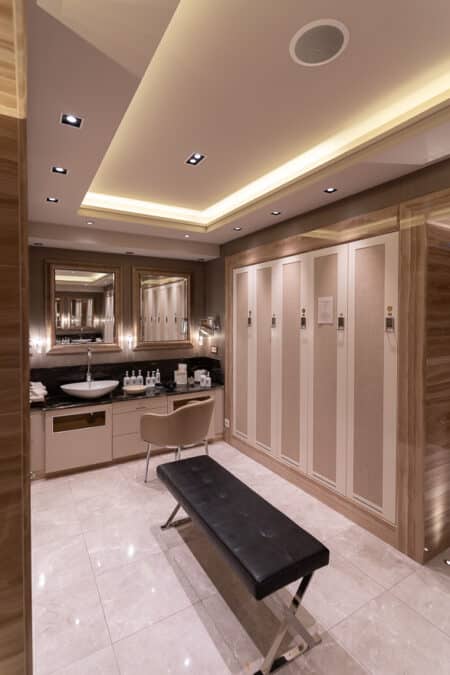 …as well as an actual hammam and ice fountain.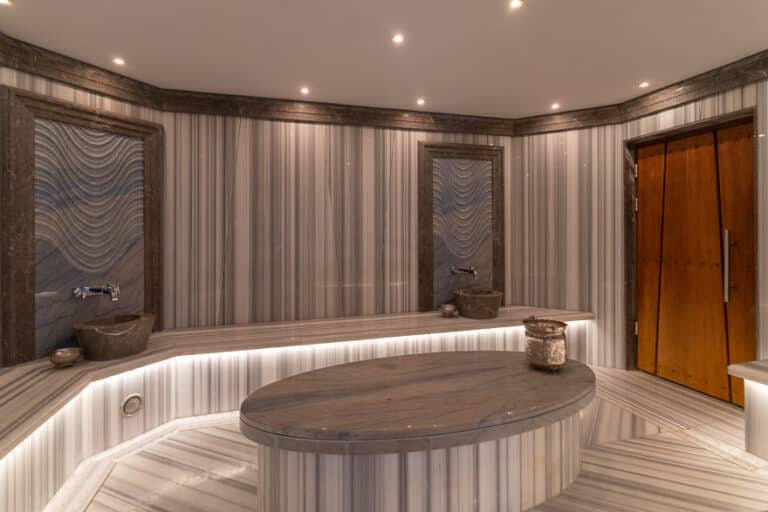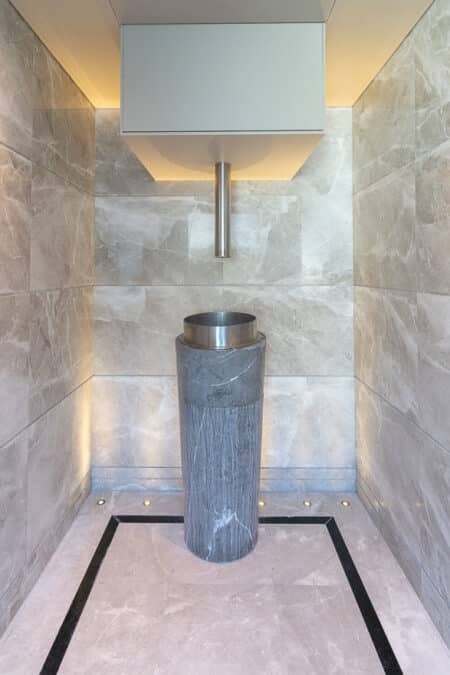 One of the more unusual and specialised treatments offered is the Iyashi Dome – which purportedly burns 600 calories per 30 minute session!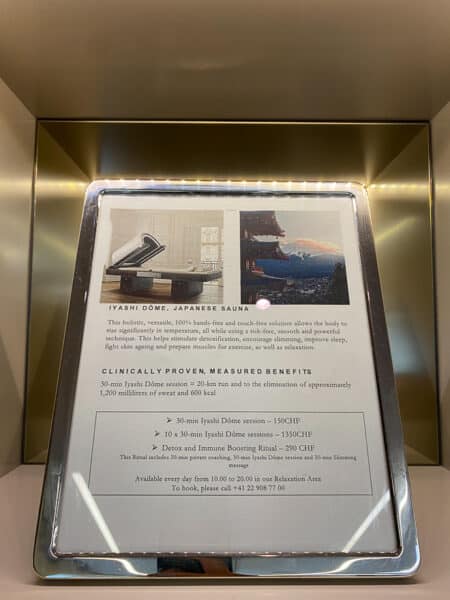 I thought that the relaxation are was particularly inviting, with great attention paid to the choice of materials and lighting used. It almost felt like an interactive art exhibit.
The spa treatment rooms are very luxurious indeed, with the electronically adjustable treatment tables featuring the thickest padding that I've ever seen!
Couples treatment rooms also offer a freestanding deep soaking tub.
Pool
The hotel's pool is perfectly designed to be appealing year round. In the summer months sunlight streams in, windows are opened and it almost feels like you're outdoors.
Once again, the finishes here are beyond reproach. The steel interior walls of the pool, white river stones and subtly curved tiles serve to reinforce the fact that no expense has been spared.
Immediately adjacent to the lap pool there was a large hydrotherapy pool, featuring many of the same nozzles and beds that we so enjoyed at LeFay Dolomiti.
At one end of the room there was even a dedicated stand set up, offering a multitude of different teas in both bag and loose leaf formats.
On this bright and sunny day it felt like a real privilege to sit back on a sun lounger as a gentle breeze rolled in, periodically taking dips in the pool to cool down.
The only thing to note is that the spa operates as a members club for local residents and there are times when this can disrupt hotel guests' use of the pool. We were relaxing one morning, reading books when all of a sudden 4 ladies came in to have an aqua aerobics class directly in front of us, with loud dance music pumping on the speakers.
There's also the possibility that an aqua bike class may be taking place as well. As such, it pays to check this in advance before planning to spend time here.
Gym
Four Seasons hotels tend to consistently have the best gyms of any hotel brand and Geneva is no exception.
A cable crossover is the ultimate gym hack – in the absence of any other gym equipment, you can still have a great workout with just one of these.
Thankfully though, the Four Seasons gym has plenty more to offer! Not only was there an extensive selection of cardio equipment…
…there was also a dedicated free weights section, featuring a Smith Machine and a huge selection of dumbbells.
Incredibly, the largest set topped out at 50kg!
There was also a fantastically smooth 45 degree leg press, with plenty of plates on offer.
I've had clients tell me that they always skip over the gym section but just in case you're still reading this (you know who you are!), the soft drinks and snack selection at the Four Seasons Geneva gym is also incredible!
To start with you have still and sparkling water, Powerade, juice and coconut water.
There was also a variety of fruit on offer as well as various flavours of Cliff bars and bags of mixed nuts.
Pièce de résistance though had to be the energy bars, prepared by the hotel's pastry chef. That's a level of detail that I've not even seen in the top properties in the Maldives!
---
Food and Drink
---
Speaking of the pastry chef, breakfast each morning was a true delight.
Breakfast at Il Lago (1* Michelin)
A key aspect of staying in a European heritage hotel is being able to enjoy a leisurely breakfast in palatial surroundings. No matter how elegant a modern hotel may be, there's nothing quite like starting the day in the style of royalty.
Four Seasons Geneva does a marvellous job in capturing this feeling, especially in the indoor seating area set up in the hotel's beautiful bar.
A buffet area was set up in the foyer of the hotel's 1 Michelin * restaurant : Il Lago.
Although the buffet selection was on the more limited end of the spectrum, the quality of the produce was extraordinary. The freshly baked breads and pastries were delicious and I really liked the way that they presented the granola parfaits.
The Swiss charcuterie was my favourite section, with air dried Swiss beef being a particular standout (a delicacy which I've previously very much enjoyed on board Swiss First Class).
Despite the traditional stylings of the hotel, it was great to see dairy and gluten free alternatives offered alongside the usual buffet dishes.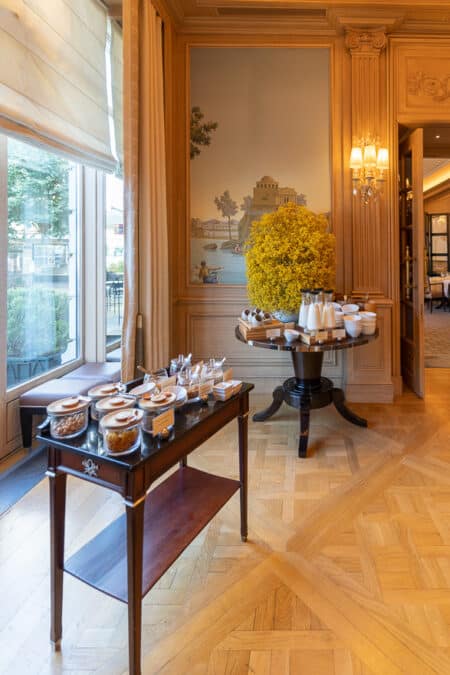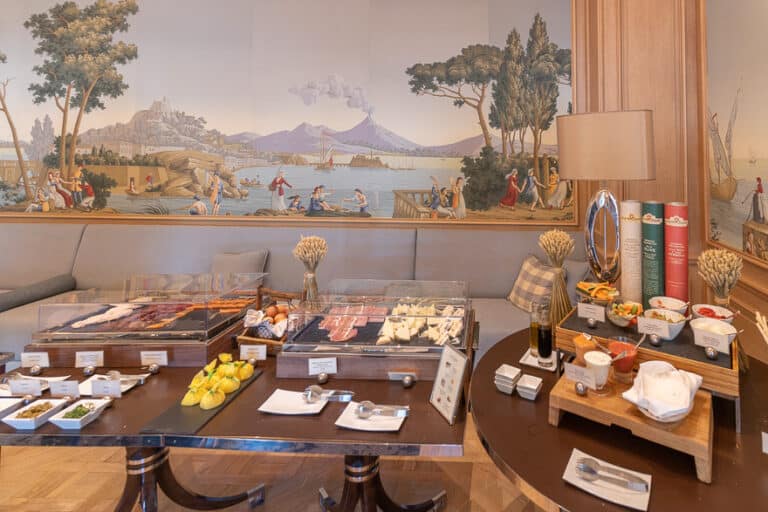 Hot dishes were also offered in high quality chafing dishes with glass lids, obviating the need for unnecessary opening and closing.
On our first morning we opted to sit outside since the weather was so pleasant.
Service was a little disjointed however, as staff seemed to be covering both indoor and outdoor locations simultaneously. This meant that we felt a bit like second class citizens outside, especially when (very cute) birds would swoop in on uncleared tables next to us!
My one other complaint about breakfast is that the coffee quality was not great. It had the tell tale nozzle signs of having been prepared by a mass catering machine, rather than a barista.
Although I stuck to the delicious buffet items…
…Kamara opted to order crepes from the included a la carte menu. Kamara is something of a crepe aficionada and I am happy to report that these particular pancakes passed muster.
Lunch at Madame Sum
During the warmer months, the Four Seasons Geneva hosts a pop up restaurant on the island directly in front of the hotel, accessible via a short walk across a bridge (as shown previously in the view from our suite).
During our visit the pop up was called Madame Sum and featured a variety of Asian dumplings and salads.
This had a VERY different feel to the main hotel and really felt like it was more of a hub for locals walking their dogs and riding their bikes in the neighbourhood. Service was truly excellent though, very attentive indeed.
The salad was outrageously large and must have had at least half a kilo of lentils in it. In contrast the duck dumplings were rather insubstantial, yet delicious nonetheless.
Dinner at Izumi
Izumi has been one of the hottest restaurants in Geneva for years and it's still tough for non-hotel residents to get a reservation without booking weeks in advance. On a summer evening, the ambiance is wonderful, as is the view of Geneva's famed Jet D'Eau.
We actually came up here to take pictures and enjoy the view during the day.
Upon our return at night, the space was transformed by the glowing green bar which resembled a slab of kryptonite.
The quality of the cuisine was excellent, as were the mezcal margaritas and the service. On this warm evening, it was a delight to sit back and really take our time enjoying our meal. Pricing and quality were in line with the likes of Nobu, Roka, Zuma, etc in London. Although the atmosphere was far more special, up on this privileged perch above Lake Léman.
---
Conclusion
---
Basics Checklist
☑︎ Power sockets near the bed
☑︎ Easy to understand light switches
☑︎ Coffee machine
☑︎ Separate shower and bath (and steam shower!)
☑︎ Blackout blinds
☑︎ Stable, fast and free Wifi
☑︎ Feather pillows
☑︎ Quiet and powerful aircon
Four Seasons Geneva really surprised me. I had been expecting a rather stuffy and old fashioned hotel, the antithesis to the sleek and modern Four Seasons Bangkok. Instead, I found a property with impeccably maintained historical features, married perfectly with modern touches like bedside USB ports, hammam style steam showers, rooftop sushi and indeed a very young and enthusiastic staff.
It almost felt like visiting a heritage property on 'cheat mode', having all of modern life's conveniences, including the industry leading Four Seasons app at our disposal during our stay.
The gym was very well equipped and featured the most generous complement of complimentary drinks and snacks that I've ever seen! The swimming pool is also a thing of true beauty…even if gym members occasionally monopolise it with their classes.
There are numerous true luxury properties in Geneva and picking between them will be more a matter of slight differences in personal preferences and priorities. For those who value a prime central location, impeccable service and heritage interspersed with modernity – Four Seasons Hotel des Bergues Geneva is a real winner!
---
Book Four Seasons Geneva with FSPP Benefits
---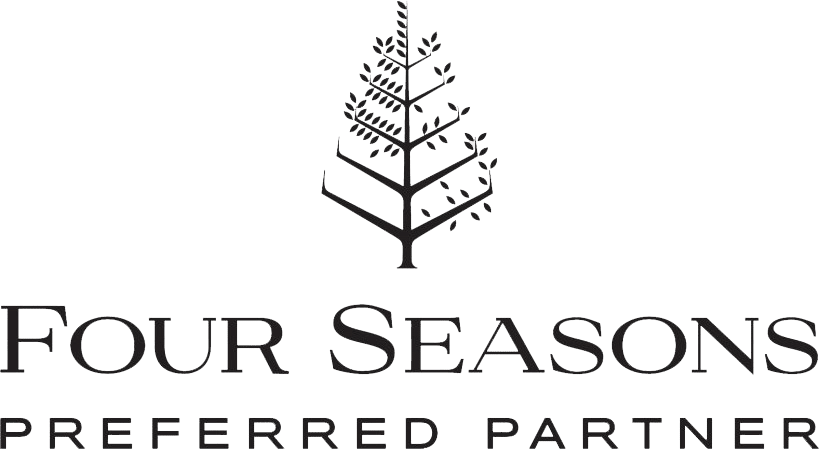 Our clients are able to enjoy Four Seasons Preferred Partner (FSPP) benefits when booking any Four Seasons hotel through us.
An example of FSPP benefits, which may be available on your stay:
Upgrade of one room category

, based on availability at time of check-in.
Full breakfast, for up to two in room guests. Either at the restaurant

or via in-room dining

.
$100 Hotel Credit.
Early check-in/late check-out, subject to availability.
There are numerous additional offers available throughout the year too, including:
free nights
guaranteed upgrades
Your booking will be direct with Four Seasons however, since we are managing the booking on your behalf, we are able to negotiate all the above extras for you.
Additionally, if you find a cheaper rate elsewhere, we can help to get the price matched AND STILL add the FSPP benefits to your booking!
EMAIL FOR FSPP BOOKING ENQUIRIES