---
Intro
---
I have now visited this hotel on three separate occasions. This review was last updated in March 2022 to reflect the most recent changes to the hotel, including a new spa, gym, bar and restaurant.
Singapore is an odd city for luxury hotels, with properties generally unable to command the kind of rates possible in Hong Kong or even Bangkok.
I really enjoyed my stay at the Fairmont in 2015 but a lot of that was to do with the fact that I was able to apply a complimentary suite upgrade certificate.
I felt no real compulsion to return there on subsequent visits to the city. Indeed, I'm not entirely sold on the prospect of staying at any hotel in the Marina Bay Area.
Having now visited the Four Seasons Singapore on multiple occasions I have to say that it not only keeps getting better, it is also quite possibly one of the greatest hotel deals in the world.
Pricing is a quarter of what you'd expect at a Four Seasons property in Europe or the USA but the hard product and service are utterly exceptional.
---
Booking
---
Since I am a Four Seasons Preferred Partner (FSPP) agent, I can offer you FSPP benefits at any Four Seasons property.
An example of FSPP benefits, which may be available on your stay:
• Upgrade of one room category, based on availability at time of check-in.
• Full breakfast, for up to two in room guests. Either at the restaurant or via in-room dining.
• $100 Hotel Credit.
• Early check-in/late check-out, subject to availability.
Your booking will be direct with Four Seasons. Since I'm managing the booking on your behalf, I am able to negotiate all the above extras for you.
Additionally if you find a cheaper rate elsewhere, I can help to get the price matched AND STILL add the FSPP benefits to your booking!
EMAIL FOR FSPP BOOKING ENQUIRIES
---
Arrival
---
(written in 2018)
We took a Grab from the airport, the journey took a little over 25 minutes at a cost of around $18 SGD.
Pulling up to the hotel at around 10pm I must admit that I was initially underwhelmed. There's no doubting the power of that famous Four Seasons tree logo: you expect great things to follow. However both the building exterior and the lobby were rather dull.
The check-in process was very prompt and efficient and we were handed a letter detailing our booking benefits. Although these generally only include a single category upgrade we were told that we had been upgraded two categories to an Executive Suite!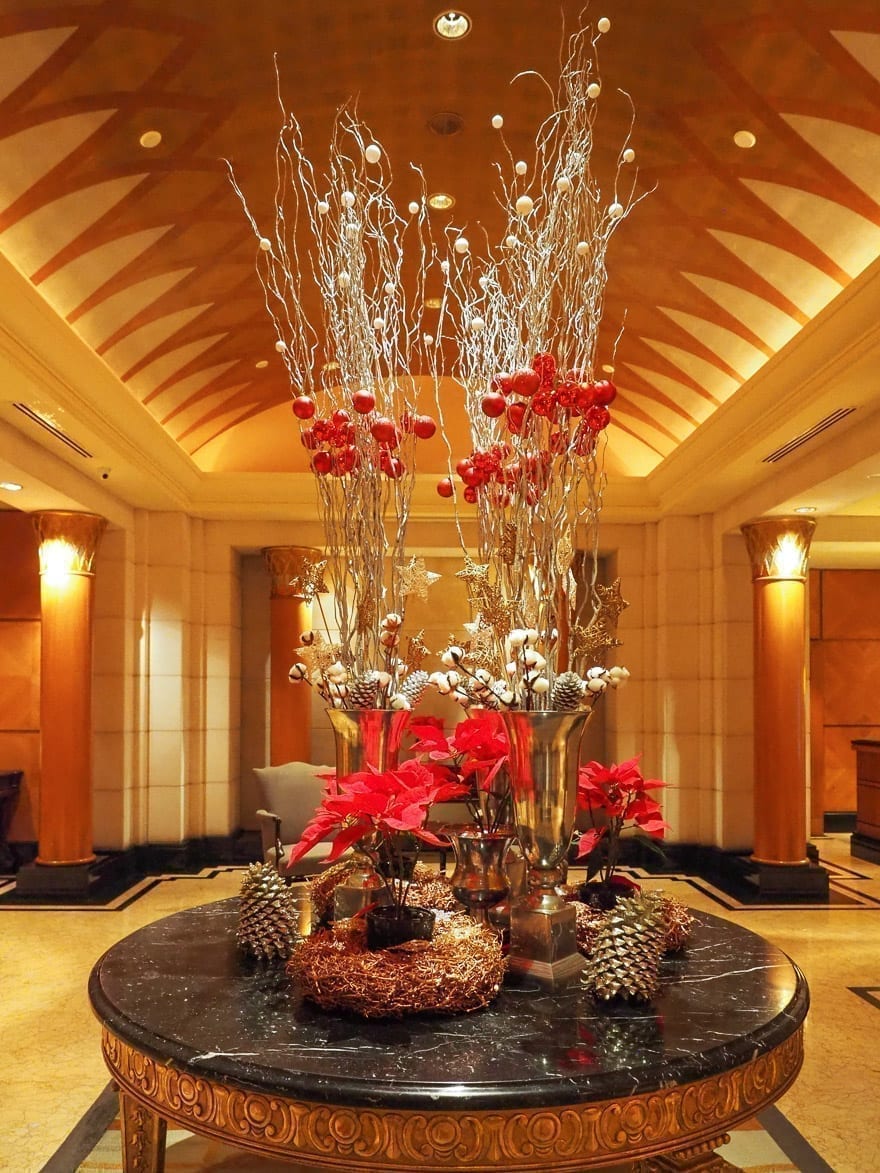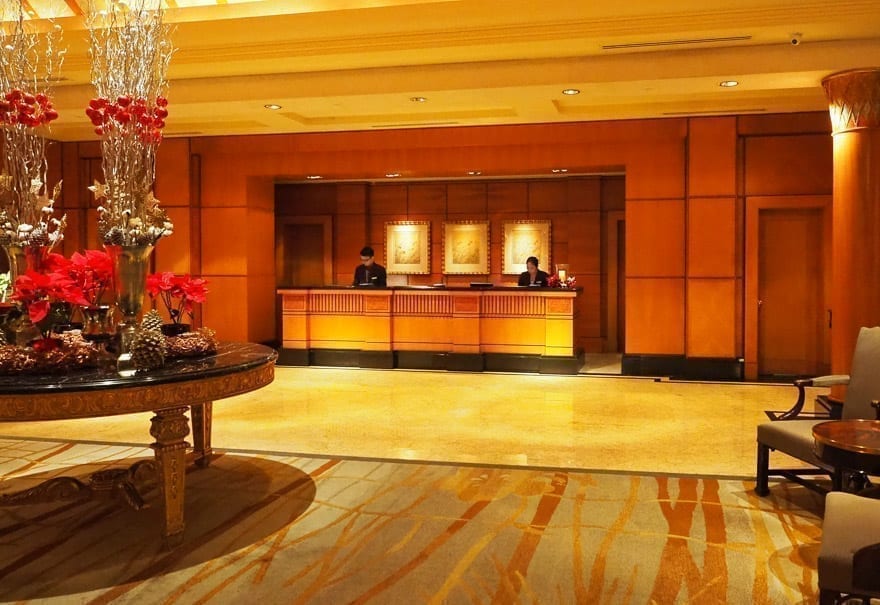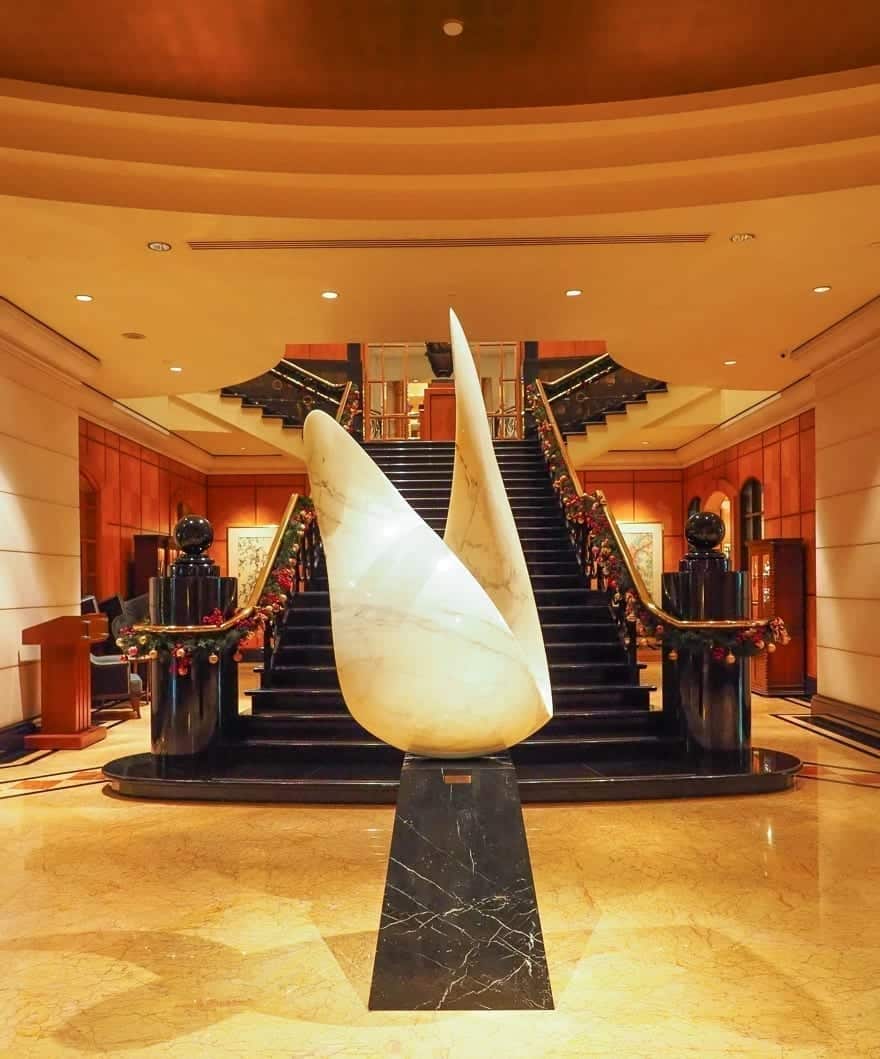 As soon as we left the main lobby area and made our way up to our suite, the decor changed quite remarkably. Gone was the old school black, red and gold – with a far lighter and more modern palette of blues and cream taking its place.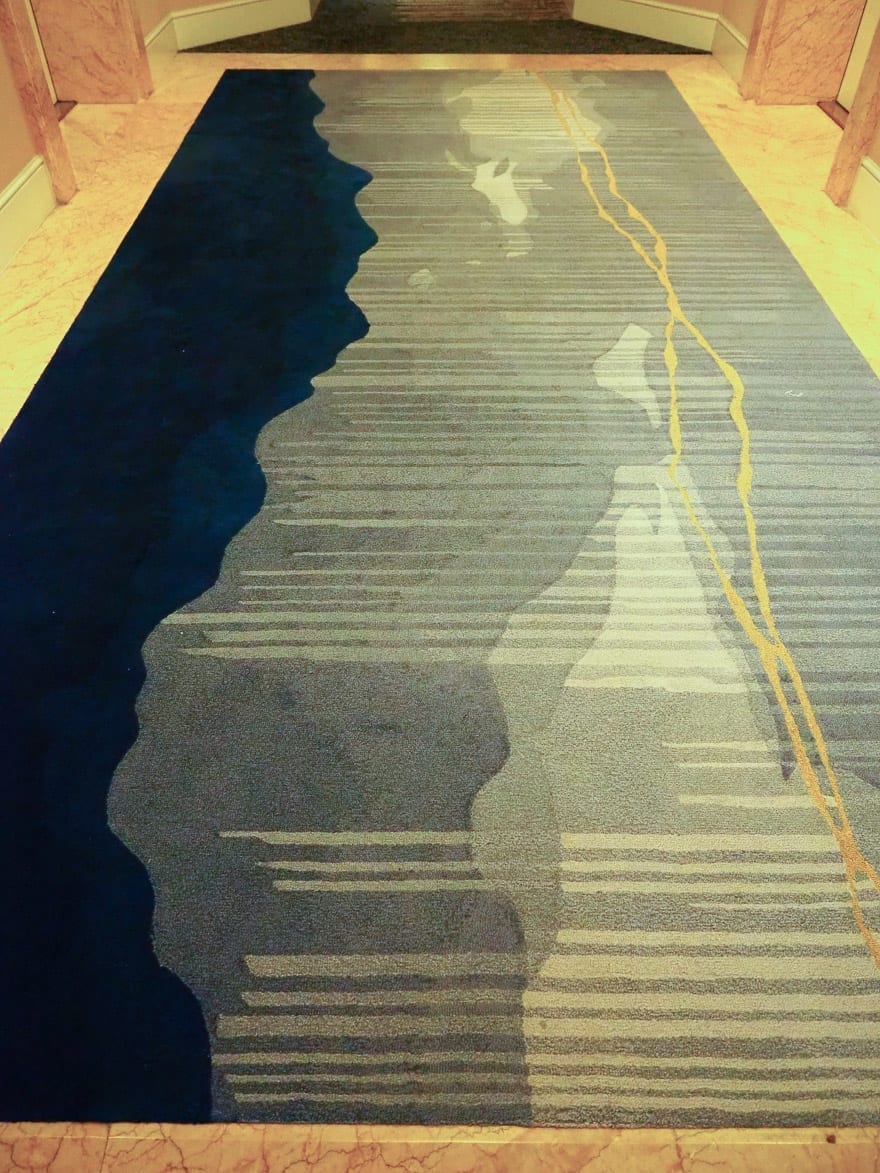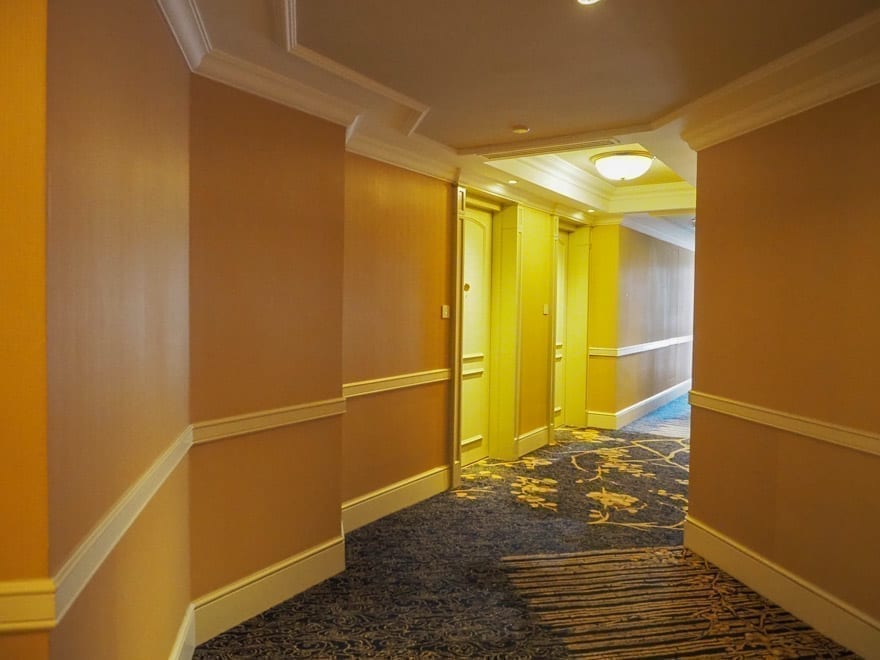 ---
Executive Suite
---
(visited in 2018)
Upon first setting foot into the suite my first impression was that this seemed like it was the interior of an entirely different hotel! This 75m² space was every bit as elegant and modern as our room at the Four Seasons Tunis (one of the newest properties in the global FS portfolio).
Guest Bathroom
The interior hallway of the suite featured access to the main bathroom (foreground) as well as a guest bathroom, next to the front door (background).
The guest bathroom was actually quite impressive in terms of decor. The copper toned lighting contrasted beautifully with the dove grey marble. I was slightly disappointed to be in Asia and not have a Toto toilet though!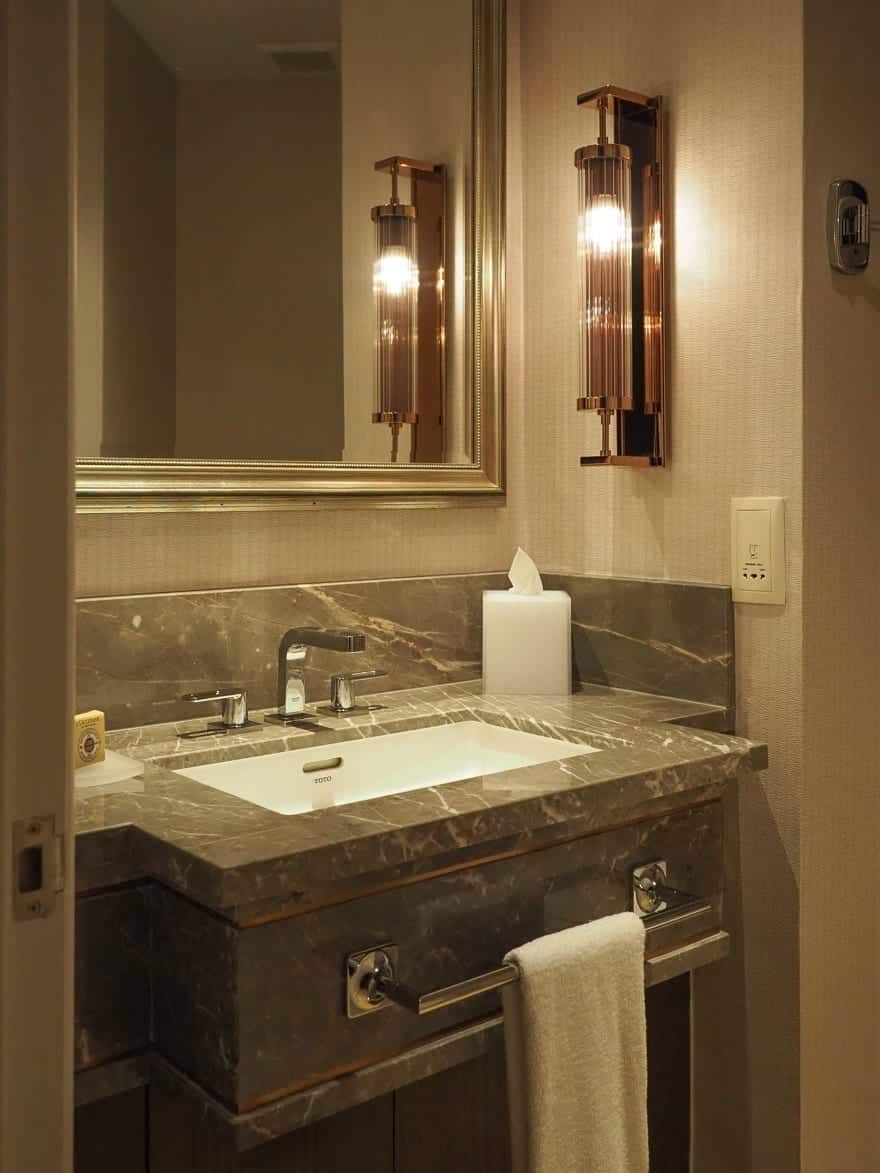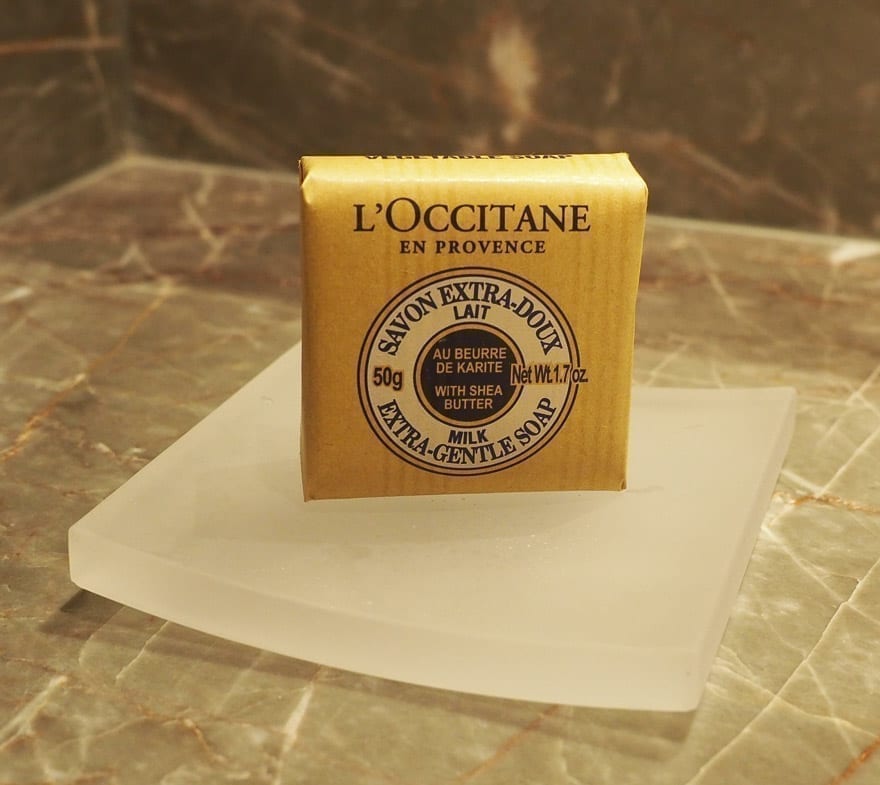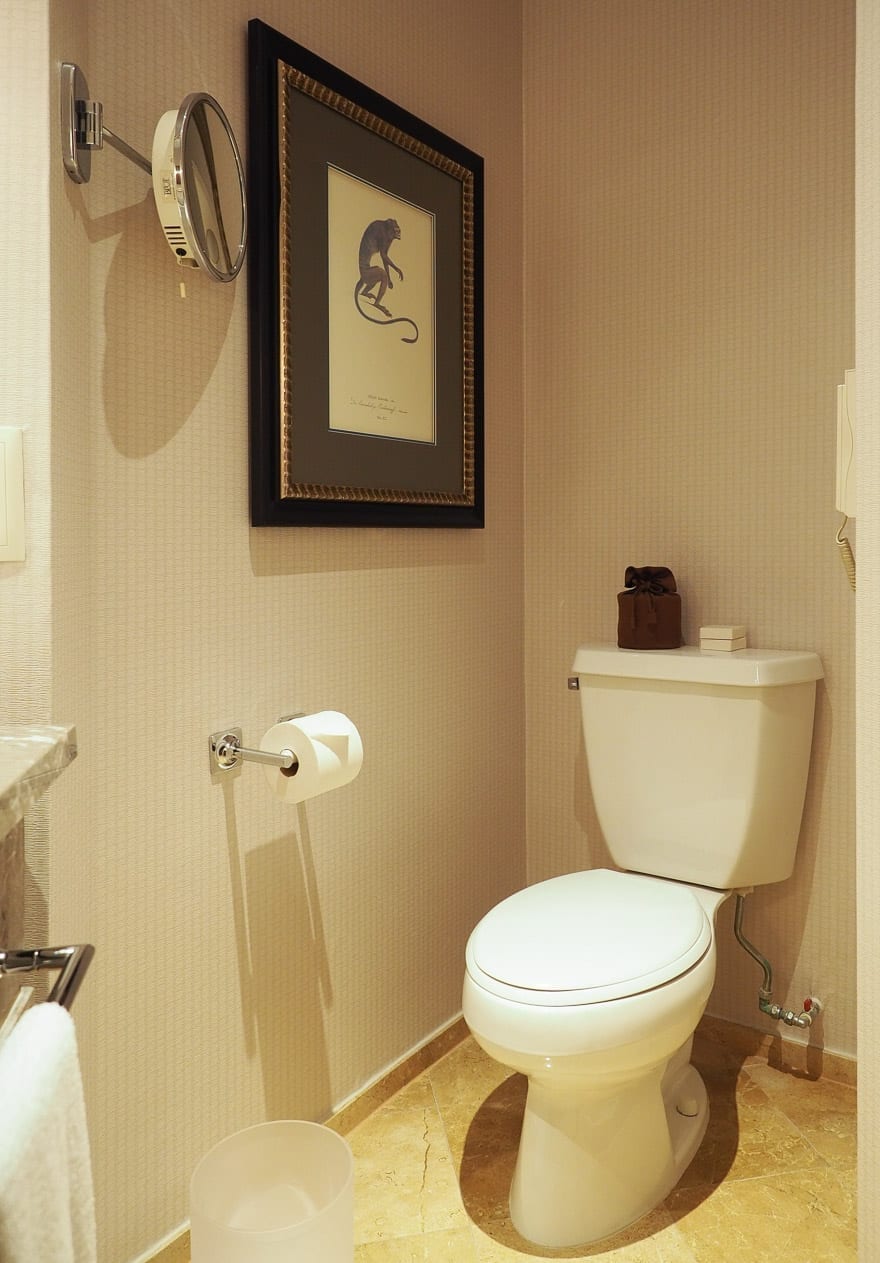 Living Room
The living area was huge and broadly split into a sitting room with an L shaped sofa and separate dining area.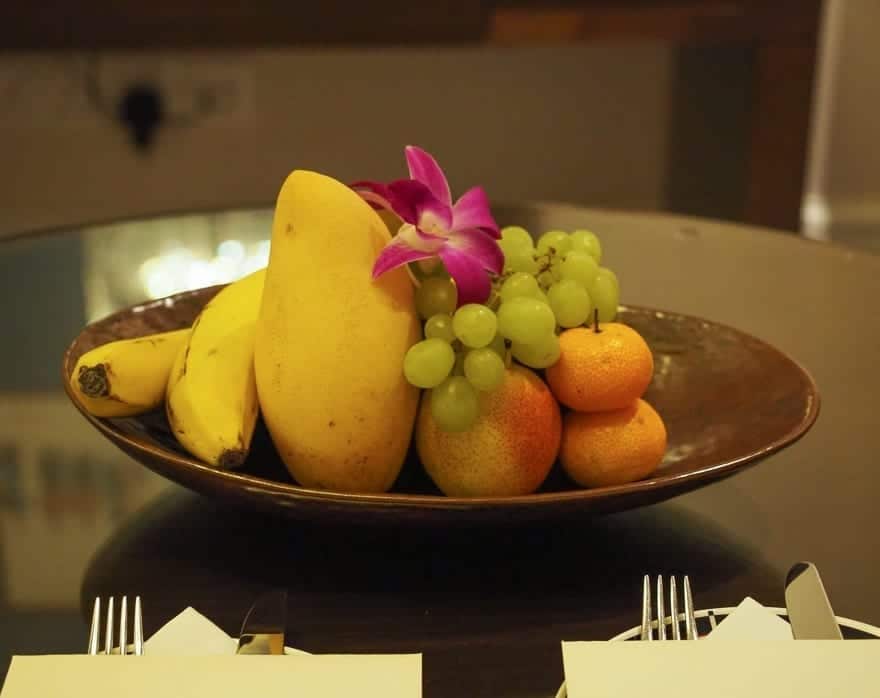 A welcome fruit bowl and note from the GM were waiting for us on the dining room table.
The dining table was located within an alcove next to the bedroom. At the far end of this alcove was a console table featuring multiple universal power sockets and USB ports.
The sofa was really versatile given that it featured extensive storage on the window side as well as having portable side and coffee tables arranged around it.
The 65″ TV was the largest that I've ever seen in a hotel room. I really loved the entertainment console surrounding it too, it continued the copper and grey theme of the suite wonderfully.
Complimentary bottled water was supplied in addition to the absolutely fantastic Lavazza coffee machine, just like the one I have at home! I'm also a big fan of Riedel glassware and it was great to have a little reminder of home here too.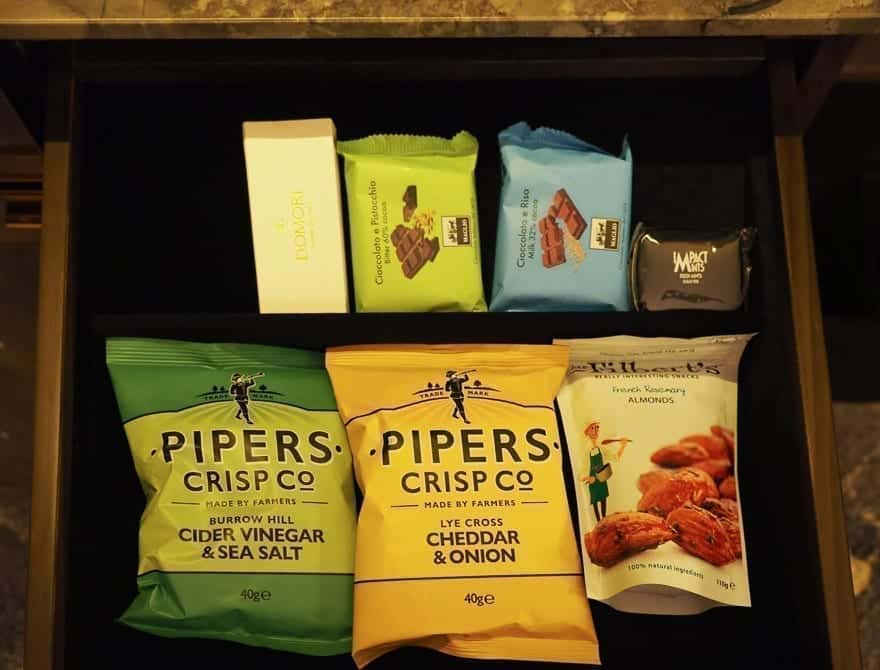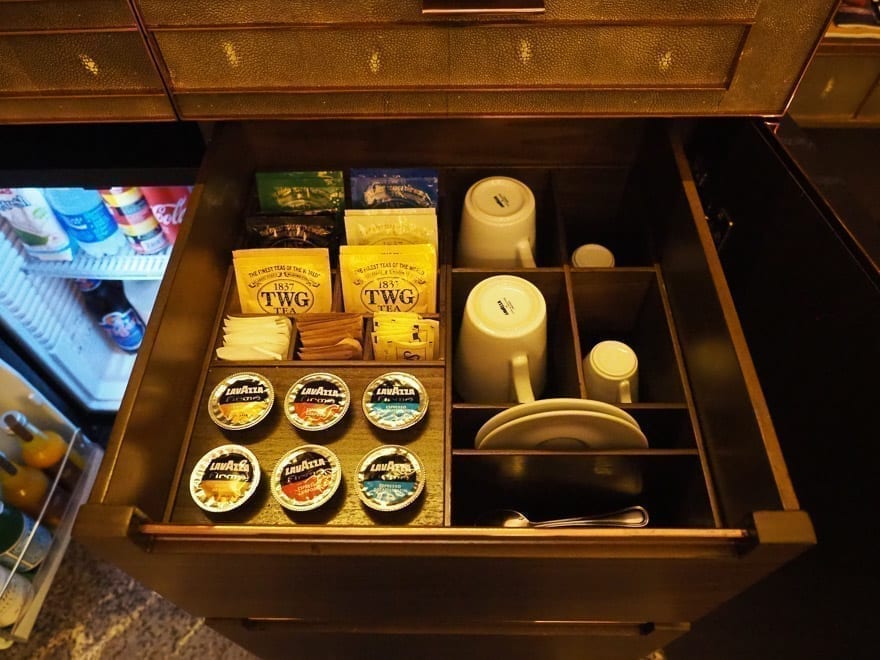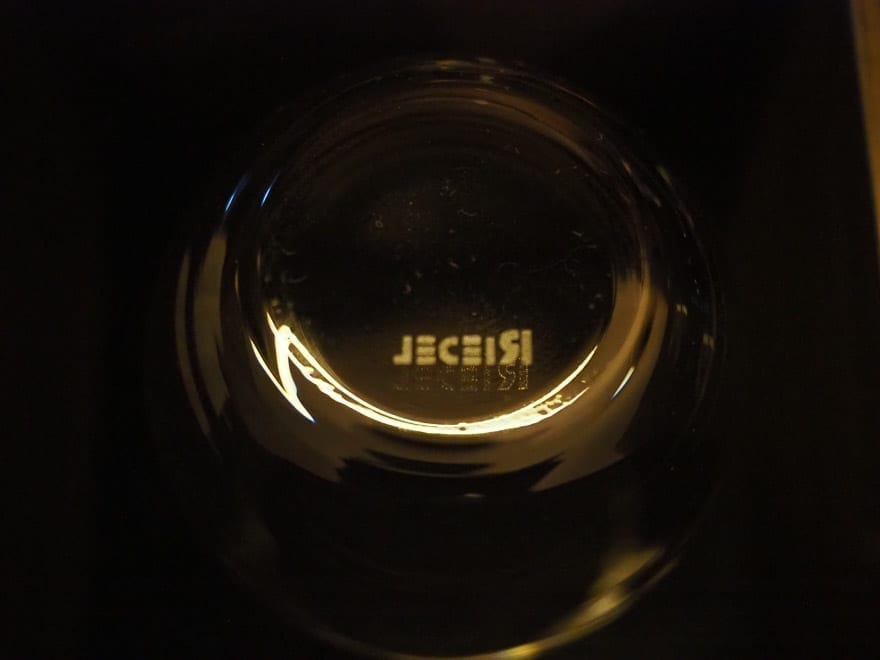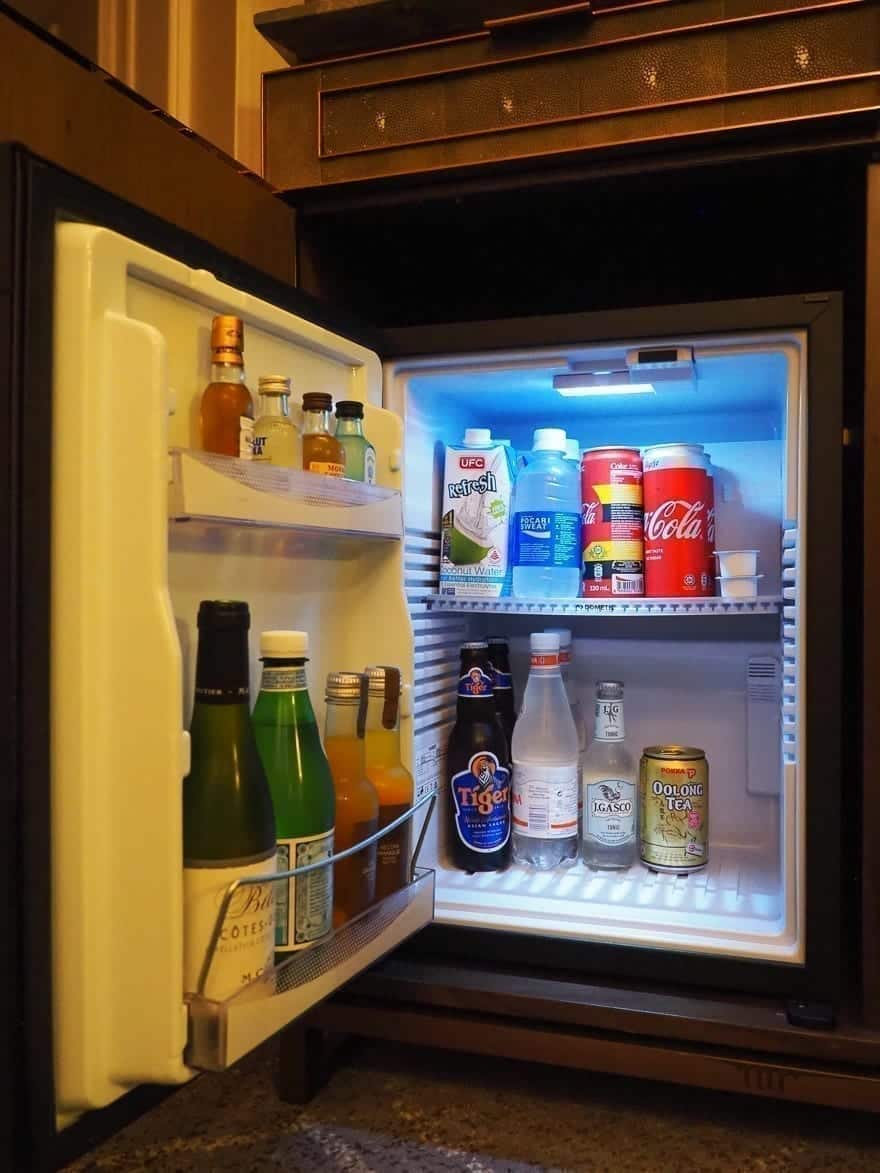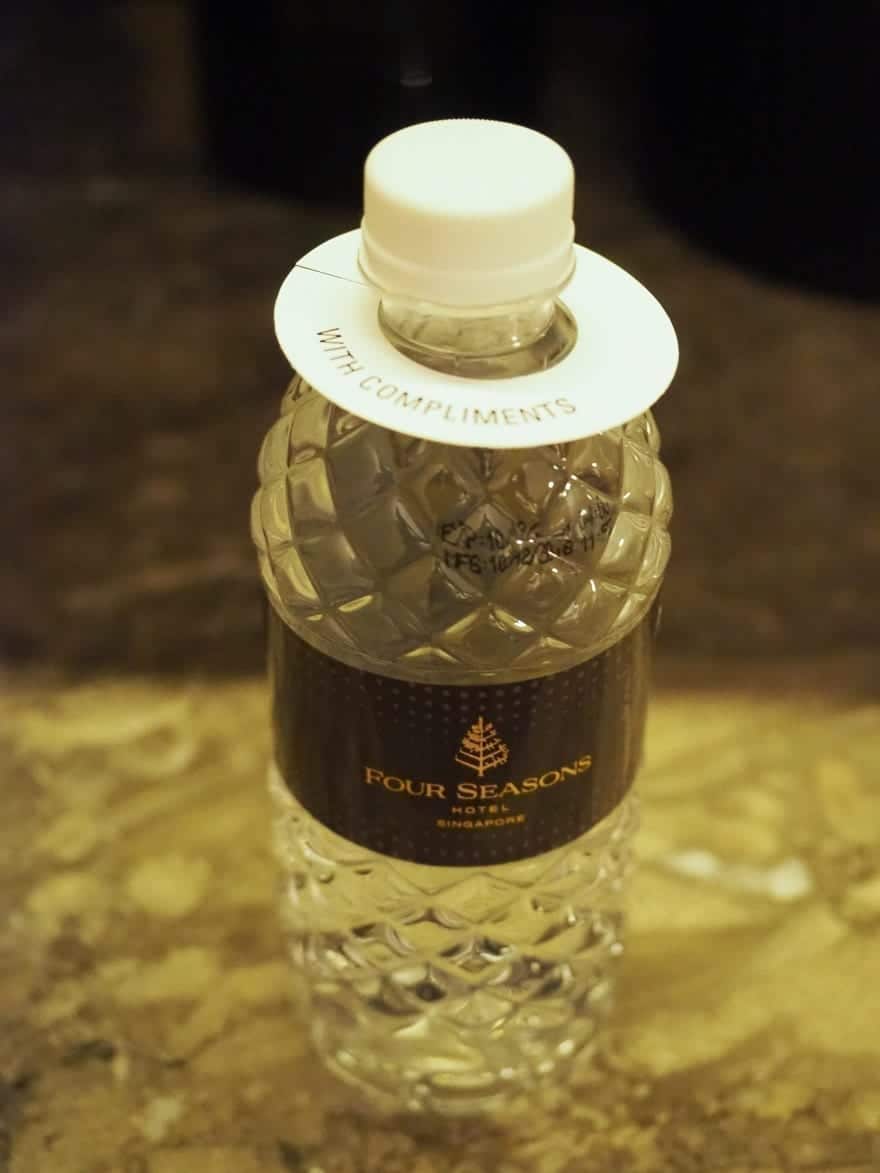 Bedroom
The bedroom was deceptively large and very cleverly designed. Closing the shutter style double doors made this space feel very cosy and inviting at night.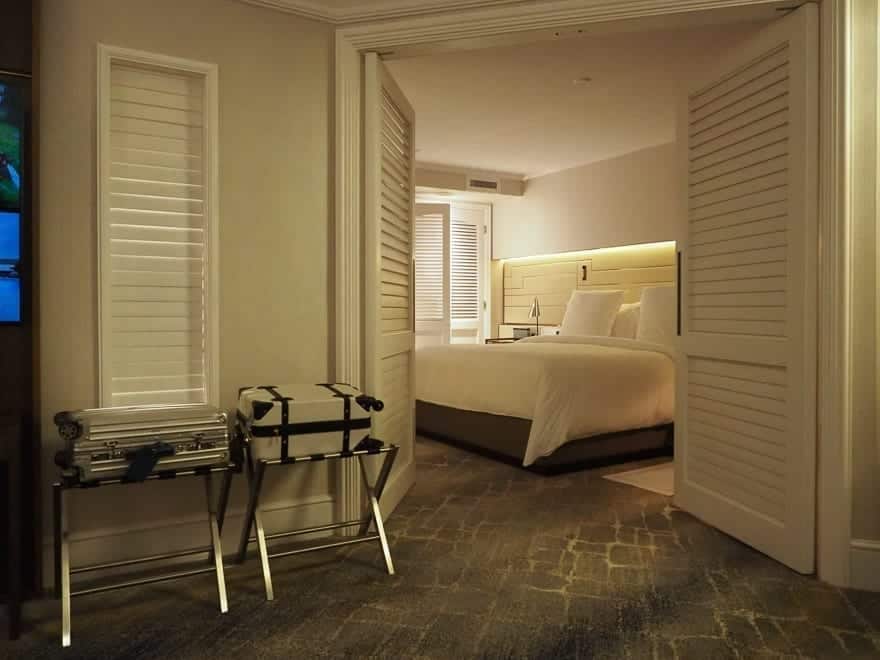 The bed was unbelievably comfortable. I don't know how Four Seasons do it but their bedding really is the most consistently amazing of any hotel chain. I loved the design of the leather headboard with the strip of recessed lighting and integrated reading lamps too. The wardrobe was very large and featured my all-time favourite hangers. The carved Four Seasons clothes hangers are every bit as good as the very best that I've been given with suits by Tom Ford, Kiton or Brioni.
The TV facing the bed was as large and modern as humanly possible given the space constraints and was easily superior to the main television in a lot of suites I've stayed in, in other hotels.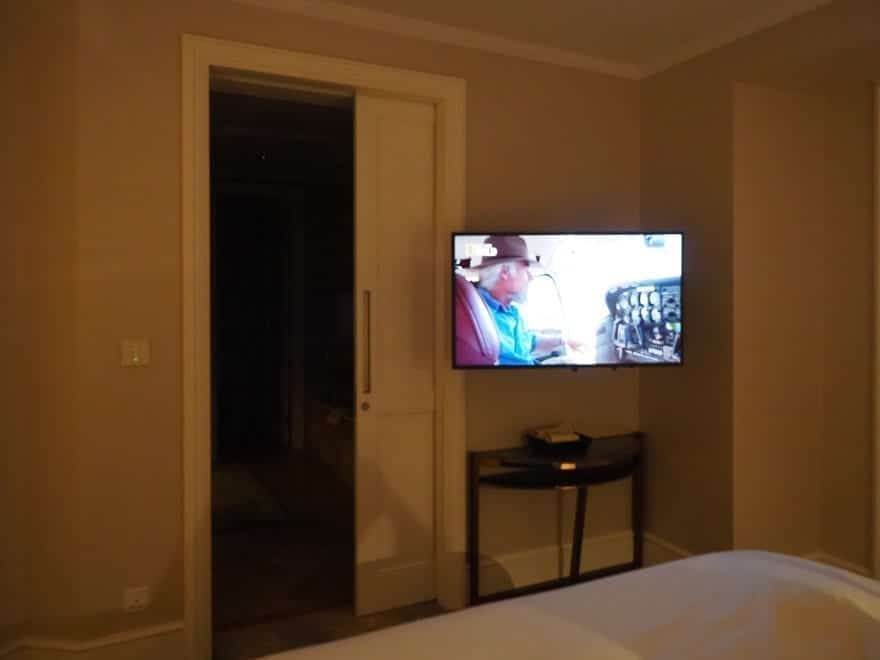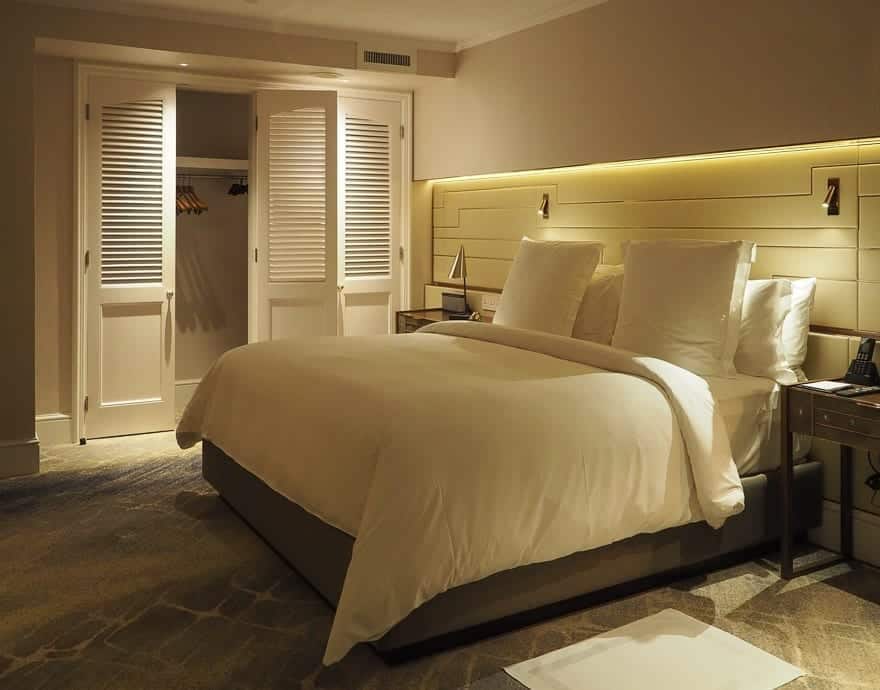 Both sides of the bed had multiple universal power sockets and USB ports, in addition to a full set of well labelled light switches. One side even had an extended night table that continued into a vanity area. A very luxurious piece of design.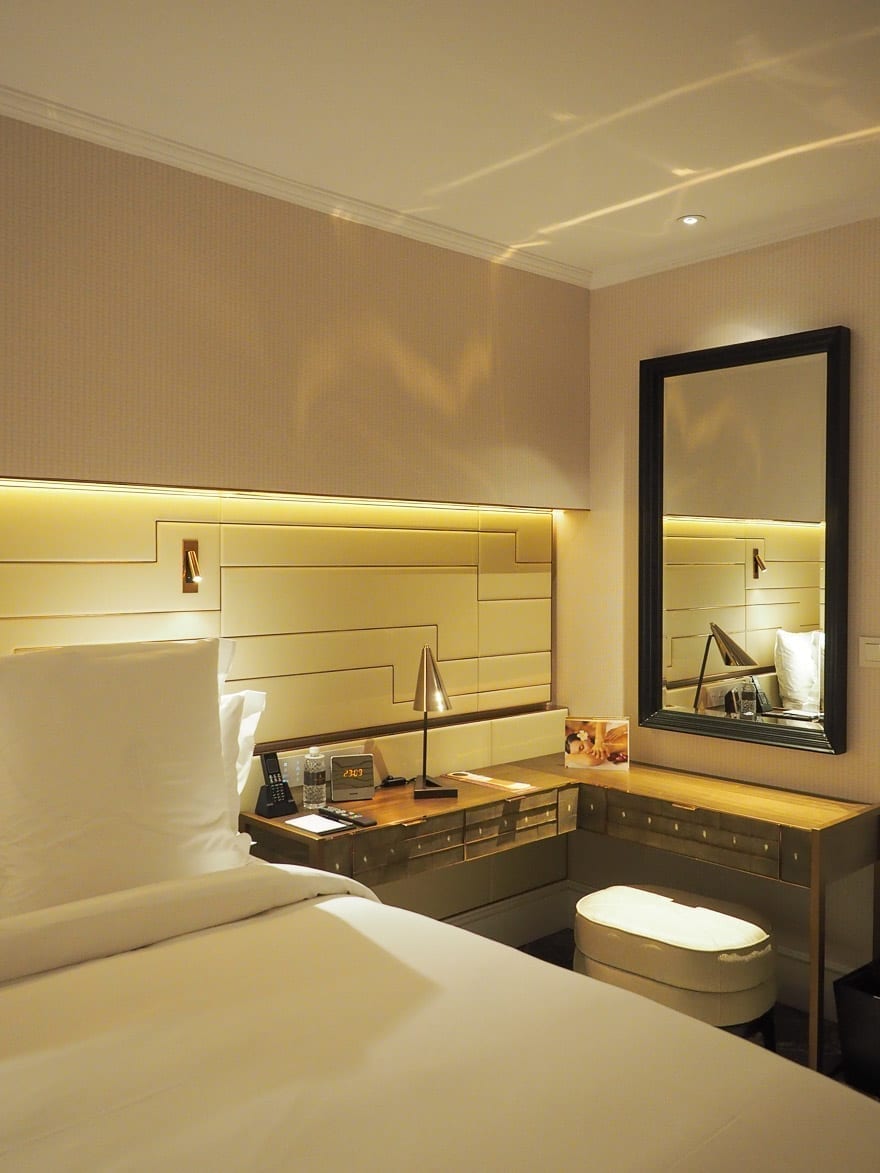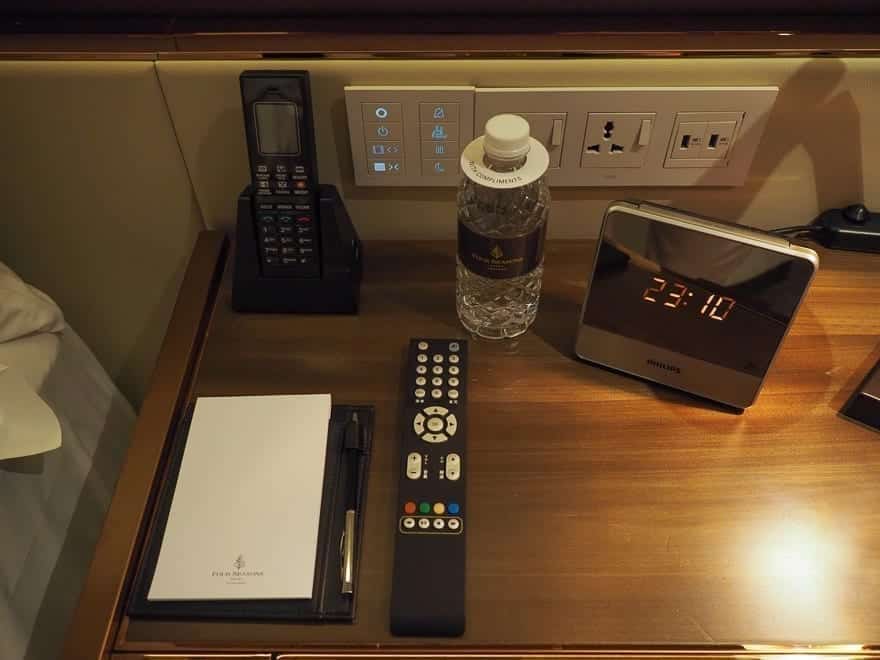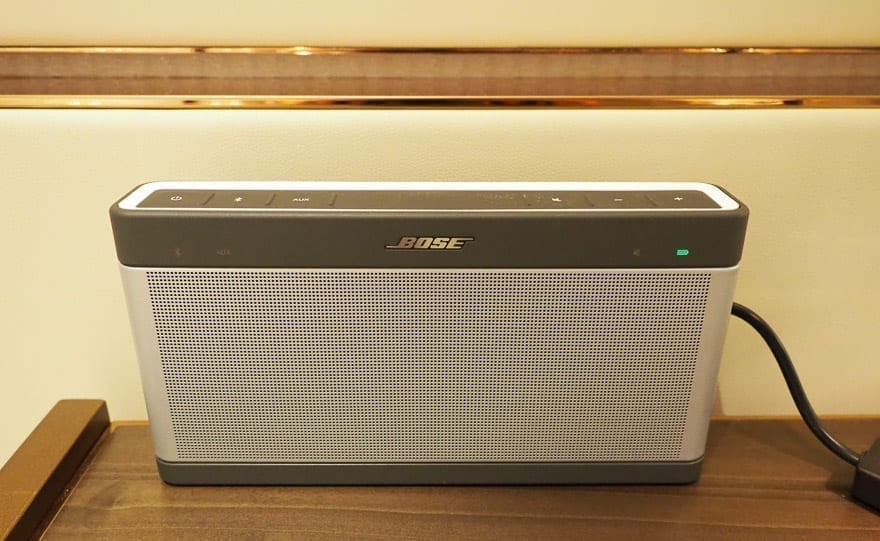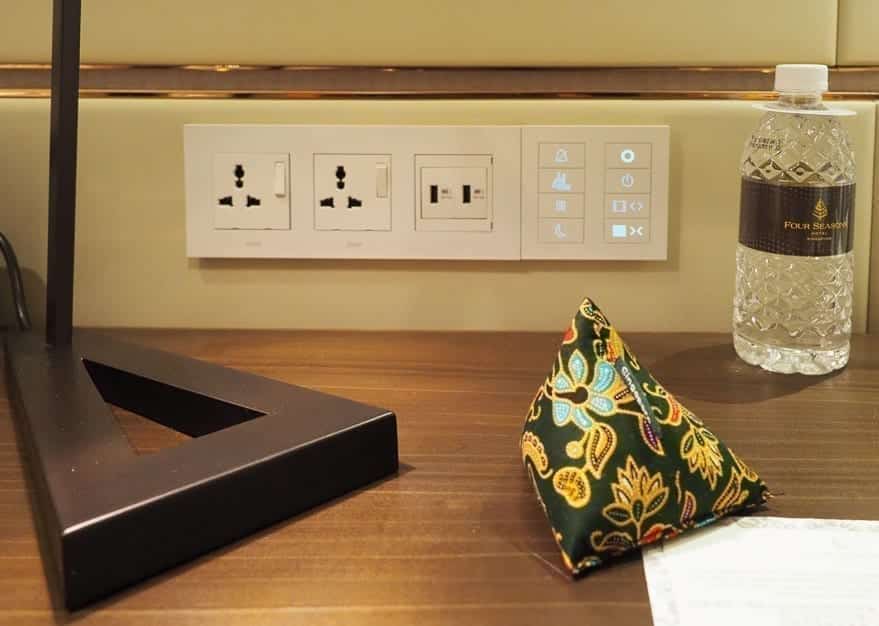 Main Bathroom
The bathroom was relatively compact but beautifully decorated and lit. The copper fixtures and clean lines of the sinks worked to bring an undeniably modern touch to this expanse of luxurious marble. The patterned blue rug also brought a lot of life to the room.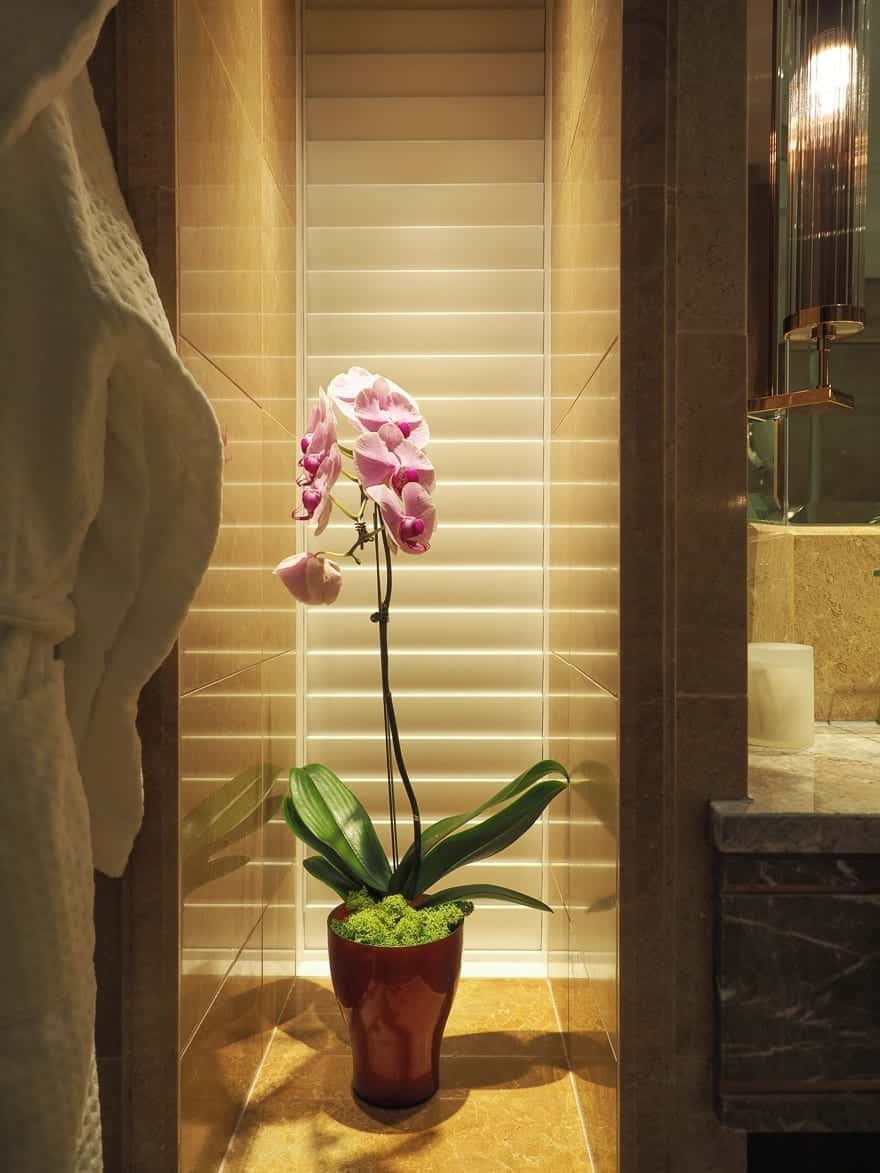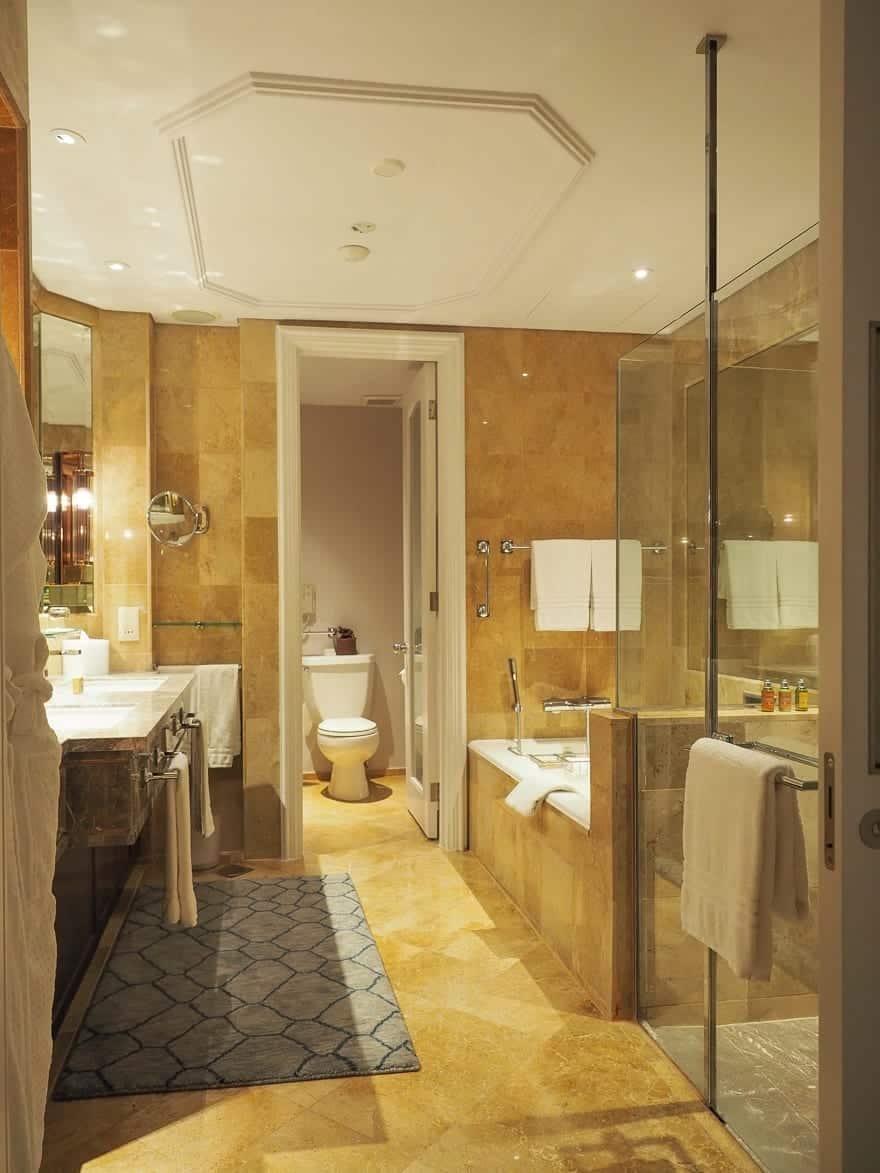 The dual vanities provided ample counter space for two people.
The shower was extremely powerful and came with a full set of L'Occitane bathing amenities.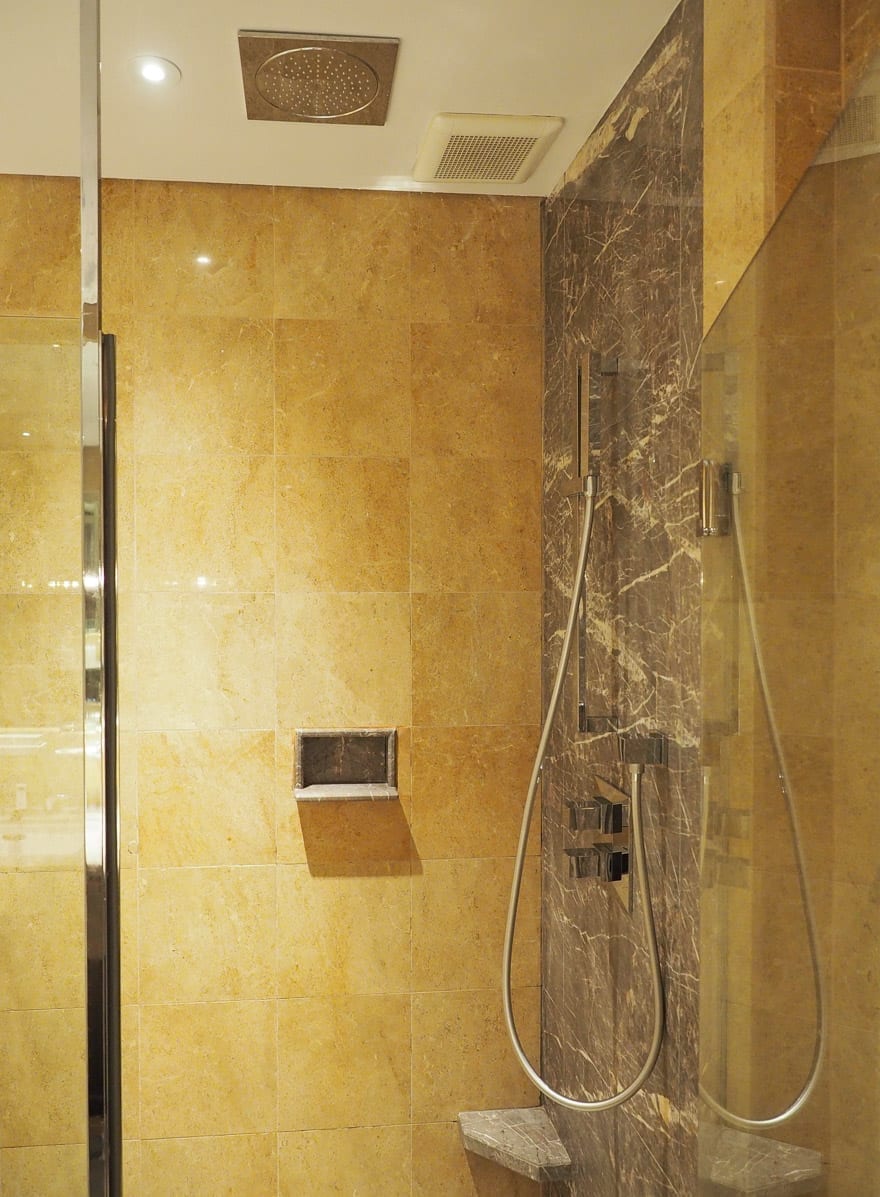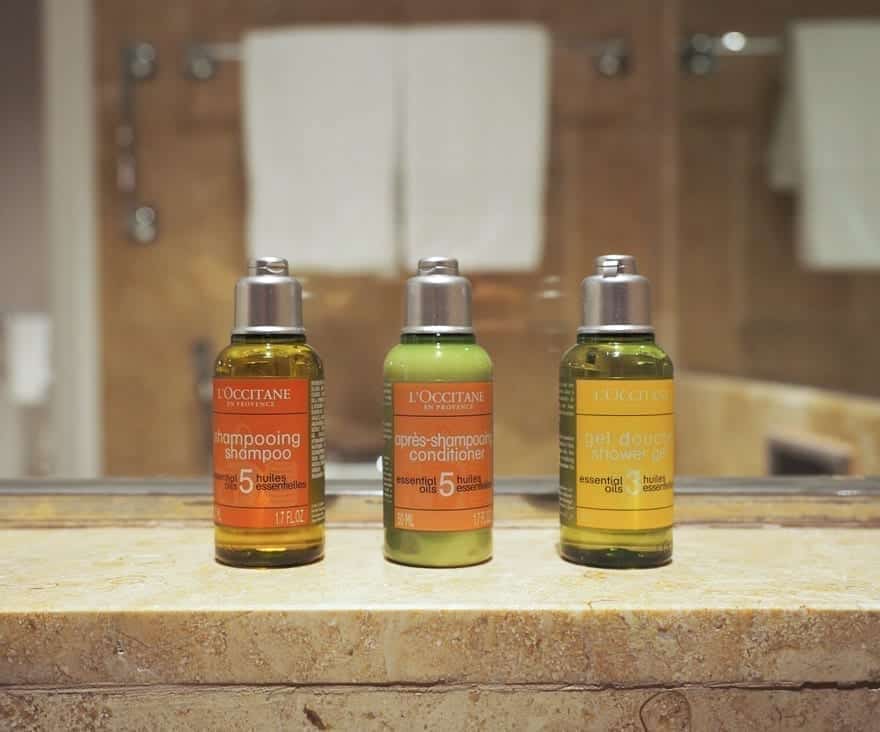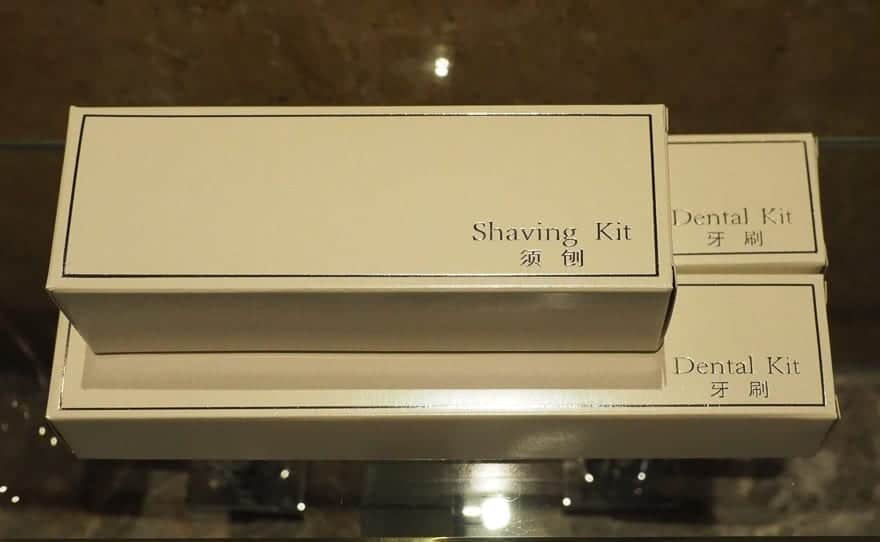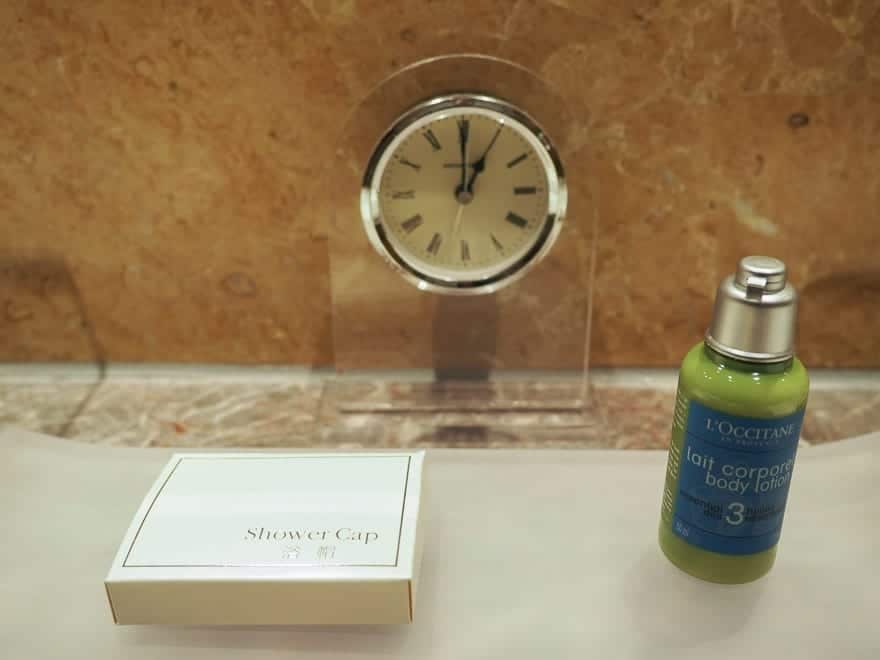 The toilet was housed in a separate room at the far end of the bathroom, with a second door opening right by the front door of the suite. Some under-sink lighting provided a very helpful nocturnal 'runway' should you require it.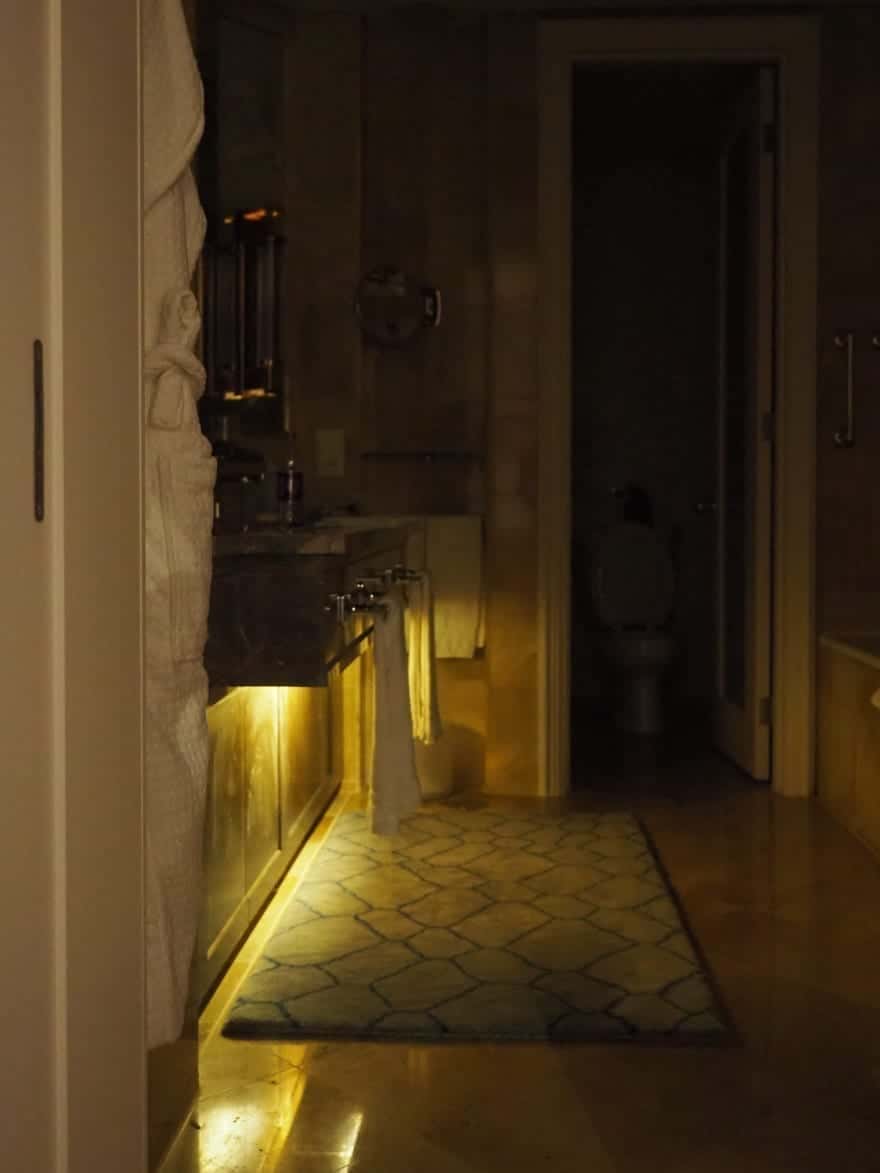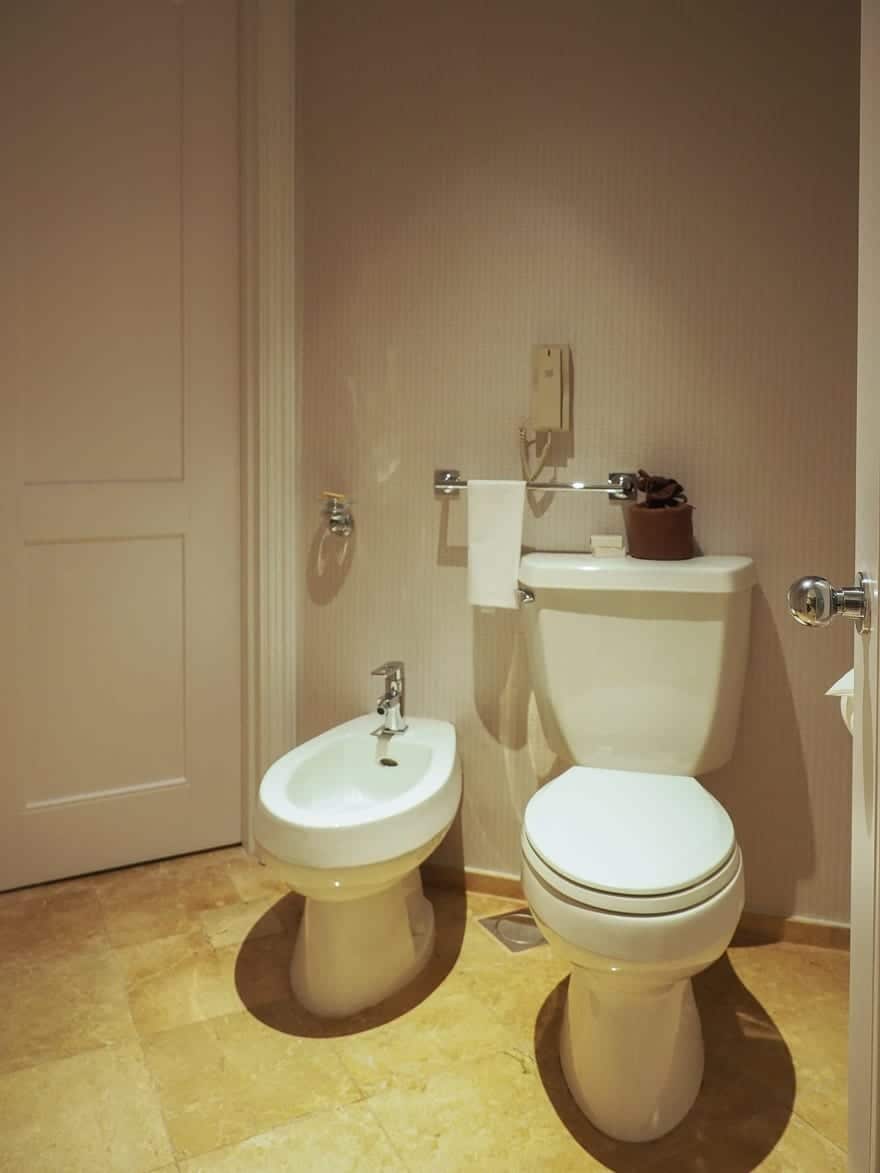 ---
Boulevard Room
---
On my second visit to the property, in early February 2022, I booked an entry level Deluxe Room. The booking was made at around 8am, moments after exiting immigration in Singapore airport.
Amazingly when we reached the hotel 30 minutes later, they not only had all the details of our reservation, they had already prepared an FSPP welcome letter and had an upgraded Boulevard Room waiting for us.
Entering the room there was a small atrium of sorts, rather than the narrow hallway you might expect in a standard room. The mirrored double doors of the bathroom opened into this space, adding to the semblance of space. Immediately to our left was a deceptively large wardrobe.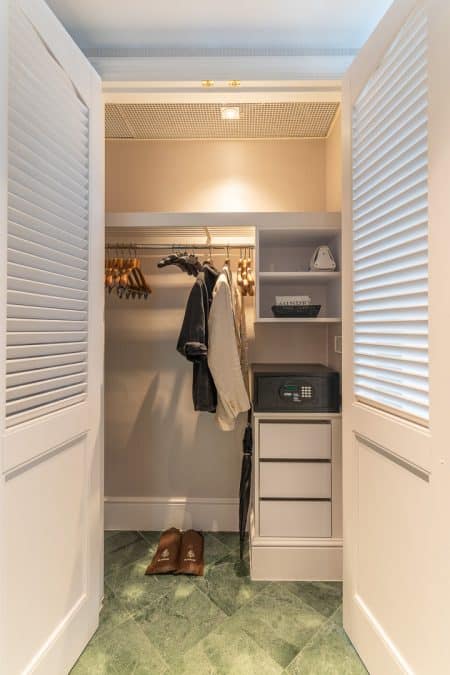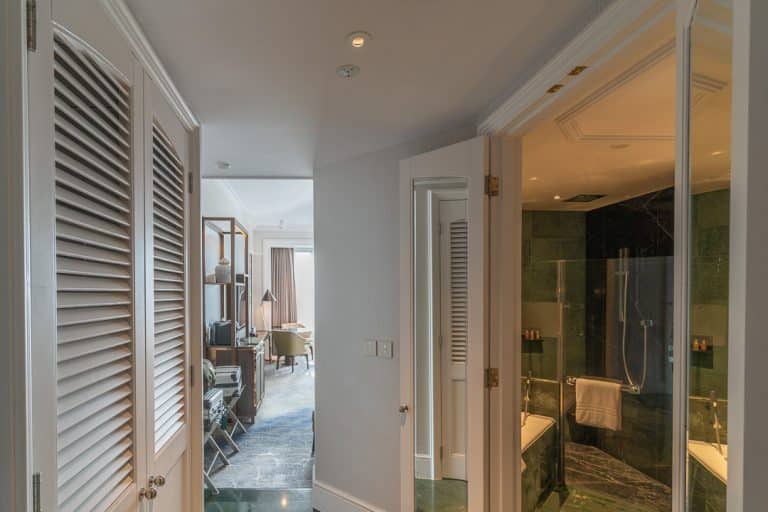 Bathroom
The triangular shape of the bathroom meant that this too felt rather spacious. The overall design aesthetic was decidedly old school though, albeit with the addition of a modern rug and lighting.
I was particularly impressed to see twin vanities in a standard room, together with both a bathtub and large, walk-in shower.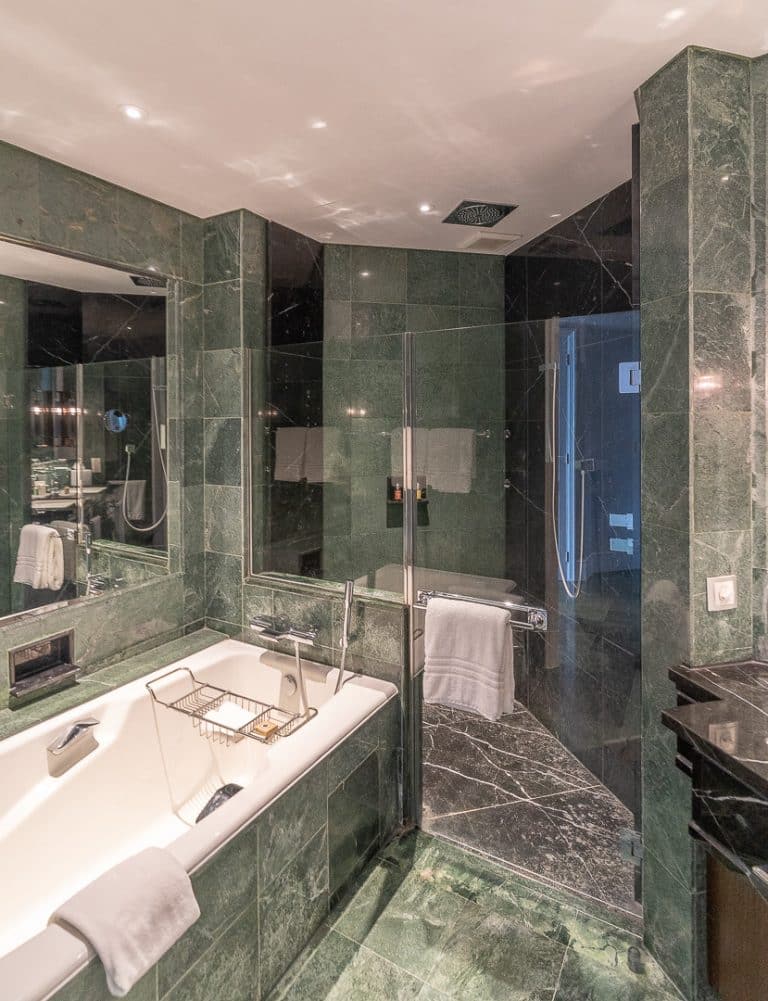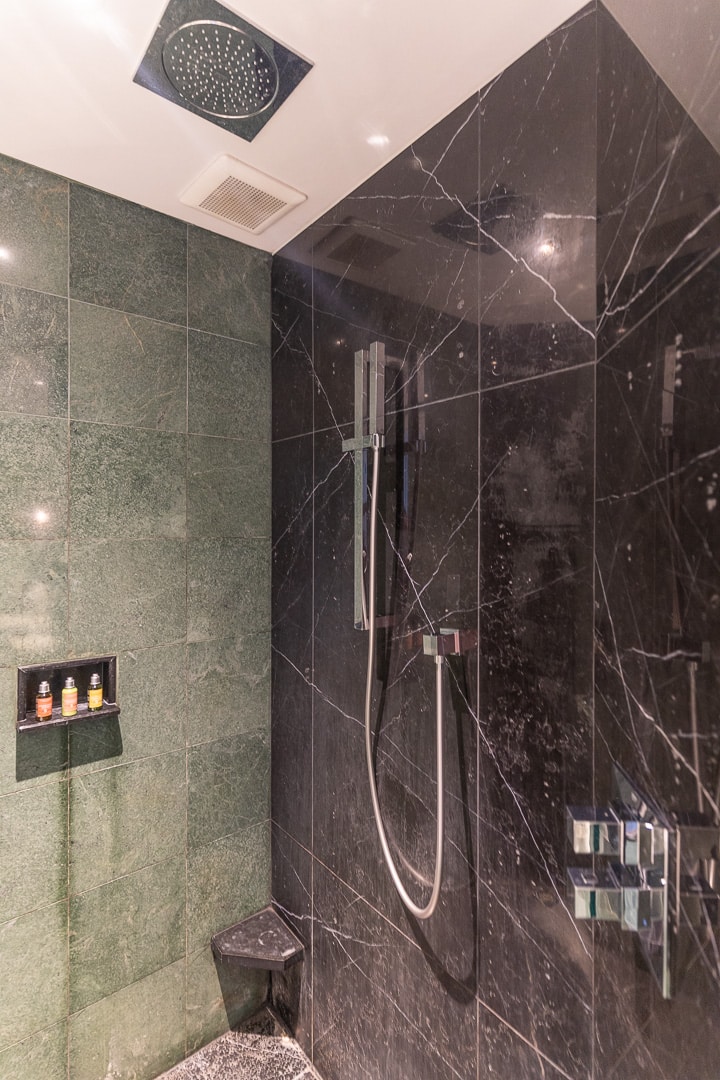 There was also a separate toilet and bidet (although a Toto washlet would have been preferable).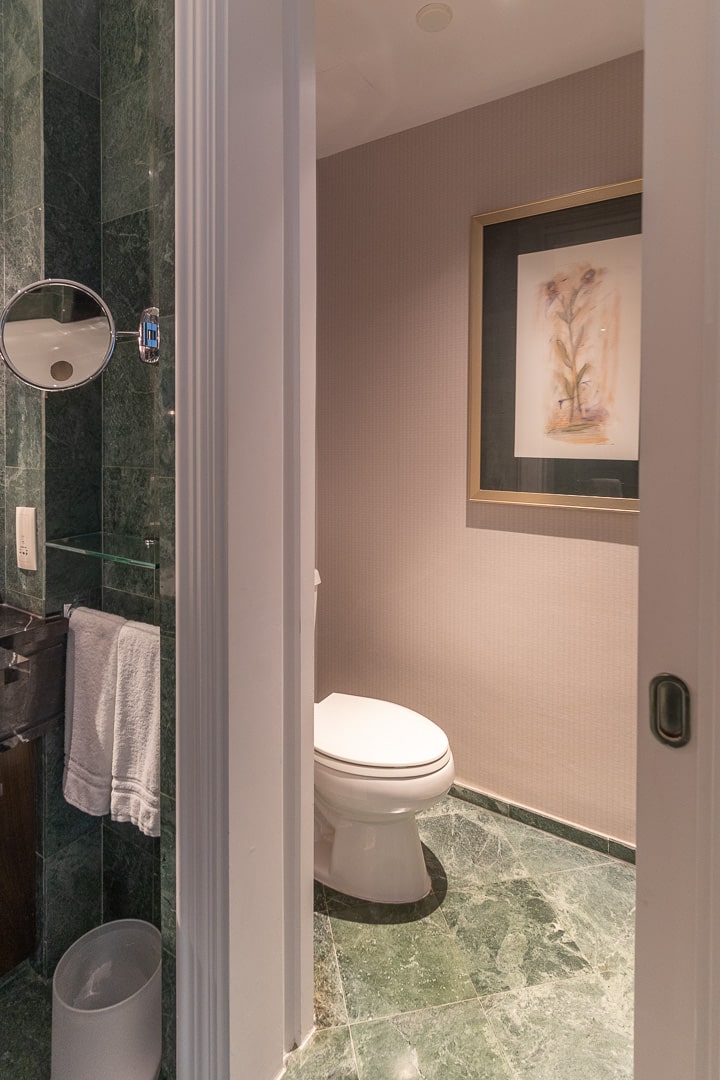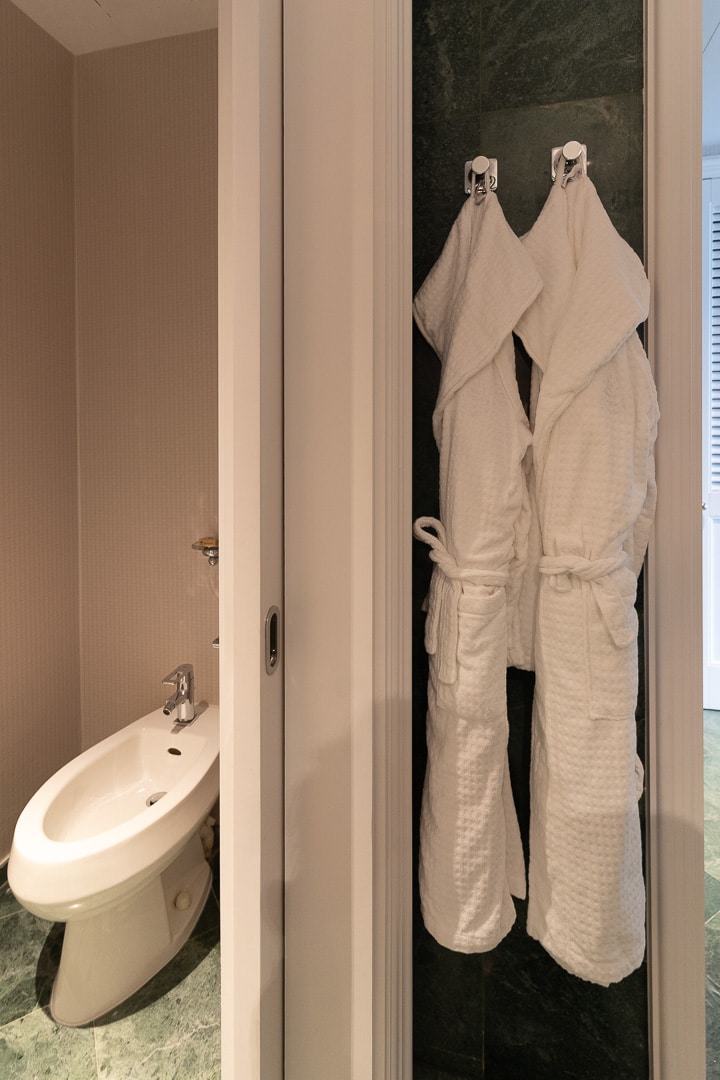 Bedroom
The Bedroom had the same modern feel as the Executive Suite, albeit in a condensed format. The cream headboard, light carpet and copper accented furniture were all in contrast to the more traditional looking bathroom.
The diagonal wall of the bathroom once again played a rather clever design trick, creating enough space for a large vanity area – with plenty of natural light. I personally set this up as a desk, with ample space for my dual screens. Had I been staying longer I would have requested an office chair from reception, to replace the ottoman seat.
The faux shagreen fronted minibar housed a fantastic Lavazza coffee machine – just like the suite, a huge upgrade over Nespresso. Filtered water was provided free of charge and was produced in the same type of facility that filters the water for Ritz Carlton Maldives and Patina.
The bedside tables were very large, with plenty of counter space in addition to the storage drawers. Both sides of the bed featured universal power sockets, USB ports and clearly labelled light switches.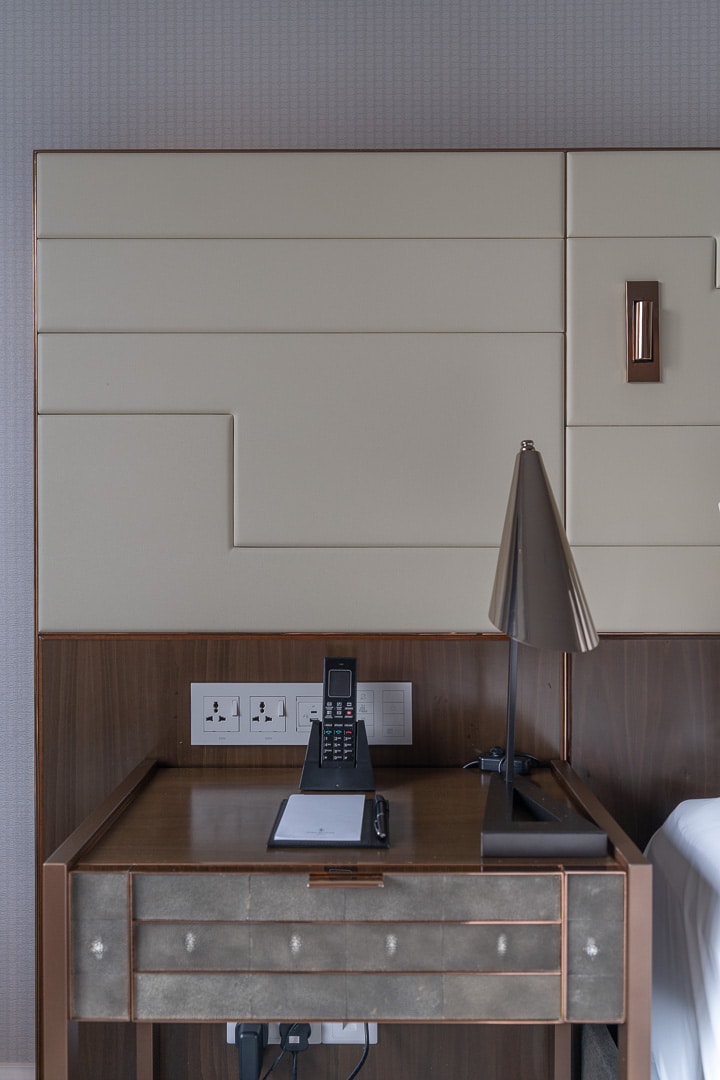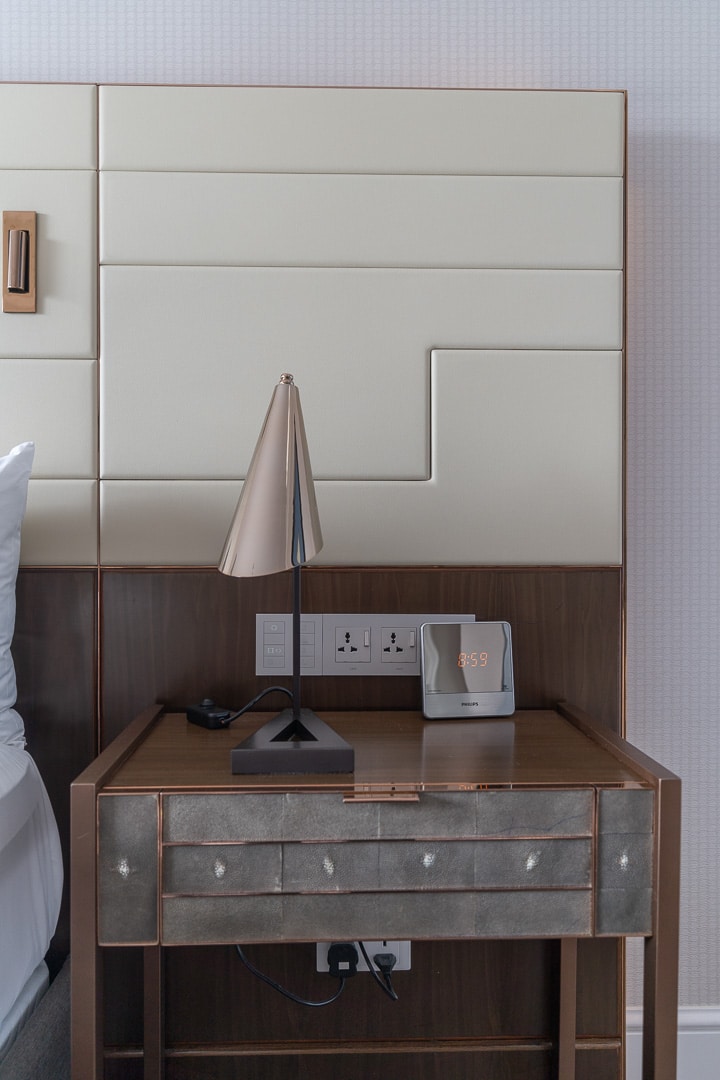 At the far end of the room was a larger circular table, where you could enjoy room service or perhaps set up a desk. The chaise longue by the window was a lovely touch, giving a very residential feel to the room.
Next to this table was a panel with numerous additional power sockets, as well as a Bose bluetooth speaker.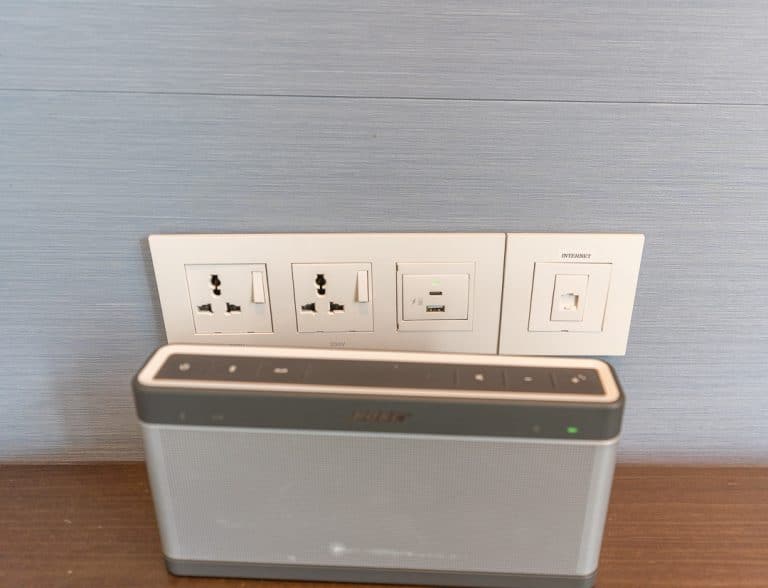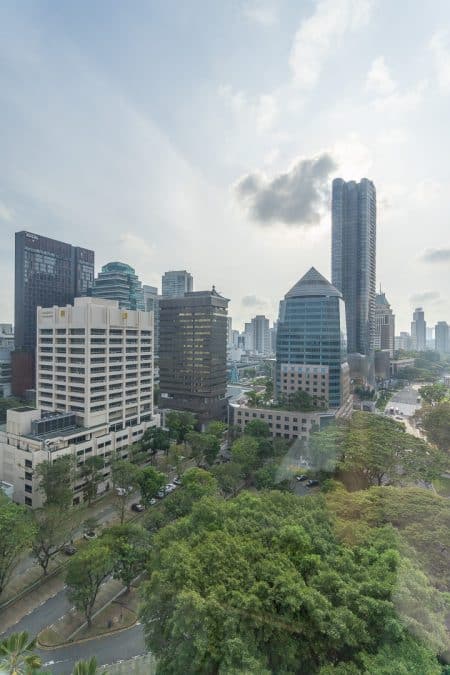 The view is the only thing that distinguishes this room category from the entry level Deluxe Rooms and I must say that I was rather happy with it.
---
One Bedroom Suite
---
We stayed in this suite in late Feb of 2022 on a one night layover on our way to Australia. This was a fantastic upgrade but as is so often the case, one that we wished we had more time to enjoy!
I would say that as a couple, the Executive Suite felt a little cosier, the perfect size for the two of us. The One Bedroom Suite is substantially more spacious and ideal either for entertaining, or if you are travelling with children.
The suite featured two full bathrooms, the first of which was located just off the entrance hallway.
Guest Bathroom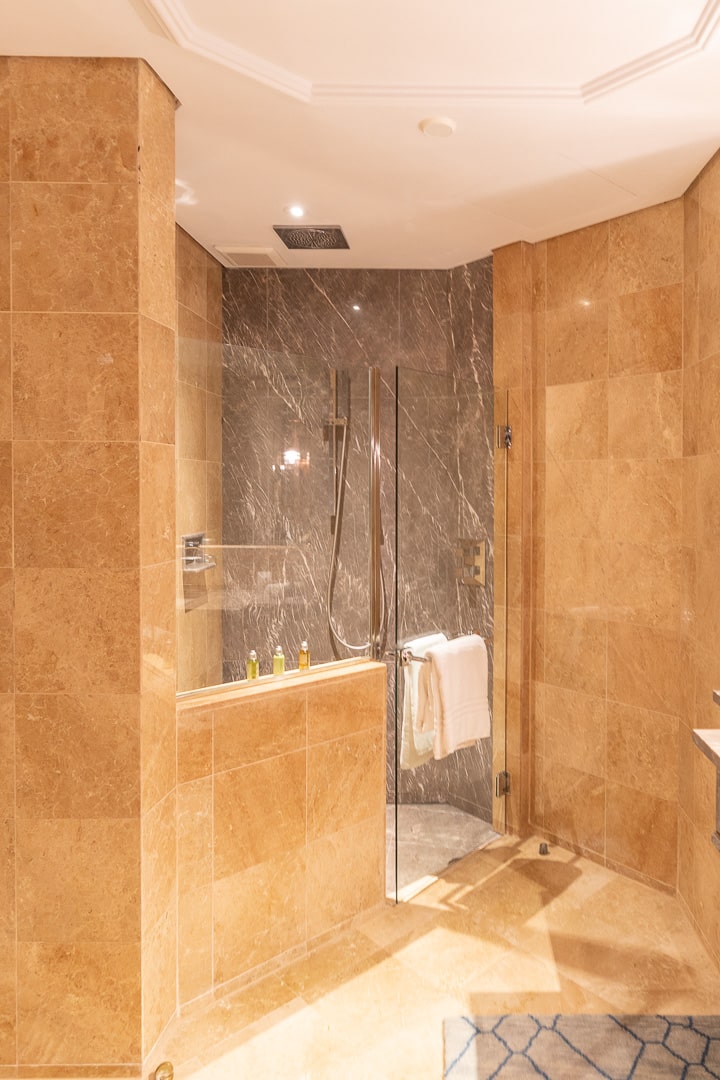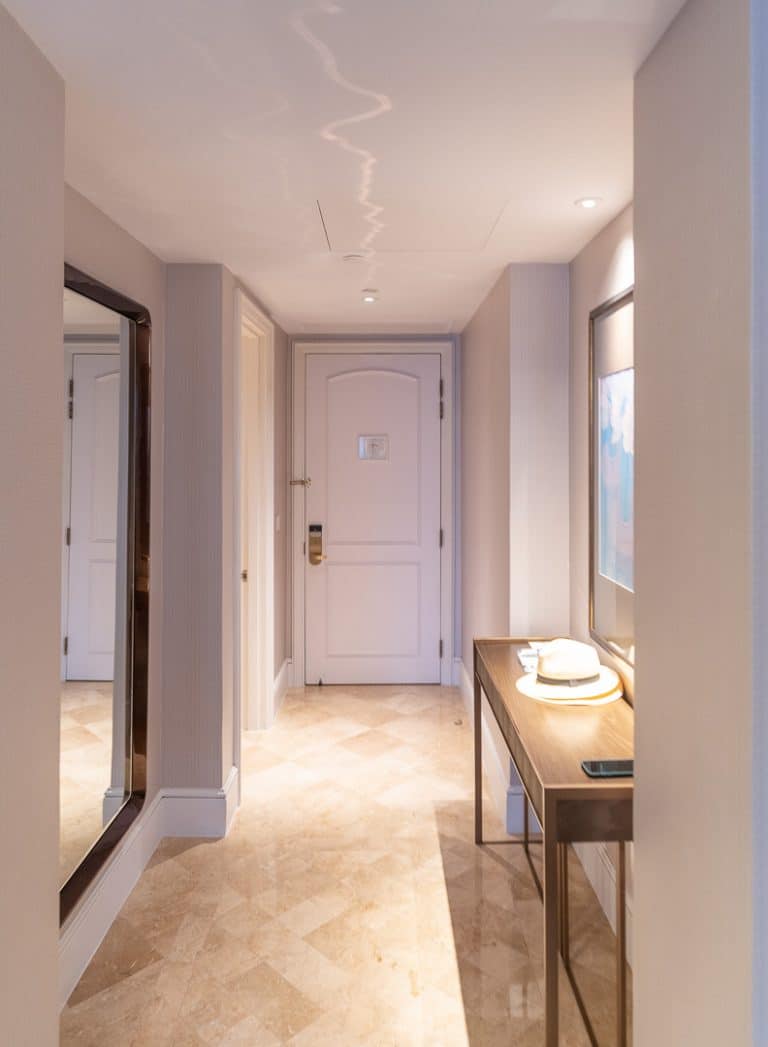 The beige and grey marble was back to the style of the Executive Suite. Not super modern but clearly an update on what was here previously.
Living Room
Beyond this was the capacious living room, with plenty of space to entertain guests (and a gigantic 65″ TV).
If travelling with younger children there would be more than enough space to set up a rollaway or sofa bed here, with the children having their own separate bathroom.
Bedroom
The bedroom was very generously proportioned, to the point where it almost felt a little empty. This is where I personally preferred the cosier feel of the Executive Suite.
One interesting design feature was that the bathroom shutters could be opened out in to the bedroom. Beneath them was a dressing table complete with power sockets. To the left of this was an enormous walk-in wardrobe.
This feature was a significant upgrade over the smaller Executive Suite.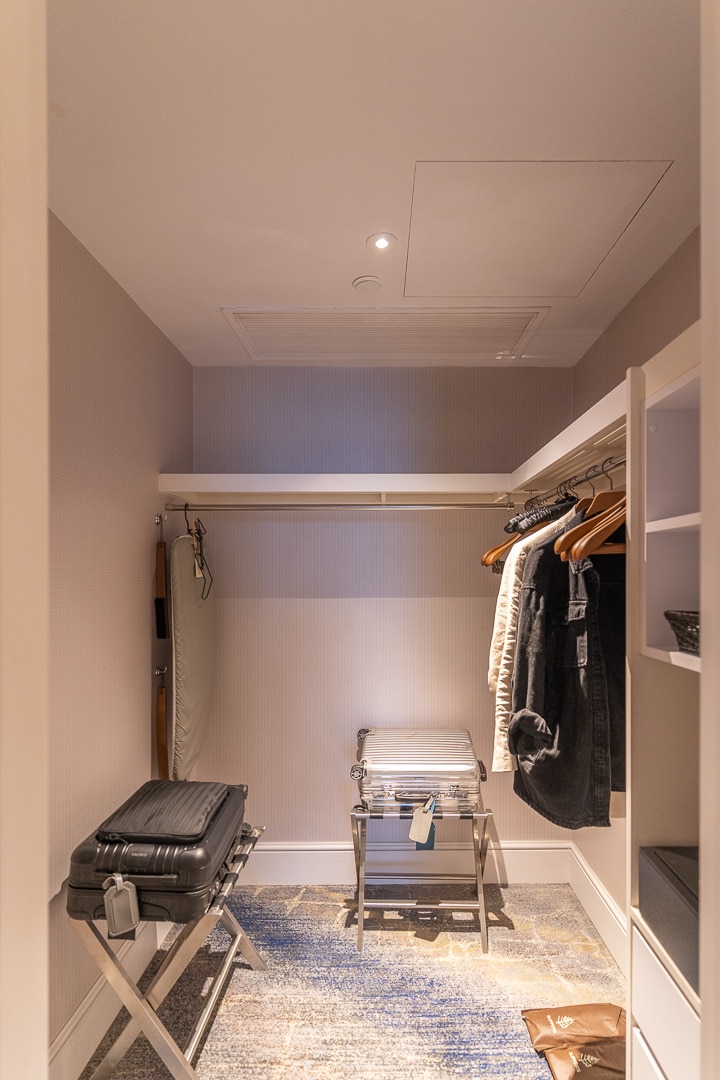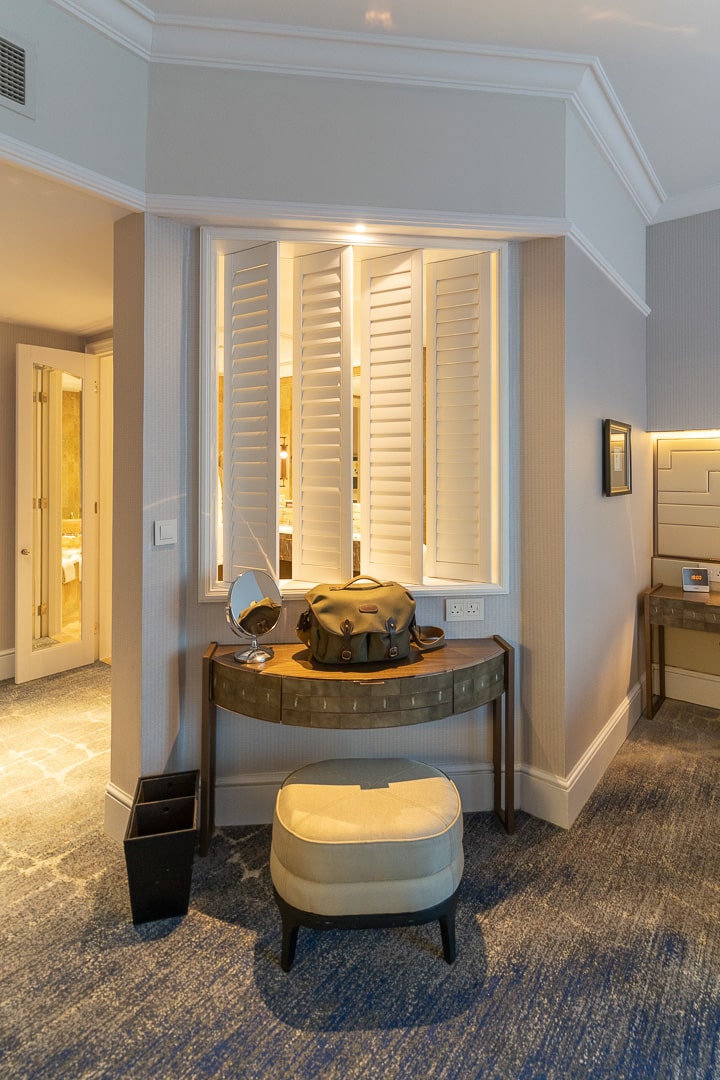 Main Bathroom
The main bathroom added grey marble to the shower and this made me wonder why they didn't go all the way and replace all the marble in this shade. In my opinion, this small change made a big difference to the aesthetic appeal of the bathroom.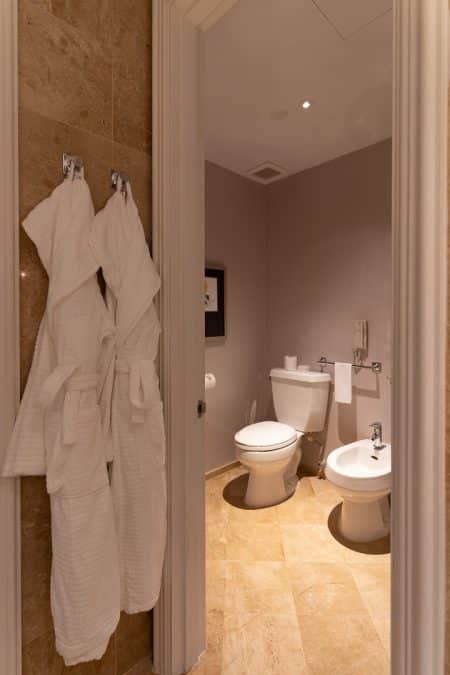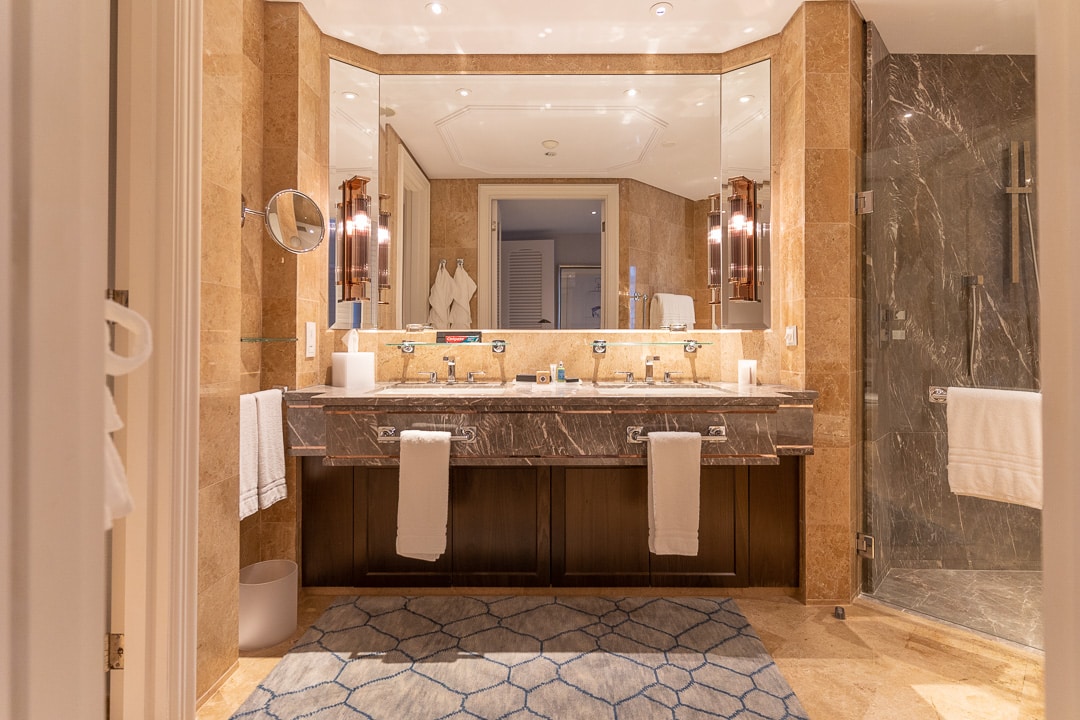 ---
Food and Drink
---
Room Service Dinner
Given our late night arrival on our first visit, the $100 FSPP credit came in very handy for a complimentary room service dinner!
One of my favourite things about Four Seasons hotels is the app. You have a full room service menu available on your phone and can easily customise dishes at the tap of a button. So much easier than dealing with people over the phone where language barriers can easily create a problem.
The food arrived within 25 minutes of ordering and was very professionally presented and explained to us by the server.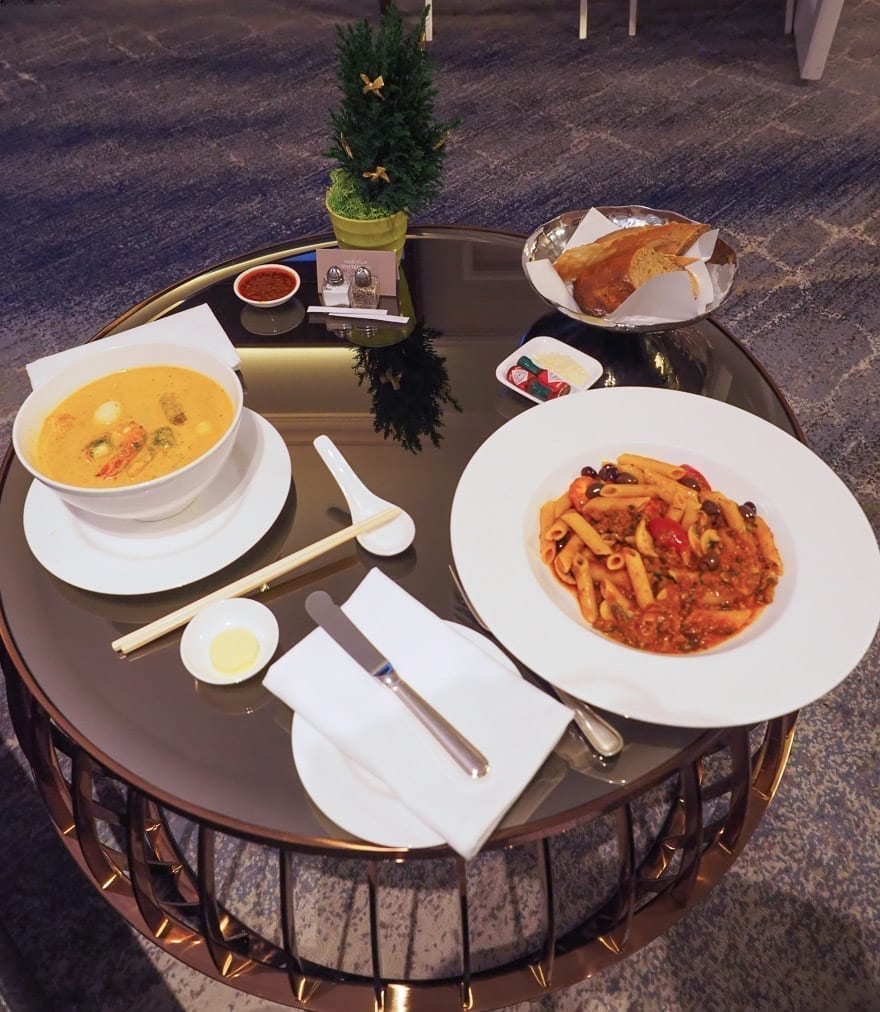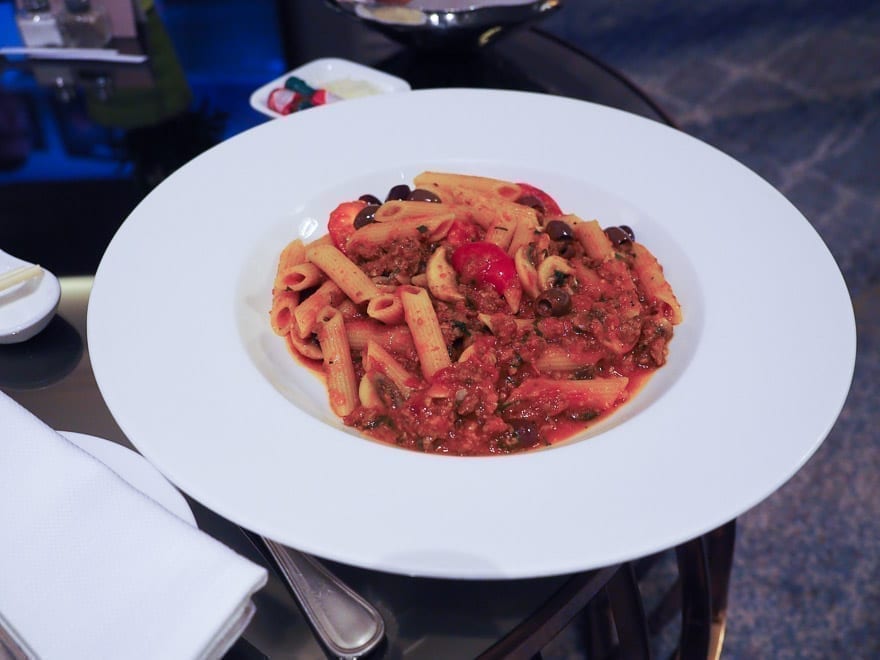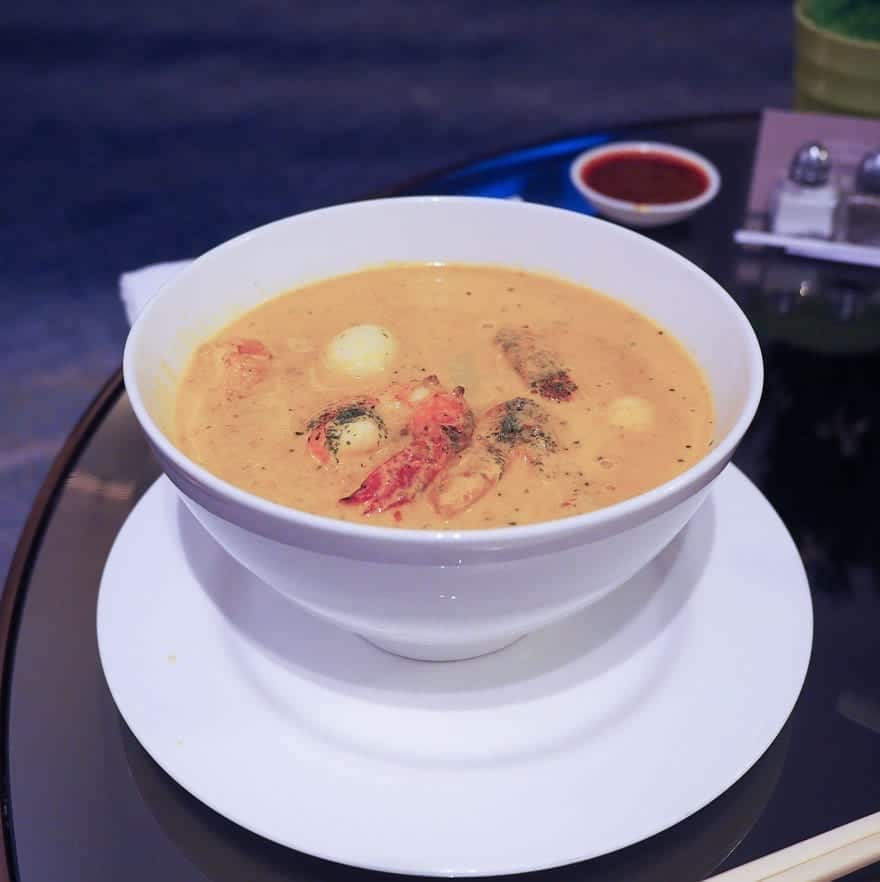 Both my Tom Yum soup and Kamara's rigatoni al ragu were excellent – very generous portions and absolutely delicious. The cost came to the equivalent of $50, which meant that we still had another $50 left to spend on cocktails the next day!
Room Service Breakfast
Our FSPP rate also included complimentary breakfast, which we were able to take either as room service or in the restaurant. I'm a huge fan of an indulgent room service breakfast and I have to say this was one of the better examples I've had the good fortune to encounter.
The room was transformed in the morning by a cascade of natural light from the large windows.
The view from our window. You can see why this is called Orchard Road!
I ordered the Japanese breakfast set, which was extraordinary. I always feel like I get such a good start to the day when I eat this healthily.
Meanwhile Kamara opted for poached eggs with immensely crispy bacon and grilled potatoes, served with a fruit plate and glass of freshly squeezed watermelon juice. Ordinarily this room service feast would have come to nearly $100 USD so getting this for free was a fantastic bonus!
Breakfast at One-Ninety Restaurant
This restaurant was drastically remodelled in 2021 and is now every bit as modern as the rooms (if not more so).
We enjoyed breakfast here upon our early arrival to the hotel – opting to skip breakfast on our second day, since we had a 5am departure.
Shifting our included breakfast from one day to the other was absolutely no issue. We mentioned that we'd like to do this during check-in and by the time we reached the restaurant, staff were already expecting us.
The dining room is awash with greenery, plush booth seating and vintage touches like the screens and lamps. The designer definitely succeeded in turning this into an Instagrammable space.
Service was impeccable, with drinks brought out very quickly. The extra strong iced cappuccino was rather sparing on the coffee though. Having said that, not even Four Seasons Kuda Huraa could get this right on the first go (at 10x the average nightly room rate).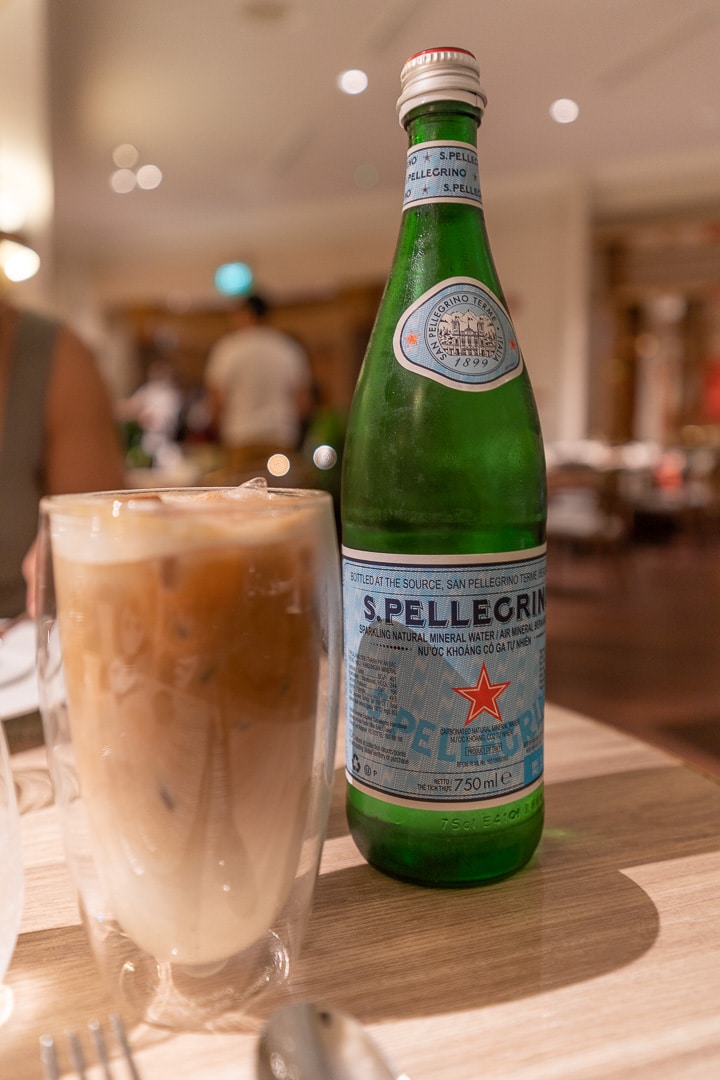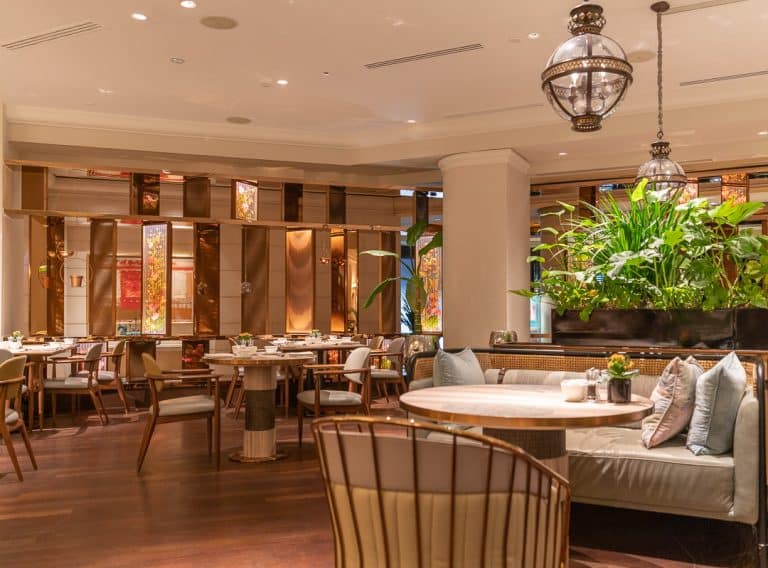 Although a la carte dishes were offered, we weren't super hungry after our long flight from London. We opted instead to try a few different things from the buffet.
Stations were completely encased in perspex, with staff serving customers. Basically the exact model followed in Europe in Summer of 2020.
The food was all of a very high quality and beautifully presented. There was a bit of a language barrier with the predominantly Mandarin speaking staff but I imagine that this will erode over time, as foreign tourists continue to return.
One Ninety Bar
The hotel's One-Ninety bar is something of a local hotspot; when visiting for the first time our local friends immediately mentioned to us how good the bar is.
The outdoor terrace previously had furniture that would have looked more at home in the Polo Lounge or perhaps on the grounds of a Tuscan estate.
This area has now been remodelled to add more modern design elements like large padded benches and swinging chairs. The space is now considerably brighter at night too, given the abundance of oversized lamps.
On our first visit I ordered the Signature 190: a blend of Monkey 47 Gin, Cocchi Amaro, tonic and thyme. Kamara went with the wonderfully named Mexicoma: Cimarron Blanco tequila, Campari, house grapefruit sherbet, lime with Campari and salt dust. Both cocktails were excellent.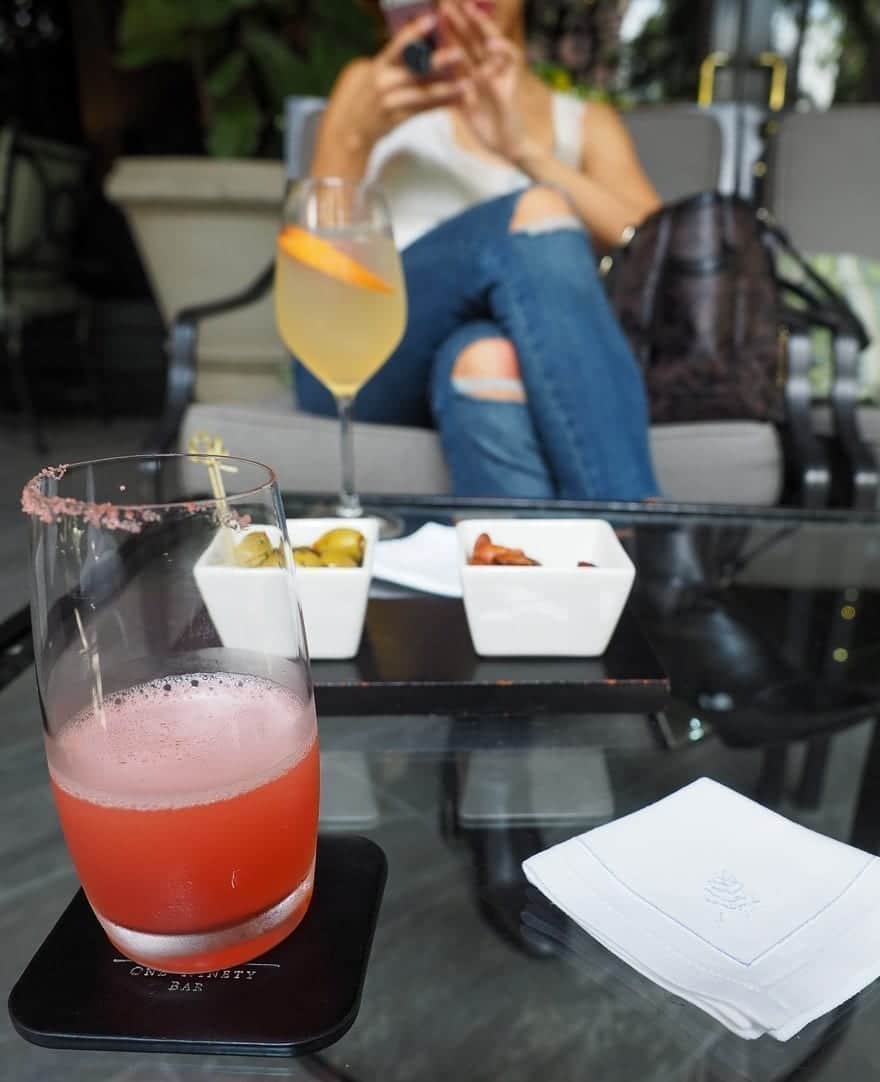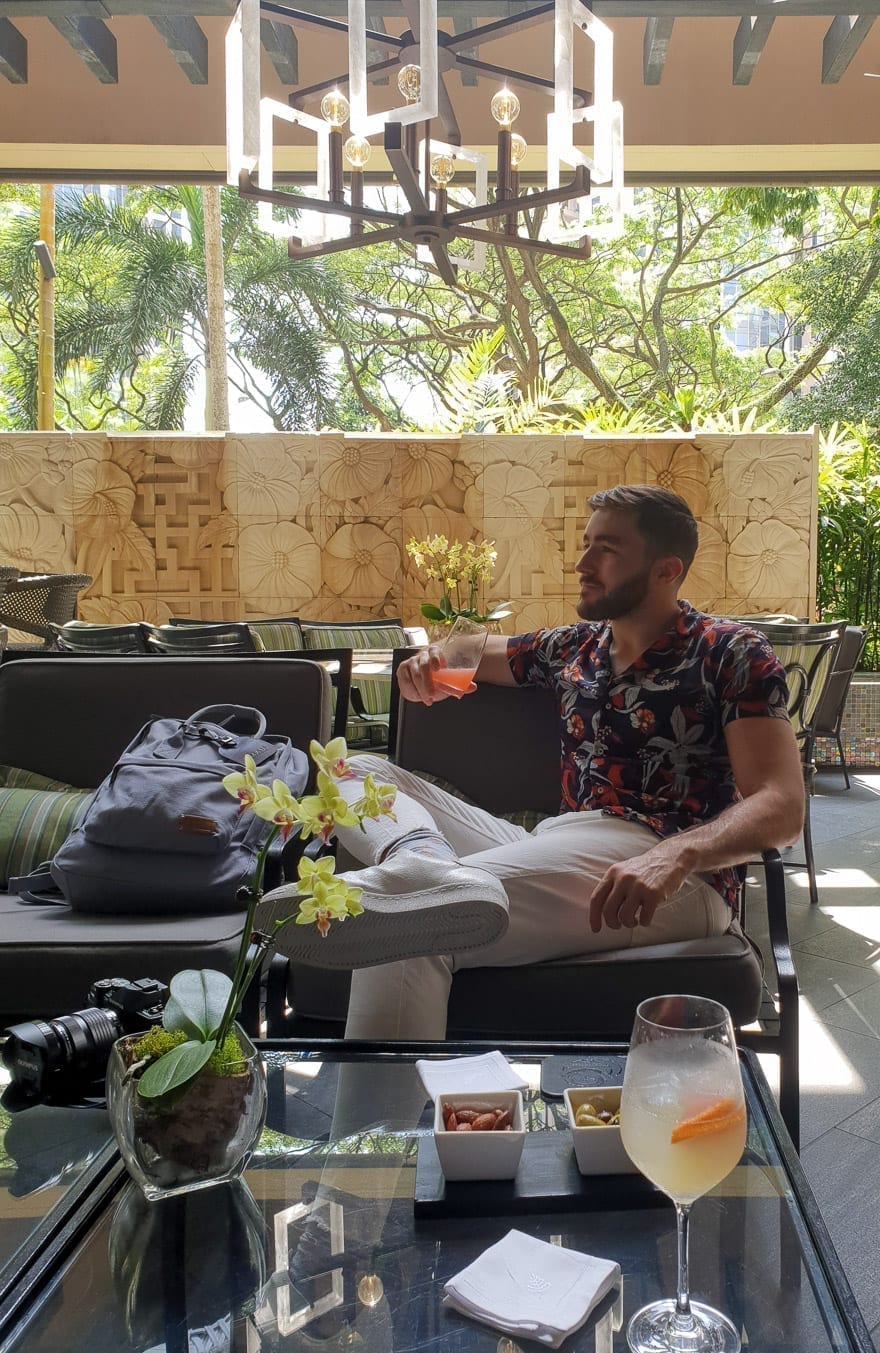 So good in fact that on our return visit, we ordered them again. The recipe appears to have changed, reducing the Campari content, but these were still fantastic.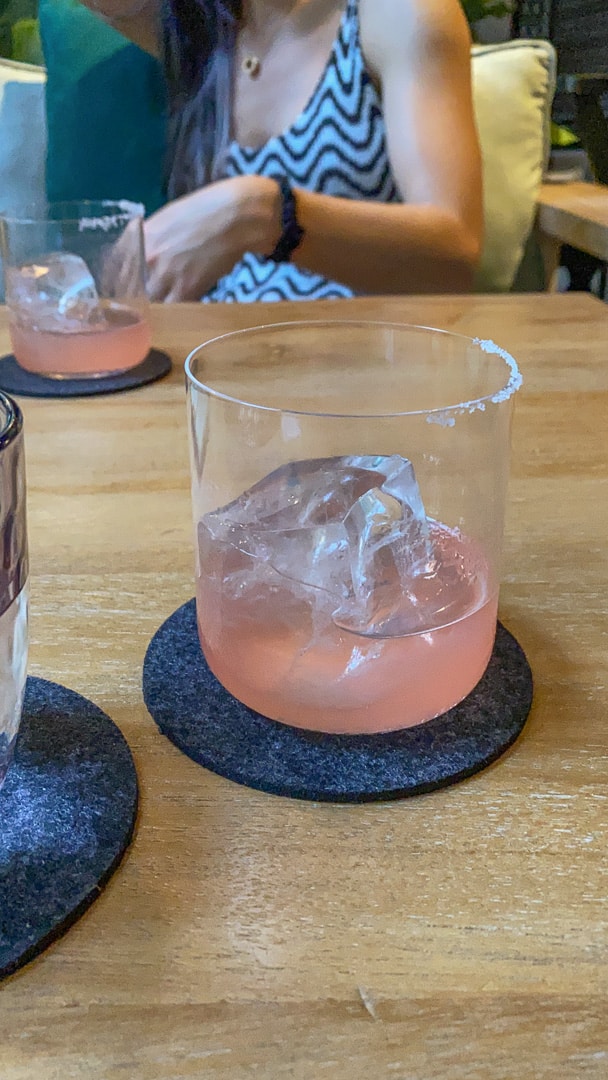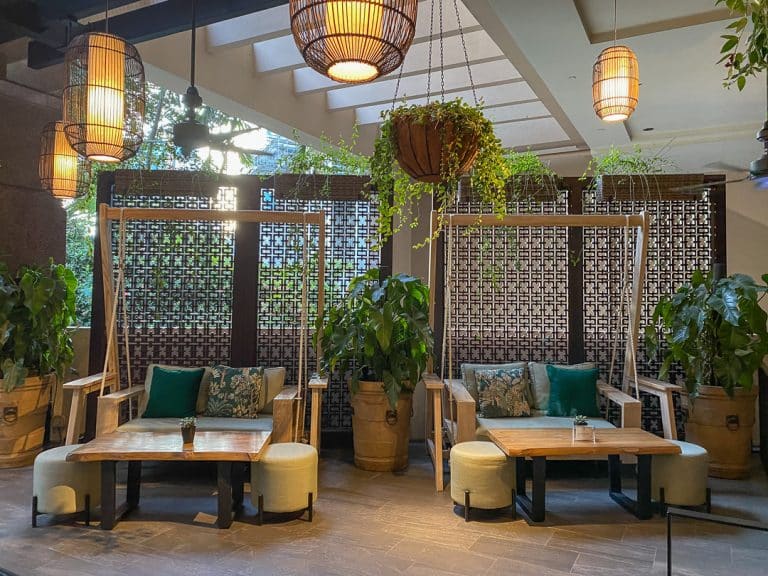 ---
Leisure Facilities
---
Gym Lounge
The 2021 remodelling of the public spaces is perhaps most evident on the gym and spa floor. Previously it looked a bit like a dreary Sheraton.
This area is now home to a thoroughly modern looking coffee shop and all day dining venue. Perfect for those wanting to pop over for a quick meal, whilst spending time at the pool just outside.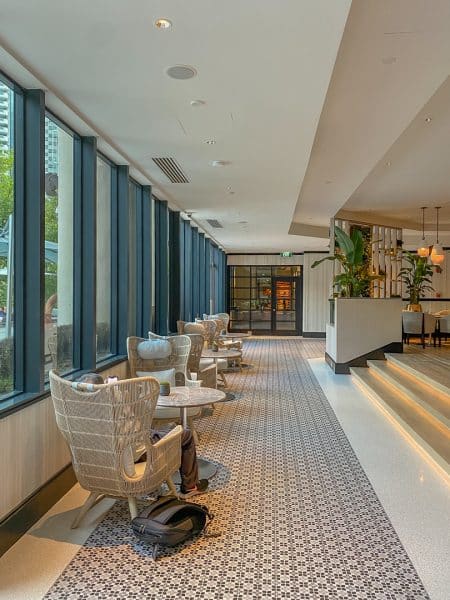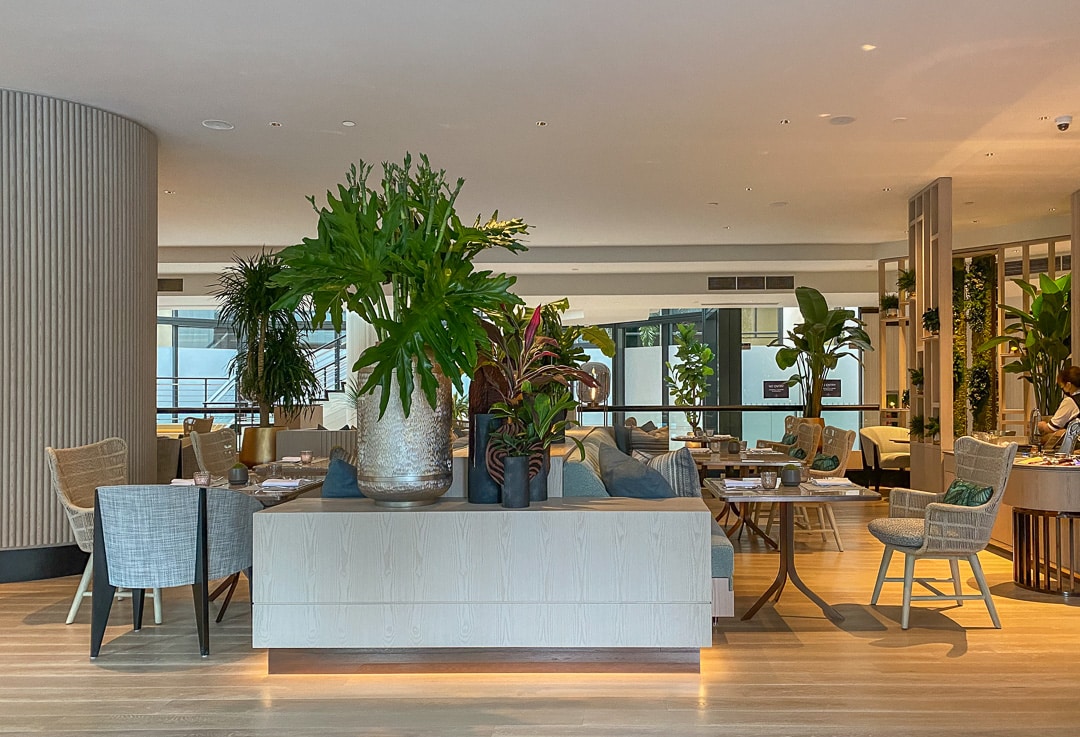 Gym
I had a real soft spot for the old gym. It had a ton of great machines, the dumbbells went up to 70lbs and it was open 24h. I will admit though that the old spit and sawdust vibe was perhaps not to the taste of the average Four Seasons guest:
Four Seasons Singapore – gym in 2018The entire space has now been completely remodelled (with all weights now in Kg instead of lbs).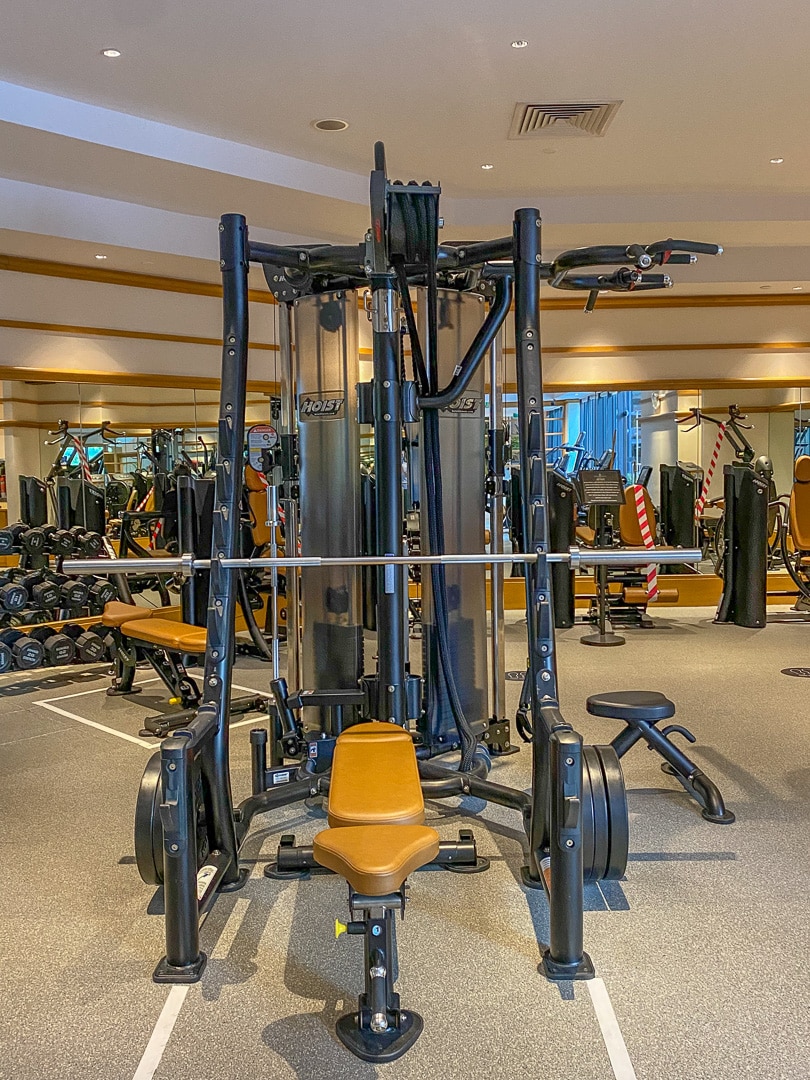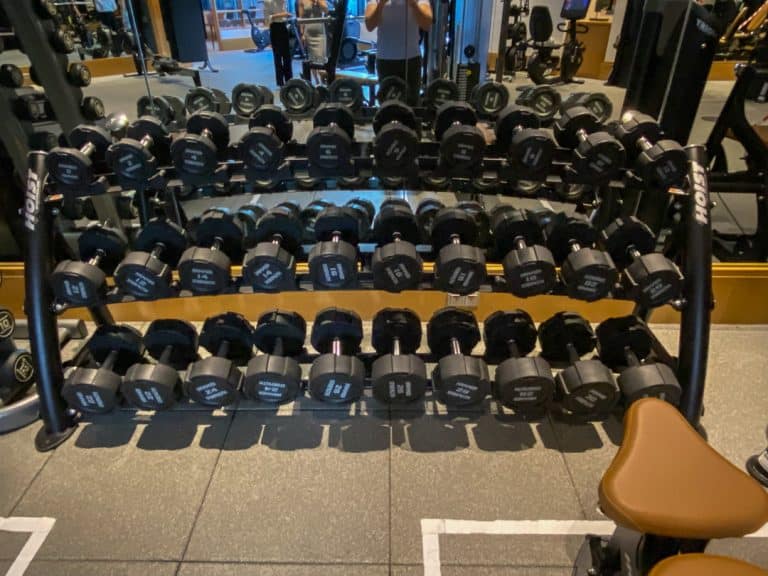 Spa
We didn't have any time to experience spa treatments during our two short visits in 2022. We were however able to take a quick tour of the facilities and came away very impressed!
A dramatically illuminated staircase guided guests up from the gym lounge area.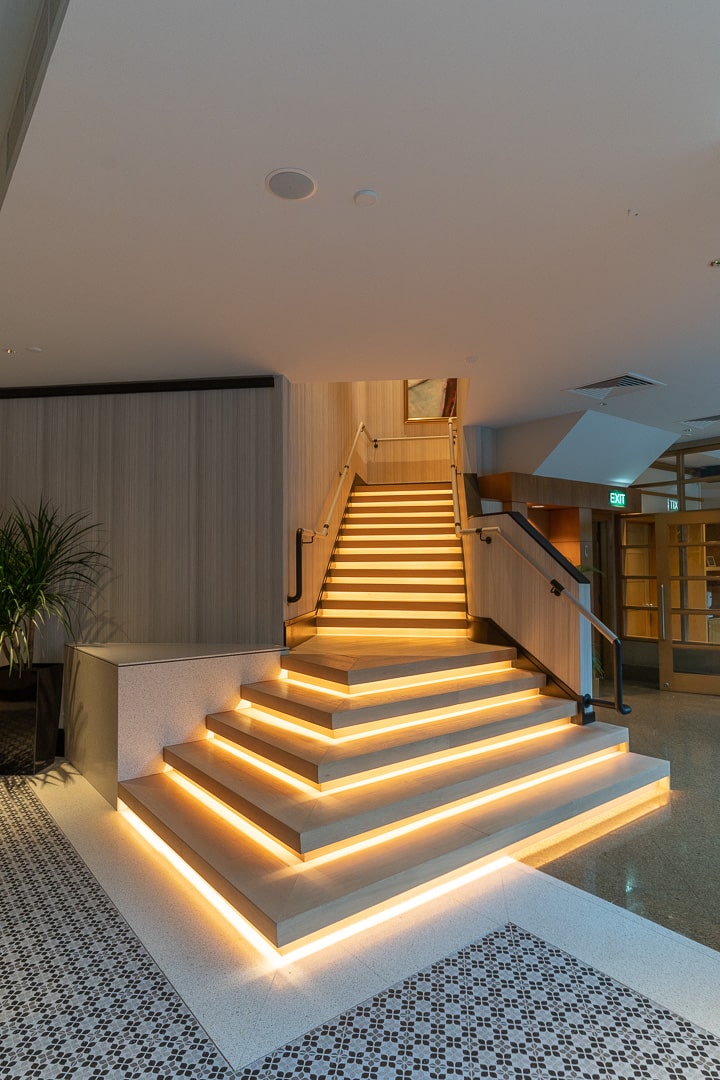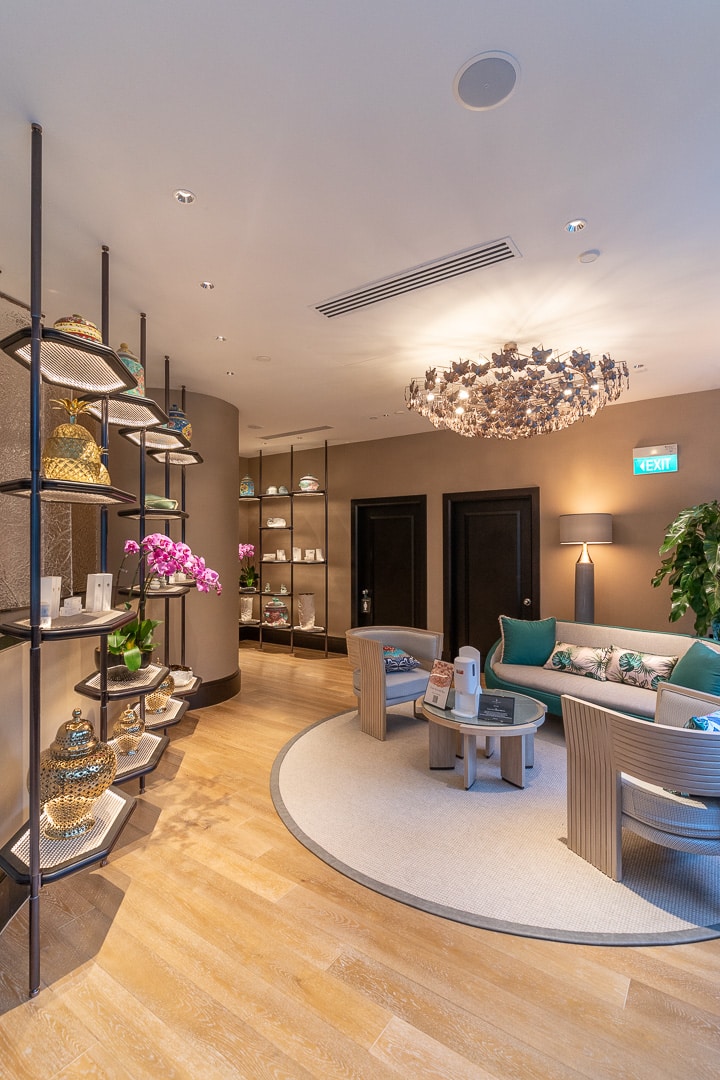 The design once again demonstrated that its finger is firmly on the pulse of the zeitgeist, with treatment rooms feeling more like bedrooms (and featuring the all grey marble showers that I wished had made their way into the suite bathrooms during the last renovation).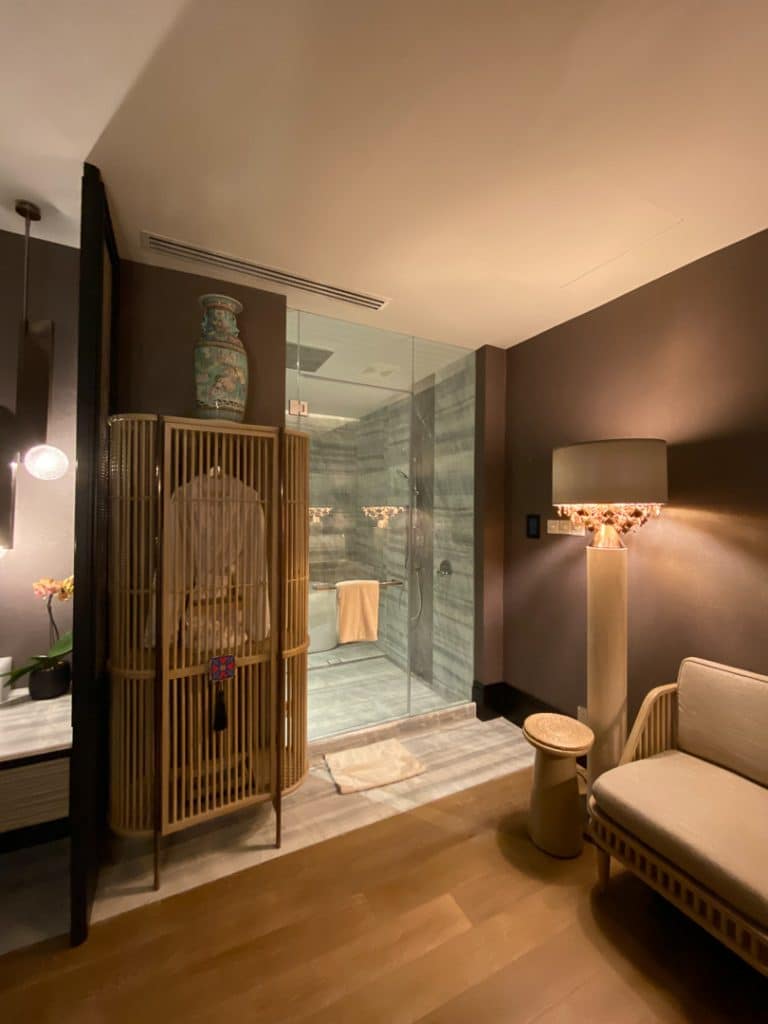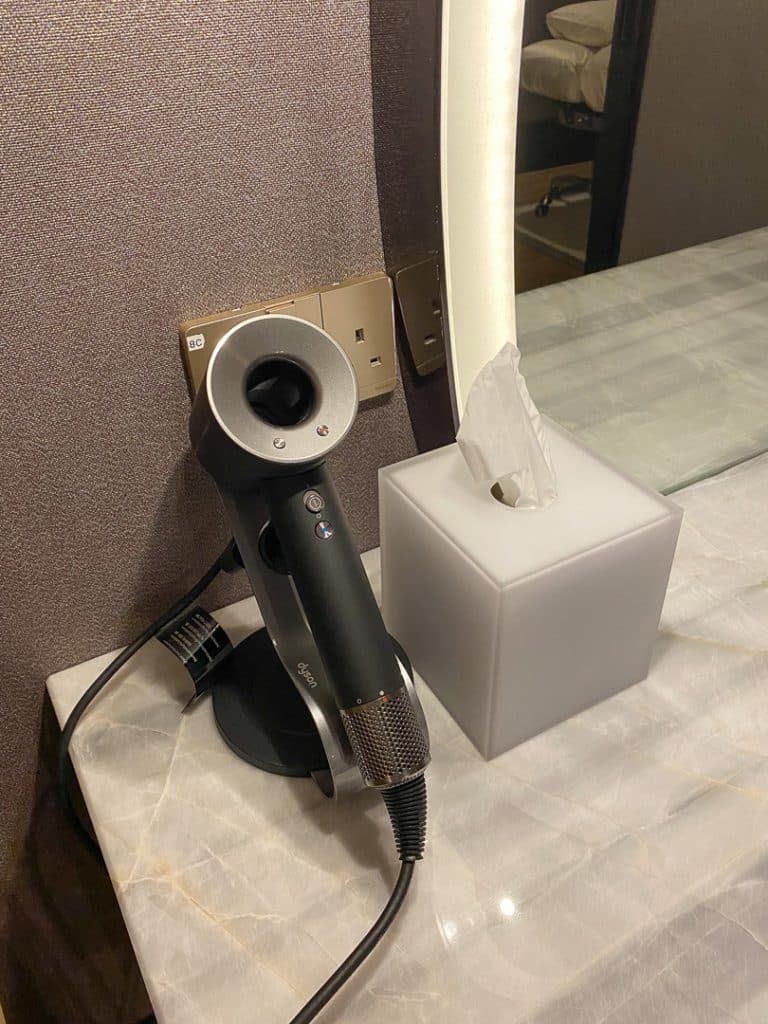 Swimming Pools
The hotel features two swimming pools, with the one directly outside the gym being adults only. It also has lanes for swimming laps.
Up on the rooftop is another pool which is billed as being more family friendly, featuring a number of inflatable toys.
In addition to these facilities, the hotel also features a tennis court (which was visible from our Executive Suite).
---
Conclusion
---
Basics Checklist
☑︎ Power sockets near the bed
The best I've ever seen in a hotel. Two universal sockets and two USBs on each side of the bed!
☑︎ Easy to understand light switches
☑︎ Coffee machine
Bonus points for the fact it was Lavazza!
☑︎ Separate shower and bath
☑︎ Blackout blinds
☑︎ Stable, fast and free Wifi
☑︎ Feather pillows
☑︎ Quiet and powerful aircon
Overall, it was really hard to find fault with this stay.
We received a very generous upgrade and tremendous value for money given the included breakfast and $100 USD hotel credit.
All of the food and drink that we had was absolutely top notch and our limited interactions with staff were universally excellent.
The gym was far better equipped than I had been expecting and the fact that there was a separate adults only pool was a very pleasant surprise.
Add to this the known factors like the amazing bedding, Four Seasons app and location in Orchard road, closer to the real action and away from the tourists and you have all the makings of my new favourite hotel in Singapore.
---
Book The Four Seasons Singapore online with FSPP benefits
---
Four Seasons Preferred Partner Booking
An example of FSPP benefits which may be available on your stay:
Upgrade of one category,

based on availability at time of check-in.
Full breakfast for up to two in room guests. Either at the restaurant or via in-room dining.
$100 Hotel Credit.
Welcome amenity.
Early check-in/late check-out, subject to availability.
Your booking will be direct with Four Seasons. Since I'm managing the booking on your behalf, I am able to negotiate all the above extras for you.
Additionally if you find a cheaper rate elsewhere, I can help to get the price matched AND STILL add the FSPP benefits to your booking!
---