---
Booking
---
Having previously visited Singapore on a number of occasions, I've never quite found my permanent 'home' hotel. There is no single standout property that really shines. I really enjoyed my stay at the Fairmont but a lot of that was to do with the fact that I was able to apply a complimentary suite upgrade certificate.
On this occasion I figured I'd try somewhere new and upon seeing how low the room rates were at the newly refurbished Four Seasons, the choice seemed obvious. $300 USD a night for a Four Seasons hotel is already amazing but since I booked with FSPP benefits I also got:
Free room service breakfast, a massive suite upgrade and a $100 USD hotel credit thrown in for free.
Even if you only value room service breakfast for two people at $50 USD (and believe me it's worth a lot more than that), the effective net cost for the room was $150 USD for one night!
Since I am a Four Seasons Preferred partner agent, I can offer you FSPP benefits at any Four Seasons property.
I will always match the rate that you see on FourSeasons.com and if you find a cheaper rate elsewhere I can help to get the price matched AND STILL add the FSPP benefits to your booking!
EMAIL FOR FSPP BOOKING ENQUIRIES
---
Arrival
---
We took a Grab from the airport, the journey took a little over 25 minutes at a cost of around $18 SGD.
Pulling up to the hotel at around 10pm I must admit that I was initially underwhelmed. There's no doubting the power of that famous Four Seasons tree logo: you expect great things to follow. However both the building exterior and the lobby were rather dull.
The check-in process was very prompt and efficient and we were handed a letter detailing our booking benefits. Although these generally only include a single category upgrade we were told that we had been upgraded two categories to an Executive Suite!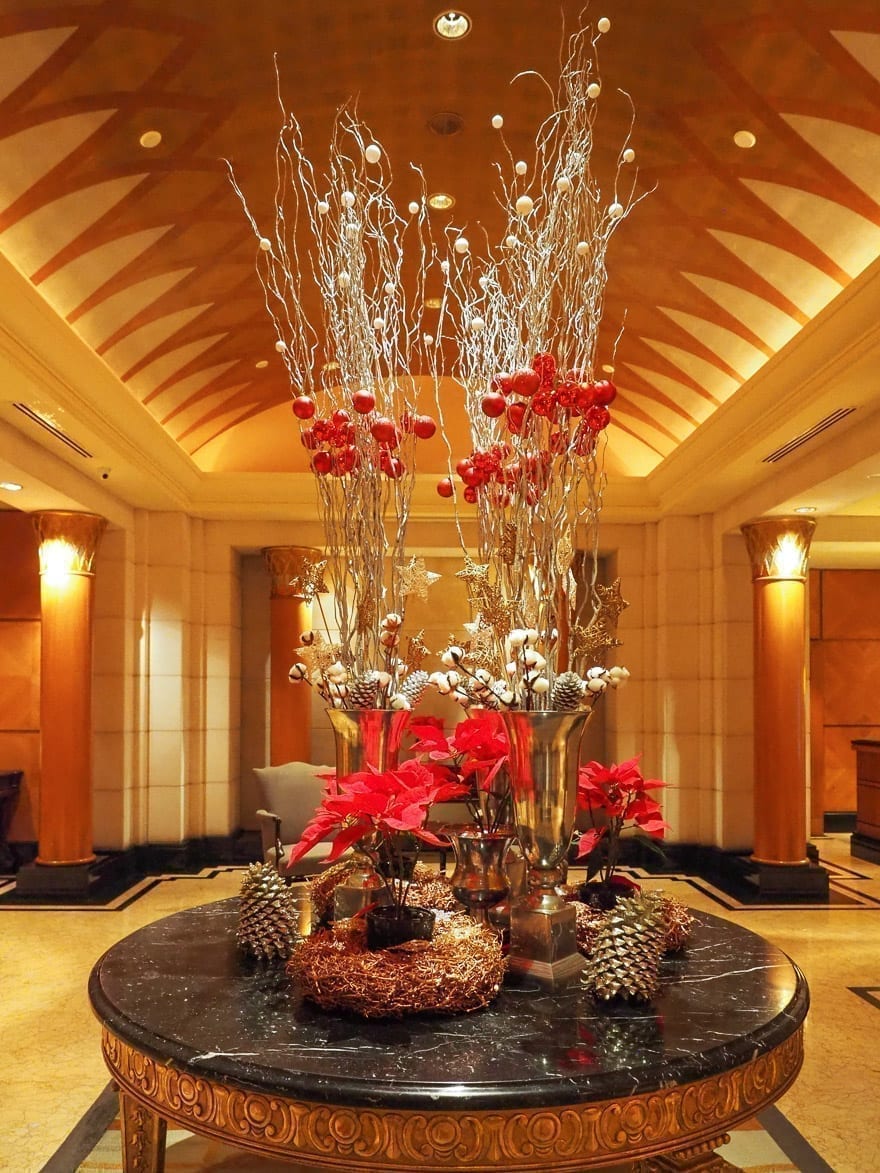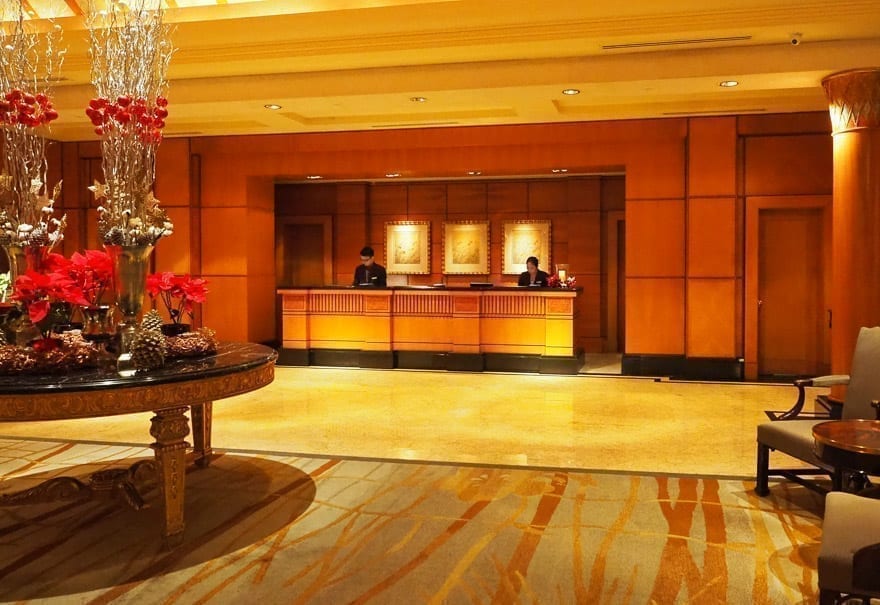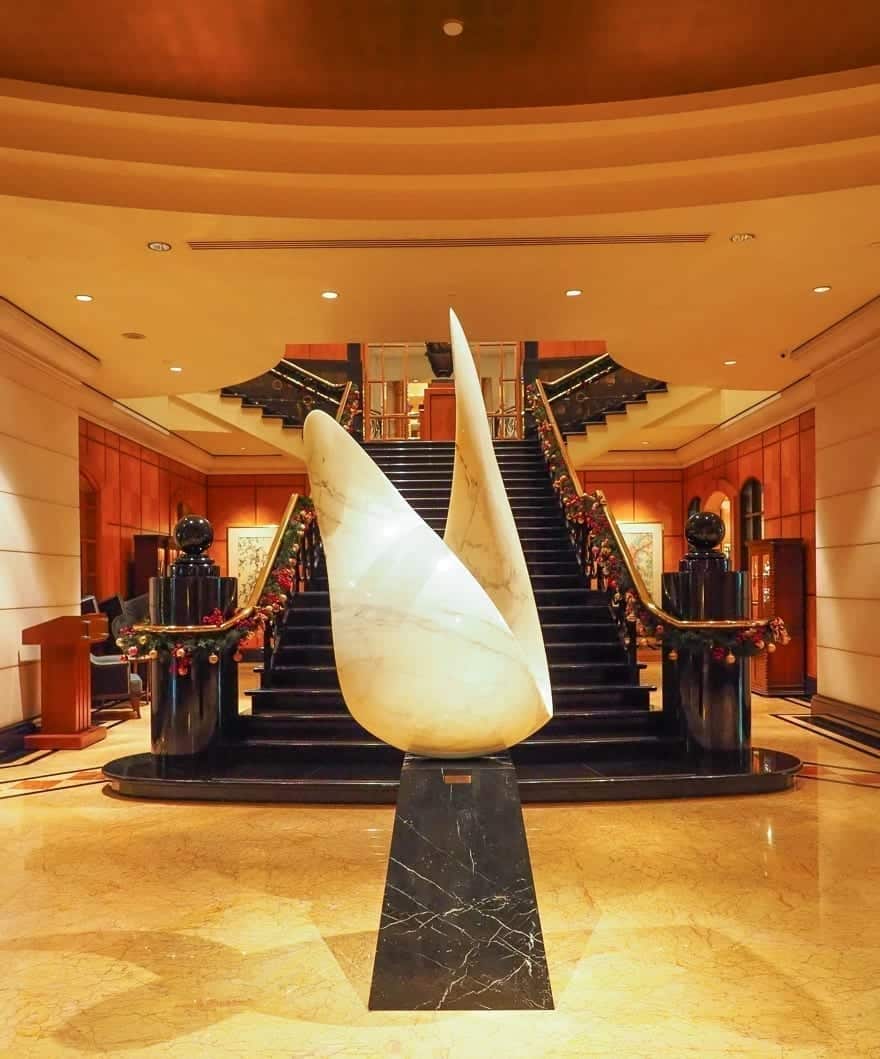 As soon as we left the main lobby area and made our way up to our suite, the decor changed quite remarkably. Gone was the old school black, red and gold – with a far lighter and more modern palette of blues and cream taking its place.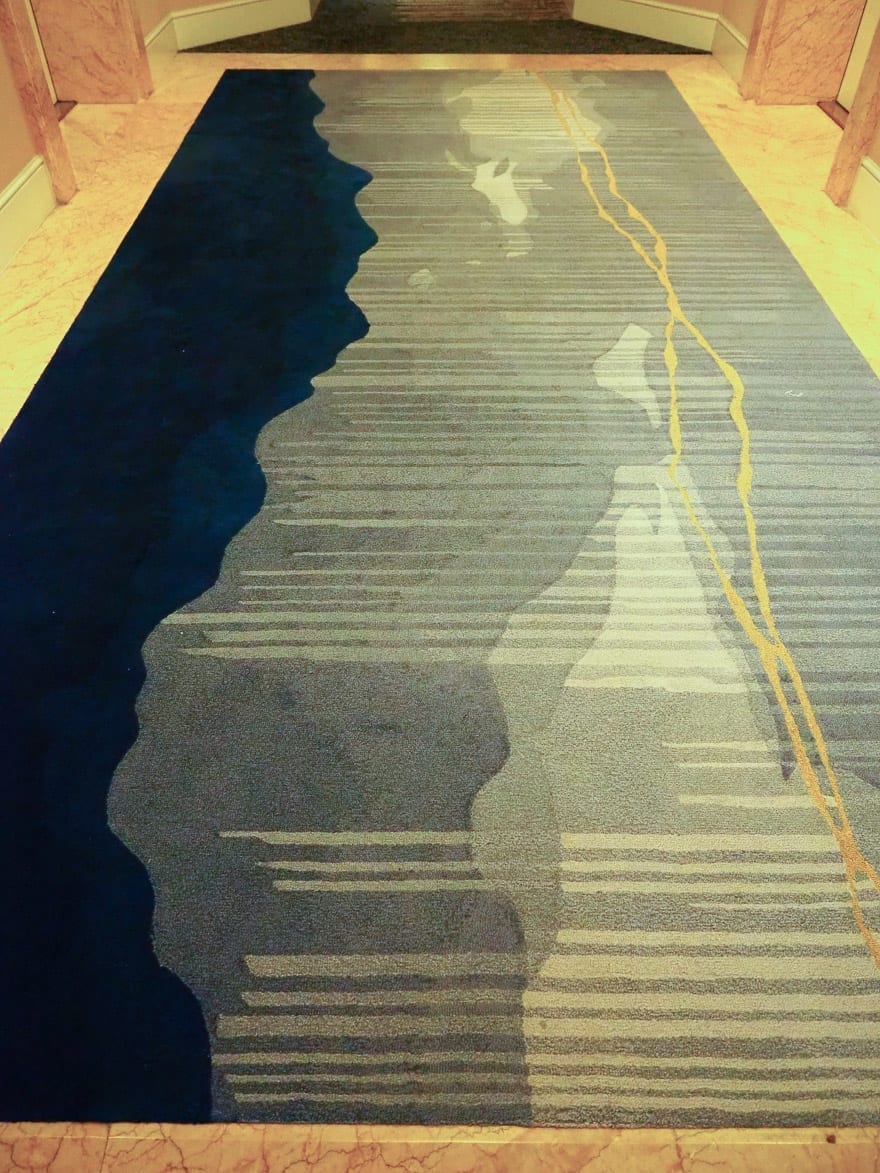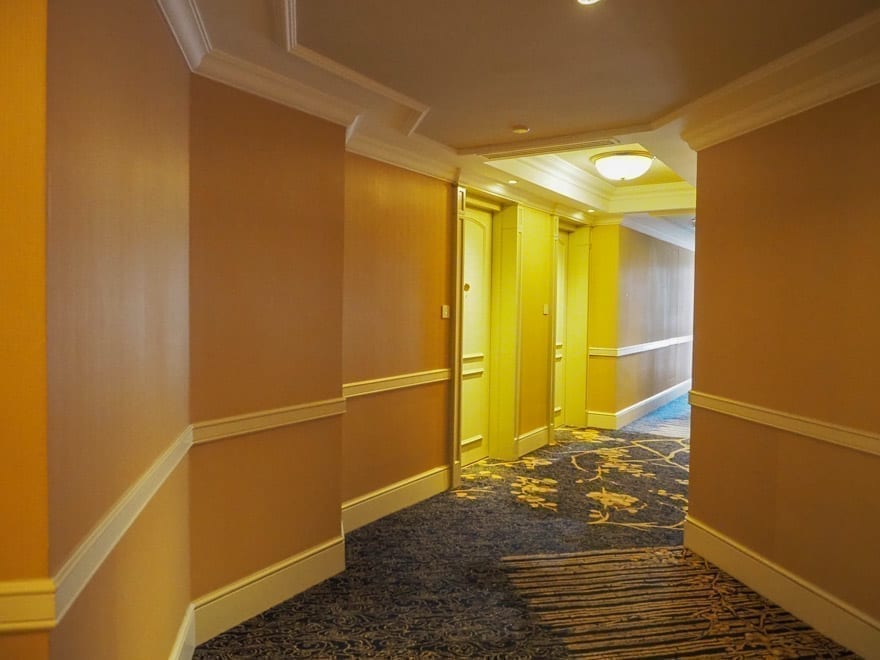 ---
Executive Suite
---
Upon first setting foot into the suite my first impression was that this seemed like it was the interior of an entirely different hotel! This 75m² space was every bit as elegant and modern as our room at the Four Seasons Tunis (one of the newest properties in the global FS portfolio).
The guest bathroom was actually quite impressive in terms of decor. The copper toned lighting contrasted beautifully with the dove grey marble. I was slightly disappointed to be in Asia and not have a Toto toilet though!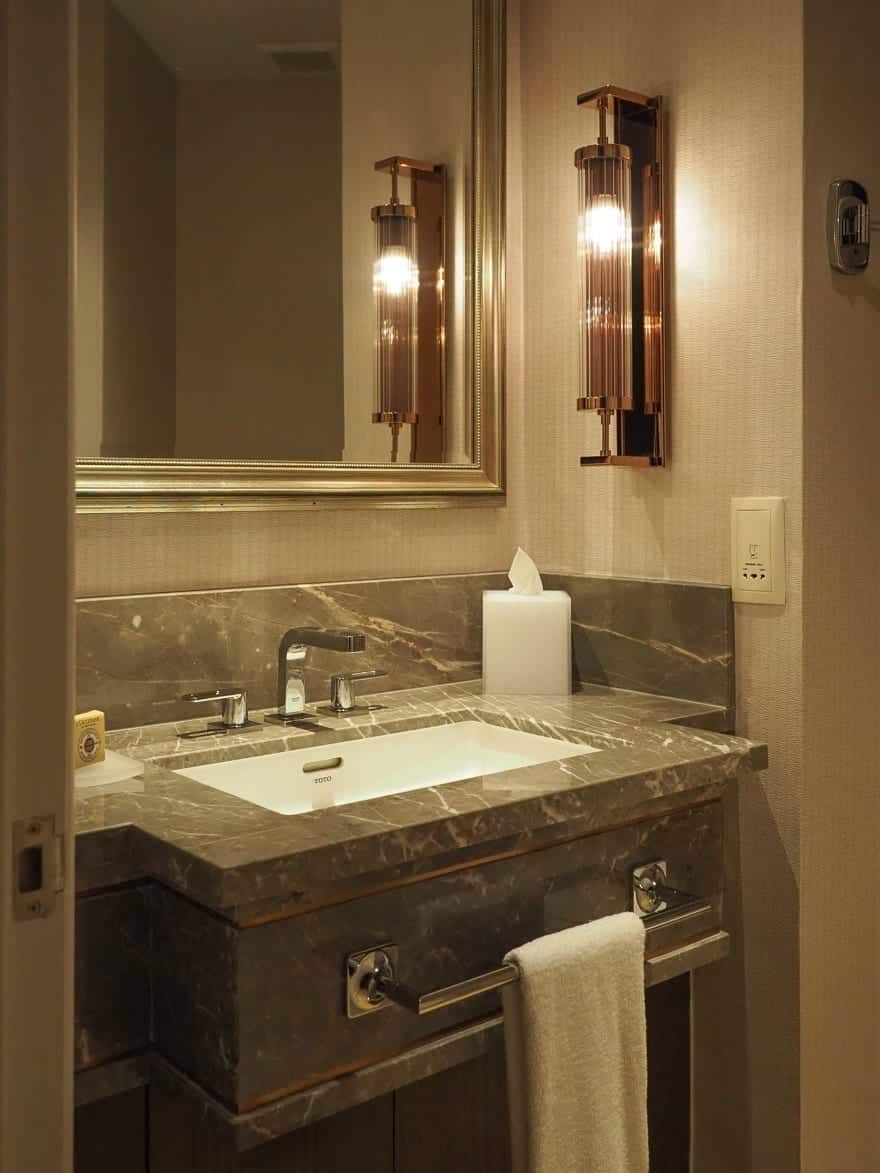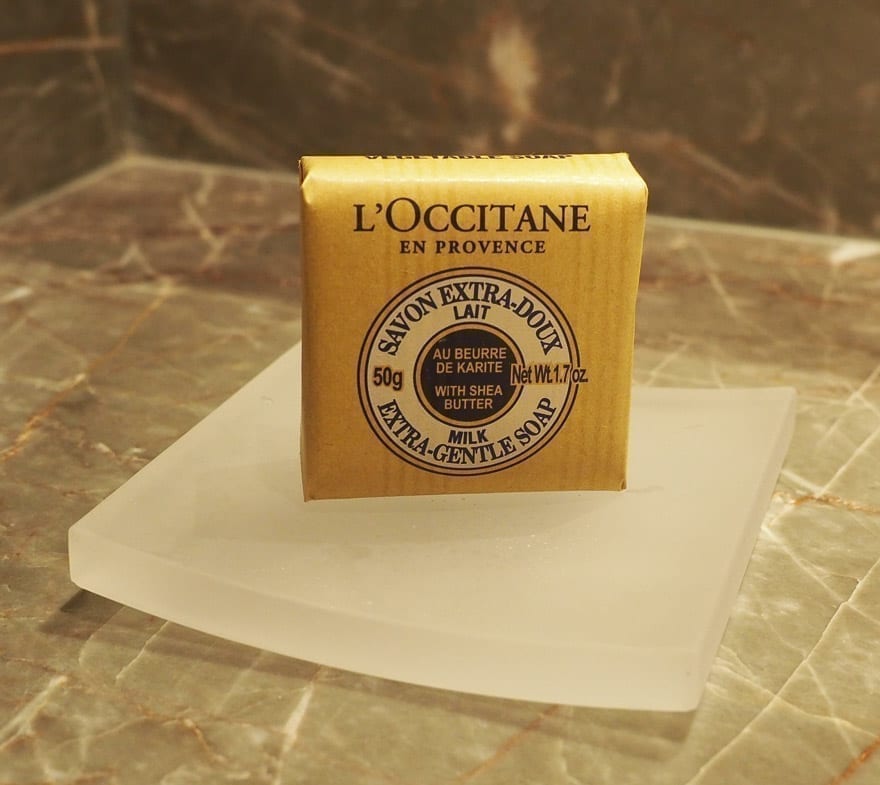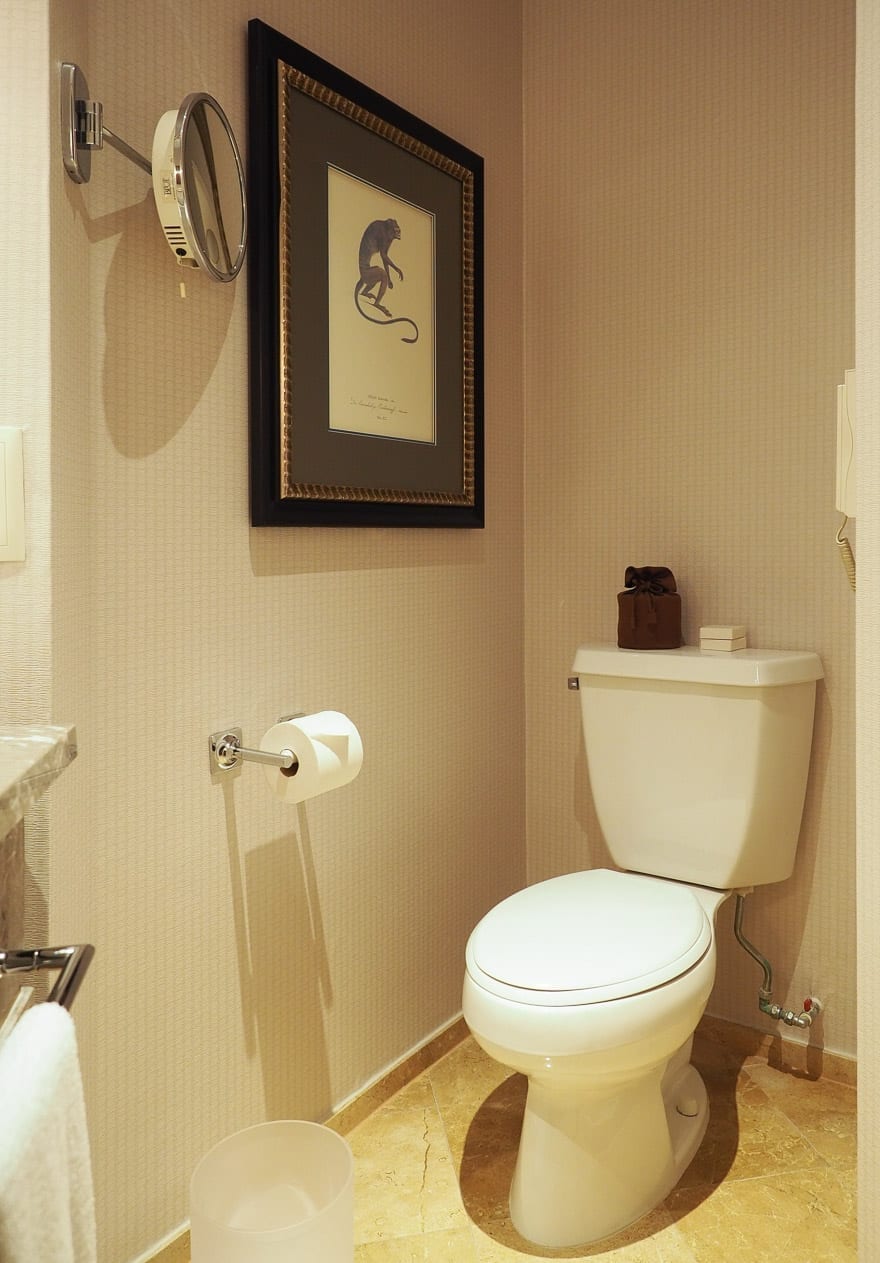 Complimentary bottled water was supplied in addition to the absolutely fantastic Lavazza coffee machine, just like the one I have at home! I'm also a big fan of Riedel glassware and it was great to have a little reminder of home here too.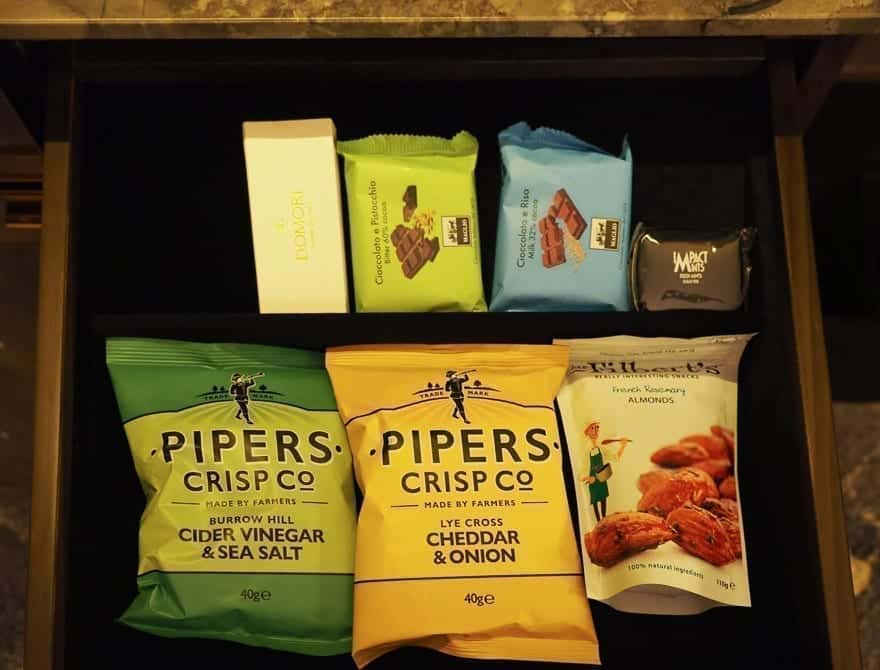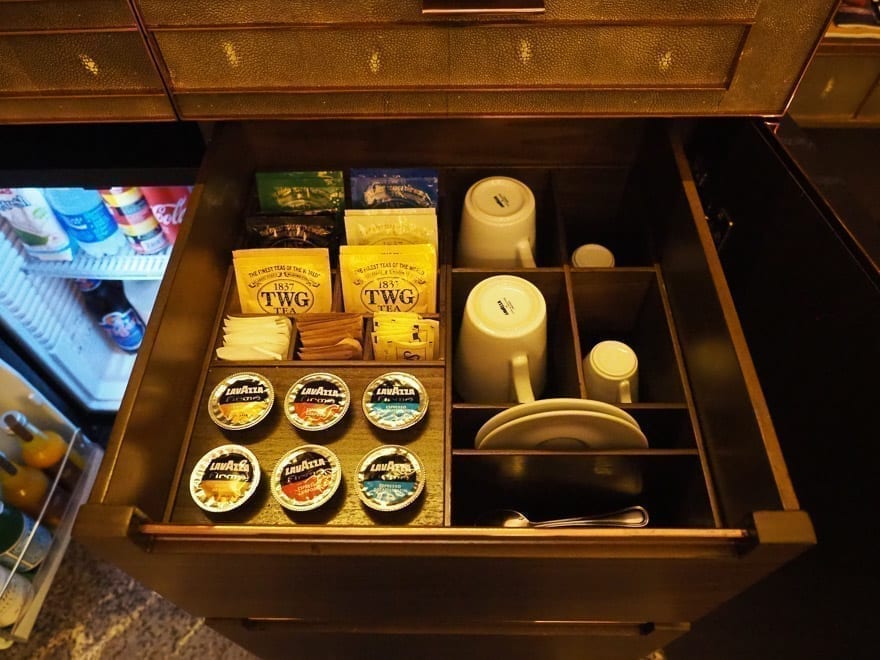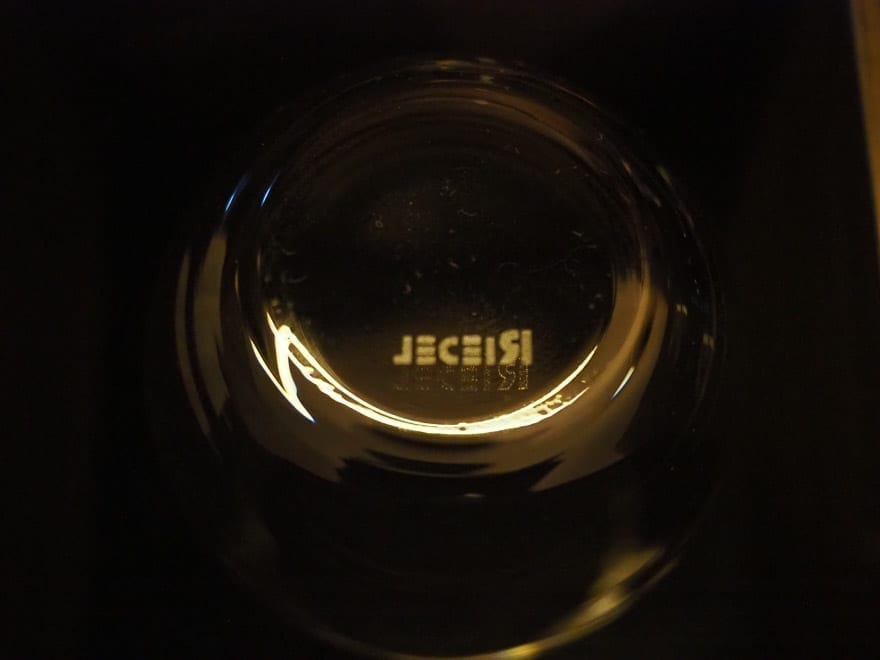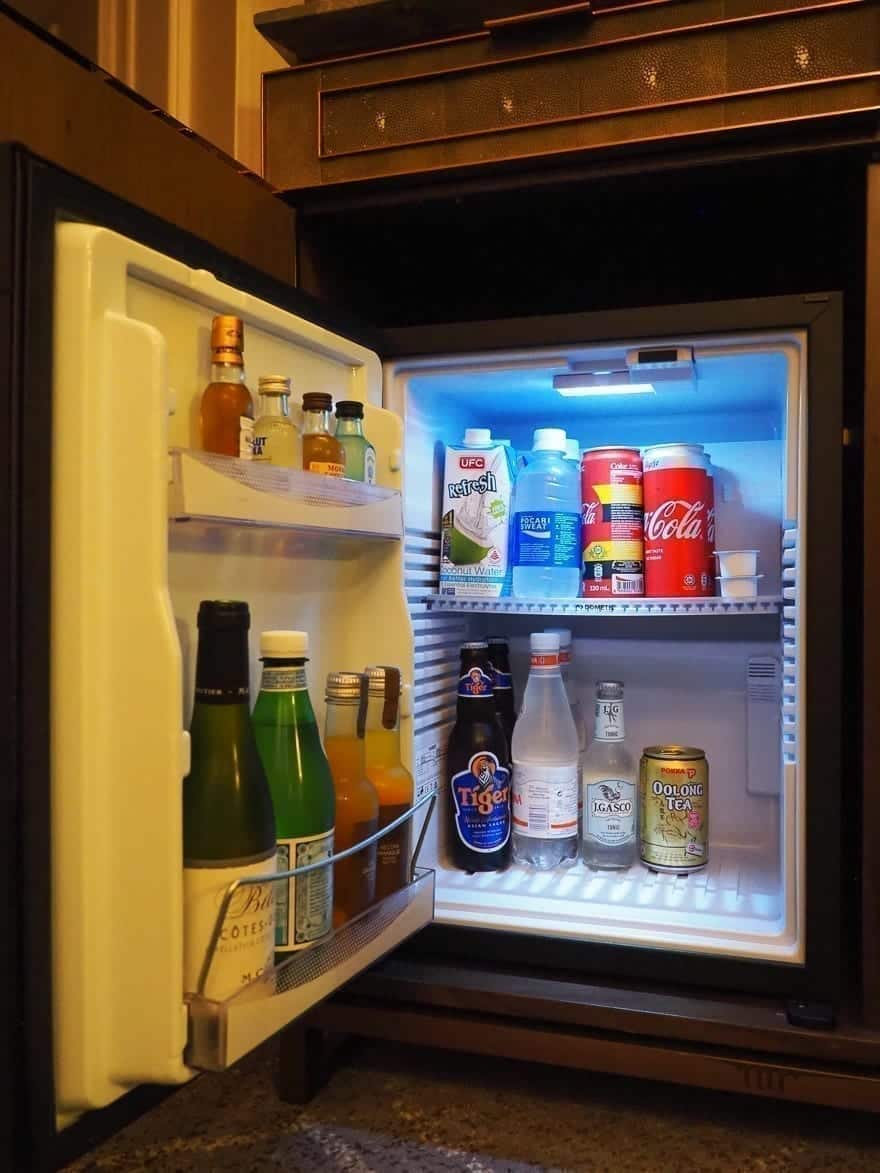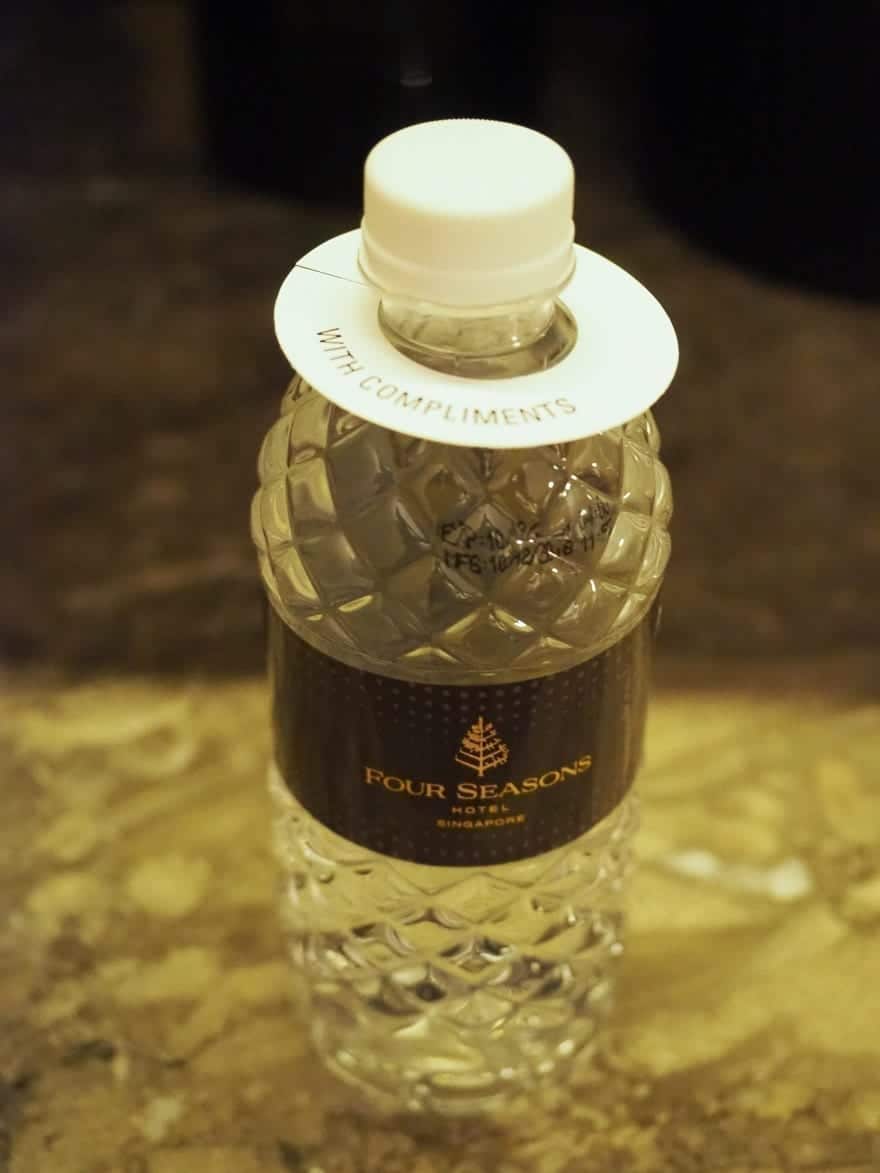 The bedroom was deceptively large and very cleverly designed. Closing the shutter style double doors made this space feel very cosy and inviting at night.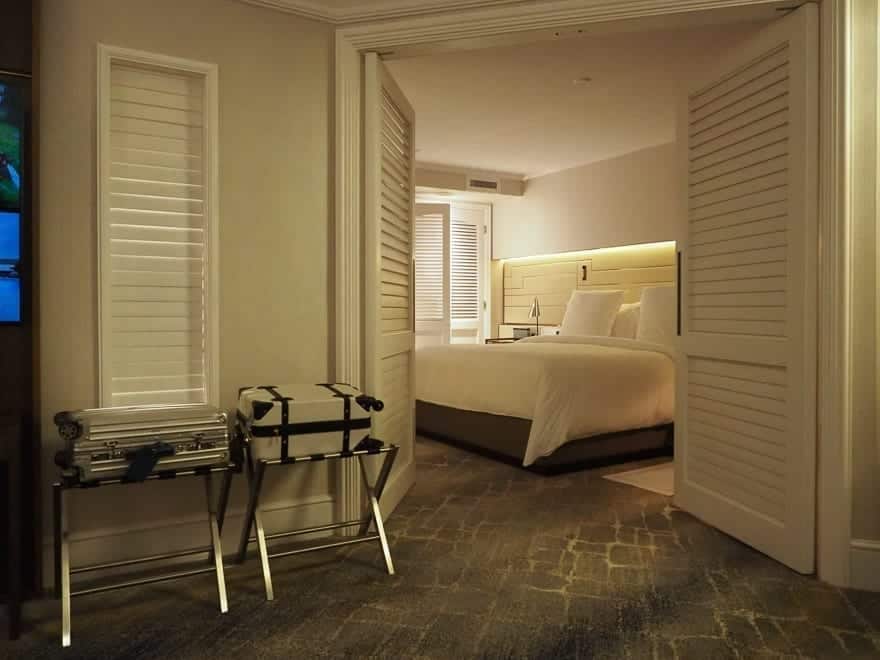 The bed was unbelievably comfortable. I don't know how Four Seasons do it but their bedding really is the most consistently amazing of any hotel chain. I loved the design of the leather headboard with the strip of recessed lighting and integrated reading lamps too. The wardrobe was very large and featured my all-time favourite hangers. The carved Four Seasons clothes hangers are every bit as good as the very best that I've been given with suits by Tom Ford, Kiton or Brioni.
The TV facing the bed was as large and modern as humanly possible given the space constraints and was easily superior to the main television in a lot of suites I've stayed in, in other hotels.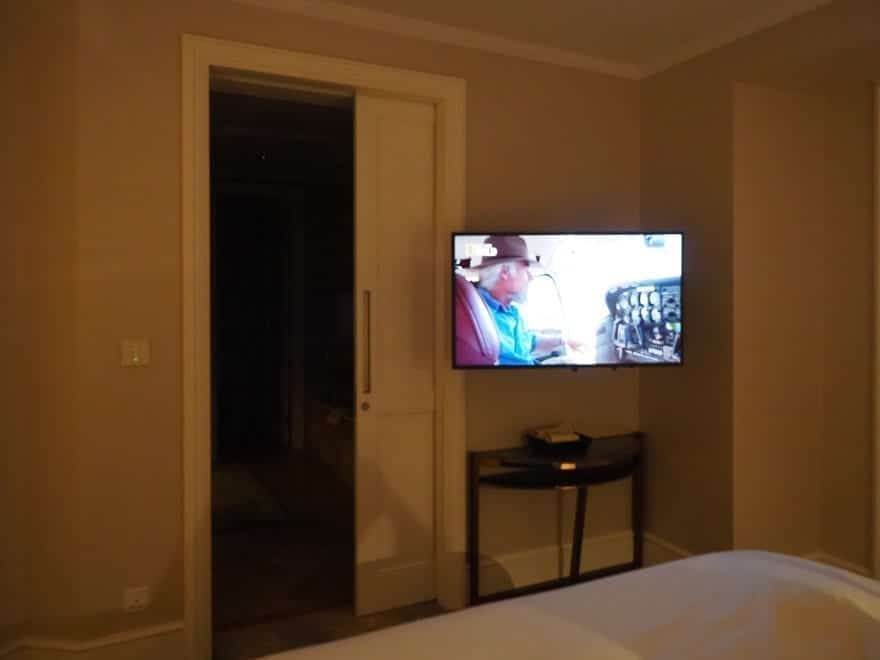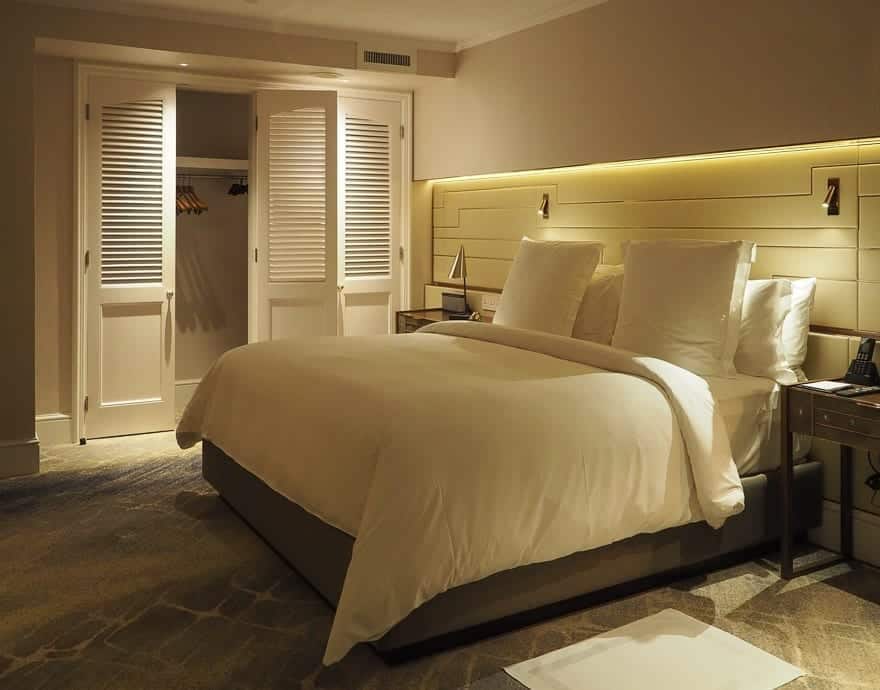 Both sides of the bed had multiple universal power sockets and USB ports, in addition to a full set of well labelled light switches. One side even had an extended night table that continued into a vanity area. A very luxurious piece of design.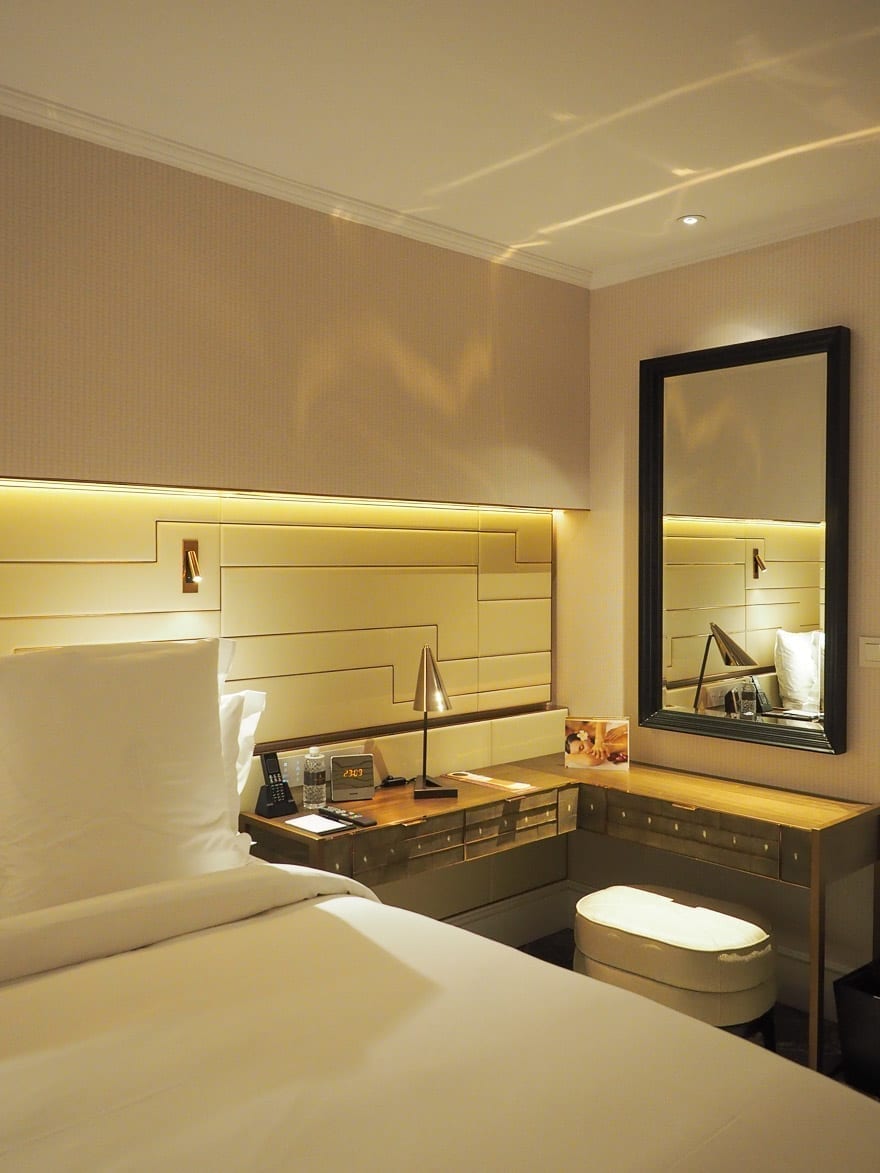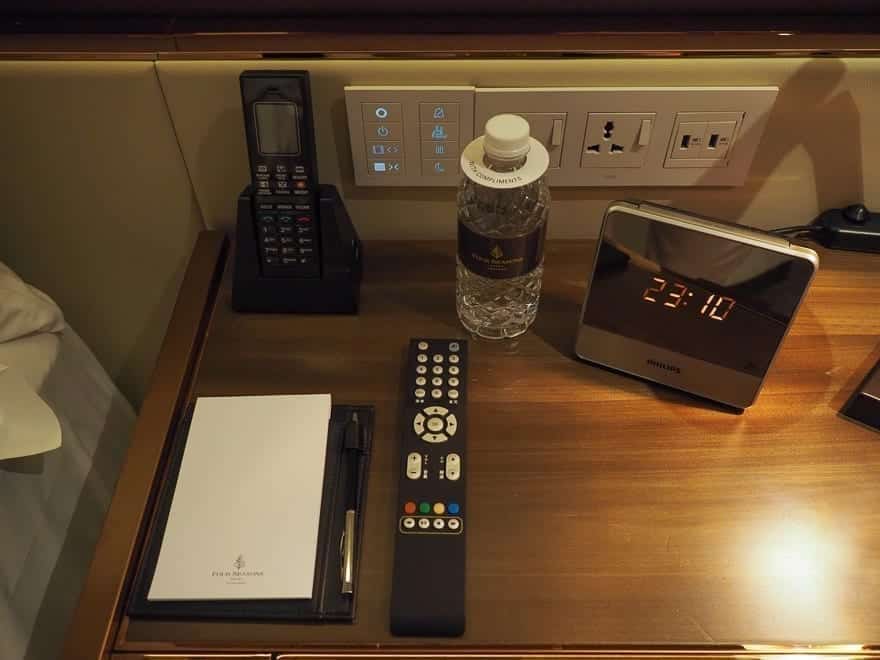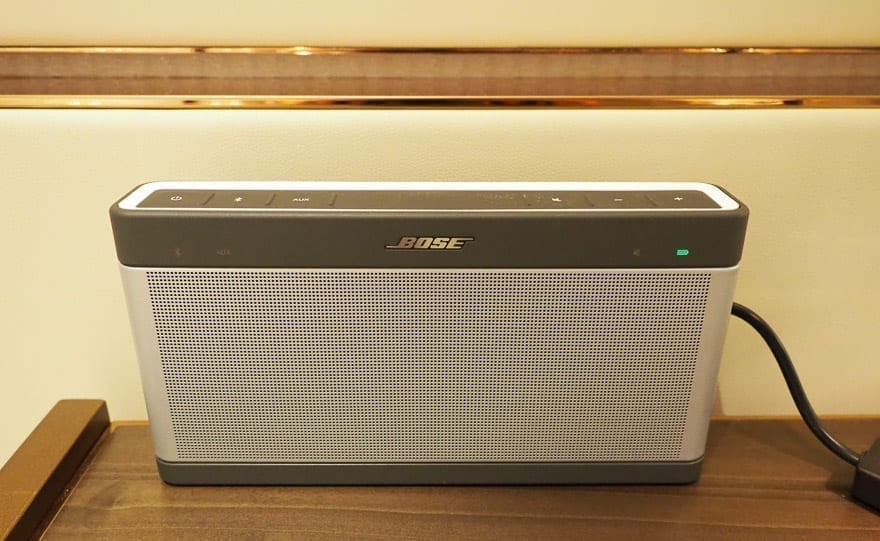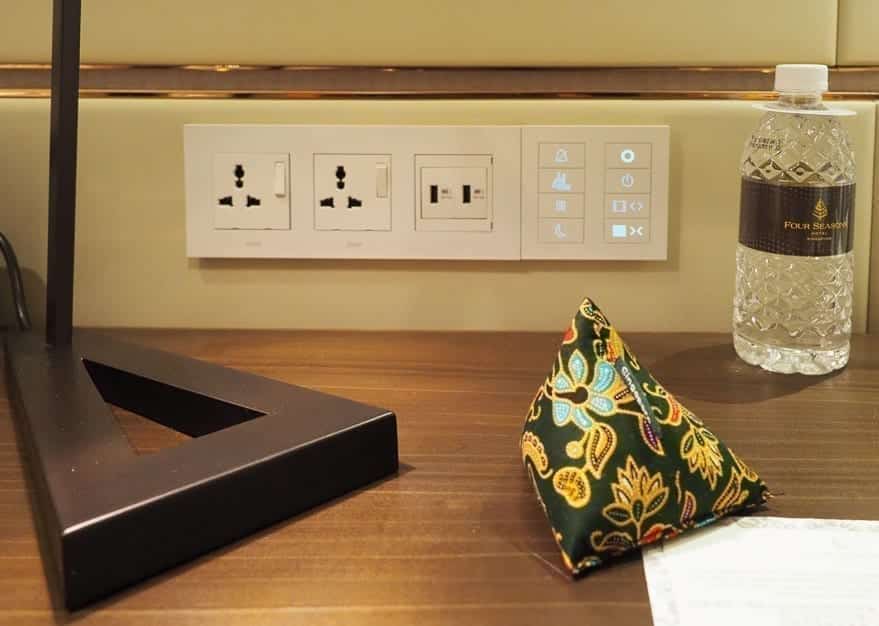 The bathroom was relatively compact but beautifully decorated and lit. The copper fixtures and clean lines of the sinks worked to bring an undeniably modern touch to this expanse of luxurious marble. The patterned blue rug also brought a lot of life to the room.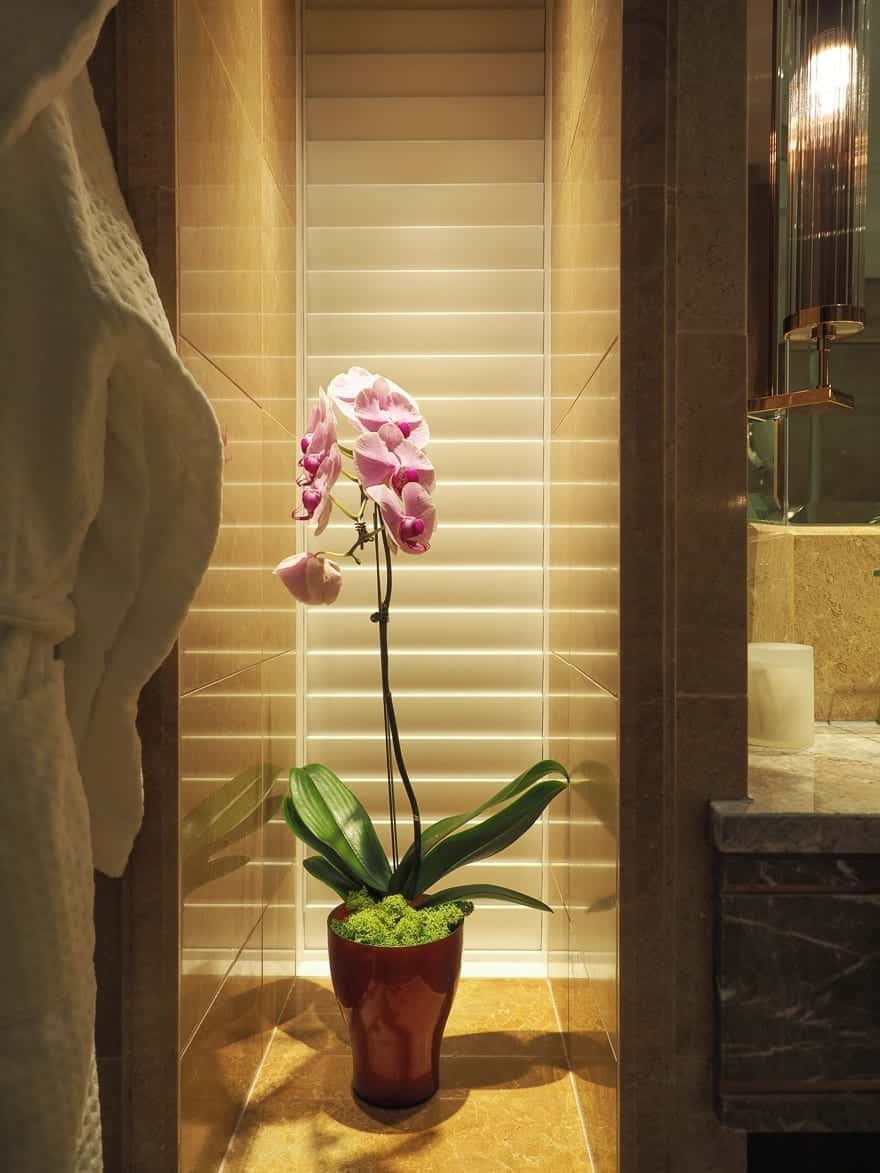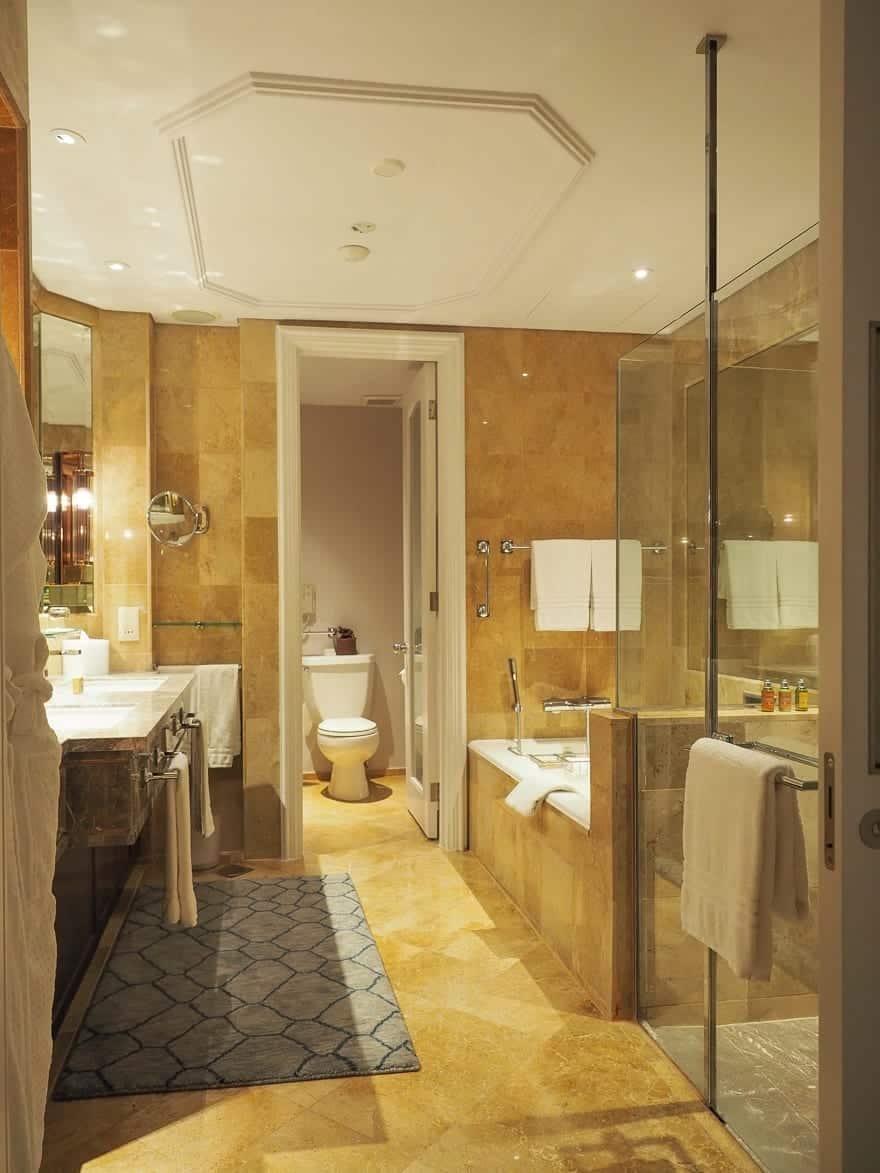 The shower was extremely powerful and came with a full set of L'occitane bathing amenities.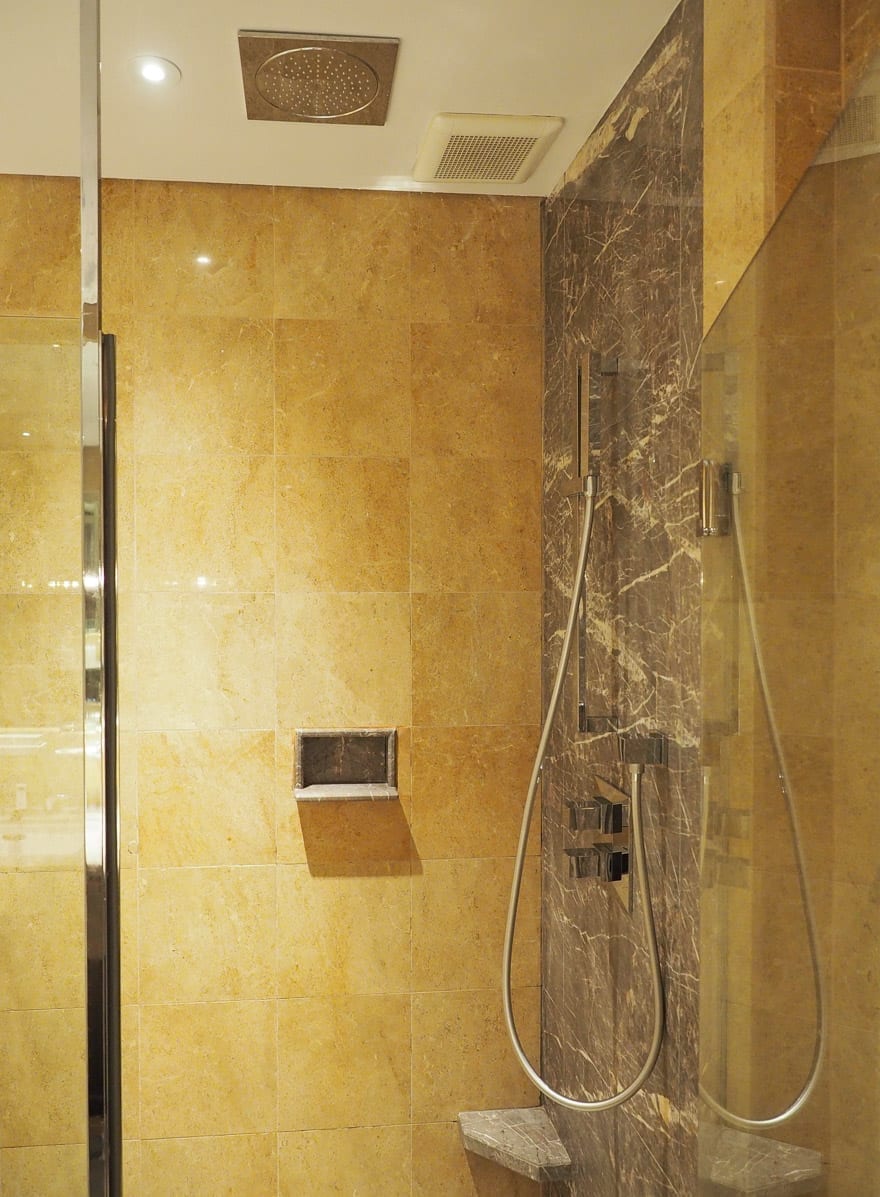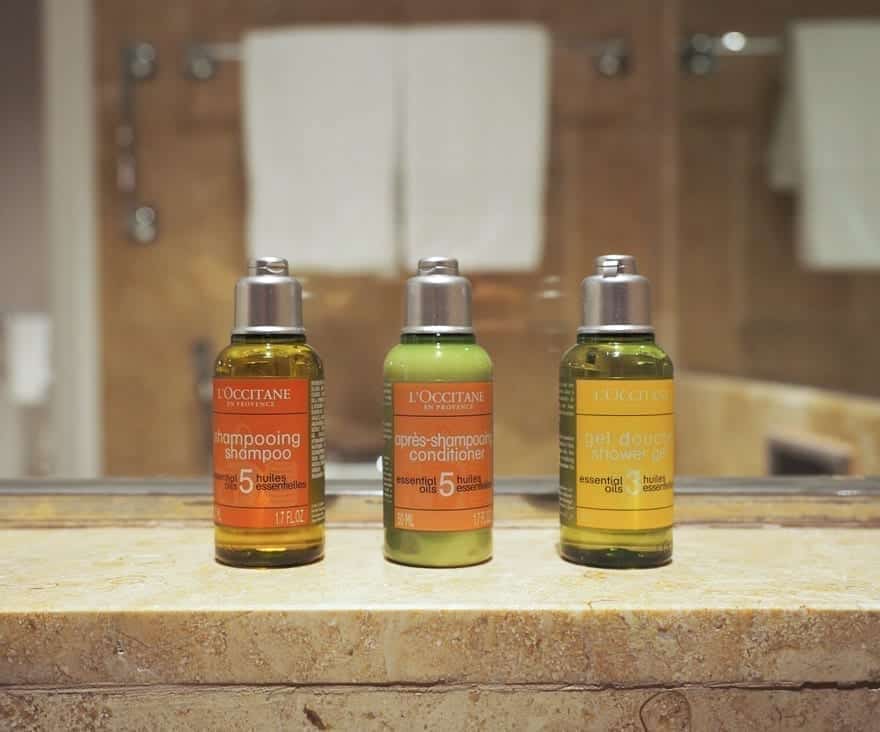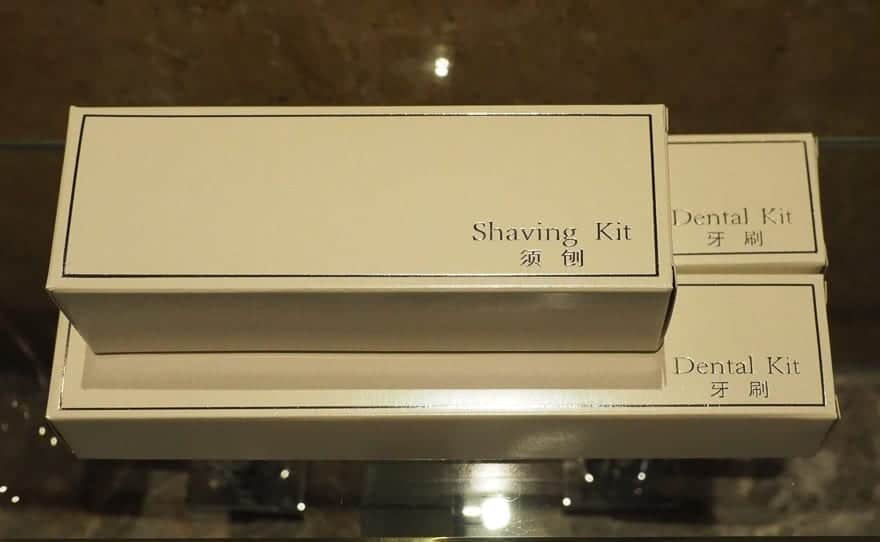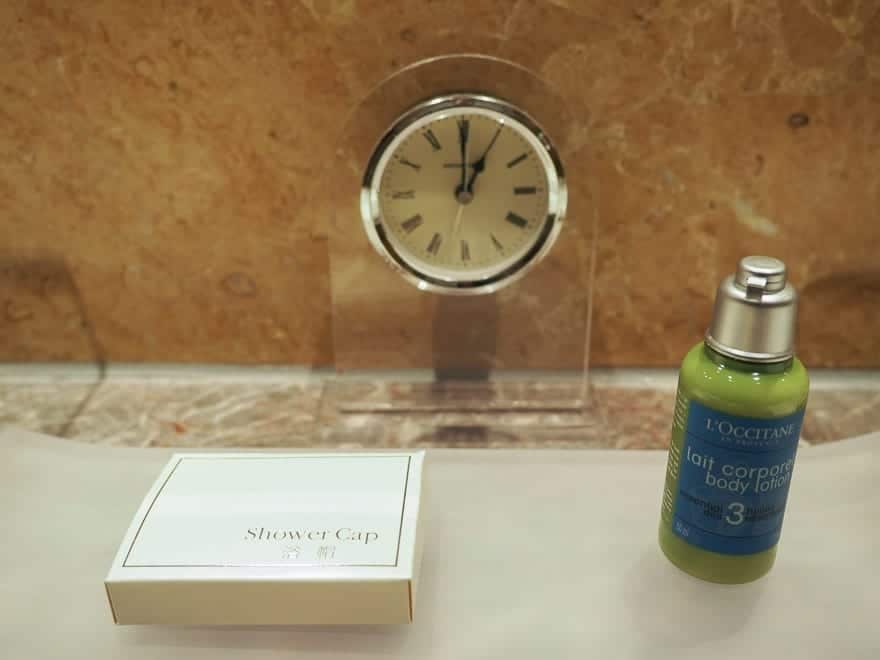 The toilet was housed in a separate room at the far end of the bathroom, with a second door opening right by the front door of the suite. Some under-sink lighting provided a very helpful nocturnal 'runway' should you require it.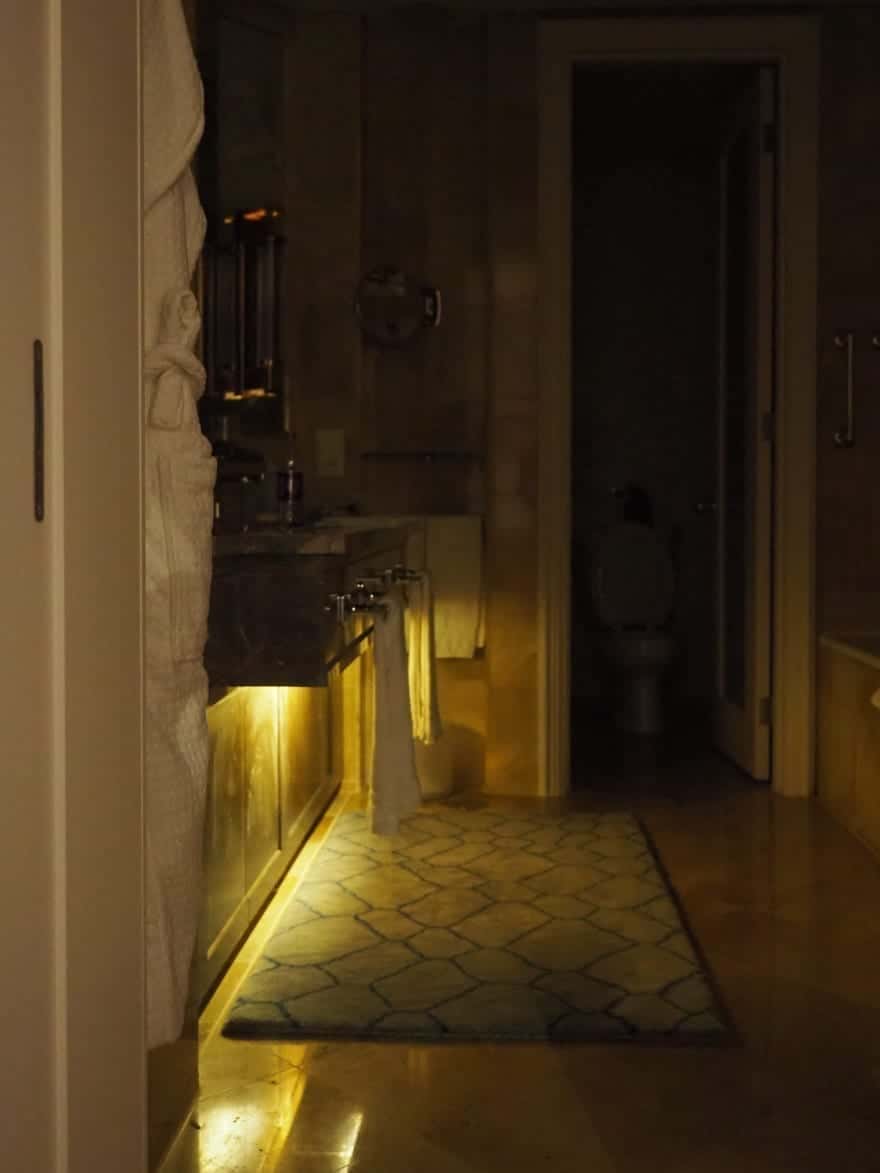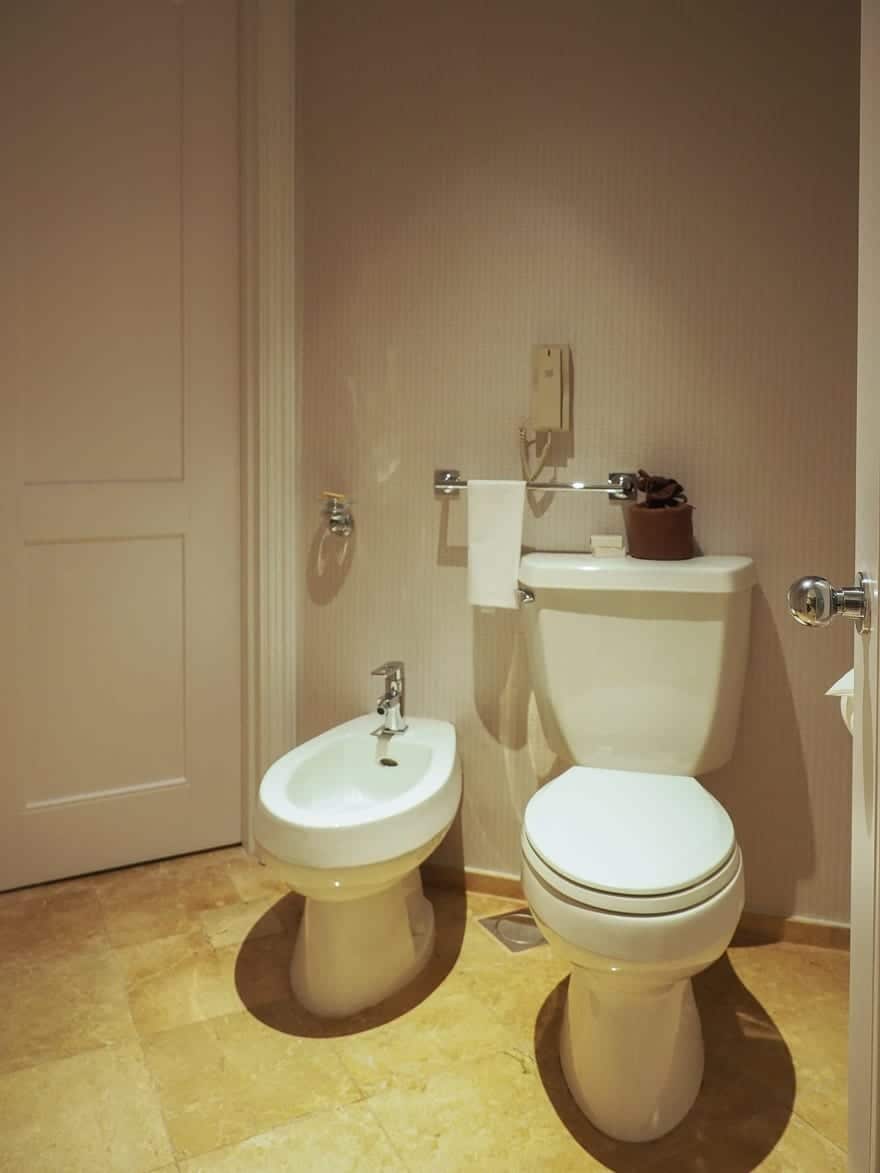 ---
Food and Drink
---
Given our late night arrival, the $100 hotel credit came in very handy for a free room service dinner!
One of my favourite things about Four Seasons hotels is the app. You have a full room service menu available on your phone and can easily customise dishes at the tap of a button. So much easier than dealing with people over the phone where language barriers can easily create a problem.
The food arrived within 25 minutes of ordering and was very professionally presented and explained to us by the server.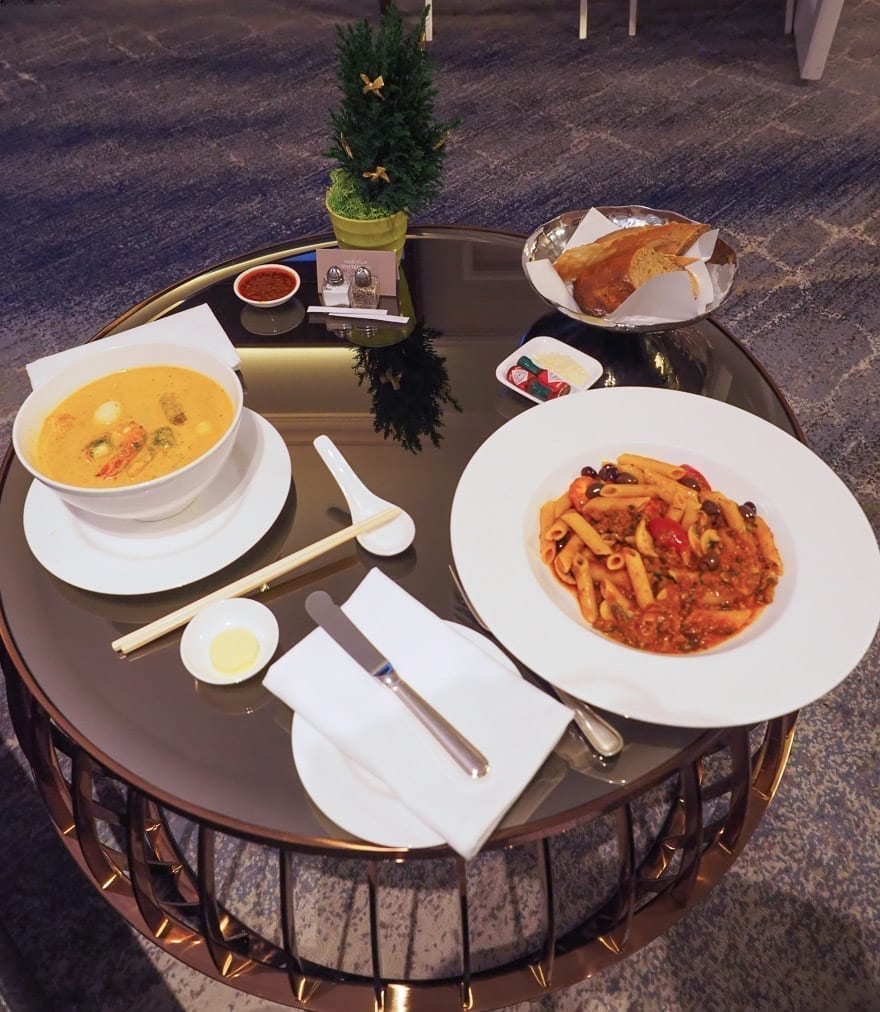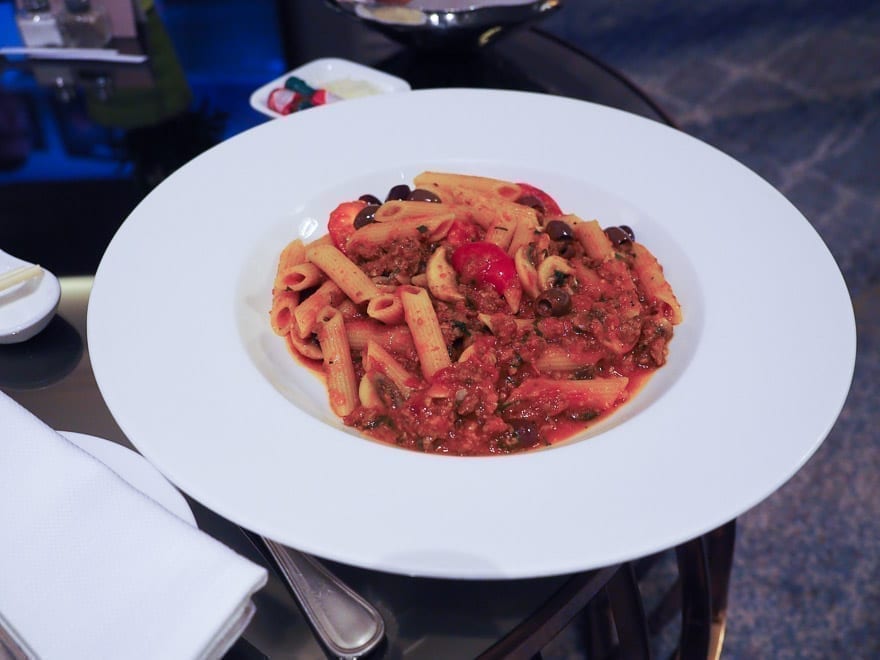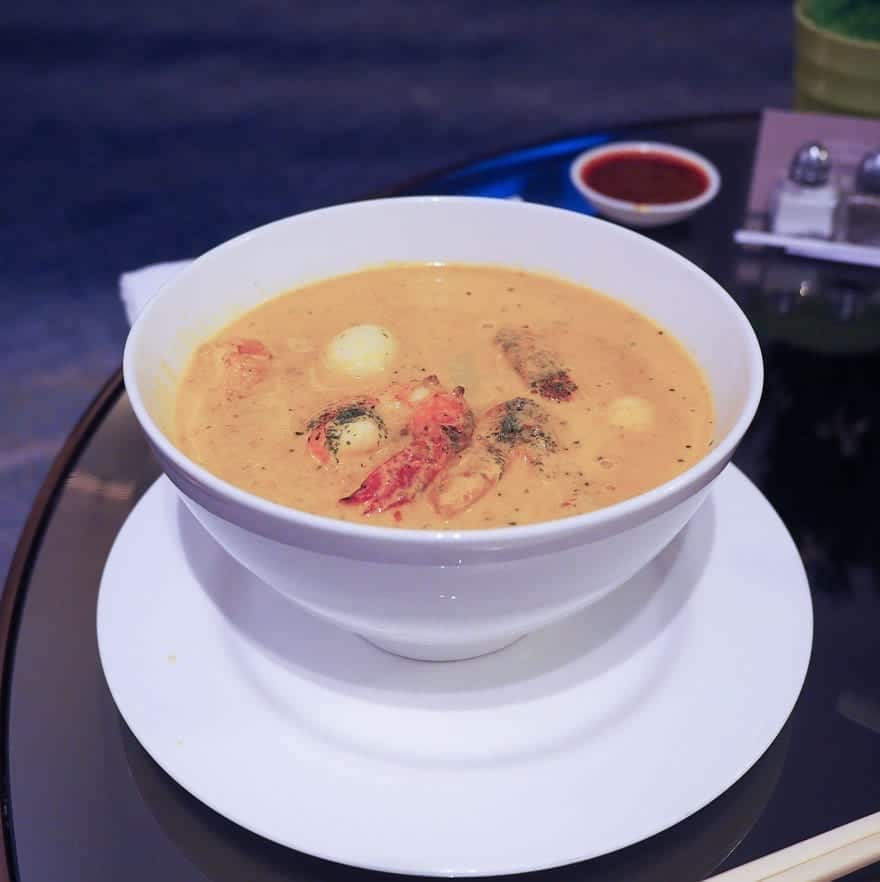 Both my Tom Yum soup and Kamara's rigatoni al ragu were excellent – very generous portions and absolutely delicious. The cost came to the equivalent of $50, which meant that we still had another $50 left to spend on cocktails the next day!
Our rate also included complimentary breakfast, which we were able to take either as room service or in the restaurant. I'm a huge fan of an indulgent room service breakfast and I have to say this was one of the better examples I've had the good fortune to encounter.
I ordered the Japanese breakfast set, which was extraordinary. I always feel like I get such a good start to the day when I eat this healthily.
Meanwhile Kamara opted for poached eggs with immensely crispy bacon and grilled potatoes, served with a fruit plate and glass of freshly squeezed watermelon juice. Ordinarily this room service feast would have come to nearly $100 USD so getting this for free was a fantastic bonus!
The hotel's One-Ninety bar is something of a local hotspot but we were so tired upon arrival (not to mention well lubricated, thanks to all the Dom and Krug on Singapore Suites) that we decided to wait until the following afternoon to visit.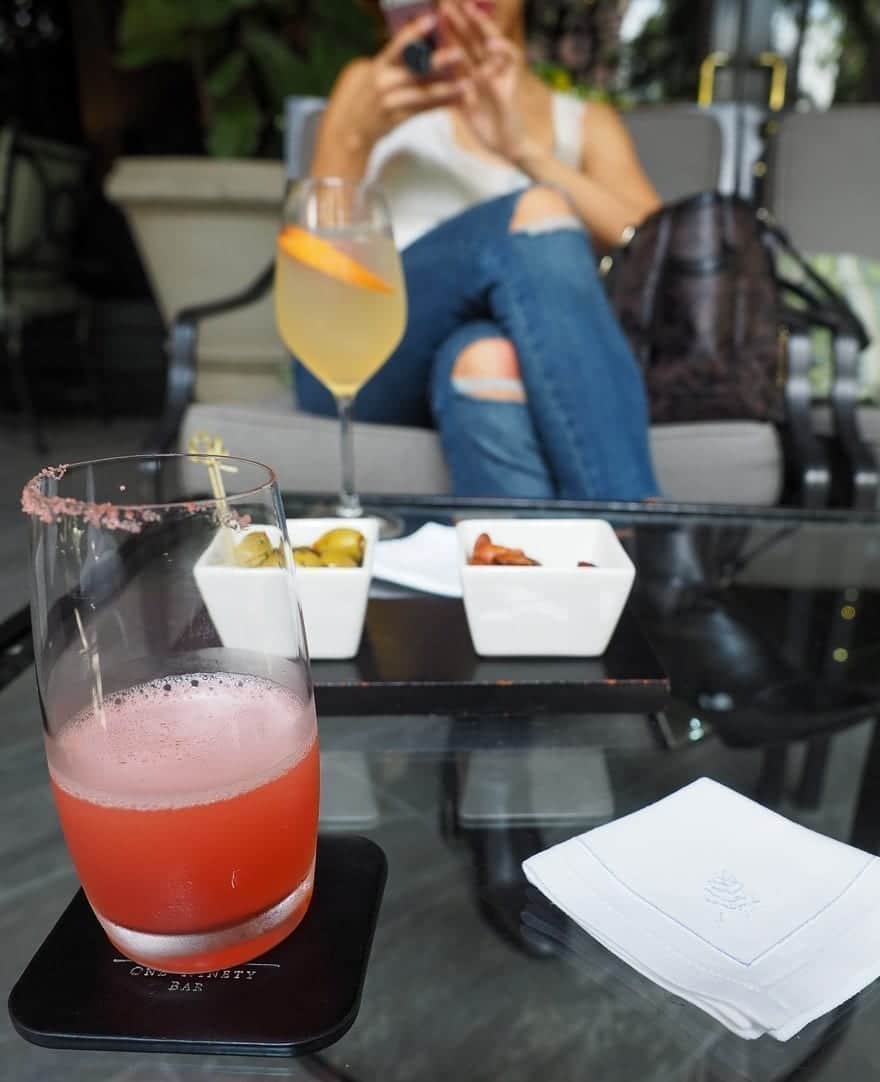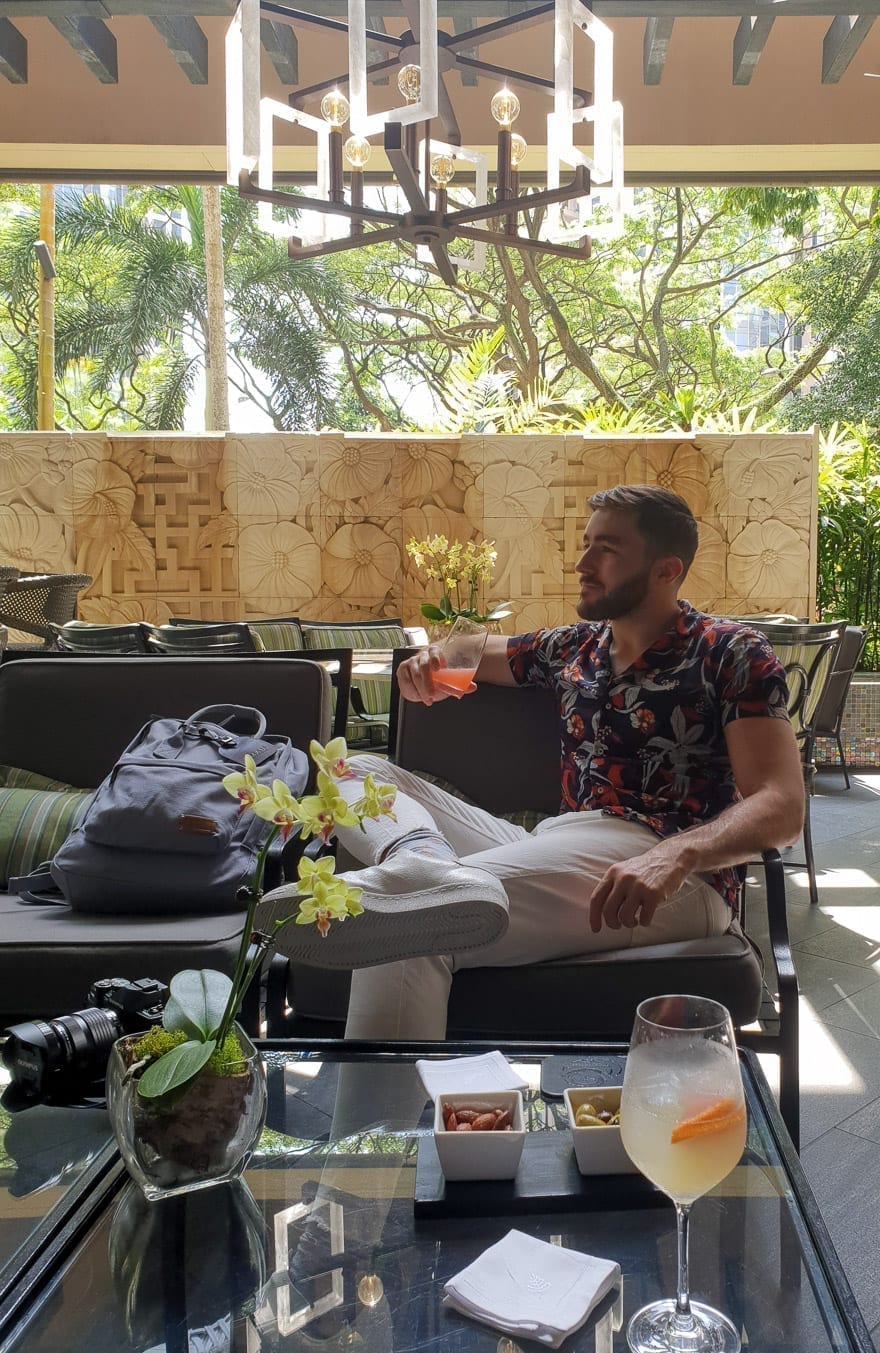 I ordered the Signature 190: a blend of Monkey 47 Gin, Cocchi Amaro, tonic and thyme. Kamara went with the wonderfully named Mexicoma: Cimarron Blanco tequila, Campari, house grapefruit sherbet, lime with Campari and salt dust. Both cocktails were excellent. You can absolutely see why the bar is so popular with locals at night.
---
Leisure Facilities
---
Heading down for a quick workout after breakfast I really wasn't expecting the gym facilities to be anything special.
As I entered the gym I could hardly believe my eyes. There was an enormous selection of Life Fitness machines as well as dumbbells going up to 70lbs. The gym is also open 24h and features a sauna and steam room.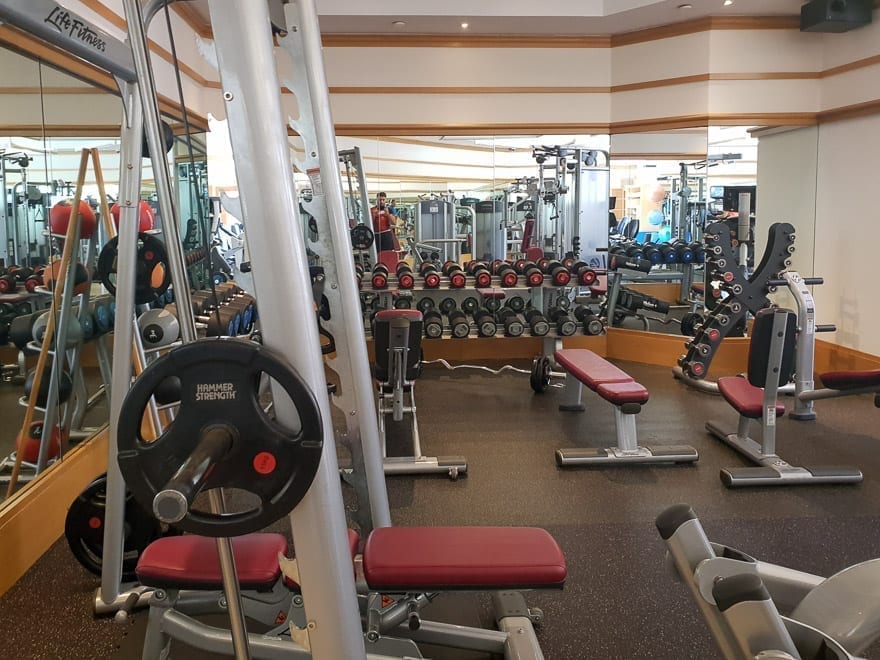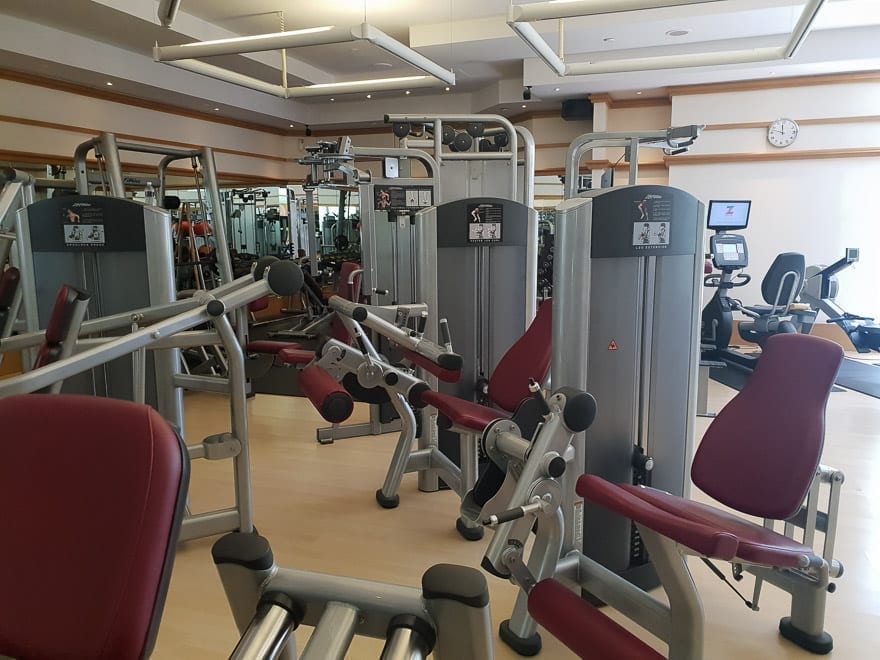 The cardio brigade were very well catered to as well.
The hotel also features two swimming pools, with the one directly outside the gym being adults only. It also has lanes for swimming laps.
Up on the rooftop is another pool which is billed as being more family friendly, featuring a number of inflatable toys.
In addition to these facilities, the hotel also features a tennis court (which was visible from our suite).
---
Conclusion
---
Basics Checklist
☑︎ Power sockets near the bed
The best I've ever seen in a hotel. Two universal sockets and two USBs on each side of the bed!
☑︎ Easy to understand light switches
☑︎ Coffee machine
Bonus points for the fact it was Lavazza!
☑︎ Separate shower and bath
☑︎ Blackout blinds
☑︎ Stable, fast and free Wifi
☑︎ Feather pillows
☑︎ Quiet and powerful aircon
Overall it was really hard to find fault with this stay.
We received a very generous upgrade and tremendous value for money given the included breakfast and $100 USD hotel credit.
All of the food and drink that we had was absolutely top notch and our limited interactions with staff were universally excellent.
The gym was far better equipped than I had been expecting and the fact that there was a separate adults only pool was a very pleasant surprise.
Add to this the known factors like the amazing bedding, Four Seasons app and location in Orchard road, closer to the real action and away from the tourists and you have all the makings of my new favourite hotel in Singapore.
---
Book The Four Seasons Singapore online with FSPP benefits
---
Four Seasons Preferred Partner Booking
An example of FSPP benefits which may be available on your stay:
Upgrade of one category

based on availability at time of check-in
Full breakfast for up to two in room guests. Either at the restaurant or via in-room dining.
$100 Hotel Credit
Welcome amenity
Early check-in/late check-out subject to availability
---
Guest Video Review
---
If you want to see even more details of this amazing hotel, then please check out the video review by my friend Patrick at Exclusive Travel Reviews below:
---