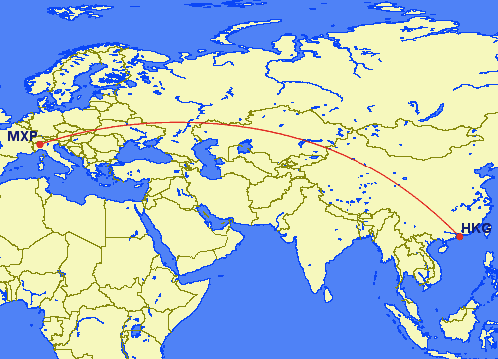 Cathay Pacific (CX)
Flight: CX 234
Class: First Class
From: Milan (MXP)
To: Hong Kong (HKG)
Duration: 7h10m
Aircraft: 777-300ER
Seat: 1A
Frequent Flyer status during flight: OneWorld Emerald (AA Executive Platinum)
Booking type: 70,000 Alaska Miles + $34.70
Flight date: December 2018
---
Intro
---
Jump straight to The Conclusion
---
After a rather woeful stay at the Milan Airport Sheraton, I was very eager to once again take to the skies in one of my favourite First Class cabins. I've reviewed Cathay First on a number of occasions in the past and it has never failed to impress:
Short Haul between Tokyo and Hong Kong in the nose of the 747
Long Haul on the 777 (with the Mandarin Oriental menu)
I was really hoping that neither cost cutting at the airline nor the fact that I was not flying from a major global hub, would have a negative impact on this flight. You shouldn't have to worry about whether or not you'll have a good experience in a First Class cabin but on Etihad or BA for example, this is always at the back of your mind.
I was really hoping to see a demonstration of consistency from Cathay much like I've encountered at Singapore Airlines over the years.
---
Pre-Departure
---
The layout of the Cathay First Class cabin is unique in that it only fits 6 seats into a space usually reserved for at least 8 on most carriers. This has two obvious effects:
It means that every seat in the cabin is very wide and spacious
It means that seats on the A side of the cabin are extremely private since they face a wall rather than other passengers across an aisle.
As such I always try and get a seat on the A side if at all possible, with a slight preference for Seat 2A since that one is marginally larger due to the tapering of the fuselage and has one less person walking past you!
Thankfully both aircraft doors were in use for boarding so we didn't have an awkward procession of hundreds of passengers passing through the First Class cabin. I imagine that in a post COVID world this will be a matter of health and safety, with aircraft boarding from back to front through as many doors as possible.
The Cathay 777 went through a refresh process in 2015, replacing the old upholstery with dove grey. The IFE, power and pillows were also updated.
FUN FACT: the first time I ever trained in Brazilian Jiu Jitsu I rolled with a guy called Greg, who turned out to be not only a fantastic black belt but also worked in the Welsh factory that built these very seats!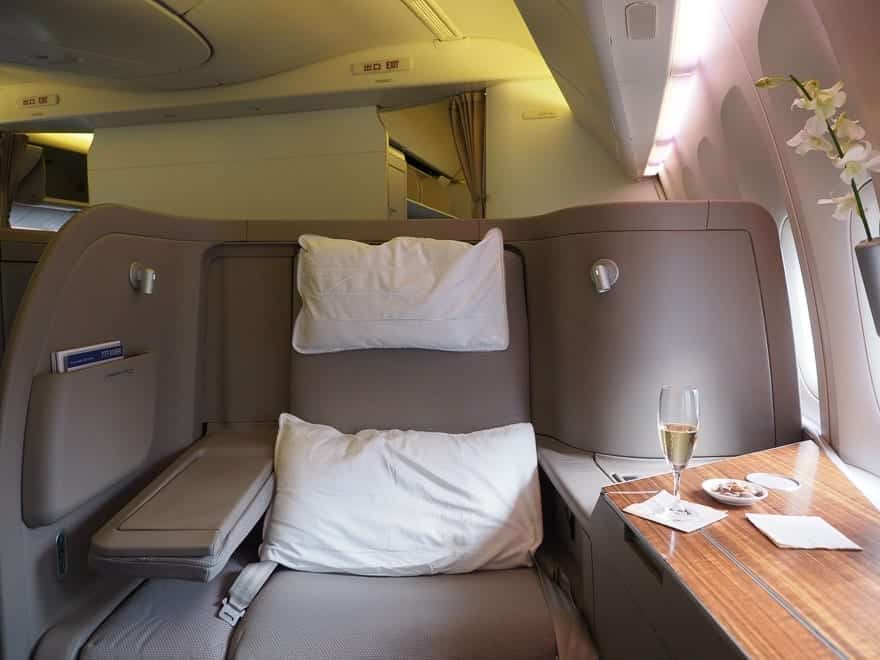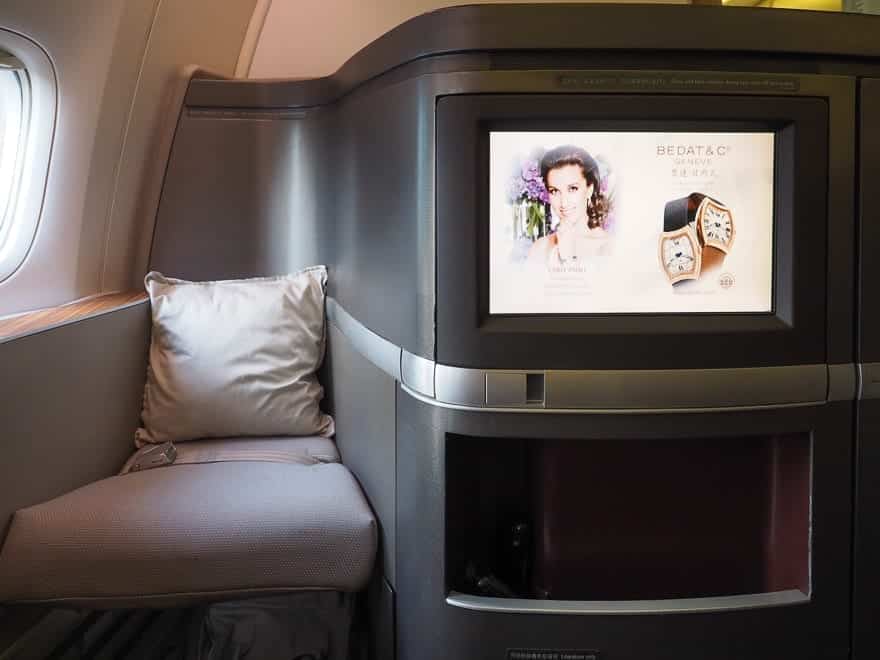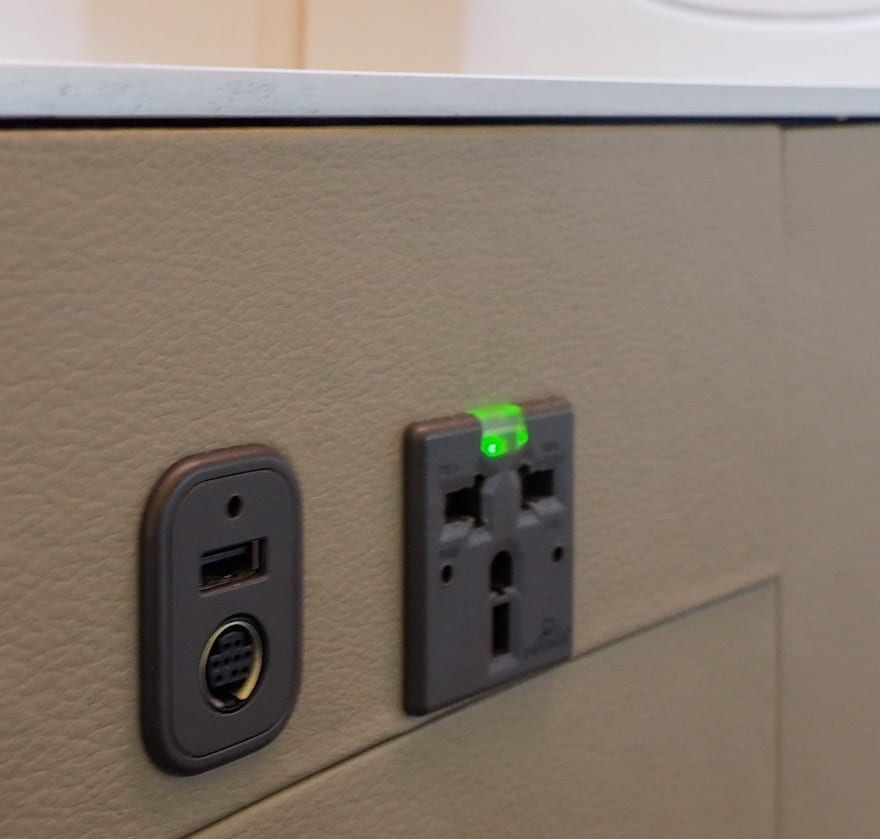 As I stepped onto the aircraft I was greeted by the cabin manager and a female FA. The female FA escorted me to my seat and offered to hang my jacket. She also asked if I would like anything to drink before take off.
I'd been eagerly anticipating the opportunity to say the words, "a glass of Krug please" for quite some time.
The FA informed me that they were serving Krug 2004 on this flight, which is even better than what they usually serve. For some reason the normal NV Krug is increasingly difficult to find in the air, with most airlines having shifted to the 2004 vintage. It retails for almost 50% more but honestly I prefer the overall style of the 'cheap stuff'.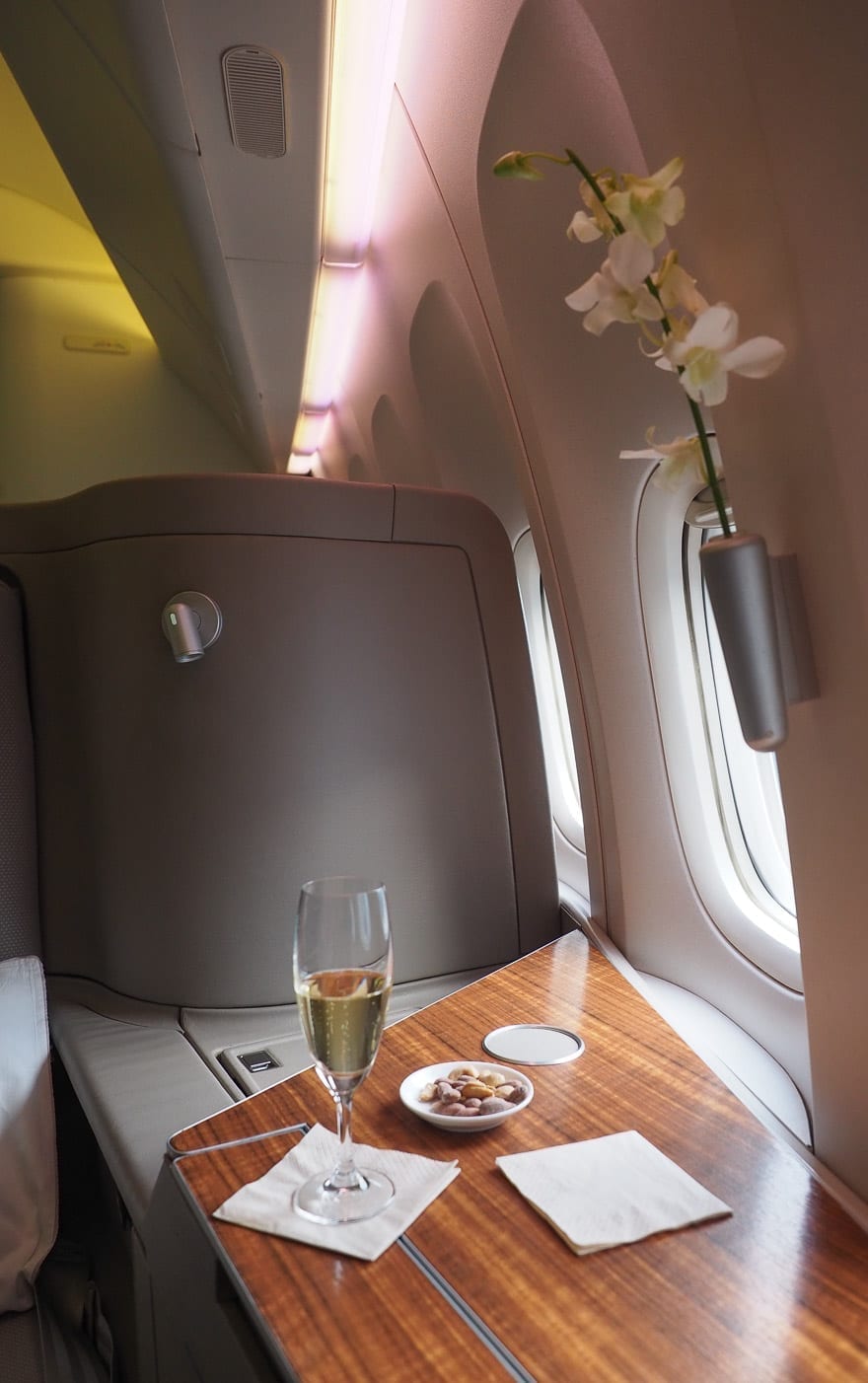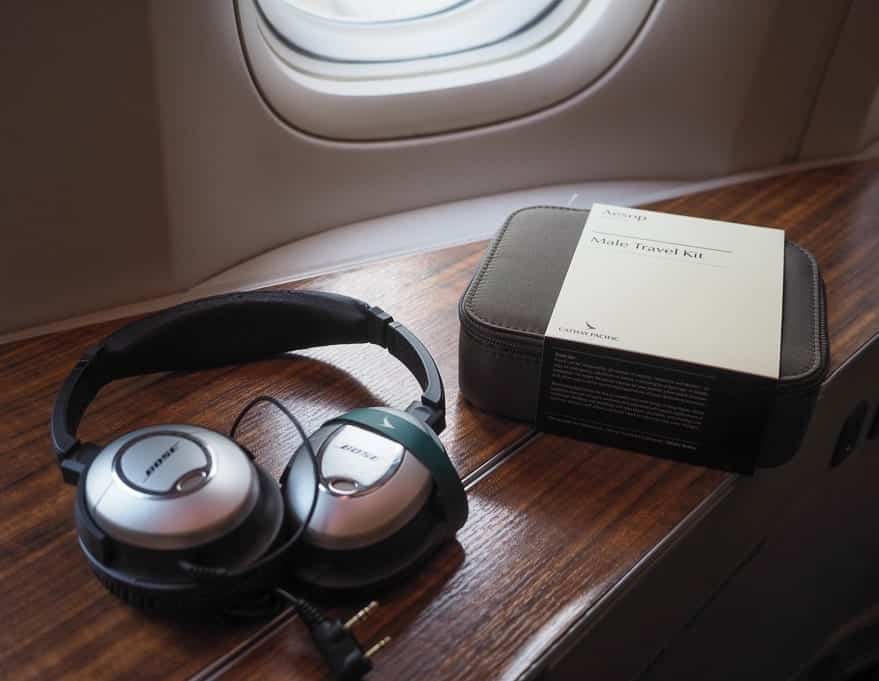 Unlike my previous flight, there was no amuse bouche to be seen. A victim of cost cutting, the seafood mousse was replaced by a dish of warmed nuts. It may not seem like much but the amuse bouche in First is one of the clear service differentiators that separates it from the Business Class cabin. It seemed a shame to see this go.
I consoled myself with a second glass of Krug.
An Aesop amenity kit was also provided prior to take-off; this is one of my favourite brands of toiletries and I was rather saddened by the news that it has now been replaced by Bamford.
I must admit though that the actual contents of this kit were not the best, with a single tiny hand cream and an even smaller lip cream being the only Aesop products. Compare this to the colognes and scented candles in Emirates and Singapore amenity kits and this clearly falls short.
The crew managed a second top up of the Krug before our on-time pushback and subsequent ascent over the spectacular mountain terrain adjacent to Milan.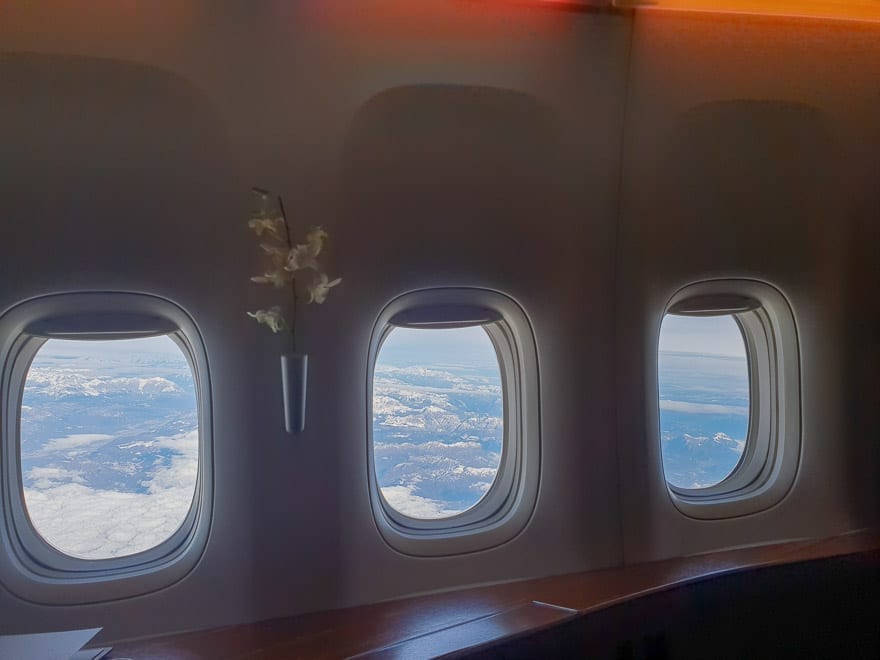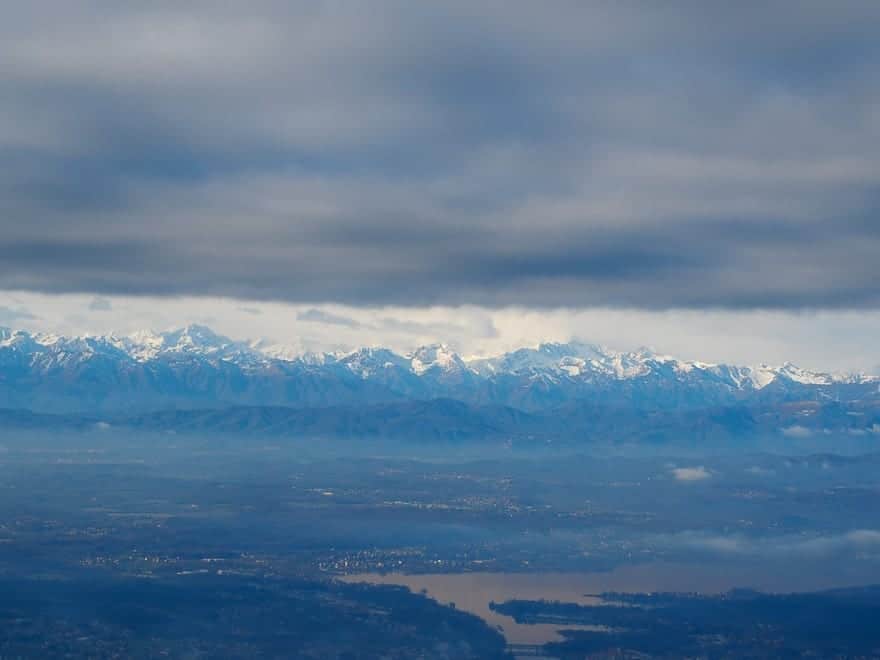 ---
The Flight
---
As we made our way through the clouds into a sunshine realm atop a grey carpet, I took the opportunity to peruse the menu.
You know you're in for a good time when the menu opens with the words, "caviar and champagne, a perfect match."
I was rather tempted by the idea of a Beef Wellington for the sheer audacity if nothing else. A lot of airlines struggle to serve correctly cooked beef in the air, let alone beef wrapped in flaky pastry. However, the allure of the Chinese favourites was too strong for me, especially as they pair far better with Krug…
Aside from the Krug the drinks list boasted a very smooth 4ème cru in the Branaire Ducru as well as an excellent blended scotch, the perennial people pleaser: Johnny Walker Blue. Nothing here was particularly exciting though, unlike the plethora of incredible fine wines on Emirates or the spectacular selection of unusual wines and sakes on JAL First.
The meal began with me drinking a bottle of 2004 Krug in a pair of ripped jeans and a Guns 'n' Roses t-shirt. I tend to dress in tailored clothing but was curious to see if I would be treated any differently by dressing in one of my rock outfits…I wasn't.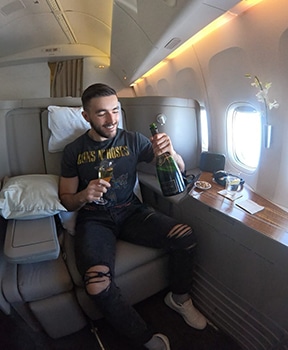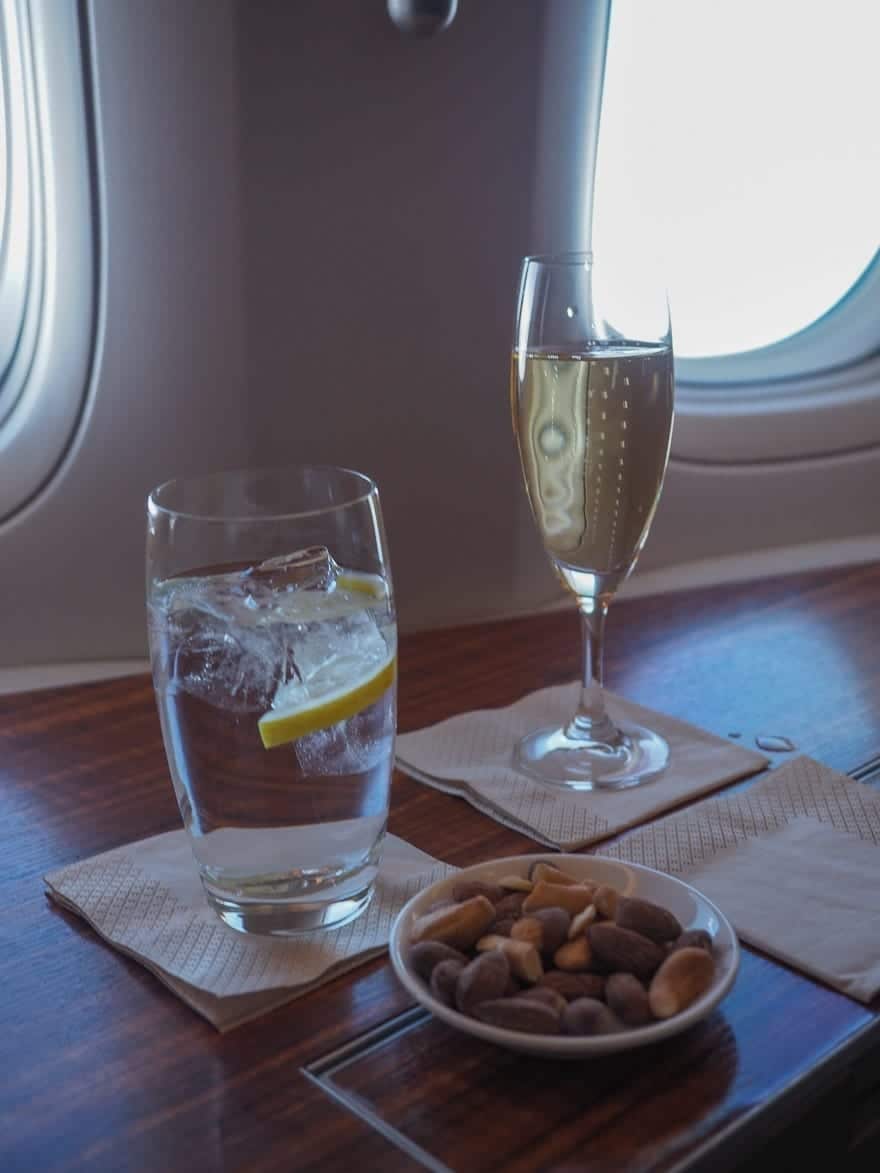 After my rather fantastic pre-lunch drink, my table was set with a fresh linen tablecloth, full sized cutlery and a beautiful basket of fresh bread served with both butter and olive oil. I loved how even the garlic bread seemed to be made to a First Class standard as opposed to the usual spongy slices evidenced aboard most other carriers.
The meal began with a serving of Calvisius caviar, served in an individual tin, accompanied by a Cathay Pacific branded mother of pearl spoon. I asked for the chives and onions to be omitted from my garnishes since I feel they overpower the delicate sturgeon roe.
Much though I enjoy a serving of caviar in the air I do feel that something of the magic is lost when airlines present these small individual tins rather than wheeling out the old school caviar trolley as on Thai First.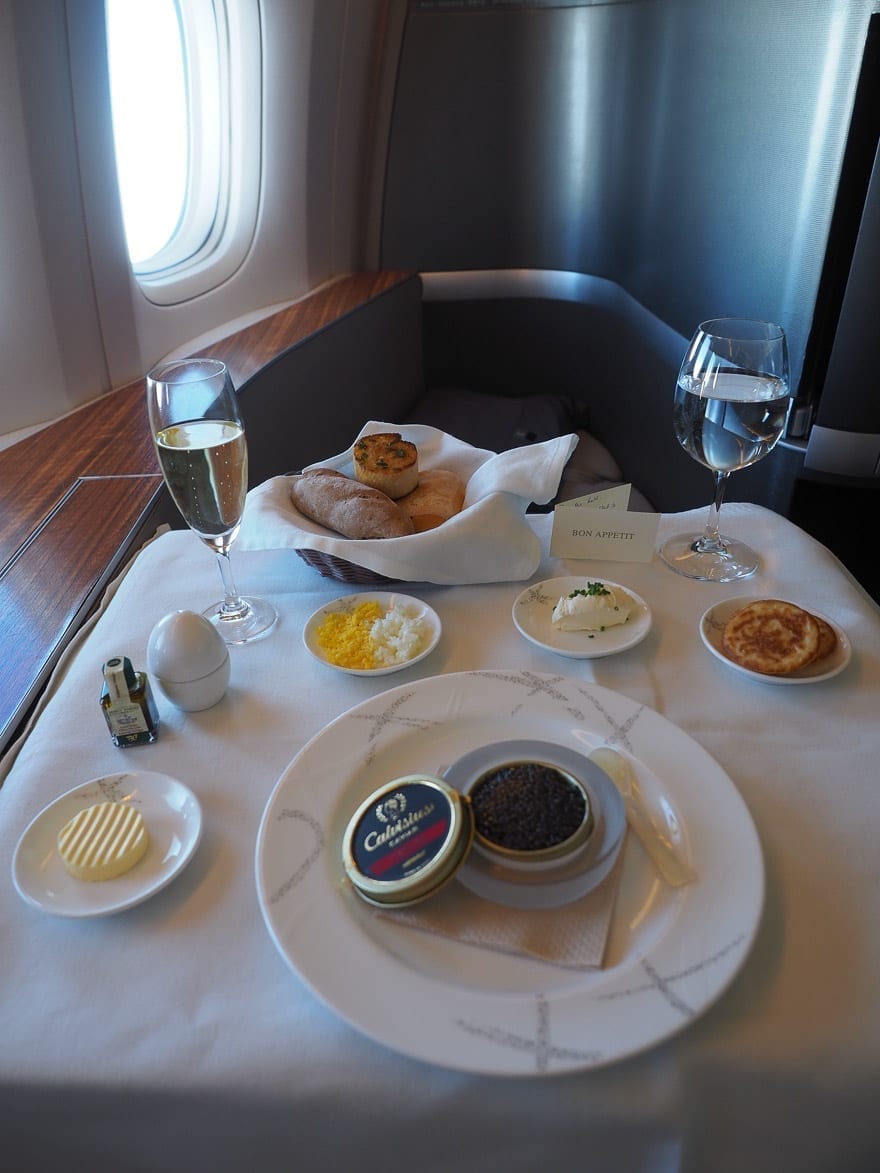 I followed the caviar with a light Chinese meal composed of the chilled Shanghainese braised pork and a delicious beef shank, corn and carrot soup.
Keeping things light I then asked for the mixed berries for dessert. This was a very generous portion of super sweet berries, presented with a jug of light cream. I also ordered a double macchiato to round out the meal and this was accompanied by two boxed chocolates and a hot towel. I really miss the old Cathay coffee service though with its abundance of different chocolates.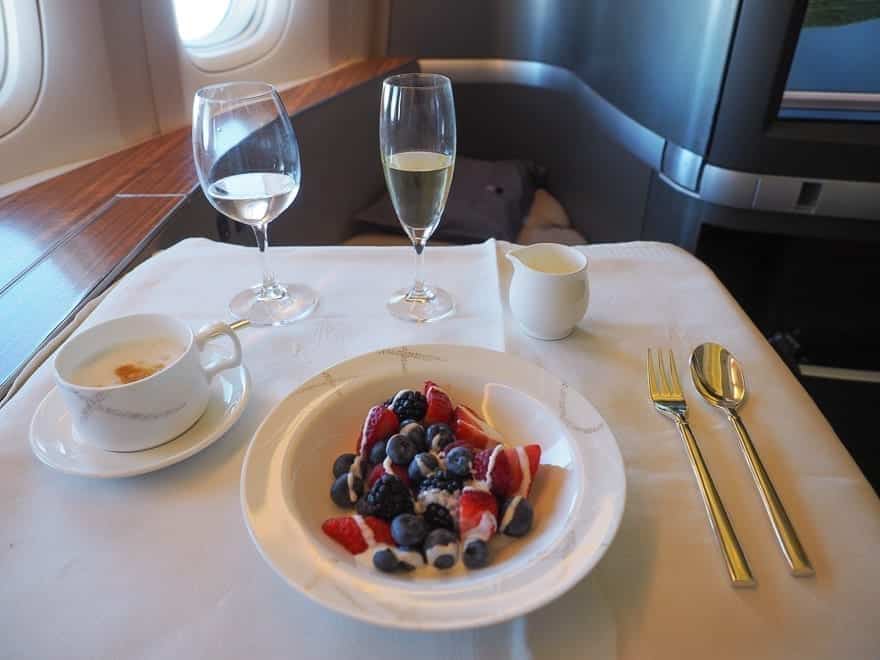 After the meal I decided to get a few hours of sleep. It is my firm opinion that Cathay provides the best pyjamas of any airline in First Class and I was very happy to finally get a pair in Cathay Green to round out my collection! Not only are the PYE pyjamas themselves supremely comfortable, they come with matching slippers and an eye mask, made to the same high standard in organic cotton.
As an added bonus these PJs come with a voucher for a free set of handkerchiefs or a 500HKD discount (or local equivalent) to be used in a PYE store. I've gathered several of these over the years and have used them to stock up on some very high quality t-shirts, shirts and knitwear.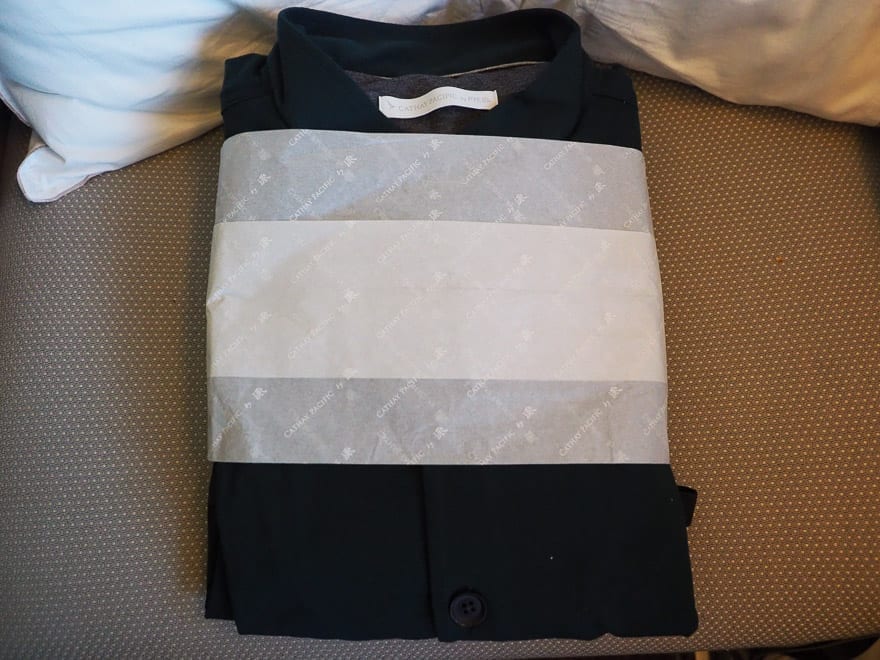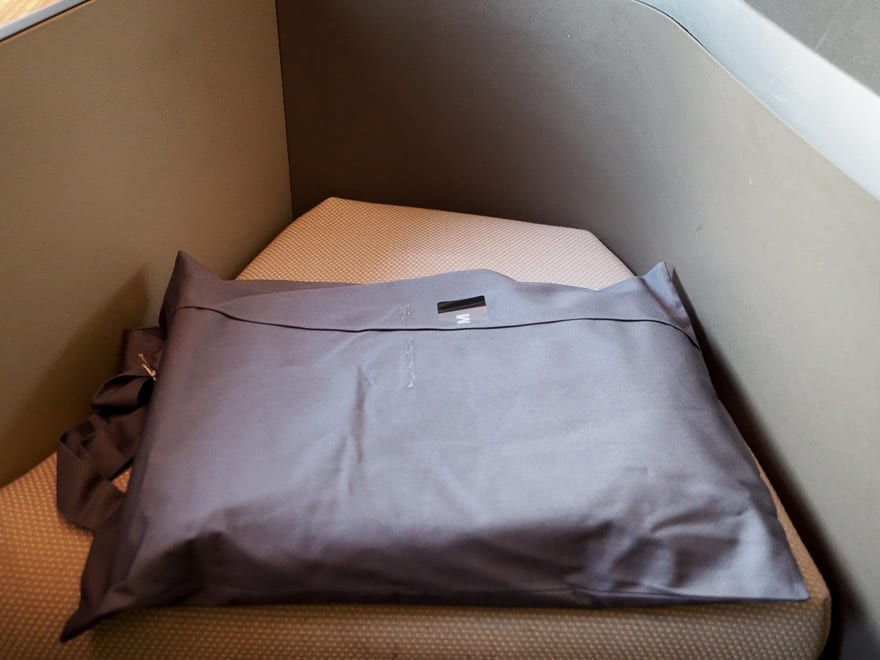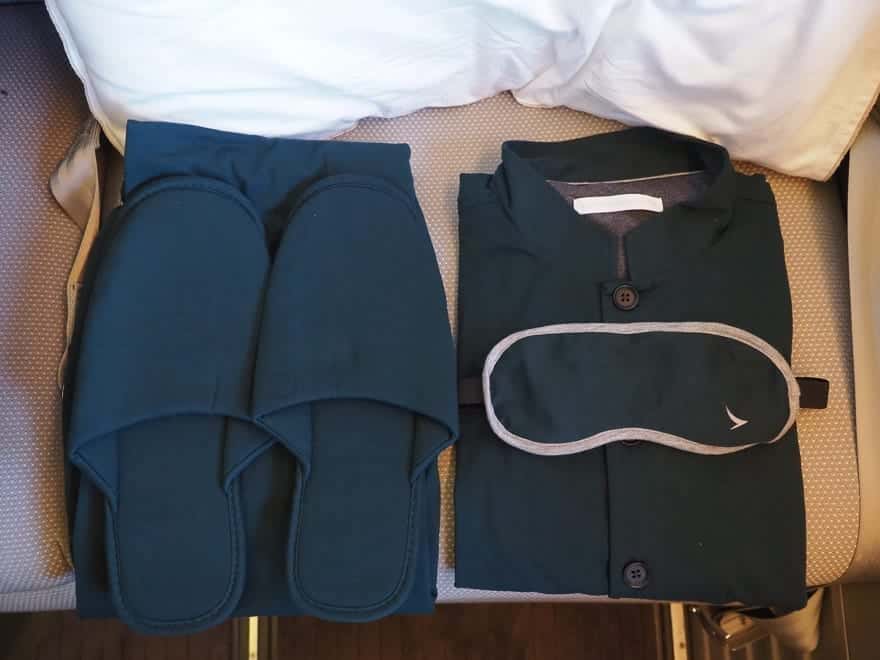 I went to the bathroom to change and initially went into the smaller of the two since the other was occupied. I don't think I'd ever been in the small First Class bathroom before – not only is it much smaller than the main bathroom, it is also a lot more plain looking and doesn't have the fancy square sink.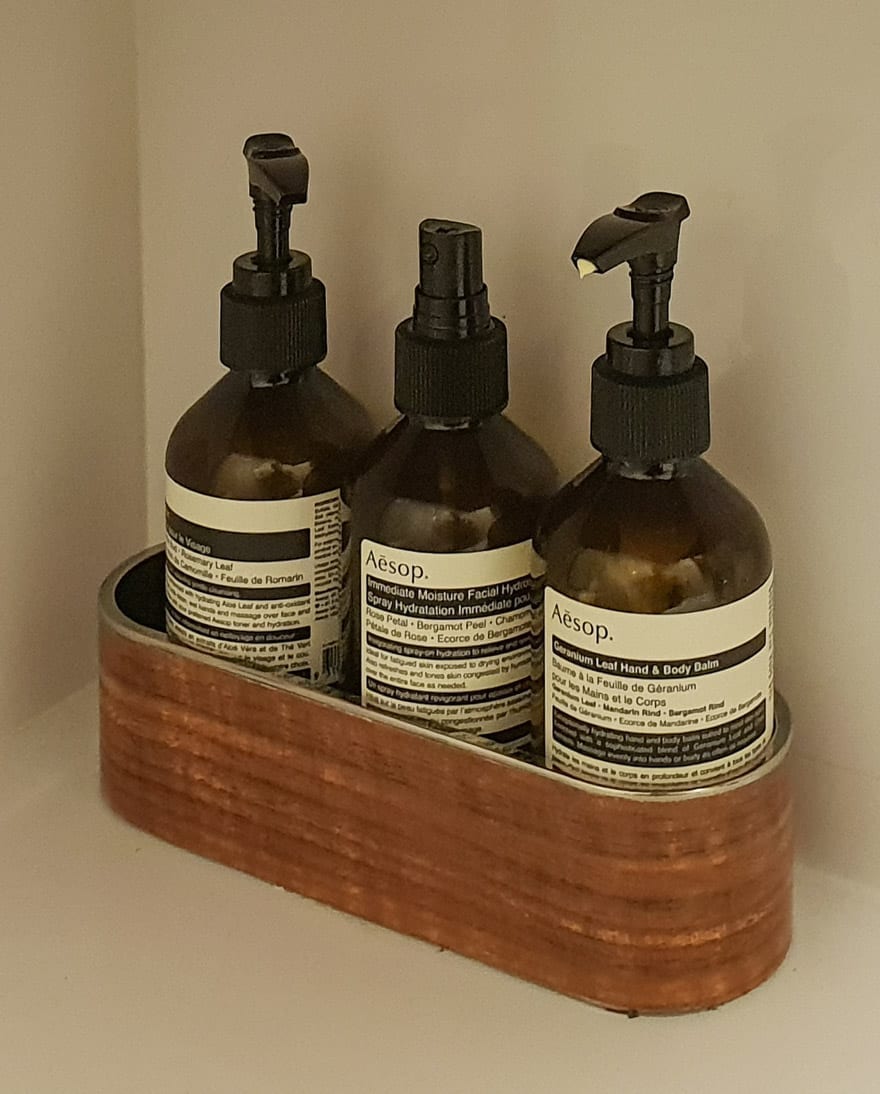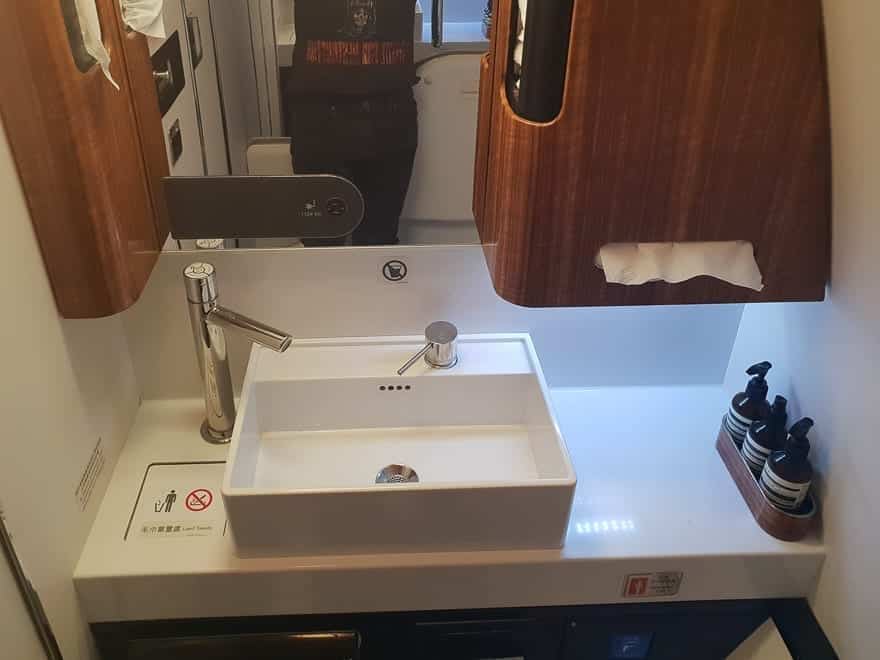 I returned to find my bed made with two large pillows and an extra cushion. The Cathay First Class bed is one of the most comfortable in the sky. Not only is the mattress pad soft and supportive, the surface area is very wide and the bedding is crisp and breathable.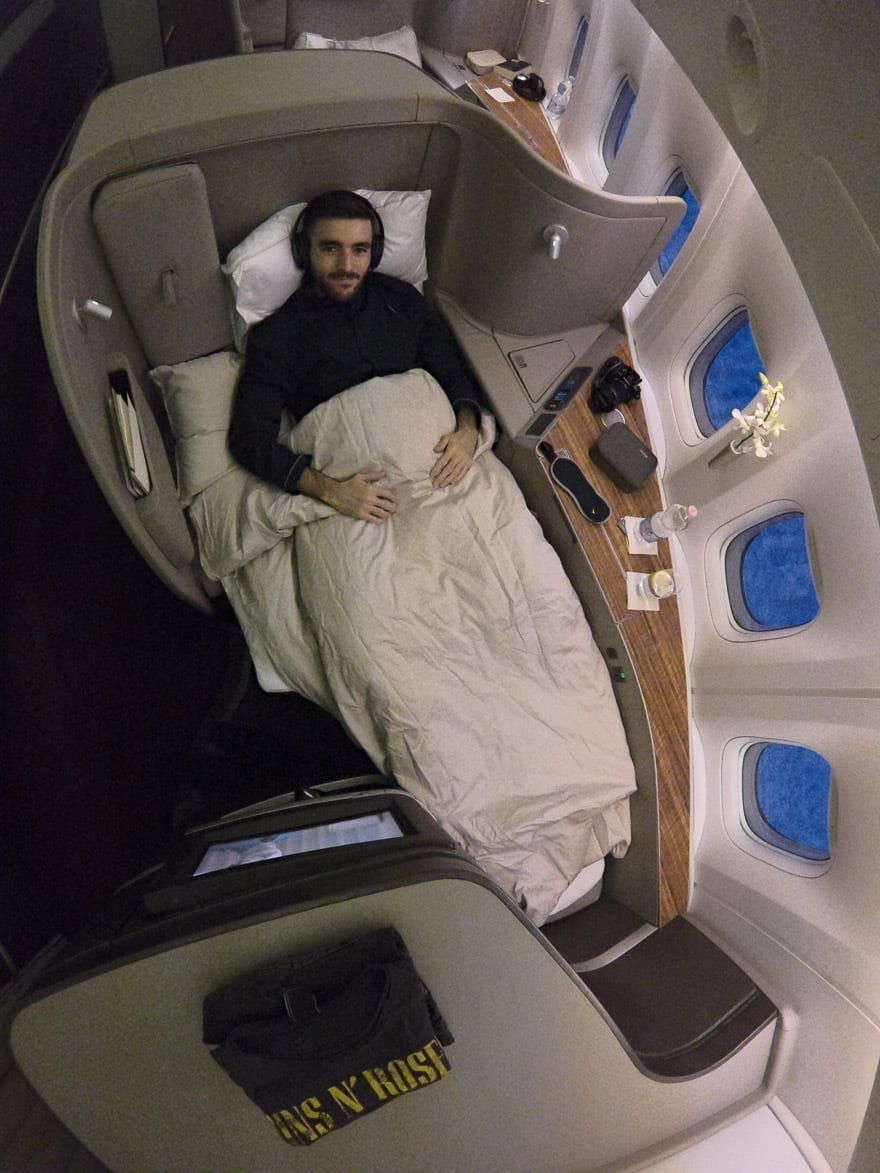 I awoke after around 5 hours of sleep and was quite hungry given that I'd eaten such a light lunch.
The cabin manager almost instantly materialised the moment that I woke up and asked if he could get me anything to eat or drink.
I asked for a double macchiato and some fruit before heading to the bathroom. When I returned my bed had been turned back into a seat. A couple of minutes later the cabin manager returned to set my table to bring me the fruit, coffee and a large glass of water.
For my main course I ordered freshly scrambled eggs with sausages, grilled vine tomatoes and caviar. Where other carriers are busy serving potted yoghurts and reheated omelettes, Cathay blow the competition away with this. Better still when it was all washed down with some more Krug!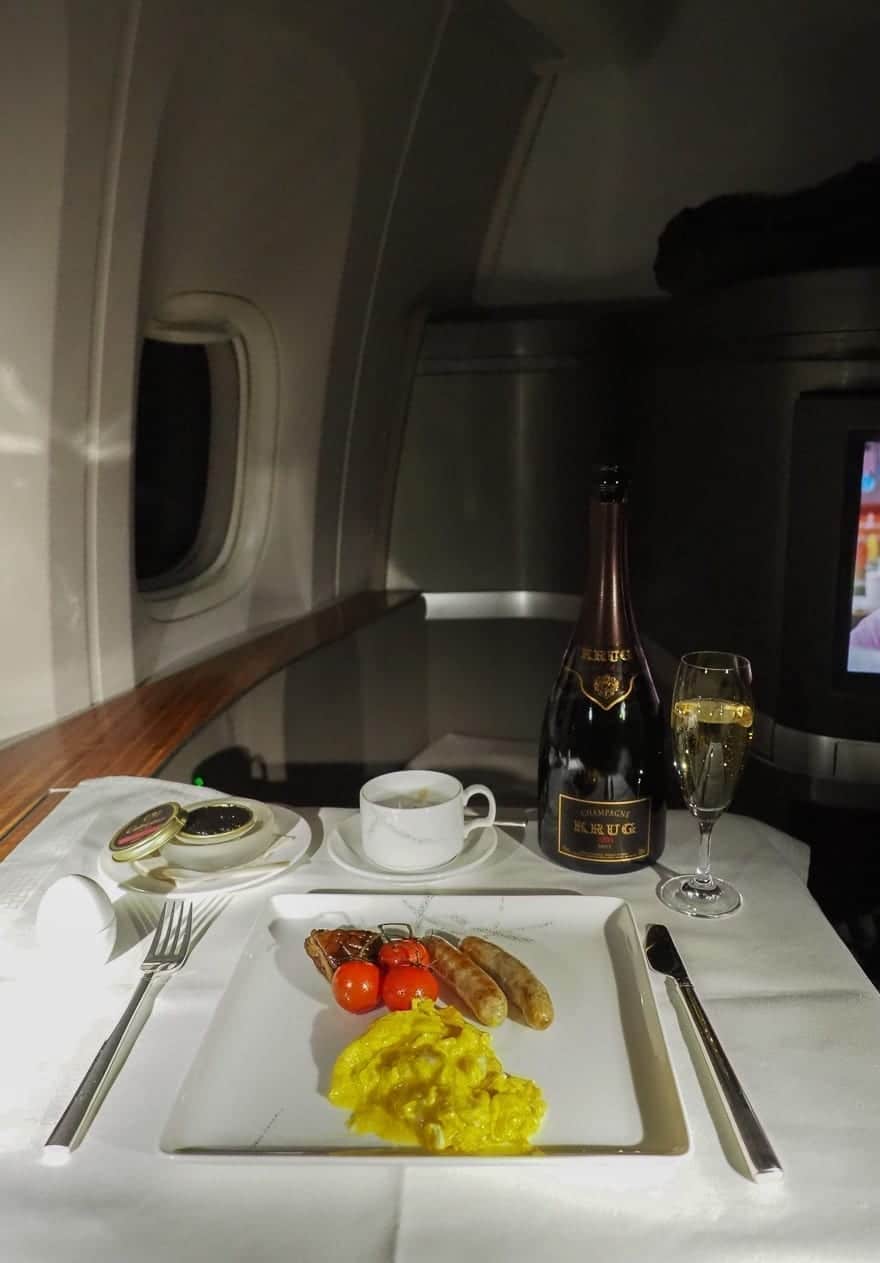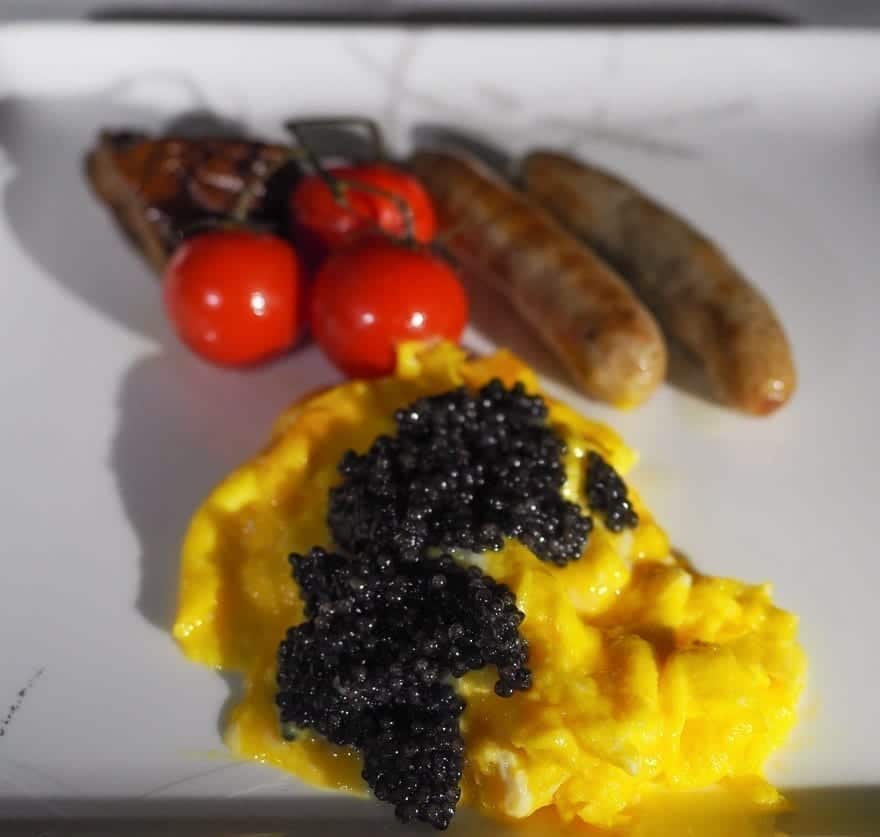 After this delicious breakfast I sat and watched the IFE for a while before turning my gaze toward a beautiful sunrise as we began our final descent into HKG.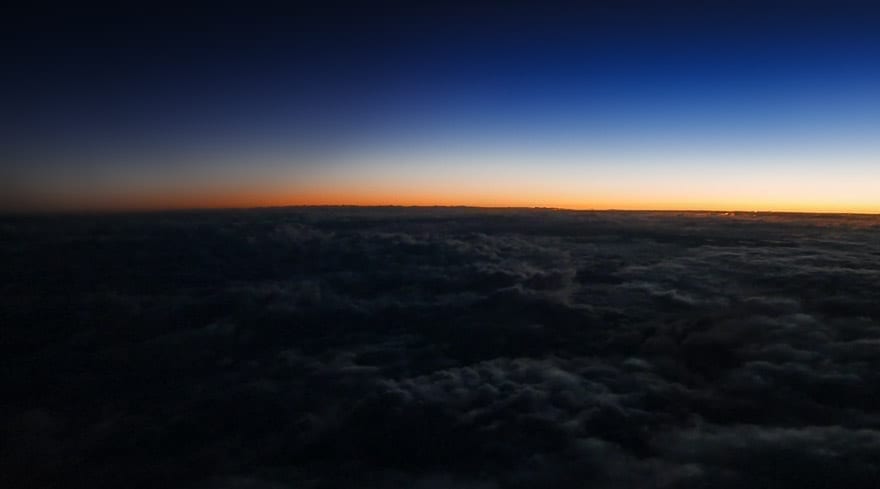 ---
Conclusion
---
Consistency is king and in that regard it really is hard to fault Cathay. Every aspect of this experience was either good or great.
The IFE could be a little newer and more responsive and there's room for the wine list to improve before bothering the likes of Emirates, ANA or JAL.
However, the bedding and sleep comfort are market leading, the service is incredibly efficient and friendly, the PJs are the best in the sky and the sense of privacy you get when there are only two seats in the A side of the cabin is remarkable.
Add to this the incredible Pier First Class lounge in HKG (as well as an excellent global network of lounges including London) and you have all the makings of one of the best First Class experiences in the sky.
Whenever I fly Cathay First Class there is never a shred of doubt in my mind that I will have a superb experience and that is something that I cannot say of a lot of carriers…
---