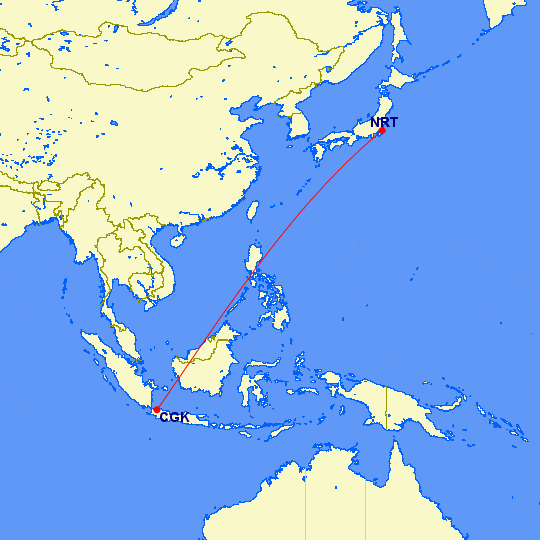 Japan Airlines (JL)
Flight: JL 726
Class: Business Class
From: Jakarta (CGK)
To: Tokyo (NRT)
Duration: 7h30m
Aircraft: B787-900
Seat: 1K
Frequent Flyer status during flight: OneWorld Emerald
Booking type: Alaska Miles

25,000 Miles for CGK-NRT/HND-PVG +$39.10 in Business

Flight date: December 2018
---
Booking
---
I booked this flight as part of a two part itinerary with Alaska miles, back before they abolished stopovers on Asia only itineraries.
The full itinerary was 25,000 miles +$39.10 for CGK-NRT then a 10 month stopover, then NRT-PVG.
Honestly, being able to book nearly 11 hours in JAL Business Class for only 25,000 miles is kind of ridiculous. The fact that you used to be able to book boomerangs like KUL-TYO-SIN for 25,000 miles was outrageous. Loopholes that good never last but the fun in using miles and points is that new loopholes are being created every day…
---
Pre-Departure
---
Having previously flown this exact same route a couple of years earlier, I had a fantastic opportunity to compare and contrast the two experiences..
Last time we visited the abysmal Pura Indah "First Class" lounge in the very open and characteristically Indonesian Terminal 1. I really miss that old terminal, I always felt it gave off the same holiday vibes as Koh Samui.
However, the new terminal feels a lot more serious and impressive and is on a scale that demonstrates Indonesia's desire to continue growing as a tourist and business destination. The Garuda Business Class lounge in CGK T3 was an infinitely better experience and the modern gate area with its properly sectioned priority lanes certainly gave off a far more professional air than the huddles pavilions in T1.
Last time we flew the phenomenal Apex Suites on JAL's 777, at the time the seat was the best I'd ever seen in Business Class (now surpassed by Qatar Q Suites and ANA's The Room) but the catering was awful. More specifically there was almost no dinner and no snacking menu on a 7h30m flight! This time I deliberately filled up in the lounge before boarding the 900 Series Dreamliner to Tokyo.
As we stepped on board the cabin seemed instantly familiar. From 2015 onwards, if you're an airline that wants to install a new Business Class seat without breaking the mould – you install a reverse herringbone seat. The layout is the brand standard, the basic expectation for international Business Class in the modern age.
As such, I couldn't help feeling that this seat was something of a step backwards for JAL.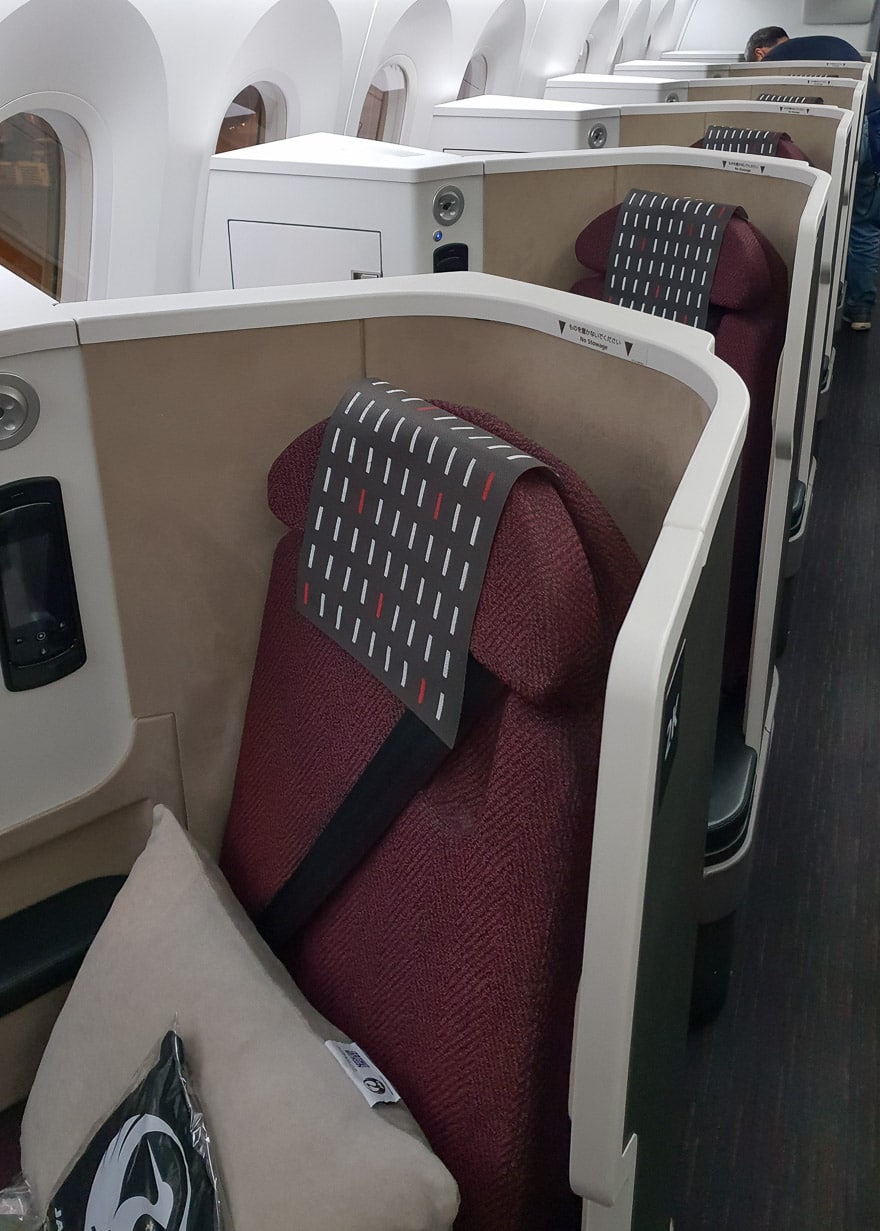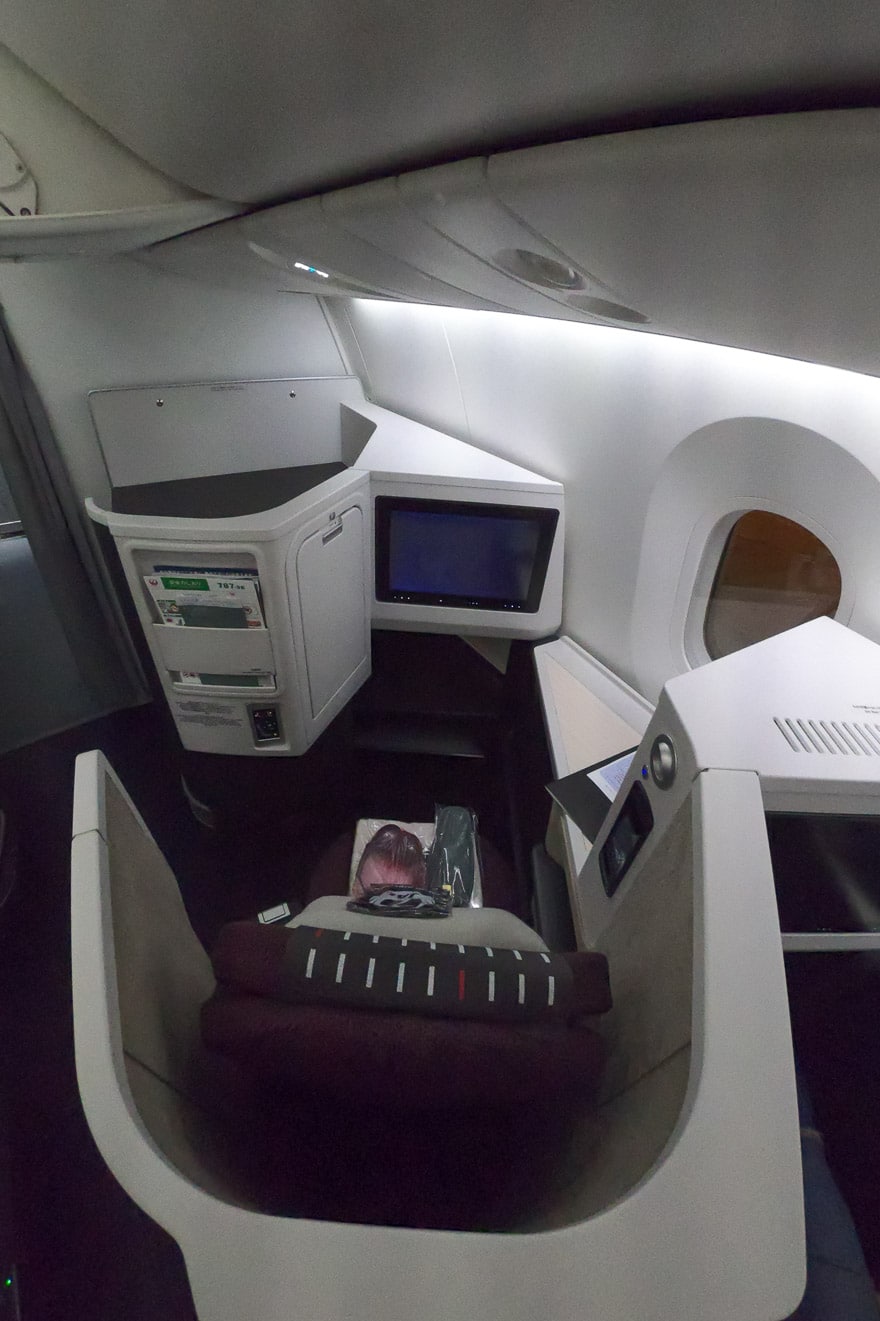 True there were some unique touches like the suede lined walls to dampen ambient noise and the larger than usual privacy shields to instill a heightened sense of privacy.
This however was juxtaposed with having no fixed table under the screen and also having very little storage space. Qatar and Air Canada's dreamliners feature far more side table storage as well as a compartment within the armrest. This felt bare bones in comparison.
The seat itself was also rock hard and required a 3 point seatbelt, unlike almost every other seat of its type.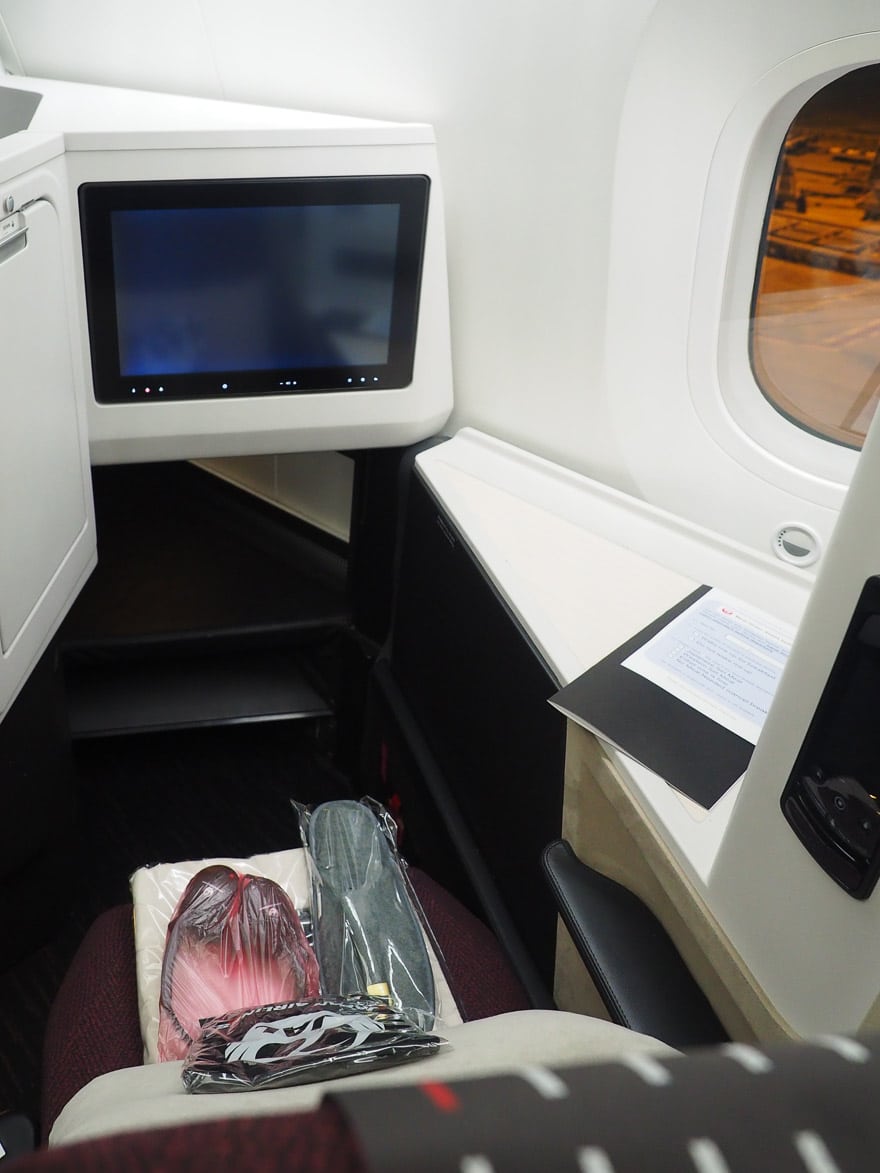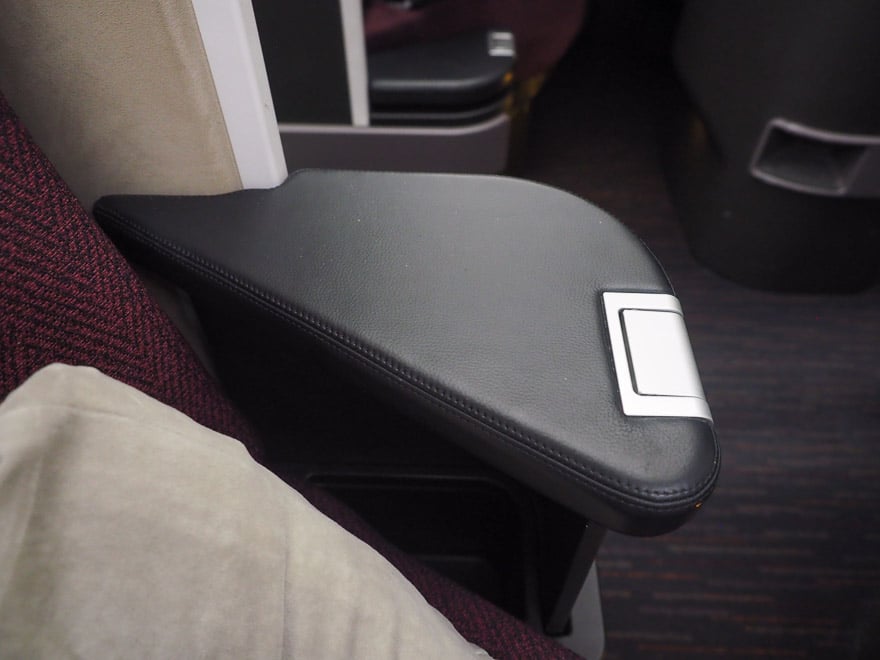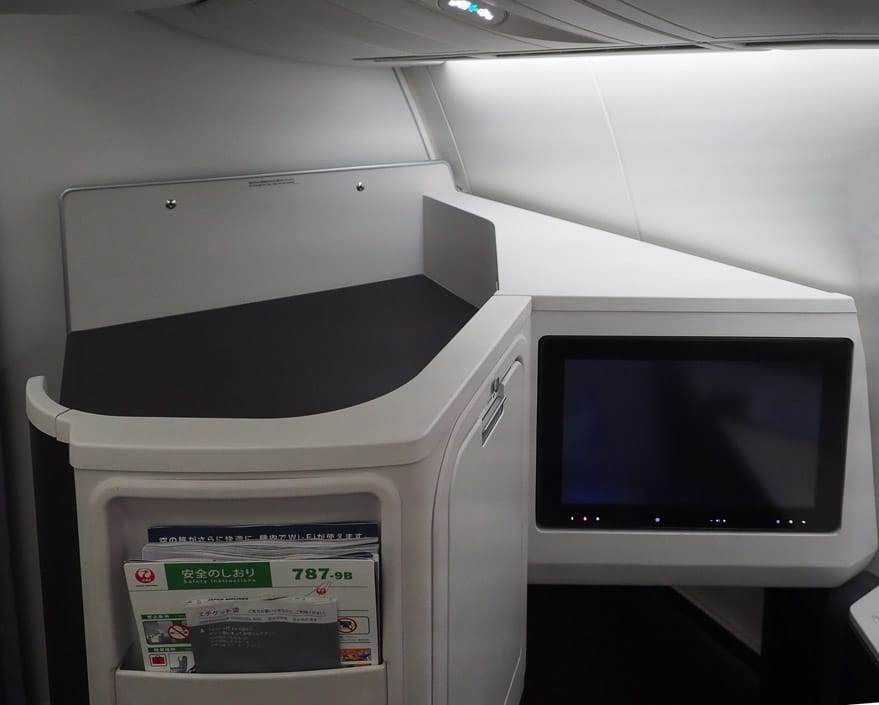 Thankfully my seat in row 1 has an extra spot on which to open my suitcase. I usually always pick seats in the front row of reverse herringbone cabins for this reason. The only time I wouldn't is if I felt that the crew would be noisy in the galley. Thankfully this is never a concern with JAL.
Being a modern cabin, the seat featured a very responsive IFE system as well as a universal Empower socket and a USB port. The headphones provided were pretty basic looking, I left them in the sealed bag and used my Bose QC25s instead.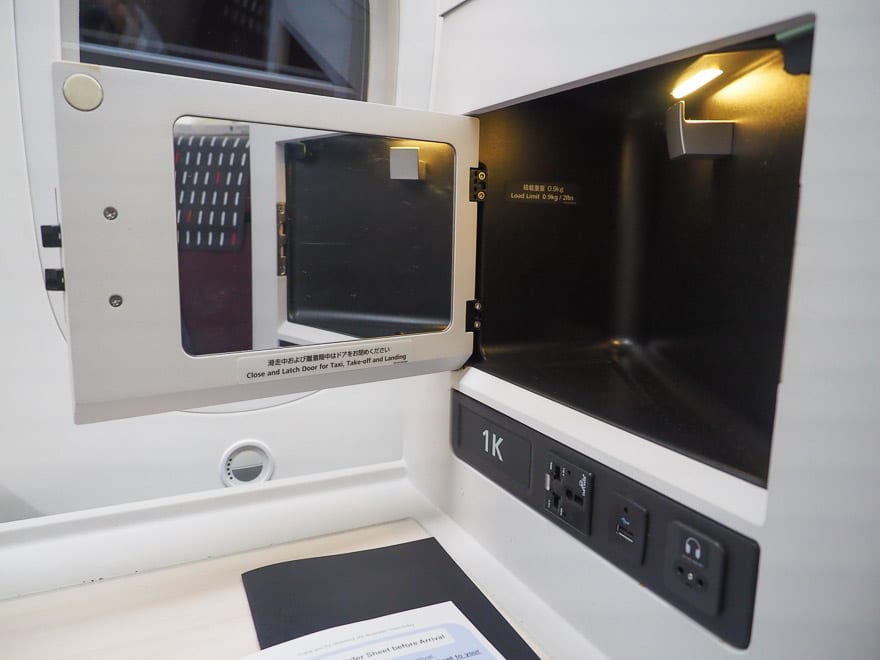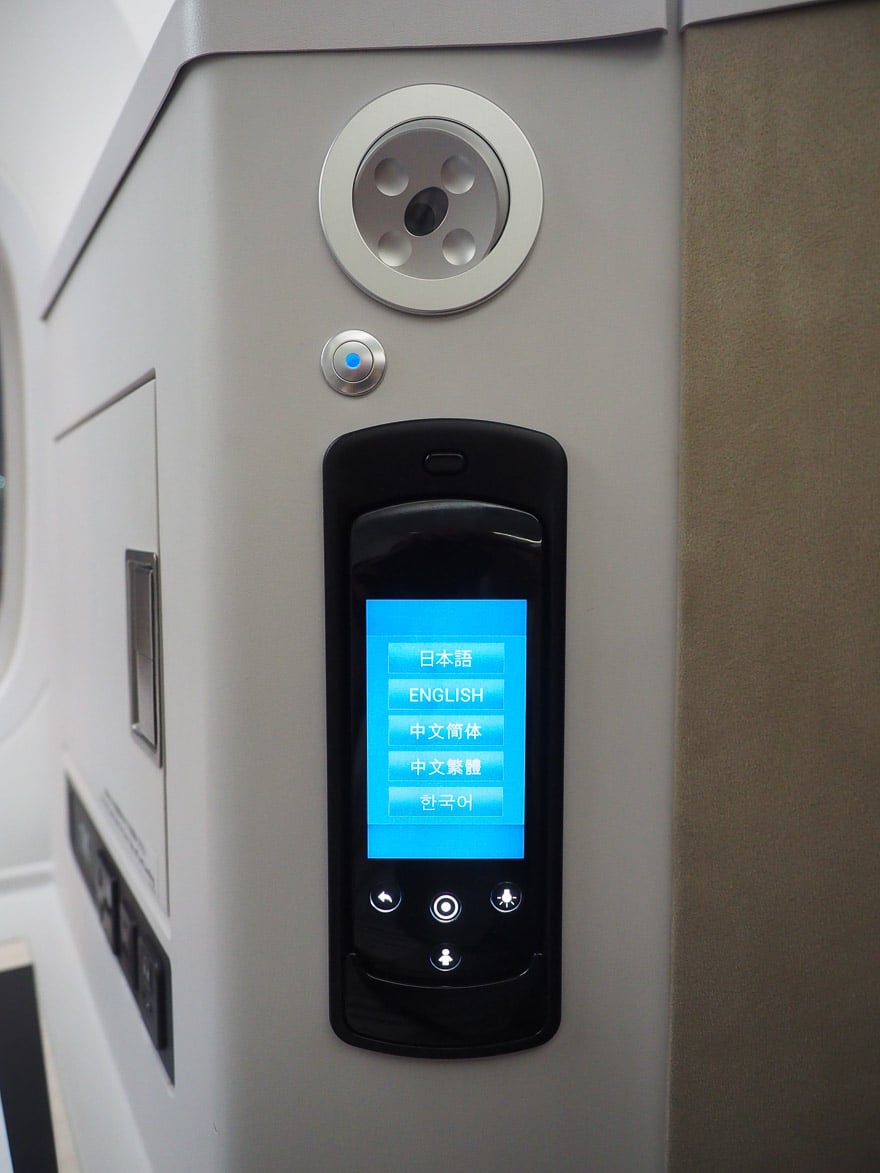 In addition to the headphones I found a pair of slippers, a menu, a breakfast ordering card and a rudimentary amenity kit waiting for me at the seat. The airweave pillow was a fantastic addition to the onboard offering on this route, adding considerably to sleep comfort. All too often airlines feel that a flat bed is enough and opt to leave the bedding as an afterthought.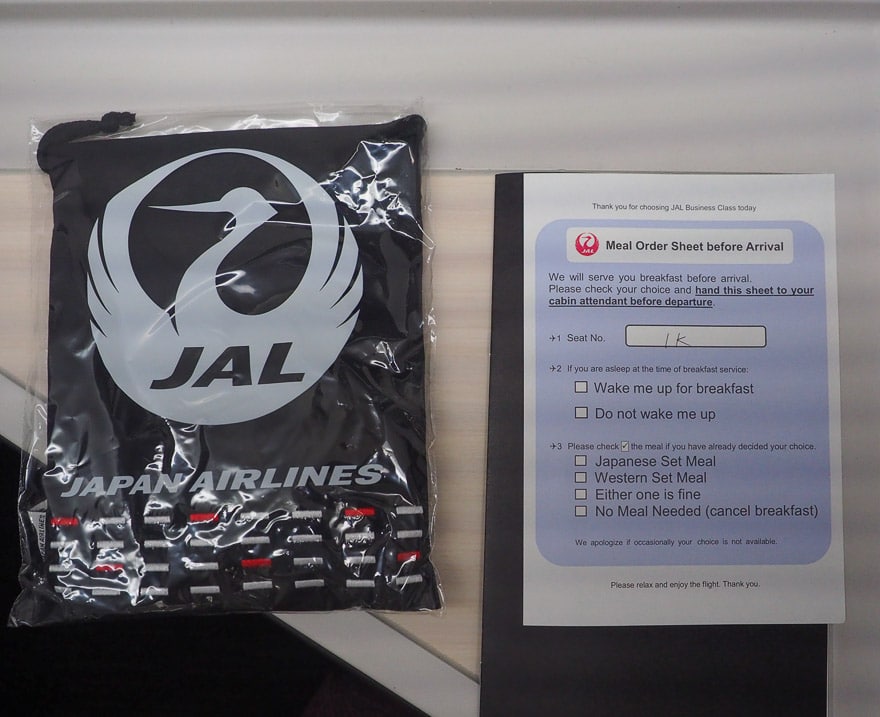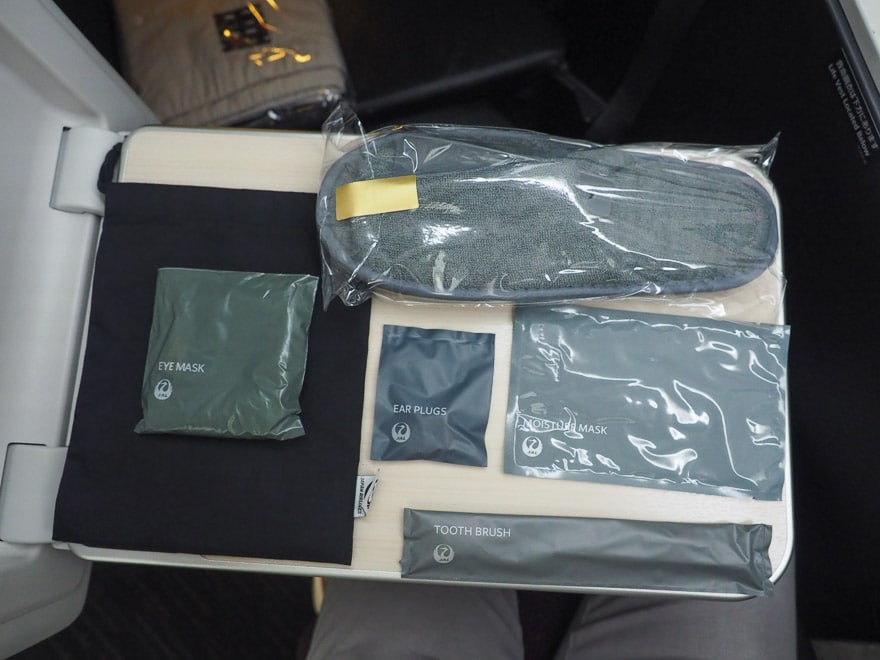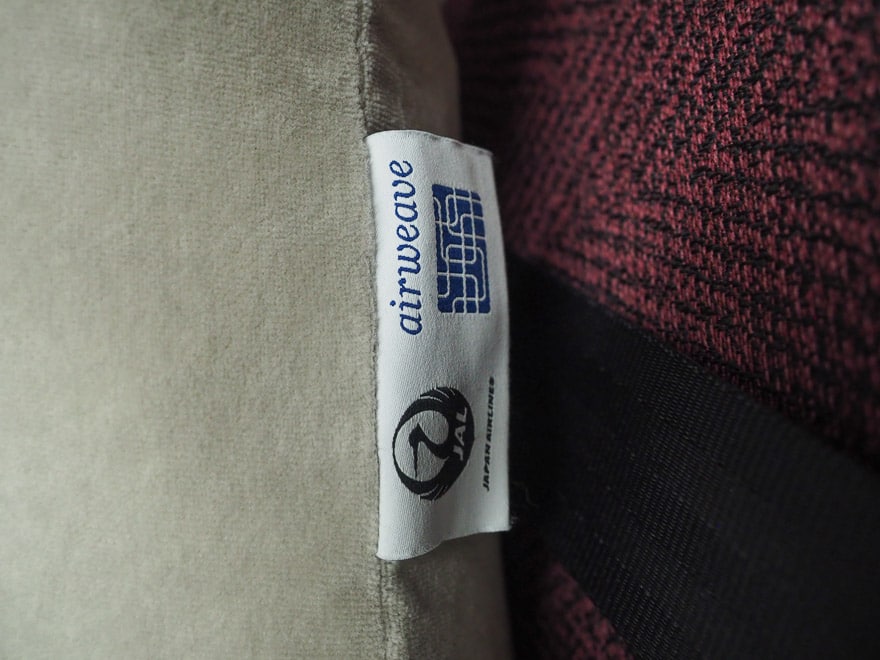 Bottled water and a warm towel were offered to each passenger with an instruction to remember to wear the shoulder strap during take off and landing. Other than this there wasn't really any pre-departure service, with no alternative drinks on offer.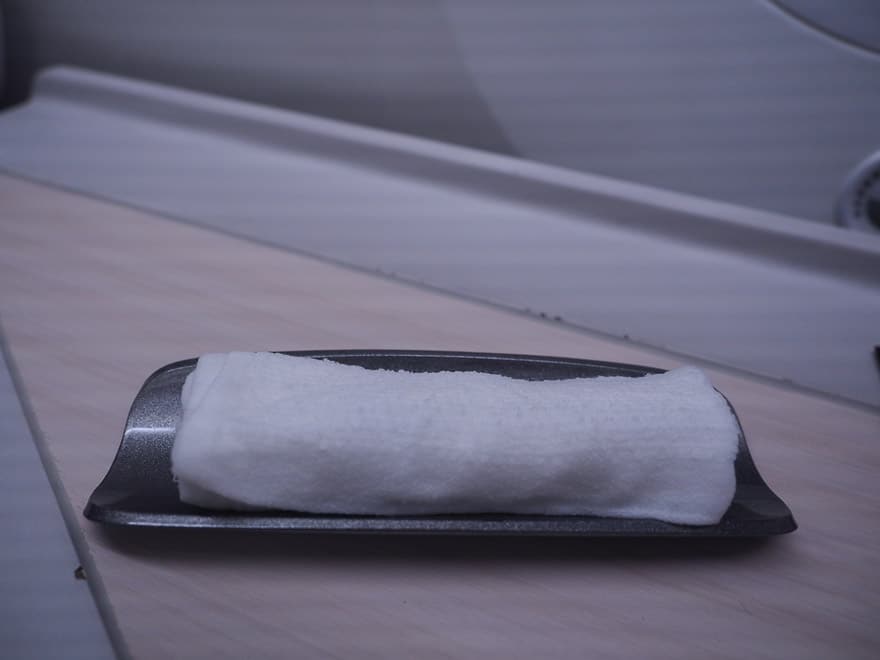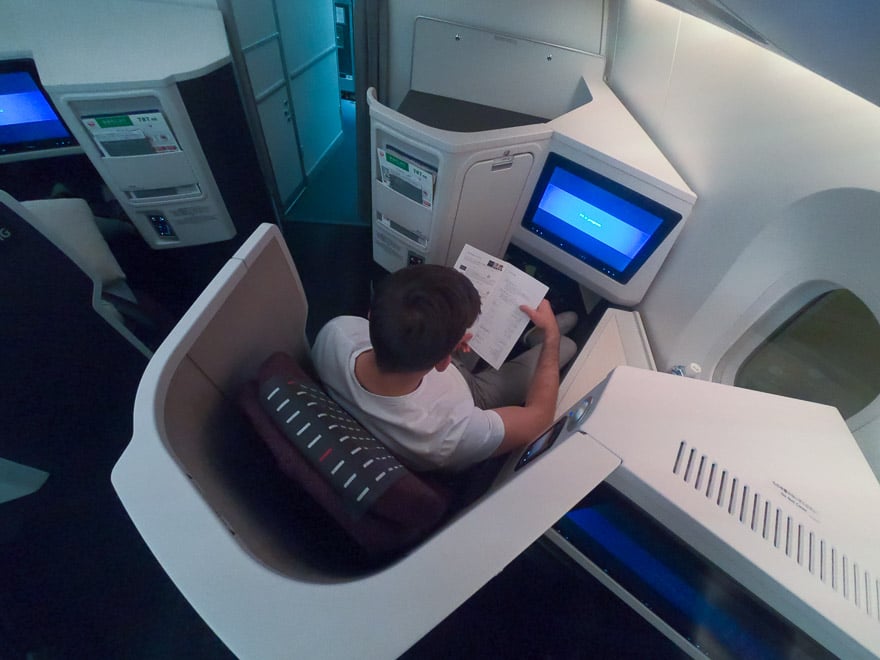 ---
The Flight
---
Most passengers opted to go straight to sleep after take-off. I figured I'd try the 'dinner' just to see if the catering had improved in any appreciable way since my last flight. One look at the menu told me that it hadn't.
The superb Delamotte champagne was gone, replaced with Charles Heidsieck. To be fair, this is still a decent champagne and elsewhere there were cocktails, some very interesting still wines and even two different junmai daiginjo sakes to choose from. Nonetheless I was tired and looking to go immediately to sleep, so I opted for a herbal tea to accompany my meal.
To be fair, even the flight attendant was a little embarrassed at this meagre offering on such a long flight. She placed the tray in front of me and pointed to the red packet saying, "a snack because maybe you're still hungry".
The meal looked and tasted like the leftovers from a canape reception had been tossed together on a single plate the morning after.
No turndown service was offered, with just a simple thin blanket to accompany the excellent pillow. The sleeping surface was mercilessly hard. I felt like a carcass on the stone slab of an abattoir. I would far rather have been given a mattress topper of some kind than the frankly weird 'cardigan rental'.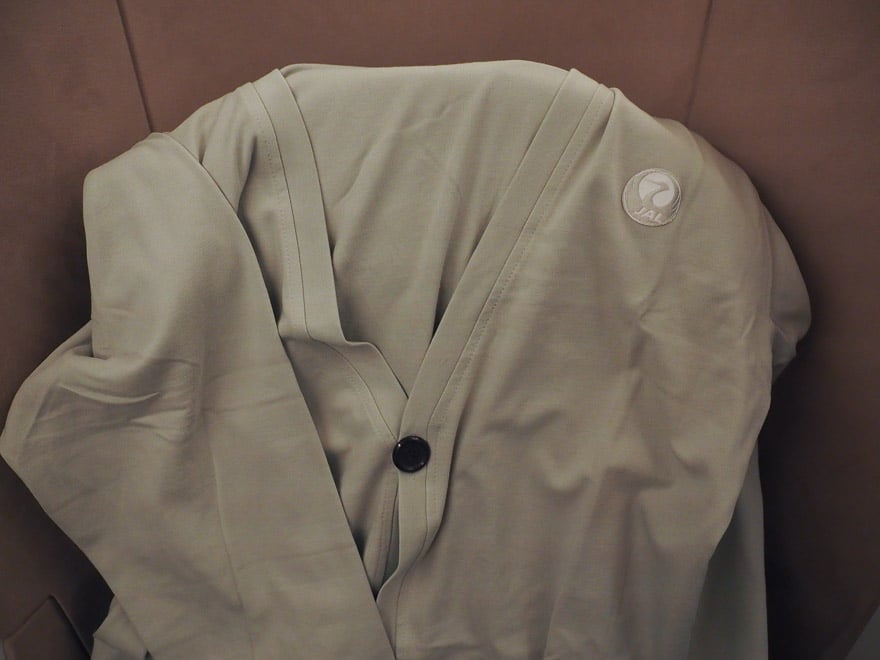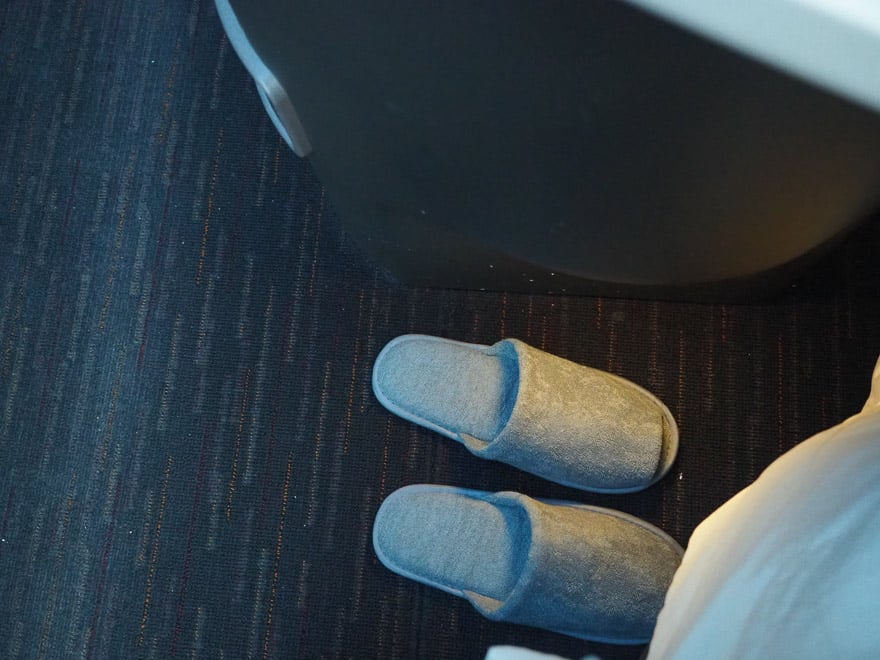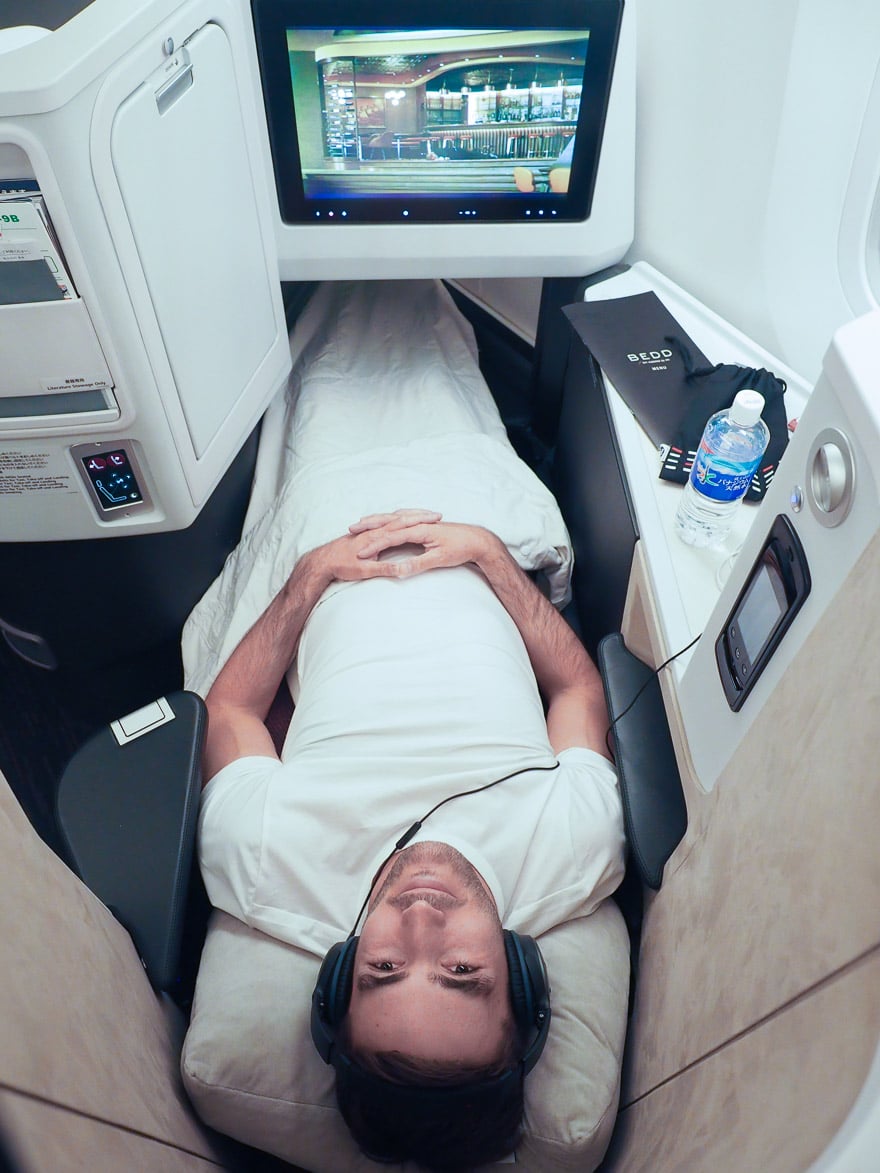 After 4 hours of tossing and turning I decided to give up on sleep and started watching the IFE. One of the cabin crew came over almost immediately to offer me a cold towel and a glass of orange juice.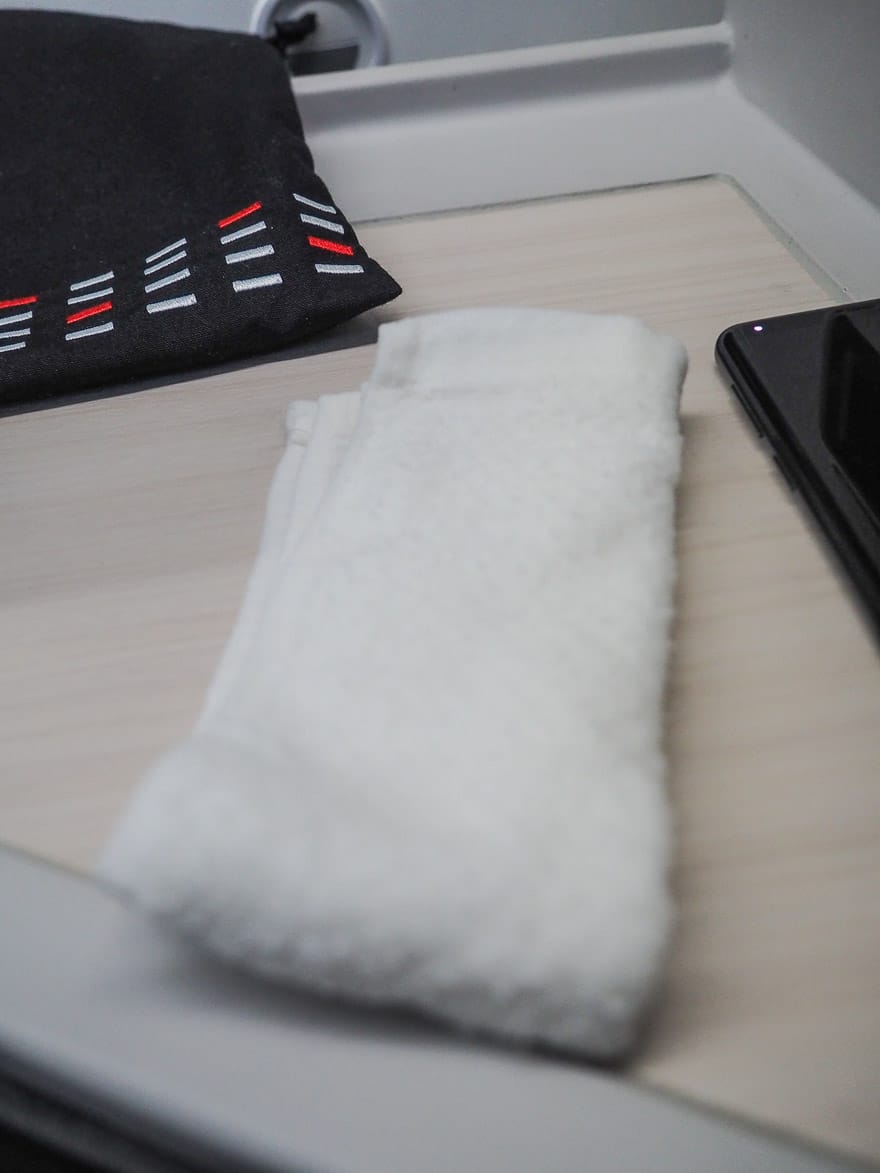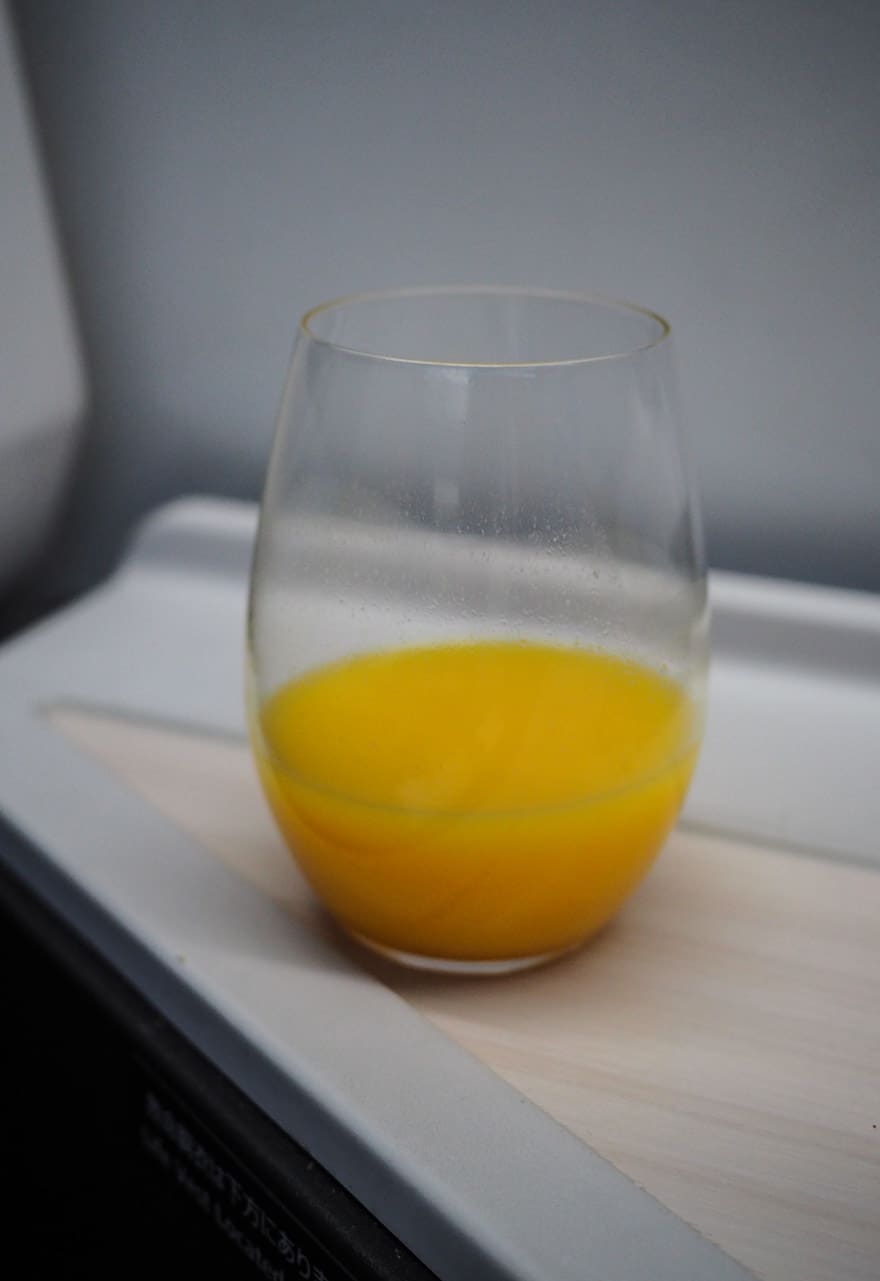 The service on JAL is always so good: although dine on demand isn't specifically offered, the crew offered to begin preparing my breakfast immediately – an offer which I was more than happy to accept!
I am a huge fan of Japanese breakfasts, to the point that I've previously declared the breakfast at the Ritz Carlton Kyoto to be the best breakfast on the planet. Was this as good? No. Was it one of the best breakfasts I've ever had on a plane? Absolutely!
Not only were all of the Japanese dishes superb, they also threw in some ice cream for dessert…at 5am.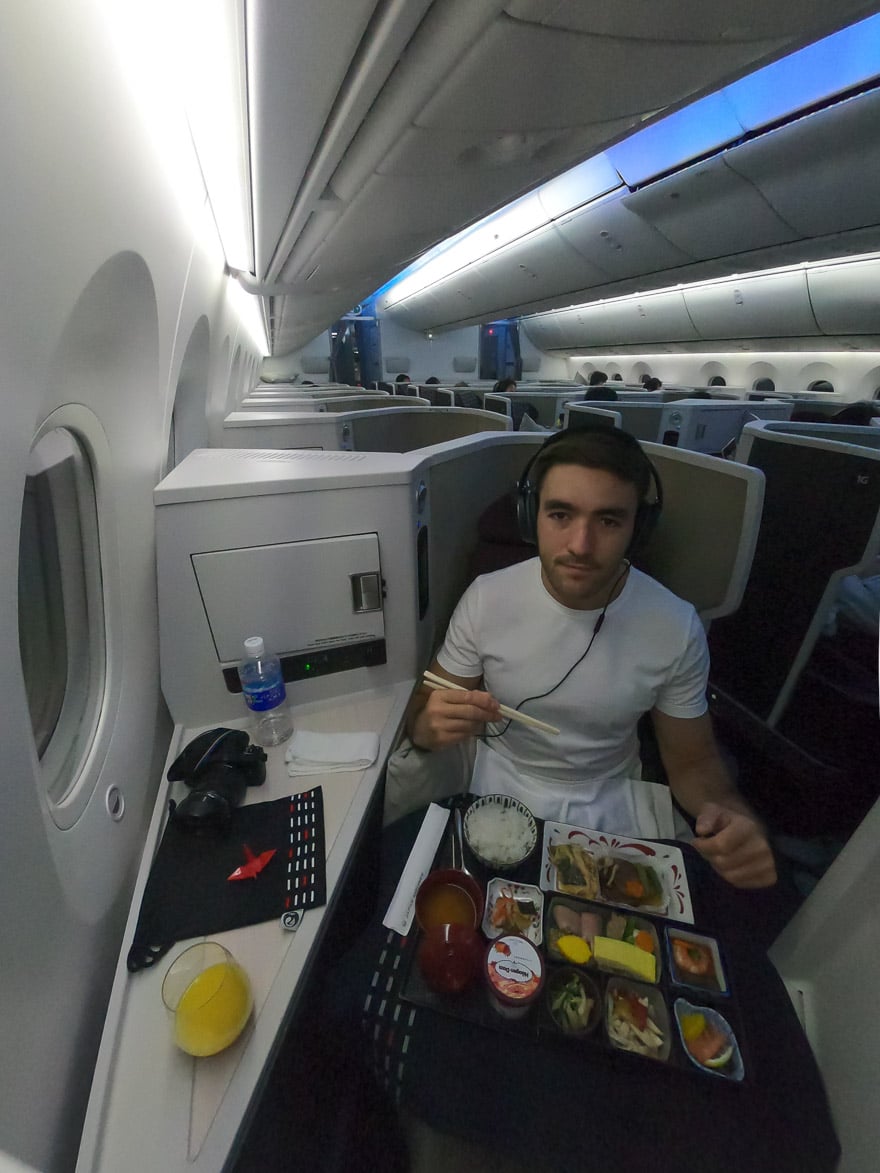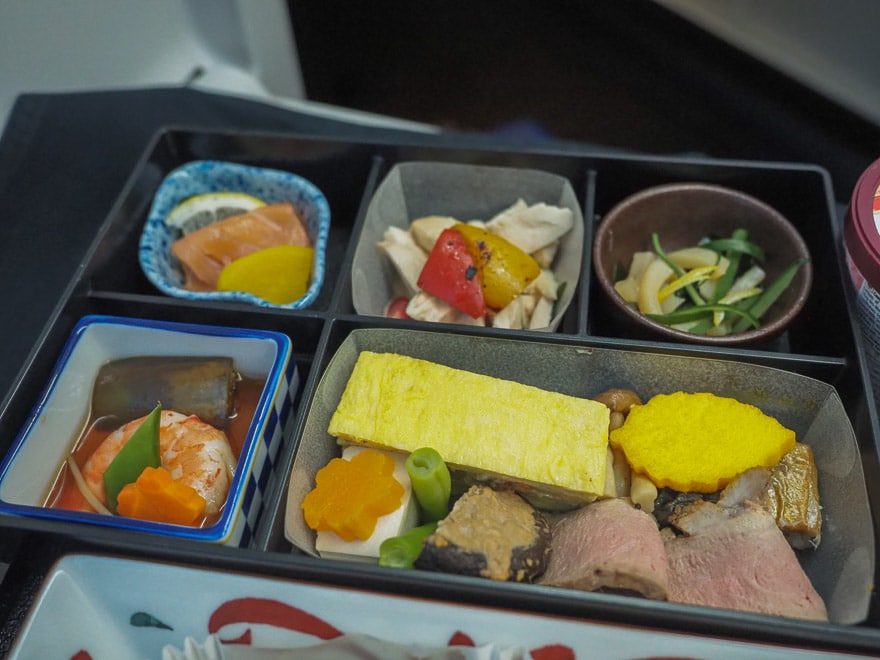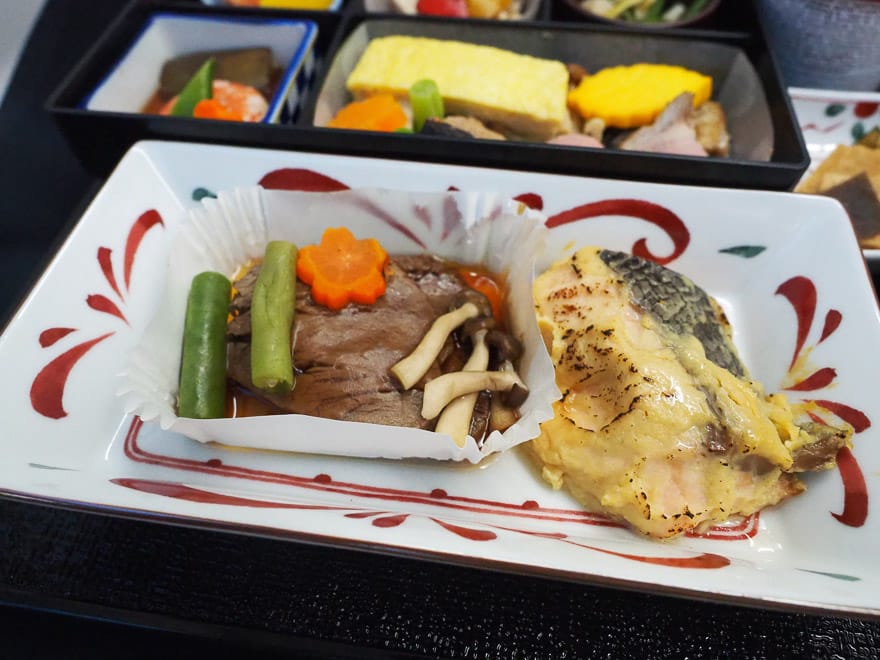 Being understandably bleary eyed after so little sleep I spent the next 90 minutes drinking enormous quantities of JAL's passable filter coffee, as the sun's emergence cast a rainbow glow across the horizon.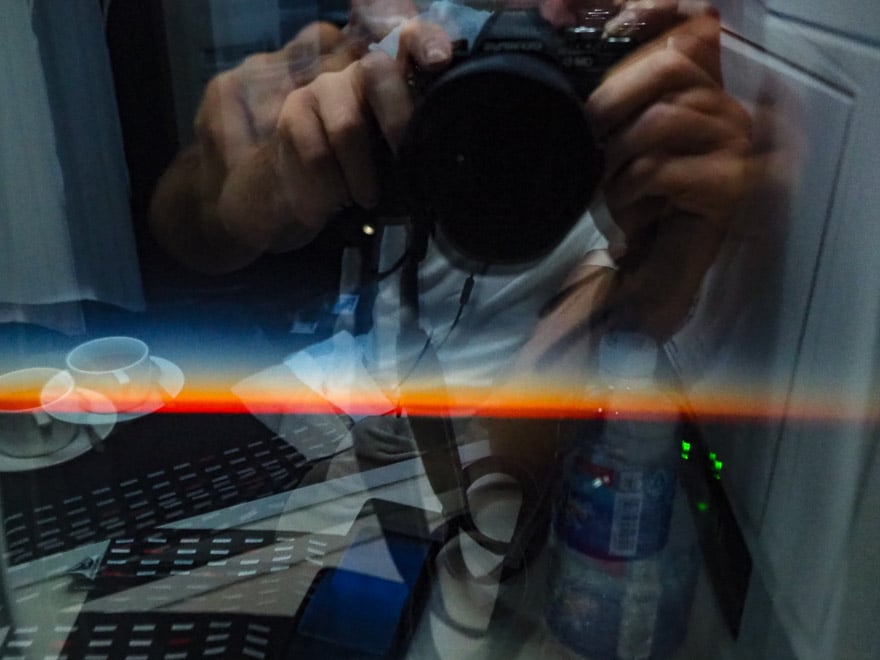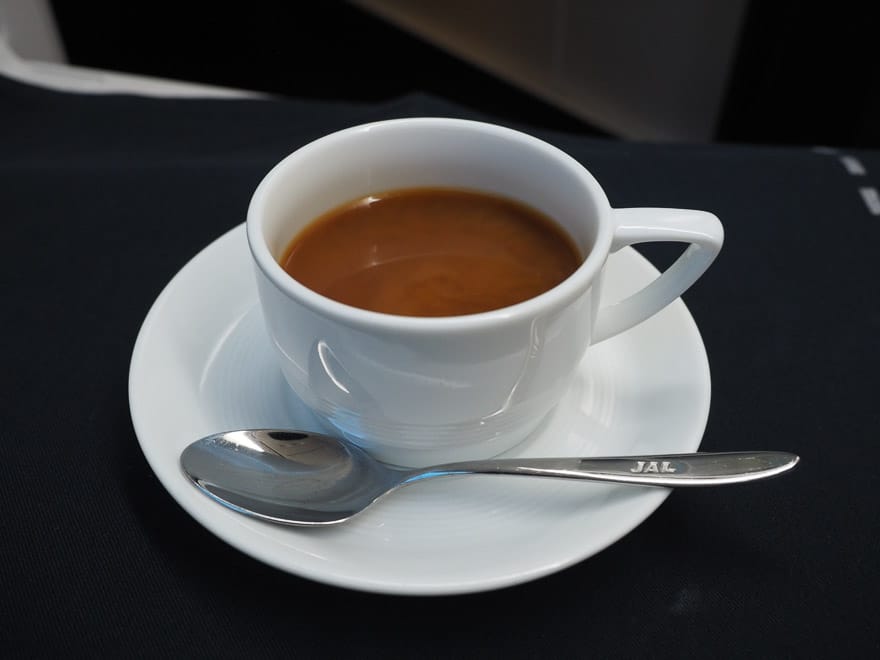 ---
Conclusion
---
We often speak about how short haul Business Class is so much better in Asia than in Europe and North America. When it comes to longer routes like this though, I cannot help but think that the overall experience here was markedly inferior to what you'd get on a New York to London flight on either BA or AA.
The AA 77W and the new BA Club Suite are both better than this seat with both airlines featuring a far more substantial food menu and better bedding than JAL.
For 25,000 Alaska miles this was still a great deal but if I had been paying the advertised cash fare on this route I would not have been happy…at all.
---