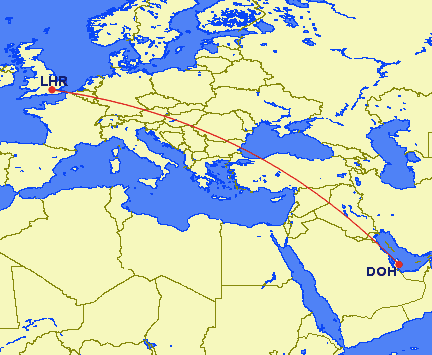 Qatar Airways (QR)
Flight: QR 008
Class: Business Class
From: London (LHR)
To: Doha (DOH)
Duration: 6h45m
Aircraft: B777-300ER
Seat: 1A
Frequent Flyer status during flight: OneWorld Emerald (AA Executive Platinum)
Booking type: €650 round trip London to Tokyo in First and Business
Flight date: November 2017
---
Intro
---
Jump straight to The Conclusion
---
Qatar Airways is an airline that has rapidly risen to the top of global rankings when it comes to Business Class.
Having flown them on numerous occasions on both the Dreamliner and the A380 I've been extremely impressed with the crews, who provide a full dine on demand service. This service allows customers adjusting to different time zones to eat at a time that suits them best. The presentation of food and drink on Qatar Business is closer to First Class, with full sized cutlery and champagne flutes alongside soups served with a cloched flourish. The trim of the cabin interiors is also very impactful with burnished piano gloss surfaces sitting alongside white and purple leather trim.
I've always had one criticism though: The reverse herringbone seats aren't private. Where most other airlines have a privacy shield at eye level, Qatar do not. This has always meant that the cabins feel very open and exposed. Everyone can see what everyone else is up to.
Look at the images below comparing the Qatar and Air Canada versions of the seat and you can see exactly what I mean: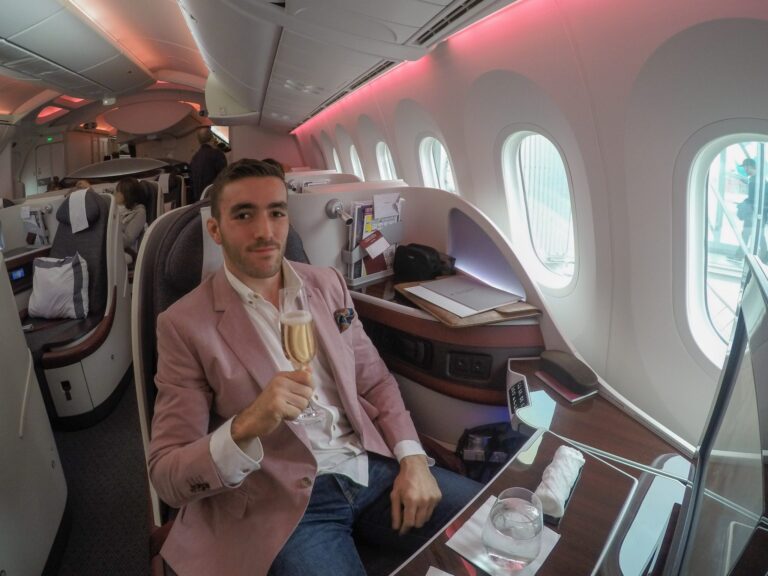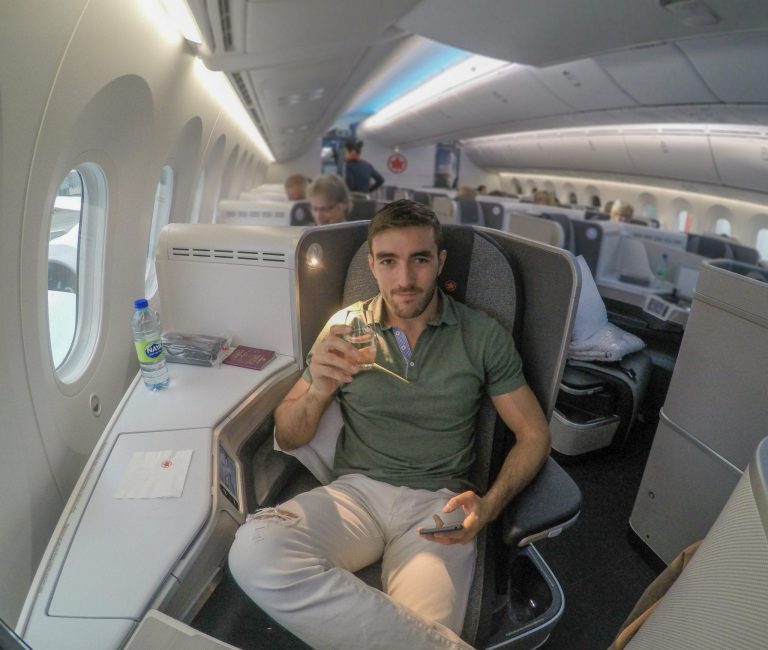 On Air Canada you are partially enclosed and aren't making accidental eye contact with others. Nobody can look over at your seat and see what you're watching on your IFE. On Qatar the cabin is fully open.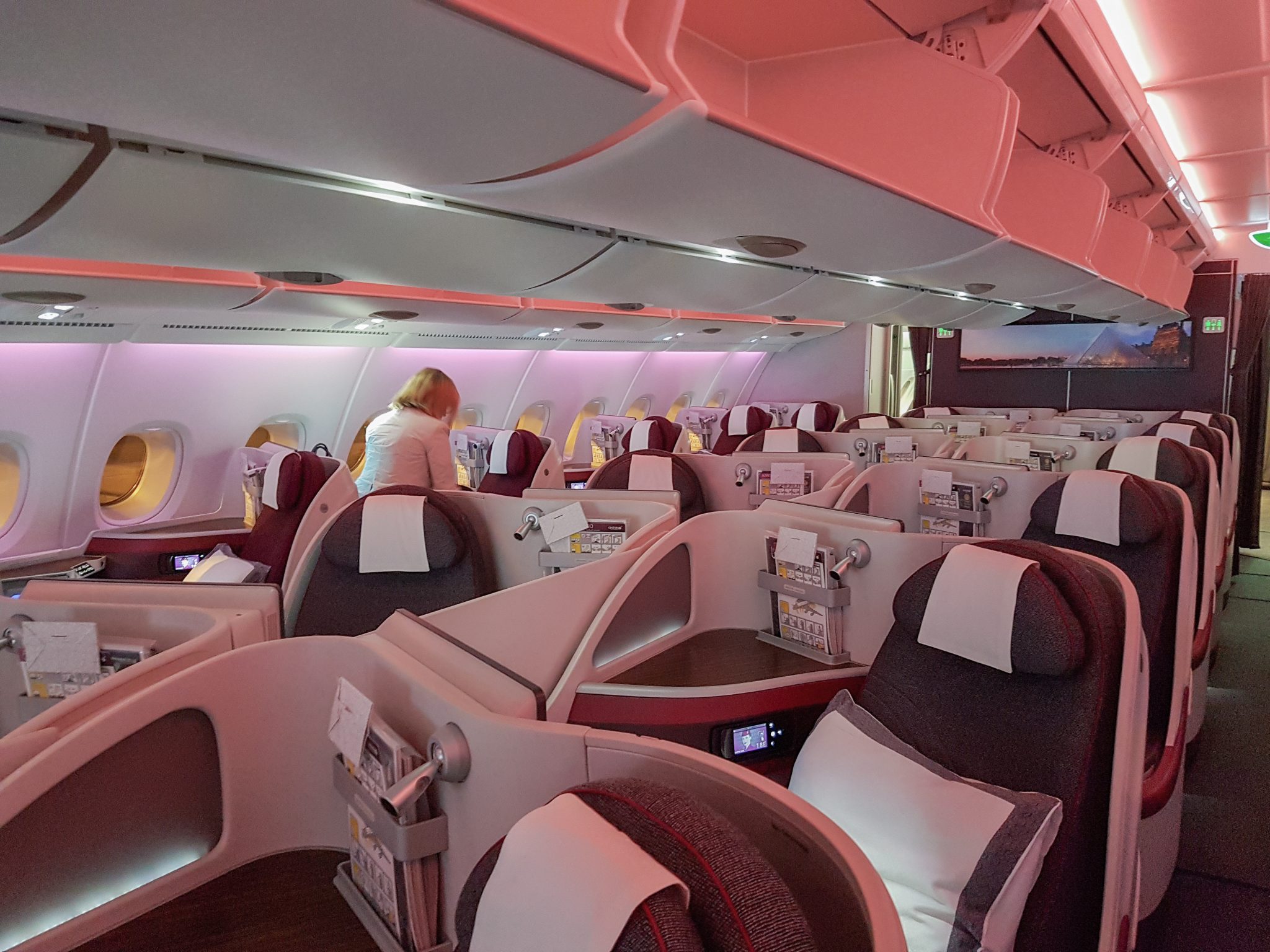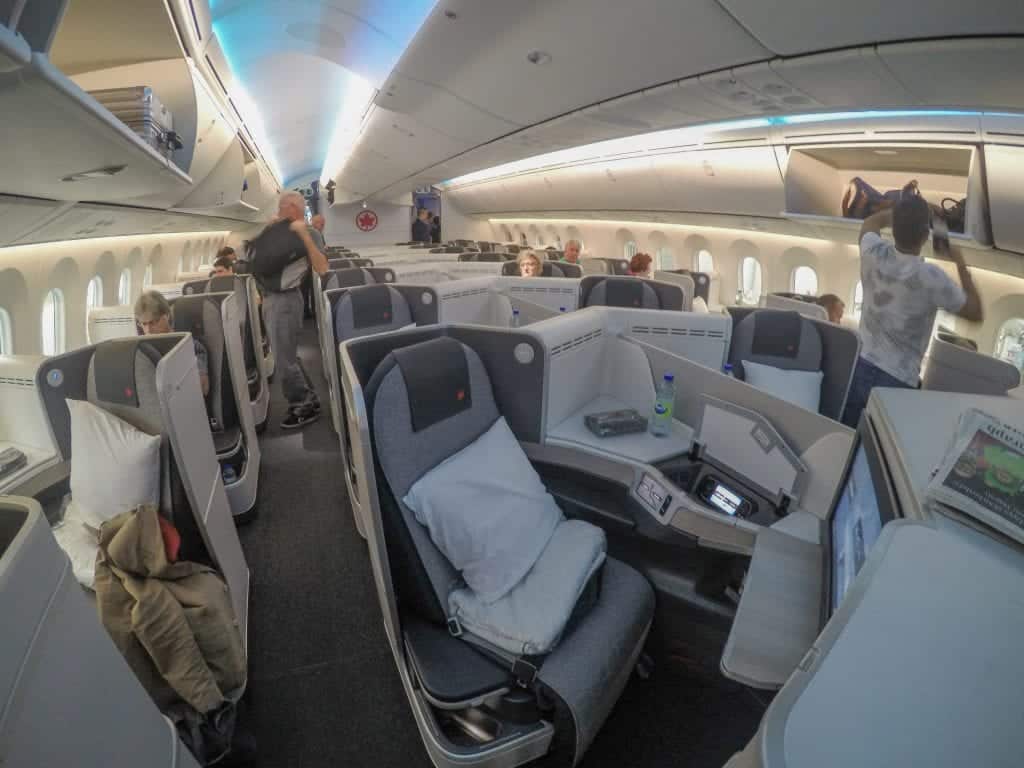 When Qatar first announced their revolutionary concept for Q Suites I was absolutely blown away. A fully enclosed suite with sliding doors in Business Class. Finally, the biggest criticism of the QR seat was going to be addressed!
If you have dine on demand service with top tier wines and champagnes, suites with closing doors, the possibility to create a double bed in the sky and luxury amenity kits in Business Class, why would anybody ever pay for First Class? I was very curious to see for myself if this would indeed signal the death knell for First, if not globally then at least for this most illustrious of airlines…
---
Pre-Departure
---
After a fantastic time spent watching planes and drinking Laurent Perrier Rosé in the London Heathrow Qatar Premium Lounge, we walked for less than a minute to the gate for our flight to Doha.
I must admit I was really, really excited for this flight. As I walked up the jet bridge I got that familiar feeling, that voice in my head telling me that perhaps that aircraft had been switched at the last minute, that after months of anticipation I wouldn't be flying on Q suites after all. Then as I was welcomed on board I tilted my head around the corner and saw this:
Stultifying. Extraordinary. Peerless. There really aren't enough superlatives in the world to adequately capture the sensation of seeing this cabin in the flesh for the first time. Standing and taking this shot from seat 1A you can barely see a single other headrest or IFE screen. This is complete privacy.
Not only that but the mood lighting and colour scheme of the cabin are extraordinary. This does not look like a mode of public transport. It looks like an exclusive nightclub.
Kamara and I had selected seats 1 E and F at the time of booking, since we wanted to be a able to create a double bed. Qatar are very good in restricting the booking of the middle seats to those travelling together, they are the only airline that I've encountered that restrict seat reservations in this way. I selected seats in row 1 as I know that seat 1A is always blocked by Qatar until check-in time. This meant that we had the highest possible chance of accessing an empty window seat if we picked the double suite in Row 1.
Upon boarding I asked a member of the cabin crew if Seat 1A was still vacant; after a quick check of the manifest she confirmed that it was. My plan had worked out – I'd be able to enjoy a seat with views for take-off whilst enjoying a private suite with a double bed for the rest of the flight! (when I first experienced this setup on Singapore Suites I never imagined I'd soon be recreating this in Business Class).
The Seat
Three full windows and a closing door. Stunning.
The physical footprint of each individual Q suite is remarkable but almost as impressive is the level of finishes on display. The textured, soundproof walls, the marble coloured surfaces, recessed lighting on the seat number, so many little touches that combine to create a beautifully elegant space in which to relax.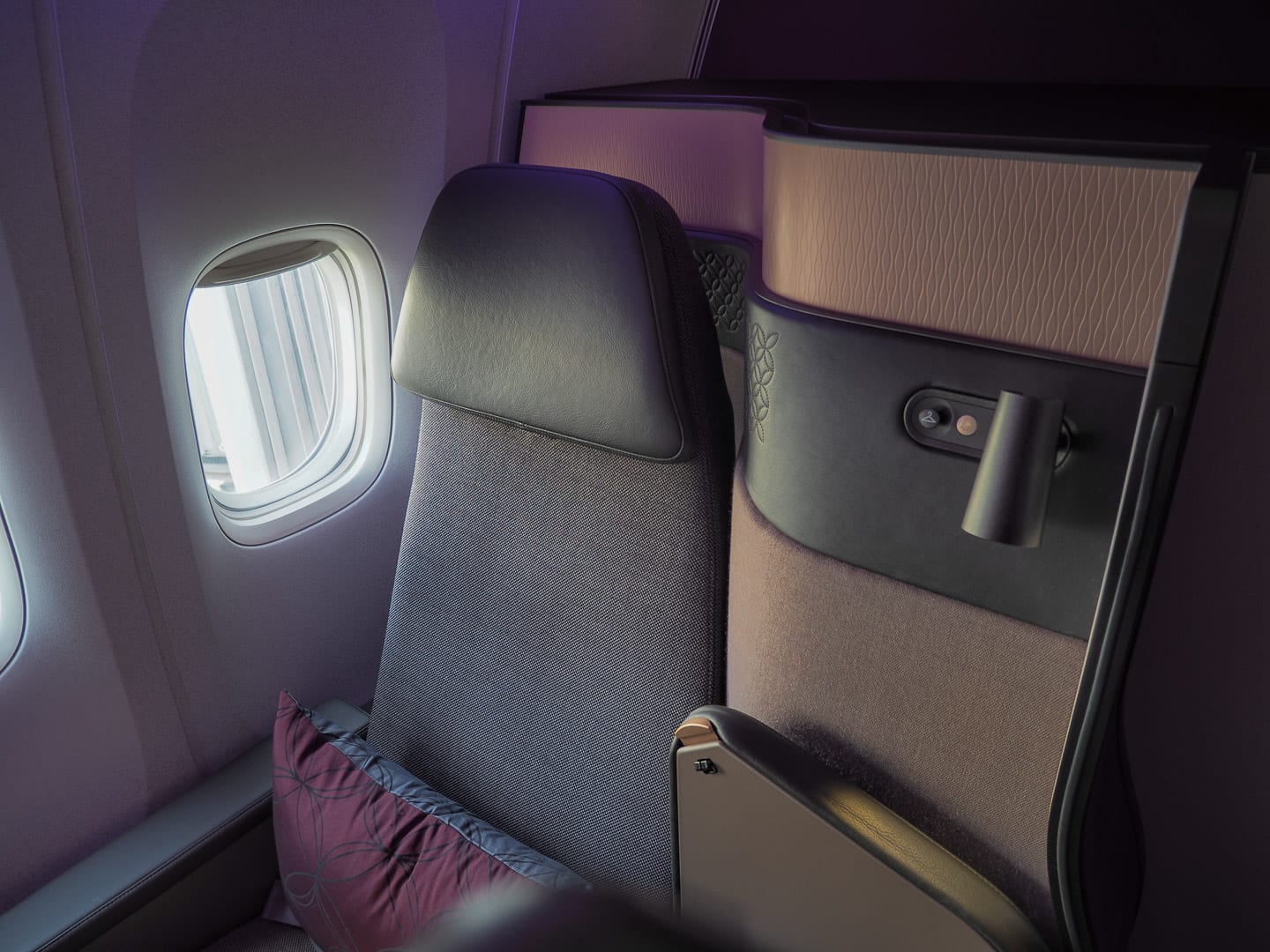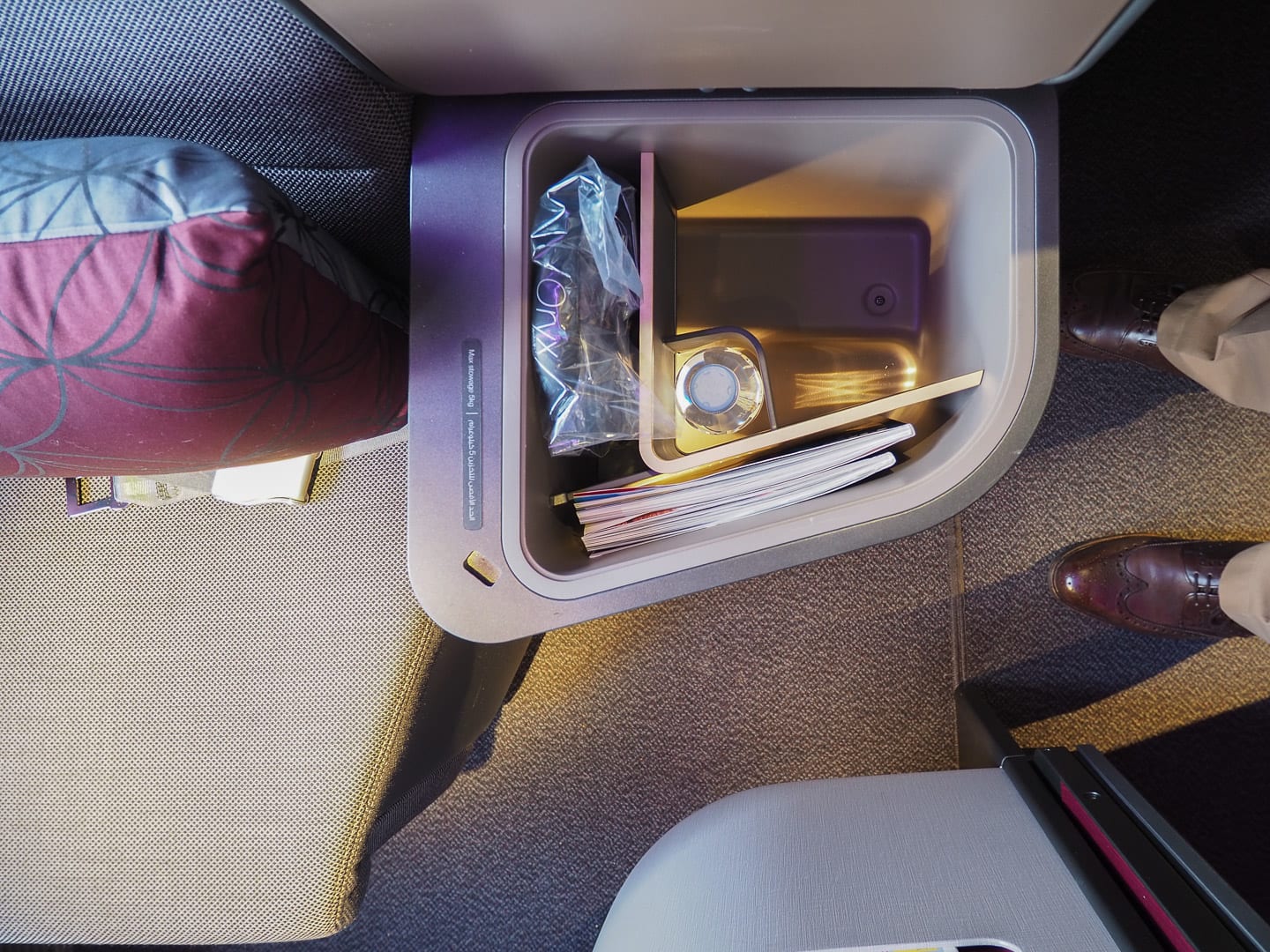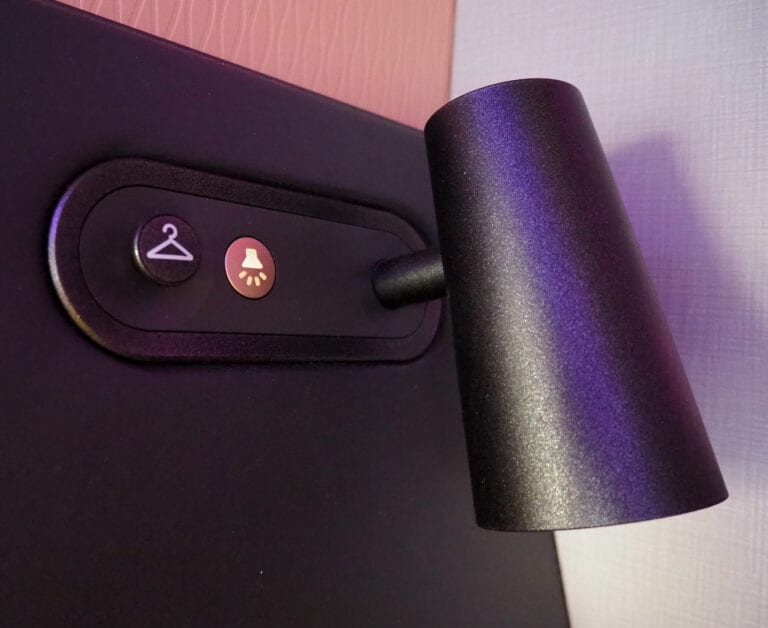 It feels slightly pretentious to talk about architecture within the context of an airplane seat but really the term seems salient here. The suite flows and is designed with a very keen eye to ergonomics and efficient use of space.
Look at the way in which the arm rest lifts to reveal storage for magazines, headphones and water – all individually separated – in addition to a larger space for a passenger's personal items. Knowing that many passengers travel with laptops and tablets, which don't conform to these dimensions, Qatar came up with a clever solution. They doubled up on table space, placing a marble effect shelf a few inches above the surface of the IFE and seat control centre. This cubby is ideal for a personal electronic device.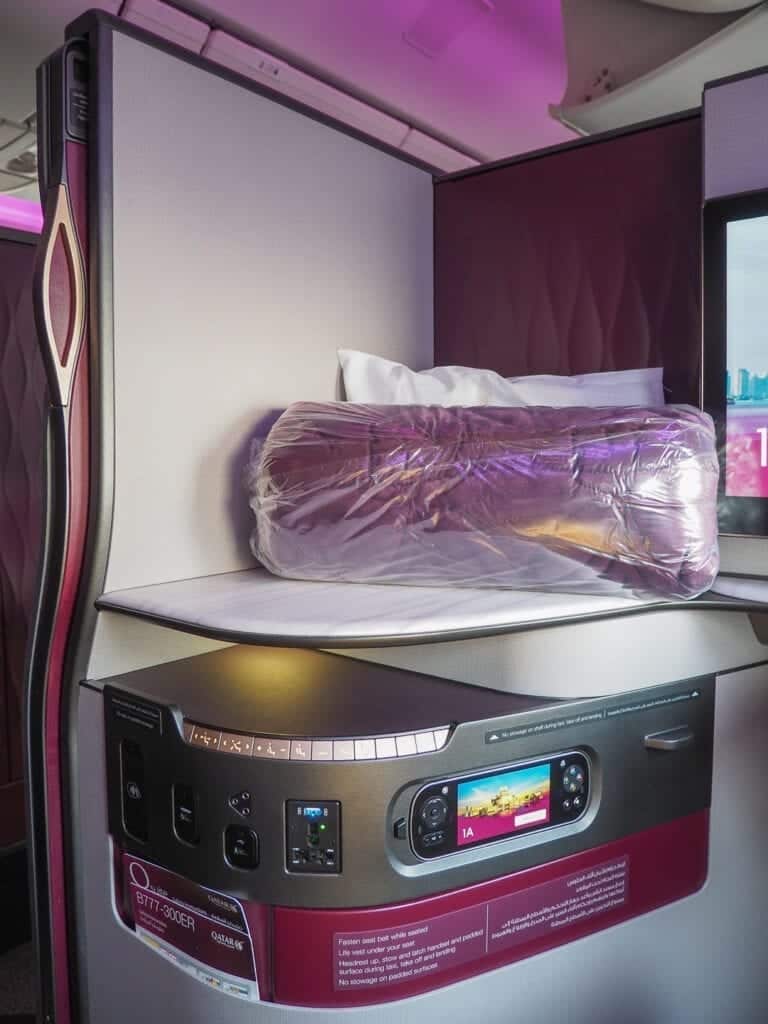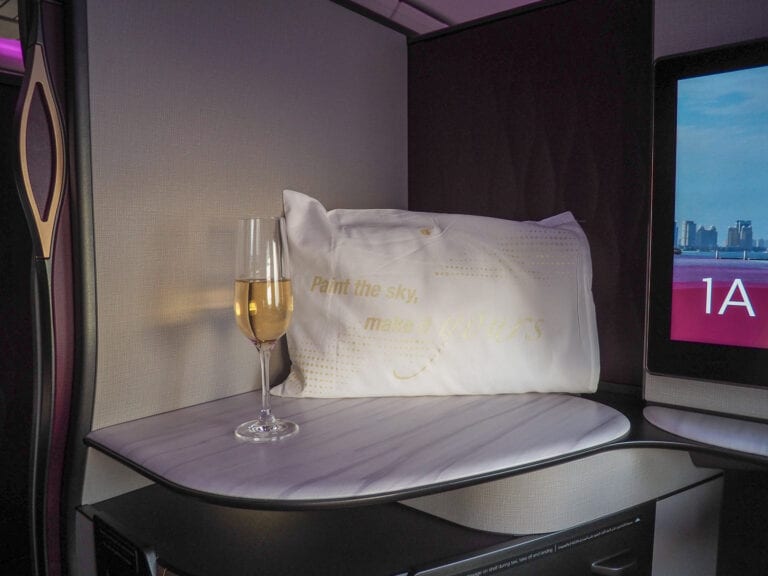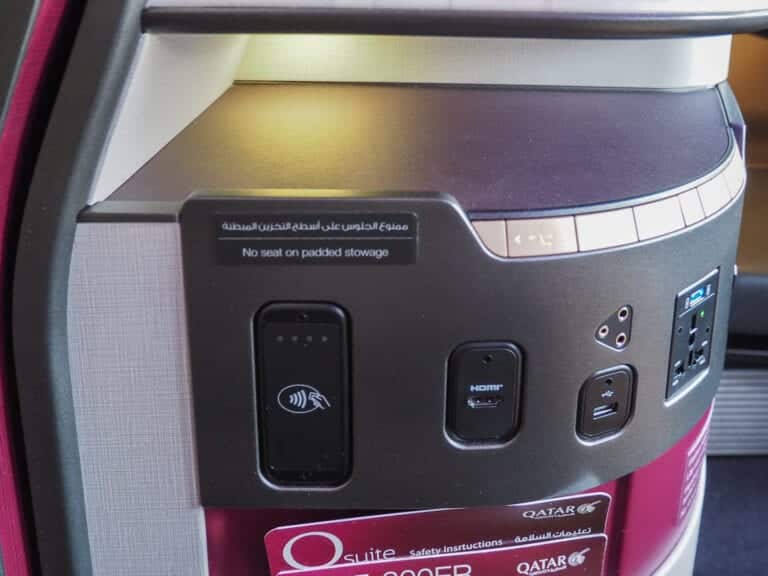 Speaking of the control centre, the controls are very slick, responsive and intuitive – both for the IFE and the seat. Their positioning also means that you no longer find yourself accidentally pressing buttons, as was the case on the reverse herringbone seat found on the A380 and the 787.
Not only is there a low power USB port, there is also a fast charging USB located within the universal charging socket. HDMI is a welcome addition too. NFC however was not usable in any way when I took this flight. My understanding is that Qatar intend to implement functionality here for both payment and transfer of media from personal devices.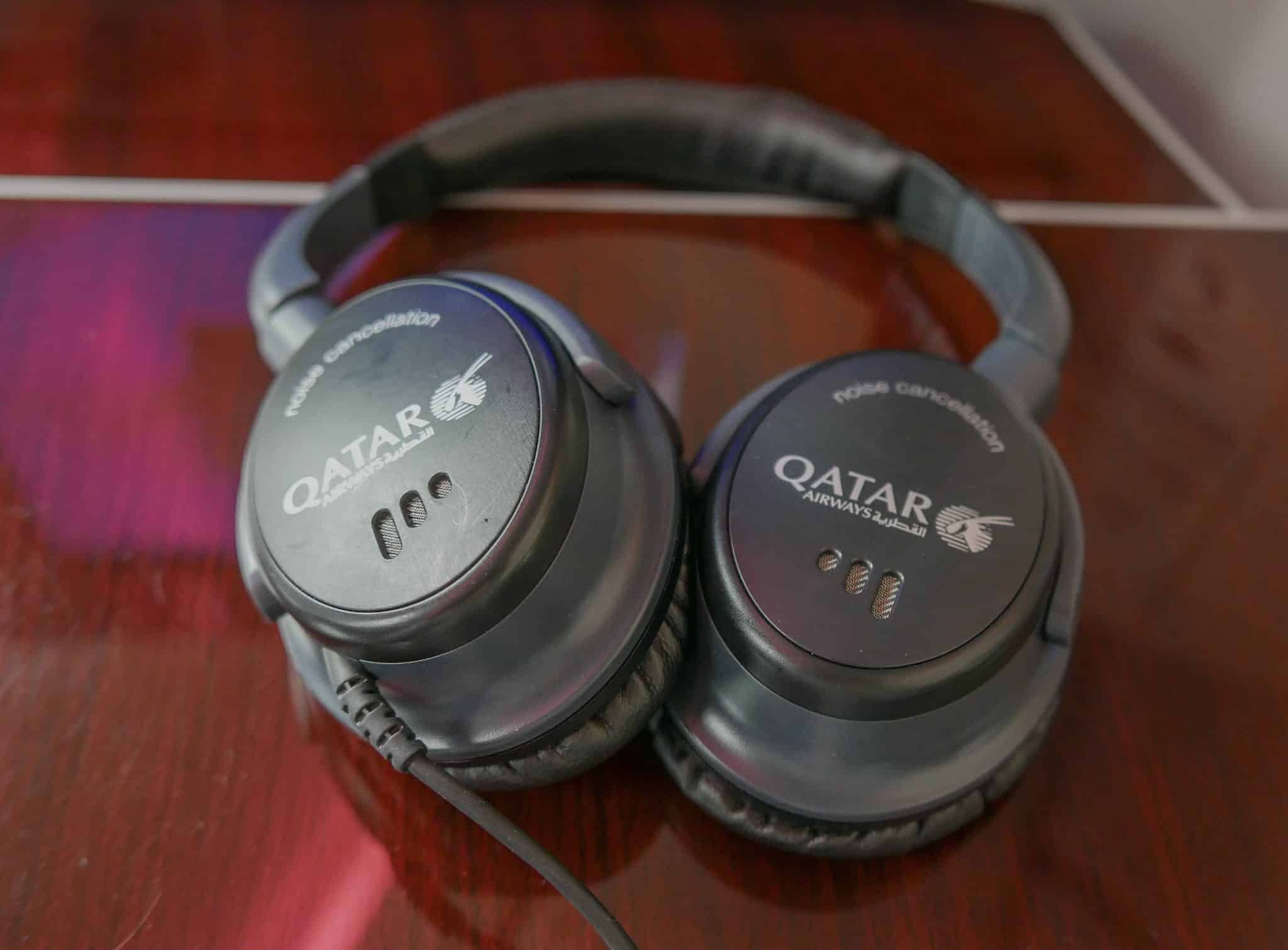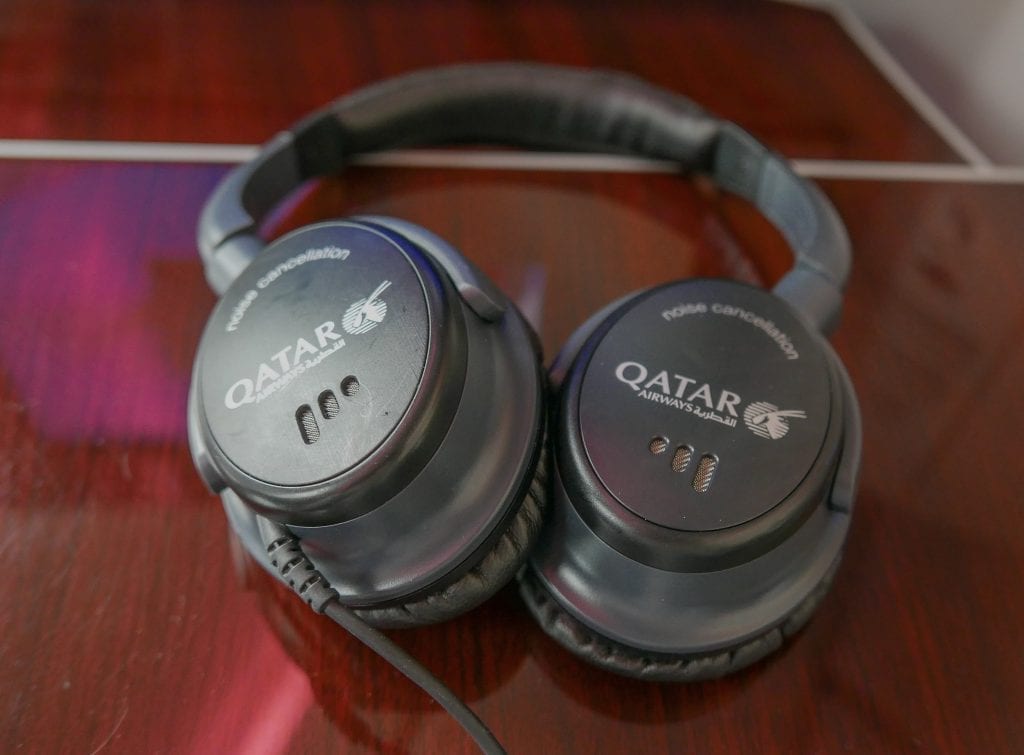 Headphones are the same as those offered on other Qatar planes. These are ok but certainly not a patch on the Bose headphones on American.
Foot space is a little constrained, as is always the case when seats overlap, however I didn't find this to be in any way problematic. My shoes are UK9/US10 for reference.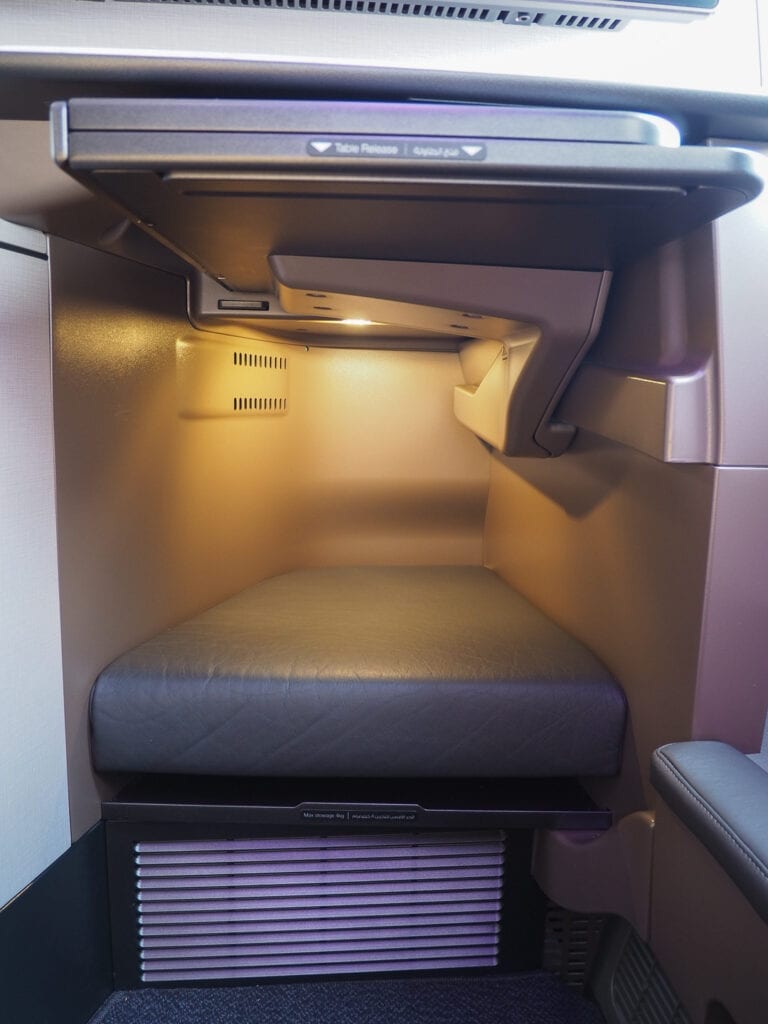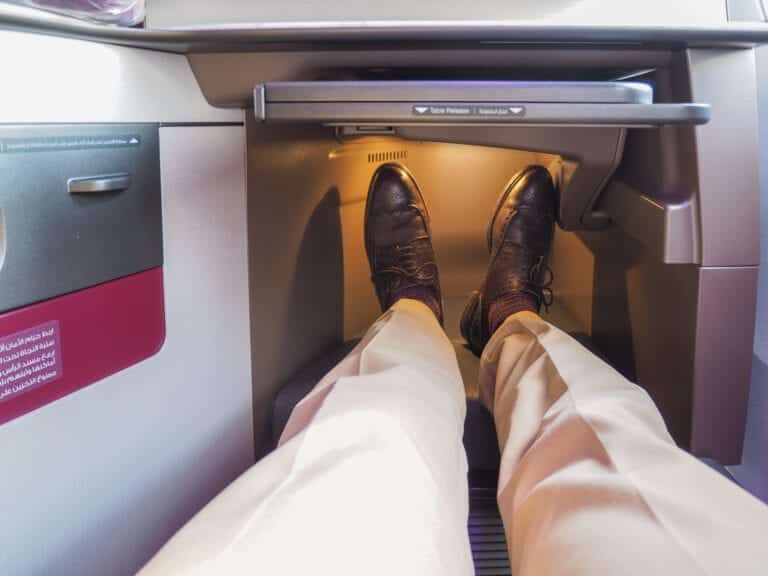 In addition to a thick purple blanket and plump pillow, I found an amenity kit waiting for me at my seat. Previously Qatar used to give Giorgio Armani amenity kits to First and Business Class passengers. The kit is now made by luxury Italian luggage brand BRICS, with the contents provided by Castello Monte Vibiano.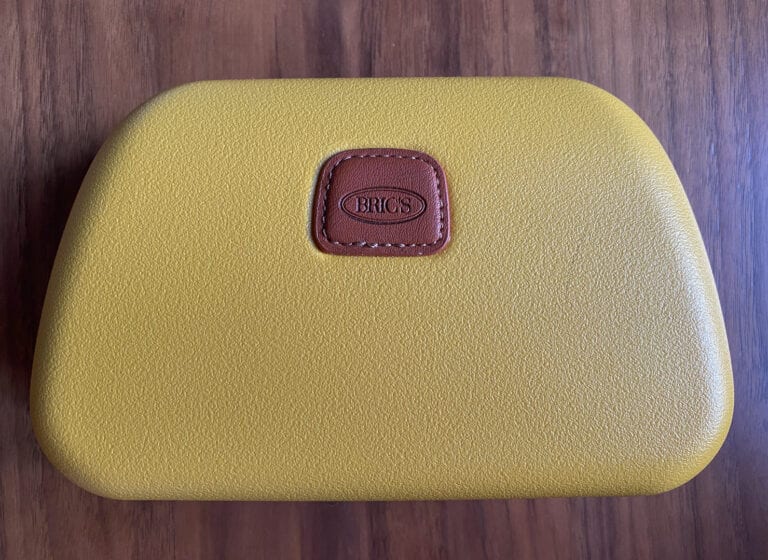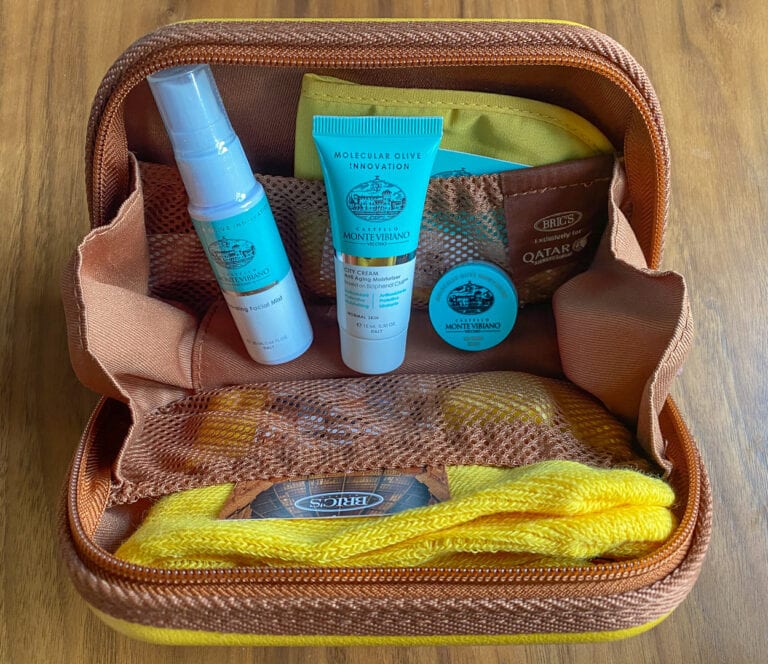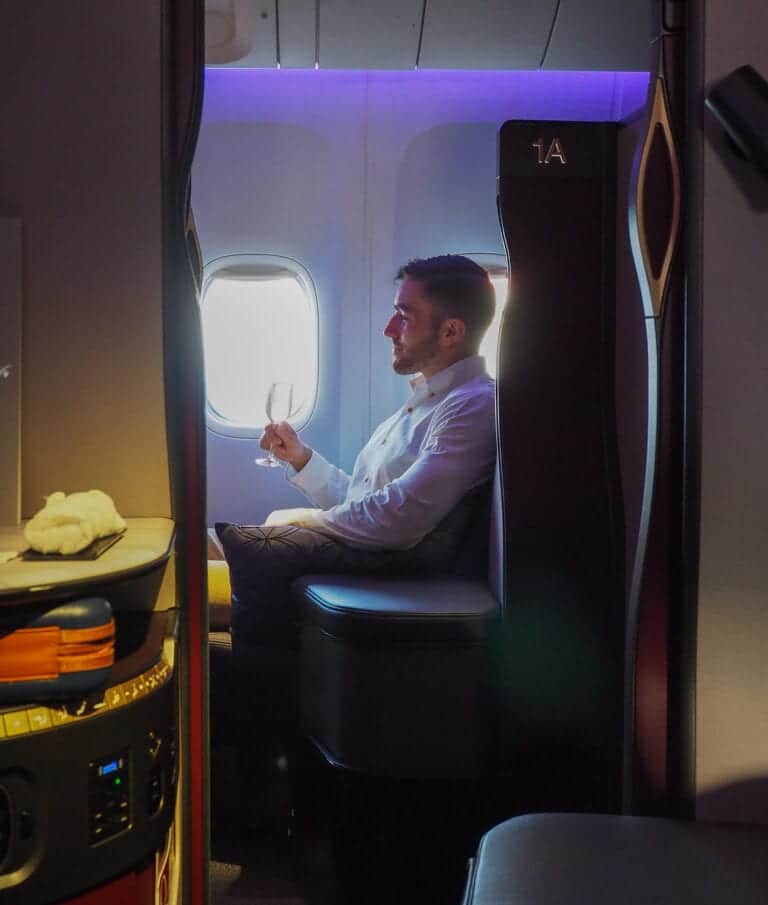 I personally prefer the shell style BRICS case to the flimsy satin Armani kits, although I did miss the Armani cologne…
Once I had settled into my seat the crew came round to offer my choice of hot or cold scented towel and my choice of pre-departure beverage. I asked for champagne, which is no longer Billecart Salmon but still a very respectable Lanson. Part of me was hoping for something much better but it seems like Qatar wine lists peaked in 2016, when Krug was served at the Business Class bar and Cuvee Louise was available at your seat!
---
The Flight
---
I enjoyed the sunset views in 1A with a couple more glasses of Lanson before heading back to join Kamara in the centre pair. The FA serving my post take-off champagne addressed me as "Mr Brut", I think he may have gotten confused and written my drink order in the name box. Mr Brut is a hell of a strong name though.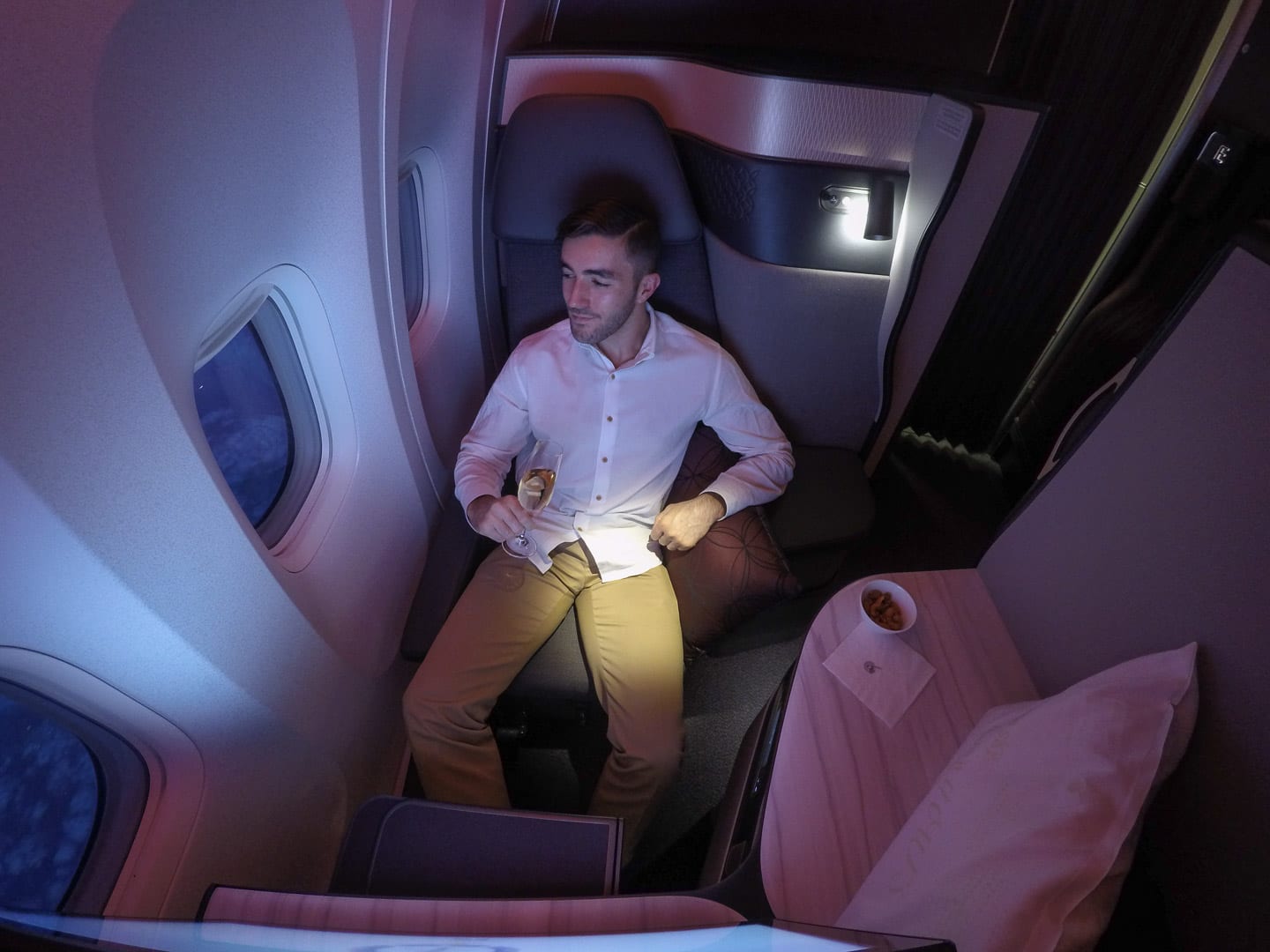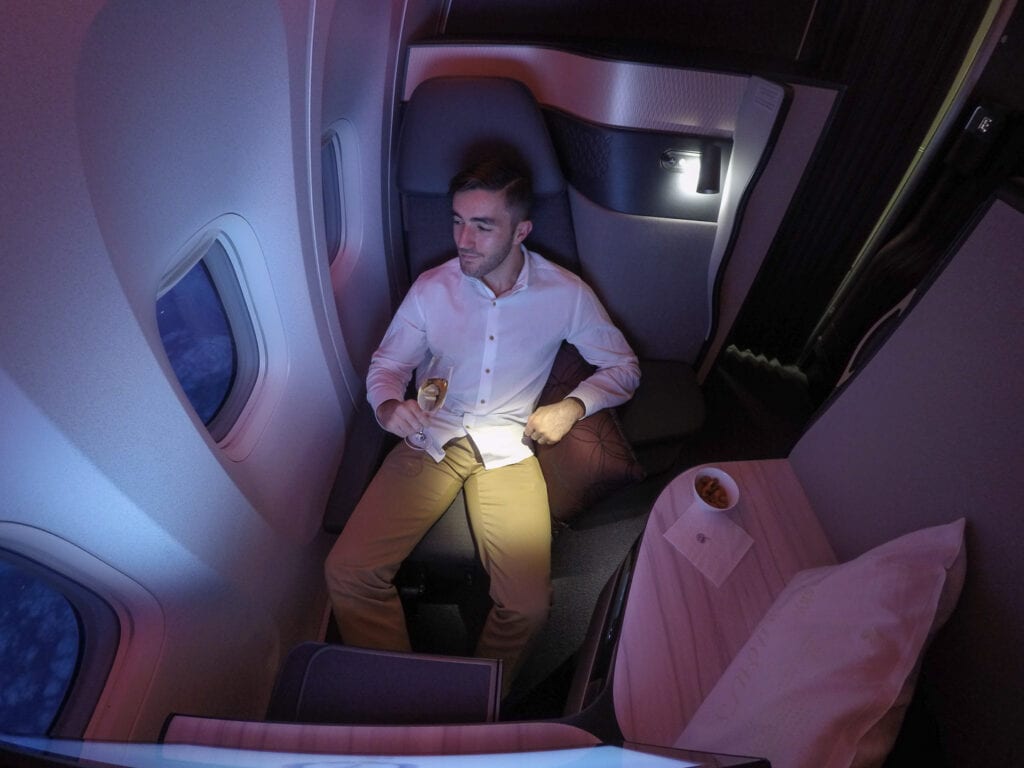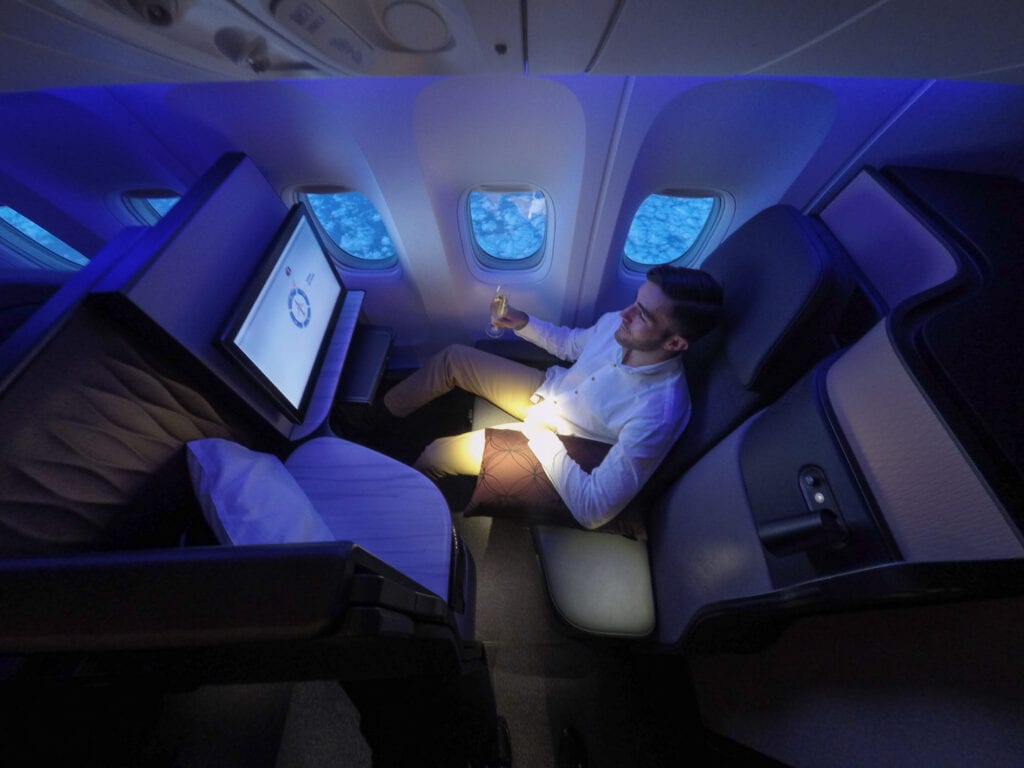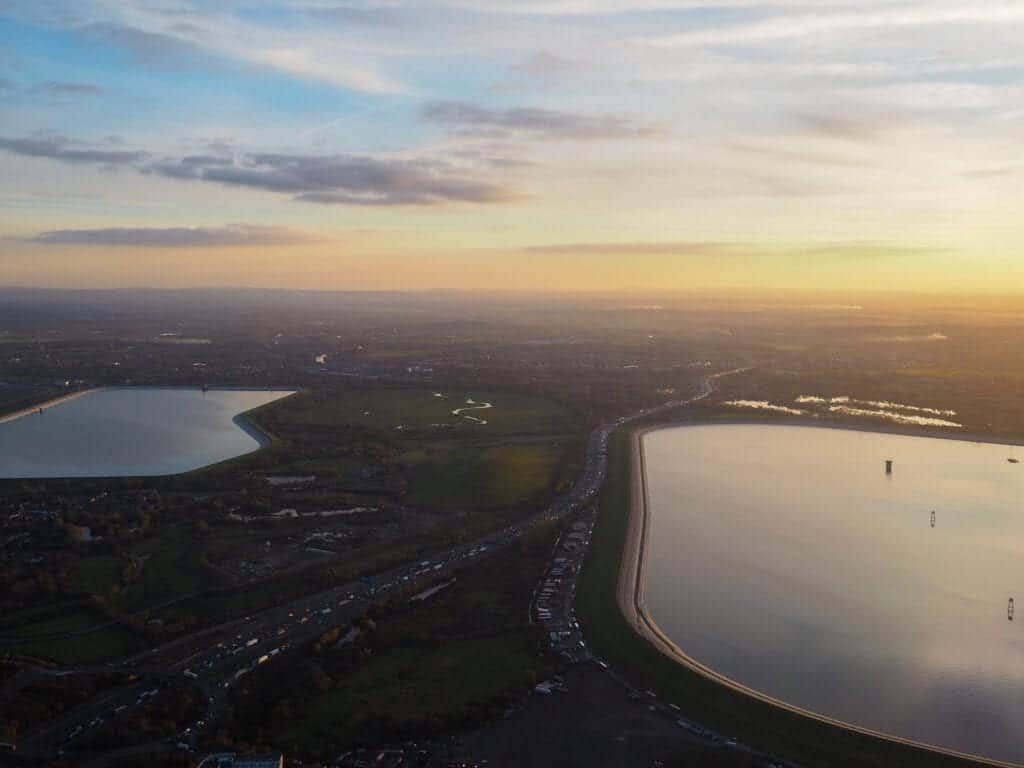 Moving over to the middle pair: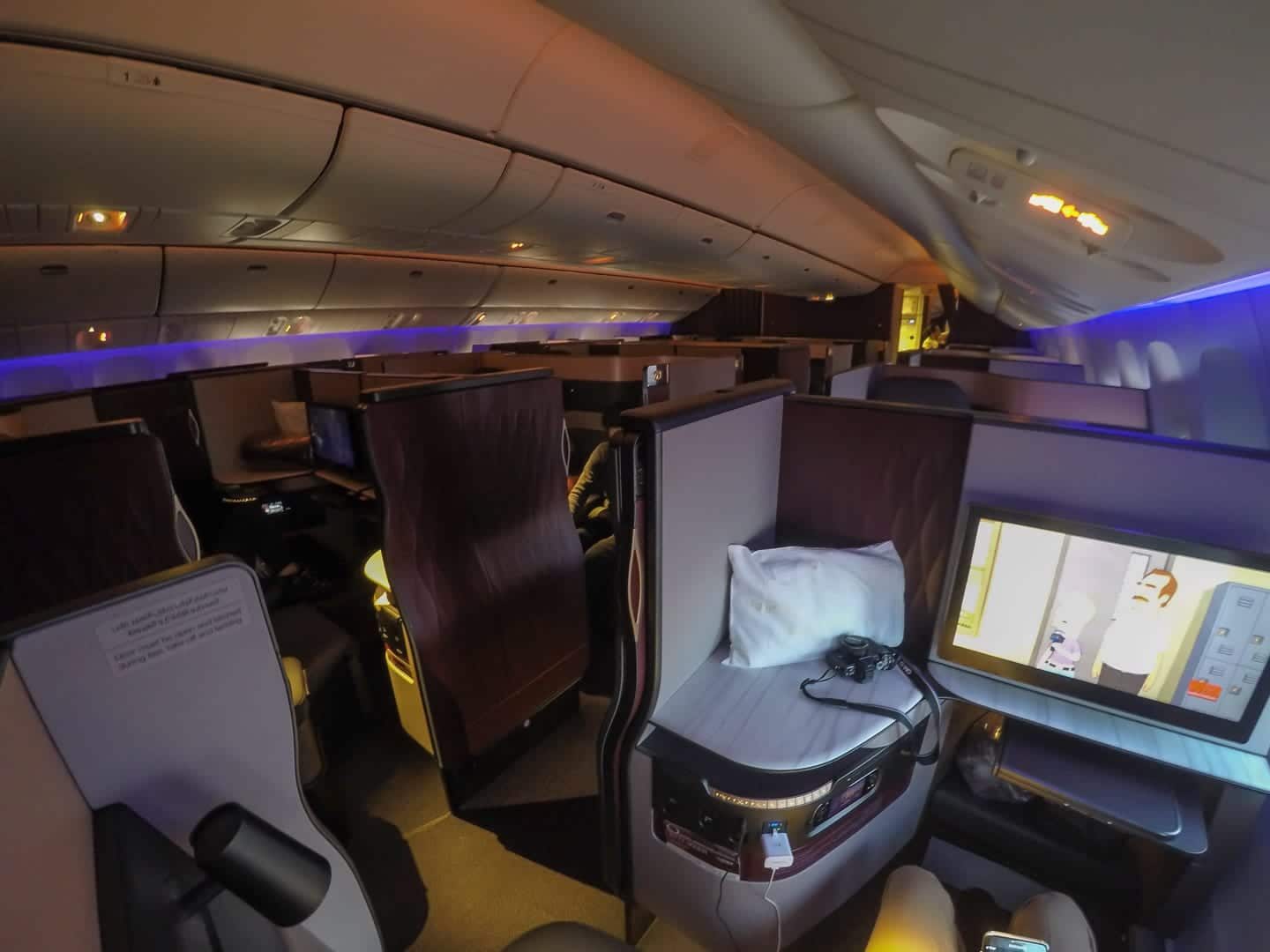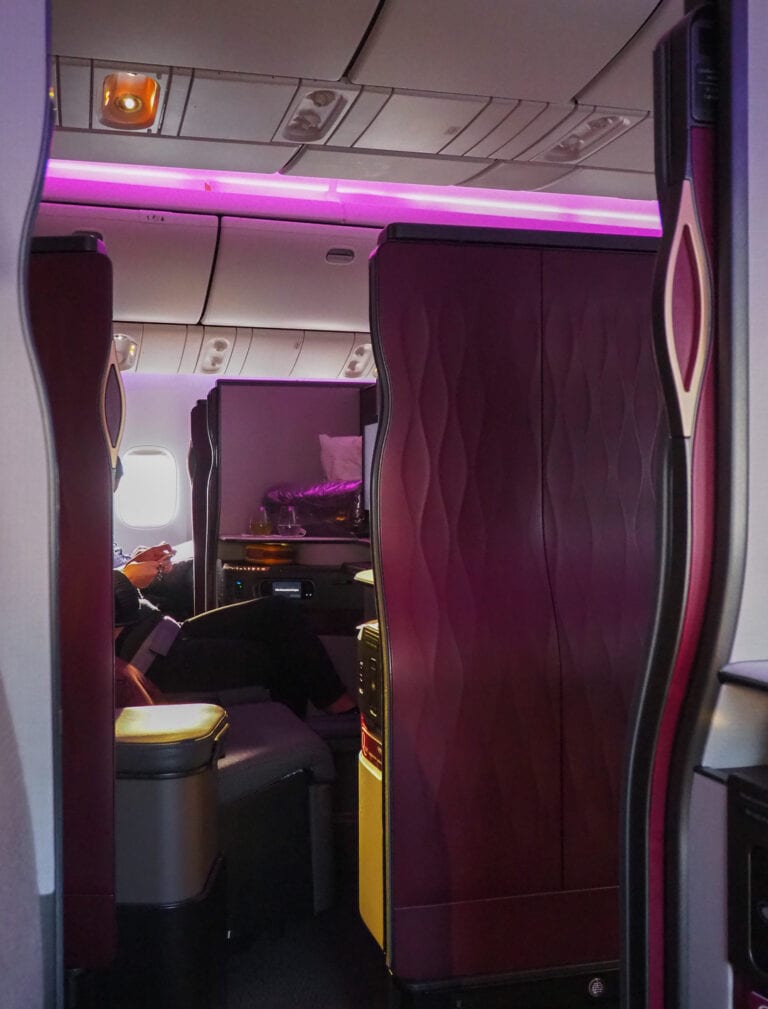 With the doors closed the middle suite combining seats 1E and 1F was very cosy and private. There is a dividing wall here which had been pushed down for us.
Should you find yourself in the middle as a solo traveller, the divider will stay up meaning that you won't end up in an awkward double bed with a stranger!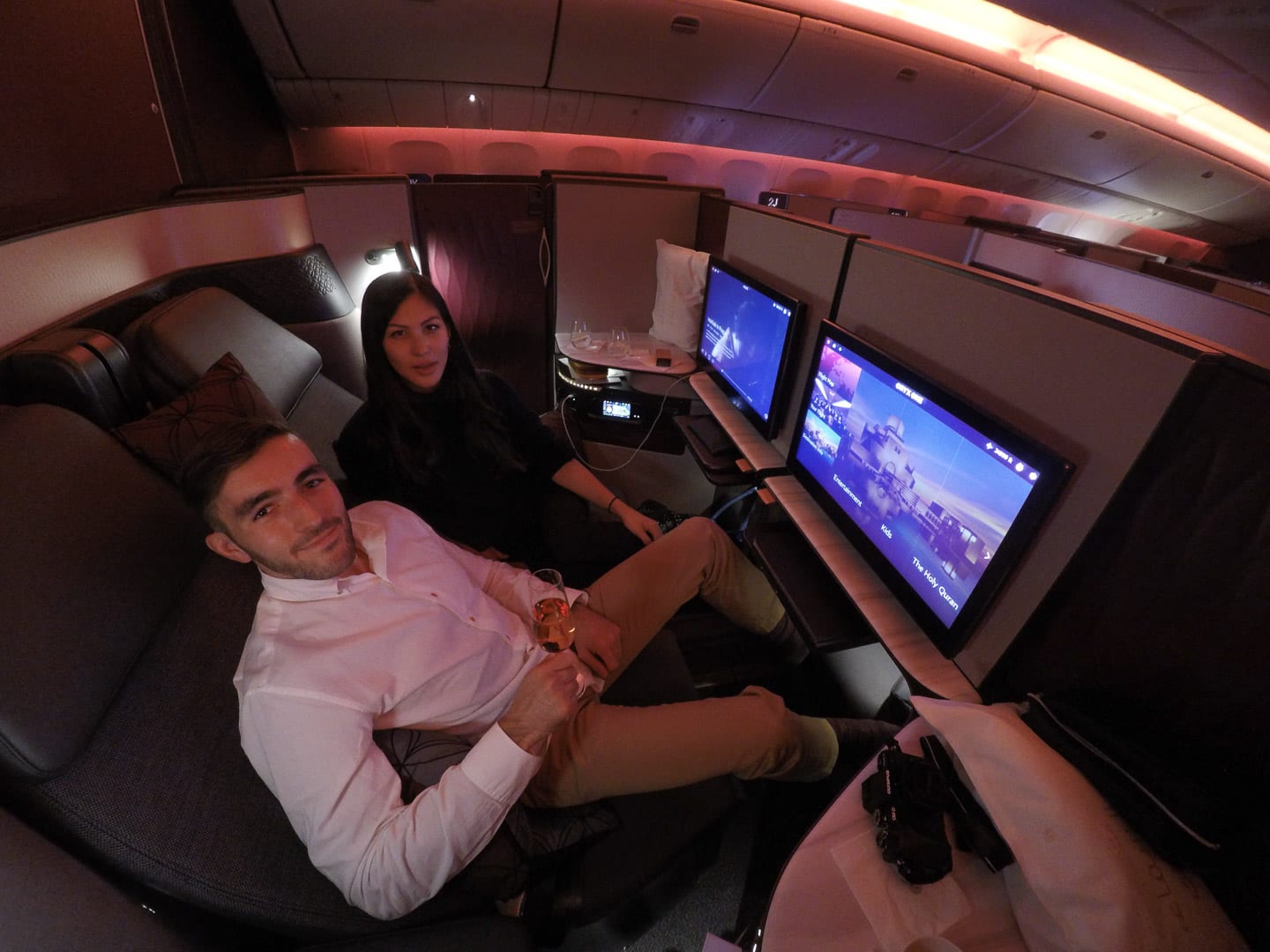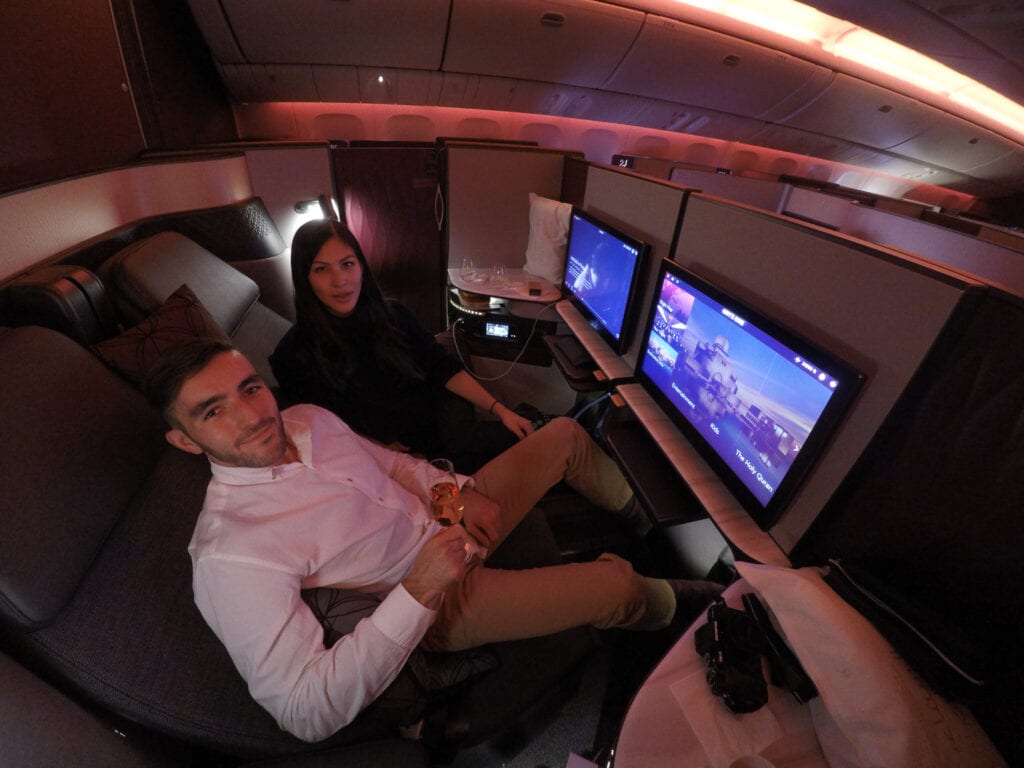 Having already eaten in the lounge we decided to go for a quick nap before having another meal. A proper turndown service is offered with fitted mattresses added to the seats and even a special thicker mattress piece going over the central divider.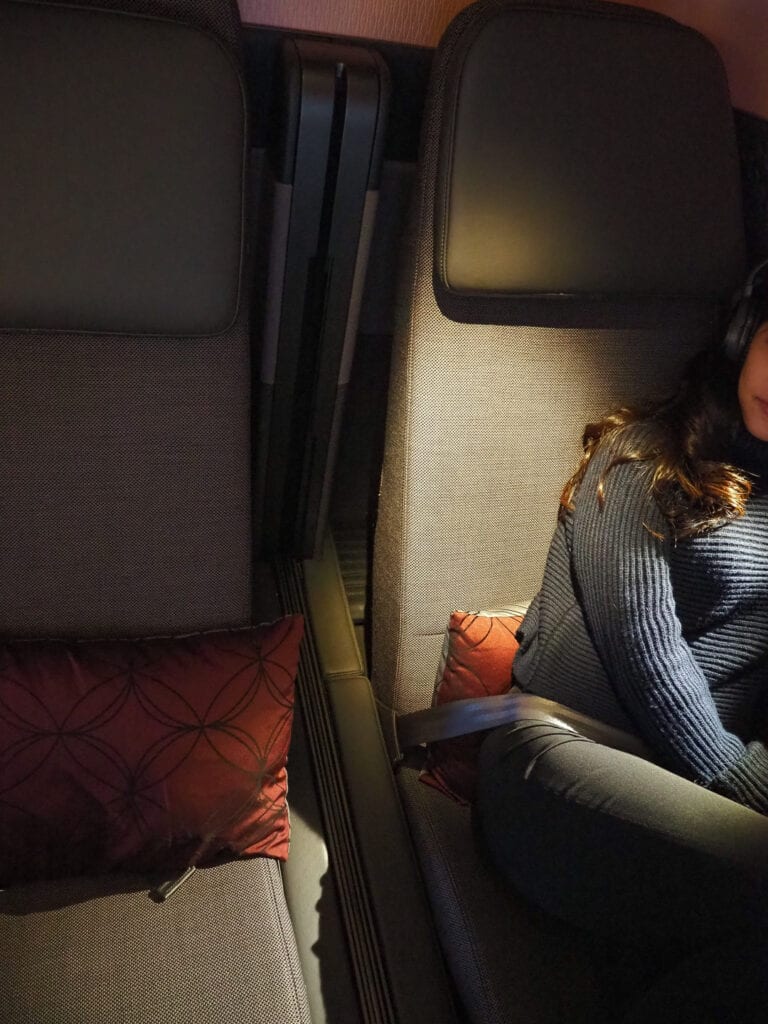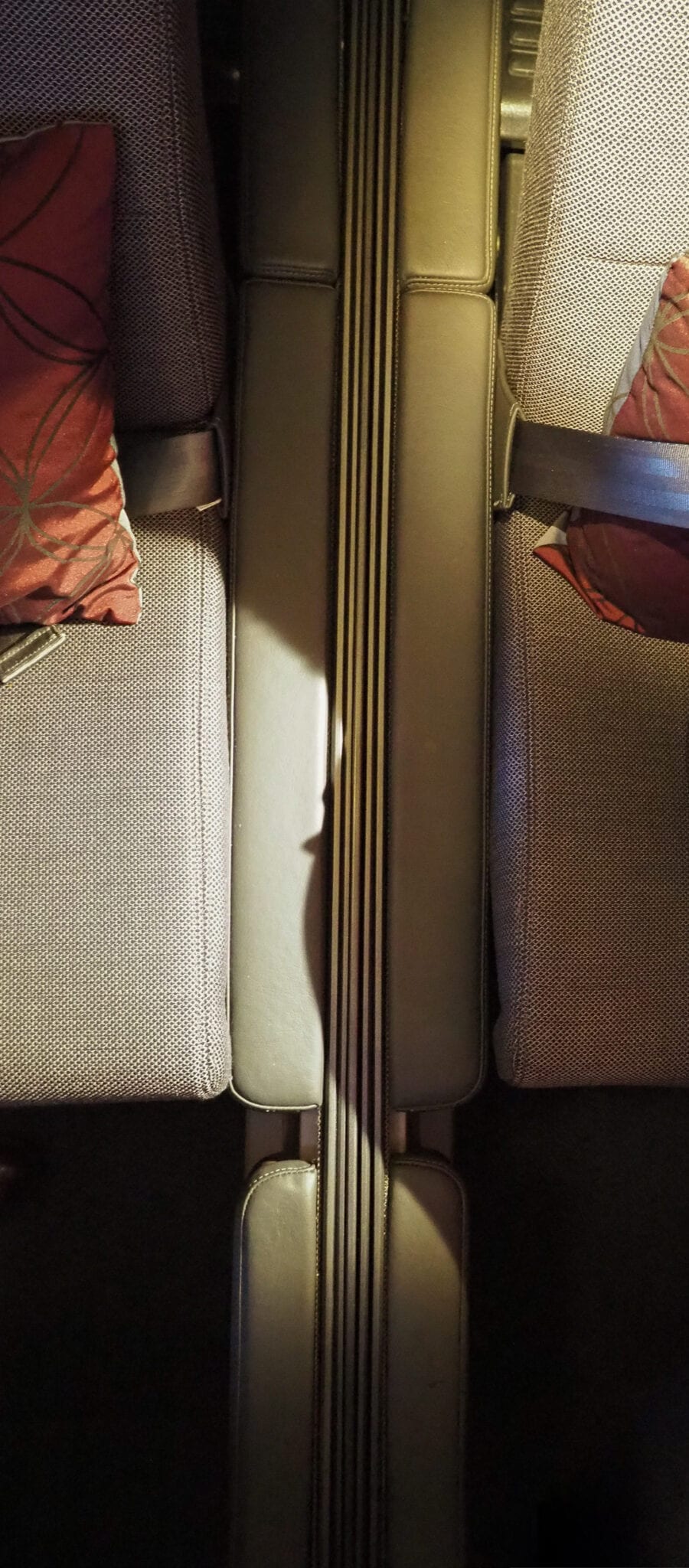 The bedding was very comfortable and the large pillows were particularly plump and supportive. These were supplied in addition to the smaller pillows that we found at our seats during boarding.
I was pleasantly surprised to see that White Company pyjamas were provided. Getting a pair of PJs is something of a rarity in Business Class with Virgin Atlantic and EVA the only other airlines that I've personally encountered them on (AA, Delta, United, Qantas and Virgin Australia also provide PJs on select routes). Whilst you could technically get changed in your suite the walls aren't overly tall and crew would be able to see you when walking by… better to get changed in the bathroom.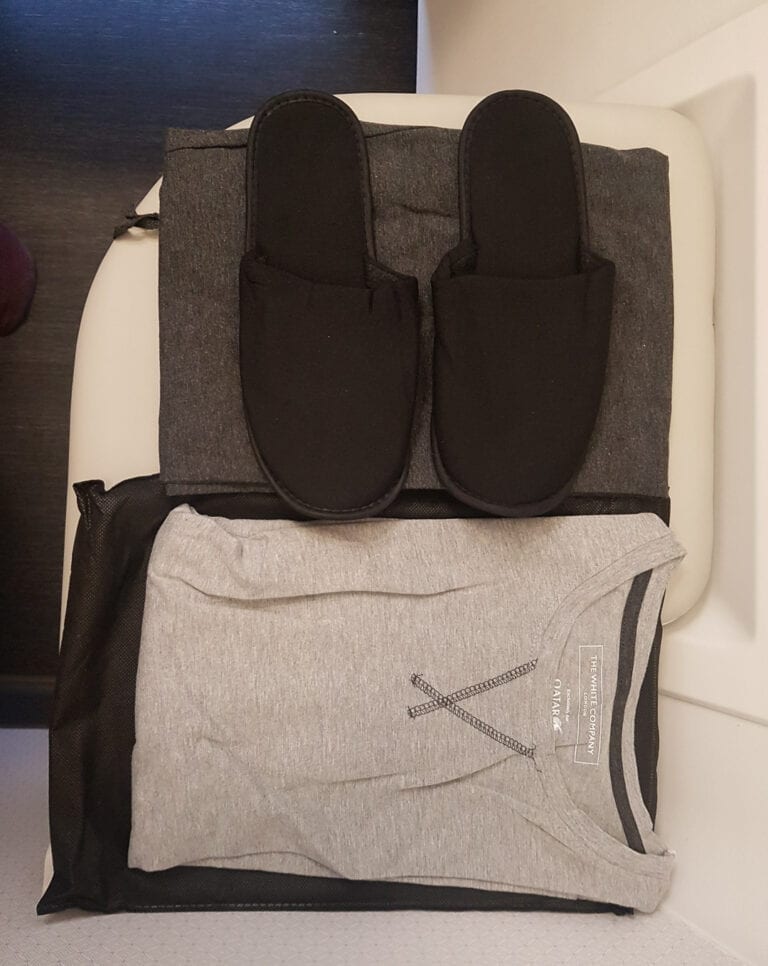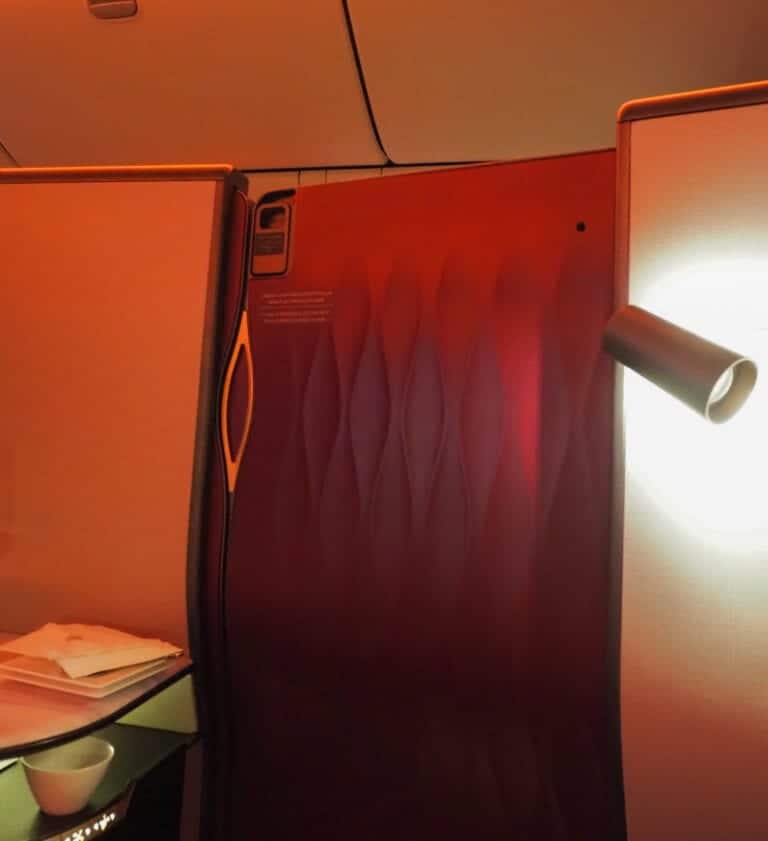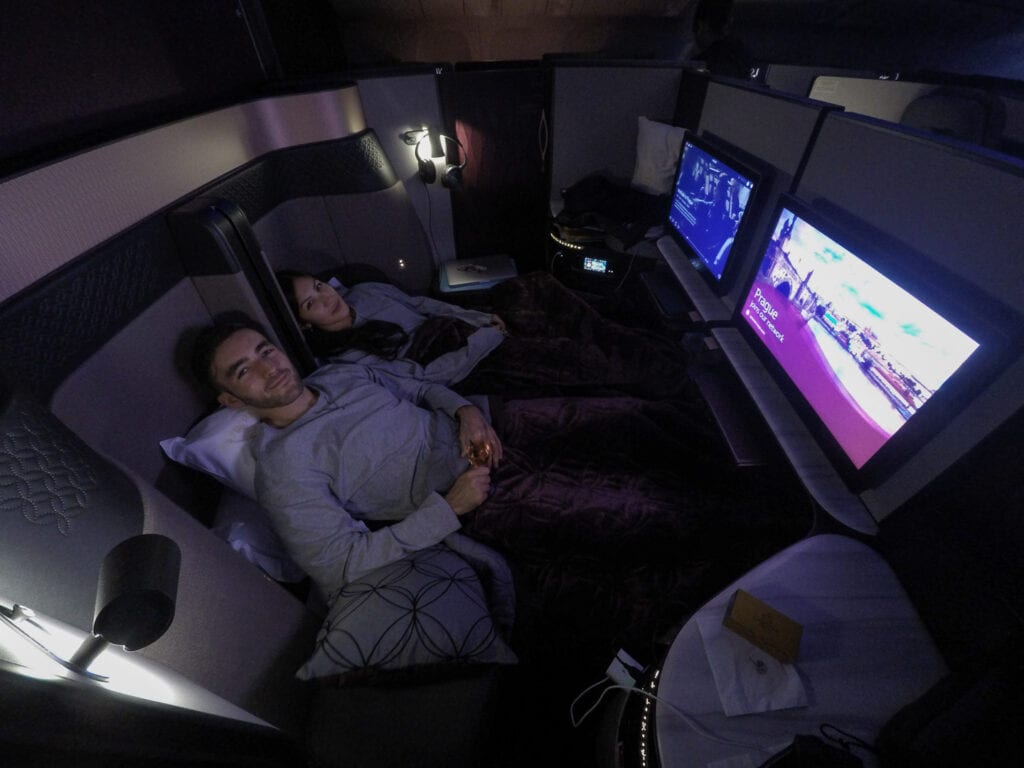 How does this double bedroom compare to Singapore Suites and Etihad Apartments?
The older Singapore Suites have walls with partially closing blinds meaning that people can see in, whereas the walls on Q suites are completely solid. Etihad Apartments have solid walls but the beds don't fully join – there's a split separating you both from the waist down.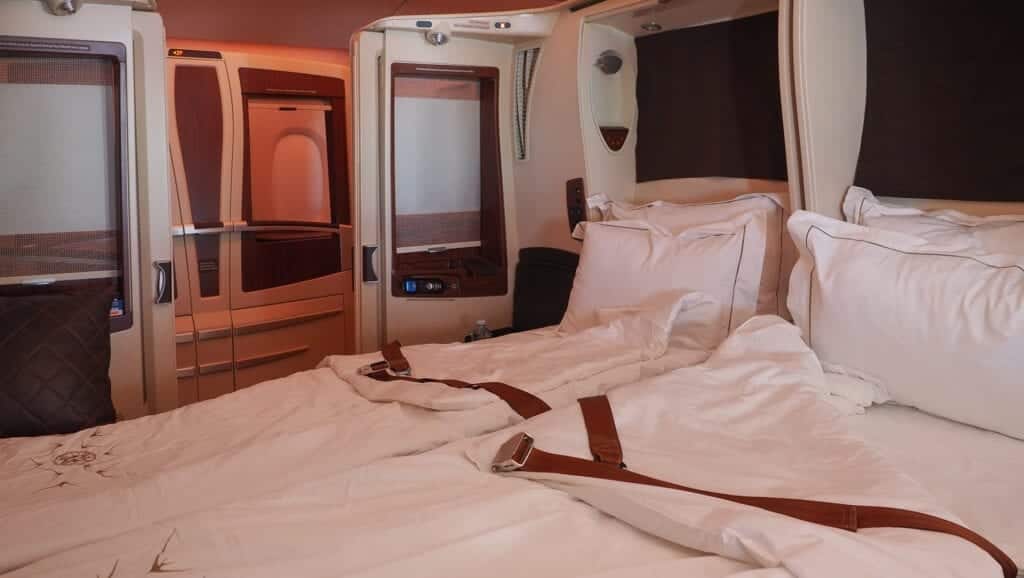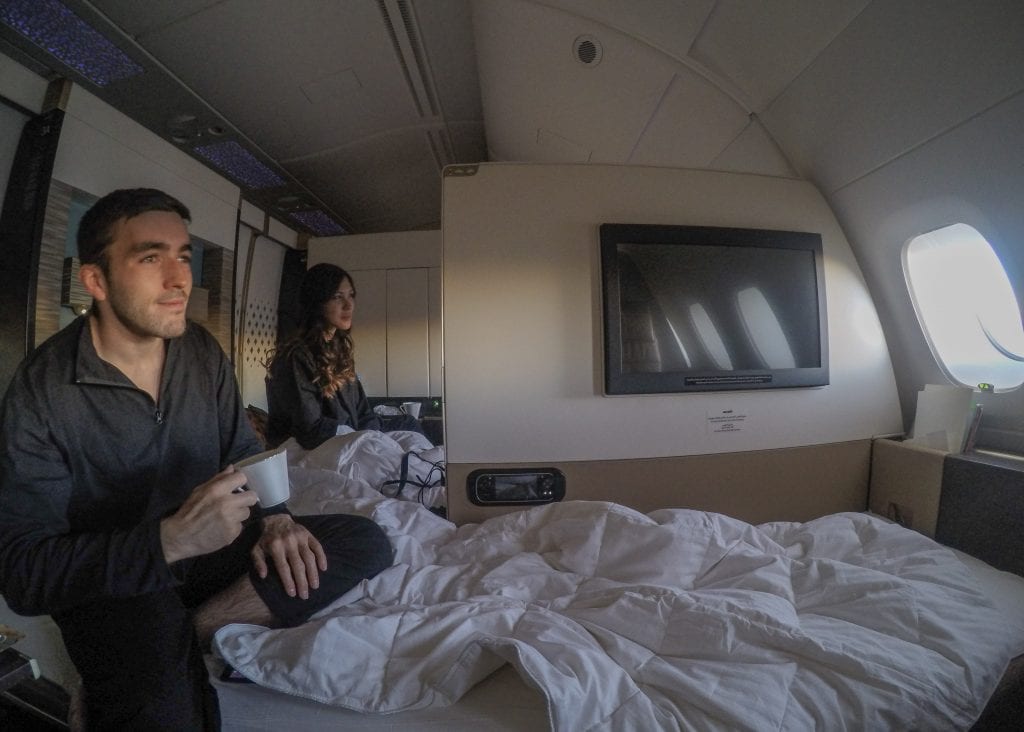 Having said all that, Q suites still feel way more cramped. Understandably so, this is Business Class after all.
On Singapore Suites you don't have half your body covered and the TV right in your face, you have a huge amount of space in which to move. On Q Suites it feels a little bit like you've just been put away in a (very plush) drawer.
Etihad Apartments are larger still with each passenger having an armchair in addition to the double bed, with far more accessible table space and storage than on Q suites.
Having said that though, there's no question that Q suites has more in common with a First Class product than a Business Class one. It just isn't quite up there with the very best in First.
---
After awakening from our nap we took a quick look at the menu:
Drinks
Whilst the Lanson is a decent enough champagne the Château Branaire Ducru is an exceptional claret, retailing for around £60 per bottle. Many airlines struggle to serve a red of this calibre in First let alone Business. The variety of cocktails on offer is also on a par with what you'd expect in First.
Food
Not only does Qatar offer a full dine on demand service, giving you complete flexibility on when to eat, they also introduce a new menu of small plates for Q suites. The FA seemed quite excited about these and insisted that I should try at least three.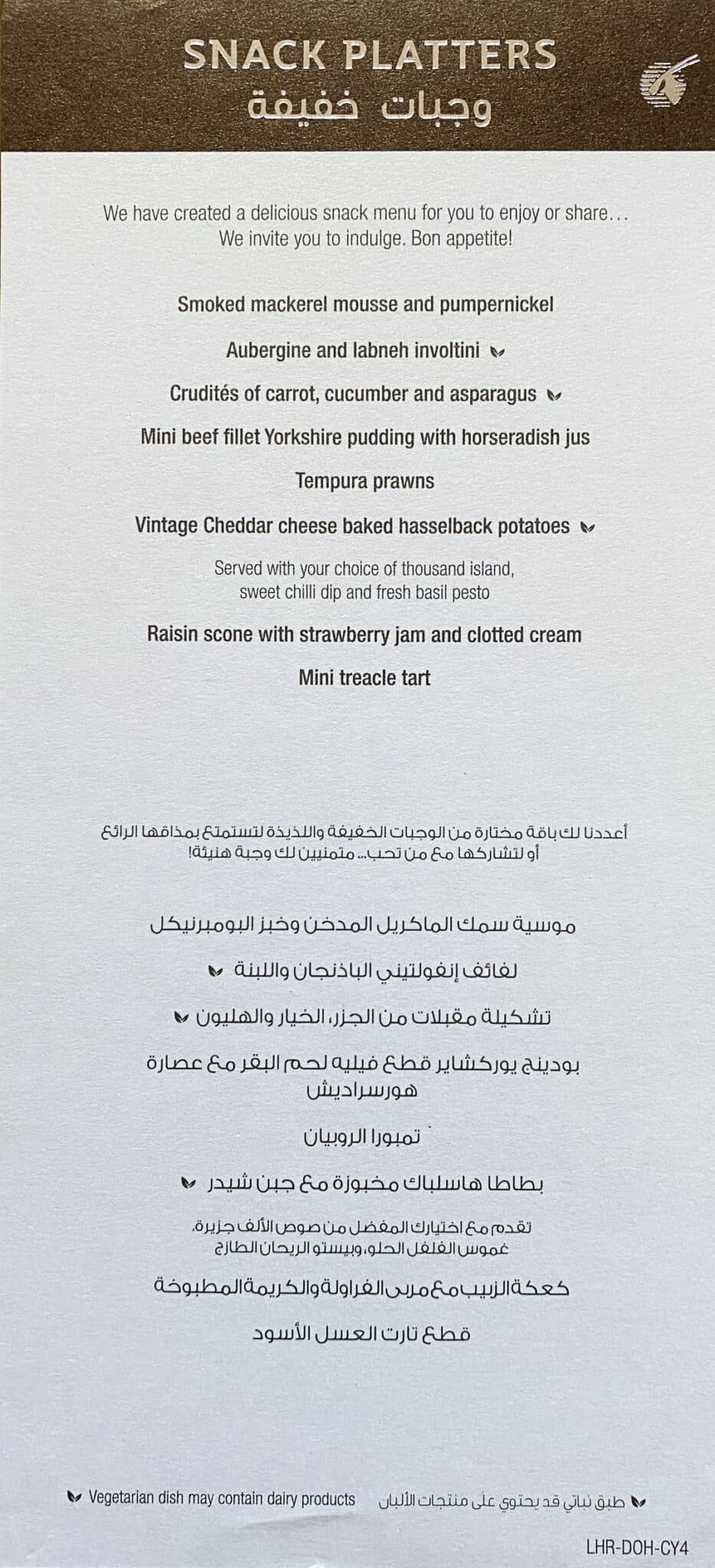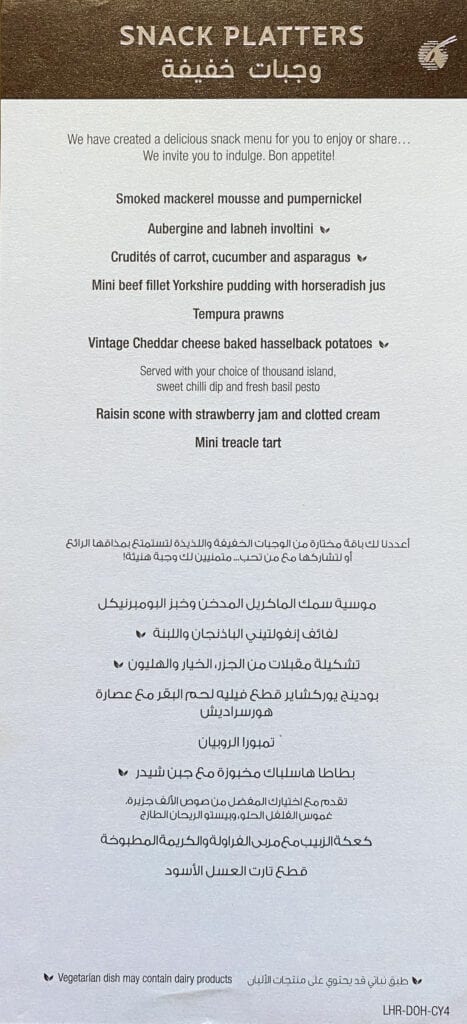 I ordered the smoked mackerel mousse on pumpernickel, tempura prawns [sic] and the raisin scone. What little I tasted was great and the presentation on the mackerel mousse was truly beautiful, genuinely restaurant quality. The portion sizes however were microscopic.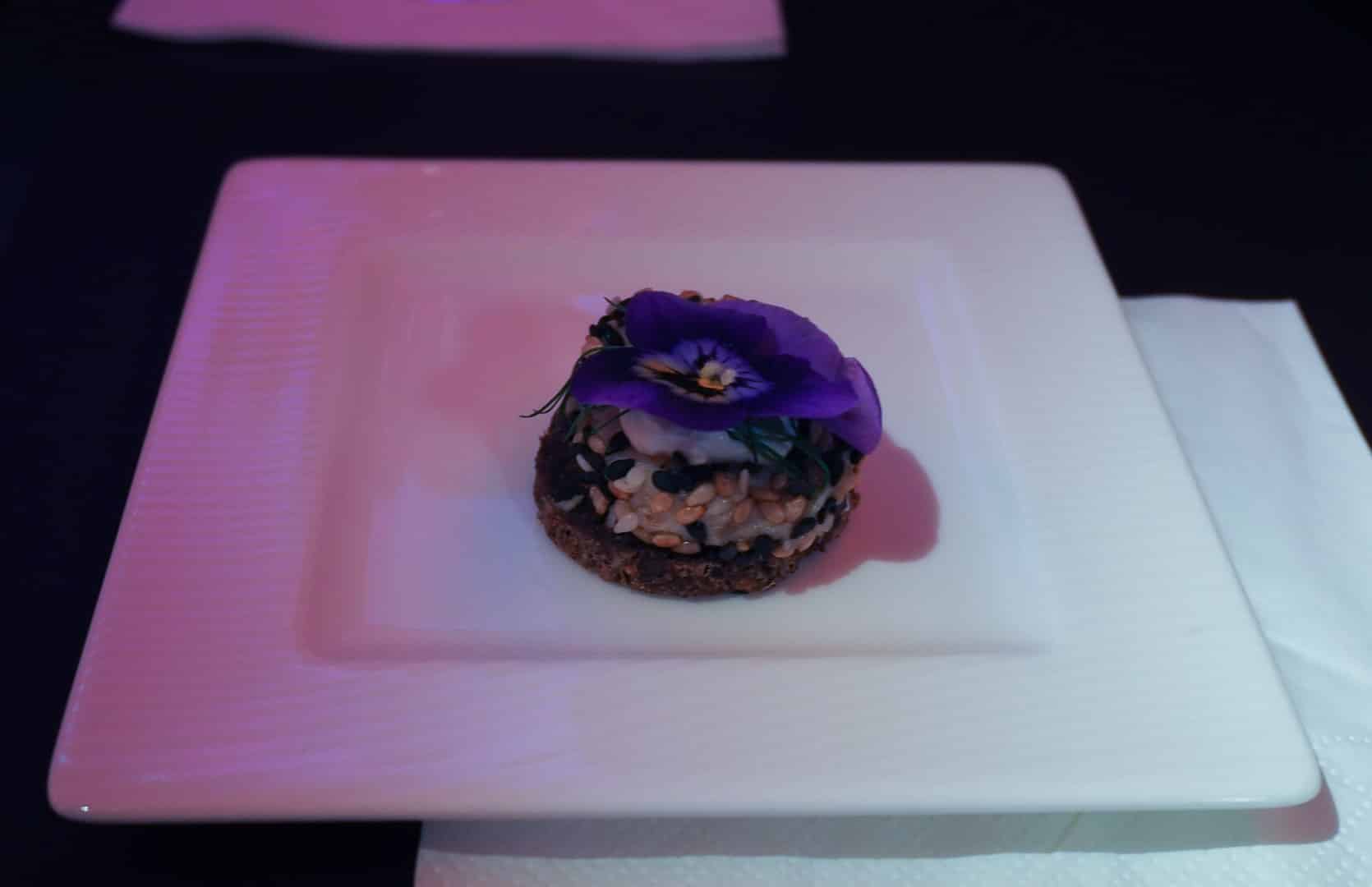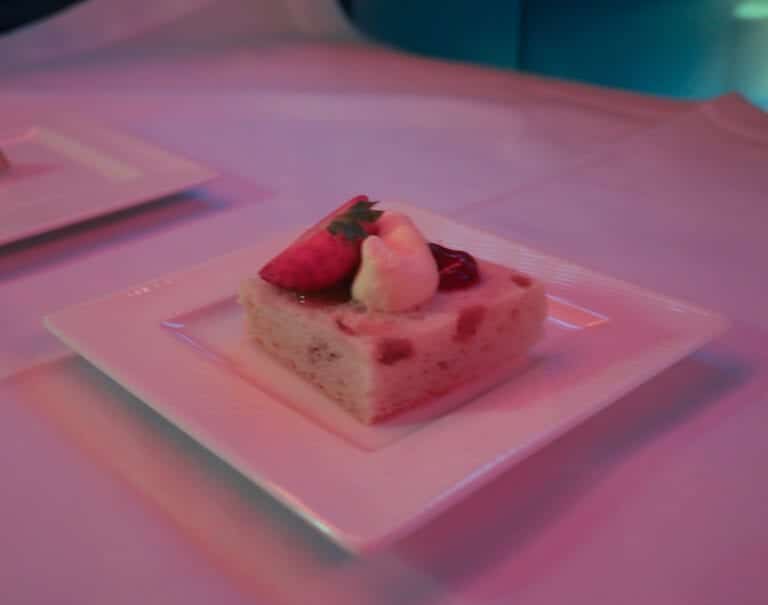 Kamara was hungrier than I was so she decided to order from the regular menu. This meant that she got the full service with linen tablecloth, side plates and a new addition: an electronic lantern just like on Turkish Airlines.
Kamara's meal began with an amuse bouche which wasn't on the menu and was "quite bready", followed by a delicious fillet of fish with saffron mashed potatoes and braised fennel. She stopped me going in for a second forkful…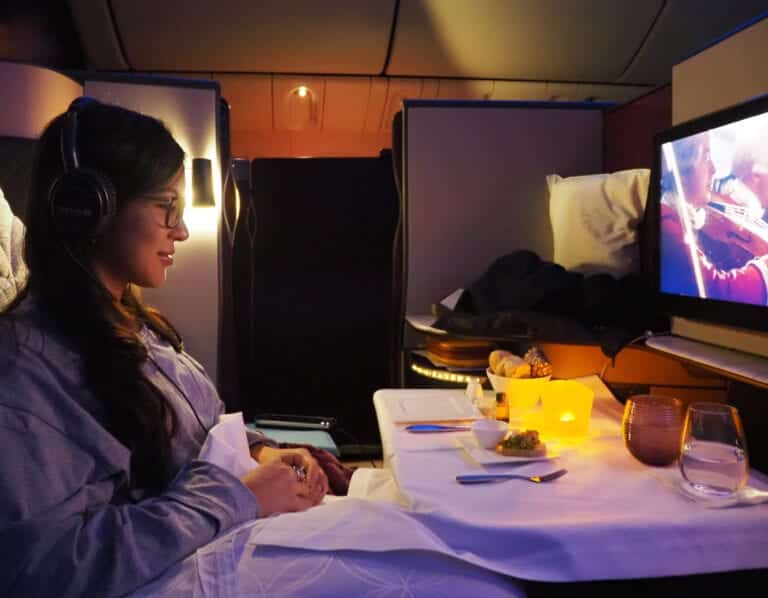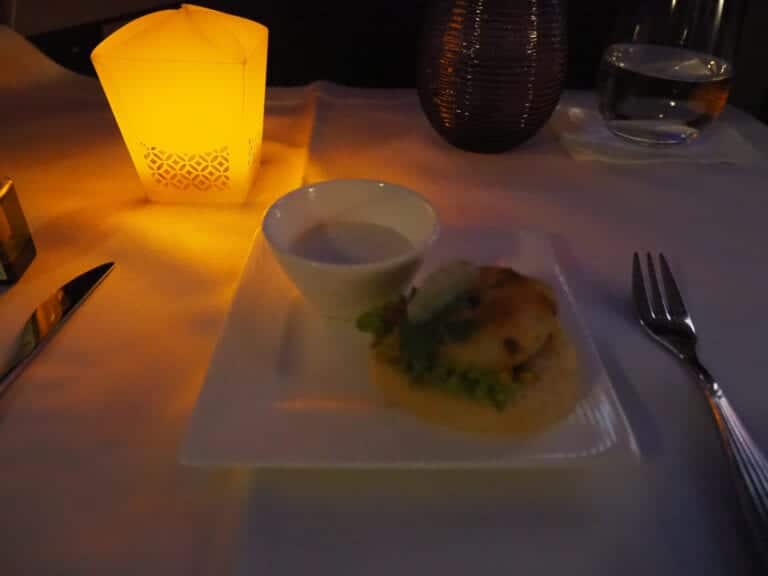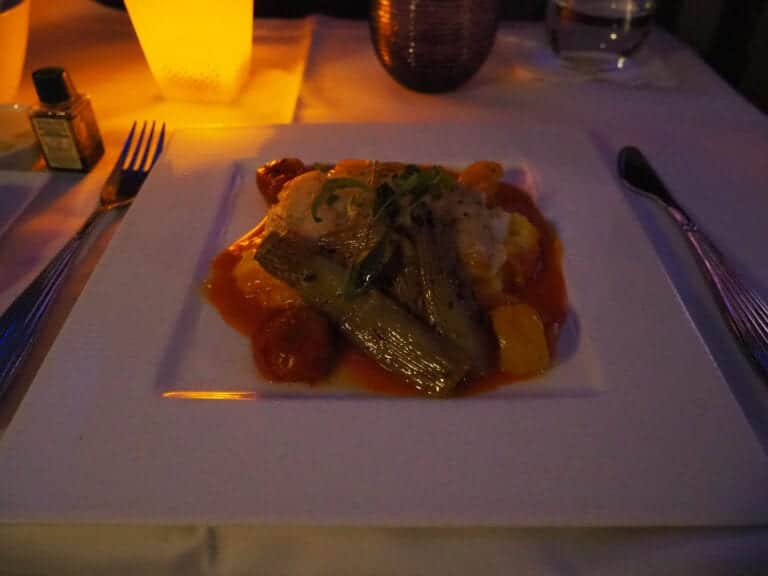 ---
Conclusion
---
There was a huge amount of hype around the launch of Q suites and honestly I was worried that it would be unjustified. I needn't have been.
This flight featured ample storage, complete privacy, a double bed, dine on demand, PJs, a luxury amenity kit, large and modern IFE and wonderful service throughout.
I honestly can't say that about most of my First Class flights, let alone those in Business.
There is absolutely no question, this is easily the best Business Class product I have ever flown. Given the relative cost, there'd have to be one hell of a deal on First Class for me to choose it over this.
---
Post-Flight
---
We arrived into Doha with around 3 hours to kill and headed straight for the always impressive Al Mourjan lounge. On this occasion we were deposited straight into the gates without having to pass through transfer security. I still haven't worked out what leads to this happening as it isn't consistent even on the same route. If I ever find out the logic I'll let you know!
I tend to prefer the Deli area these days as it's easier to stay awake amongst the bright lights and fresh greenery. I also really like the speed and efficiency of the deli counter and on this occasion I was delighted to see that Cuvée Louise was being served. This champagne is easily on a par with the LPGS served in the BA's exclusive Concorde Room First Class lounge in Heathrow.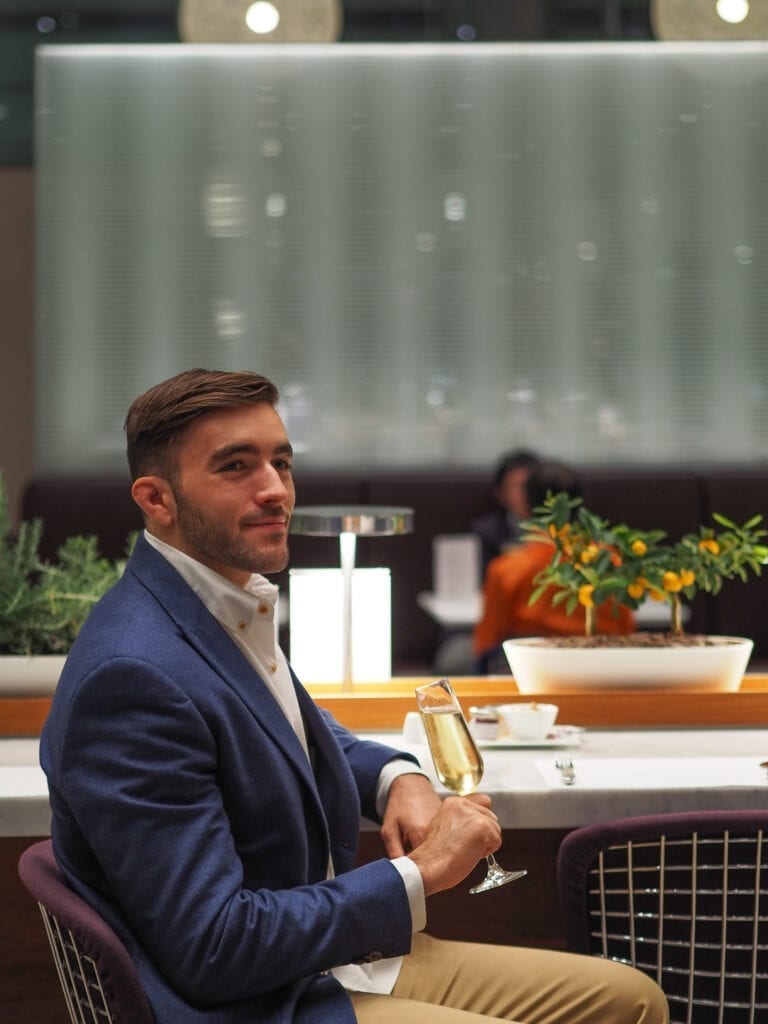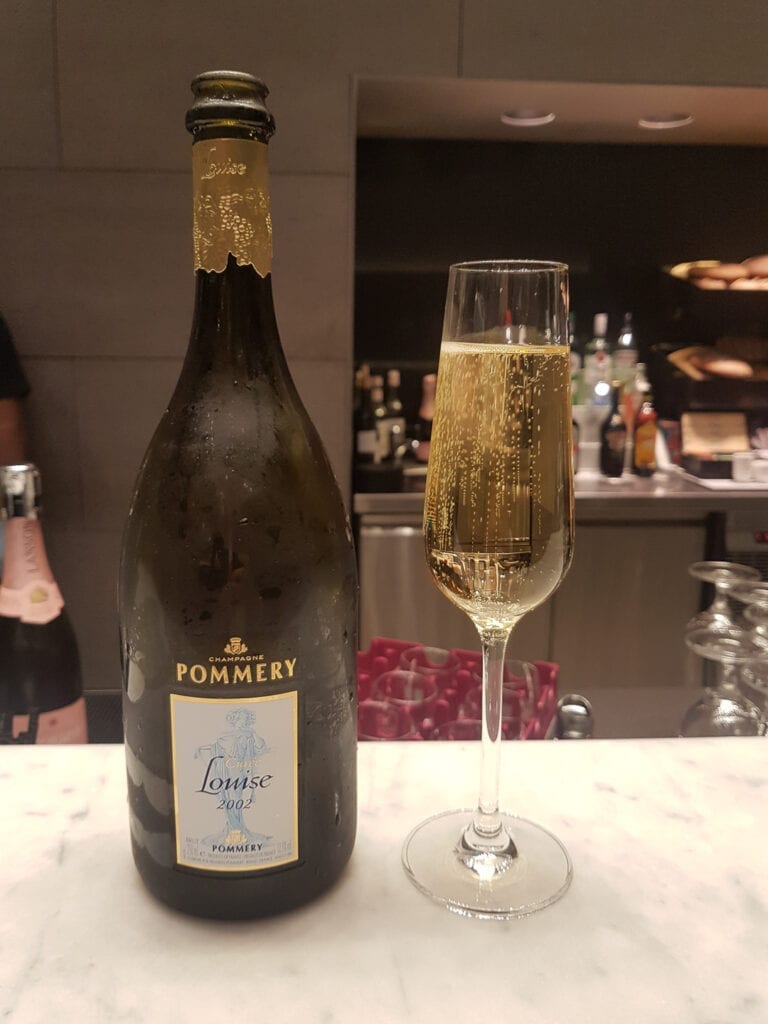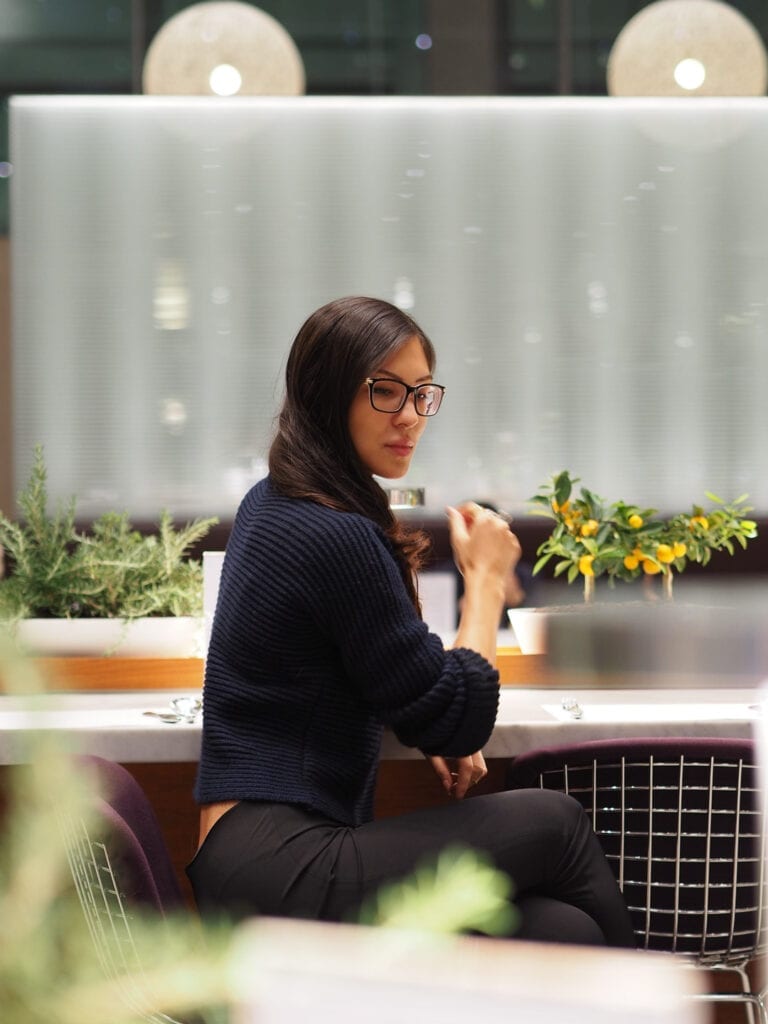 Our onward flight was on a 777 kitted out in the oldest seats available on Qatar. The food and service were excellent though and surprisingly the crew was more than 50% Japanese.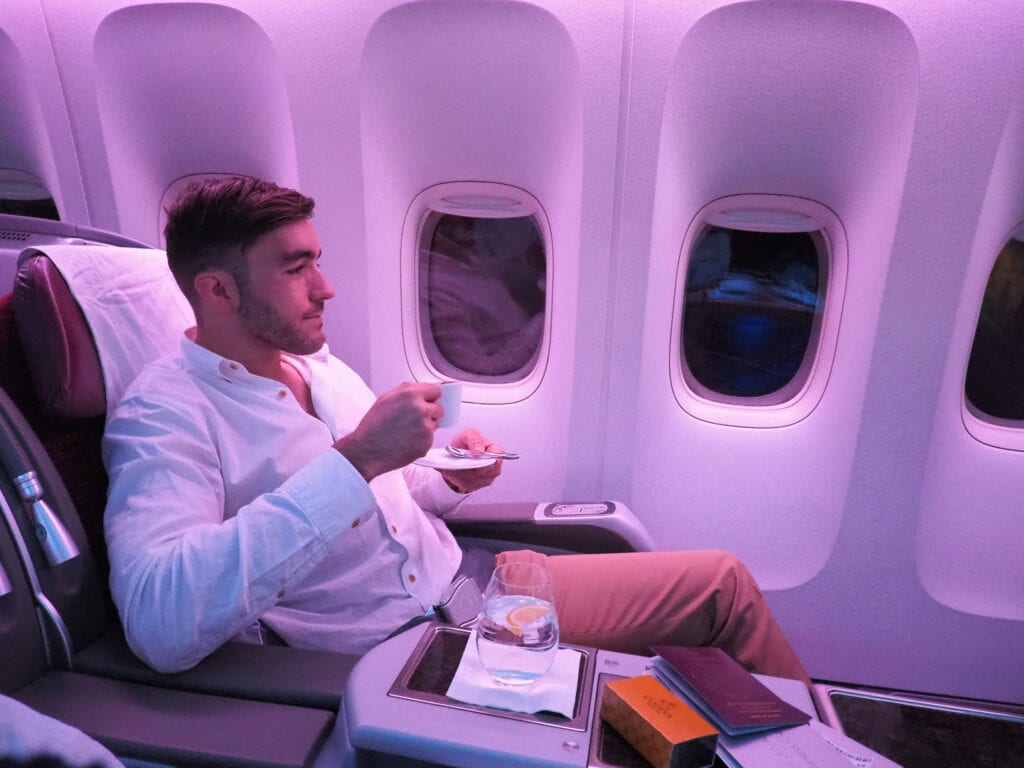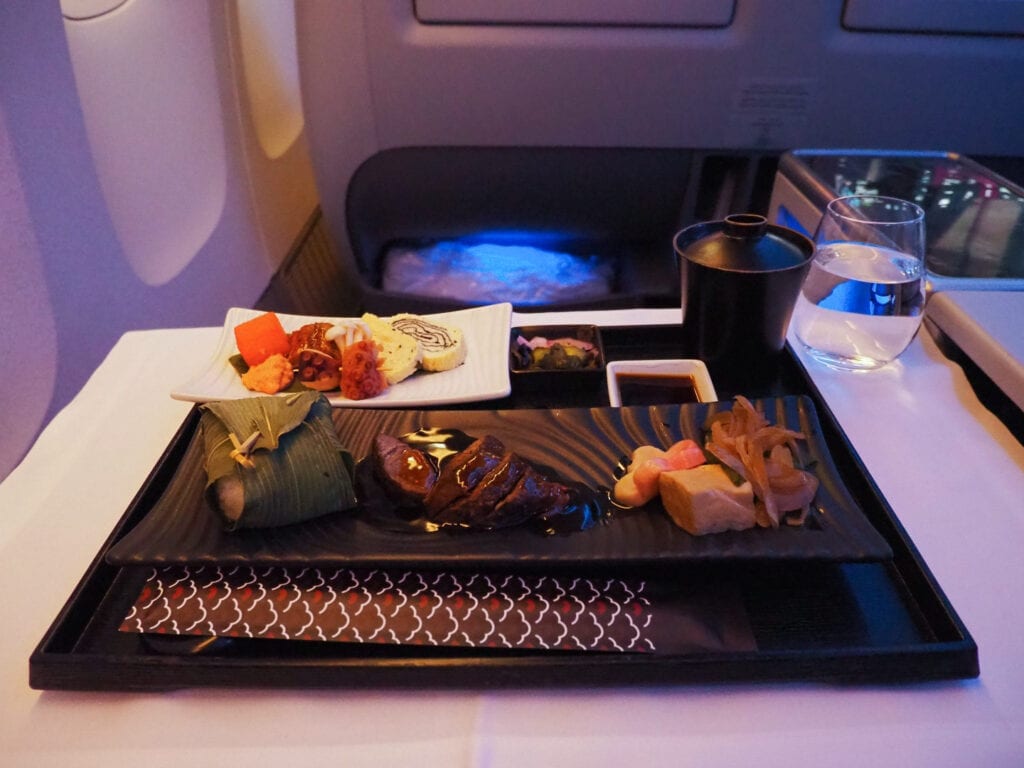 I spent most of the flight sleeping and did so very comfortably. Another great experience on Qatar…
---
Q Suites and First Class to Japan
Part 1:

Part 2:

Qatar Airways : Business Class – B77W Q Suites – London (LHR) to Doha (DOH)

Part 3:

Ritz Carlton Kyoto : Deluxe Garden Room

Part 4:

Prince Gallery Tokyo : Grand Deluxe Corner King Room

Part 5:

Qatar Airways : Business Class – A350 – Tokyo (HND) to Doha (DOH)

Part 6:

Qatar Airways : First Class – A380 – Doha (DOH) to London (LHR)