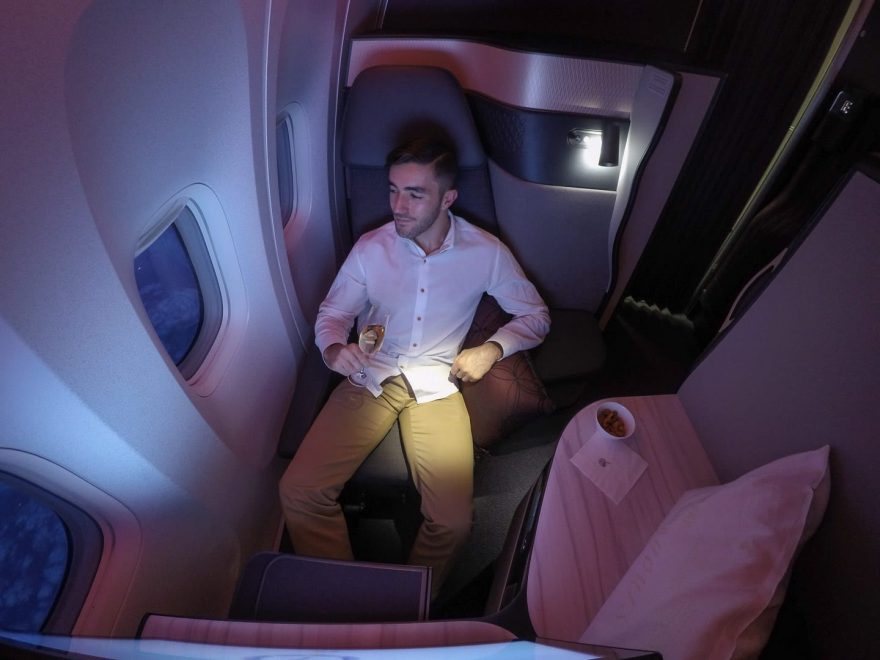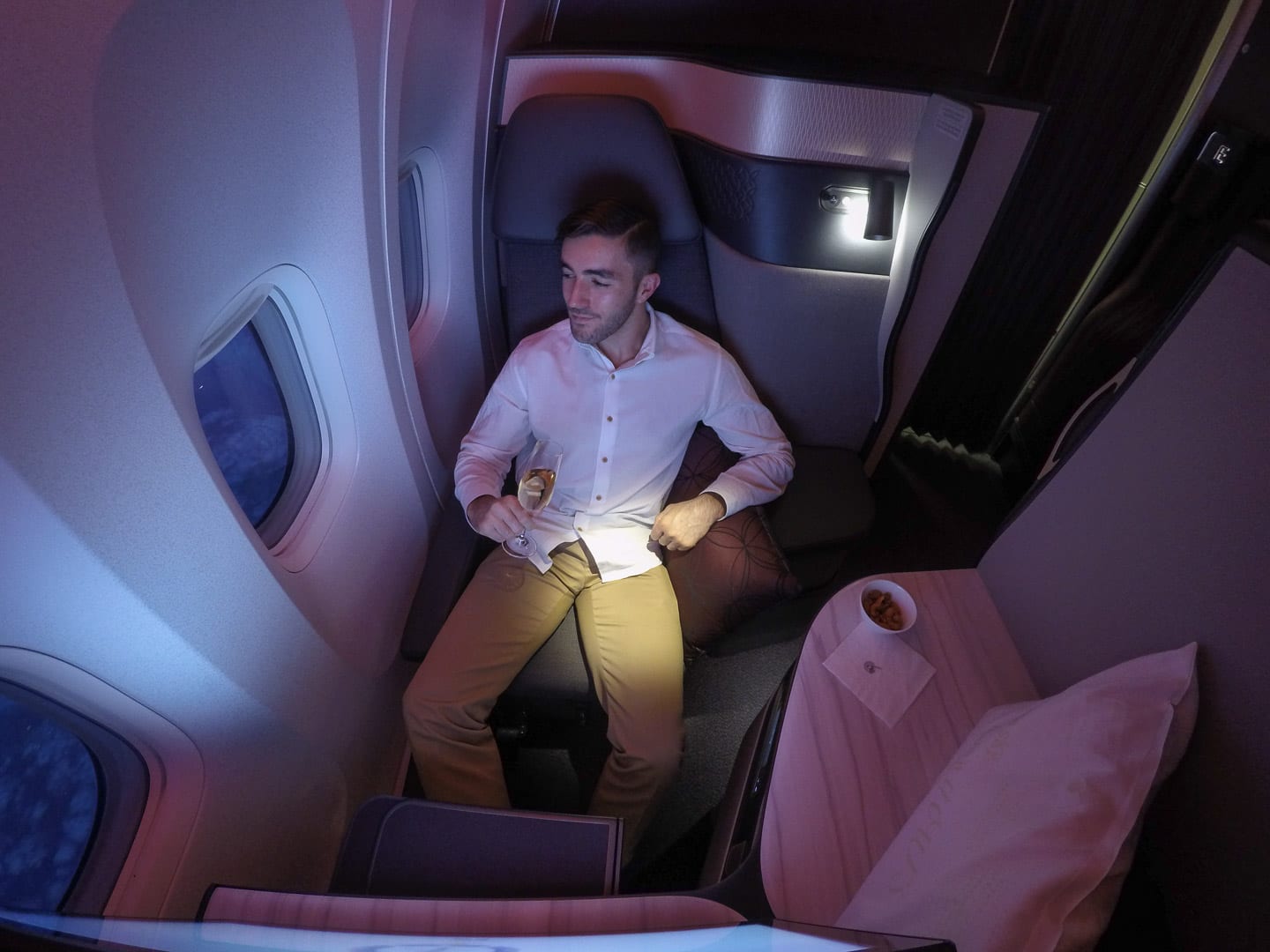 REVIEW – Qatar Airways : Q Suites Business Class – B777 – London (LHR) to Doha (DOH)
April 30, 2020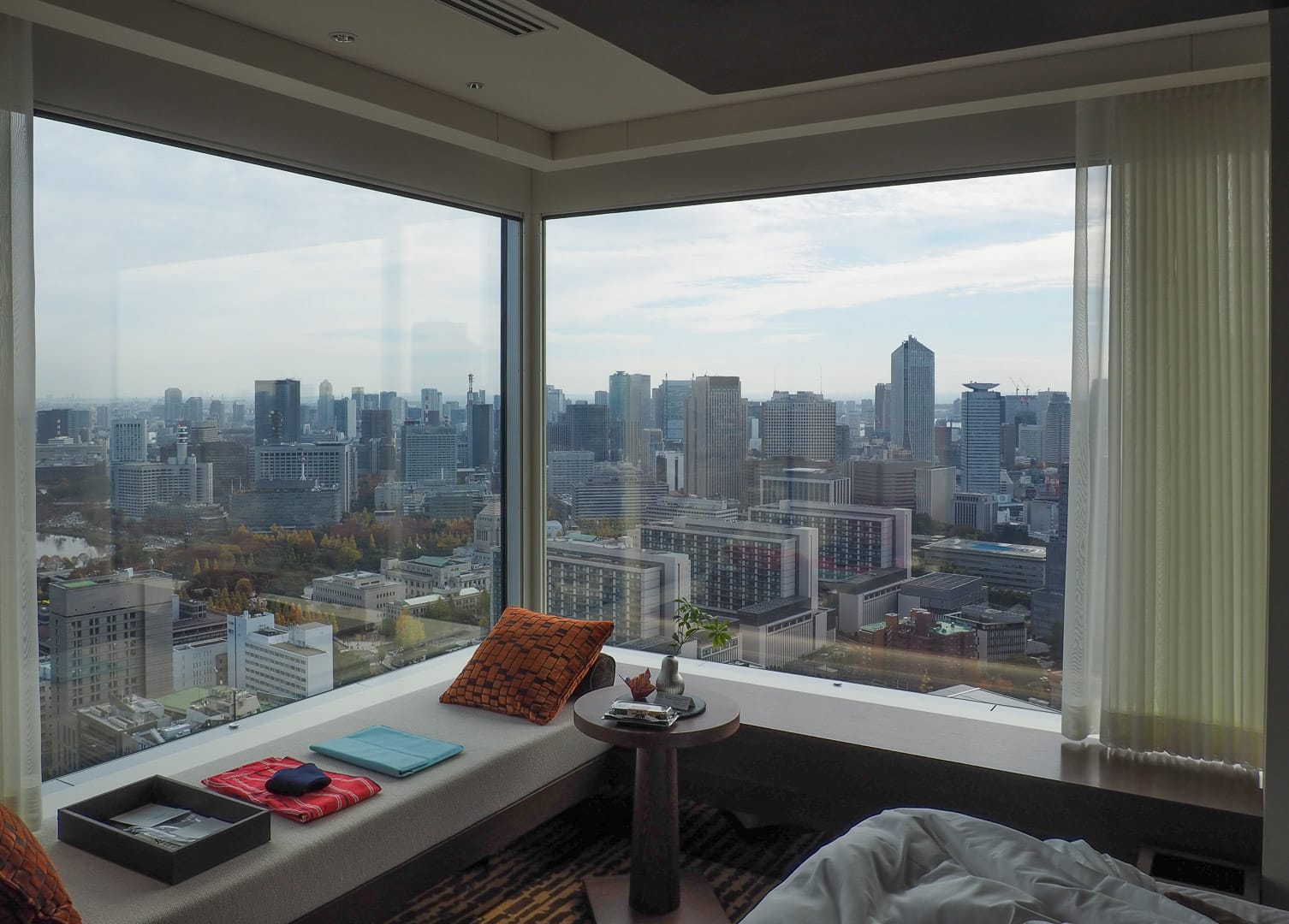 REVIEW – Prince Gallery Tokyo
May 10, 2020
Ritz Carlton Kyoto
Rate: 240,000 Marriott Points for 5 nights
Room Type: Deluxe Garden King

Upgraded from Deluxe Kyoto King

Status During Stay: Marriott Bonvoy Platinum
---
Booking
---
As I continue to travel the world at a pace that far outstrips my ability to sit, reflect and write on the subject, it was inevitable that sooner or later this was going to happen.
I've actually stayed twice at this hotel, once in November of 2017 and again in October of 2019. I'm only now getting around to writing about the experience.
On both occasions I used 240,000 Marriott Points to book (60k points per night with the 5th night free) and all ten nights were spent in the exact same room!
I loved it so much the first time that I almost immediately booked a return trip, foregoing the chance to spend 5 nights at the St. Regis Maldives in the process. If that doesn't already tell you how good this hotel is then read on for the finer details…
Points availability at this property is scarce though. If you are looking to book a cash rate then you will benefit hugely from booking via Marriott STARS
You will pay the best rate available on the Ritz Carlton Kyoto website PLUS you will receive:
• Upgrade on arrival subject to availability
• Full breakfast, for up to two in room guests
• $100 Hotel Credit
• Early check-in/late check-out subject to availability
BOOK NOW WITH MARRIOTT STARS BENEFITS
---
Arrival
---
The Ritz Carlton Kyoto is located around 20 minutes by taxi (¥1500) from Kyoto station. Although you could technically take public transport I really wouldn't recommend it unless you're traveling very light and don't mind walking a lot and changing stations.
The hotel is housed within a low profile building that runs along the banks of the Kamogawa river.
The river itself isn't particularly impressive but the view of the surrounding hills is really beautiful, especially when the autumn leaves start to show.
As our cab pulled into the entrance, a pair of lightsaber-wielding guards directed our vehicle into the designated arrival area (did I mention how much I love Japan?). As we exited the vehicle we were greeted by a group of uniformed staff; they offered to take our bags as one of them proceeded to escort us inside for check-in formalities. The instant you cross the threshold into the hotel grounds a wave of tranquility washes over you. The solitary tōrō lantern sitting in a miniaturised Kamogawa river ushers you down to the main hotel entrance…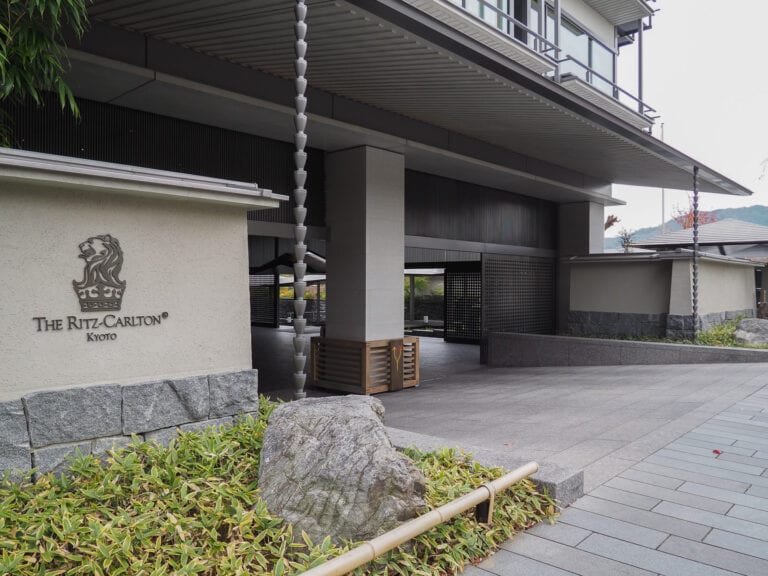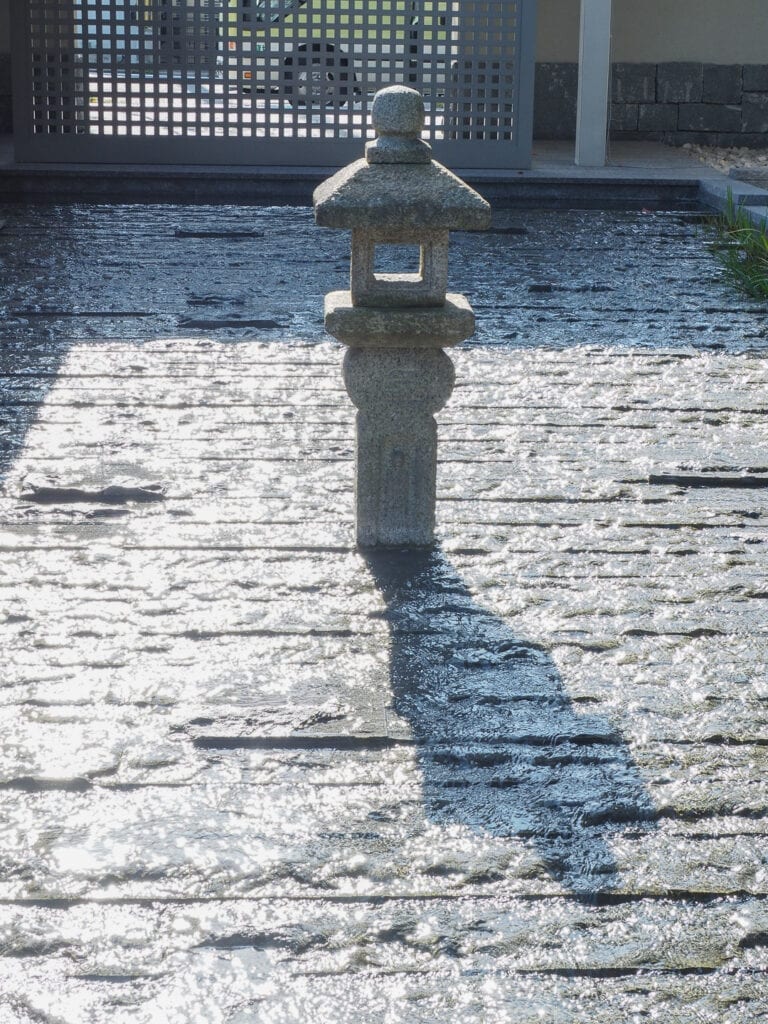 The illuminations add a real sense of drama here at night.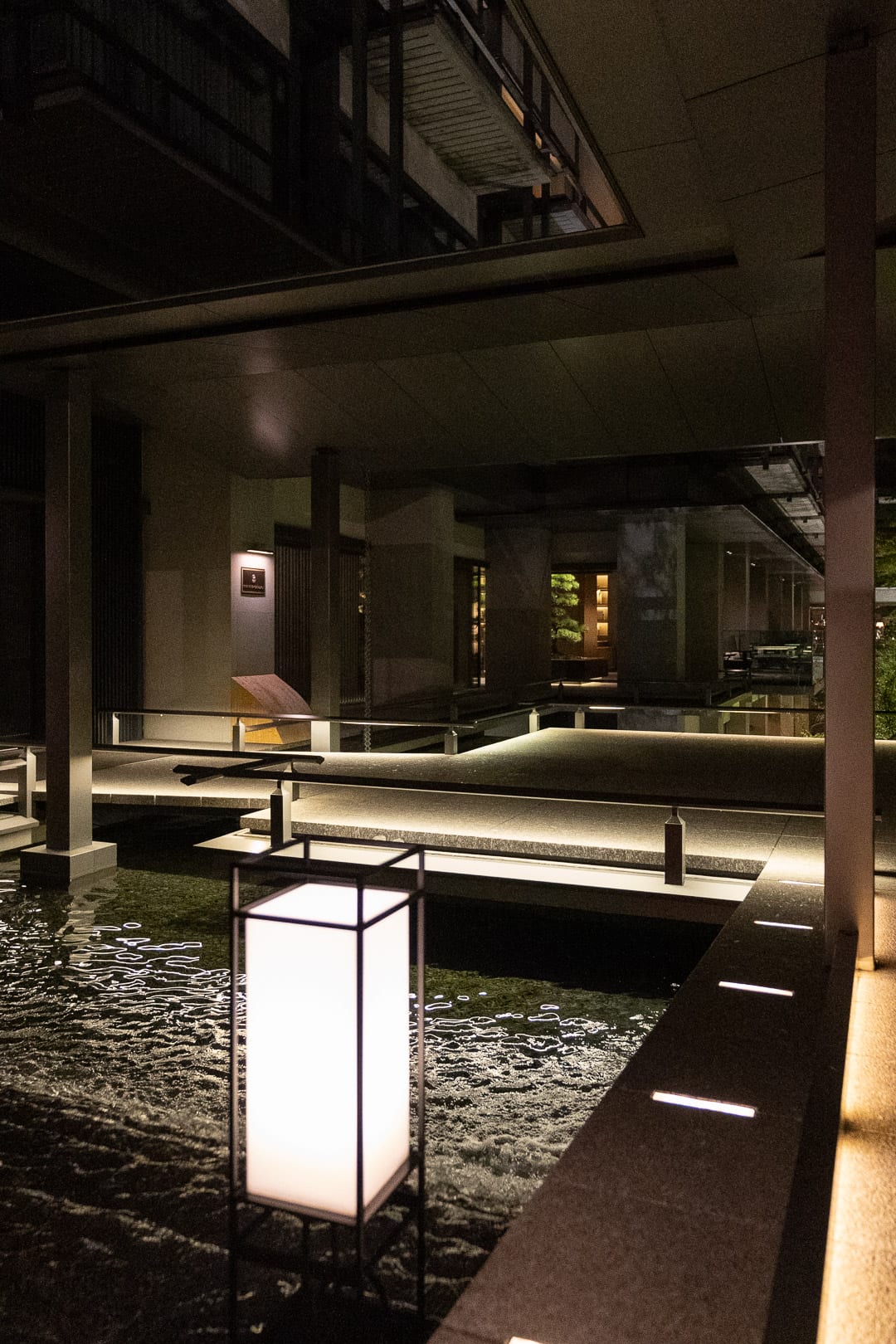 Once inside the hotel building we passed the concierge desk and sitting area. The red lacquer sculpture is very reminiscent of the piece in the lobby of the Conrad Tokyo although I'm not sure if it's also by Nobuyuki Tanaka. I found it really useful to have the concierge desk here, away from the main reception. It meant that if you had any queries about opening times, needed a map or maybe a last minute recommendation, it was very convenient to ask as you made your way out of the hotel.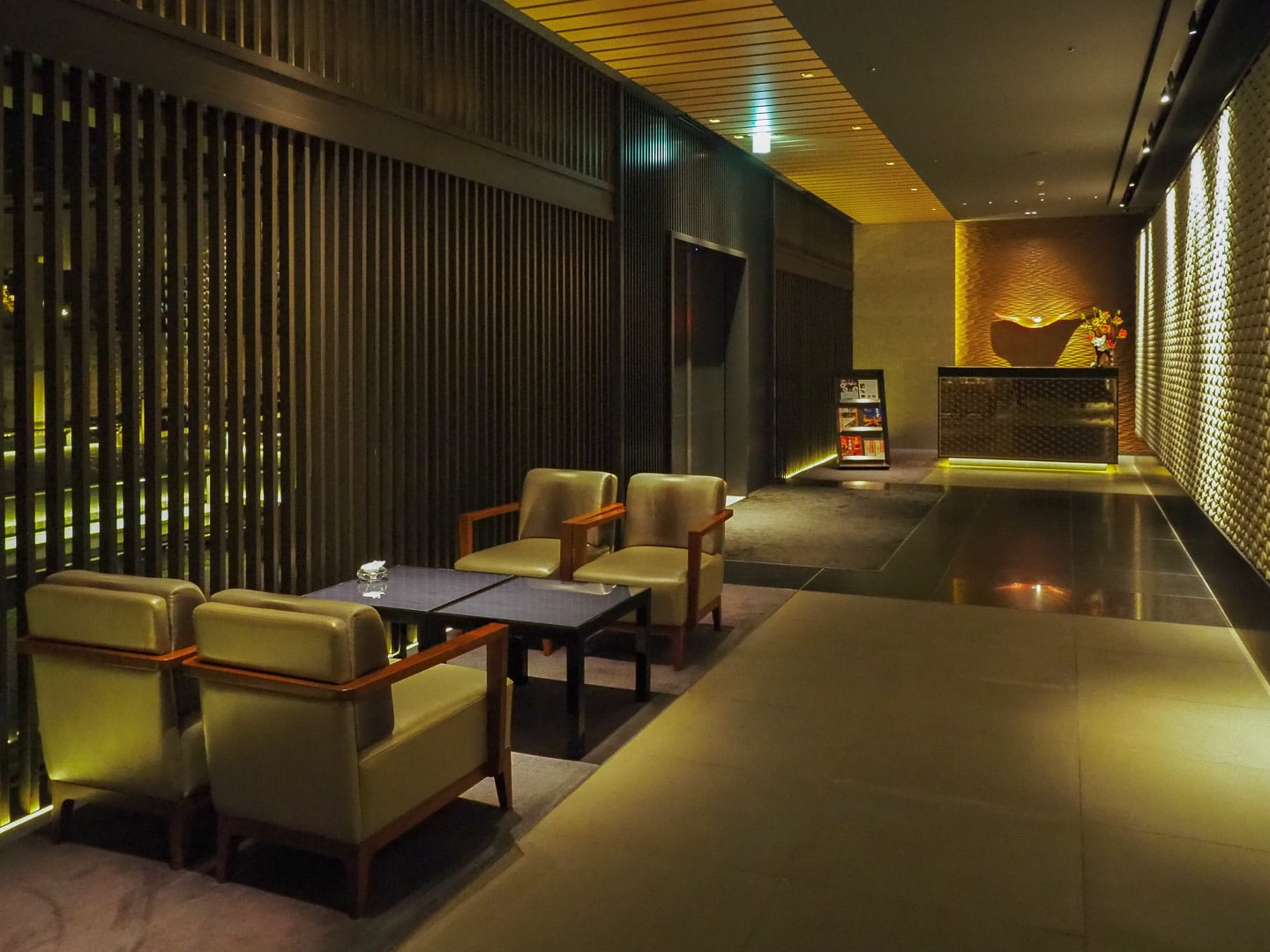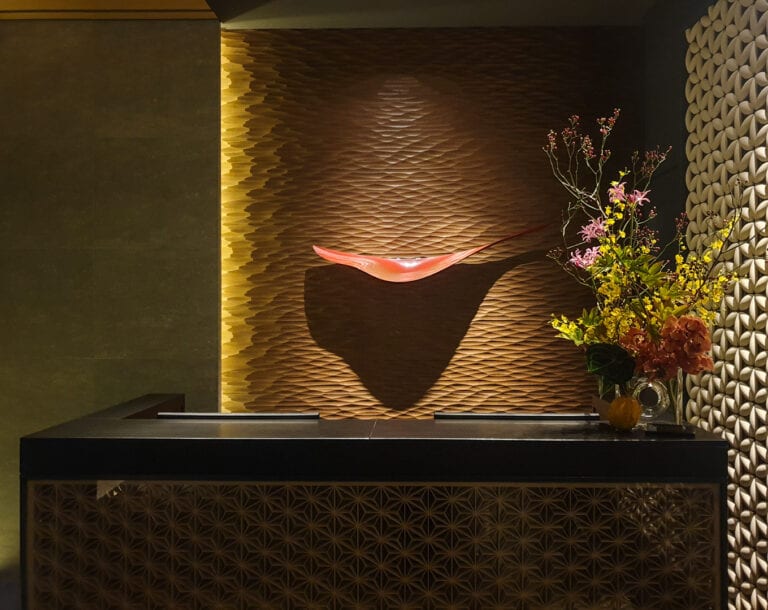 Once inside the main building the sense of serene tranquility abounds. Some hotels try to wow you with marble, gold and vaulted ceilings. The Ritz Carlton takes the complete antithetical approach. A solitary, ancient bonsai greets you as you enter, with a shallow staircase splitting the ground floor in half; the design once again evoking the flow of the Kamagawa river.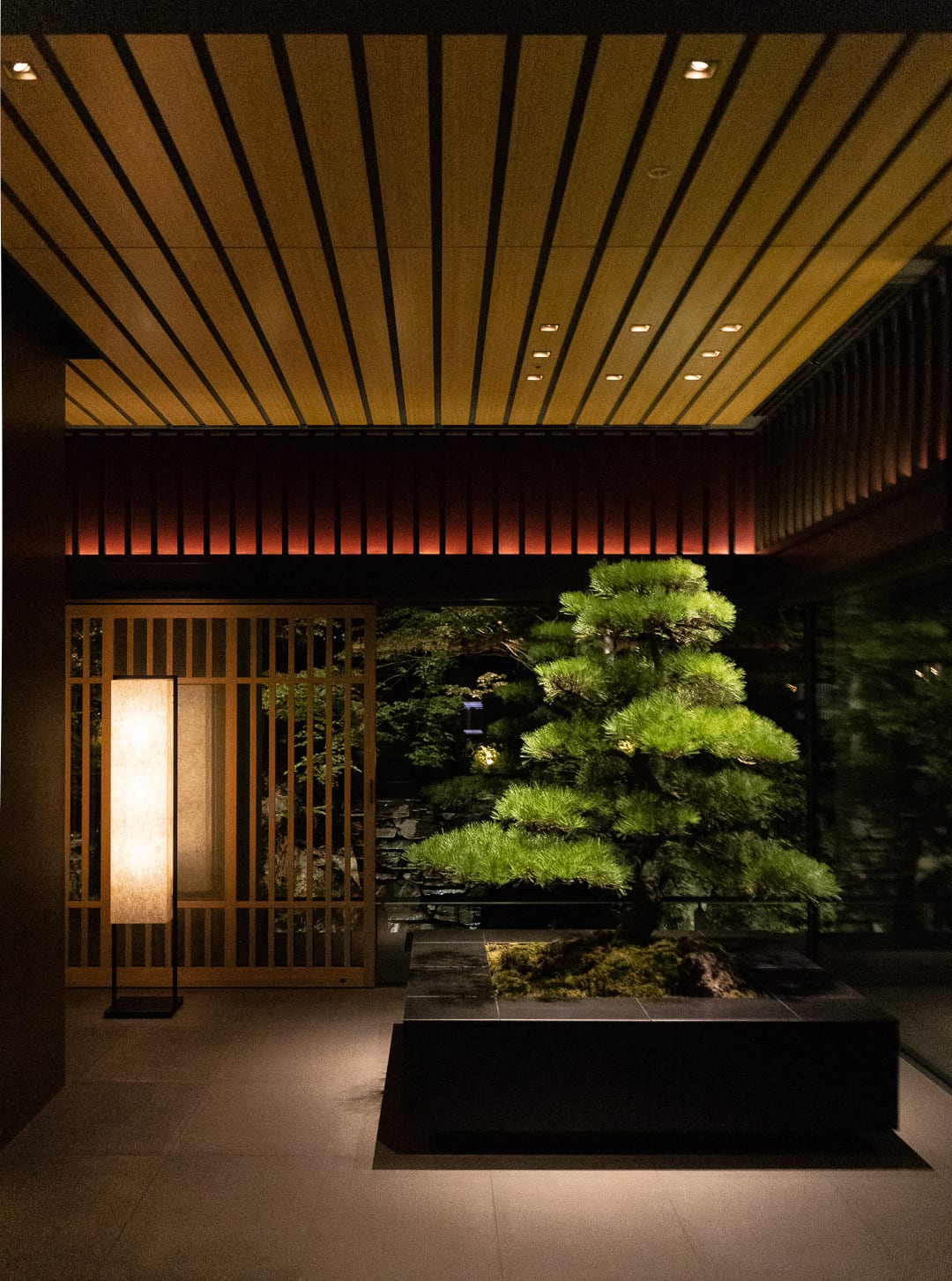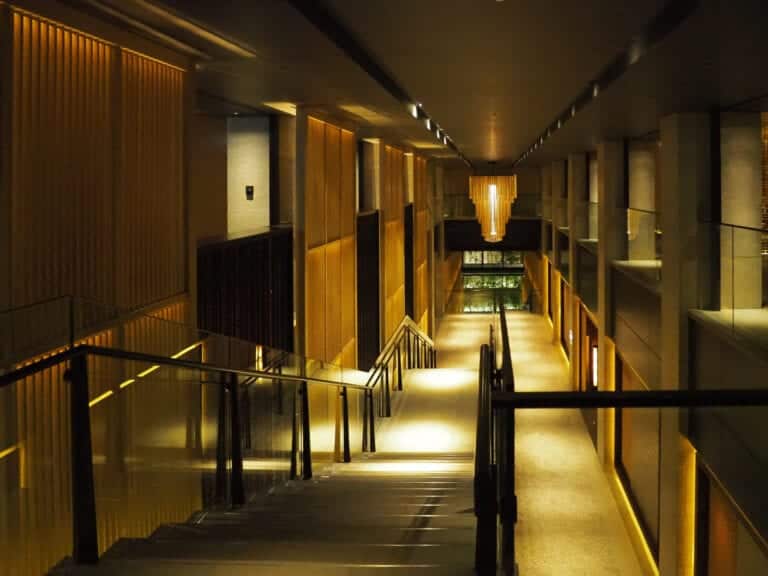 Take the path on the right of the stairs and you'll pass the lounge area. This spot is filled with people having afternoon tea for a couple of hours each day but is otherwise devoid of people.
If instead you make your way left you'll pass the Pierre Herme bakery (more on that later) on your way to the reception desks.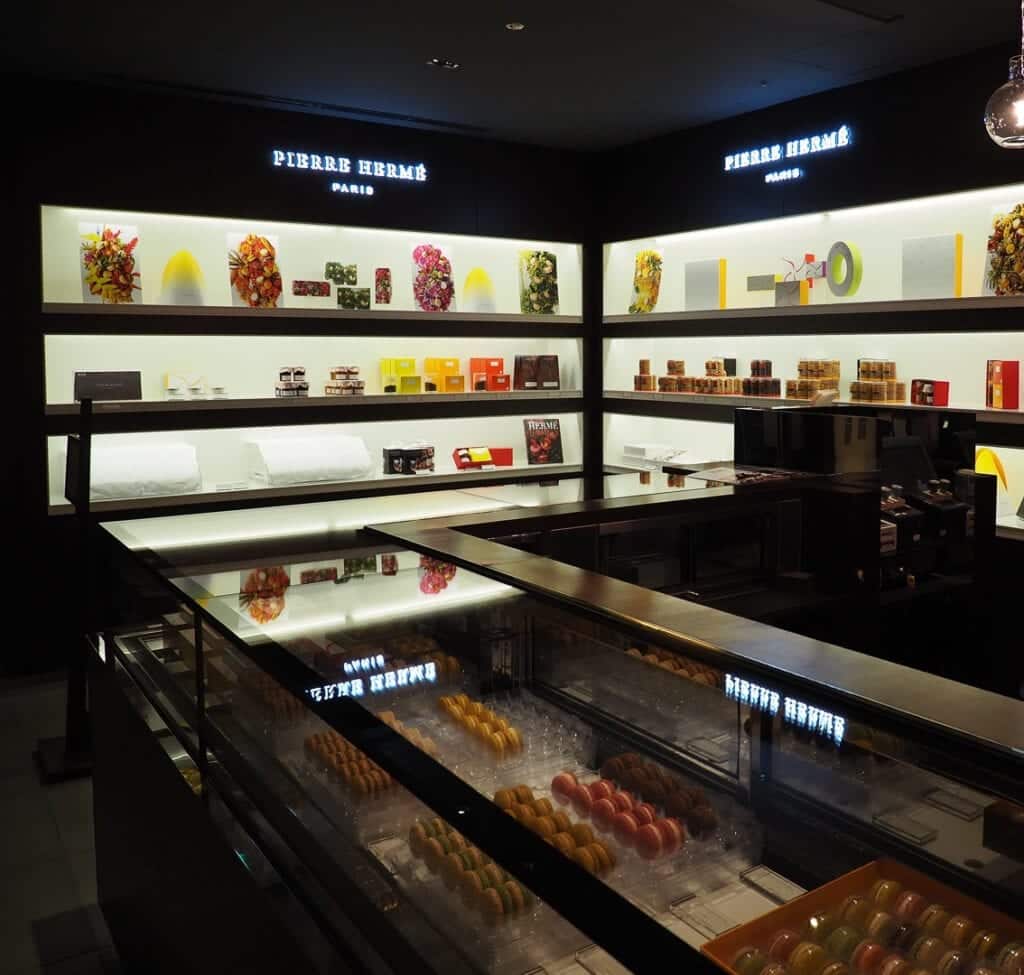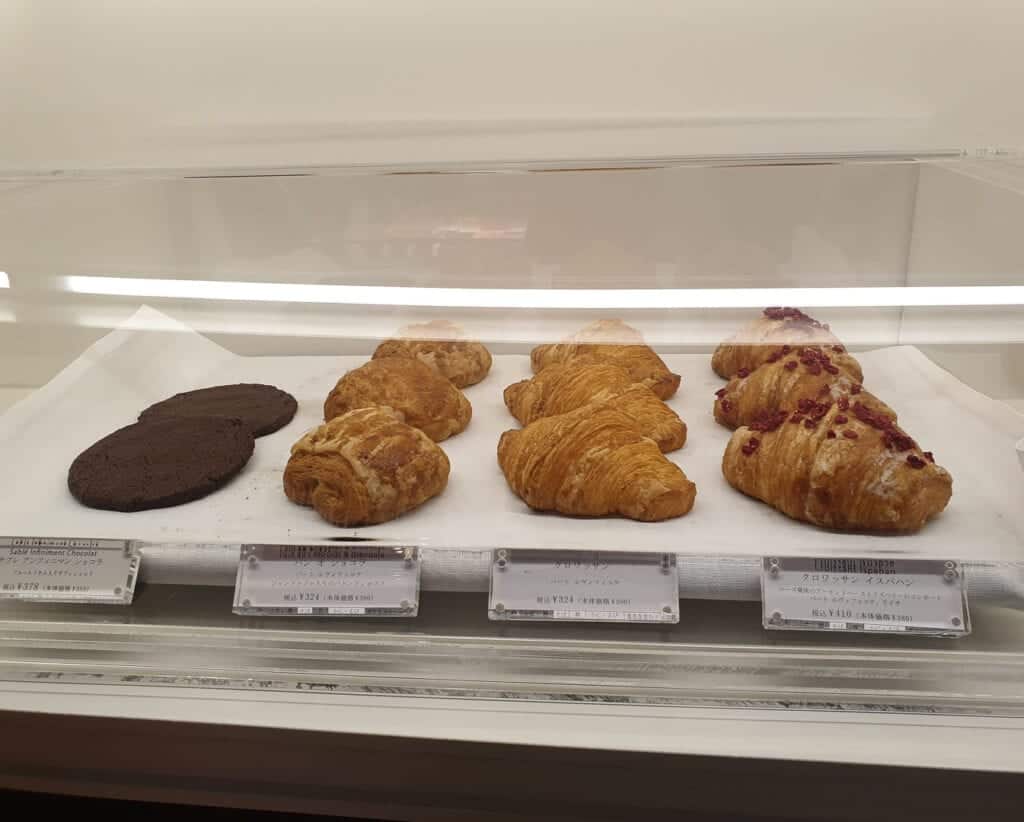 As we were handed off to the reception team they immediately acknowledged my Marriott Platinum status and offered us in-room check-in since it would be more comfortable for us. We passed through the very impressive reception area and took the lift down to the second floor where our room was located.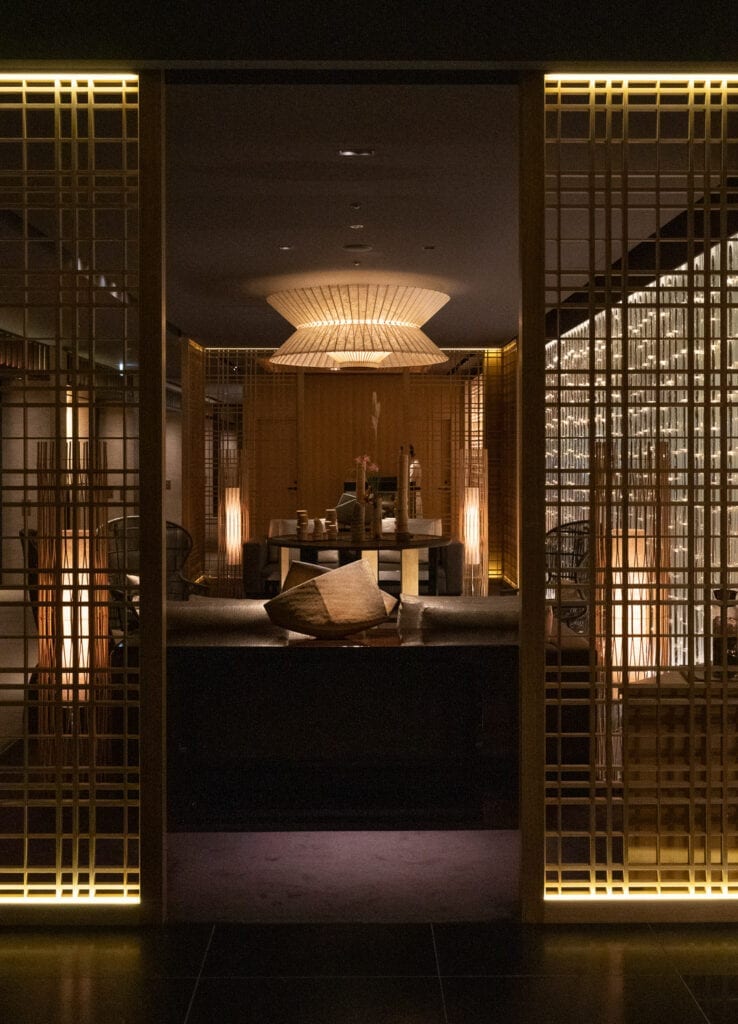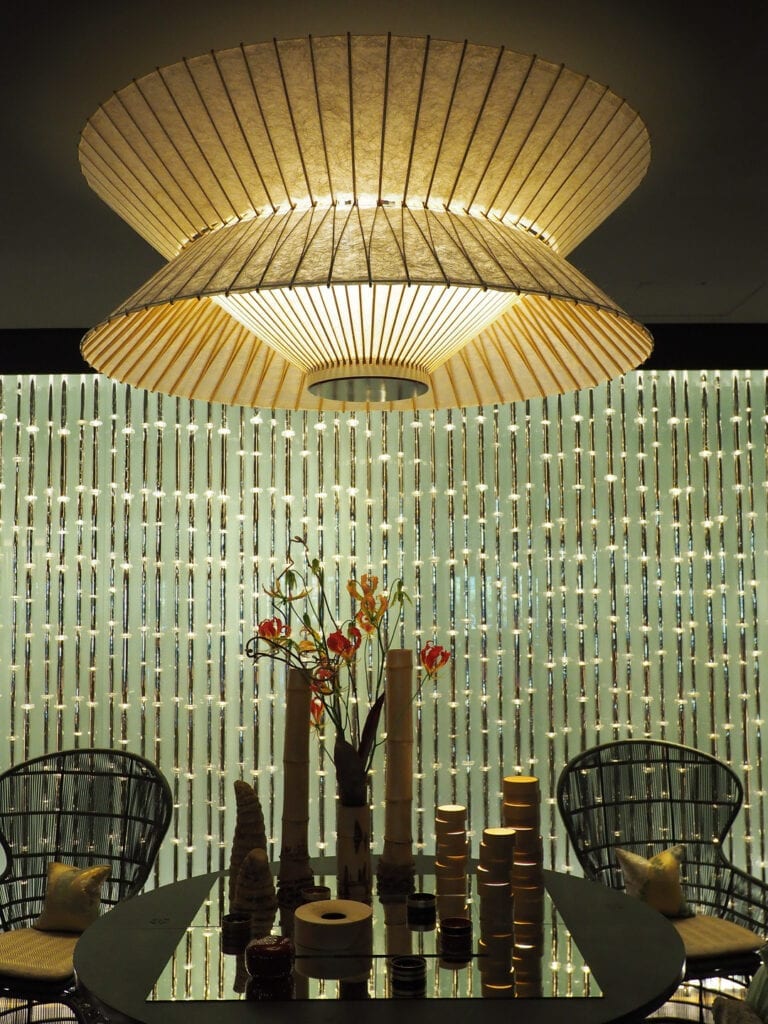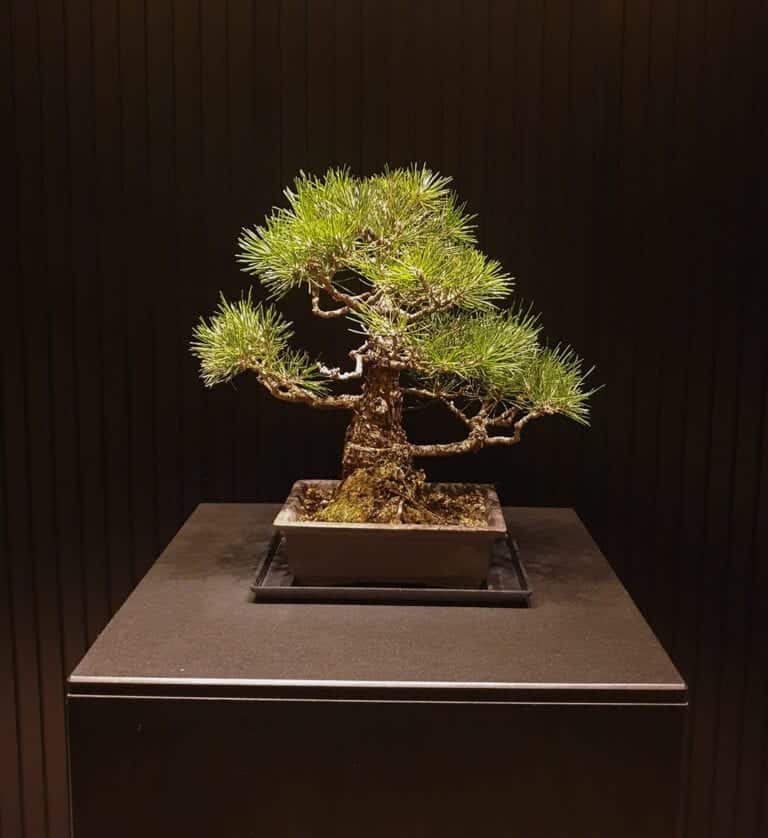 The hallways are very elegantly decorated with a variety of textures and lighting styles offsetting the otherwise rather plain colour scheme.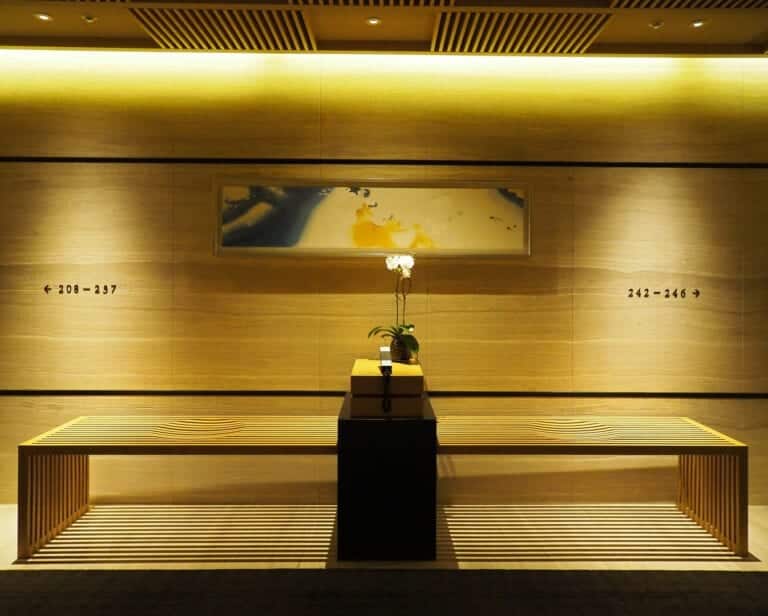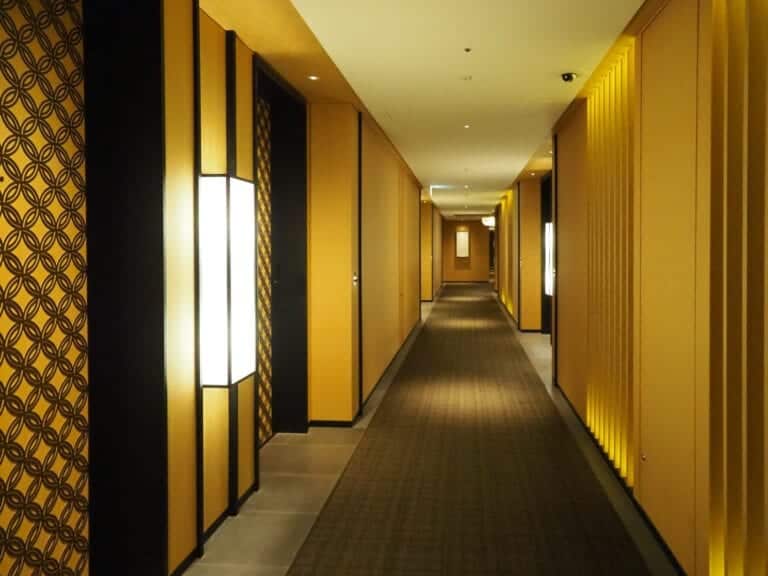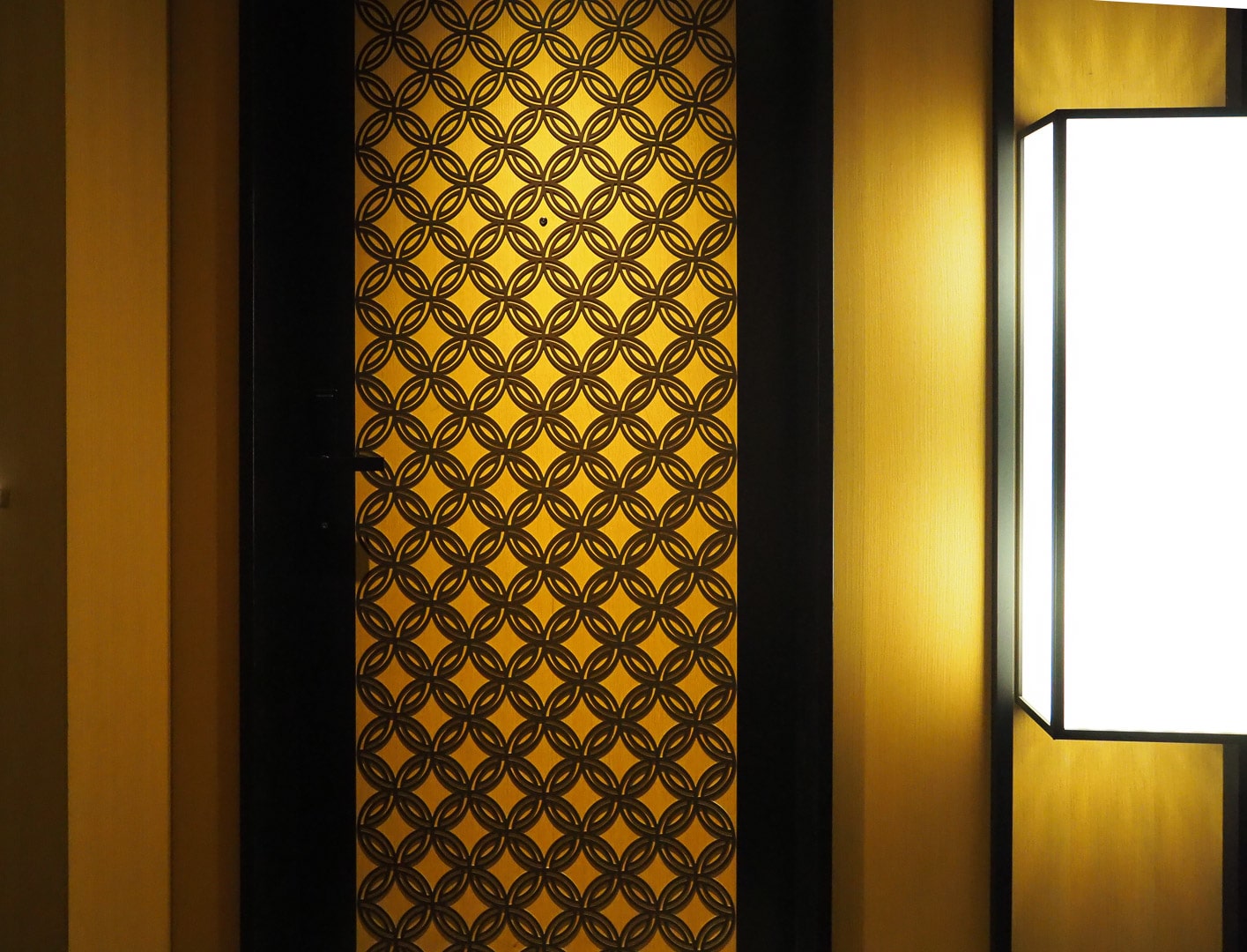 ---
Our Room
---
Here is a video walkthrough of the room, keep reading below for more details…
As we entered the room I was immediately struck by the clean lines and almost alpine feel to this wooden clad sanctum. Sliding panels permit you to make the space as cosy or as open as you like.
Next to the entrance is the walk in wardrobe, complete with traditional Japanese yukatas for lounging in. My main criticism of the room is that this area was a little too small for us. For a five night stay there just isn't enough space for two people's clothes and suitcases.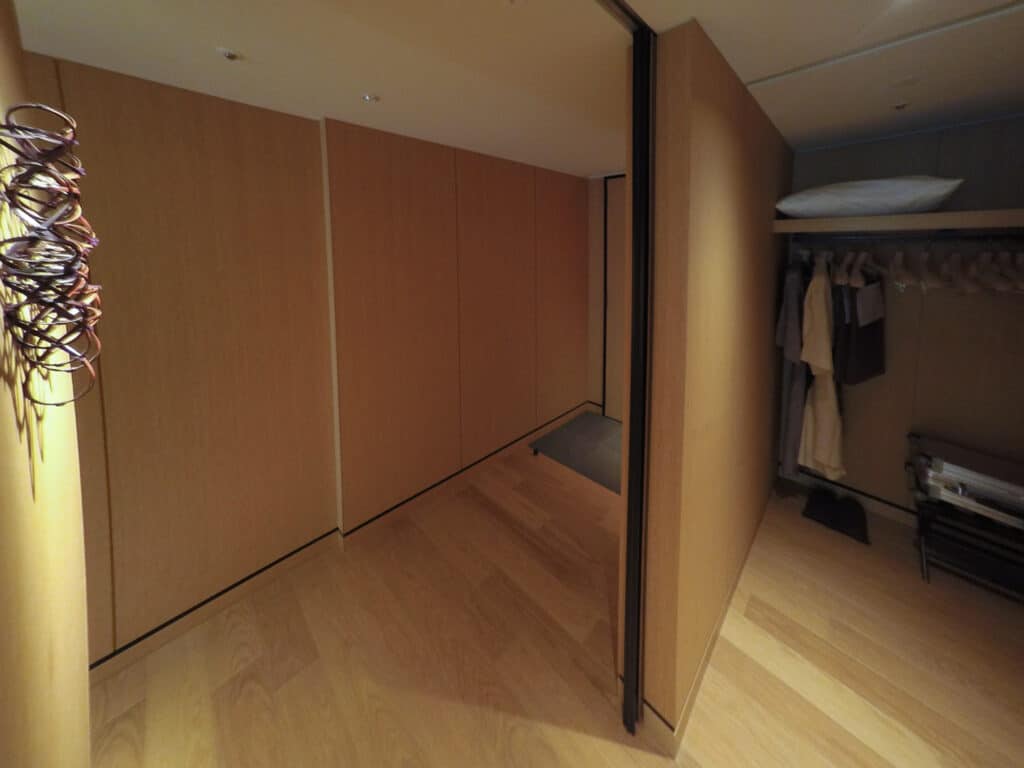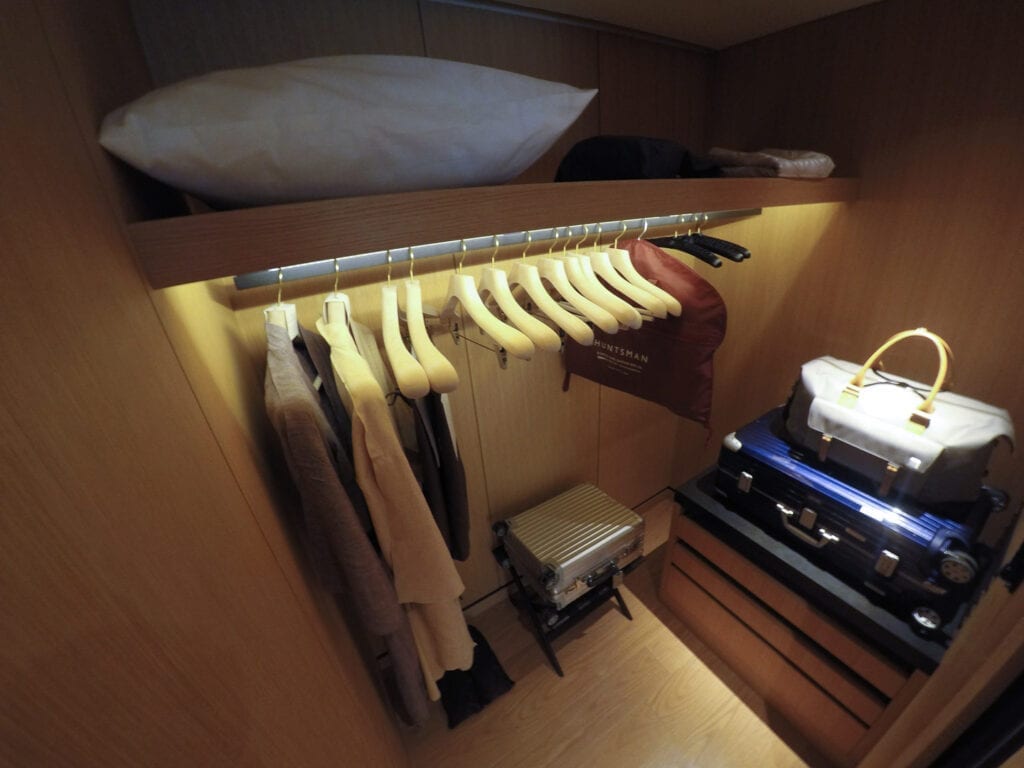 Next up is the bathroom, which is dominated by the dual vanities, set into a large slab of black stone.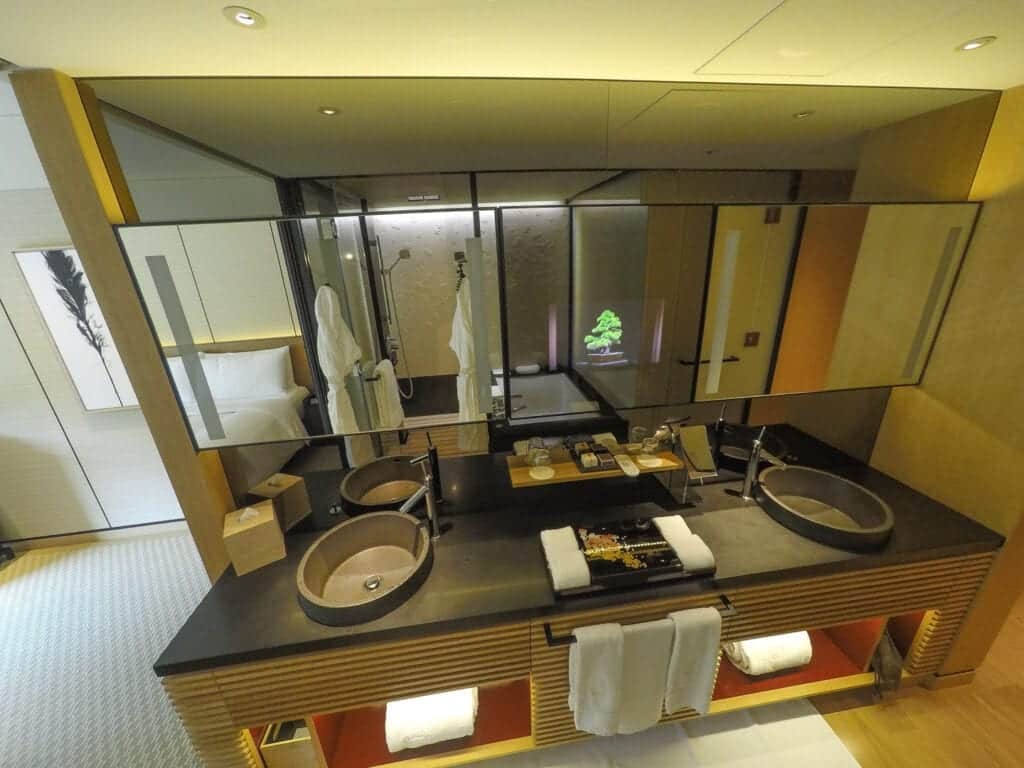 I know I always say this but one of the greatest luxuries is to have an expanse of empty space in which to place your things. When I'm at home in London I'm making the best possible use of every square inch of real estate. Having this much space in which to spread all your bathroom essentials immediately makes you feel unburdened.
Speaking of essentials, much like the Ritz Carlton in Hong Kong, they really think of everything here. Any bathroom amenity you can think of is provided for your use, including a very exclusive handmade soap by the Japanese brand Sabonya. The TV built into the mirror is completely unnecessary and borderline ludicrous but I guess some people can't possibly fathom brushing their teeth without watching the news…(personally I'm filing that one away in the same category as placing telephones in the toilet).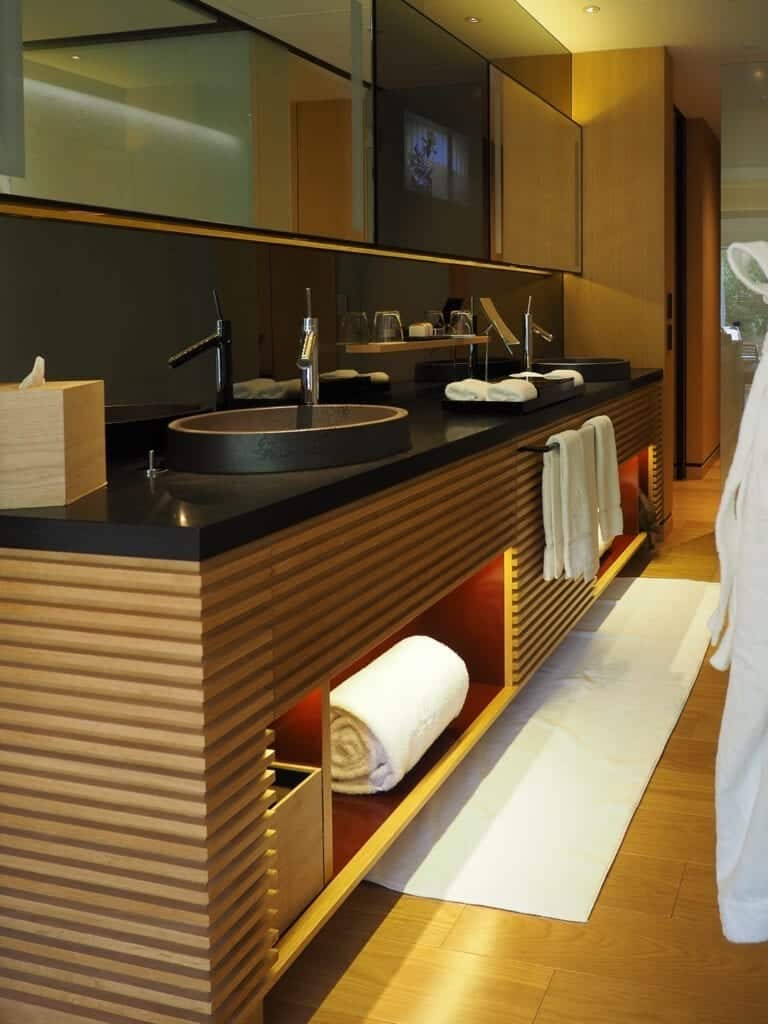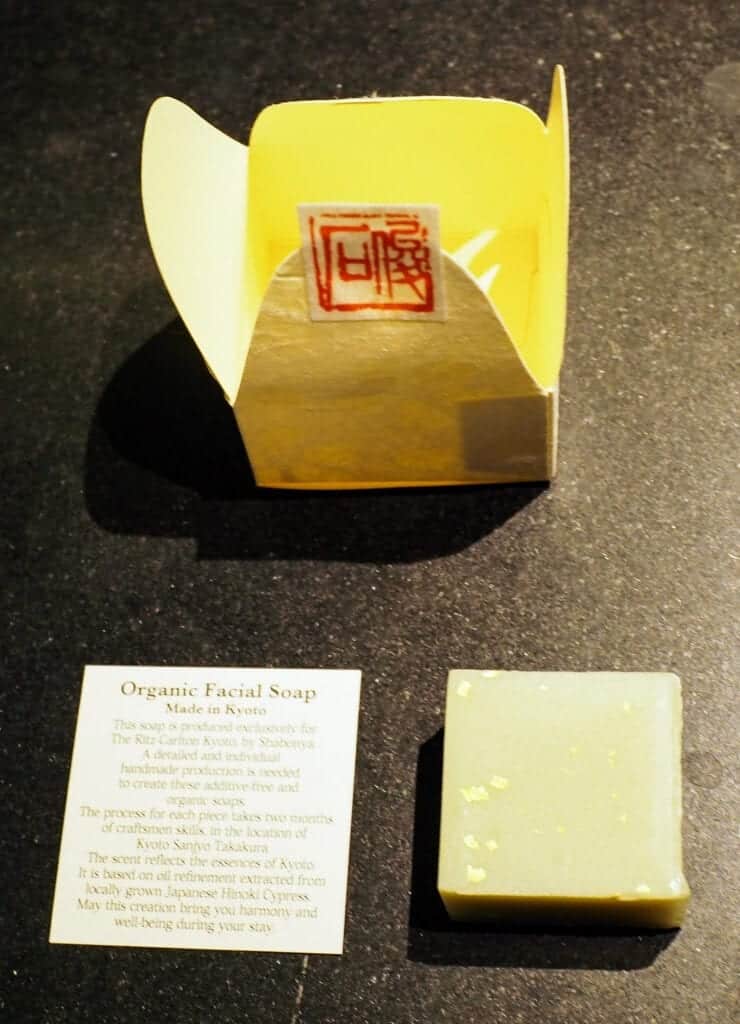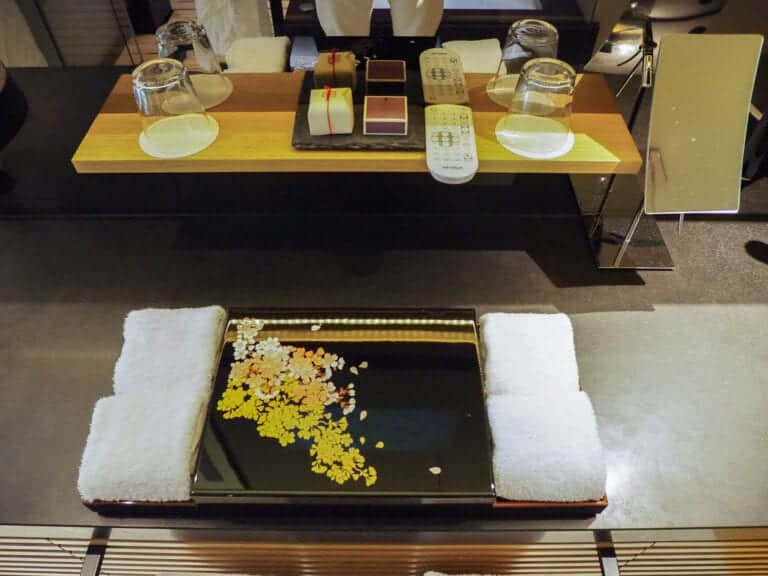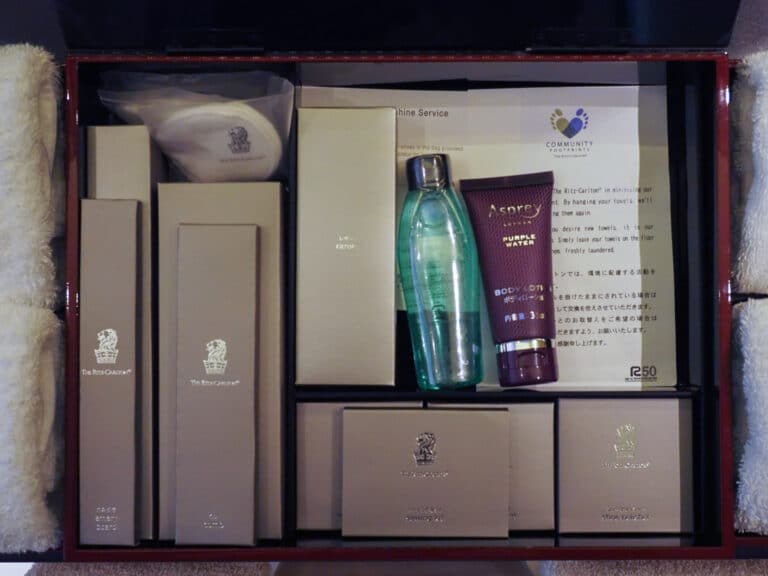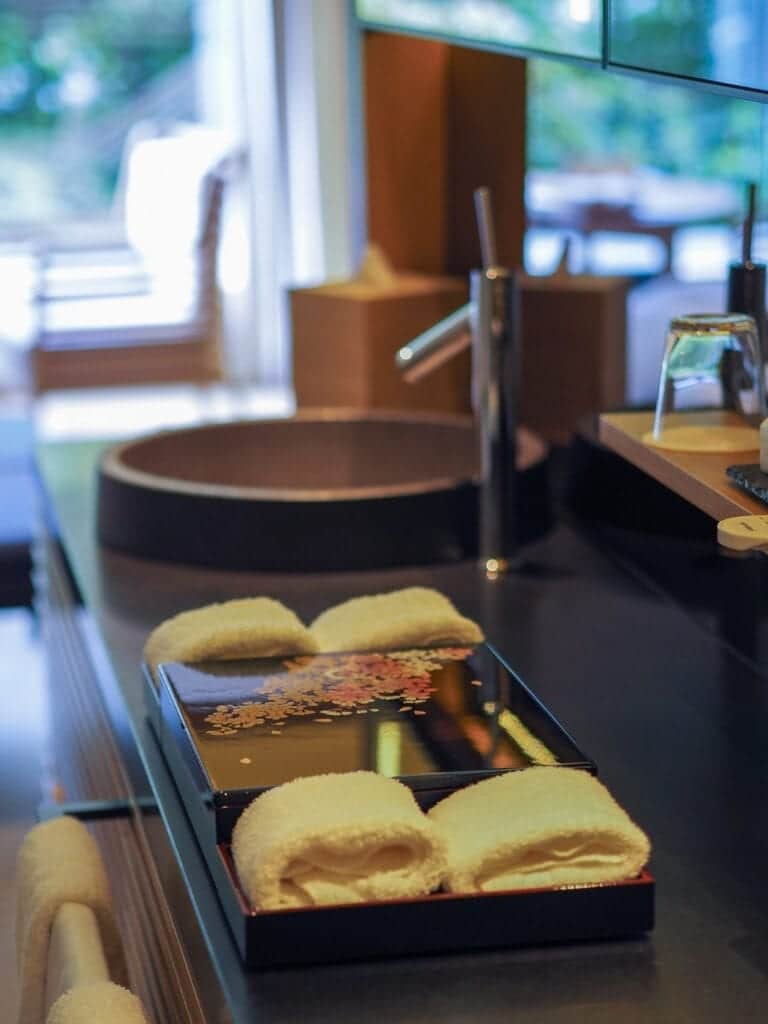 Behind the sinks is the cherry blossom themed bathing room. The bath and shower are encapsulated within a single glass enclosure, allowing you to bathe in the traditional Japanese style. The idea is that you fill the bath with clean water and have a shower to clean yourself before getting into it. I've been a convert ever since I first had the idea explained to me. Why would you wallow in your own filth when you can have a relaxing soak in clean water? The shampoo, conditioner and shower gel are by Asprey, with locally produced bathing salts also provided.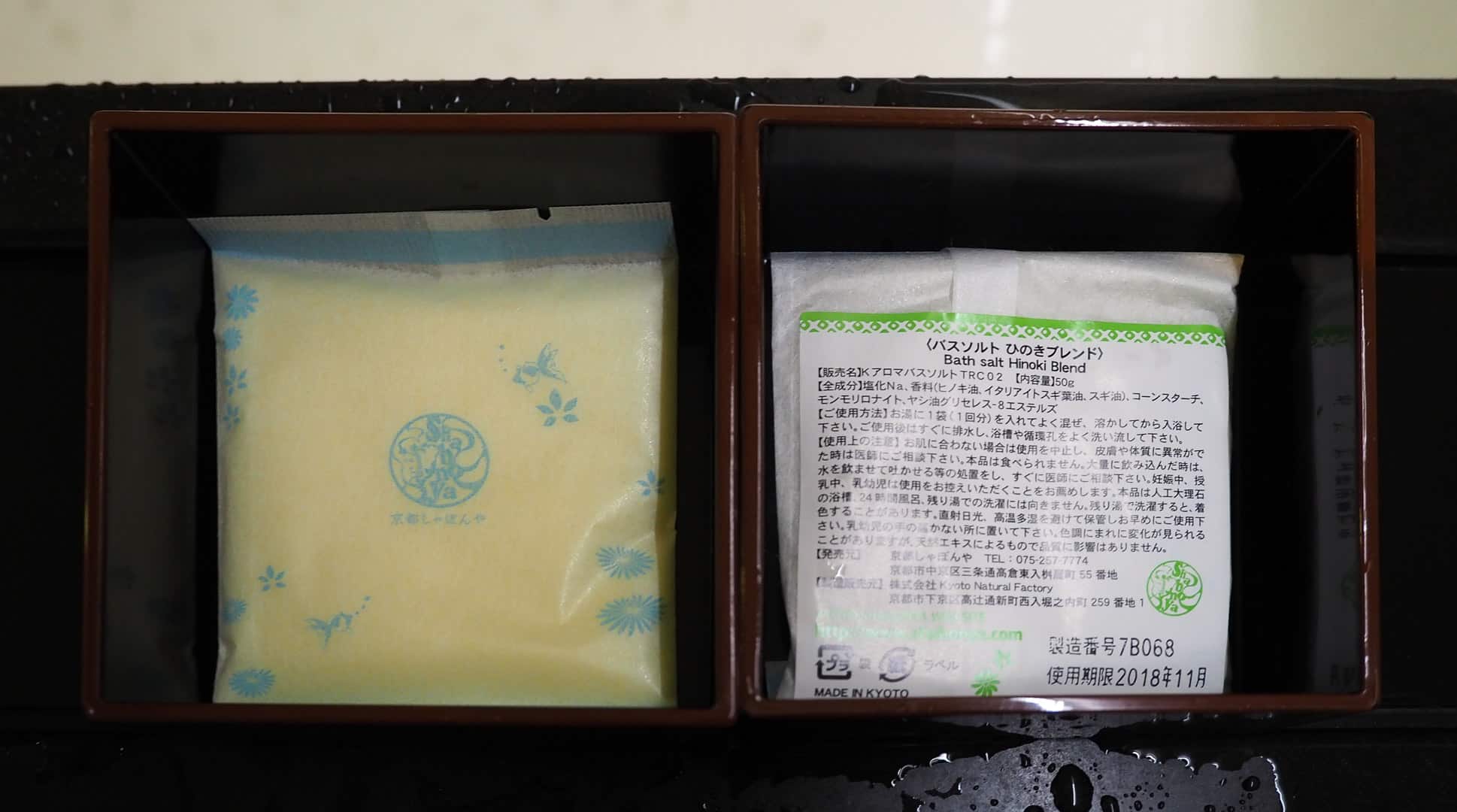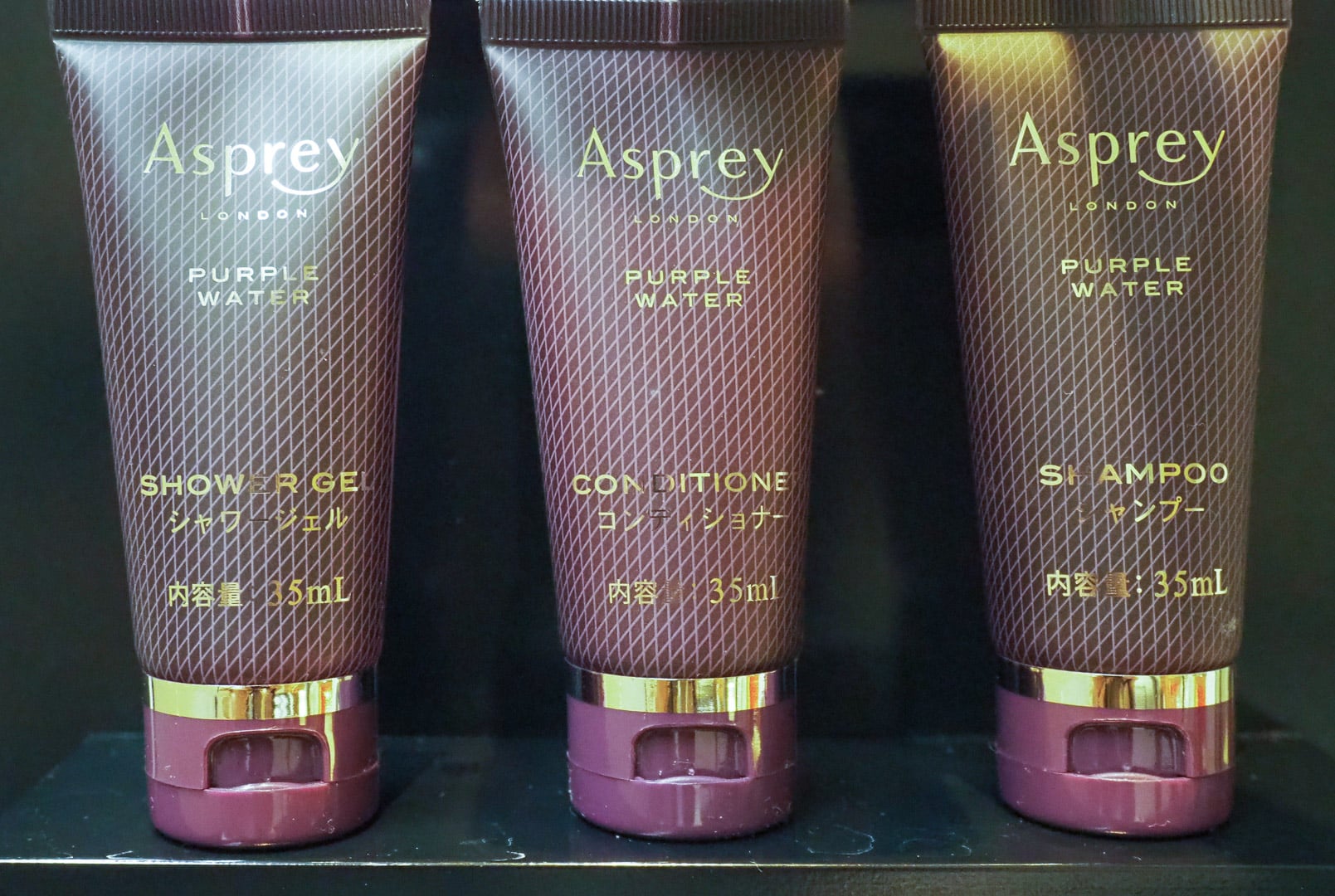 Moving on from the bathroom you have the bedroom. As I mentioned earlier, you can slide the panels shut if you prefer so you're not staring at a sink whilst you sleep!
The bed was very comfortable indeed. Specifically, I didn't find the mattress to be overly firm as tends to be the case in so many Japanese hotels. The sleep comfort here was really amazing; when you combine a bed of this quality with near silent air conditioning and perfect soundproofing you have a recipe for a wonderful night's sleep.
You've heard me go on about 'privacy wings' around your head on airplane seats and I was thrilled to see this concept being adopted in a hotel room. The headboard of the bed extended beyond one side, encasing the bed and creating a point of separation between the bedroom and the engawa.
The light switches on the bedside table were very clearly labelled and power was available on both bedside tables (albeit Japanese style only, not universal).
A Tivoli audio bedside clock and dock was also placed on one bedside table with a supplementary speaker on the other. The design was perfectly in keeping with the rest of the room and I found the audio quality to be every bit as good as Bose.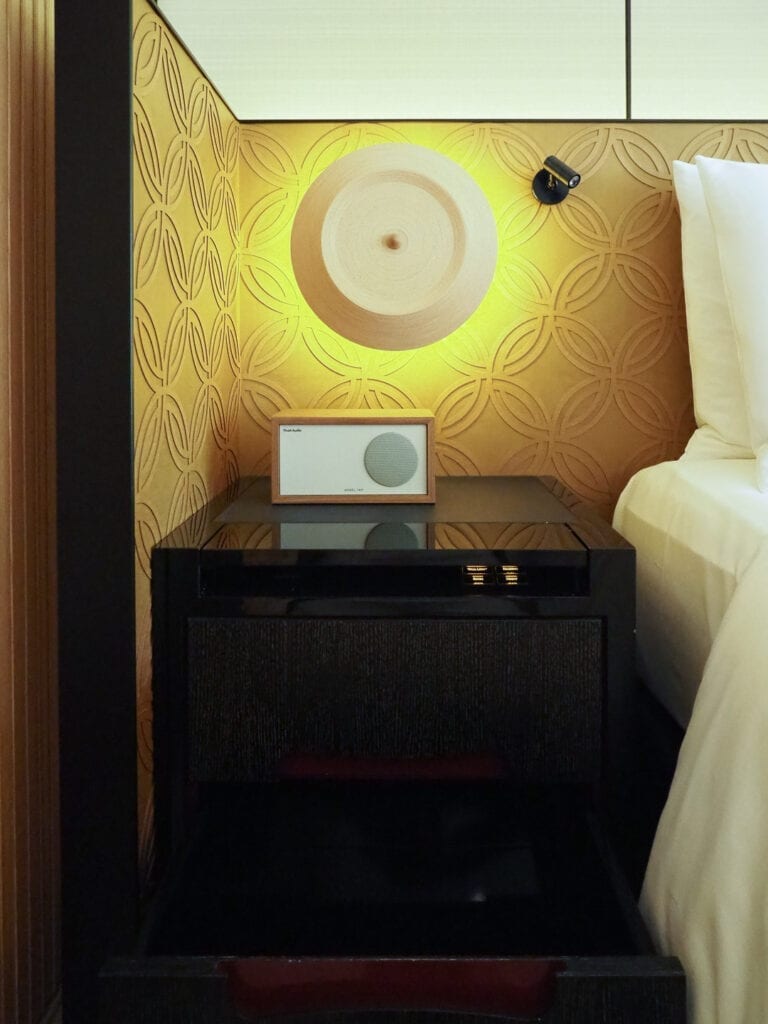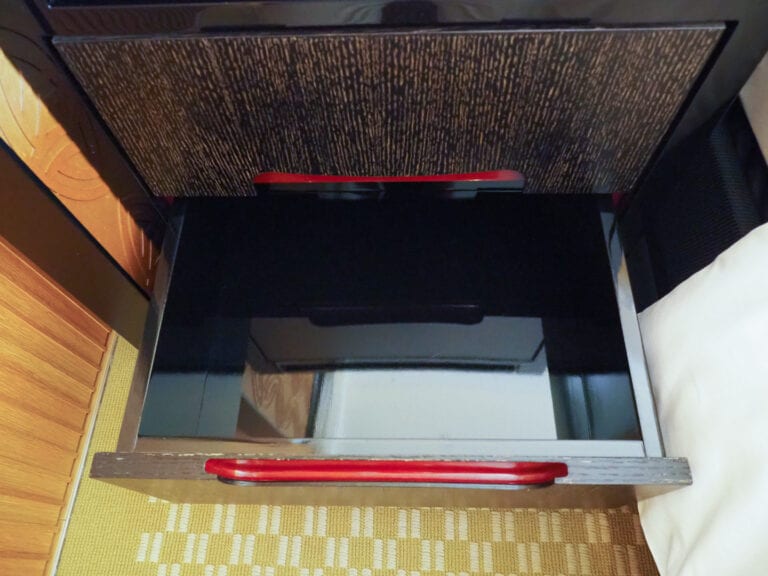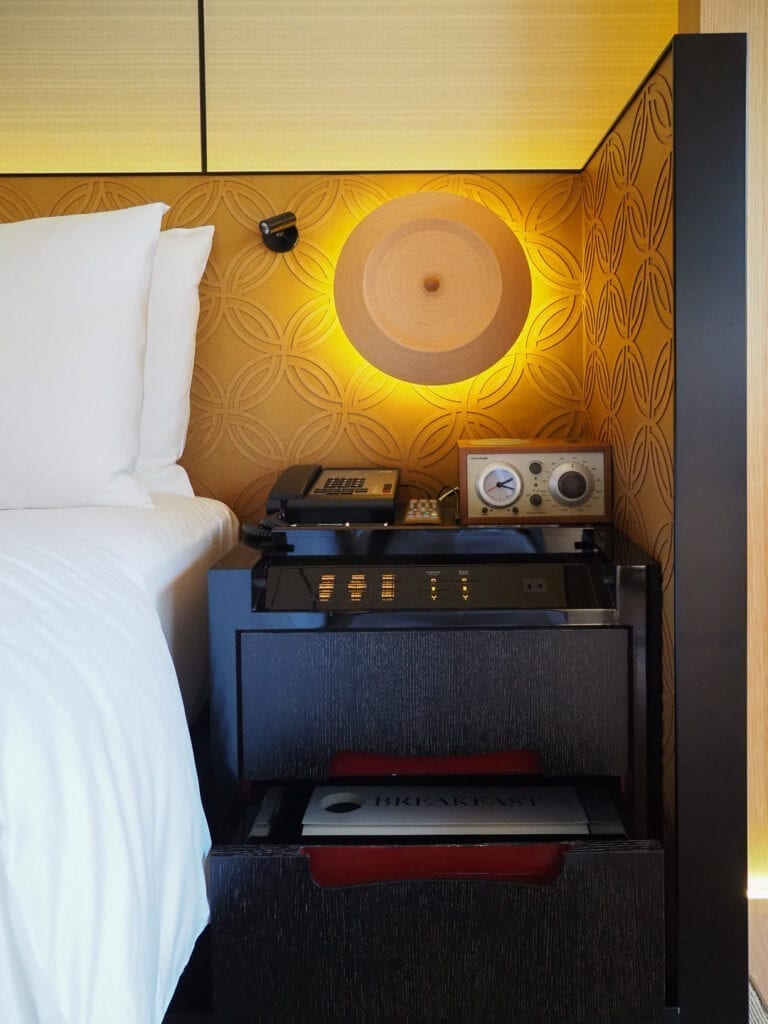 You may have noticed me casually dropping the word "engawa" into the last section. I'm not some sort of Japanese architectural savant. I read this word on one of the very clearly labelled light switches and Googled it…
"In Japanese architecture, an engawa (縁側 or 掾側) or en (縁) is an edging strip of non-tatami-matted flooring, usually wood or bamboo…"
The engawa section of the room is a neat architectural trick, a wooden walled room within a room, a little oasis of relaxation facing the Japanese garden.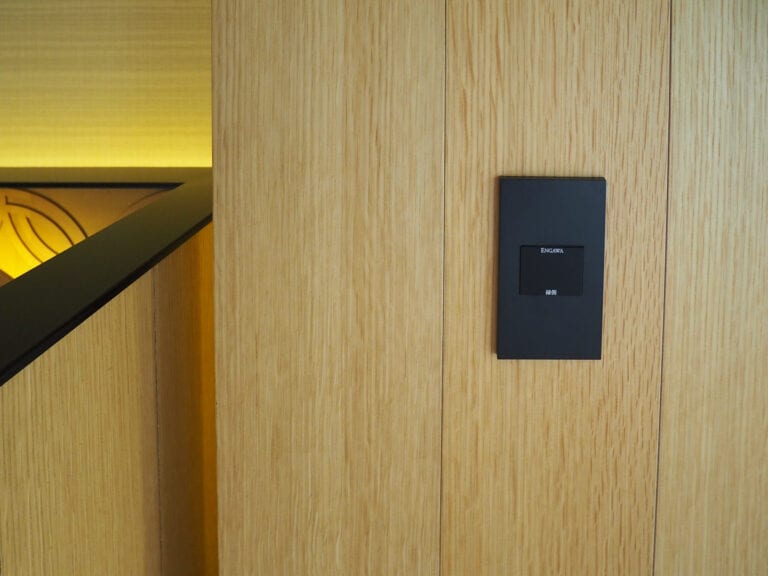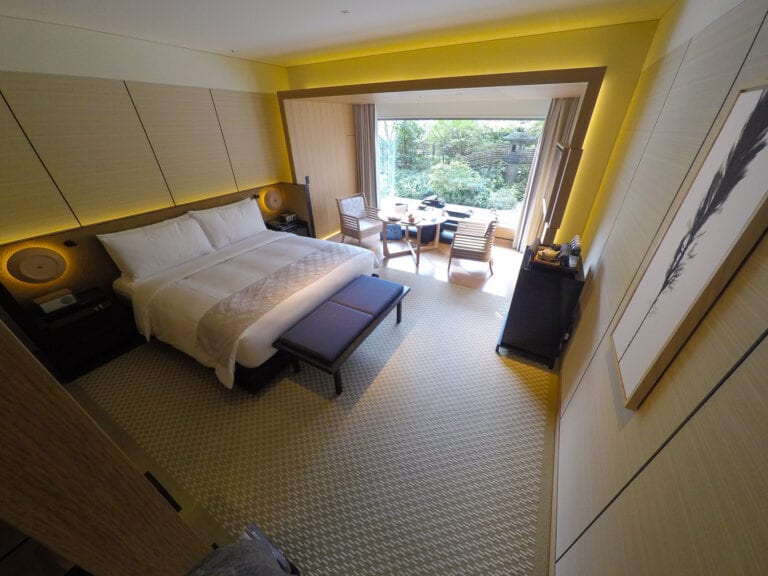 Personally I think that this is the best possible view at this hotel. The City View rooms have almost no privacy and people in adjacent buildings can easily look into them, the same goes for the River View rooms although they at least get a bit of distance between the room and possible onlookers. For me though having a private Japanese garden, which was beautifully illuminated at night, was one of the defining features of our time at this hotel.
The Engawa table was also a convenient point of interaction with the hotel staff. We often found notes from staff and small gifts, placed there throughout our stay.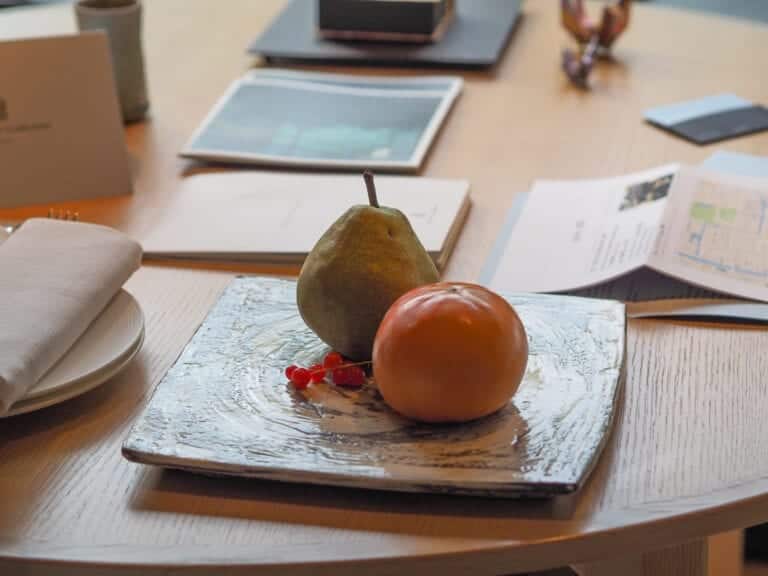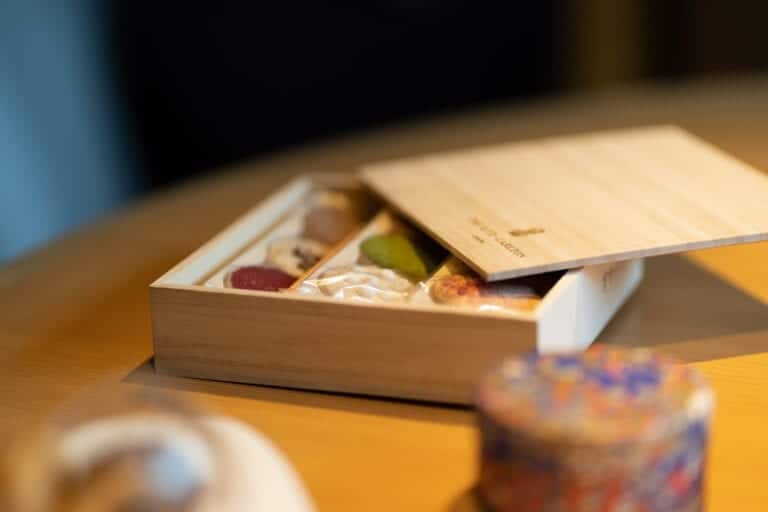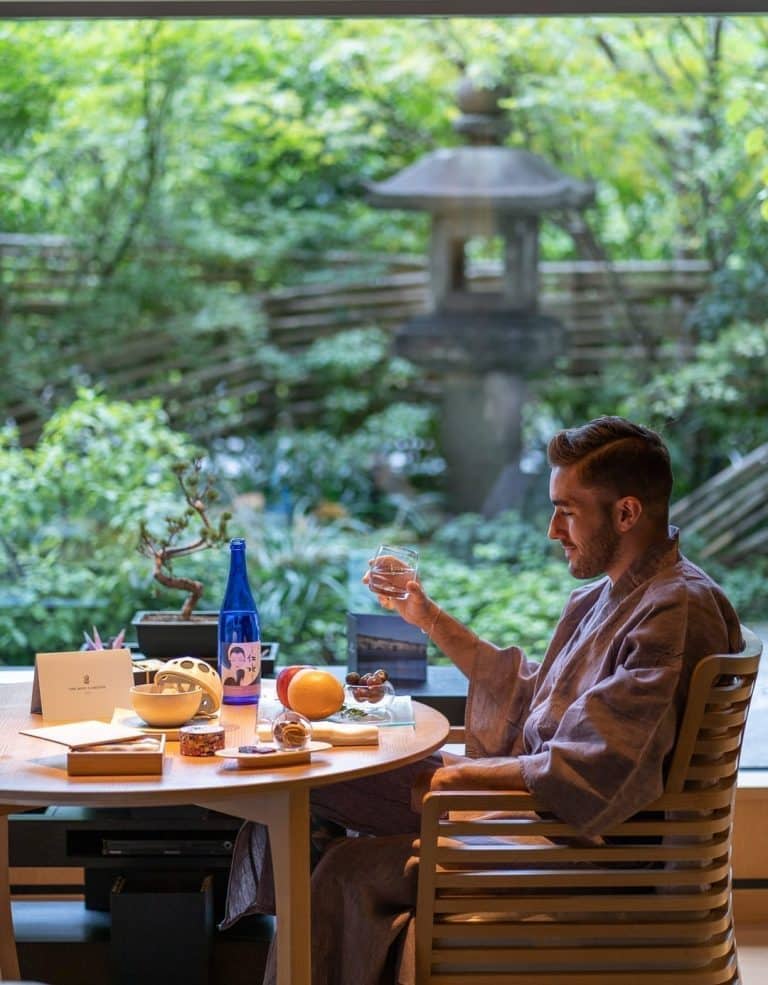 A shelving unit was very discreetly hidden away under the table and offered a considerable amount of storage space, as well as featuring the controls and ports for the flip out television.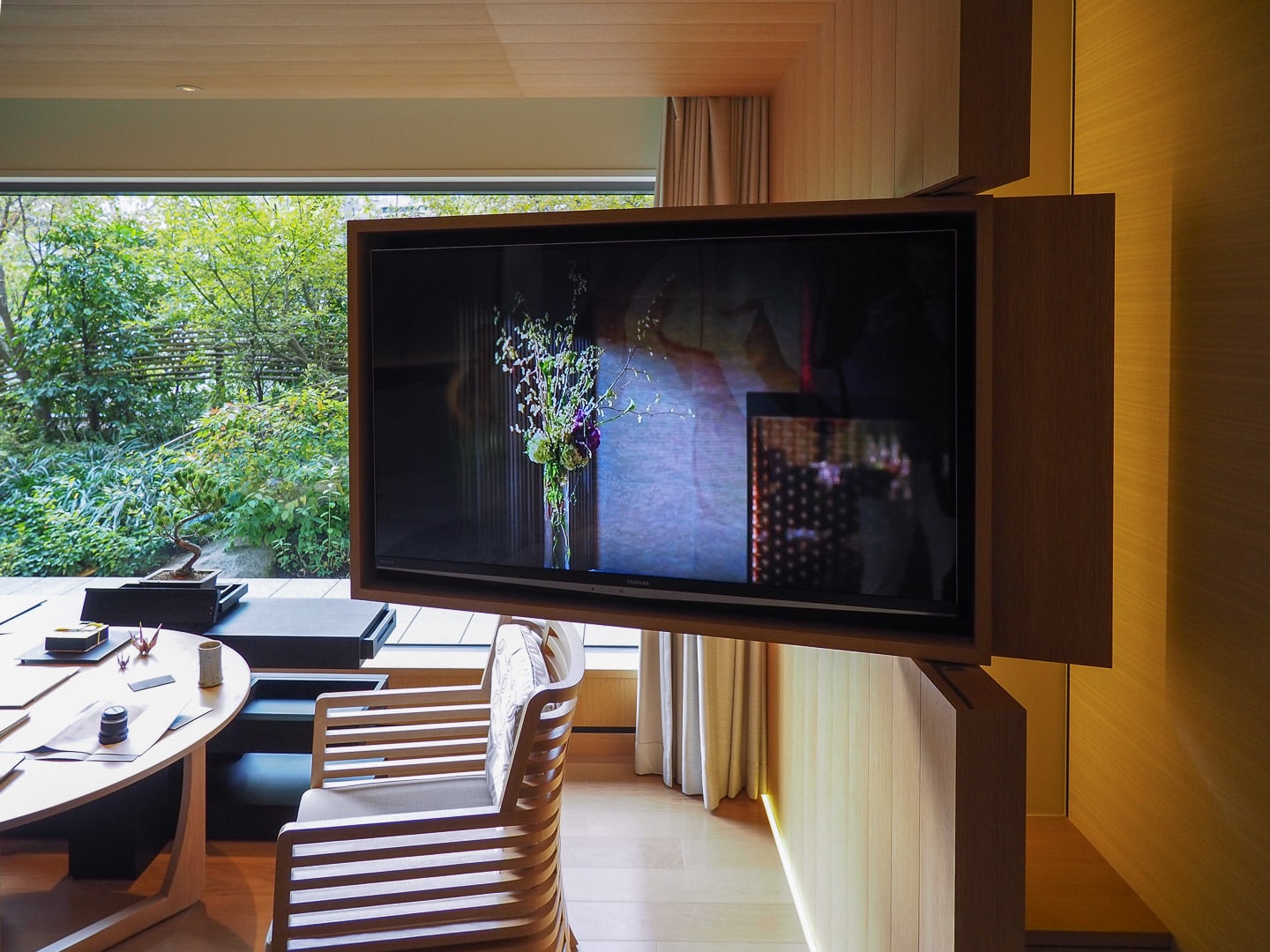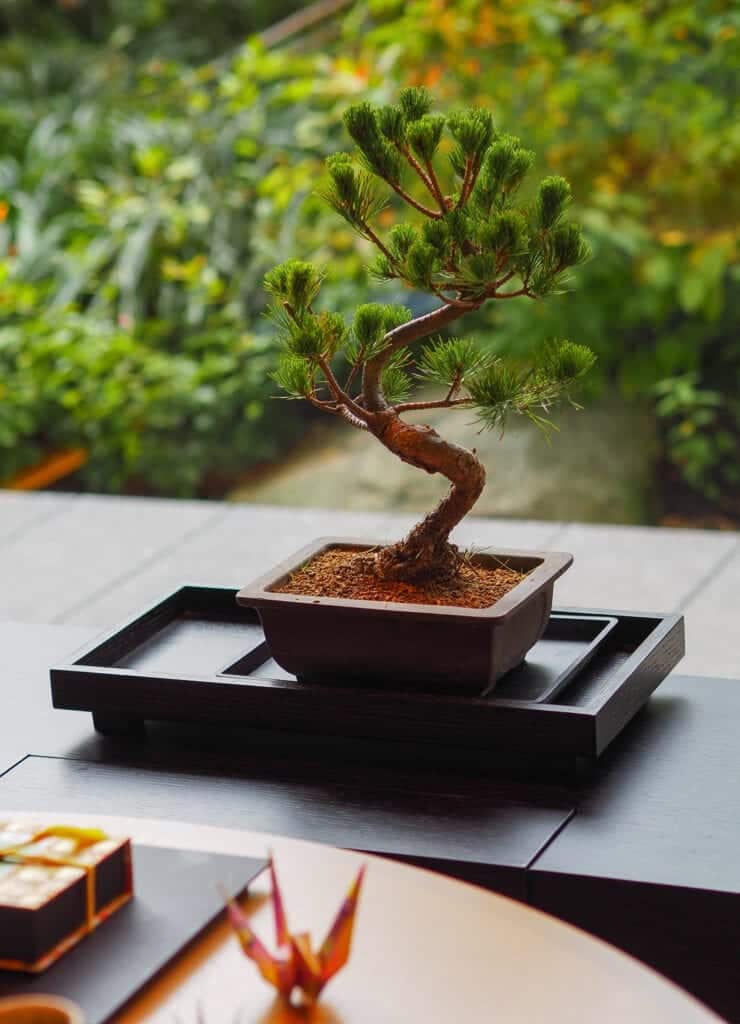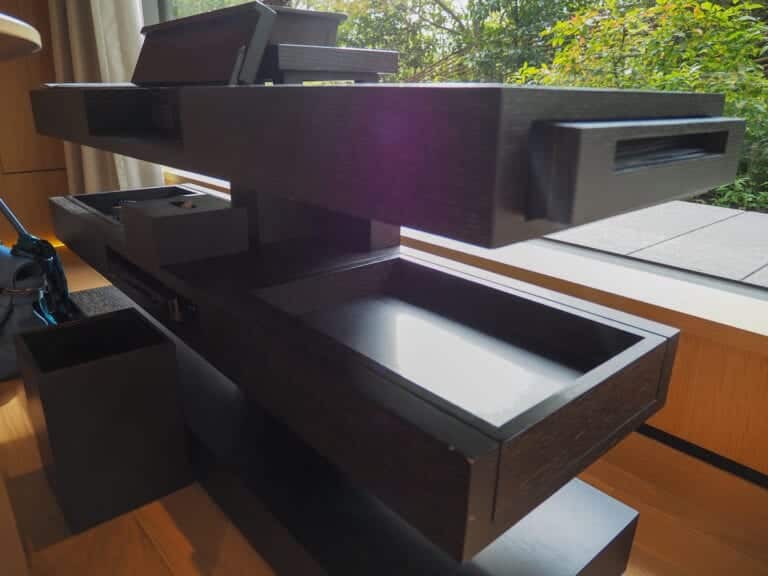 At the foot of the bed, next to the Engawa, was a lacquered cabinet containing a traditional tea set and some additional storage space. This is where our complimentary water would be delivered throughout the day.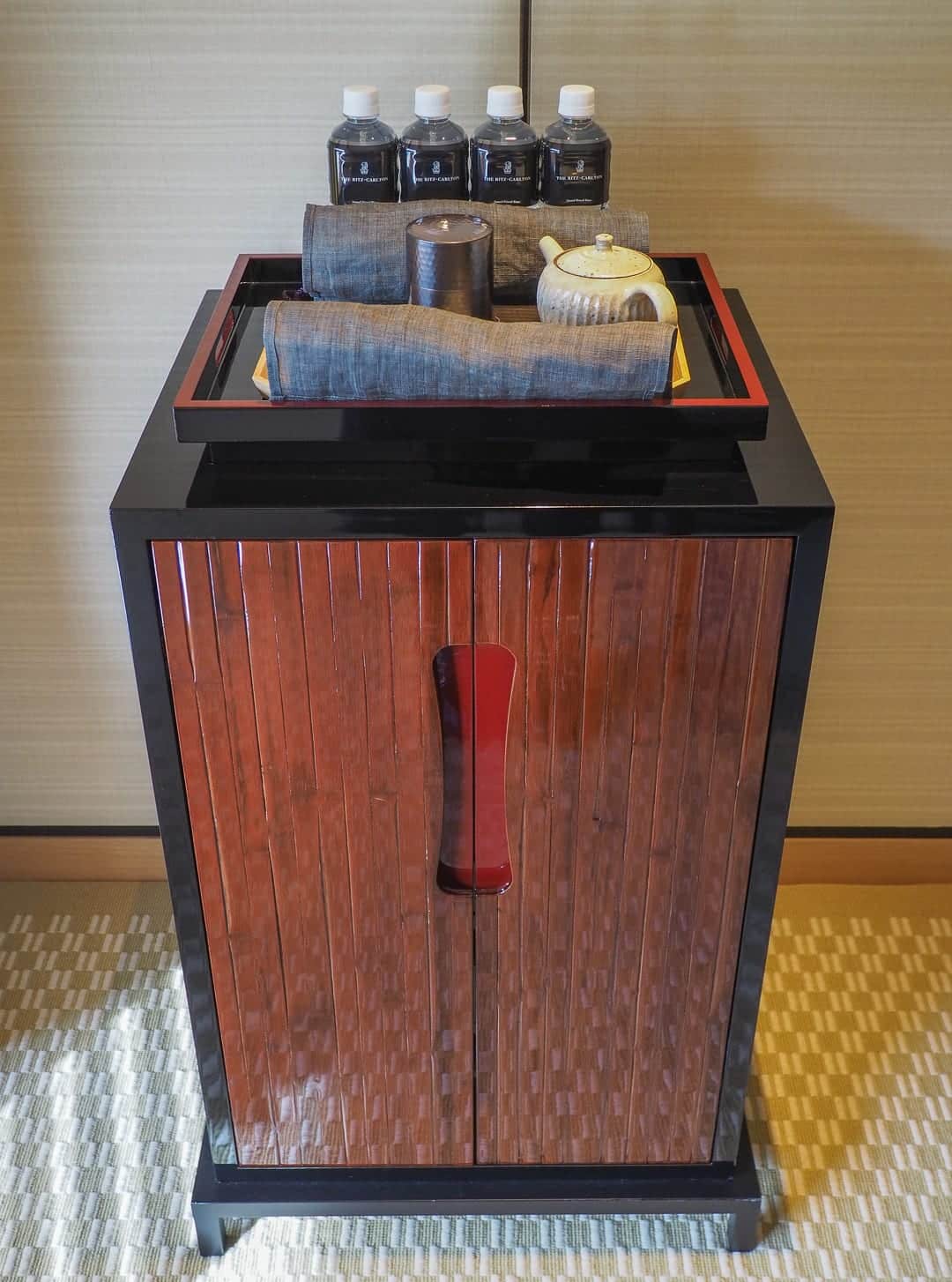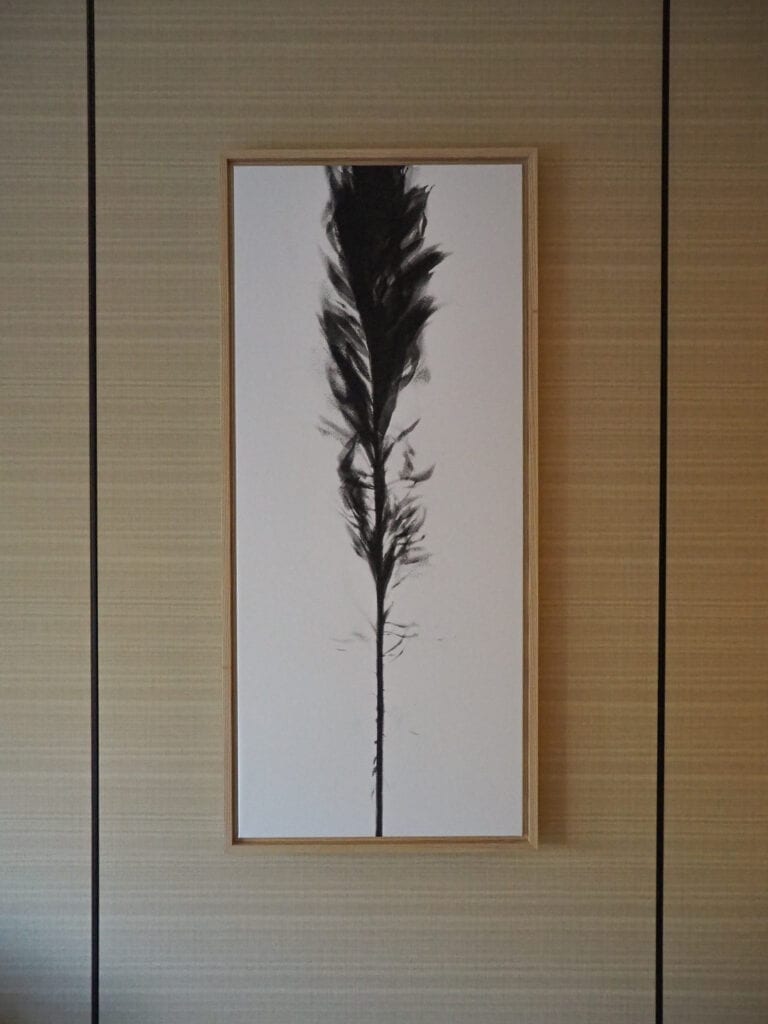 Continuing on to the final part of the room: the mirrored minibar area leading back to the front door.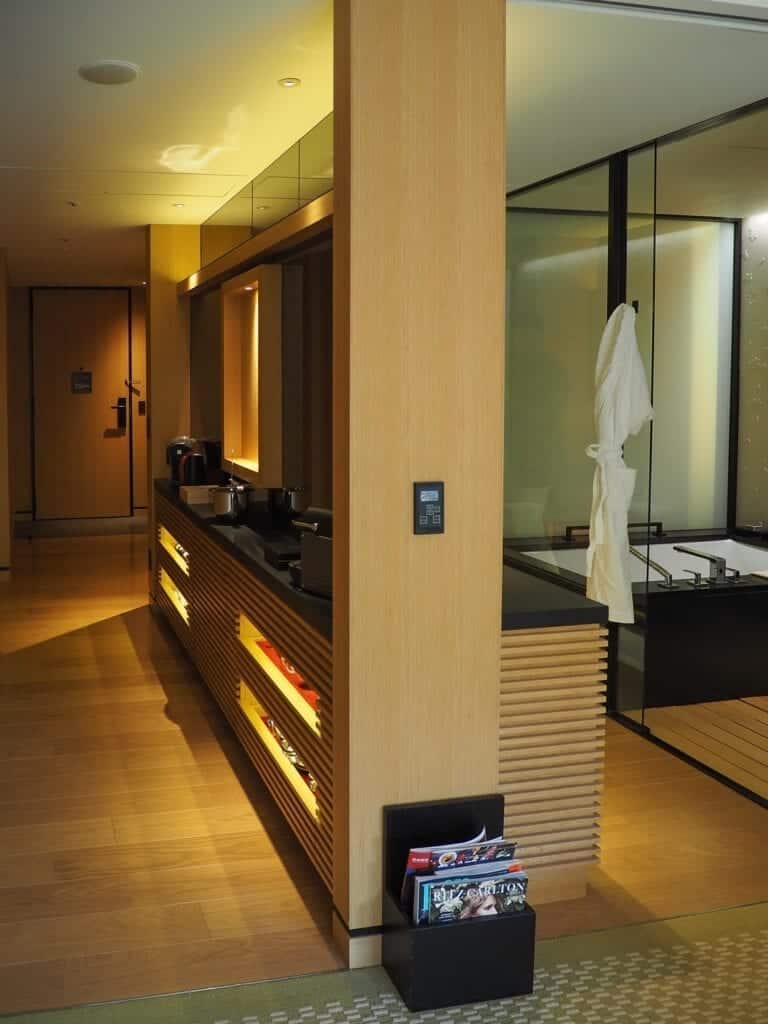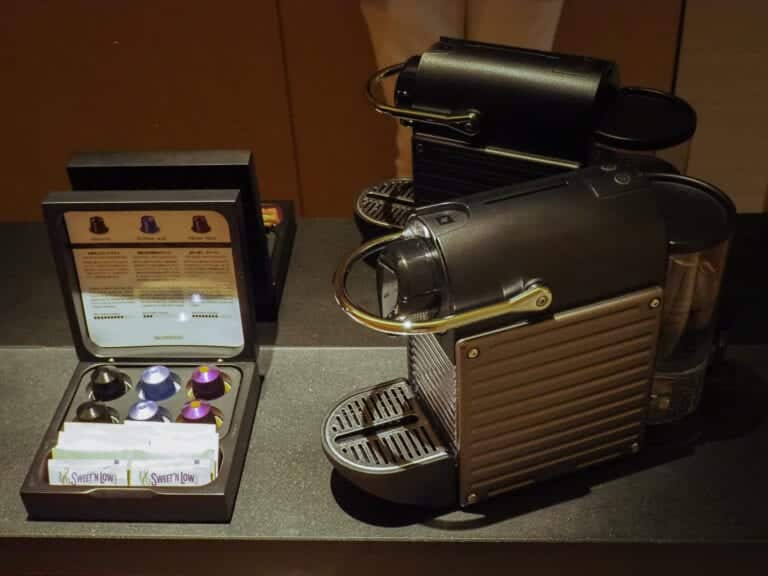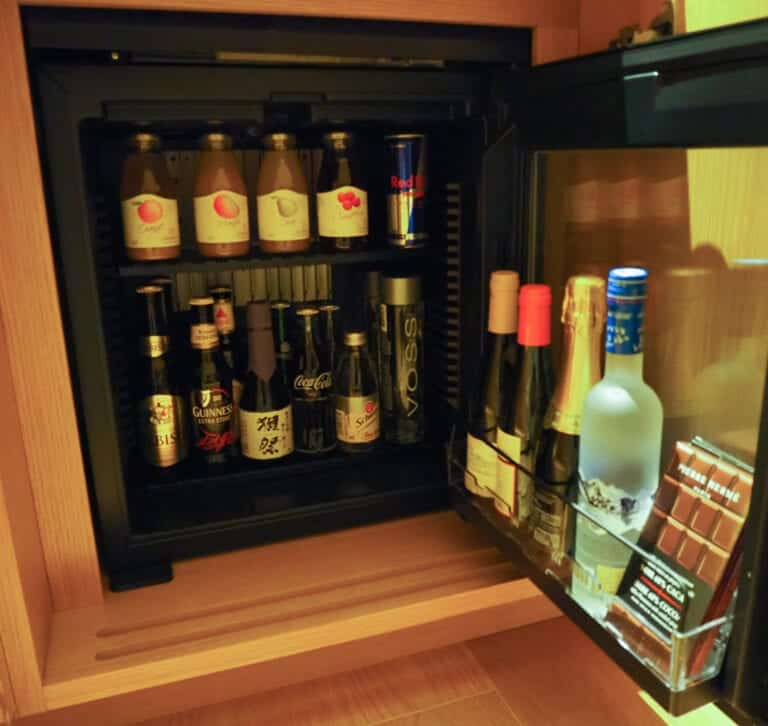 This is really an area of the room in which the hotel distinguished itself. Not only was there a stellar selection of paid drinks on offer (Opus One, Yamazaki, Perrier Jouet), the cutlery and crockery was of the highest possible standard. I was very surprised to see Air France using Christofle cutlery but that at least was a cheaper version mass produced for the national carrier. All rooms at the Ritz Carlton Kyoto feature a full set, the cheapest of which ordinarily retails for around £600. The handmade Japanese plates and bowls were of a similar standard, as was the glassware.
This is also the first time I've ever seen a capsule based tea machine in addition to the usual Nespresso machine for coffee. I thought this was going to be something of a gimmick but the tea it produced was genuinely amazing. Really clean tasting and zero mess. Were it not for the aforementioned lack of space in my London flat I'd be rushing out to get my hands on one of my own!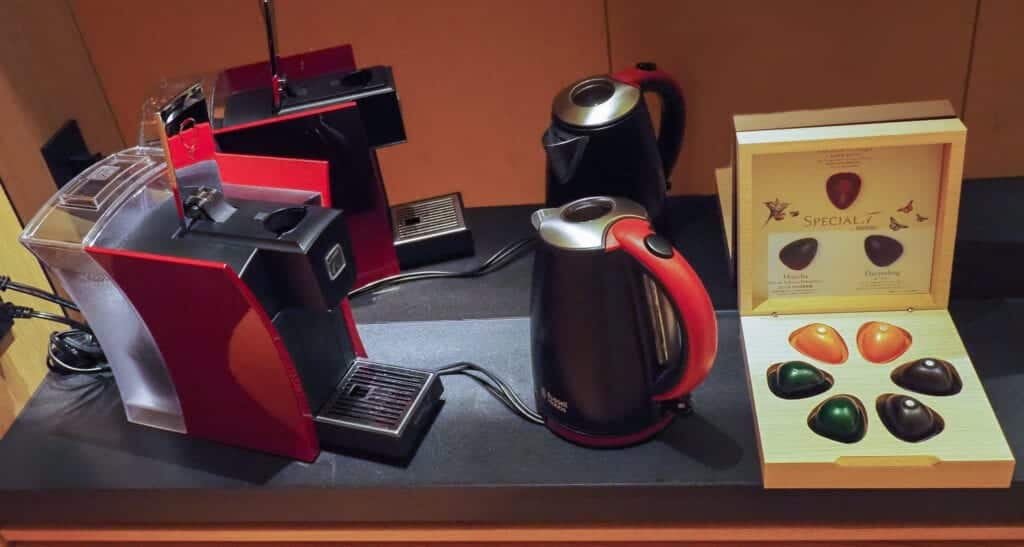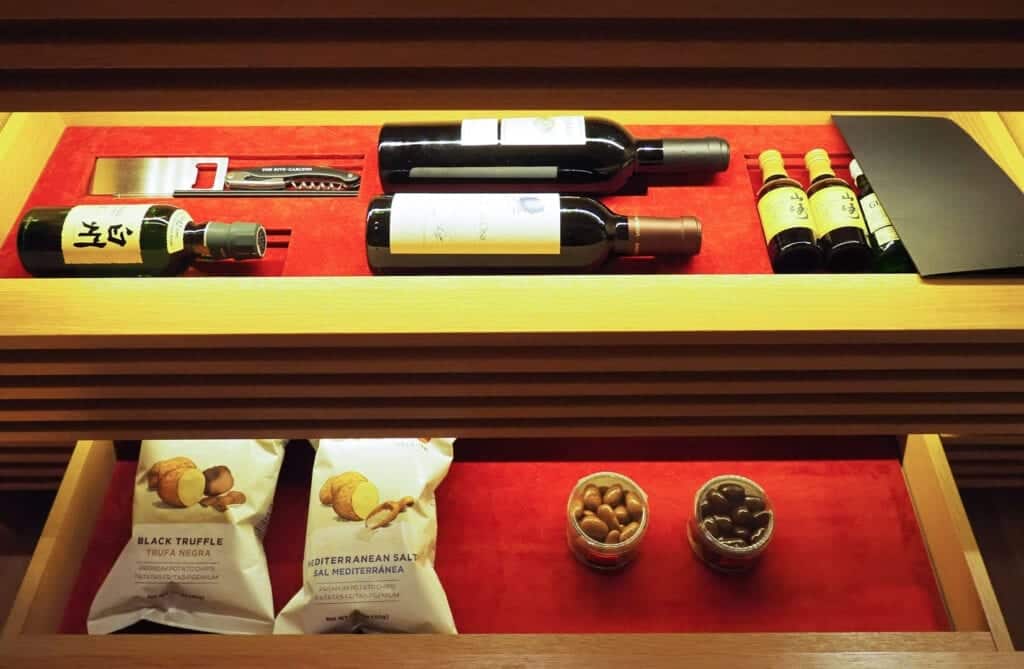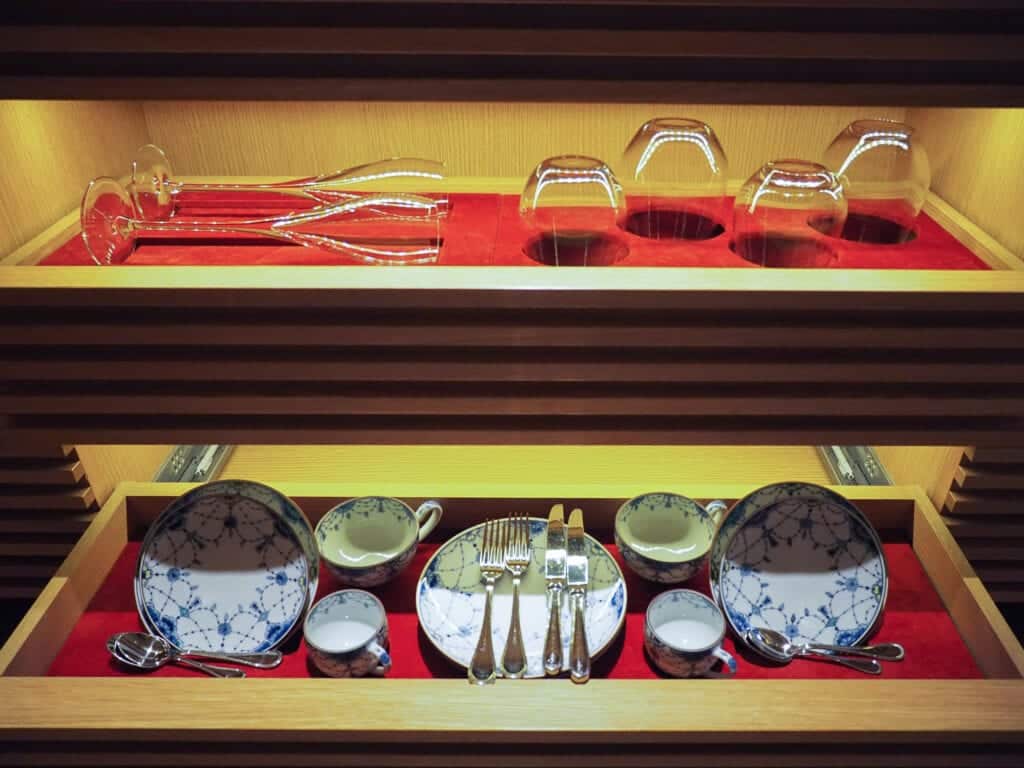 Turndown Service
Every evening we would return to find the garden illuminated and a new set of snacks left for us alongside the usual water, slippers and breakfast menus.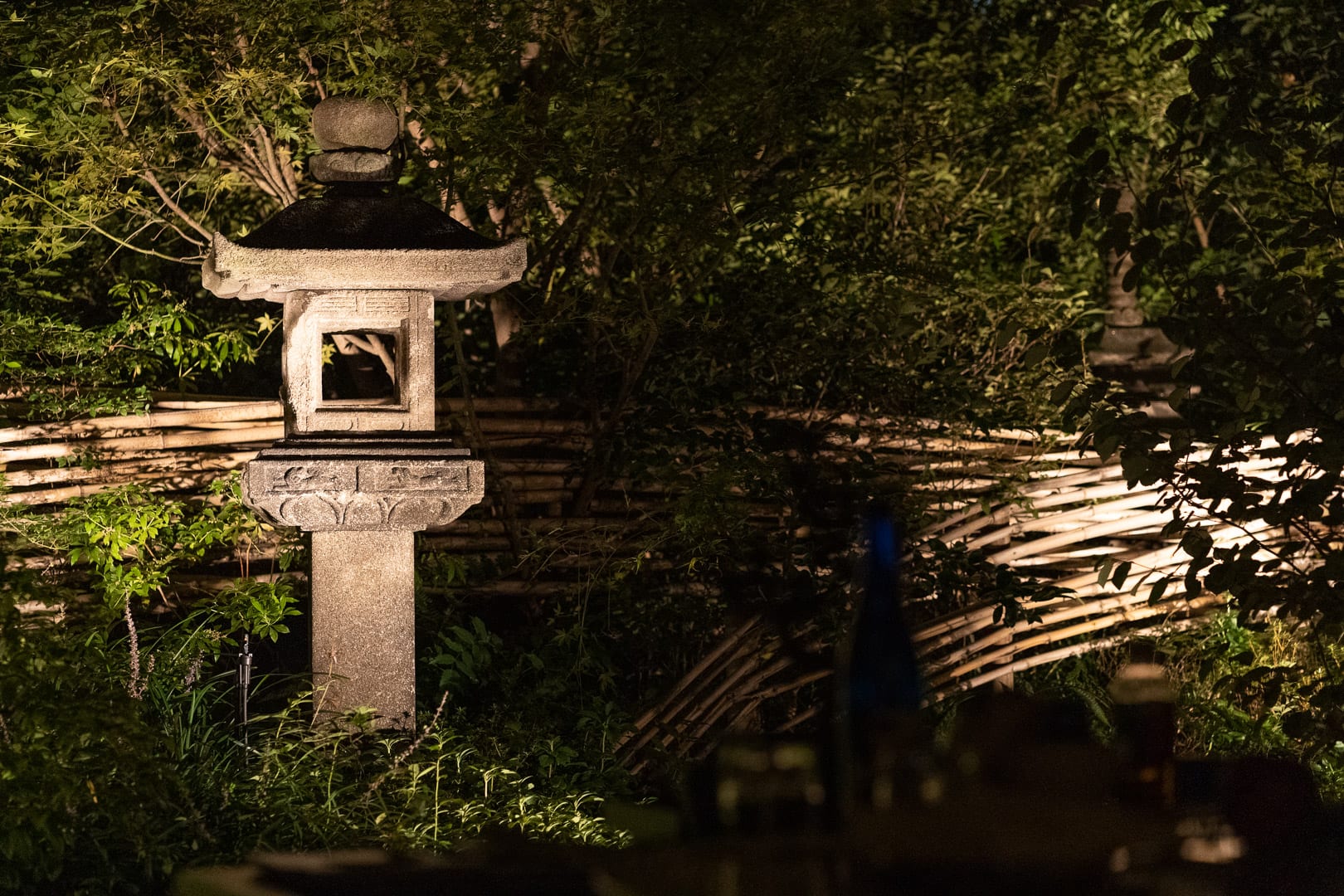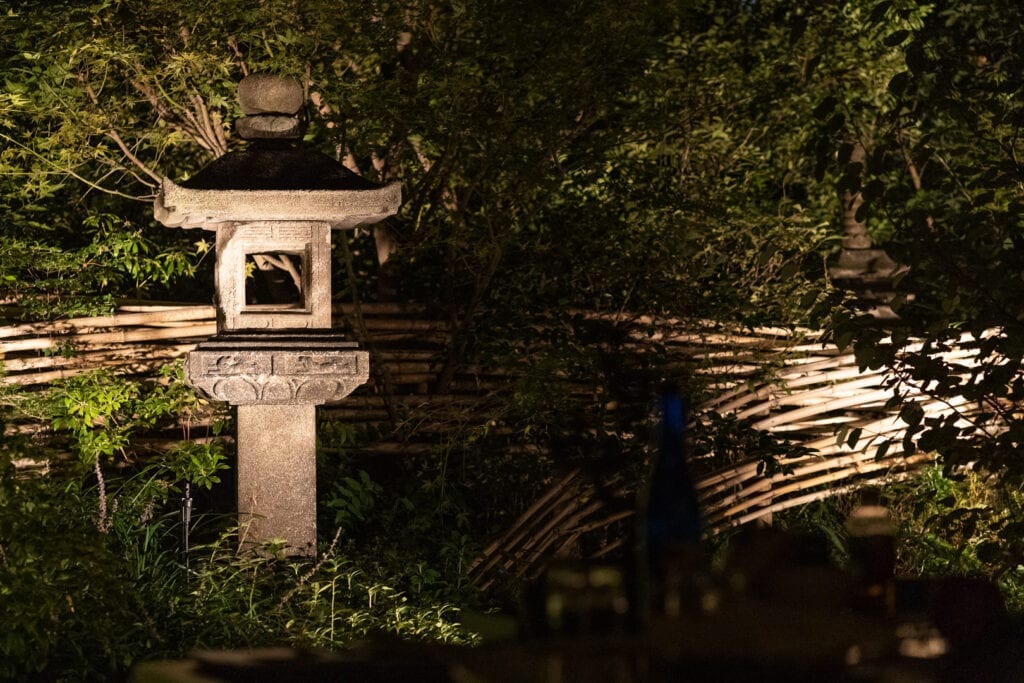 A different savoury snack was left each evening, if you stay long enough you can collect them all, Pokémon style.
Fruit would also be replenished each evening, with the odd sweet snack thrown in for good measure.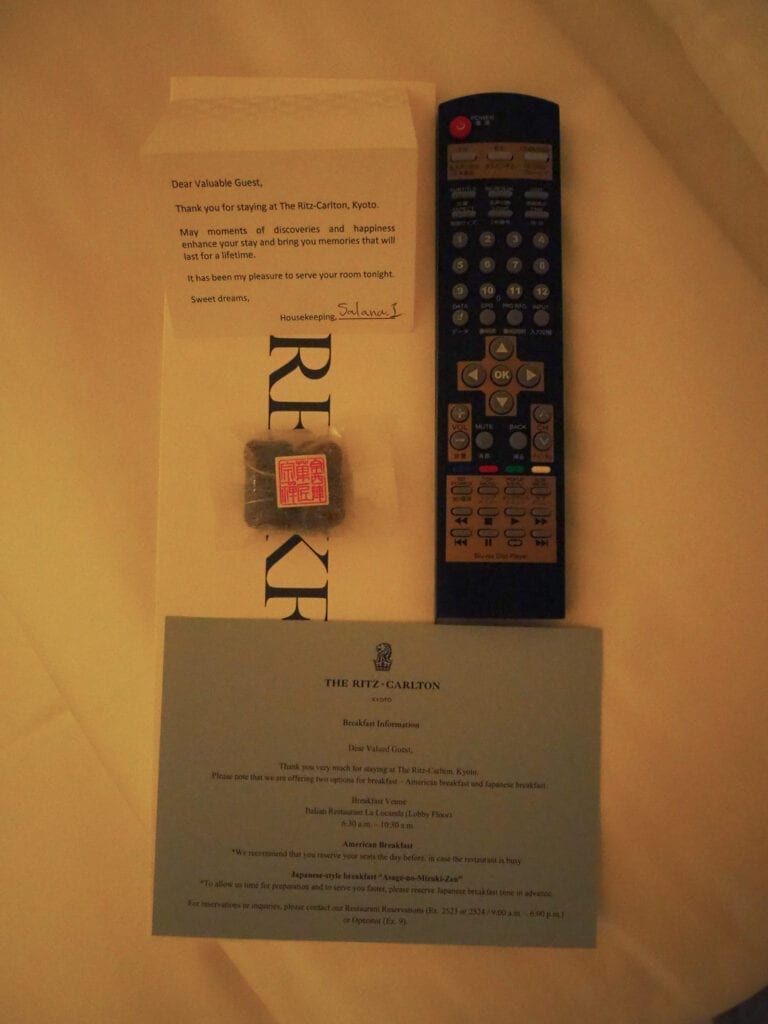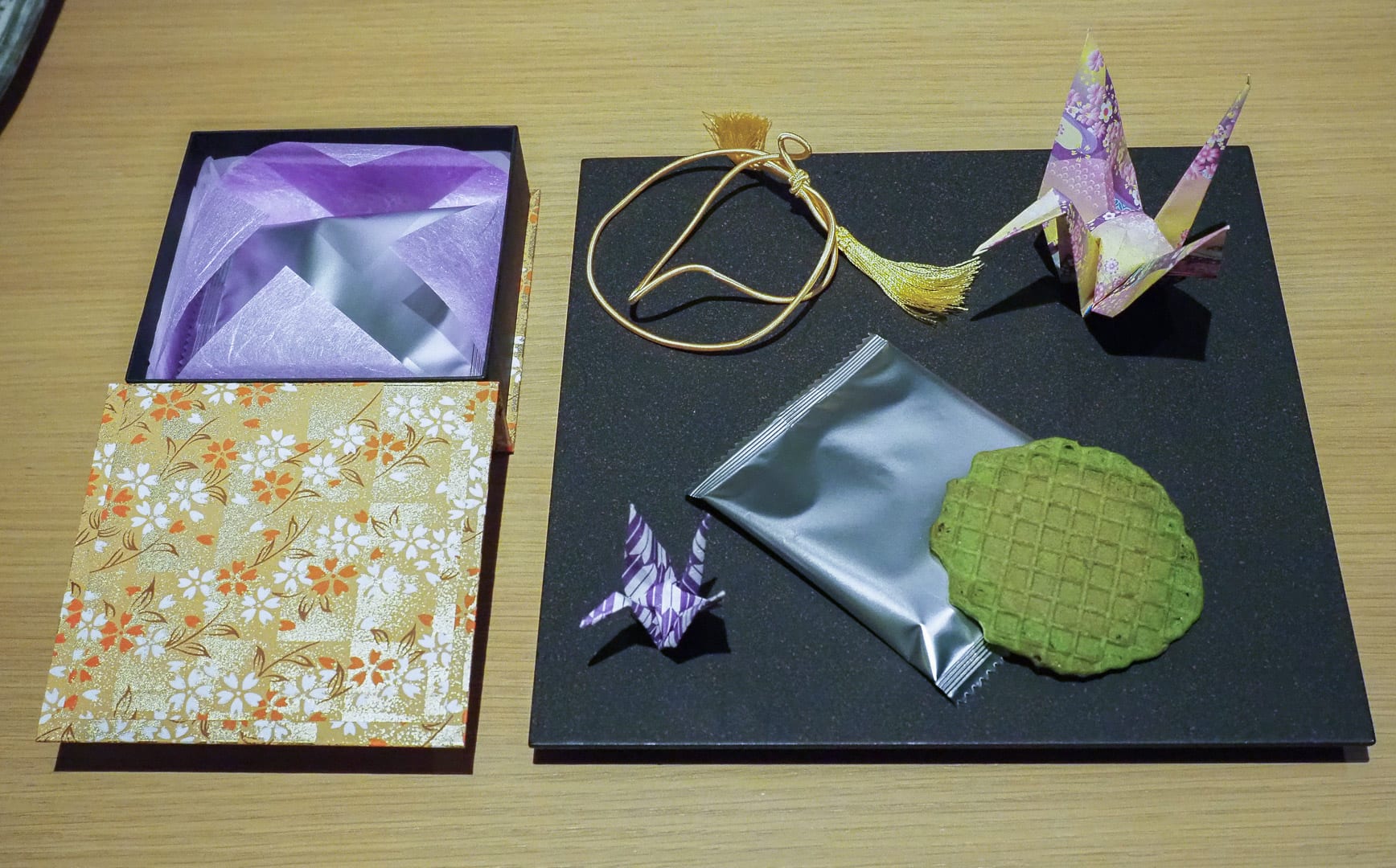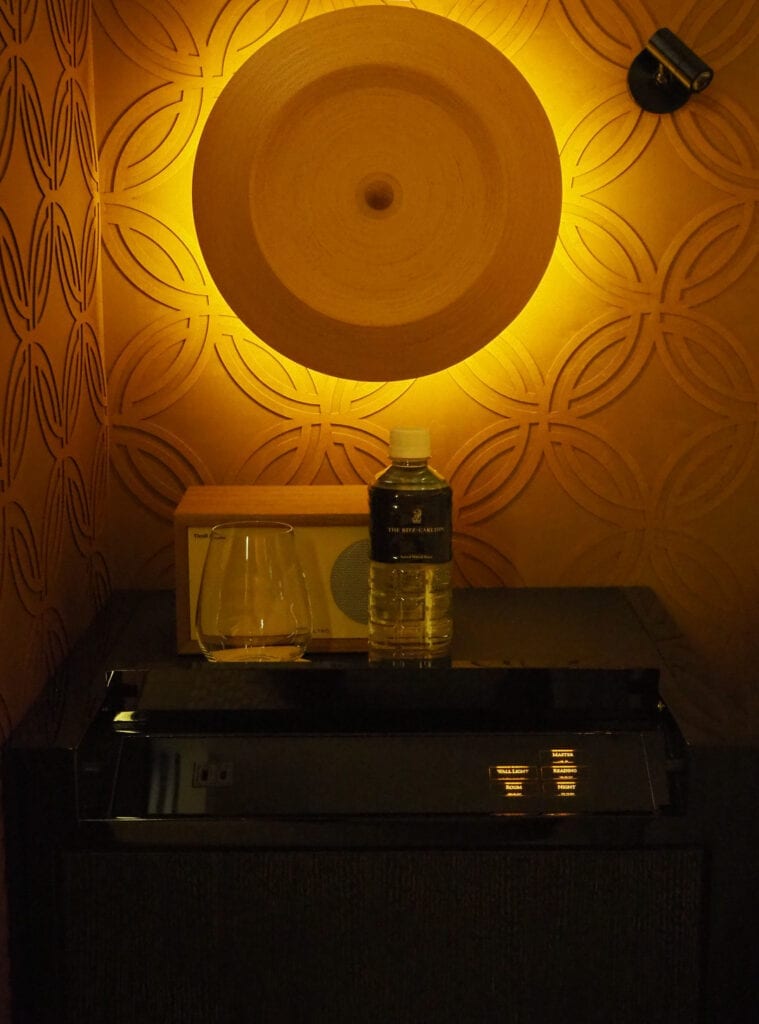 ---
Hotel Facilities
---
Gym and Pool
The hotel really prides itself on its resort-like feel and indeed it has an entire floor dedicated to relaxation.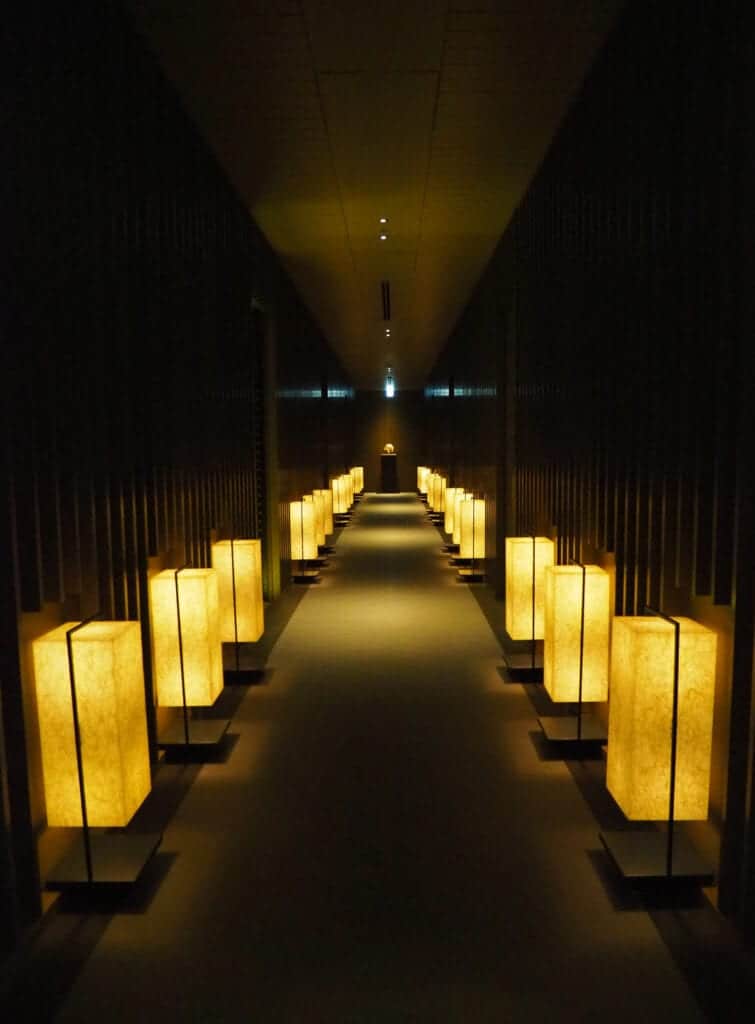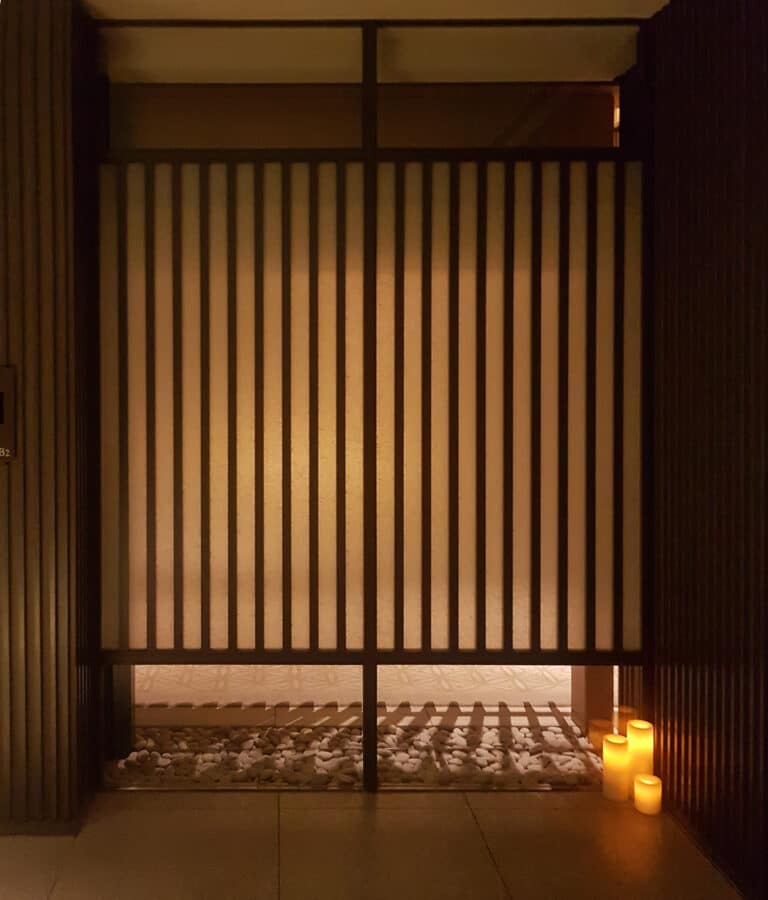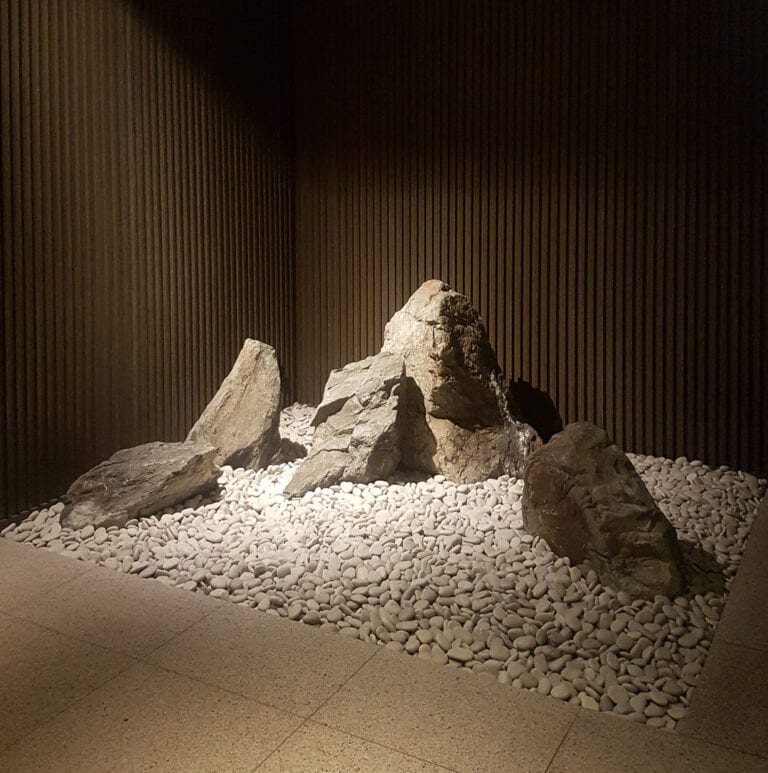 The changing rooms are relatively small and simple, although I did appreciate having the opportunity to soak in a hot spring bath here since I wasn't allowed in the pool with my tattoos…(I can't believe that's still a thing in Japan).
All manner of lotions and potions plus a hairdryer that could launch a potato 300m across a field.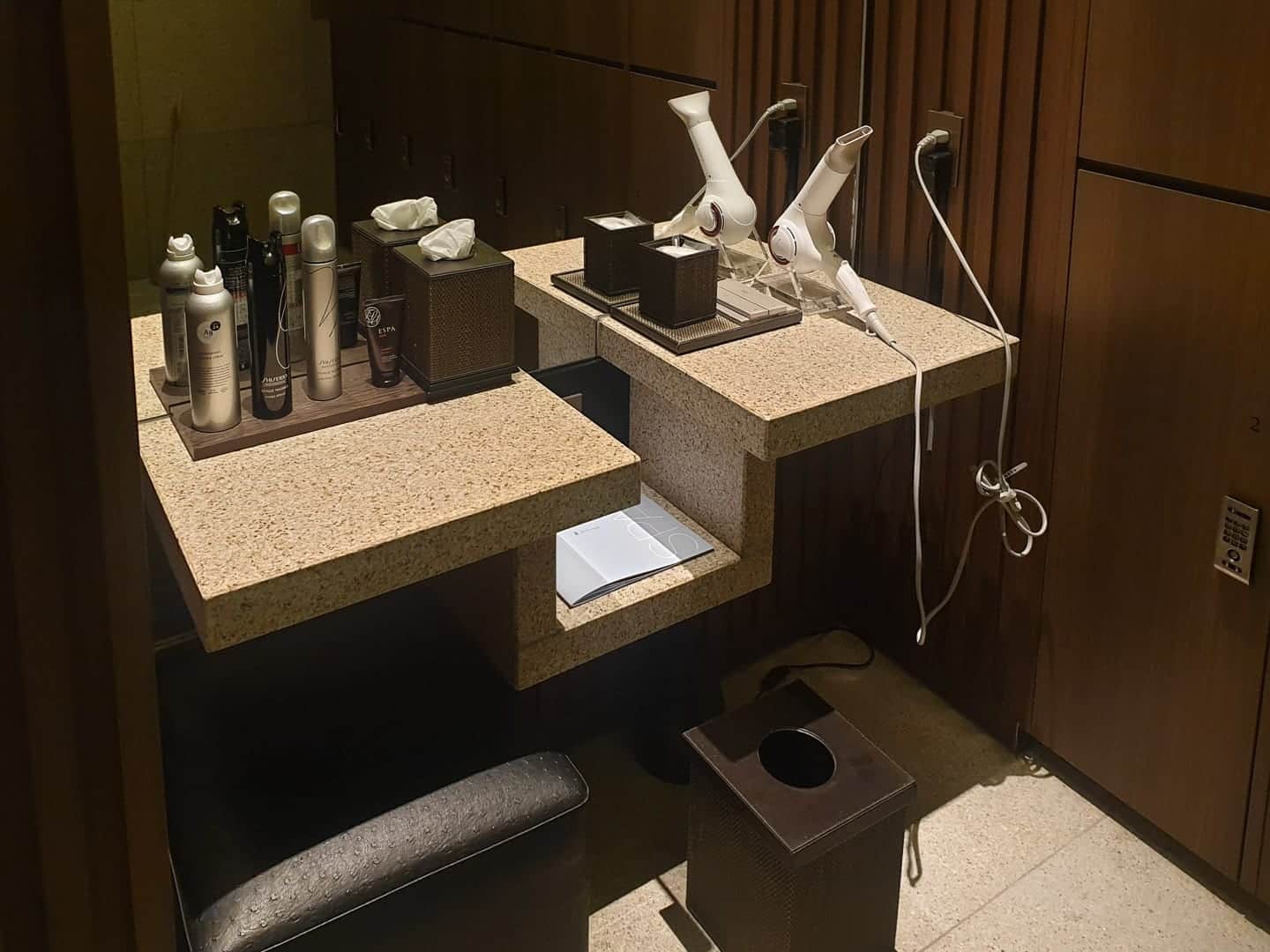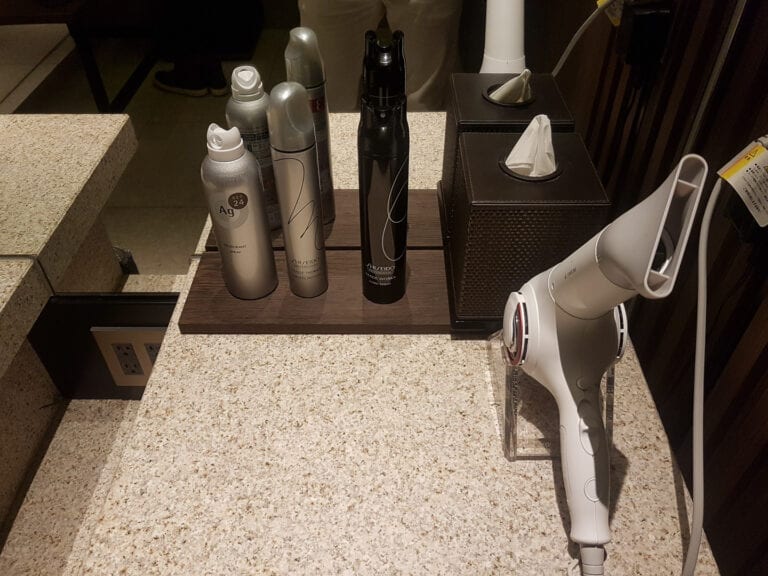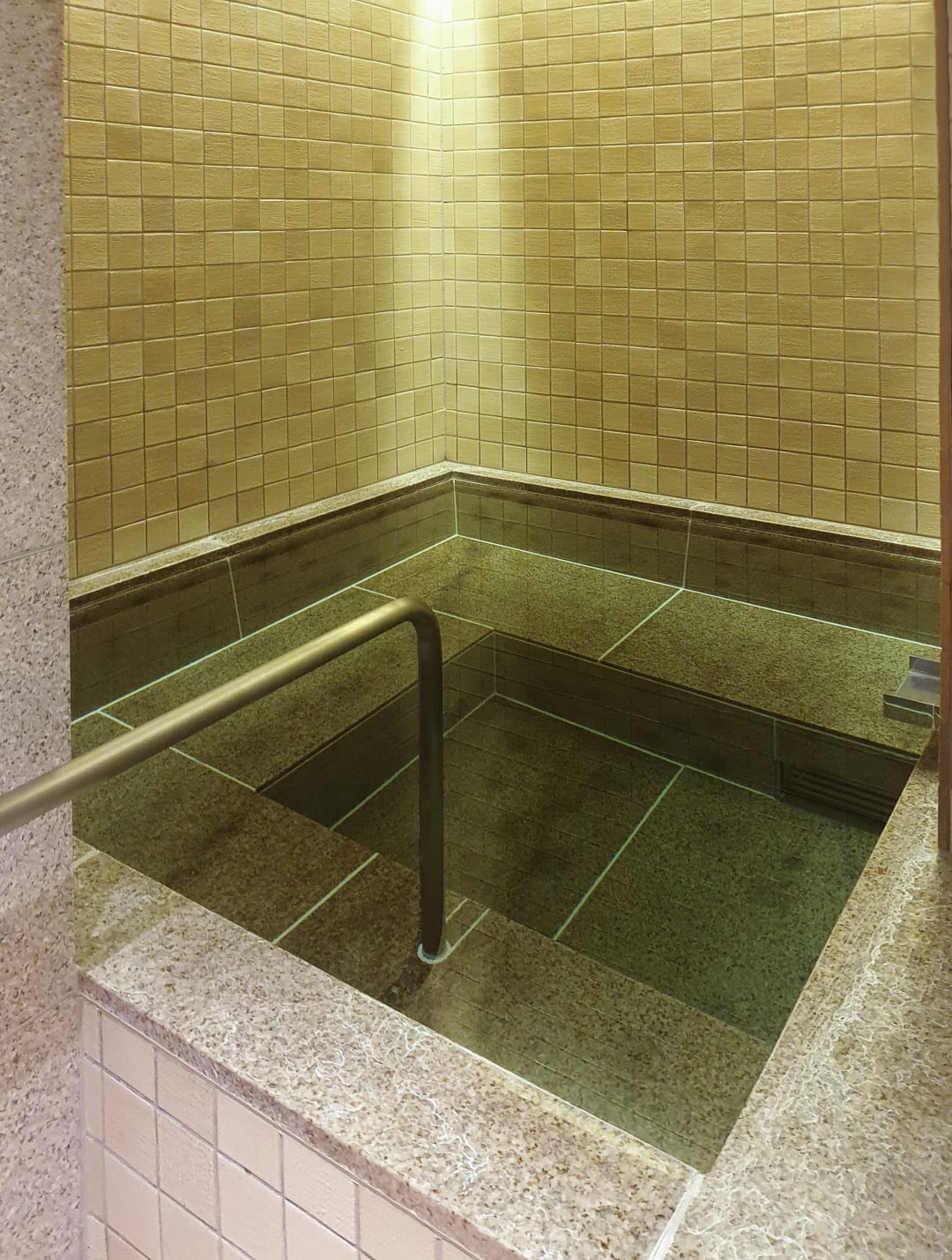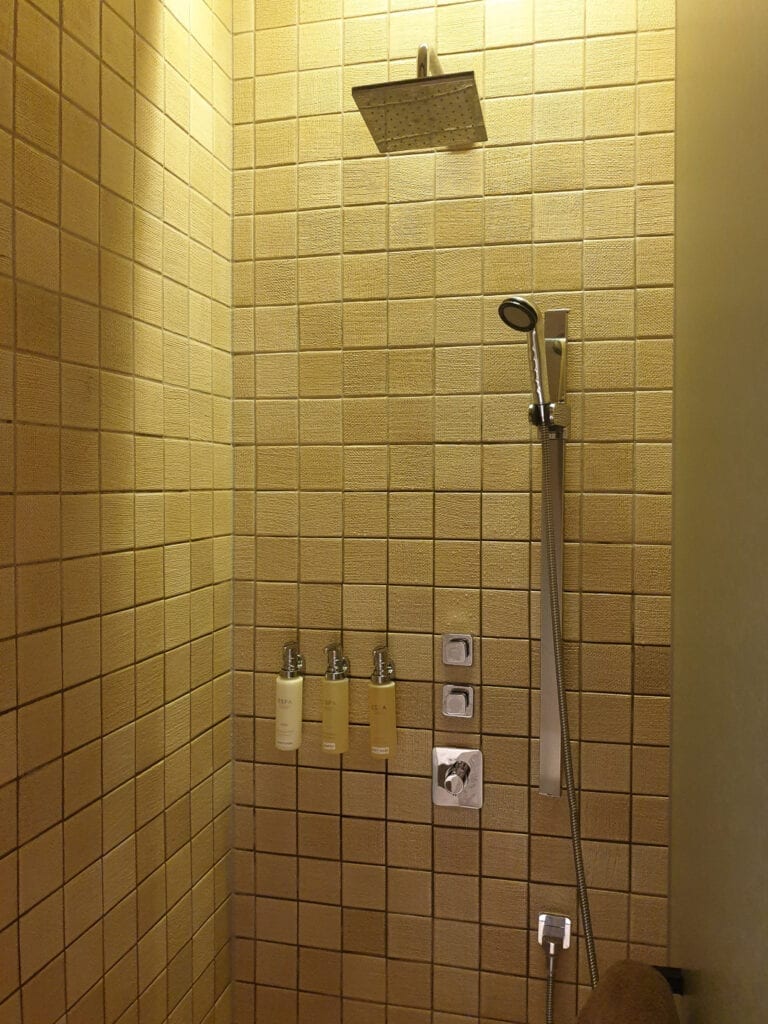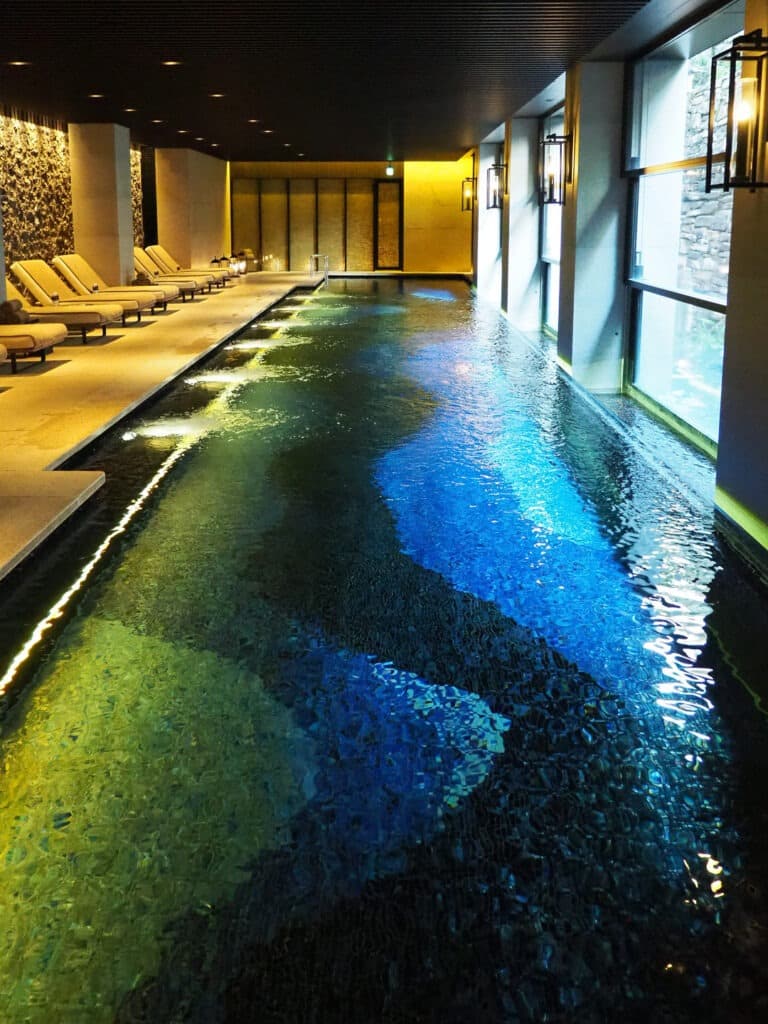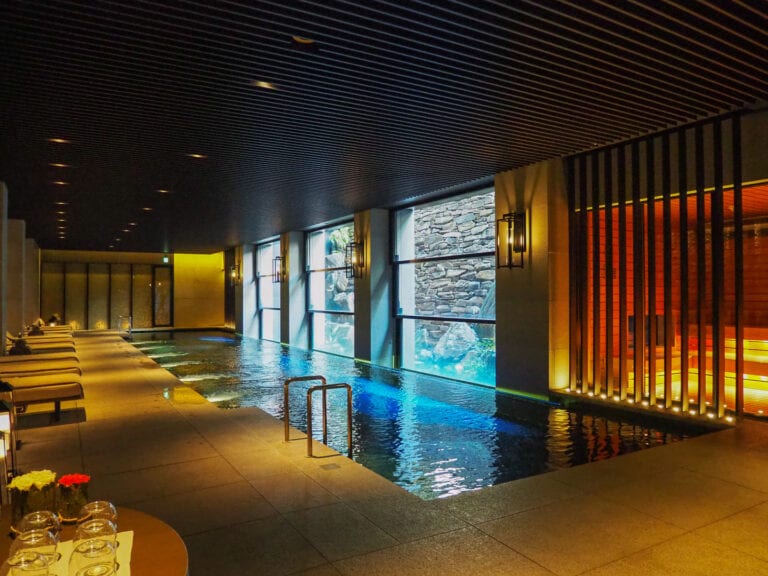 The gym was very well equipped and had more than enough machinery and free weights to keep us engaged over the course of two 5 night stays. All cardio machines were routinely supplied with fresh face towels and bottled water. Complimentary fruit, sports drinks, bottled water and protein bars were also offered.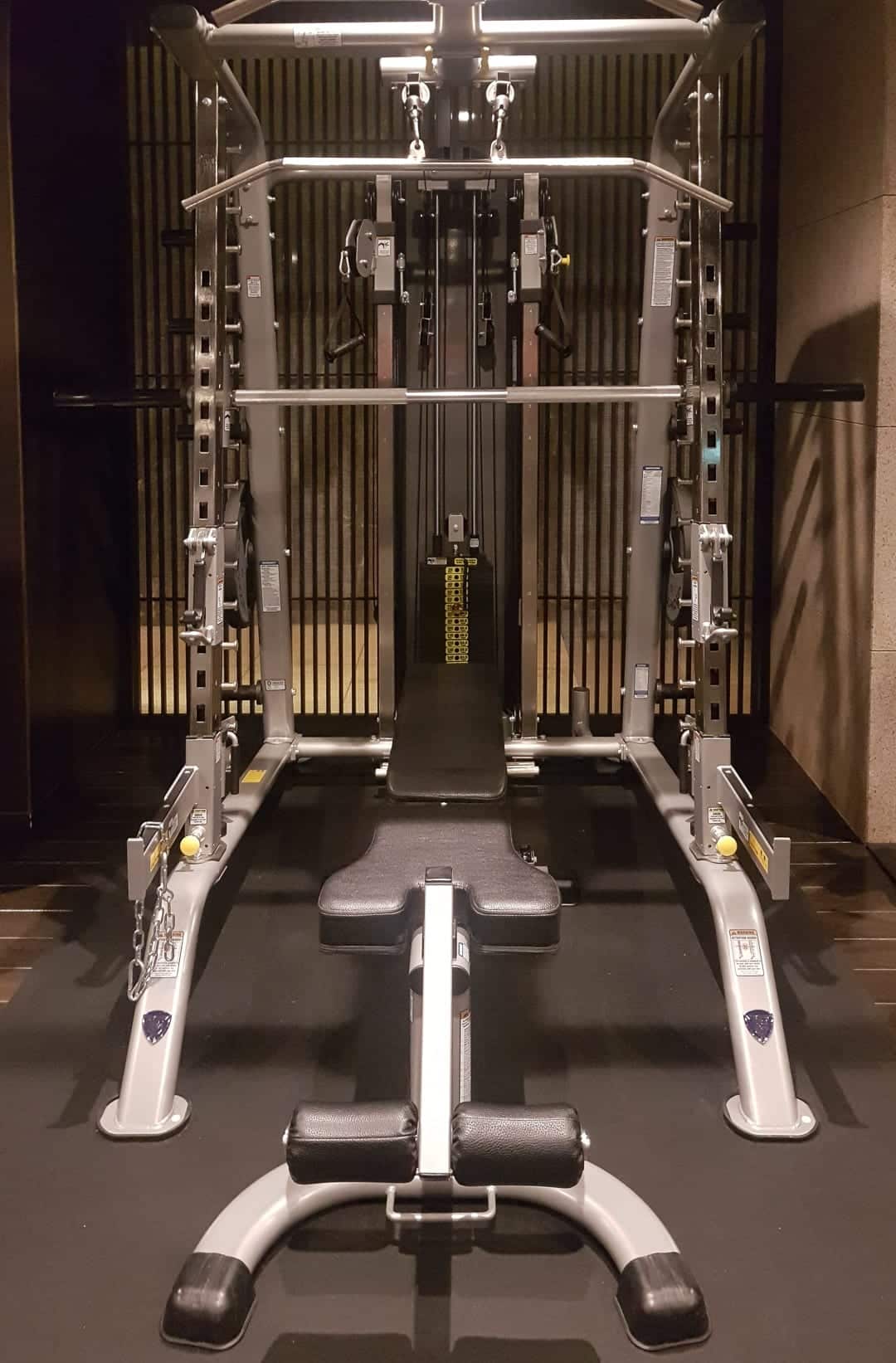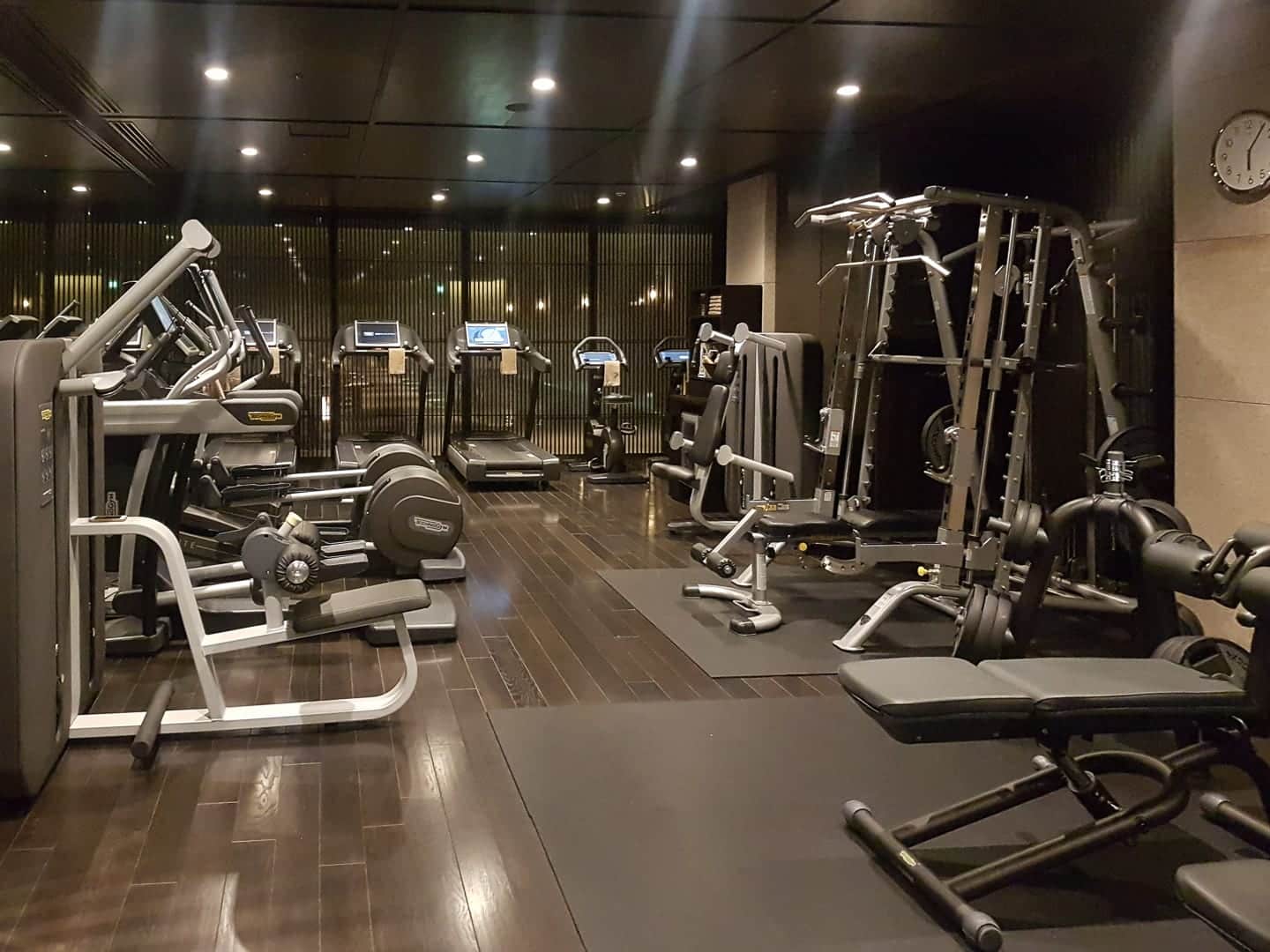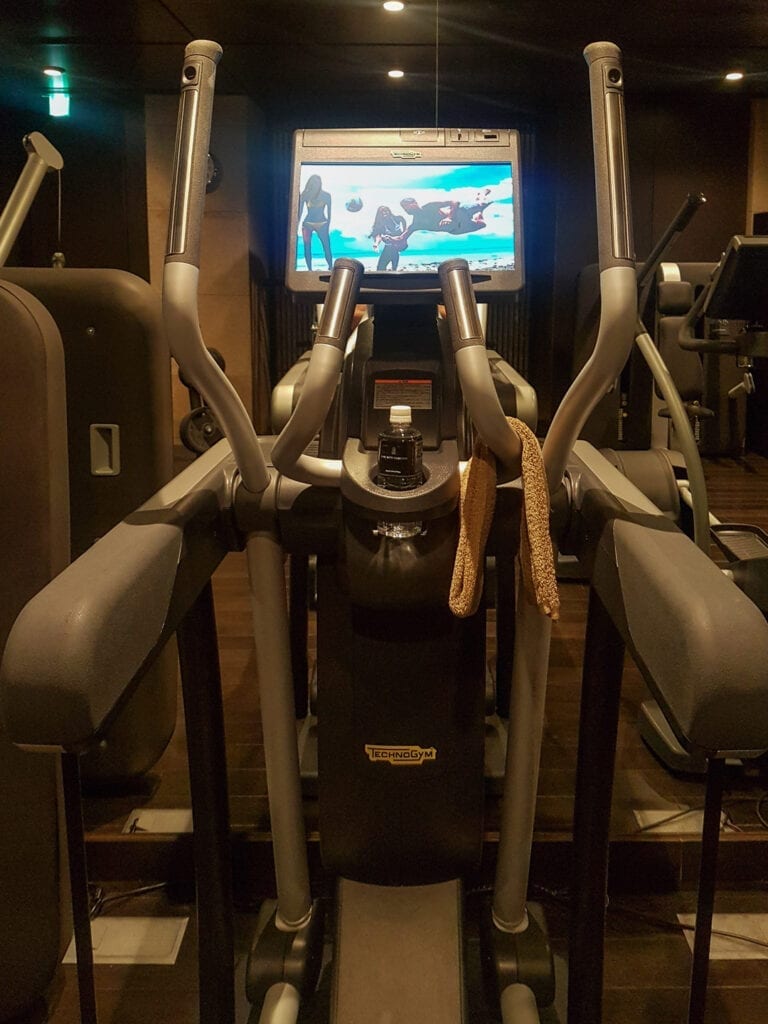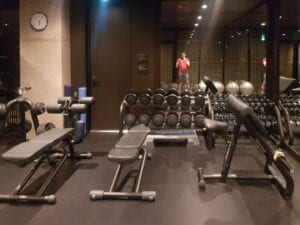 Art
When one of the members of staff saw me walking around and taking pictures of the various sculptures and paintings in the public spaces she asked if I'd be interested in joining the hotel's complimentary art tour. I of course said yes! We were the only guests on the tour so were told that it could happen pretty much whenever we wanted, which I thought was pretty great for an activity which is free of charge.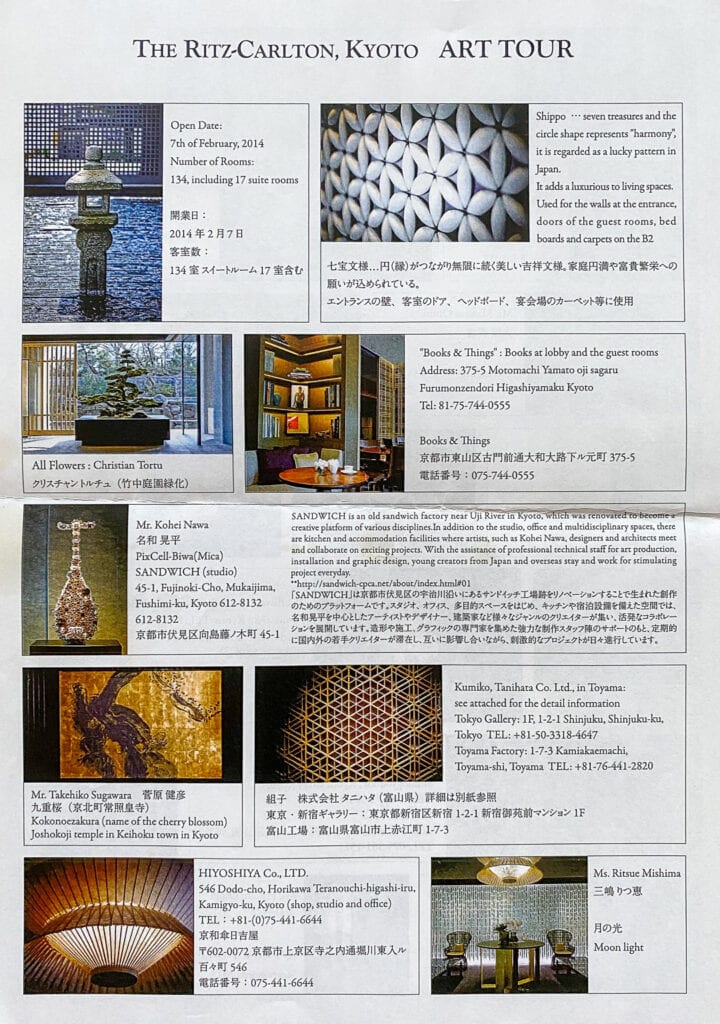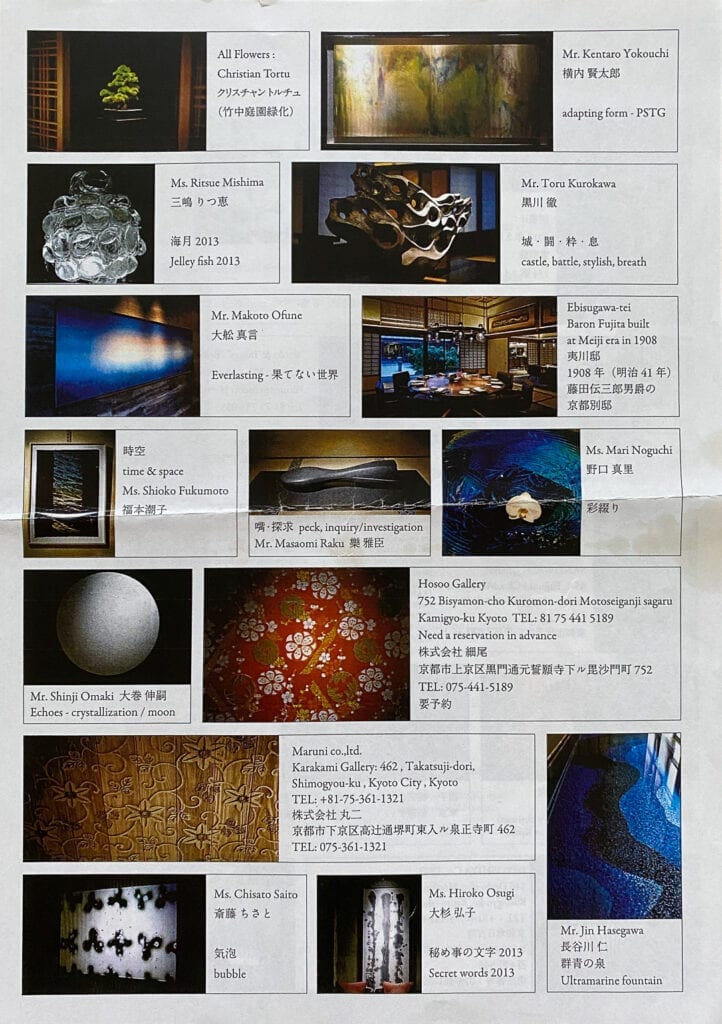 I imagine most hotel guests simply pass through without realising the level of craftsmanship that has gone into some of the installations here. Honestly, the hotel is a worthy rival to many art galleries.
This traditional Japanese lute made of glass bubbles changes to pink when you use a flash to photograph it: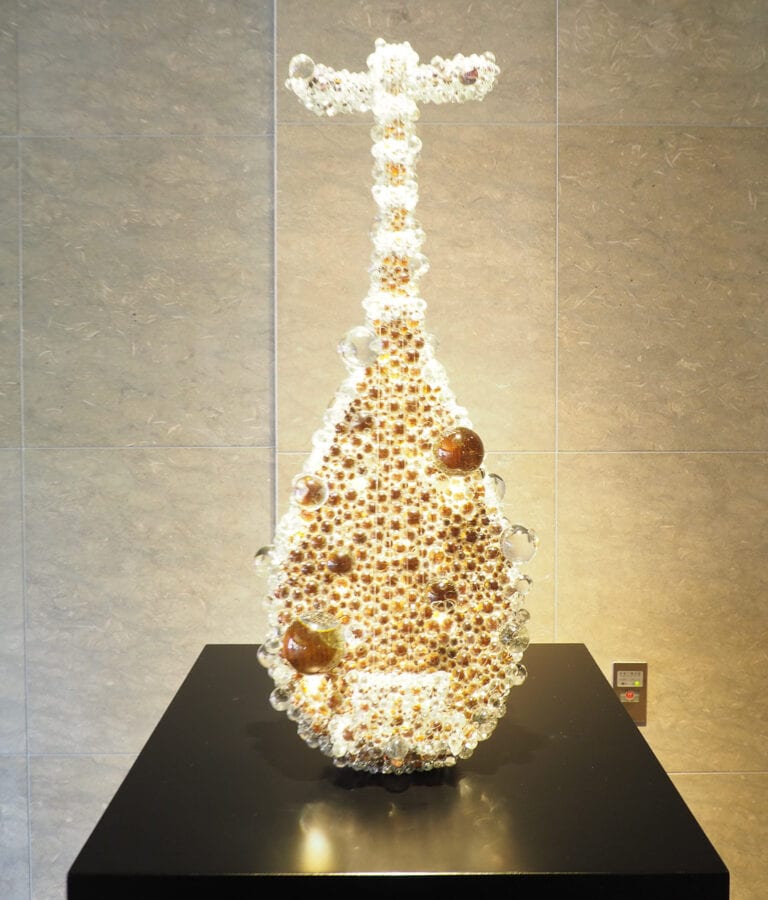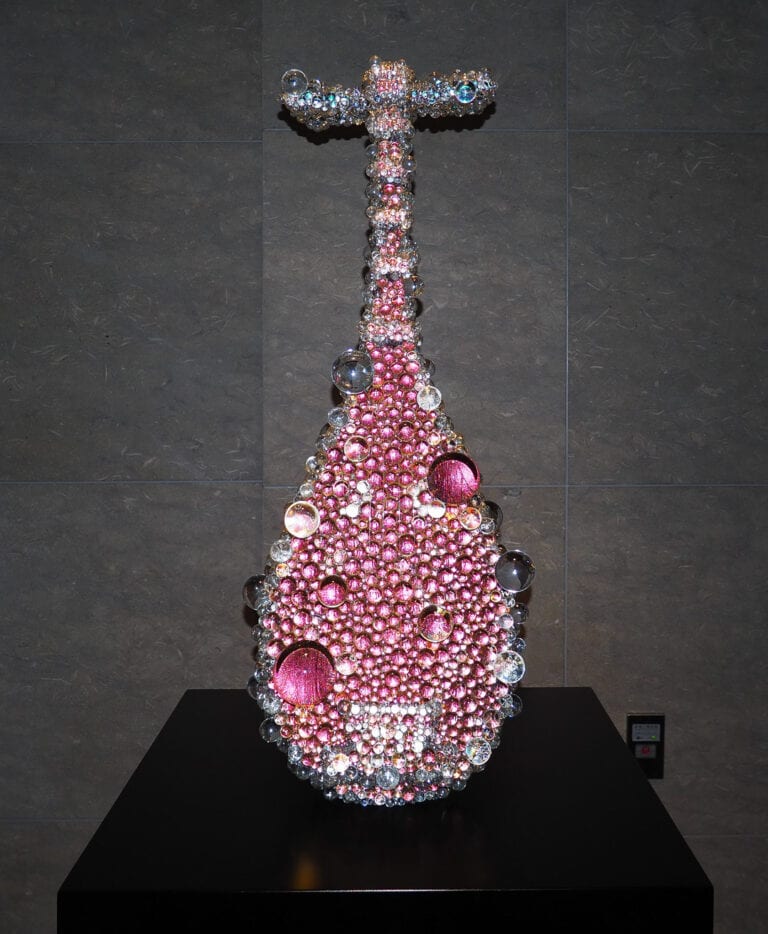 Underneath the main staircase leading to the restaurants is what looks like a giant painting of the moon. Get close enough and you see that this piece by Shinji Omaki is actually not painting but rather an intricate 3D model of flowers made out of powdered crystal.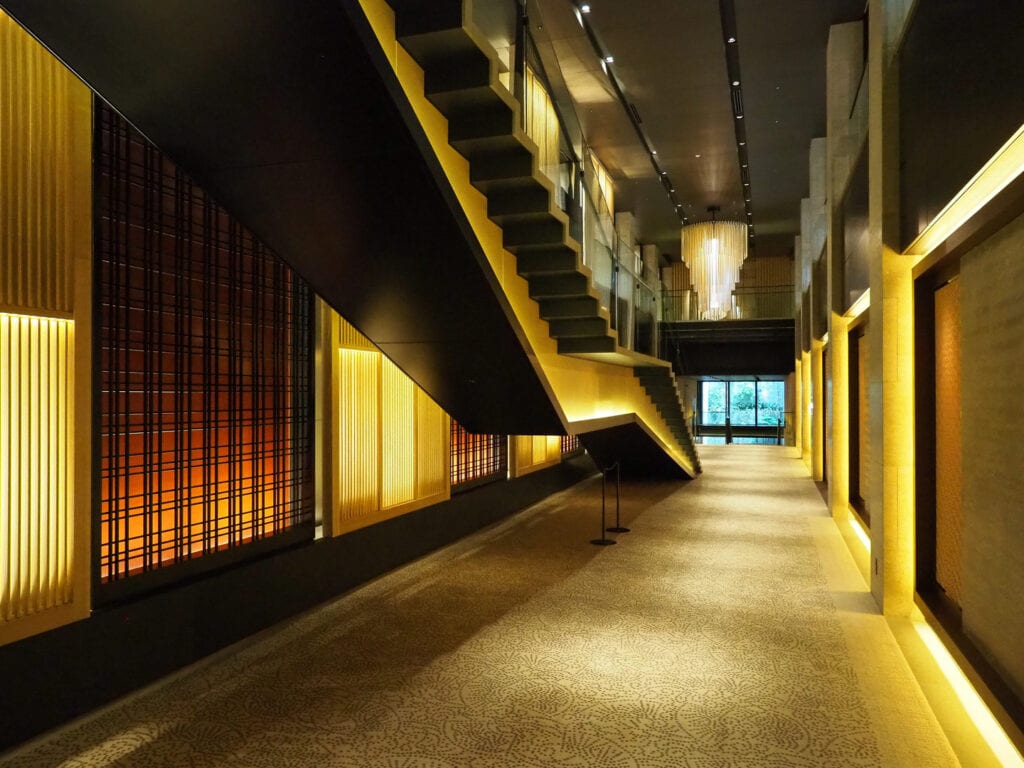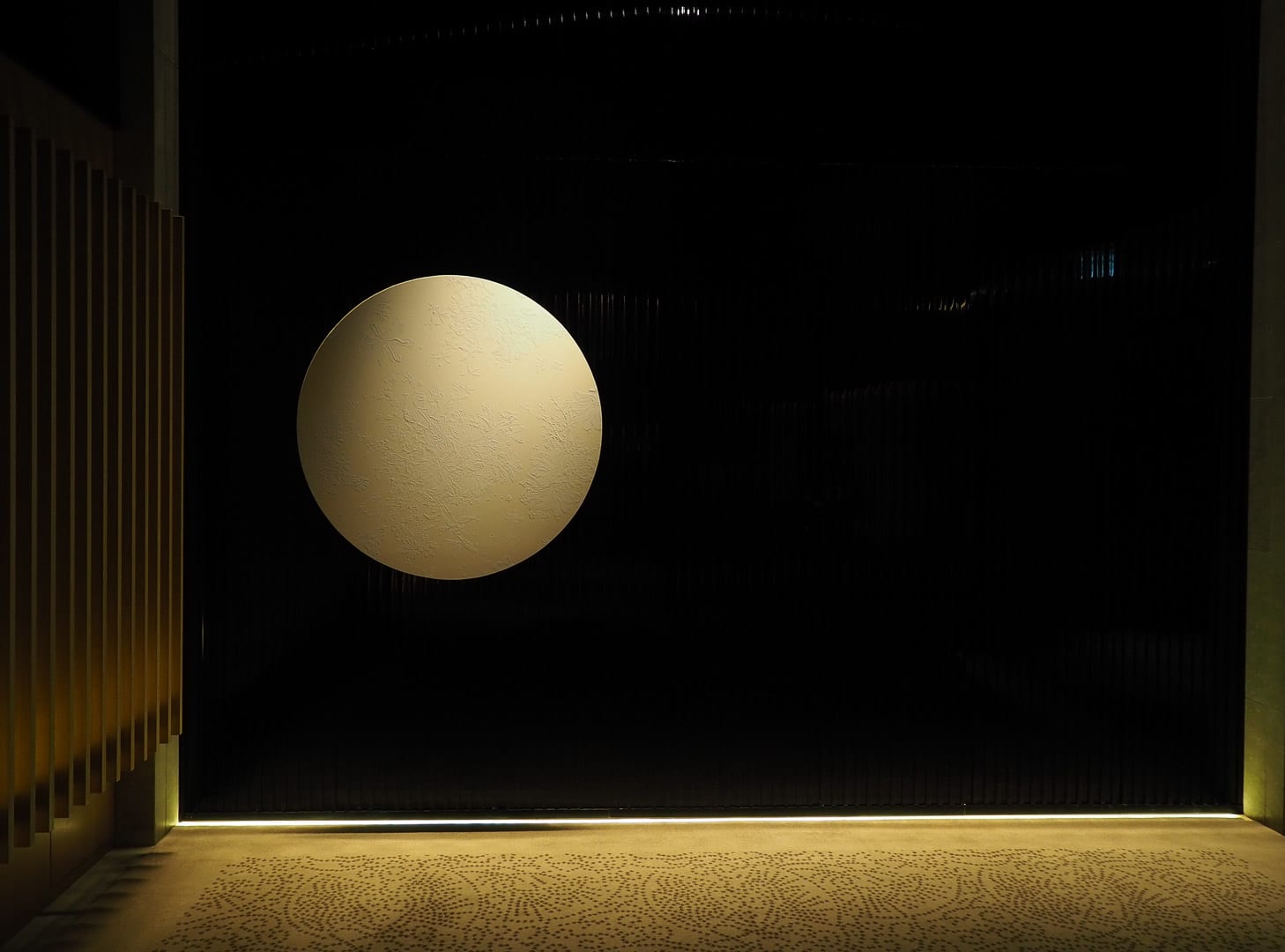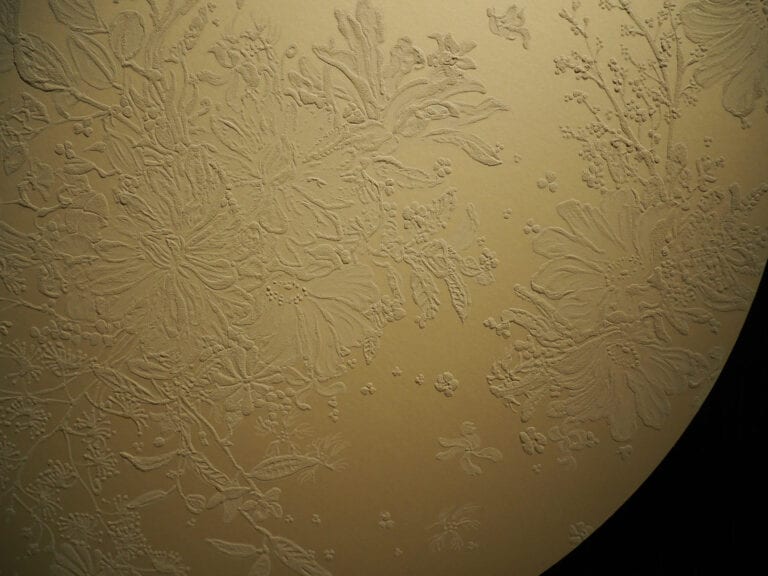 Elsewhere there are numerous beautiful paintings and calligraphic scrolls dotted around the property almost all of which use gold leaf, powdered gemstones or some other incredibly elaborate and expensive method to derive their form.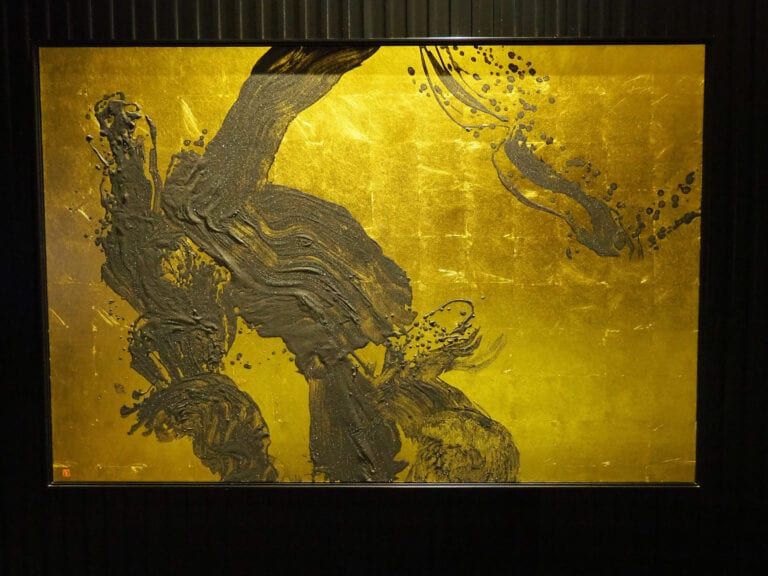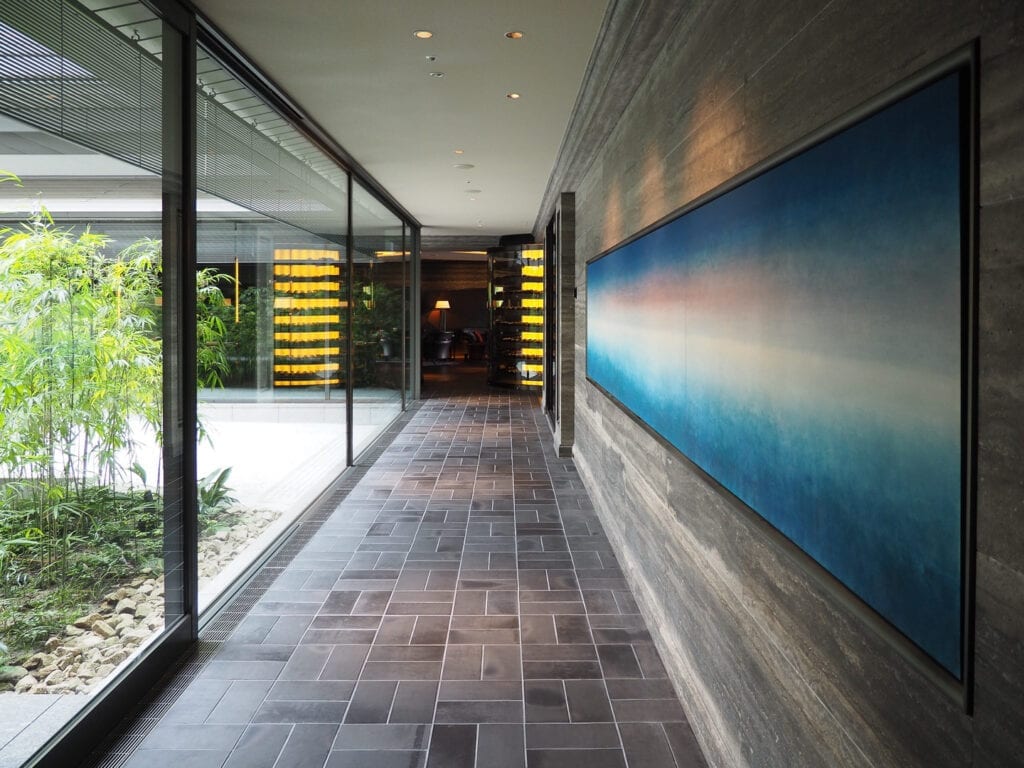 The final stop on our tour was at the hotel's Italian restaurant : La Locanda. Despite being located apart from the hotel's Japanese dining venue it contains a private room which was removed from a Meiji era home and meticulously reconstructed on the property. It's like a smaller scale version of the incredible inception story of Amanyangyun.
You really have to respect the audacity of endeavours like this.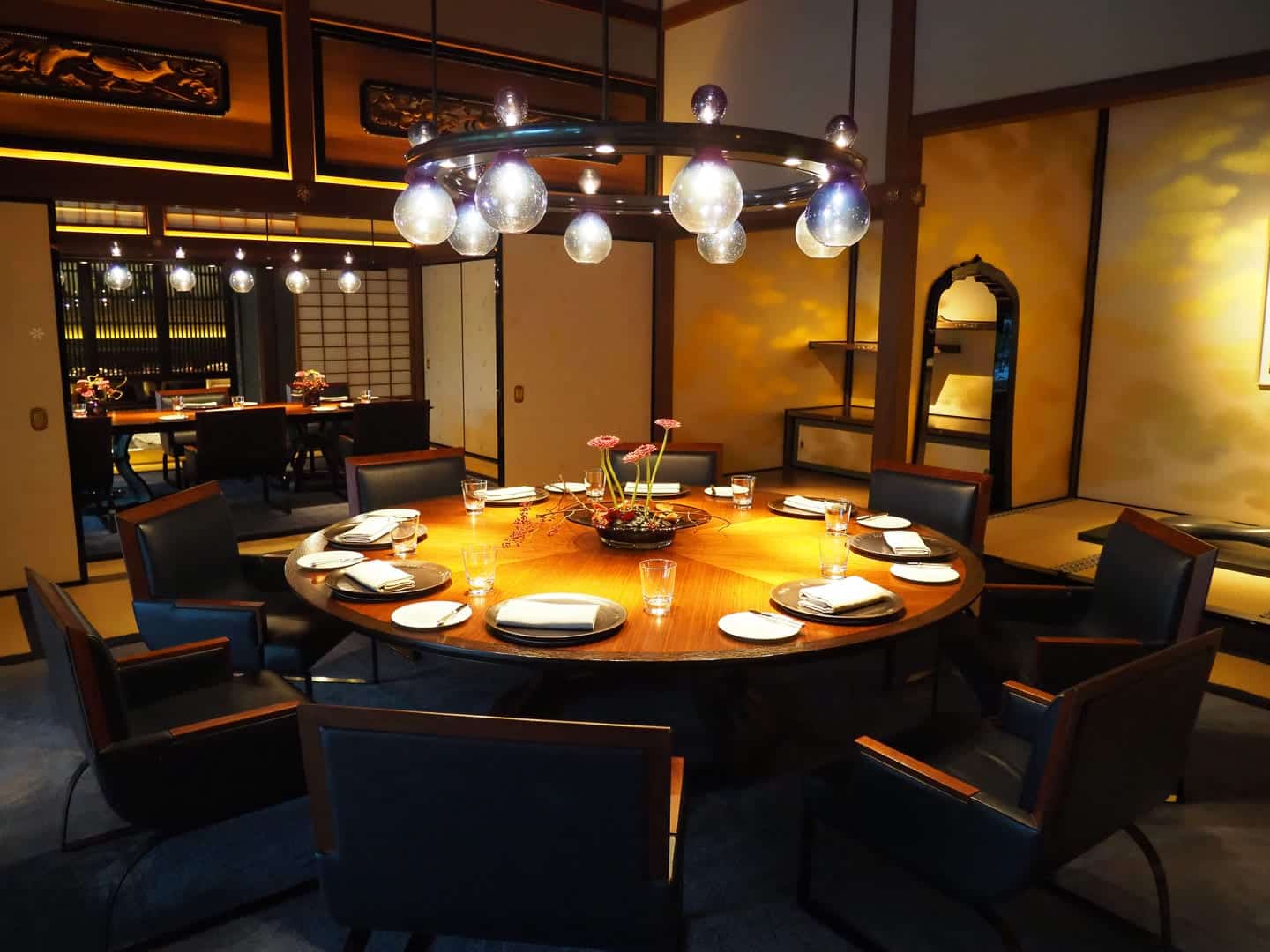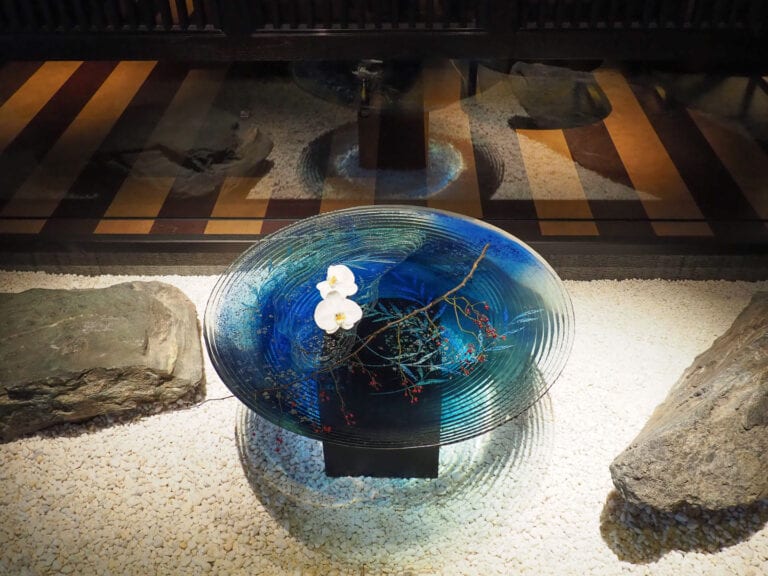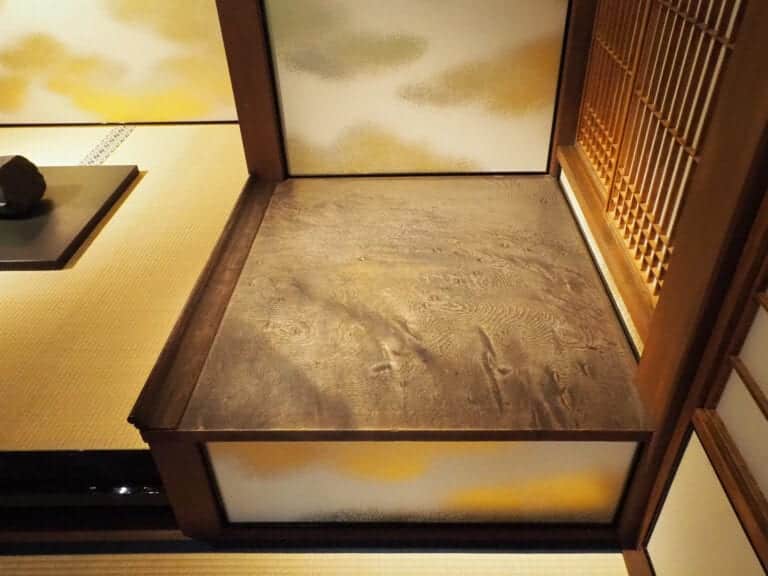 The uncovered teak panel is literally priceless. No living tree on earth is currently old enough to provide a single uninterrupted panel of this size and most hotel guests will never see it. Even if they did 99% would have no idea what they were looking at. I certainly didn't…
---
Food and Drink
---
Moving seamlessly on, Marriott Platinum members are offered free breakfast at this property – this is not a published benefit of the Marriott program but rather another of the many data points illustrating that elite treatment is always better in Asian properties.
You have the option of taking either a Western style breakfast in La Locanda or an extravagant multi course Japanese breakfast in Mizuki.
Western breakfast at La Locanda
Aside from the Meiji era dining room La Locanda has an ample dining room, a very impressive bar area and lounge style seats by the windows, facing the property's waterfall wall.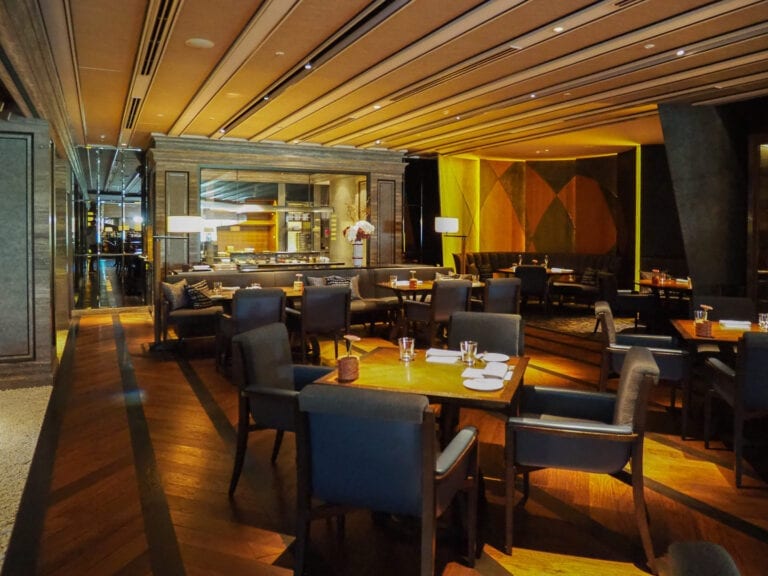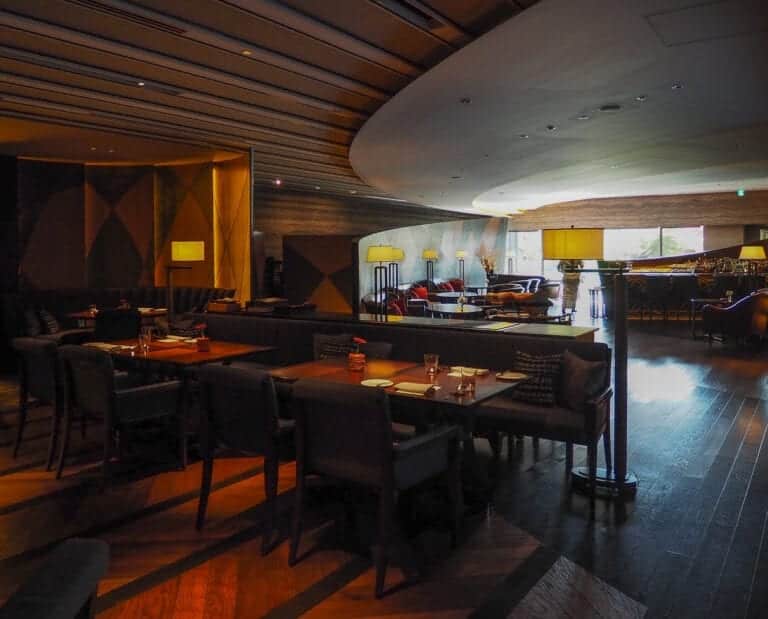 Our preference on days where we came to La Locanda was to sit by the windows facing the waterfall. The dark wood and low lighting work well for a bar and dinner venue but early in the morning I prefer a little sunlight.
Breakfast each day began with our server bringing us fresh, scented towels and two shots of mild flavoured vinegar to prepare our stomachs for the feast ahead. Kamara always drinks a glass of water with lemon and apple cider vinegar in the morning so she was particularly impressed by this!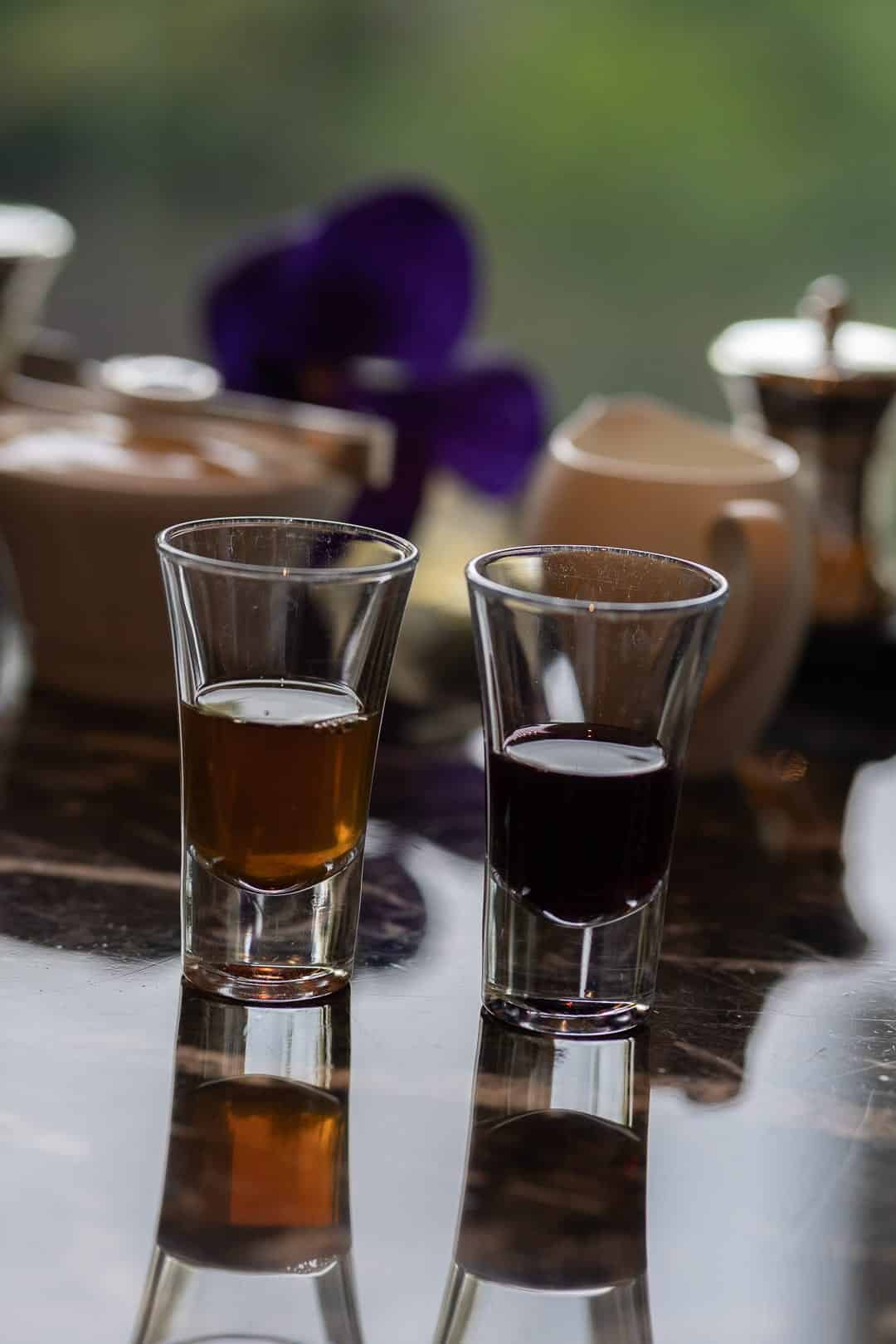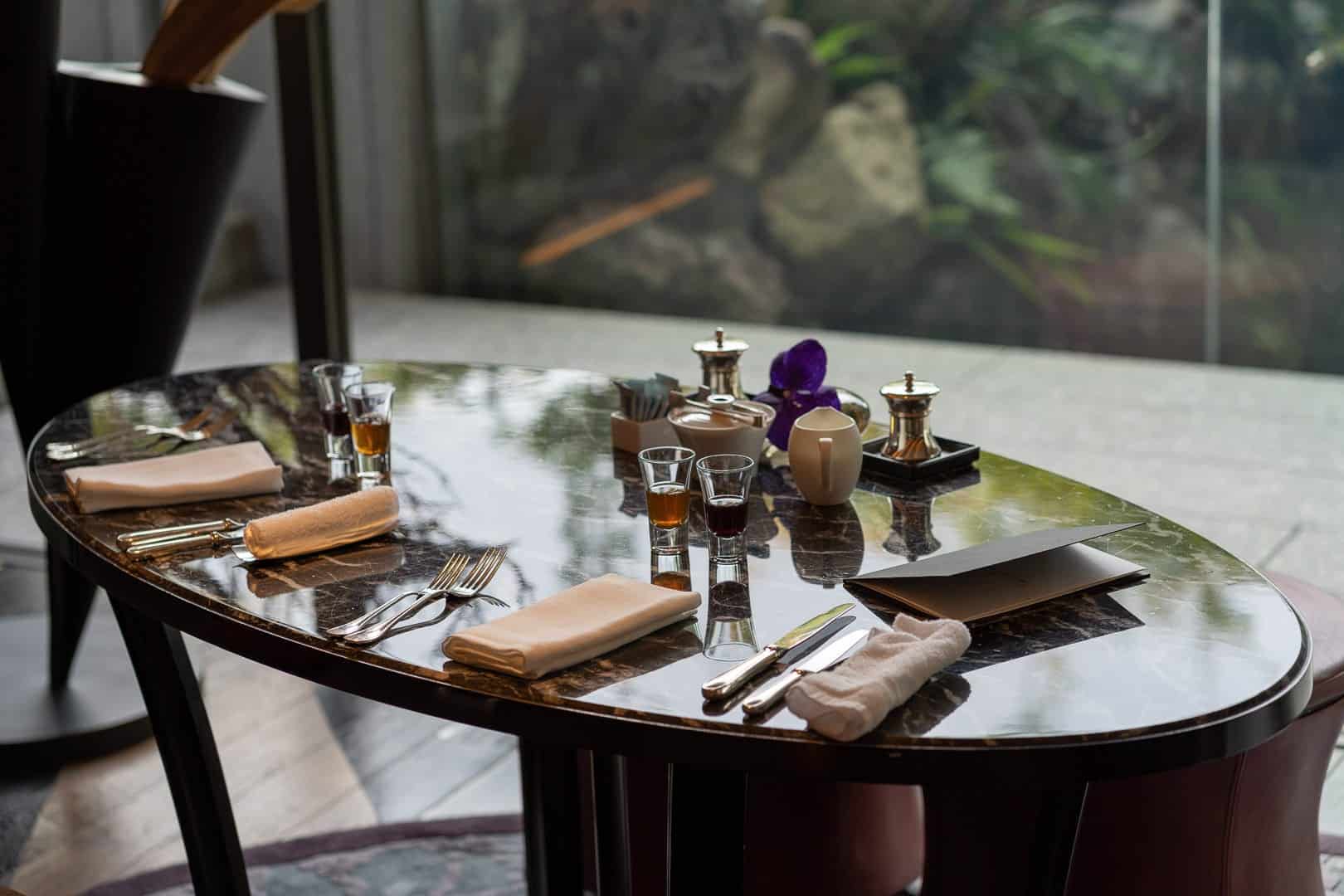 We were also offered a la carte menus at this stage with food and drink orders taken very promptly. Typically the server would wait for us to close the menus and immediately come over to take our order before we got up to peruse the buffet.
This is quite possibly the highest quality breakfast buffet on Earth. Not only is there an onsite Pierre Herme bakery, the fruit, vegetables and meat were all incredibly fresh tasting and packed with flavour. Fun fact: Japanese egg yolks are orange because farmers feed them a diet rich in carotenoids – including bell peppers and marigolds. Japanese eggs even come with white yolks sometimes, when farmers feed the chickens nothing but rice!
An entire wheel of DOP Parmigiano, house cured salmon, prosciutto, all manner of fresh fruit and a variety of hot dishes including my favourite: duck sausages.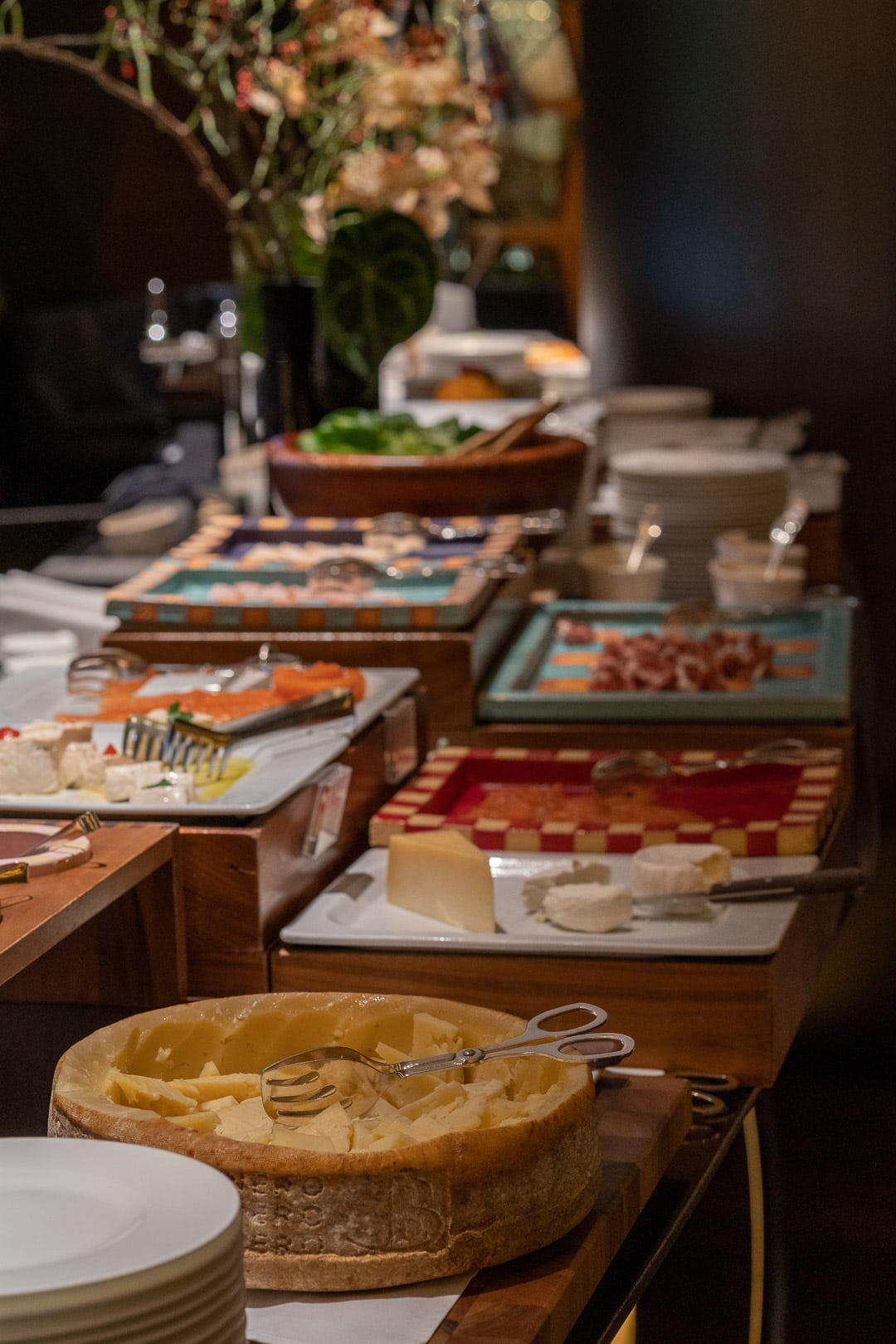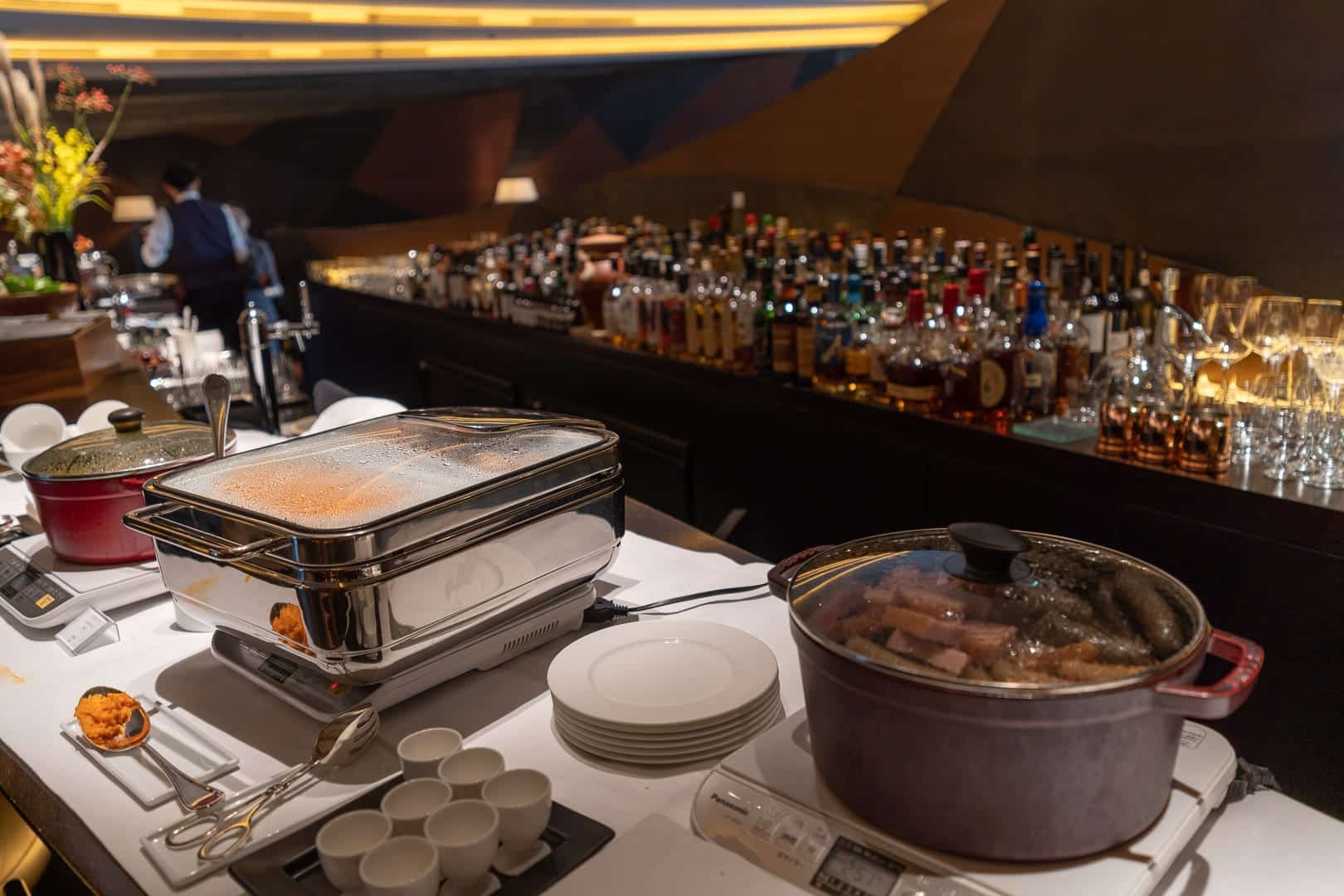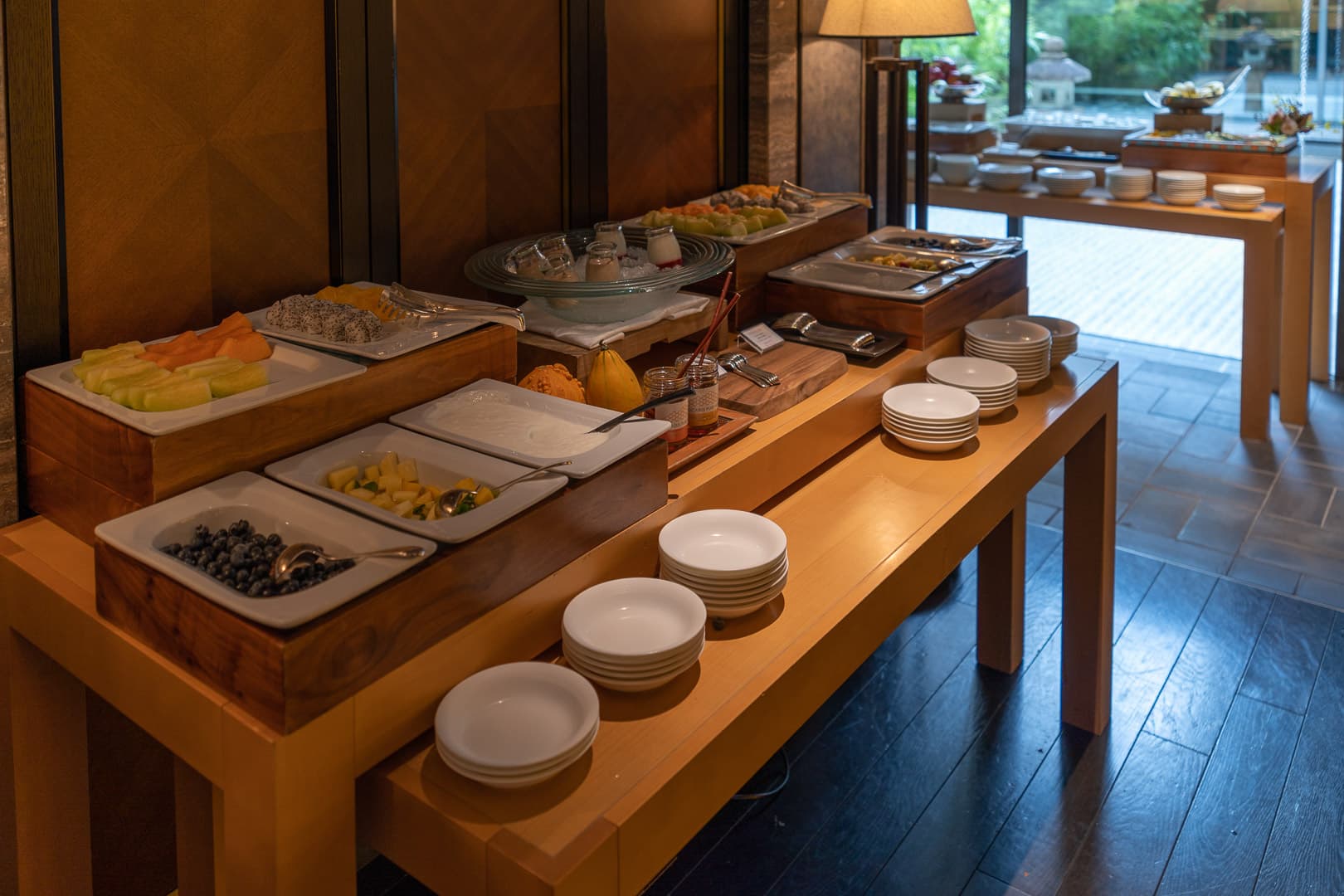 The real star of the show was the Pierre Herme bakery. Home to the single greatest pastry of all time: The Ispahan Croissant.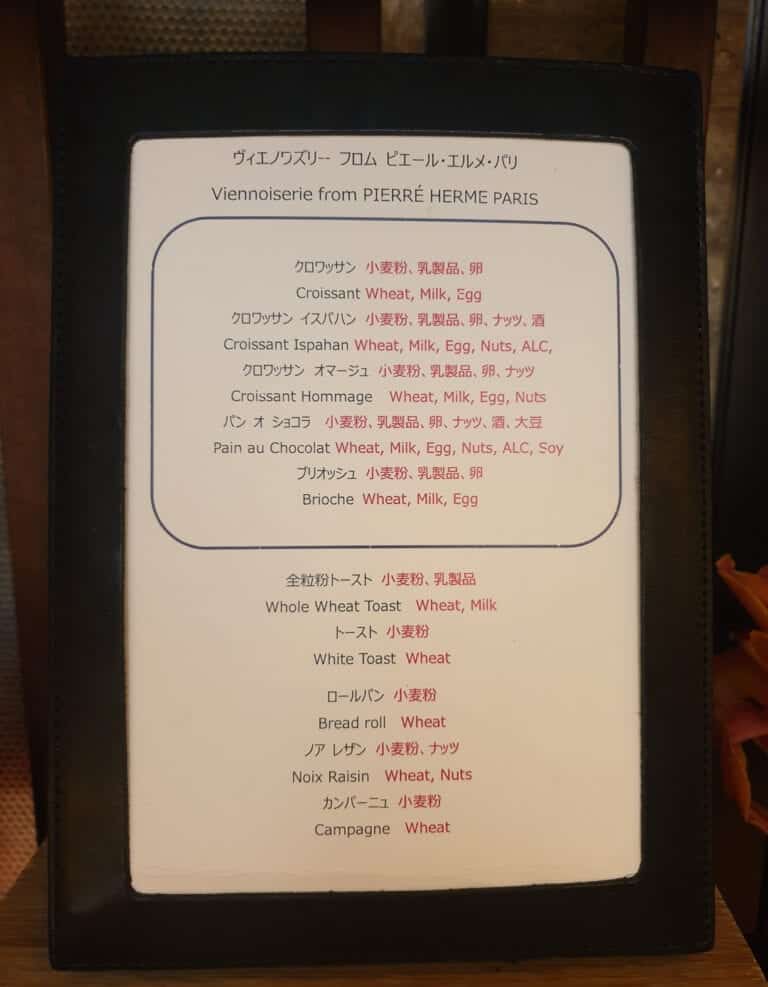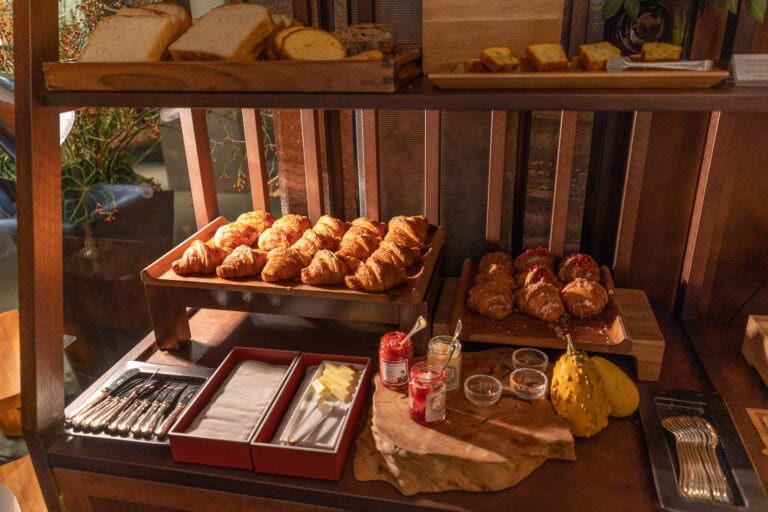 It comes as a surprise to a lot of people that the Japanese are master bakers, bakers who have arguably long surpassed the French in their endeavours. Having tried the Ispahan croissant both in Paris and here I can undoubtedly confirm that the Kyoto version is vastly superior: a thousand sheets of pastry bound by butter and filled with a perfectly balanced sweet and sour centre of rose, lychee and raspberry. I'm not usually a dessert or carb guy but honestly this croissant is enough to turn anybody's head.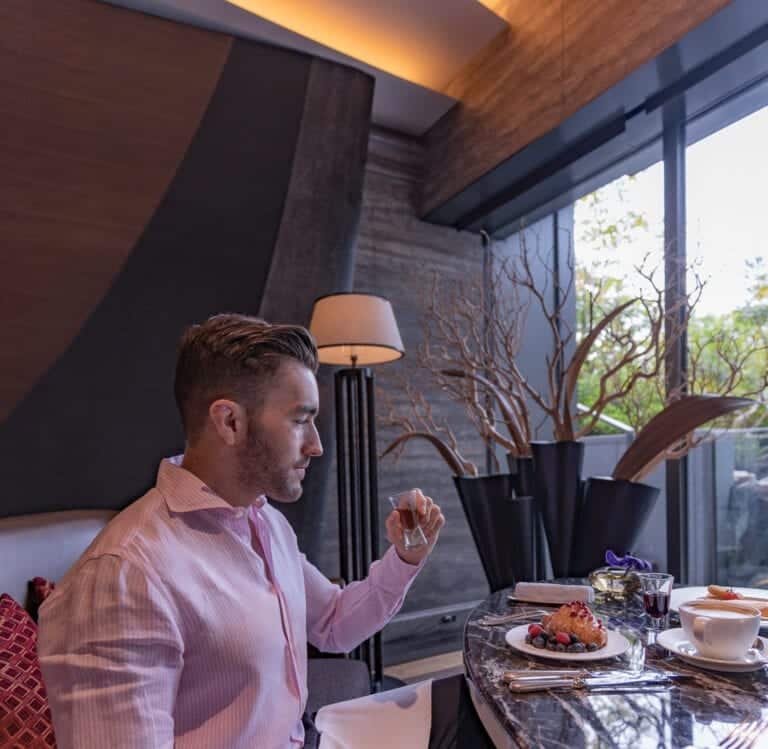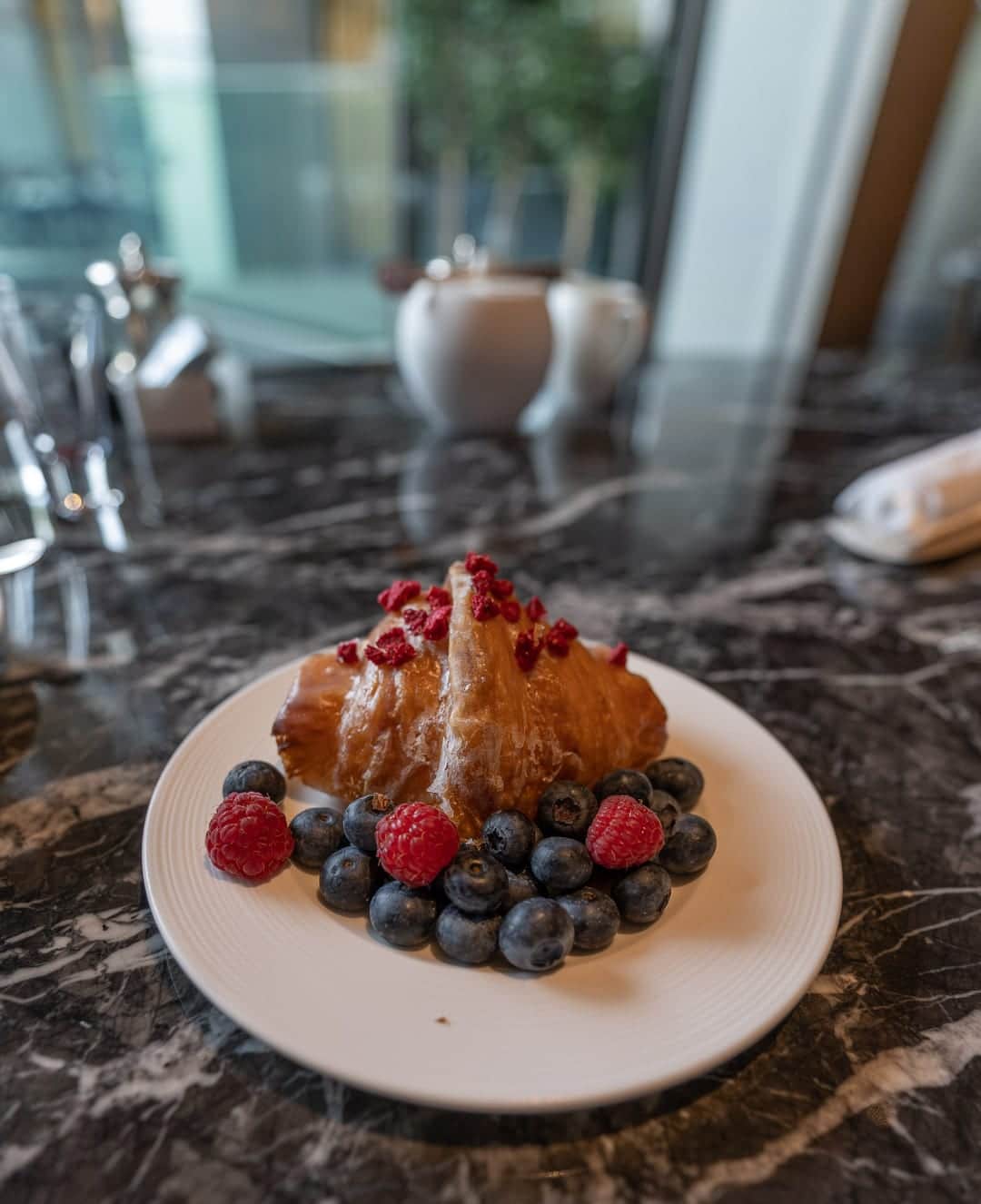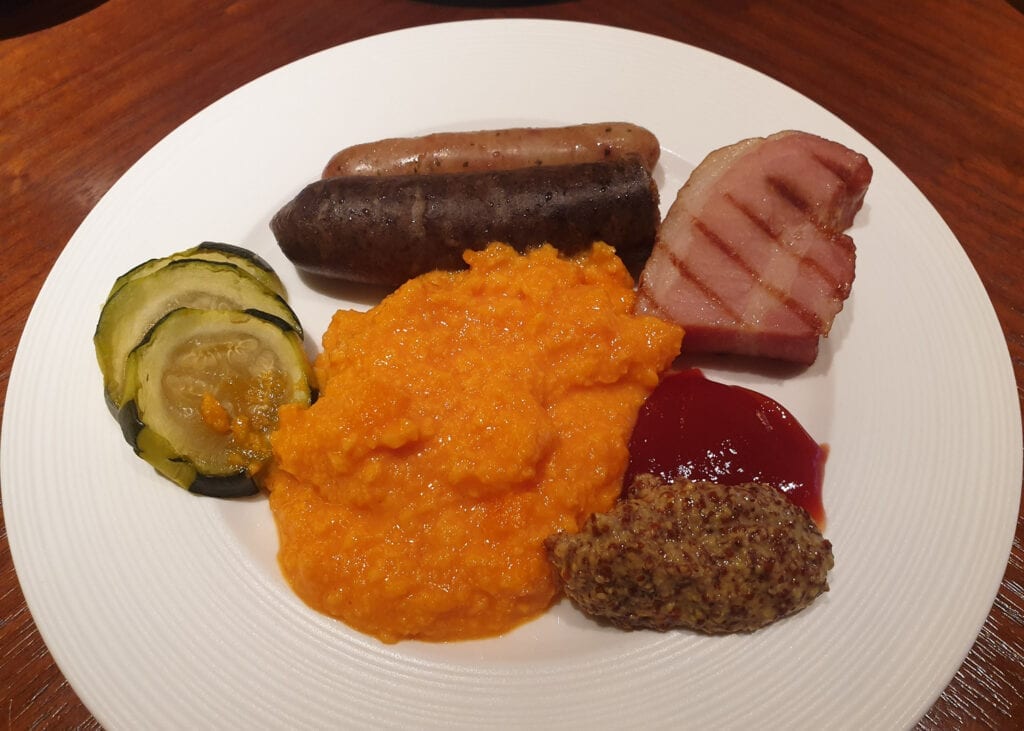 After starting the meal with a croissant and berries I moved on to a hot 'starter' from the buffet.
Then like clockwork the a la carte dishes would arrive. My go to dish was the Eggs Benedict whereas Kamara went for the egg white omelette. Both were beautifully presented and cooked to perfection.
Japanese breakfast at Mizuki
This is without a doubt the greatest breakfast I've ever eaten. Beginning your day with such an elaborate and extravagant meal truly makes you feel like an emperor. If you like Japanese food and culture you will be in absolute heaven. From the moment you step into Mizuki you enter a reverential palace of fine dining, with service as good as you will ever have encountered.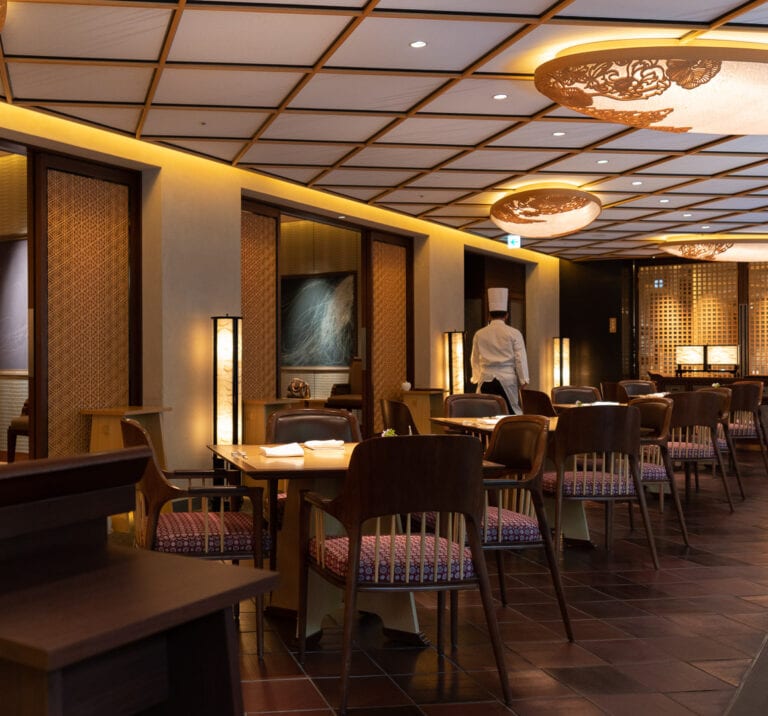 Breakfast at Mizuki is a delicate and elaborate ritual. Our kimono clad hostess meticulously served us with an exacting eye to detail. Each and every movement was precise and choreographed, you could see her adjusting individual dishes and implements by millimeters just to achieve perfect alignment throughout our meal. To some this might be disconcerting but honestly I'm in awe of the centuries of tradition that have resulted in this style of dining. A stay at the Ritz Carlton Kyoto is worth every penny, just for the opportunity to start your day in this manner.
The first course: fresh tofu in a light broth.
Tofu condiments: bonito flakes, fresh wasabi, scallions, daikon and umeboshi.
The main course: a dazzling selection of hot and cold dishes including meat, seafood, eggs and vegetables accompanied by freshly steamed rice, miso soup and fruit.
As a break with tradition and presumably in response to requests from Western guests, we were offered a coffee to end the meal – prepared in a style of our choosing. It was fantastic. Strong and dry, exactly as requested.
Dinner at Mizuki Tempura (1* Michelin)
The hotel's Mizuki dining venue is actually split into four distinct sections, each of which serves a different style of Japanese cuisine: sushi, kaiseki, teppan and tempura.
We were most intrigued by the tempura restaurant since it has a Michelin star and is otherwise a style of cooking which I had personally relegated to side-dishes or bar snacks. I was very interested to see how deep frying food could be elevated to the level of a true fine dining experience.
We opted to dine at the counter so we could watch the chef. I personally always choose this option in Japanese restaurants since it can be truly fascinating to watch the chefs at work, a real show in itself.
We started the meal with a glass of champagne each, the hotel's house pour: Perrier Jouet (one of my three favourite NVs alongside Bollinger and of course Krug). This was served alongside our appetiser of tofu with salmon roe and wasabi.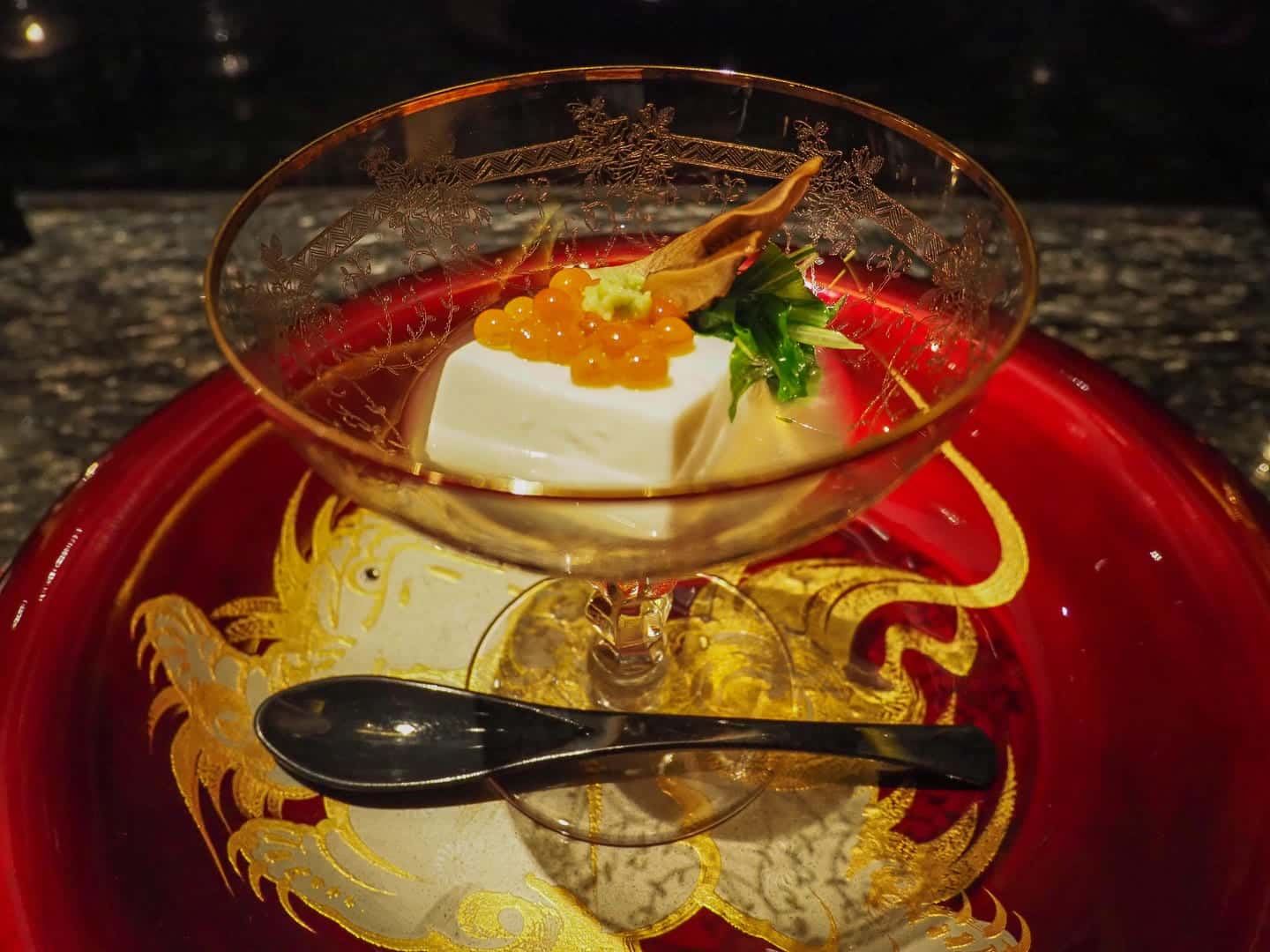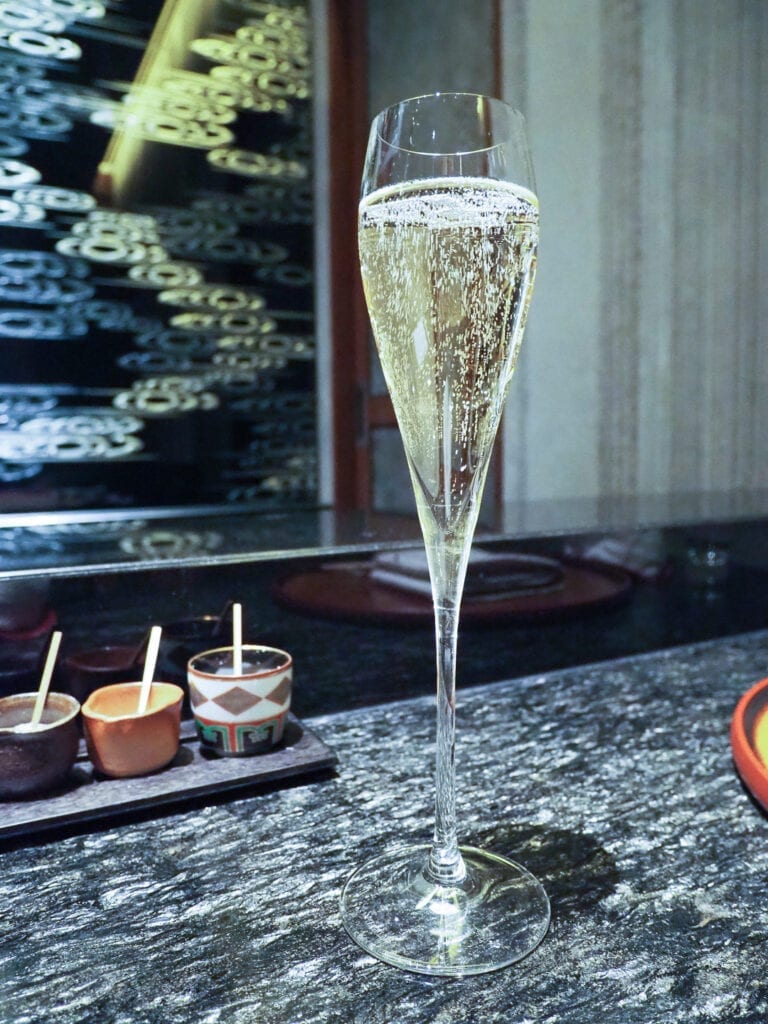 What followed was an exquisite symphony of delicately fried food. The batter seemingly a single micron thick with no apparent grease or residue of any kind to be seen. What was most impressive was the timing: we watched the chef cook everything by eye, yet all the proteins were cooked perfectly rare whilst vegetables were suitably softened with a satisfying initial crunch.
The rare beef wrapped in seaweed and the enormous scallops were real crowd pleasers but for the me the biggest surprise came with the prawn head. Having thoroughly enjoyed eating the prawn itself we were then presented with a part that most would discard. This immediately became one of the stars of the show, densely packed with maritime flavour yet still remarkably delicate. A masterclass in culinary precision.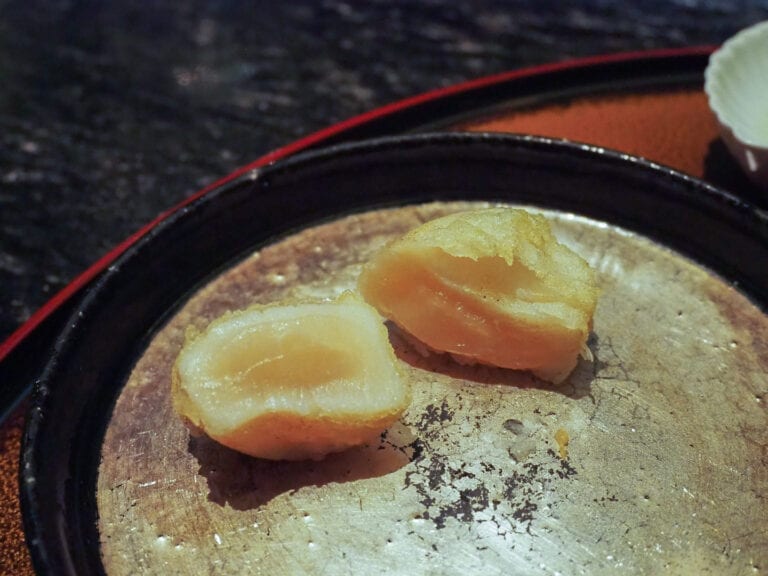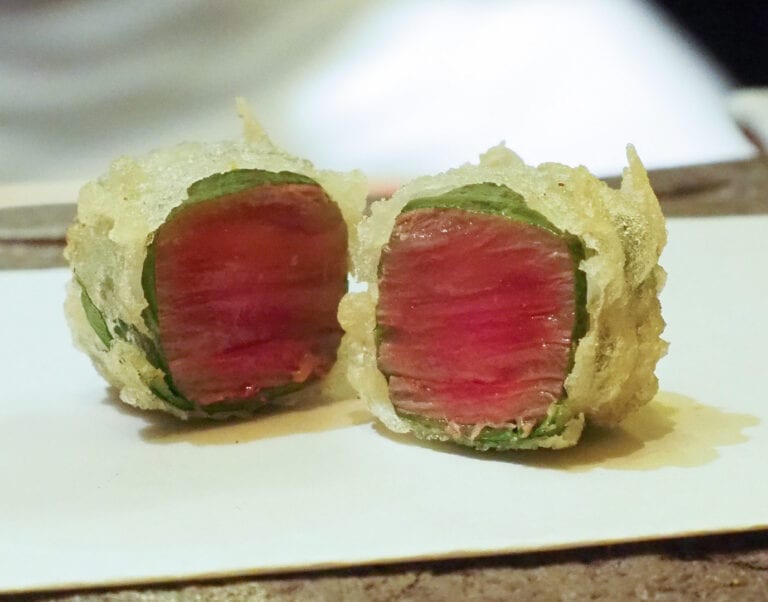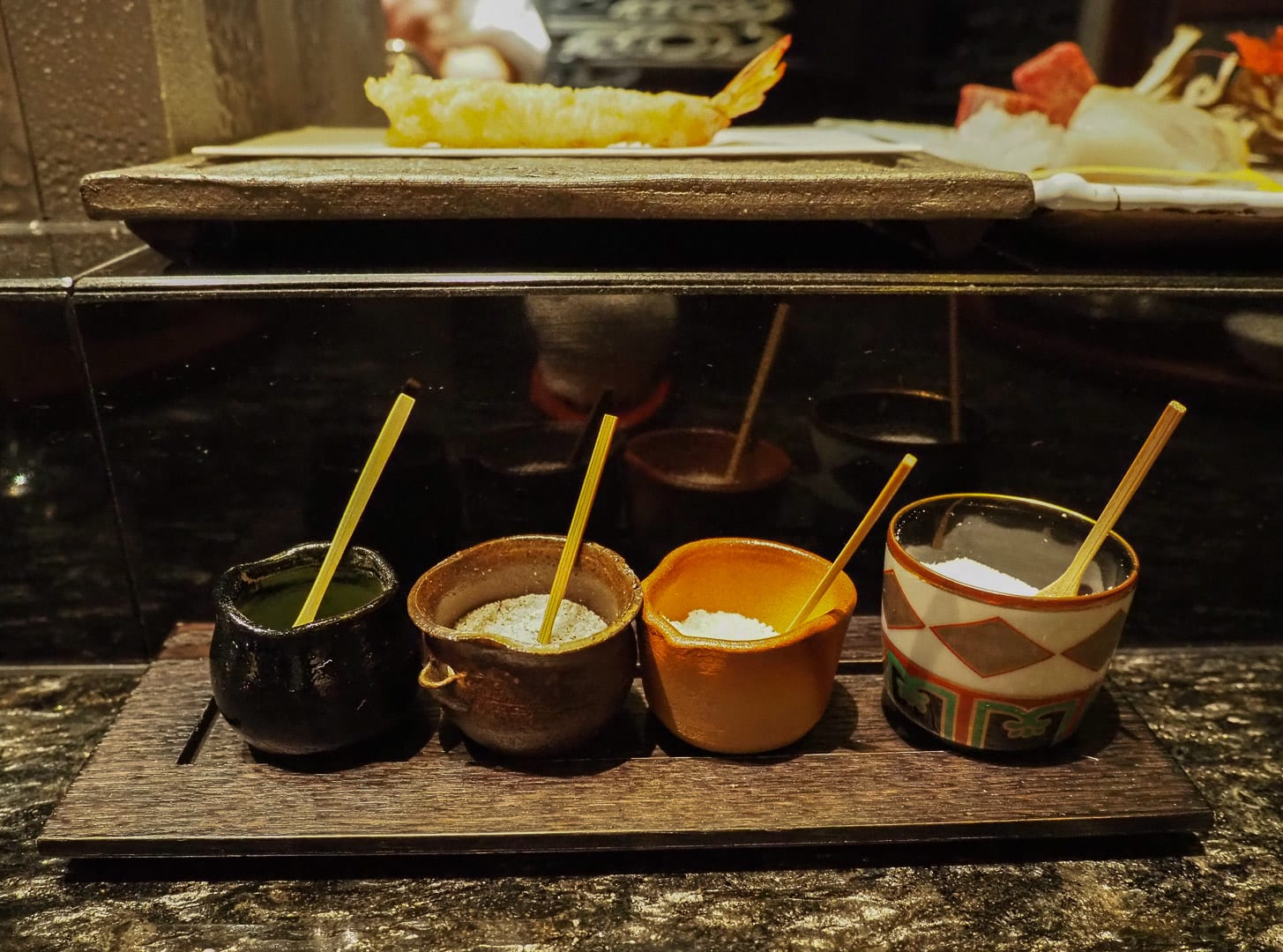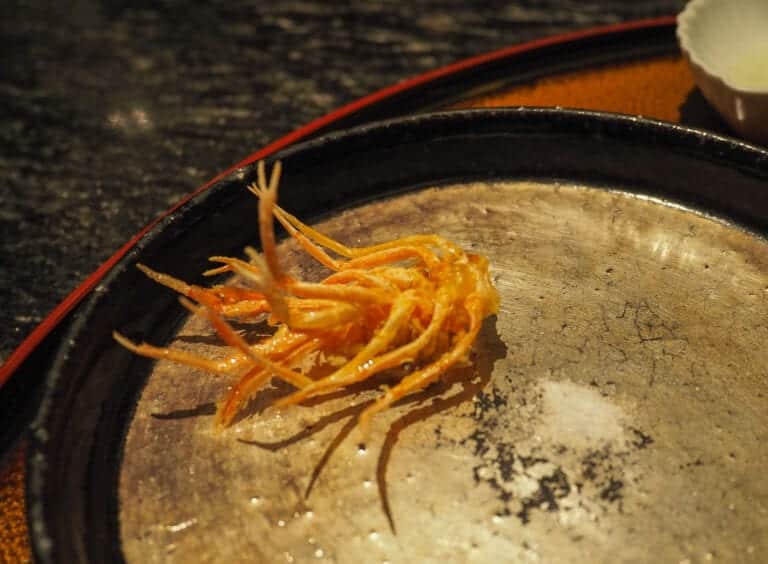 The chef suggested that we try a tasting flight of sake which was expertly paired with our meal.
The restaurant offers two set menus both of which include a number of non-tempura courses. One of the benefits of having multiple kitchens within the same dining hall is that they can each call on the others to complete their menus.
Three extremely fresh pieces of nigiri sushi were presented to us after the fried dishes, followed by the traditional rice, miso soup and pickles that round out most Japanese meals.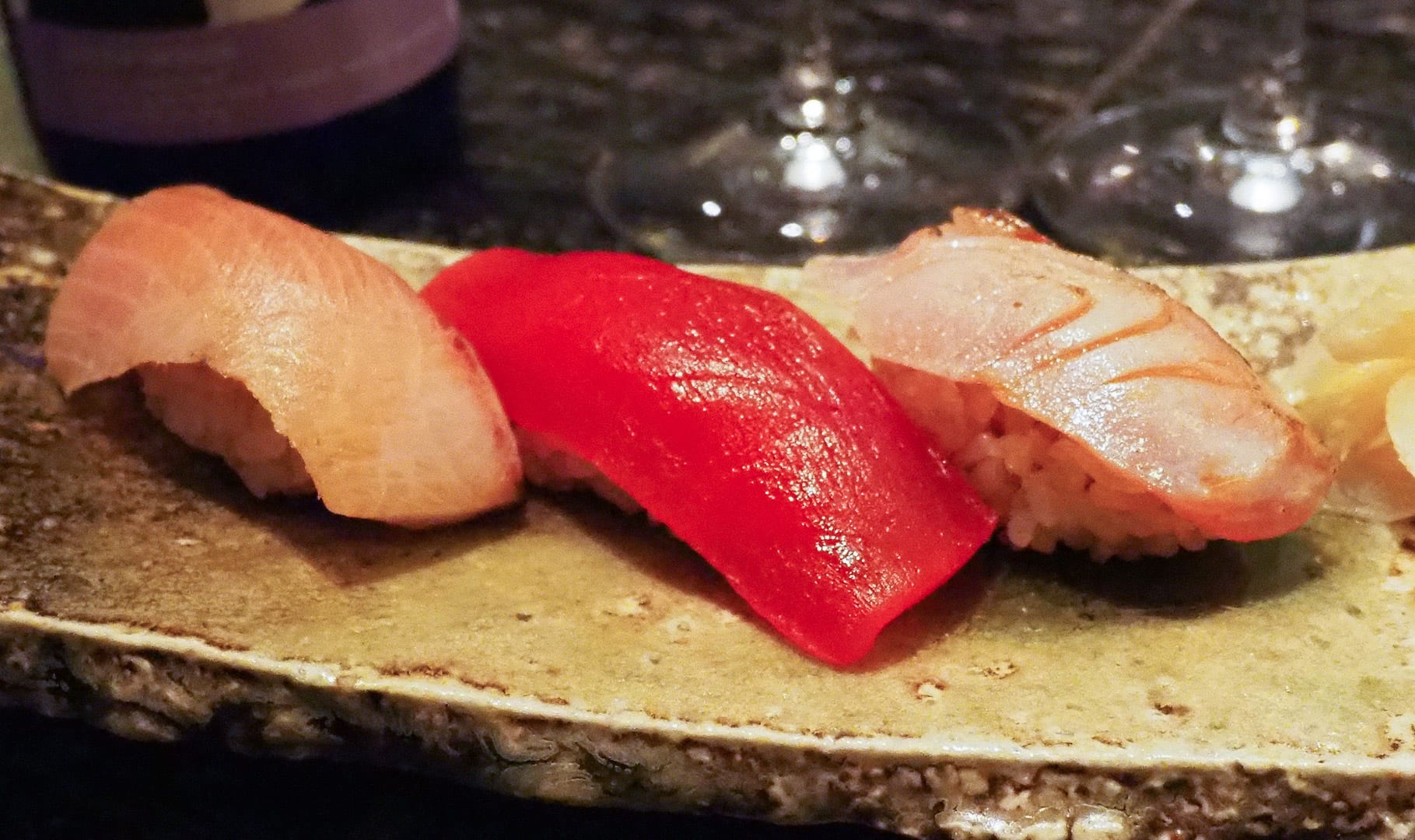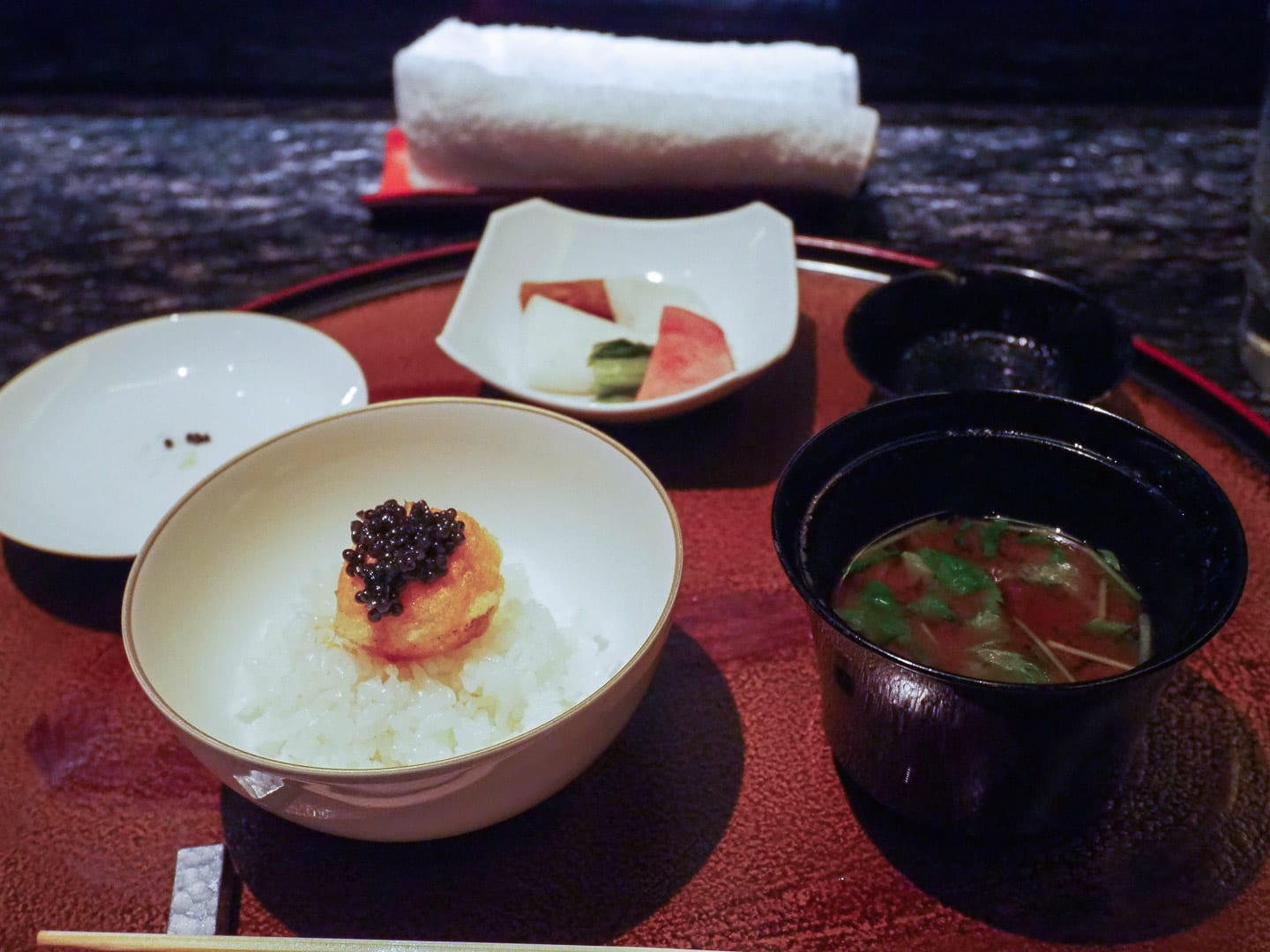 The meal concluded with a Pierre Herme chestnut dessert, which was ok but honestly paled in comparison to the rest of the meal.
Overall I came away from my first experience of high level tempura with a newfound appreciation of an art form which is all too often butchered by those with a bucket of batter and little respect for their ingredients. I loved interacting with the chef and always find that eating at the counter removes some of the stuffiness from high-end Japanese dining. Our server was also remarkably sweet and friendly, she really went out of her way to ensure that we had a fantastic experience and was always on hand to offer information and detailed stories about the dishes that we were eating.
If you're in Kyoto I'd highly recommend a visit.
Set Menus are : ¥27,000 or ¥35,000
---
Service
---
The service at this property is for the most part exceptional. Any time you want a taxi, a man with a lightsaber is sent to the street to flag one down. As you enter the vehicle staff are always on hand to provide you with water, a map or an umbrella.
Whenever you pass a member of staff they will immediately bow and greet you. The cleaners are exceptionally thorough and the little gifts and notes that they leave are very sweet.
The restaurant staff are clearly very highly skilled in service and manage to strike a perfect balance between professionalism and warmth.
The hotel only has one weak point and that is the concierge team. I emailed a few months ahead of our first stay in 2017 asking about restaurant and temple reservations:
In my first email to the team, I requested reservations for Wa Yamamura, Nakahighashi and Monk.
This is the reply that I received from the concierge team:
"…as the name of the restaurants that you have provided are fairly common in Japan, it would be highly appreciated if you are able to provide a link, website or phone number for the restaurants as to avoid misunderstandings."
This is the only time that I've ever been asked to perform the groundwork for a concierge, googling the details of restaurants. Given that the first two are world famous and hold multiple Michelin stars and Monk is the only restaurant of its name in Japan, this makes the request all the stranger…
I also asked if any temples currently required reservations in advance and was told no. When I replied that I had previously visited Kokedera and had been obliged to reserve in advance, this is the response that I received (bolding the concierge's own):
"In regards to visiting the Saihoji-temple (Kokedera), it is actually not a reservation but a visitation permission granted by the temple."
Whilst there may be a semantic distinction in Japanese between reserving or asking for permission to visit, I feel that the concierge should have offered this information voluntarily rather than telling me than reservations were not required at any temples in Kyoto. This obviously made me doubt whether I'd actually be able to visit the other temples I wanted to on this occasion. Perhaps they require a pass or an authorisation but not a visitation permission and I just hadn't asked the right question?
A more senior colleague stepped in at this stage and reservations were made for me at a number of restaurants.
The one exception was Nakahigashi, where reservations only open one month in advance. I was assured that a reservation would be made for me as soon as it was possible to do so.
You will understand my disappointment when I received this email a few weeks later from the senior concierge team:
"I would like to apologize for that we were not able to make your reservation at Nakahigashi. I understand how much you are disappointed and I feel your discouragement. Please allow me to share how we tried to get the reservation.

November's reservation started from October 1st from 11am. We kept calling there for 1 hour and finally went through at 12pm. By the time the phone went through, November's whole reservation was already fully booked."
I followed up to say that I would expect a hotel of the Ritz Carlton's calibre to send a member of the concierge team in person, if the reservation was difficult to secure on the phone.
The response:
"In regard to November's reservation at Nakahigashi you are right, no guest of the RC will have secured a reservation. Thank you very much for your suggestion, I will take some action to be able to book the table for the future booking."
I understand that sometimes a reservation is difficult to guarantee but I would expect the concierge team at the RC to go above and beyond – developing relationships with local restaurants, in order to secure reservations for guests. The fact that the concierge team was not able to secure reservations for any guests at all, at one of Kyoto's top restaurants, for an entire month is truly shocking.
On our return visit things had definitely improved but the team still made mistakes, when I asked for a reservation at Monk on the 14th they mistakenly reserved for the 17th (I'm guessing one of the team wrote the number down on the pad and their fours look like sevens). This resulted in us being squeezed into a side table rather than getting a counter seat where we could chat with the chef we had so enjoyed meeting on our last trip. Not the end of the world but not something you expect from the team at a $1000 a night hotel.
We also gave a few months of advance notice for Gion Sasaki but still the team weren't able to secure a reservation. My guess? They once again relied on calling up like members of the public rather than sending somebody or building a relationship with the restaurant.
Since we came to Kyoto almost entirely for the purpose of eating it was certainly a disappointment to find that the Ritz's concierge team wasn't always able to assist.
Ultimately the GM very generously comped our meal at Mizuki – a very prompt and much appreciated service recovery conducted in a manner which made it clear that he was listening and that he would investigate further.
The concierge team have clearly improved in a very measurable way but they're still not perfect and in Japan many other hotels have teams who deliver at a higher level.
---
Conclusion
---
Basics Checklist
☑︎ Power sockets near the bed
-Local only (not universal)
☑︎ Easy to understand light switches
☑︎ Coffee machine
+Capsule tea machine
☑︎ Separate shower and bath
+Enclosed bathing room
☑︎ Blackout blinds
☑︎ Stable, fast and free Wifi
☑︎ Feather pillows
☑︎ Quiet and powerful aircon
No other hotel on this planet makes me feel more relaxed and at ease than the Ritz Carlton Kyoto. When I was faced with the choice of 5 nights in the Maldives or a second 5 night stay here it wasn't even close. I immediately rebooked at this property.
Concerns with the concierge team aside, the service here is impeccable. Not only is every request responded to, there is a high degree of proactivity from all staff, from housekeeping through to senior management. Rarely have I felt like I was in such professional hands during a hotel stay.
The food and drink quality here is exceptional. No hotel I've ever stayed at has provided a breakfast that comes close to the Ritz Carlton Kyoto and their Michelin starred tempura restaurant is probably not far from earning a second star.
Sleep quality was absolutely superb. The aircon was silent, the soundproofing was absolute and the bedding was extremely comfortable.
Kyoto is an incredibly special city and one which I've returned to on six occasions. When I want to completely unwind this is the place where I find my centre, when I return it's going to take a lot to sway me from staying at the Ritz Carlton again…
---
Book online with Marriott STARS benefits
---
Marriott STARS Partner Booking
Click the image to get the best available, flexible rate and also receive:
• Upgrade on arrival subject to availability
• Full breakfast, for up to two in room guests
• $100 Hotel Credit
• Early check-in/late check-out subject to availability
A seasonal 15% Discount is also often available on the STARS Rate
Note: You will still earn stay credit and ALL elite benefits, exactly like a direct booking with Marriott.com.
---