Prince Gallery Kioicho - Tokyo
Rate: ¥61,000 including upgrade
Room Type: Grand Deluxe Corner King

Upgraded from Club Deluxe King for ¥8,000

Status During Stay: Marriott Bonvoy Platinum
---
Booking
---
I was really keen to try the club lounge at this property since I'd heard great things about it. We also had a late night flight and I wanted to be able to have a base of operations in the hotel after checking out of our room.
Cash prices for a club room at this hotel tend to hover around the ¥70,000 mark including tax, which is roughly $660. For my dates I initially booked at a rate of ¥77,145 and after finding a considerably cheaper rate online I submitted a Best Rate Guarantee. This brought my rate down to ¥53,000.
My goal was to stay in one of the few Grand Deluxe Corner Rooms since these are almost as big as suites at 58m², have incredible views of multiple sides of Tokyo and feature wet rooms with bathtubs overlooking the city. The problem is that upgrades are never guaranteed even with top tier status or a Marriott STARS booking. The higher level rooms are great value for the size and tend to be sold out most of the time.
So, I reached out to the hotel and asked if they'd be able to confirm an upgrade in advance, it never hurts to ask! The hotel wrote back almost immediately and said that they could only confirm a room on a higher floor in advance.
At this point I made them an offer. I could see that the room I wanted was retailing for ¥12,000 per night more than mine. I asked if they'd take ¥8,000 since I was a Marriott Platinum member and they said yes. Best of all this charge didn't include the usual 20% tax and service charge, so the saving was considerable!
---
Arrival
---
We took the Shinkansen (bullet train) from Kyoto, where we had just enjoyed a spectacular 5 night stay at the Ritz Carlton Kyoto. The journey took around 3.5 hours door to door and we disembarked at Akasaka-Mitsuke station. The Prince Gallery is actually located in a hub of sorts and has access to many different Metro stations, although all of them involve a fair amount of walking through underground tunnels.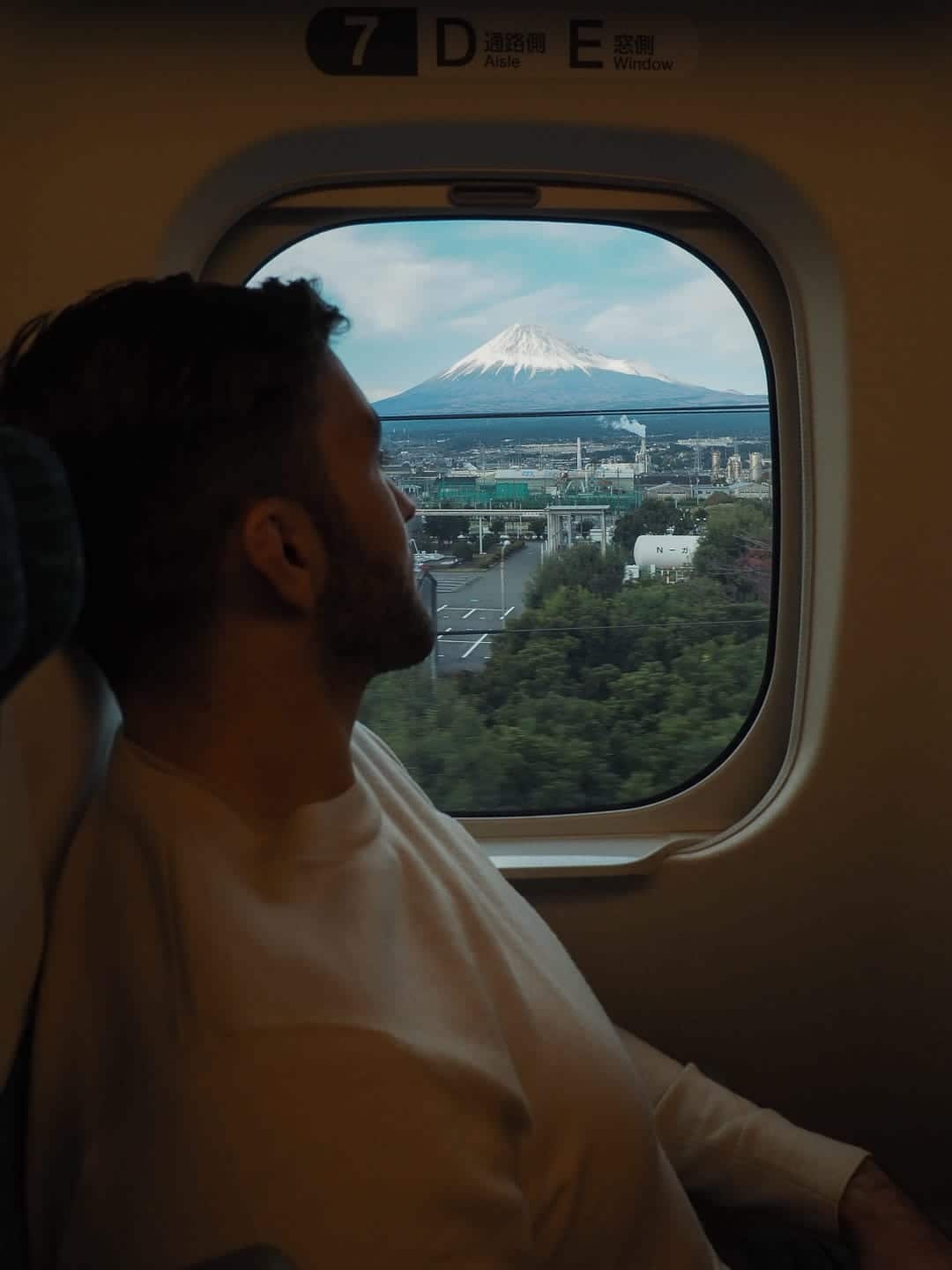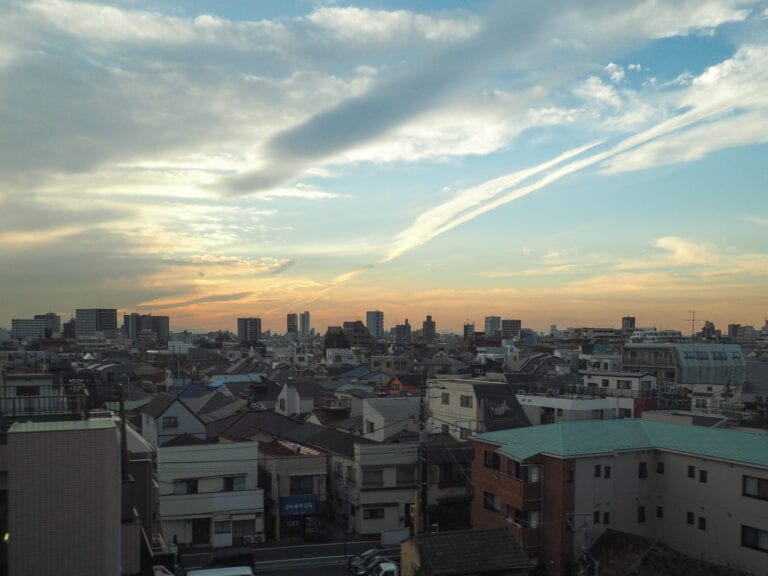 The hotel building is positioned in a square adjacent to a small tree lined lake. This is quite a unique location for a bustling metropolis like Tokyo, although once you're up in the higher floors of the hotel it still very much feels like you're in the thick of the action.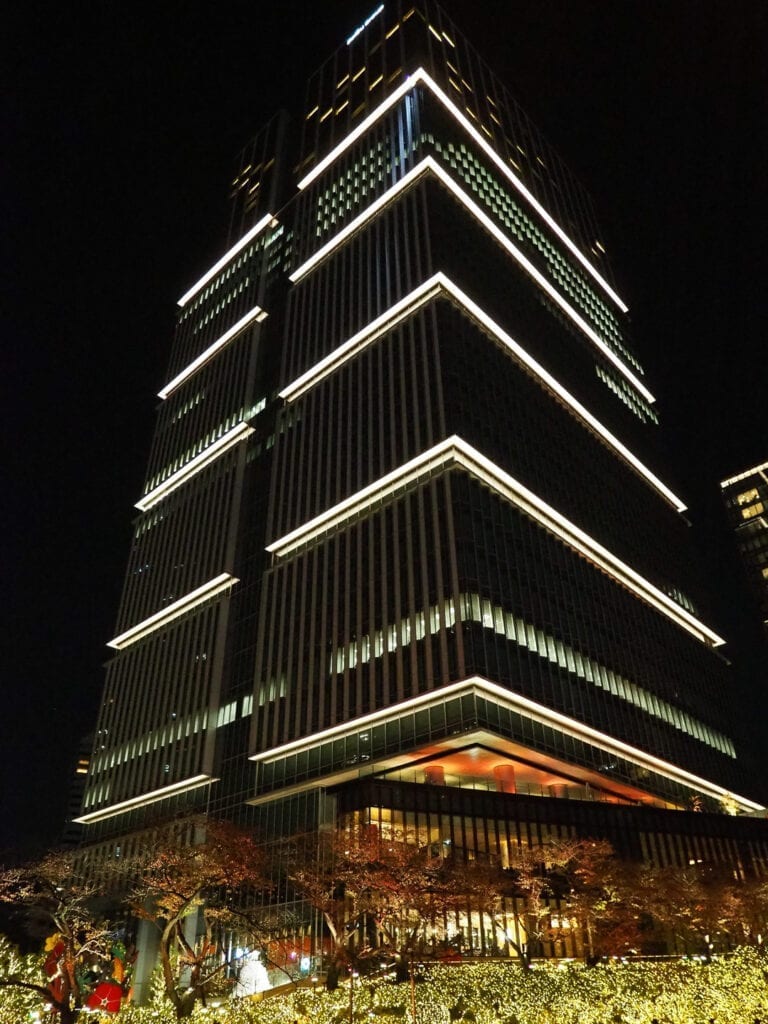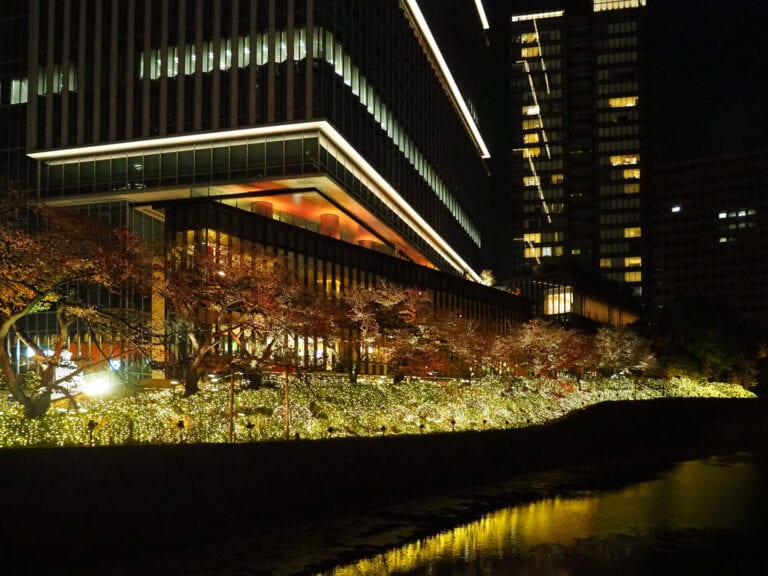 The ground floor entrance is rather nondescript but this immediately changes once you take the lifts up to the lobby on the 36th floor. Here the green illuminations of the bar perfectly frame the Tokyo tower – a striking welcome to the hotel. It does however feel more like you're entering a nightclub than a warm residential space. Some may prefer the neon and the bustling bar but for me the elegant surroundings of the Conrad Tokyo are a lot more inviting….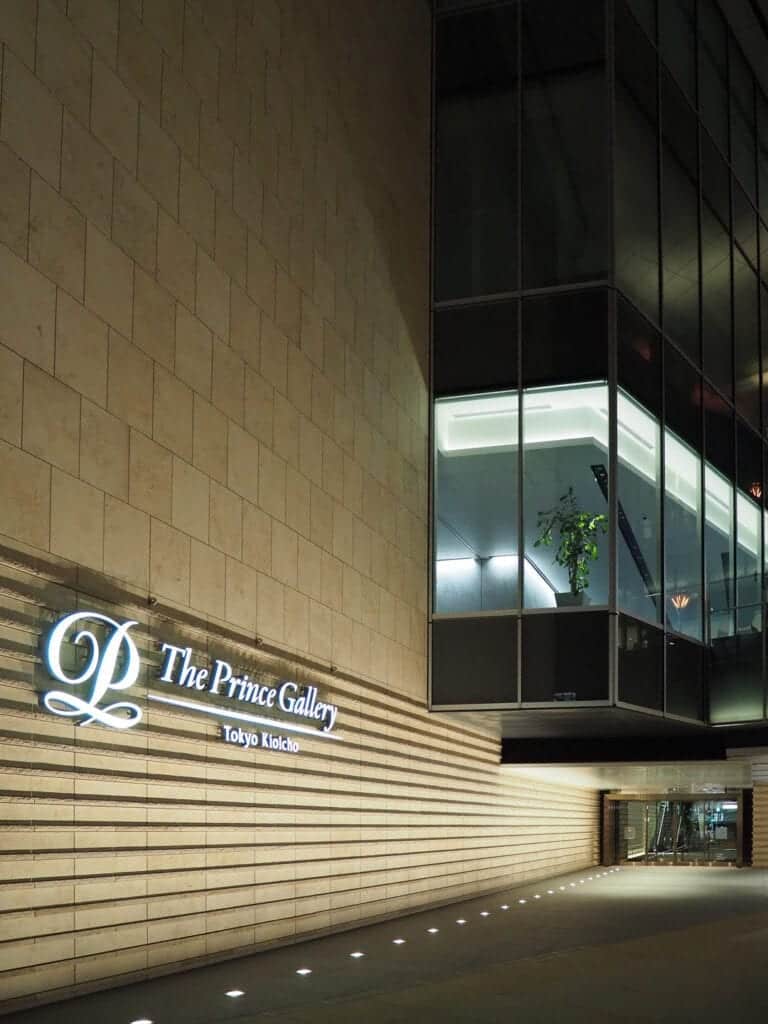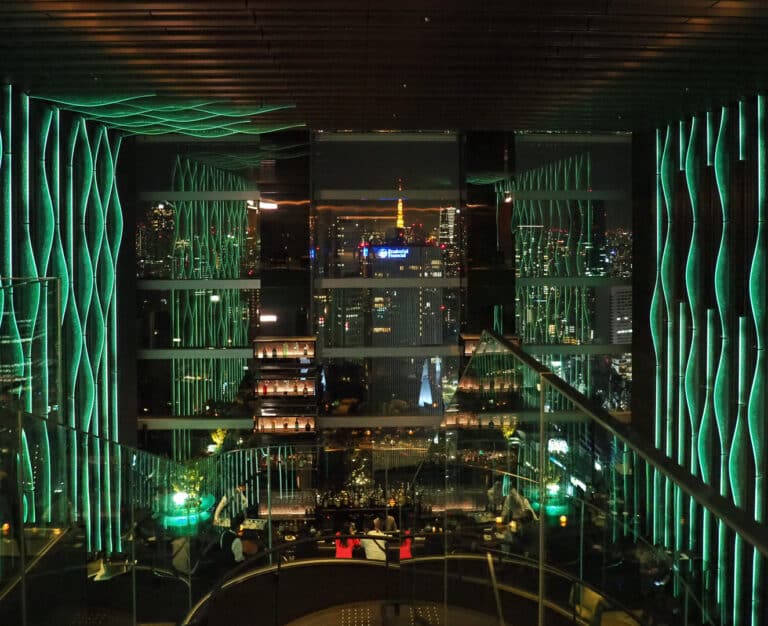 Turning the corner you come to the lobby itself. When we arrived there was a large group of people at the desks but a staff member was very quick to invite us to take a seat, checking us in at one of the sofas so we wouldn't have to wait. This is the kind of proactive service that I've come to expect in Japanese hotels but still it never ceases to amaze me the consistency with which hotels deliver at this level in Tokyo.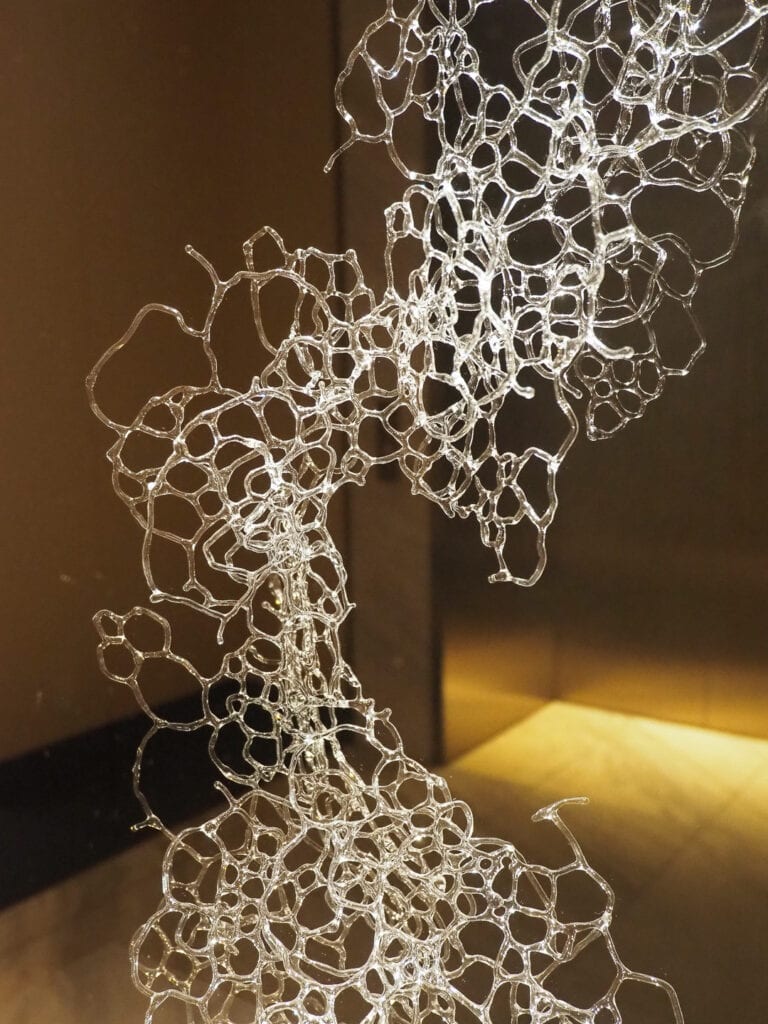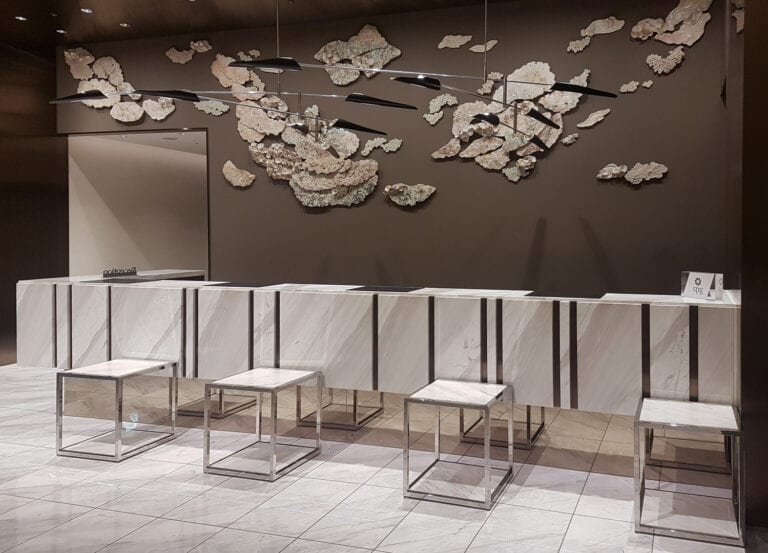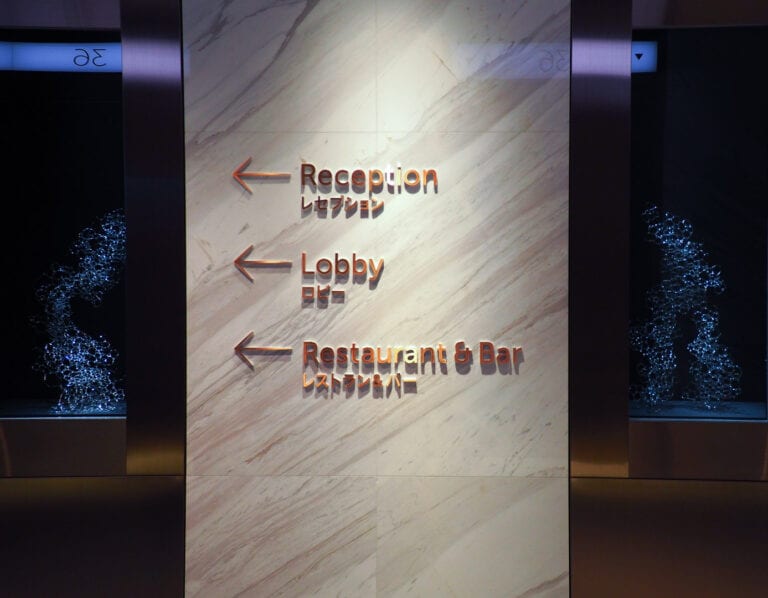 We arrived at night, just after sunset, but the images of the lobby area came out much better during the day…
The decor in the lobby lounge is undeniably very modern and design focused but again I got a very cold feeling from it. The grey marble and chrome just doesn't feel very inviting. It looks more like a trendy office and lacks a residential feel.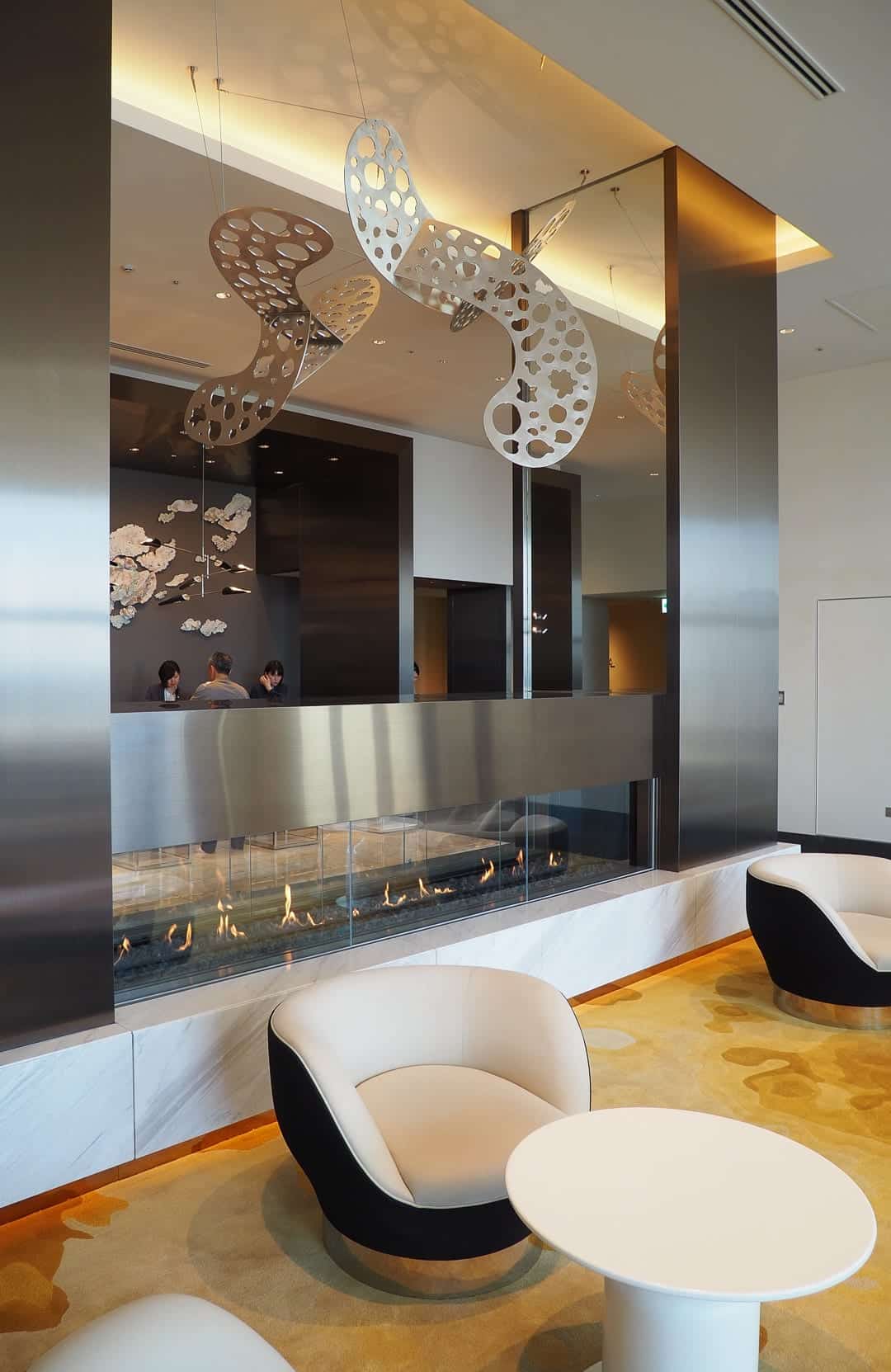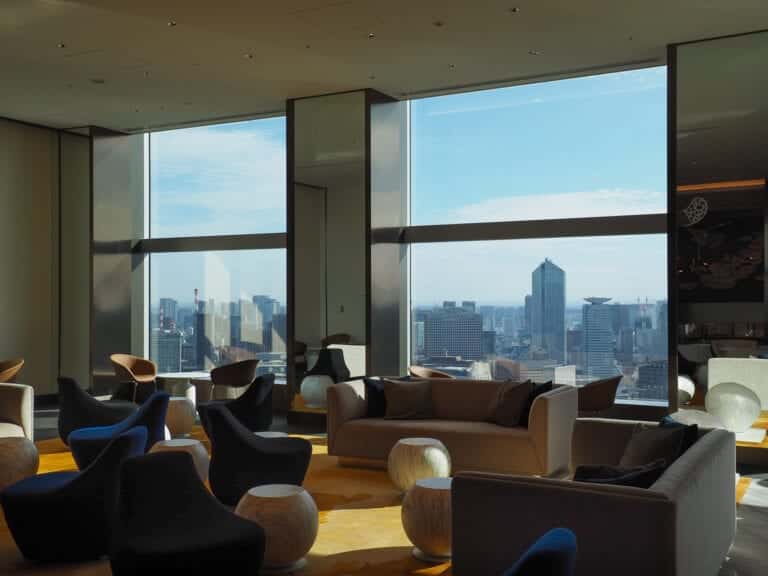 After completing check-in formalities we were handed our room keys and directed to a security controlled glass door behind which was another pass controlled glass door leading to the lifts. (I guess the party must really get going at the bar sometimes…)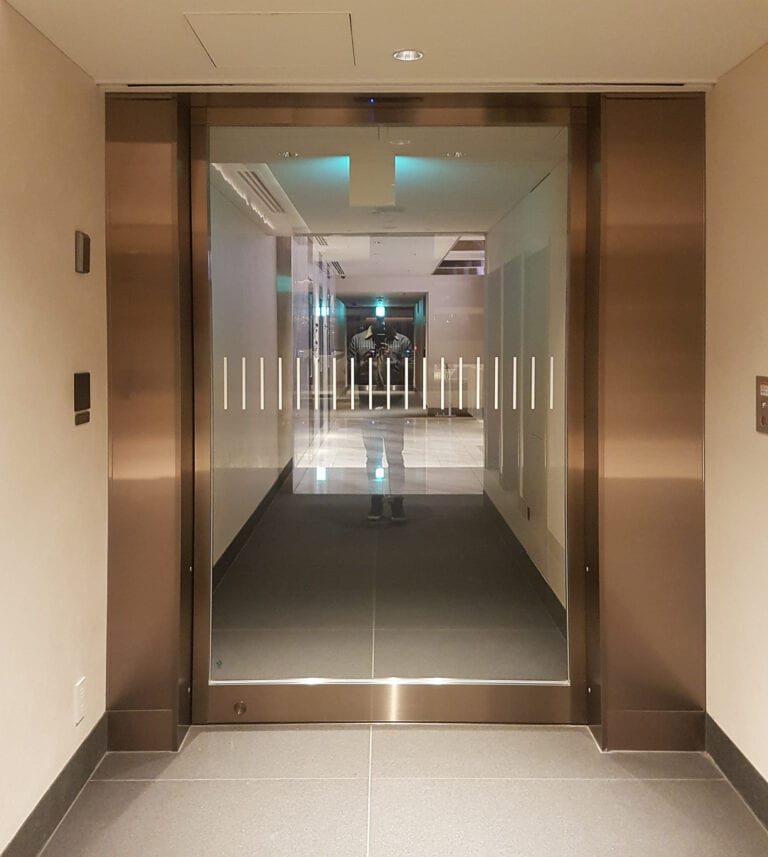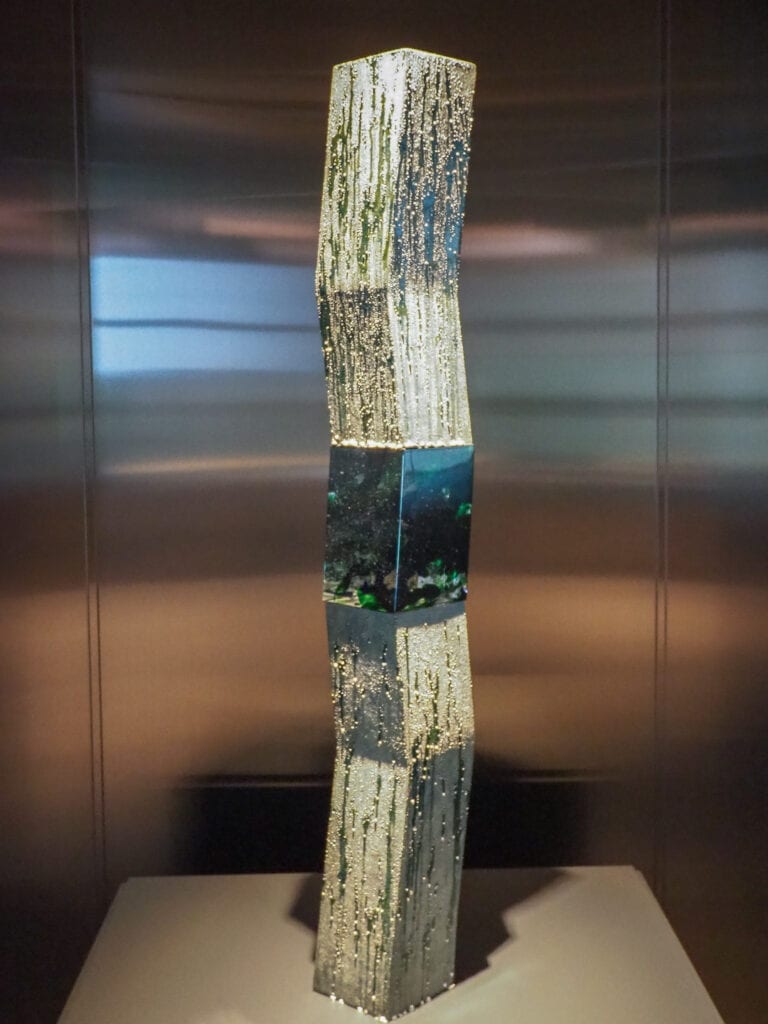 Much like the other public spaces I found the hallways here to be a little bit lifeless. The Conrad and Park Hyatt interiors ooze luxury and warmth throughout. They feature recessed lighting, artwork, elegant carpets and tastefully decorated walls.
---
Our Room
---
Our Grand Deluxe Corner Room had a long corridor running from the front door to the room itself. As soon as we entered I noticed a really cool feature: there's a giant service hatch by the door, meaning that you can take deliveries of food and clothing without people having to enter the room.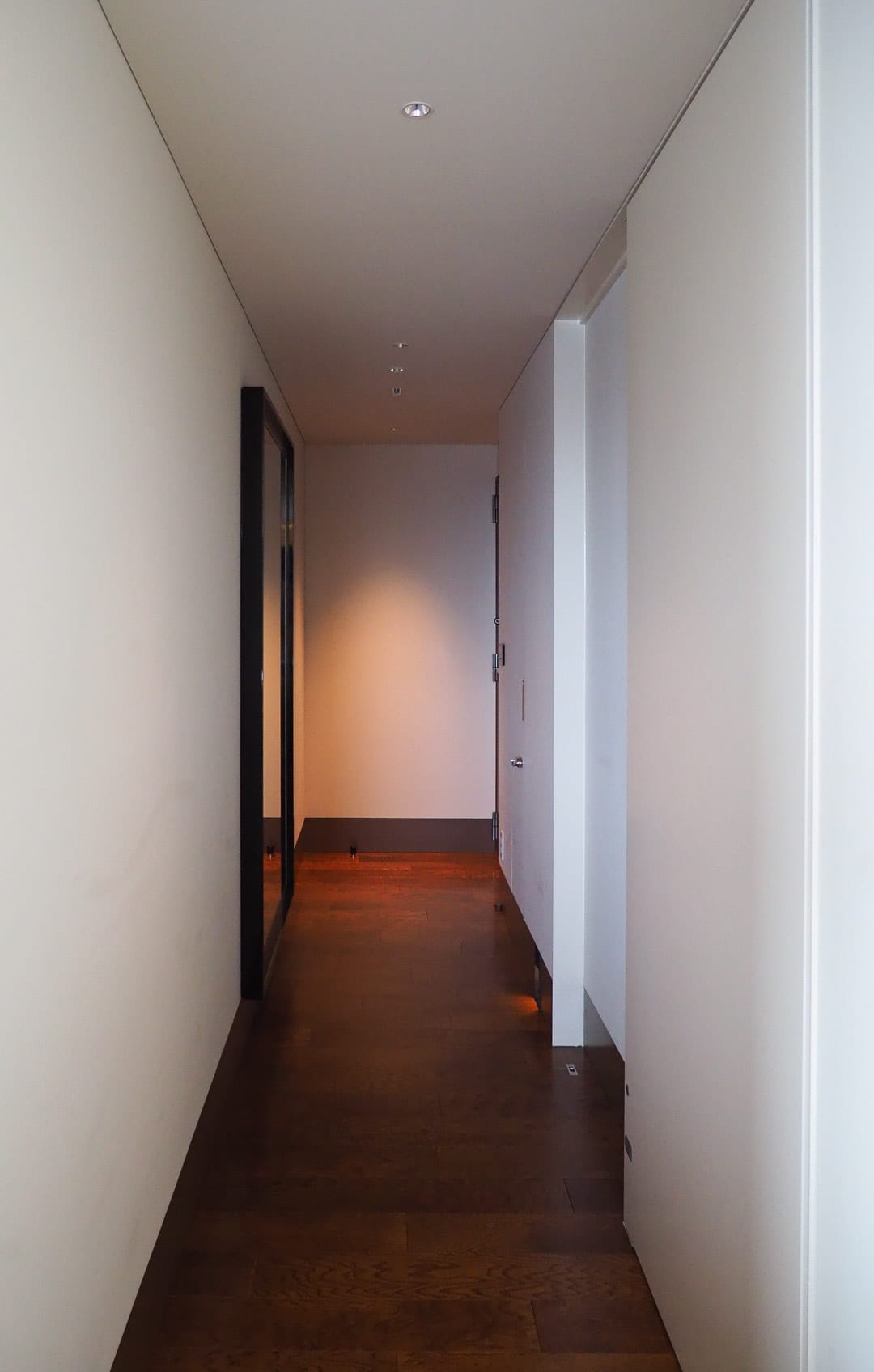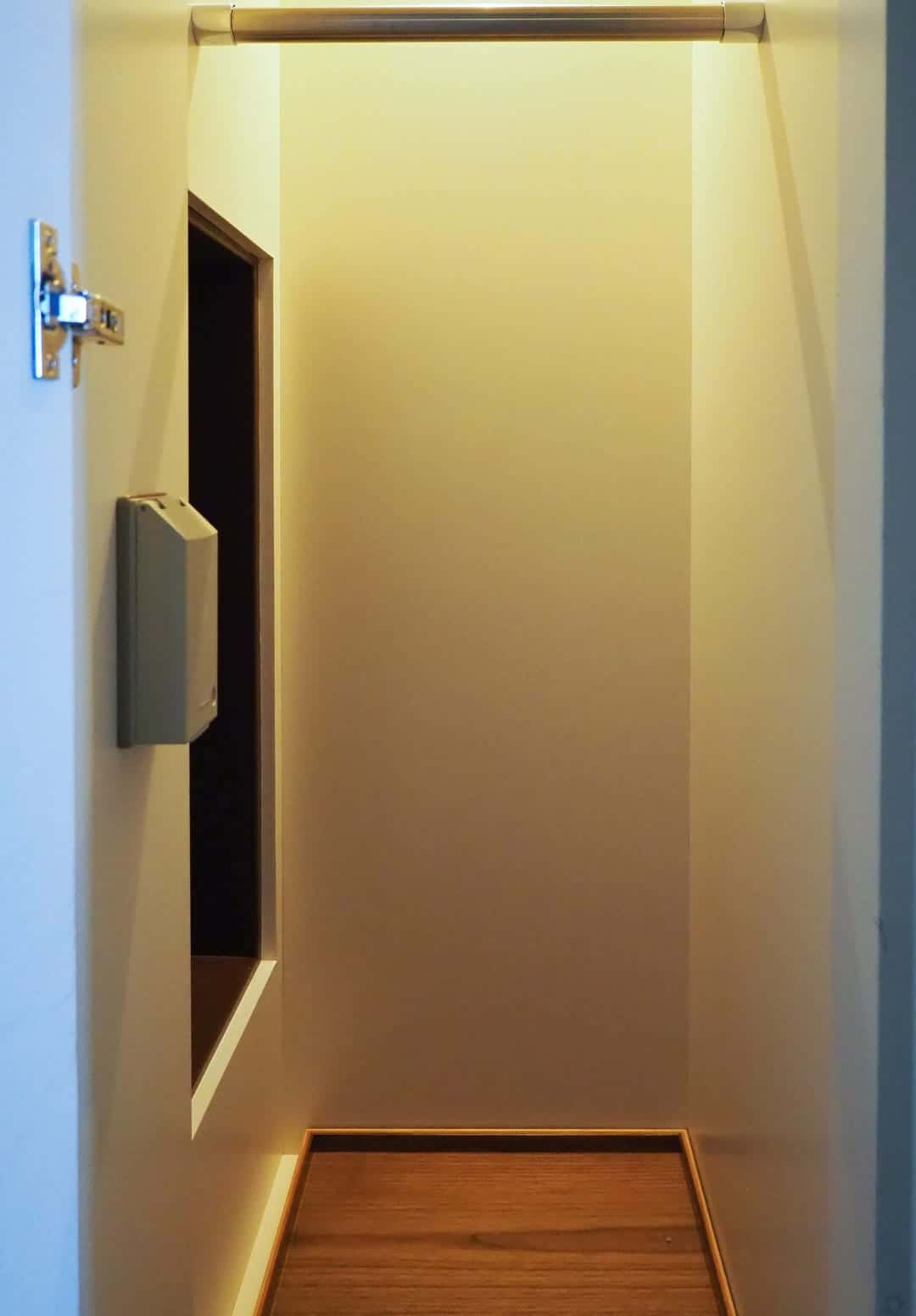 Since we arrived at night we didn't have much of a chance to explore the room and take a full set of pictures before heading out to meet our friends. However we couldn't help but admire the view for a few minutes, snapping a couple of quick shots in the process.
My happy place: high up in a Tokyo hotel, sitting in a padded seat by the window, watching the red lights of the skyscrapers pulse as if they were the beating heart of the city. Any time I'm feeling down I think of this…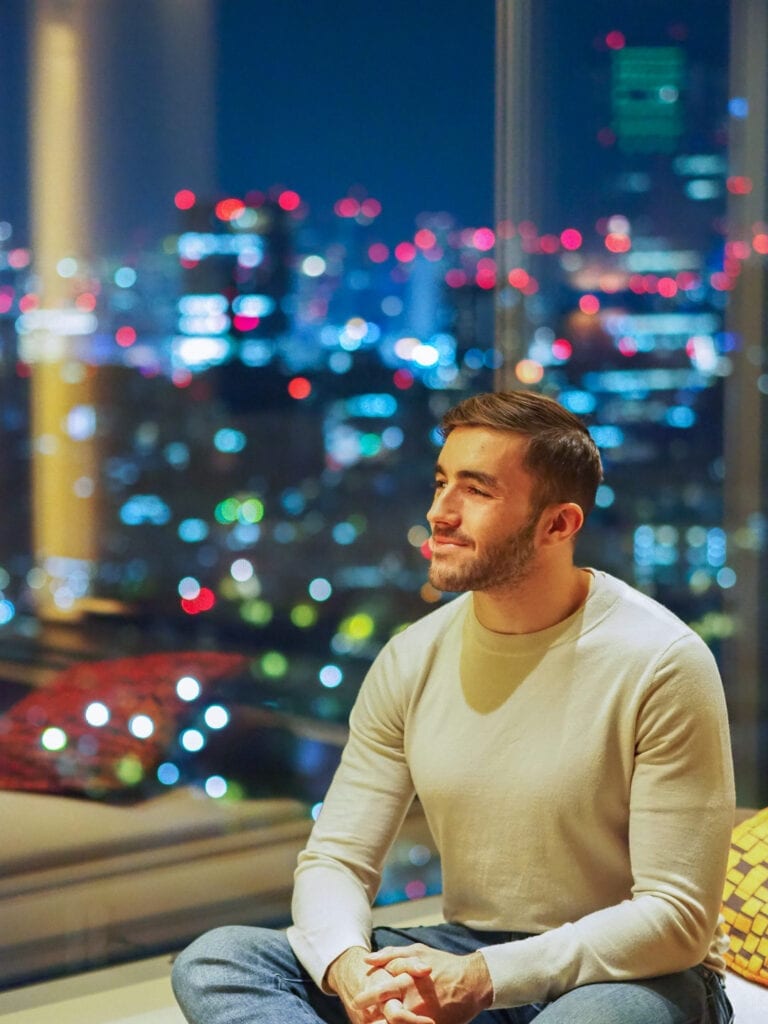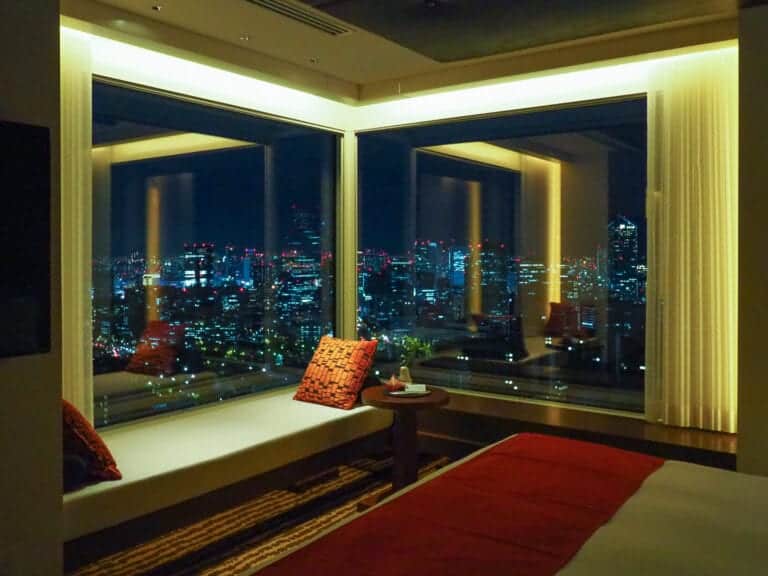 Turndown service had been completed prior to our arrival with yukatas, slippers, water and snacks left out for us alongside a welcome note.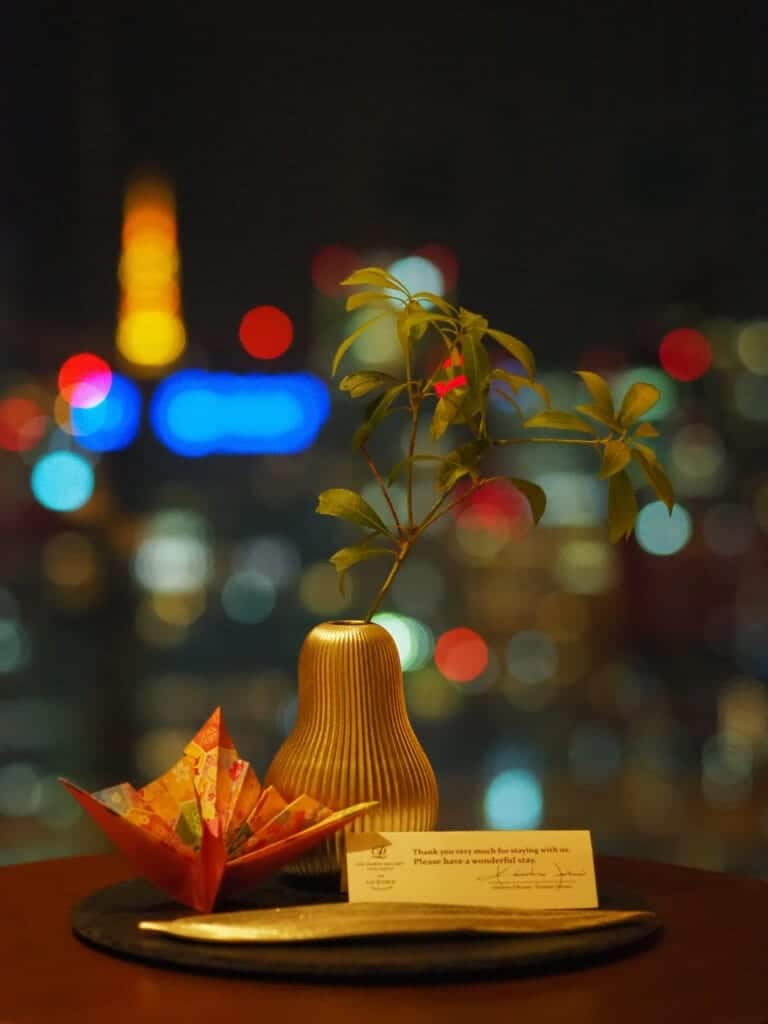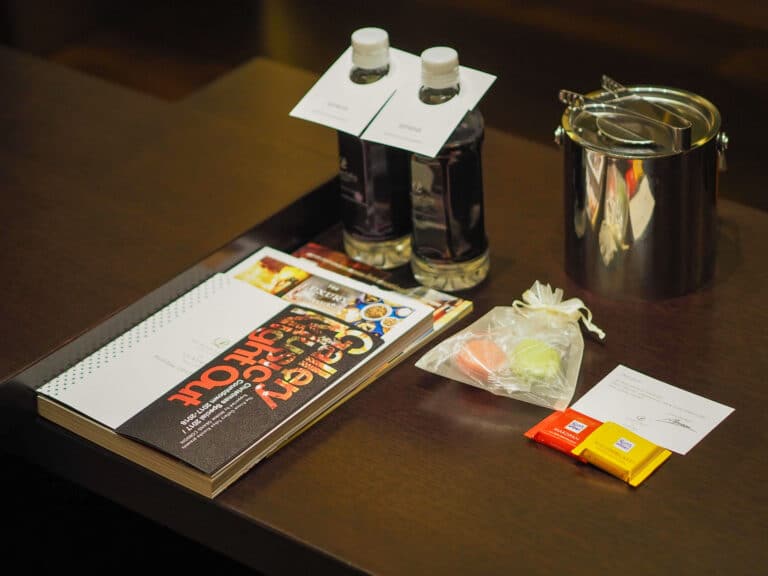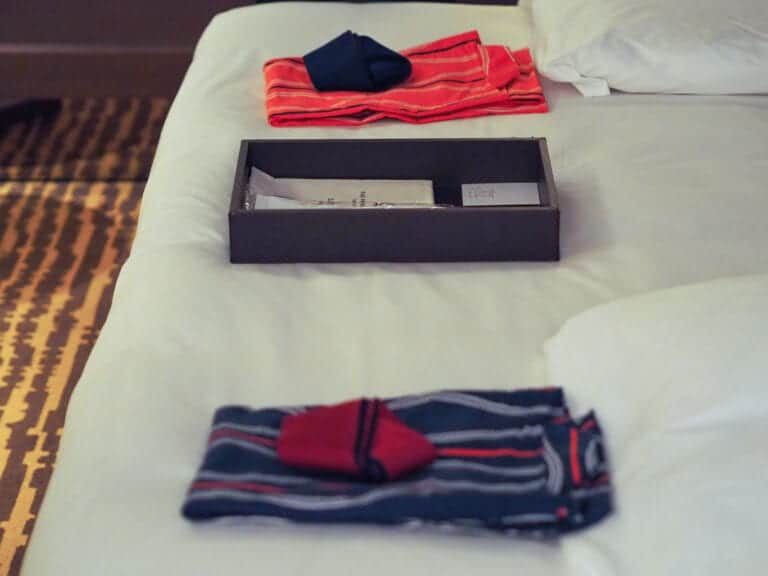 After a brief visit to the bar for an absolutely incredible frozen Monkey 47 cocktail we headed out into the mean streets of Tokyo for the night.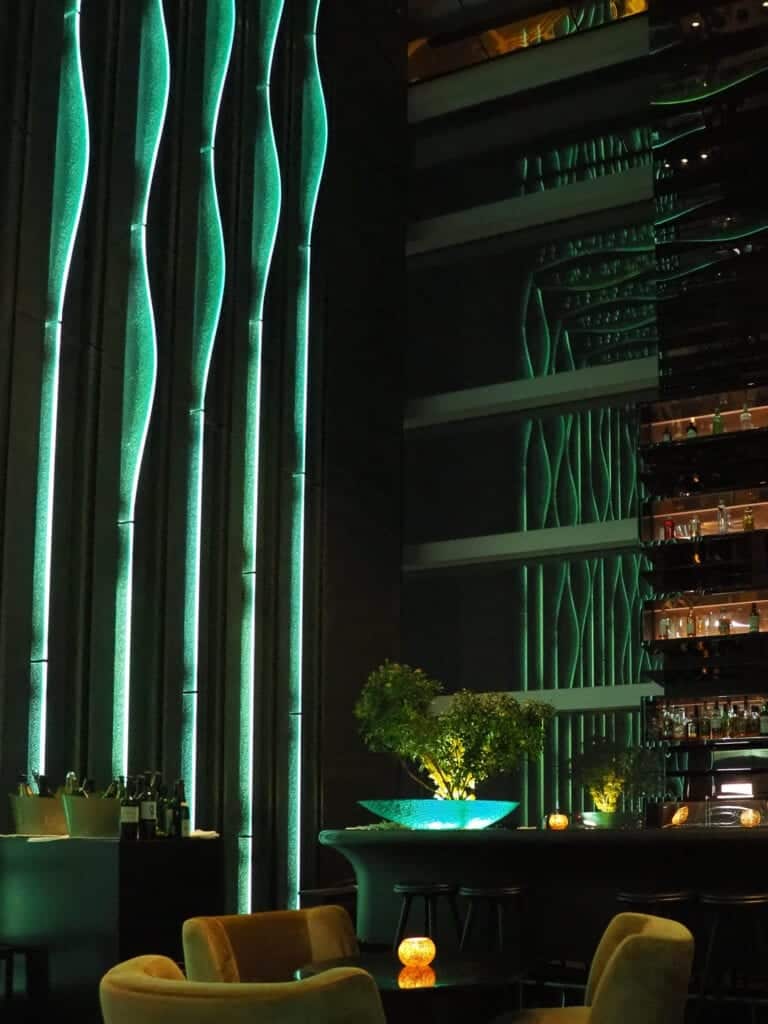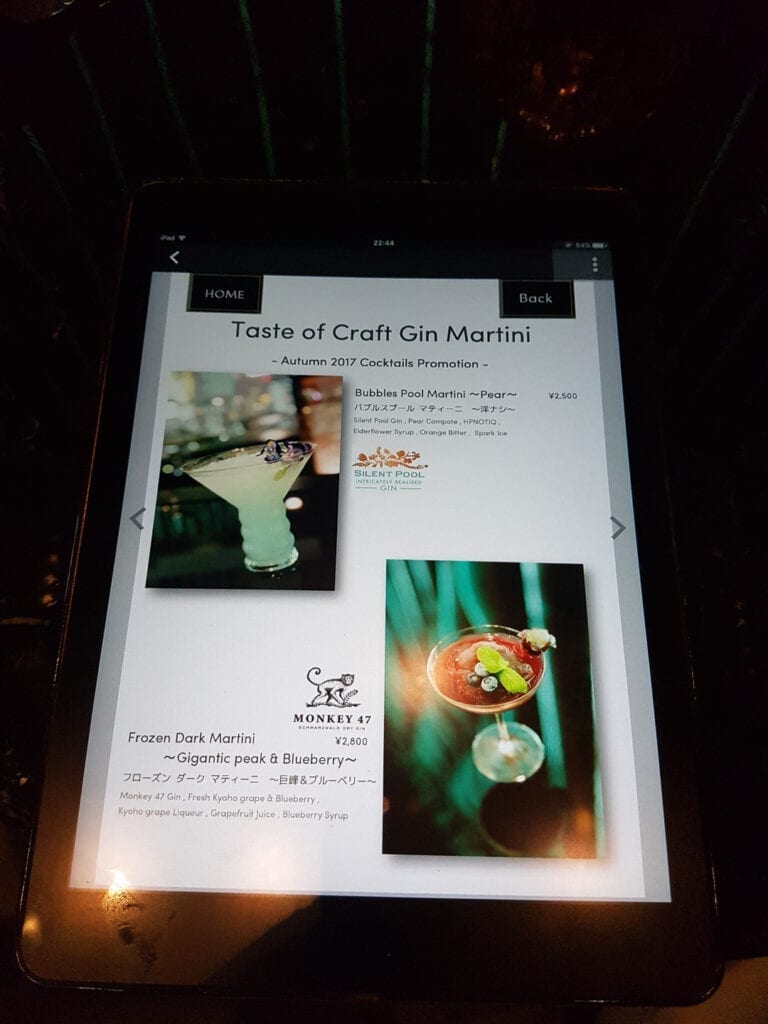 The next morning I awoke slightly worse for wear but instantly invigorated by the spectacular views!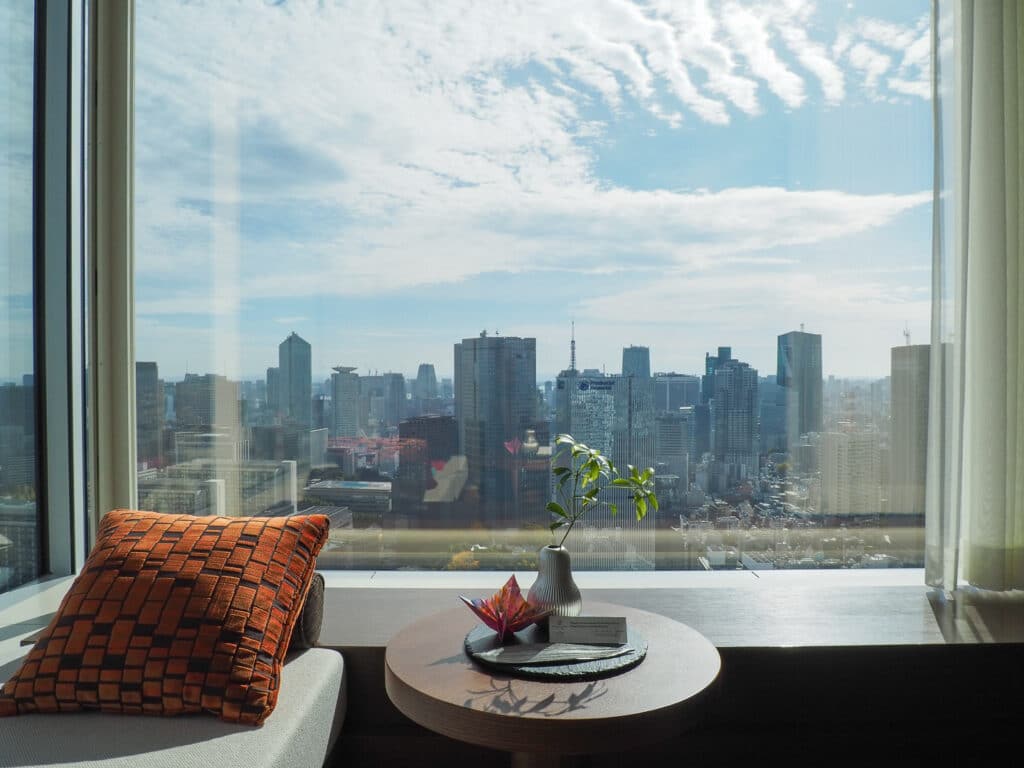 Most hotels would certainly classify a room of this size as a junior suite, given the expansive sitting area. The metal stripes at the bottom of the image are there to protect a large surface on which you an unpack suitcases.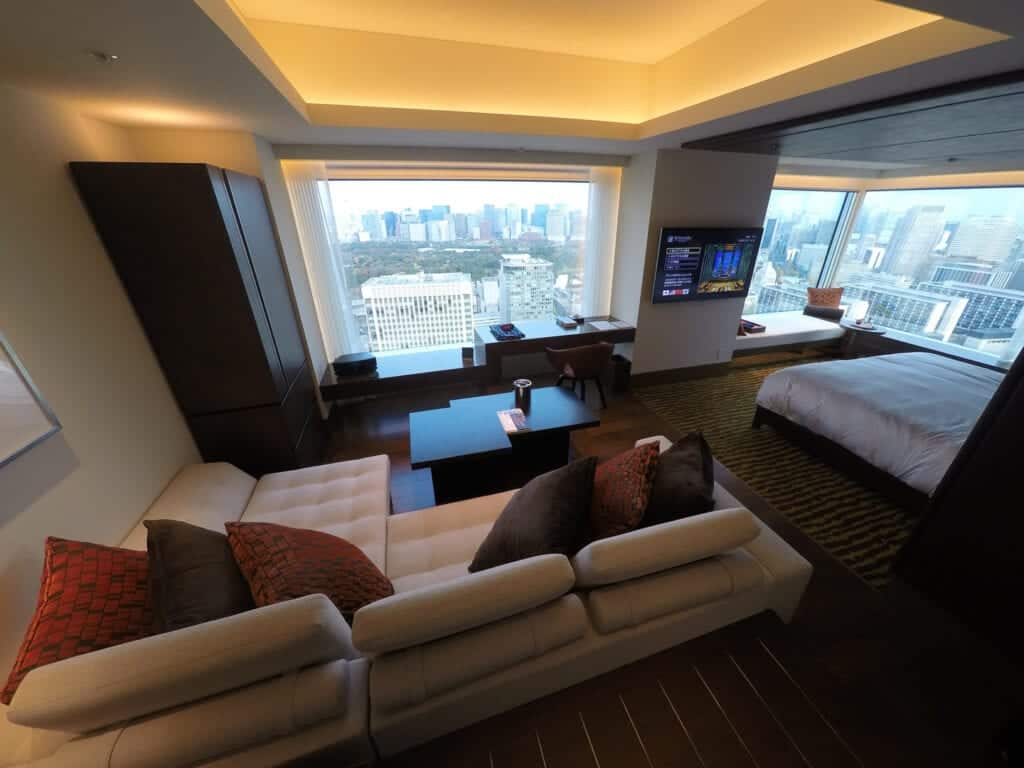 Behind this area was the wardrobe, featuring an ironing board, clothes brush, shoe horn and even a yoga mat. Storage space was limited however, with more space available in a second wardrobe in the bathroom. Not the most practical of storage solutions…
The sofa was very large and comfortable and I can imagine that those travelling with a child would easily be able to turn this into a bed.
The writing desk initially looked like an afterthought but I found the ergonomics to be really good and both USB and Japanese power sockets are located within a panel there.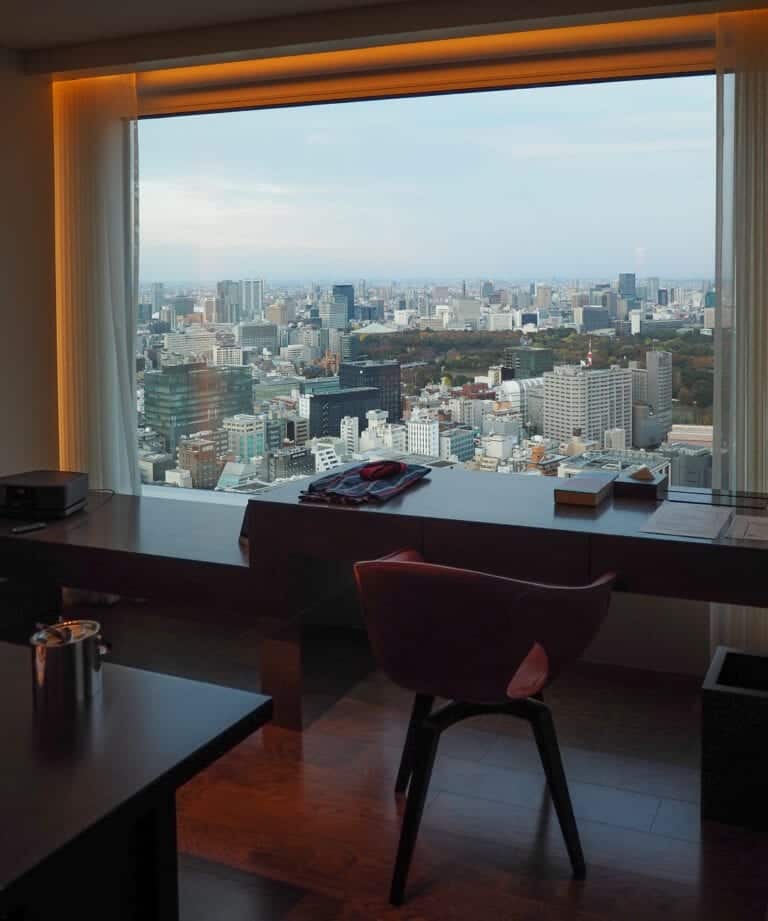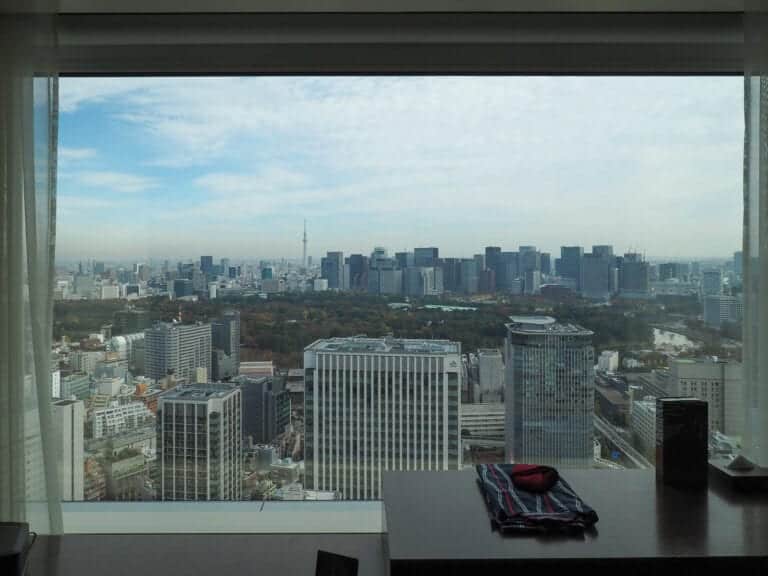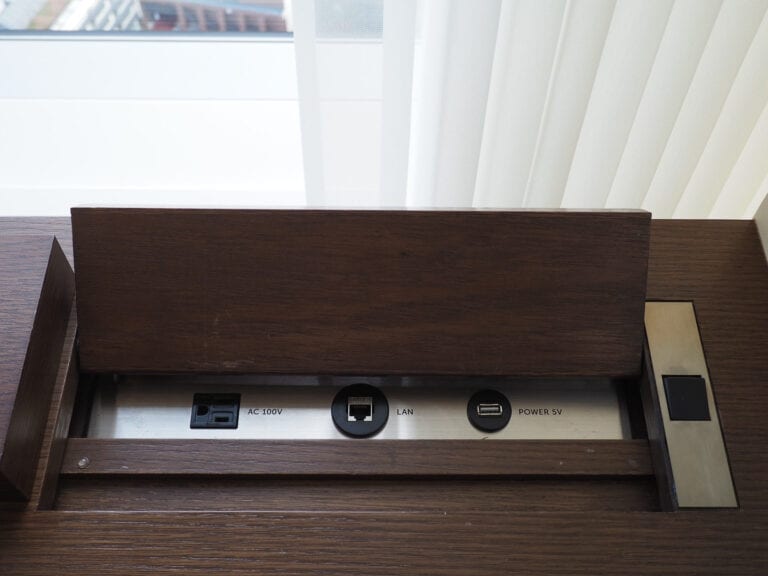 Tucked away in the far corner of the room was a large minibar unit featuring both paid for items and complimentary tea and coffee facilities. Next to this was a wireless Bose speaker.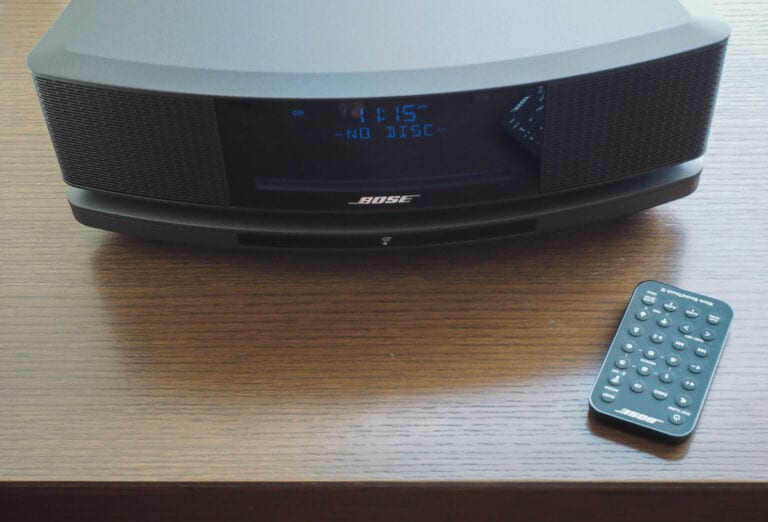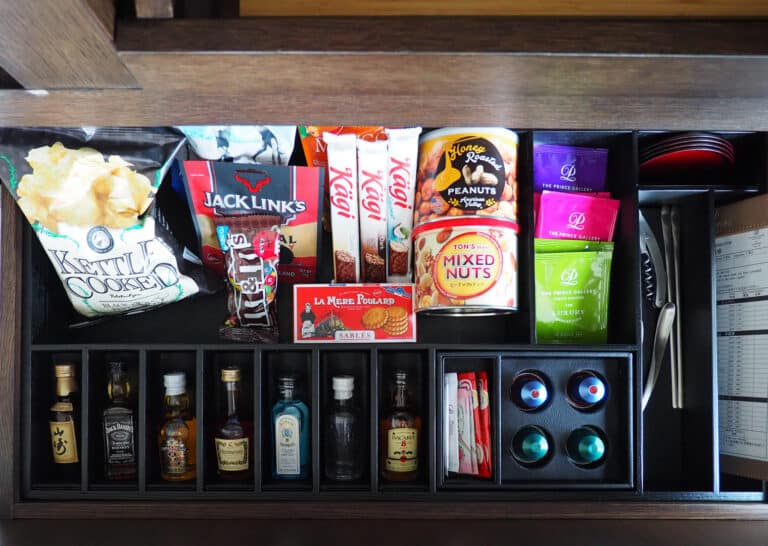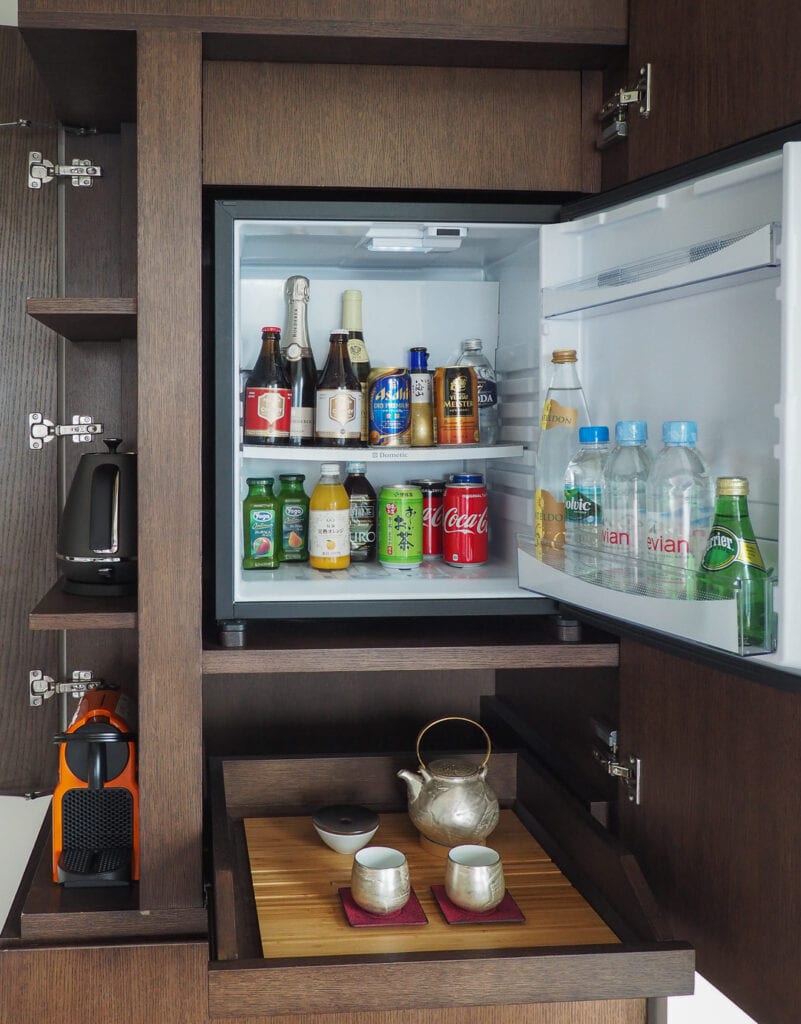 In a design trick that was rather reminiscent of the engawa at the Ritz Carlton Kyoto, the bedroom was clad in a different material to the rest of the room, creating both a visible divide and a sound dampening effect thanks to the padded leather that was used.
The TV occupied almost the entire width of the wall and was perfectly positioned for viewing from bed. Honestly though, who needs TV when you have this view to look at?
The bed was very squishy and comfortable. No need to worry about the usual rock hard Japanese beds here. The iPad and black glass control panel added a hi-tech touch the to the room and both sides of the bed featured power sockets.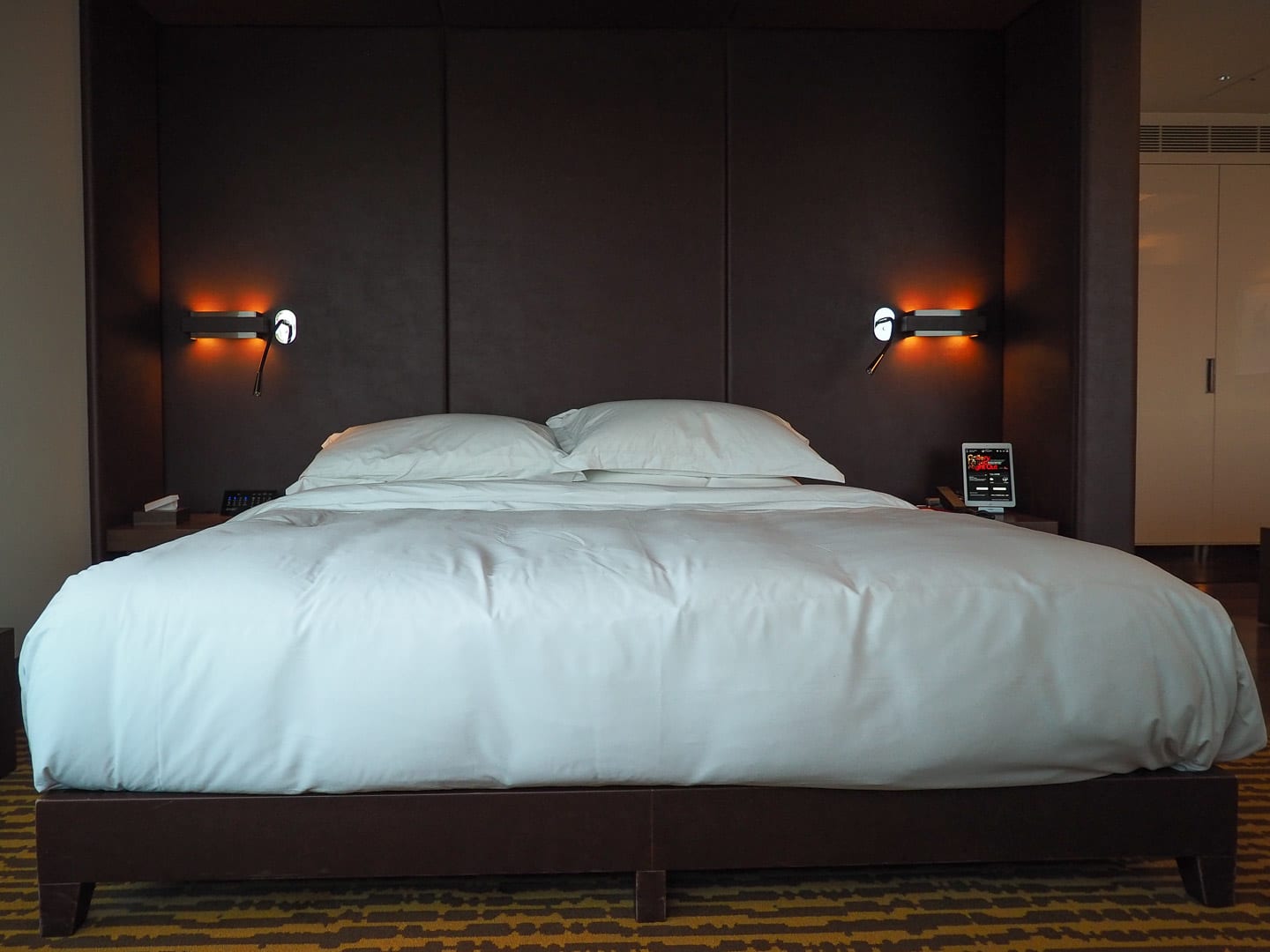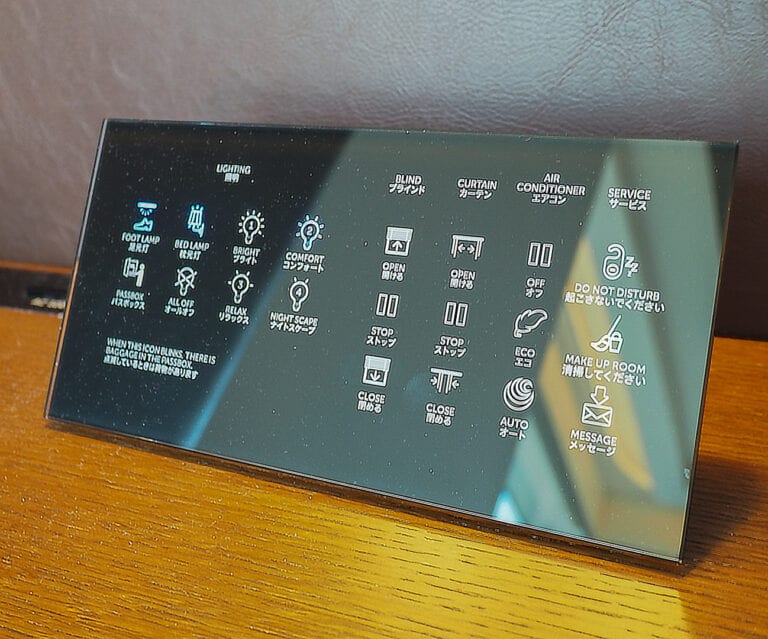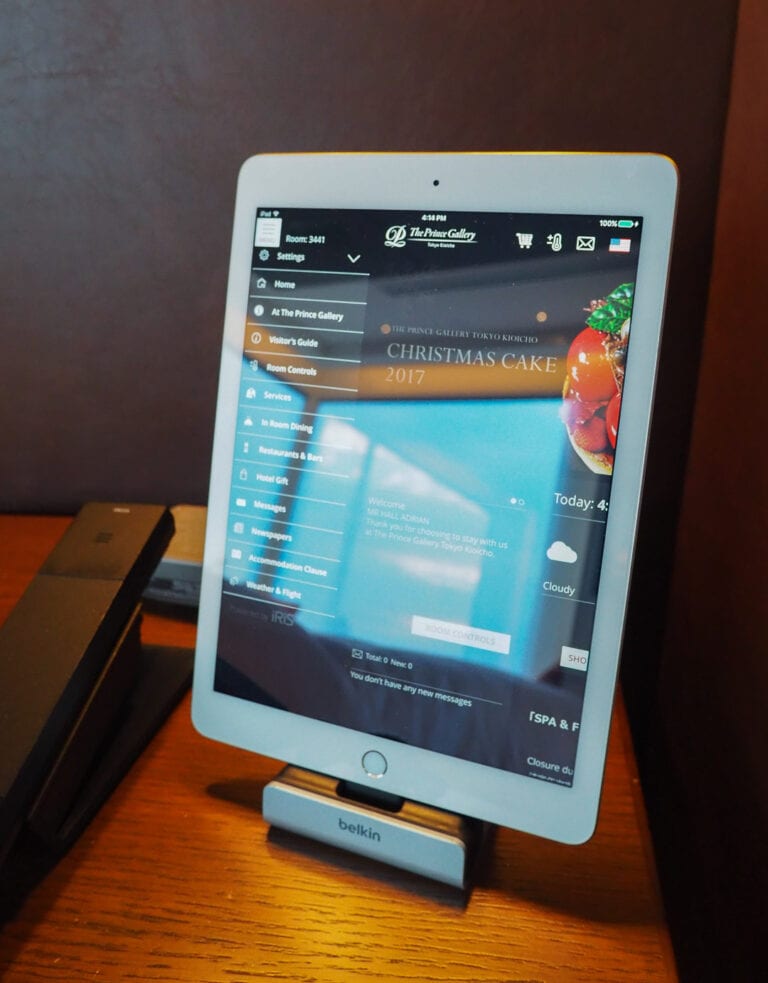 The bathroom featured a bathtub in which you could really soak in the amazing view.
I love these self contained Japanese wet rooms in which you can clean off in the steam shower as your bath of clean water fills up. Toiletries are Remède, as found in almost all St Regis hotels.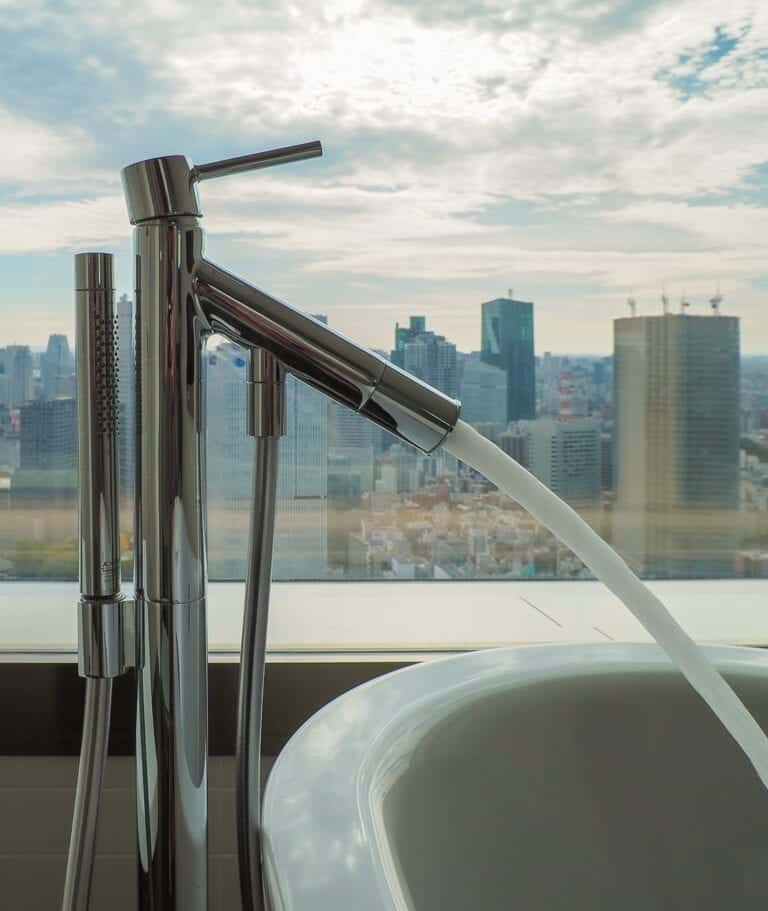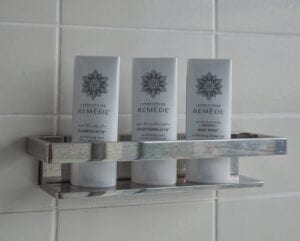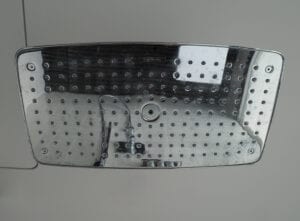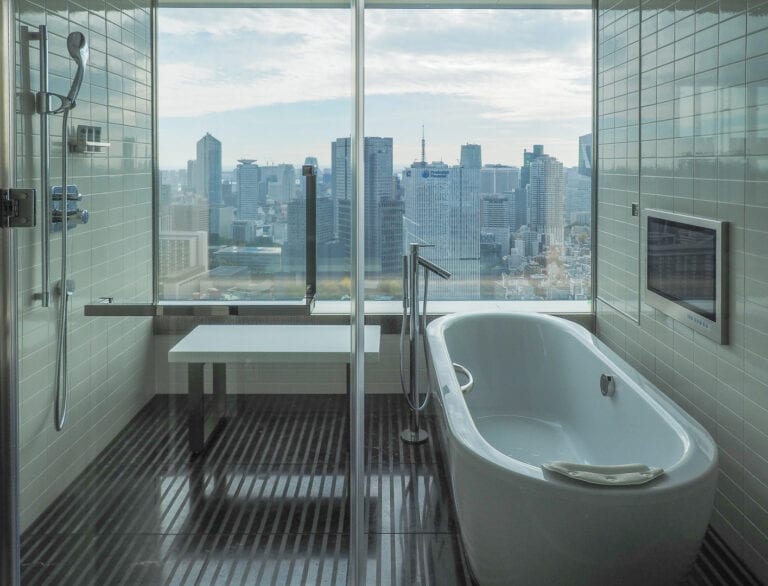 The overall design aesthetic in the bathroom was one of compactness and efficient use of space. This is in contrast to the spacious twin vanities at the Conrad.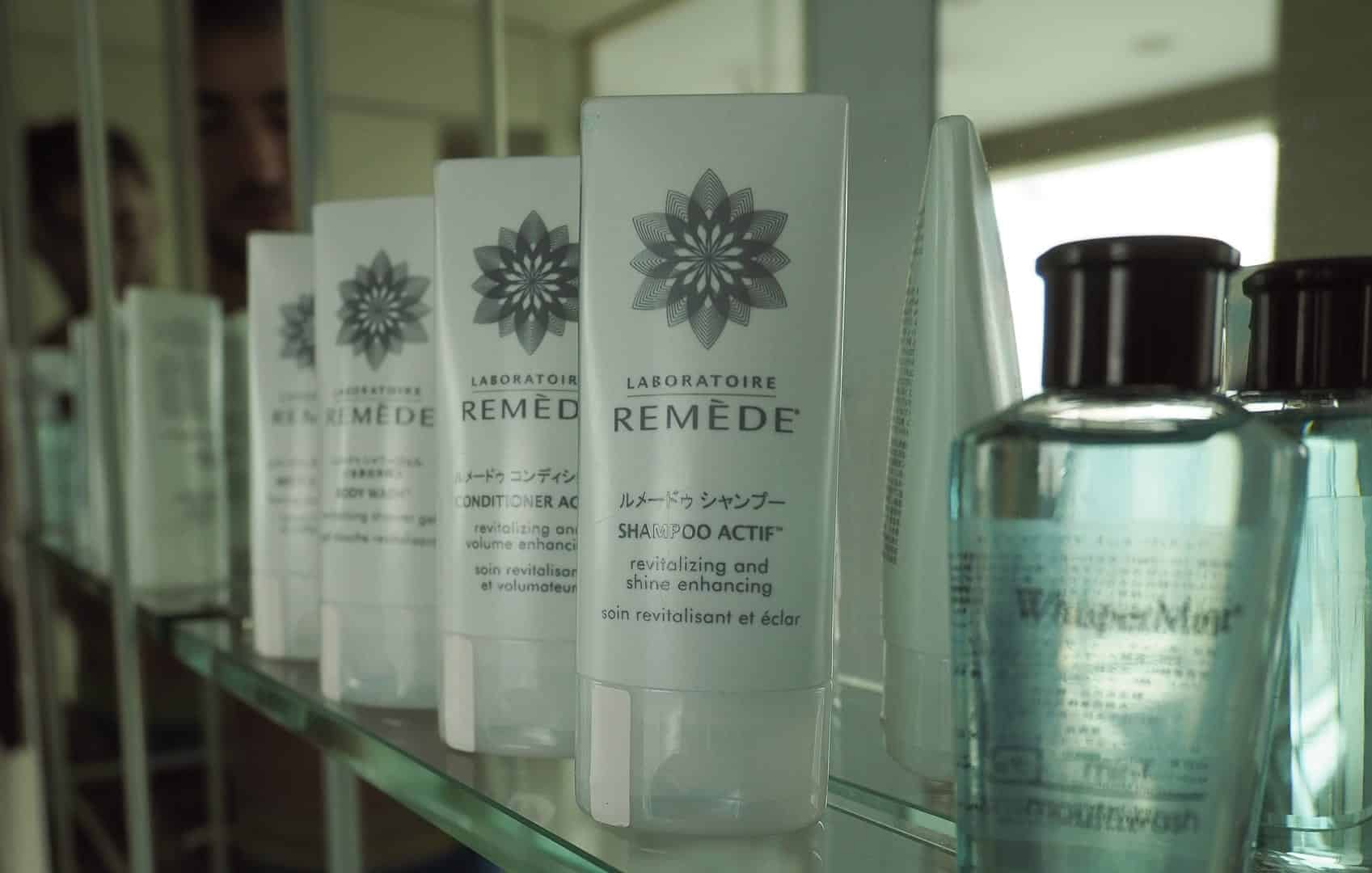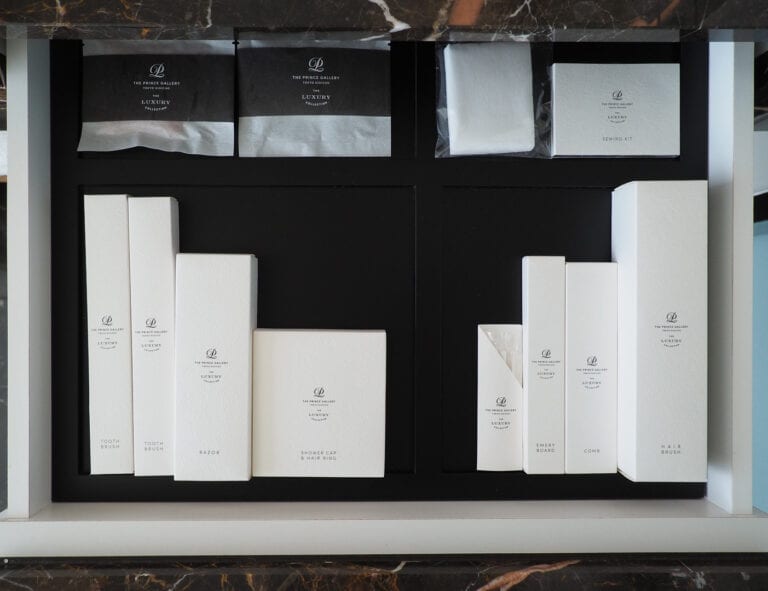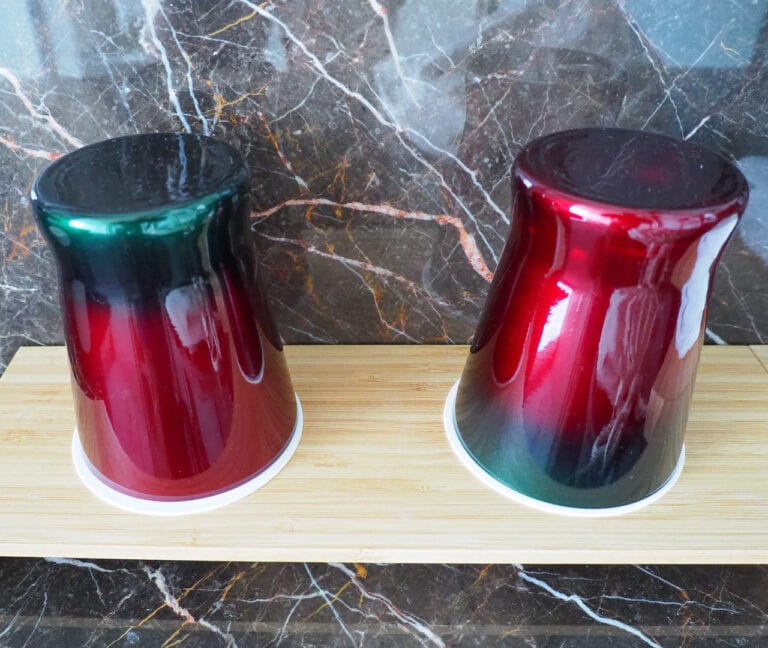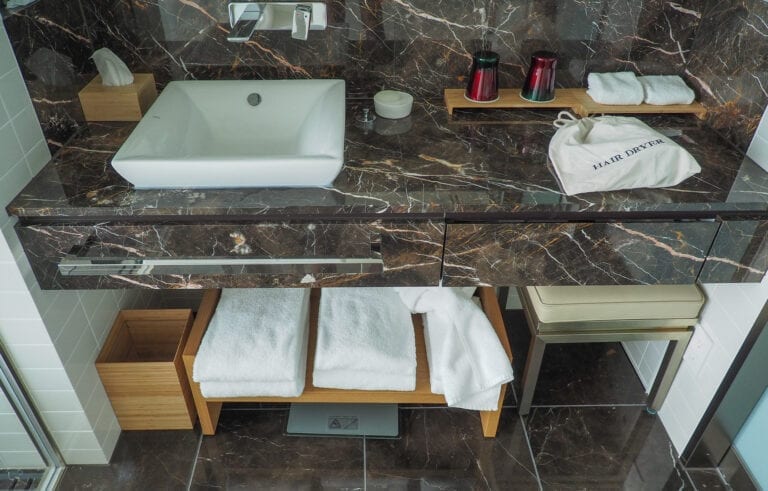 As I mentioned earlier this efficient use of space extended to the rather unusual decision to have half of the wardrobe inside the bathroom! As you'd expect in Japan the toilet featured all manner of electronic wash and dry features, including a mechanism that lifts to greet you, making it impossible to photograph without the lid open…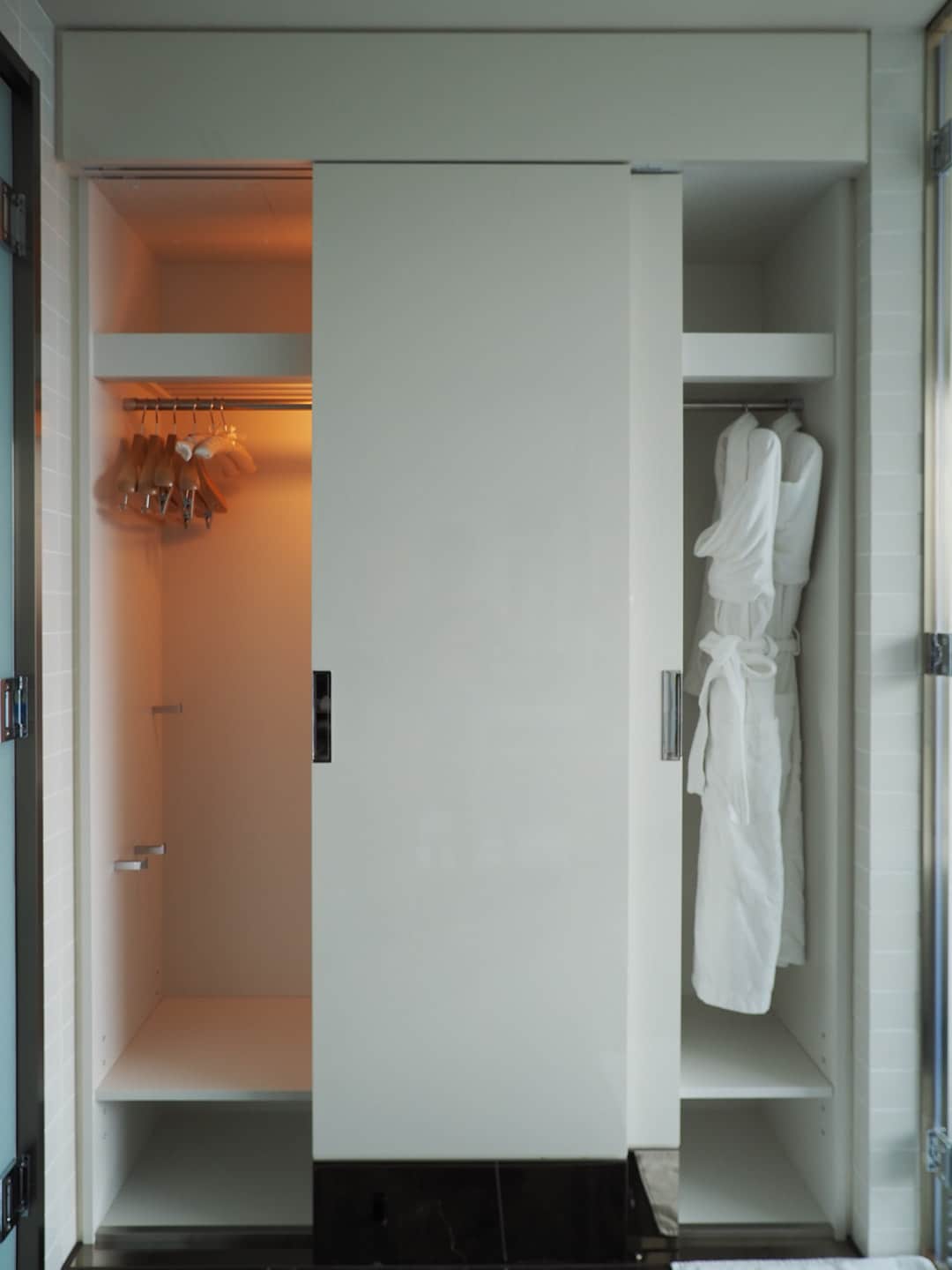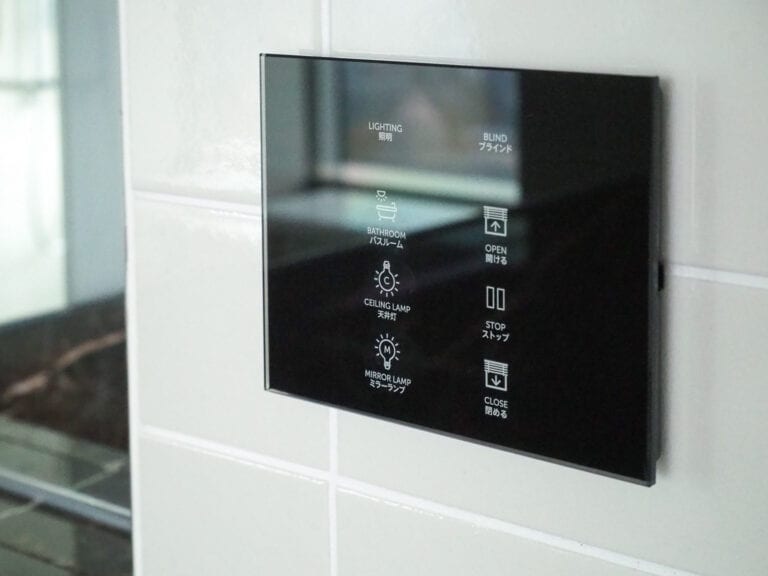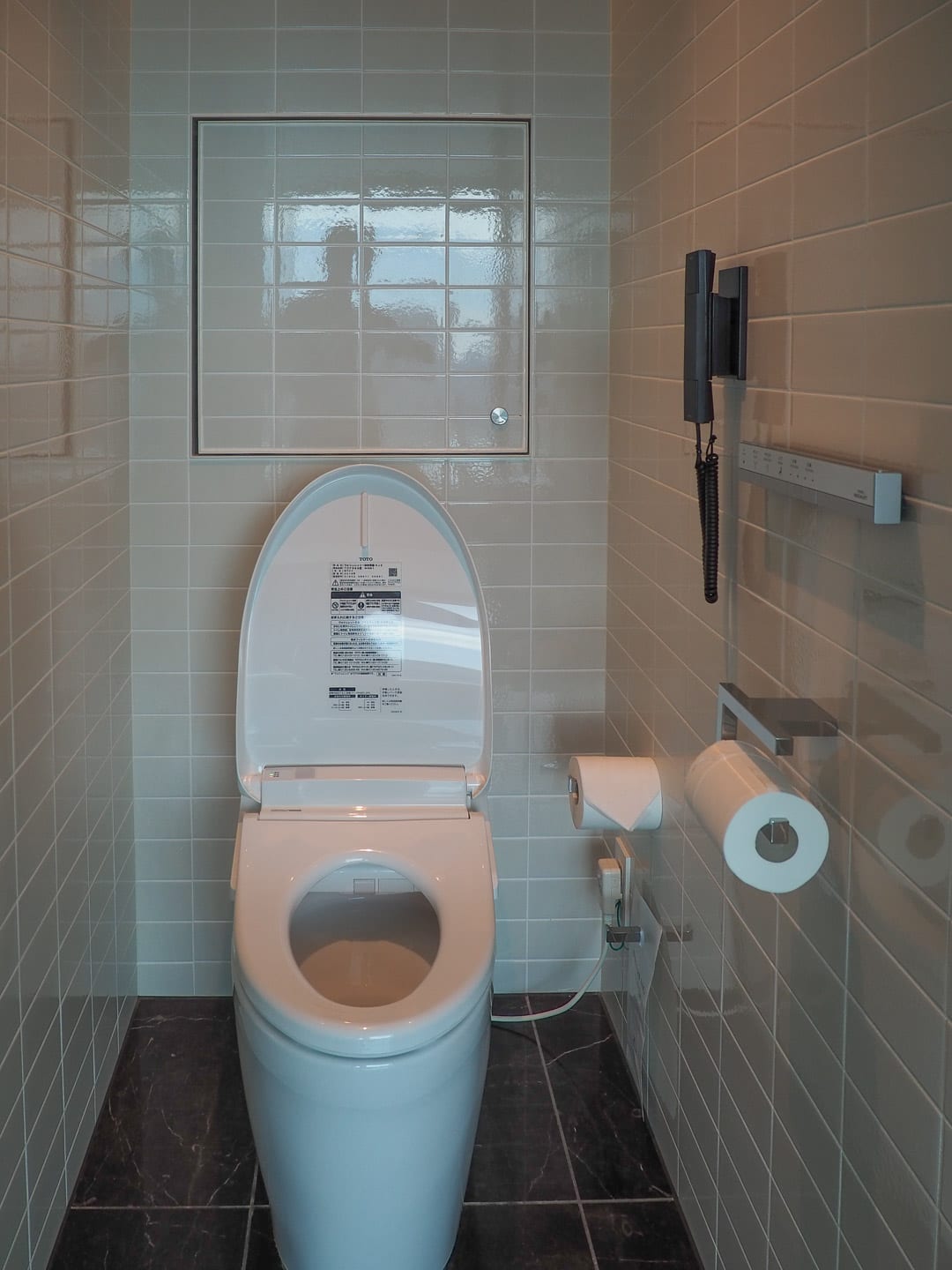 Overall the room had some cool features and an amazing view but the level of finishes and the compactness of the bathroom made this feel a lot less premium that even the entry level rooms at the Conrad. The sitting area is enormous but comes at the cost of having space to move elsewhere.
---
Club Lounge
---
The club lounge is located on the 34th floor of the hotel.
A letter detailing our club benefits was handed to us during check-in, the most generous of these being the fact that drinks are served from 7:00am to 9:30pm. One important point to note is that guests not staying in a room with club benefits will need to pay ¥4,500 per day to access the spa and pool.
Upon entry we were greeted by the concierge team, located at a desk immediately adjacent to the door. The team were very helpful in making suggestions for us and planning out our final day in Tokyo. They were also more than happy to process our 4pm check-out and store our bags until our shuttle bus departure time of 8pm. The letter states that club access is limited from check-in to check-out but we were offered use of the lounge after our check-out without any prompting from our side.
The decor in the lounge featured some cool touches like the Flos lights but honestly it seemed like this area had a completely different designer to the rest of the property. The drab colour scheme gave this the feel of an airport Sheraton rather than a modern luxury hotel.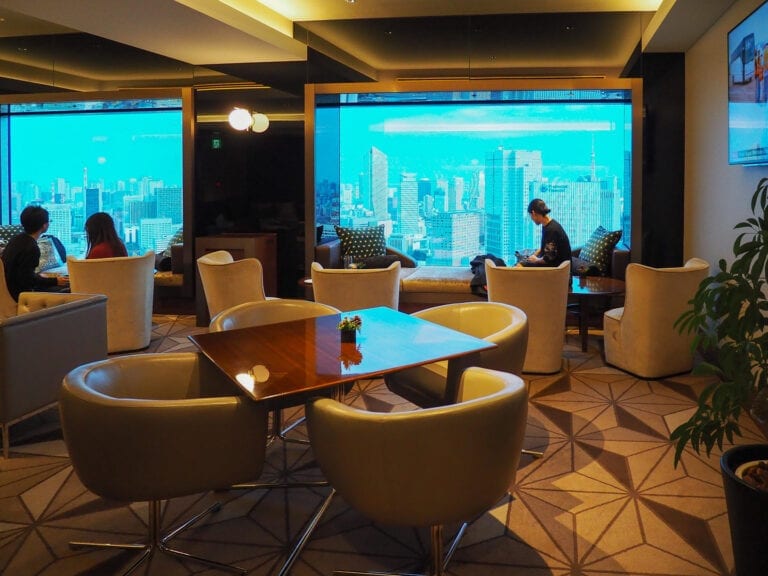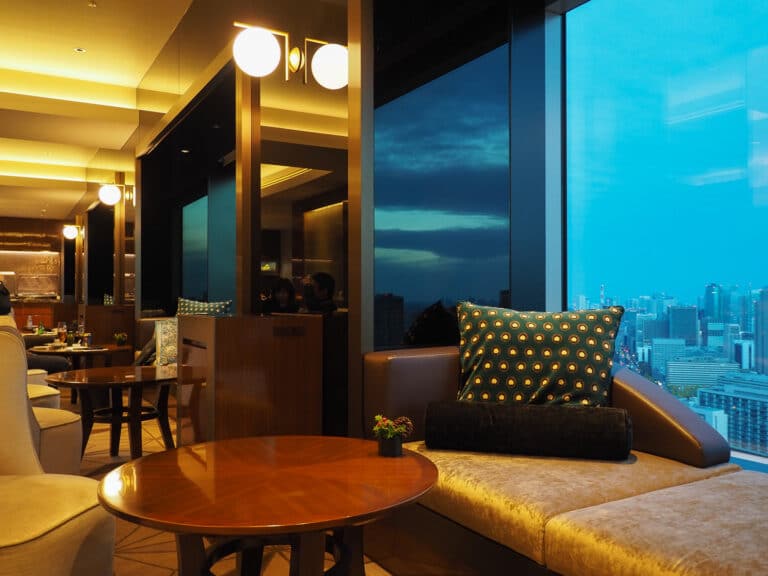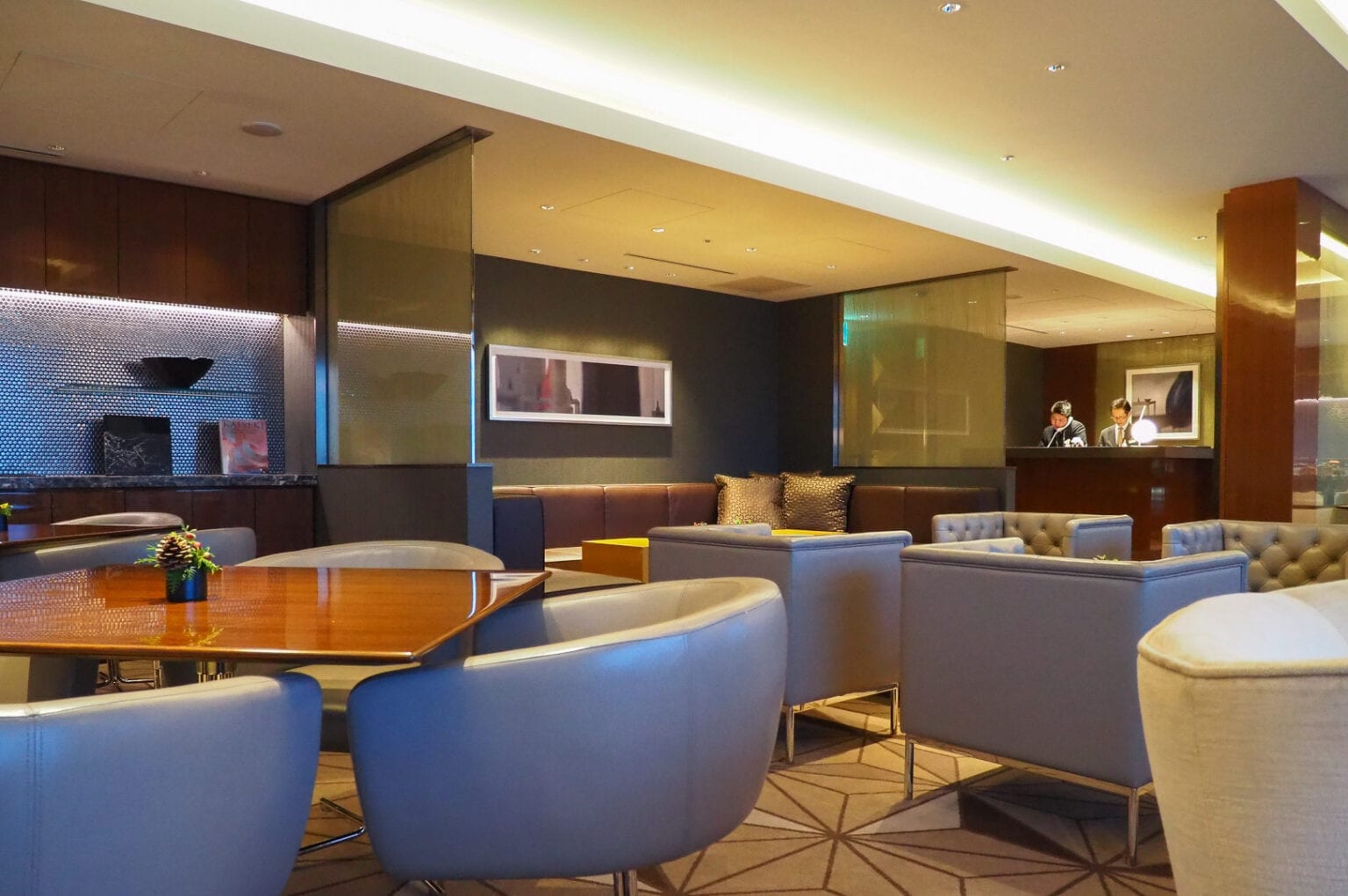 However, what the lounge lacked in style it certainly made up for in substance. The food and drink were of a very high quality indeed, with staff always on hand to assist in serving guests.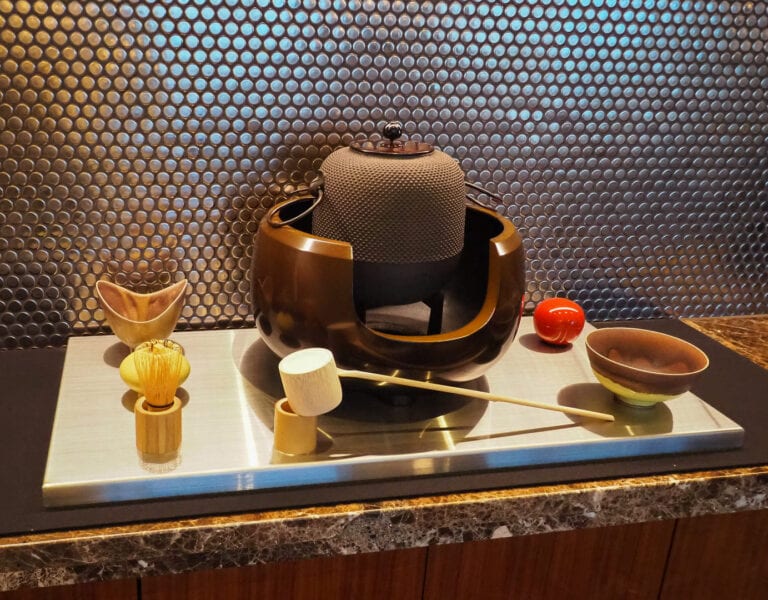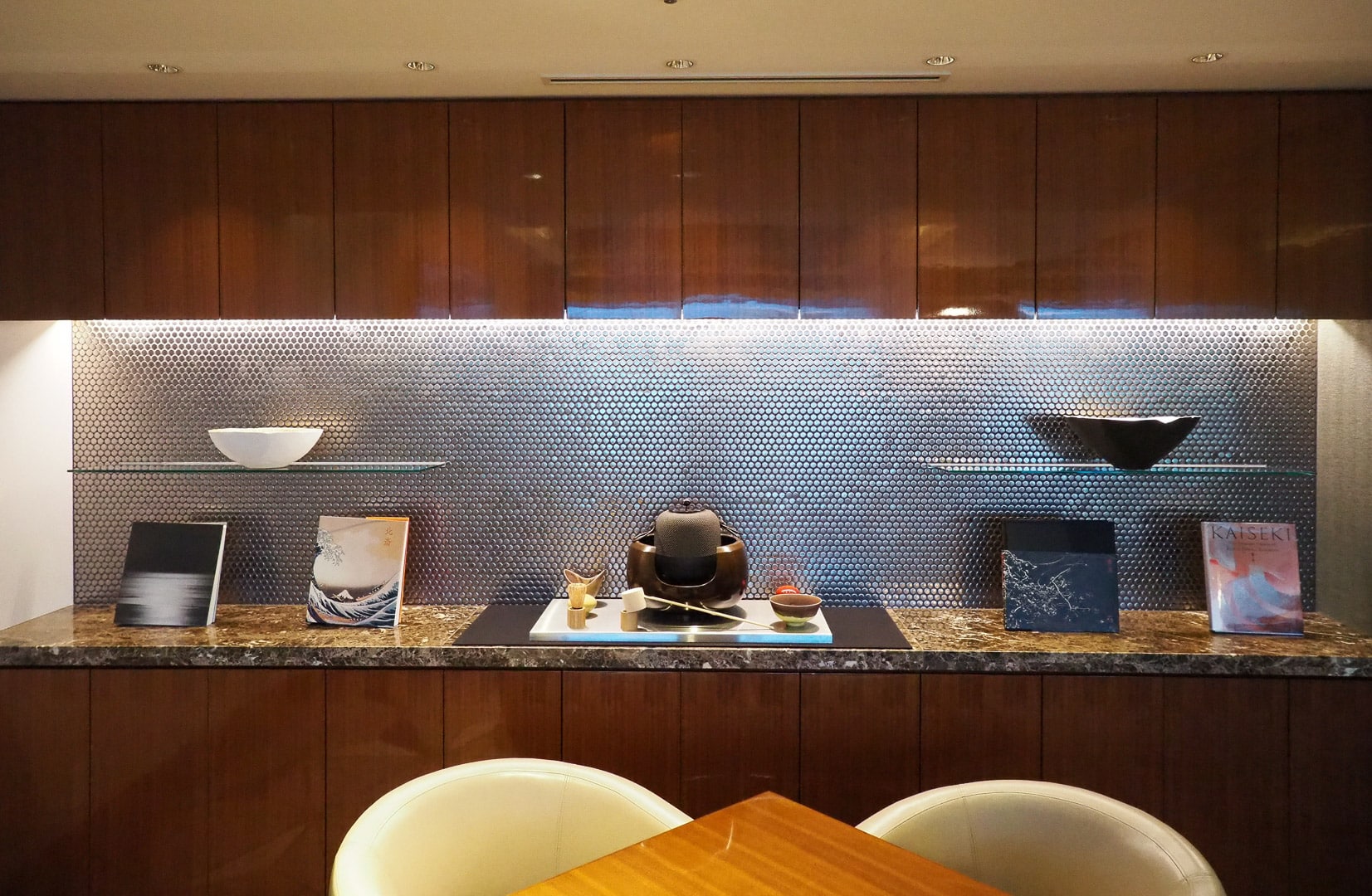 The drinks selection included Barons de Rothschild champagne (just like the Cathay First Class Lounge in Heathrow!), some very drinkable French wines and even Yamazaki whiskey. Honestly I can't think of another hotel lounge on earth that compares to this.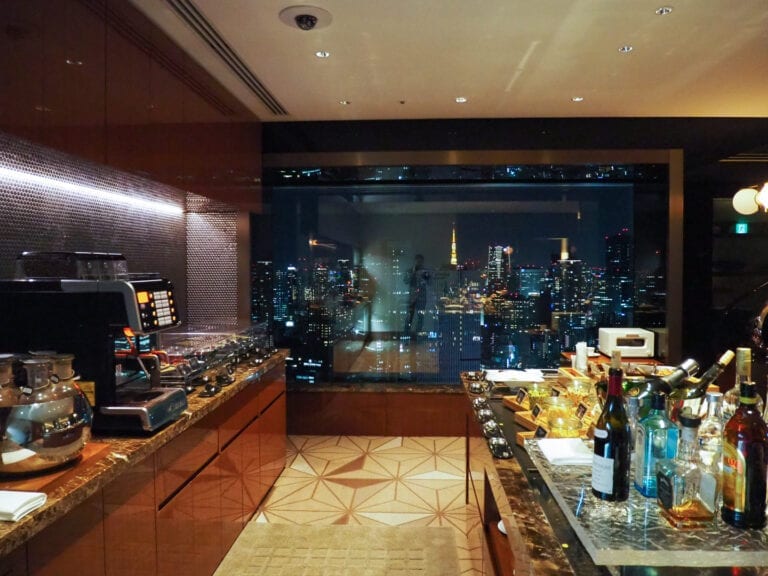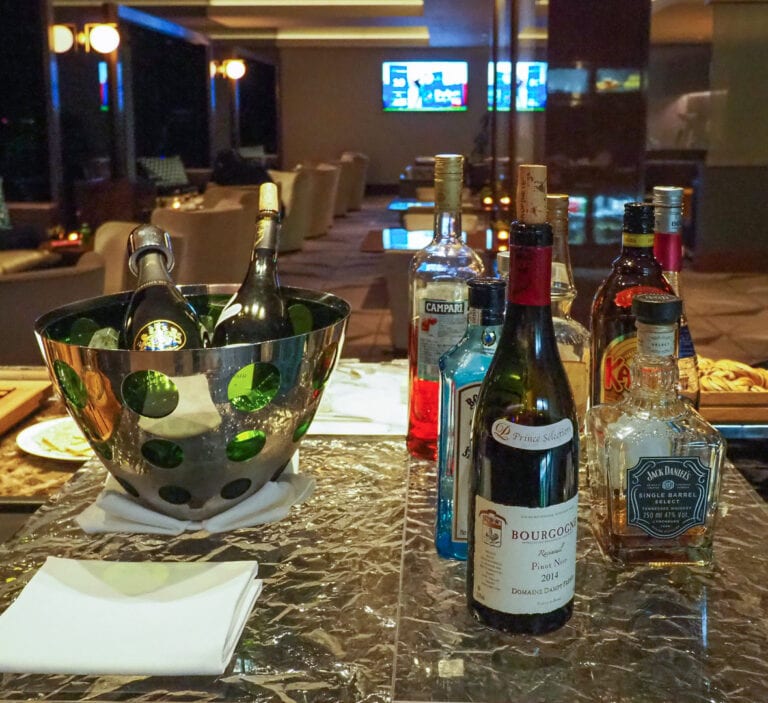 A variety of nibbles to enjoy alongside a cocktail.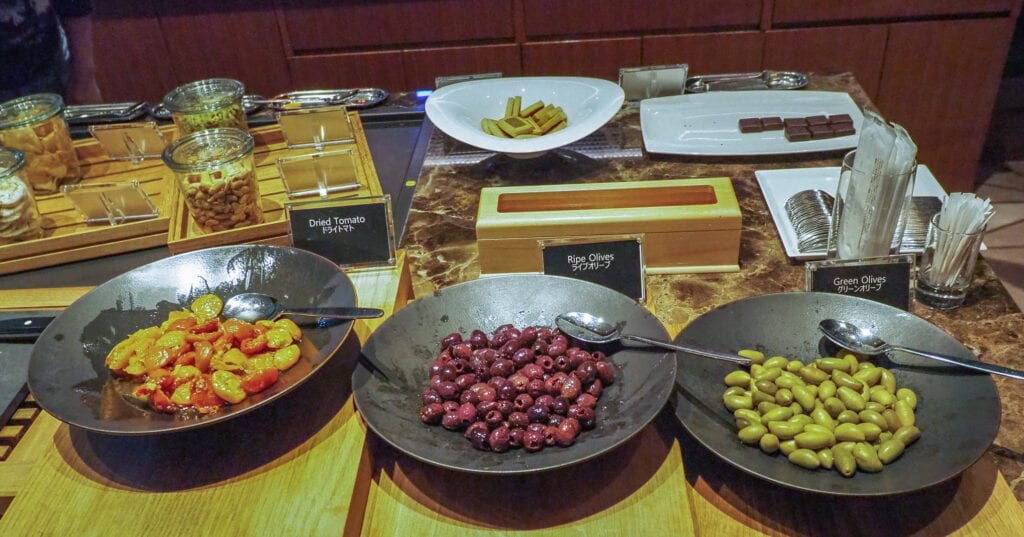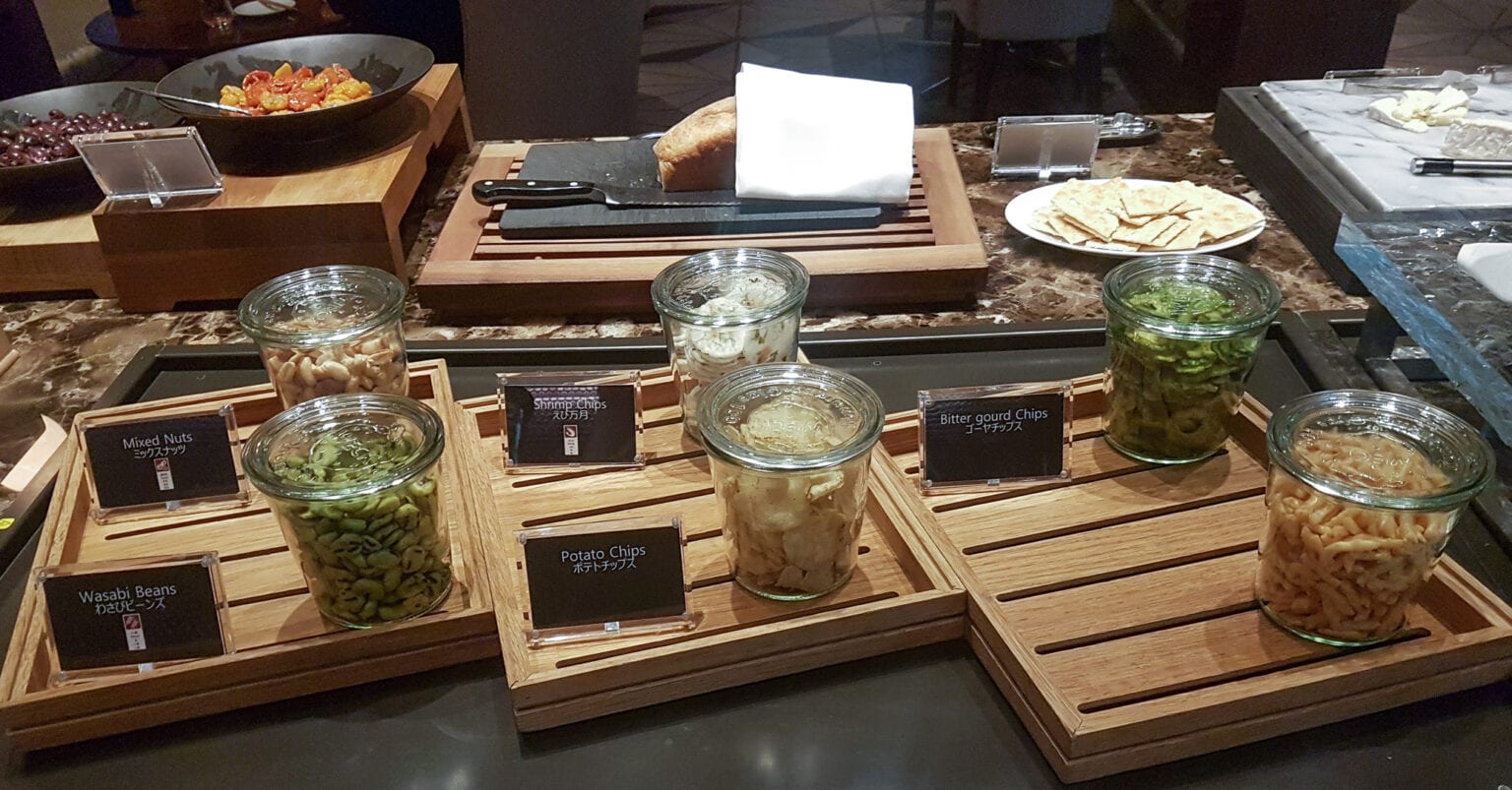 There was also a selection of more elaborate savoury dishes on offer including scallop terrine and a yuzu, tuna and turnip salad. These were absolutely delicious and far better than what you'd normally expect to find in a hotel lounge.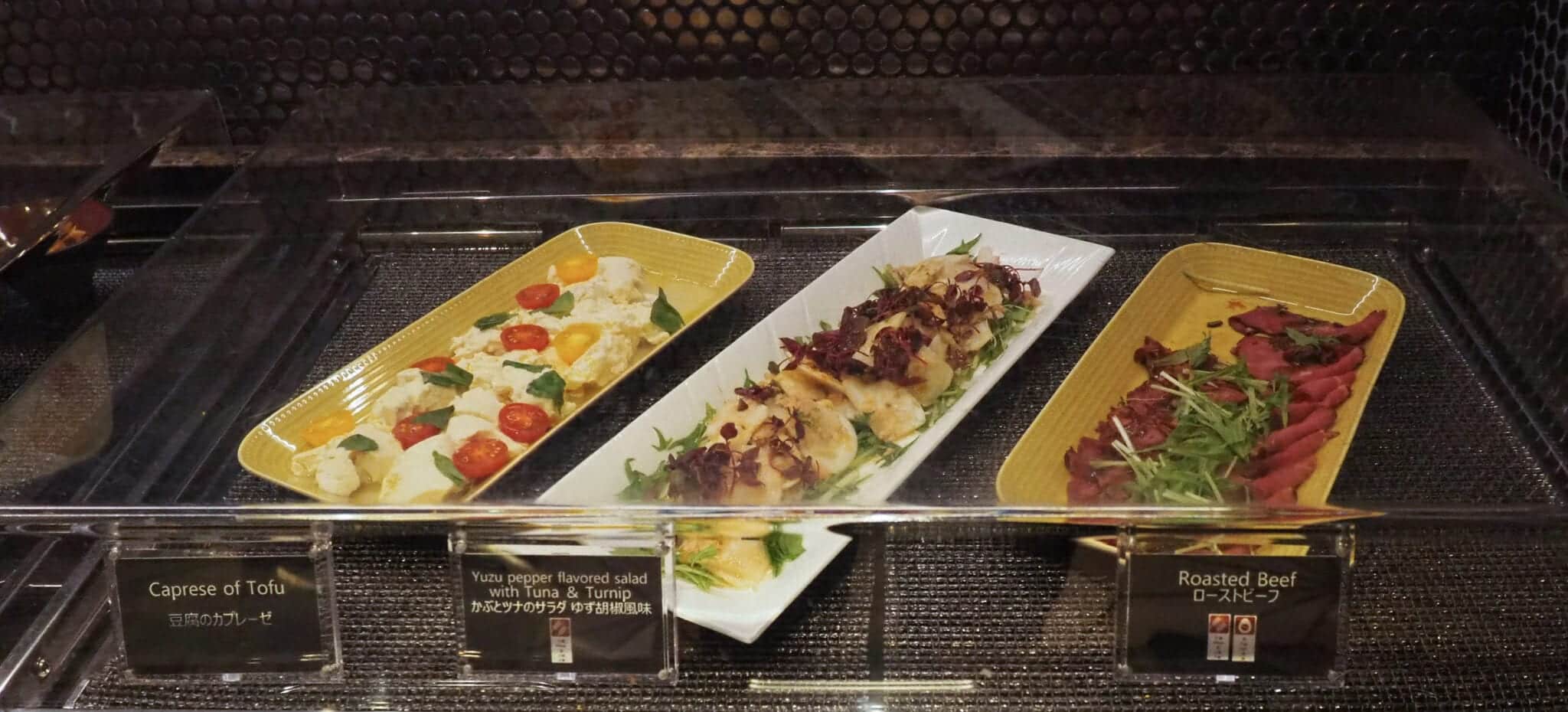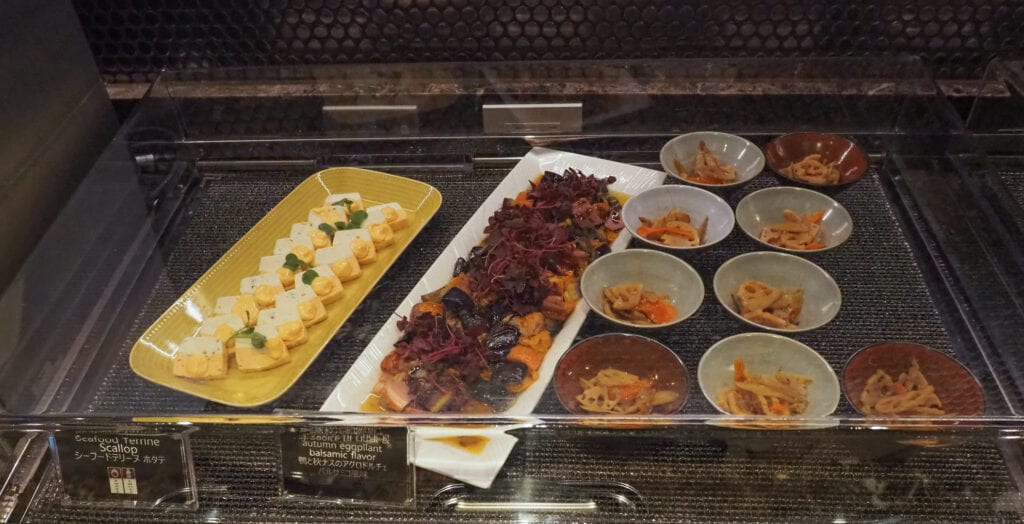 There was also a very extensive selection of freshly baked pastries and desserts as well as some smaller sweets and chocolates.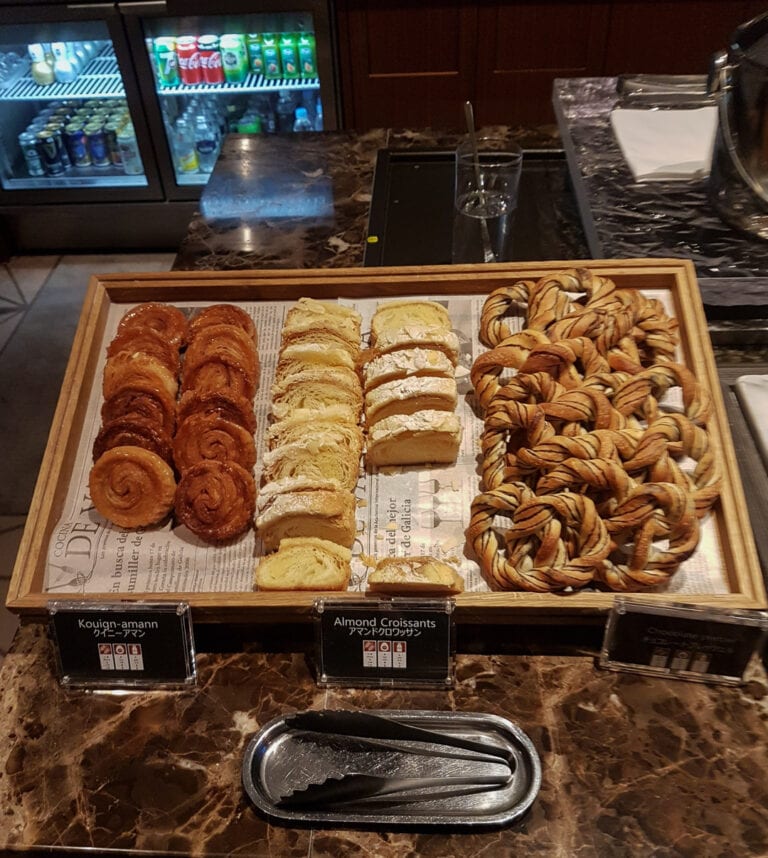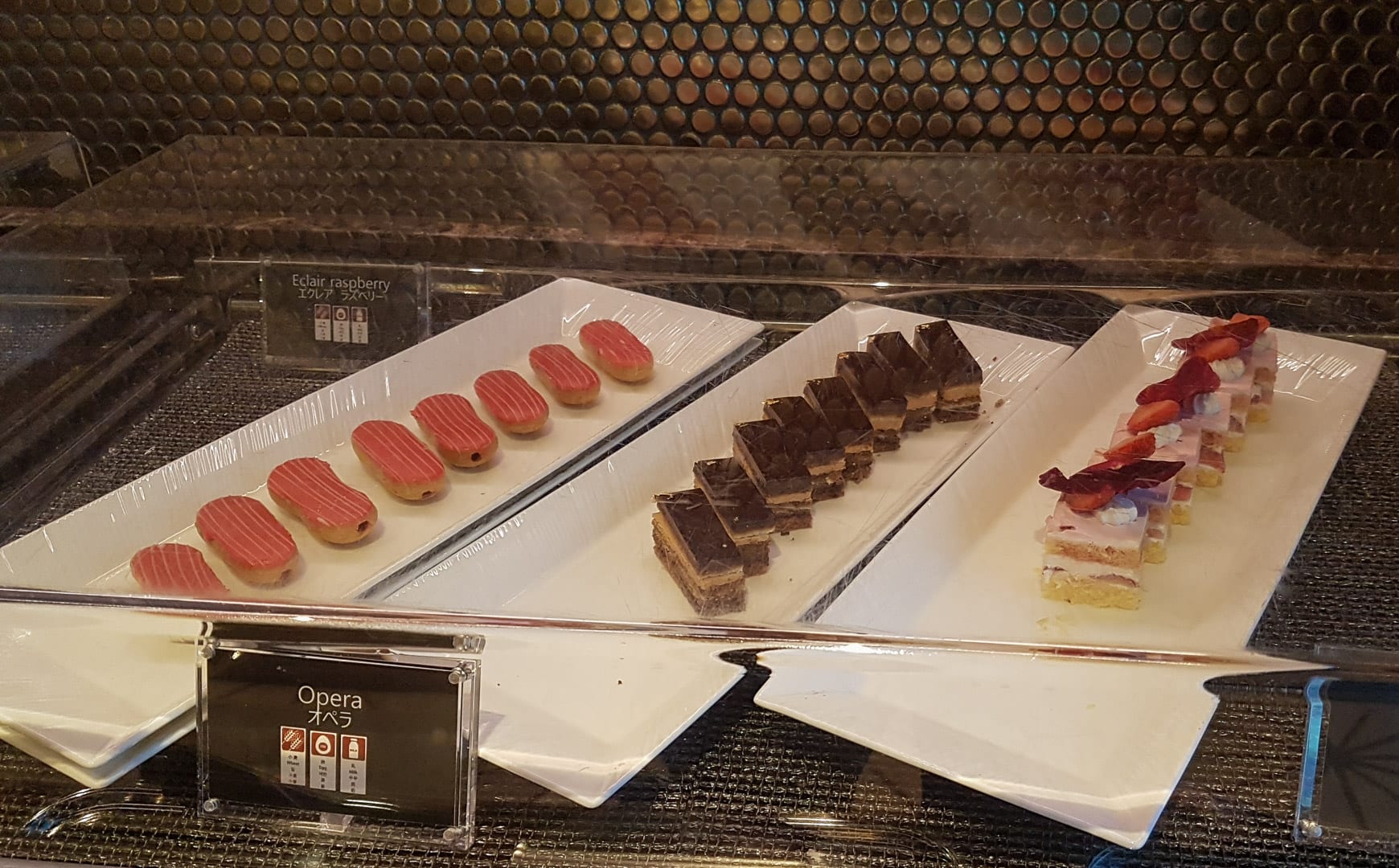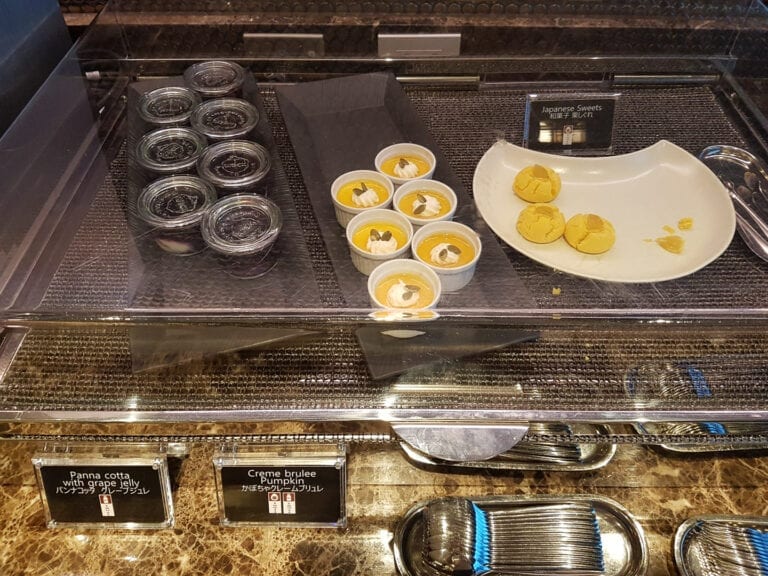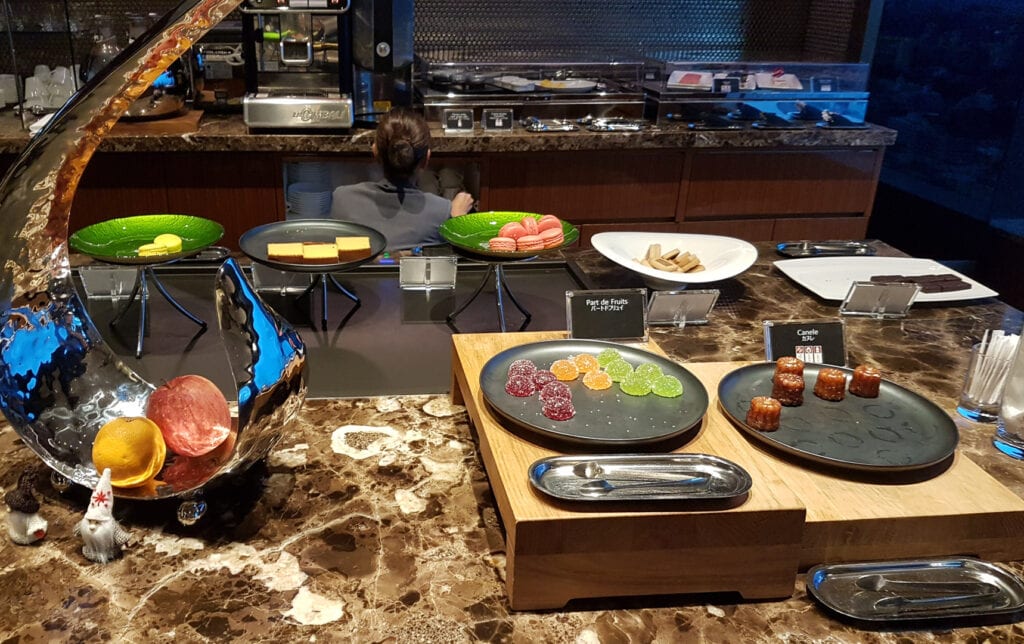 ---
Conclusion
---
Basics Checklist
☑︎ Power sockets near the bed
-Local only (not universal)
☑︎ Easy to understand light switches
☑︎ Coffee machine
☑︎ Separate shower and bath
+Enclosed bathing room
☑︎ Blackout blinds
☑︎ Stable, fast and free Wifi
☑︎ Feather pillows
☑︎ Quiet and powerful aircon
Despite the lacklustre decor I quite enjoyed relaxing in the lounge for a couple of hours before taking the direct shuttle bus to the airport (¥3,200 per person – 35mins). For me this area was a perfect microcosmic representation of the hotel as a whole: great views, some very high quality touches, slightly cold design and professional but unmemorable service.
By most measures this is an excellent hotel and had this been my first ever visit to Tokyo I would have been very happy with my stay here. However there's a reason I'm now comfortably into the double digits with my stays at the Conrad. I've tried various other hotels at lower price points like the Park Hotel and Intercontinental The Strings and honestly the lasting feeling that the Prince Gallery leaves me with is similar to these.
I came away feeling sad that I wasted the opportunity to spend another night at my favourite Tokyo hotel. I didn't feel like this at the Park Hyatt (on either of my visits), it was very different but nonetheless an outstanding experience. Prince Gallery on the other hand is good but not great.
---
Book online with Marriott STARS benefits
---
Marriott STARS Partner Booking
Click the image to get the best available, flexible rate and also receive:
• Priority upgrade on arrival, subject to availability.
• Full breakfast for up to two in-room guests.
• $100 Hotel Credit.
• A Local welcome amenity.
• VIP status granted throughout stay.
• Early check-in/late check-out, subject to availability.
[A seasonal 15% Discount is also often available on the STARS Rate.]
Note: You will still earn stay credit and ALL elite benefits, exactly like a direct booking with Marriott.com.
The Prince Gallery Tokyo can be booked directly online by clicking the "BOOK NOW" image.
First time booking with us? Here's how to quickly get set up: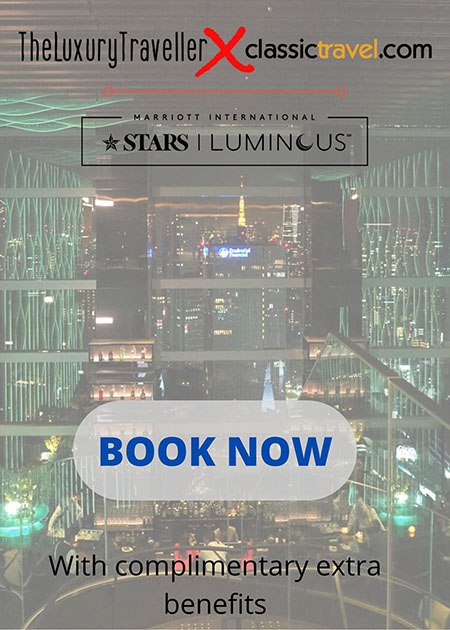 ---