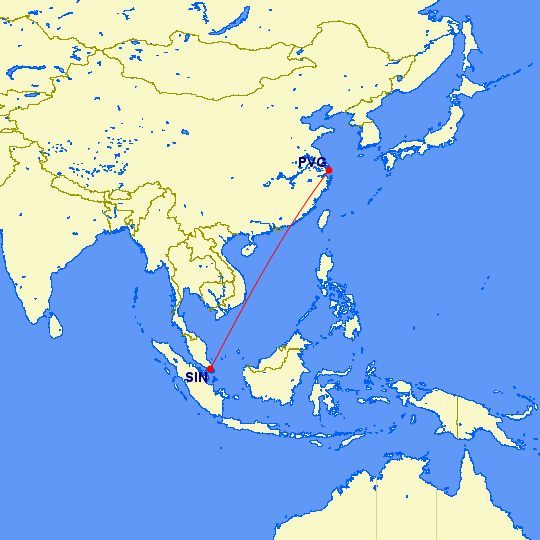 Singapore Airlines (SQ)
Flight: SQ 833
Class: First Class
From: Shanghai (PVG)
To: Singapore (SIN)
Duration: 5h35m
Aircraft: A380-800
Seat: 1A & 2A
Frequent Flyer status during flight: None
Booking type: 50,000 Krisflyer Miles + 24.90SGD Total

For PVG-SIN in Suites followed by SIN-DPS in Business

Flight date: December 2018
---
Booking
---
It's no big secret that Singapore is my favourite airline on the planet. I once flew four of their cabins in the space of a week and was absolutely blown away by pretty much everything that this company does in both Business and First Class.
Any time that I begin to plan a trip to Asia, I always try to find a way to sneak in at least one or two segments on SQ and this trip was no exception.
We needed to get from Shanghai to Bali for the next part of our trip and it seemed like a complete no brainer to book on Singapore Airlines. A lot of Asia can be accessed for the same number of miles as a direct flight to Singapore. In this instance we could fly Shanghai to Singapore for 50,000 Krisflyer miles per person (collected by transferring points from my Amex Platinum card) and add the extra leg to Bali in Business Class, the following day, for free!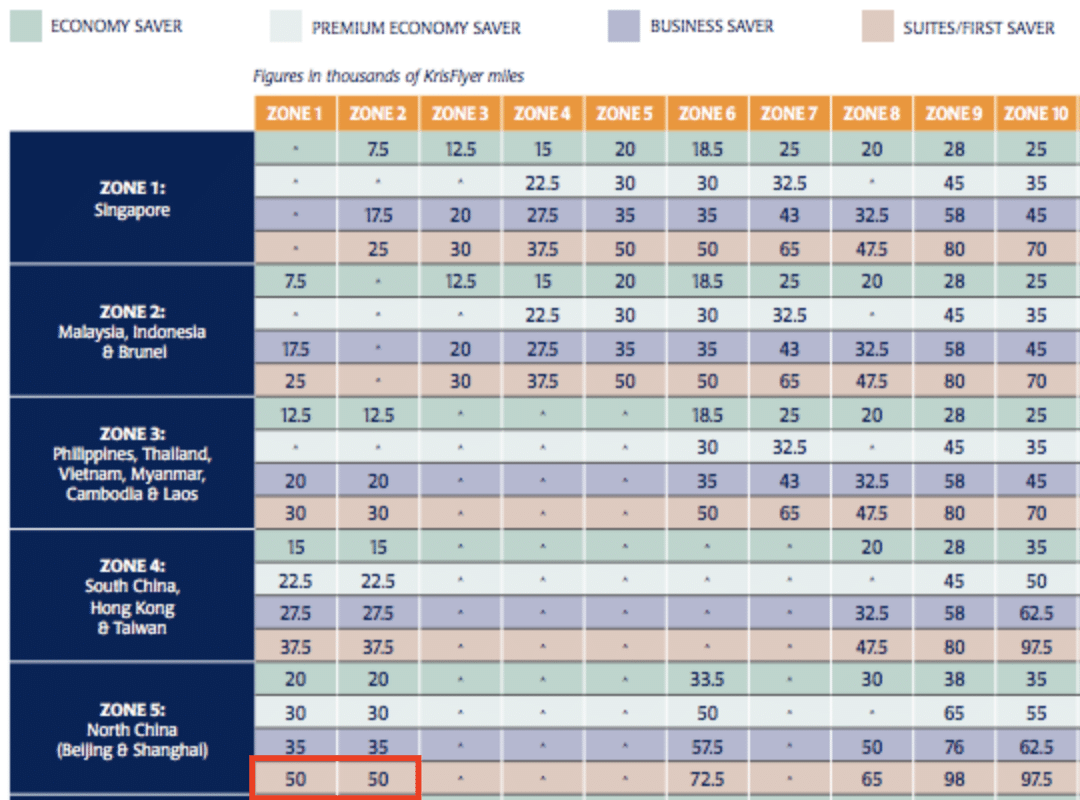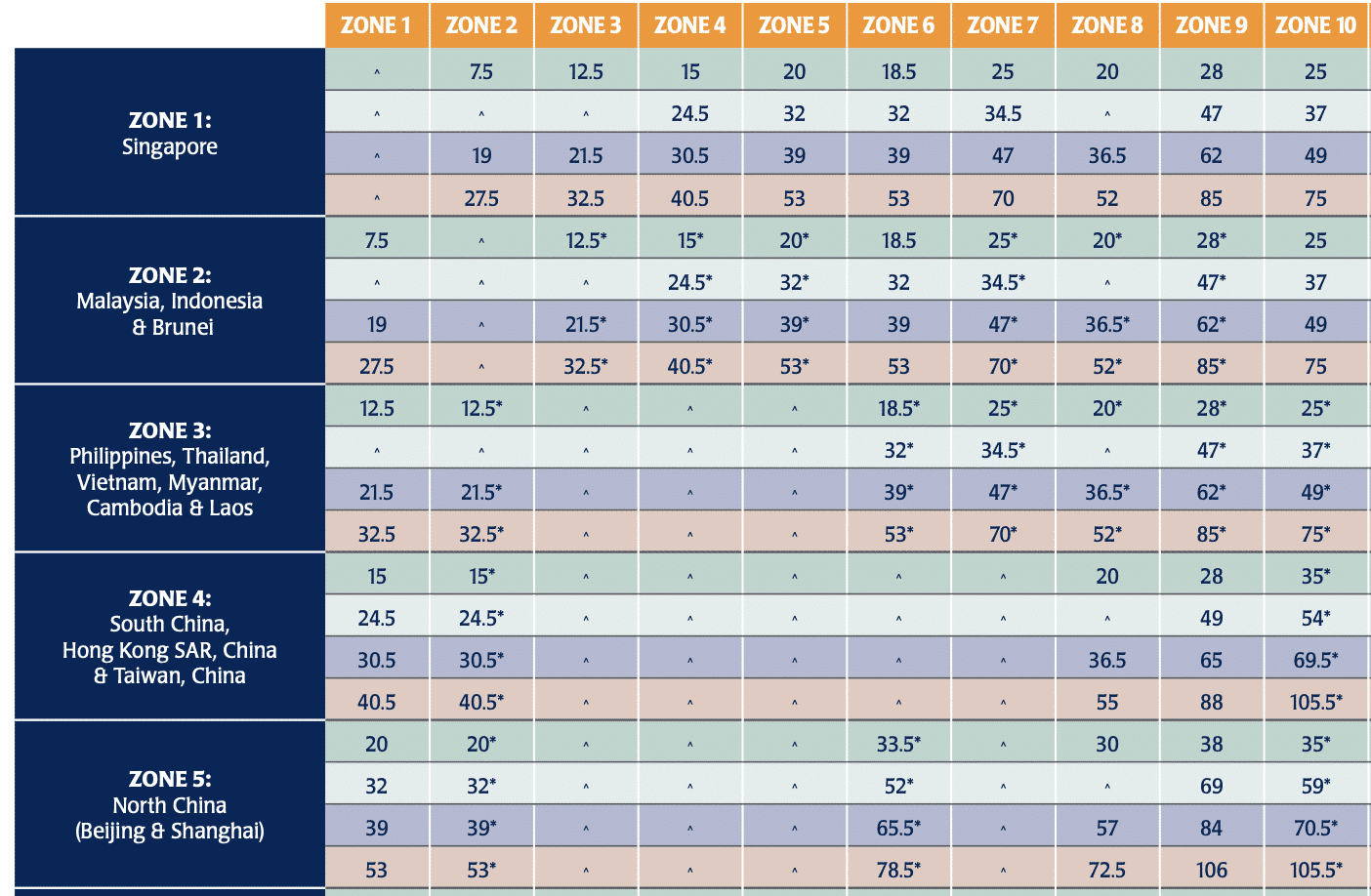 Old chart (left), New chart (right)
The price very slightly increased to 53,000 miles as of February 2020 but this is still exceptional value. This is especially true when you consider that you can add in a multi day stopover in Singapore for $100 per person, on a one way ticket.
However, there was one very small issue. I've been fortunate enough to fly the 'old' Singapore Suites on countless occasions and I REALLY wanted to try out the new suites this time.
I wrote previously about how I booked 33% of the seats in the Emirates Gamechanger cabin using miles, when all mileage bookings were supposedly blocked. Singapore Airlines presented a very similar problem: an ultra exclusive six seat First Class cabin with no award availability … and I needed two of those seats.
So how did I get two seats in the New Suites cabin?
First I made a waitlist booking for the late A380 flight from Shanghai to Singapore.
Then I made a separate confirmed booking on the 777 flight a couple of hours earlier, with the onward flight to Bali included in this itinerary.
I then frantically refreshed the waitlist multiple times per day all the way up until the day of departure. [The rules have now changed so that you are either confirmed or denied for the waitlist 14 days out. Back in December 2018 the waitlist could still potentially clear 3 hours before take-off.]
I must admit that I felt a little deflated when we arrived at the airport. I'd really been hoping to fly on the new Suites and I knew that a plane equipped with them was passing through within a few hours but it just didn't seem like the waitlist was going to clear for us.
I was down but not defeated.
At the check-in desk I asked if it was possible to manually clear the waitlist. She called a supervisor and spent a few minutes discussing things before hanging up.
Check-in agent: "Unfortunately it isn't possible to clear the waiting list but you can pay a change fee if you want to switch flights."
Me: "Ok, how much is the fee?"
Check-in agent: "$75 per person."
Me: "Perfect, how do I pay?"
At this stage the lady walked me over to the China Eastern counter round the corner from the Singapore desks to process the payment. Why was a Skyteam airline involved in this flight change fee for a Star Alliance carrier? My best guess is that they are the 'home carrier' at PVG airport and all airport fees have to go through them. Honestly this probably doesn't even make it into my top 50 wtf moments in China. At some point you just learn to roll with the punches and hope that things figure themselves out.
Two key phrases to learn in Mandarin:
Whatever the reason for China Eastern's involvement, it all worked out perfectly. We checked our bags and then headed off to a nearby local shopping centre with Kamara's parents to hang out for four hours before returning to the airport to catch our flight.
---
Pre-Departure
---
Having previously encountered the delights of the Air China First Class lounge we opted to steer well clear on this occasion. To my knowledge this is the only airline First Class lounge globally to be included in the Priority Pass network and with good reason…
As we approached the gate with our gold topped boarding passes, emblazoned with the word "Suites" at the top, the familiar rush of fear and excitement washed over me. Fear of a last minute aircraft change, resulting in us no longer getting the product we expected. Excitement for the possibility that we were about to spend the next 6 hours aboard the best First Class product ever to take to the skies.
I handed over our boarding passes and was advised that boarding was just about to begin for First Class passengers. Moments later our passes were checked and we made our way to the jetbridge. As soon as I saw that our jetbridge was headed upstairs, pure excitement took over. We were definitely going to get the new Suites!
We were greeted by name at the door of the aircraft and accompanied to our seats; at this stage everything became a bit of a blur. I'm glad I recorded our boarding process because honestly I was struggling to take it all in.
The first generation Suites product is located on the lower deck on the A380 and occupies a massive footprint. The cabin is undeniably impressive but it doesn't feel super exclusive as it contains 12 seats.
The new Suites however are located on the upper deck of the A380 and there are only 6 Suites in the entire cabin. This gives a very intimate feel to the space and honestly makes it feel more akin to a private jet.
Kamara and I were located in seats 1A and 2A. Rows 1 and 2 have retracting walls, enabling the creation of a double bed. Unlike the old Suites product where you have to choose between having a double bed or a window, with this new product you get to have both!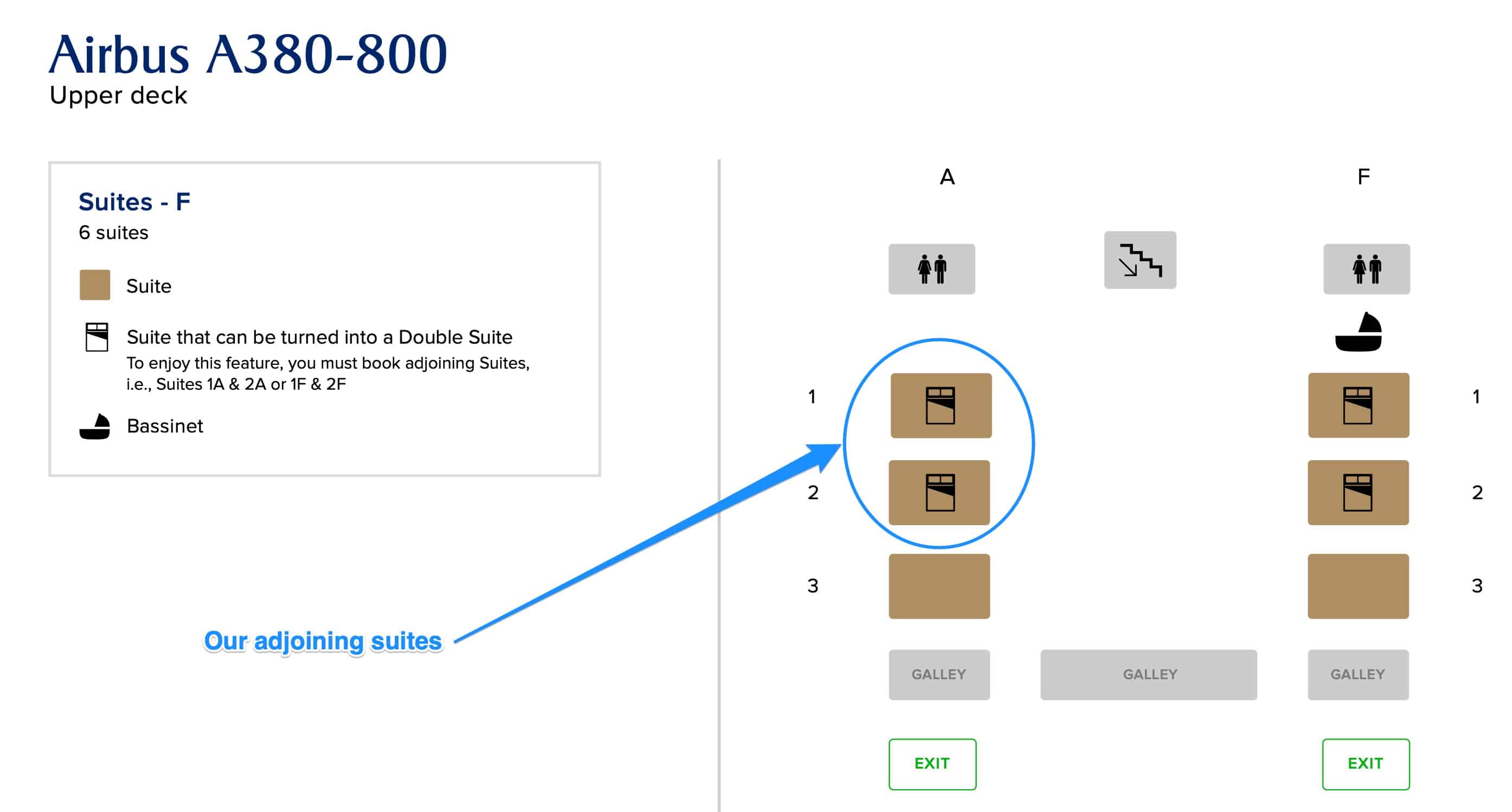 Seats in row 1 also can't swivel to face the main TV during take-off and landing so they have a second smaller TV solely to show you the safety video.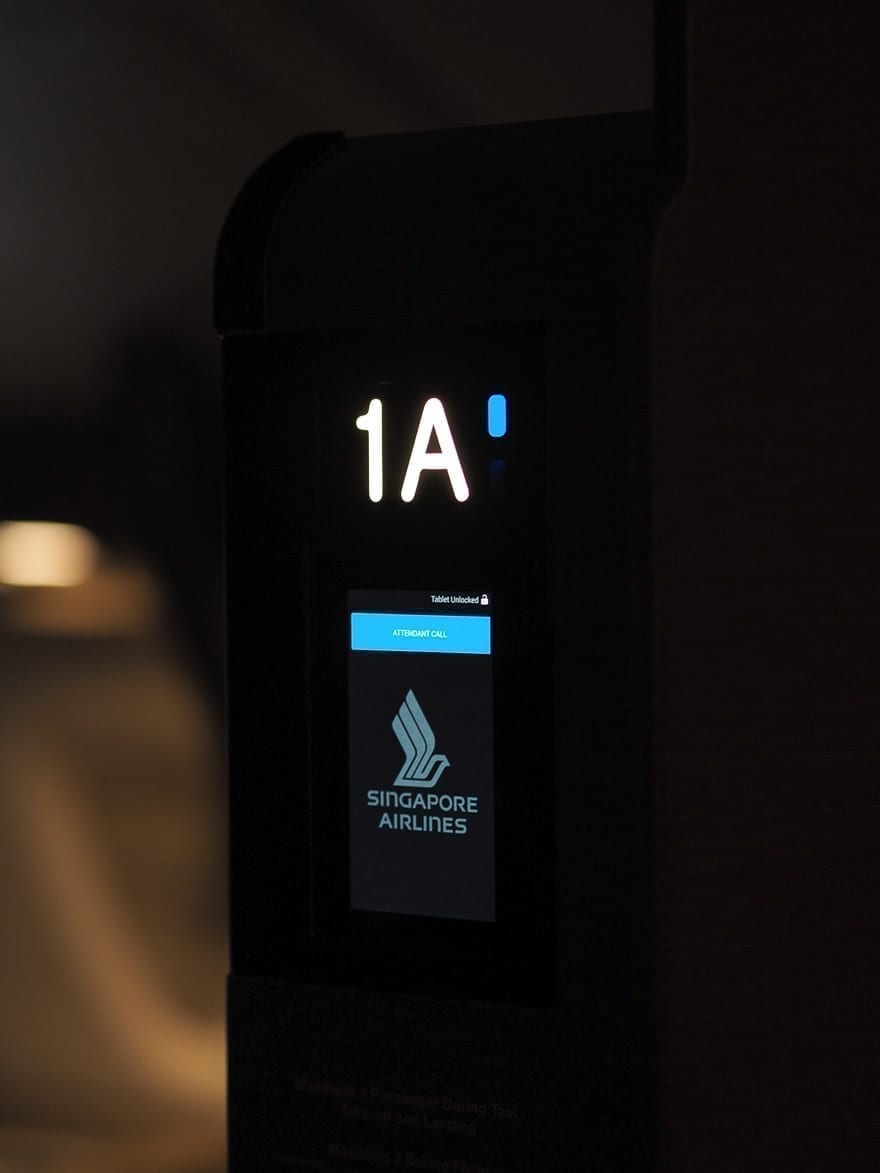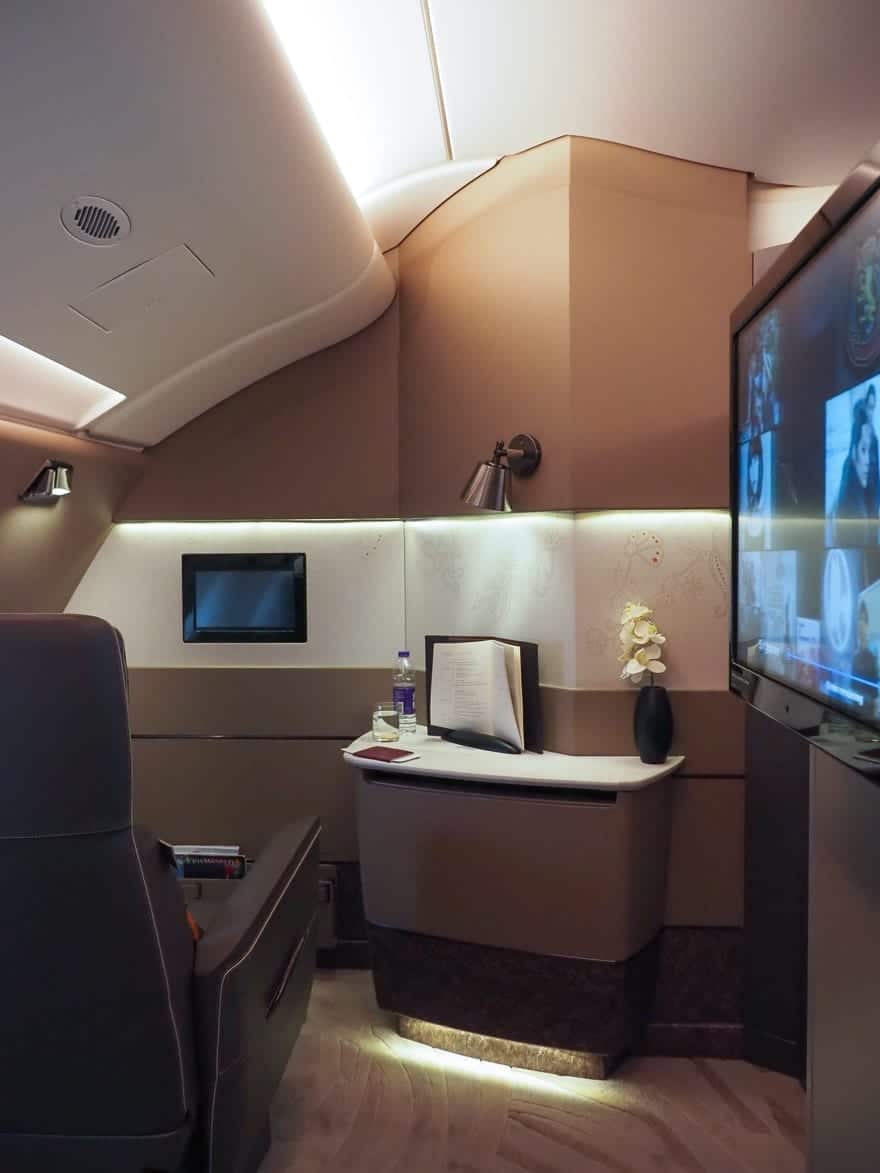 I was initially very impressed by the overall feel of this cabin and as I took the time to look more closely at the details I realised that almost everything about this cabin was unbelievably impressive. This is design that blows you away from the bottom up. Supreme attention to the very finest of details.
The Poltrona Frau leather seat was very comfortable – even if it has been unfavourably compare to a dentist's chair by some. The controls and headphone socket were seamlessly integrated with no chance of accidentally pressing a button or tripping over a cable.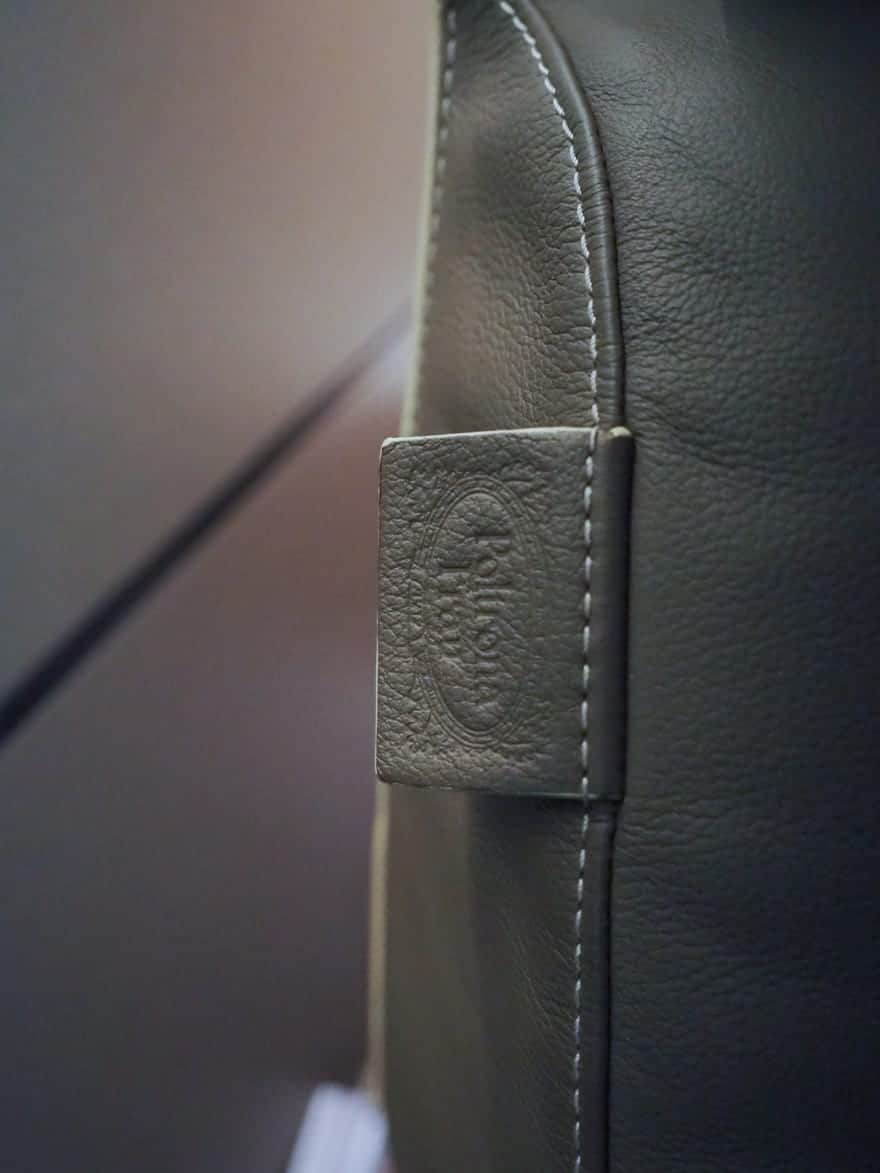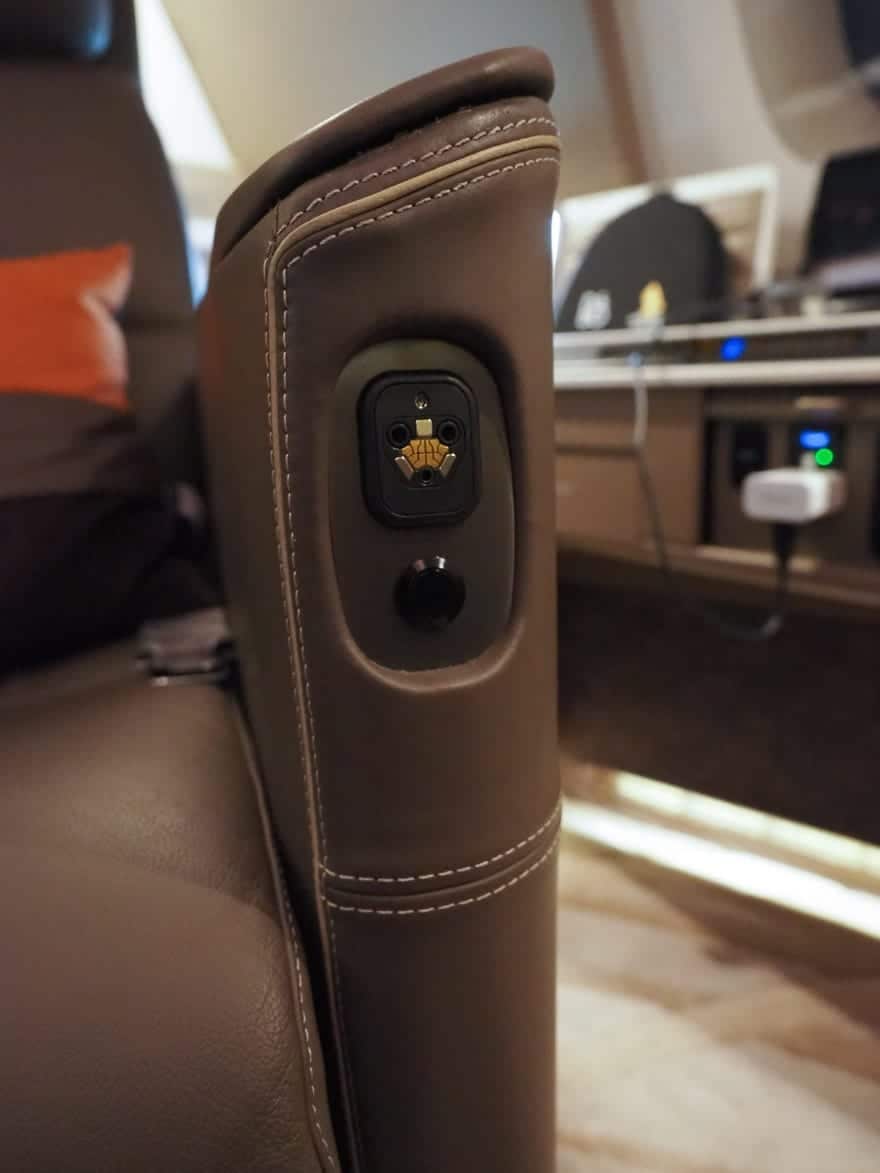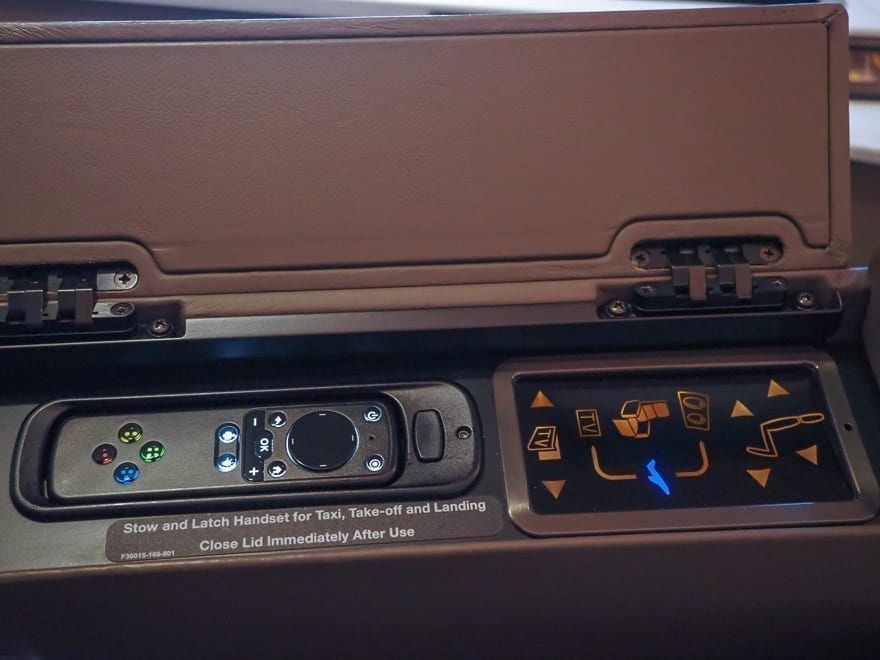 Not content with simply handing you a menu like other airlines do, Singapore decided to create an artistic display to showcase their food and drink offering. I love how the coloured light projections on the ceiling match the shape of the cutouts in the cabin doors.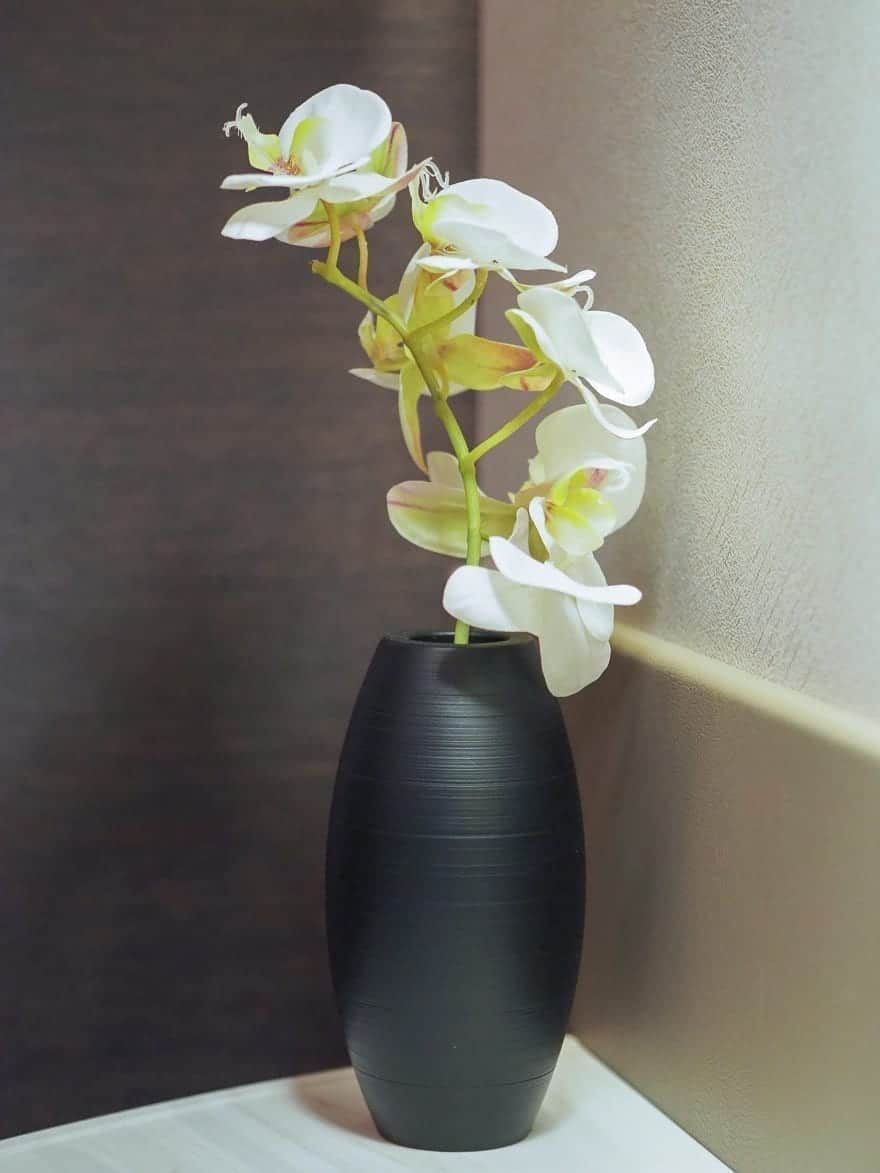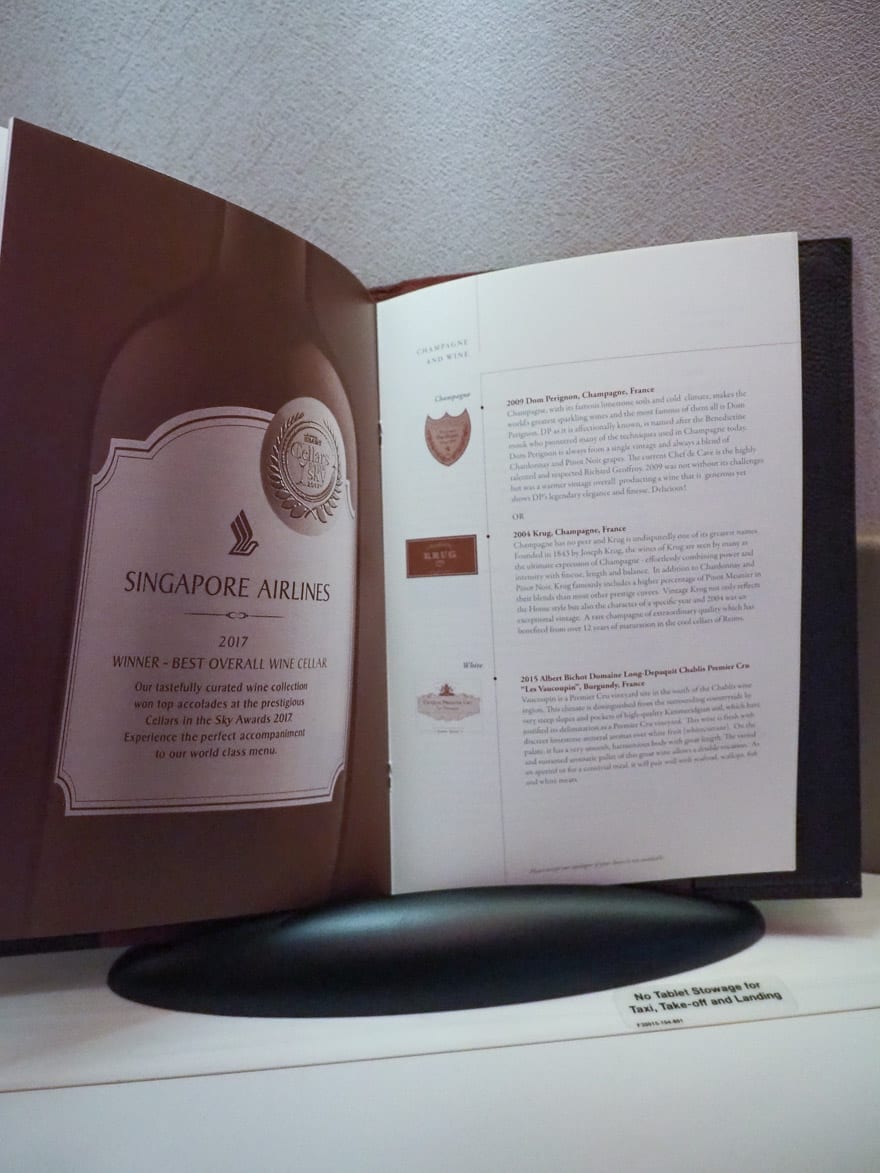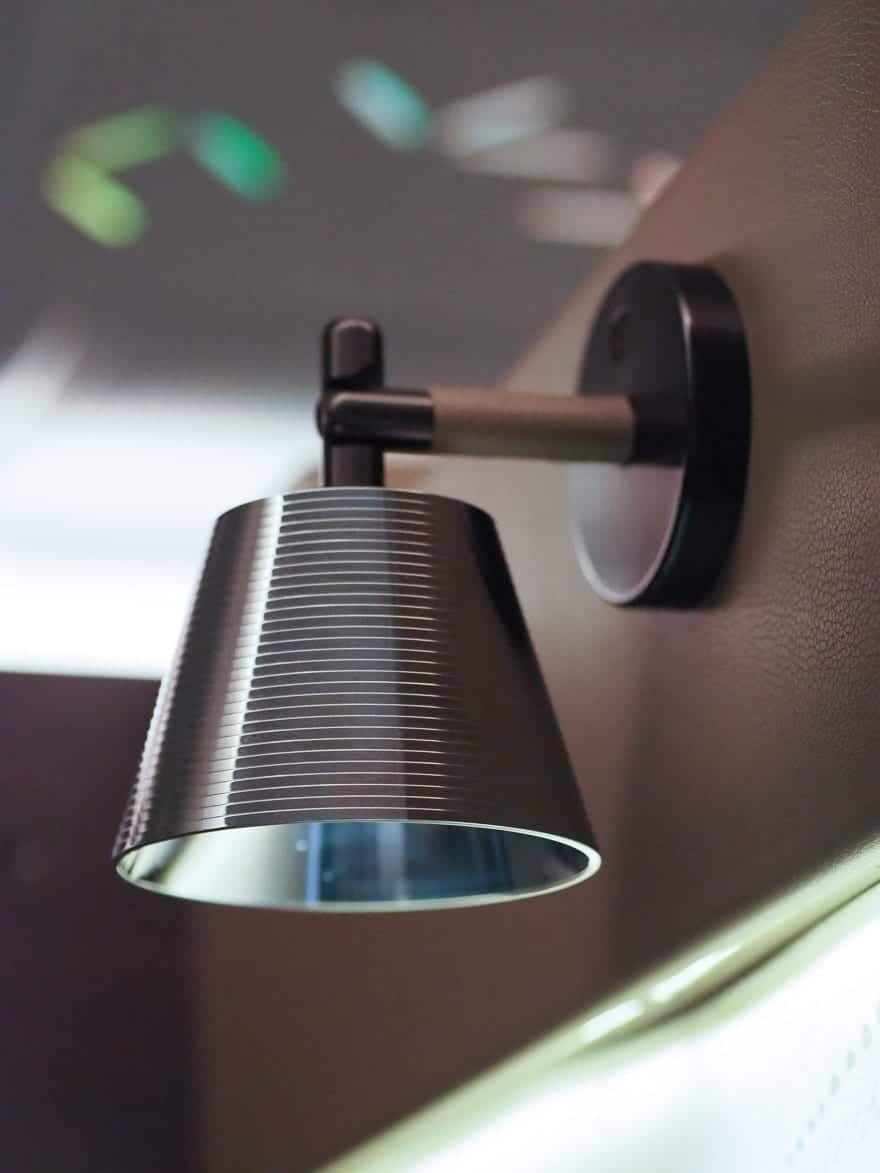 This pedestal contained the dining table and also featured a universal power socket with additional fast charging USB.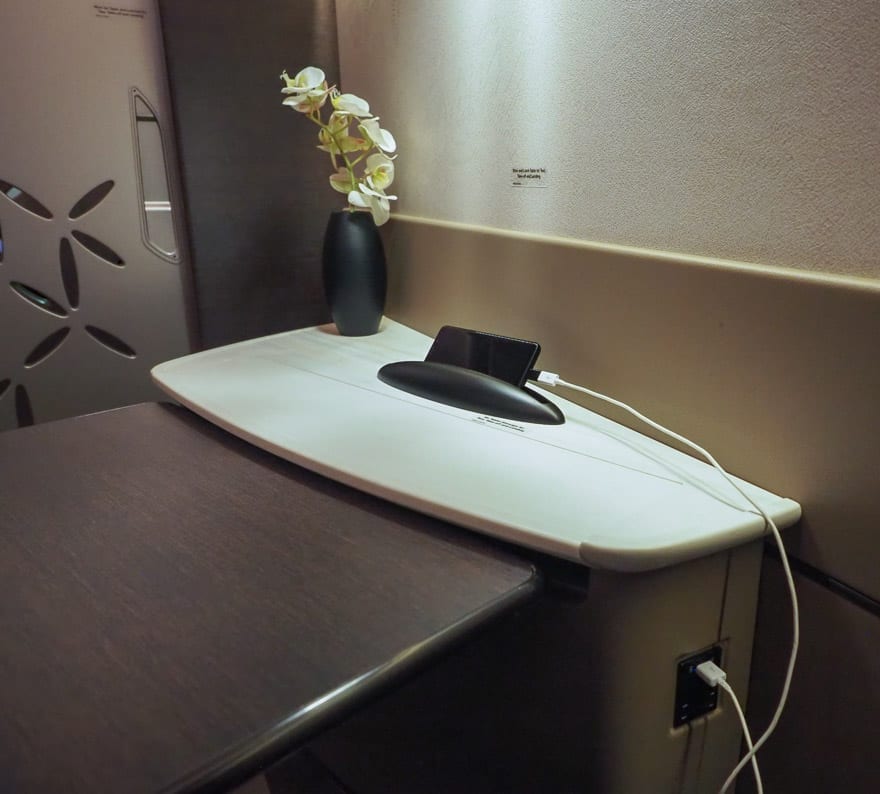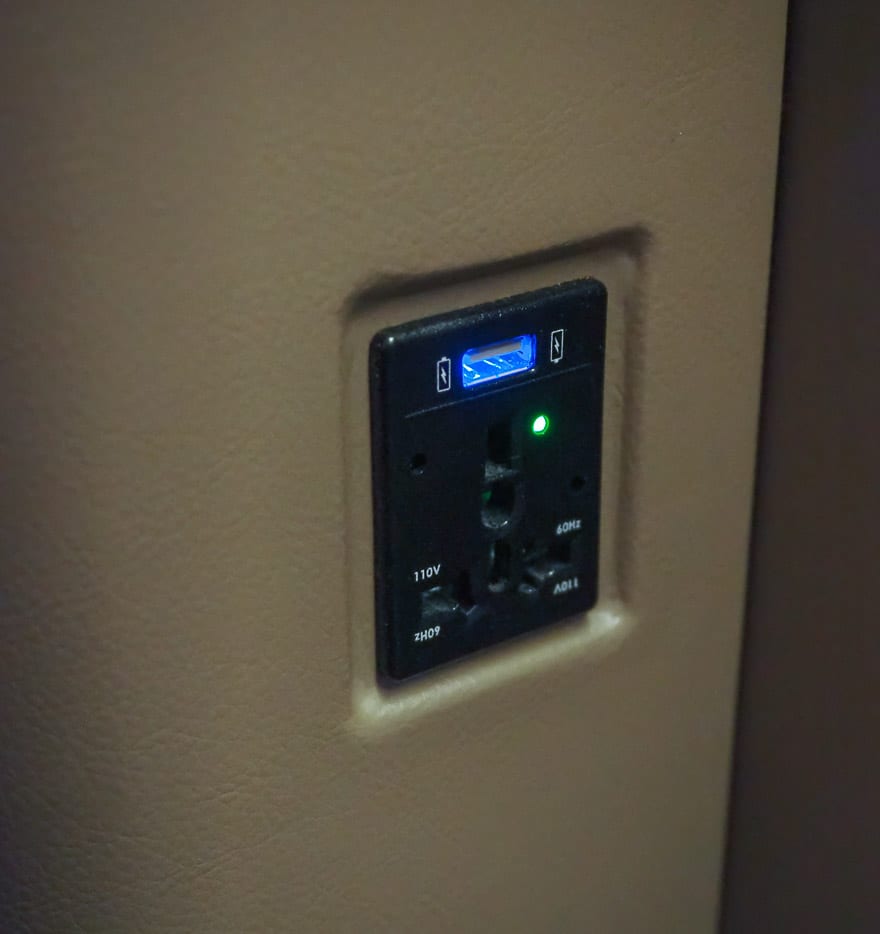 The main side console of the suite featured a very impressive array of storage compartments and was beautifully designed and put together. So many small details like the hand stitched cream leather and illuminated mirror frame. Every aspect of this design is tasteful and elegant and even the most baggage laden of travellers will struggle to fill all of the compartments.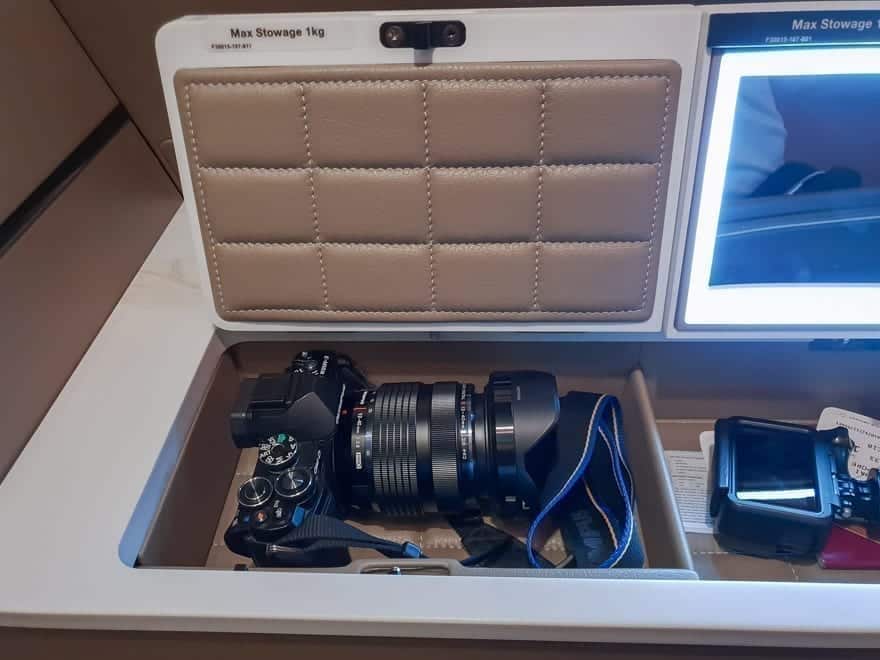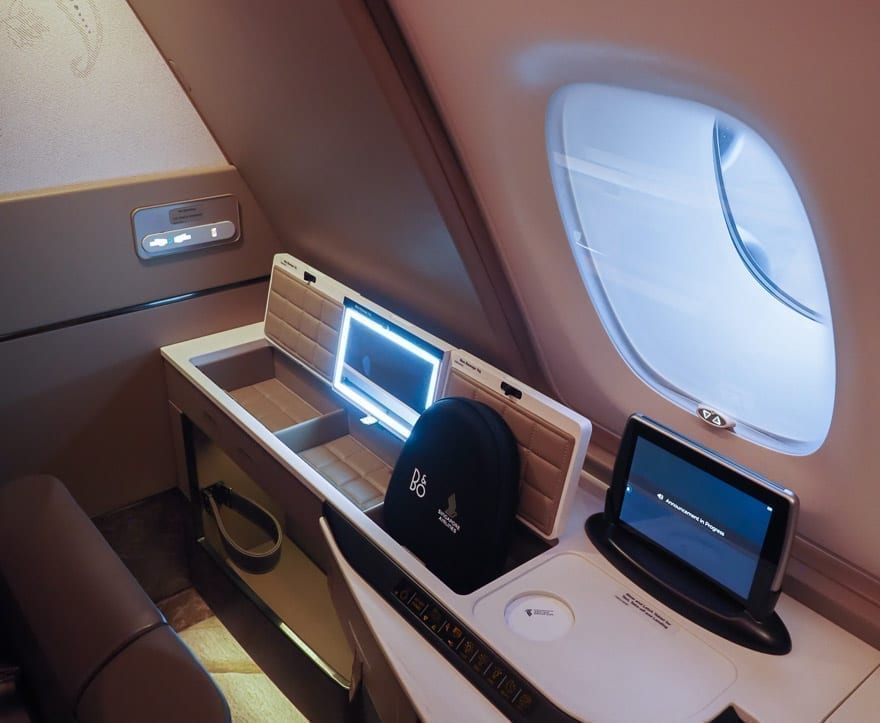 Kamara was particularly impressed with the leather lined handbag storage compartment. This was the first time we'd ever flown in a cabin that didn't force passengers to place expensive handbags in an overhead locker or strapped to a footstool.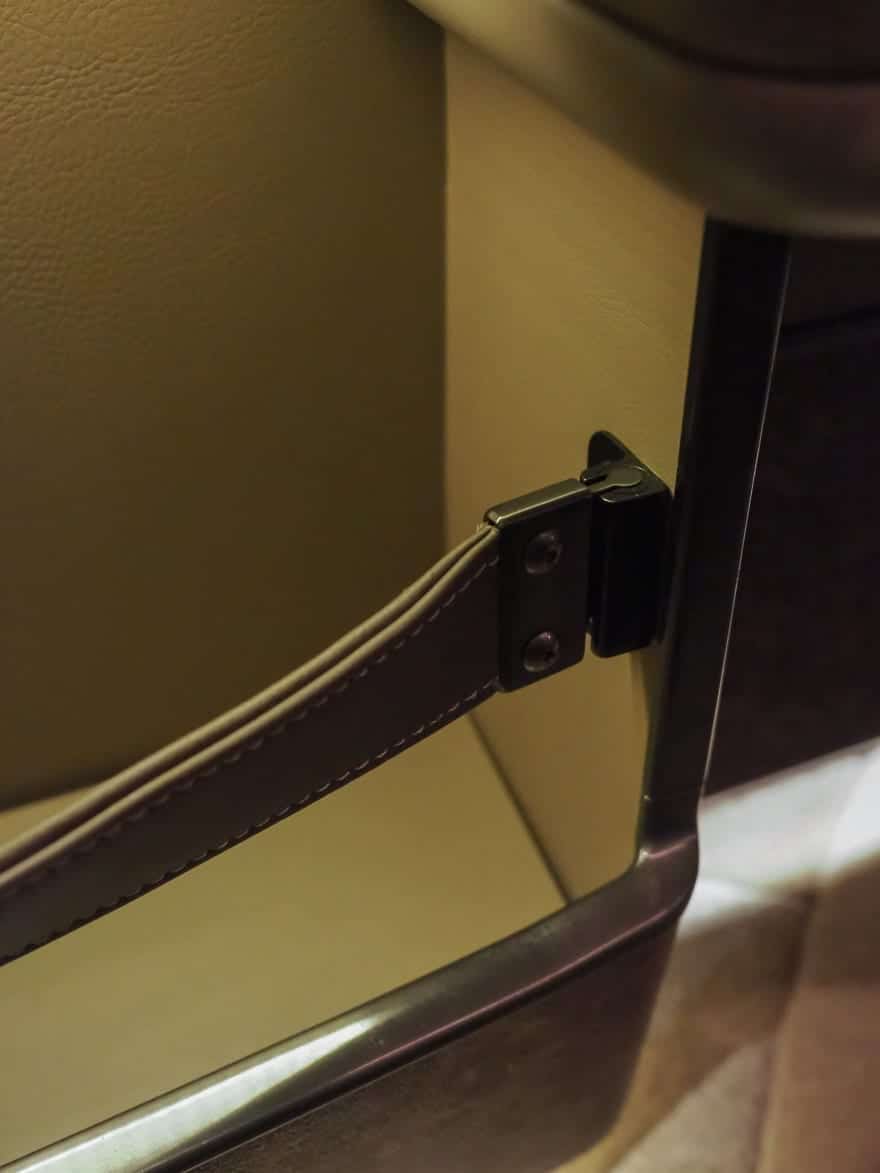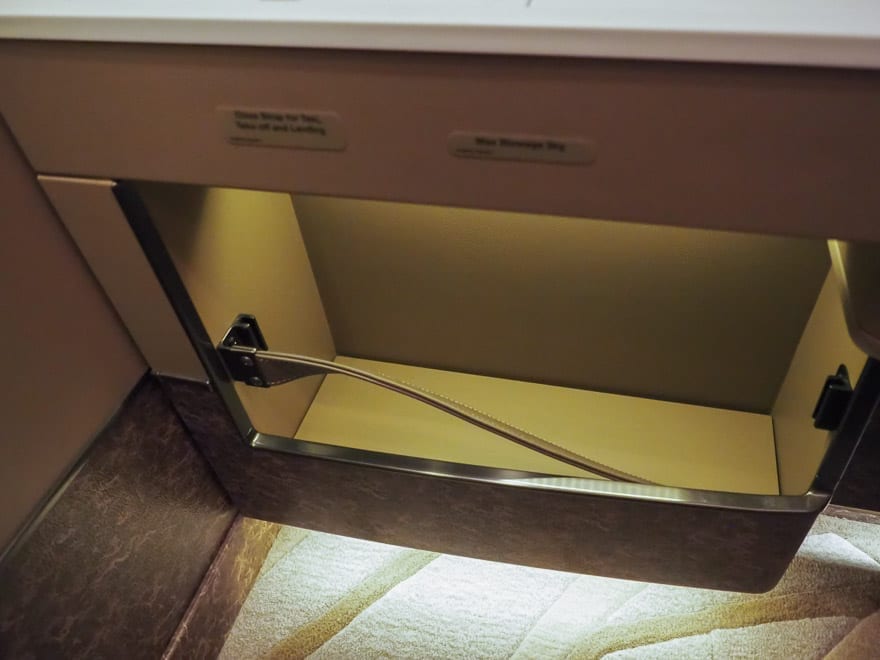 The side console also featured a control centre, used for adjusting various aspects of the suite as well as housing the IFE tablet remote. The presence of a second universal power socket and fast charging USB combo was a very welcome addition. Photographing cabins usually requires me to charge at least three different devices. This was one of the first times that I didn't have to constantly switch between them, or pick one to put on a slow charge.
There was an NFC pad next to the power socket but much like on Qatar Q Suites it wasn't yet integrated into the IFE system. Presumably this will allow you to wirelessly upload movies, photos and songs from your phone at some point. For the time being this has to be done via the HDMI port.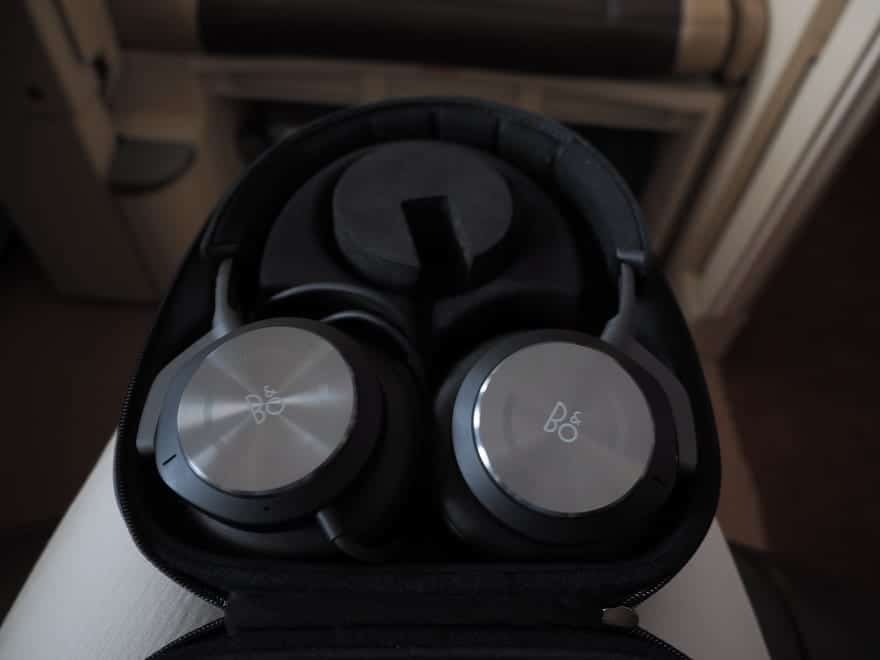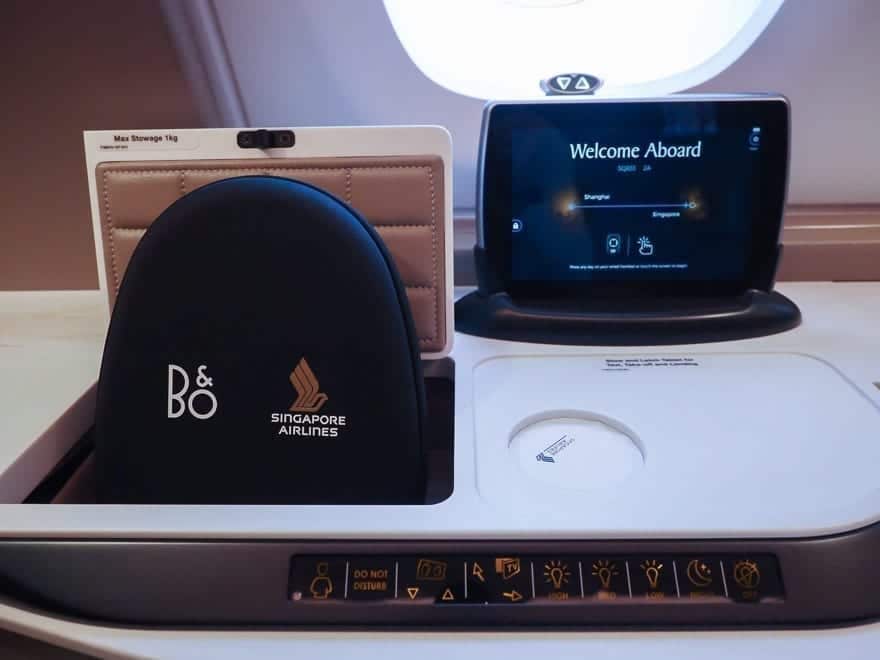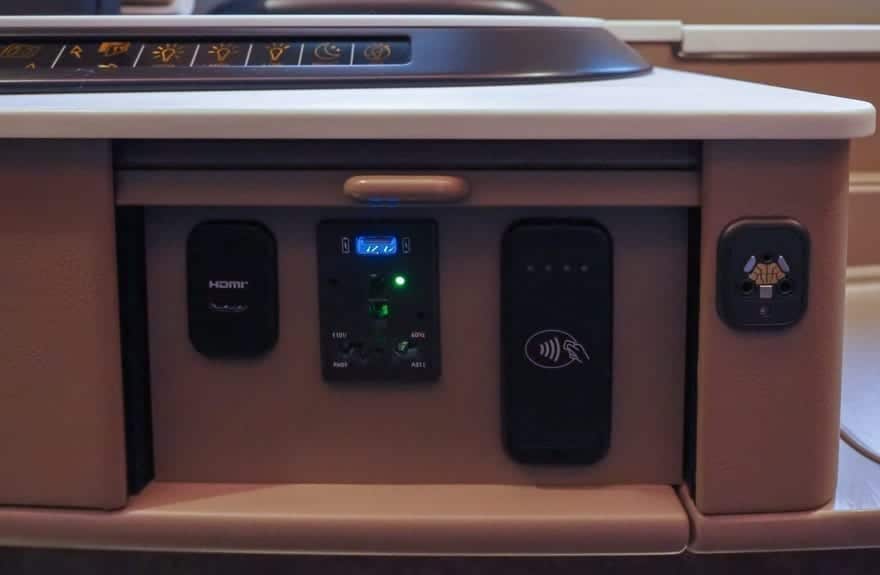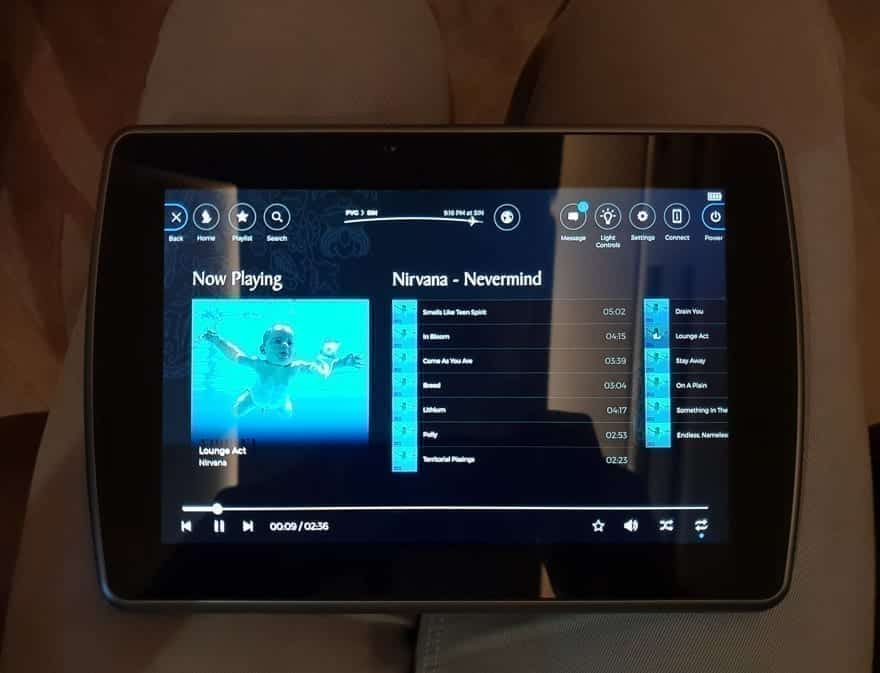 I've always been a fan of the rock music selection on SQ – they never fail to have one or two stone cold classics from the 90s \m/. The B&O headphones were amazing too, certainly good enough for me to keep my Bose QC25s locked away in their case.
The customisable lighting really made my suite feel more like a hotel room than an airplane seat. The walls even had a pattern on them that gave them the look of a printed silk screen.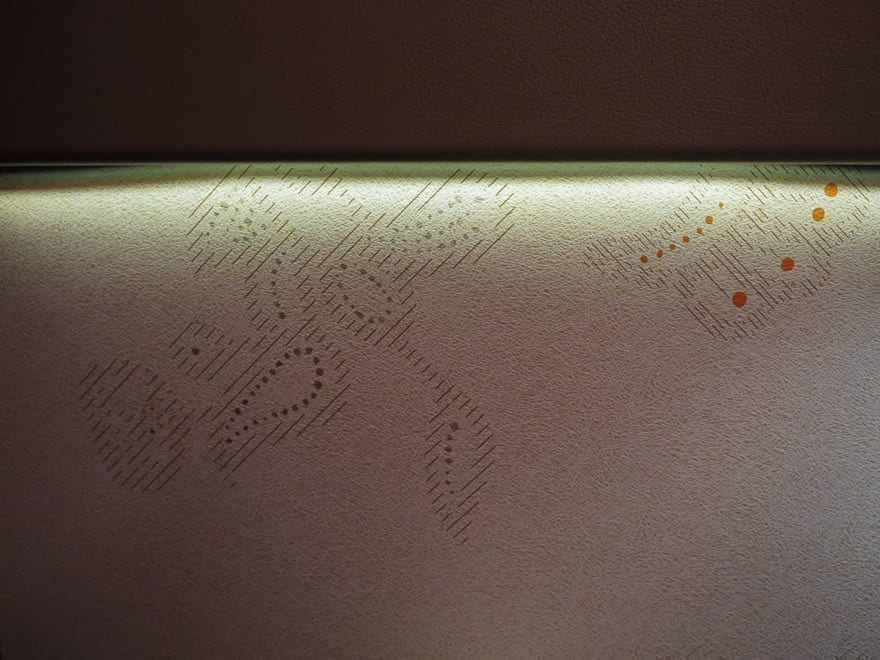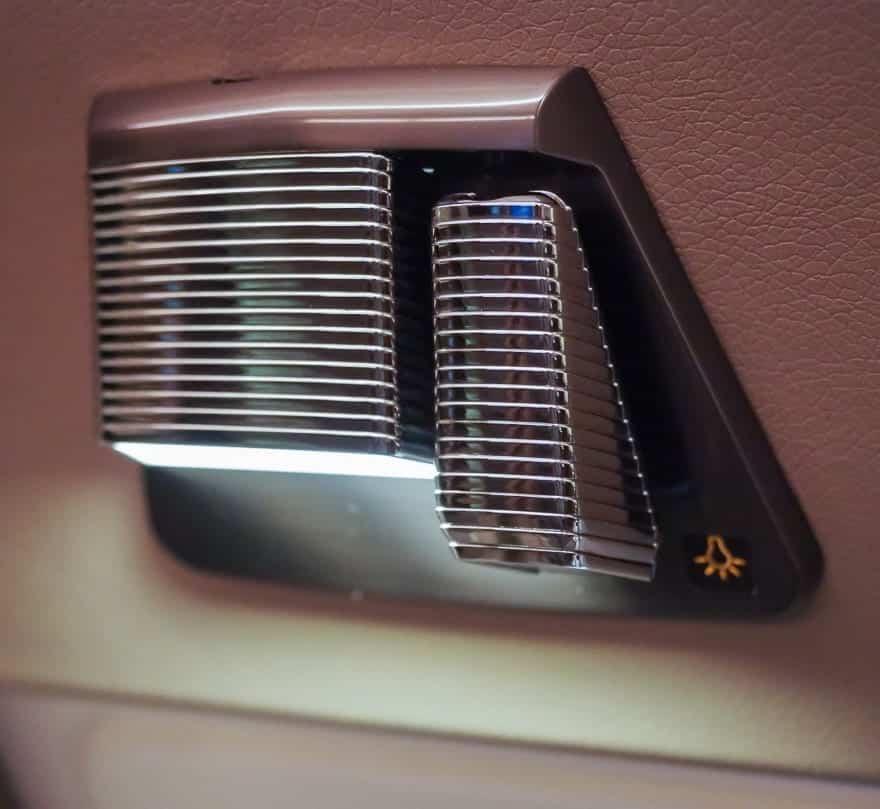 The suite also featured the largest personal wardrobe that I've ever seen. It was easily large enough to house two large carry ons as well as the very largest of winter coats. Upon boarding it contained slippers, an eye mask and all of the bedding.
The crew were great in holding back and allowing me to take all of my photographs before coming over to offer a pre-departure drink. When they did, I couldn't resist asking for my favourite: a glass of Krug.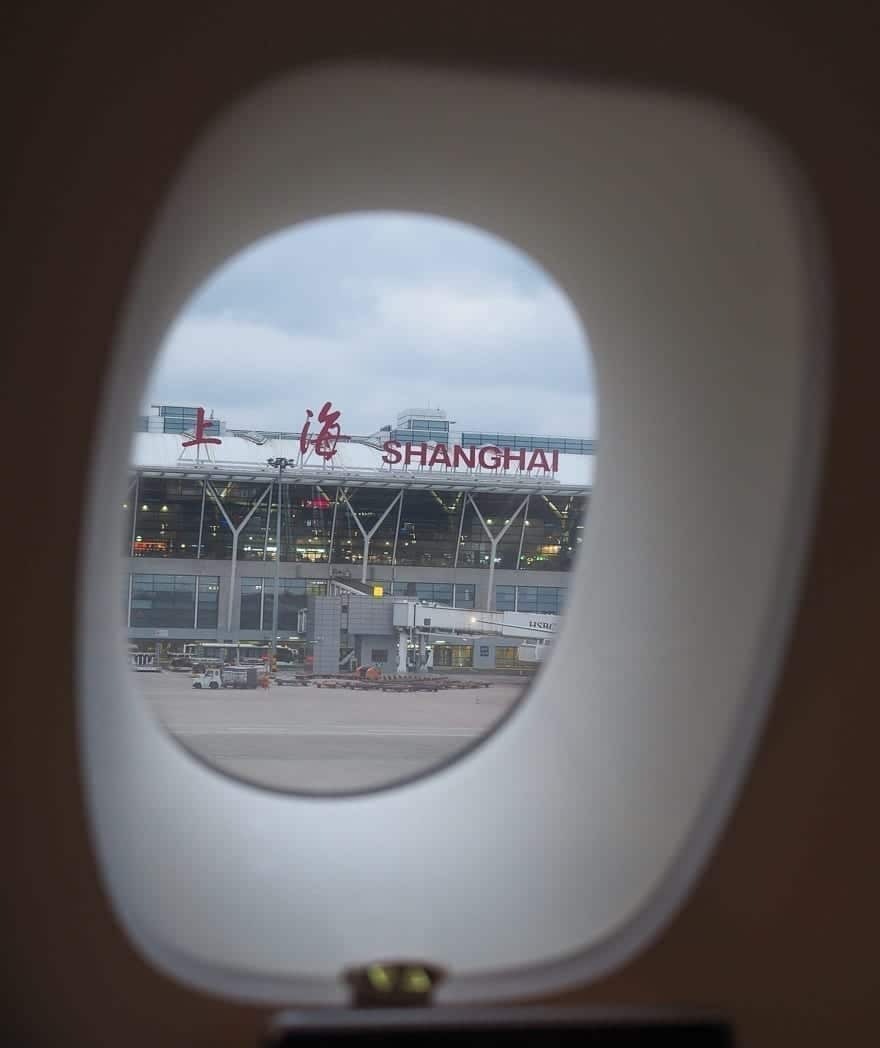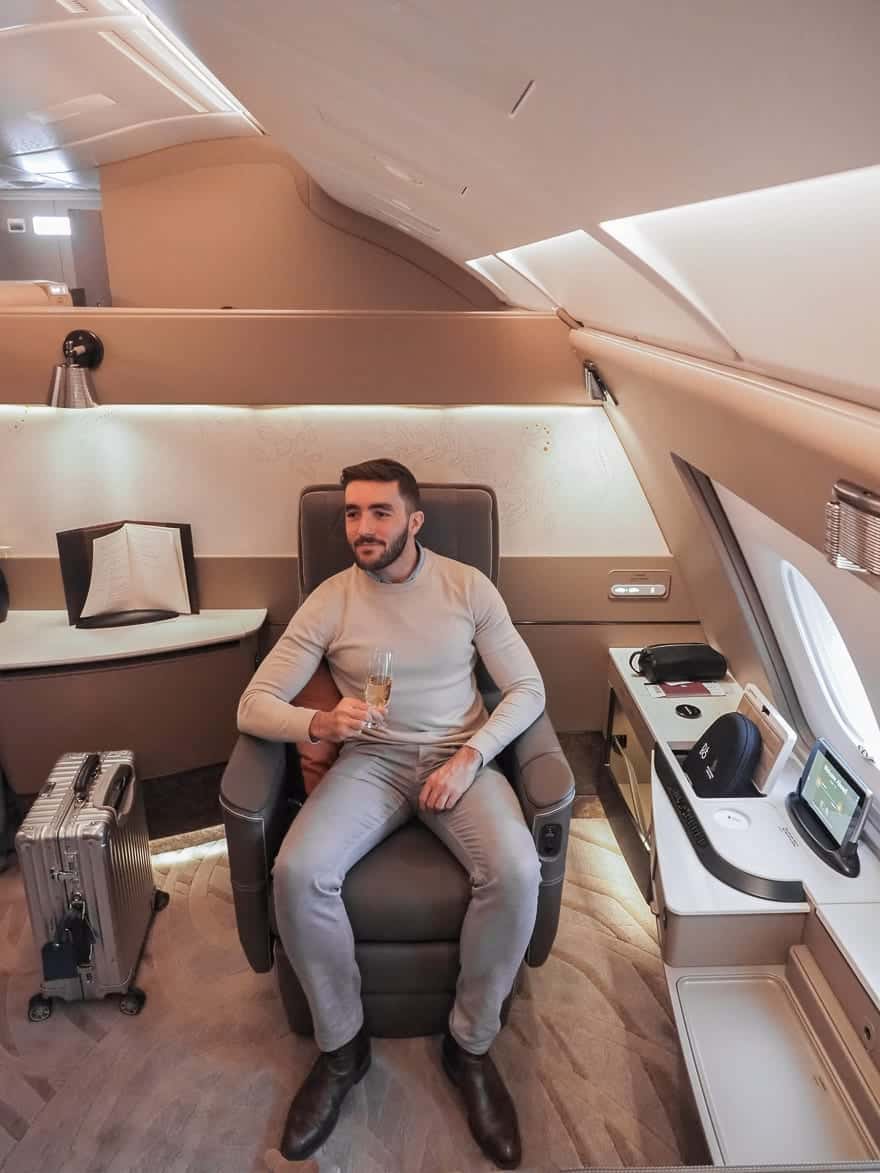 Much like Cathay Pacific, Singapore made the switch from serving the standard NV Krug to the 2004 vintage. Unlike CX though, SQ also offered Dom Perignon and have recently added Taittinger Comtes de Champagne as a third prestige cuvée!
---
The Flight
---
After a characteristically noiseless and smooth take-off the crew quickly jumped into action. The cabin was only 4/6 on this flight so they had plenty of time to spoil us all – this is something that SQ crews do particularly well in my experience.
Since the FAs saw me taking tons of pictures they started chatting to me about aviation, my past flights and how this cabin compares to other airlines. You could tell they were really proud of the product and their employer in general. When staff are this well motivated it shines through in everything that they do. As a passenger the impact is huge.
We were asked if we would like to wait to eat but given the short flight time we said we were happy to start eating straight away. Before any food was served though we were brought some more champagne. We both switched to the 2009 Dom to compare and contrast it with the Krug (which we both preferred).
I love the presentation of the champagne on SQ. The full bottle and a long stemmed glass are presented to you on a silver tray as your drink is poured for you at your seat. A fantastic little touch of theatre.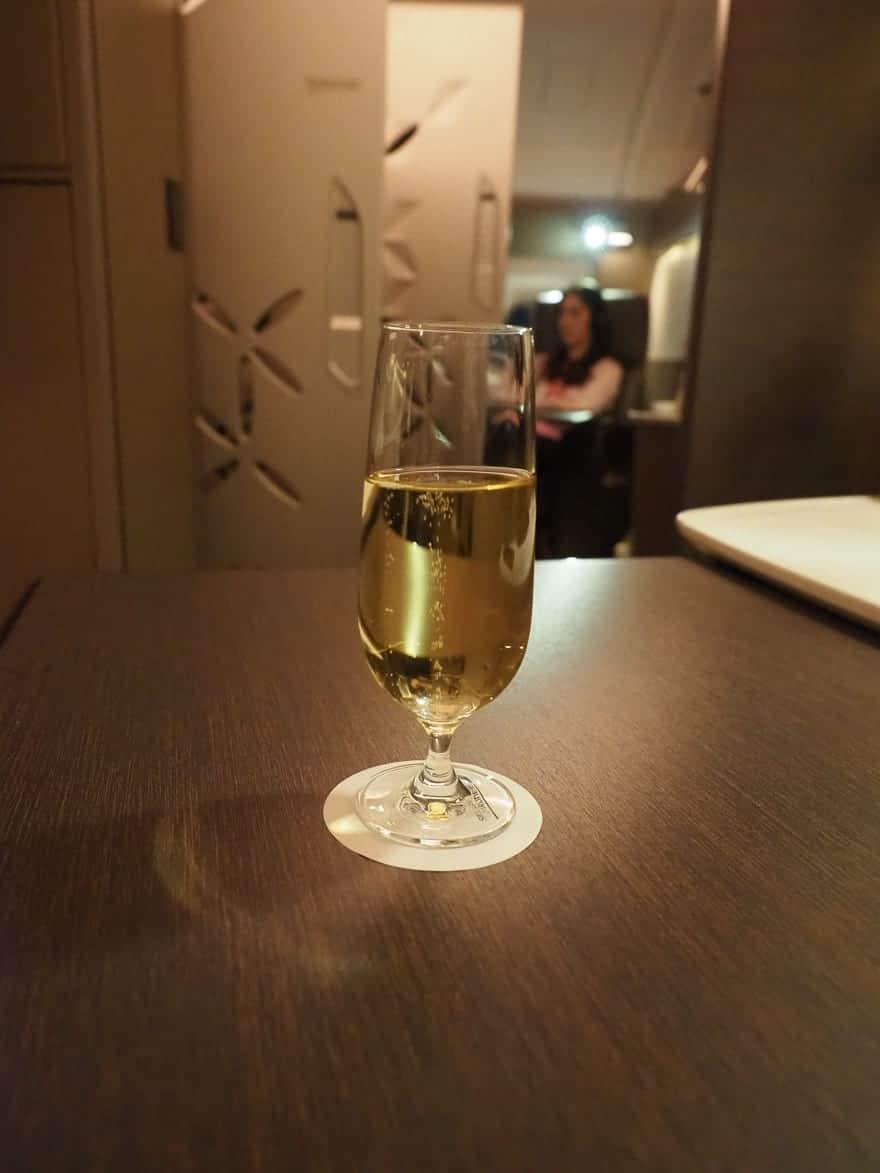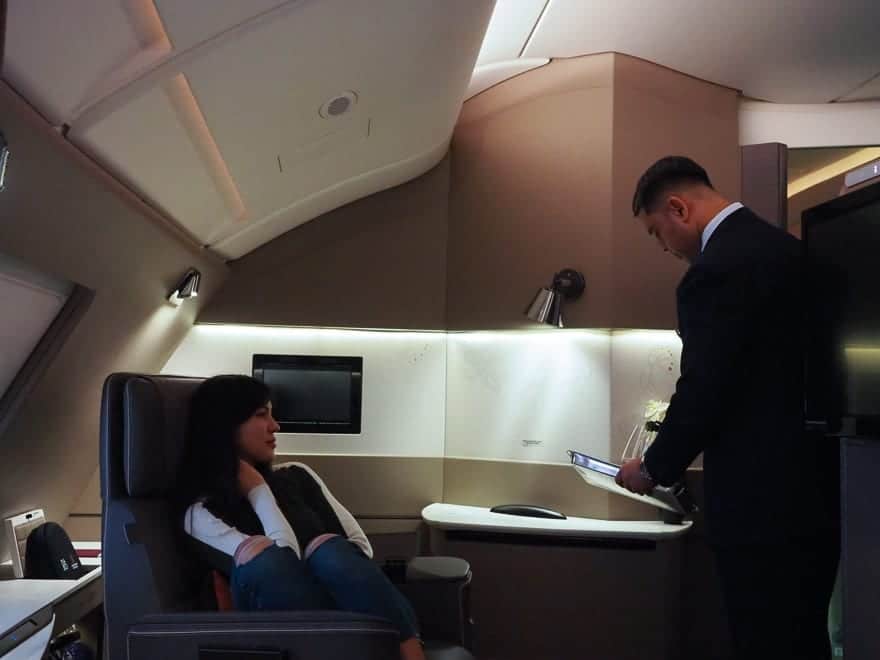 Ten minutes after pouring our champagne the FA returned to top up our glasses and to serve us the signature Singapore Airlines satay. I have never been able to find a single restaurant in all of London that makes satay that even vaguely compare to this. The crisp exterior, tinged with lemongrass, that spicy peanut sauce – it's perfect, all of it.
Give me a bottle of champagne and a ton of satay and I'm as happy as can be. Everything else is just extra.
Singapore's awesome book the cook service isn't available out of Shanghai but thankfully the catering on this route is always top notch and this time was no exception.
First things first, let's get the elephant in the room out of the way: SQ does not serve caviar on medium-haul flights like this.
However, the variety of highly authentic Chinese dishes on offer was exceptional. Away from the Chinese options, the main menu was six courses long before you even factor in cheese, fruit and pralines. The presence of fillet steak, baked lobster and foie gras put paid to the notion of corners being cut just because the caviar was missing.
Drinks List
The drinks list was definitely the most impressive aspect of the catering. Vintage Krug and Dom Perignon, Rauzan-Ségla, Amarone de Valpolicella, some very respectable dry Rieslings and Chablis, JWB and of course a wide selection of cocktails.
If you can't find a drink that you love here, then you probably don't drink… in which case Singapore Airlines still have your back!
Soft Drinks
The selection of teas, coffees and juices was very impressive. Six different types of single origin coffee beans and blends and sixteen different types of tea!
After the satay was cleared the FA returned to set the table and advised that although companion dining was available via the use of a portable ottoman, he didn't recommend it.
I began the meal with the baked lobster appetiser, which was beautifully cooked. I followed this with the absolutely delicious soup of double boiled duck with pork, winter melon and tangerine peel.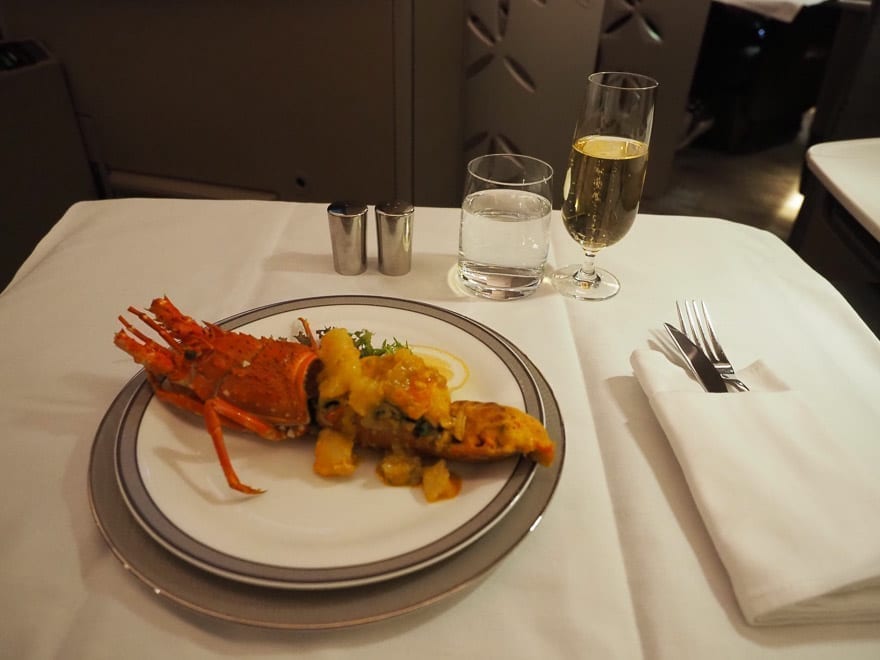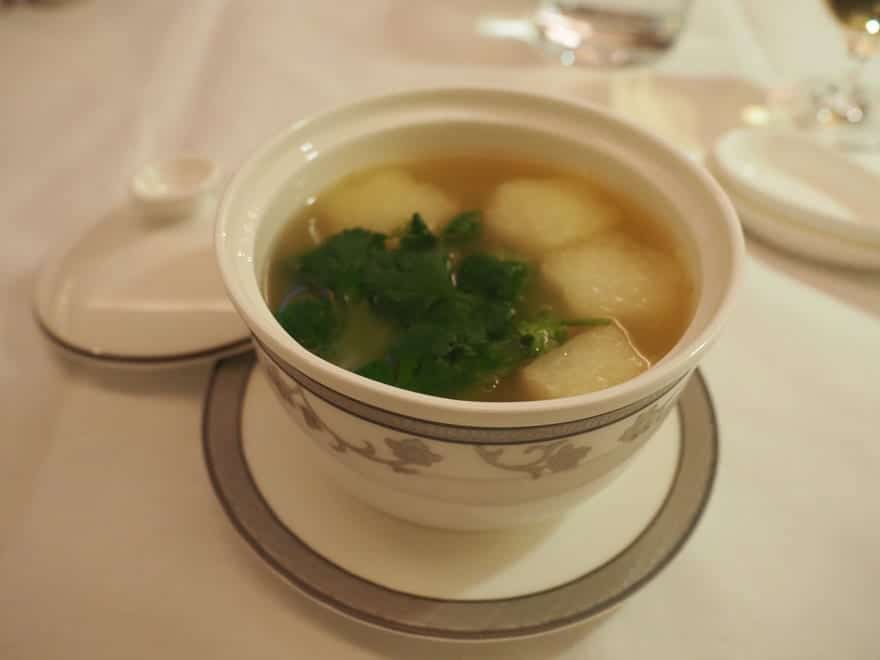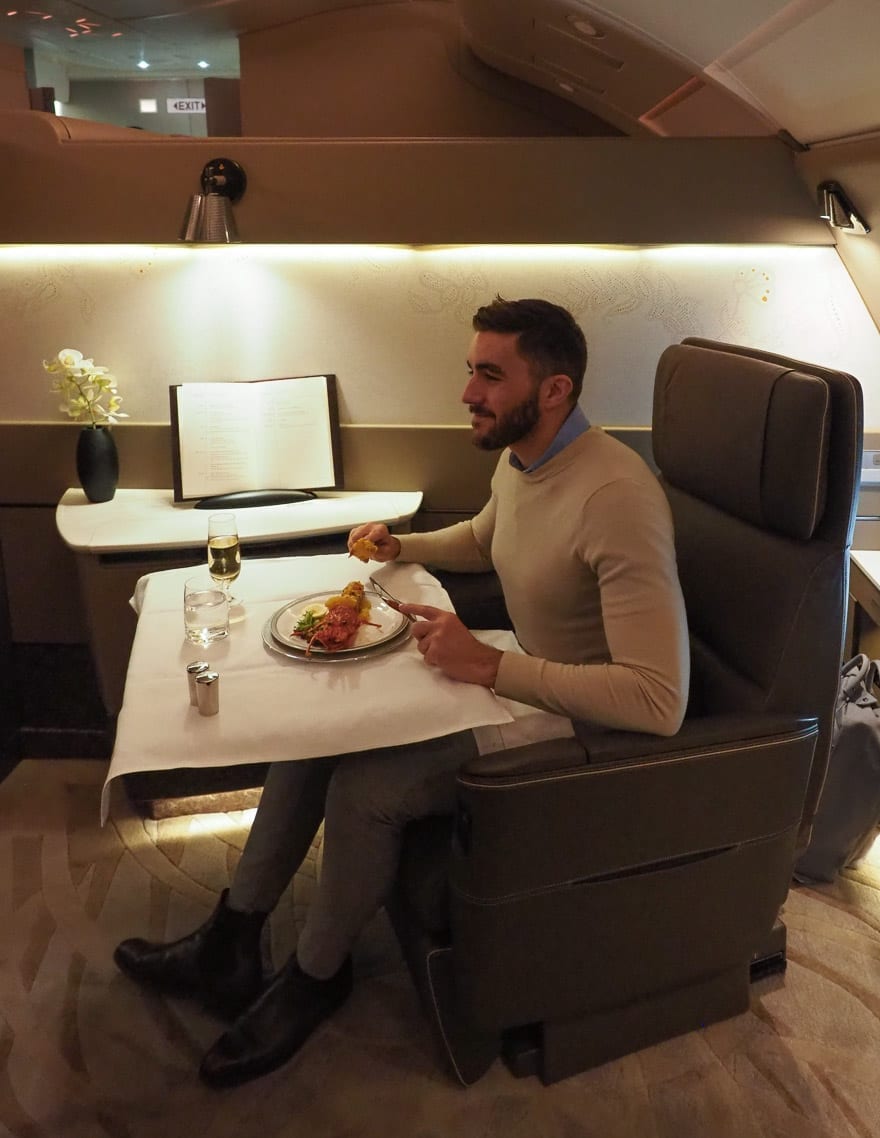 For many people the dining setup constitutes the single greatest flaw in this new cabin… I'm inclined to agree. This is not just because companion dining isn't practical but also because the layout means that you end up looking directly across the aisle at a complete stranger, unless you keep the door fully closed during the meal.
I was more or less equidistant between Kamara and the lady across the aisle during my meal.
Kamara wasn't as hungry as me so she just went with a single main course: Chicken ballotine stuffed with foie gras. It was quite a walk going all the way over there to photograph it.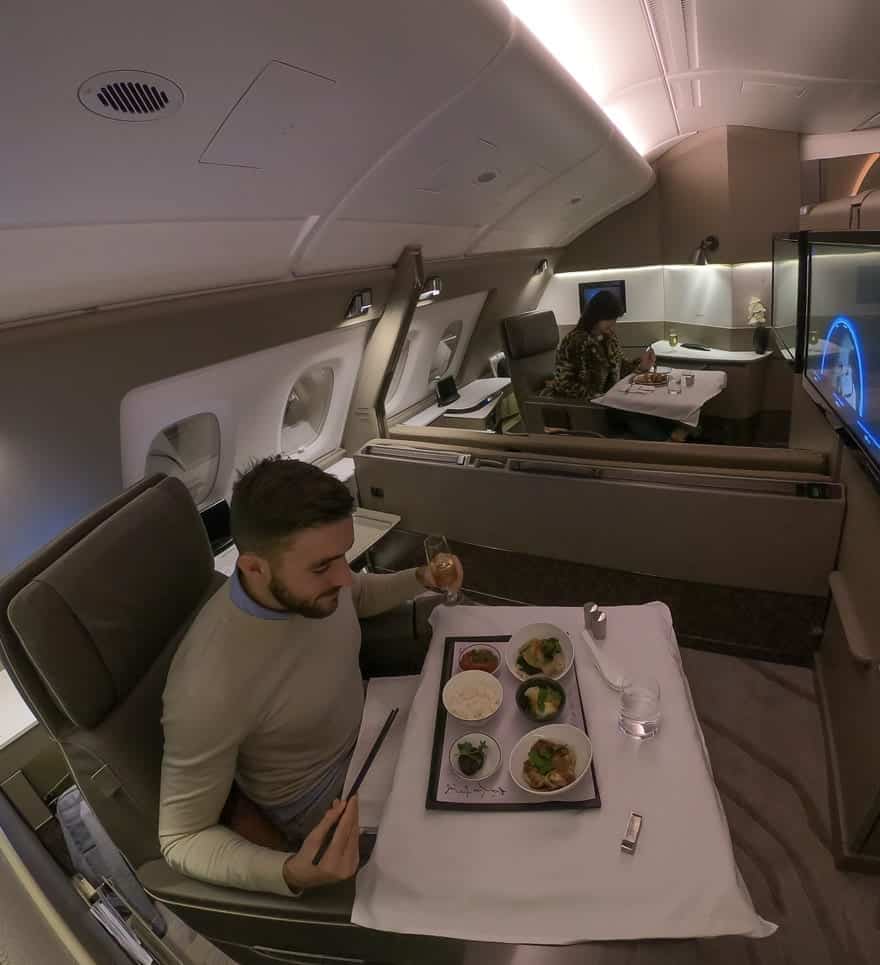 I was absolutely stuffed after all of that food and skipped dessert in favour of a mint tea and some pralines.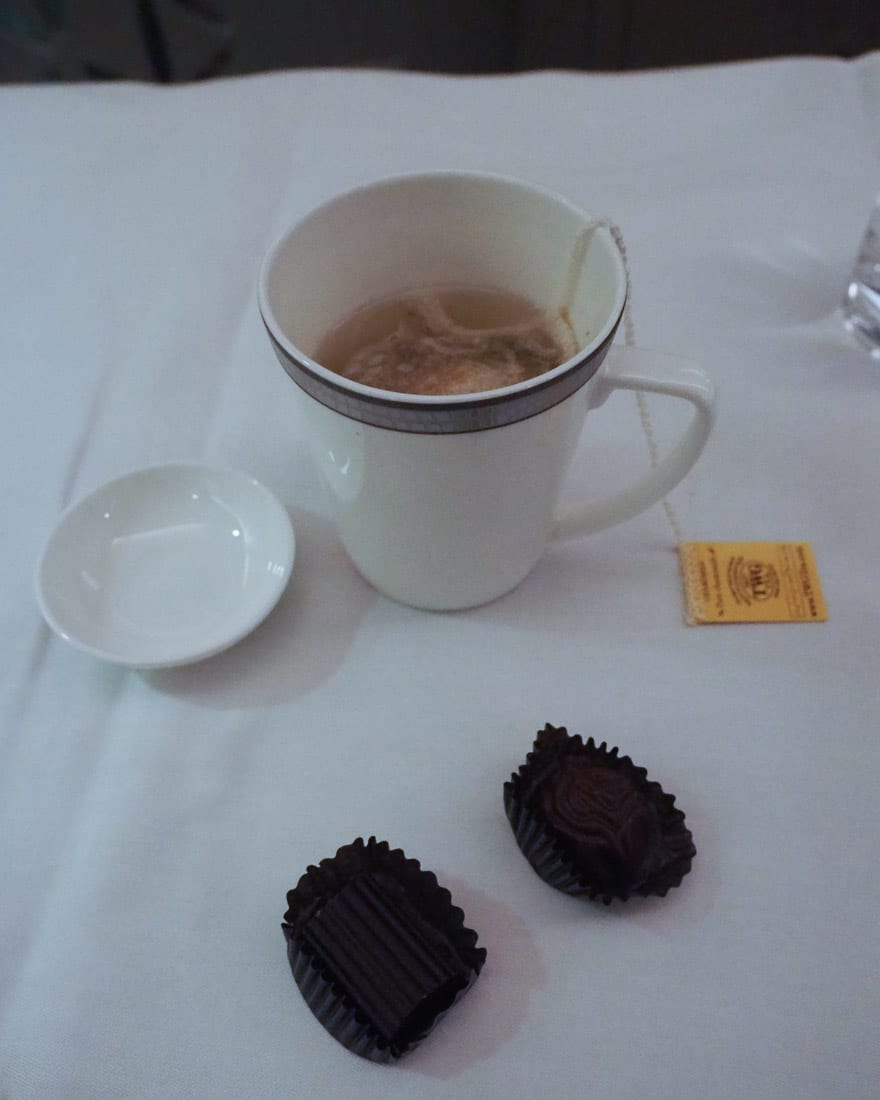 Normally the meal would end there but over the course of the flight Kamara and I built up quite a rapport with the crew. They noticed that we'd switched between Krug and Dom a couple of times and asked if we could really tell the difference.
Now let's be honest. I'm a far cry from this:
…but I was pretty damned sure I'd be able to distinguish between the rich and honeyed Krug and the lighter, acidic and toast notes of the Dom. With much fanfare and ceremony the crew put together a tasting table for me.
I wore my noise cancelling headphones and an eye-mask as they brought out two freshly poured glasses of champagne for me. One smell is all it took.
Suitably impressed, the crew applauded my efforts and offered to leave us the bottles since the other guests weren't drinking.
In my defence, we were two hours into some serious champagne drinking when I came up with a "really good idea"…
After polishing off both bottles we asked the crew to make the double bed for us as we went to properly explore and photograph the bathrooms.
Singapore deliberately opted not to install showers in their new A380 bathrooms, despite the move to the upper deck – where Etihad and Emirates house their bathing facilities.
The starboard bathroom was considerably more spacious and even featured a sit down vanity area with multiple mirrors. This is right up there with Qatar's A380 First Class bathrooms in terms of overall elegance and impact.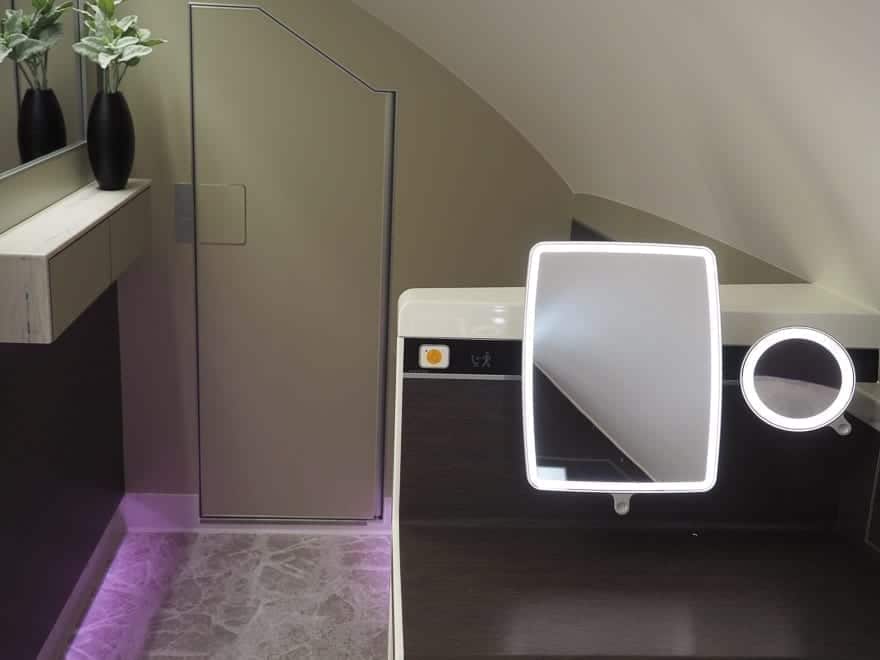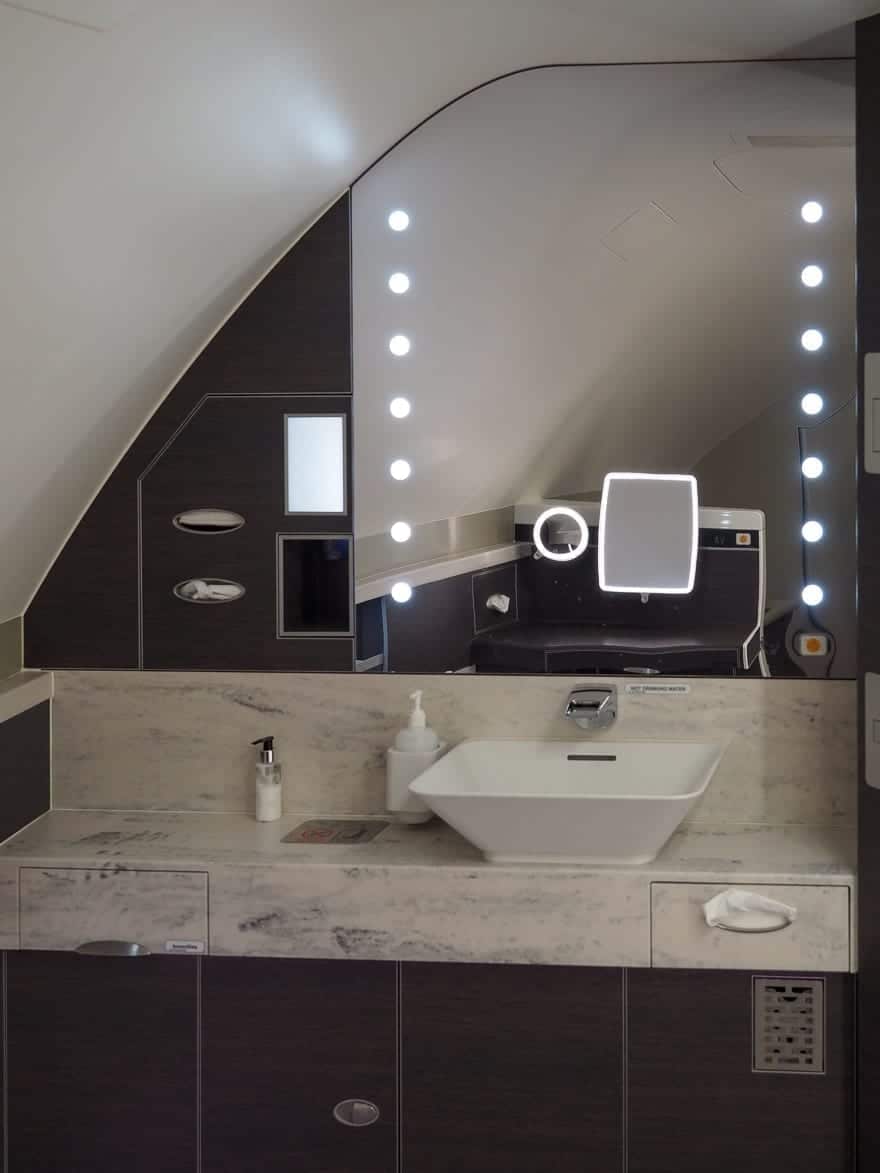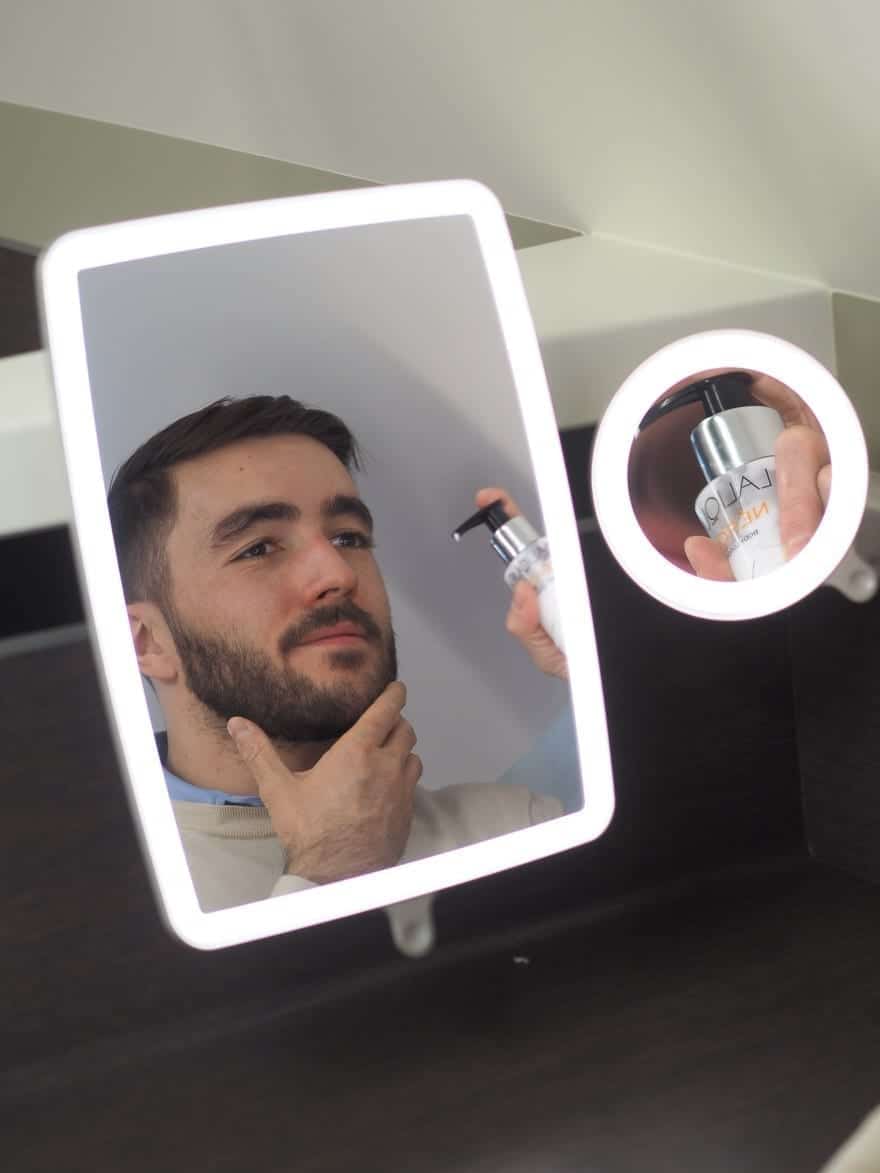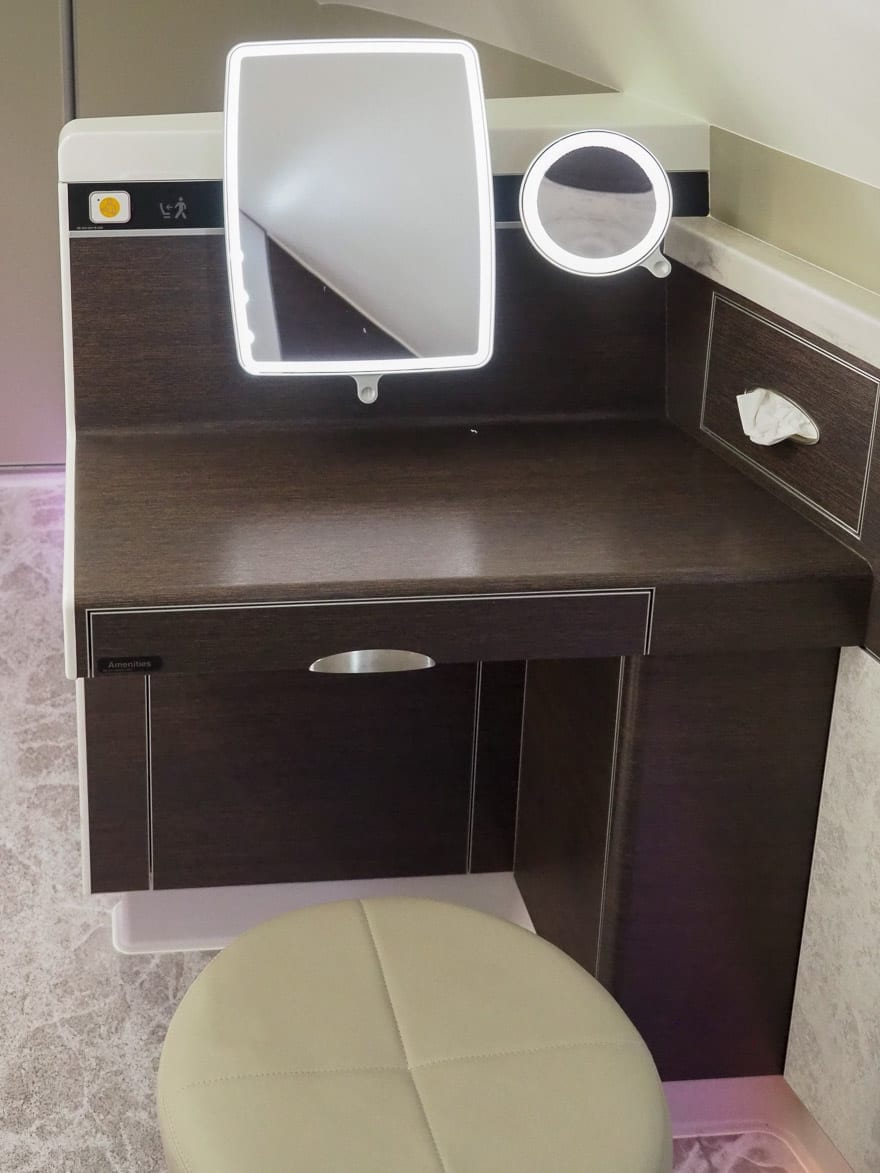 Singapore doesn't provide amenity kits on medium haul flights but plenty of toiletries were available in the bathroom drawers if you needed them.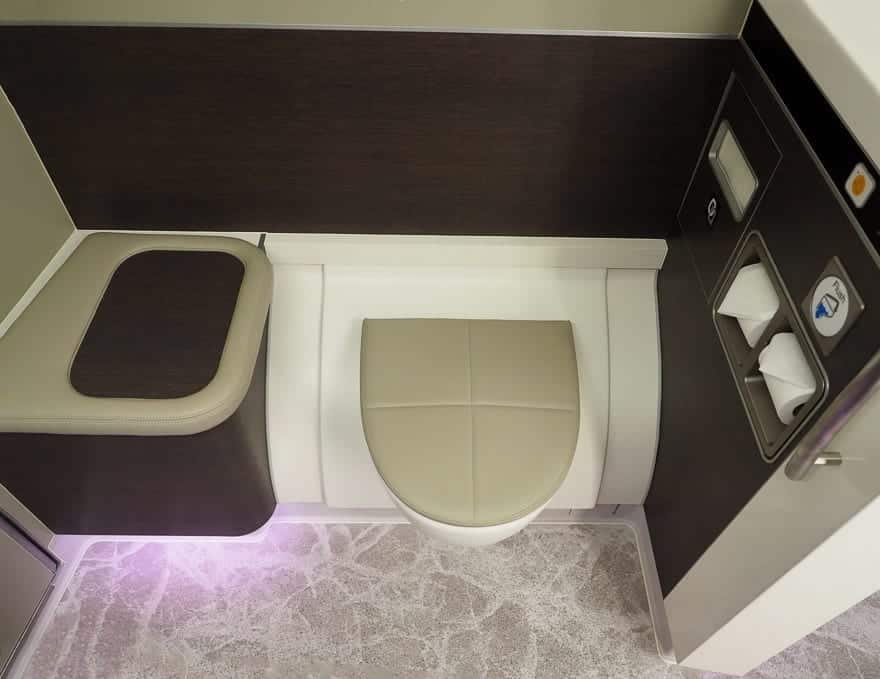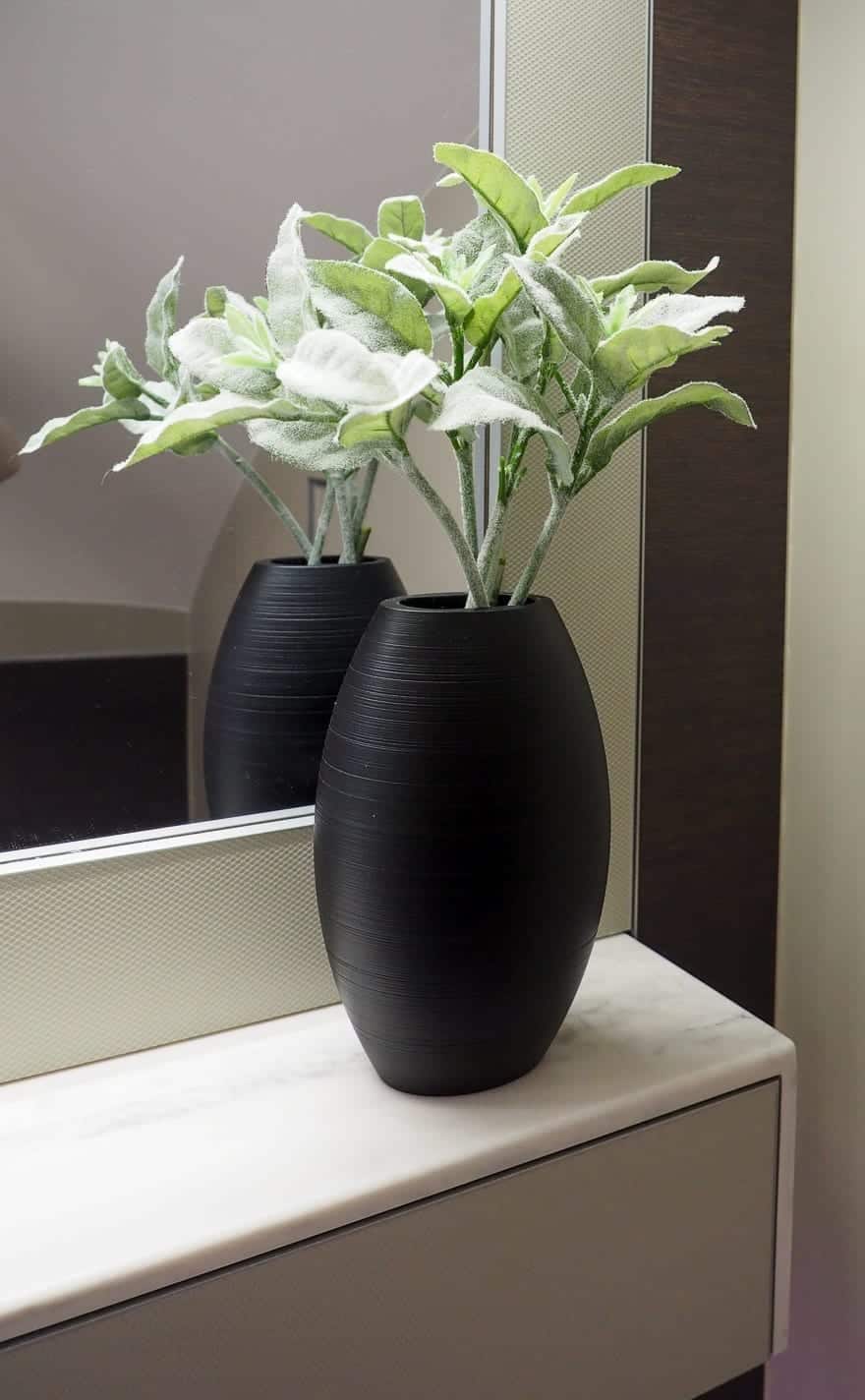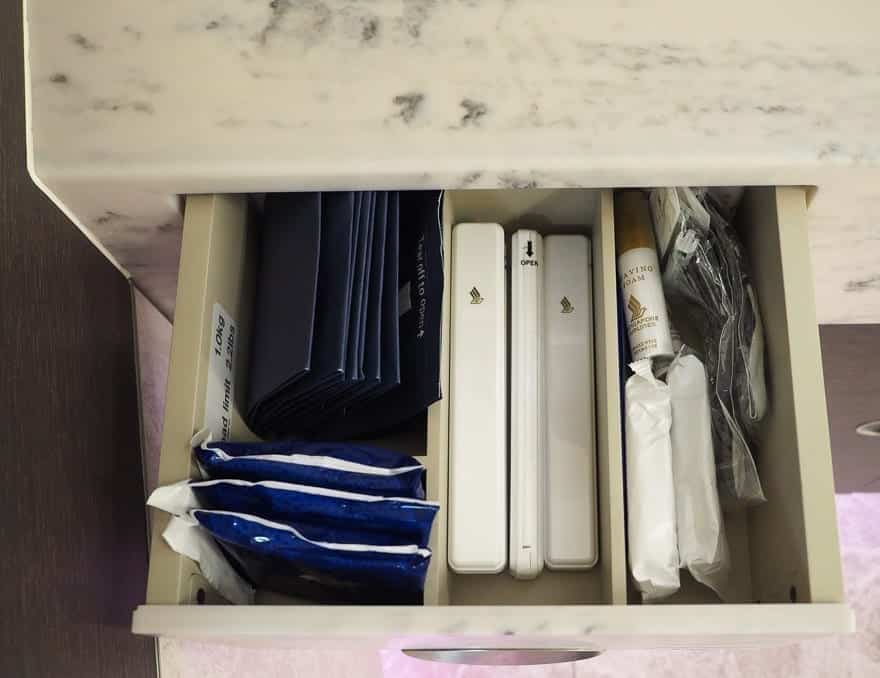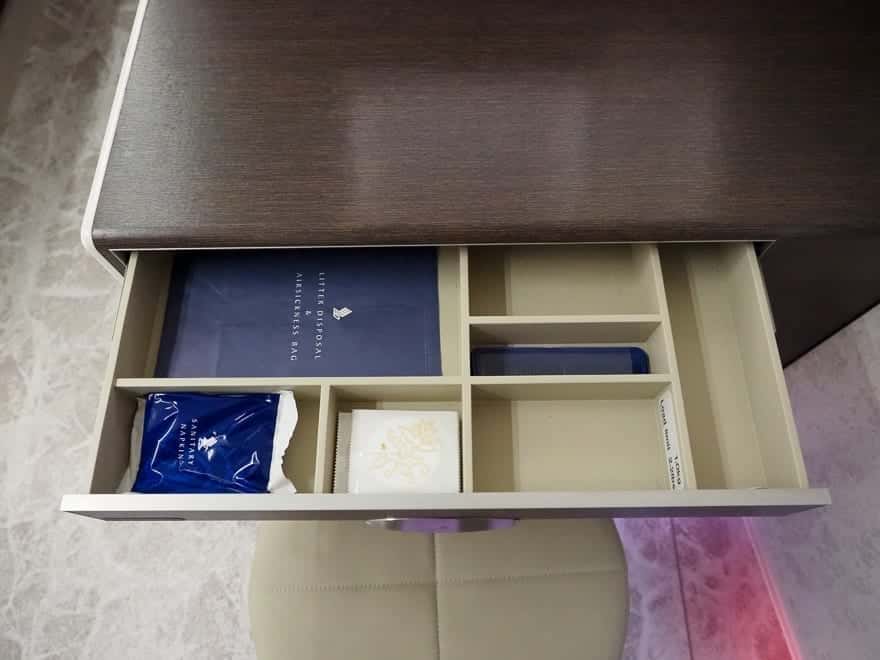 We returned to find our double bed perfectly made for us. The Lalique bed linens were very soft and comfortable and although the bed was a little on the firm side it was still by no means hard. Meanwhile the oversized pillows were like wondrous marshmallow clouds.
Once again, medium-haul flights draw a bit of a short straw since no PJs are provided. Thankfully I still had my organic cotton PYE set from the Cathay First Class flight a few days earlier.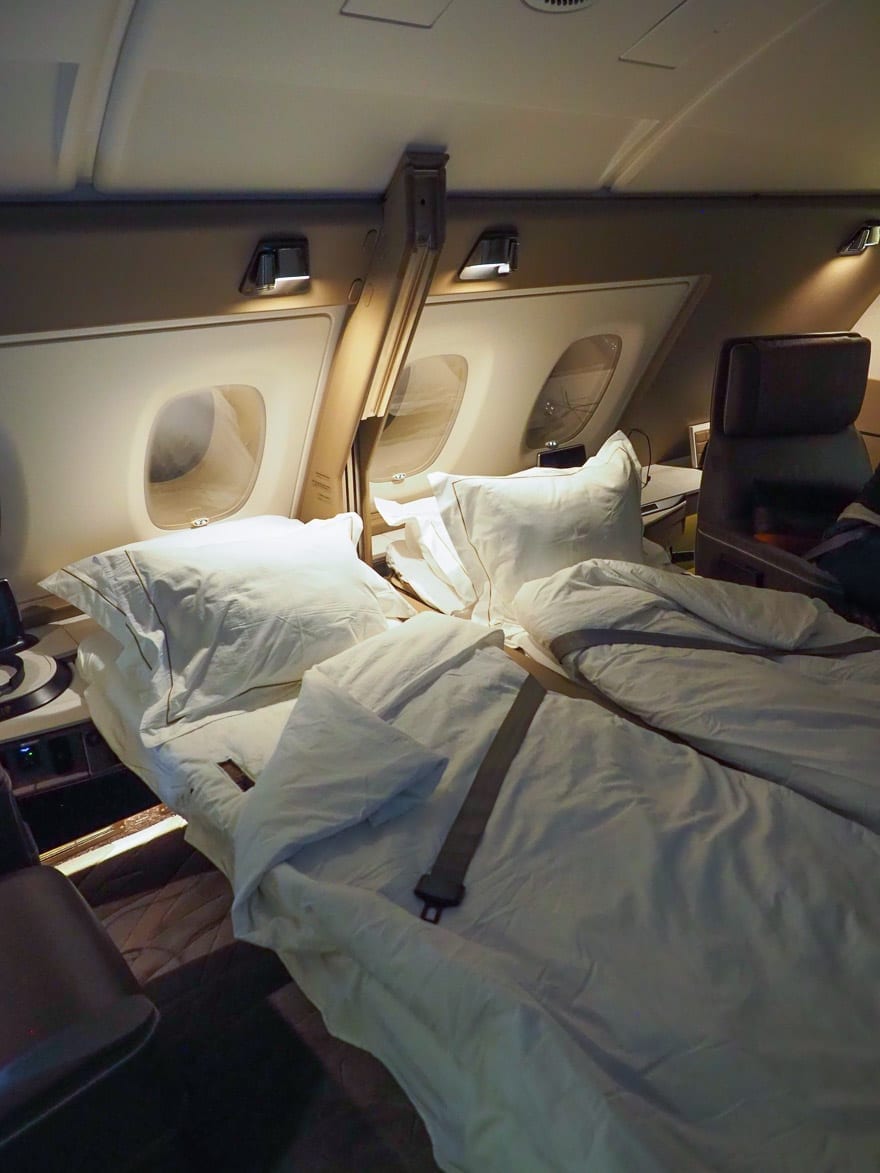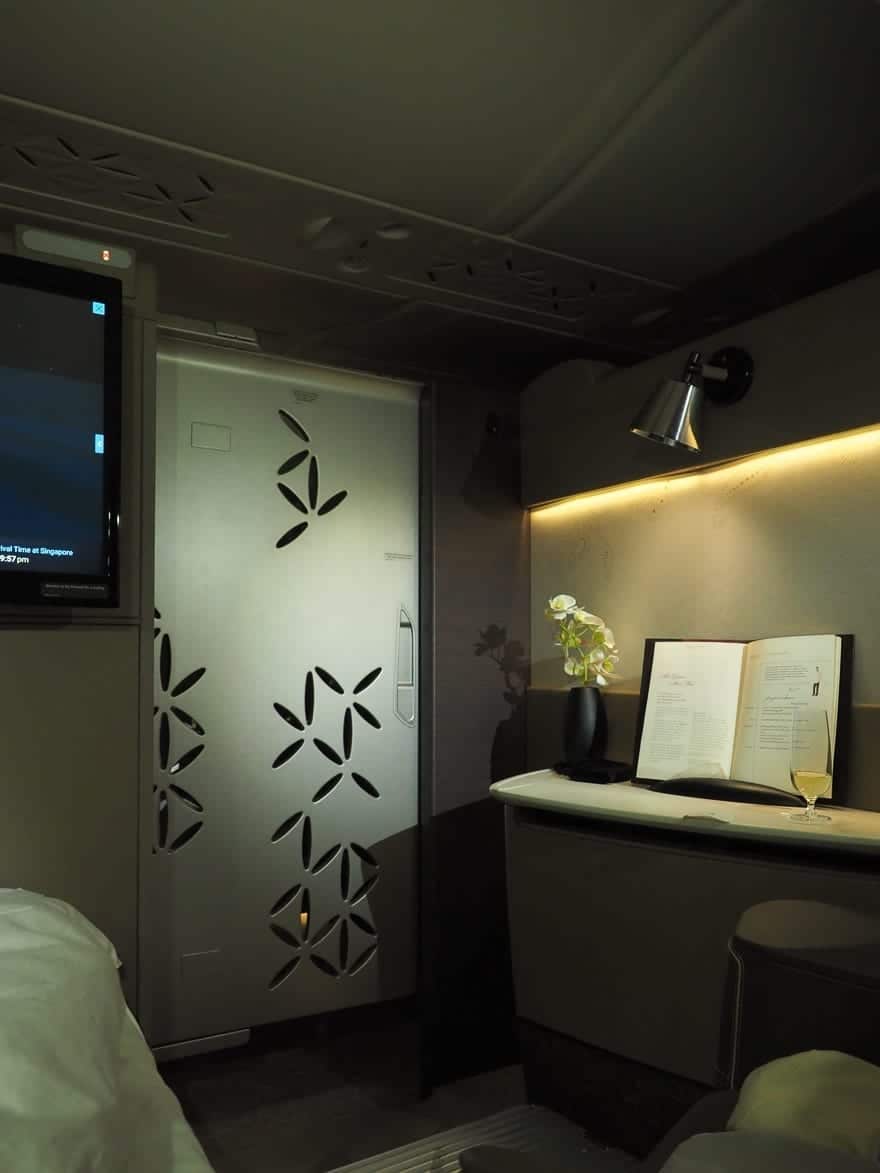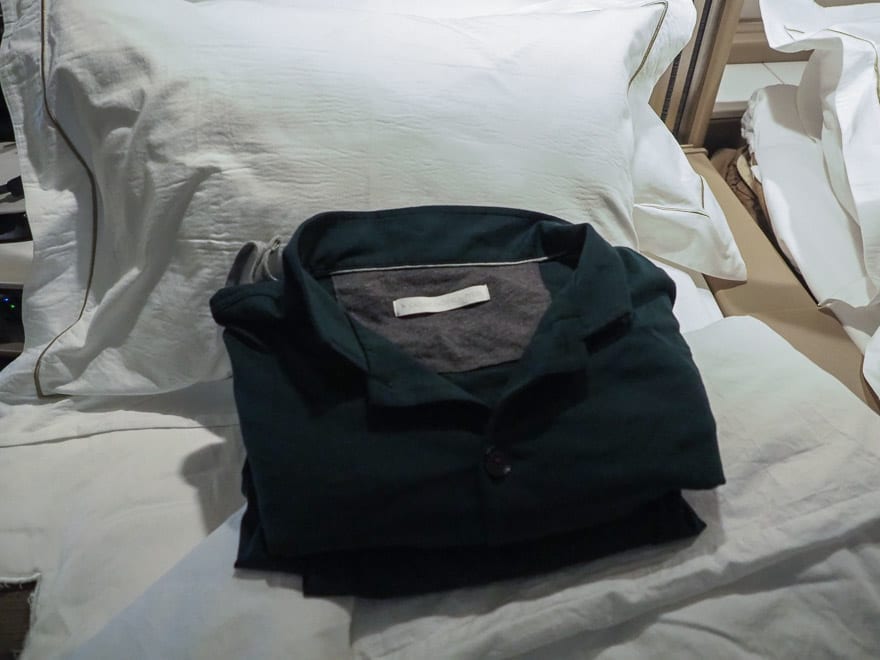 The closing doors in this cabin are a big step up over the old Suites layout. Where the older product had thin pull-down blinds filling out the door frame, this product has a proper solid door, which came up to shoulder height on me. Unless they're deliberately peering over it is very hard for others to see into your suite, although obviously this is still nowhere near as private as the new Emirates gamechanger product.
We really didn't have enough time to sleep so just spent the time drinking more champagne and taking pictures. We tried our best to take a sensible looking one but weren't particularly successful:
Some would say this last shot was the most successful. Others would point out that quite frankly it's also the most ridiculous… which is a view that I have great sympathy with.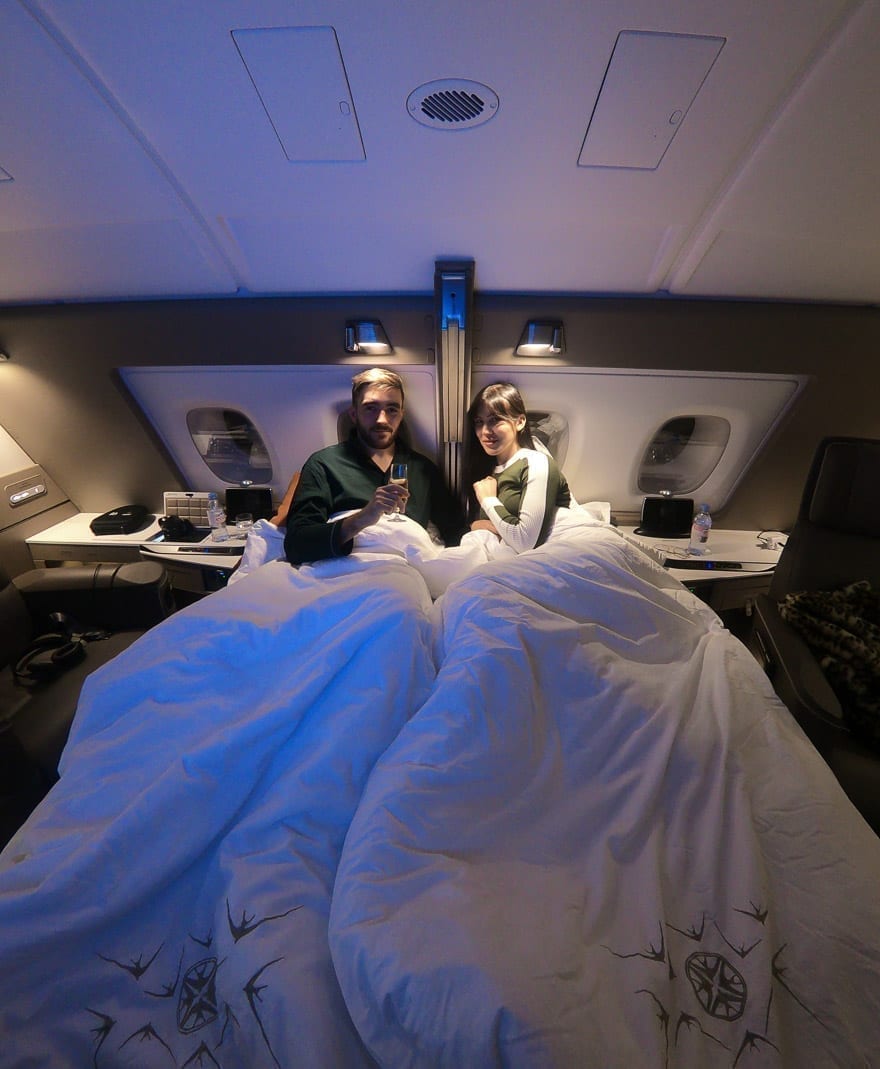 ---
Conclusion
---
I went into this flight with sky high expectations. Whenever I'm asked to pick a single favourite airline there's no hesitation. No possible alternative. It's Singapore.
I've been fortunate enough to fly the old Singapore Suites on five occasions in the past and honestly the experience never gets old – it is still one of the very best products in the sky. This new cabin though, is on a completely different level.
In the old Suites layout you get the distinct impression that you're tightly enclosed within your suite. During take-off and landing when all the blinds are down, you are keenly aware of the presence of a large number of other passengers.
On the new Suites the sensations are the opposite. The cabin as a whole feels remarkably small and private, yet your personal space is seemingly never-ending. Add to this the impeccable service, some of the best food in the sky (outside of JAL and ANA who are in a league of their own), a powerful and ever improving wine list and a First Class lounge that serves Dom Perignon – and you have the makings of the best First Class experience currently available on this planet.
Individually there are other airlines that perform certain aspects of the First Class experience better than Singapore; I can't pretend that Emirates doesn't have better wine or SWISS doesn't have a better First Class lounge. If you were to tell me right now though that I could fly any carrier in the world, anywhere that I wanted, price be damned?
There's zero doubt in my mind. I'm picking this.
---