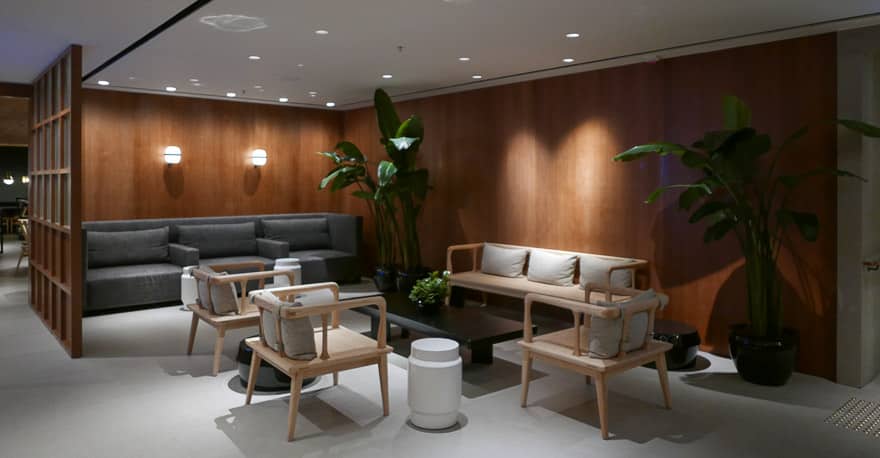 REVIEW – Cathay Pacific : The Pier Business Class Lounge – Hong Kong HKG
June 5, 2020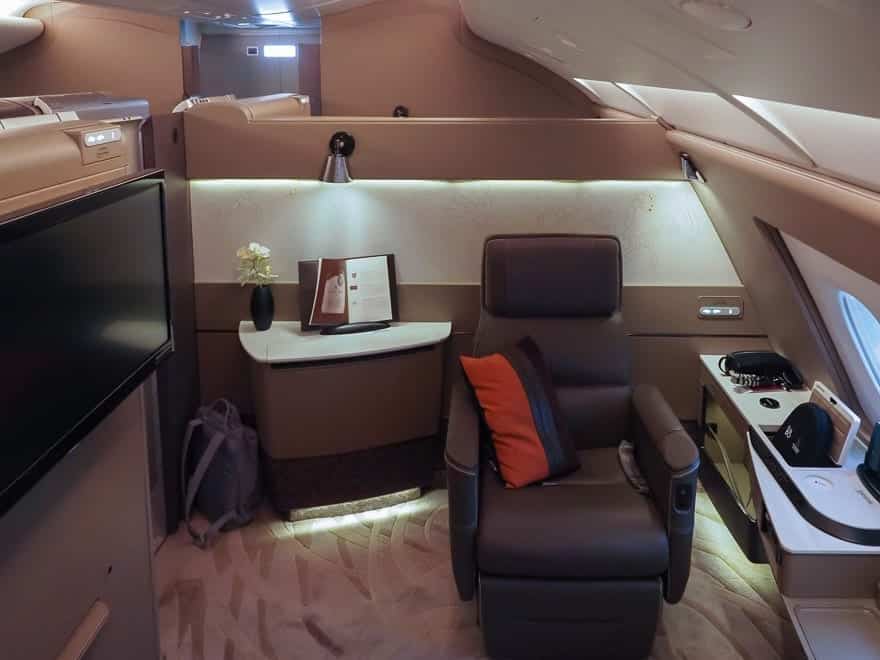 REVIEW – Singapore Airlines : (NEW) First Class Suites – A380 – Shanghai (PVG) to Singapore (SIN)
June 14, 2020
Park Hyatt Shanghai
Rate: 2,260 CNY per night (with additional benefits via Hyatt Privé)
Room Type: Park Suite

Upgraded from Park King using a Suite Upgrade certficate

Status During Stay: World of Hyatt Globalist
---
Booking
---
Given that we spend every other Christmas in Shanghai with Kamara's family, I suggested that on this occasion we could split our time between staying at her parents' house in the suburbs and spending a few nights in the city. I had a WOH suite upgrade which was going to expire and thought it would be great to book a suite with an adjoining room and make it into our family home in the clouds.
To most people, the idea of spending Christmas in a hotel would be unthinkable. To me it sounds like the most exciting thing ever.
Waking up in the morning and seeing all the decorations around the hotel, peering out of the window of your suite and seeing a row of skyscrapers beneath you, then heading off to a huge buffet breakfast. To me that sounds pretty much perfect!
Thankfully Kamara and her parents agreed, we would book the suite for 4 nights with her parents staying in the adjoining room for Christmas and Boxing Day (her dad's birthday), leaving us two nights to hang out with friends in the city.
I booked using Hyatt Privé since the booking was quite last minute and they were able to match the Hyatt.com room rate (roughly £250 per night) whilst adding $100 of hotel credit per room, as well as breakfast and late checkout for the in-laws – who didn't have any Hyatt status.
Hyatt Privé rates are always fully flexible and still earn points so provided you're happy with the rate on Hyatt.com, it always makes sense to lock in the same rate with additional extras via Privé.
---
Arrival
---
Shanghai is divided by the Huangpu river, the area West of the river (Puxi) is the old city – where most of the shopping, restaurants and tourist sites are located. The area East of the river (Pudong) was previously marshland, which has gradually been reclaimed and filled with enormous skyscrapers, office buildings, the expo centre and the main international airport.
The property has gated parking at the base of the Shanghai World Financial Centre tower, accessible to guests who are either staying in the hotel or dining in one of the restaurants.
The approach to the hotel is absolutely remarkable. Bathed in the glow of a futuristic forest of neon, you look up and see three of the world's tallest skyscrapers grouped together in a single gathering of giants.
We parked our vehicle very close to the entrance and doormen came over to help as soon they saw us approaching with suitcases.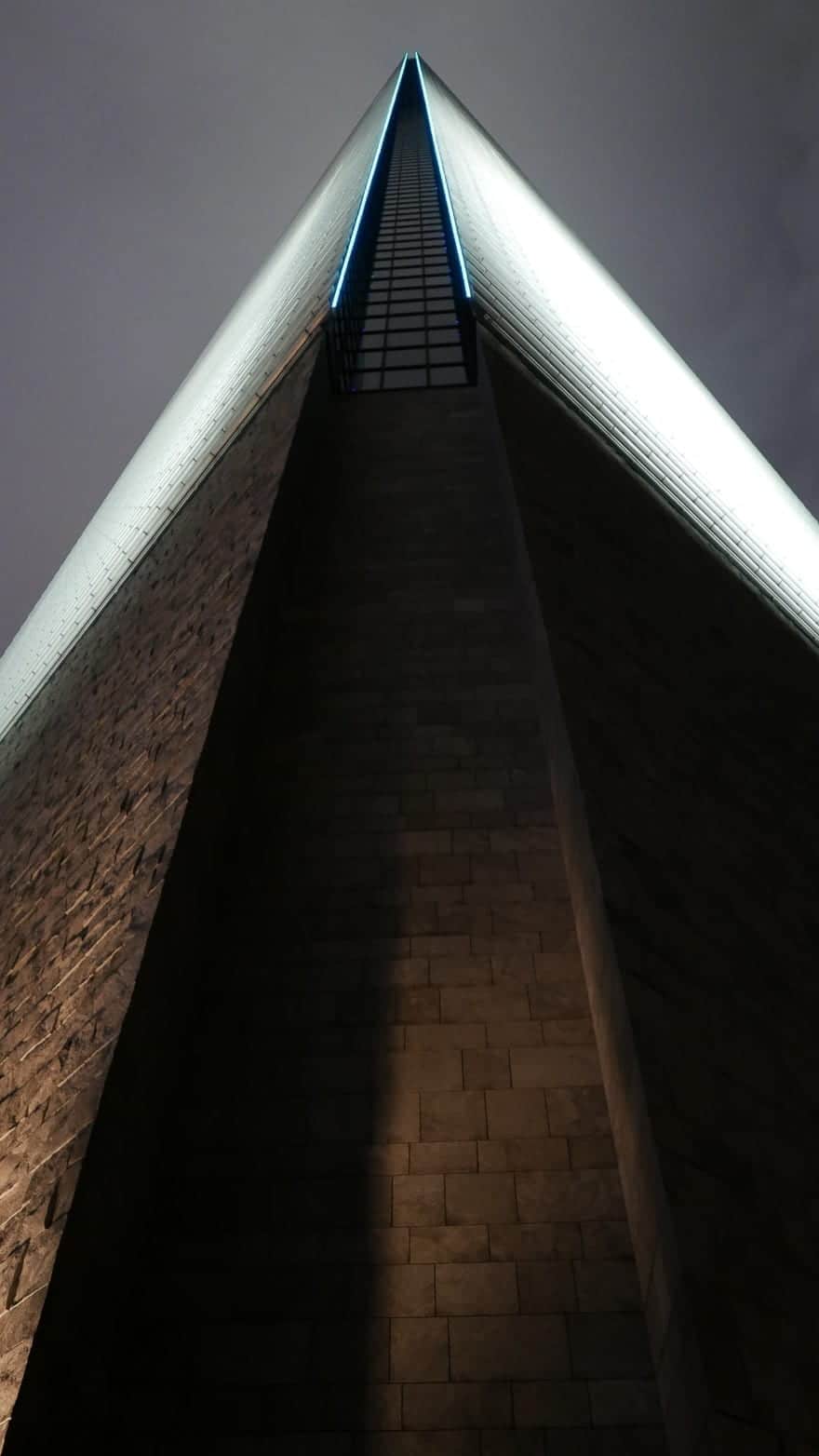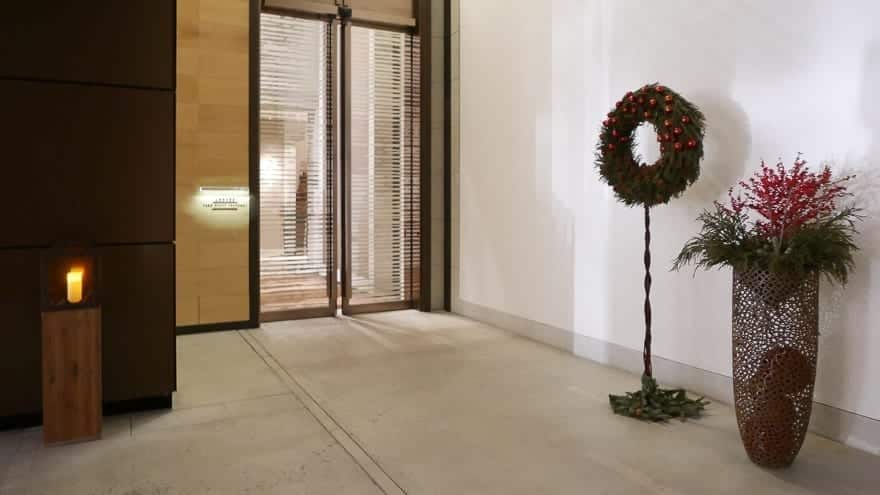 The entrance is relatively understated but there's something about seeing the Park Hyatt lettering that instantly makes me feel at home. I've stayed at so many of their properties around the world and have found them to be consistently excellent.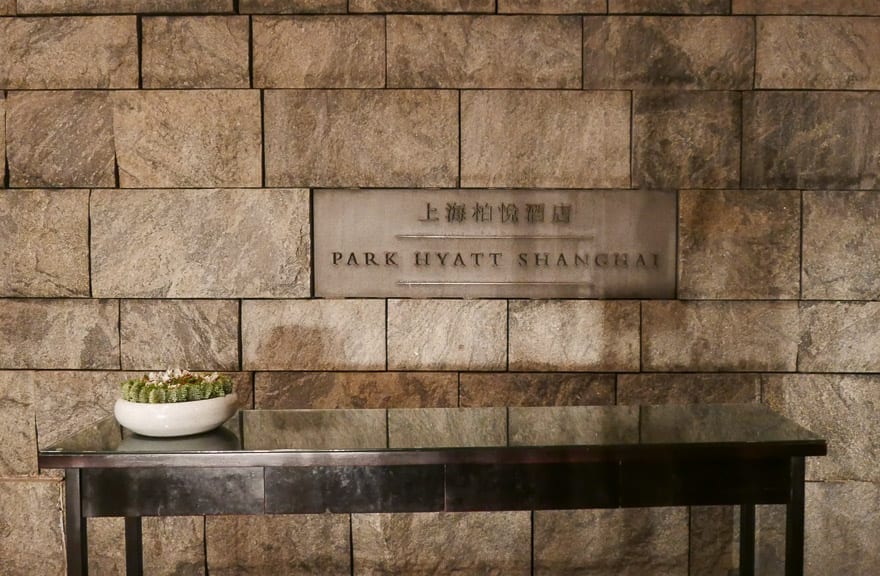 We were escorted into a small downstairs reception area where we were given luggage receipts and guided over to the lifts.
The familiar minimalism of Park Hyatt hotels abounds in these common areas. Much like the Park Hyatt Abu Dhabi, the presence of high ceilings, recessed lighting and statues is more akin to a museum of art than a hotel.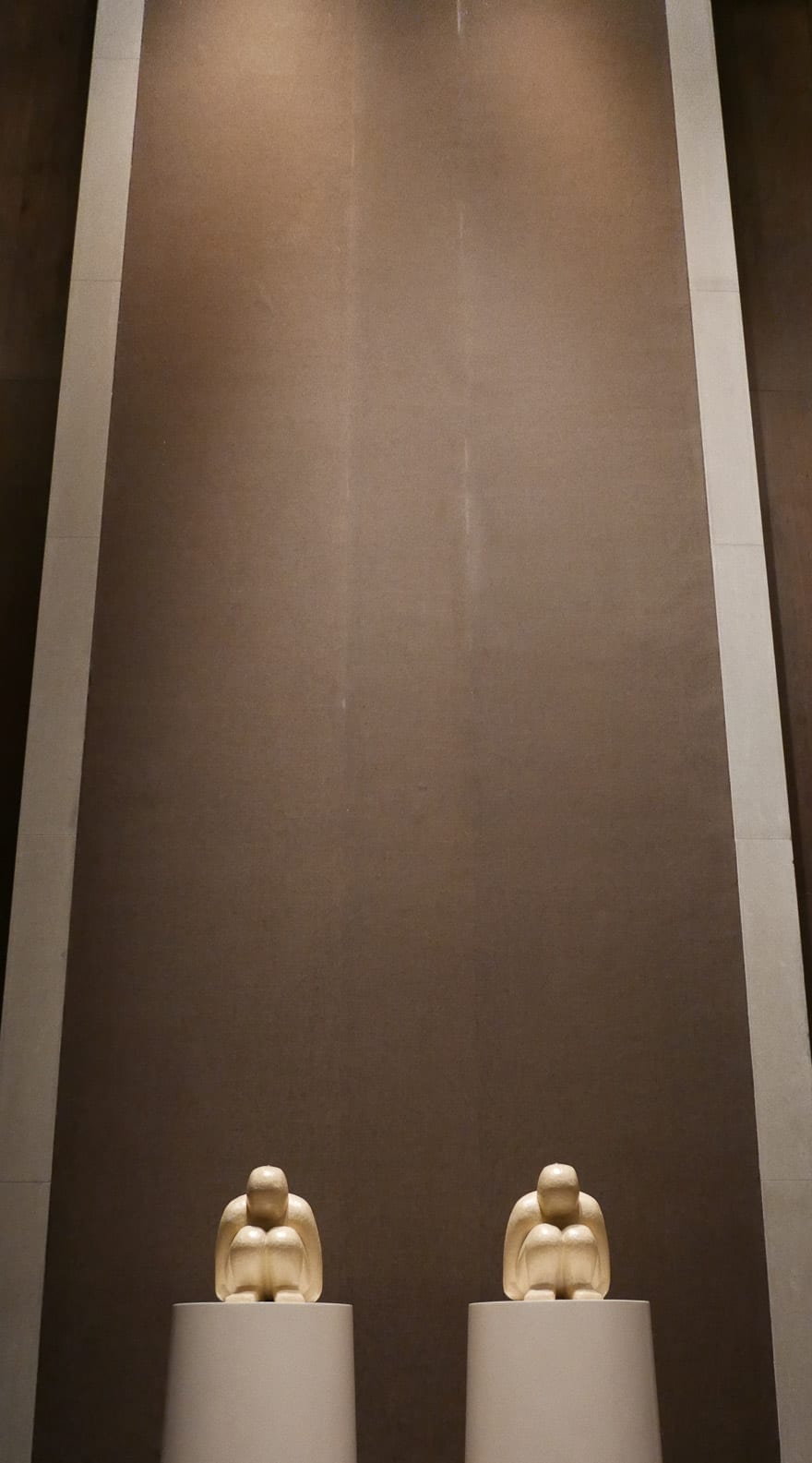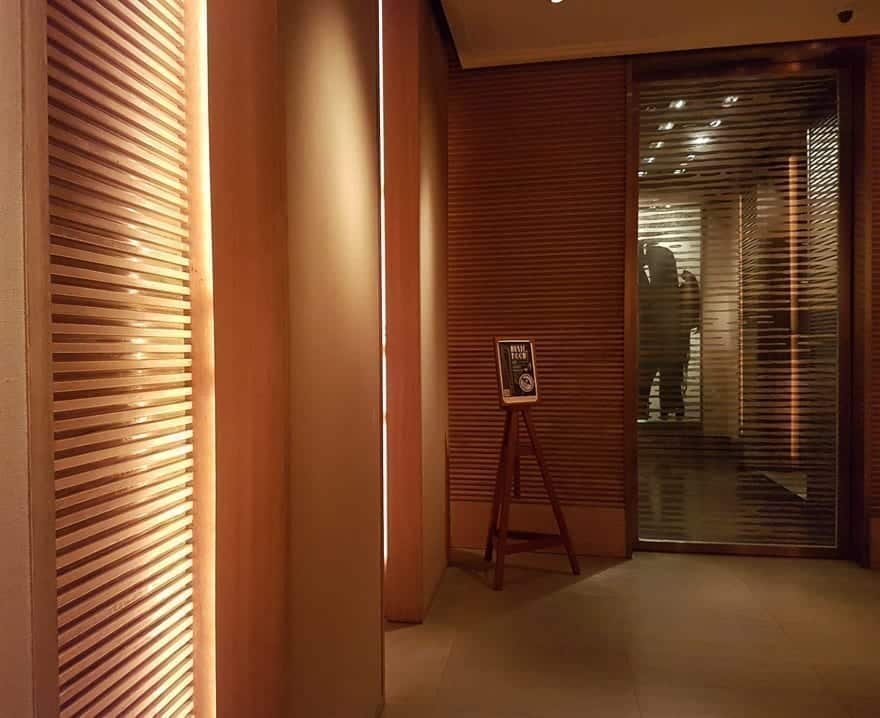 A hand drawn floor plan and some ghoulish lift guardians, just like the Park Hyatt Tokyo.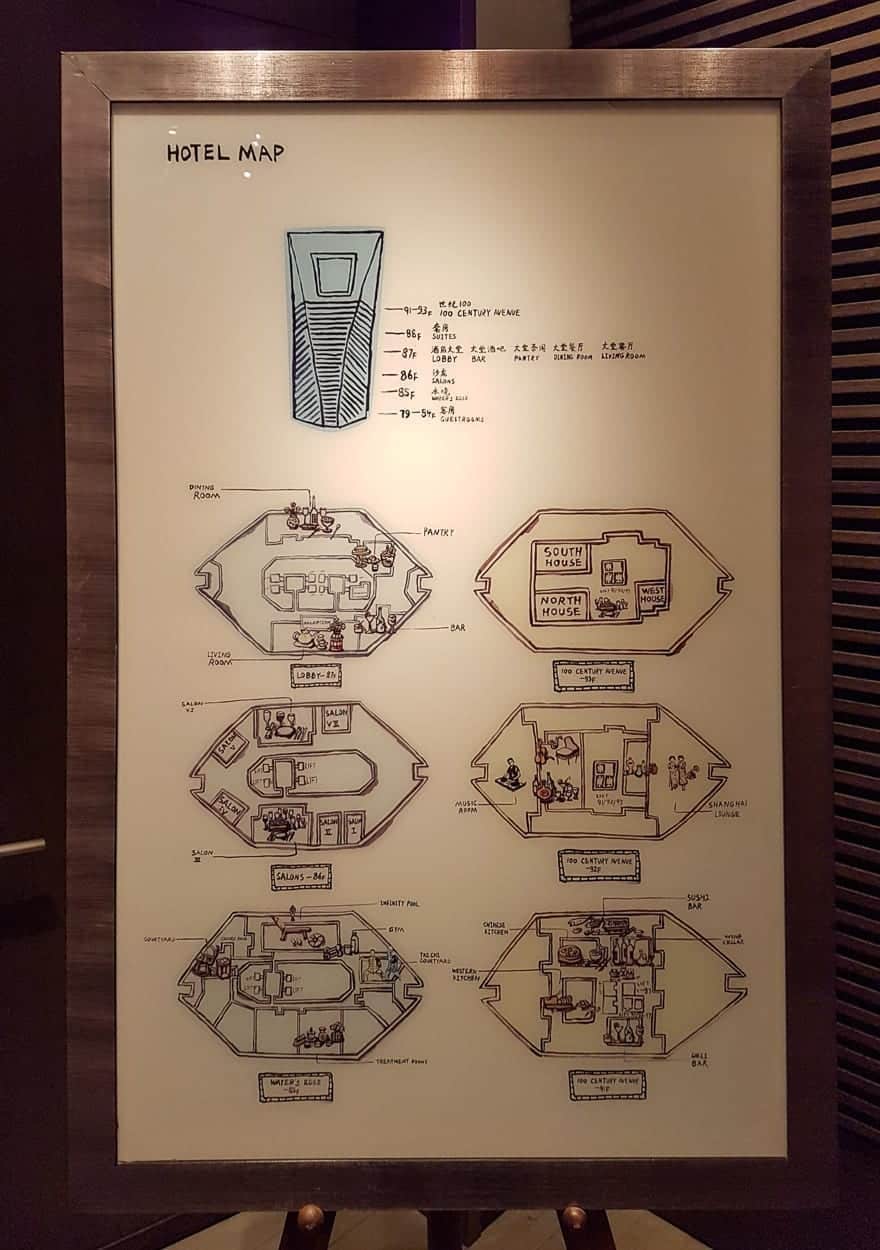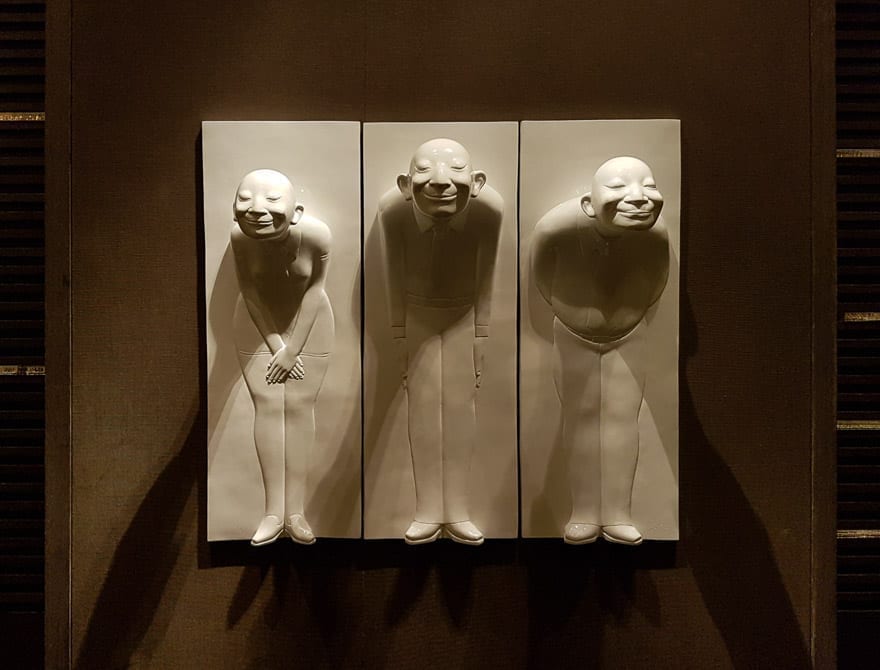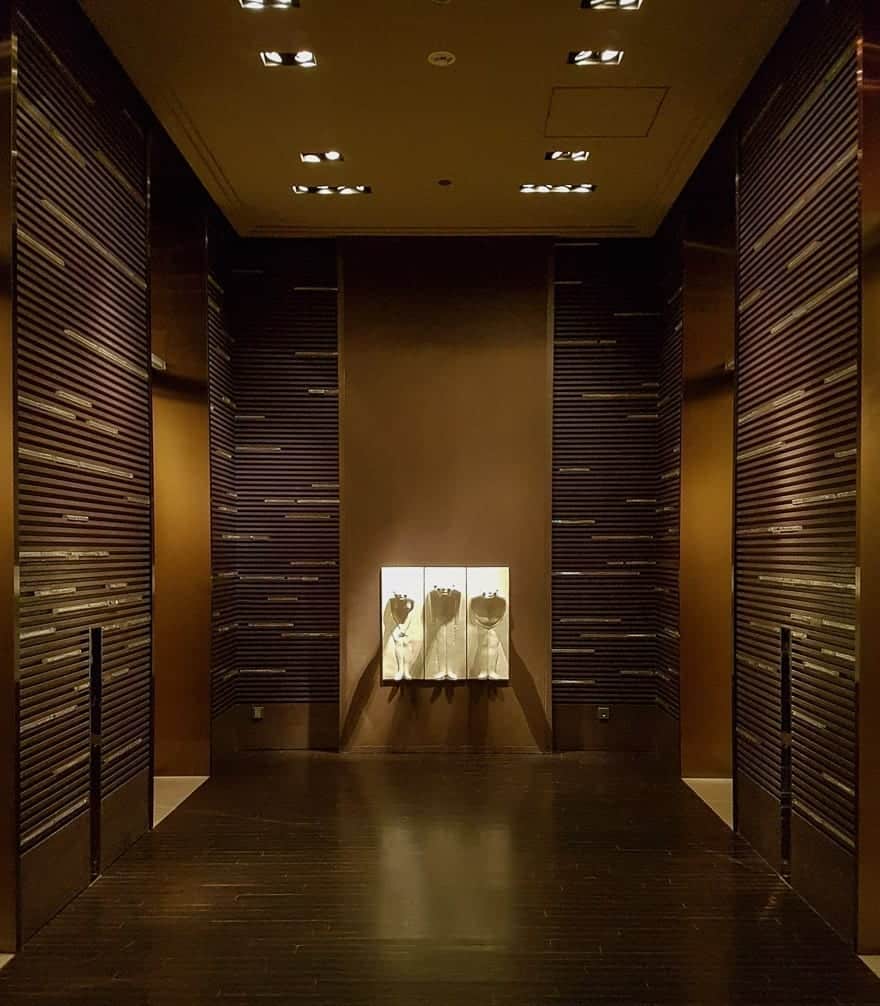 After passing through these various rooms, into the inner sanctum, we took an ear popping, high-speed lift up to the 87th floor. Here we were instantly greeted by a jaw dropping view of the tops of skyscrapers beneath us.
The Living Room – a very popular afternoon tea destination.
When I first visited Shanghai in 2002 the white topped Jin Mao tower was the tallest building in China – taller than the Empire State Building. The feeling of looking down on it from above was truly mesmerising. It is amazing to think how quickly China – and in particular Shanghai – progressed economically in the last 20 years.
Ordinarily, I would expect to be offered in-room check-in at a Park Hyatt as a Globalist and this is the first time that the service hasn't been offered to me. However, we were checked in very promptly at the reception desk whilst having our Classic Travel benefits explained. It was also confirmed that we had reserved a Park Suite for four nights with an adjoining Park Room booked for the first two.
After completing check-in formalities the receptionist accompanied us to the Park King room since our Park Suite wasn't quite ready yet. He assured us that we would be informed as soon as it was.
---
Park King Room
---
This is the standard room at the Park Hyatt Shanghai and first impressions were that it felt a little bleak. I'm sure the white out provided by the clouds outside didn't help but it really felt like the room could have done with a little more artwork, or maybe a plant – to make the expansive white wall seem a little less sterile.
Something about the overall aesthetic of the bedroom felt a little off to me. Different styles and sizes of furniture had all been thrown together without integrating into a cohesive whole.
I really love it when hotels have cushioned window seats, especially when they're in majestically tall buildings such as this. However the seat in this room was relatively small and not quite pressed to the window. I far prefer the design of the rooms at the Conrad Tokyo in this regard.
The desk chair was not really suitable for doing any work since it was very low and non-adjustable. It also felt like the TV was in completely the wrong place; it would have made more sense for the desk and the sitting area to switch places and to place the TV nearer the bed on a swivelling stand.
One thing that Park Hyatts always get right is the supremely comfortable bedding. Thankfully, the Shanghai property is no exception. Whilst there was a full set of clearly labelled light switches near the bed, there were no power sockets and no drawers.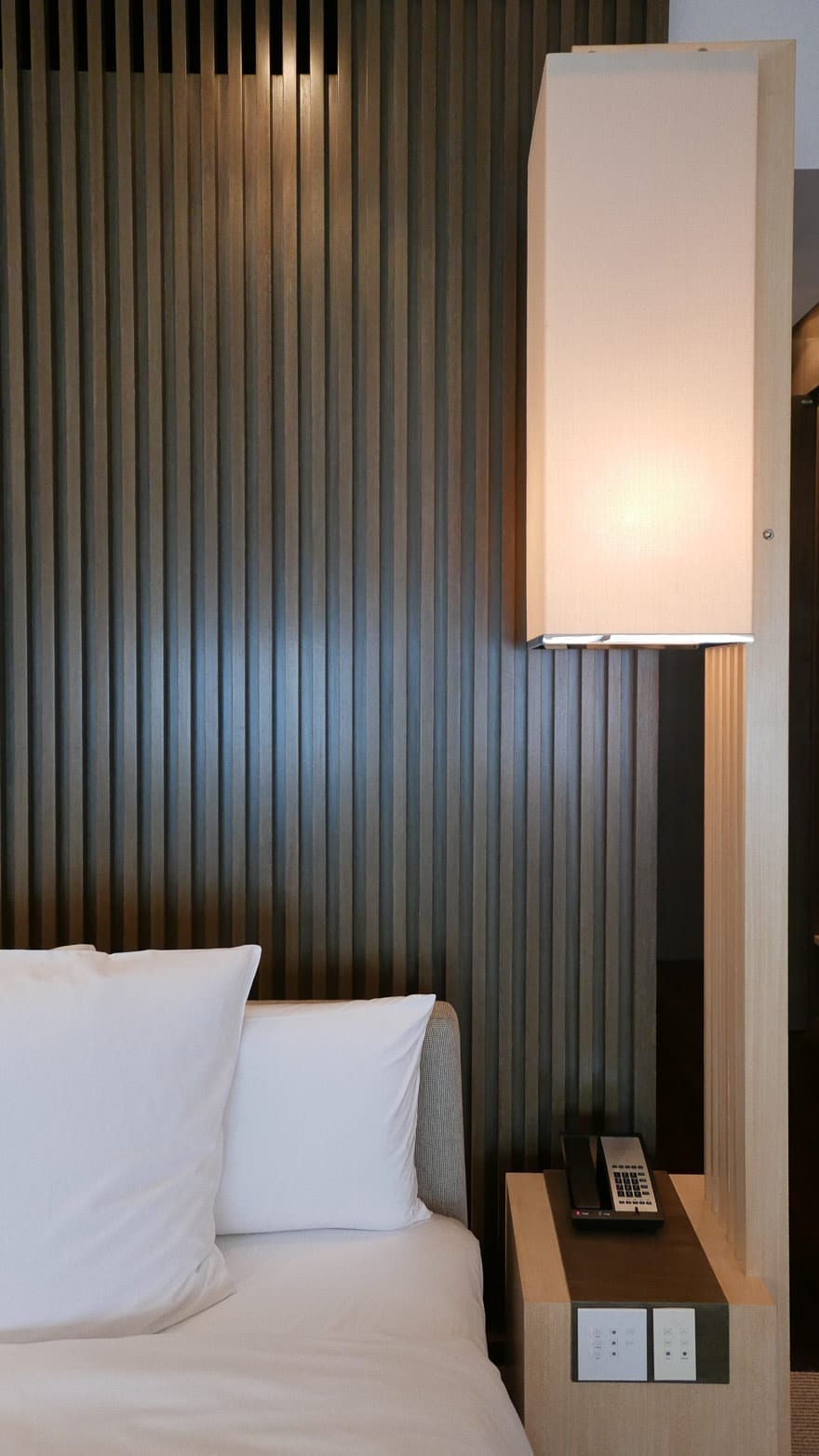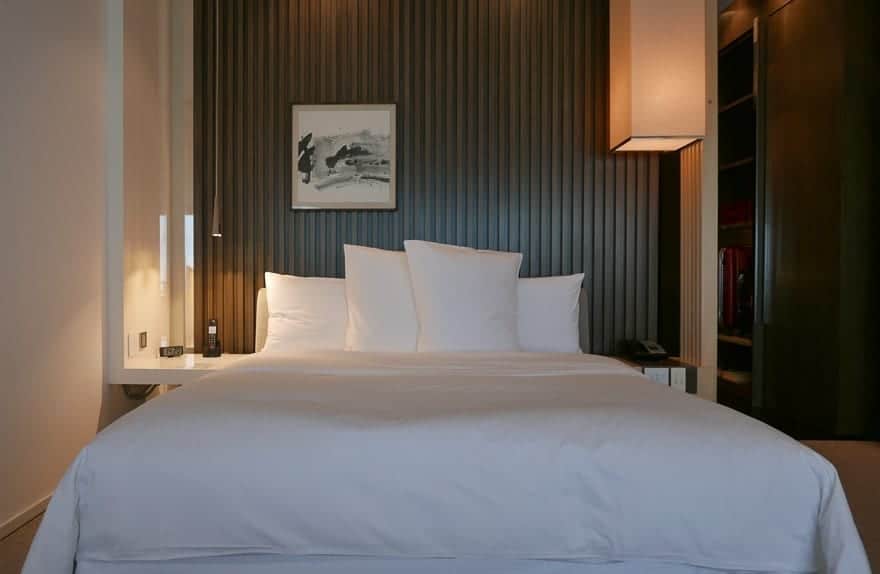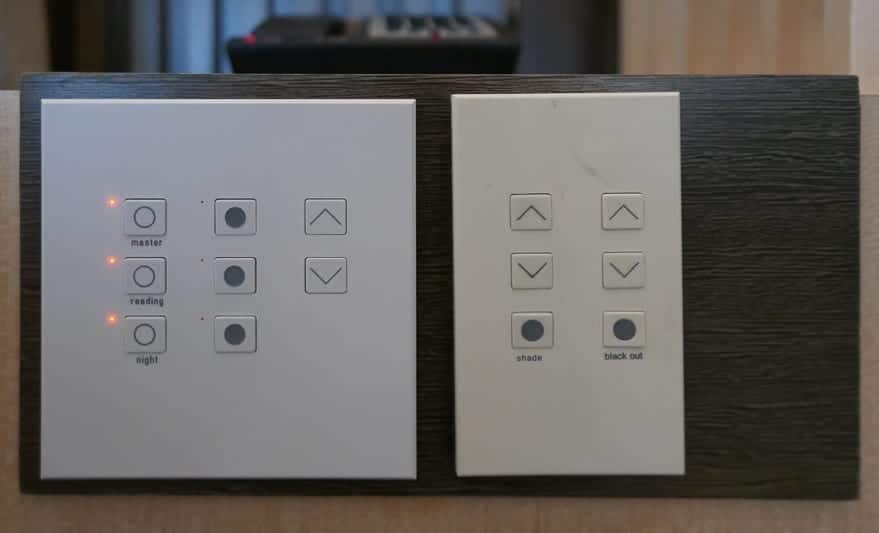 Just behind the bed was a very cool, mirrored minibar area, with the tea and coffee facilities hidden in the cabinets next to the TV. The Nespresso machine was of the commercial 'saucer' variety, which makes far better coffee than the standard capsule machines.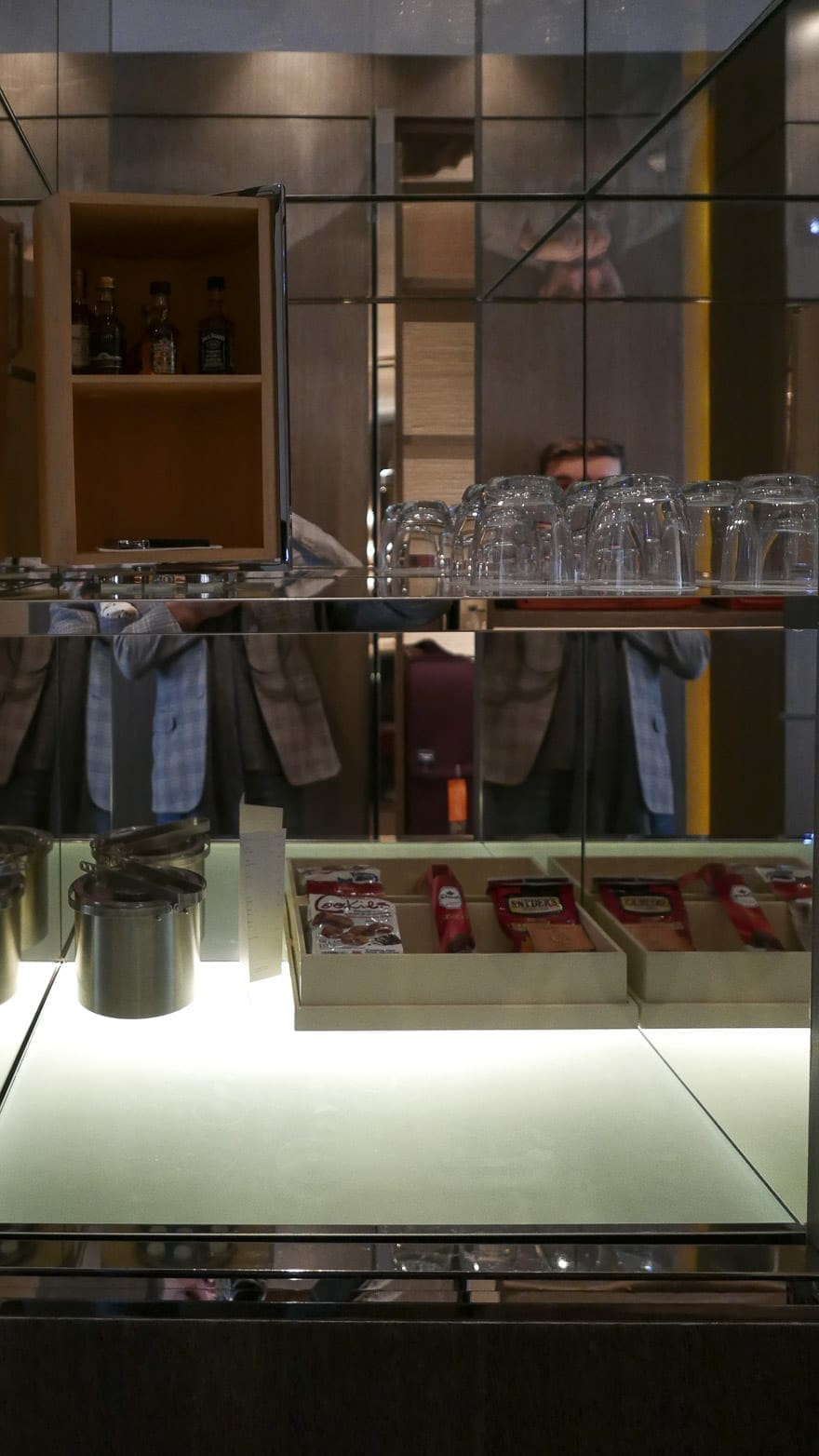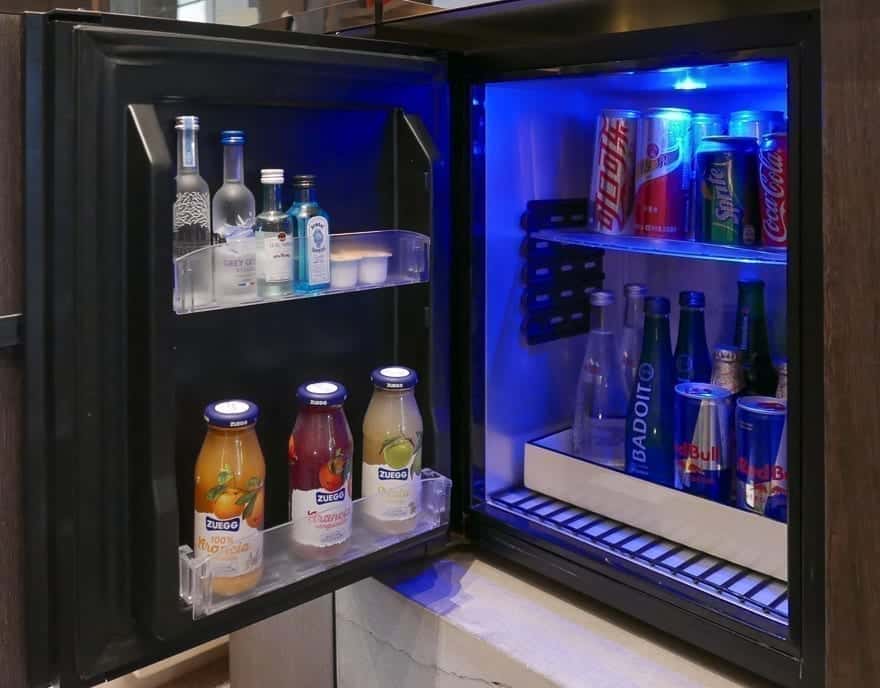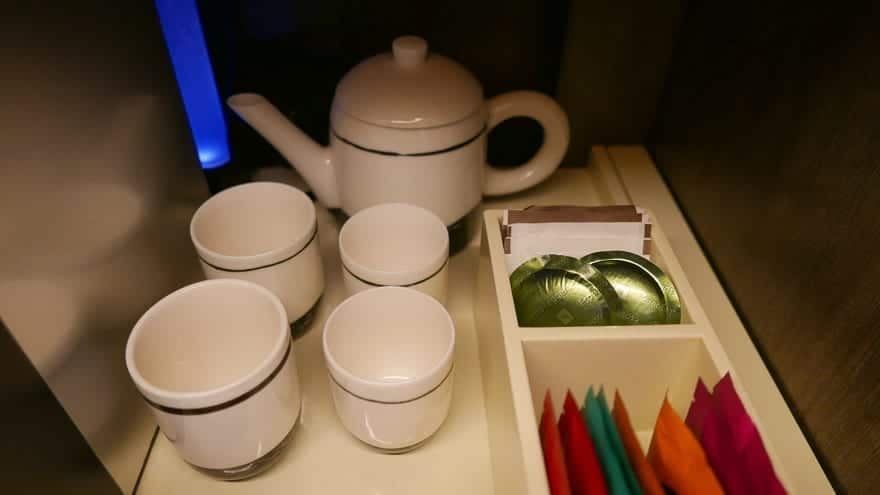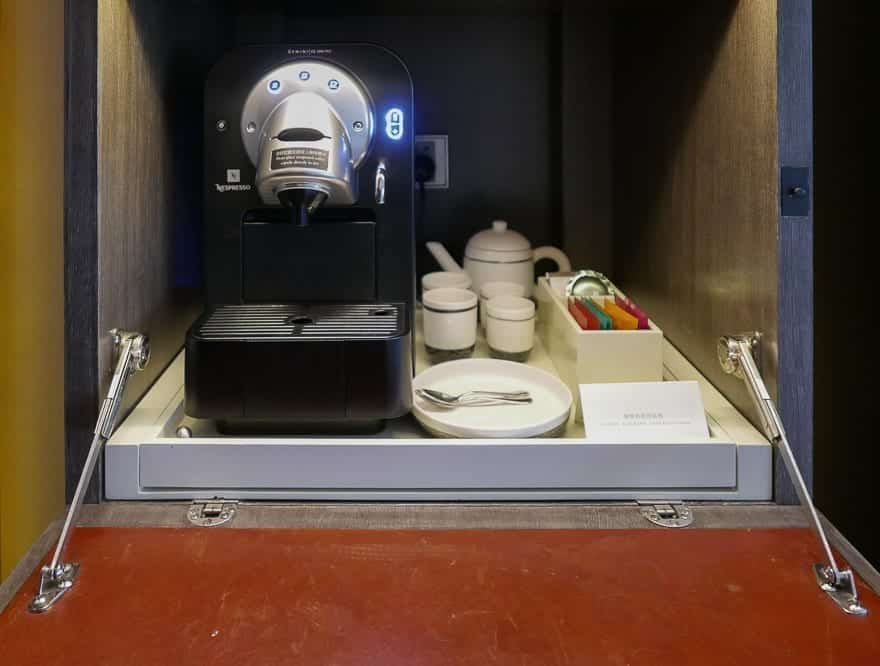 The dual wardrobes and central luggage storage were very spacious and looked more like a designer boutique than a hotel. I loved the use of materials and lighting here.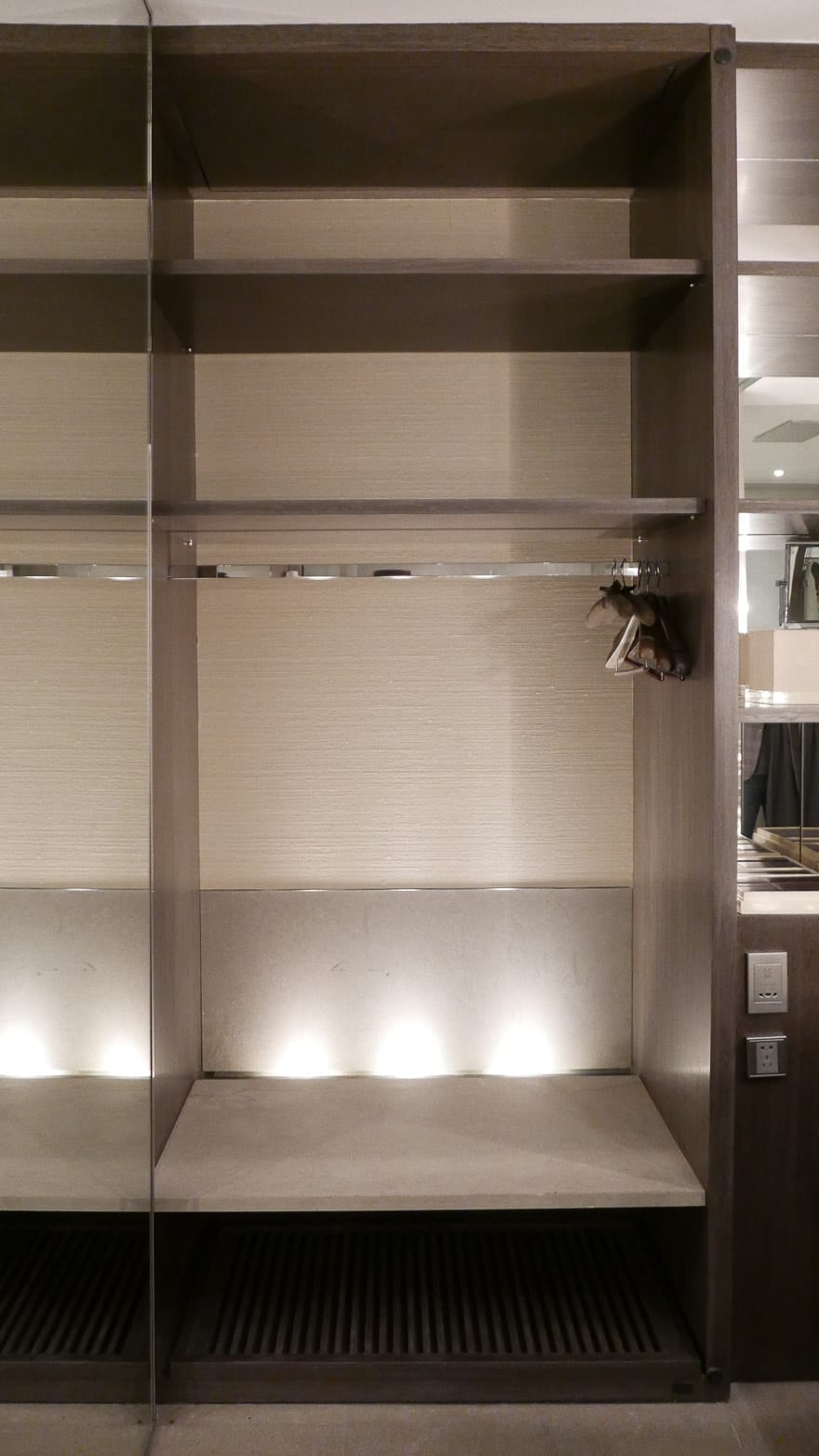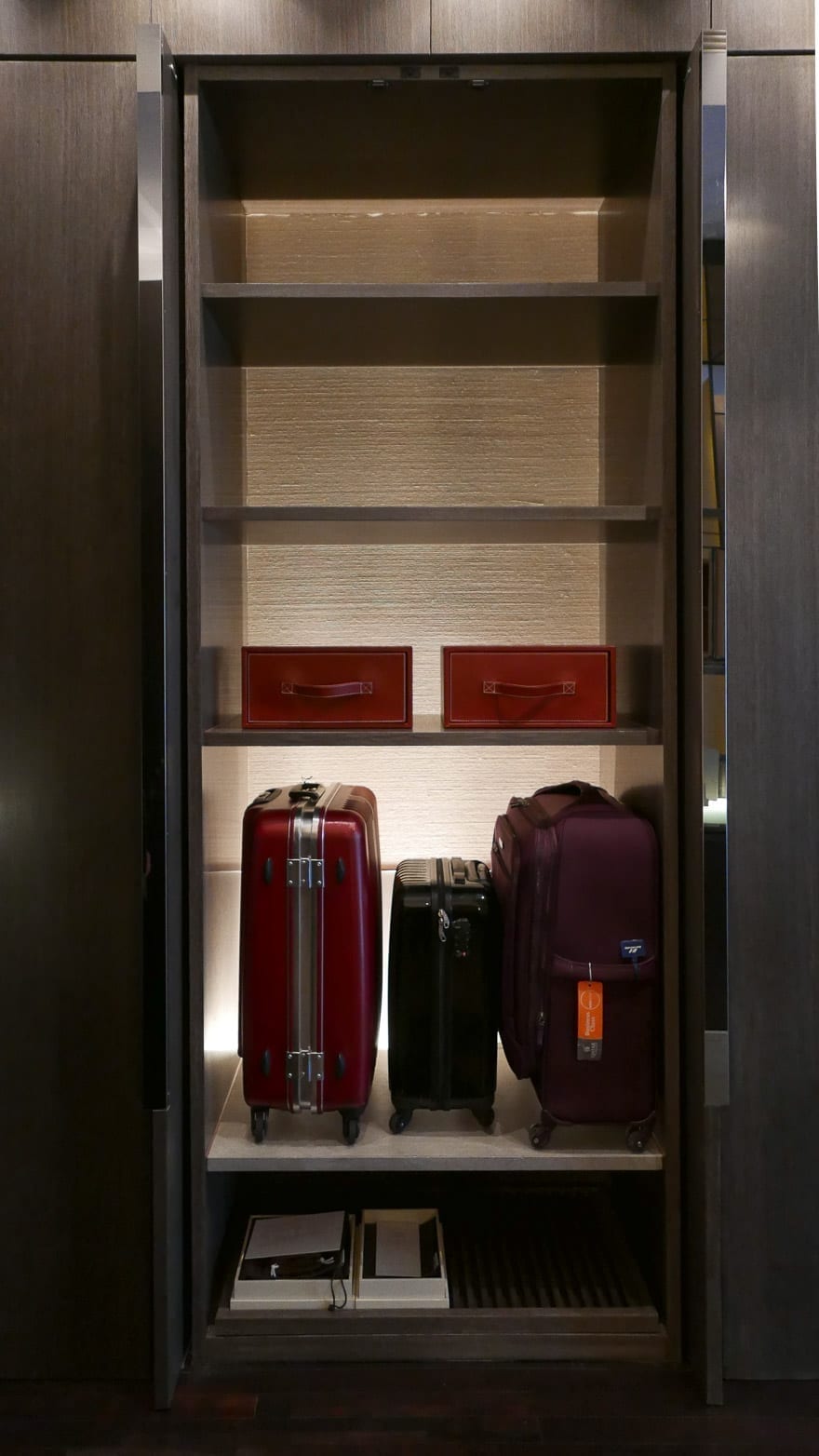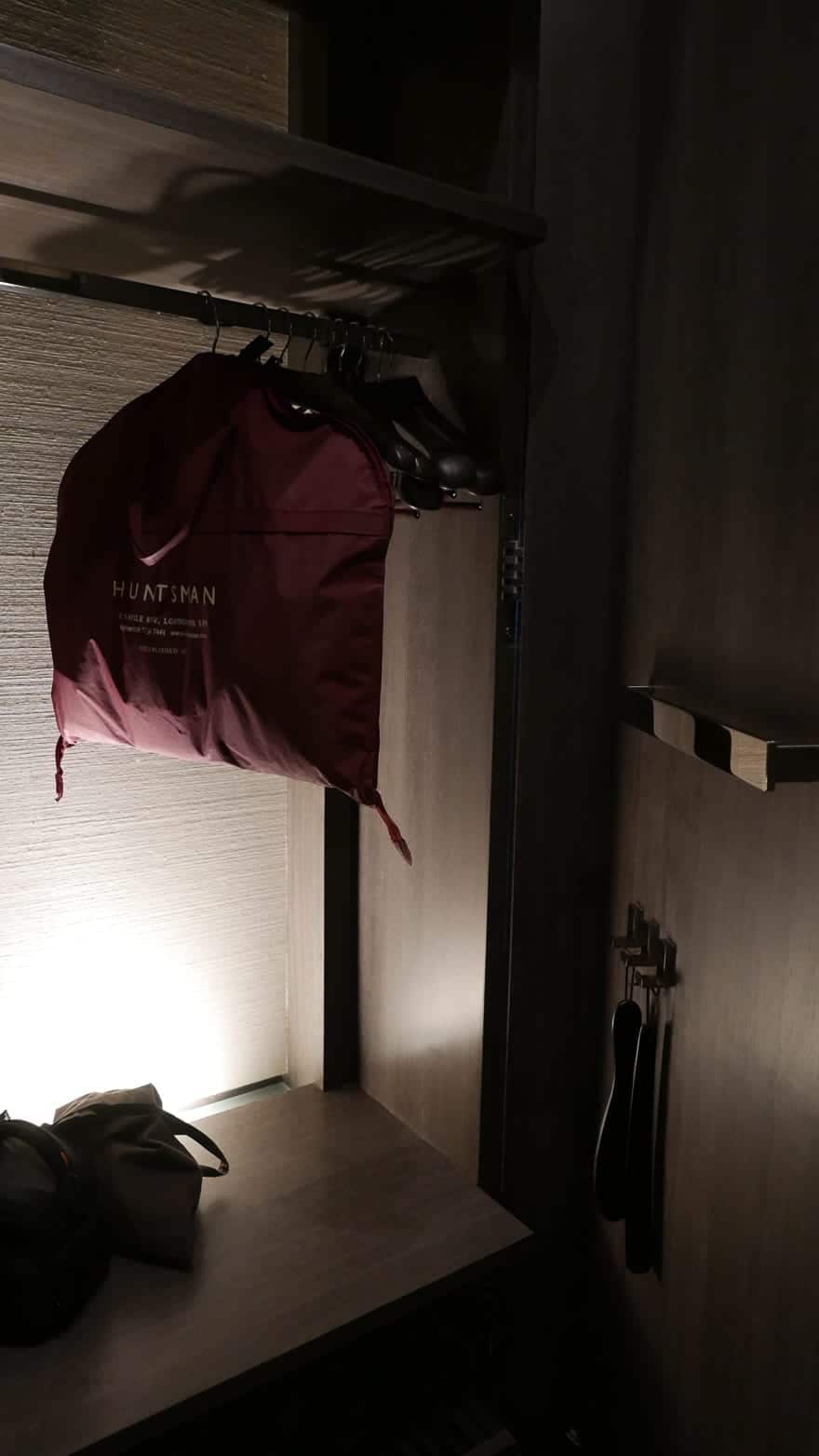 The bathroom had quite a cold feel to it with the bright lights and concrete walls but I did like the fact that it had a glass walled bathing room, containing both the shower and bath – much like at the Ritz Carlton Kyoto or Prince Gallery Tokyo.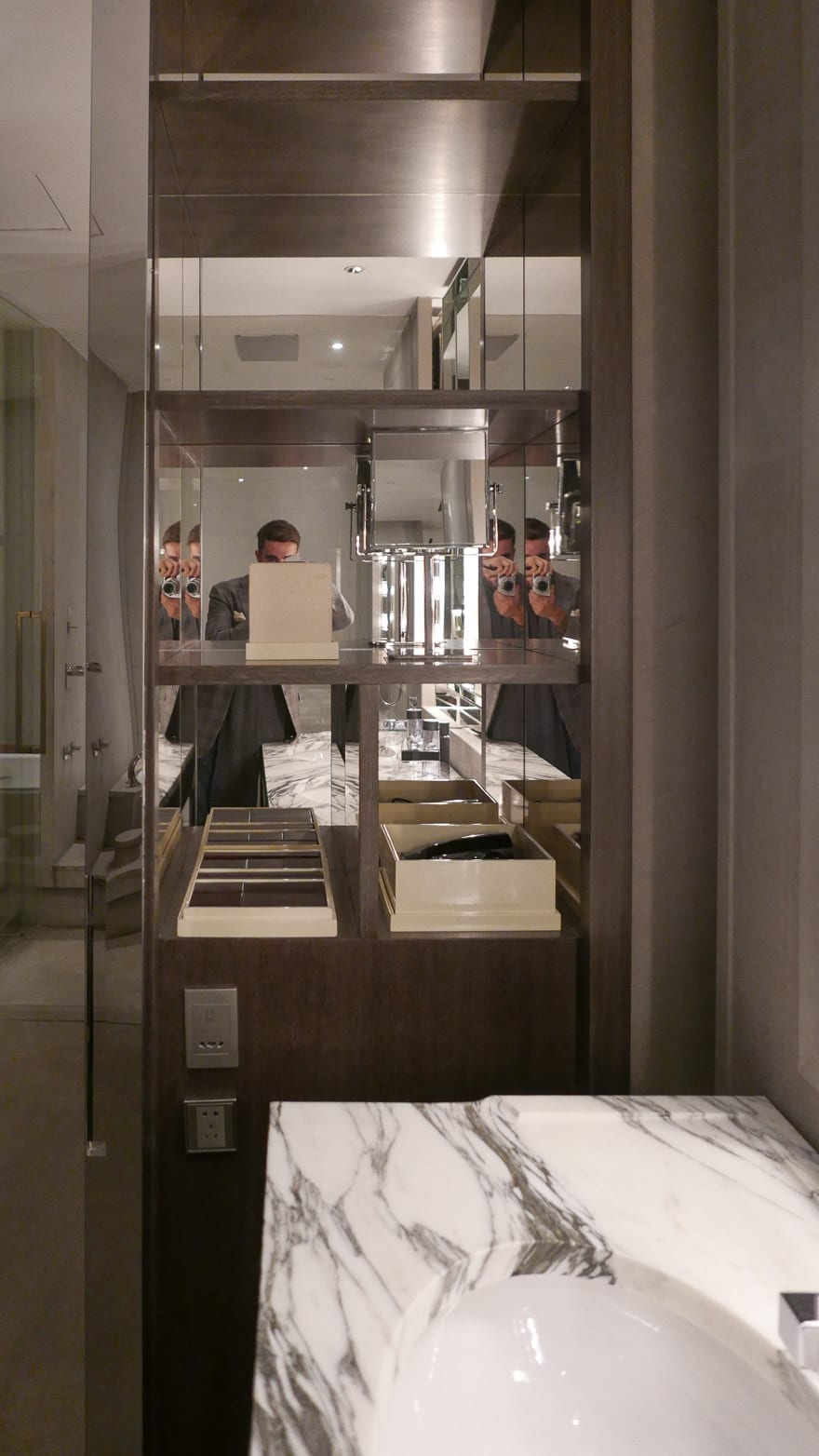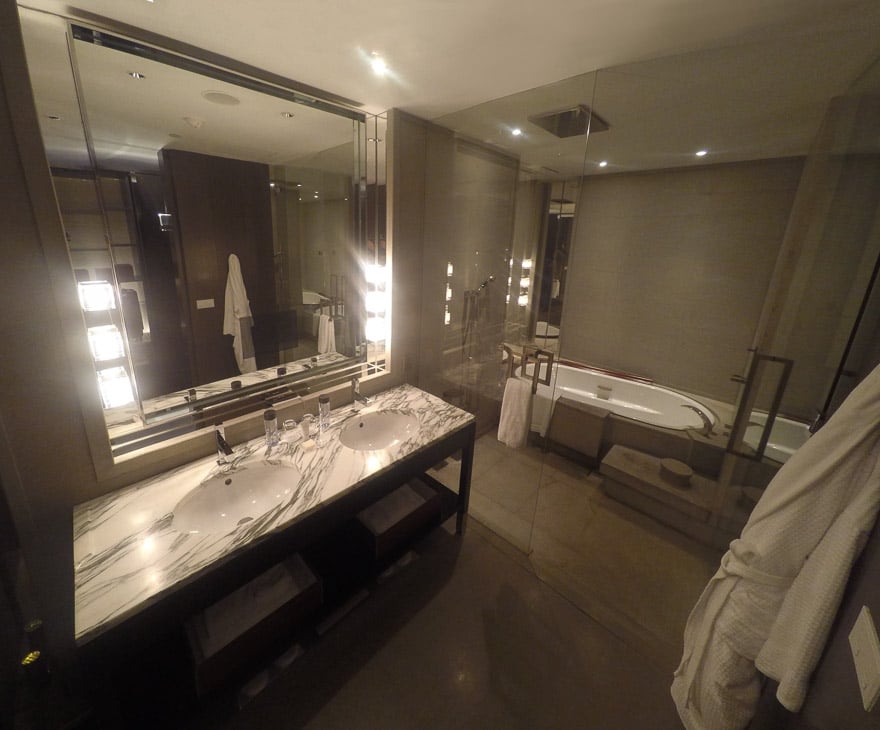 I was surprised to see Aromatherapy Associates toiletries, usually found in Conrad hotels, as opposed to the Park Hyatt standard – Le Labo. Personally though I far prefer the texture and efficacy of AA even though Le Labo is considered to be more prestigious.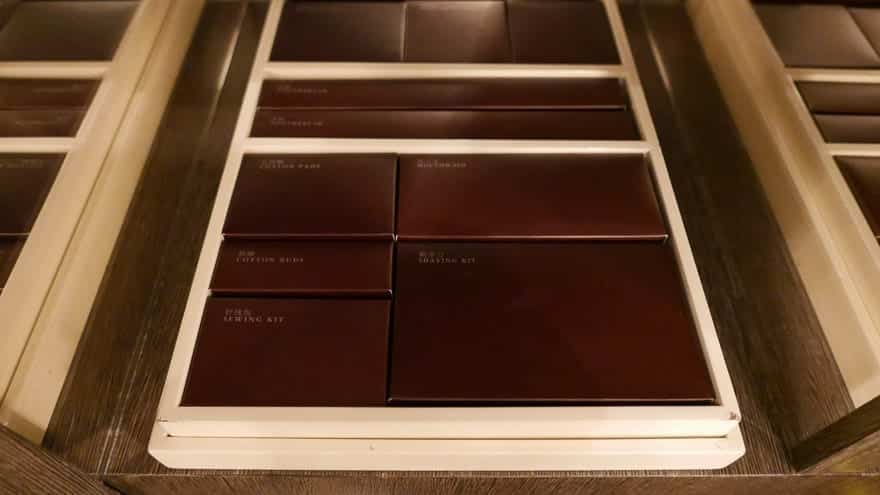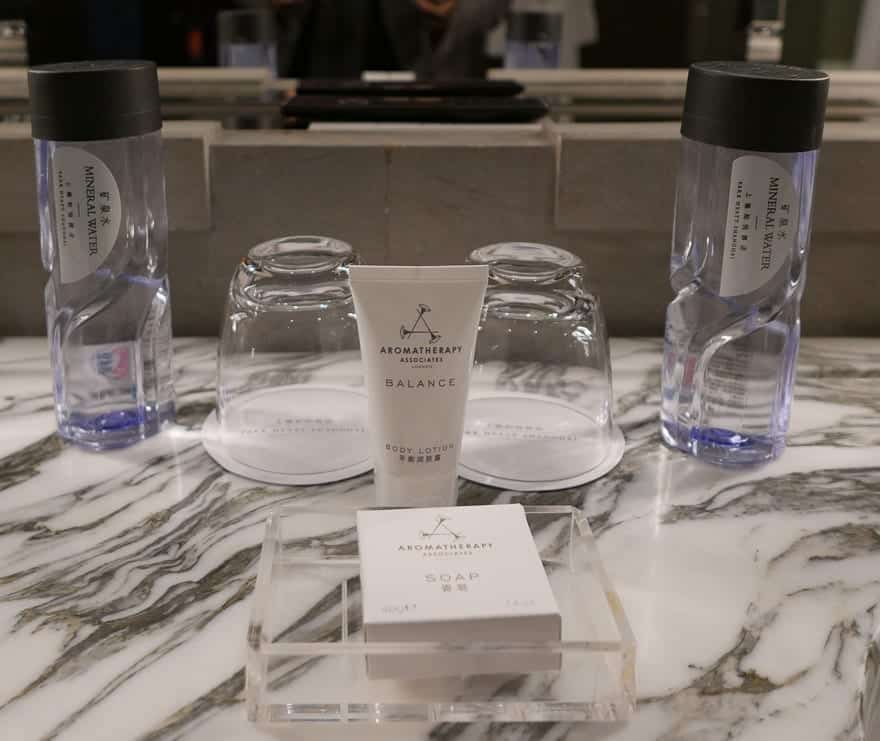 Passing through the glass door was a high pressure shower, operable by hand in addition to the oversized rainfall shower head.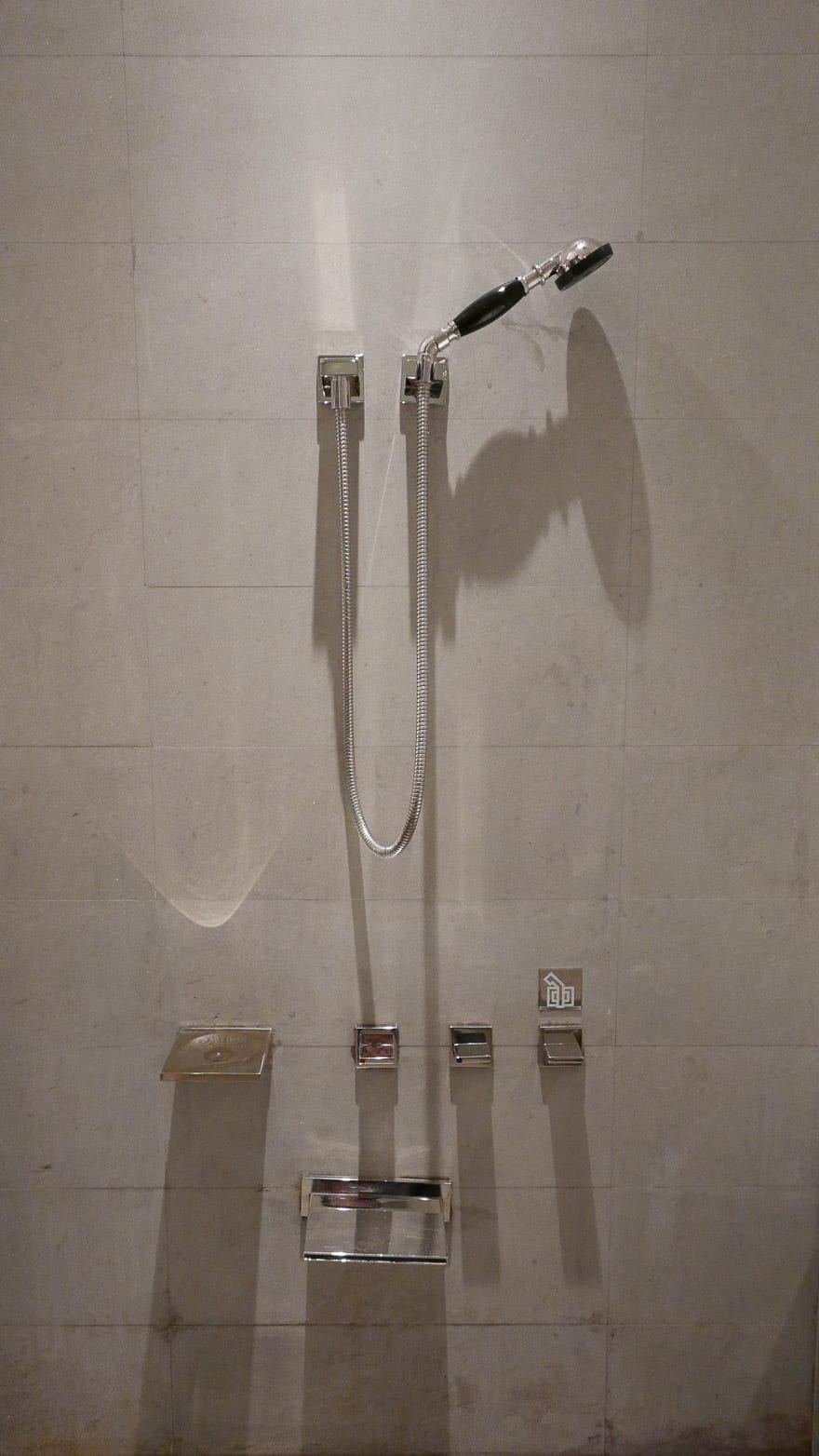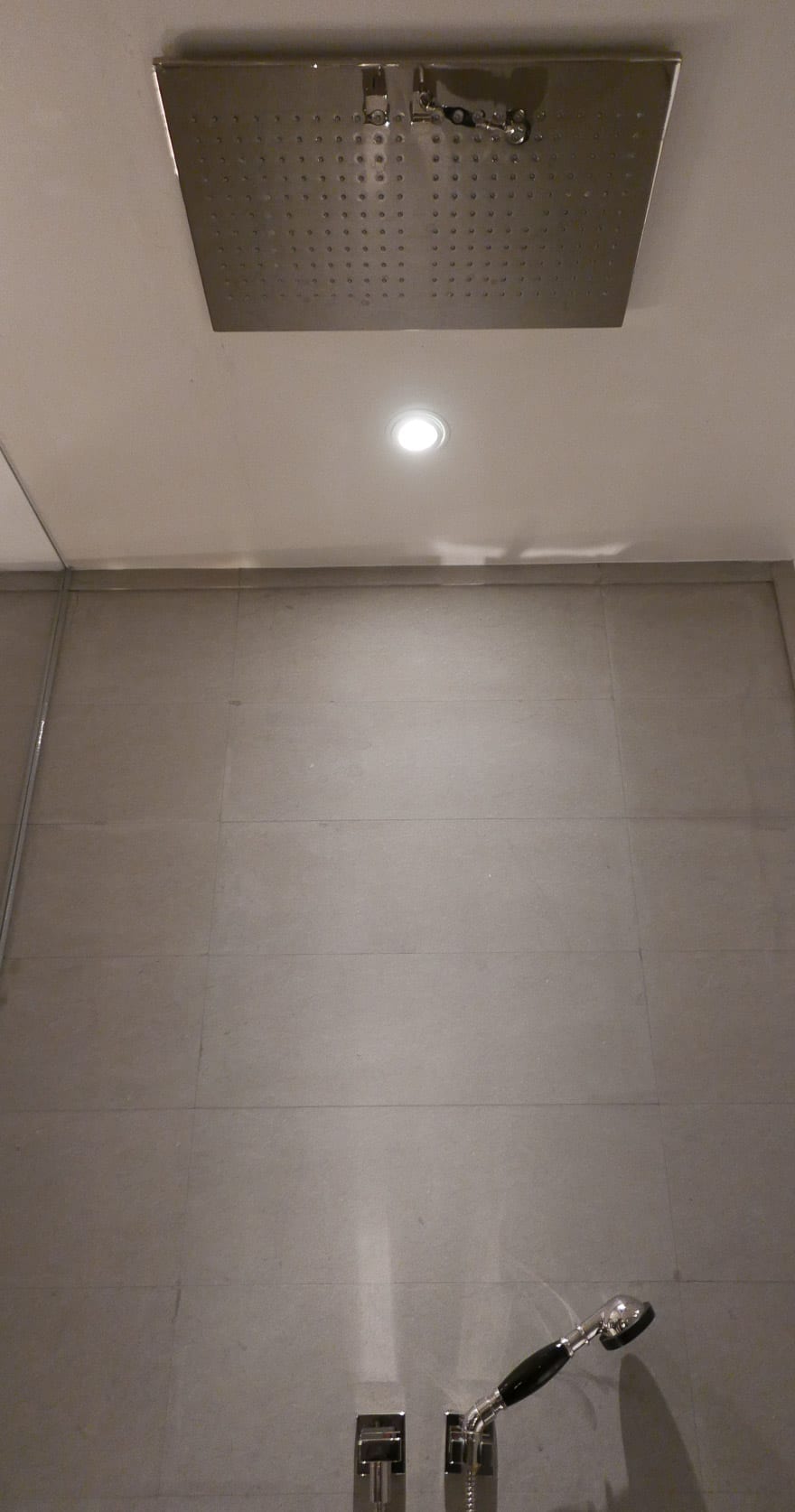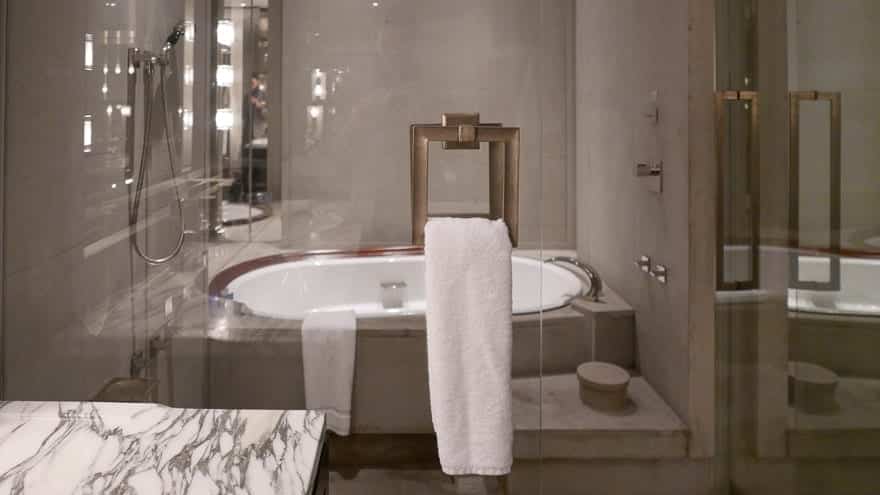 The deep soaking tub filled quickly and came with a further selection of toiletries from AA as well as a bathing cloth.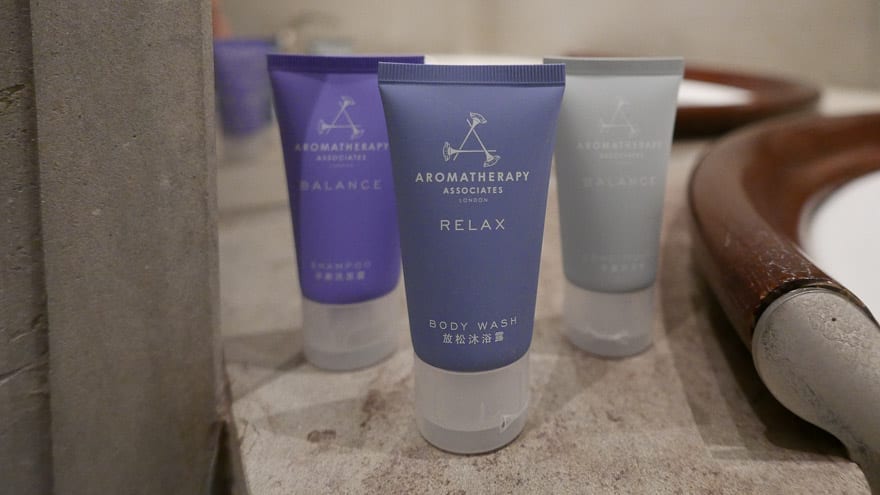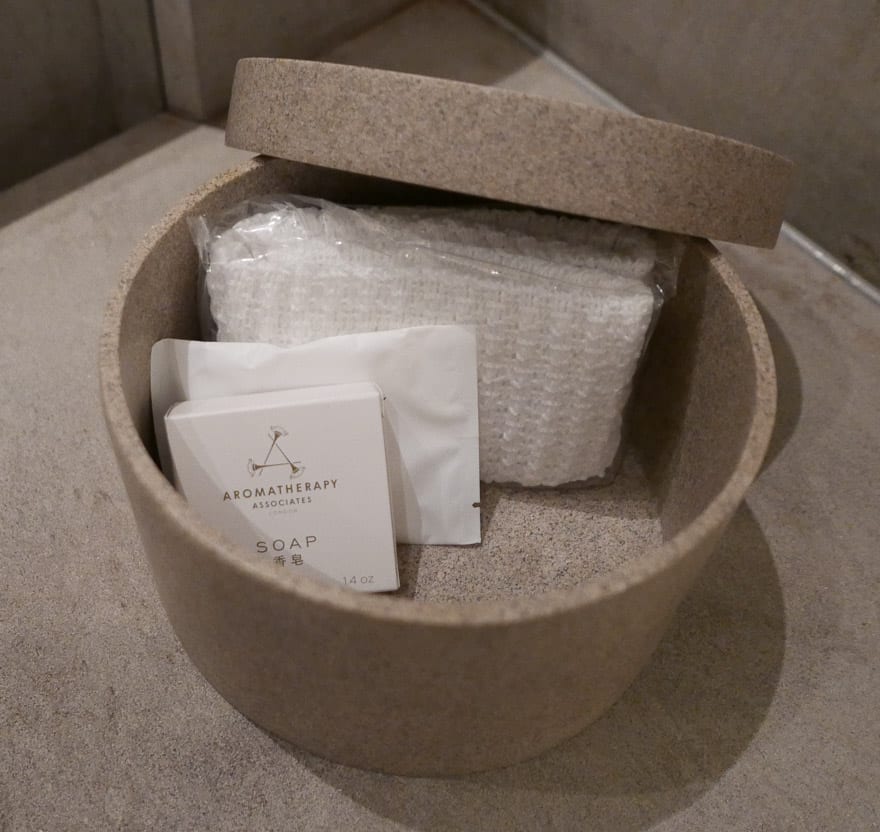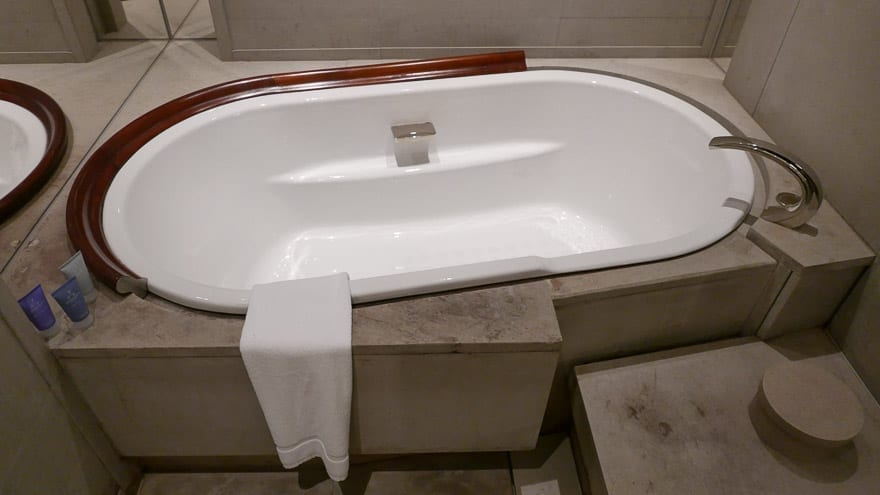 The toilet was located in a separate room and featured a very modern black sink and top of the range Toto toilet with all of the bells and whistles that you'd expect – including an automatic lid!
Overall, it is hard to fault the workmanship and quality of materials in the standard King Room but somehow the design just feels a little too spartan for my taste. The concrete and white walls are a little too uninviting, especially on cloudy days where the clouds themselves push up against your windows, blocking all light.
I was hopeful that the suite would be something of an improvement…
---
Park Suite
---
Half an hour after gaining access to the Park Room a member of staff knocked at the door and informed us that the adjoining Park Suite was now ready.
As we entered, we found a guest toilet to the left and minibar to our right.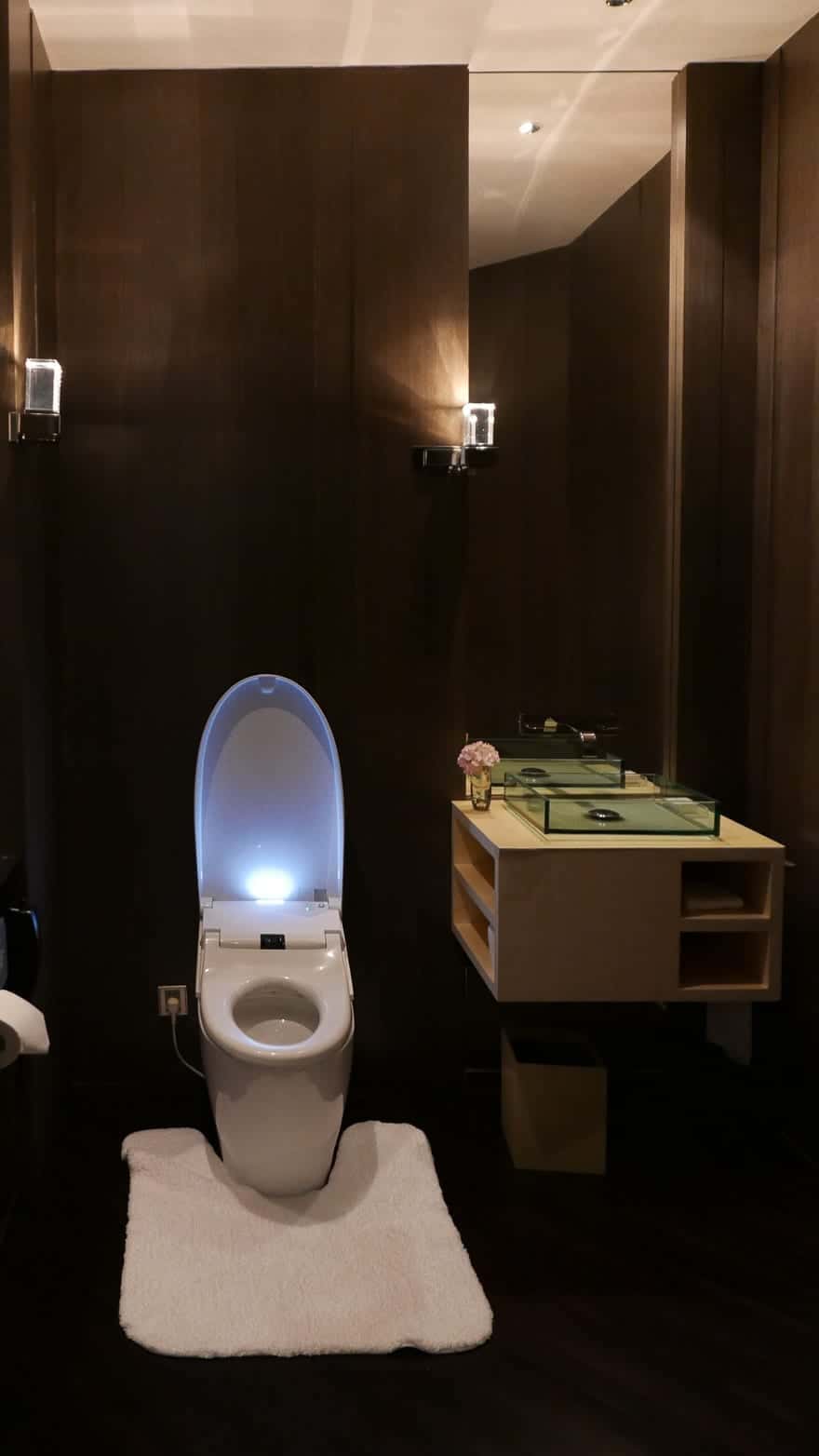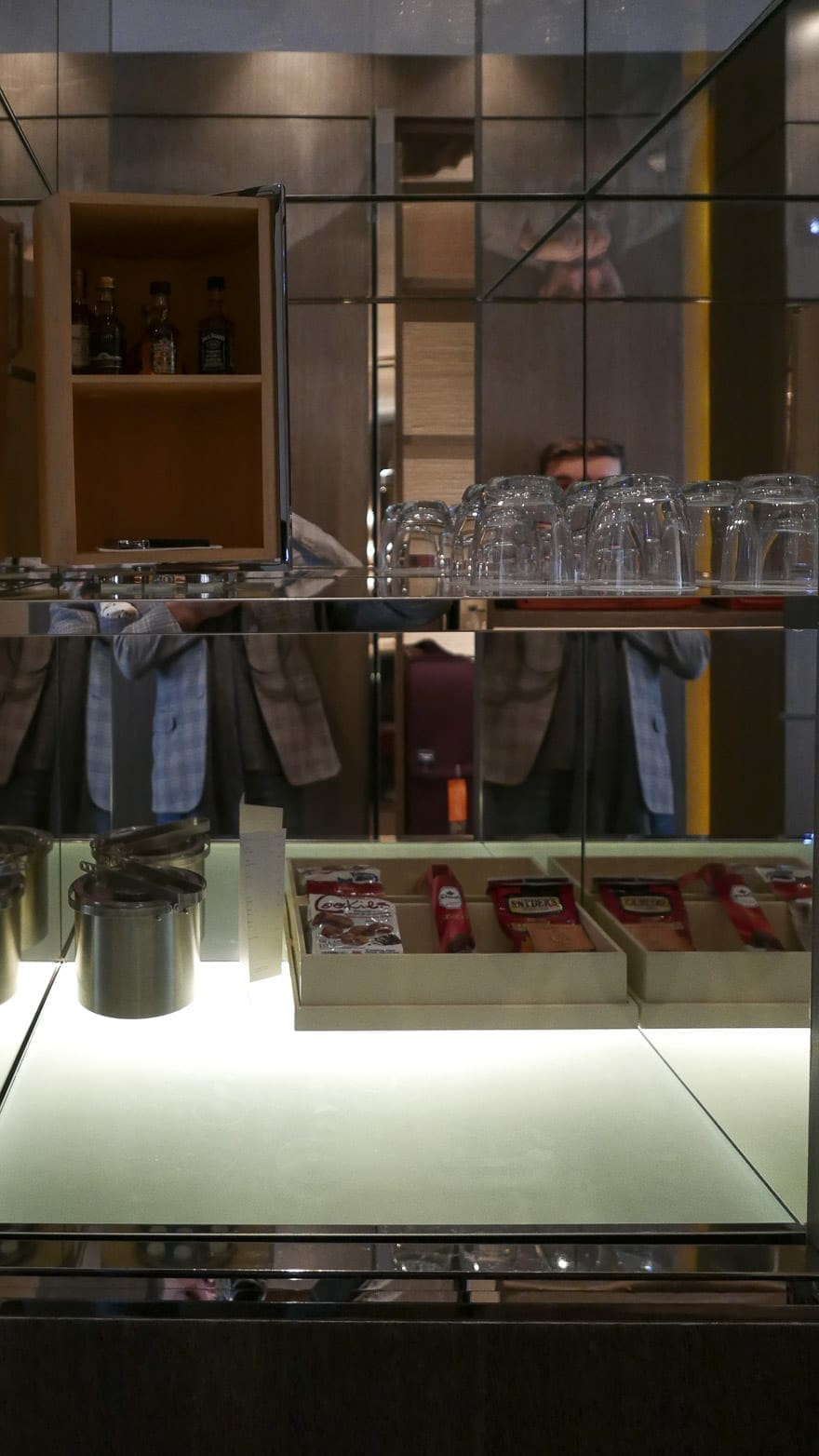 The living room was bigger than an entire Park King Room, with plenty of space for the four of us to hang out. We were given both a bottle of wine and a fruit bowl as a welcome amenity, as well as complimentary birthday cake on Kamara's dad's birthday.
The desk was substantially larger and more elegant than in the regular room.
The window nook felt a lot cosier in the Park Suite too, given the enclosed space in which it was set.
The TV felt a little too small and antiquated for such a large room, although the B&O speaker system was very good. I would have preferred true universal power points but it was nonetheless good to see that the property provided alternatives to the standard Chinese 3-prong socket.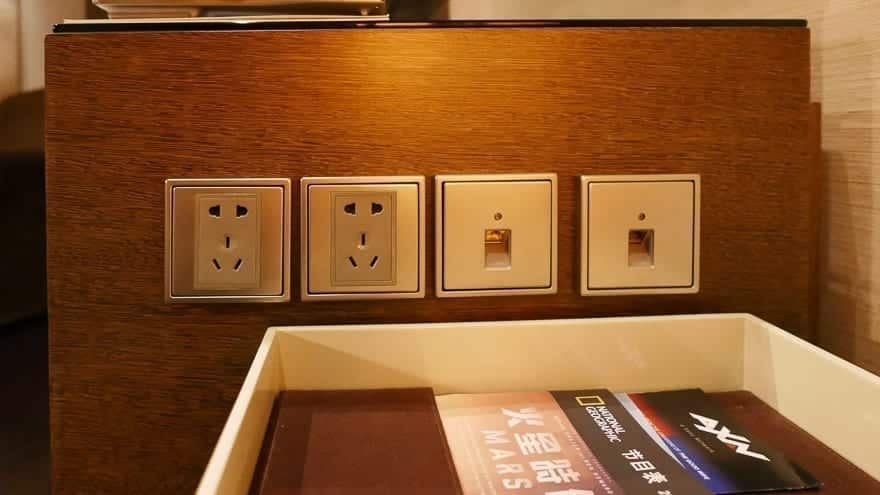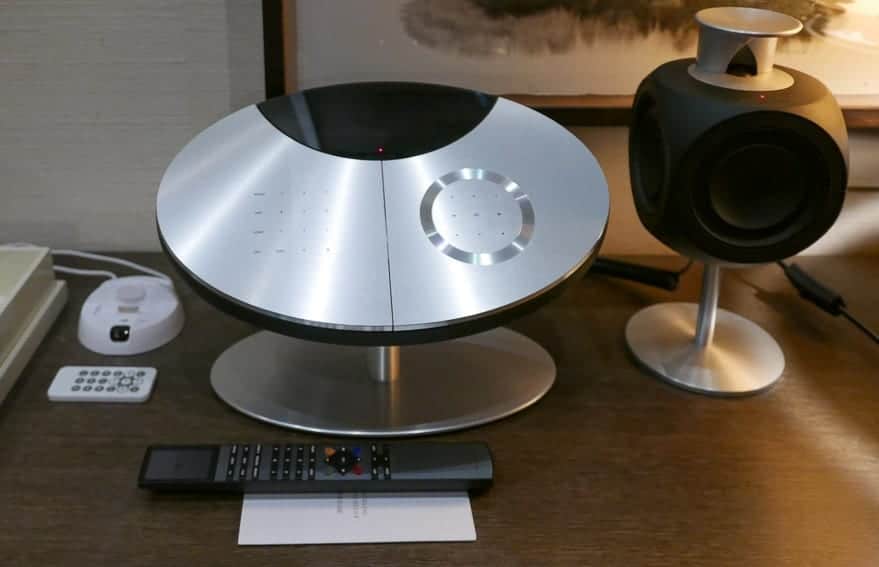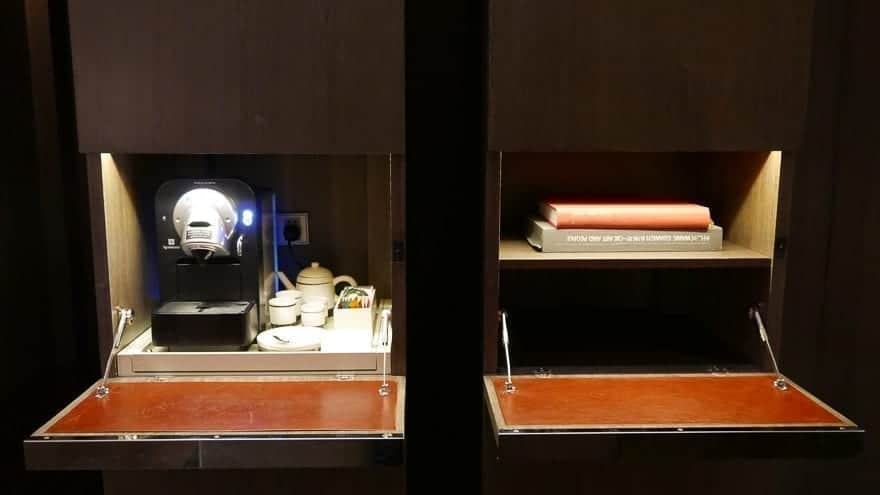 On one side of the room were a pair of dark wooden cabinets, containing the tea and coffee facilities, some storage and coffee table books.
Moving through the doorway we came to the bedroom. I far preferred the layout here to the standard Park King Room and loved how one of the giant structural beams of the skyscraper cut through the space.
I just can't get enough of Park Hyatt bedding. Always a fantastic night's sleep.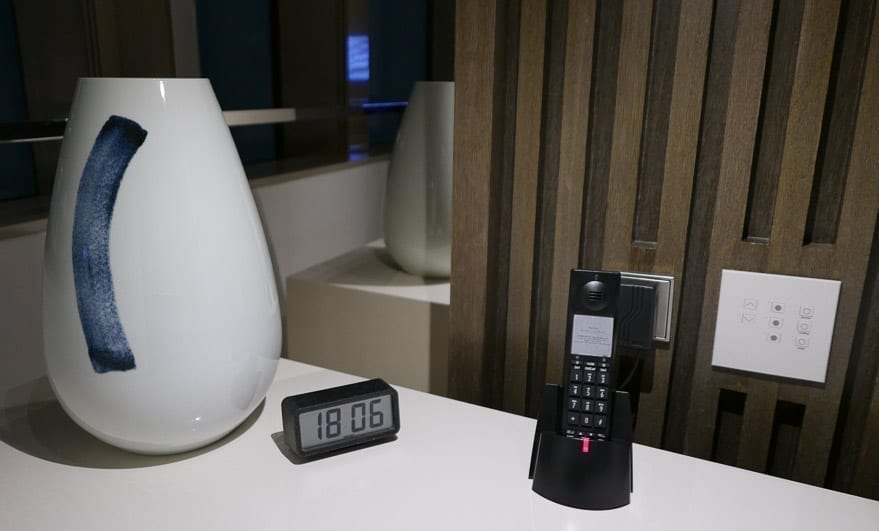 Much like in the regular room, the bed featured easily accessible light switches but unfortunately there were no power sockets. We had to charge our phones on the other side of the room and get out of bed to stop our alarms in the morning (because we're normal human beings and use our phones rather than hotel alarm clocks). There were also no drawers near the bed.
This time the TV was facing the bed but was still too small for the space, in my opinion.
The additional sitting area seemed slightly pointless and would have probably been more useful next to the window.
The bedroom featured a pair of wooden cabinets, similar to those in the living room. In lieu of a coffee machine, these featured jewellery storage and a safe – both of which were fitted with power sockets.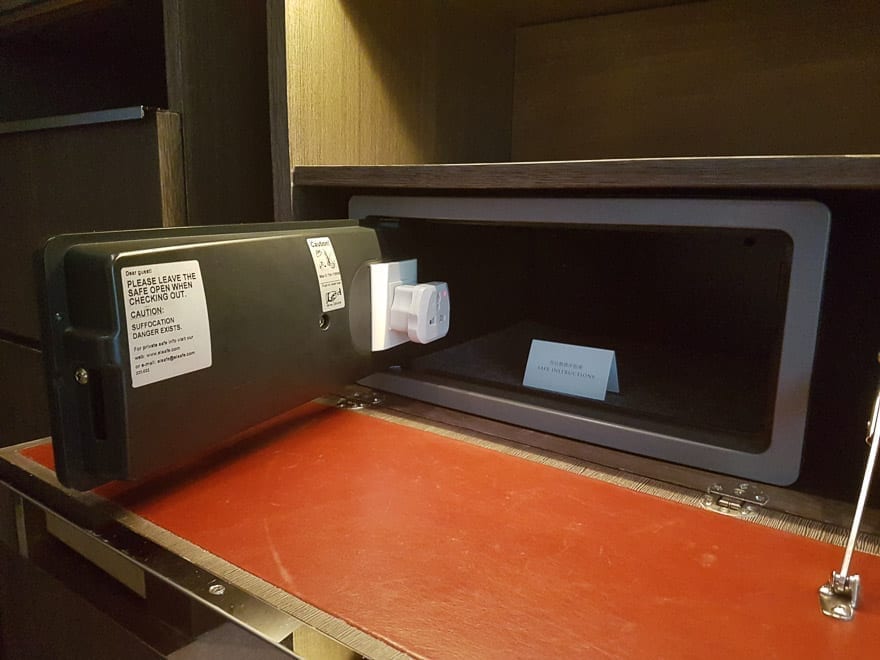 The rest of the room was more or less identical to the standard Park King, with the same twin wardrobes, bathroom and toilet: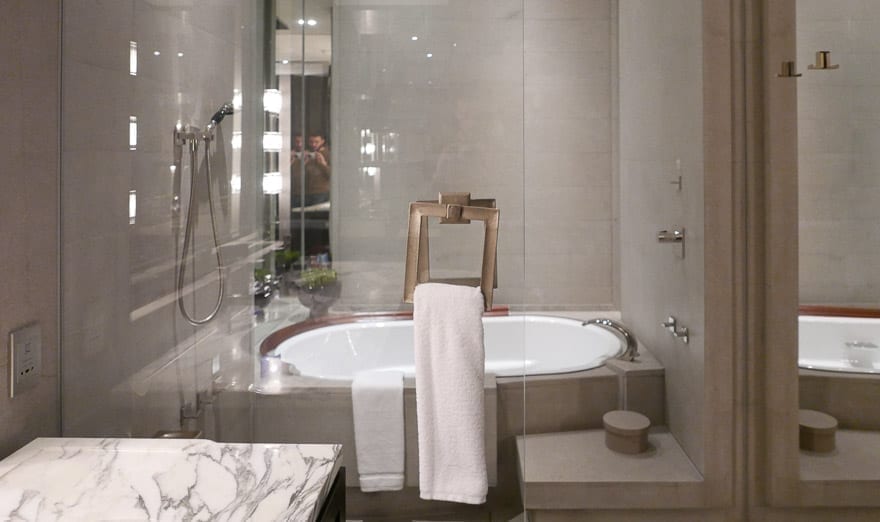 ---
Food and Drink
---
Breakfast
Breakfast was included for free thanks to both my Globalist status and the Classic Travel rate. I always expect to be blown away by a hotel buffet breakfast in Asia, having have had countless amazing experiences in the past:
On our first date Kamara and I talked about what our favourite meals were and we both agreed that Asian hotel buffets were near the top of the list, so there was even more riding on this – our first buffet breakfast in her home city!
Thankfully we were not disappointed. At all.
The double height ceilings and panoramic views made for a spectacular way to begin each day.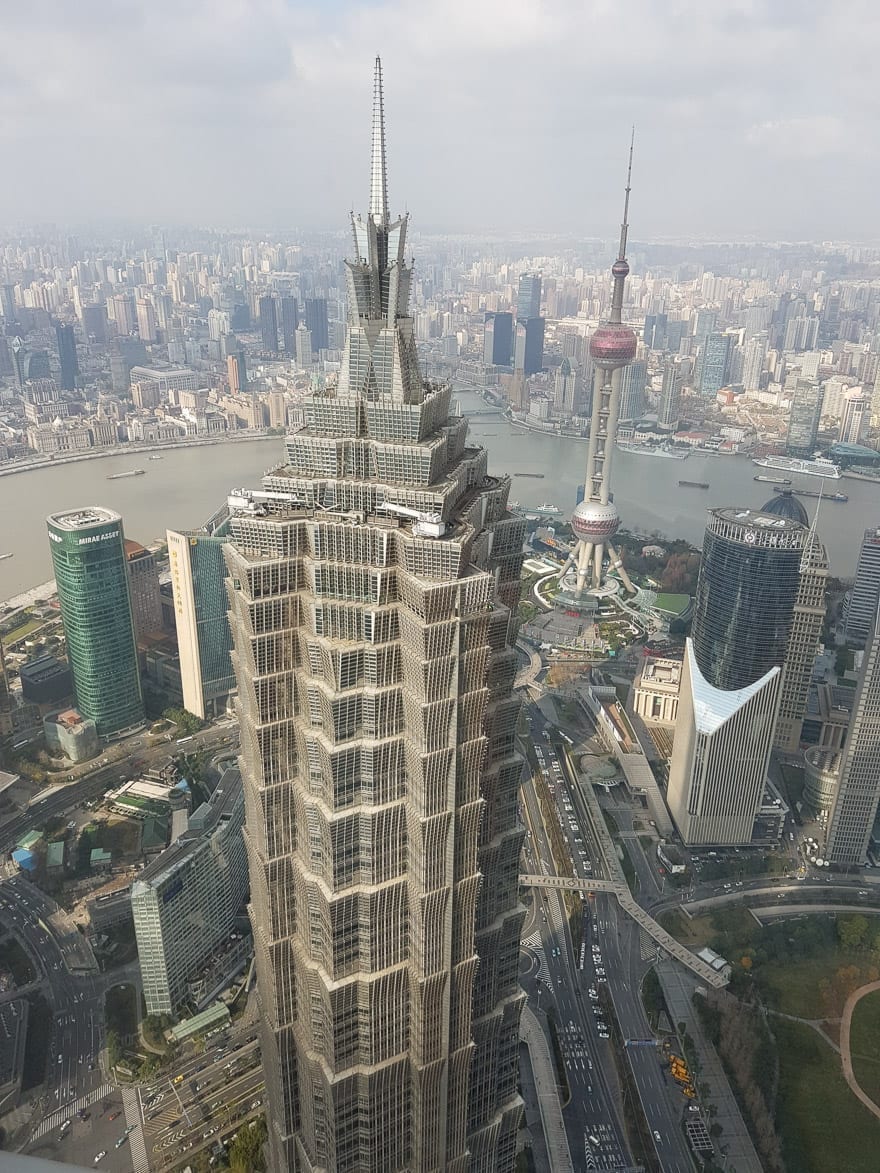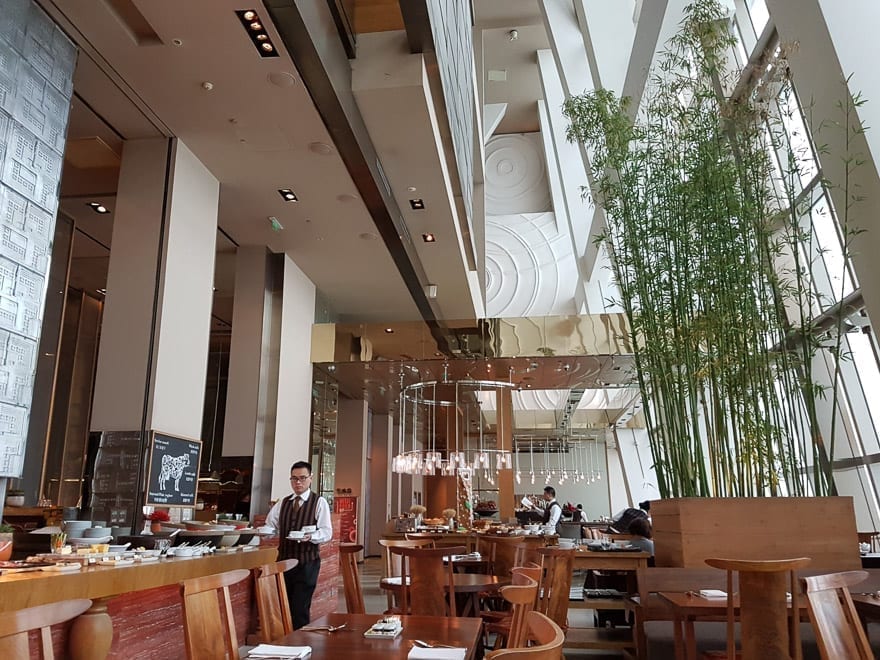 The staff here were great, really proactive in getting people seated, clearing plates, replenishing food items and even coming around to take last orders before the buffet closed.
A la carte dishes, pots of tea and barista-made coffee were all included in the breakfast.
A selection of imported cheese and charcuterie, salad, yoghurts and delicious exotic fruit: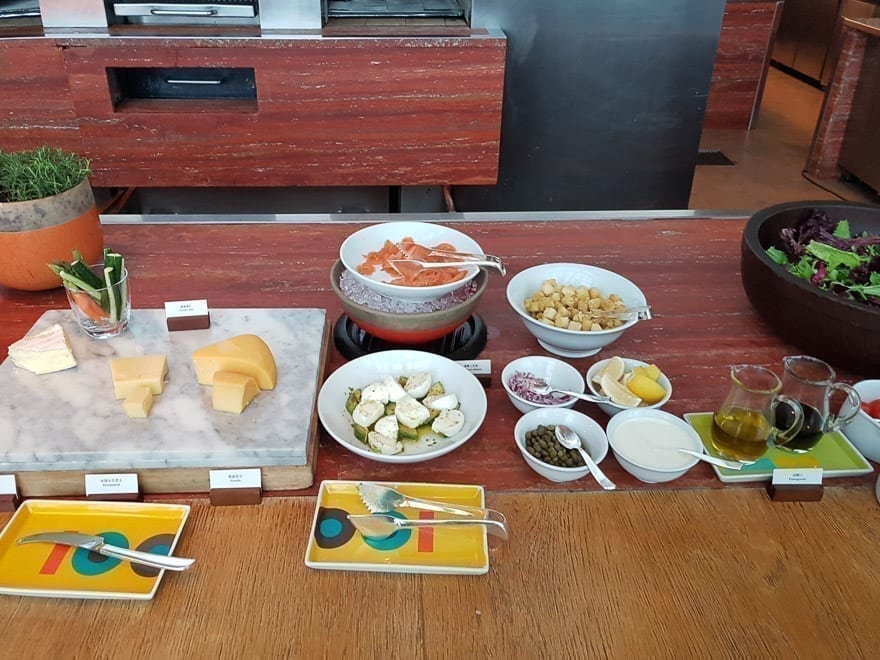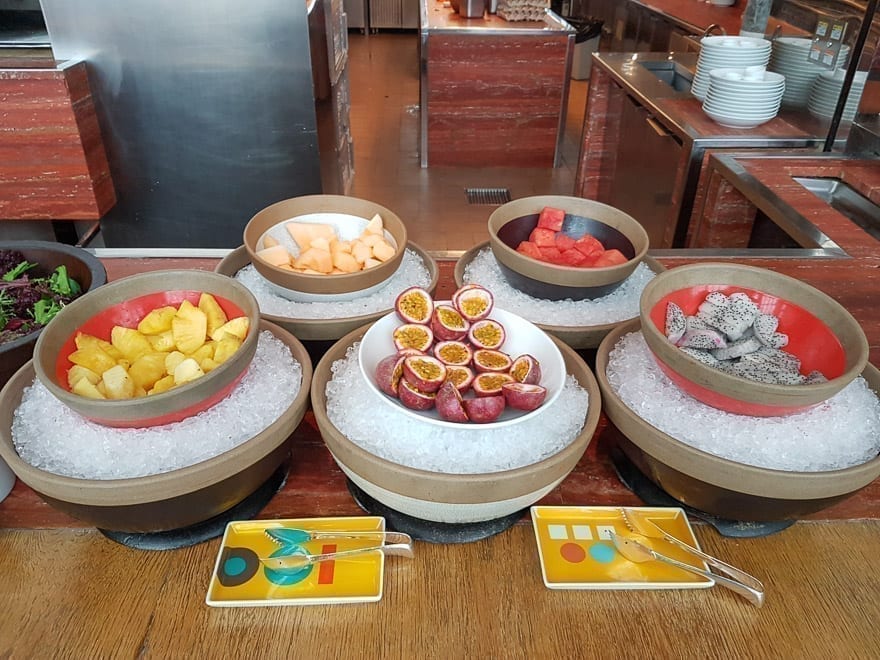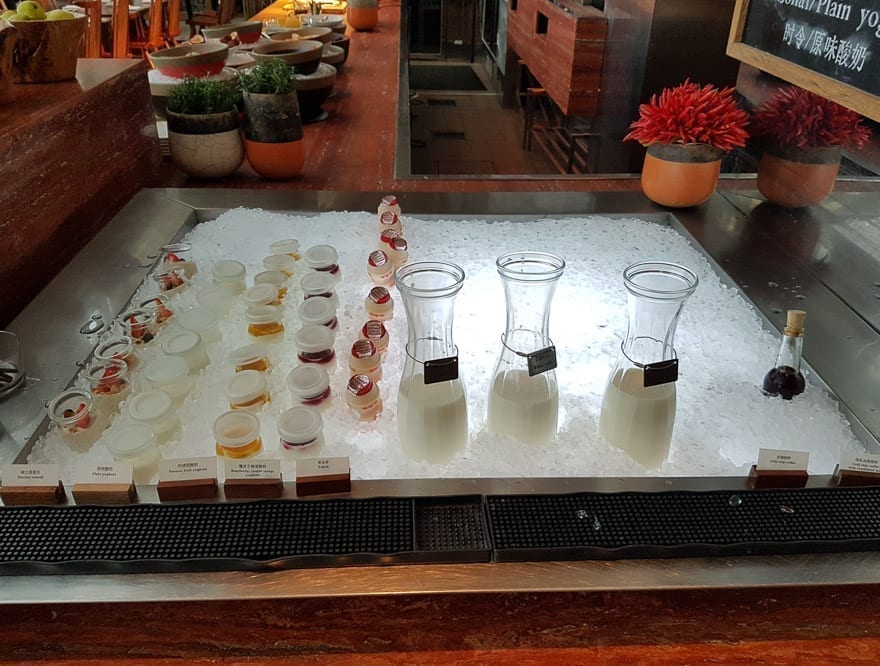 Hot dishes spanned both East and West and included various live cooking stations for noodles, eggs and pancakes.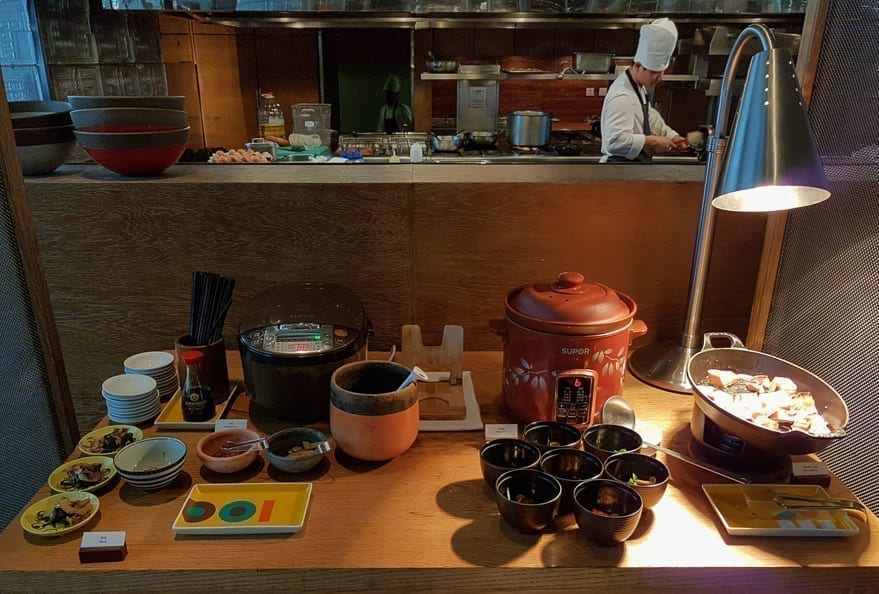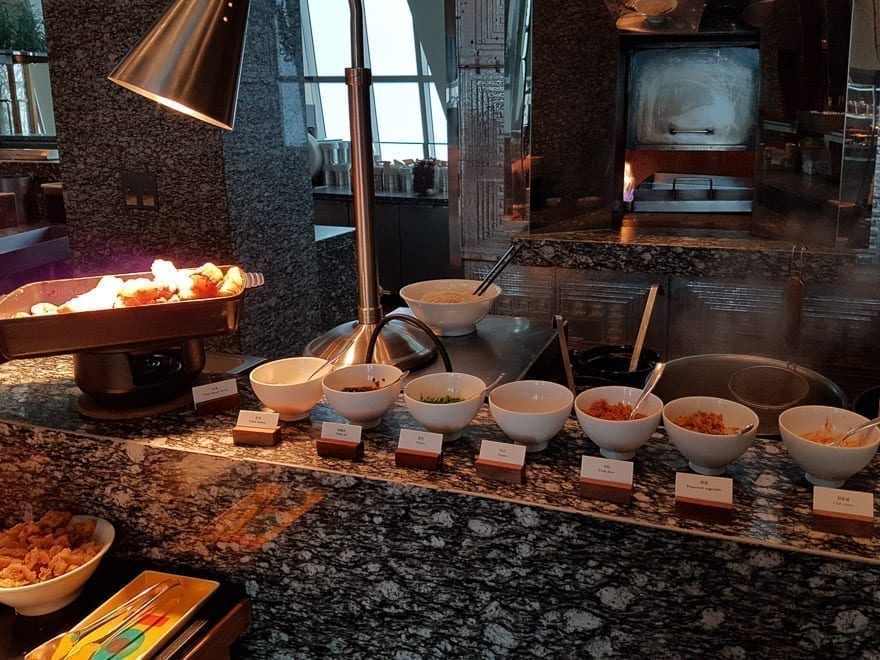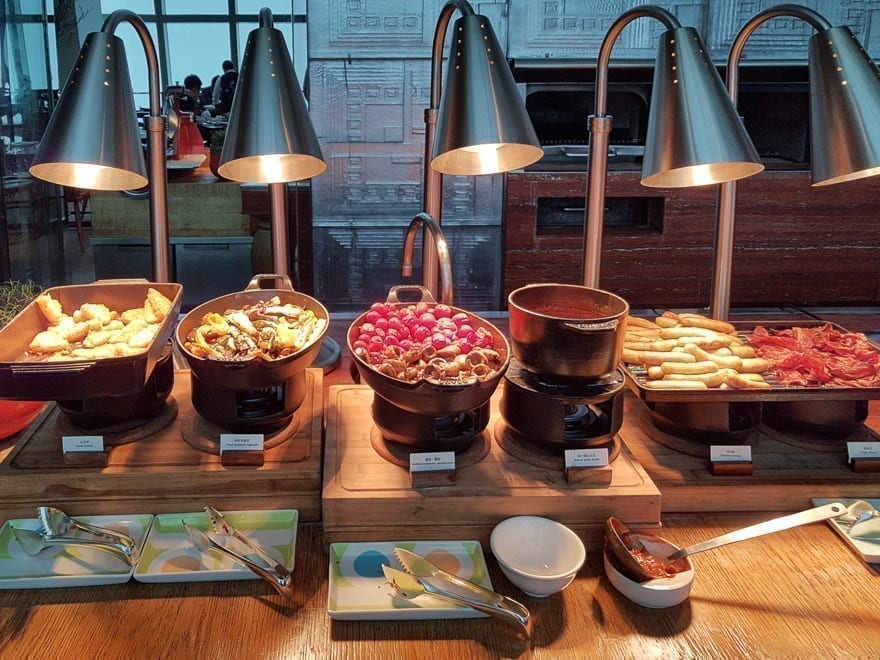 You know your buffet is legit when it requires signposts to navigate.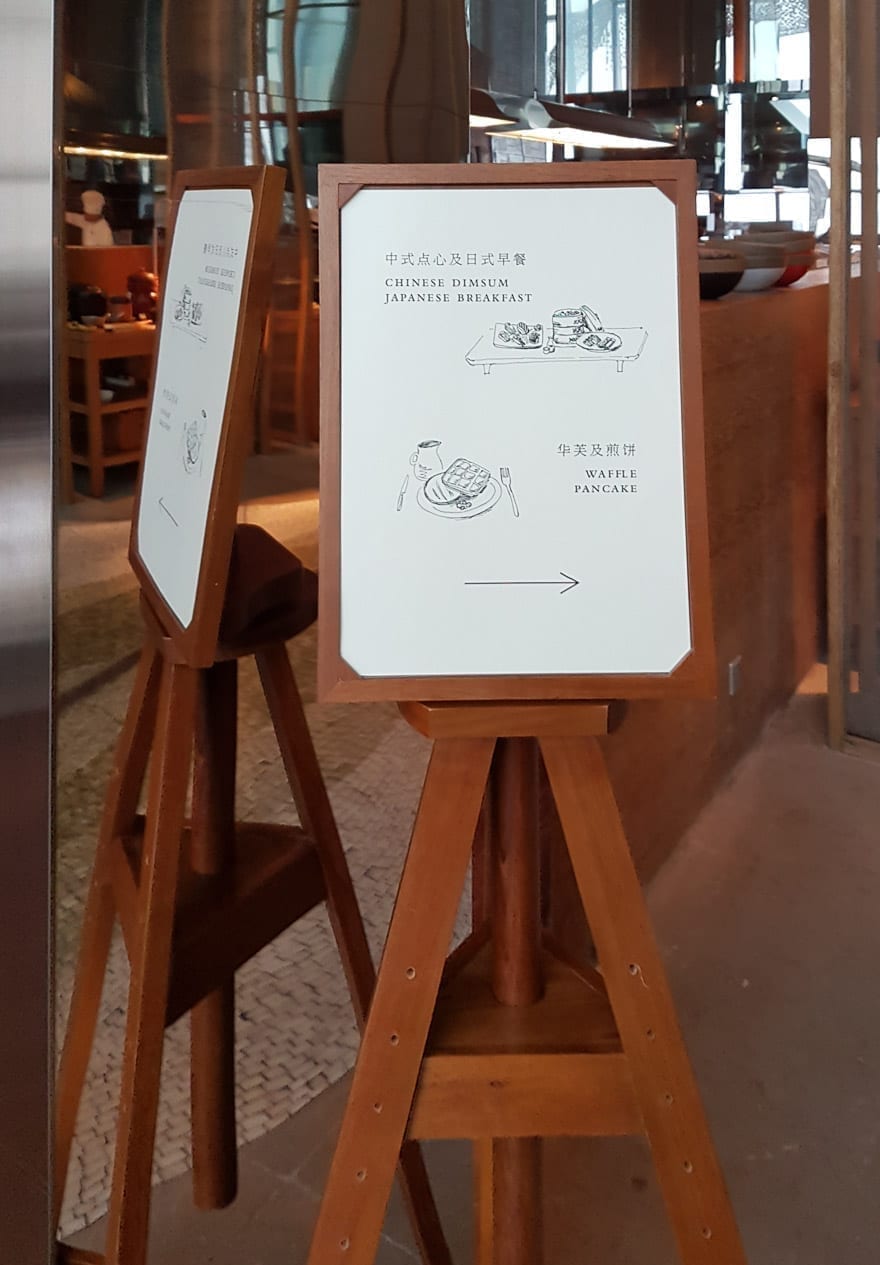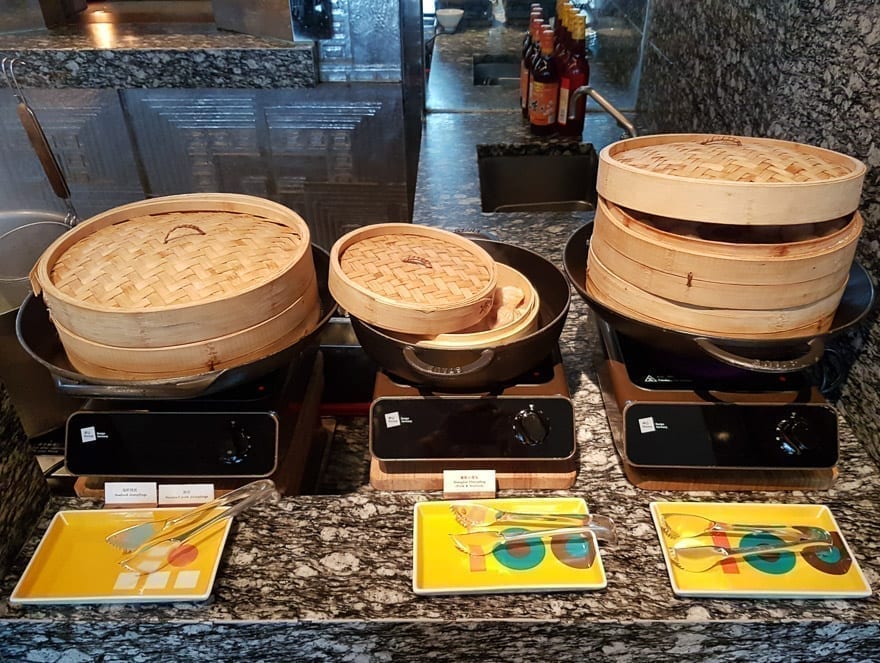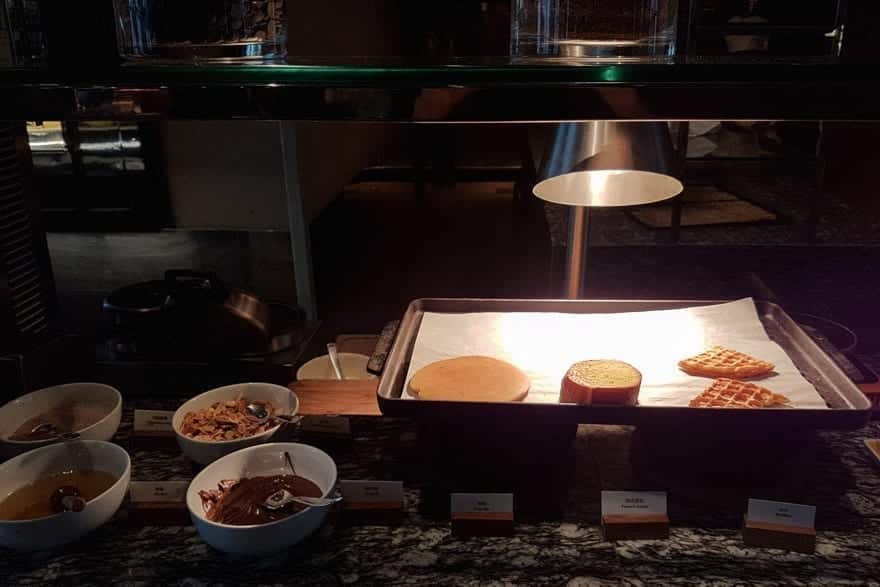 A cornucopia of carbohydrates.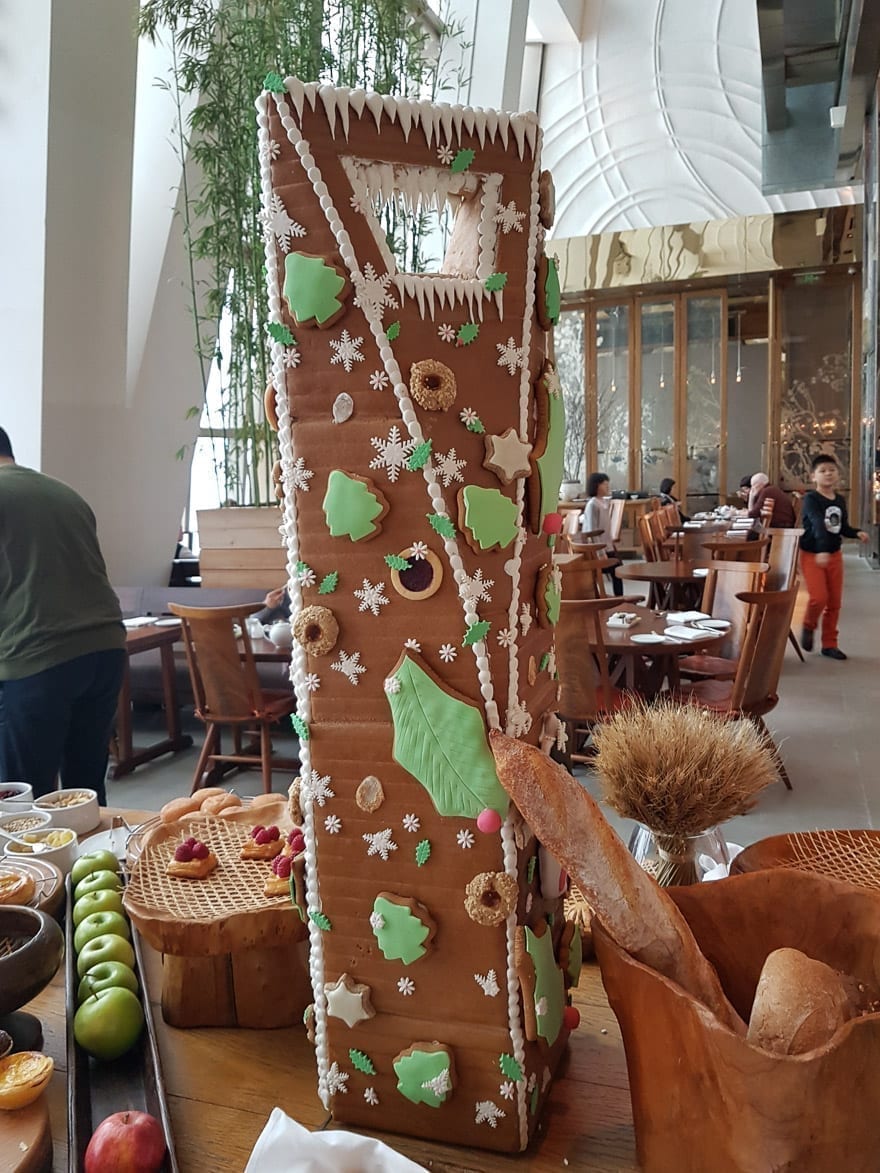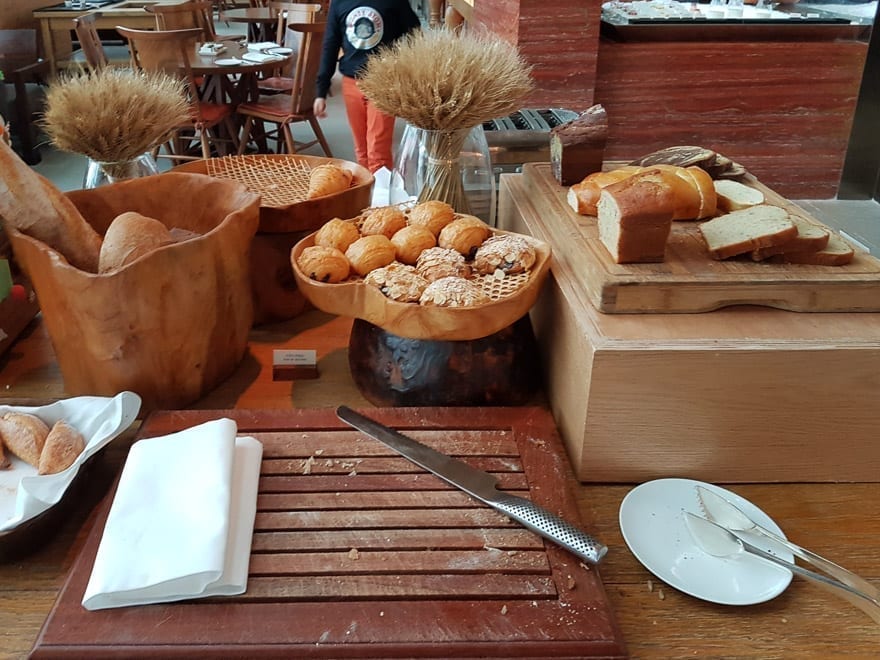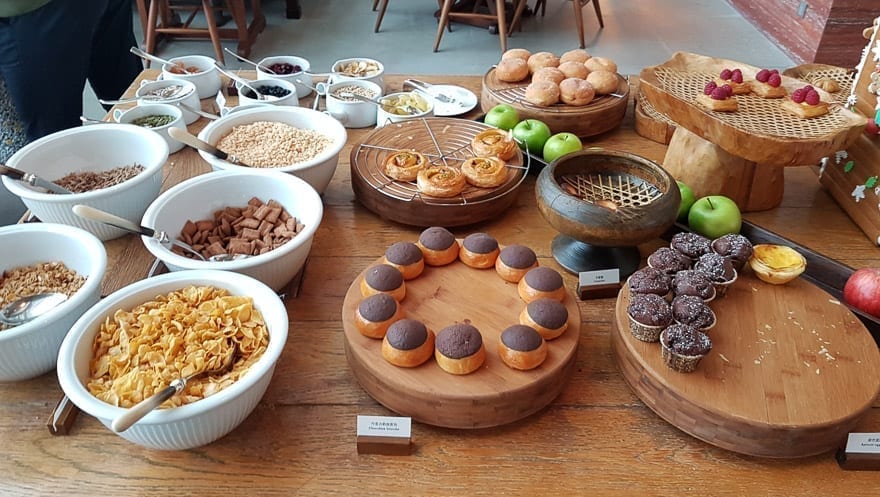 Not only was there a fantastic daily selection of freshly squeezed juices, there was also some remarkably potent and rich cold drip coffee. I did my usual trick of ordering both a hot macchiato and drinking cold drip coffee to ensure that I left each morning feeling like I was flying out on a rocket, despite the mass of immensely delicious food in my stomach.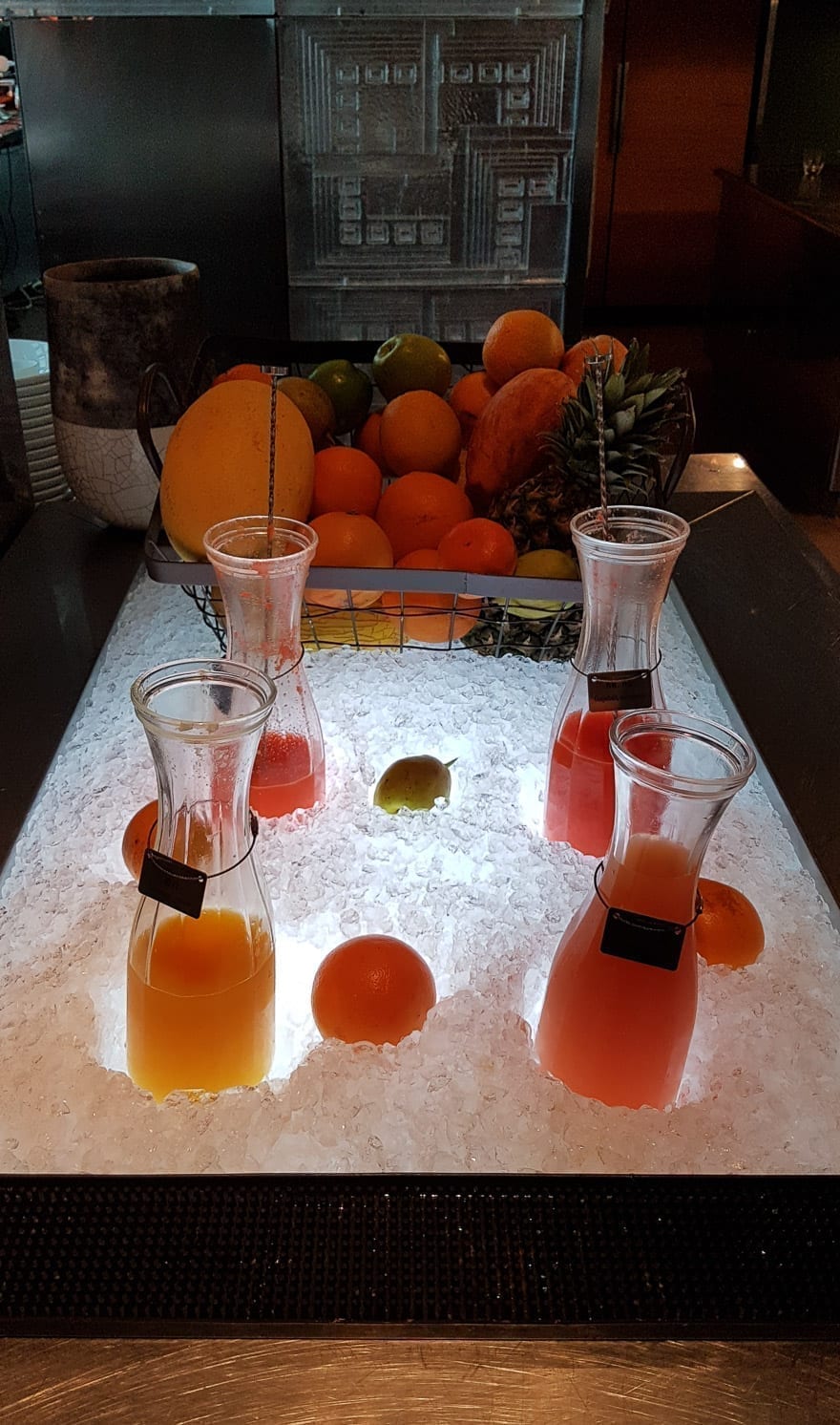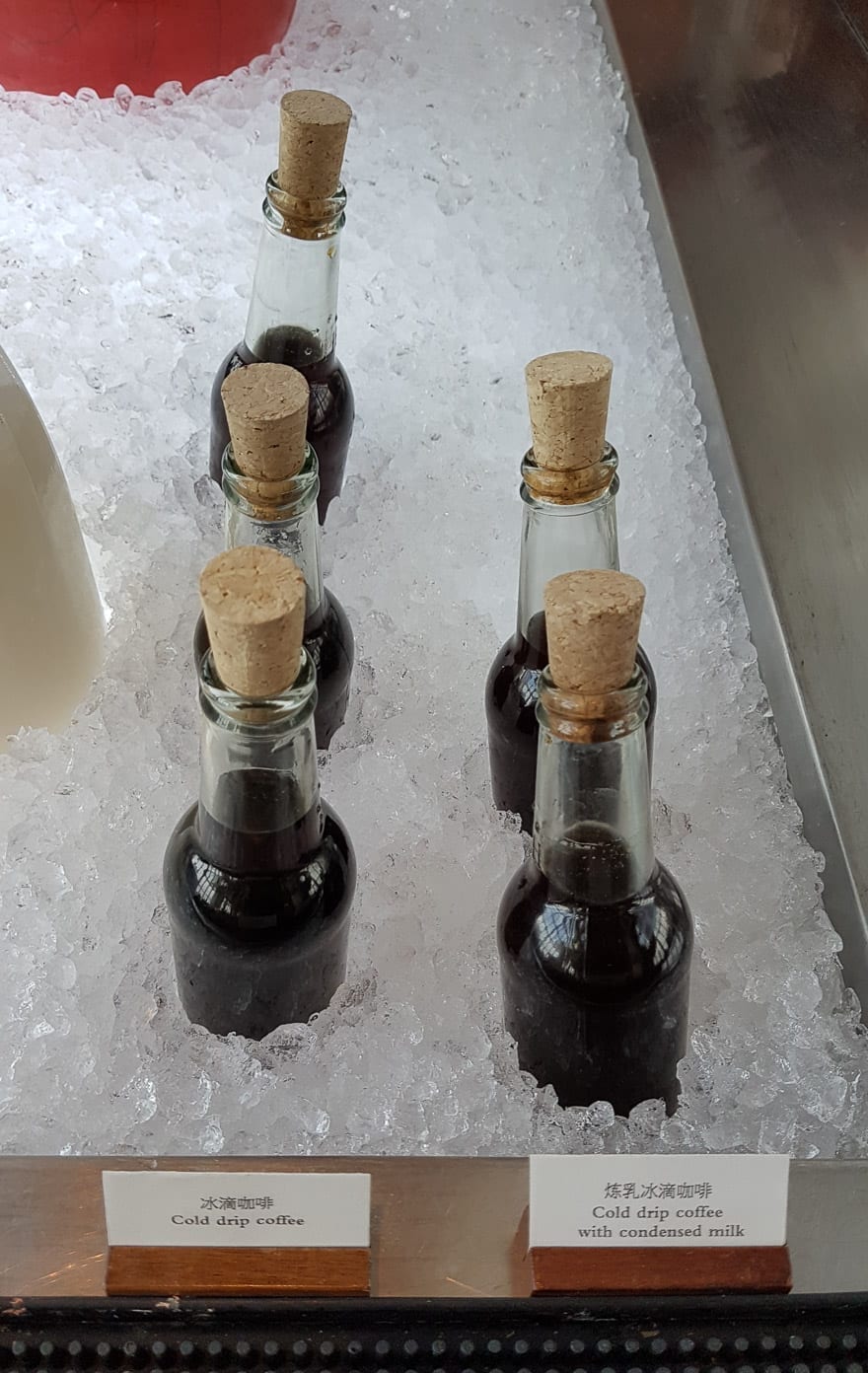 The Shanghai Xiao Long Bao were freshly made and very high quality. I love when a hotel breakfast offers a strong representation of the local cuisine and in this regard the PH Shanghai definitely excelled.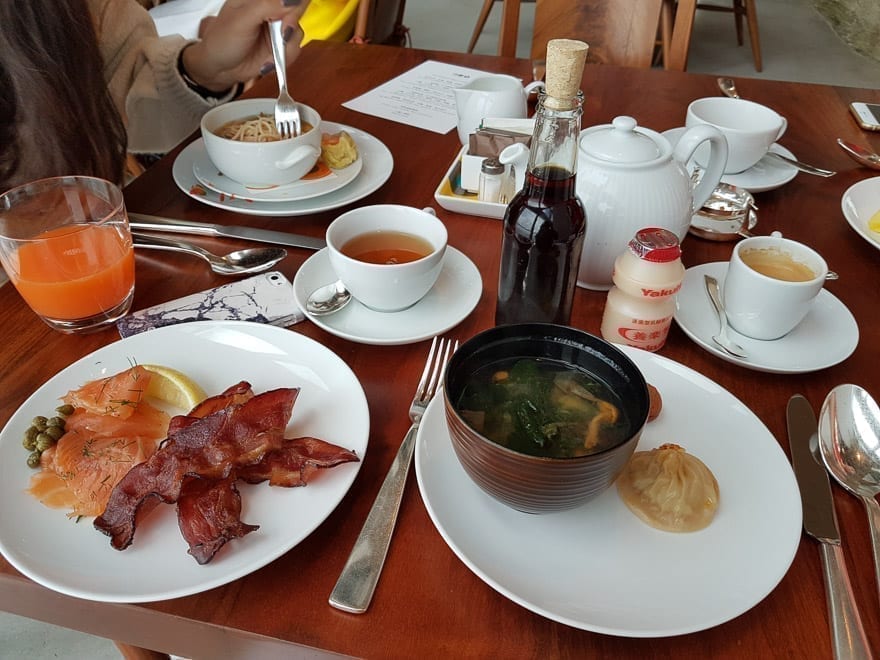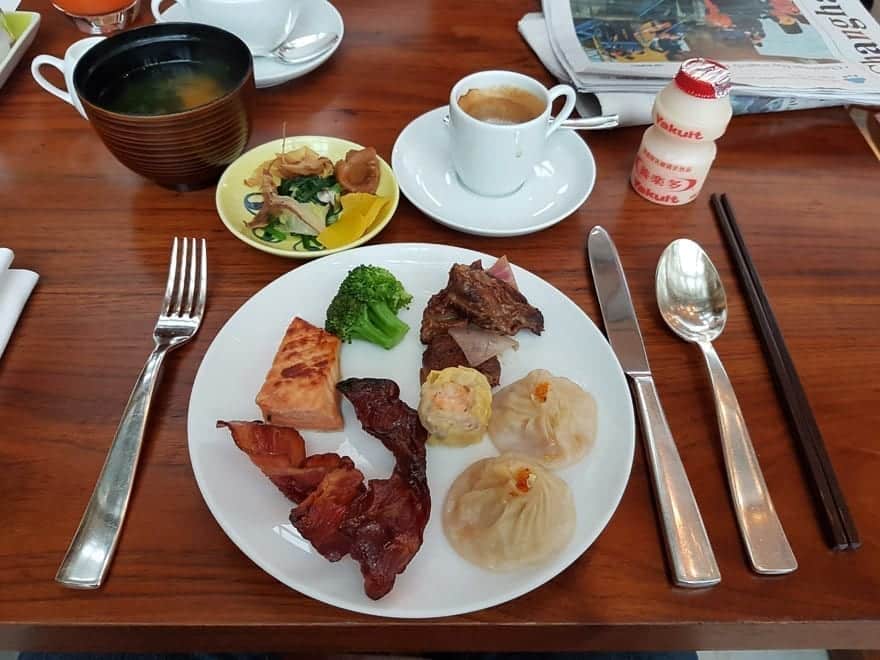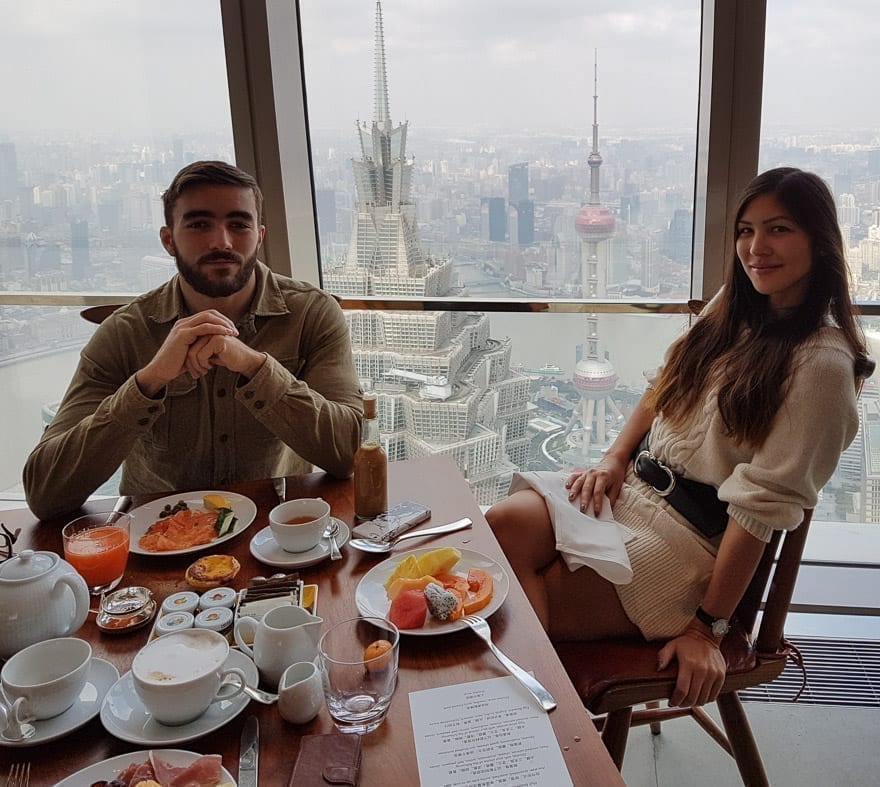 Dinner
Given that we had $100 of hotel credit per room to spend, we thought it would be a good idea to put this towards dinner at the hotel on Christmas day.
We ate in in 100 Century Avenue, immediately adjacent to where breakfast was served. It is amazing how the atmosphere of a room can change at night, especially when that room has enormous, double height windows peering down on a sea of neon from 87 floors above street level.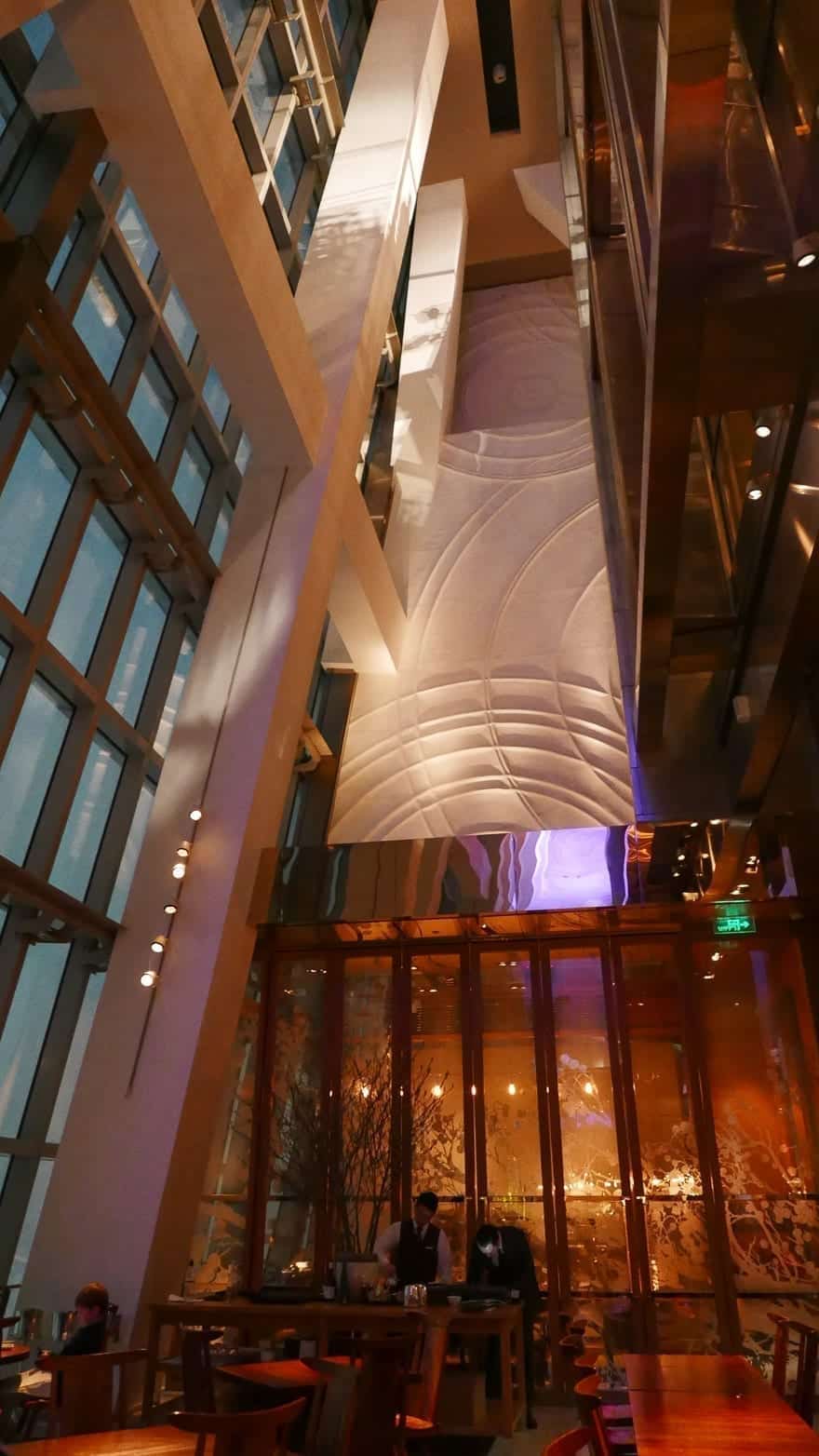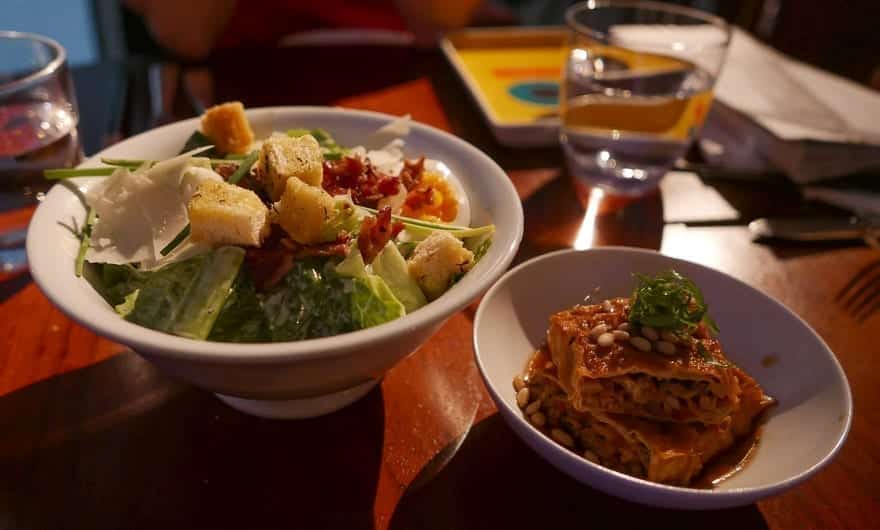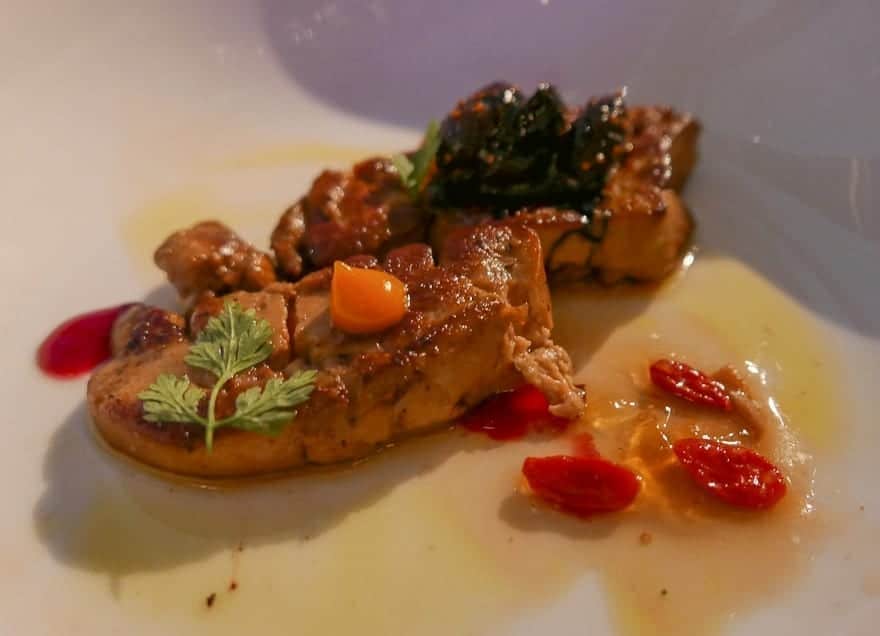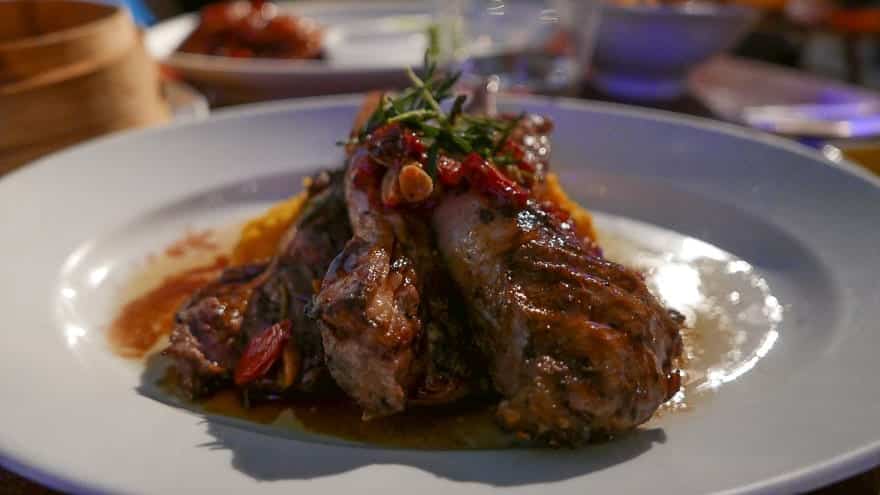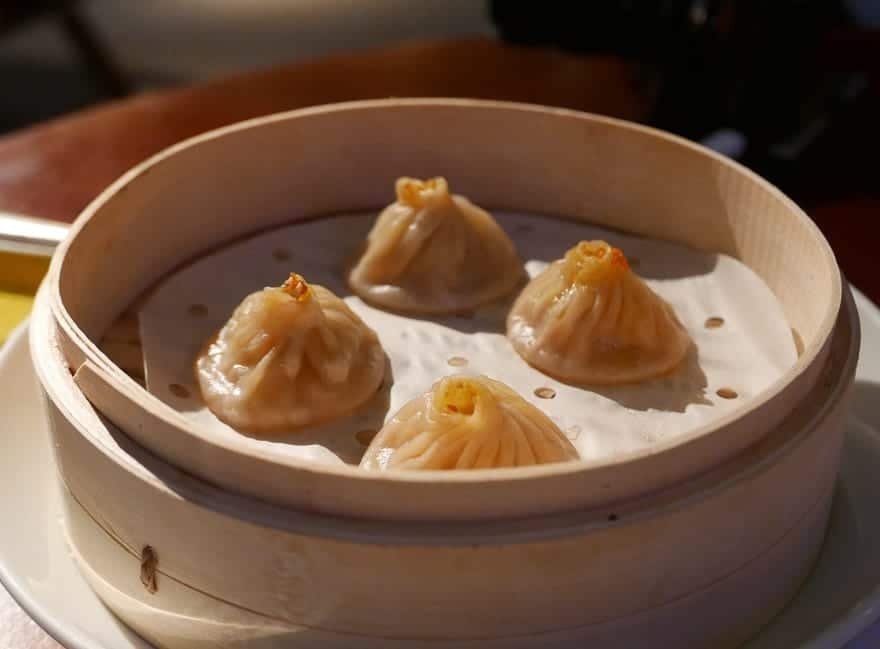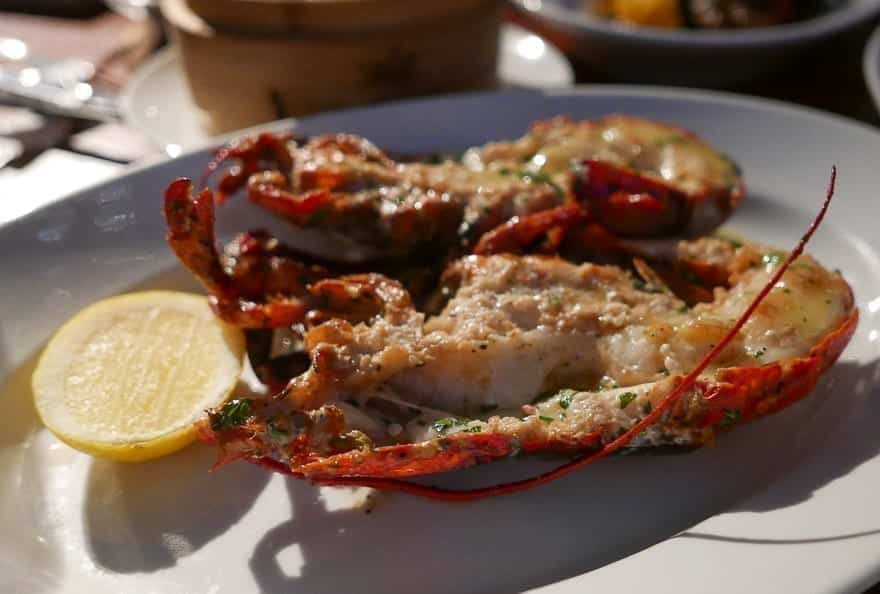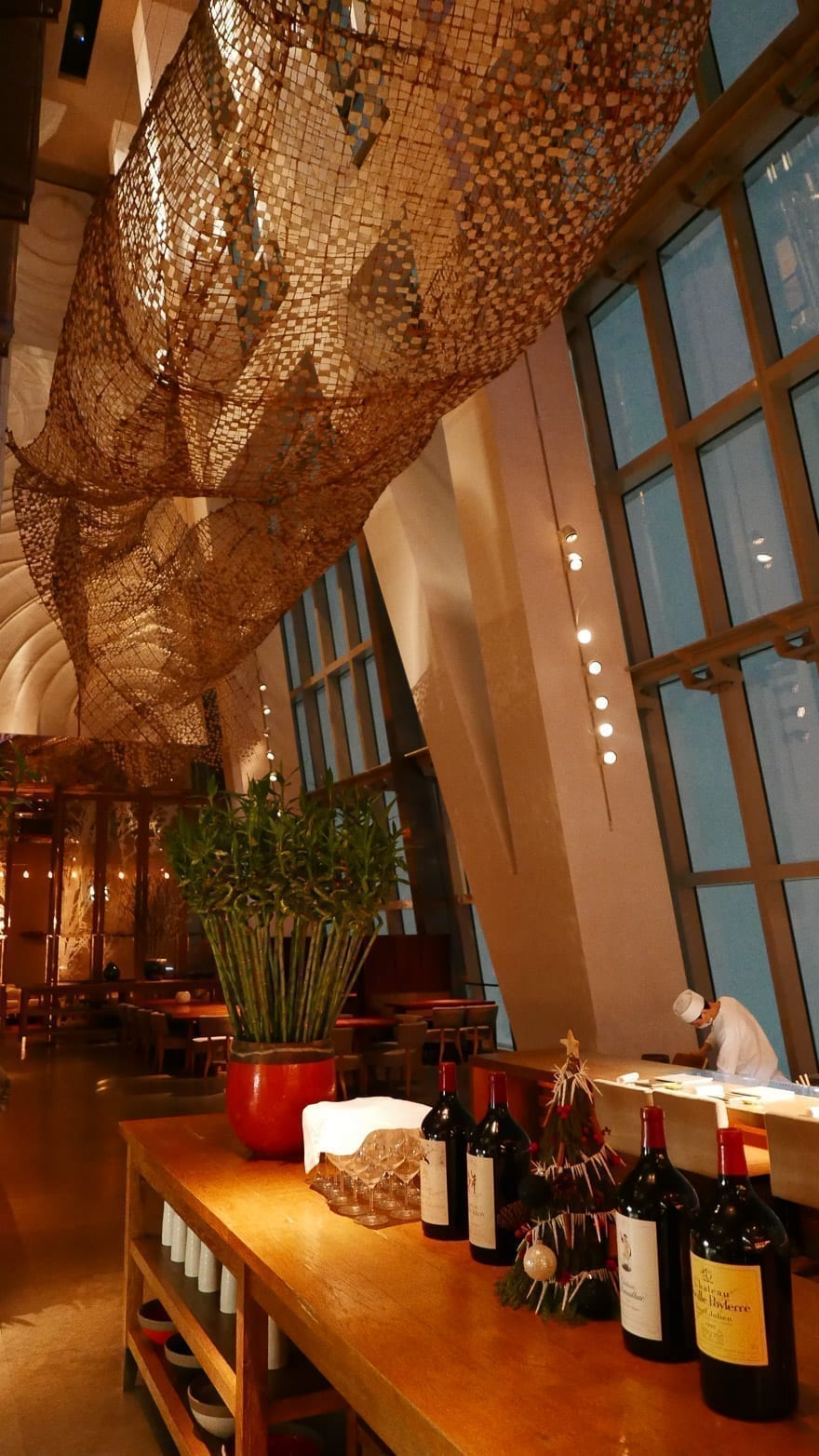 The food was excellent for the most part but the service was anything but. Staff were rushed and uninterested. It felt like the service you'd expect in a bustling café rather than a restaurant in a five star hotel. Servers were hard to track down yet somehow managed to reach into pictures when I had a camera held up to my eye. One server even came over to whisk away our wine list and take it to another table, without bothering to ask if we'd like to order anything to drink.
Still, the food was fantastic, the company was great and the view was incredible. The fact that we got $200 to put towards the bill thanks to booking with Classic Travel certainly helped to soften the blow of the surly service too!
---
Leisure Facilities
---
Broadly speaking, there are two types of luxury hotels. Those with a token approach to fitness – imagining that their primarily geriatric clientele would never dream of doing anything as uncouth as breaking a sweat. 'Heritage' properties more often than not find themselves in this camp.
Then there are luxury hotels with illuminated infinity pools, state of the art fitness equipment and expansive yoga studios. Thankfully, the Park Hyatt Shanghai stands proudly within this group.
The entrance to the fitness facilities looked like a minimalist art installation.
The changing rooms were very spacious with a bright, modern design. I must admit I really love using hotel changing facilities and making use of all the lotions and potions after a relaxing soak in the hot tub, followed by a blast from a high powered shower.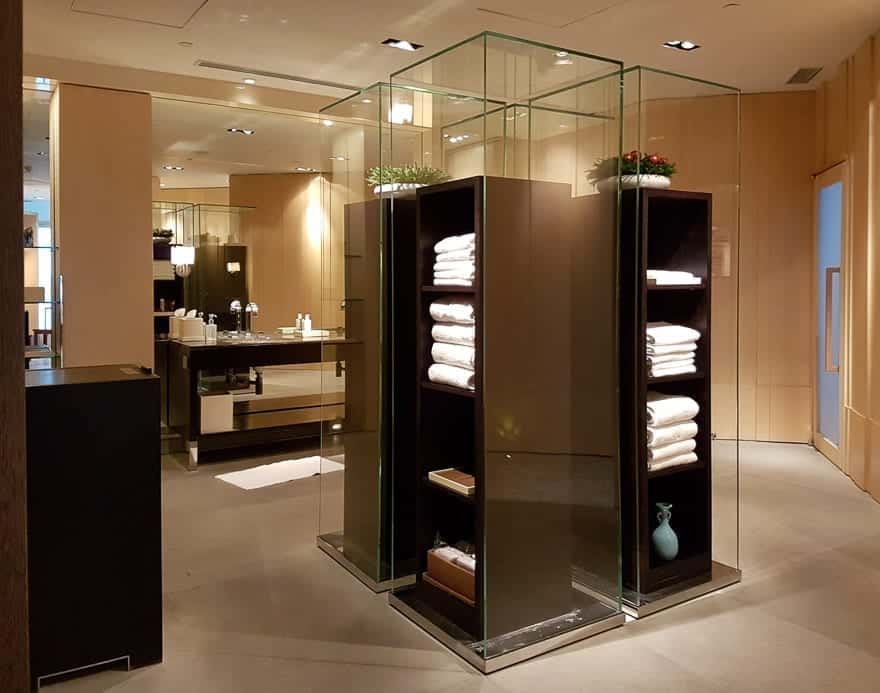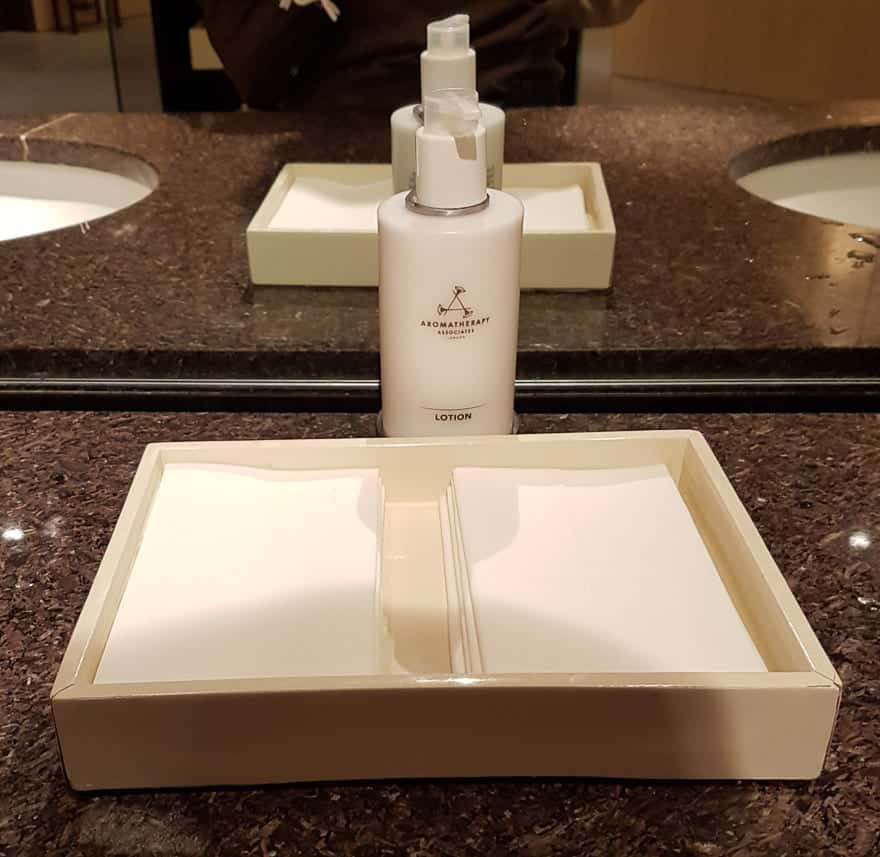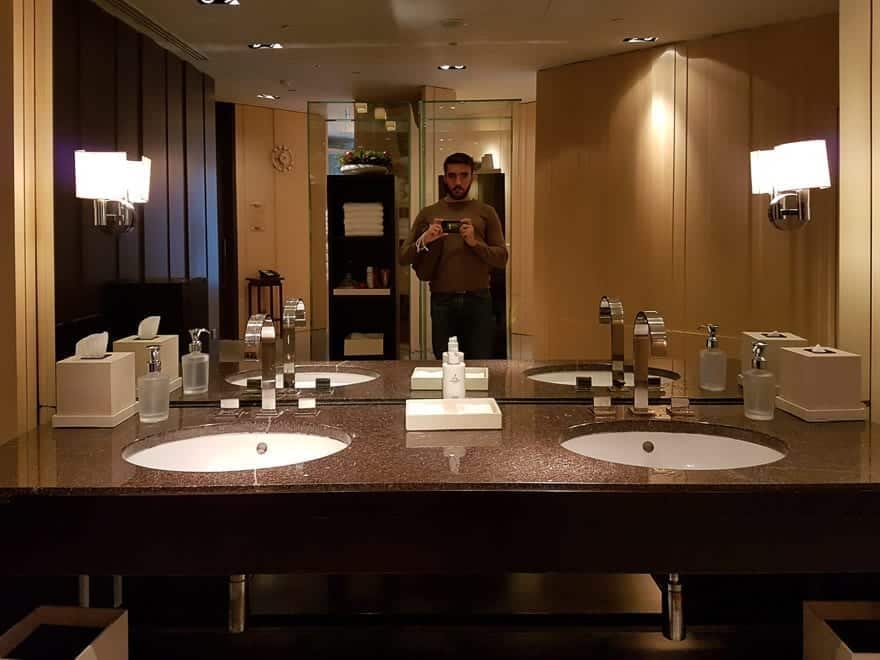 The fitness floor is dominated by a large pool flanked by a series of loungers and day beds, with a jacuzzi at one end and the gym at the other.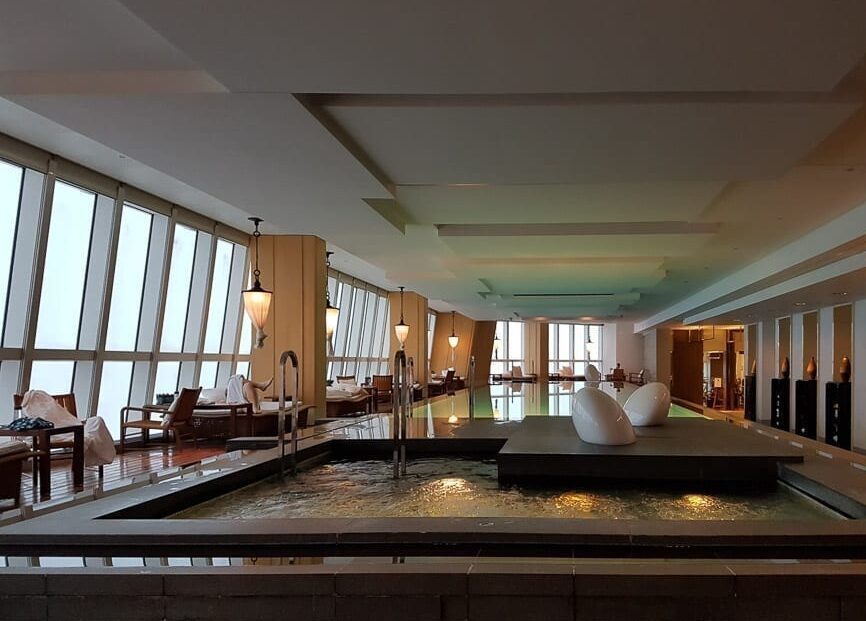 The pool is even more impressive at night. A nocturnal swim in an empty hotel pool is truly one of life's great pleasures.
The gym was located at the far end of the pool. The entrance featured a large open space in which to do yoga.
The gym was split into a weights room and a cardio room. The weights room featured dumbbells up to 22kg and a variety of LifeFitness machines.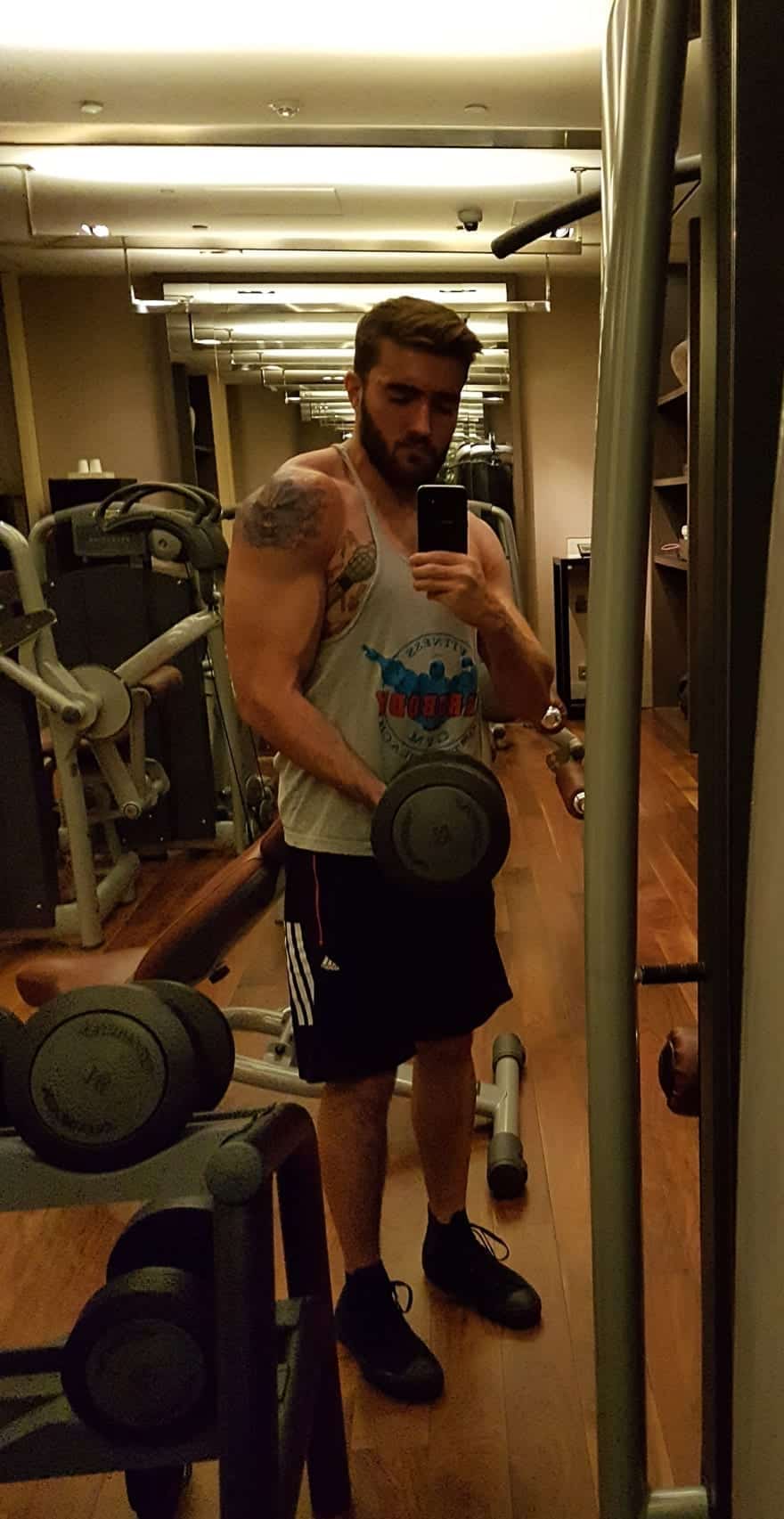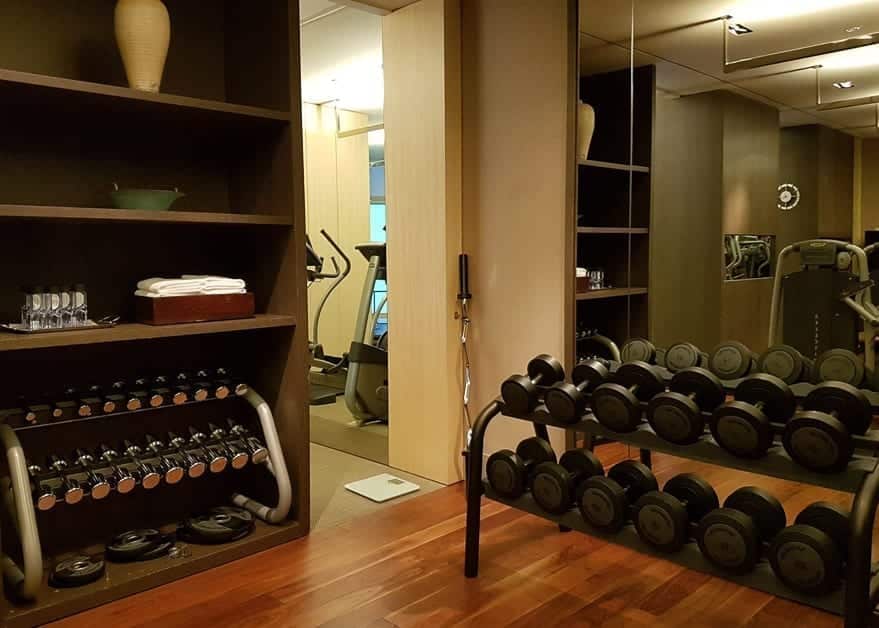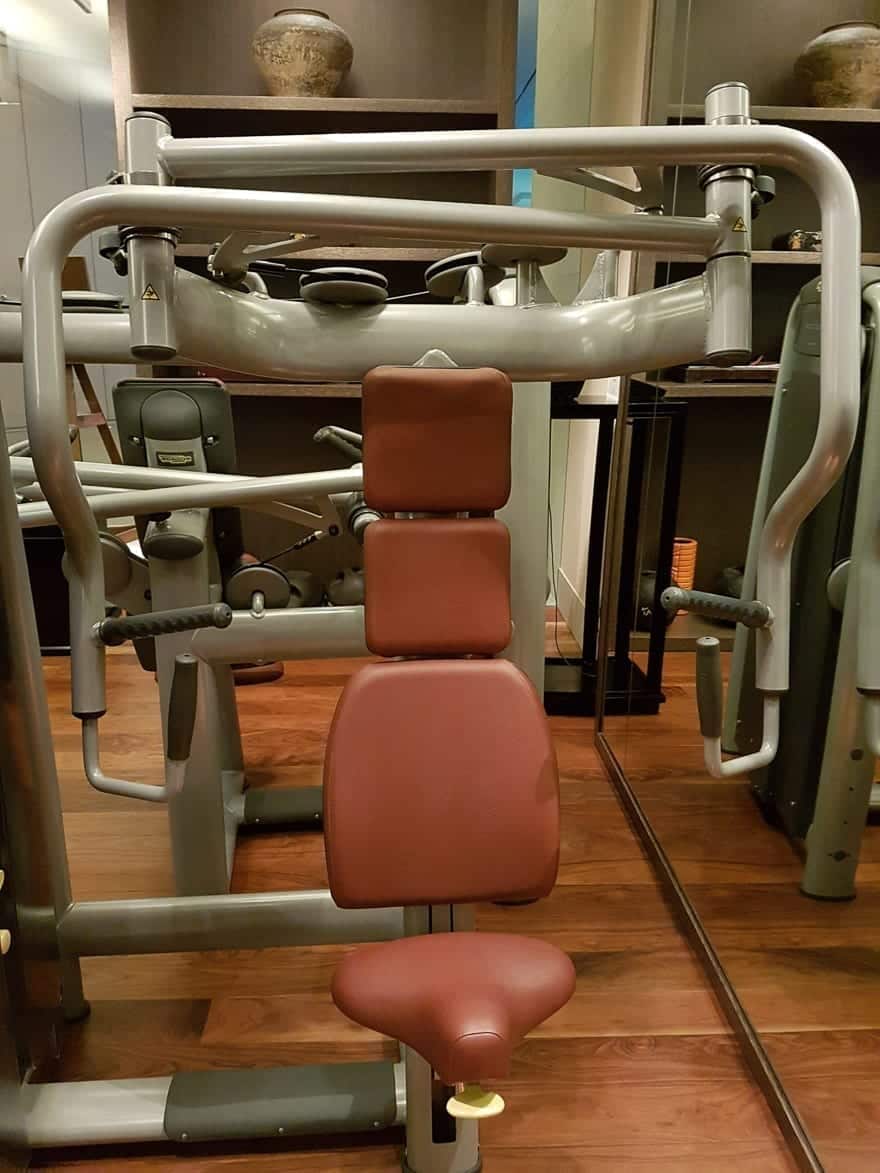 The cardio room featured a selection of treadmills, ellipticals and bikes… as well as a view that people would queue hours for (when the clouds parted).
---
Service
---
Housekeeping were very friendly and efficient, we said we didn't mind them cleaning whilst we were in the suite one day and they proactively offered us tons of extra toiletries and checked to see if we needed anything else. They were initially quite reluctant to take a tip too, just really happy and genuinely hardworking people.
Calling for things was a bit tedious though. The staff manning the phone lines didn't have the firmest grasp on the English language and often it would take multiple calls to get a pillow, for example.
Restaurant staff were excellent at breakfast and terrible at dinner. Maybe that's because breakfast is 99% hotel guests whereas outsiders are more likely to have dinner? Honestly I'm not sure, but the contrast was stark.
Visitors to China will find that their mobile devices are usually blocked from accessing Google, Western news outlets etc. However most luxury hotels have private networks to circumvent this and the Park Hyatt Shanghai was no exception. The internet was blazing fast throughout the property with no obvious signs of censorship.
---
Conclusion
---
Basics Checklist
X Power sockets near the bed
☑︎ Easy to understand light switches
☑︎ Coffee machine
☑︎ Separate shower and bath
☑︎ Blackout blinds
☑︎ Stable, fast and free Wifi
-Hotel has a VPN to circumvent The Great Firewall
☑︎ Feather pillows
☑︎ Quiet and powerful aircon
If you're a first time visitor to Shanghai you may want to opt for a hotel on the other side of the river, since there's not much going on here except for some shopping malls and a lot of skyscrapers. If you want to be close to the airport though or just want to take in the spectacular views of a sea of steel beneath you, this hotel presents you with a very enticing proposition.
Being more than 80 stories high and looking through a canopy of neon never gets old.
The service was decent for the most part but not excellent, which is to say – this is about as good as it gets in mainland China.
The hardware in the regular rooms is a little stark for my taste but if you're facing the Bund and get a clear day this completely transforms things. In terms of overall hardware the hotel is for the most part excellent as is the breakfast.
If you've ever dreamt of waking up with your head literally in the clouds, then this hotel will certainly deliver a magical experience.
---
Book online with Hyatt Privé benefits
---
Hyatt Privé Partner Booking
Click the image to get the best available, flexible rate and also receive:
• Priority room upgrades, subject to availability
• Full breakfast for up to two in room guests
• $100 Hotel Credit
• Welcome amenity
• Early check-in/late check-out, subject to availability.
Note: You will still earn stay credit and ALL elite benefits, exactly like a direct booking with Hyatt.com.
---