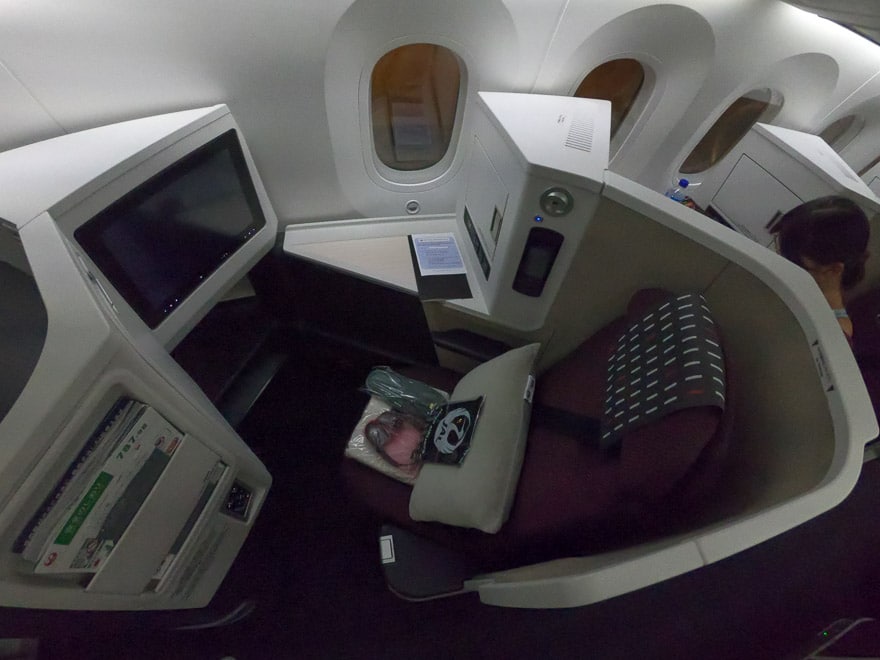 REVIEW – JAL : Business Class – B789 (Sky Suite III) – Jakarta (CGK) to Tokyo (NRT)
June 28, 2020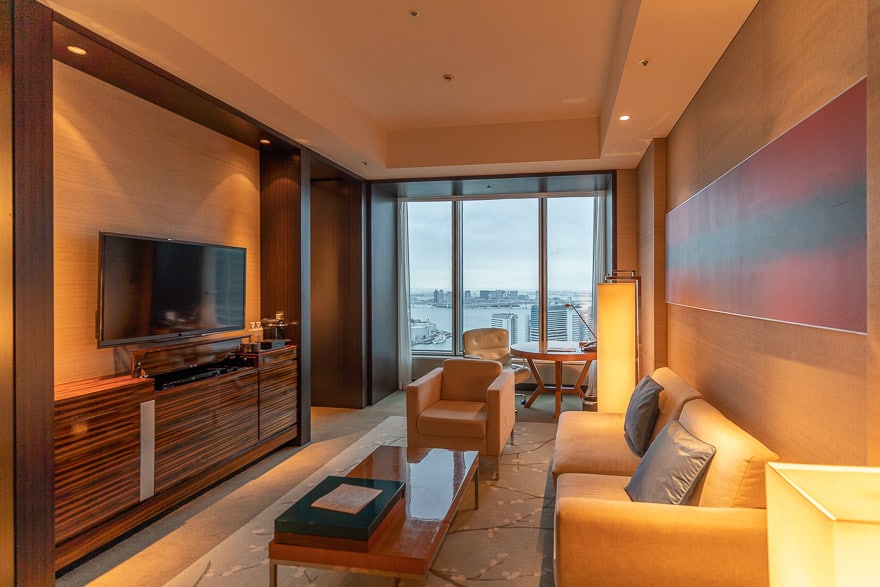 REVIEW – Conrad Tokyo : Revisited
June 30, 2020
Park Hyatt Tokyo
Rate: ¥40,000 per night (with additional benefits via Hyatt Privé)
Room Type: Park Suite

Upgraded from Park King using a Suite Upgrade

Status During Stay: World of Hyatt Globalist
---
Booking
---
I booked this stay almost a year in advance, which meant that I was able to lock in a standard rate before prices started going up to reflect NYE. Since booking via Hyatt Privé was the same price as booking on Hyatt.com but included extra benefits, this was something of a no-brainer.
True, I could already get breakfast for free as a Globalist but the extra $100 of property credit plus the chance of getting a better upgrade than all the other globalists staying over NYE was definitely better than just booking via Hyatt.com. Since Hyatt Privé rates are considered to be direct Hyatt bookings, I was able to earn points and stay credit EXACTLY like any booking made on Hyatt.com
As soon as I had my confirmed Hyatt Privé reservation I called Hyatt to apply the suite upgrade, which reflected immediately.
---
Arrival
---
Having previously stayed at the Park Hyatt Tokyo in 2014 we were already familiar with how to get there on foot from Shinjuku station. We had arrived early in the morning and quite possibly had hours to wait until our room was ready, so we figured it would be good to stretch our legs and get some fresh air after our flight from Jakarta.
The Park Hyatt Tokyo spans the top floors of the trio of towers with the spiked tops, next to the lamp post.
The walk takes 15 minutes or so and does involve crossing a few roads, so if you have a lot of luggage you may well want to take a very quick taxi ride to the hotel instead. This usually clocks in at not much more than ¥1,000. It is often said that this hotel's location is one of its major drawbacks and this is hard to ignore. It's the only luxury hotel in Tokyo, that I know of, that is more than a 2-3 minute walk from the nearest JR or Metro station.
The hotel entrance is located at the foot of the smallest of the three towers, and despite the rather grey appearance of the buildings themselves, the enormous driveway and manicured gardens lend an impressive air to your arrival here.
Having said that, if you arrive on foot you'll find the uphill walk around the driveway to be a little uncomfortable. A better option is to access the building from the shopping centre one floor below and take the elevator up.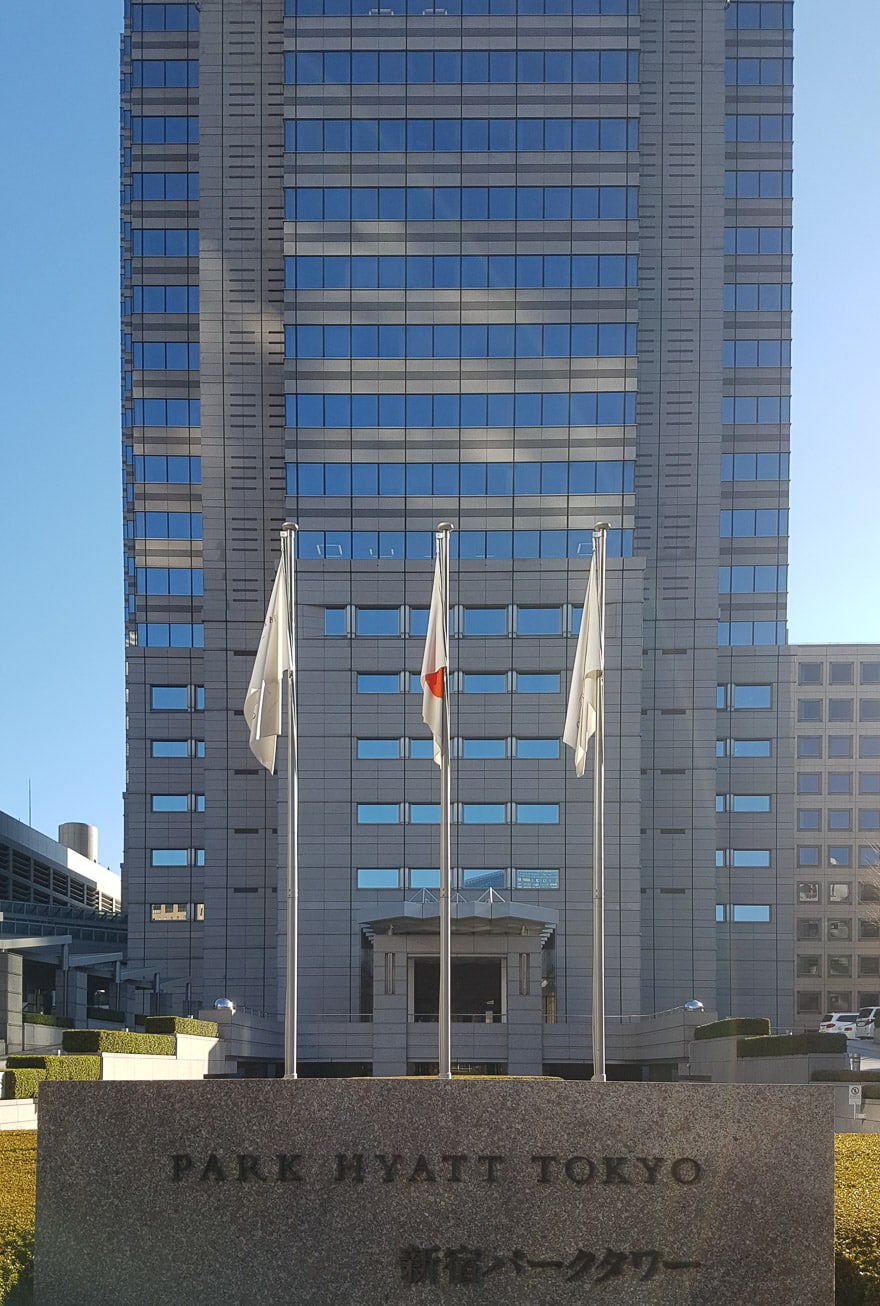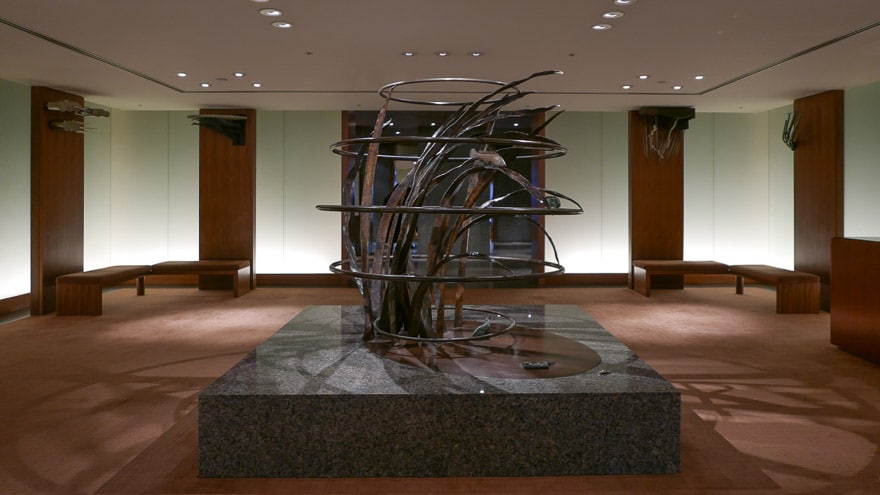 We took the lift up to the 41st floor from the ground floor lobby and as the doors opened we found ourselves in the familiar embrace of the hotel's verdant Peak Lounge. The abundant light and clear blue skies combined with the pristine foliage to give us the impression that we had been transported to a quiet sanctum, miles away from the hectic bustle of Tokyo below.
As I stopped to take these pictures, I caught sight of a very anxious looking staff member rushing over in a black suit. "You're checking in?", he asked. I told him that we were. He apologised profusely for not having greeted us earlier.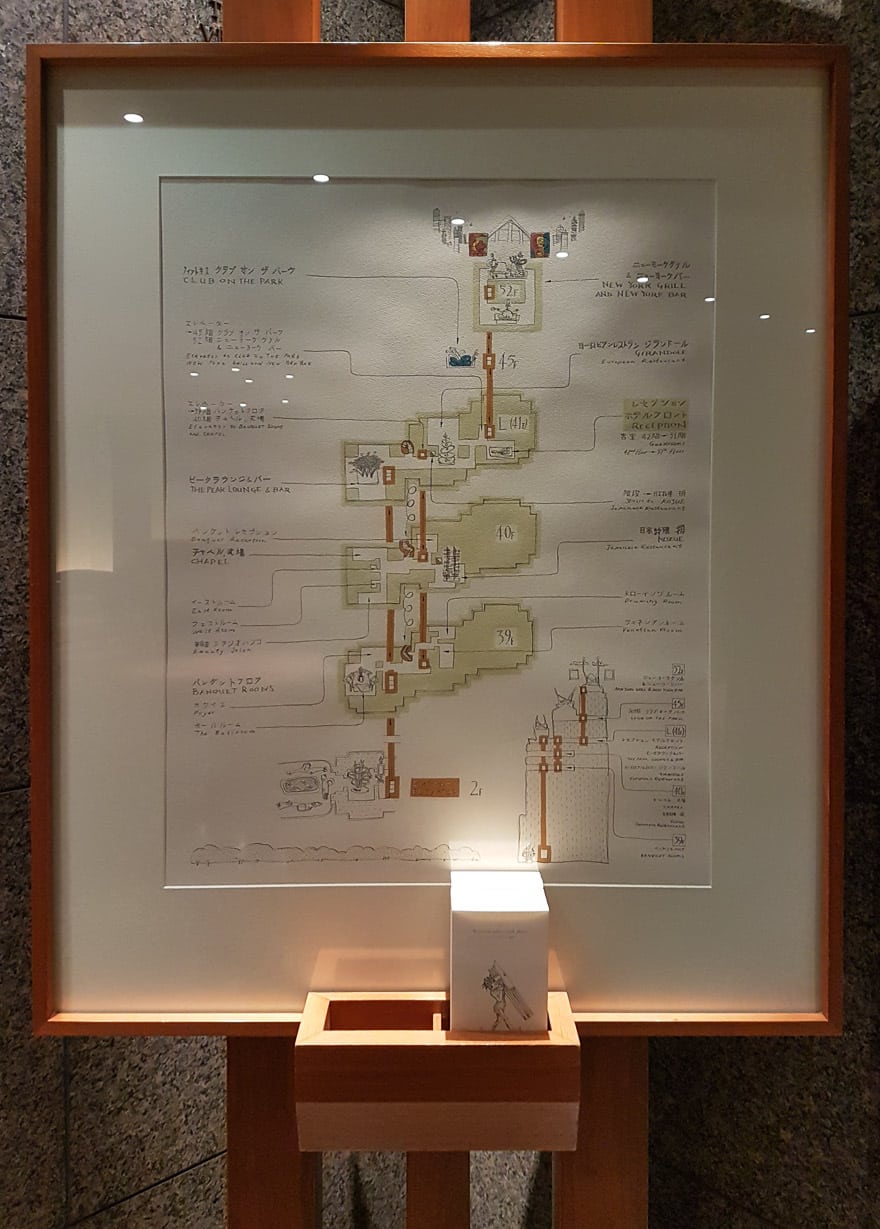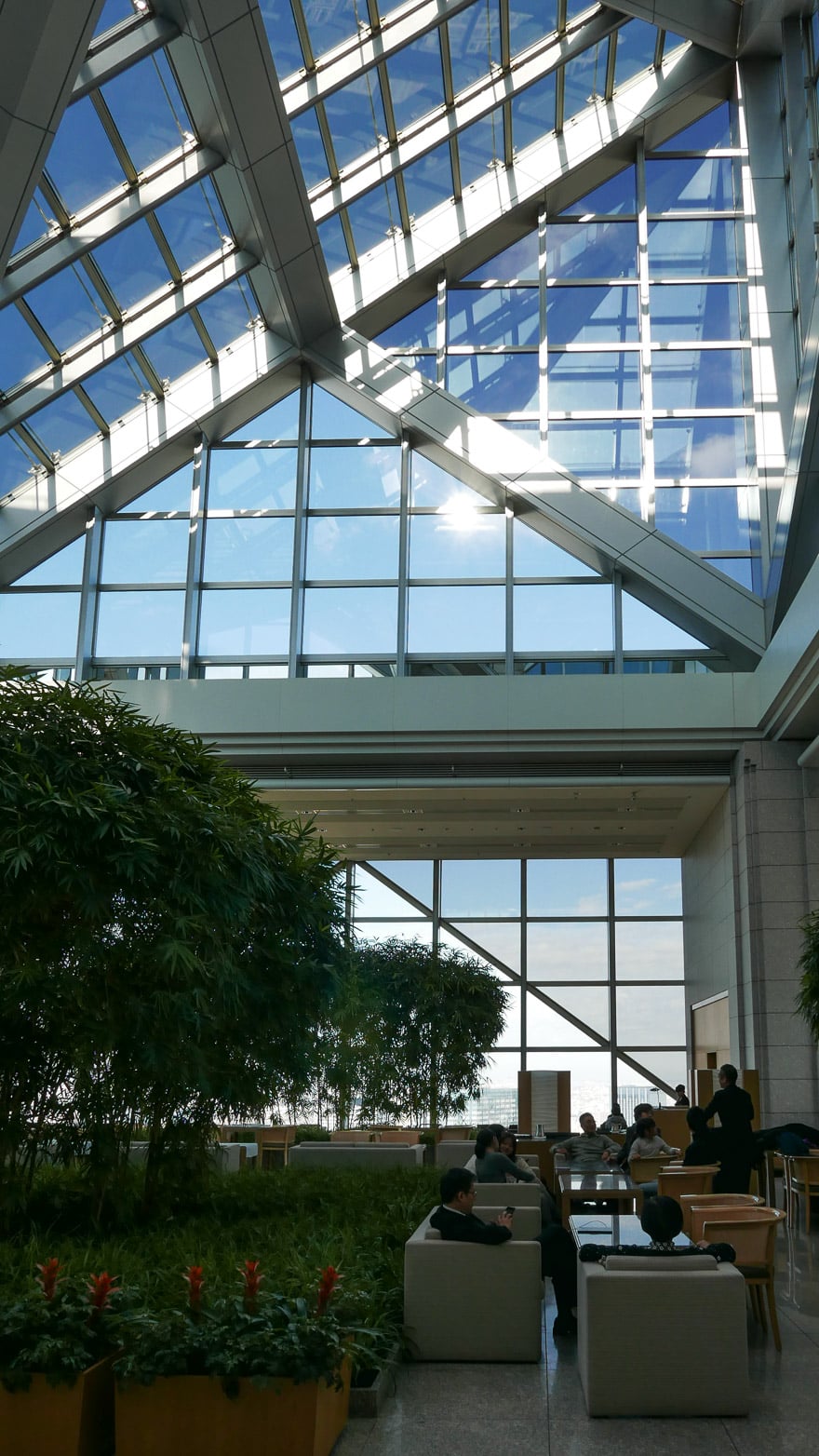 Evidently our clandestine method of entering the building meant that we had subverted the ordinary flow of information and nobody downstairs had alerted the lobby greeters to our presence.
I assured the gentleman that no great offence had been caused and after a flurry of bows he asked us to follow him to the reception for check-in.
We were first walked past Girandole, the restaurant where breakfast is served.
We then passed through the iconic library hallway. An area which delineates the separation between the public and residential areas of the hotel.
We were then handed over to the reception team, who greeted us by name and apologised profusely for the fact that our room was not yet ready at 11am. We assured them that this was fine and that we would gladly leave our luggage and return later. However they assured us that the room was almost ready and offered to serve us a drink at Girandole, with their compliments, as we waited.
We were escorted back to Girandole and had to resist the temptation to dive through the 'secret entrance', taking the long way back through the library instead.
As soon as we sat down, we were handed what looked like an afternoon tea menu and poured some iced water by the immaculately attired server.
The design of the hotel may well be trapped in the 90s but the staff uniforms are a good five decades behind that. Black and white seemingly the only permissible colours.
Somehow though it works; the fact that a lot of the design is quite minimal and bright means that the overall atmosphere isn't stuffy and antiquated like the Shangri-La Tokyo, for example.
The server returned a couple of minutes later with my double espresso and Kamara's fresh mint tea.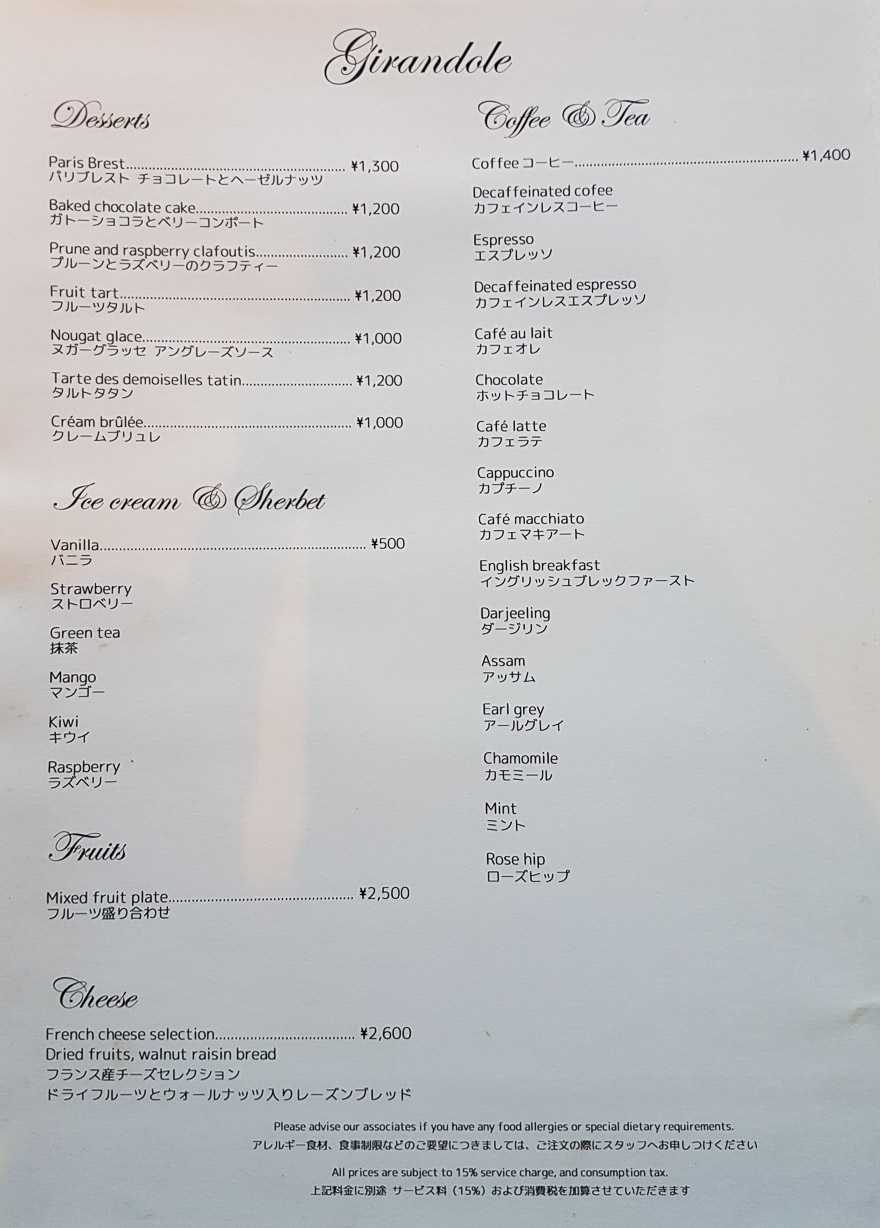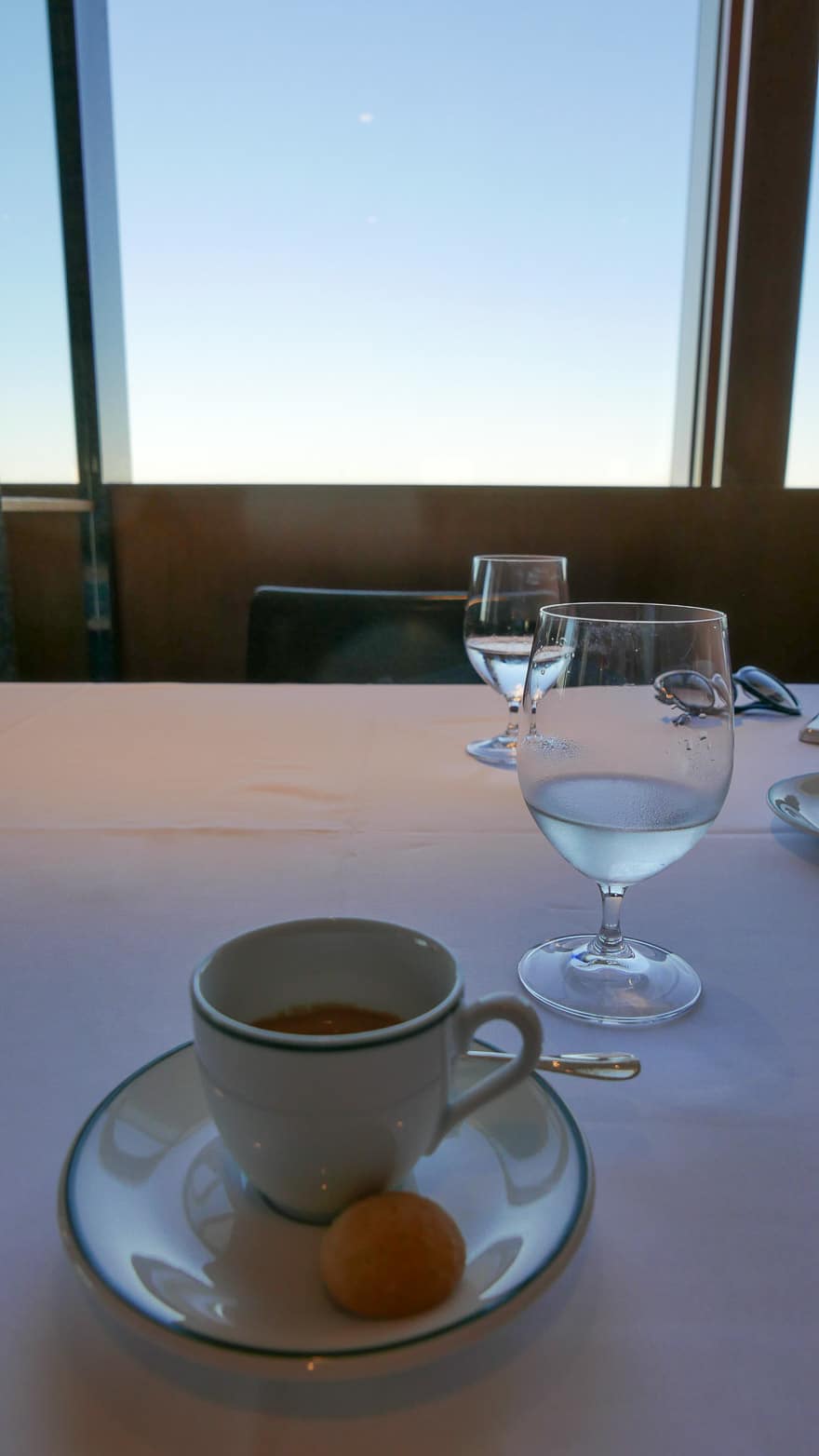 Almost the exact instant that Kamara took her final sip of tea, the receptionist came to tell us that our room was ready and that he was available to take us there as soon as we liked.
He guided us back past the library and into the lifts, up to the 44th floor…
You know you have a good room when it has two tastefully lit wooden mallards, on minimalistic steel plinths, outside of the door.
---
Park Suite
---
Before we even stepped into the Park Suite itself I knew we were in for a real treat. Upon opening the door we still weren't even in the actual room but rather an extensive private hallway, with its own waiting room and enormous sliding walled storage cupboards for multiple coats and shoes. This was clearly a suite that was designed to receive guests here to interview movie stars or attend cocktail parties.
The orange block on the map shows the main suite, with the private waiting area leading directly up to it. The suite next door didn't have a reception area, so if this important to you it is worth asking in advance to be allocated one of the suites with this layout.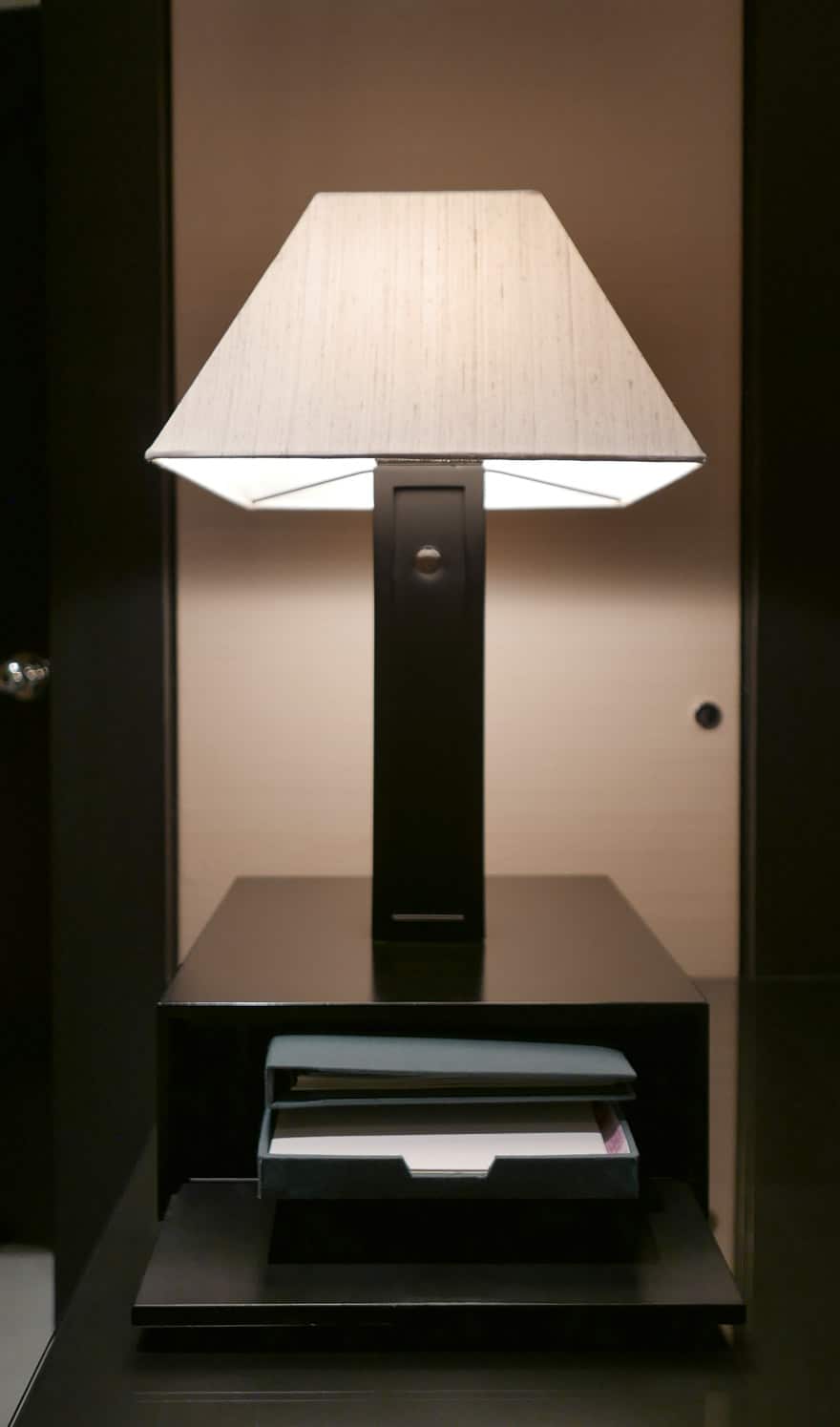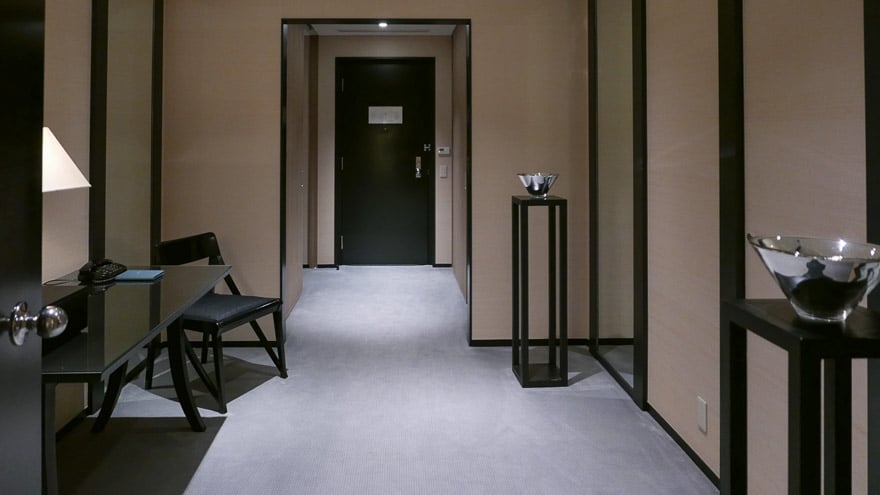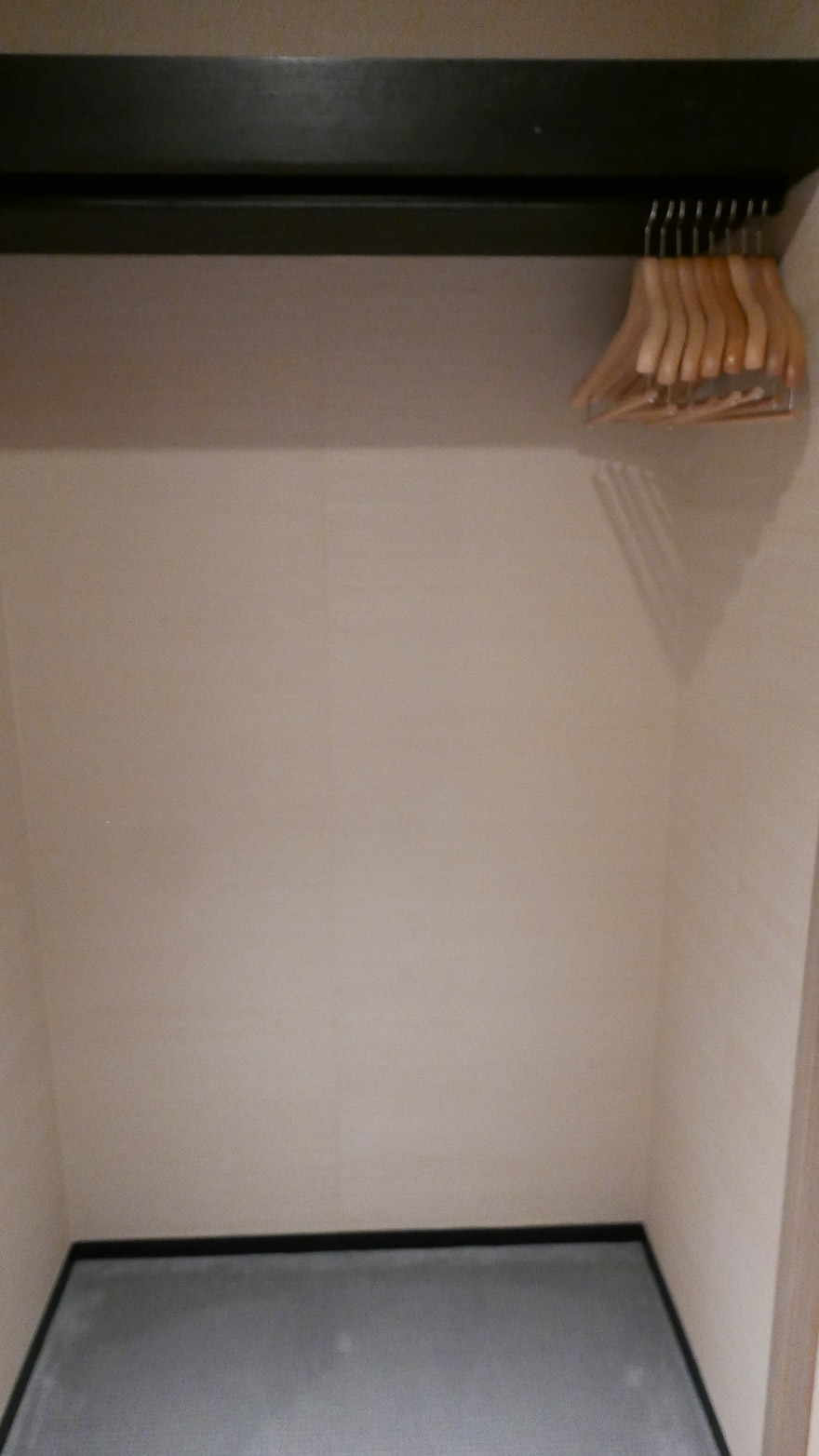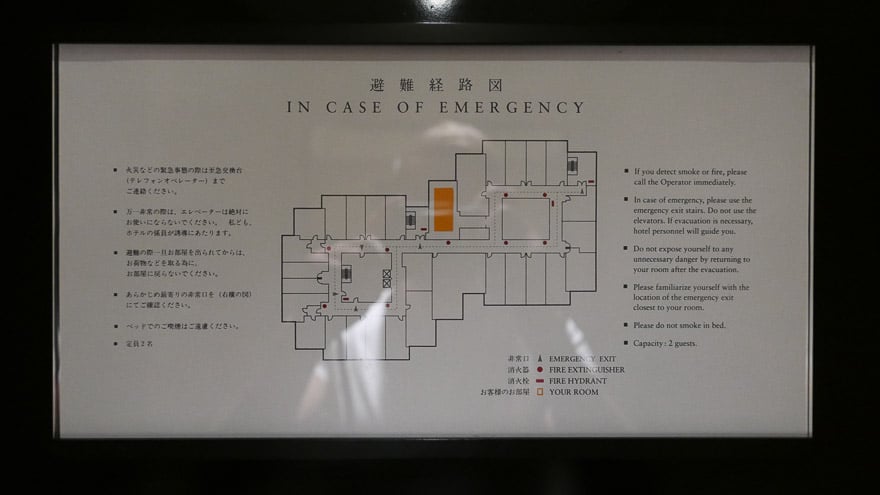 At the end of the waiting area we had the option of either turning left into the bathroom or heading right towards the living room of the suite. I love the pale teal and yellow tones here. There's no hotel like this in the world. The moment you see a photo of the Park Hyatt Tokyo you know immediately what you're looking at.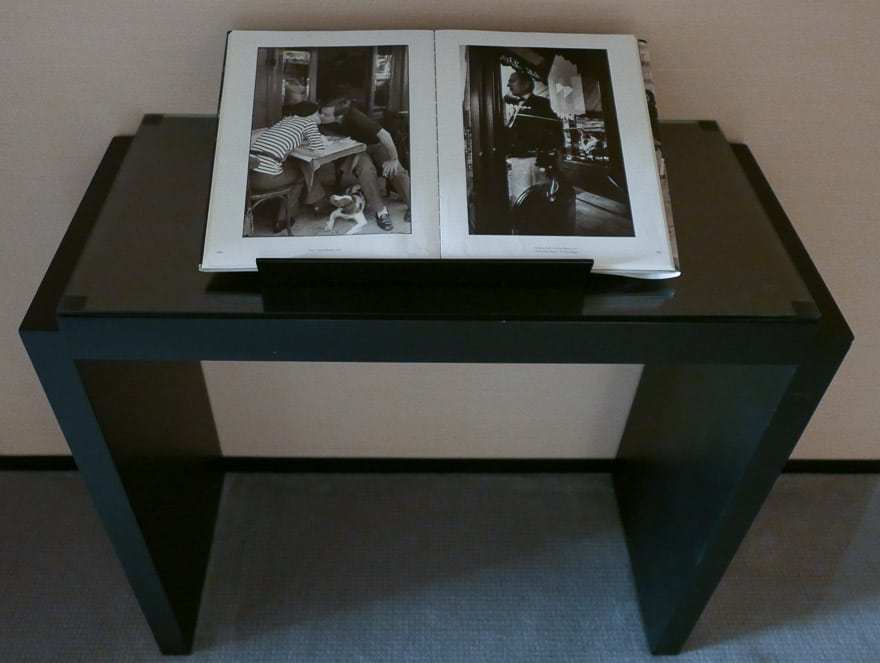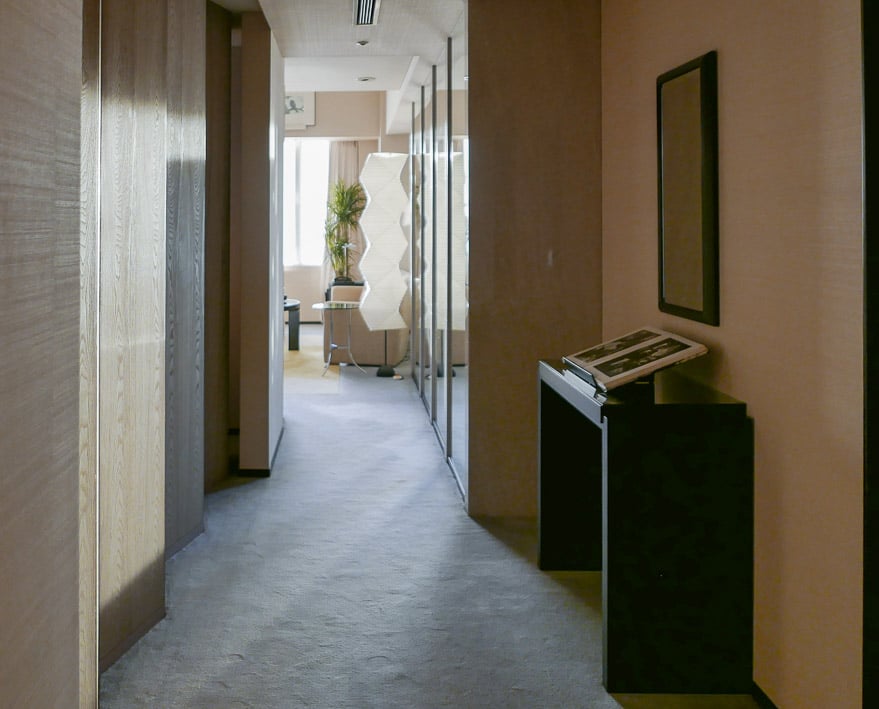 What's most impressive though is how well the rooms are maintained. There isn't a single scratch or scuff on anything. This doesn't feel like an antiquated design because nothing is worn. Everything looks absolutely brand new.
The whole experience had been impressively understated up until this point… then we entered the enormous living room.
Living Room
Even with the GoPro on its widest setting I was unable to fully capture the scale of this expansive living area.
The designer paper lamps and tastefully placed plants added a lot of life and character to the room.
There's no doubting that the furniture isn't the most modern but then again neither are mid-century classics and they still grace the interiors of countless hotels and homes globally. In terms of comfort, light and space, the living room was wonderful. I immediately felt at home and at ease here.
A large, black entertainment centre dominated the interior wall. Although the television was clearly new it did feel a little small for such a large room. I presume that a future update to the hotel's rooms will result in the cabinet being extended to fit a larger screen.
The entertainment centre also housed the suite's extensive minibar facilities, including a Nespresso machine and a selection of very high quality teas.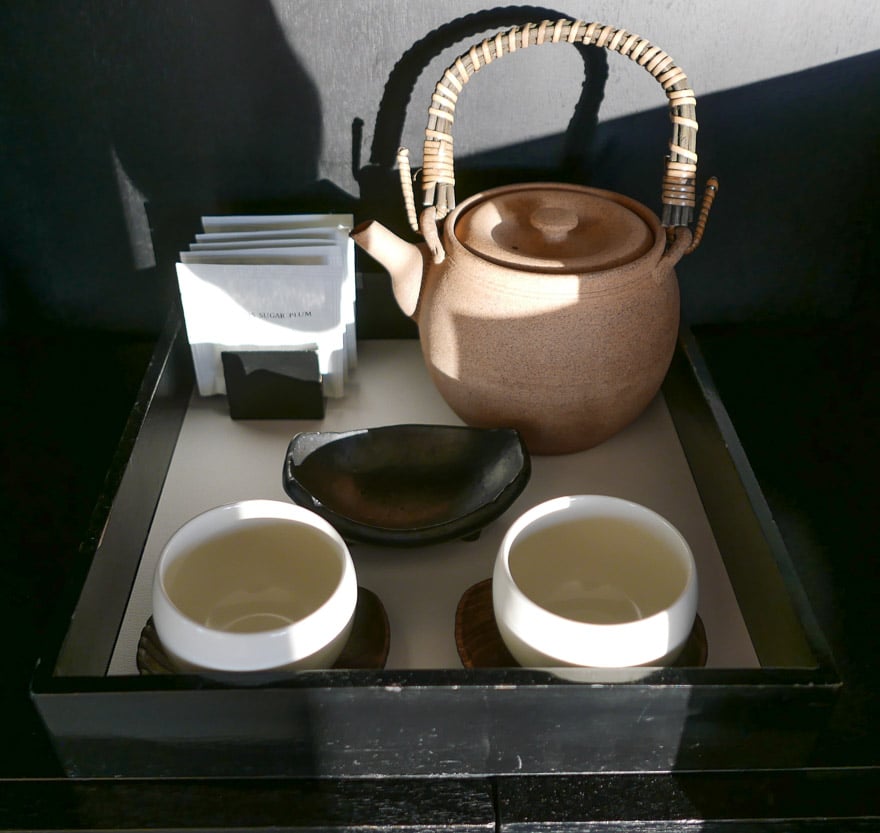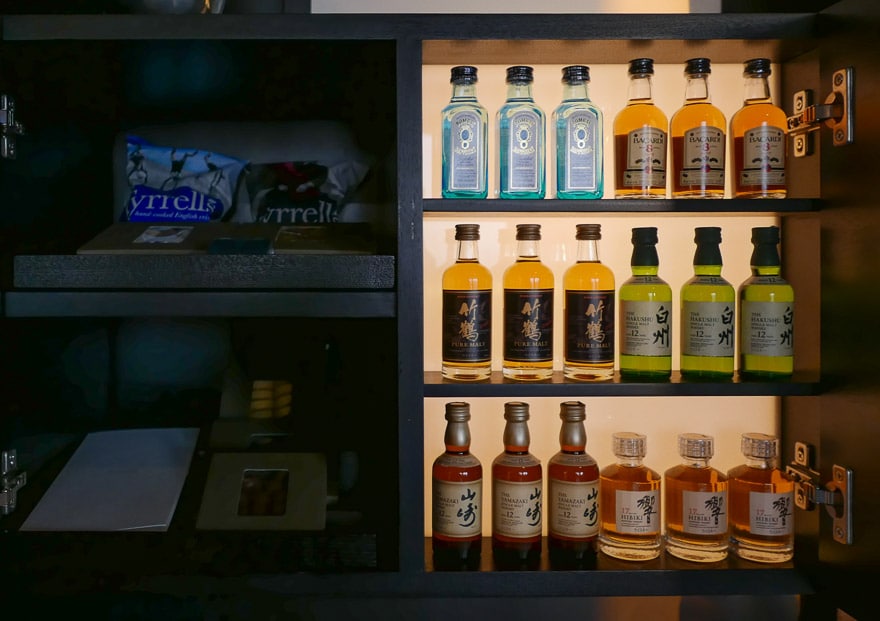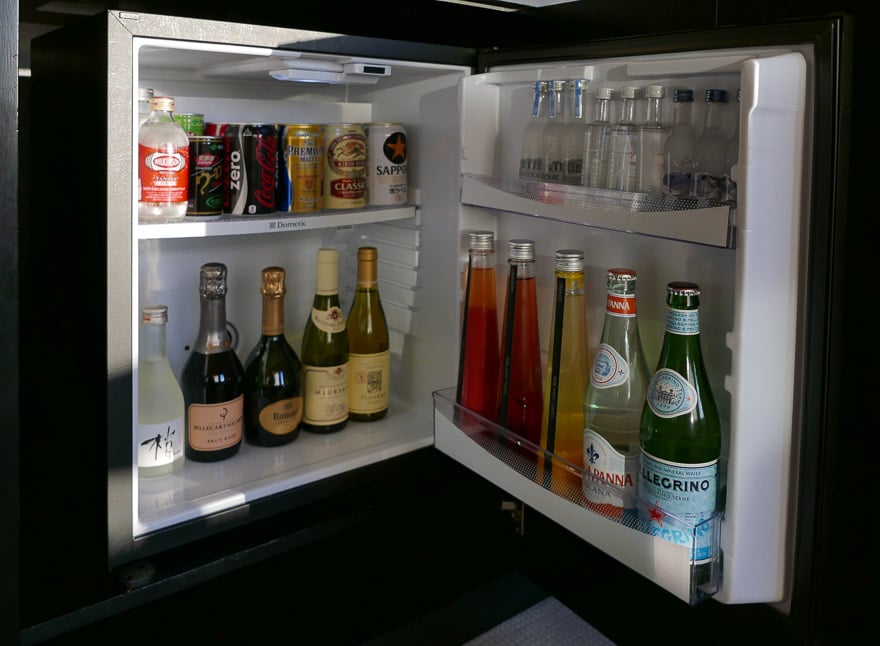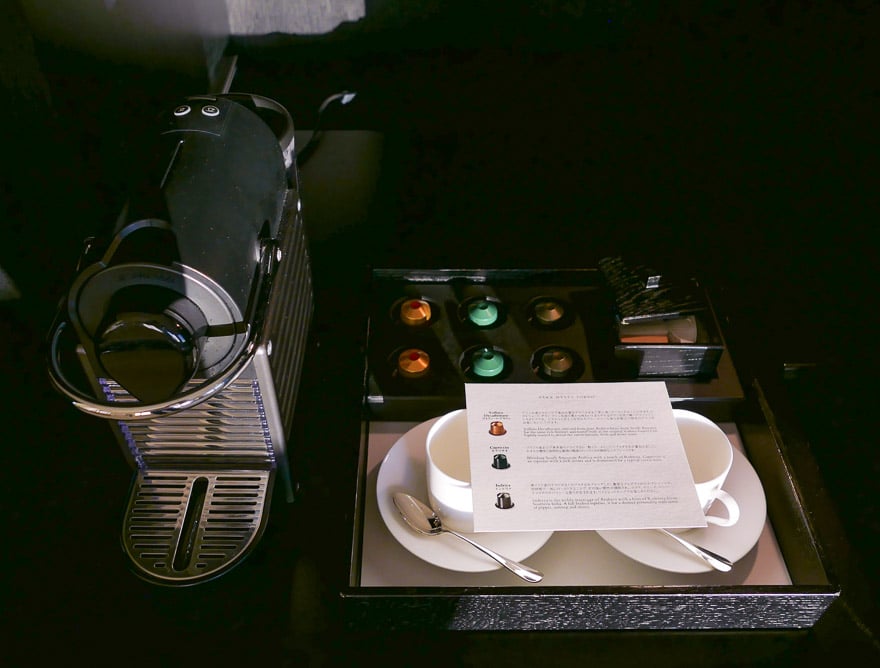 The small details are where this hotel really excels. A flask of boiling hot water was replaced every time that our room was refreshed. Waiting for a kettle to boil would be an inconvenience that this property would not wish upon its guests. The porcelain was all locally produced to a very high standard and every glass in the room was made by Riedel.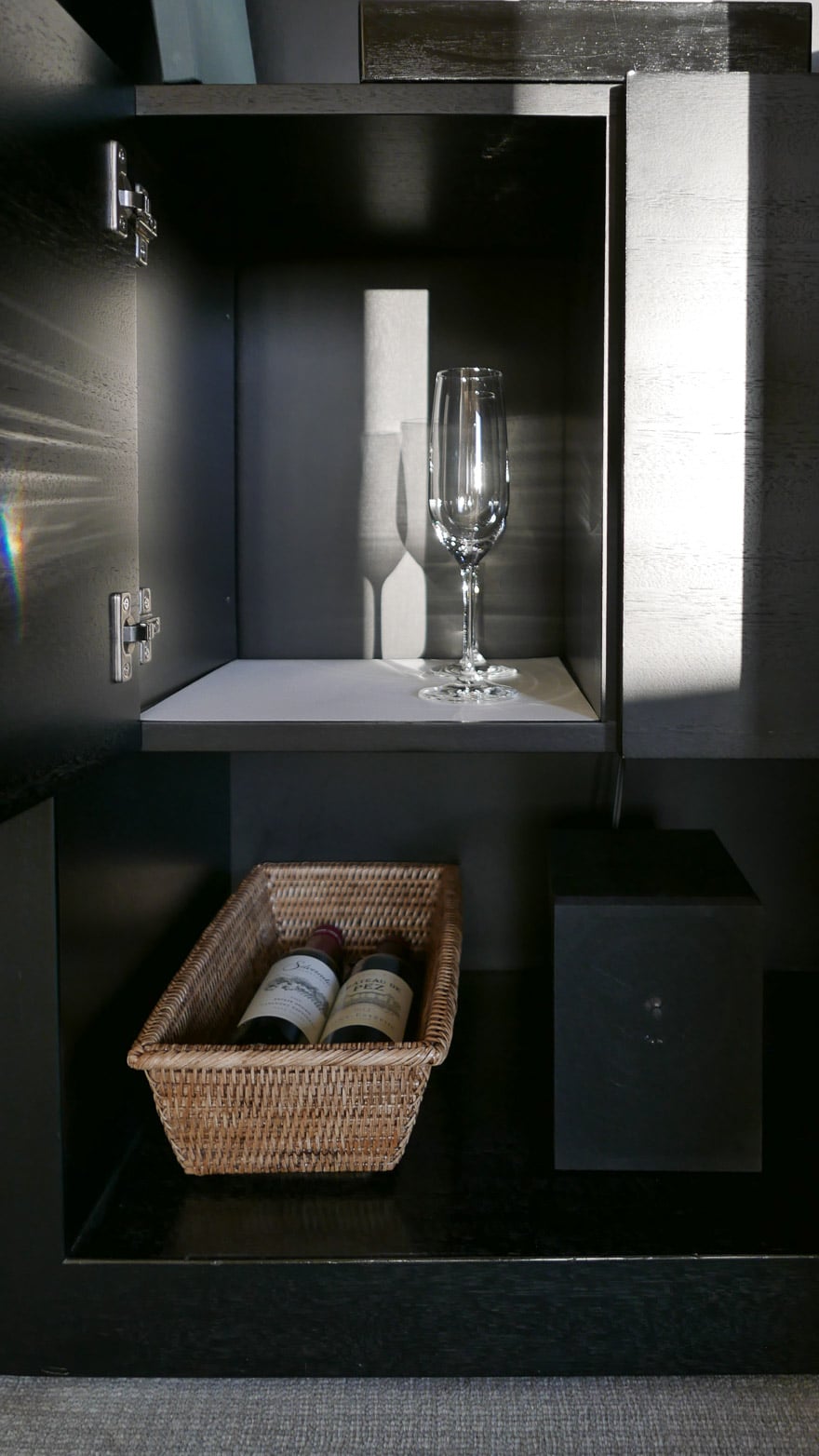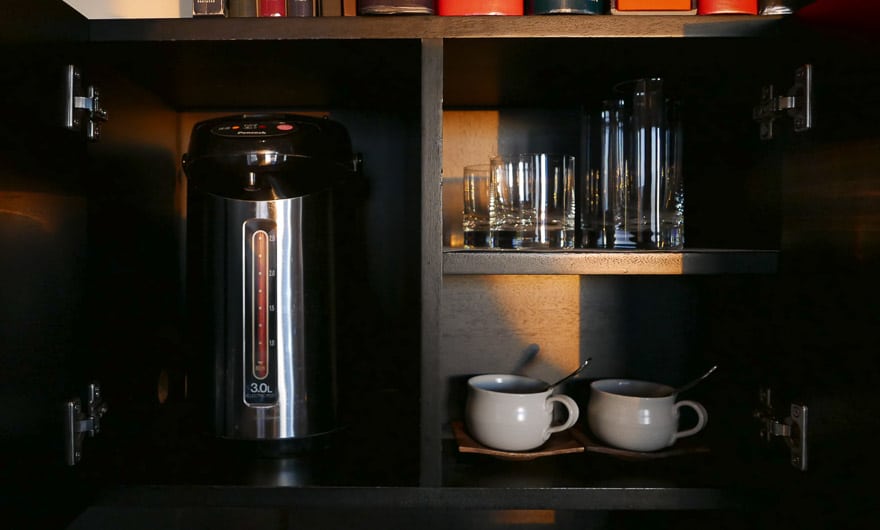 A number of welcome gifts had also been placed for us on the counter together with a note from the GM. It isn't so much that Japanese wine is underrated but rather that it is almost impossible to get hold of in the UK. Every bottle I've tried in Japan has been consistently excellent and the Gris de Koshu we were given was no exception.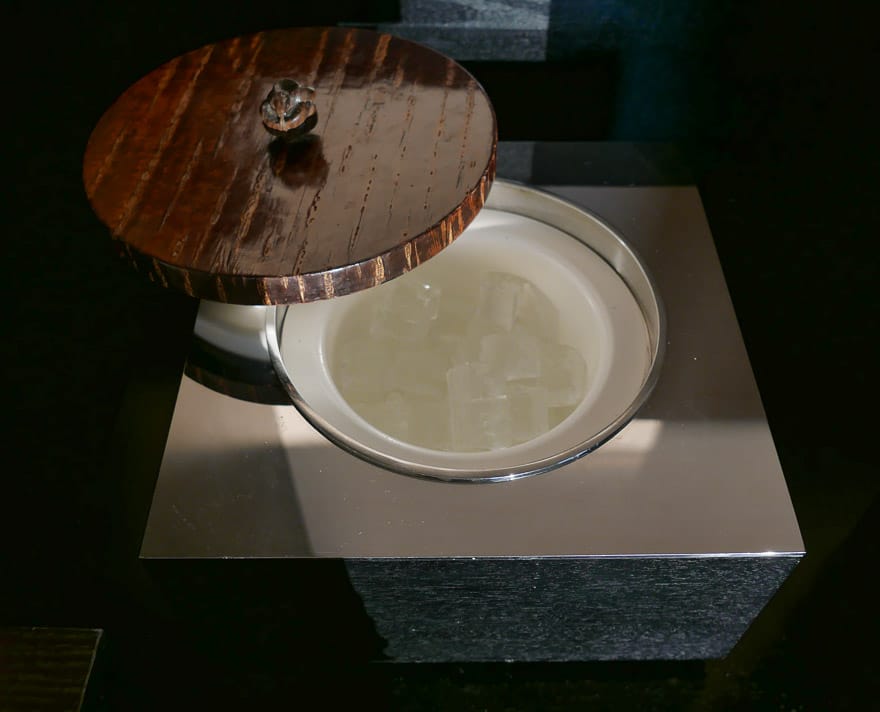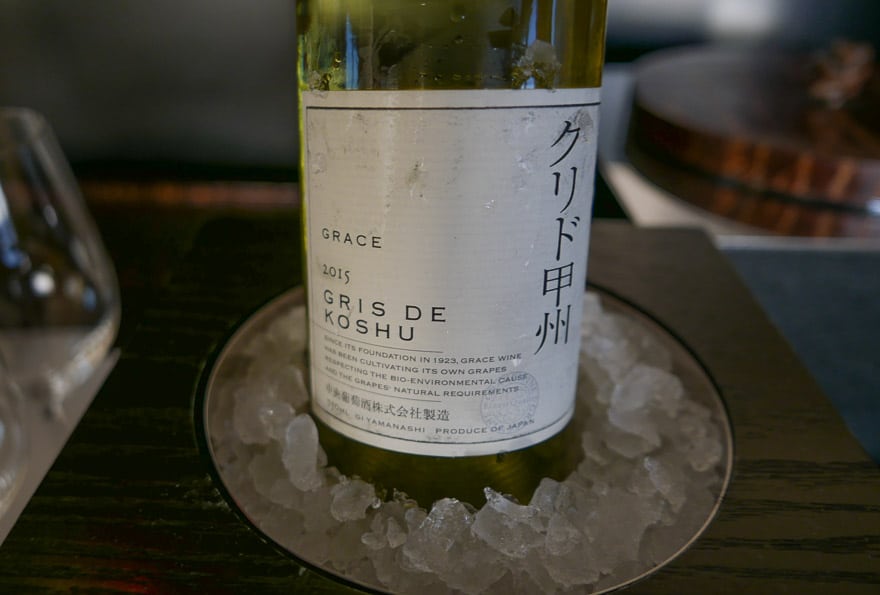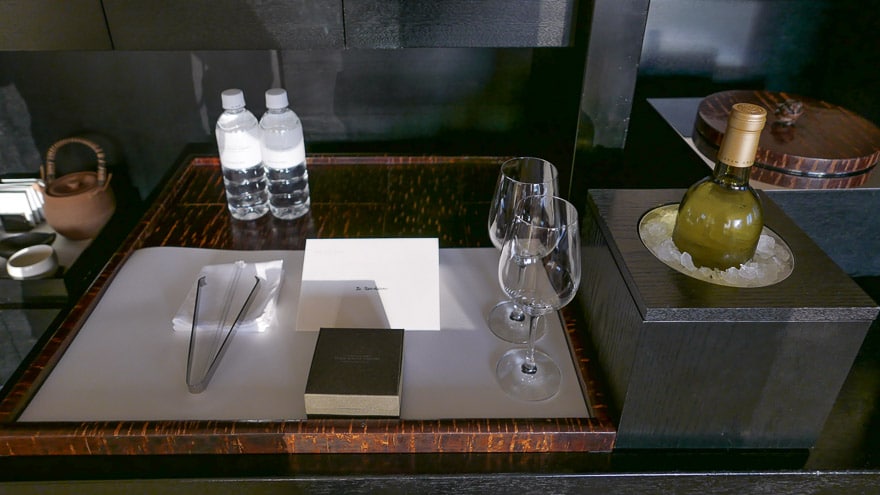 We were also given a few different types of hard Japanese candy.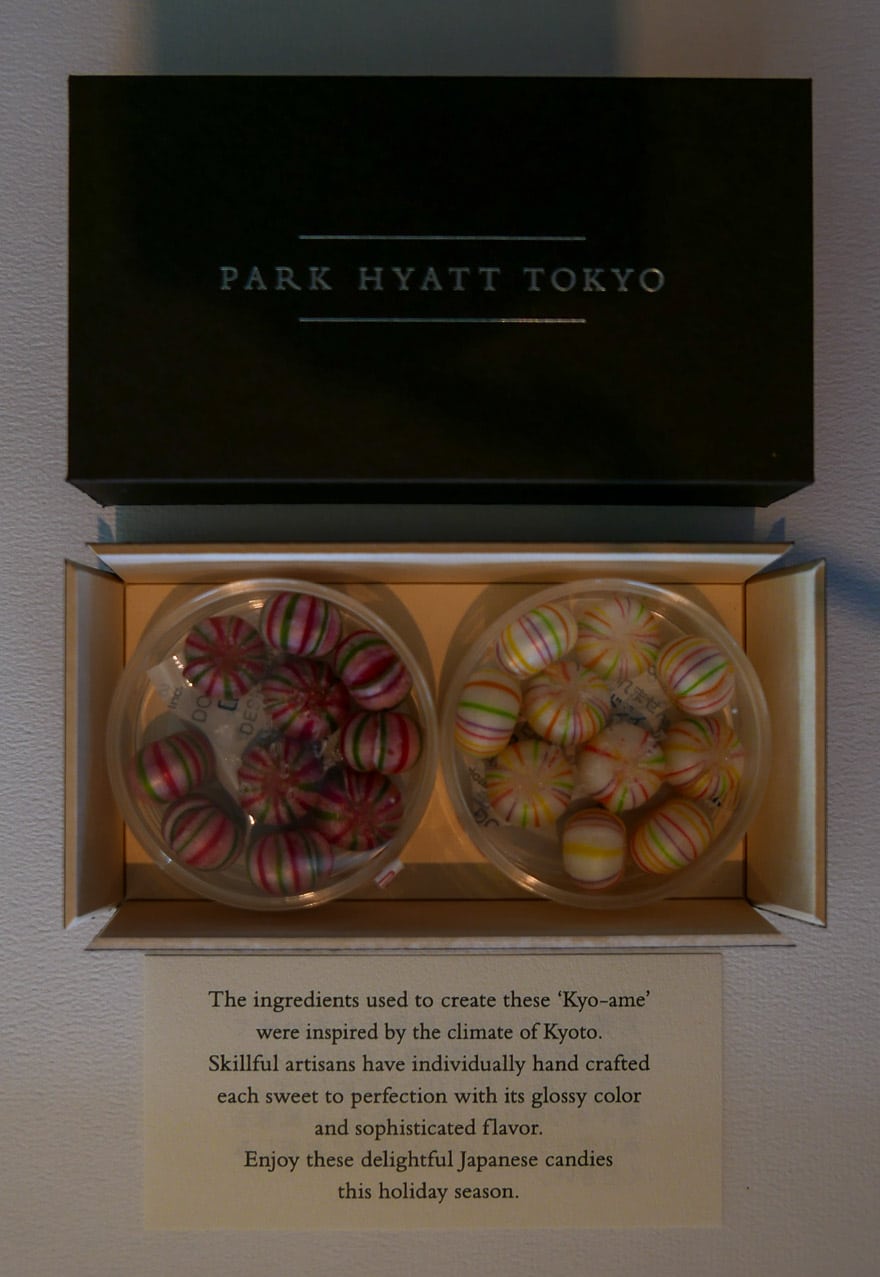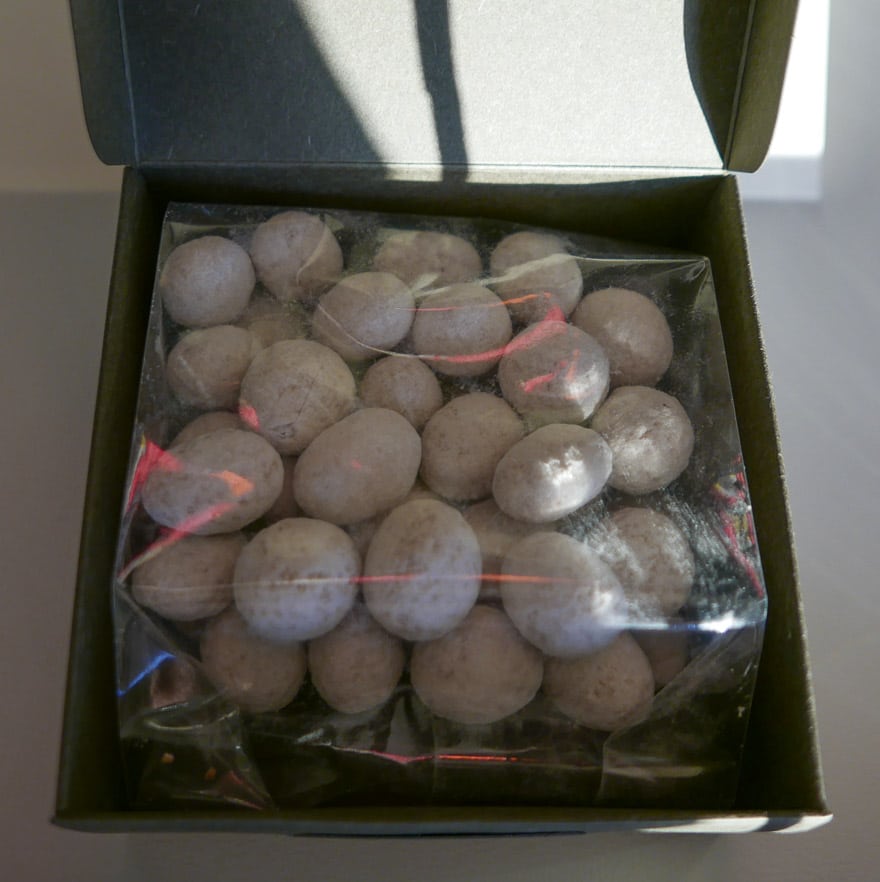 My only real criticism of the living area is that there aren't enough power sockets and those that are available are Japanese only. This kind of setup (see below) is not exactly elegant…or safe.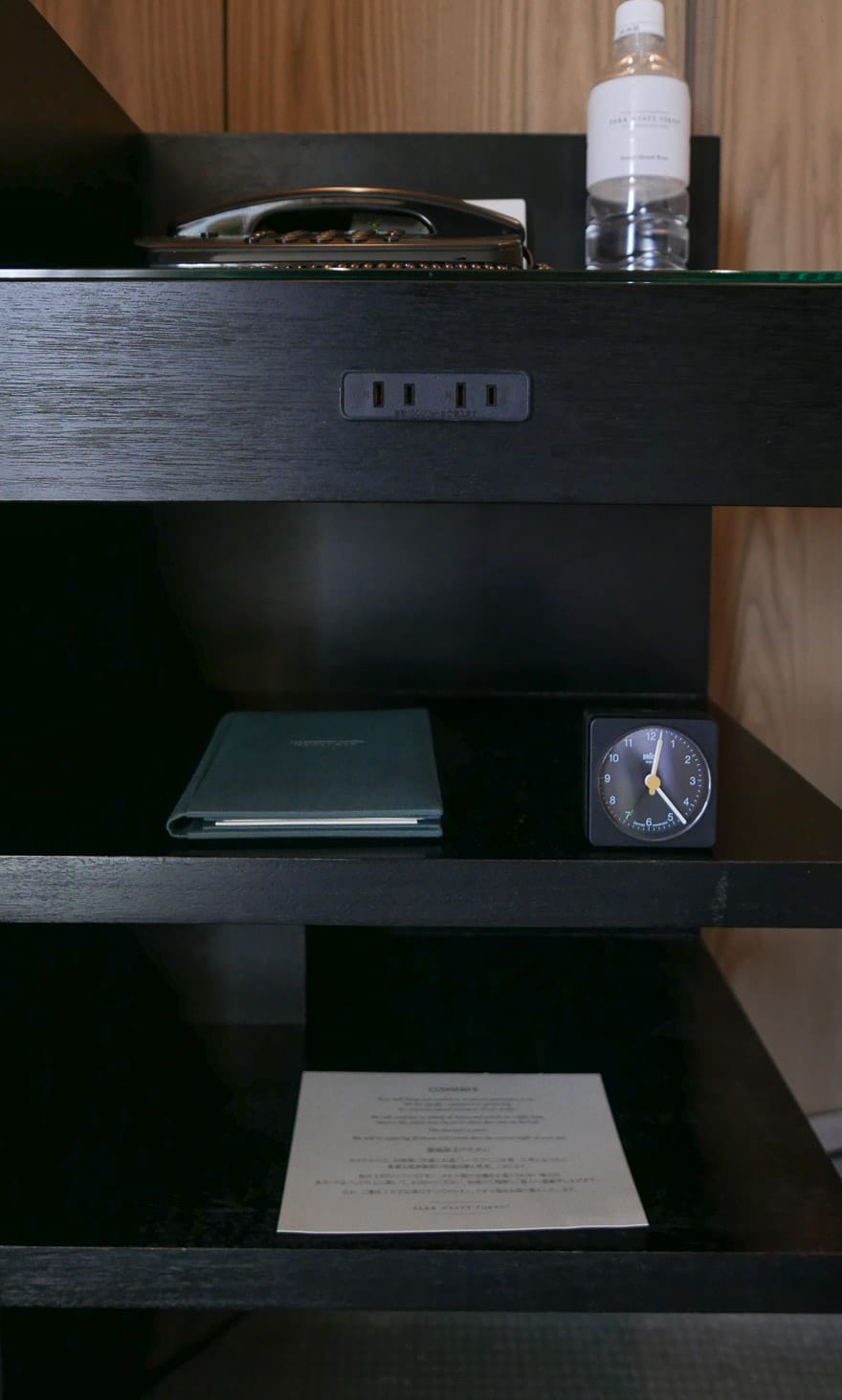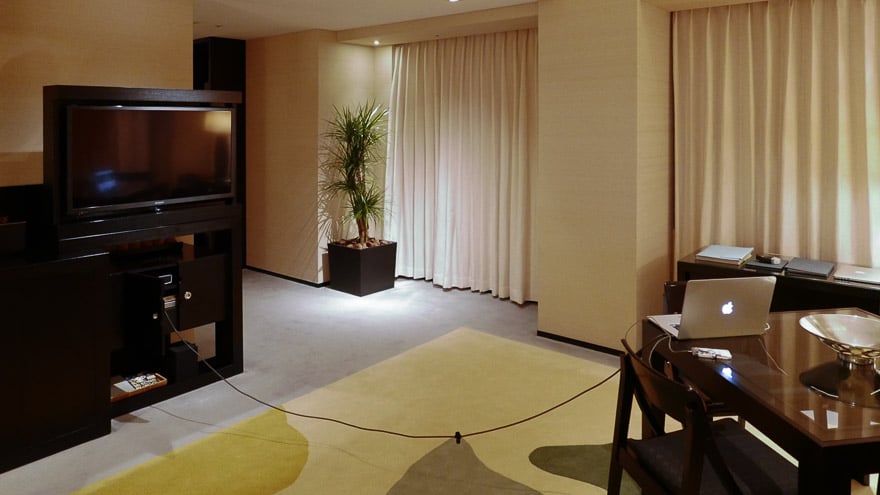 In the grand scheme of things this was a minor inconvenience though, especially when you consider that I haven't yet mentioned the best part of this room: the view.
As the sun began to set each day, the room would become completely immersed in a warm glow. Our corner had not only a perfect sunset view but also a direct line of sight to Mount Fuji. Clearly booking with Classic Travel had resulted in us being allocated one of the very best rooms within the Park Suite category, even over New Year's Eve.
Mount Fuji looms as the sun begins to set.
As good a view of a Mount Fuji sunset as you could hope to have in Tokyo.
Bedroom
The bedroom was accessed via an opening at the end of the living room. Strangely enough, there was no sliding door here for extra privacy/ separation.
Moving from the living room to the bedroom of our Park Suite.
The bedroom had the largest bed I've ever seen in a hotel and the oversized Japanese paper lamps provided perfect atmospheric lighting at night.
Park Hyatts have some of the most comfortable beds of any chain but it is worth mentioning that at this hotel the beds are noticeably harder. Much though this property appeals to foreigners, it is still predominantly frequented by domestic tourists and locals on weekend breaks.
As such, it is worth asking for a mattress topper unless you are used to the much harder sleeping surfaces preferred by the Japanese.
Both sides of the bed featured three tiered bedside tables with nightlights and Japanese power sockets.
The bedroom also featured an entertainment centre with a TV, DVD player and Bose sound system. Next to this was a small bureau area with a mirror and power sockets – this was one of two areas in the suite in which you could get ready and do your hair, etc.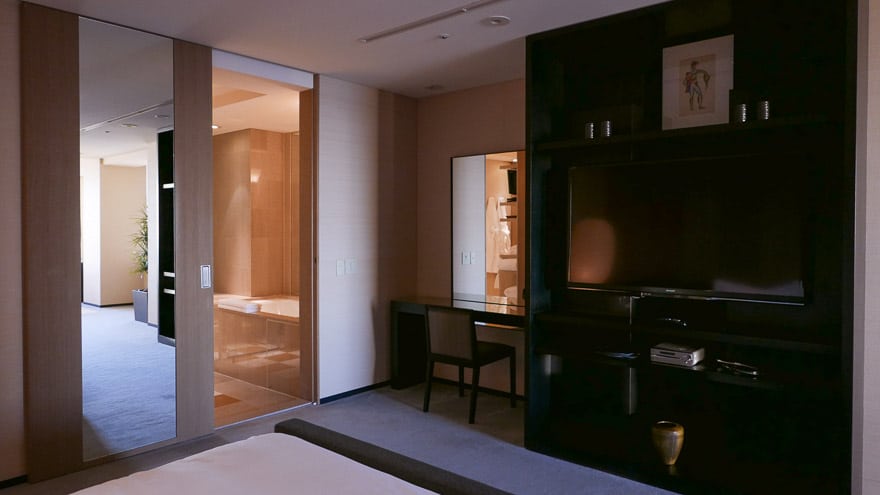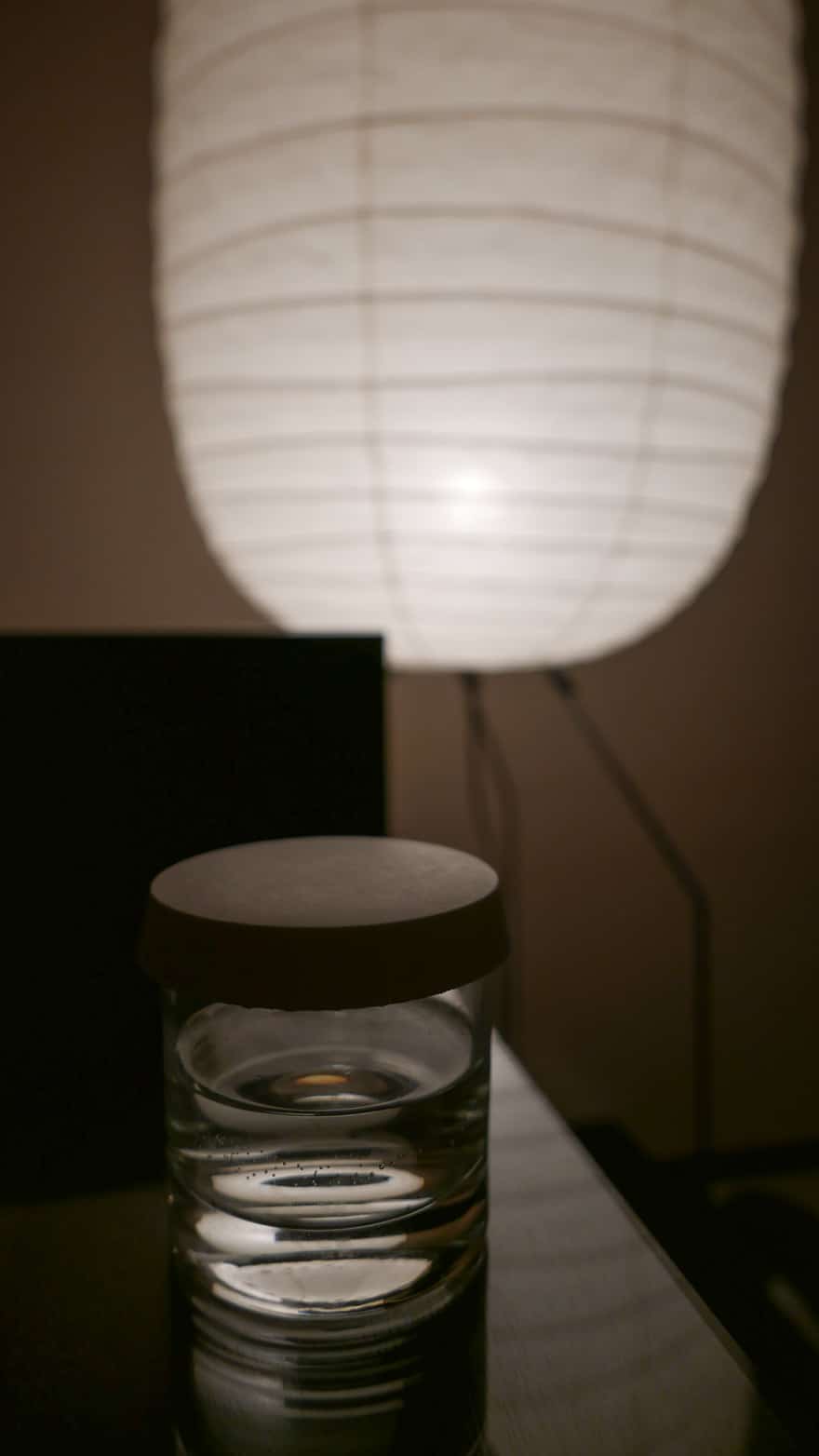 Bathroom
The bathroom felt quite compact but for the most part made excellent use of the space. Toiletries were by one of my favourite brands, one that I personally use at home: Aesop. I always thought it was strange the a Japanese hotel would feature this Australian brand yet the Park Hyatt Sydney and Park Hyatt Melbourne don't…
Walking into the bathroom of our Park Suite from the bedroom.
The area around the bath was slightly awkwardly designed. It felt like either the tub could have been tapered to make it longer or the glass wall of the shower could have been shifted outwards to incorporate a seat into it. It is worth mentioning though that the water pressure was excellent throughout the bathroom and every surface was sparkling clean.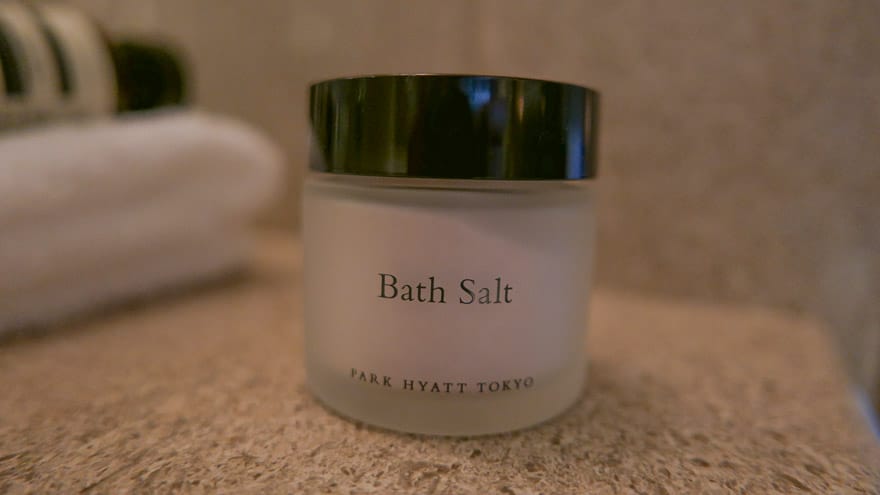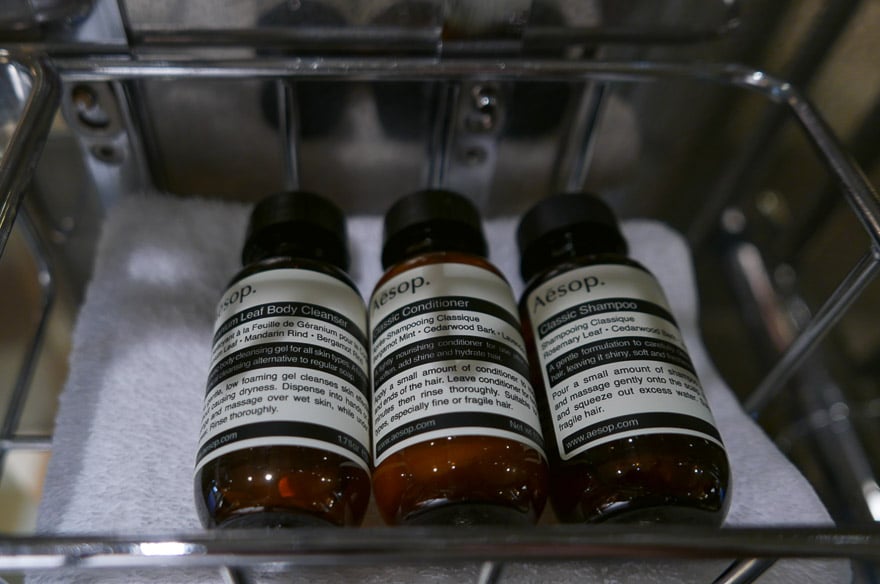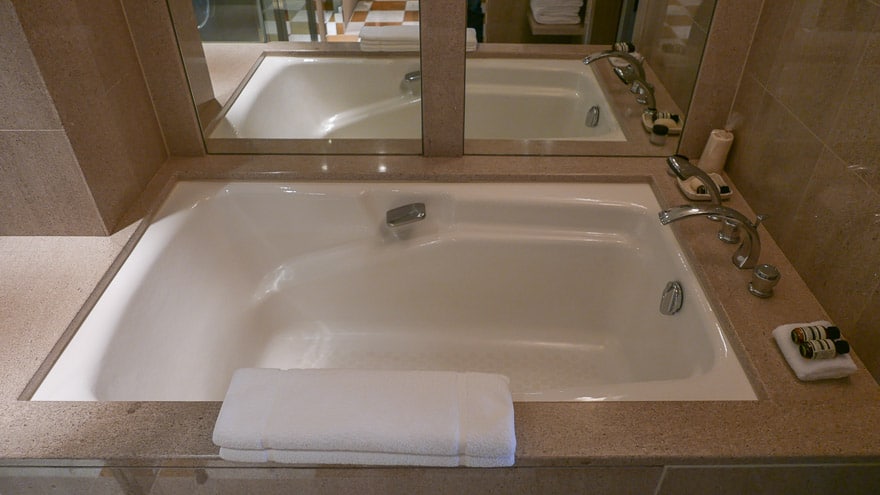 The bathroom featured twin vanities with plenty of counter space for personal items as well as a completely unnecessary television.
There was a wicker basket filled with toiletries on the counter, with a card informing us of even more complimentary amenities available on request. The thoughtful placement of our items by housekeeping each day was really fantastic. Indeed, the diligence of the cleaning staff was readily apparent throughout the room. The hi-tech Japanese toilet was located behind a frosted glass door, directly behind this area.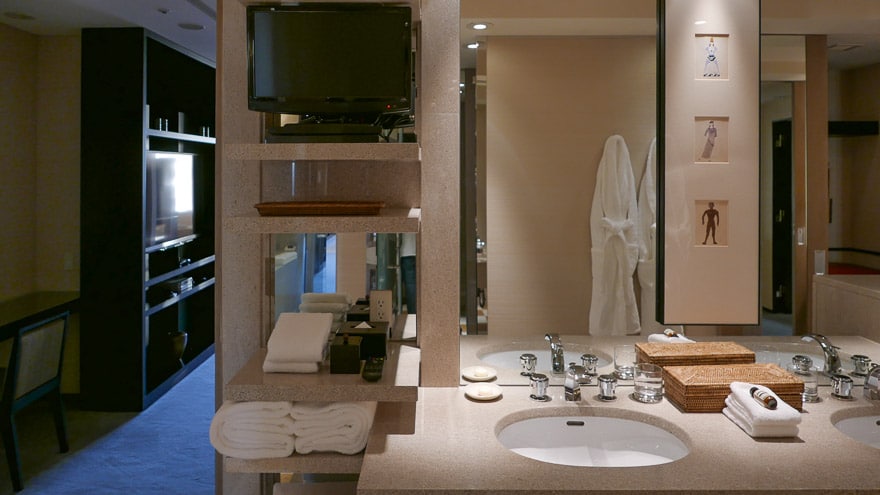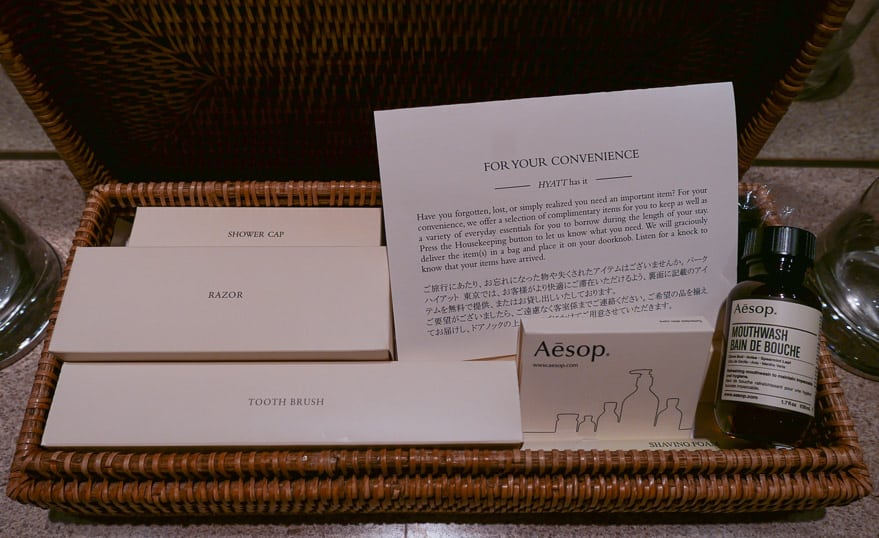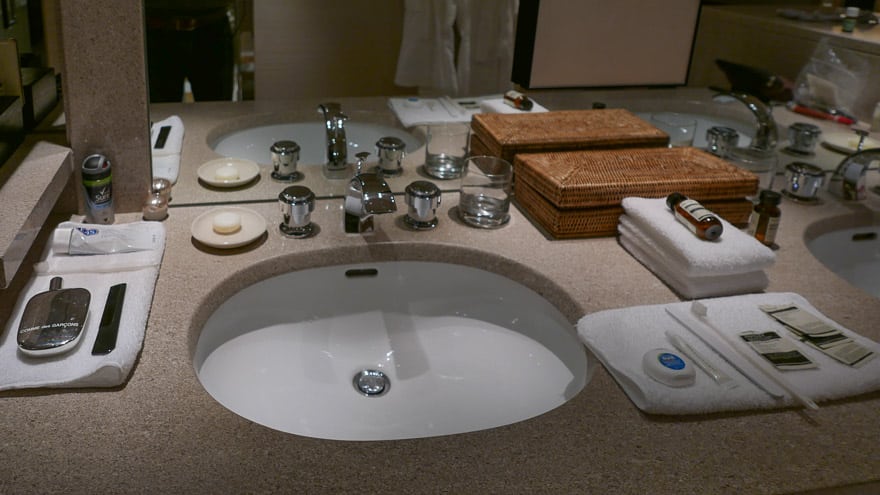 At the far end of the bathroom was a walk-in wardrobe and dressing area.
A number of additional amenities were located within the wardrobe, including a basket for the complimentary shoe shining service, a hotel branded bag and even a yoga mat.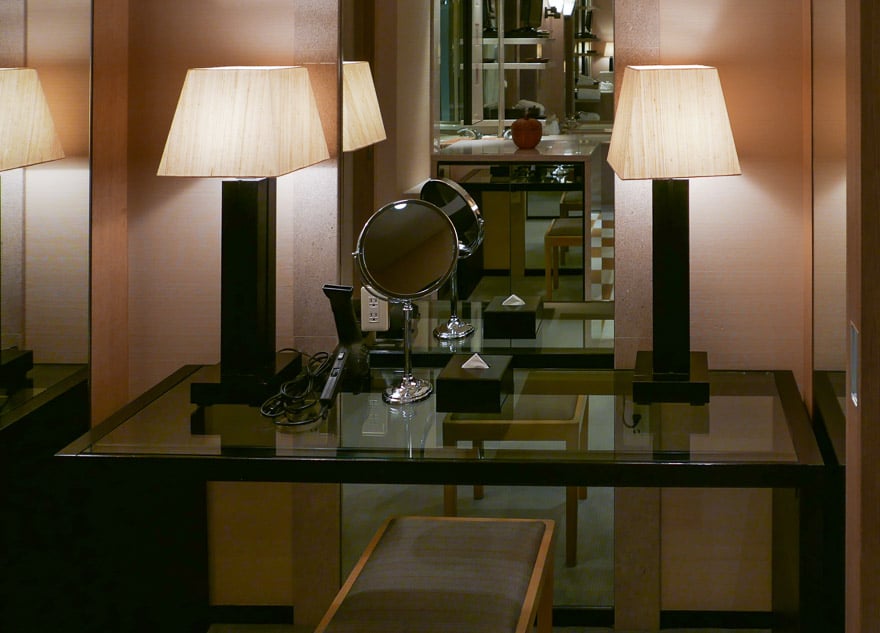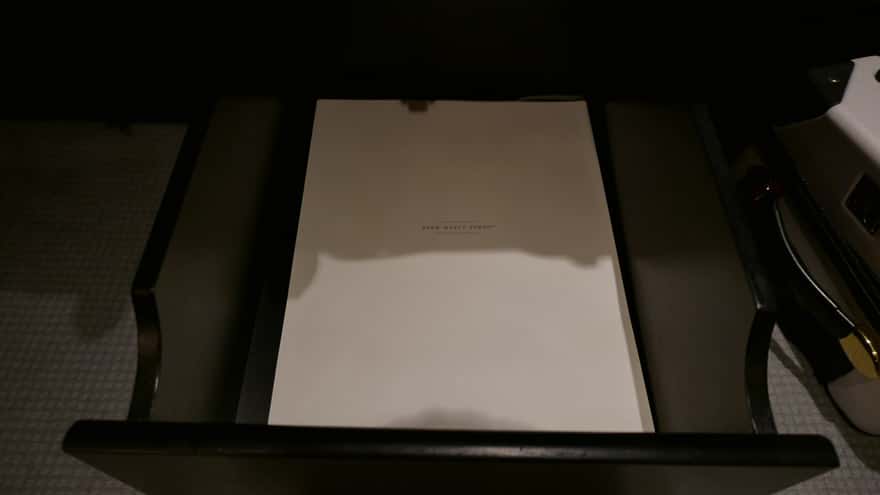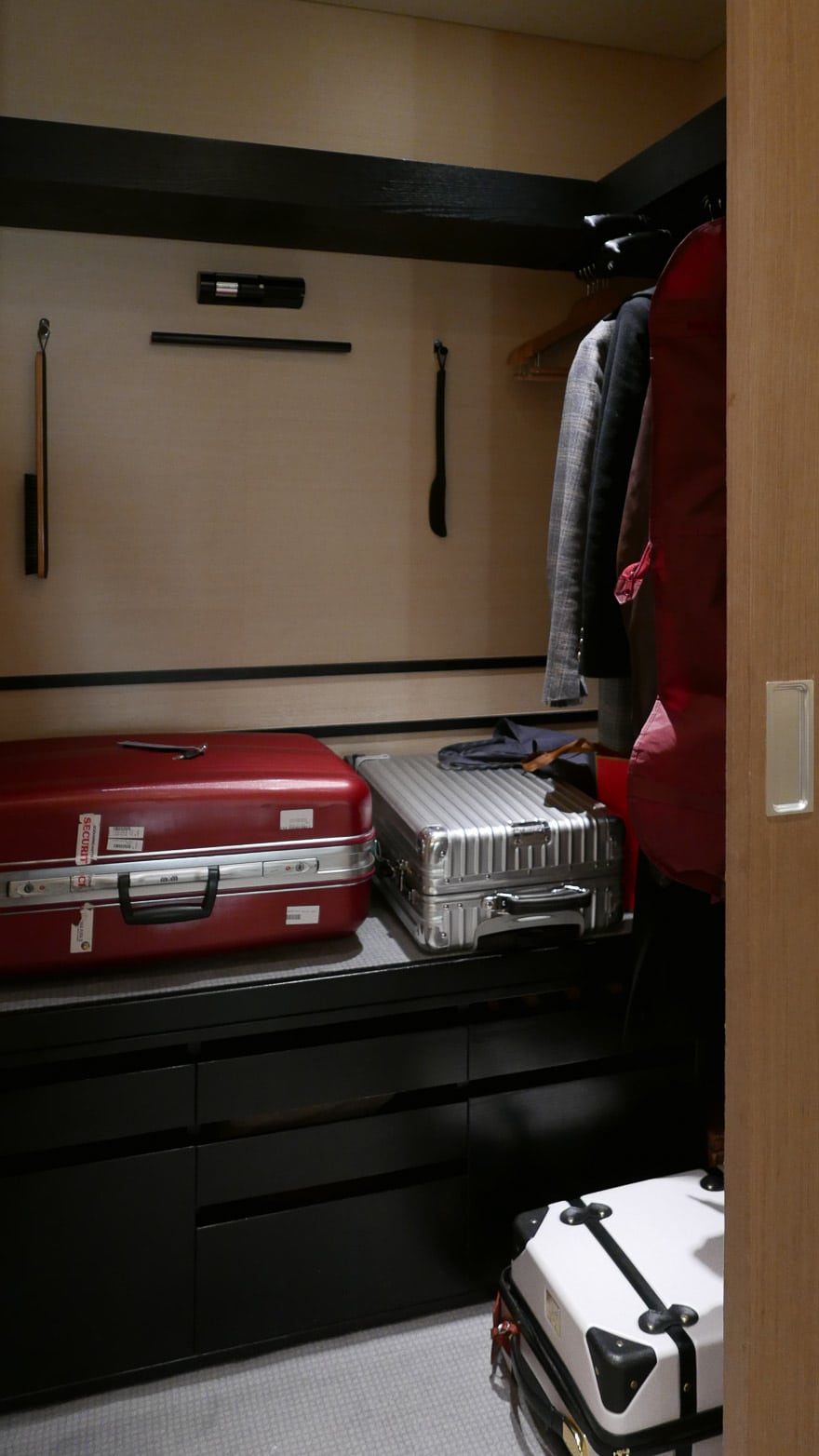 The biggest draw for fans of Lost in Translation, like myself, is the green yukata though. Perfect for recreating the movie poster in your room.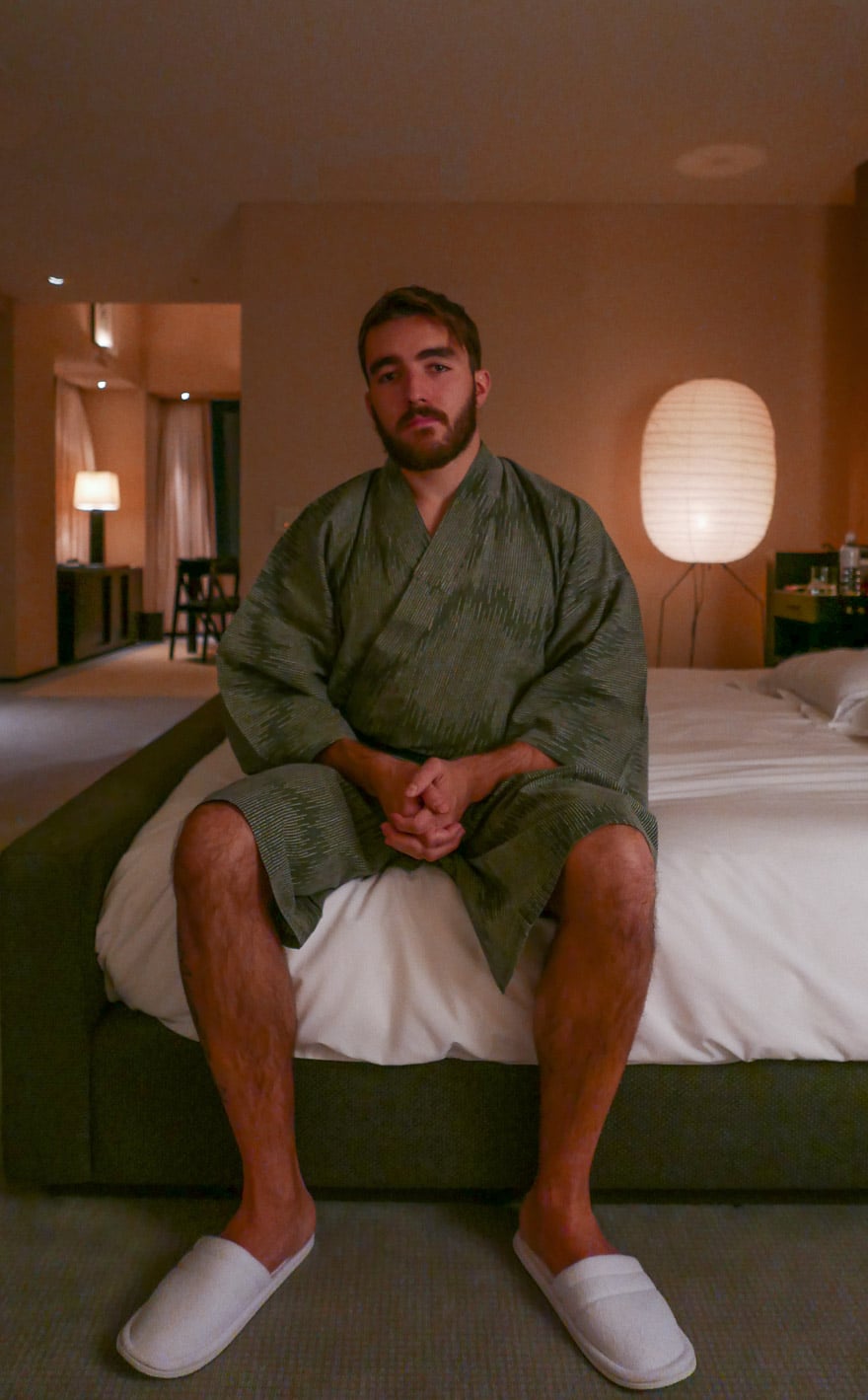 ---
Food and Drink
---
Breakfast
Having previously eaten at Girandole on our last visit, we agreed that taking our breakfast as room service was far preferable. The service at Girandole was a little slow and inconsistent and the idea of waking up and enjoying the magnificent Fuji views in our dressing gowns seemed like a much better idea.
We left the room service card outside our door each evening and noticed that you were able to select a specific time rather than a half hour slot, as is the case at most hotels. Naturally we couldn't help but test this. On our first morning we requested our breakfast to arrive at 8:36am and this is precisely when we got a knock on our door.
An impeccably turned out gentleman arrived with a large cart and proceeded to adorn our table with an extremely impressive display of food and drink.
I decided to branch out and actually try the Western food on the first morning.
The pastries were freshly baked and, as tends to be the case in Japan, better than anything you'd get in France. The omelette was also cooked 100% perfectly, rolled without a single scorch mark, no traces of oil and still runny in the centre. The cappuccino foam was a little insipid but my instruction to add an extra shot was well observed.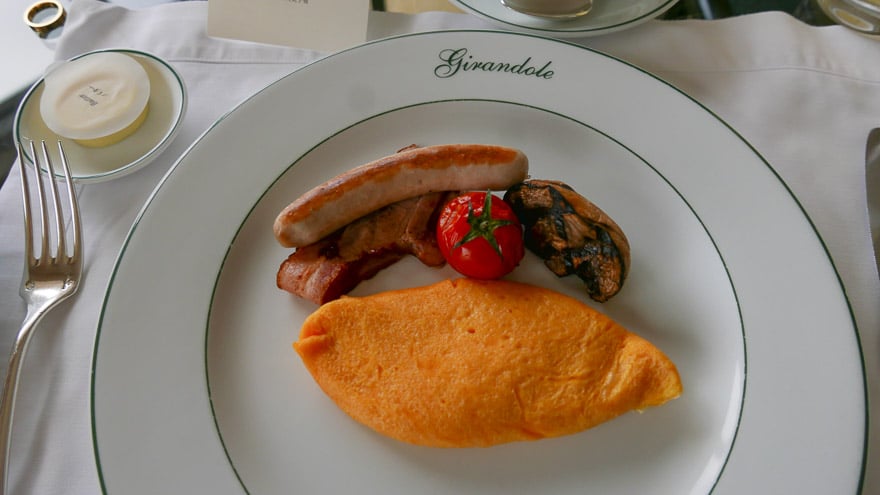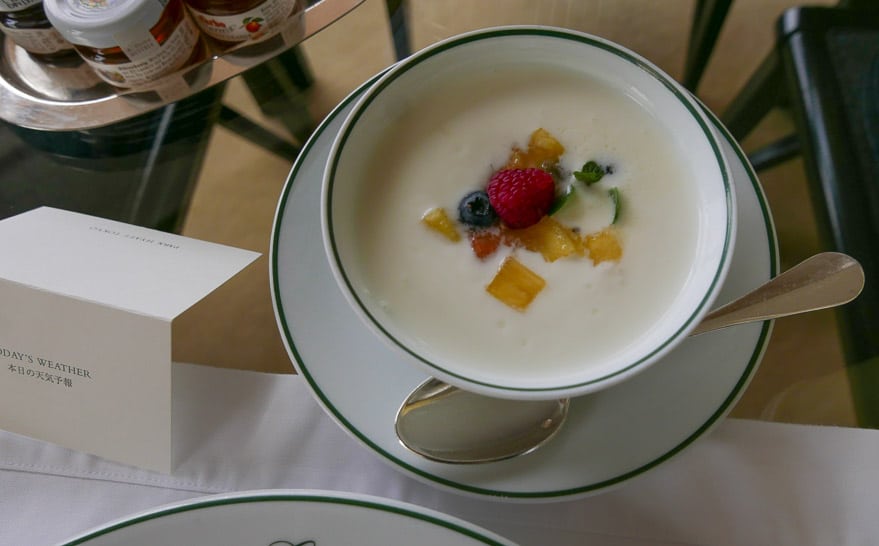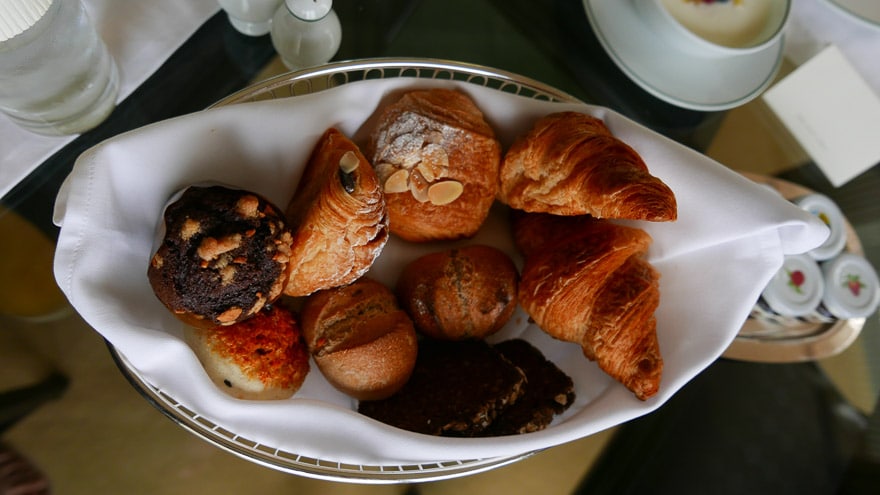 The following morning I reverted to my beloved Japanese breakfast, which was exquisitely presented and utterly delicious. Kamara went with the healthy breakfast set, which she really enjoyed, although it was definitely a little too carb heavy to be considered 'healthy' by most people!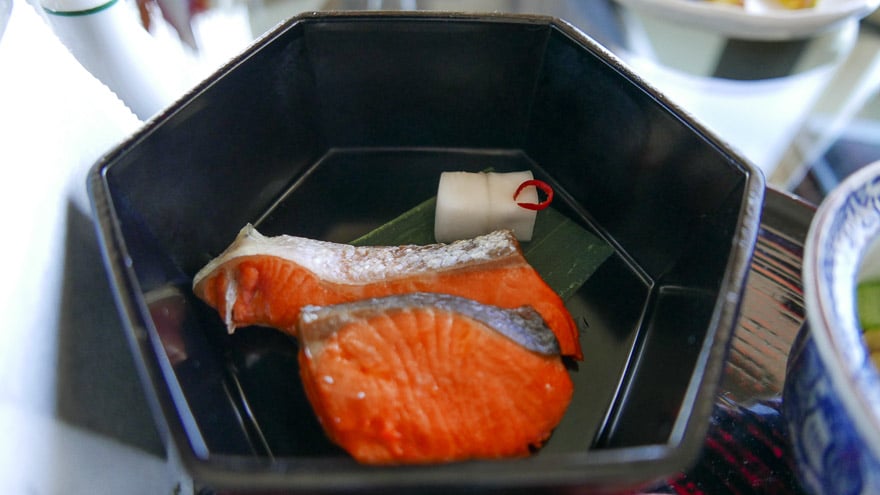 Twilight Time (5:00pm-8:00pm)
All Hyatt Globalists are invited to a daily, three hour long, free-flowing bar featuring wines, spirits and any cocktail you like, in addition to a variety of canapés and appetisers.
What a lot of people don't realise is that anybody can join for a fee of ¥4,800+tax. This isn't limited to hotel guests either, so if you're visiting Tokyo and staying elsewhere you can still come and enjoy one of the best deals in town!
Up until 2013, Twilight time was held in the world famous New York bar on the 52nd floor but then moved to the Peak Bar on the 41st floor.
Despite the 'downgrade' this is still a very elegant event held in the verdant environs of the high ceilinged main reception floor.
A full buffet was displayed around the bar, with a large selection of wine also available for those wanting to pour their own drinks.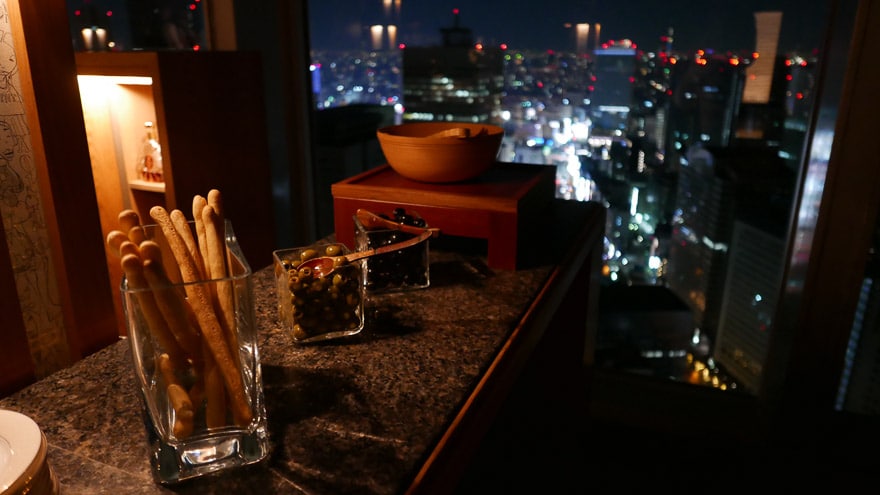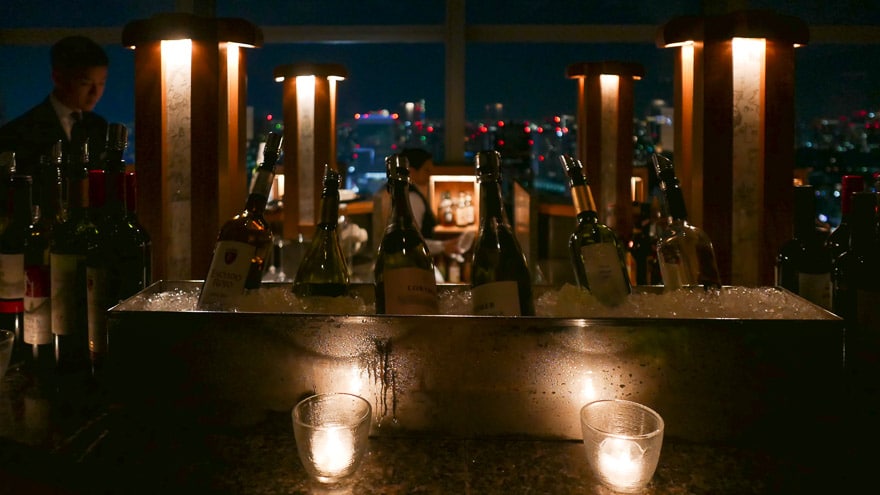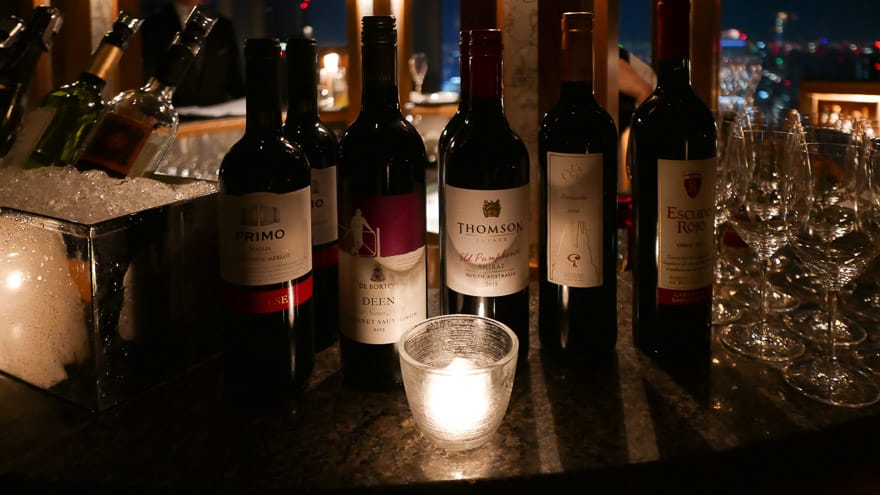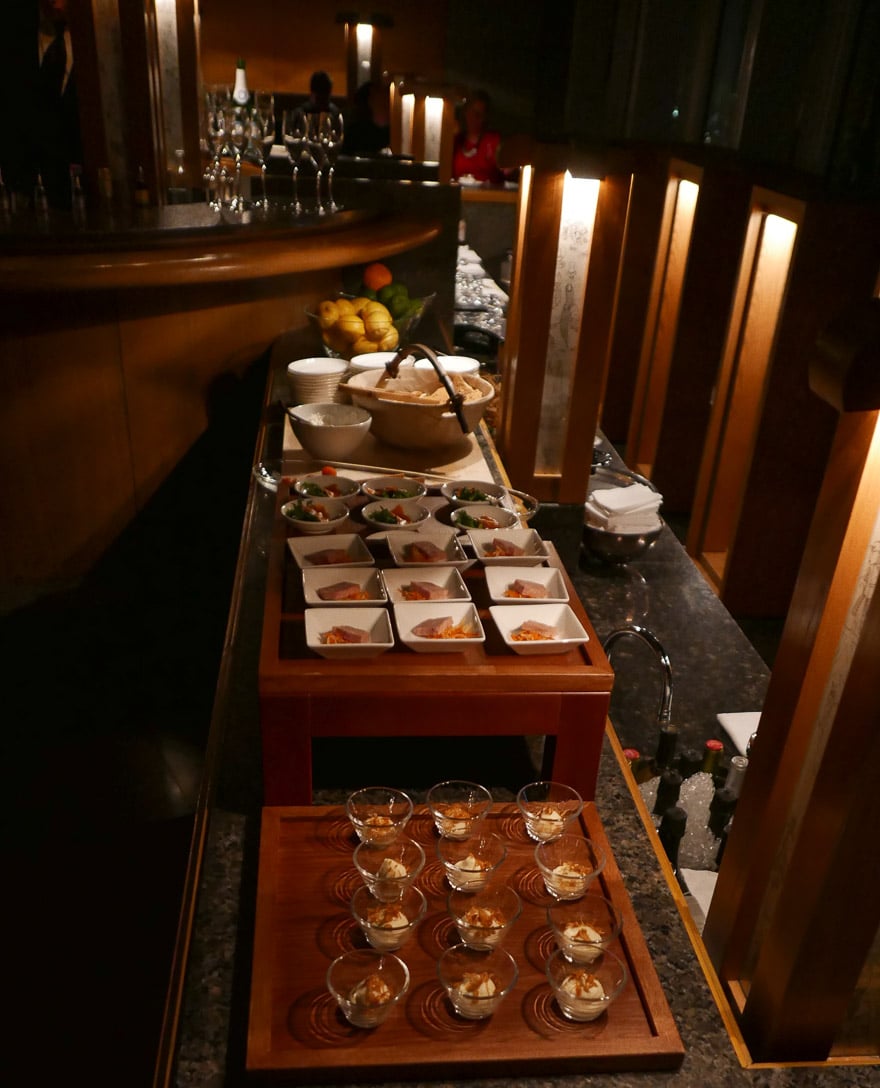 Not only was the buffet very extensive…
…staff were also regularly doing the rounds to clear drinks, take orders and offer trays of fresh canapés.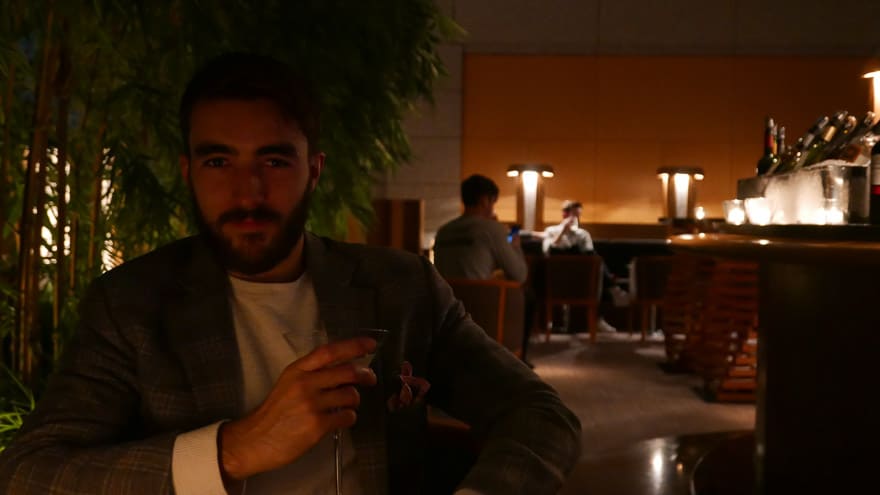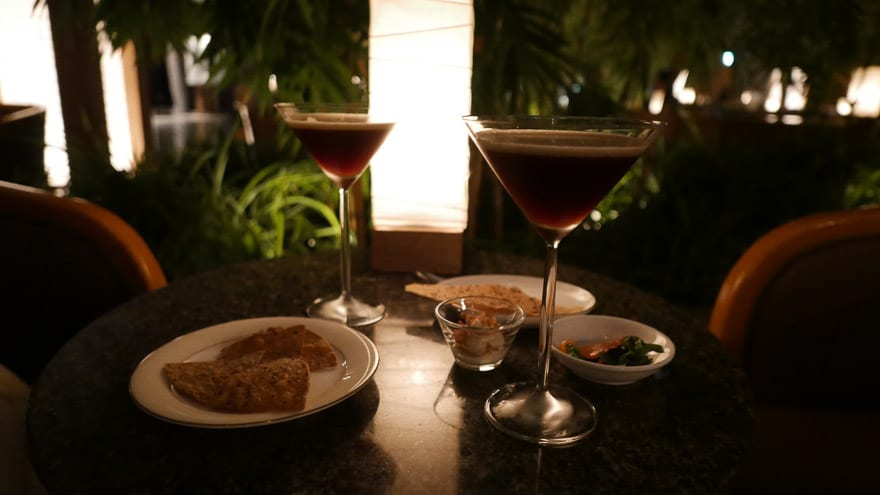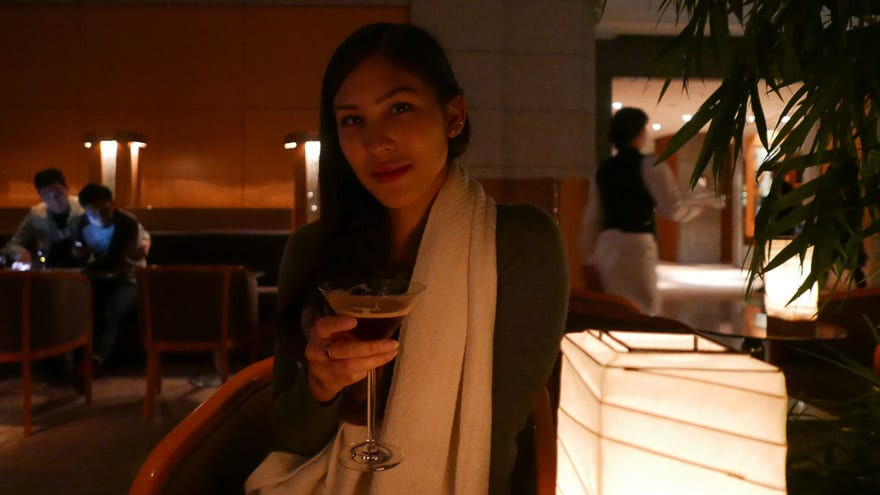 ---
Leisure Facilities
---
Since nothing had changed since our last visit in 2014, I didn't take any new photos of the leisure facilities. Below is the original text from that 2014 visit.
Gym
In order to not disintegrate into a horrific, amorphous tub of goo, given all the eating and the drinking I indulge in, I always try and find time to hit the gym whenever possible, particularly when travelling.
Some hotel gyms are a total hardship: you do what you can with a 1980s treadmill, 6 pairs of dumbbells going up to 10kg and some kind of lat pulldown machine.
Then again, other gyms are mind-blowing, have state of the art equipment, free gym clothes and epic 360 degree views of an entire city, stretching all the way to the mountains in the distance.
Guess which one the PH Tokyo is?
Spa
I checked out the spa pre-breakfast on the last day, just as it had opened. I was greeted by a member of staff, shown where I could pick up a free tracksuit and socks, handed some slippers and shown around the facilities. There are a series of different relaxation areas, a small buffet area (with an honour bar section) and every imaginable type of Aesop product ever.
I didn't take any pics inside the actual spa area, you'll be glad to hear, even though I was alone. That could have made for a seriously awkward conversation had anybody walked in!
The spa itself has a bunch of showers featuring Aesop products and a main room with a huge hot tub, set in stone in the middle. There are then various steam rooms, saunas and a waterfall around the edges – pretty cool and relaxing.
---
New Year's Eve
---
I hadn't been able to find any other reviews at this property over New Year's, probably because a great deal of professional reviewers don't pay for their stays and hotels are never going to comp you a room on their busiest night of the year…
As such I really didn't know what to expect. The Conrad Singapore for example really didn't do much at all, other than creating an overflow area for a very busy club lounge. I was secretly hoping that a hotel of the Park Hyatt's calibre would do something more.
As it transpires, my hopes were more than fulfilled. Upon check-in I was given a letter detailing all of the changes that would take place around the NYE period.
NYE Schedule at the Park Hyatt Tokyo
Dec 31st : Peak Bar closed and Twilight Time moved to the New York Bar
Dec 31st from 11:00pm to midnight : Toshikoshi Soba served at Kozue
Jan 1st from 6:30am to 7:00am : Otoso sake served at New York Bar
Jan 1st-2nd : Japanese Breakfast replaced by Osechi at a cost of ¥7,000
Twilight Time at New York Bar
The Park Hyatt's destination bar features live Jazz, spectacular views and some of the best cocktails in town. That's before you factor in the unrelenting allure for movie enthusiasts, eager to sit at the same table as Mr. Bob Harris.
Ordinarily there is a cover charge of ¥2,500 per person after 7pm with each drink costing at least this much again.
For the hotel to offer Globalists free flowing cocktails here, for three hours, on New Years Eve is remarkably generous.
A table had even been reserved for us close to the band.
We were told to order whatever cocktails we wanted and were served a set of canapés to accompany the first round, with bar snacks to accompany the drinks thereafter.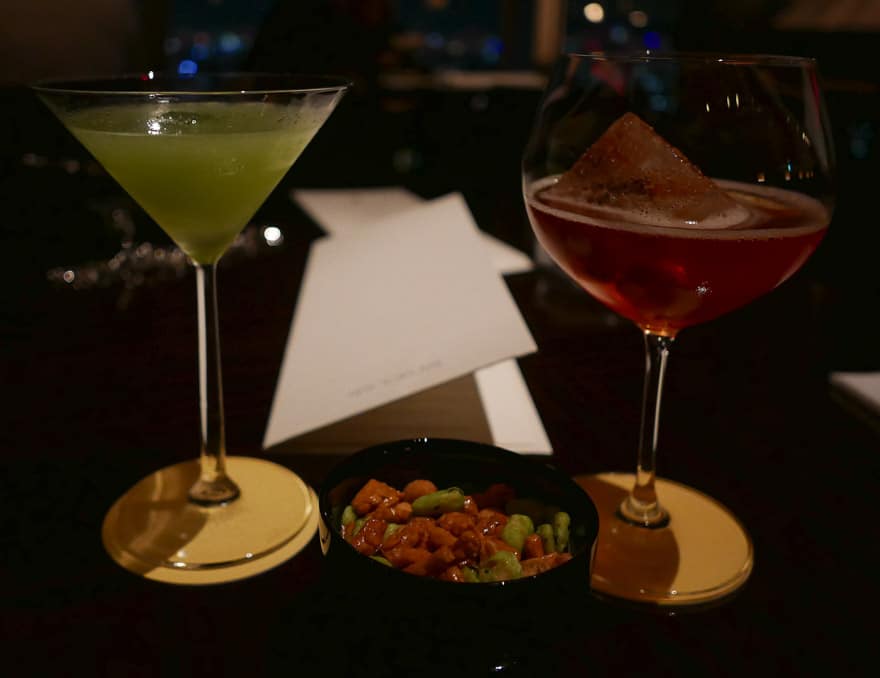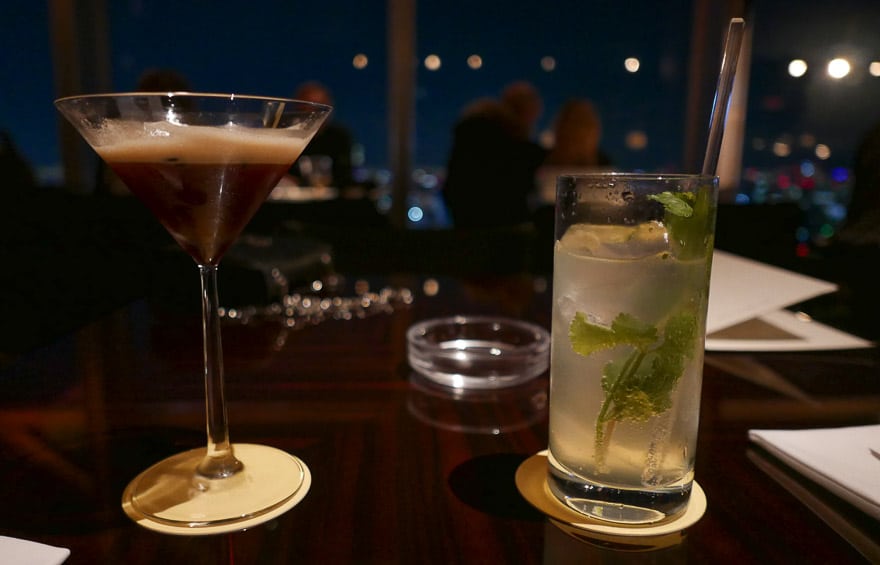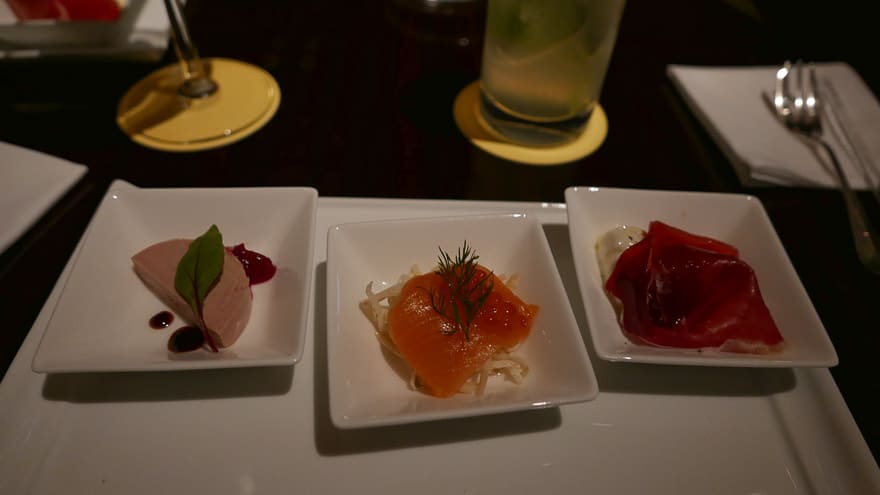 All in all a fantastic way to begin the New Year's festivities.
Toshikoshi Soba
Having the Twilight Time drinks moved to New York bar was a fantastic treat but nothing about the experience was culturally about NYE.
What I was most impressed with was the degree to which the hotel made the effort to present Japanese traditions to its guests. The eating of very long Toshikoshi soba noodles just before midnight is a tradition which dates back to the Edo period. The length of the noodles symbolizes longevity at a time in which we move from one year to the next. The noodles were served in private rooms at Kozue restaurant on the 40th floor and were free of charge for all guests.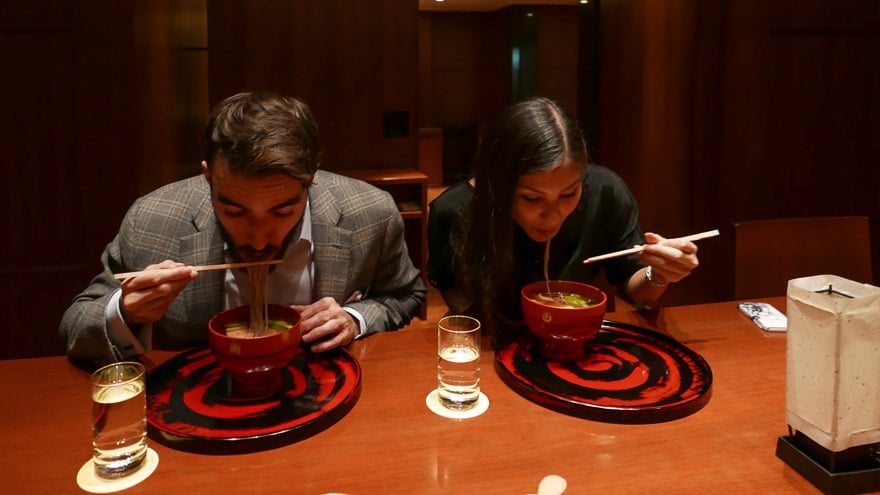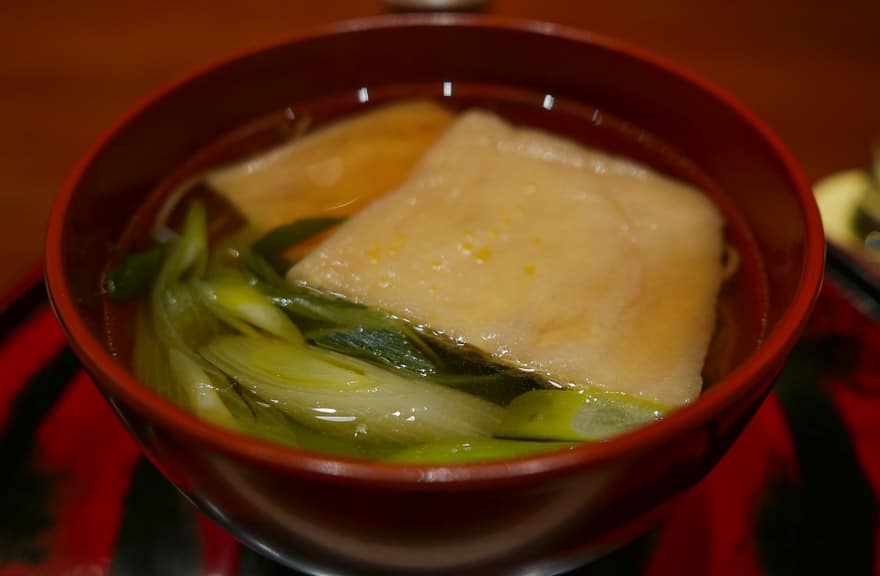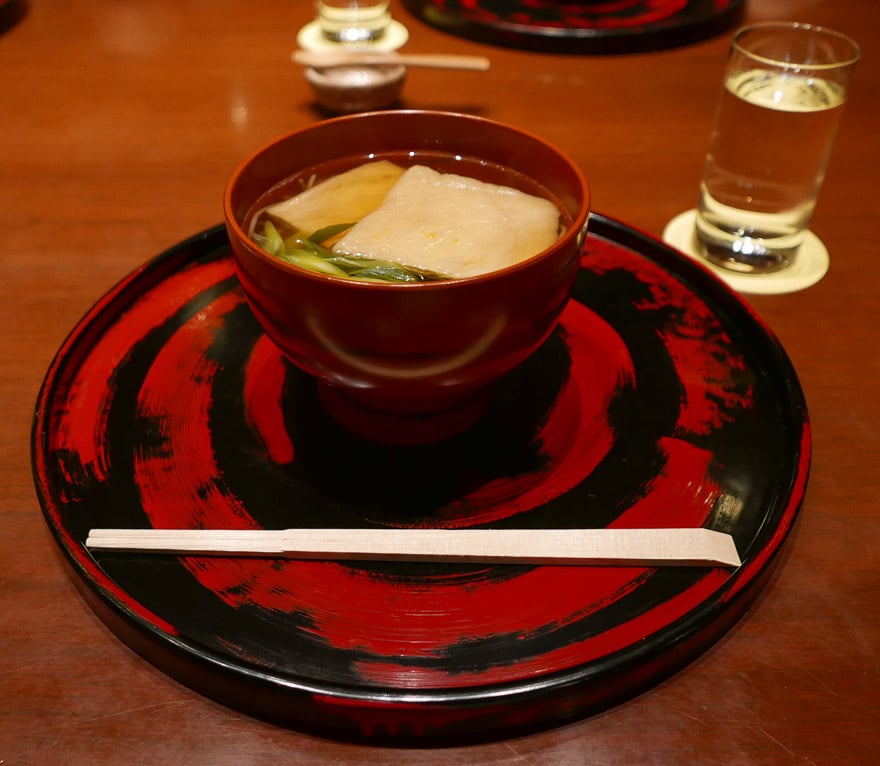 Otoso Sake
I had great intentions to show up at 6:30am and drink some complimentary sake at the New York Bar but having gone to bed at roughly 5:30am the plan did not work out. The image below has a lot to do with this turn of events.
Osechi breakfast
On January 1st and 2nd the regular Japanese breakfast was replaced with a full traditional Osechi, an extremely elaborate meal usually only served amongst family.
I don't think it's even possible to eat this in a restaurant anywhere since most will be shut on January 1st when the meal is traditionally served.
I Imagine the only alternative means to source Osechi would be to pay a handsome sum for one at one of the high end food courts like Isetan or Takashimaya, storing it overnight for consumption the following morning, in your hotel room.
When I called up to order it the person on the phone confirmed that we already had regular breakfast included, so would only be required to cover the difference in cost: ¥2,800 per person.
Considering the extraordinary feast that showed up, I think that this was quite the deal.
Every single aspect of this meal was incredible.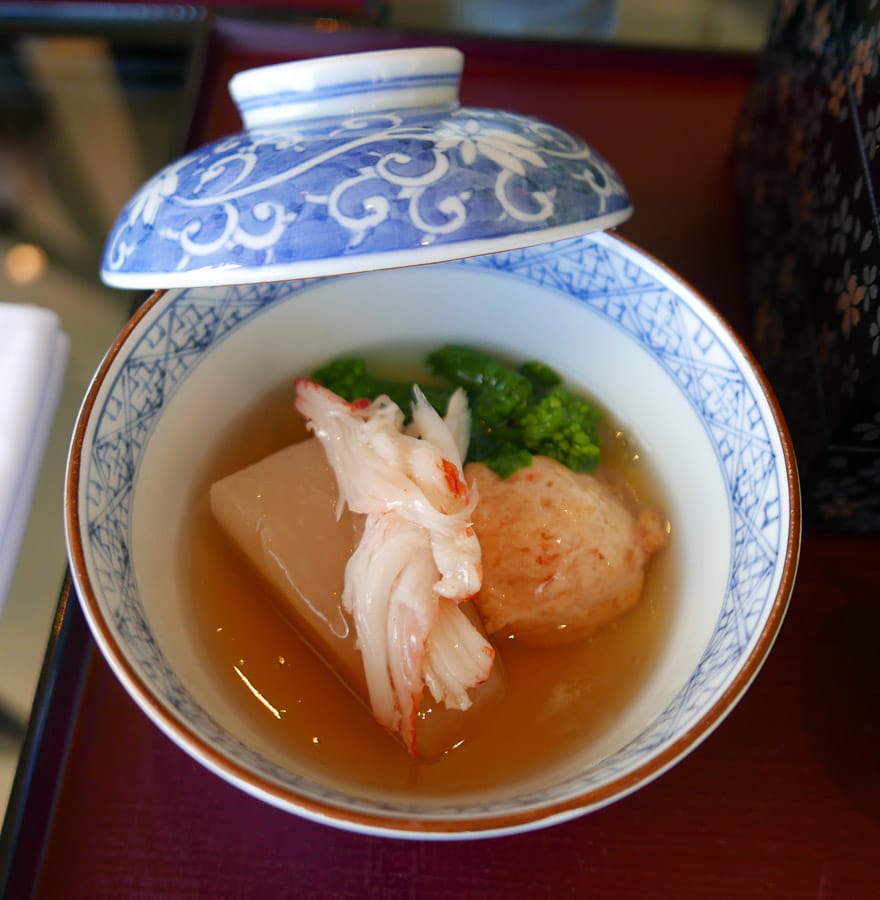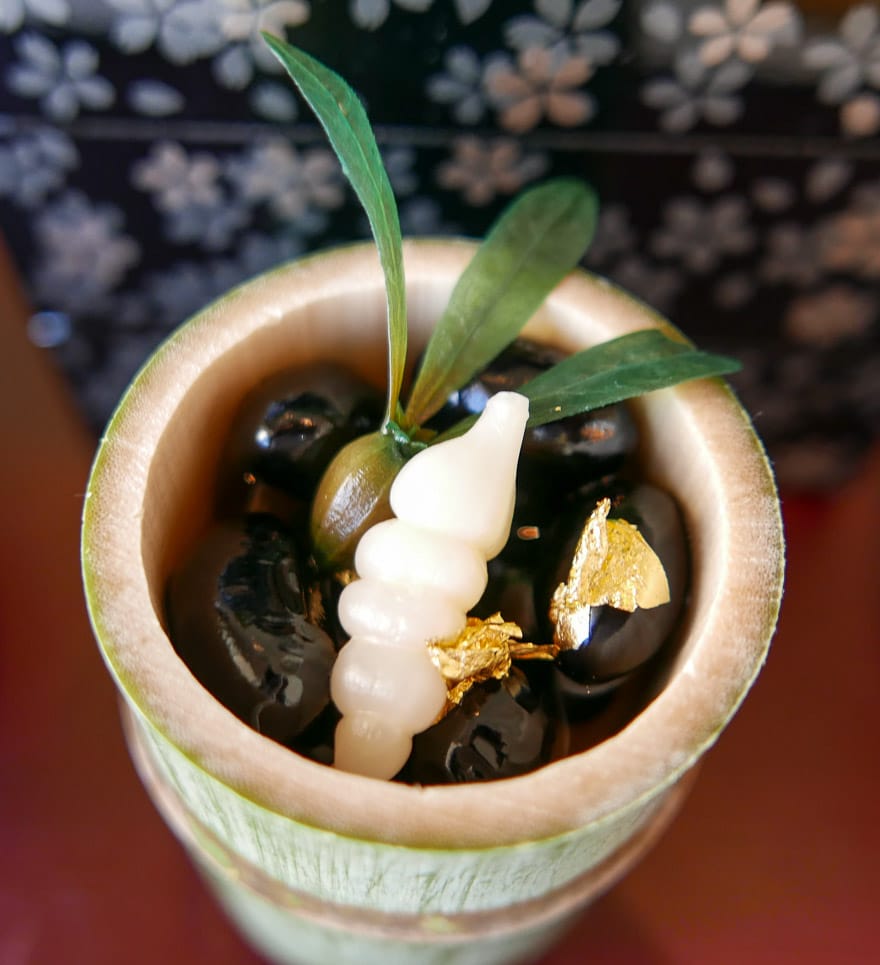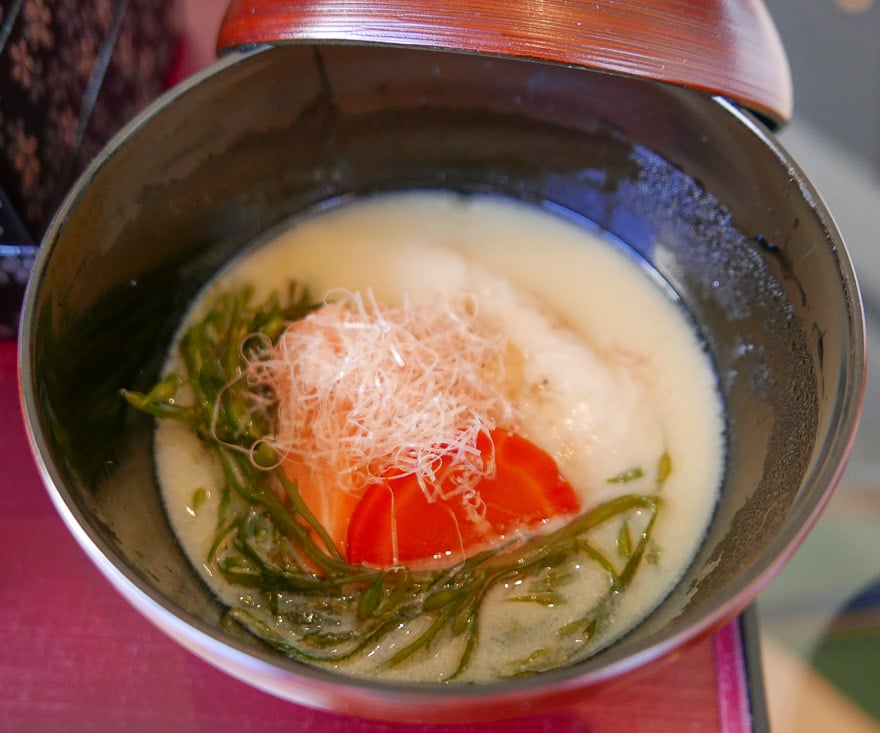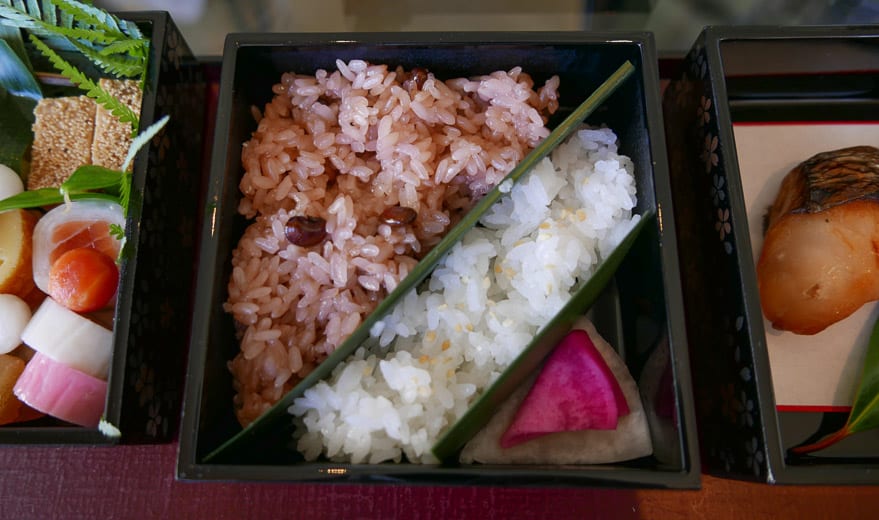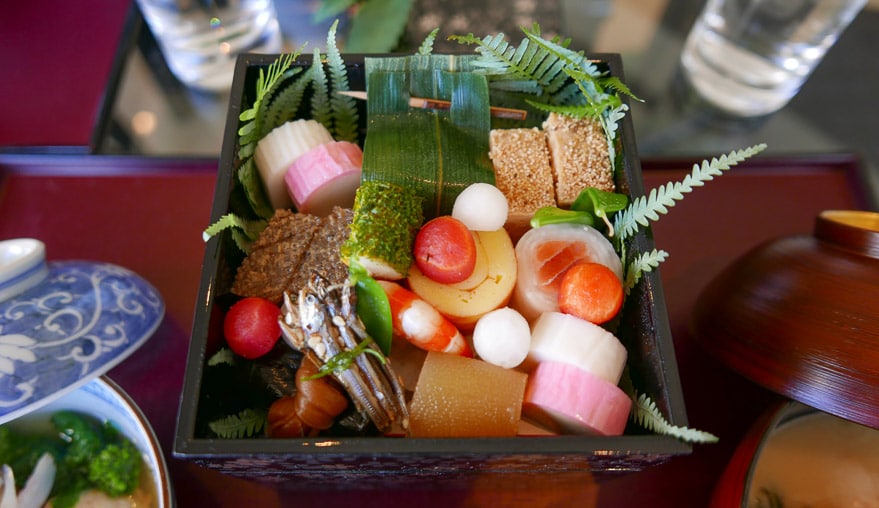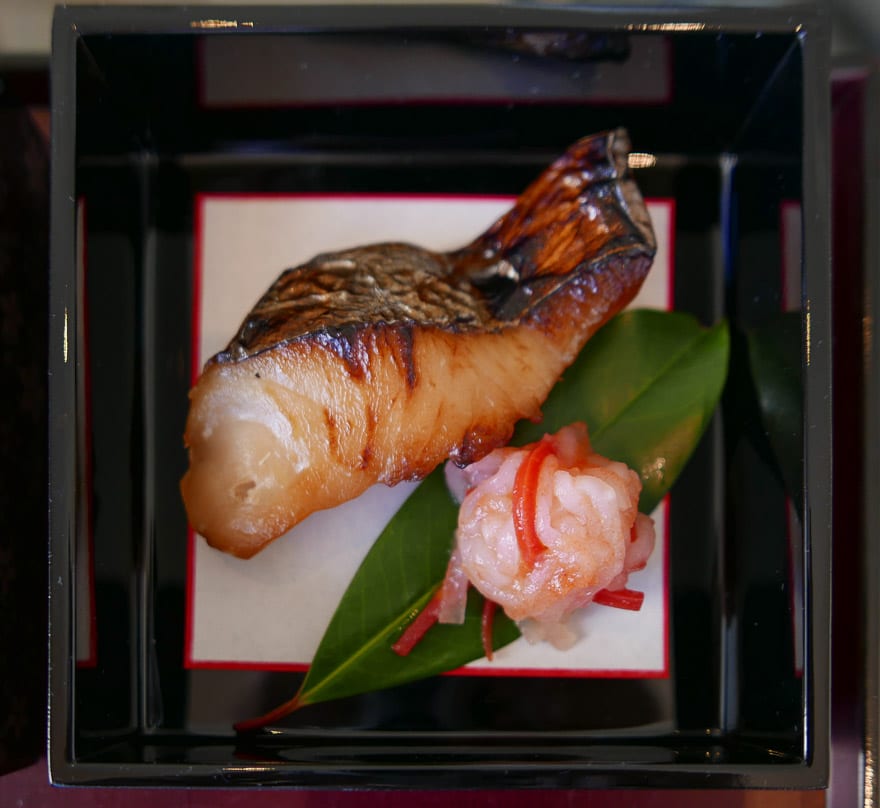 Sitting in a freshly laundered robe, with a bright blue sky behind me eating this immense feast as the snow capped Mount Fuji glistened in the background…
…If there's a better way to begin the year than this, I've yet to hear of it.
---
Service
---
All of the staff here genuinely go above and beyond. You will never pass a single staff member that doesn't stop walking and bow as you approach. The presentation of every item of food and drink is carefully considered. A solitary drip of water, a misaligned coaster or an item not within a guest's reach are unthinkable. If you ask for almost anything the staff will do whatever is within their power to help.
The cleaning crew are probably the best that I've encountered at any hotel, they're right up there with the staff at Amanoi. The staff here get bonus points though for not even using cleaning trollies, instead using wicker baskets in order to maintain the elegant aesthetic of the hotel, on the off chance that you actually run into them as they clean.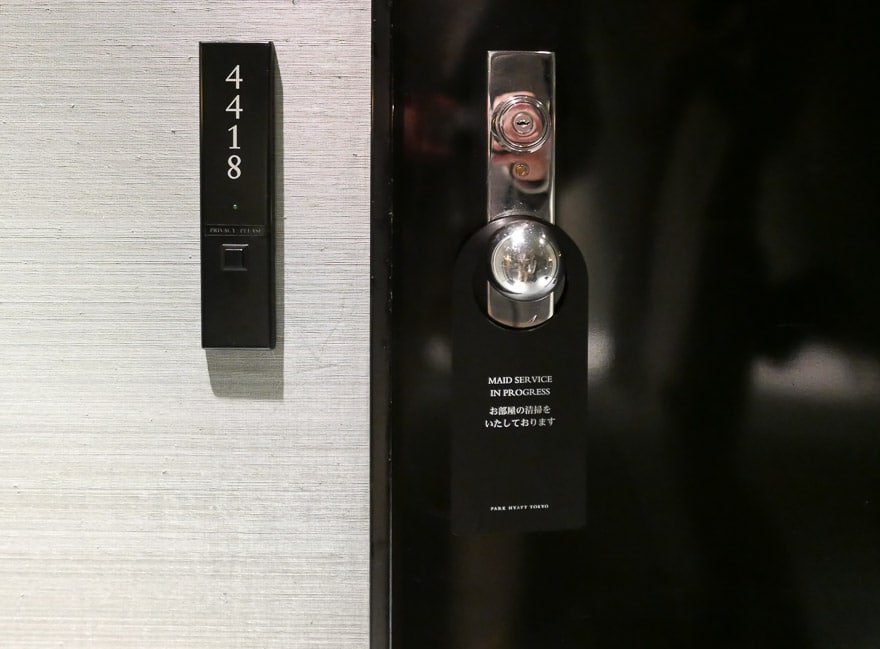 ---
Conclusion
---
Basics Checklist
☑︎ Power sockets near the bed
☑︎ Easy to understand light switches
☑︎ Coffee machine
☑︎ Separate shower and bath
☑︎ Blackout blinds
☑︎ Stable, fast and free Wifi
☑︎ Feather pillows
☑︎ Quiet and powerful aircon
It's no secret that I love the Conrad Tokyo and have stayed there more than 10 times. I've only been to the Park Hyatt Tokyo twice and more than anything this is based on the extreme difference between the cash cost of suites at these two hotels and the fact that I no longer have Globalist status with Hyatt.
If I book a base level room at the Conrad I'll get a bayview suite, club lounge access and breakfast thrown in. If I book an entry level room here… I'll get breakfast and a possible upgrade when booking with Hyatt Privé but no suite and no club lounge.
Having said that, if your budget permits you to book a suite here and you are able to enjoy all of the perks, this is as an utterly extraordinary hotel experience.
It is probably not a hotel for the first time visitor to Tokyo given the walk to the station but for those of us looking for an oasis of tranquility, the relative inconvenience of taking a taxi at the beginning and end of each day is more than outweighed by the superb experience overall.
The decor is not for everyone and neither is the formality of the service. Ordinarily I'm all about modern minimalism and a hands off but friendly approach but somehow this hotel just works. Coming here feels more like a life event than a mere hotel stay. Honestly there's nowhere on earth quite like the Park Hyatt Tokyo.
---
Book The Park Hyatt Tokyo online with Hyatt Privé benefits
---
Hyatt Privé Partner Booking
Click the image to get the best available, flexible rate and also receive:
Priority room upgrades, subject to availability.
Full breakfast for up to two in-room guests.
$100 Hotel Credit.
Welcome amenity.
Early check-in/late check-out, subject to availability.
Note: You will still earn stay credit and ALL elite benefits, exactly like a direct booking with Hyatt.com.
The Park Hyatt Tokyo can be booked directly online by clicking the "BOOK NOW" image.
First time booking with us? Here's how to quickly get set up:
HOTEL BOOKING GUIDE EMAIL FOR BOOKING ENQUIRIES
---