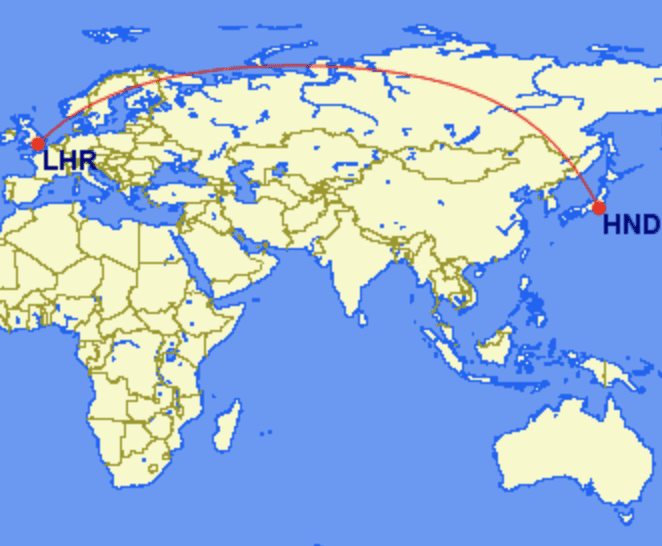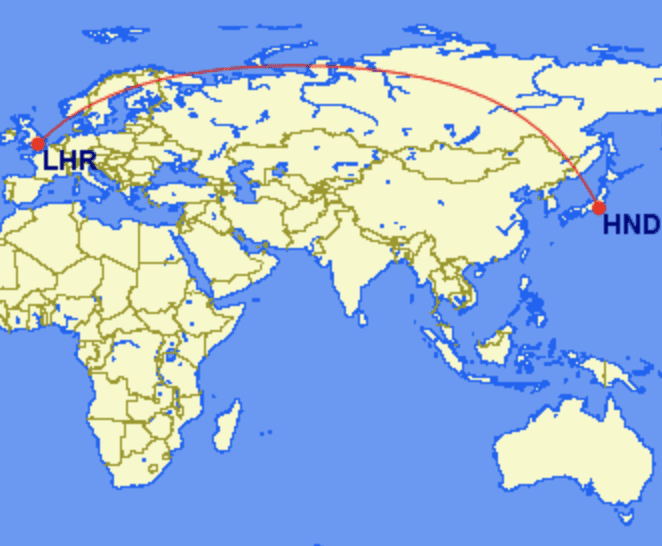 Japan Airlines (JL)
Flight: JL 43
Class: First Class
From: Tokyo (HND)
To: London (LHR)
Duration: 12h10m
Aircraft: B777-300ER
Seat: 2G
Frequent Flyer status during flight: OneWorld Emerald
Booking type: American Advantage Miles
Flight date: January 2019
---
Intro
---
Jump straight to The Conclusion
---
I've had the good fortune to fly JAL First on a number of occasions both to and from Tokyo – you can read about previous experiences here:
This review is more of a follow up, showing how the service has evolved over time and what to expect on board as of 2019.
I booked this (as always) using AA miles, at a cost of 90,000 miles + £17.20 in taxes per person. This isn't quite the screaming deal it used to be but still offers significantly better value than redeeming 120,000 avios and £27.90 per person with BA.
---
Pre-Departure
---
The First Class check-in at Haneda isn't particularly special, there isn't a separate wing or exclusive area of any kind (unlike ANA in Narita or Thai in Bangkok). I did smile to myself though when I saw that the roped entrance featured the same bamboo Christmas tree as the entrance to the Conrad Tokyo.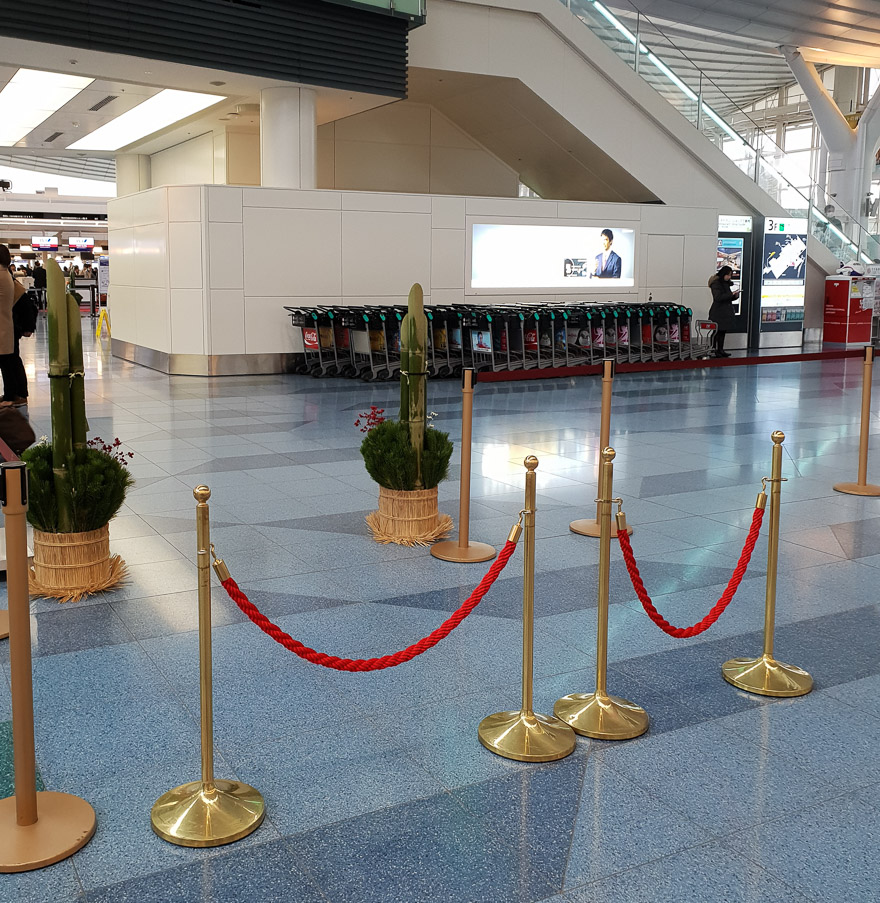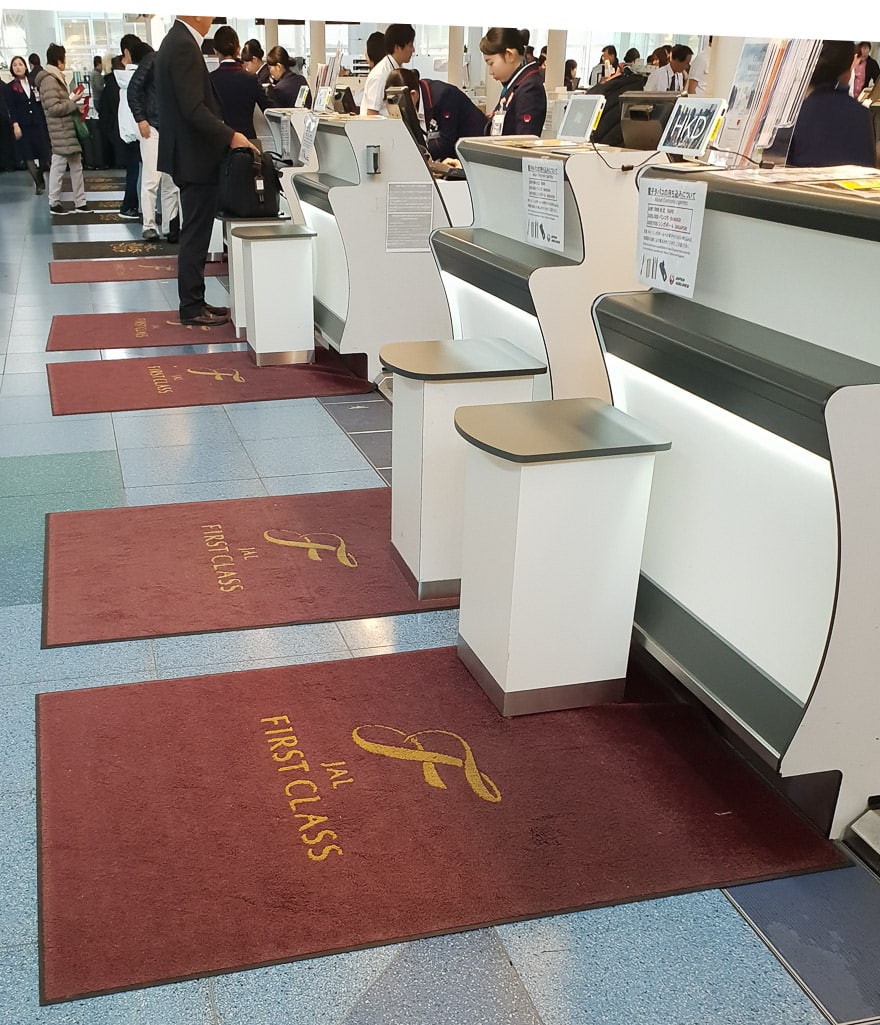 One distinct advantage for First Class ticket holders and those with top tier status is that Haneda airport has a special security lane dedicated to them.
If you are flying in Business or only have mid tier status, Haneda airport will make you line up with economy, to clear security.
Having breezed through the premium lane we headed to the wonderful JAL First Class Lounge, which I've also reviewed a couple of times in the past.
The lounge is still great, featuring the single best breakfast item I've ever experienced in an airport: The rye galette with egg, ham and cheese. There are also self service buckets filled with Laurent Perrier champagne (just like the Air France lounges in Paris).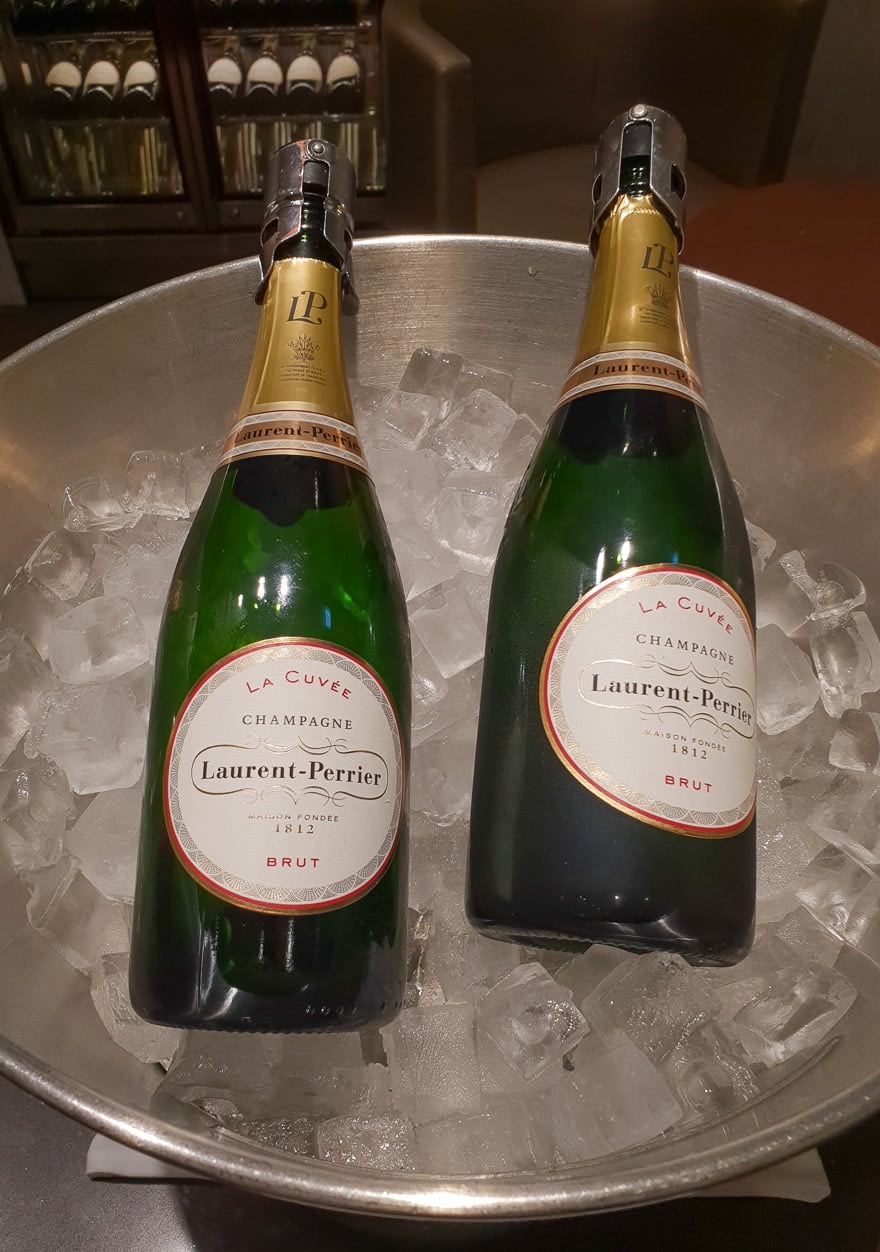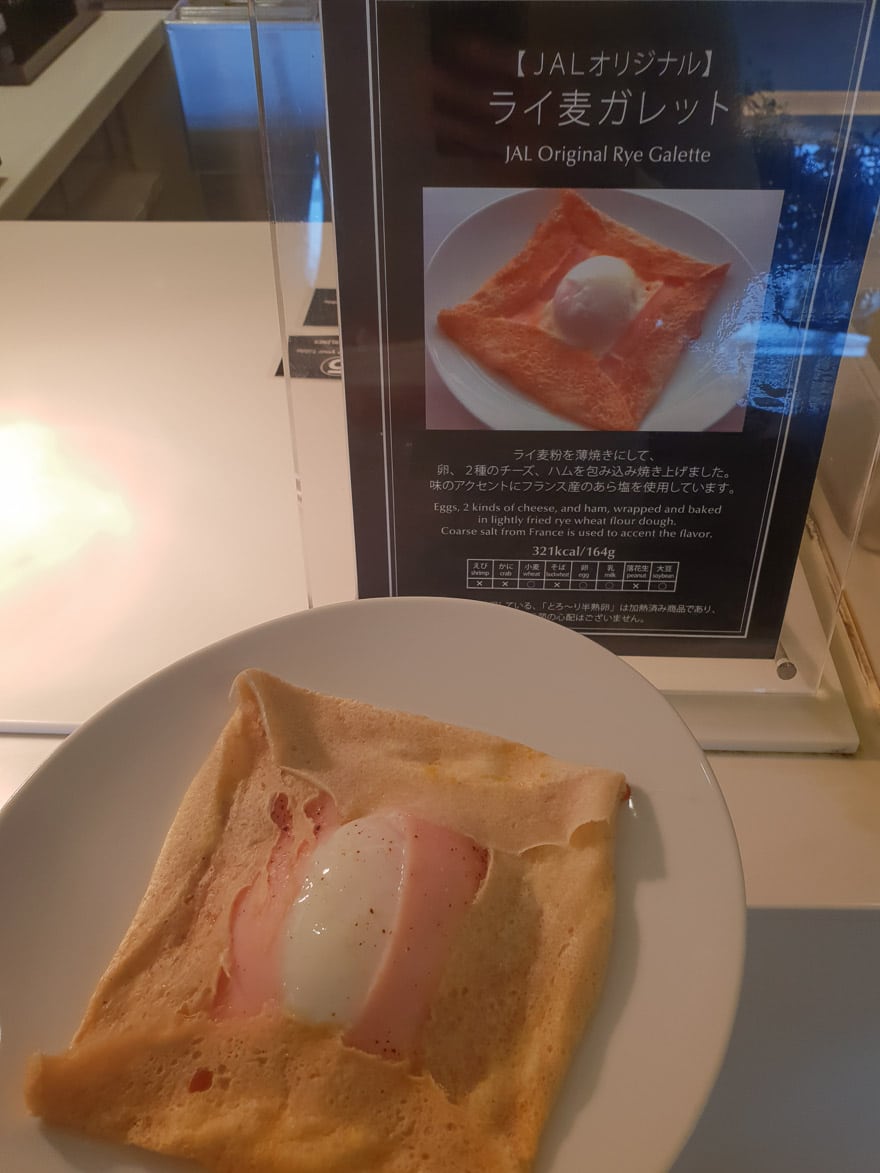 However, the massages are long gone as are the bottles of Hibiki 17 that graced the self-service bar when the lounge first opened.
Still, the RED Lounge, filled with Aviation memorabilia and featuring a John Lobb shoe shine station, was as fantastic as always. As an added bonus, on this visit I was approached by one of my readers: Sam, who I really enjoyed chatting to!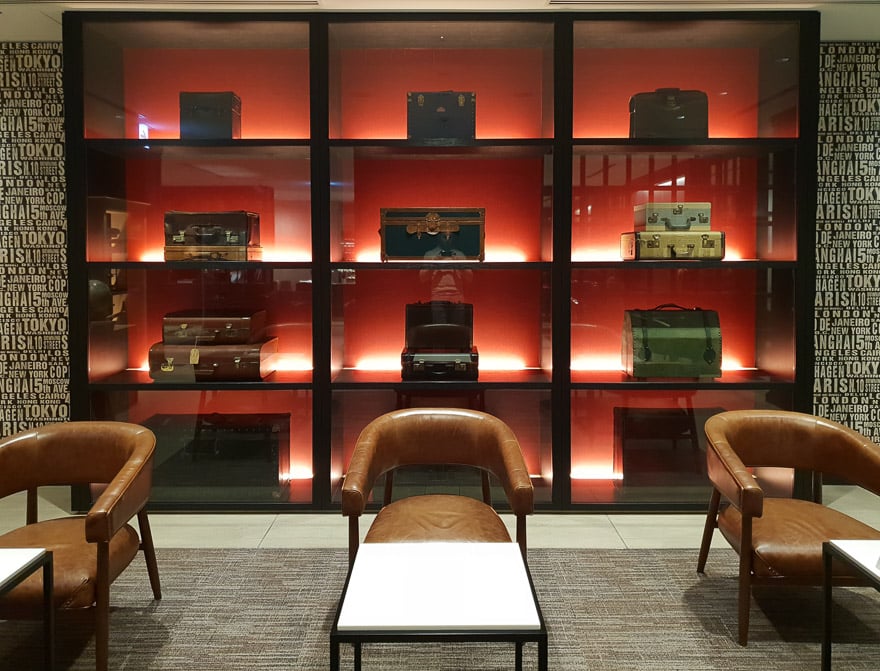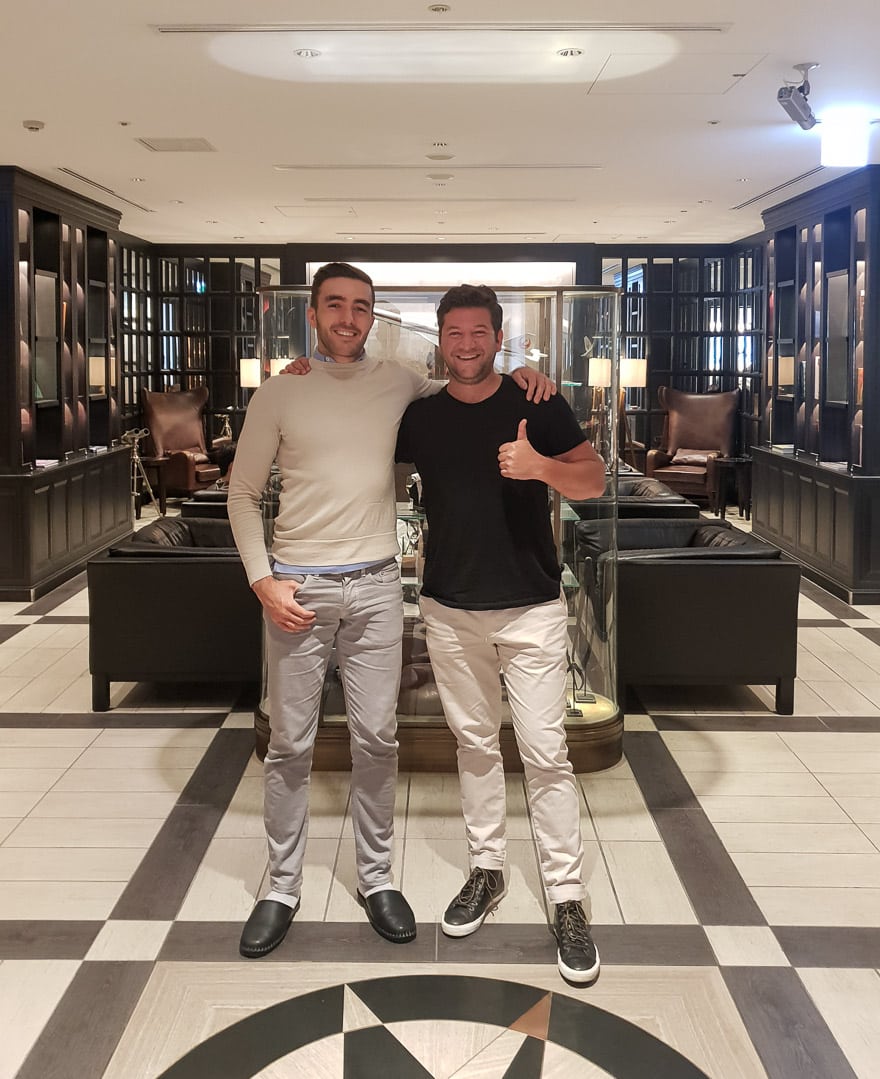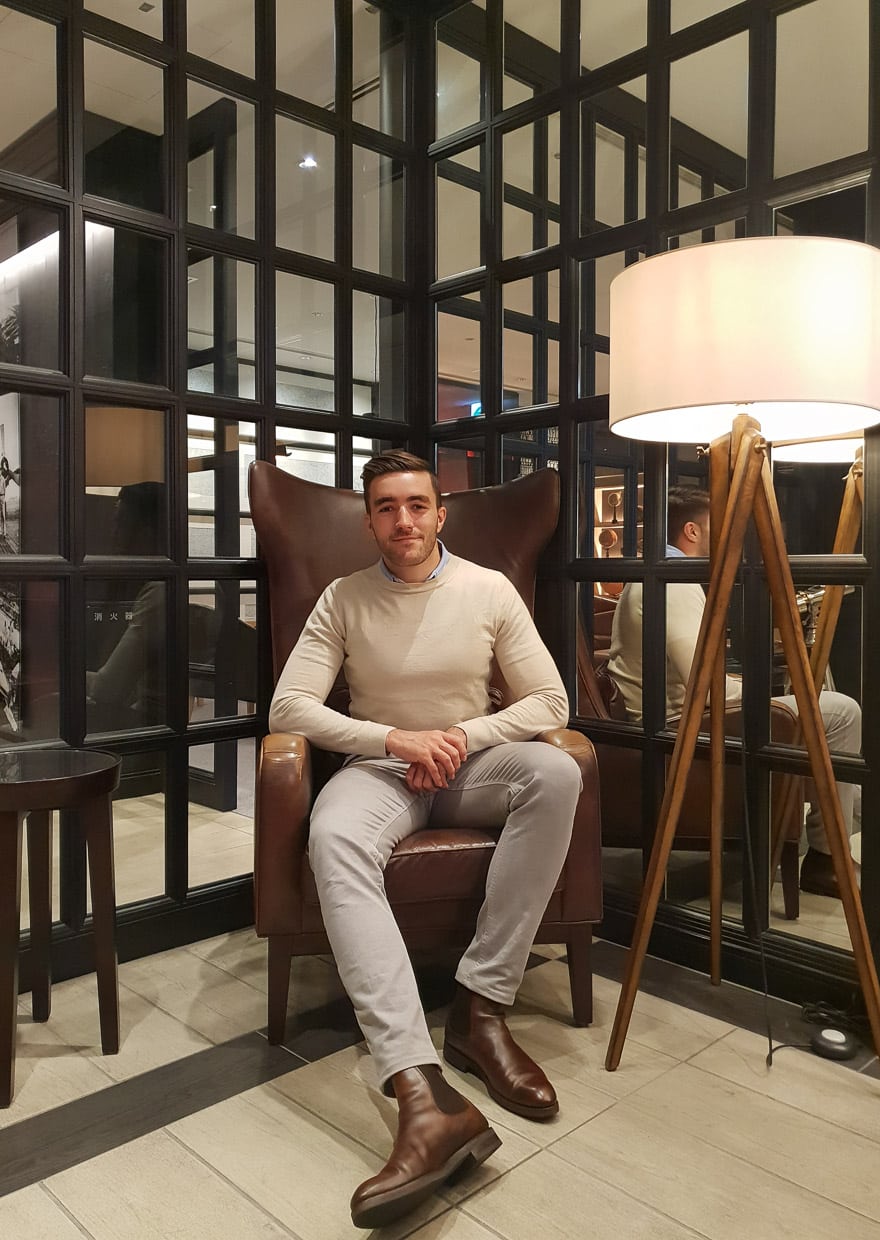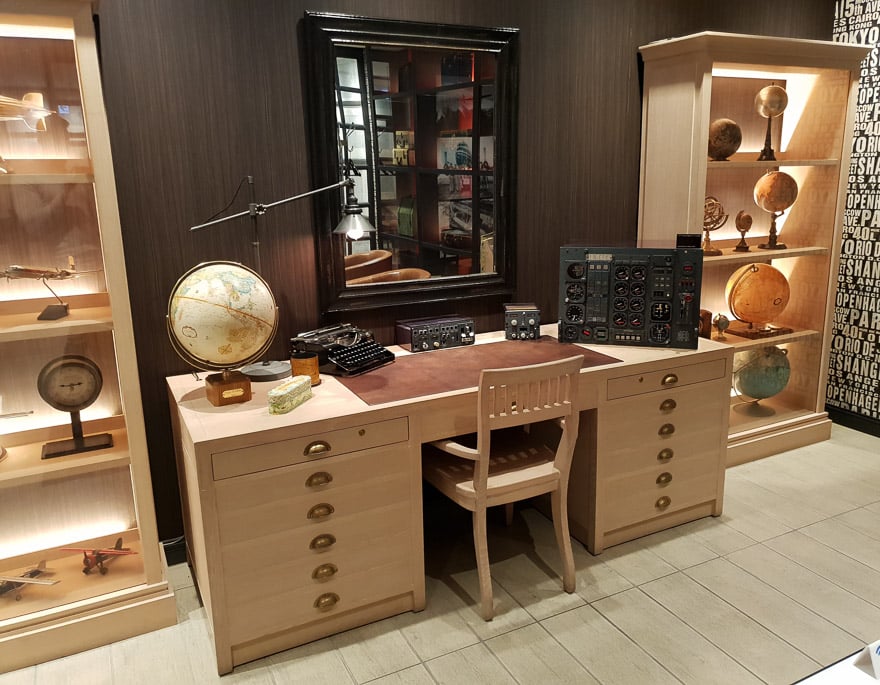 After an hour of enjoying the lounge we headed over to the very conveniently located gate, for a characteristically punctual and organised boarding experience…
---
The Flight
---
As we boarded the plane we received a very warm welcome from the crew, who escorted Kamara and I into our centre pair of seats in row 2.
In the past we've had issues being seated together on JAL since they block seats quite aggressively until check-in; having Oneworld Emerald status makes no difference.
On this occasion though, the load was only 4/8 so we were able to not only secure a centre pair but also had spare seats to spread into! As such we moved into window seats for take-off. Even though these seats were empty, Bose headphones had still been prepared for them and the crew adjusted very quickly to bring us menus and amenity kits so that we could get comfortable in our temporary homes.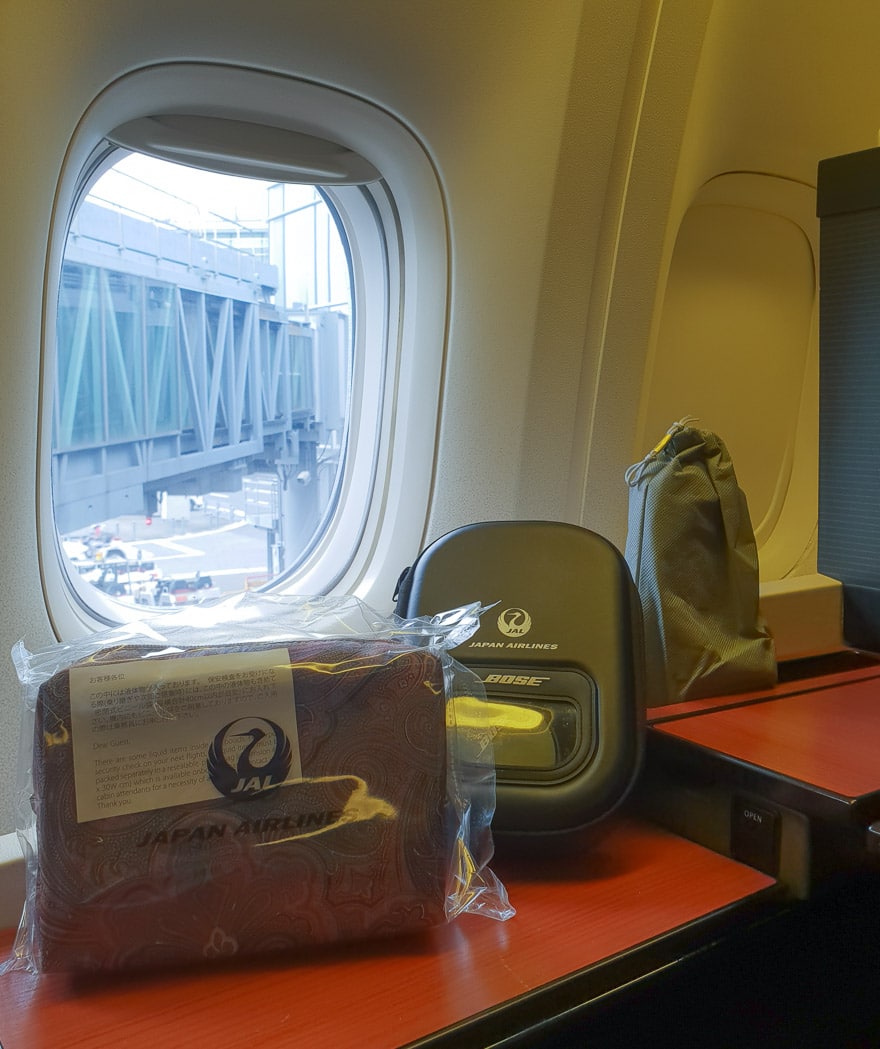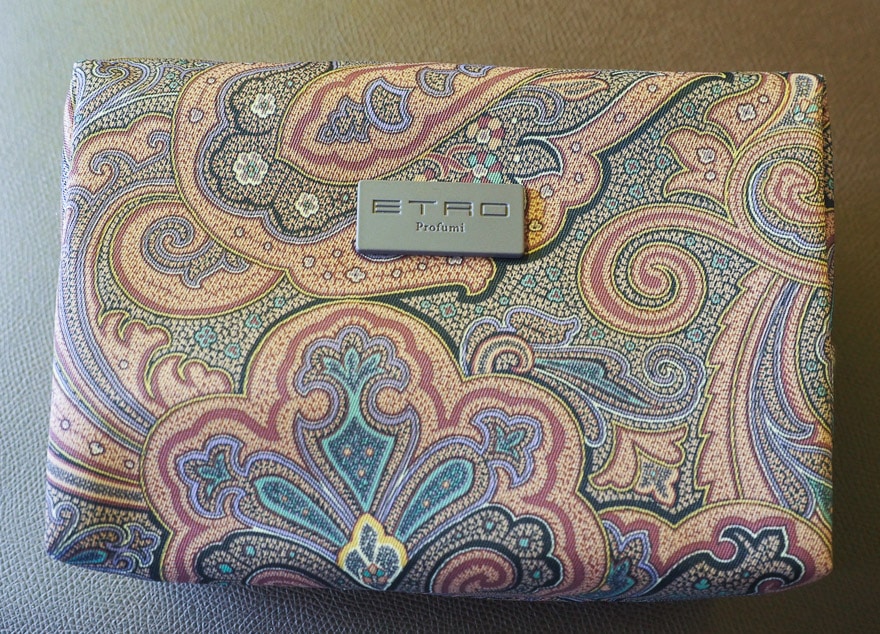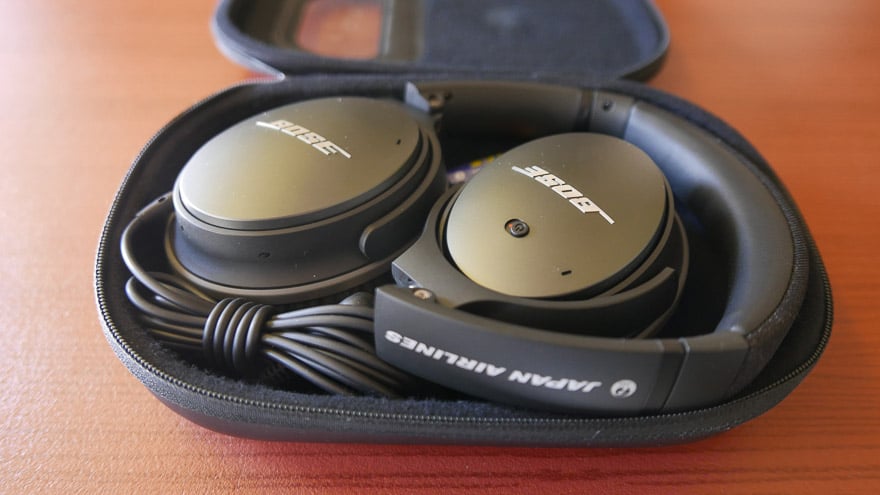 I loved the old Loewe amenity kits, the brand was always considered to be the Spanish Hermès – an elegant classic favoured by aristocrats and titans of industry. The old kits were extremely high quality and featured a fantastic array of toiletries. In recent years though Loewe has begun to tilt its focus away from its more conservative roots towards (very expensive) streetwear, so I guess it was inevitable that the relationship with JAL would come to a conclusion.
The new Etro kit felt like a downgrade in comparison. A disposable paisley square featuring a miniature lotion, chapstick and a cologne sample in a generic vial. Not completely terrible but just a bit of a disappointment compared to what came before.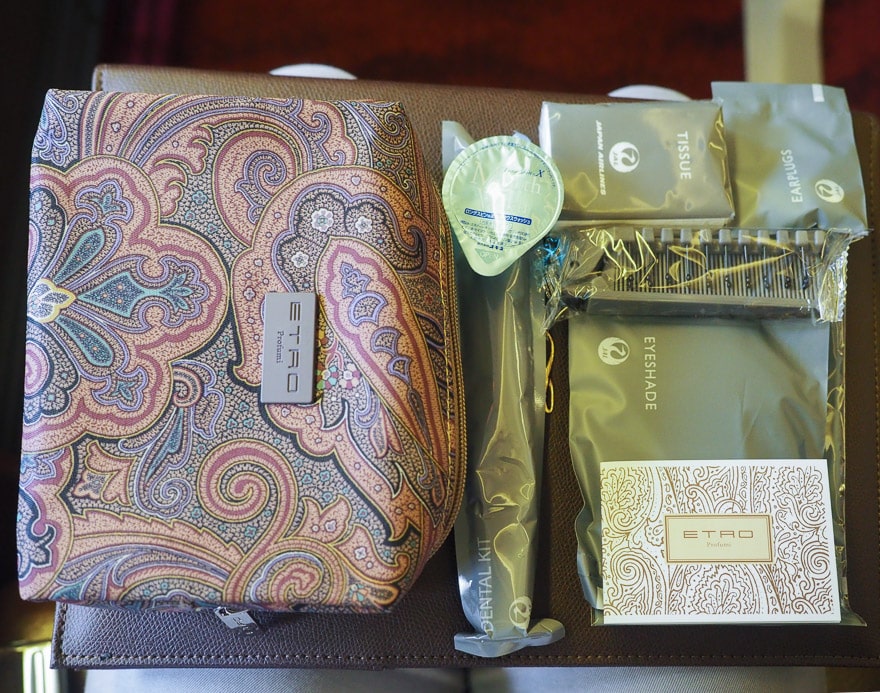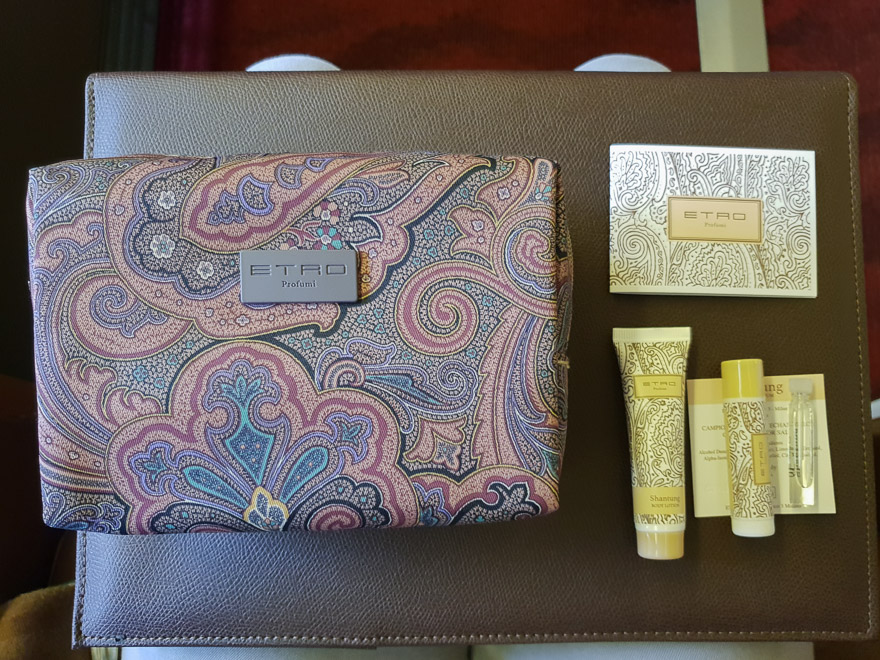 I was pleased however to see that JAL is consistently offering free wifi to all First Class Passengers. I see no logic in charging for WiFi as an optional extra in premium cabins. It would be unthinkable to charge premium passengers extra for food and drink yet WiFi is still seen by many carriers as an extravagance that requires additional payment.
The food and drinks menus were set into a large leather binder which also featured a landing card, fast track pass and duty free catalogue.
The food on JAL is arguably the best in the sky. Not only was there an enormous and indulgent Japanese kaiseki menu, there were also some extremely well executed Western dishes, featuring an array of luxurious ingredients like caviar, king crab, foie gras and lobster.
The snack menu was filled with favourites such as the JAL Curry and pork katsu sandwich as well as some rather more esoteric options like the blowfish sashimi.
For many years JAL was renowned for serving Salon, by far the most expensive champagne of any airline in the sky. During this flight the champagne had been 'downgraded' to Cristal, which is still the most expensive champagne regularly served on any airline, despite only retailing for around half the price of Salon.
To make up for this indiscretion, JAL ultimately re-introduced Salon a couple of months after my flight and kept the Cristal too. As of 2020 you can expect to be served both champagnes on the Tokyo-London route.
Personally I had to make do with just Cristal…. and vintage Bollinger Rose. Somehow I managed!
As I was browsing the menu the very attentive cabin manager came over to introduce herself and asked if I would like anything to drink.
The first of many glasses of Cristal.
I've had my fair share of bad luck when it comes to seeing Japan's most famous mountain. Passing by on the bullet train under a thick veil of cloud or seeing it totally obscured by a summer haze in Tokyo. In the air though your chances of success are much higher.
Shortly after take off we passed close enough to truly appreciate the majesty of Mt Fuji.
Once in the air, Kamara and I returned to our centre pair of seats and readied ourselves for 12 hours of almost continuous feasting. The cabin manager was superb throughout the service and as soon as she saw that I was interested in taking photos she gladly posed for a few!
We continued with a couple more glasses of the Cristal before the meal.
People often mention how food and drink tastes different at altitude but I got an idea from watching a documentary where Heston Blumenthal was brought in to revamp BA's catering. He provided all the First Class passengers with what he referred to as a 'nasal douche' (feel free to insert your own joke about Janice from Friends), not the most appealing name but the idea is actually pretty sound.
If you add moisture back to your nostrils at altitude, using a nasal spray, you'll not only breathe a lot more comfortably, you'll also notice a measurable improvement in your sense of taste and smell.
When tasting champagne it also really helps to use a wine glass rather than a flute, since the aromas of the wine are released far more freely in the larger vessel. Flutes are great for keeping wine fizzy but the cabin pressure already takes care of that (indeed I often find myself stirring champagne in the air to remove excess carbonation).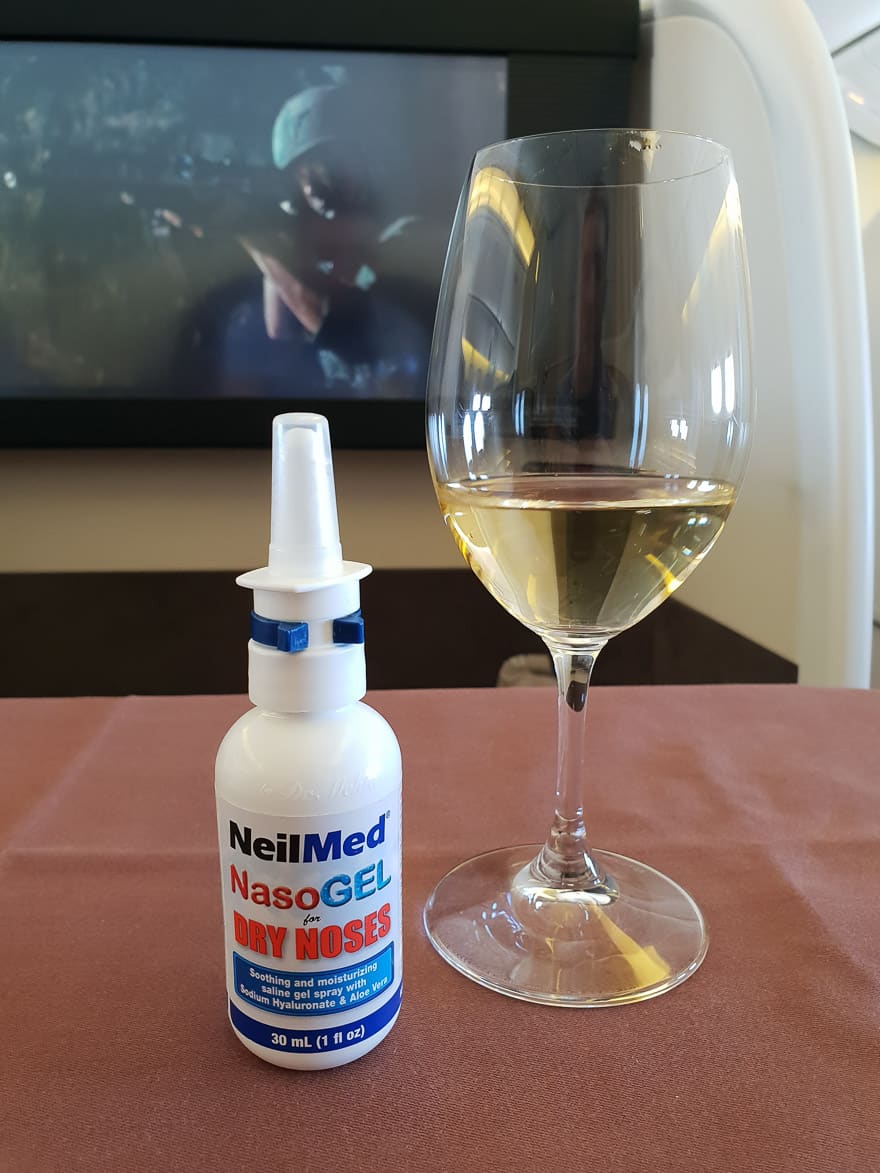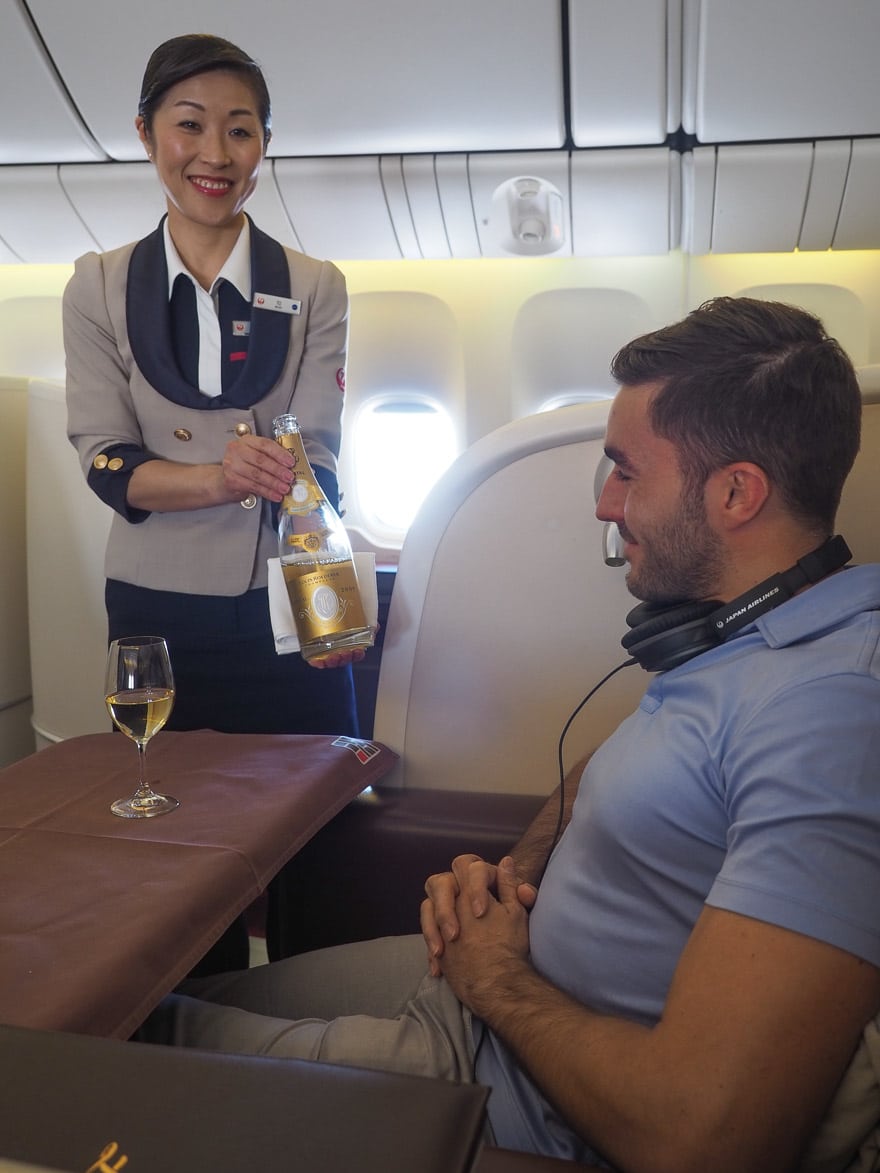 So with these two points taken into consideration I tasted the Cristal in the air to see if it tasted any different to the ground. Honestly, the difference wasn't huge but then again, that's probably a testament to the benefits of the changes I made!
After this groundbreaking moment of scientific discovery, we were brought a trio of delicious amuses to begin the meal.
I employed my standard operating procedure on this flight, ordering the caviar to start, followed by the Kaiseki tasting menu.
The caviar was served in a very unique way, a creation of chef Yosuke Suga of Sugalabo in Tokyo. I was presented with a type of DIY macaron, with egg yolk cream intended to be mixed with the caviar. The result was absolutely fantastic. I find that traditional garnishes can often overpower the caviar but here the star ingredient was really able to shine, with the rice wafer shell providing a very satisfying crunch to offset the creamy interior.
The first dish of the Kaiseki menu was a selection of five different seasonal starters. In a new twist for the Kaiseki menu, this also featured featured caviar!
The steamed anglerfish liver with simmered shrimp, egg yolk and grated yuzu peel was the real standout though. A maritime foie gras with a perfect balance of texture and flavour, the acidic sweetness of the yuzu slicing beautifully through the mouth coating richness of the liver.
In terms of presentation I missed the old cedar wood chopsticks, which have now been replaced with a cheap set of generic disposables. I also thought that the plastic spoon seemed a little incongruous, not only is it decidedly un-luxurious, disposable plastic is also something that most major brands are actively trying to move away from, given climate concerns.
Next came a very light and delicate clear soup with a sweet and succulent crab and fish cake.
Next came the Otsukuri course. The concept is very similar to that of sashimi, with the only discernible difference being that some additional garnishes are added.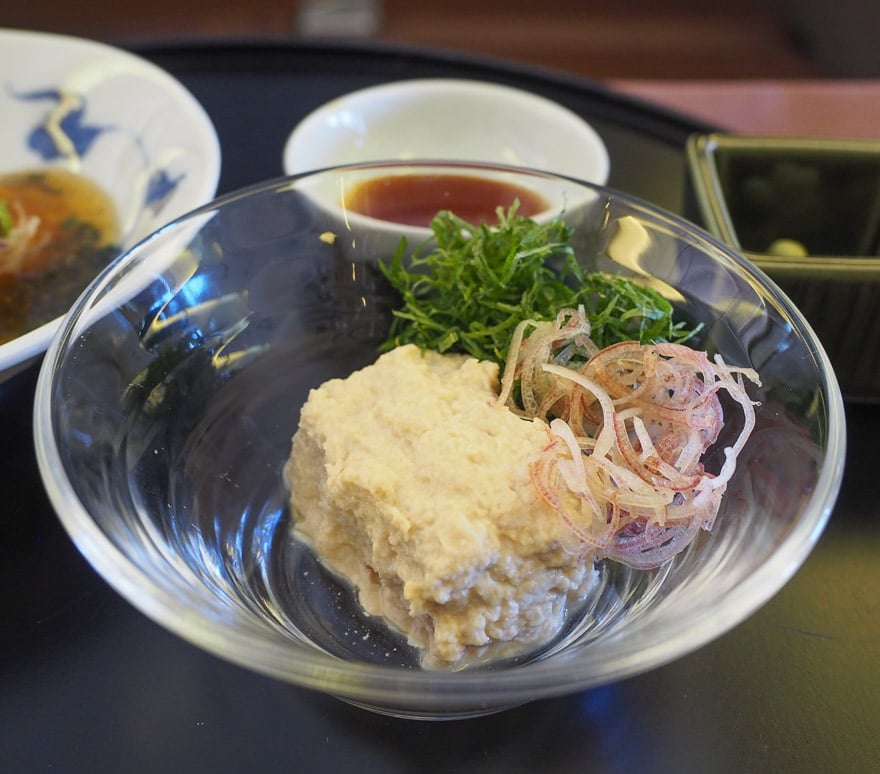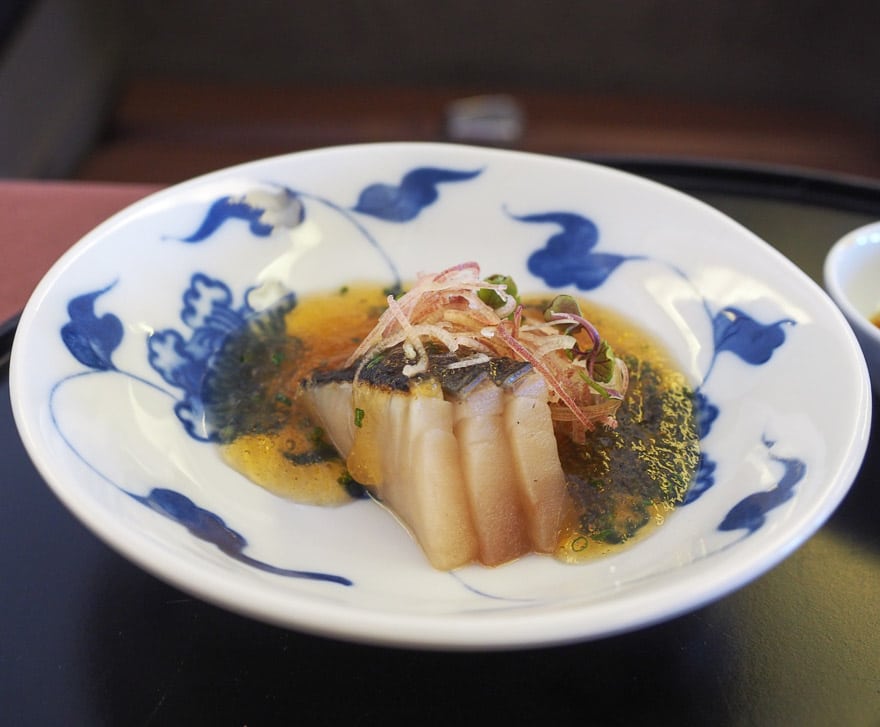 This tasted as fresh and as bright as any sashimi dish I've had on the ground outside of Japan.
Next came the main course. This consisted of simmered seabass, seasoned rice with scallops, miso soup with Nameko mushroom and Welsh onion and a selection of pickled vegetables.
The main course of my indulgent Kaiseki banquet.
The food was all absolutely excellent, although I personally prefer a meat main course to offset all the seafood in a Kaiseki meal.
Much though I love the champagne and wine on JAL, one of my favourite features of the JAL First Class experience is the Royal Blue Tea. An ultra exclusive drink made with hand picked tea leaves that are brewed to provide a fresh and almost fruity taste with absolutely zero bitterness or aftertaste. Honestly, it's mesmerising.
The meal came to a conclusion with a dessert selection featuring a very light strawberry sponge cake, traditional sweetened tamba black beans and a selection of thin chocolates from Jean Paul Hévin (whose concession at the Isetan Shinjuku food hall we're very familiar with!). This was rounded off with a cup of very clean tasting matcha.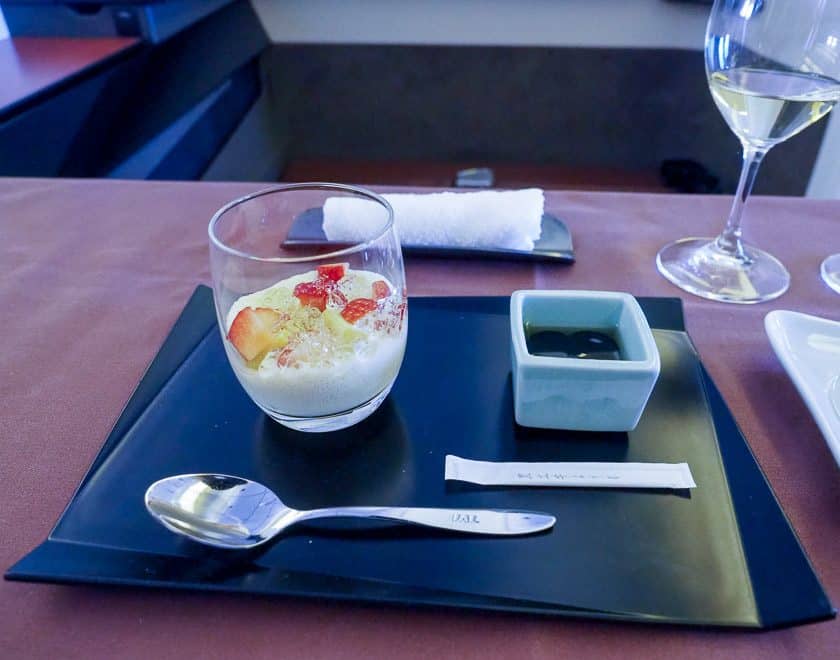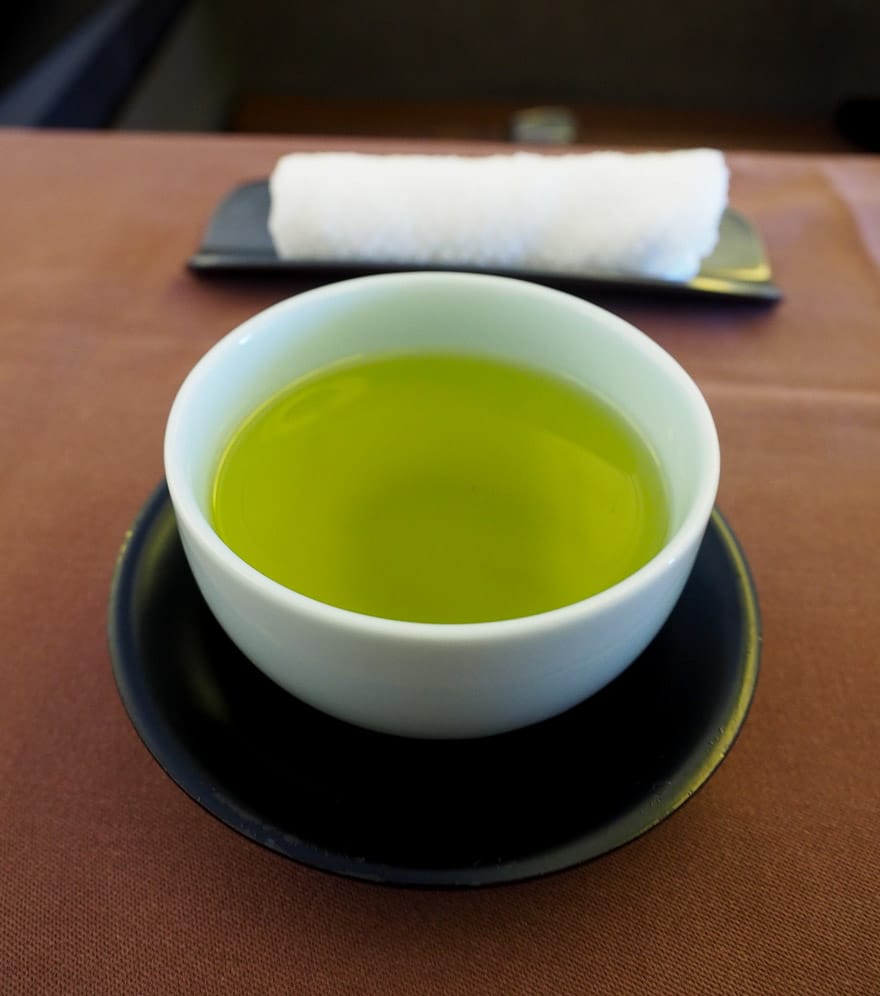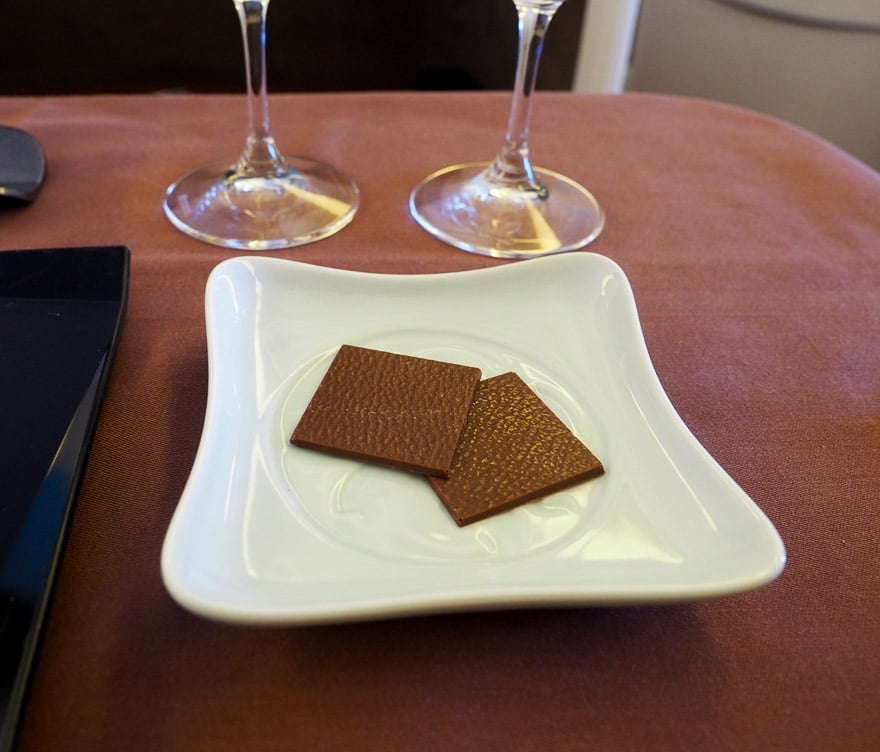 Once the meal was over, I asked to have my bed made. Having never been seated in a centre seat on JAL First before, I noticed something very interesting. It was at least 1-2 degrees warmer in the centre than in a window seat.
This may well explain why a lot of people complain about the sweltering heat in JAL's cabins; I always sit by a window so had until this point experienced a less extreme version of the phenomenon. JAL's bedding is very comfortable but the cabin temperatures are not.
If you're cold you can always wrap up with a jumper or an extra blanket but there's only so much clothing you can take off on an airplane and still retain a semblance of decency.
ANA have installed personal air vents on their latest First Class product, we can only hope that JAL do the same when the time comes for them to unveil a new seat.
I awoke after 5 hours or so and headed straight for the empty window seat to cool down. When I opened the blinds I was greeted by an utterly spectacular sight: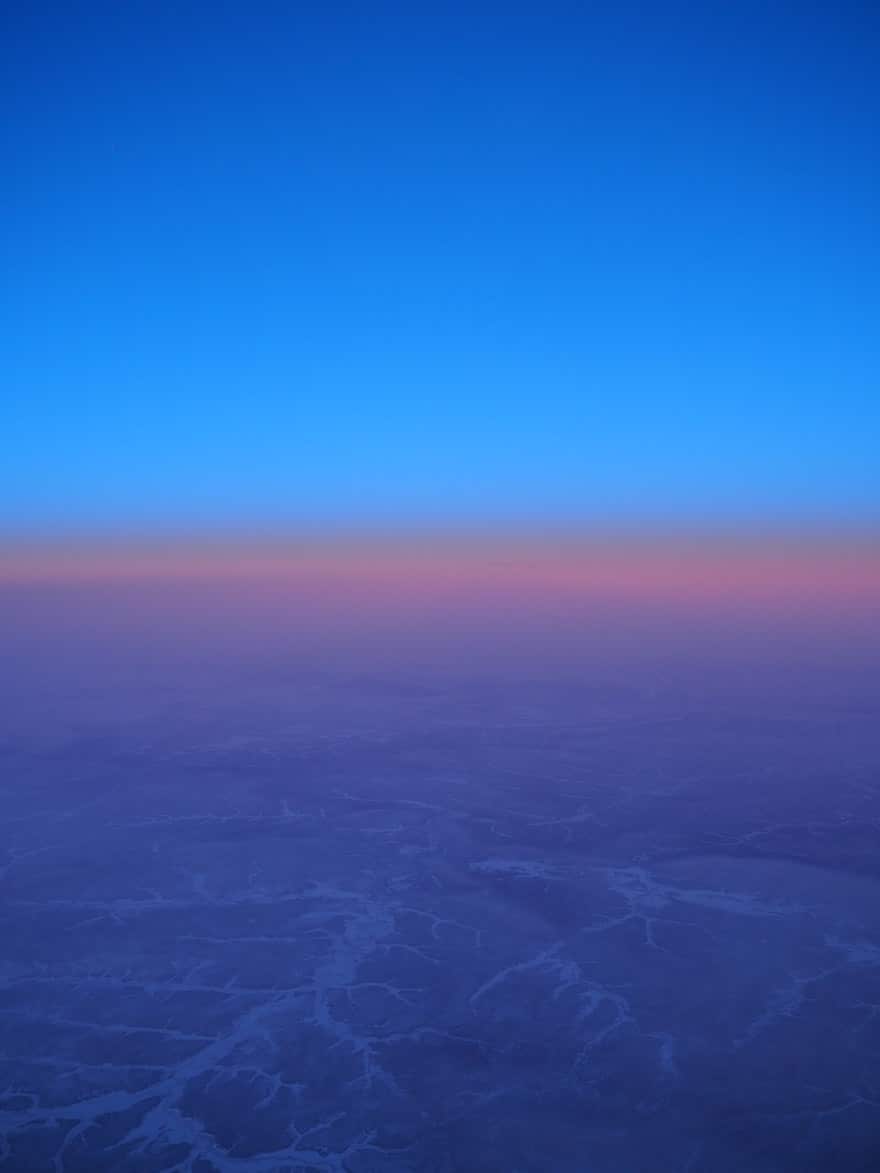 When flying back from Japan to London in the winter you experience a phenomenon whereby you see an extremely prolonged sunset. As you fly further south from Scandinavia you actually begin to see the sun rise again, seeing one final sunset on the ground in London, after you arrive.
Kamara and I decided to share a window seat and sat drinking Royal Blue tea and watching the colours for an hour or so. We were pretty full from the kaiseki meal but when the flight attendant asked if she could bring us anything else to eat, we couldn't resist!
The Cristal had run out at this stage but we were happy to share a bottle of the 2006 Bollinger Rosé instead. Thankfully the caviar supply was still very much intact so I began my meal with another egg yolk and caviar macaron.
Kamara opted instead for the Royale of Mushroom and Comté with white Maitake mushroom velouté. I tried a spoonful and honestly had to exercise some serious restraint not to immediately order another bowl for myself.
It may seem like a weird thing to mention but the bread and butter were also excellent. I don't know if they partially baked the bread on board but it seemed very fresh, even 10 hours into a long haul flight.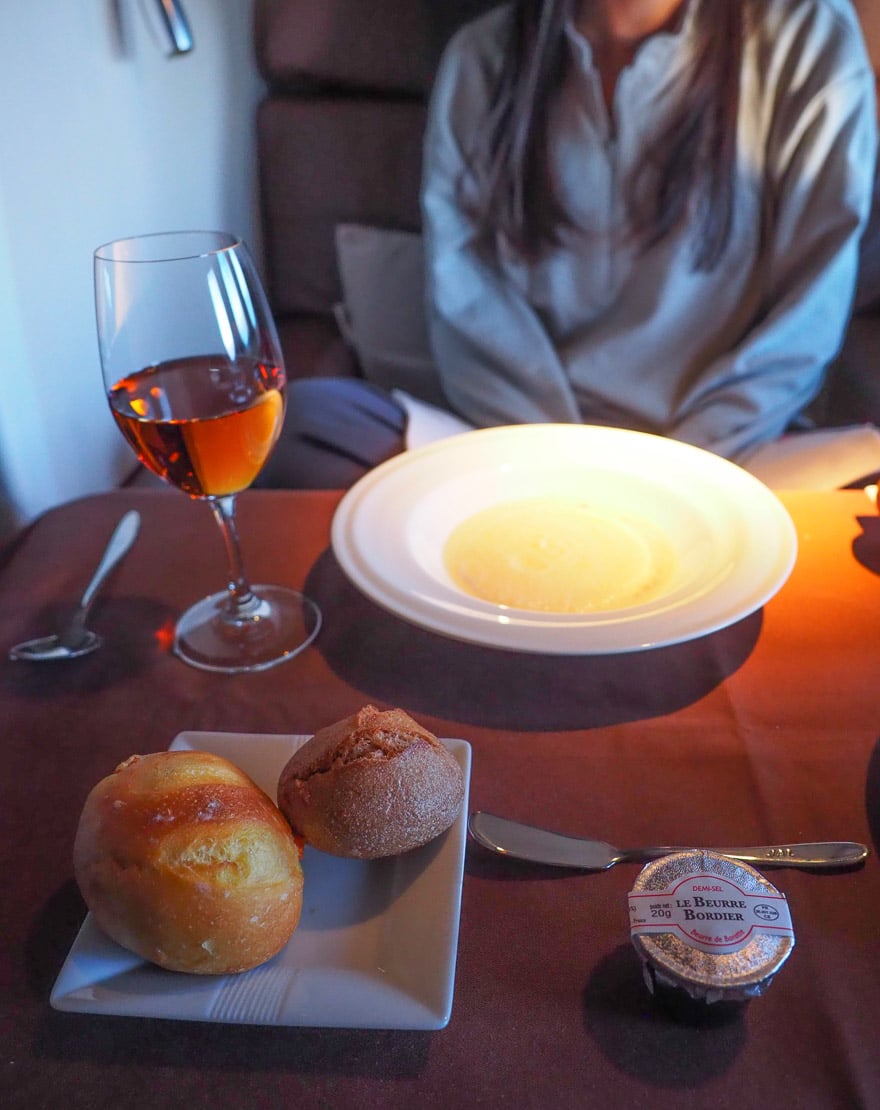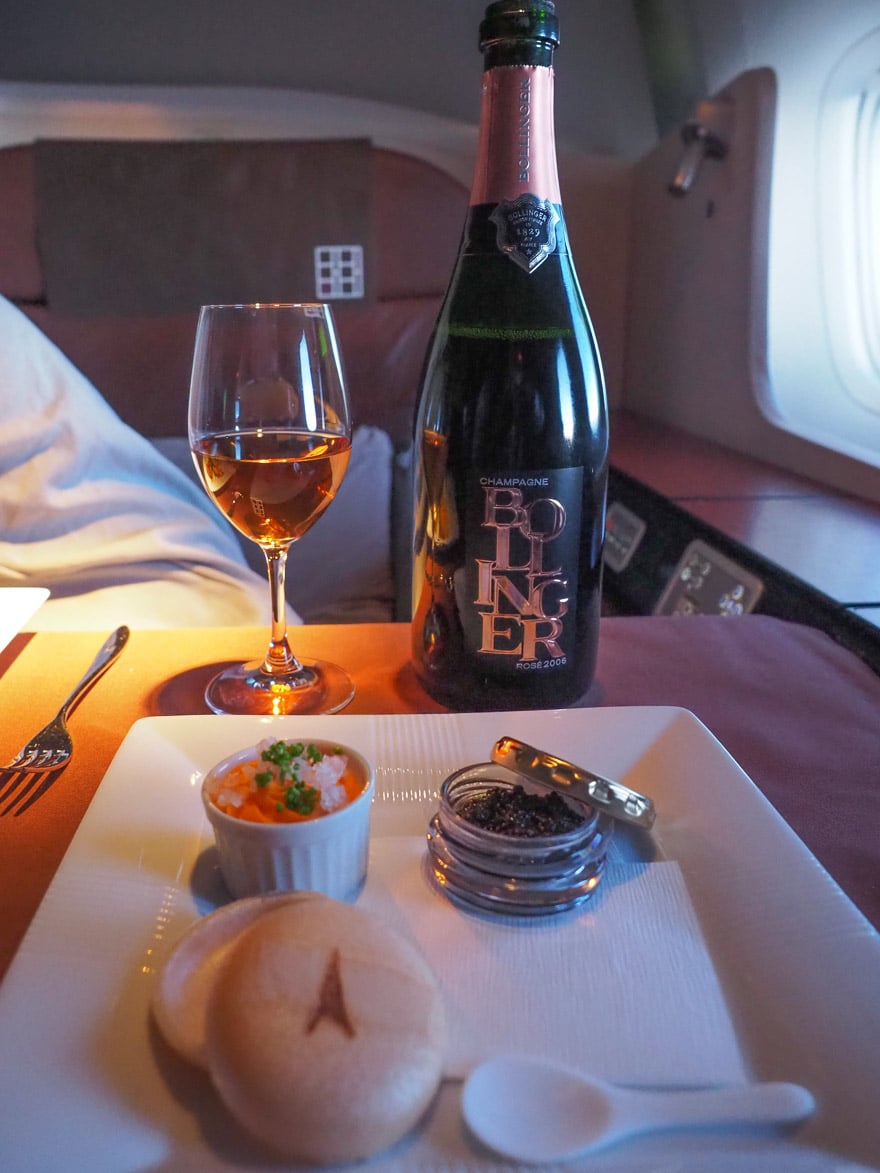 For the main course we switched to a remarkably good Japanese orange wine. Orange wine is something of rarity even in top restaurants, so having the opportunity to try one from a Japanese vineyard, was a fantastic surprise.
It made the perfect accompaniment to my enormously abundant Lobster and foie gras dish as well as Kamara's ludicrously proportioned pasta shell, stuffed with beef cheek.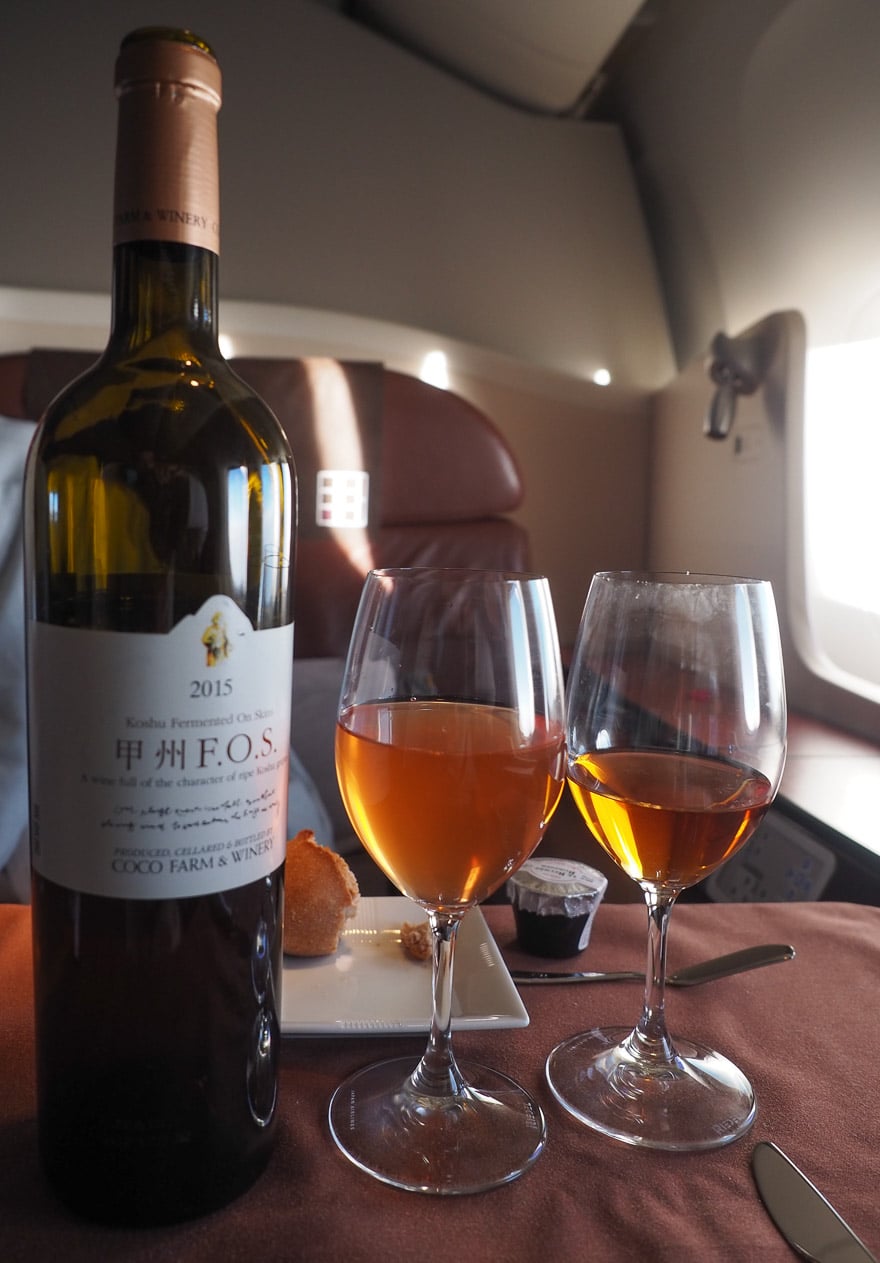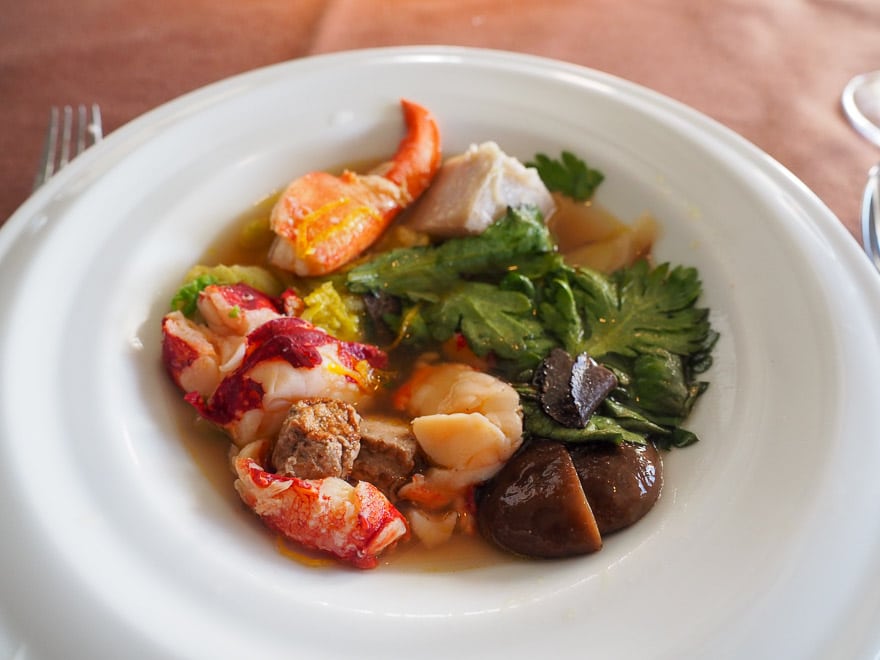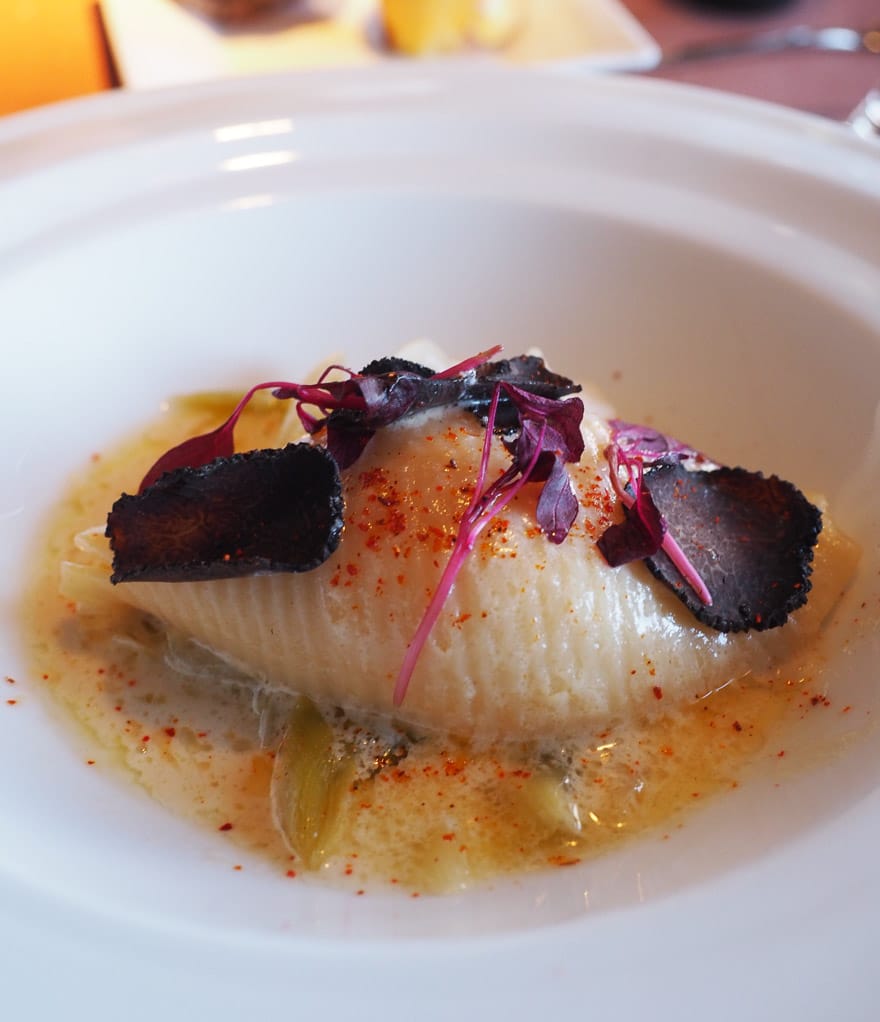 We finished the meal with a chocolate dome cake which was fantastically thick and rich.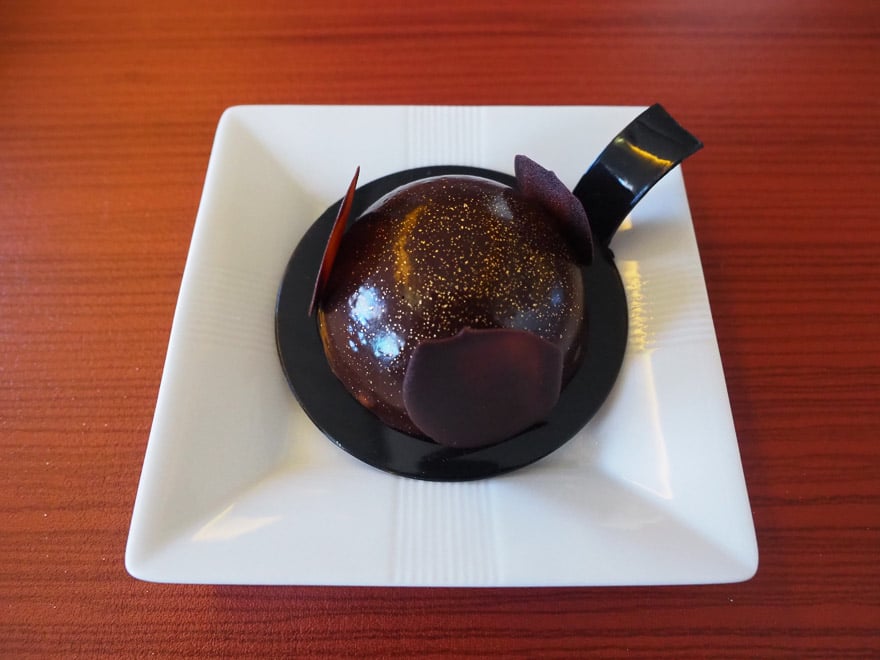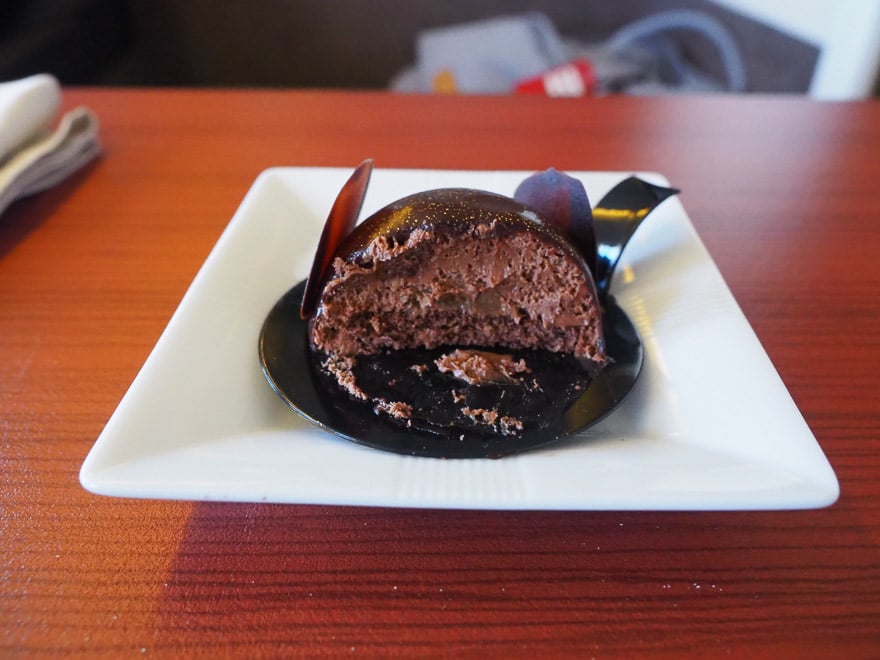 ---
Conclusion
---
Although there are some aspects of the JAL First Class experience which have changed over the years, the product as a whole is remarkably consistent. Having flown it on five occasions I'd be more than happy to recommend it to anybody that enjoys good food and wine. The service has also been excellent on the majority of my flights.

The cabin itself isn't modern though and the temperature issue will bother people sitting in the middle seats. If you're looking for a real wow experience in terms of hardware you'd be better off booking indirect flights on Singapore Suites or Emirates.

Overall there's no questioning that JAL's First Class is a top tier product but even flying direct, it has now been resoundingly beaten by its rival ANA. The new ANA cabin is one of the most impressive in the sky, with the food an equal to JAL and the drinks arguably just as good (albeit tilted more towards whisky lovers than champagne aficionados).

What I'm most excited by now is the prospect of JAL stepping up and delivering a retort to ANA. This dining experience, with impeccable service delivery and a brand new cabin would be a contender for the best First Class in the world.
---
Japan Hotel Reviews
---
Here is a selection of our most recent Japan hotel reviews:
---
---