SWISS (LX)
Flight: LX86
Class: First Class
From: Zurich (ZRH)
To: Montreal (YUL)
Duration: 8h20m
Aircraft: A330-300
Seat: 2K
Status during flight: Star Alliance Gold (avianca Amigo)
Date: March 2017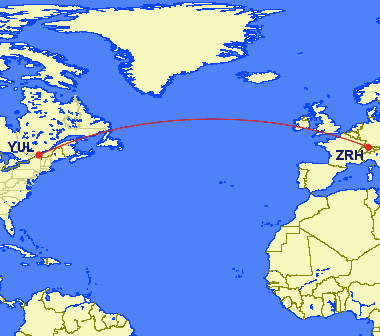 ---
Intro
---
After an extraordinary, almost life-affirming 6 hour visit to the spectacular First Class Lounge I was ready to head to the gate and finally fly SWISS First Class for the first time.
Unfortunately despite being part of the same group as Lufthansa, SWISS take a far more hands off approach to its First Class Passengers. Where the former arranges for private immigration clearance and a personal assistant to shadow every passenger, ensuring that they are safely ensconced in a Porsche that will drive them to the plane; the latter leaves you to find your own gate and join a large queue of people who are all having their passport stamped at the gate, ahead of entering the usual boarding queues.
This may not seem like a huge deal in the grand scheme of things but the experience of entering a maul of people, jostling for position is quite jarring after the serene tranquility of the lounge.
There is no particular priority boarding for First either, we were called to board at the same time as business and star alliance elites. I'm not sure if this is standard practice or whether this was the result of the flight being slightly delayed but again it did somewhat tarnish the overall First Class experience.
However, this was quickly forgotten once I was on the jetbridge, moments away from finally experiencing the SWISS onboard product I'd been dreaming about for all these years!
---
Pre-Departure
---
I was immediately struck by two observations upon boarding: firstly, the A330 cabin looked pristine for an 'old' product and secondly, it was extremely open. There is effectively zero privacy afforded to passengers here. (Note: the white divider in this shot can be raised all the way up to create a solid dividing wall, should you be travelling alongside a stranger.)
I like how the monitor surround has been built to ensure that there is no visible gap through to the seat in front. I found the screen to be too small given the distance from the seat, however the resolution was sharp and the system was responsive to controls.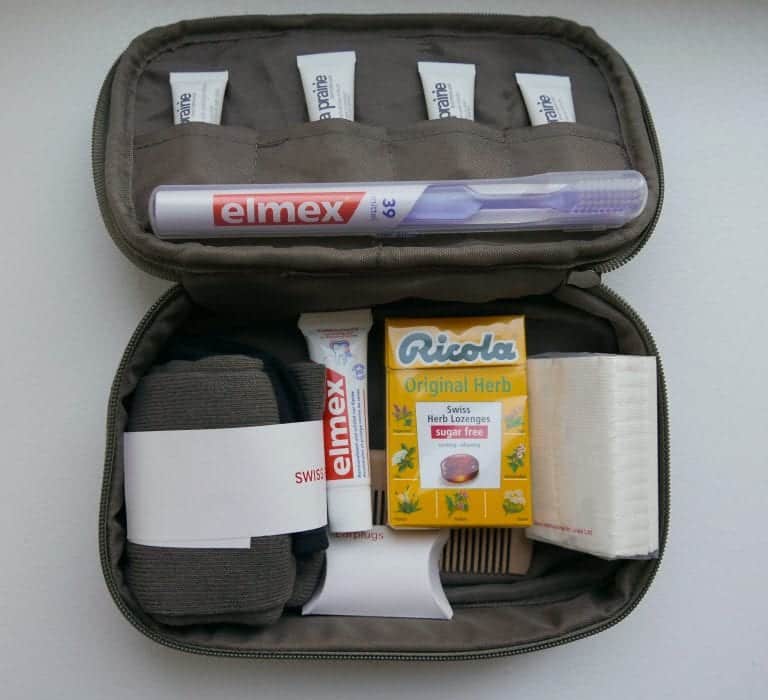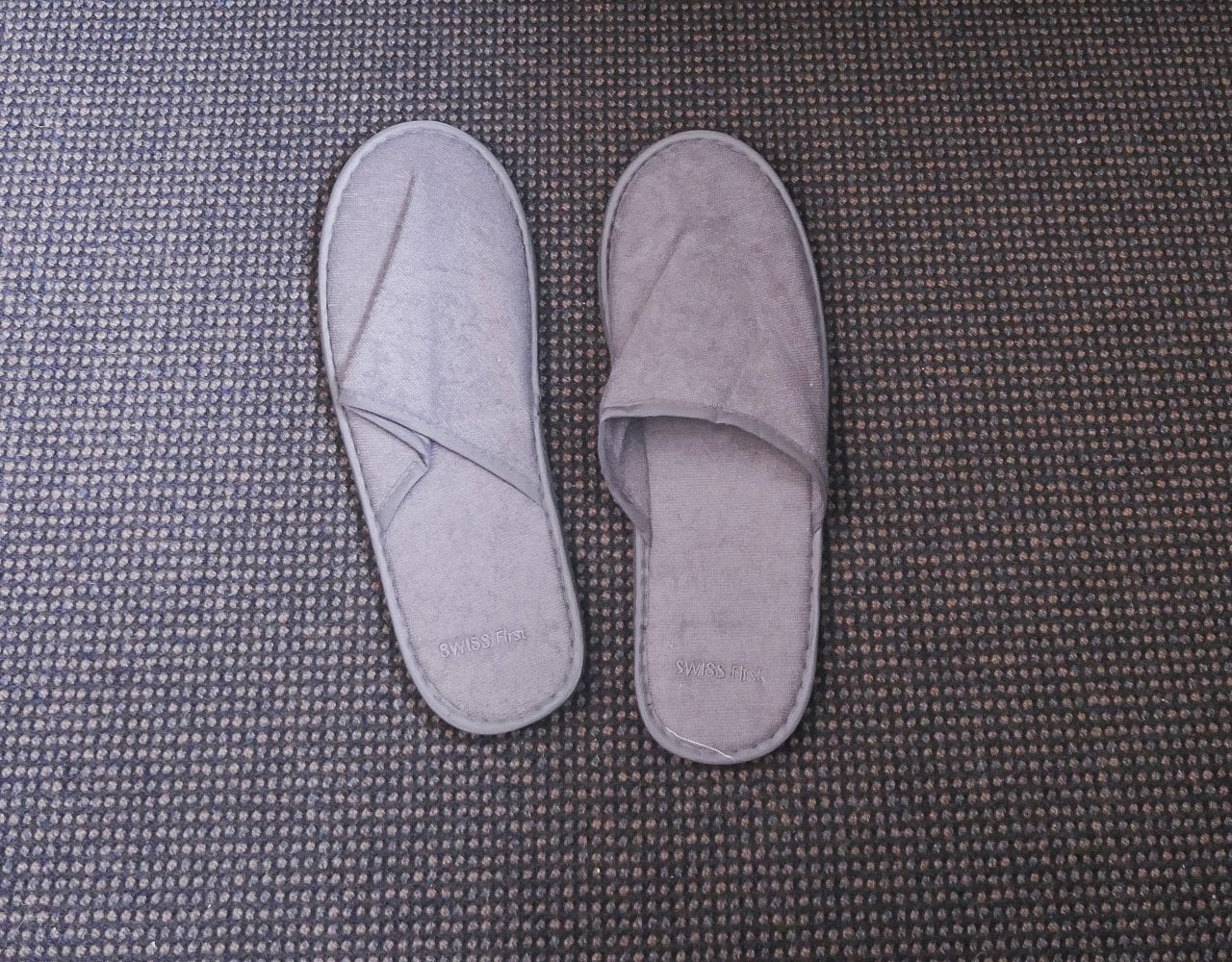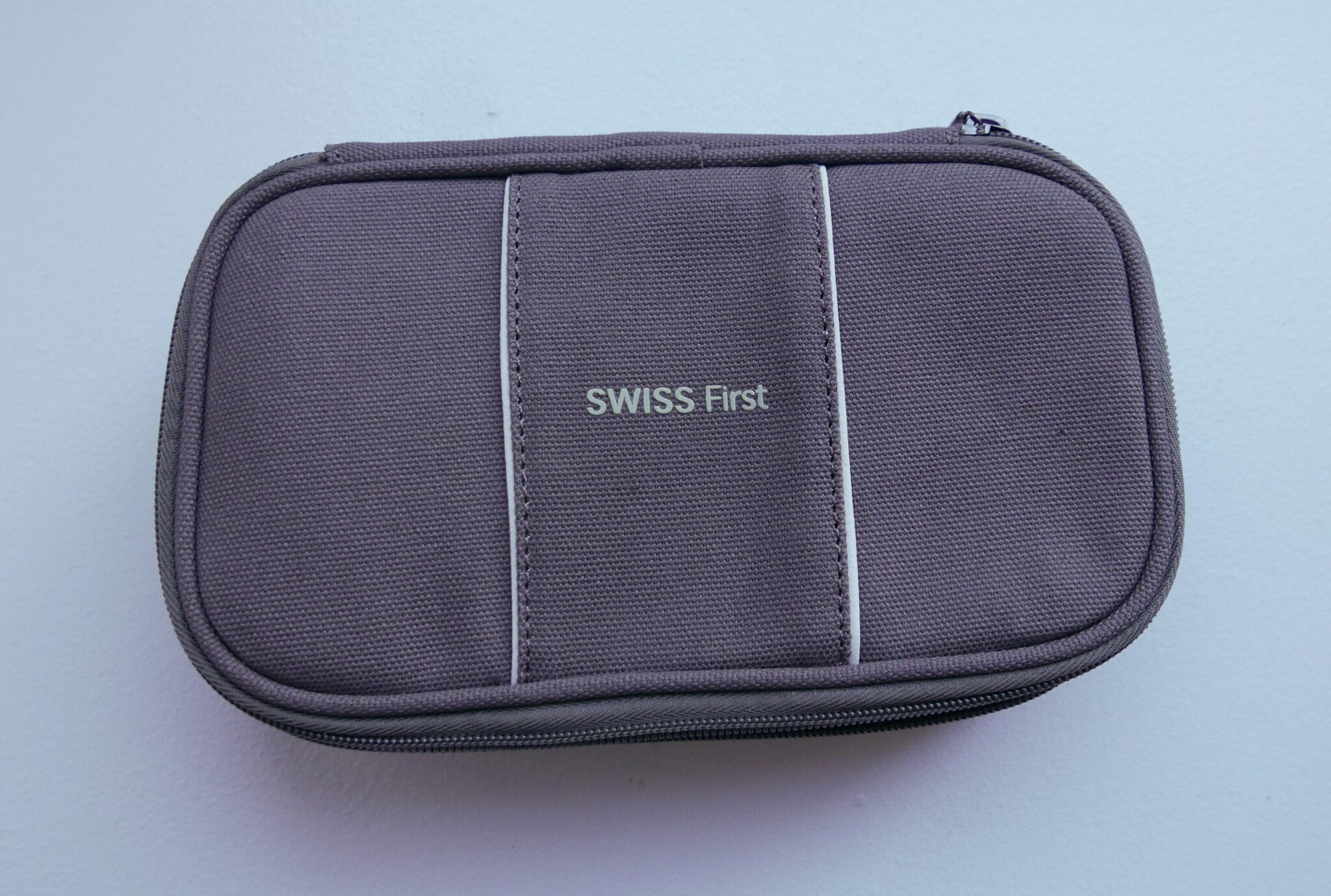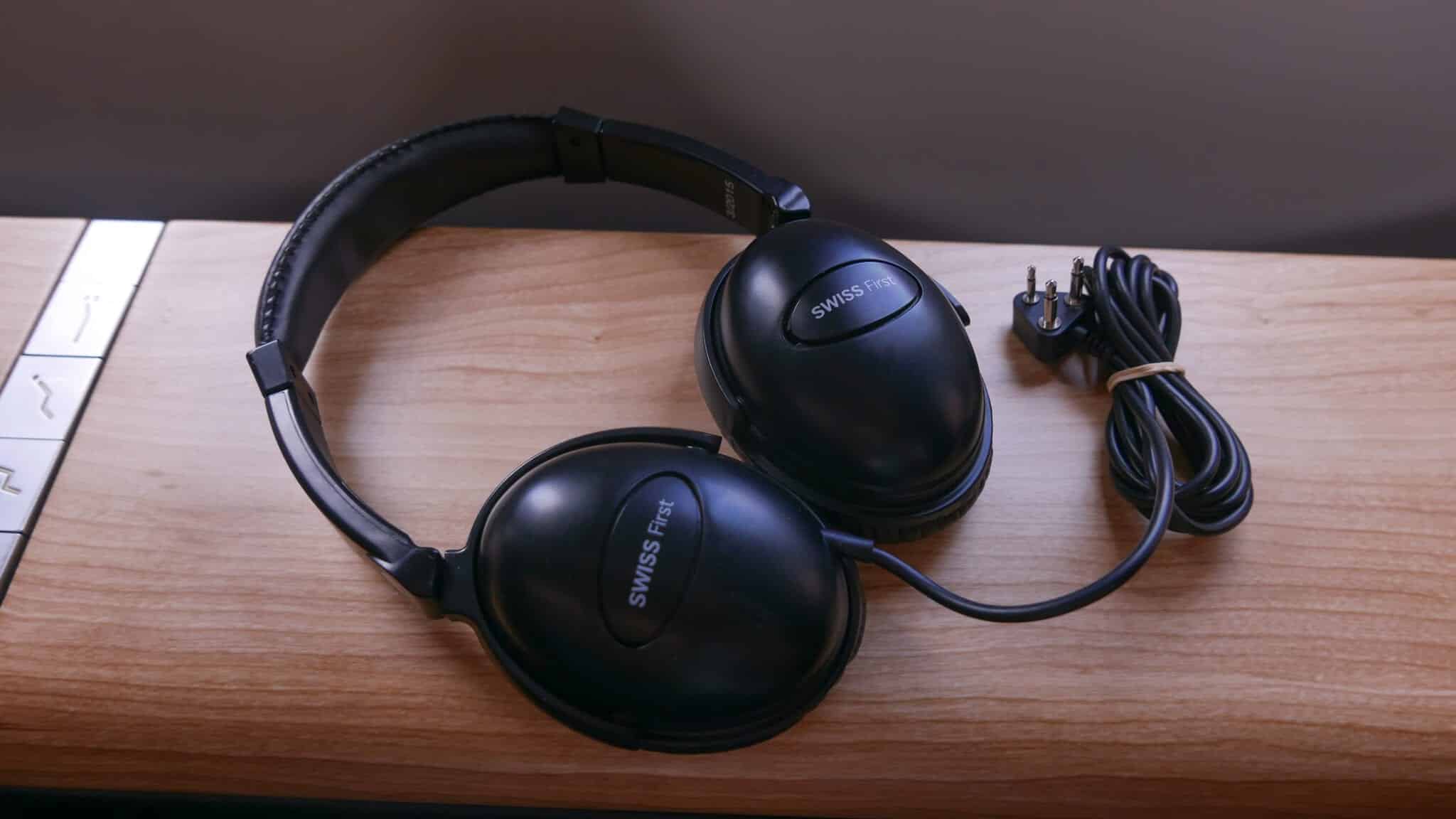 The slippers were thin and flimsy, nothing like the thickly cushioned footwear handed out by the likes of Garuda. The headphones were cheap, generic and did not appear to offer active noise cancellation. The amenity kit had a basic exterior but contained some very high-end La Prairie creams a high quality dental kit and a local Swiss touch: Ricola sweets. Overall a rather lacklustre offering of amenities for a top tier airline.
As I sat exploring my seat, I was approached by a member of the cabin crew who offered to hang my jacket and enquired as to whether I would like a glass of champagne.
---
The Seat
---
The overall design of the cabin is very clean, light and minimal. I really like the continuity in SWISS branding: the square lamps, the shiny white surfaces, the windowpane check. You can immediately tell when you're looking at this airline's design be it on the ground or in the air. I found the seat very to be very wide and comfortable for both sitting and lounging.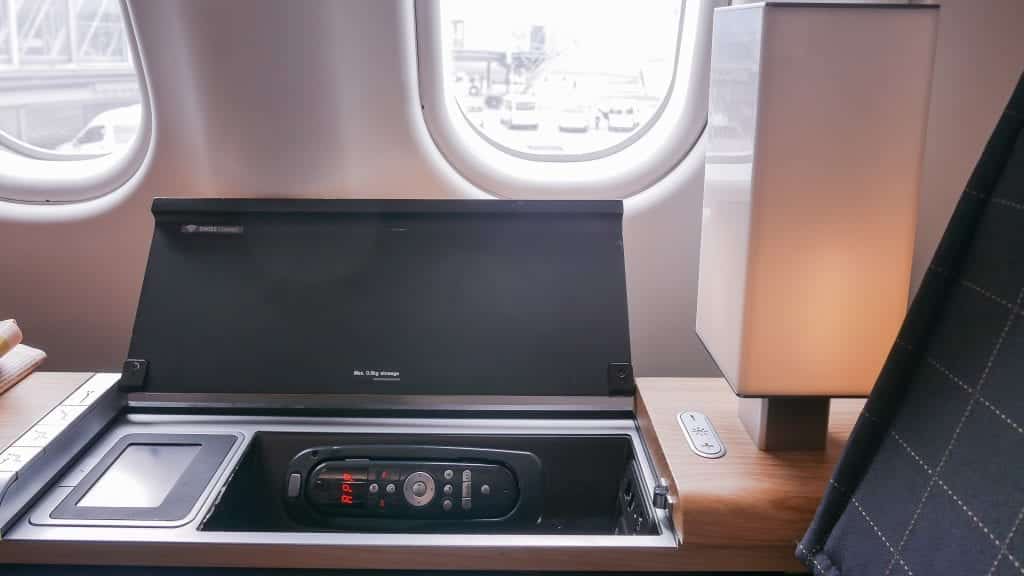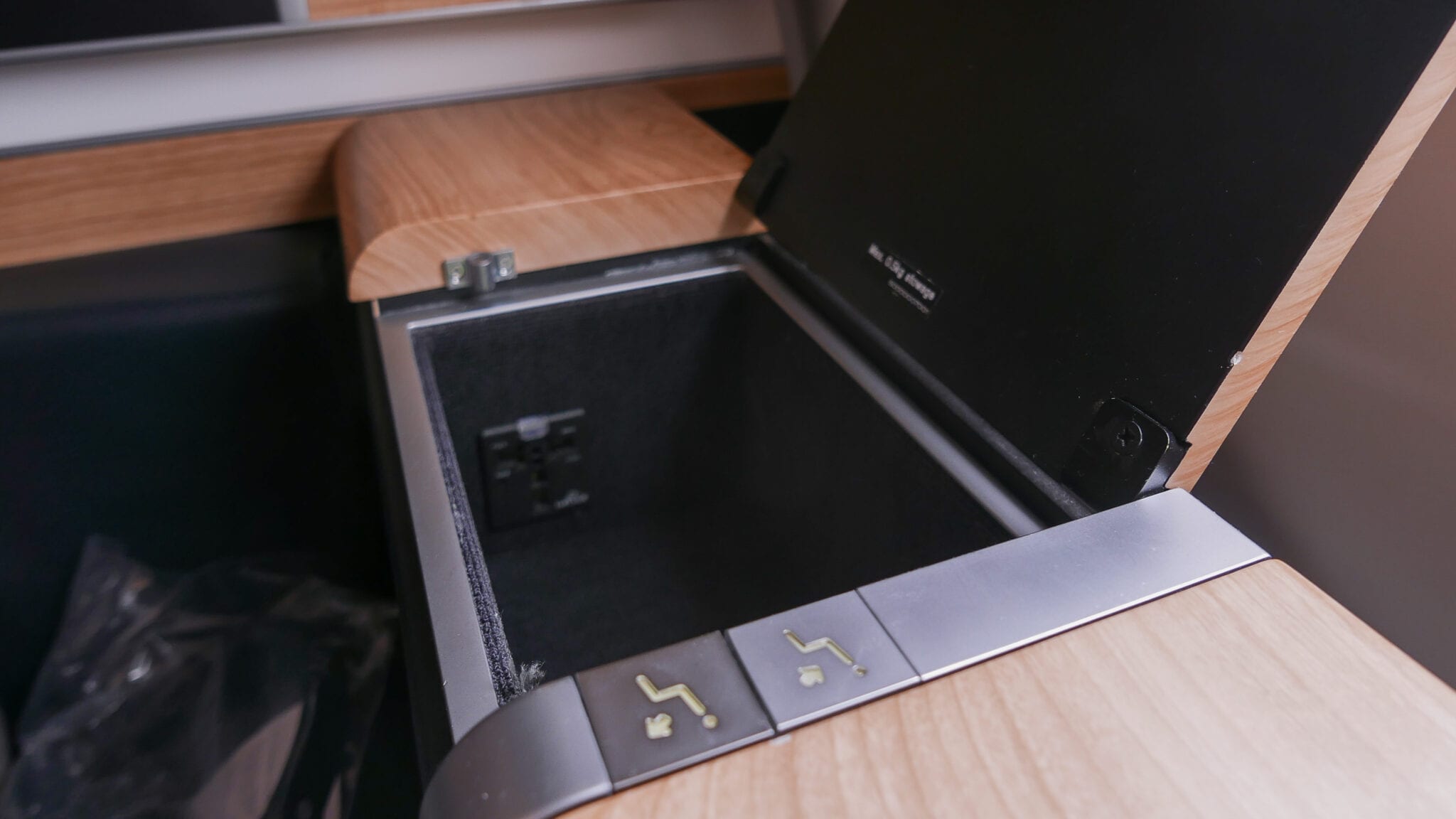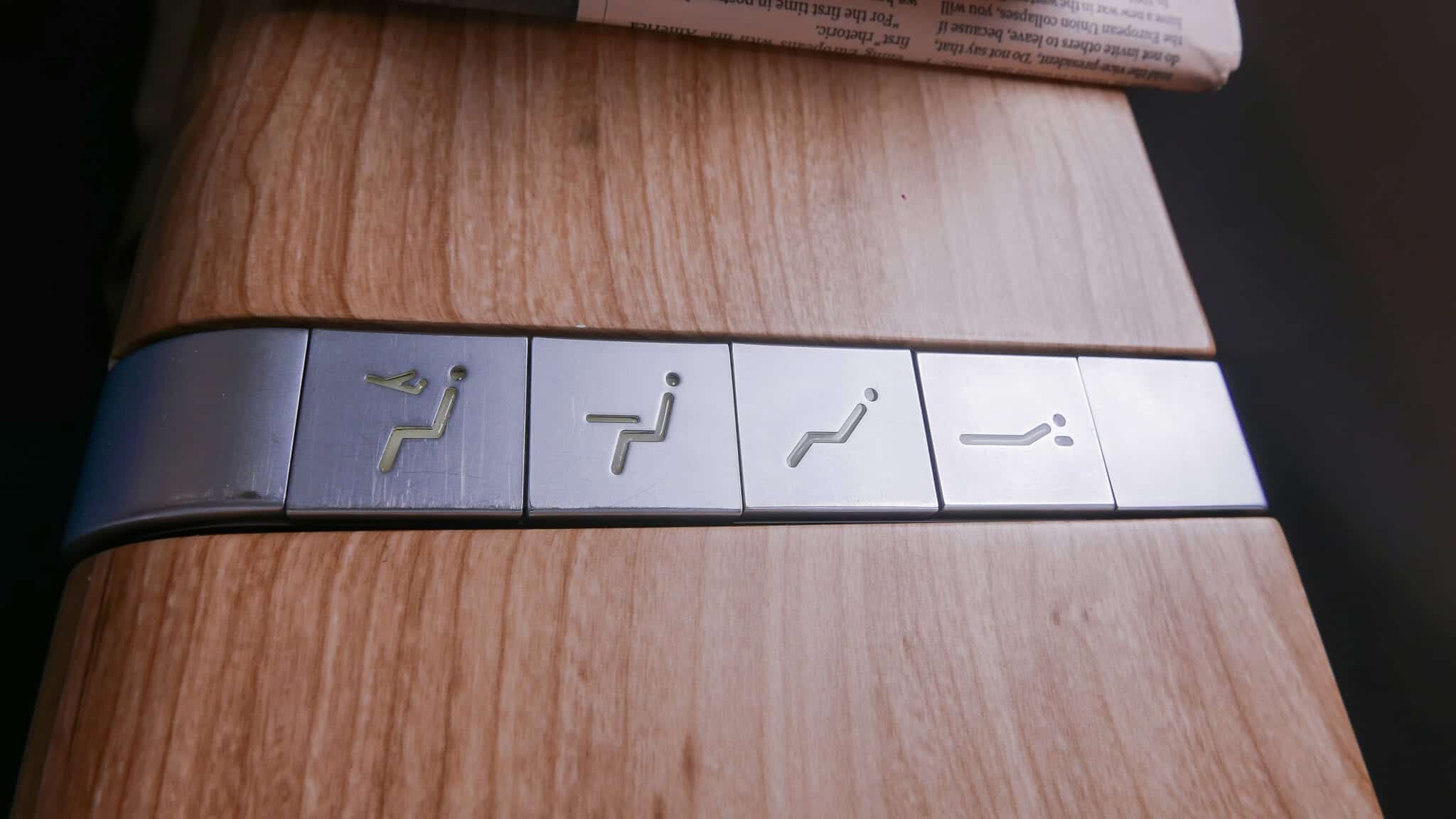 The seat comes with one large storage compartment, featuring an underpowered USB socket inside. There is also a very old school IFE controller here, although it appeared as though the software on the system had been modernised. There are numerous polished steel seat control buttons along the side console in addition to a tablet style seat controller that permits you to make more fine tuned adjustments to the seat.
There is a smaller storage compartment, located closer to the TV screen, which has a universal power socket inside. The location is quite inconvenient if you're just lounging around in the seat though, since you'll have to get up to access anything in there.
---
The Flight
---
Menu
The food portion of the menu was quite succinct. SWISS doesn't feature a regular caviar service on its menu, opting instead to feature caviar for very limited periods throughout the year (during which passengers are treated to three different tins of caviar each!)
Despite the lack of this signature First Class foodstuff, the overall quality of the food on offer was extremely high. I particularly like how the menu is so focused on regional cuisine within Switzerland. I must admit that I'm something of a philistine when it comes to the region's cooking and I really enjoyed the opportunity to not only eat delicious food and sample some new wines but also to learn something new in the process.
A lot of airlines 'phone in' their First Class catering, defaulting to a few standard internationally recognised tropes; it was really refreshing to see SWISS deviate from this template.
As I was handed the menu I was informed that dining was entirely on demand but I confirmed that I was happy to eat soon after take-off given that it was already around 1pm.
The meal began with the expert placement of a freshly pressed white linen tablecloth and a pair of very stylish wooden salt and pepper mills. Even as a certifiable carbophobe I couldn't help but be impressed by the trifecta roll: wholegrain, white and rye baked into a unified amalgamation and presented in a polished steel basket.
Just as my table was being set the FA noticed that we were flying over Paris and spent some time pointing out various neighbourhoods and monuments to me, as well as giving me some of his top restaurant recommendations.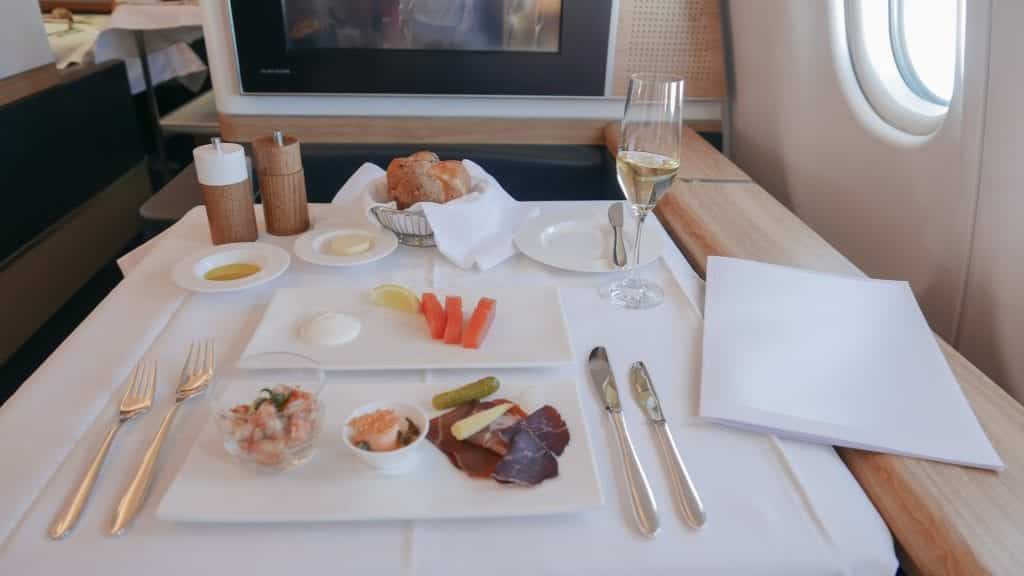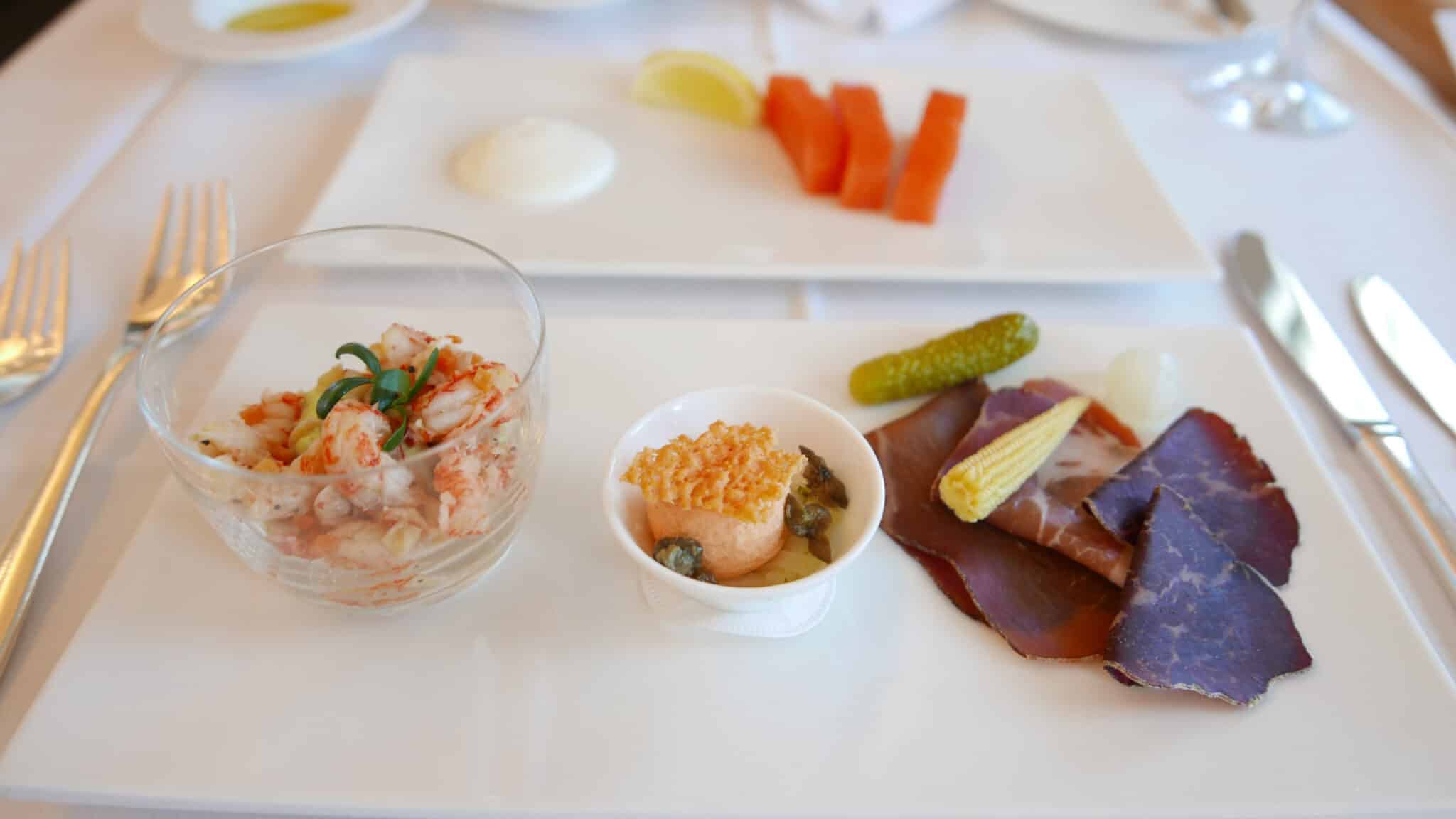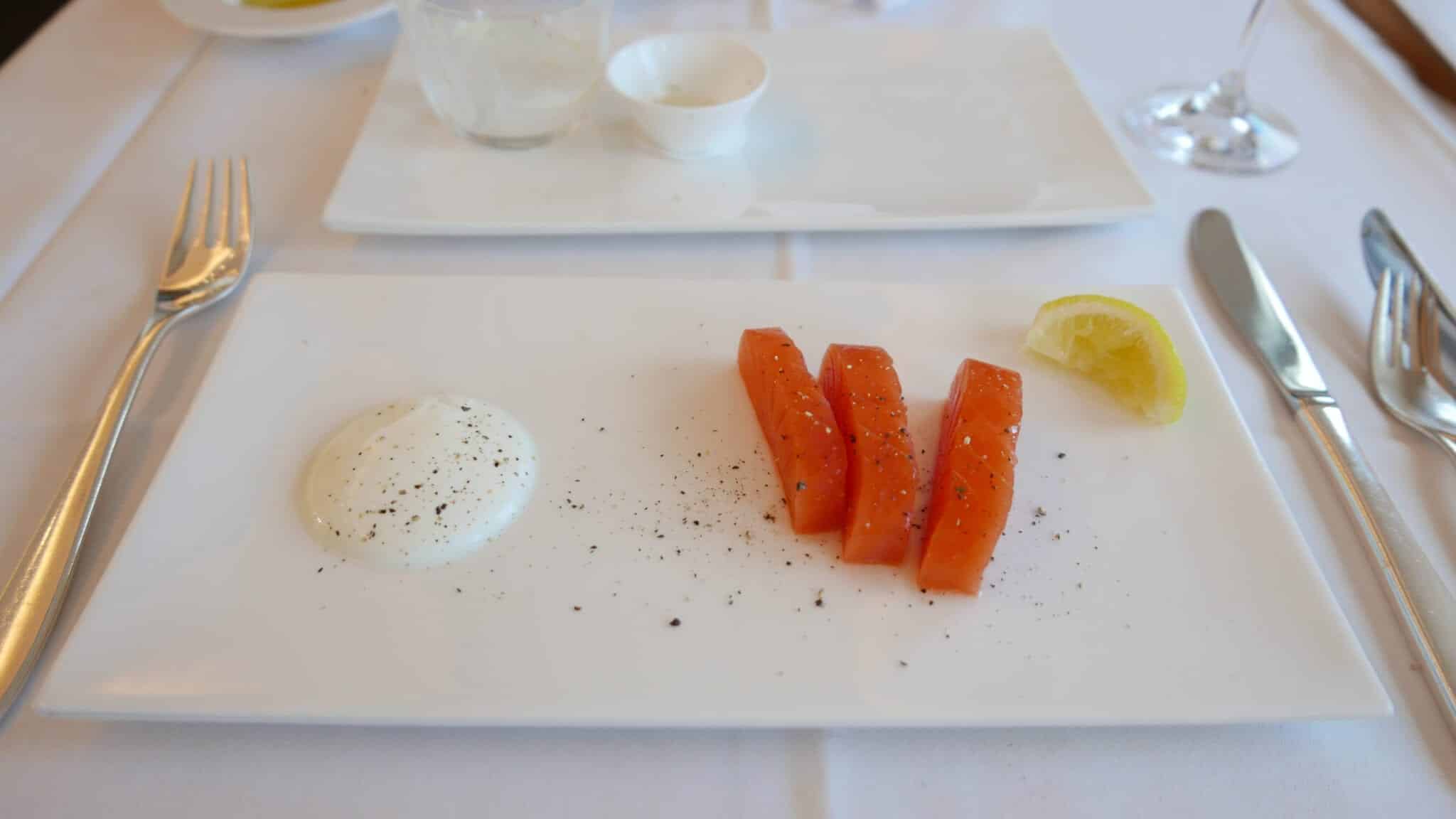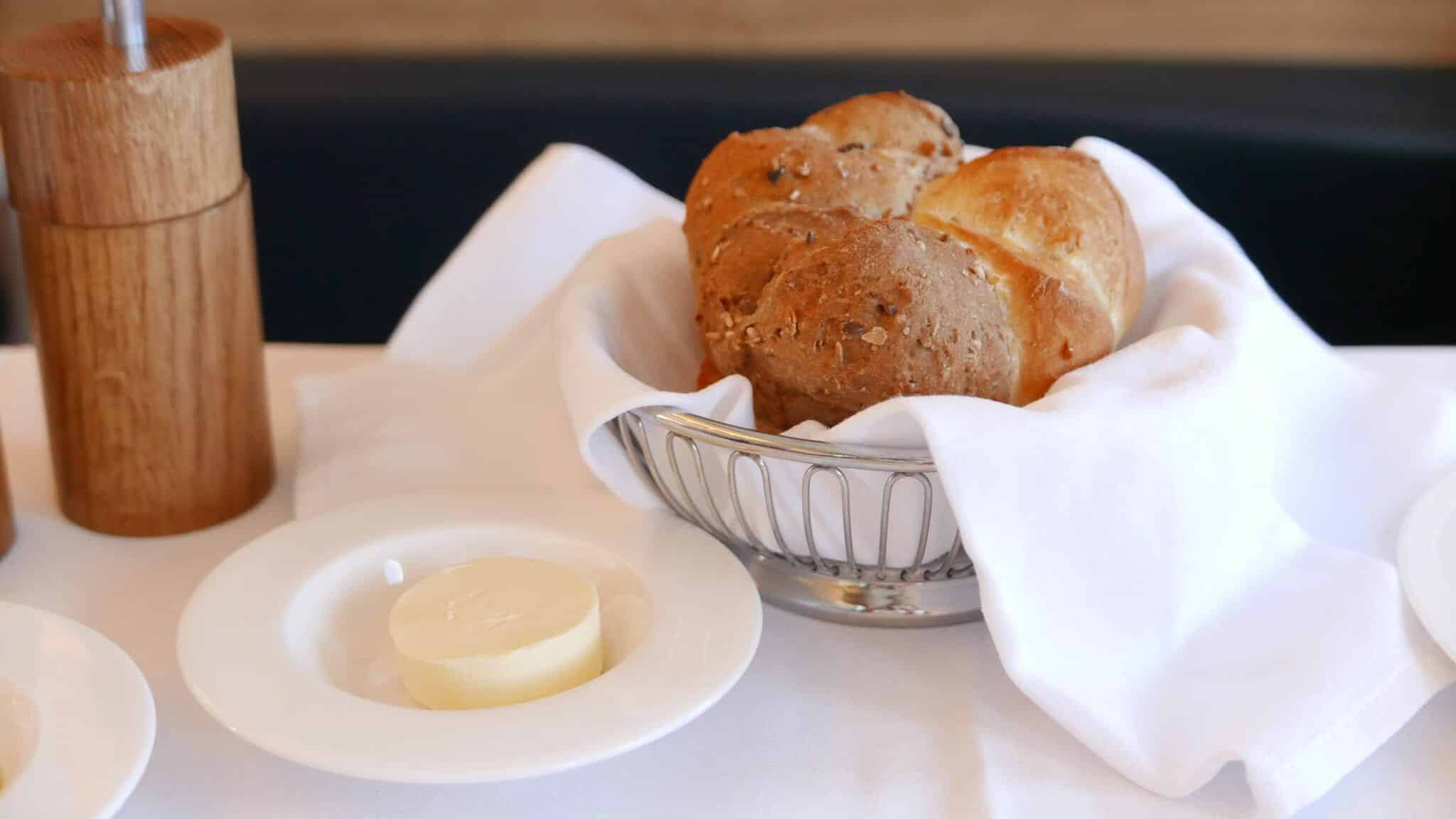 Despite a slightly wobbly start with the lacklustre amenities and rubber tray, things immediately started looking up once the meal service began.
I asked for champagne to be served with my starters and this time the Maȋtre de Cabine presented the bottle of LPGS to me before pouring a generous flute at the table.
On an ordinary menu you would expect to pick one starter, perhaps two if you're having a soup as well, however on SWISS this is not the way things are done. Instead a trolley was brought out featuring the entire selection of cold starters, with the crew recommending that I try them all whilst waiting for the soup to be heated and brought over.
Every single thing that I tried was fantastic. The air dried beef is a Swiss delicacy, a cross between bresaola and biltong, it tasted like the concentrated essence of five steaks had somehow been locked into every slice.
The crayfish and the scallop were beautifully cooked and tasted very fresh.
The star attraction for me though was the fillet of Balik salmon, an old favourite that used to feature on the Cathay Pacific's First Class caviar service (before a downward spiral of quarterly results led to its inevitable removal due to cost-cutting).
Once I had made my way through the panoply of starters I was approached by a member of the crew, he asked whether I would prefer to wait a few minutes or to have my soup straight away. This kind of small touch is what differentiates good First Class service, pacing the meal to the demands of each individual diner wherever possible, recognising the fact that some people prefer to eat quickly and get to sleep whilst others prefer to while away several hours trying a variety of wines and dishes.
As I'm sure you all know by now, I fit firmly into the second camp…
I asked to try a glass of the Chasselas, a unique grape which I'm still not entirely convinced by. My tasting notes: Oily and very alcoholic, definite backbones of meths. Like cheap grappa.
Still no harm done and no incremental cost to me, other than perhaps a couple of pickled taste buds. This is one of the things I love most about flying in First, exploring the drinks list and not worrying about a. the cost implications b. having to travel very far to get to bed.
The soup was presented in restaurant style, as a bed of solid items over which the thick green liquid was poured tableside (a process which reminded me of dinners at the superb Jahn at the Conrad Koh Samui).
I've said this before but it bears repeating, soups are almost always a hit in the air, they are packed with flavour, easy to reheat and and don't make you overly full. I hardly ever order them in restaurants on the ground but in the air they're fast becoming one of my favourite types of food.
Also, I'm not sure why Switzerland doesn't get more credit for its cured meats because the Vaud bacon was every bit as amazing as the air dried beef.
Given that I was spending a weekend flying to one of the food capitals of the world and eating non-stop during the flights there and back, I decided to exercise some restraint at this early stage, ordering the fish for my main course.
Noticing that I wasn't in love with the Chasselas the FA asked if I would prefer something else. I played it safe with a glass of the excellent Chablis which paired beautifully with my main.
After the main I asked to wait a while before the cheese course. "Perfect. This will give the cheese time to reach the correct temperature". At a decent restaurant you'd expect staff to know this but it is was a pleasant surprise to see this level of detail being observed on a plane.
On this short flight there was no second meal service, although it would have been possible to order items from the main menu at any stage given the dine on demand concept.
---
Conclusion
---
As an overall experience, flying in SWISS First Class was absolutely fantastic.
The lounge in Zurich may well be my favourite in the world and the service on board was close to perfect.
The food was extremely well executed and presented. Indeed the table setting was basically indistinguishable from that of a restaurant, no miniature or plastic pieces of tableware in sight. Most importantly the bed was very comfortable and I managed a deep sleep in the middle of the day without any problems.
Some will lament the lack of a 'signature' First Class showpiece like caviar or onboard showers. However the overall quality of the experience and the attention to detail is excellent.
My only criticism would be that the seats don't feel particularly private and the screens are quite small for a modern aircraft. With these two issues now resolved by the design of the new 777 cabin, I could hardly wait for the flight home!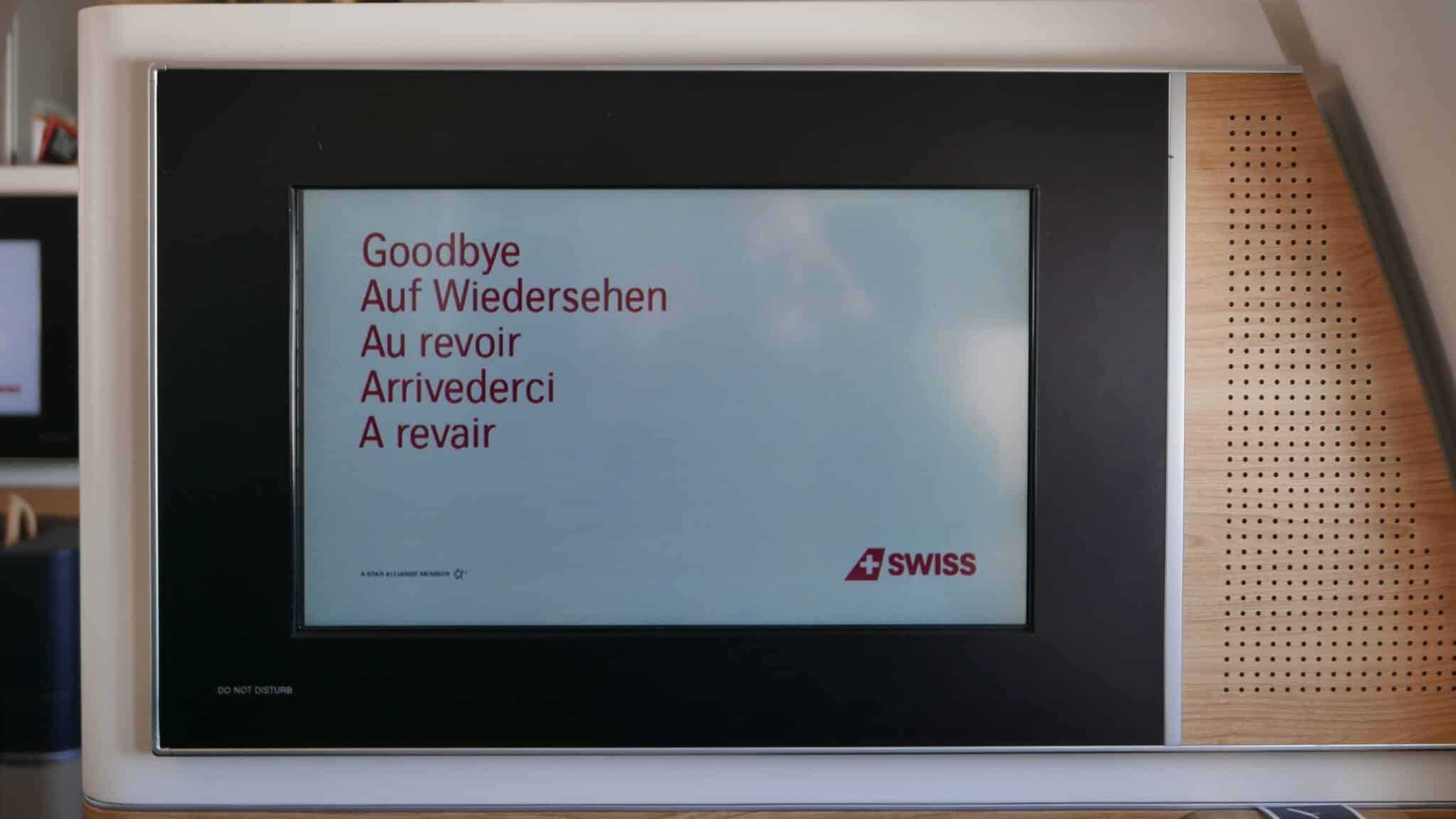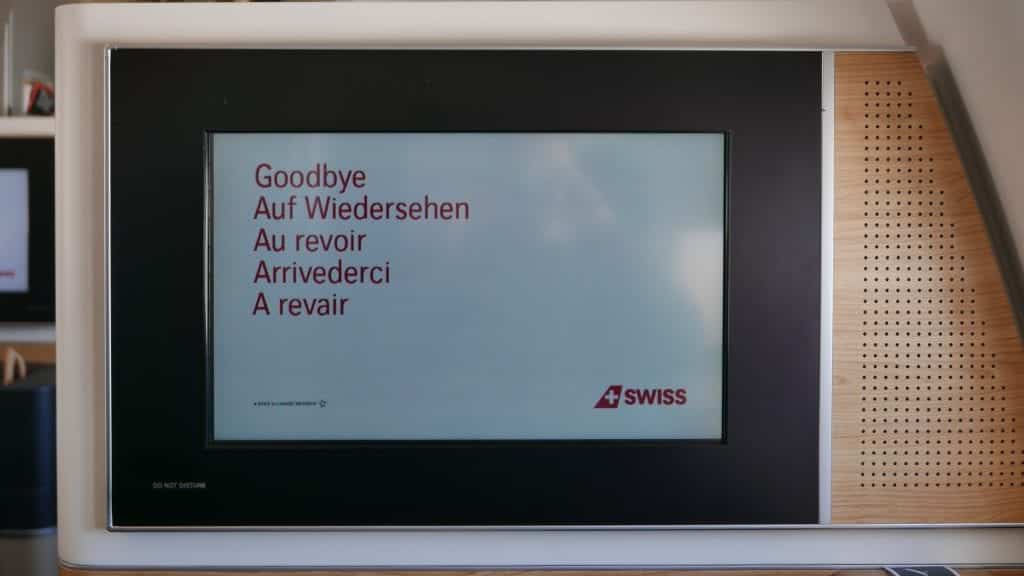 ---