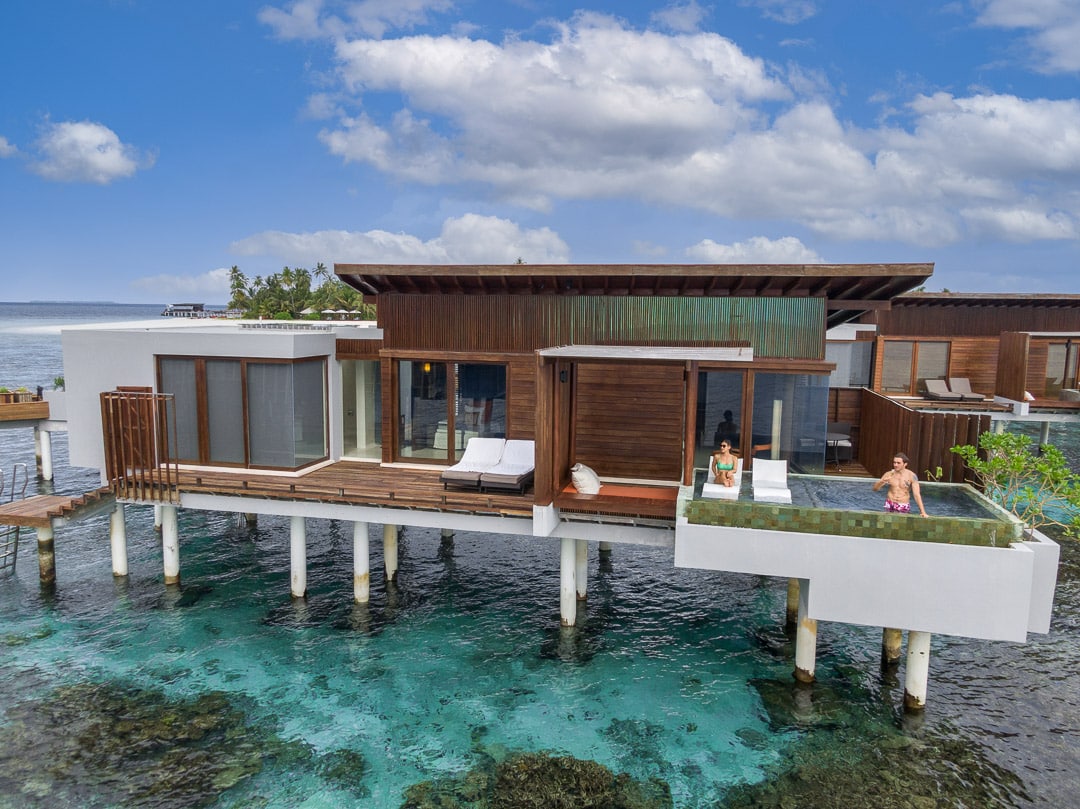 REVIEW – Park Hyatt Maldives
June 4, 2021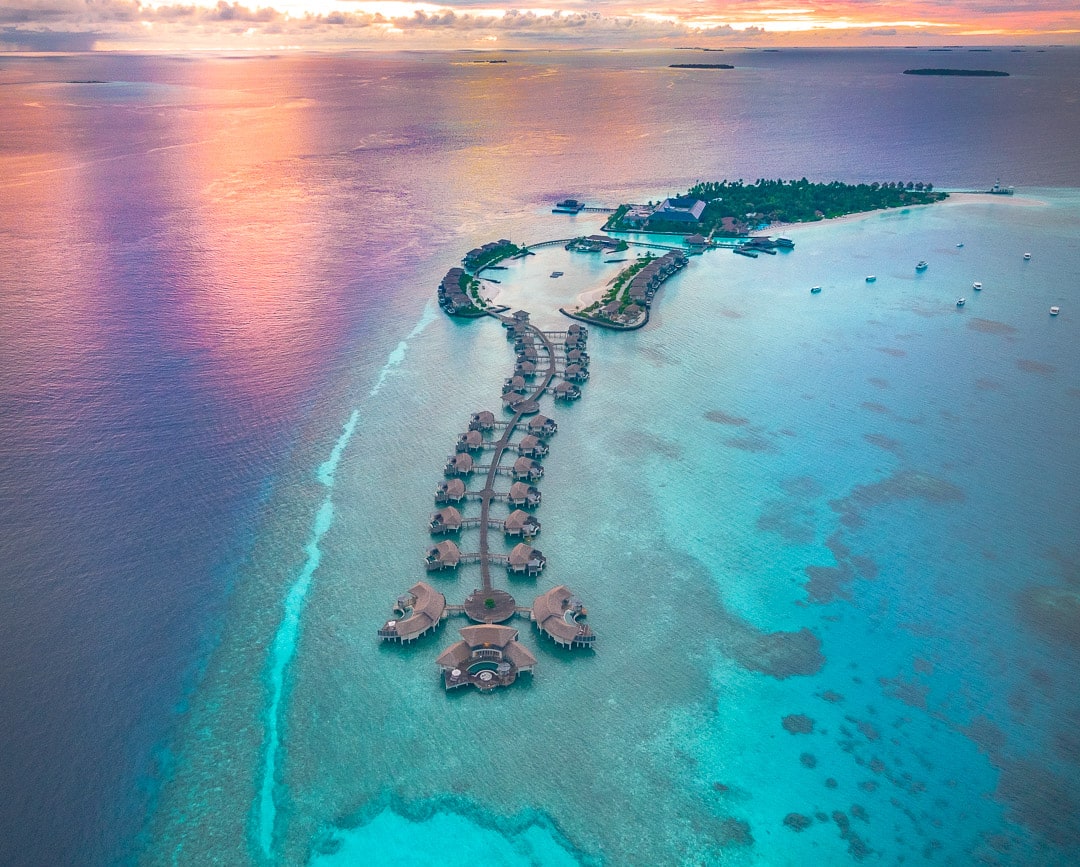 REVIEW – InterContinental Maldives
July 31, 2021
Belmond Mount Nelson
Location: Cape Town, South Africa
Rate: 9,500 ZAR (with Virtuoso Benefits)
Room Type: One Bedroom Suite

Complimentary upgrade from Deluxe Room
---
Intro
---
Picking a hotel in Cape Town was actually a bit more complicated than I'd initially expected.
There aren't a huge number of luxury properties and the city is quite spread out, meaning that picking the wrong one could leave you a long way from where you actually need to be.
The V&A waterfront area is home to hotels like The Silo and One & Only, both of which commanded very high rooms rates on my dates. There was something about this gated area of Cape Town that looked completely touristy and artificial to me. Whilst I could appreciate that the Silo in particular looked really appealing in terms of design, I wanted to be somewhere more authentic on my first visit to the city.
Ellerman House is another fantastic looking property, located in Bantry Bay, a very exclusive enclave of multi-million dollar beach houses and apartments to the South of the town centre. Unlike the V&A waterfront, this is an area that locals actually live in and I felt like it could be a great base of operations from which to explore. However with room rates approaching $1000 a night and an all-inclusive offering, this felt like the kind of resort style property that you never leave. Fine if you're local or a regular visitor, but for somebody keen to explore, the temptation to just sit by the pool all day, eating biltong and drinking wine would be too high!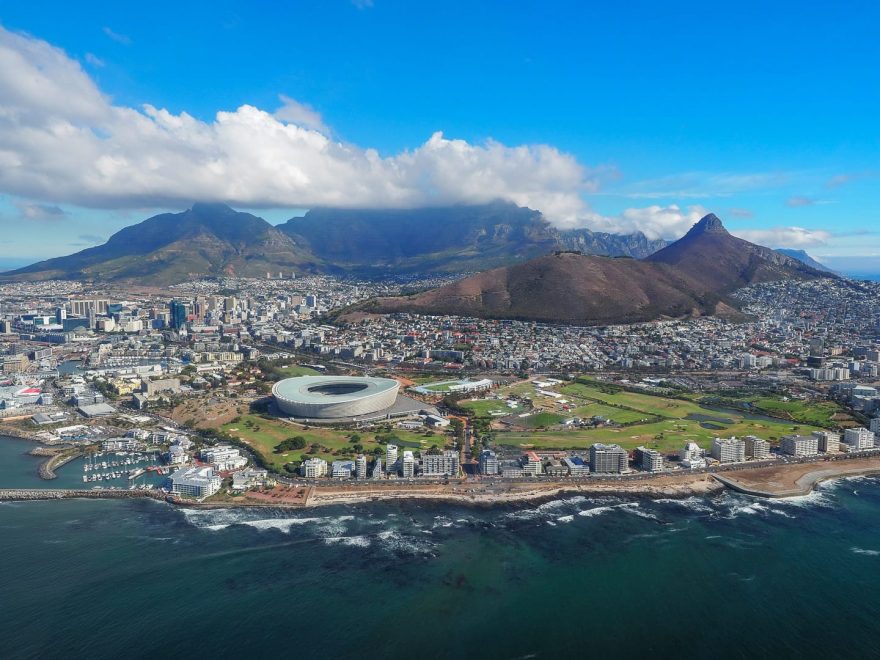 Another property I looked at was Twelve Apostles. The coastal views look stunning, but once again this is more of a resort and is located well outside of the city. For me, convenience and location are key when picking a city hotel and this property just didn't seem worth the trade off.
I ended up selecting Belmond Mount Nelson (known as 'The Nelly' locally) for location above anything else. It is right by bustling Kloof street; an area filled with bars and restaurants and close to the town centre.
The hotel also has expansive grounds, including two different outdoor pools, so I felt like it would truly offer the best of both worlds: a central location and a resort-like feel to return to, after a day of exploring the area.
---
Booking
---
I booked a Deluxe room directly online with Virtuoso benefits.
The rate was identical to that offered on Belmond.com but it also included:
A guaranteed upgrade at the time of booking
Buffet breakfast for two guests
$100 property credit (switched to afternoon tea for 2 in 2021)
early check-in/ late check-out (subject to availability)
Not only did I pay the Deluxe room rate for a confirmed Junior Suite at the time of booking, this was then further upgraded several notches to a full one bedroom suite upon check-in!
Note: You also have the option to book via Belmond Bellini Club.
Usually, I'd always take a hotel's own program over Virtuoso (FSPP is always better than Virtuoso at Four Seasons hotels for example), however Bellini Club does not guarantee the room upgrade at the time of booking.
To me, this is the single most powerful benefit of a preferential booking program, which is why I'd always take the Virtuoso rate over Bellini Club as long as this difference in benefits exists.
BOOK DIRECTLY WITH VIRTUOSO BENEFITS
---
Arrival
---
The ride from CPT airport was very quick and smooth: an Uber Black costs around 300ZAR and takes 30 minutes to reach the property.
Upon arrival, we were first waived through a large gate before driving along a grand driveway, leading to the iconic pink building which houses the majority of the guest rooms.
Here, we were warmly greeted by bell staff who opened the car doors for us, took our luggage and escorted us to the main reception desk. The reception area was awash with the glamour of a bygone era and I loved how much greenery they'd incorporated into the decor.
Somehow, adding a plethora of palm leaves helped to soften the marble and chandeliers, bringing a playful edge to what could have otherwise been a stuffy lobby.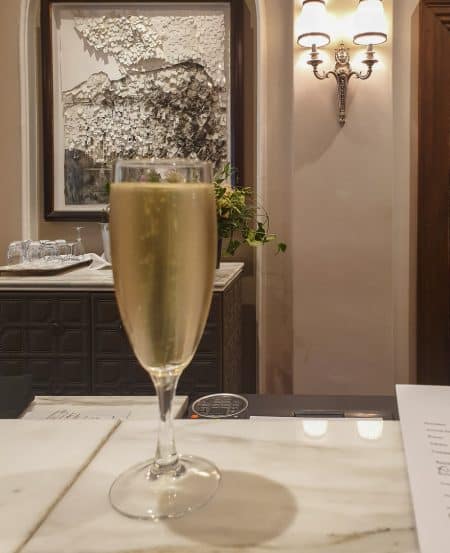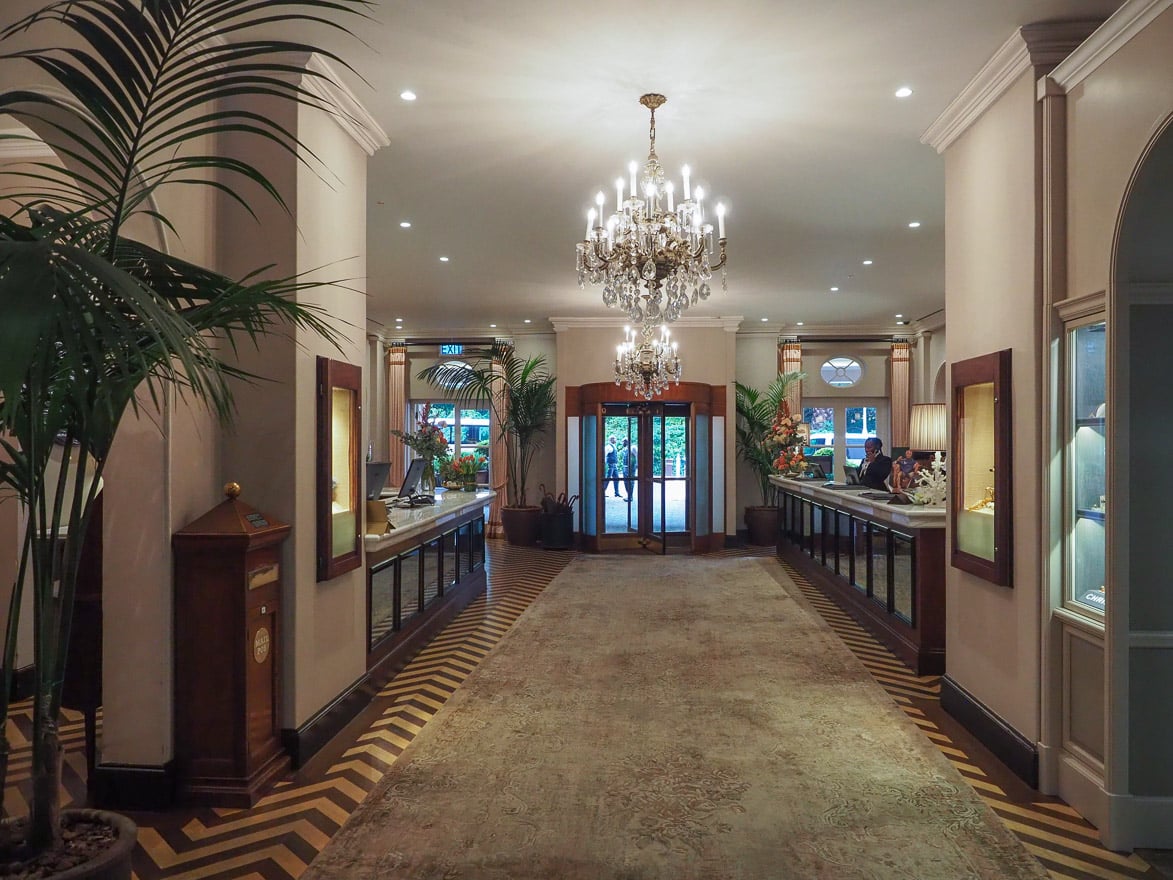 The reception staff were very friendly and welcoming and immediately offered us an ice cold glass of sparkling MCC to enjoy as we completed the check-in formalities.
It was at this stage that we were told that we had been upgraded to one of the hotel's best suites!
Booking with Virtuoso is a complete no brainer at luxury properties. It's crazy to think that other people would have been paying the exact same rate as us but ended up in a standard room without breakfast…
Once the paperwork was completed, the receptionist grabbed our keycards and escorted us to the room.
As we waited for the lift, we briefly took a moment to marvel at the decor in the adjacent lounge. The property is certainly imbued with a deep sense of old world charm.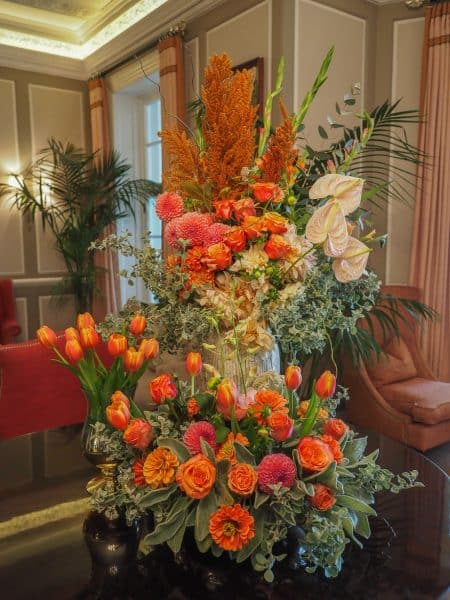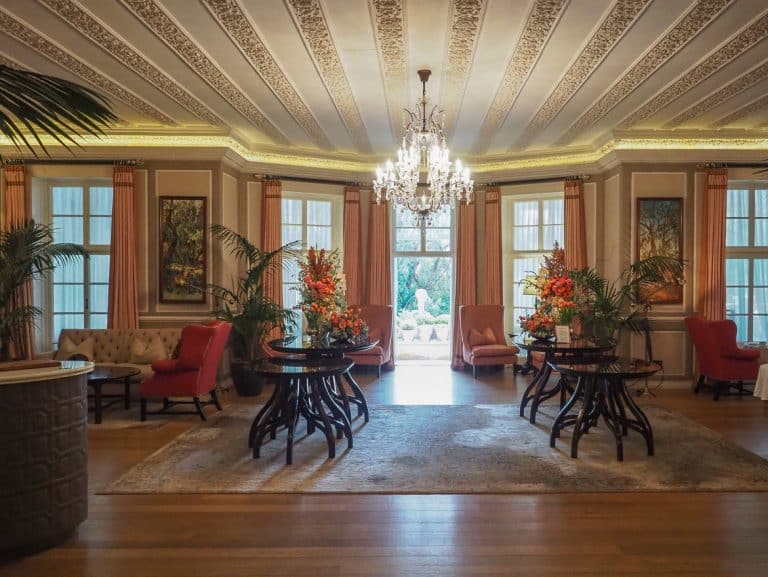 ---
One Bedroom Suite
---
It transpired that our suite was very close by; immediately above reception, to be precise. Indeed, we could see the hotel entrance, complete with flags, directly beneath us.
Bedroom
The Bedroom was dominated by an enormous and very comfortable bed, topped with a variety of firm feather pillows.
There was a good amount of natural light thanks to the floor to ceiling windows, leading out to the Juliet balcony.
The balcony was very compact but the views of Table Mountain were absolutely amazing!
At the foot of the bed was an Ottoman, which easily fit an open full sized suitcase. The wall mounted television was rather small and antiquated though. A shame, as there was clearly space for something better.
The make up area was well lit, featured a large mirror and provided a multitude of power sockets for cosmetic appliances….however only one of these power sockets was universal.
Similarly, there were power sockets on either side of the bed but one side had no universal power, here there was a dual USB port instead.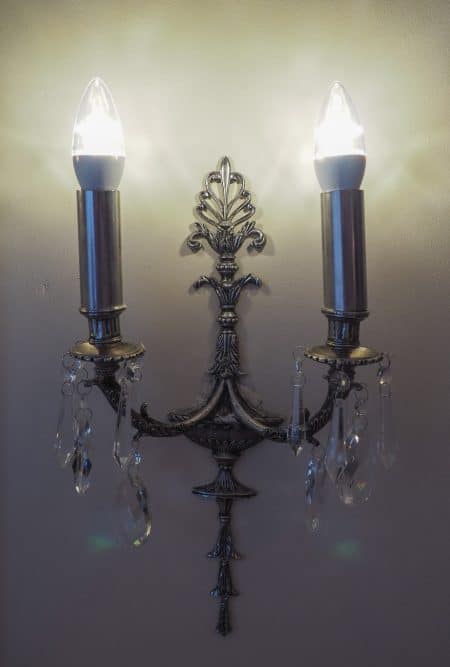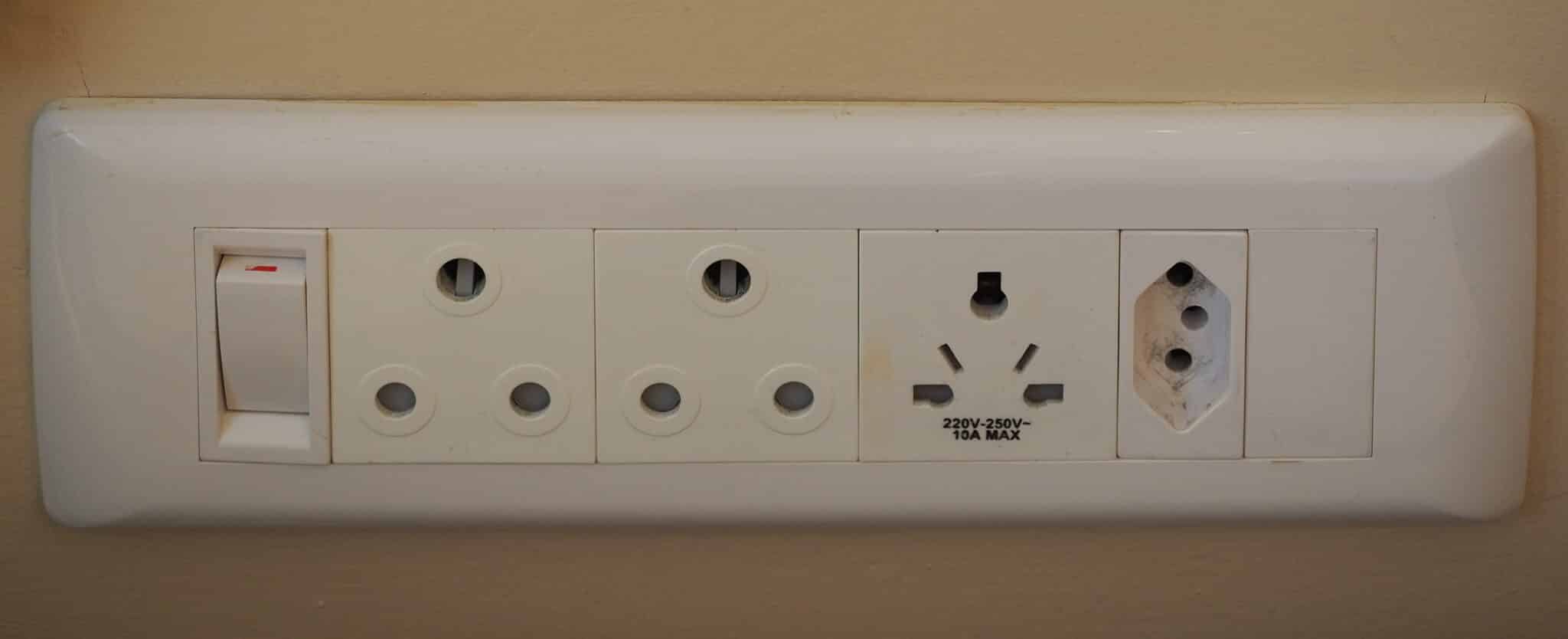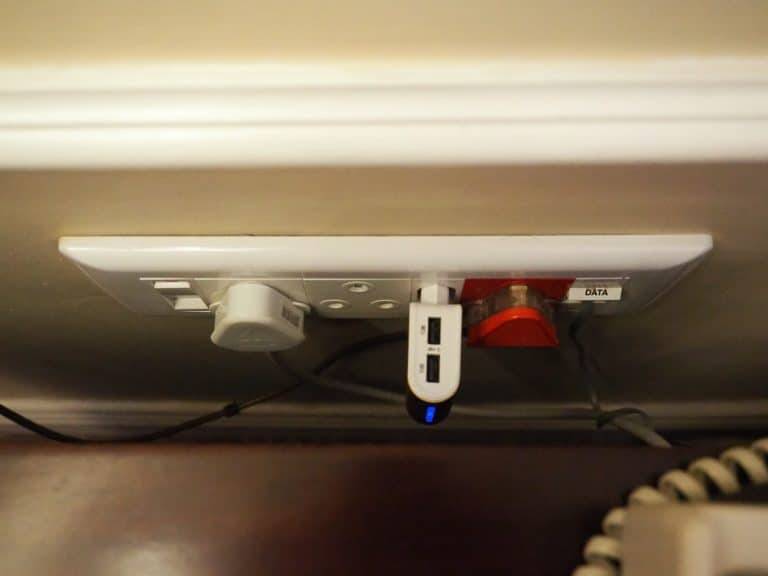 There was a large built-in wardrobe next to the bed, with ample space inside for all of our luggage.
The interior lighting was a great touch, as was the Belmond branded tote bag. I've been to plenty of beach resorts that didn't provide a bag, so for a city hotel to have the foresight to do so is notable.
Overall, the furniture in the suite felt very robust; clearly it was high quality and built to last. Not a single wobbly table or stuck drawer in sight.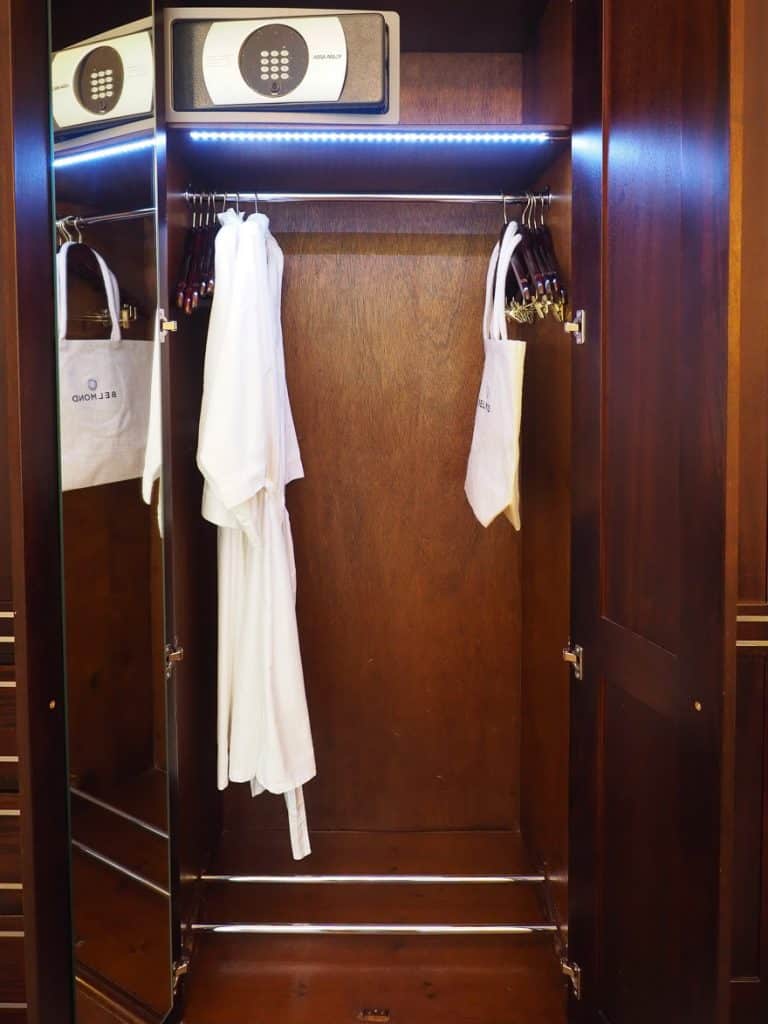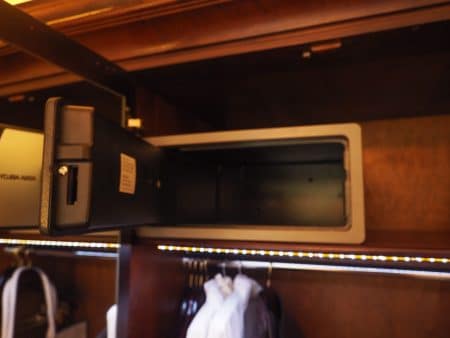 Bathroom
Despite its compact size, the bathroom had enough space for a set of dual vanities, replete with a 1920s art deco aesthetic.
Honestly though, I really don't see the point in separate hot and cold taps. Technology has moved on, we're not savages. I want to be able to wash using warm water, not alternating bursts of boiling and freezing water.
Speaking of useless technology, I also didn't find any reason to make phone calls on the toilet, during our stay.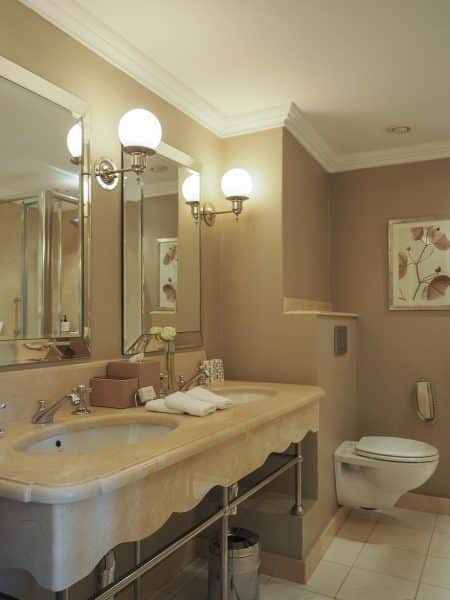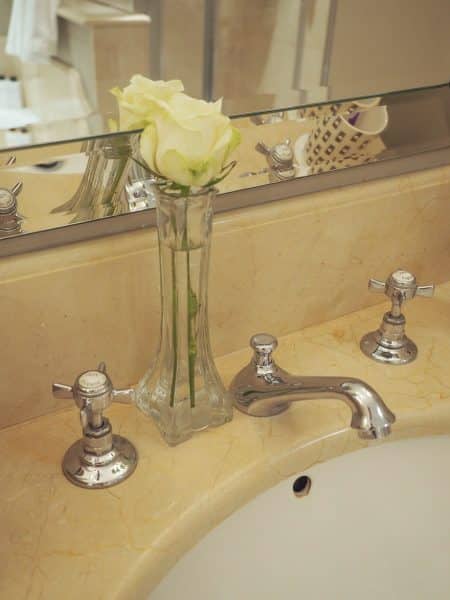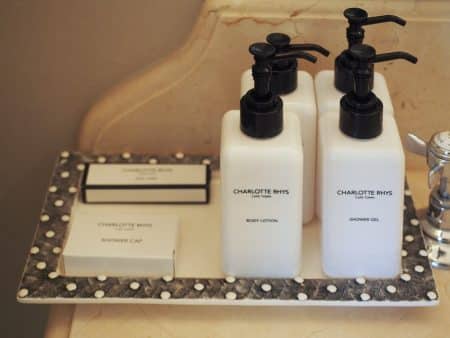 The shower and bath were both quite small and overall the bathroom really didn't feel luxurious. This tends to be an issue with heritage properties, many of which have been standing for longer than indoor plumbing has actually been a thing.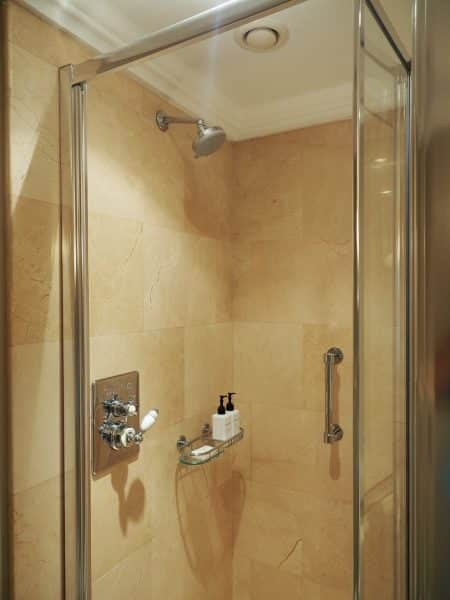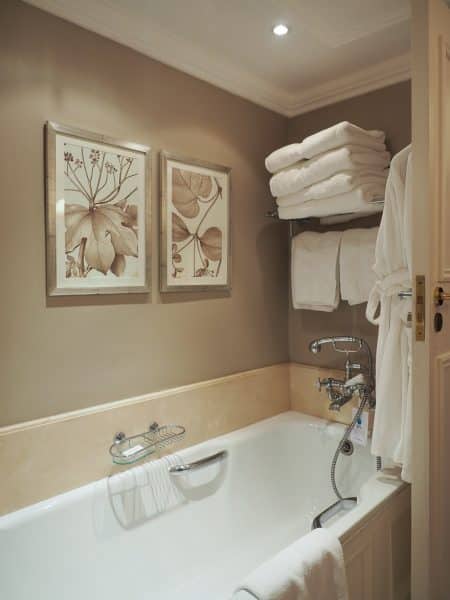 Living Room
Our suite featured a large lounge, separate to the main bedroom, with space for seven people to sit comfortably.
The console table beneath the (antiquated) television housed the mini-bar, as well as tea and coffee making facilities.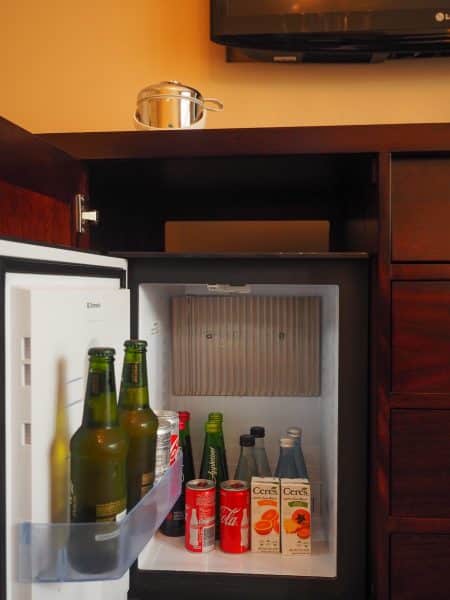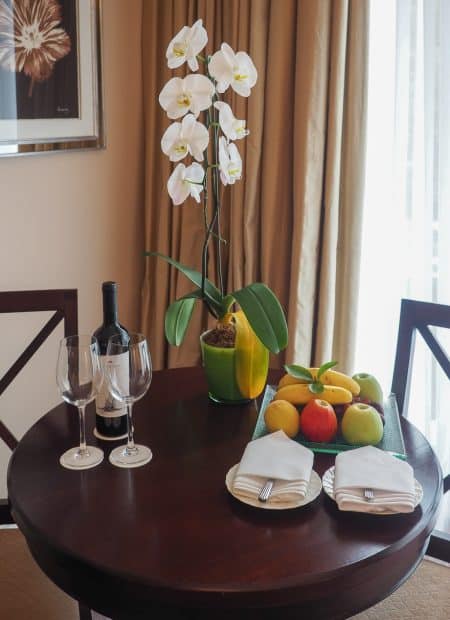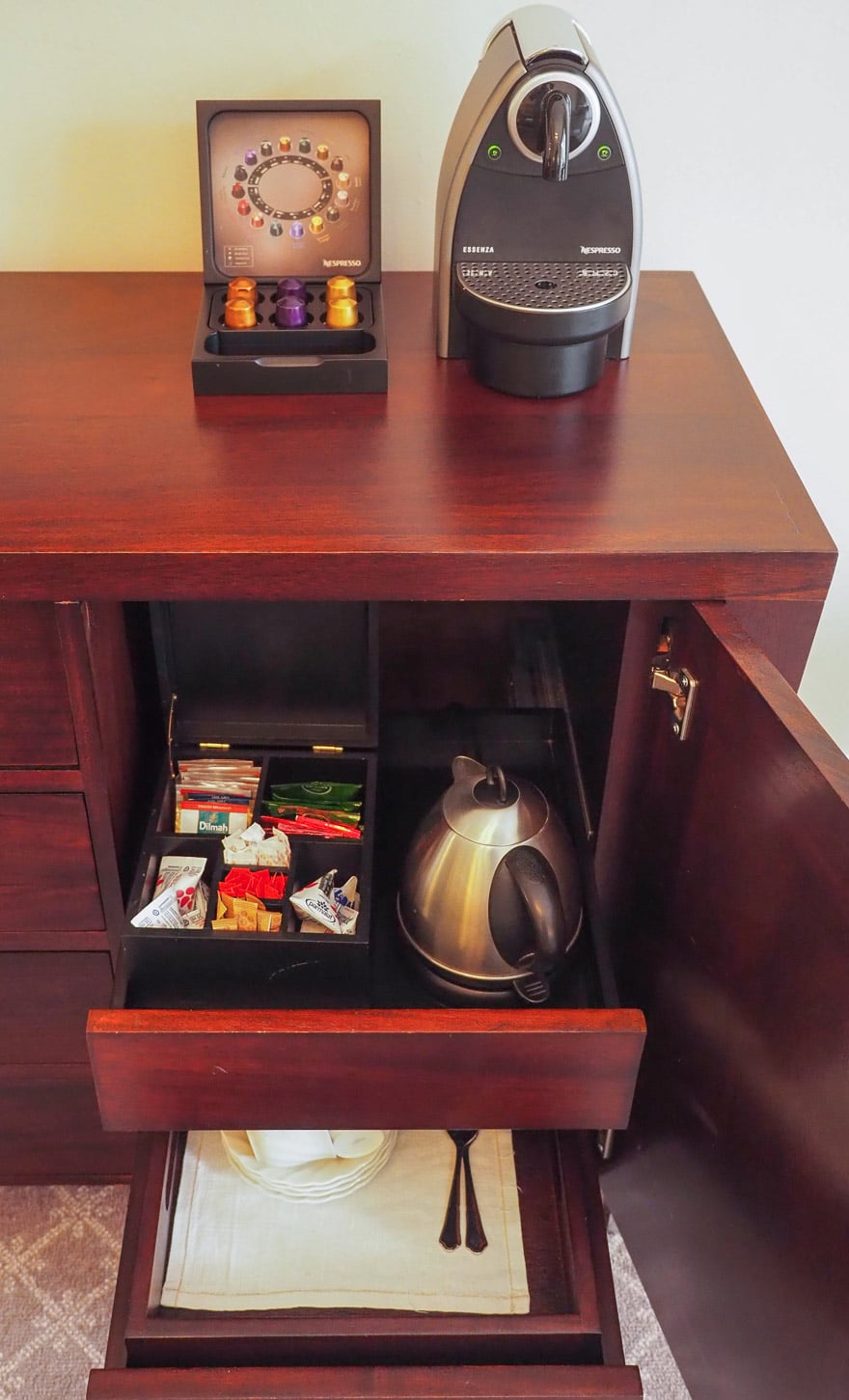 A welcome amenity of fresh fruit and a bottle of local South African pinotage awaited us on the small dining table.
The living room also boasted a second balcony, meaning that we could take pictures like this:
View this post on Instagram
---
Hotel Facilities
---
As is often the case with heritage properties, it really felt like this was a destination property for locals. Whenever we came down to the lobby, we would see excited groups dressed up for afternoon tea, dinner or cocktails.
The public spaces are beautifully maintained and you can certainly see why this hotel is seen as the default location for special celebrations in Cape Town.
Adults Only Pool
The Nelly is rather unique for a city hotel. It has a series of cottages, with gardens, available in addition to regular rooms and suites. The hotel's ample grounds are walled off and well guarded so I imagine that staying in one of these cottages must feel similar to living in a suburban gated community.
Directly opposite the cottages was the adults only pool – a beautiful oasis, surrounded by greenery. It was the perfect spot to sit in the shade and read a book, after a busy morning of sightseeing.
Main Pool
The Main pool was located to the rear of the main historic building, nestled amongst the pristinely manicured gardens.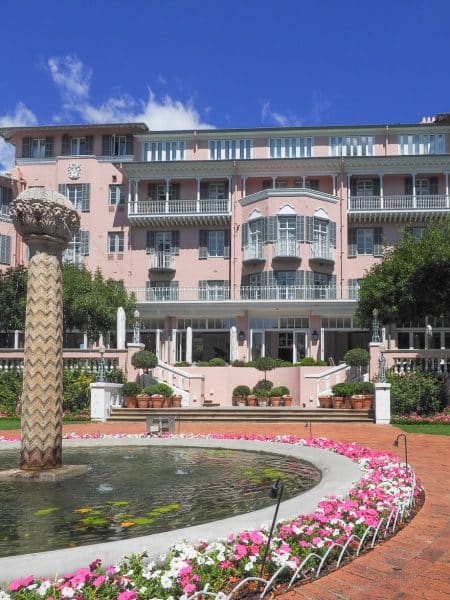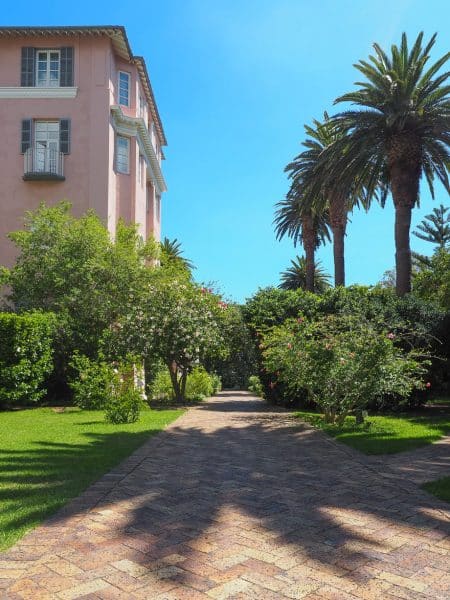 Given the enormous size of the lawn, it never felt crowded here and service was prompt and proactive. I particularly liked the fact that there was an iced water station, located in a shady corner, to one side of the pool.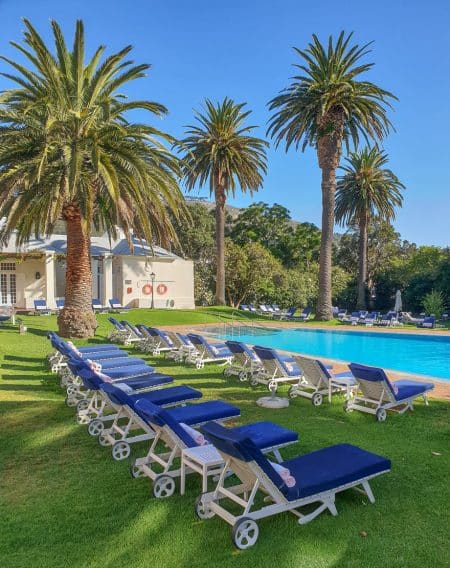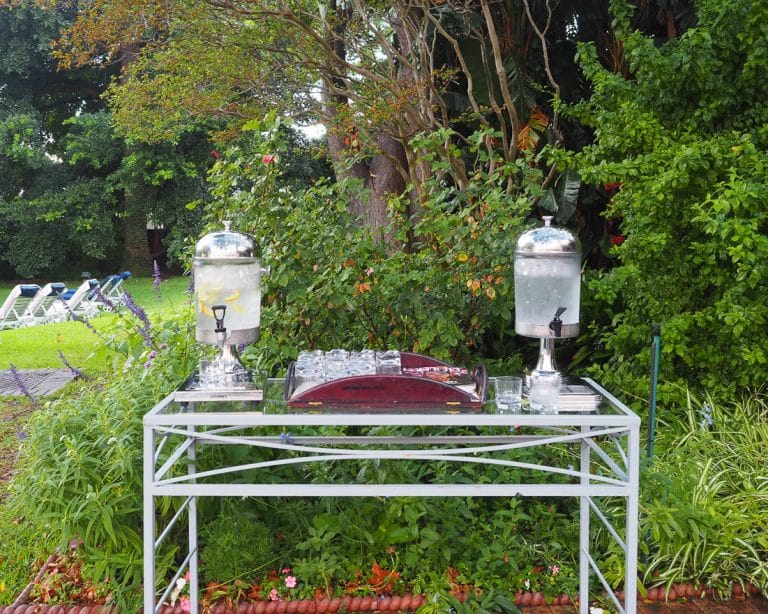 The Gym
The Gym was located in a series of cottages, just behind the main pool, at the far end of the Belmond 'campus'. There was a friendly cat that appeared to live here, which Kamara immediately made friends with.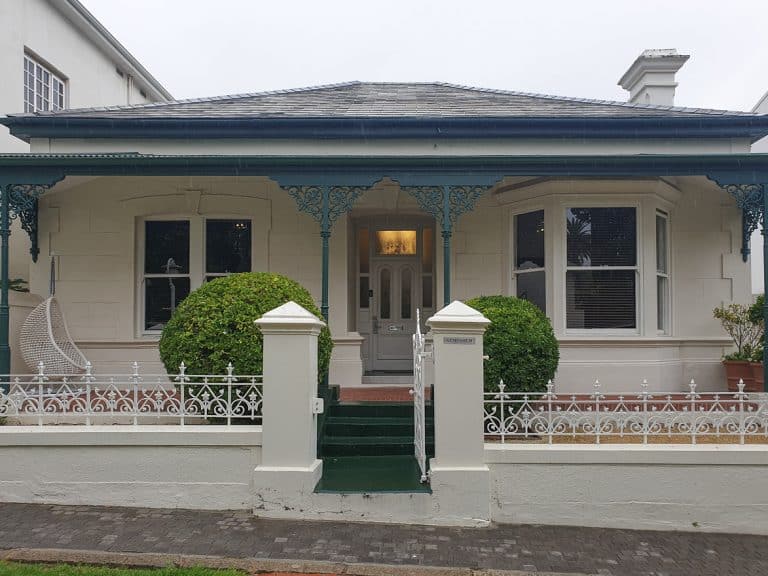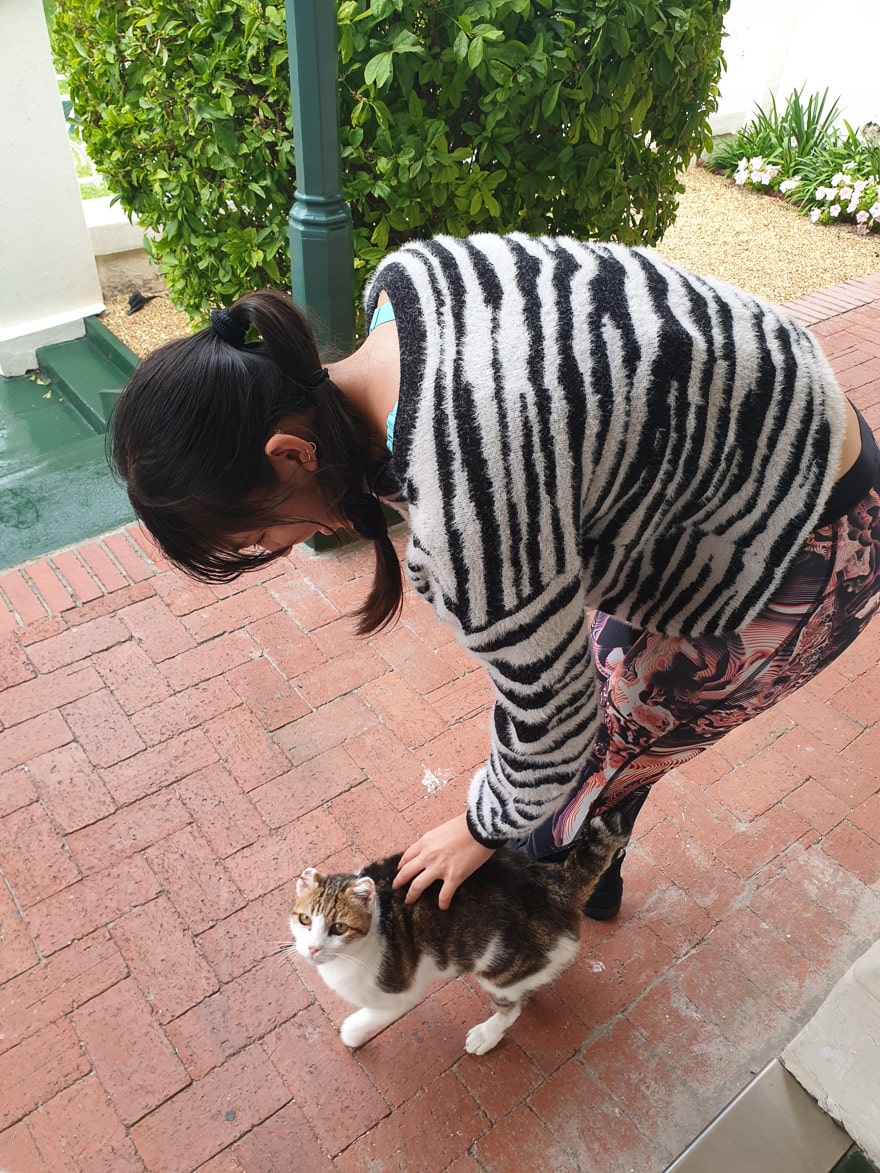 I wasn't expecting much – in my experience, I've found that the older the buildings, the worse the fitness facilities will be.
The ratio was geared heavily in favour of cardio: there were no Olympic weights, no smith machine and no squat rack.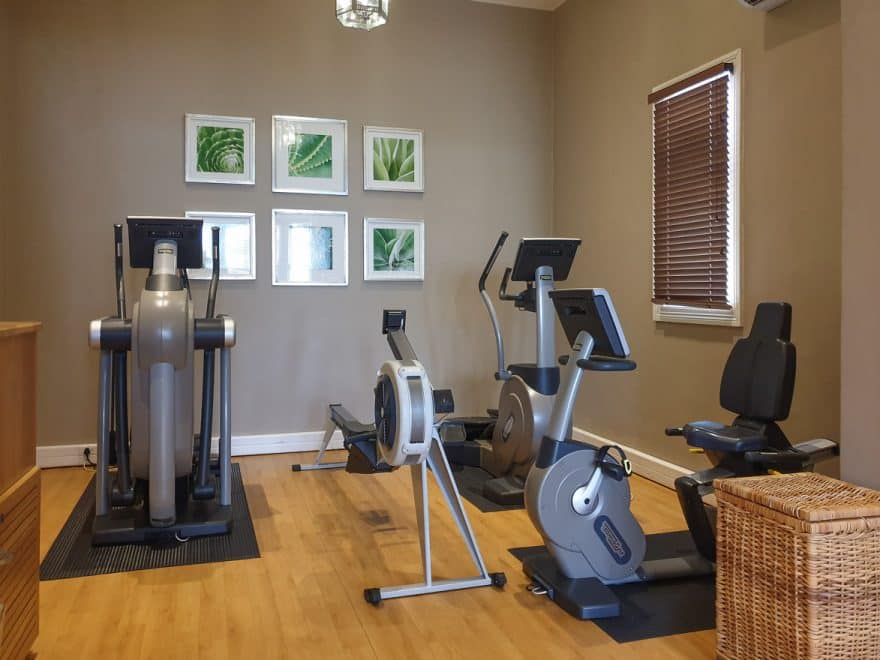 There were plenty of rubber balls, 'functional' sticks and yoga mats though…
There were a couple of sets of dumbells, which rather confusingly came in a mixture of kg and lbs. They maxed out at around 24kg.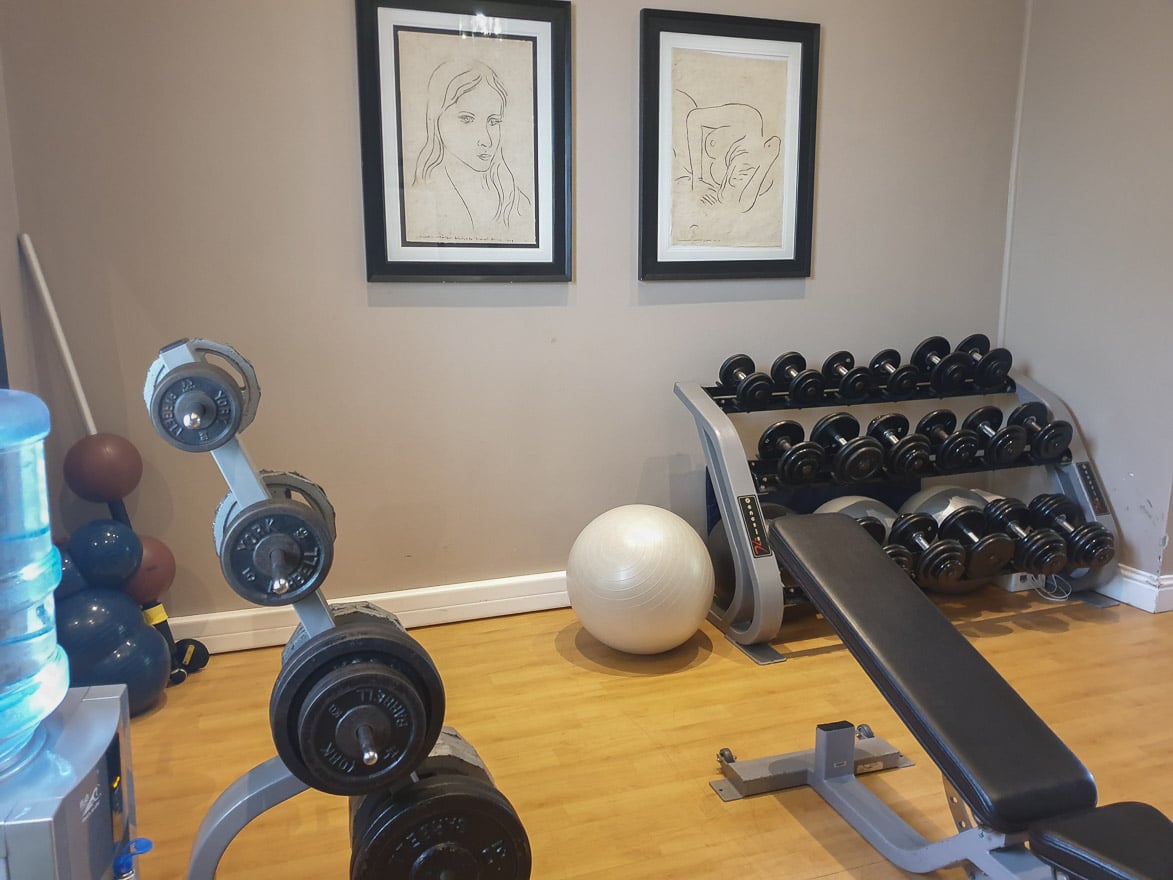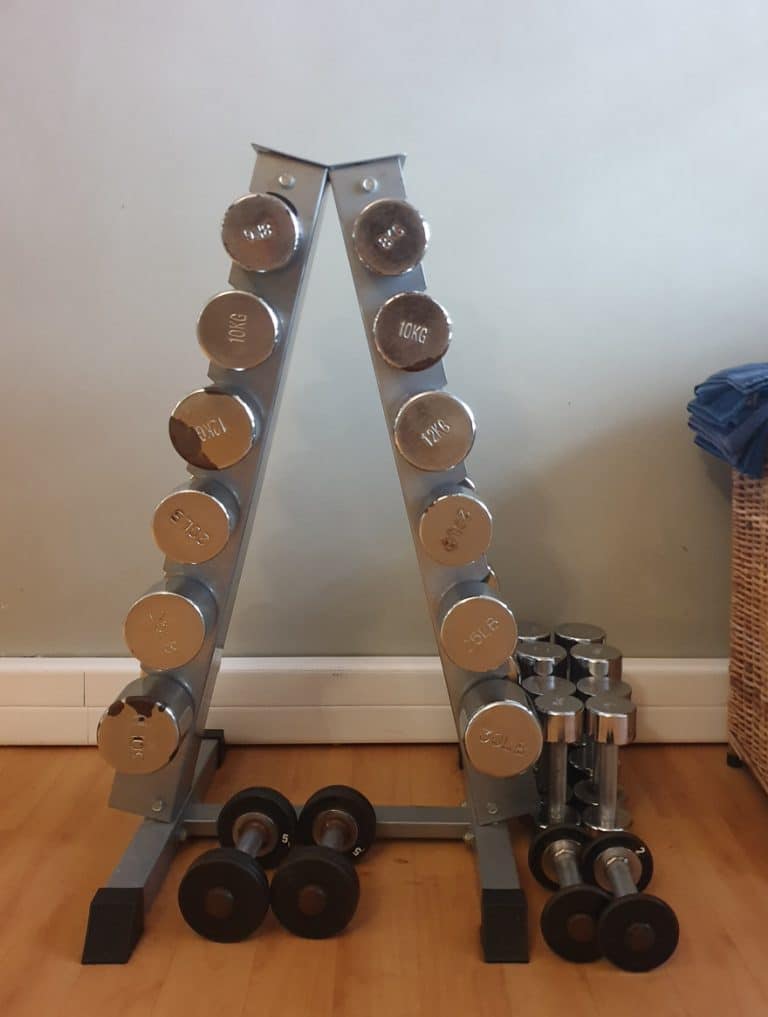 In fairness, the cable machines were decent. There was a unilateral chest/shoulder press as well as a unilateral lat pulldown machine.
Leg extensions are absolutely standard, but leg press machines are rare enough in hotel gyms that I was impressed to see one here.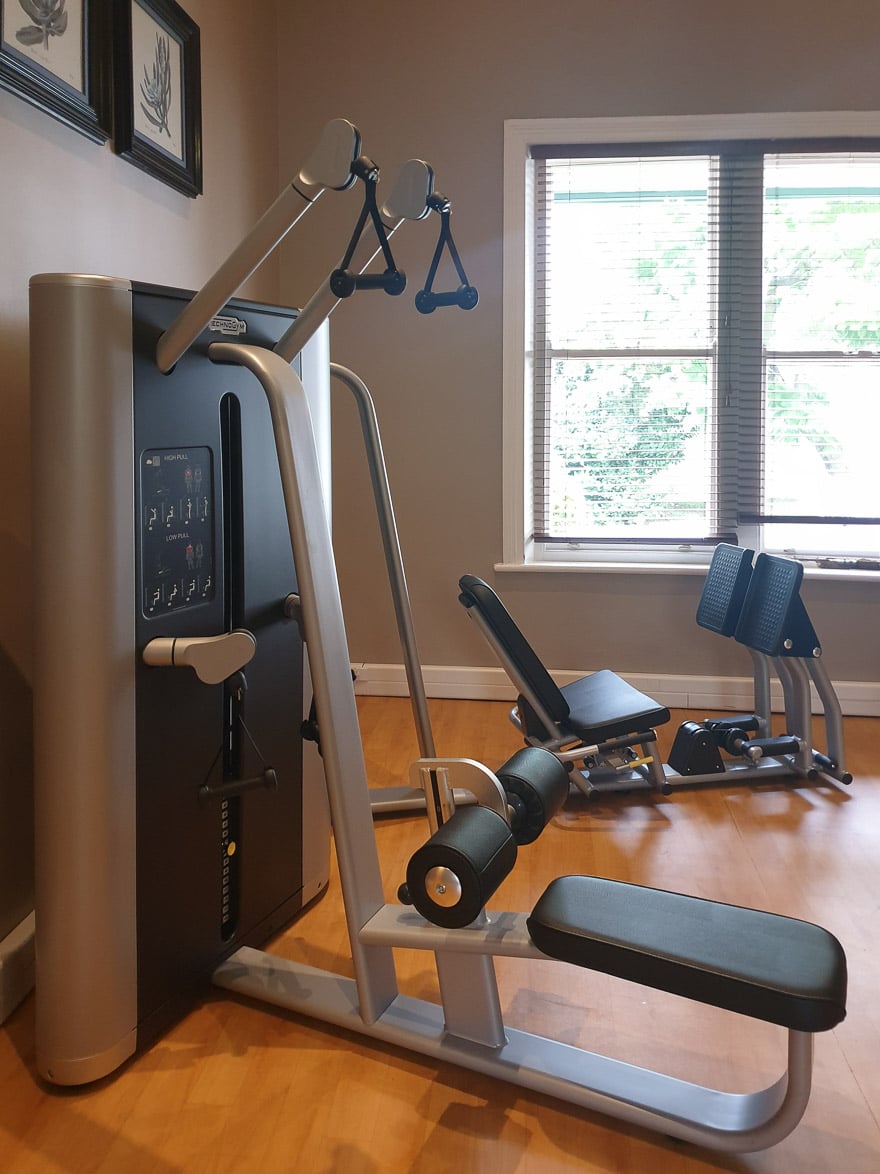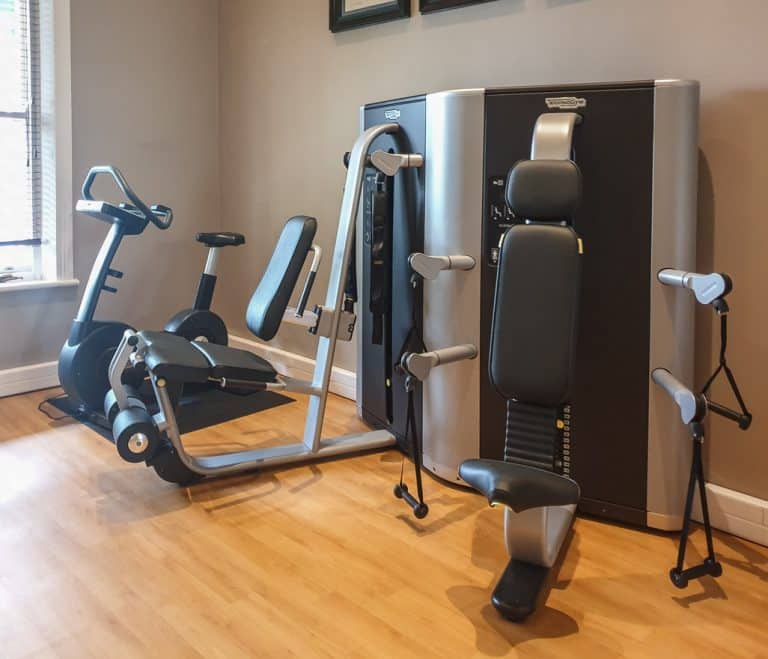 There were no changing facilities here, but we jogged over from our room in our gym clothes anyway. (Changing rooms were available in the spa building, adjacent to the pool.)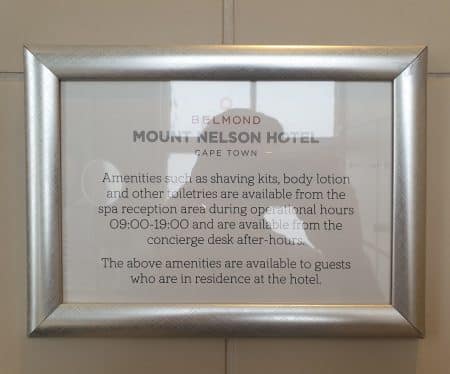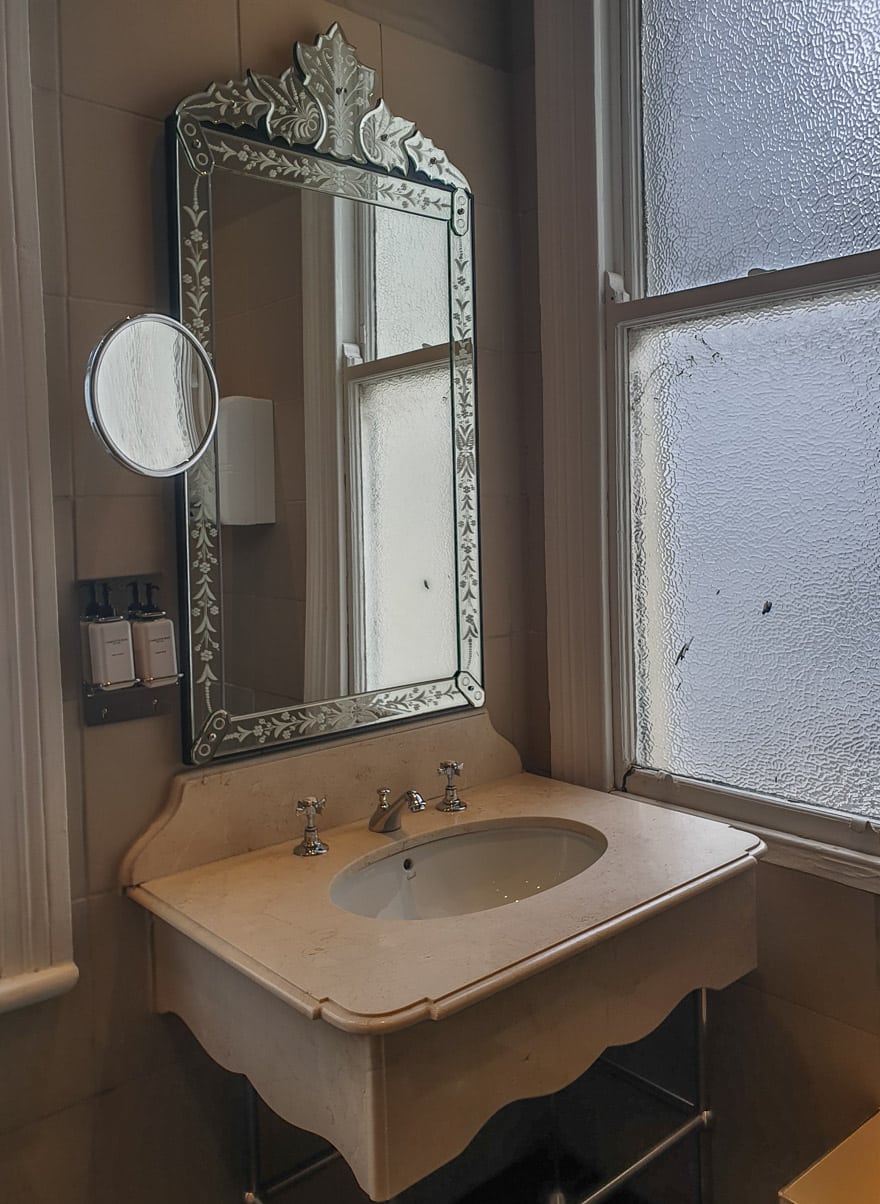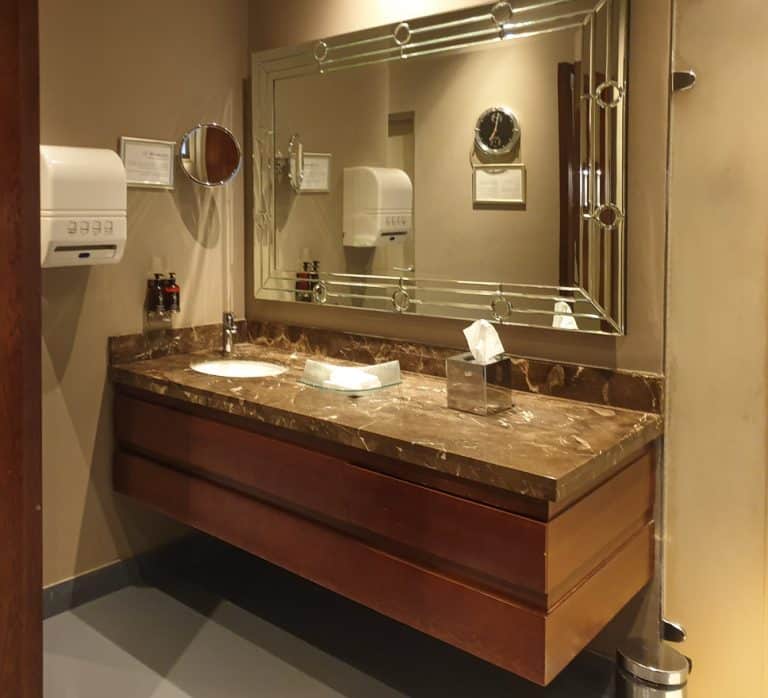 ---
Food and Drink
---
Breakfast at Oasis
Our Virtuoso rate came with breakfast in the restaurant included. We could also have opted for room service breakfast for a nominal 100ZAR tray charge, but we enjoyed the poolside setting so much that we felt that breakfast in the room would have felt a little sad in comparison.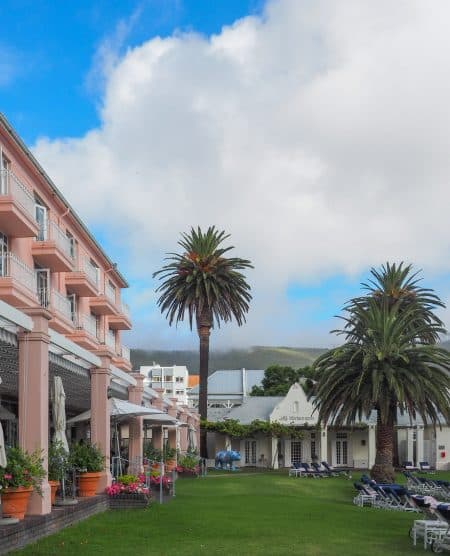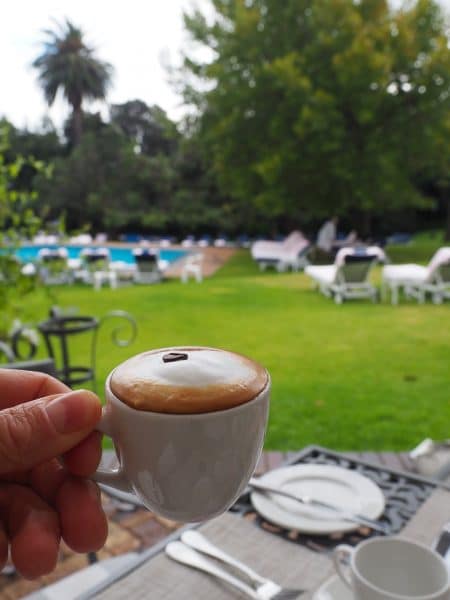 Service was excellent, as were the macchiatos. Staff welcomed us each morning with a genuine warmth and enthusiasm that really helped set a positive tone for the day ahead.
The buffet selection was very extensive with at least ten different juices, a dizzying array of freshly baked breads and pastries, sparkling wine, oysters and (my personal favourite) biltong and droewors!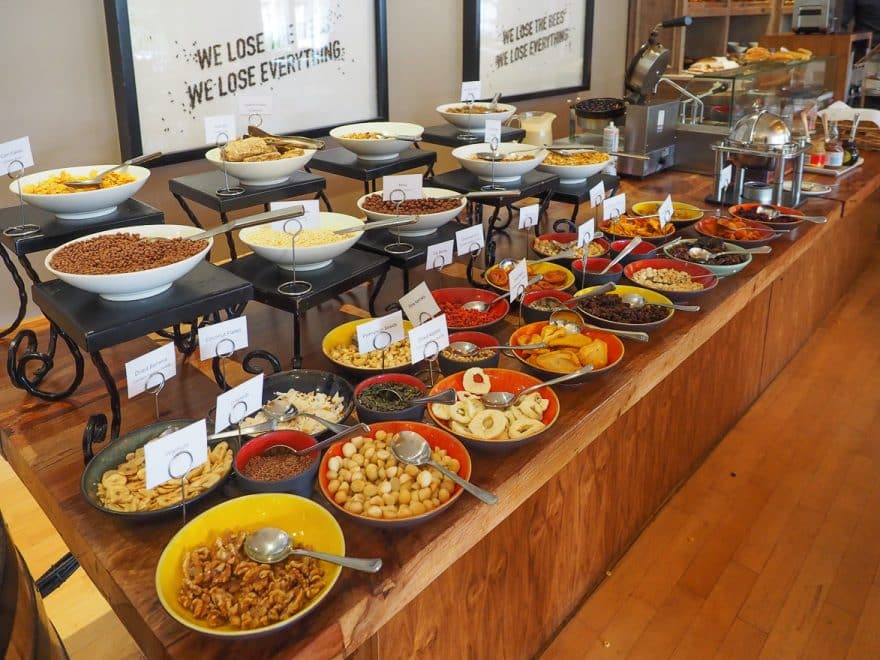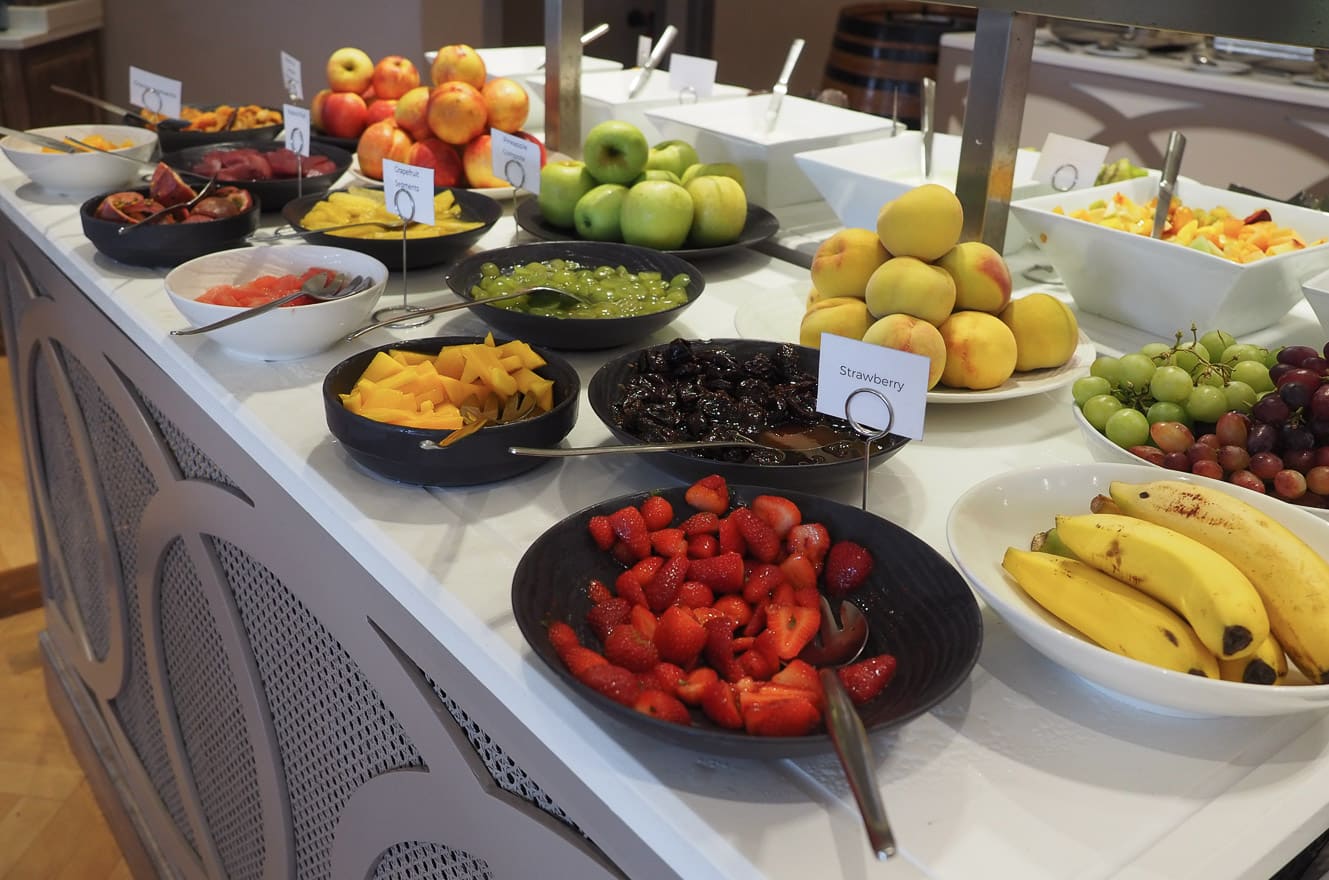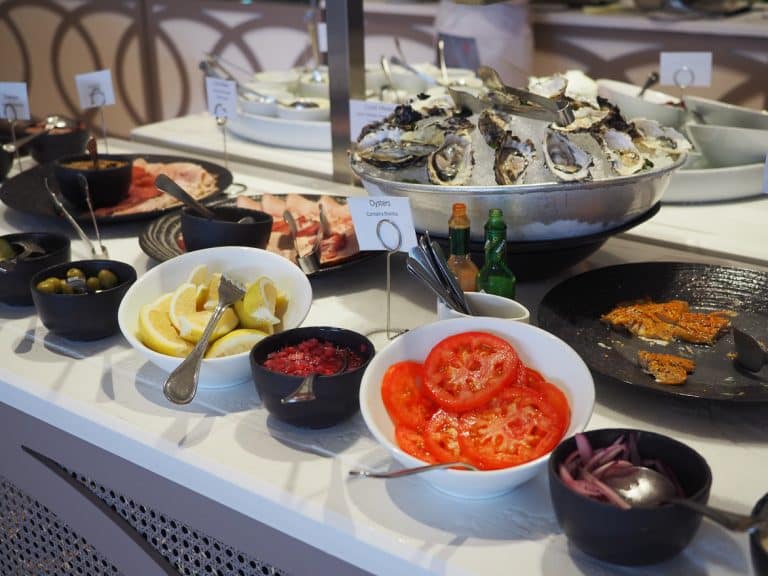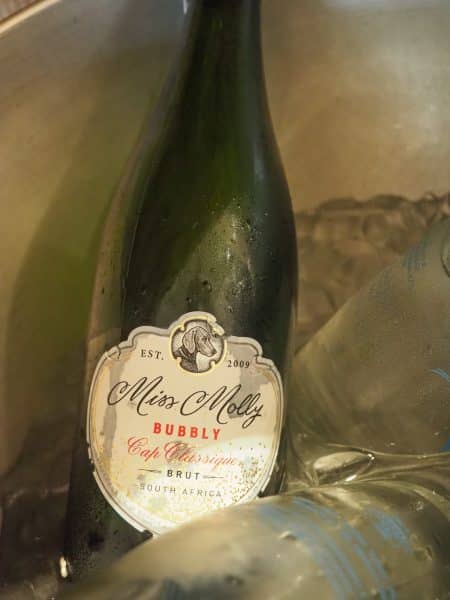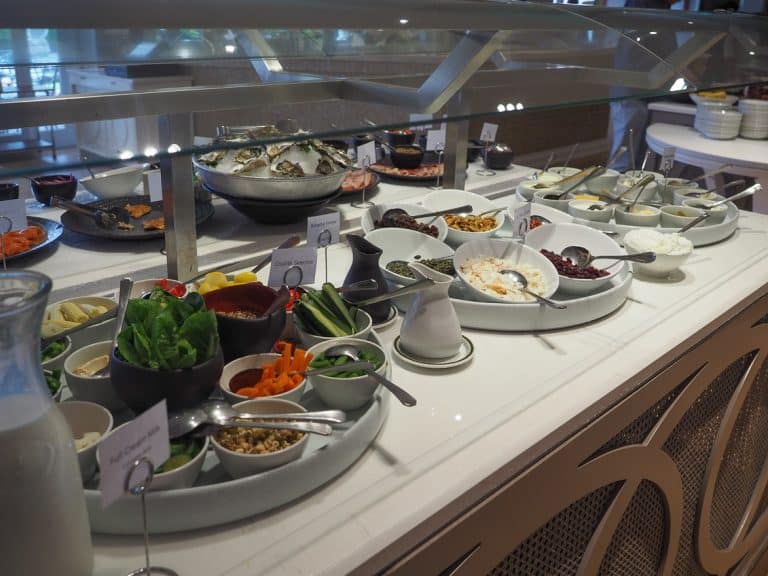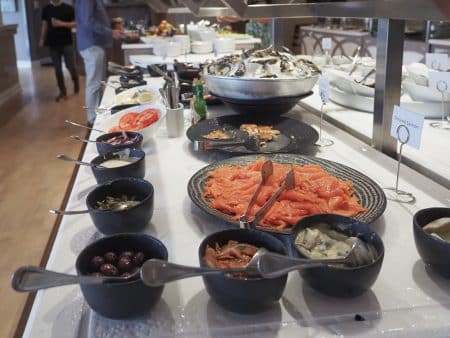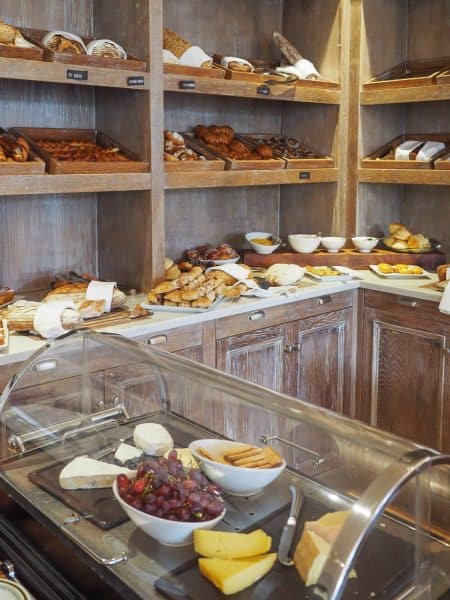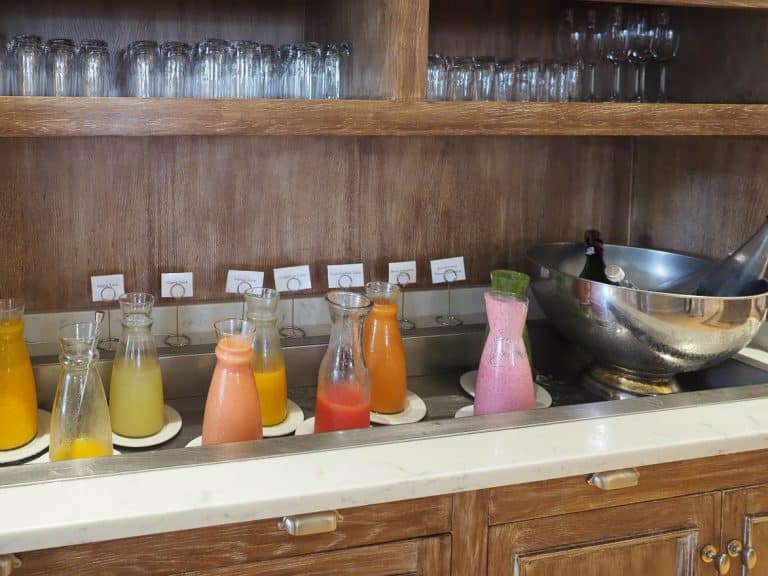 There was a section dedicated to hot dishes as well as separate, freshly made pancake and egg stations.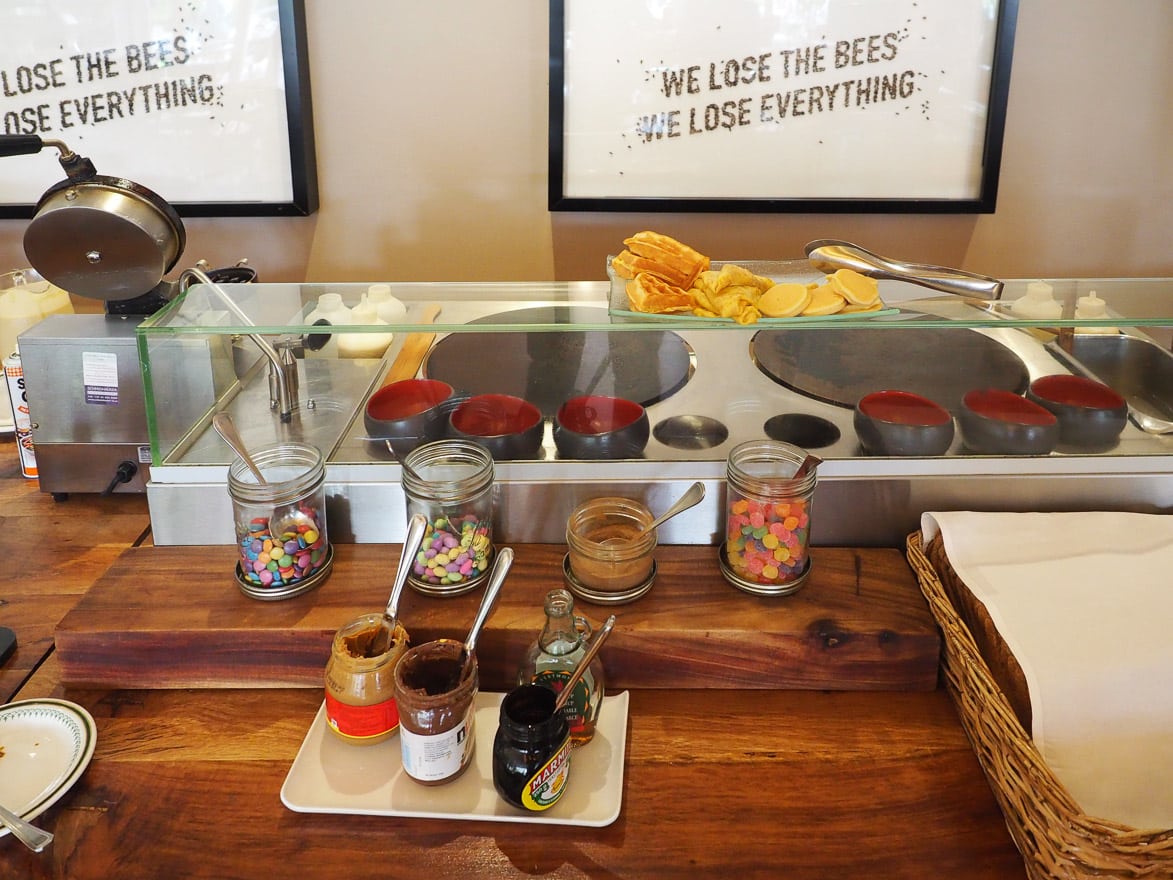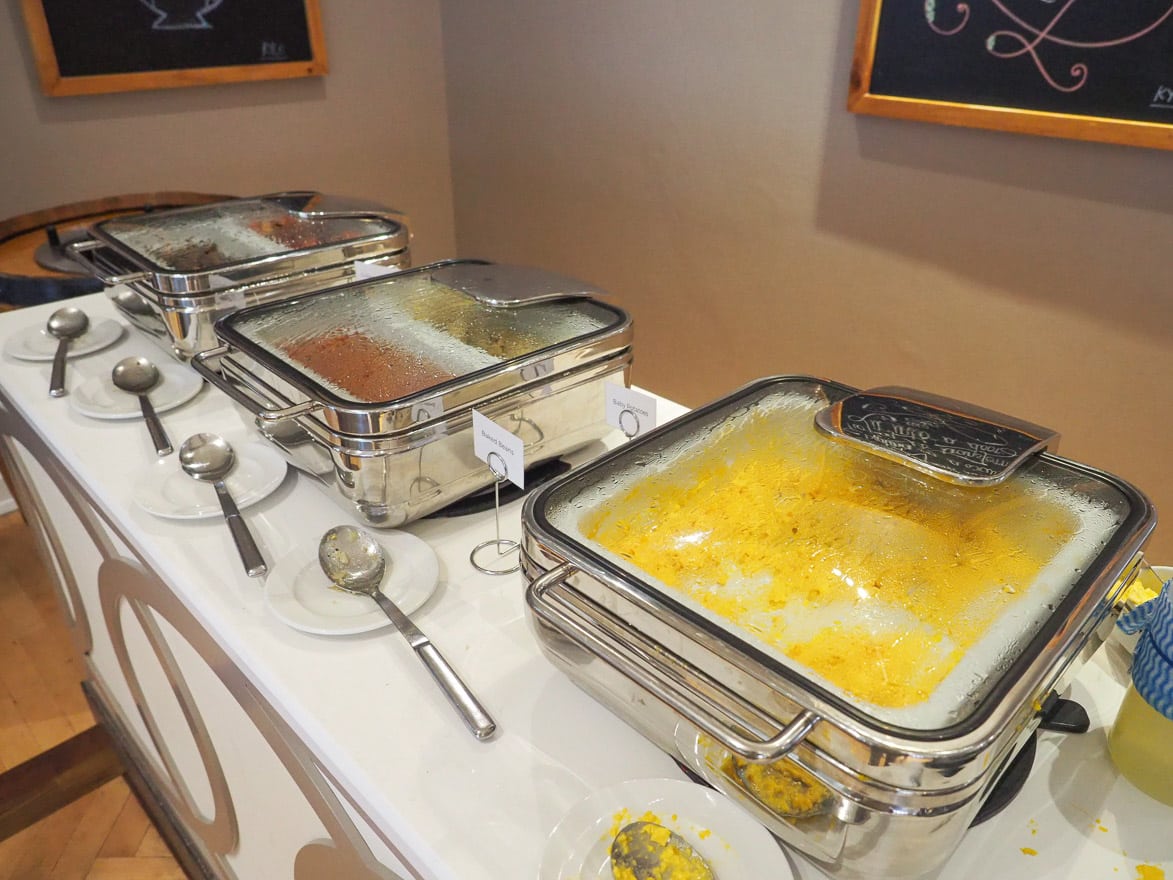 In addition to all of this, there were a variety of a la carte dishes on offer, with my personal favourite being the sirloin steak. What a way to start the day!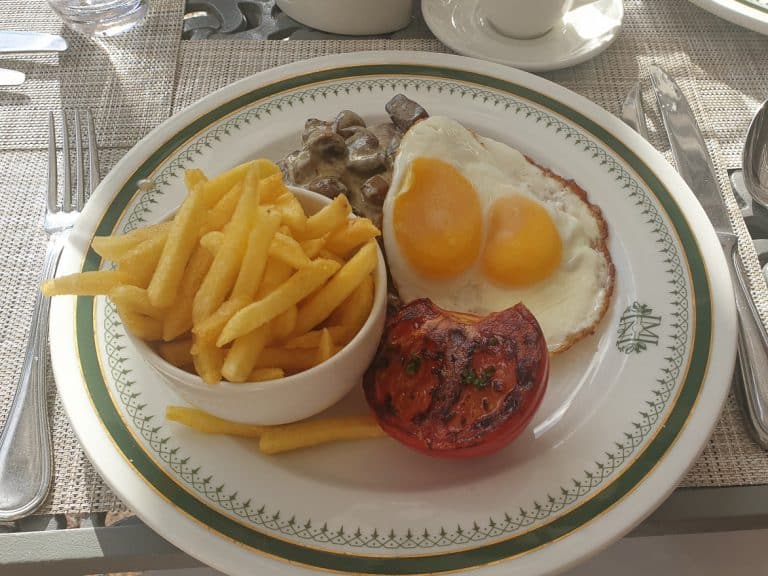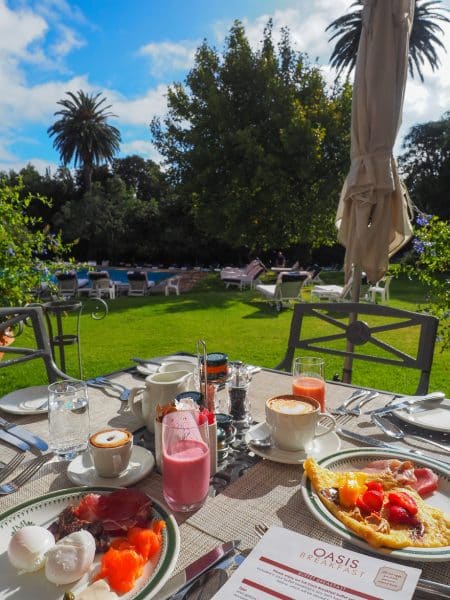 Poolside Lunch
On our final afternoon, we decided to take one final opportunity to soak up the sun before heading back to drizzly London. We spent the entire afternoon by the pool and enjoyed a fantastic lunch there.
We had a steak sandwich, some Vietnamese summer rolls and an enormous salad filled with fresh beetroot and avocado. Service was swift, portions were generous and everything we ate was fresh and delicious.
Prices were also low by international standards, with most dishes around the $10 USD mark.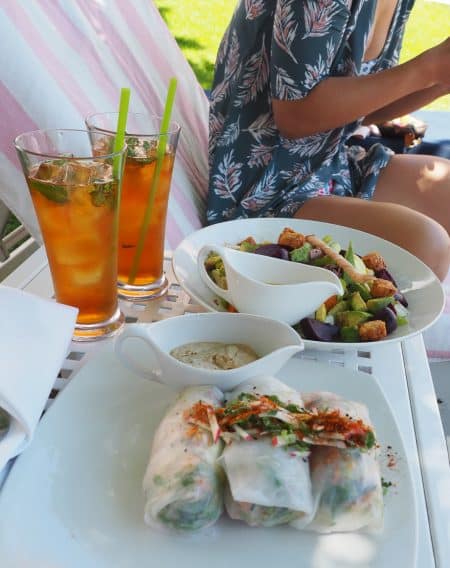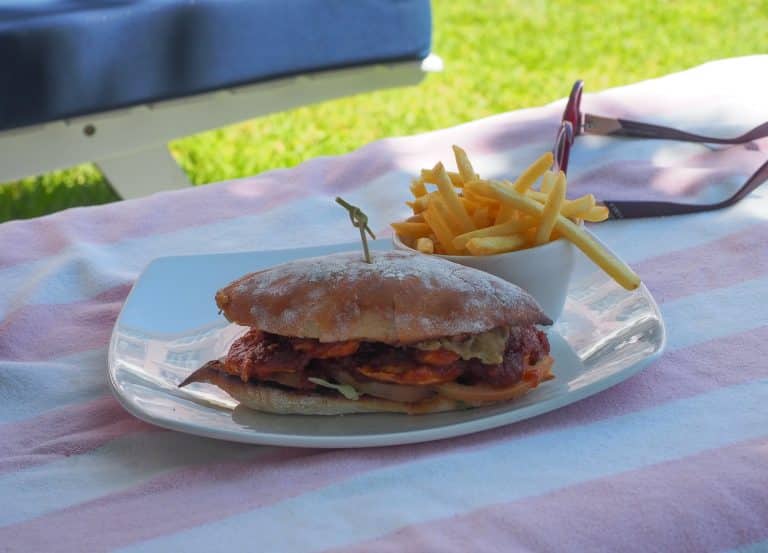 Room Service Dinner
After enjoying an absolutely spectacular lunch at La Colombe one day, we decided to take it easy and have room service for dinner.
The prices were again around the $10 mark for mains, which is fantastic value for a 5* hotel anywhere in the world.
The food arrived in under 40 minutes and came out on a single tray. Usually, for a hotel of this calibre, I'd expect a table to be properly set (like at the Four Seasons Tunis, for example).
In any case, the food was of the same high standard as we encountered elsewhere on the property and our tray was cleared very promptly once we were finished.
---
Conclusion
---
Basics Checklist
☑︎ Power sockets near the bed
-not universal power
☑︎ Easy to understand light switches
☑︎ Coffee machine
☑︎ Separate shower and bath
-tiny bathroom
☑︎ Blackout blinds
☑︎ Stable, fast and free Wifi
☑︎ Feather pillows
☑︎ Quiet and powerful aircon
My first encounter with a Belmond property was a fantastic experience, on the whole.
This is a hotel brand which has always had a reputation for classic, 'old school' elegance. I was worried that this would be a euphemism for antiquated but aside from the old TVs and the pointless taps, the overall feel of the property was rather charming.
Staff were truly excellent, very friendly and proactive. Again, there was a worry with this being a heritage property, that this would lead to an air of stuffiness, but this couldn't be further from the truth.
Everybody working here seemed to really enjoy their job and take pride in working at a property that has an established place at the heart of Capetonian life.
Breakfast by the pool was a wonderful way to start the day and the extensive grounds really set this property apart from regular, single building properties in most cities. You genuinely get all the upside of a resort, with a city centre location.
Speaking of which: being adjacent to thriving Kloof street, packed with bars and restaurants, was superb too. So much more lively and interesting than the sanitised environs of the V&A waterfront, where many first time visitors will end up.
Overall, a highly recommended property and one which I would gladly return to.
---
Book online with Virtuoso benefits
---
Virtuoso Partner Booking
Click the image to get the best available, flexible rate and also receive:
Guaranteed room upgrade at time of booking.
Full breakfast for up to two in room guests (R100 room service tray charge).
Afternoon tea for 2

(including sparkling wine).

Early check-in/late check-out subject to availability.
The Belmond Mount Nelson can be booked directly online by clicking the "BOOK NOW" image.
First time booking with us? Here's how to quickly get set up:
HOTEL BOOKING GUIDE EMAIL FOR BOOKING ENQUIRIES