REVIEW – Silvan Safari (Sabi Sands, SA)
May 12, 2021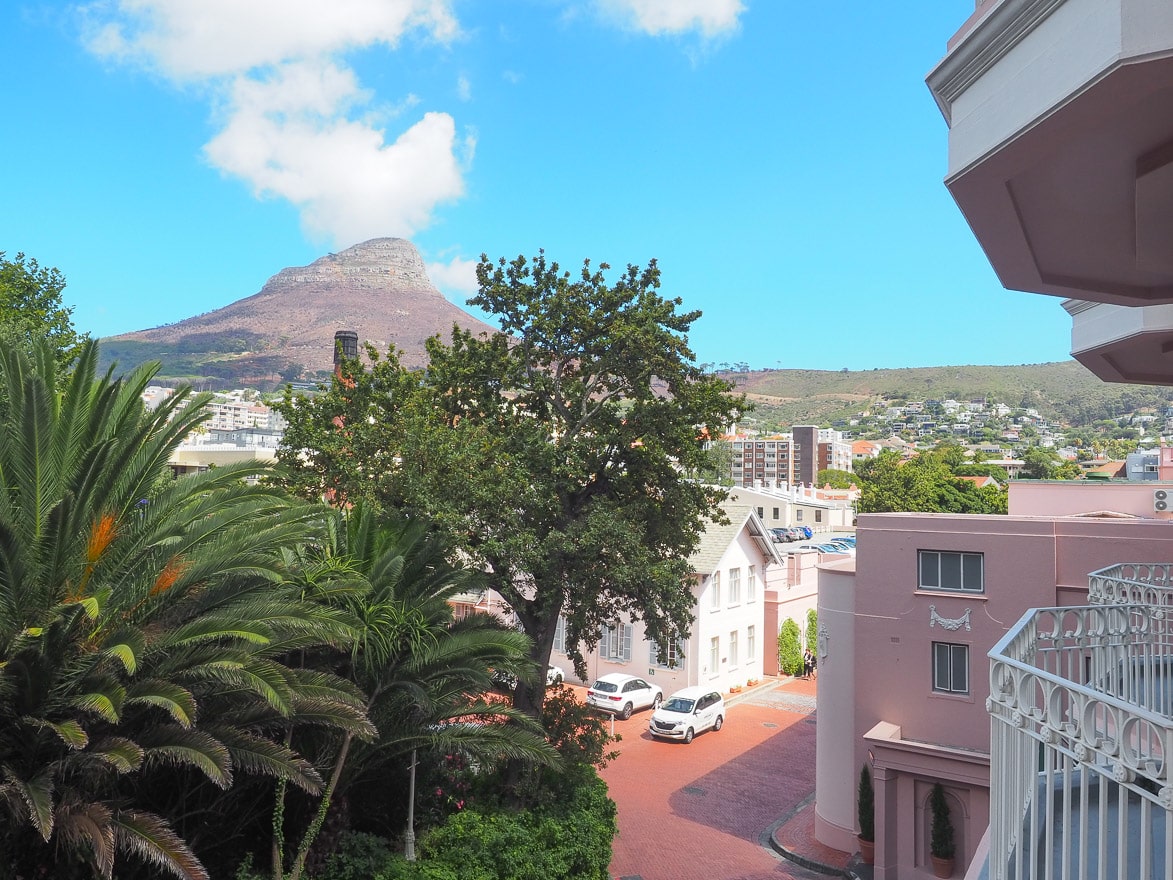 REVIEW – Belmond Mount Nelson (Cape Town)
June 29, 2021
Park Hyatt Maldives
Location: Gaafu Alifu Atoll, Maldives
Rate: Complimentary Press Stay
Room Type: Deluxe Beach Villa
Stay Date: April 2021
---
Intro
---
The Park Hyatt Maldives is a hotel which has been on my radar for years. It initially opened as an Alila property in 2009 before being rebranded as a Park Hyatt in 2011.
After a spectacular stay at Alila Villas Uluwatu in 2015 I became somewhat obsessed with the Alila brand, reading up on its origins (it was started by former Aman employees) as well as its groundbreaking approach to sustainability (now adopted by most mainstream hotel brands).
I have stayed at Alila properties in Soori, Jabal Akhdar and Fort Bishangarh.
There is something about Alila's sleek and minimalist design that really resonates with the style of Park Hyatt properties like Abu Dhabi or Sydney. As such, I can see why Park Hyatt took over the Maldives property and why Hyatt has had such success in growing the Alila brand many years later, after acquiring Alila's parent company in late 2018.
As a frequent visitor to the Maldives I was very interested to see what it would be like to visit such a remote Atoll (involving the most complex transfer of any resort I'd visited) as well as what is easily the smallest resort I'd ever been to in the Maldives.
---
Booking
---
We were invited to stay here as guests of the resort.
As a Hyatt Privé agent I'd always recommend booking a Hyatt Privé rate at this (or any other) Hyatt property.
You'll get the Hyatt.com best available rate plus you'll also receive:
Free Breakfast
$100 of resort credit
Early check-in and late check-out
Best of all, you will receive an upgrade at the time of booking provided the room is available. This means you can plan your trip with certainty, knowing that you've got the upgrade in advance.
Hyatt Privé also regularly runs promotions offering your 3rd, 4th or 5th night free, which means you end up paying considerably less than the Best Available Rate on Hyatt.com.
Like most Maldivian resorts these days, Park Hyatt Maldives offers dining packages which come at the below additional daily cost per person.
Half Board
Full Board
Classic All Inclusive
Premium All Inclusive
$100++
$130++
$200++
$300++
Breakfast + 3 Course Dinner
Half Board + 2 Course Lunch
All Inclusive plus non premium beverages
All inclusive plus premium beverages

(including champagne)
If you're looking to book a dining package or you're having any trouble booking the Hyatt Prive rates online, shoot me an email and I'll help to get you booked in.
BOOK ONLINE WITH HYATT PRIVÉ BENEFITS
The property can also be booked using Hyatt Points : It is currently a Category 7 property meaning that between 25,000 and 35,000 points are required per night depending on the season. The dining packages above can be added to points bookings by contacting the property directly.
---
Seaplane & Speedboat Transfer
---
There are no two ways about it, it's a bit of a trek getting to the Park Hyatt.
When you compare it to the seamless 30 minute transfers to the Waldorf Astoria or Anantara Veli, the one hour long domestic Dash-8 flight followed by a thirty minute speedboat is far from ideal.
However this in many ways is a double edged sword. Yes, it's harder to get to the remote Gaafu Alifu atoll but this barrier to entry handily filters out a lot of people and ensures that only those who are truly committed to visiting a remote and beautiful island make it here.
Without naming any names, there are certain types of traveller that are a lot more prevalent at the well known resorts closer to Malé and they were entirely absent at the Park Hyatt.
The overall tone of the Park Hyatt Maldives was markedly more elegant and relaxed than any other resort I've visited in the Maldives.
The domestic plane process also has some advantages when compared to a seaplane transfer.
Seaplanes only fly during daylight hours and they can't fly in bad weather, so you face a lot more uncertainty when your resort transfer relies on them.
I've had a couple of instances where I've had 4+ hour waits in Malé airport as I waited for storms to clear. With domestic flights this is not a concern.
---
We were met at the international arrivals area of Malé airport by a Park Hyatt representative who took our bags and walked us across the covered walkway to the domestic terminal next door.
The representative was very professional and attentive. He walked us over to a rather busy check-in area and immediately noticed my aluminium framed Rimowa case. He asked a member of airline staff if I could carry it on board but they told him it was far too big for the overheads on a Dash-8.
He said not to worry, he would make sure the case would be safe. Bear in mind that this was all on his own initiative, without us mentioning the bag at all. He showed great resourcefulness in anticipating our needs rather than waiting for us to ask for help.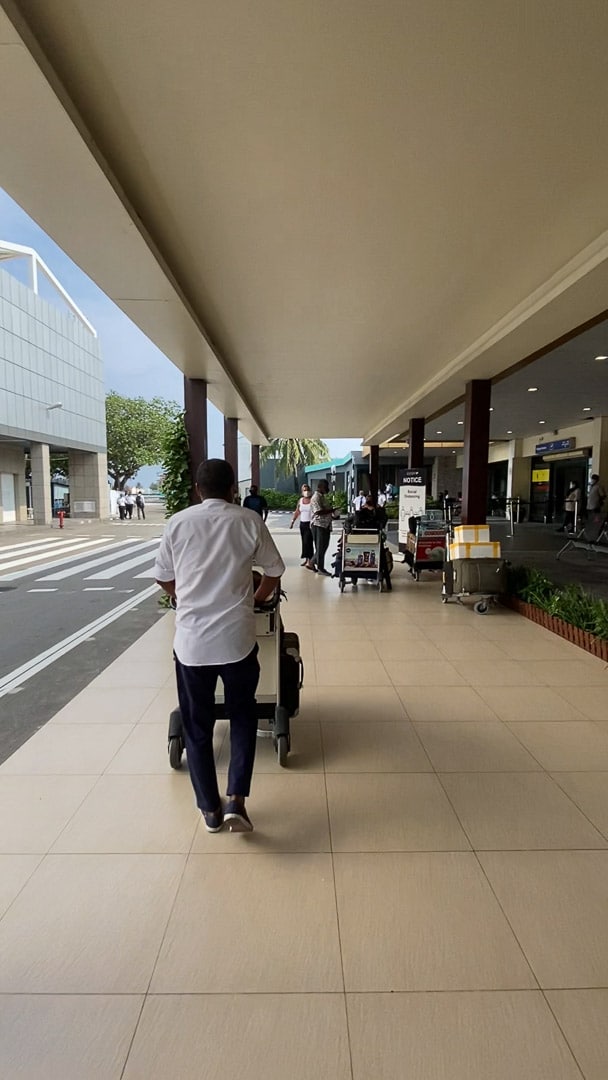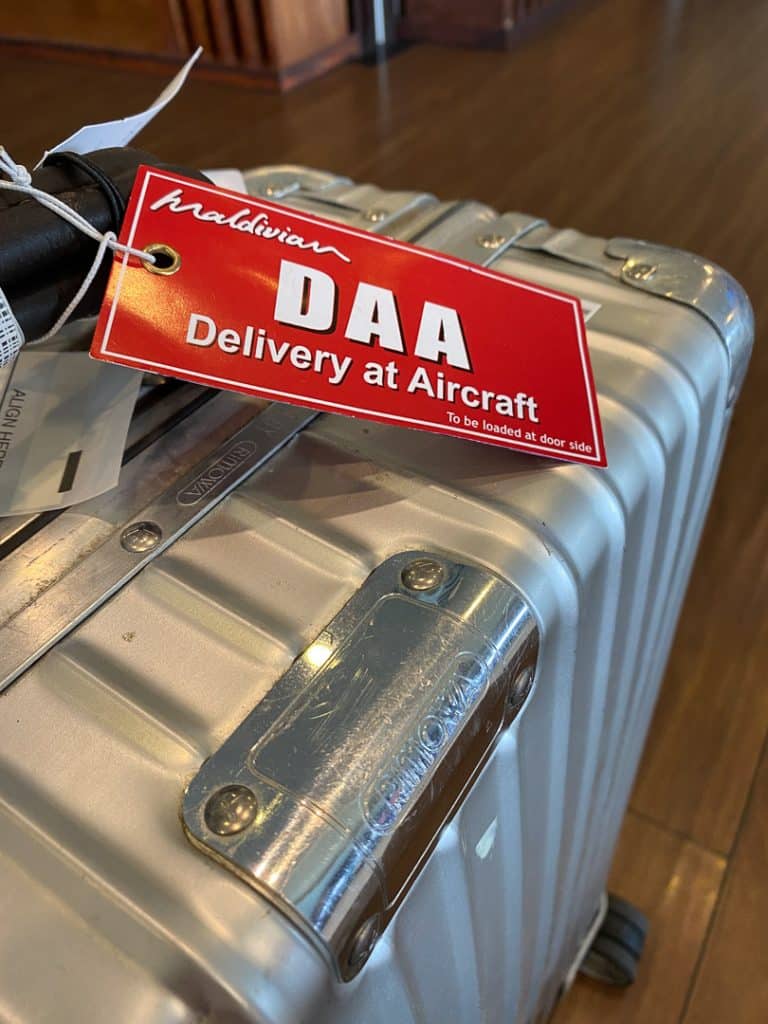 He also said that since the line was quite long he'd be happy to take our passports and complete check-in on our behalf, suggesting that we'd be much more comfortable in the lounge upstairs.
A few minutes later he met us there with our passports and boarding passes in hand, with the Rimowa Classic Flight case now bearing a 'Delivery at Aircraft' tag. He said we could keep hold of the bag until the last minute and staff would ensure it was safely stored.
---
Moonimaa Domestic Lounge
Lounges in the Maldives can be rather…mixed. With seaplanes there is a huge split between resorts that have waterfront lounges like Constance and those that are relegated to the 'office block' a short drive away like the Conrad and Finolhu.
Food tends to be lacking from almost every lounge, with a prepackaged cake or a bag of crisps being the best you can expect. Alcohol is also illegal in Malé so all airport lounges are dry.
With all of this in mind, I wasn't exactly expecting a life changing experience at the Moonimaa Lounge.
The lounge is decorated with some rather questionable bright red and purple furniture and has a distinct lack of power sockets.
Surprisingly though, the buffet was very extensive and included a variety of both hot and cold dishes as well as a bean to cup coffee machine and a fridge filled with Mountain Dew (useful if you've just come in off a long international flight!).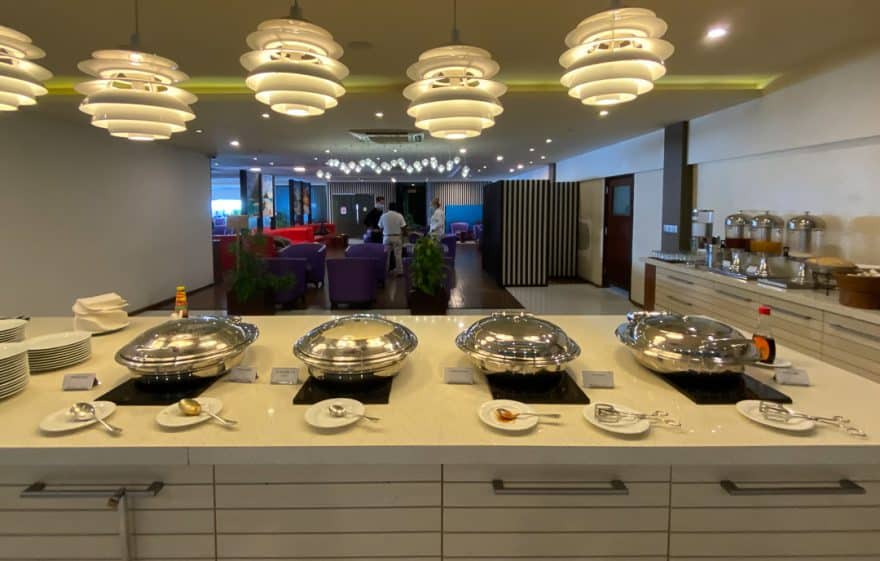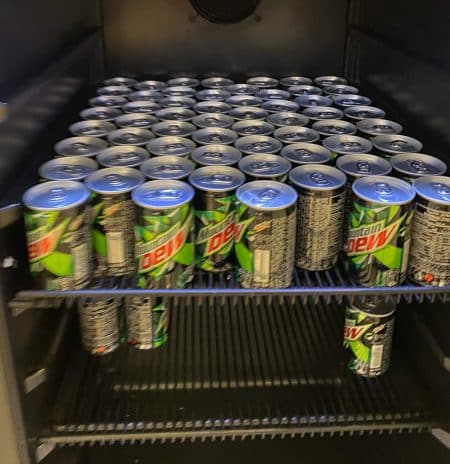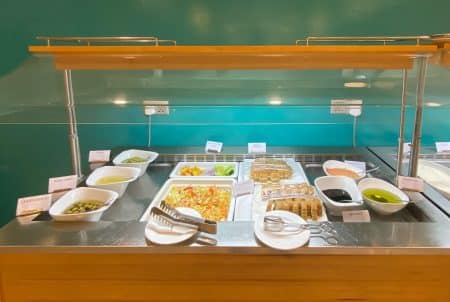 After 45 minutes in the lounge our Hyatt host came to find us and escorted us to security, as our flight was scheduled to commence boarding.
We ended up waiting in a very crowded gate area for another 45 minutes, as numerous flights departed ahead of ours. Our departure time came and went without any announcements from the staff but they assured us that everything was fine.
Around 15 minutes after the scheduled departure time we were asked to board and were taken by bus to the plane.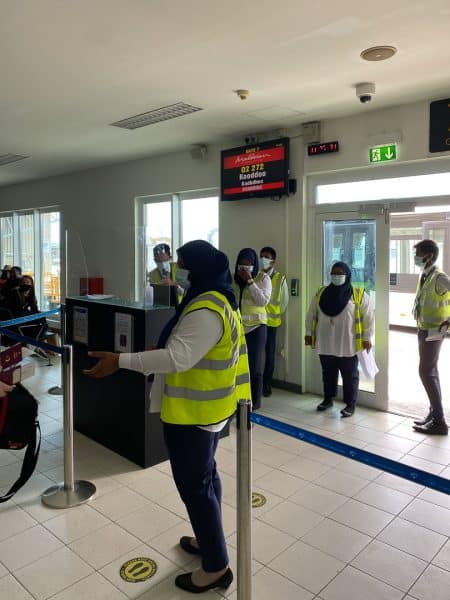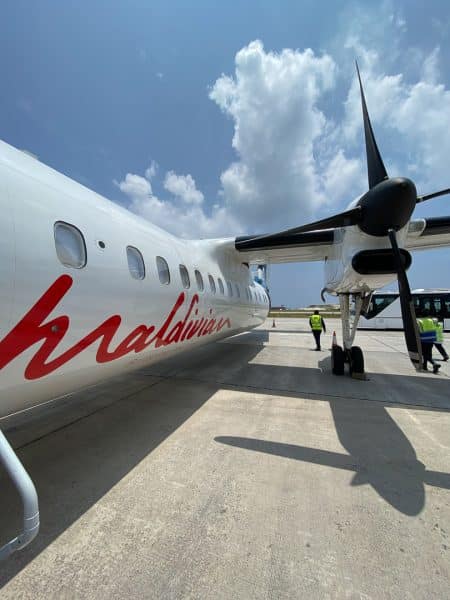 Maldivian Flight
The Park Hyatt had secured the entire front row for us and two other guests, which I thought was a great touch.
The layout was pretty unusual with our seats having two empty seats directly opposite, which meant we had plenty of space to stretch out.
The crew were great, very professional and polite. They came around to offer juice or water shortly after take off and the whole experience was considerably more comfortable than a seaplane.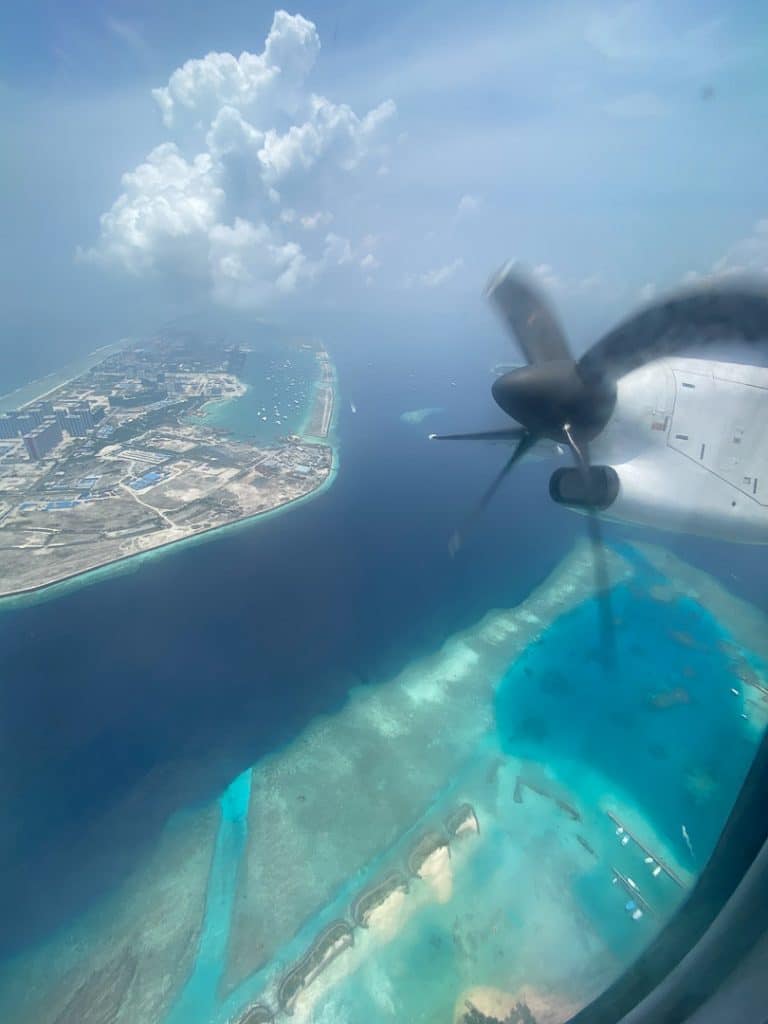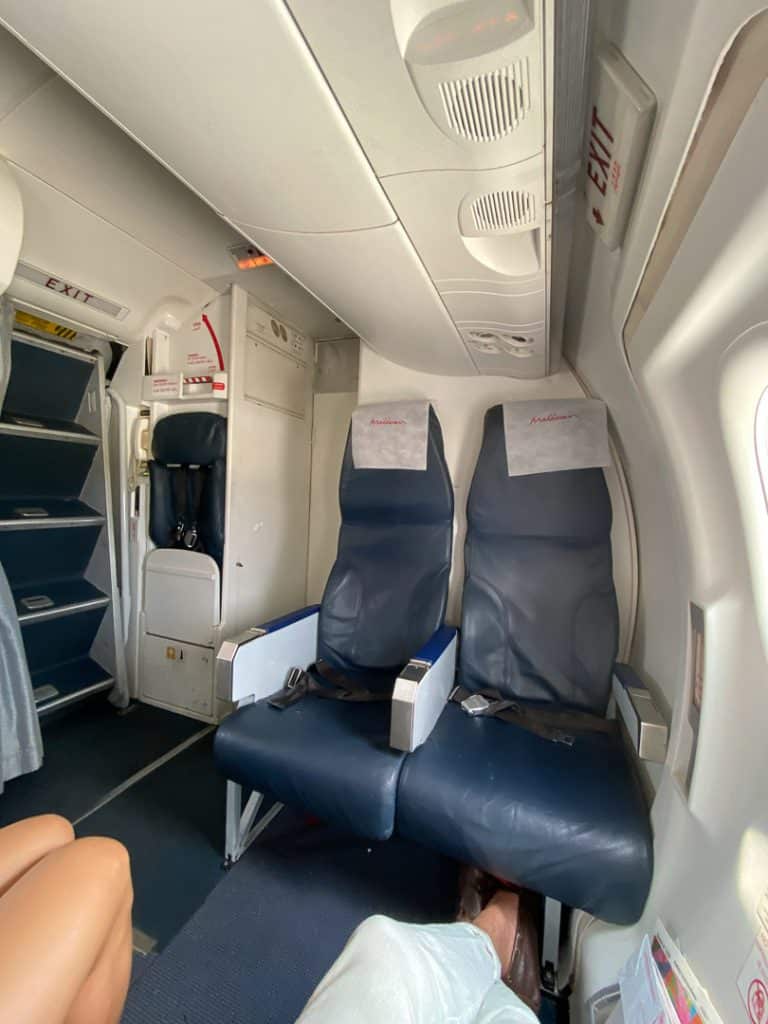 Arriving into Kooddoo airport felt a bit like our experiences flying to small airstrips in Busuanga and the Rainbow Reef in Fiji. There was one tiny terminal building and thick foliage surrounding the runway.
The baggage claim was also entirely manual with a group of guys in fluorescent vests hauling our bags out onto a steel parapet.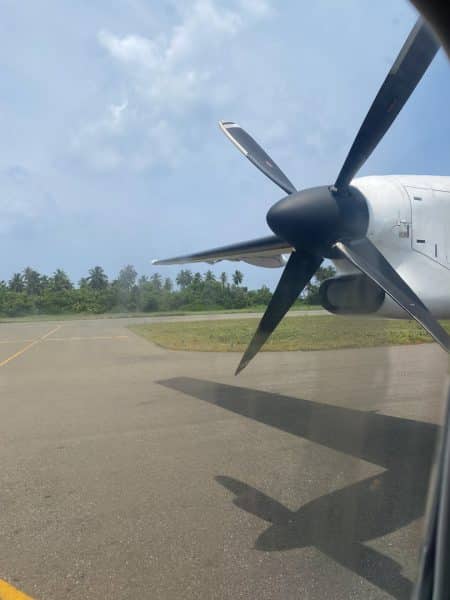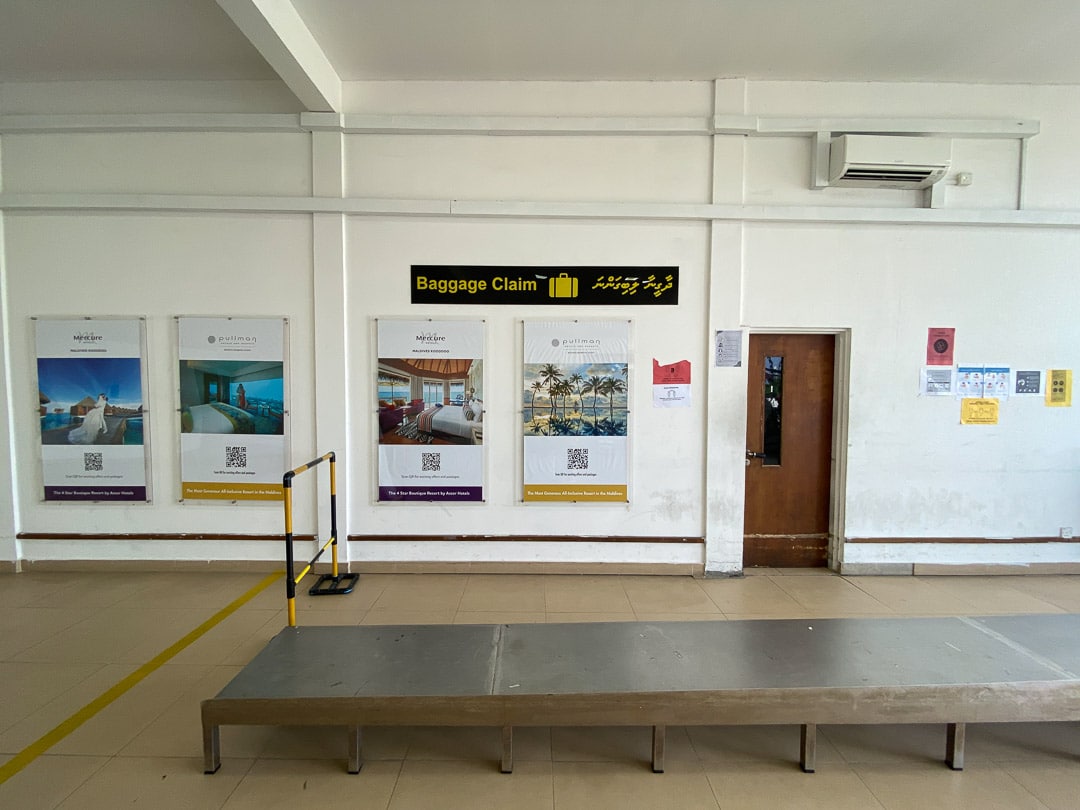 Once outside the building, we were greeted by Park Hyatt porters who loaded our bags onto a golf buggy. We were then invited to sit in a separate buggy, which was waiting to transport us to the boat dock.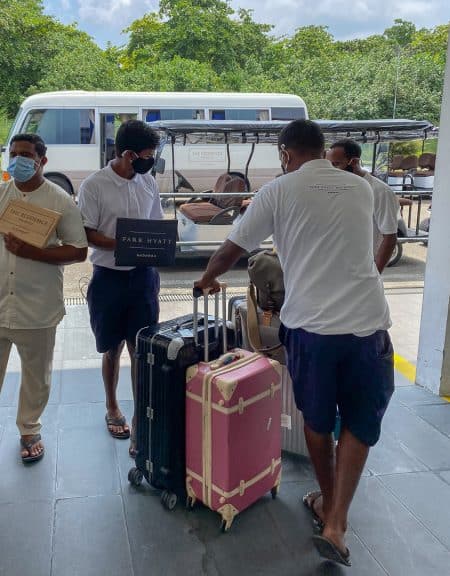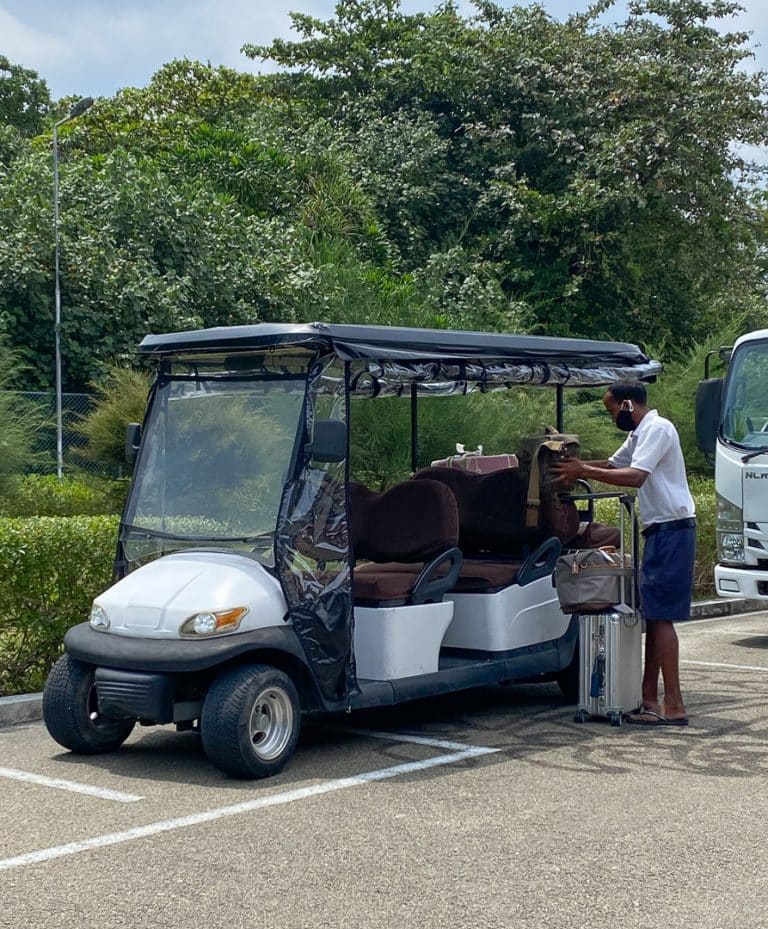 Most passengers from our flight were crammed into a pair of very old looking buses with the windows rolled down, they looked very hot and miserable. I saw the hotel name painted on the side and made a mental note to never visit The Residence Maldives…
Boat Transfer
After a two minute buggy ride we arrived at the boat jetty, a place imbued with a certain post apocalyptic charm by the rusting hulks of ships along the beach.
Thankfully the Park Hyatt speed boat was in rather better shape and provided a very comfortable ride for the final 30 minute sector to the resort.
Staff handed out ice cold scented towels and bottles of water to us as we relaxed on the white leather seats. WiFi wasn't available, however when I later mentioned to the resort's GM that other resorts provided it for short transfers, he said he'd get it installed right away.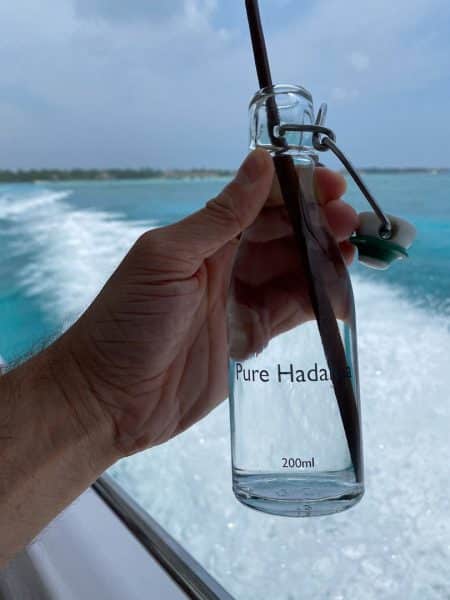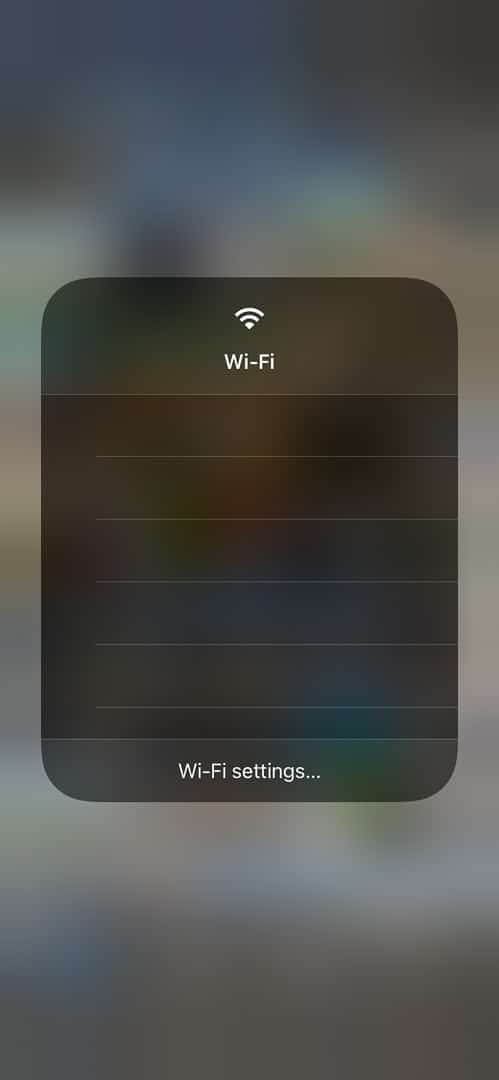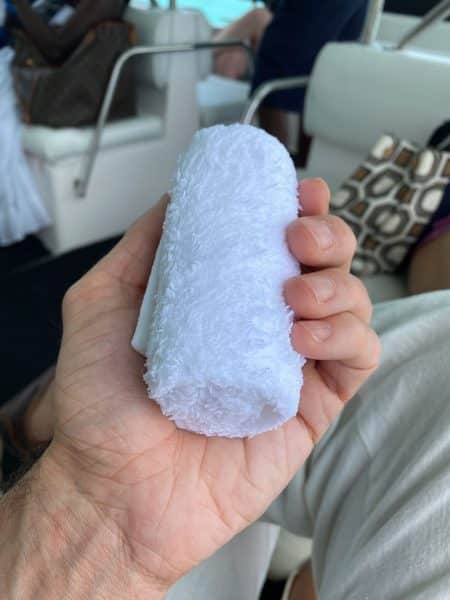 Nik has been the GM since the resort reopened in February of 2021 and is an absolute force of nature. He was constantly visible throughout our stay and really engaged with all guests to get feedback on what needed improving.
Indeed he was waiting for us, decked out in a brightly coloured tropical shirt, as we pulled up to the resort's Arrival Pier. Alongside him were various other staff members ready to welcome us to the resort and offer us some chilled champagne.
After sipping our champagne and chatting to Nik for a while, we were introduced to our butler who drove us to our villa in a buggy. The island is so small that guests rarely request buggies although they are always just a phone call away, should you need one.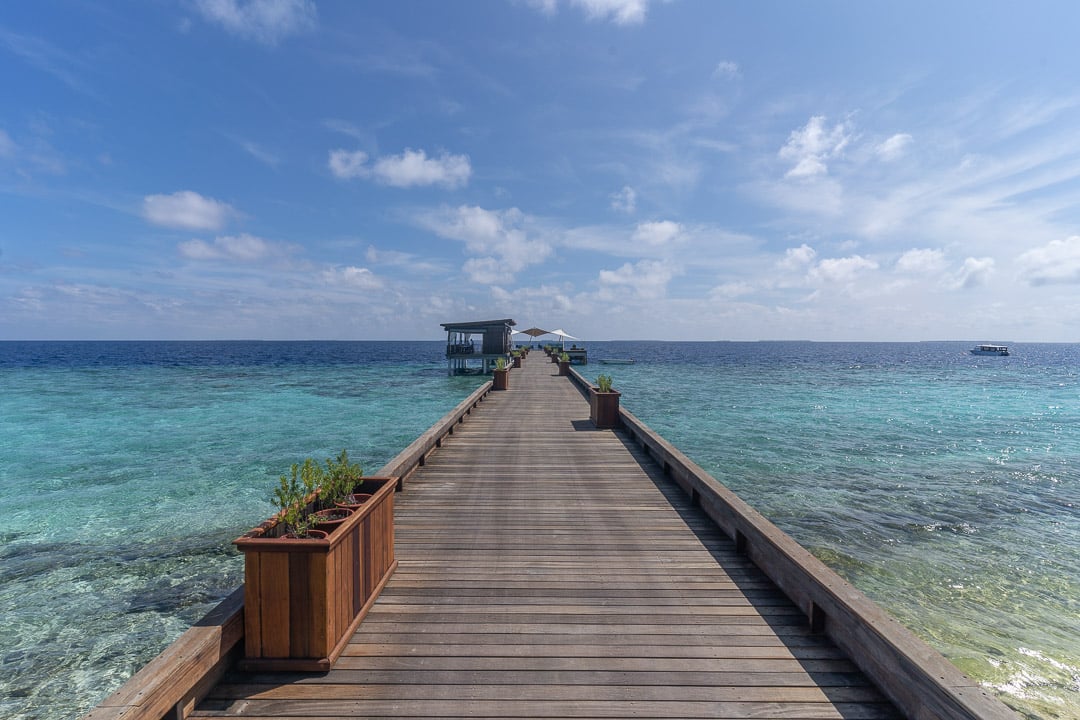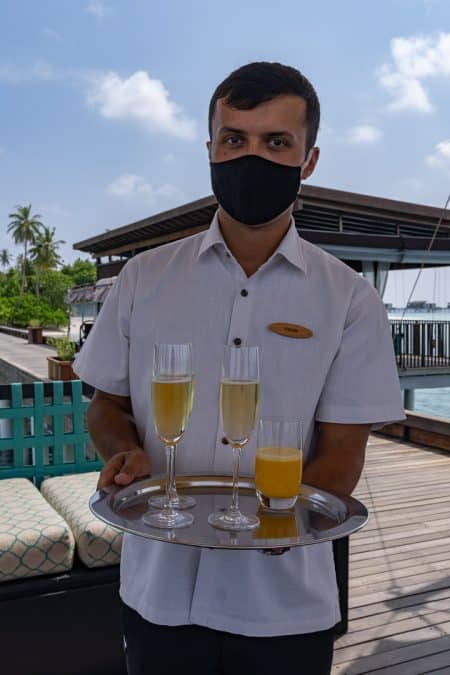 Our butler couldn't be contacted via WhatsApp or via the Hyatt app; we never called for buggies and we didn't make any restaurant reservations so honestly we didn't have much contact with her.
On larger islands you feel like you really need a butler to help you navigate all the options but I found the Park Hyatt to be considerably more relaxed.
---
Villa Selection
---
The resort's Beach Villas surround the entire resort, with the exception of the main public pool and beach area.
10 of these villas are the entry level rooms: Beach Access Villas (with no pool). There are then 19 Beach Access Pool Villas and 4 Deluxe Beach Pool Villas (the room type we stayed in).
As a Hyatt Privé guest your chances of being upgraded from a Beach Access Villa to one with a pool are very high given that there are less of the former and more of the latter. The Deluxe Beach Pool Villas have significantly larger pools but are otherwise identical (and much harder to upgrade into given the very limited numbers).
The Villas are numbered starting from the left of the arrival pier, with Beach Access Pool Villa number 1 having a totally uninterrupted ocean view as do Deluxe Beach Pool Villas 2 and 6.
The foliage and privacy doesn't change much over time, however it is worth bearing in mind that the sand does shift naturally; a villa that had 10 clear metres of beach in front of it last year may only have 2 metres this year.
There are also 3 Two Bedroom Beach Pool Villas. Given the limited availability these tend to sell out quickly.
In addition to the villas on land there is a single pier which houses 15 overwater villas.
The 7 at the beginning of the pier are the standard Overwater Villas, the next 7 are Overwater Sunset Pool Villas and at the far end of the pier a new 3 Bedroom Presidential Overwater Villa is currently under construction.
Overwater Villas 38-41 (the first four) are a little further from the drop off, with the remainder being moments away from the deep blue. It is also worth noting that a very cosy and exclusive Japanese restaurant is currently under construction between villas 44 and 45.
---
Deluxe Beach Pool Villa
---
Our villa number 10 was located close to the Arrival Pier and the main public spaces.
As soon as we reached the end of the Arrival Pier we were immediately immersed in thick jungle. The foliage was well manicured but felt ancient and wild. Even at the hottest times of day it was significantly cooler being under the jungle canopy.
The Beach Villas are relatively close together but the foliage is thick enough that you are never really aware of your neighbours (our villa was fourth from the bottom in the image below).
The placement of the trees on the beach also means that it is very difficult to walk all the way around the island, so the chances of somebody walking past your private stretch of beach are very low.
As we made our way through the jungle and onto the outer deck of our villa I couldn't help but smile. The setting was absolutely incredible.
Deluxe Beach Pool Villa – Video Tour
View this post on Instagram
Bedroom
Looking around the room, the Alila DNA of the resort was immediately apparent. The lamps, the bed, the wooden slats, the clean geometry, the uncluttered space. It honestly felt like we were back at Alila Soori in Bali. In fact the bed, bedside tables and lamps were identical!
I'm a real fan of minimalist design and for me this room was perfect. The ceiling was high and there was ample space all around the bed.
I really liked the shelf behind the bed too: the perfect spot to place sunglasses and keys, conveniently close to the front door. The bed itself was also hard to fault with my sleep app showing that I got 100% sleep quality on the first night here!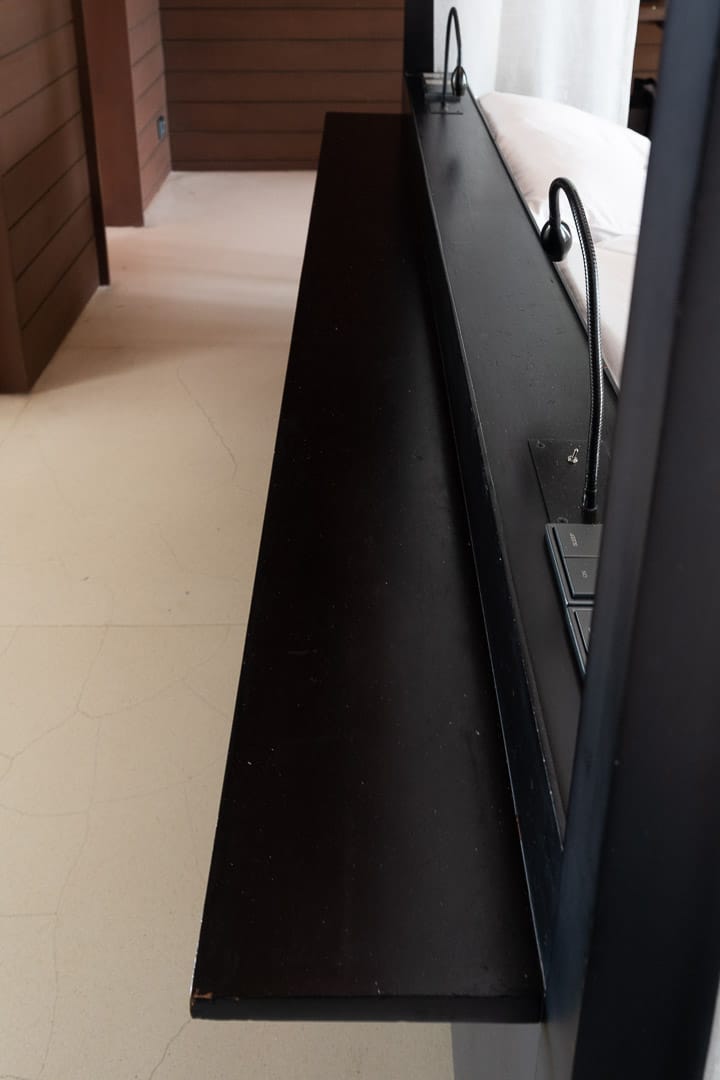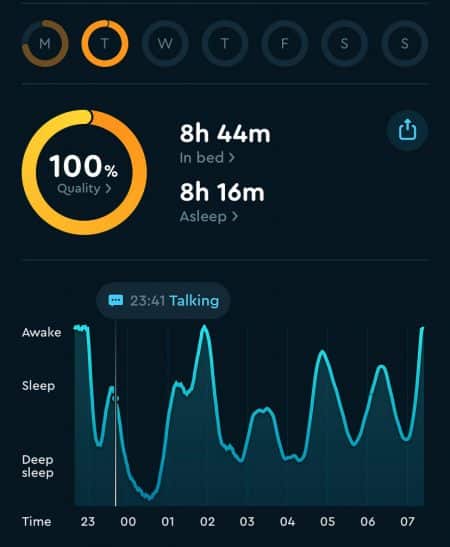 Minimalism is actually really hard to do right. A lot of hotels will fill every empty space with random furniture or trinkets and this can make it difficult to properly relax.
Similarly there are properties that go the other way, leaving huge walls completely blank or large areas of floorspace completely unfilled. This can make a room feel unfinished.
Our villa struck the ideal balance. Clearly the architecture and furniture had been designed to be complimentary, with little having changed since the initial opening of Alila Hadahaa back in 2009.
That's not to say that time has stood completely still here. Although the style has been maintained, a lot of the furniture and wooden cladding were clearly brand new.
The desk adjacent to the bed also featured an enormous Smart TV with Netflix a single button press away as well as an iPad containing detailed resort info.
There were universal power sockets on both sides of the bed as well as the desk, with the desk also featuring multiple USB ports and an HDMI input for the TV.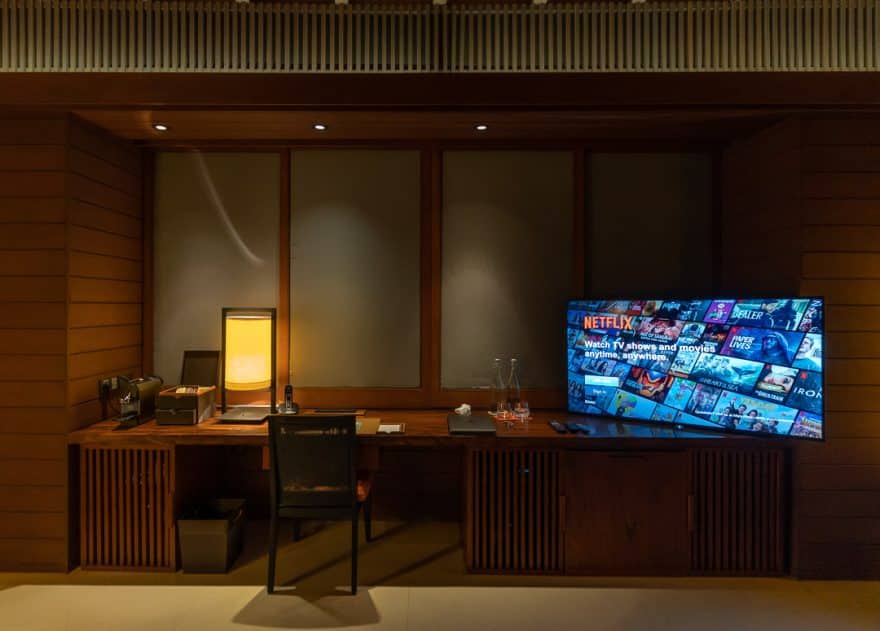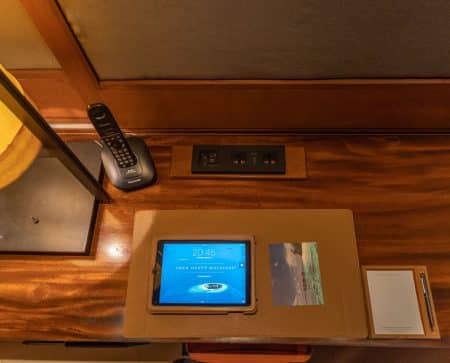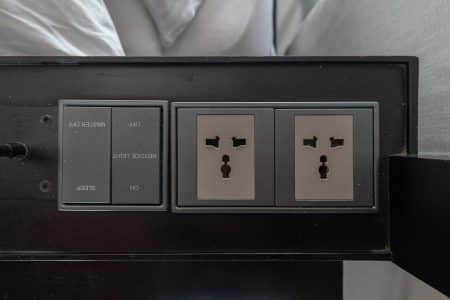 The AC worked very well to cool the villa and thankfully we were able to set the bathroom and bedroom to different temperatures as each had its own AC unit and remote.
The system was a little confusing at first though since both remotes were able to operate both units and sometimes the signals got crossed (having both remotes attached to the wall a few centimetres from each other didn't really help in this regard!).
The controls for the lights were very clearly labelled though. This can make such a difference when you're staying in a large villa. I've stayed in a few properties in the past where multiple switches operated the same lights and even after 3 days it was pure guesswork to figure out how to turn everything off at night.
Also on the desk was an 'Ethical Coffee' branded Nespresso machine. This was quite confusing to use with a volume control of sorts instead of the usual Nespresso buttons.
The coffee capsules also managed to be simultaneously intensely sour tasting whilst also producing thin and watery espresso. Amilla Fushi did much better in this regard with their Nespresso branded machines and fully compostable capsules, which made excellent coffee.
Unlike most Maldivian hotels there was no milk supplied either, just plastic containers filled with non dairy creamer: an option which tastes worse and generates more waste than UHT milk in a carton.
The minibar felt a little underwhelming in general, with cutlery and glassware being rather standard and generic. I'd expect a top end hotel in the Maldives to be using Riedel, Zwiesel or Spiegelau glassware especially given the GM's Teutonic origins!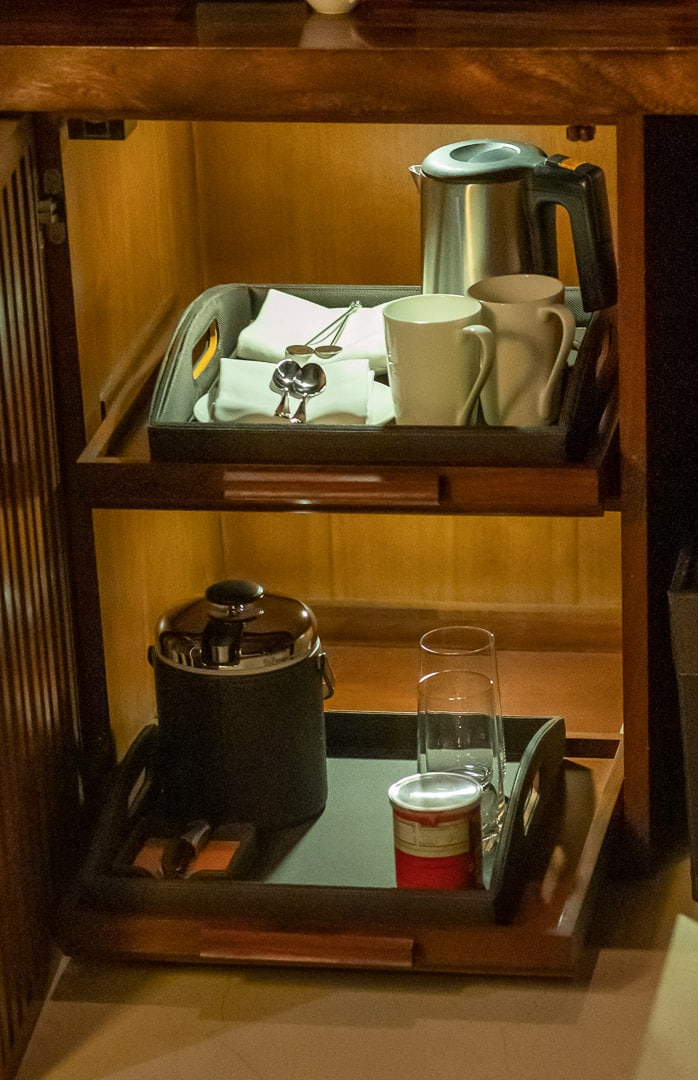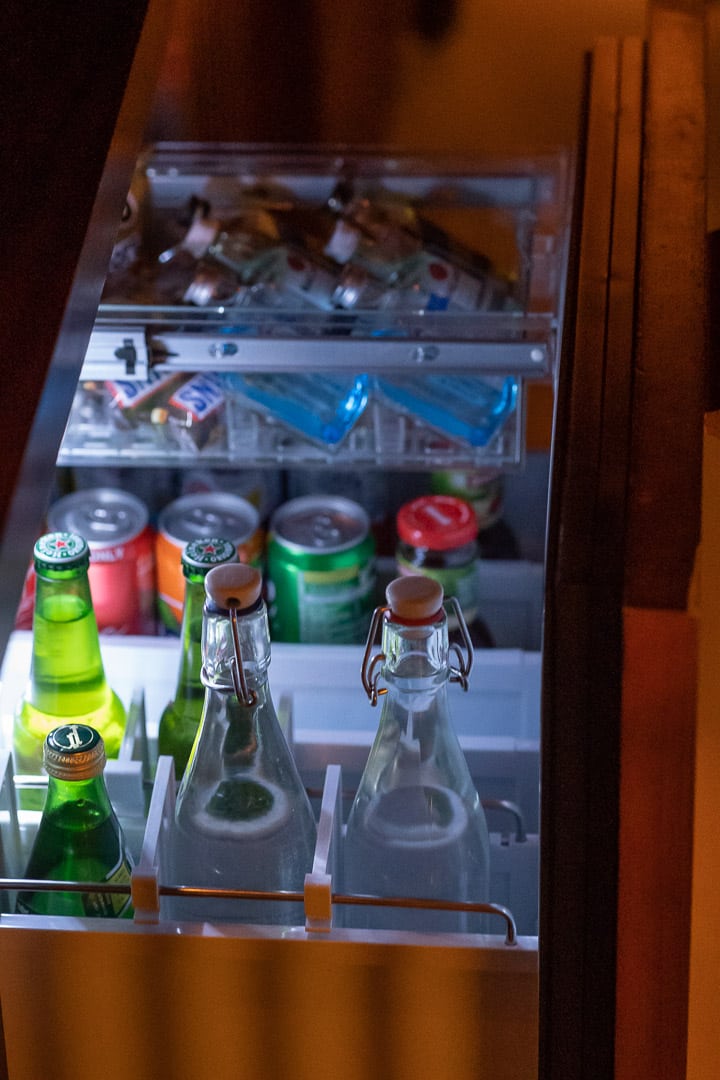 Rather bizarrely, my laptop and extra screen seemed to be an irresistible site for mass bug suicides. We never saw any of these tiny bugs anywhere else in the room but every evening without fail, when we returned to the villa my laptop and screen would be covered in them…which was pretty weird.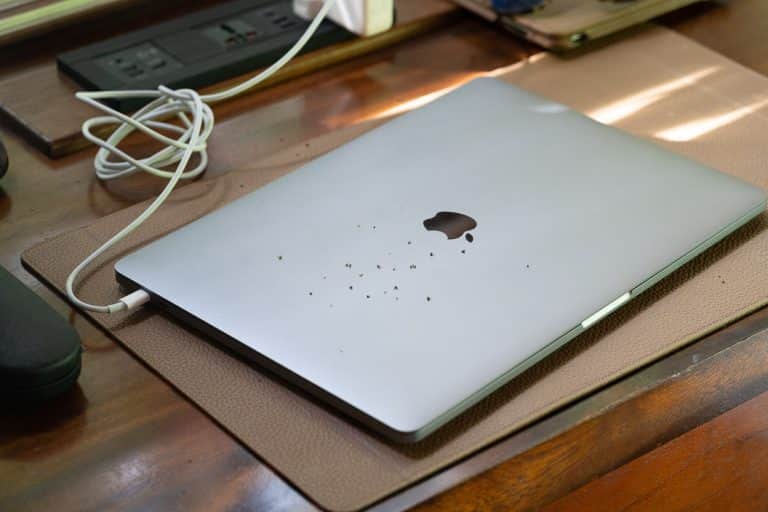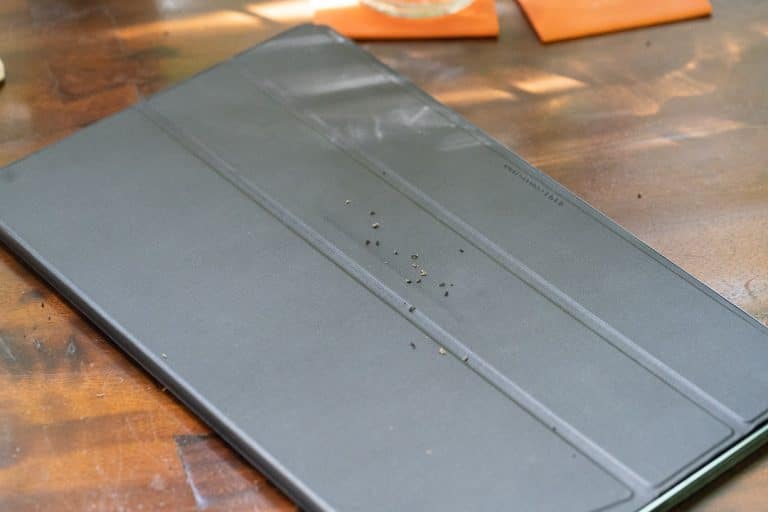 At the far end of the bedroom was a dramatic glass walled corner featuring a chaise longue and a wonderful bottle of welcome champagne.
The wooden panels closed tightly at night to ensure that absolutely no light came through to disturb our sleep.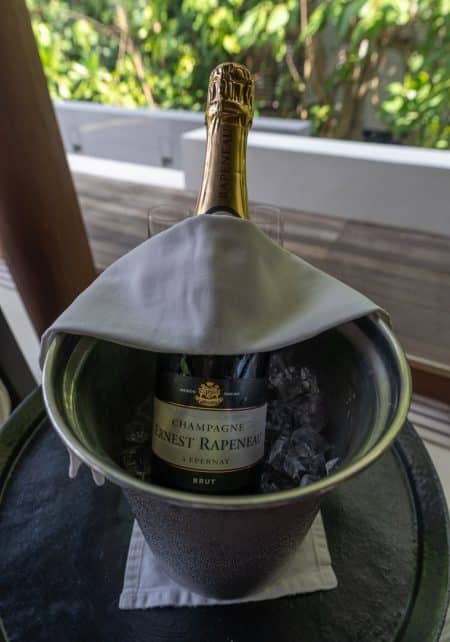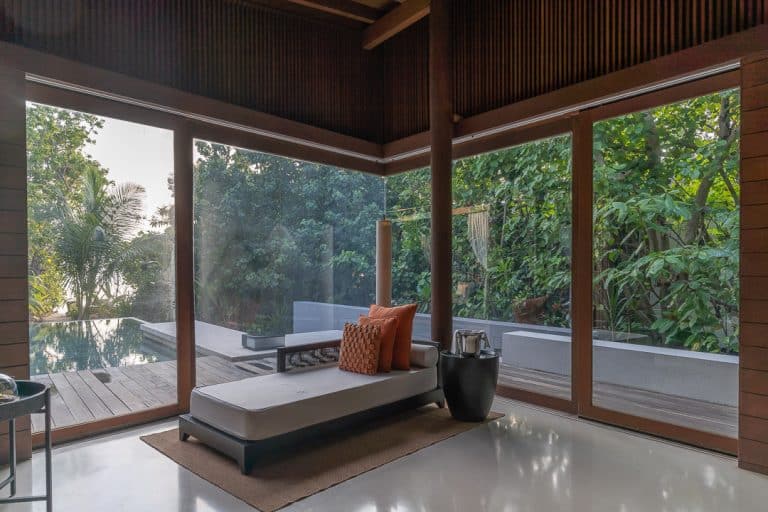 In the other far corner was a small reading nook with a lounge chair and another welcome amenity: a variety of local and international sweets.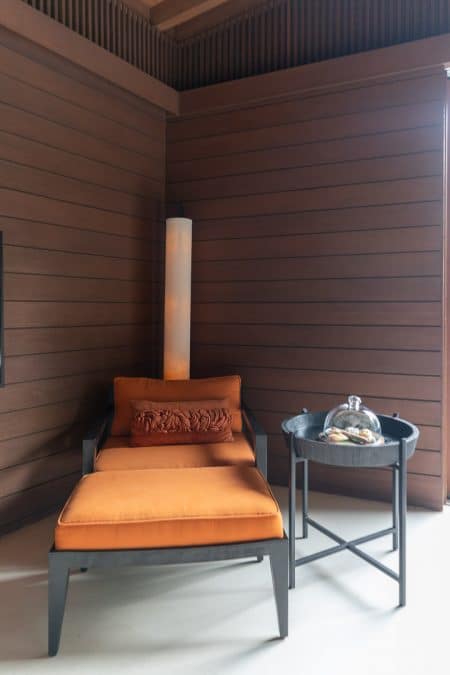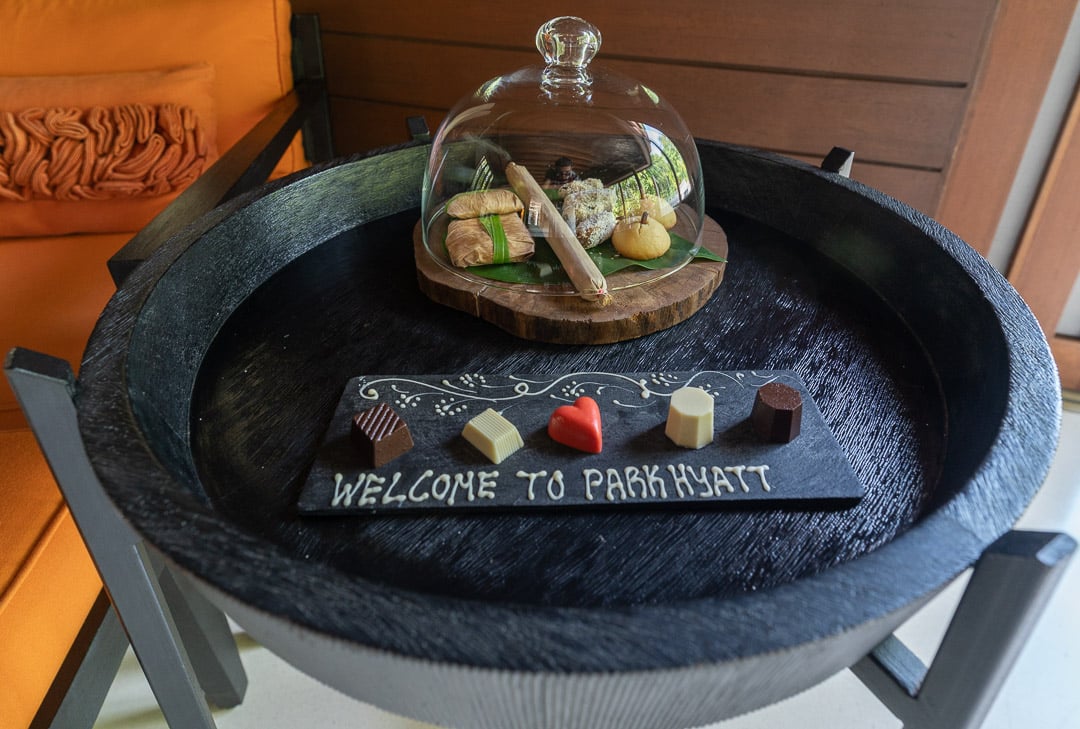 Bathroom
The bathroom was as big as the bedroom and encompassed both an indoor and an outdoor area. The space was designed as a mirror image with each side having its own wardrobe, luggage area and sink.
On the left of the main bathroom area was the toilet and on the right was the shower.
The shower was very spacious and had excellent pressure. Toiletries were Le Labo Bergamote, although aside from the hand soap all were provided in reusable containers.
Nowadays more and more resorts in the Maldives are moving to Japanese style toilets, there was nothing wrong with this one but for a luxury property I'm starting to feel like a Toto washlet is something of a necessity these days.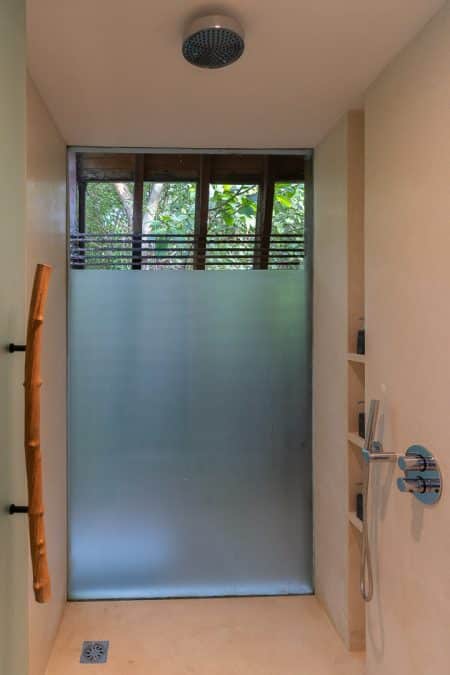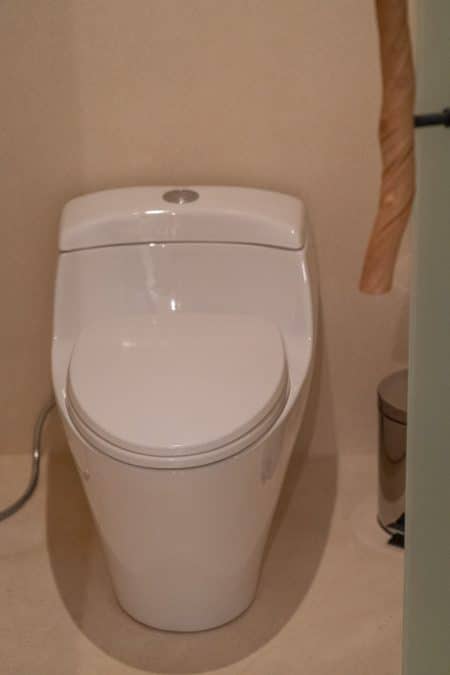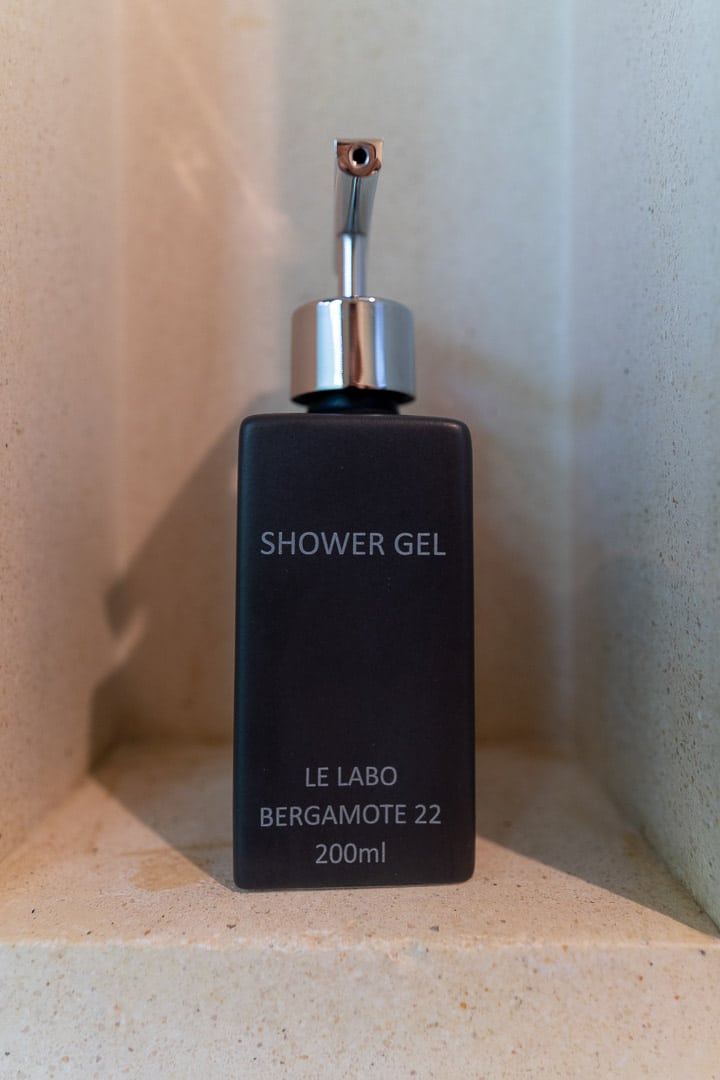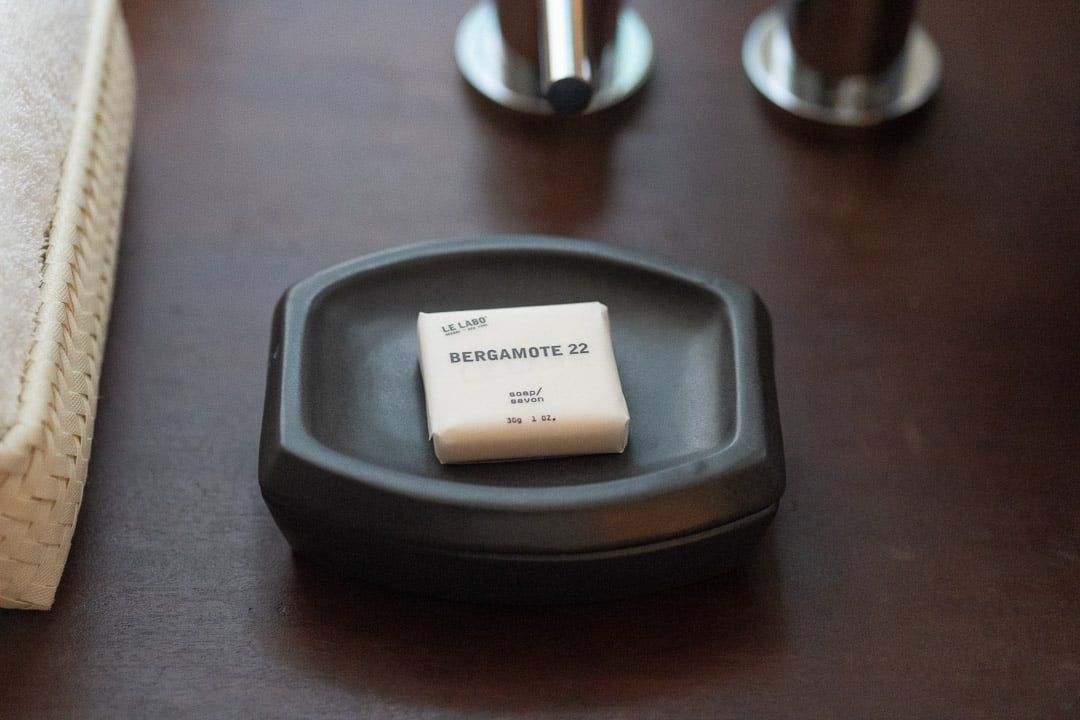 Back in the main bathroom space: there were plenty of large wooden hangers in each wardrobe as well as dressing gowns and flips flops, made from what appeared to be burlap sacks.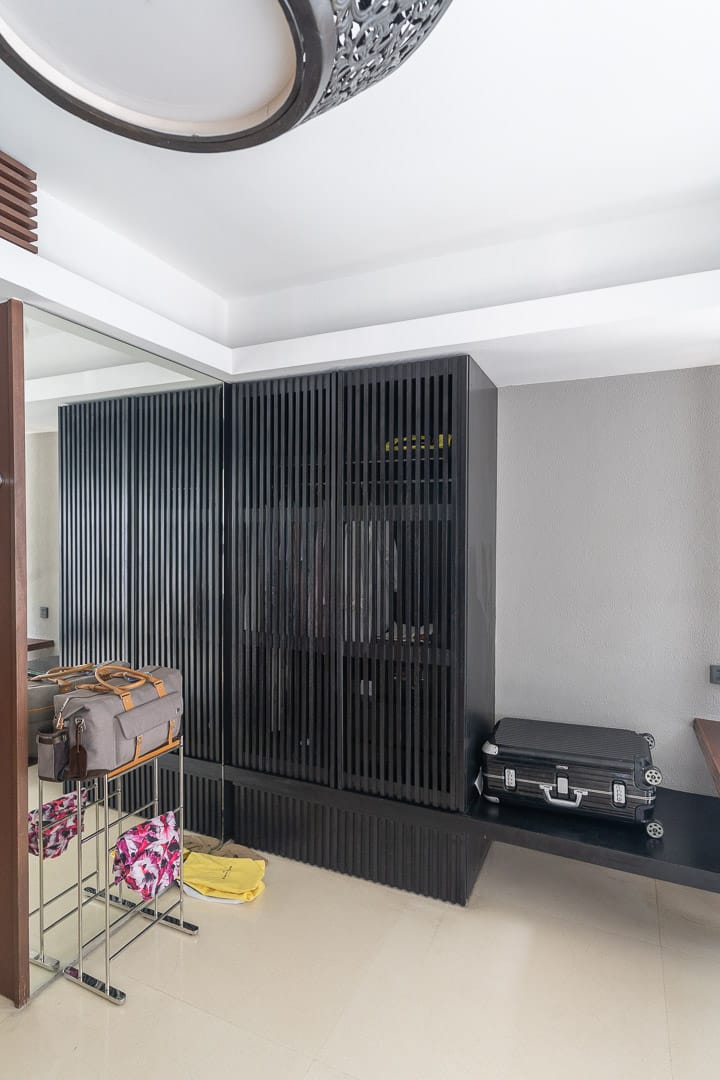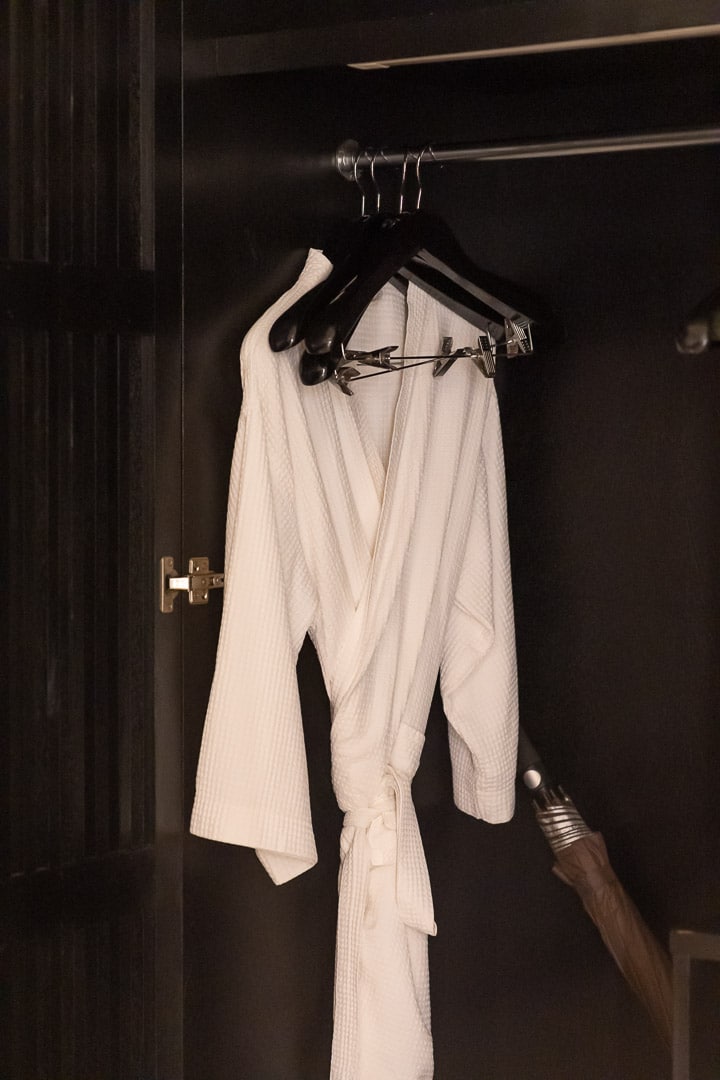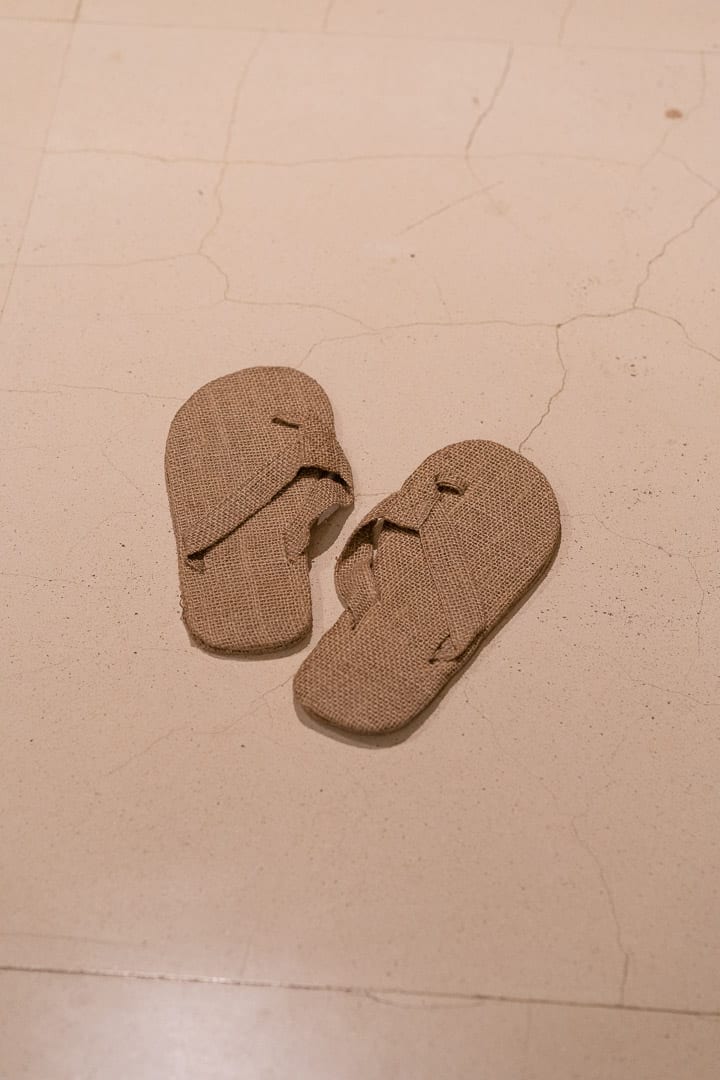 The sinks were beautifully presented, with all manner of amenities provided as well as amply counter space and containers in which to place our personal toiletries.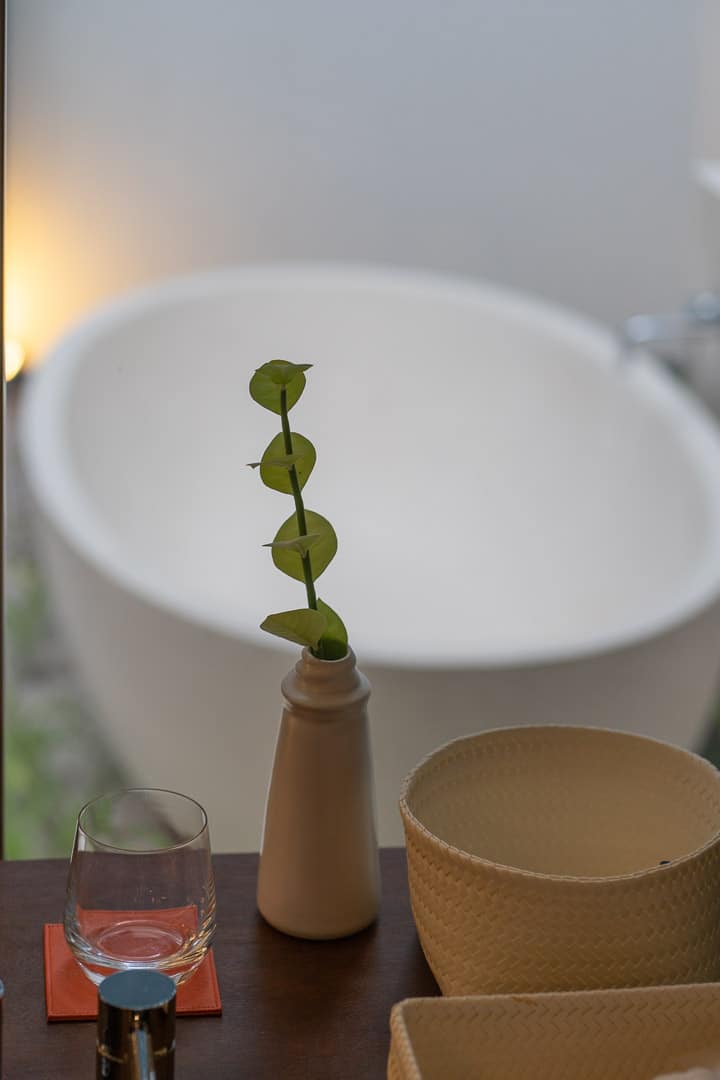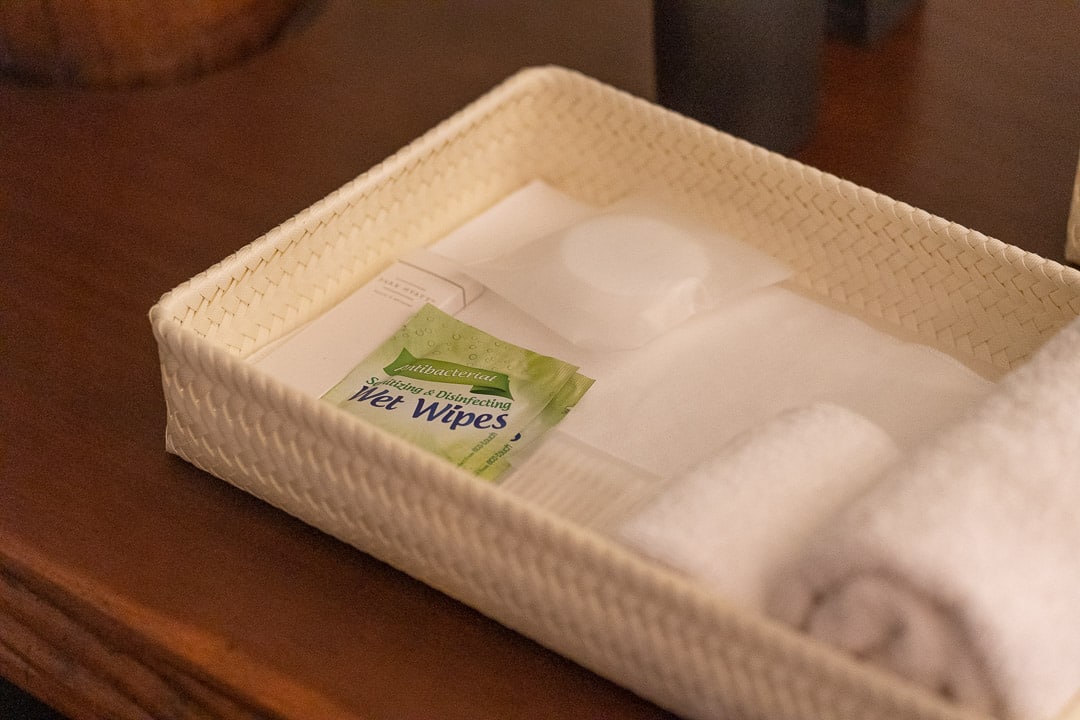 The huge outdoor bathroom featured a powerful shower, ideal for cooling off during the day. When the temperature dropped in the evening this became the perfect spot to enjoy a relaxing bath.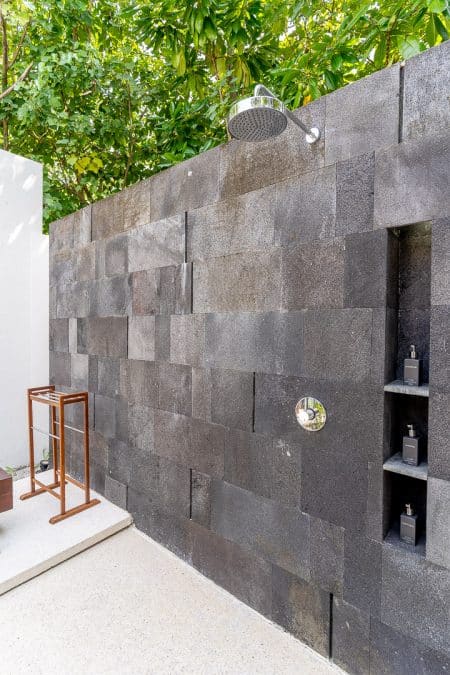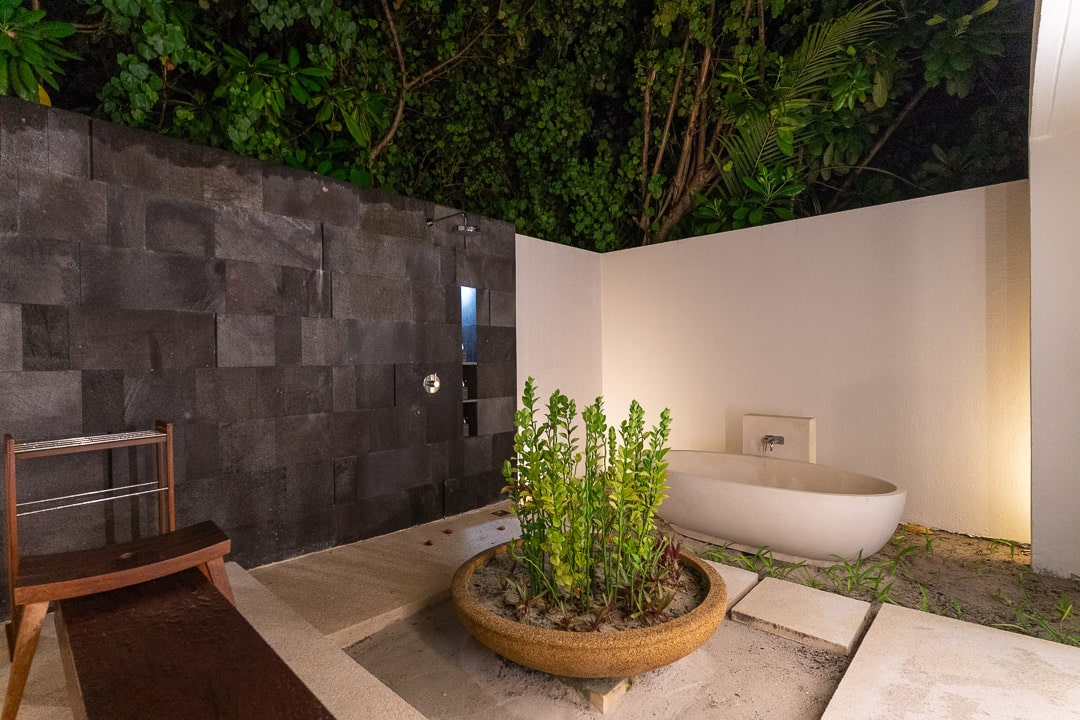 We encountered one or two mosquitoes but between the daily fumigating and our handy gecko friends, the mosquitoes were largely kept in check (this is always a primary concern when opting for a Beach Villa over a Water Villa).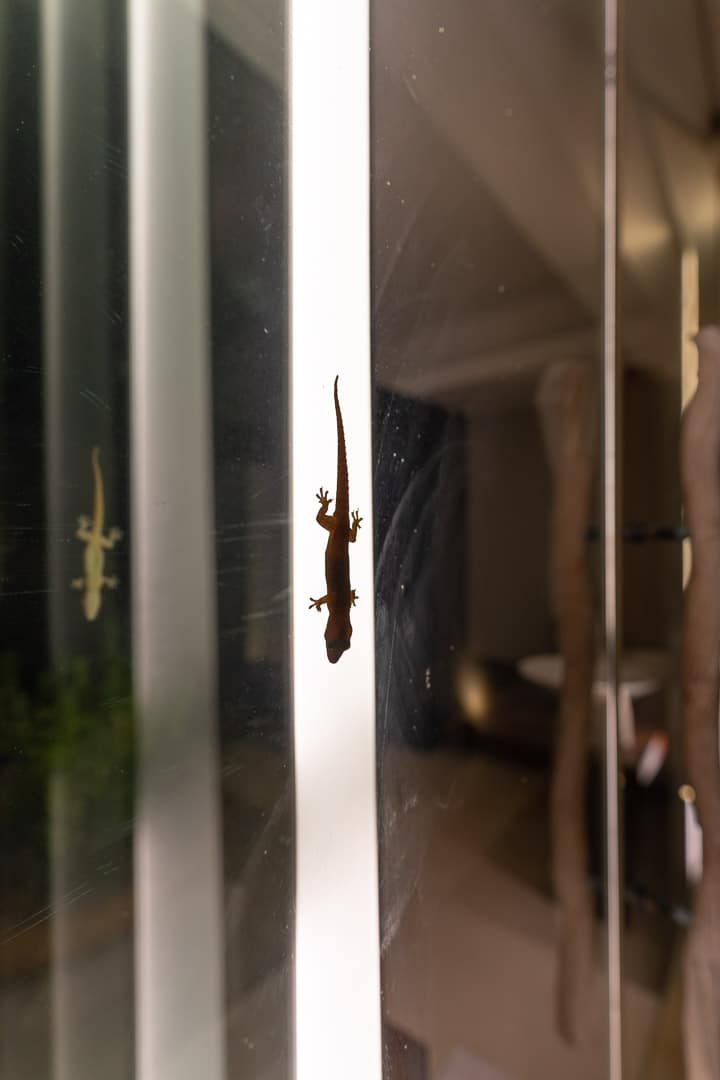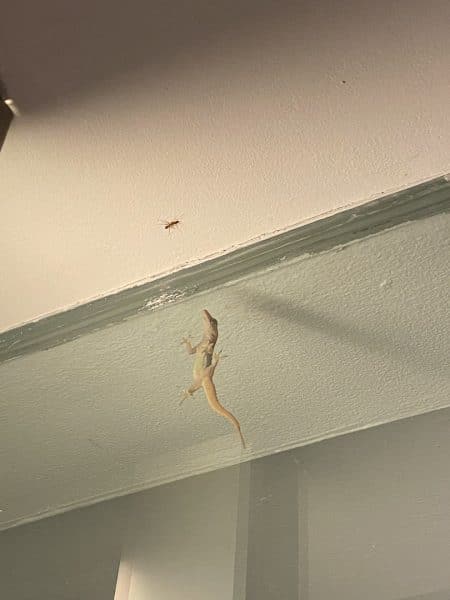 Pool Deck
The gigantic outdoor pool deck is what distinguishes the Deluxe Beach Pool Villas from the standard ones and ours was truly a sight to behold.
It is one of the largest and most impressive pools I've ever had in a villa and felt like more of an expansive lagoon than the slimmer but slightly longer pools at the Waldorf Astoria Maldives.
View this post on Instagram
Not only was the pool enormous, it featured a pair of submerged loungers as well as a shaded pavilion with an L shaped sofa and a dining table behind.
The only thing missing here was an outdoor shower, which is another change that the GM told me he will be making in the next couple of months.
This outdoor deck was the perfect place to spend an entire afternoon relaxing and reading books, periodically jumping into the pool to cool down. Better still, we were only moments away from our own little stretch of beach…
This area could honestly have been a little more manicured, with dark sand periodically swept away and the loungers cleaned more thoroughly. However this is a super quick fix.
What no resort can ever change is the quality of the beach and the Park Hyatt Maldives is blessed with the most beautifully soft sand that I've ever encountered in the Maldives.
There is also minimal disruption in the form of sandbags or concrete groins, structures which so frequently blight other resorts in this country.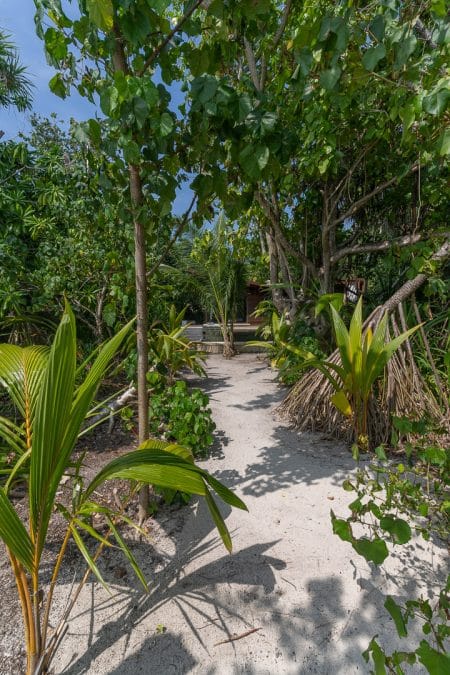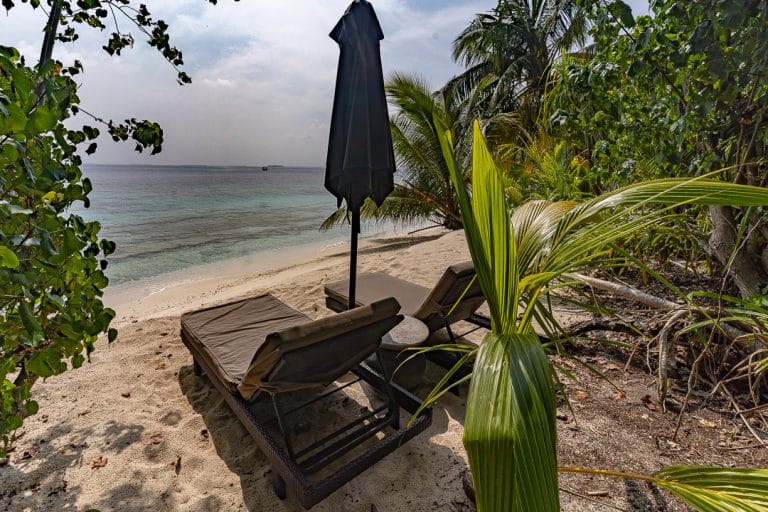 Having this much outdoor space was wonderful at night too, when the temperature dropped we could enjoy dinner outside or an evening swim under the glow of the outdoor lanterns.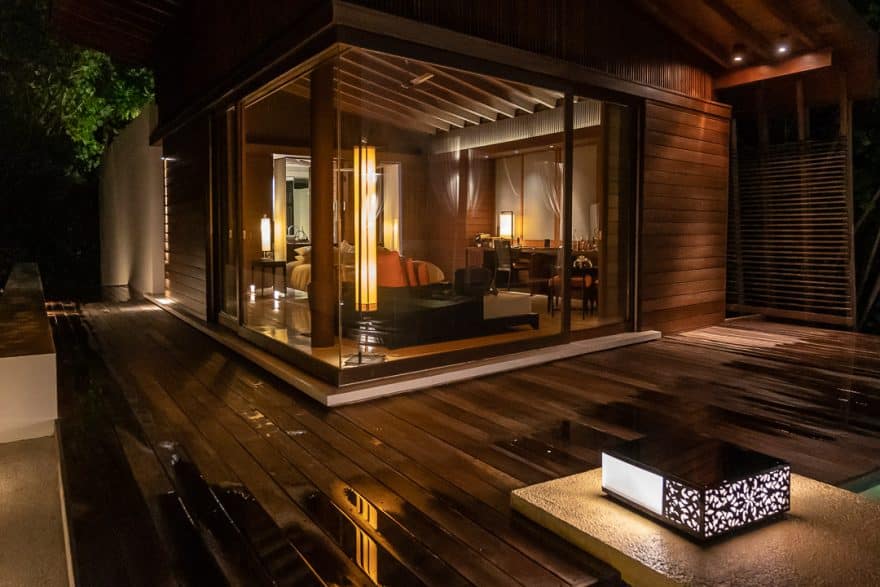 ---
Sunset Overwater Villa
---
During our stay there was a lot of construction going on at the property. The overwater villas were all in the process of being refurbished whilst the Japanese restaurant and presidential villa were both in the process of being added.
We could have spent a night or two in a Sunset Overwater Villa but the construction noise would have been disruptive. However, I figured our readers want to see how these villas look now that they've had pools added. As such, we were able to spend a few hours hanging out and taking pictures at the first one to have been completed.
The overwater villas have a very unique feel to them compared to the sprawling wooden webs at places like Anantara Veli or Lti Maafushivaru.
Here there is a single sweeping pier with only 15 villas in total, all of which face out to the ocean. There is a palpable air of tranquility here which just can't be replicated at a bigger resort.
We visited villa number 45, the lowest numbered Overwater Villa with a pool, located right by the new Japanese restaurant.
As we approached the entrance I was surprised to see so much unused space on the deck. It really felt as if they could have extended the bathroom back significantly to occupy some of this space.
Sunset Overwater Villa – Video Tour
View this post on Instagram
Overwater Bedroom
What I loved about the design here is that there were so many similarities between this and our Beach Villa. Often resorts will go for a completely different style between their overwater and beach categories (the Conrad Maldives for example) but personally I love to see a holistic theme embraced throughout a property.
The interior furniture here was almost identical to our beach villa and the same wooden slats, grey concrete and dramatically sloped wooden roofs were used in the construction of the structure itself.
I think it's a real shame that there is no ocean view from the bed, especially since the room is designed for the bed to face in the right direction. Hopefully a future renovation will add glass where the TV is, with the TV placed on a swivel stand between the bed and the chaise.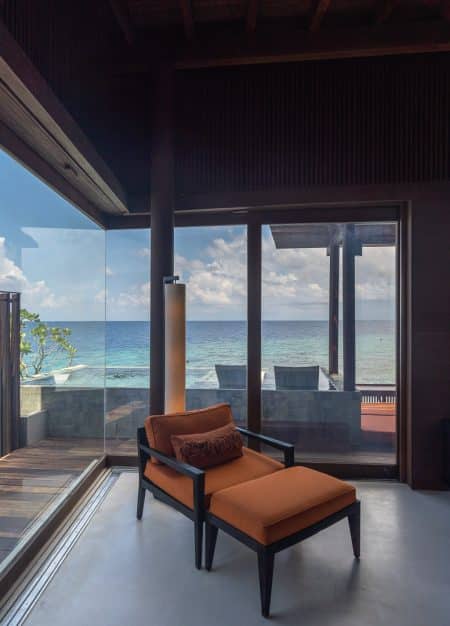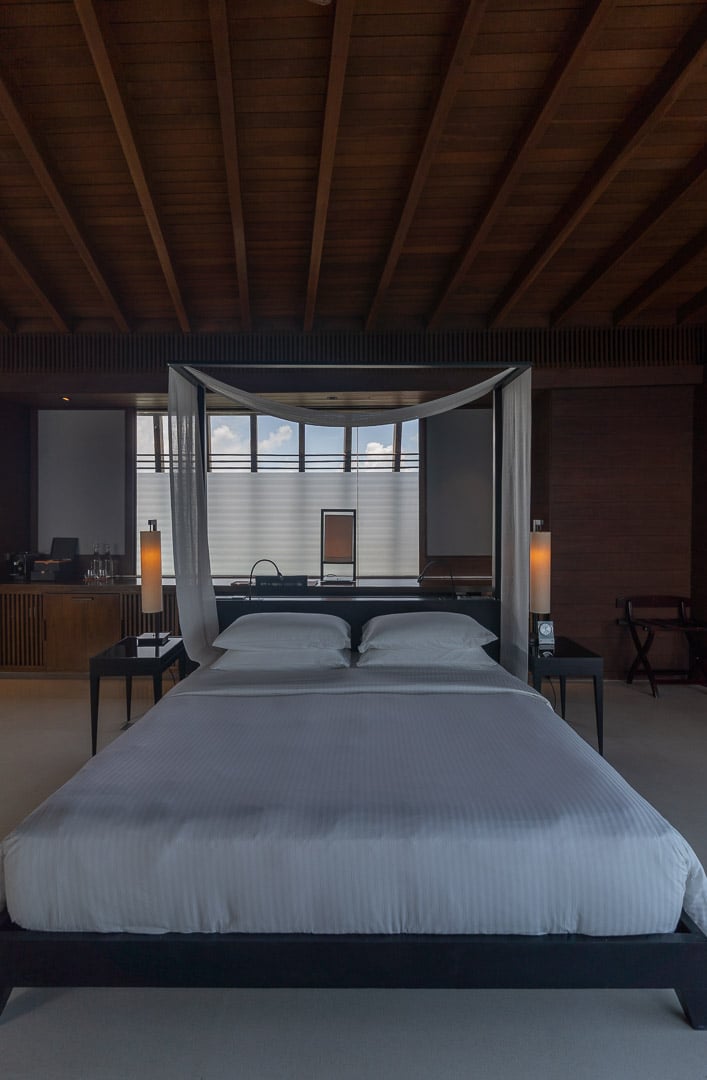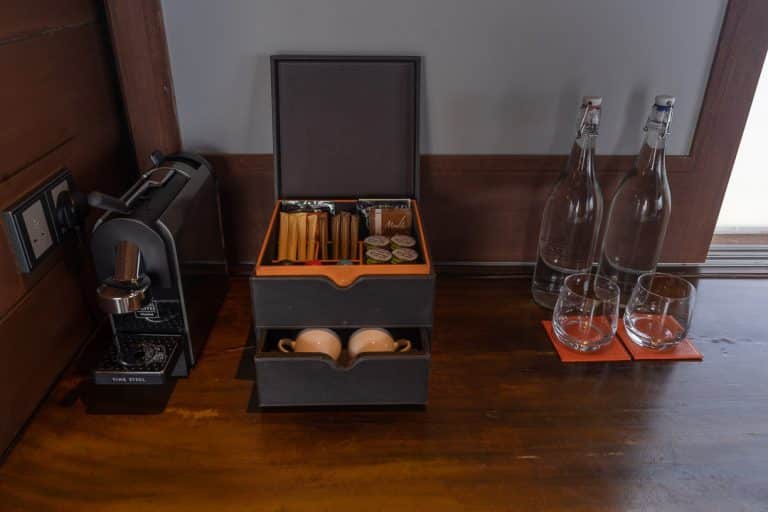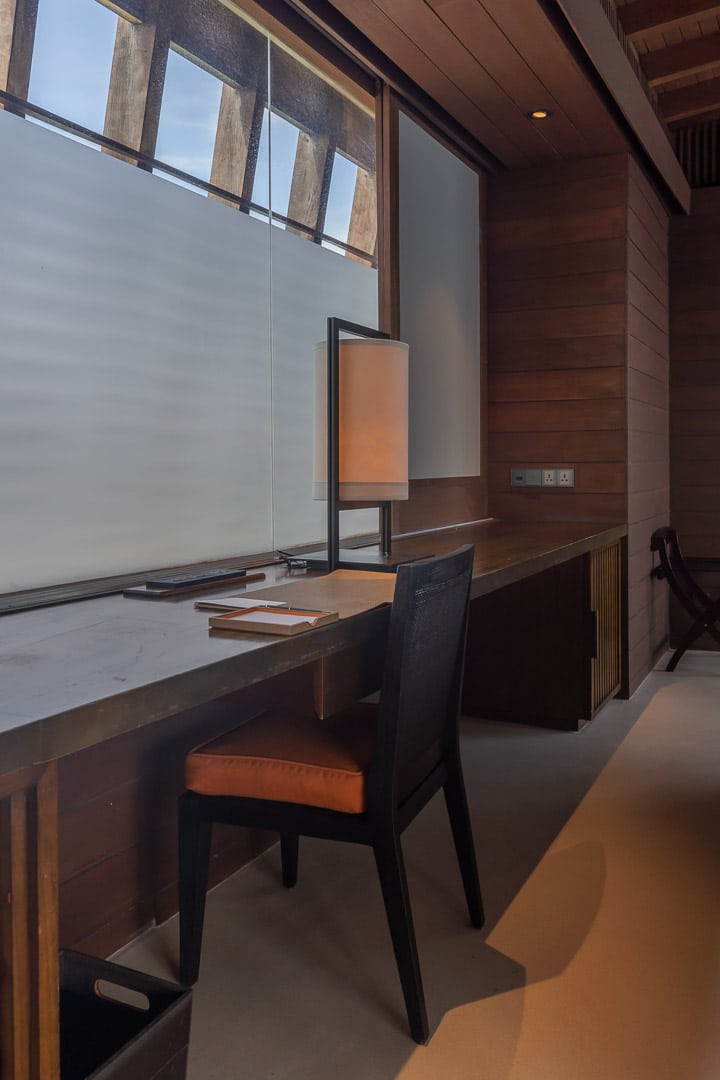 Overwater Bathroom
Once again, stepping into the bathroom felt eerily familiar since this is the exact same bathtub we had at Alila Soori, right down to the wooden caddy across the bath holding the bathing products.
The bathroom's floor to ceiling glass walls made it amazingly bright and airy feeling and I really loved how skylights were cut into the roof above the shower and toilet to add even more light (the one in the toilet was covered with glass though so you wouldn't get soaked using the toilet when it rained).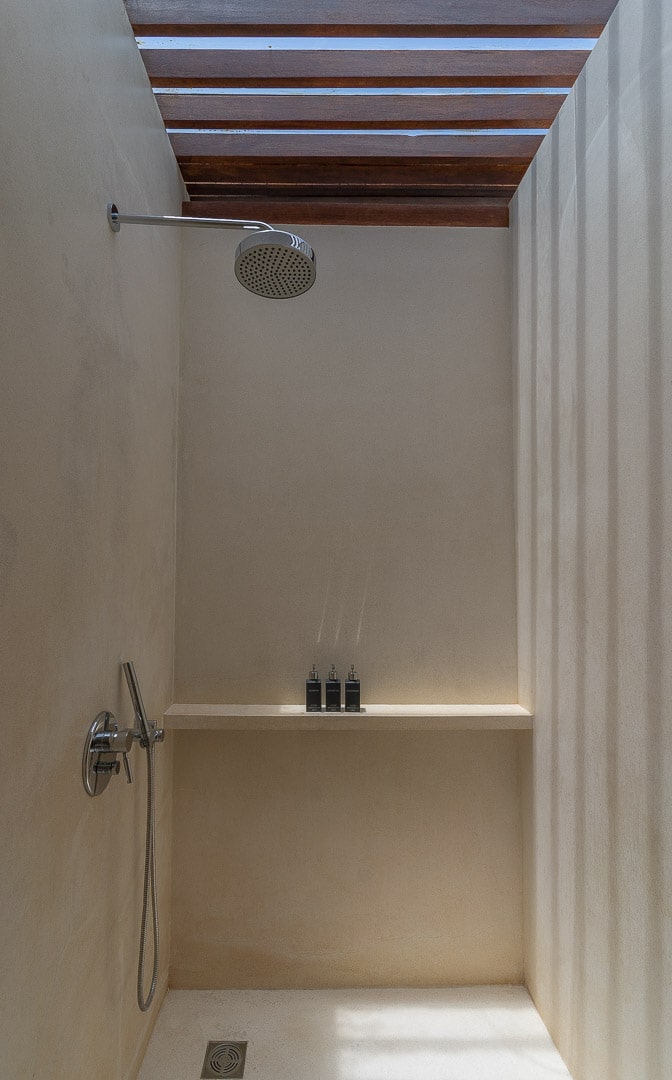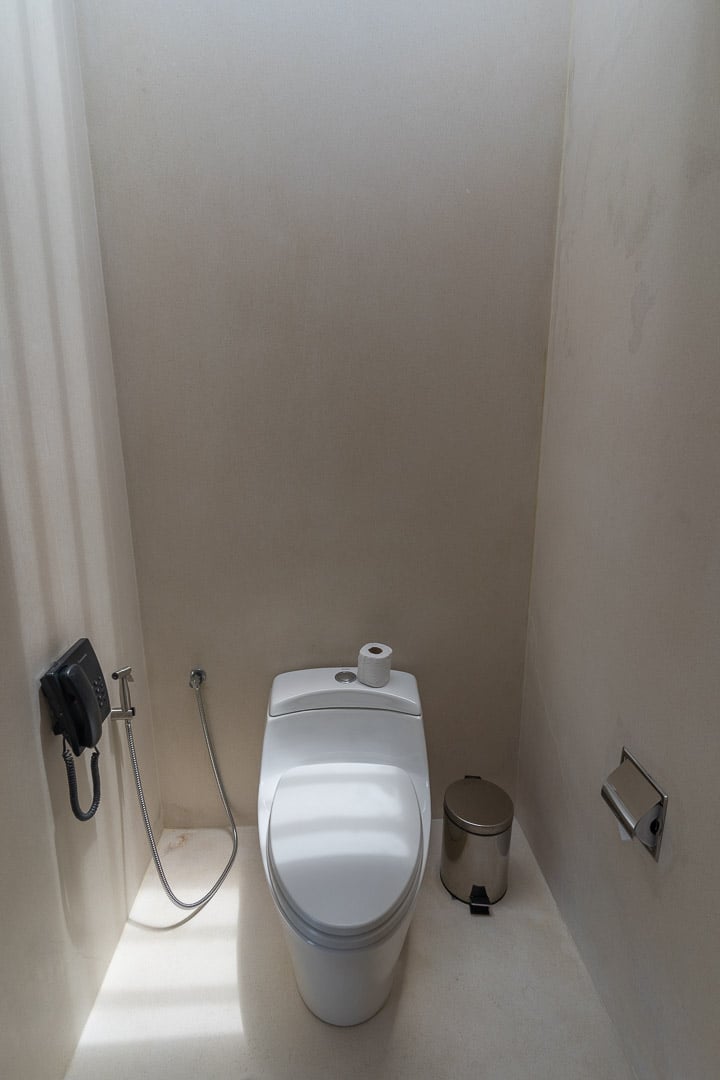 Overwater Deck
This is the main reason why people pay more money for an overwater villa. Having your own private deck right over the ocean with direct access to a pristine reef.
Not only are the villas at the Park Hyatt spaced far apart, they are all wider than they are deep. This means that they maximise light in the room as well as real estate for the overwater deck.
The dining table nook seemed like a bit of an afterthought given that it was boxed in by fencing. I personally would have extended the pool all the way back there so that it was less of a plunge pool and more of a lap pool. This would also mean that half the pool would be shaded by the villa roof.
Having said that, the small plunge pool is a perfect spot for cooling off at night when the reef is rather less inviting. The submerged and shaded loungers are also an ideal spot for sipping a cocktail or two during the day.
Outside of the water there was the option of either a shaded daybed (with a wooden 'cage' which was very reminiscent of Alila Uluwatu) or a pair of loungers out on the open deck.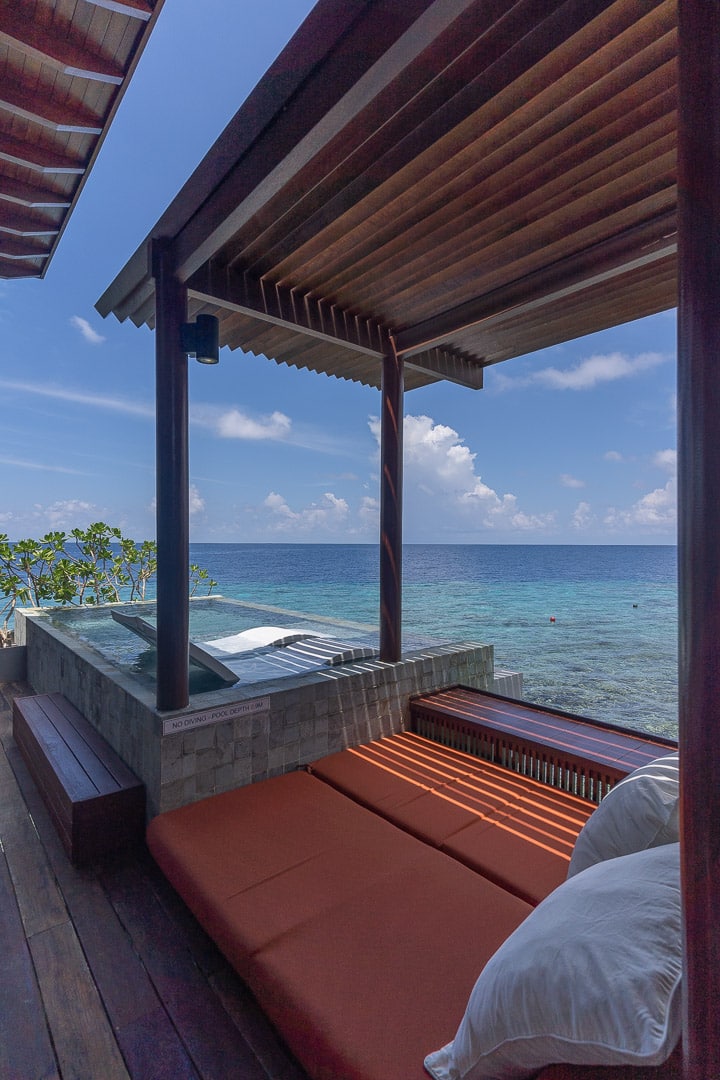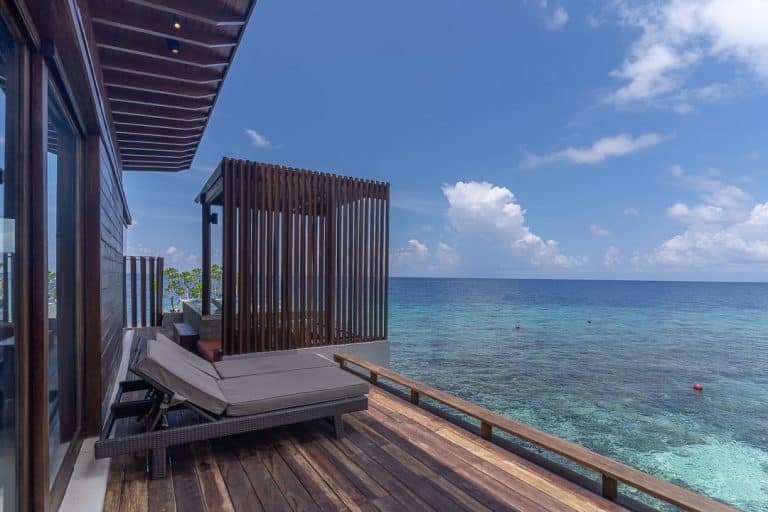 The reef at Park Hyatt Maldives is absolutely pristine and surrounds the entire island in a perfect 360° loop. The water here is deep enough that you aren't walking over broken corals in order to get to the reef.
When you picture what it is like to snorkel from an overwater villa, this is what you'll have in mind…many resorts place overwater villas on shallow lagoons with nothing but sand to see. The Park Hyatt is the real deal.
---
Leisure Facilities
---
Snorkelling and Diving
All guests are provided with snorkelling equipment free of charge which can be collected from the Dive Centre, right by the main pool. Diving is available both via boat trip and on the house reef. Since I was short on time and hadn't been diving for a while I only had the chance to do a single tank on the house reef and didn't spot much!
However the reef quality is amazing, the coral is so healthy compared to a lot of places in the Maldives and during my snorkelling I did spot an enormous eel right by the arrival pier as well as a turtle right in front of villa number 2.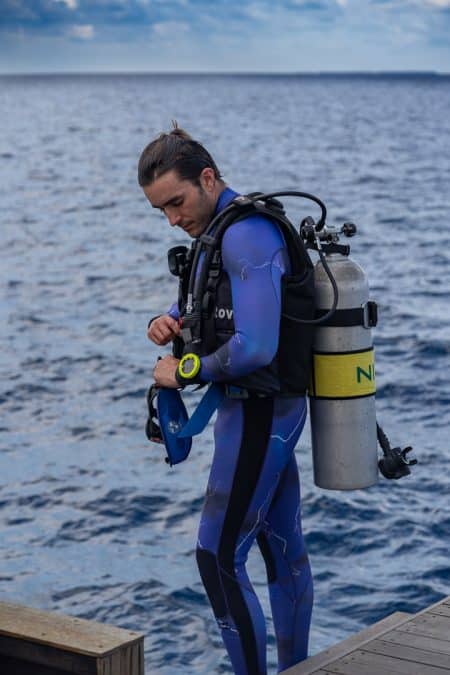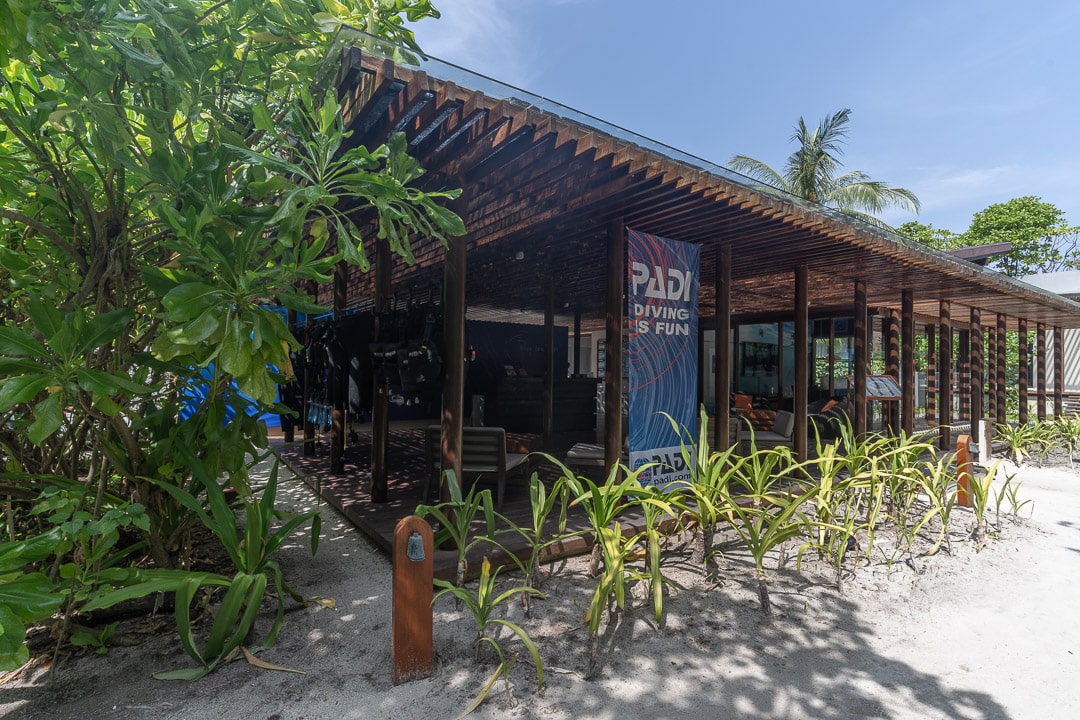 The great thing at the Park Hyatt is that no matter which villa you're in, you're right next to amazing snorkelling! Whether you're in a beach villa or overwater you're only ever a couple of steps away from the reef.
At the Conrad Maldives for example, there are two huge guest islands but snorkelling is only really viable along one side of one of them. The Park Hyatt is truly privileged in this regard.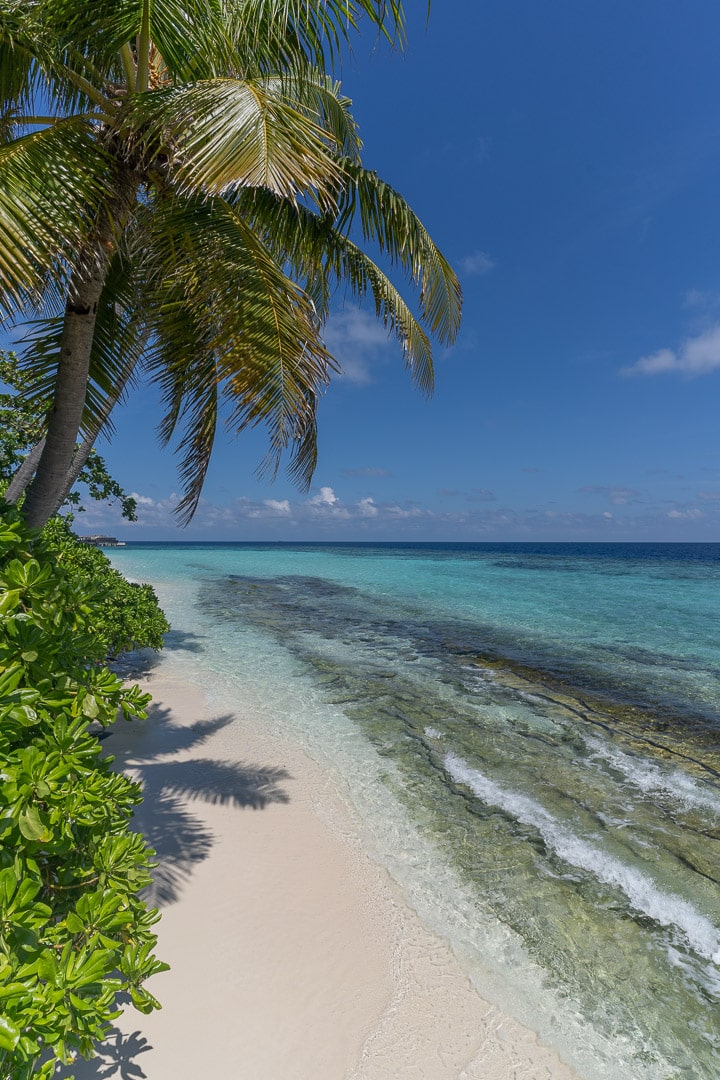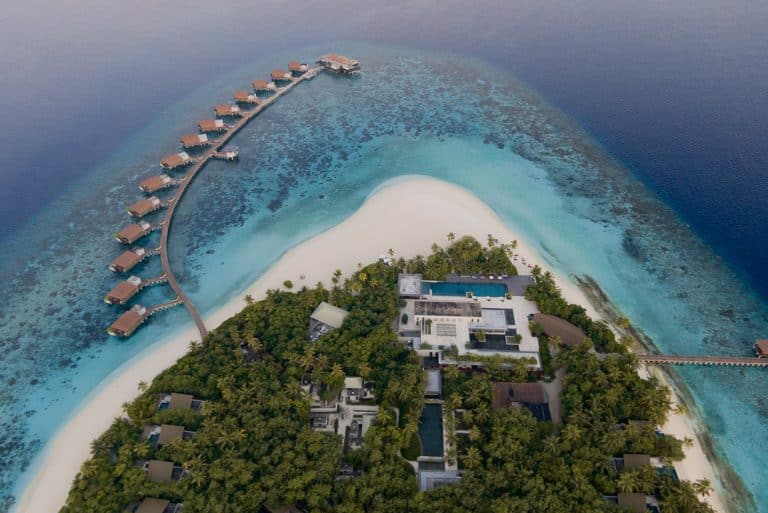 Additionally the Arrival Pier and Sunset Pier are set up so that guests can access the reef's drop off directly, with towels and showers on hand so that you can walk back to your villa fully refreshed afterwards.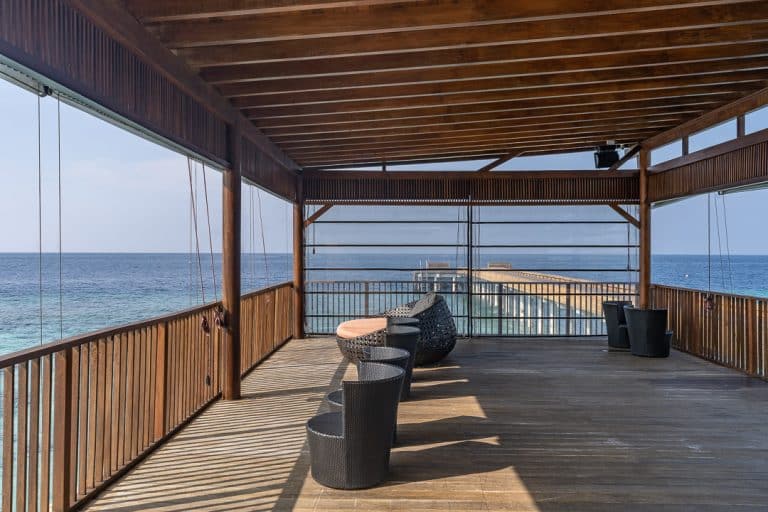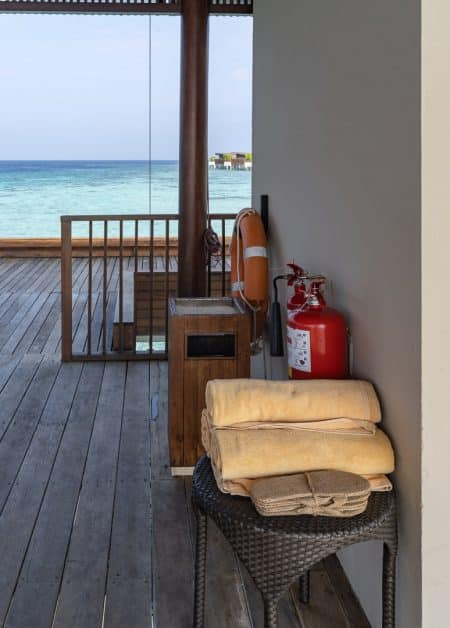 Vidhun Spa and Pool
The property has two large public pools, one close to the beach and another in the jungle interior. This interior pool at the Vidhun spa was one of my favourite spots in the entire resort.
What was great about it was that it felt like you were a world away from a typical Maldivian beach experience. Honestly it was like we had been magically transported to Ubud.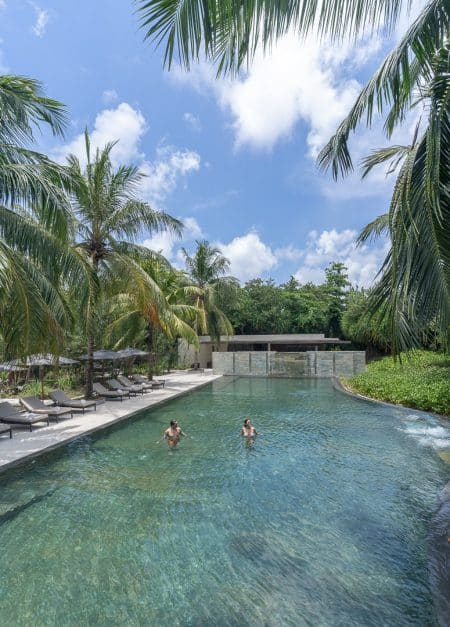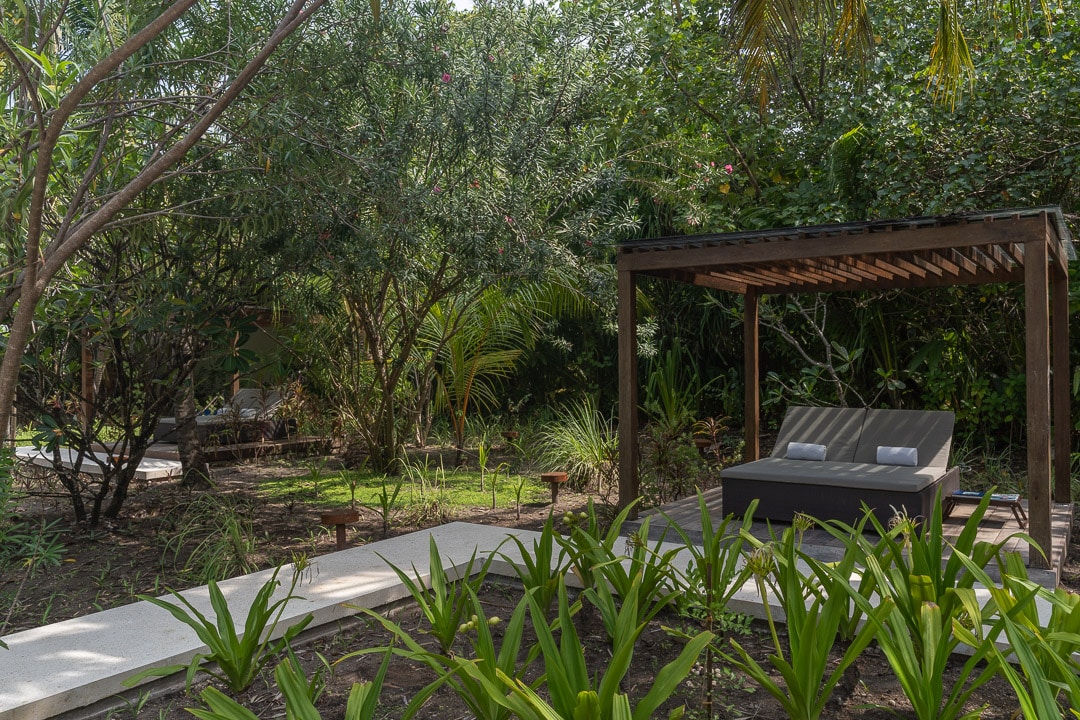 I'm a big fan of hitting the spa at midday when the sun is at its hottest, followed by a long and lazy lunch. On our second day here that is exactly what we did.
The Vidhun Spa reception is located at one end of the pool and here we were offered a refreshing coconut water based drink before being taken to our private, couples' spa villa.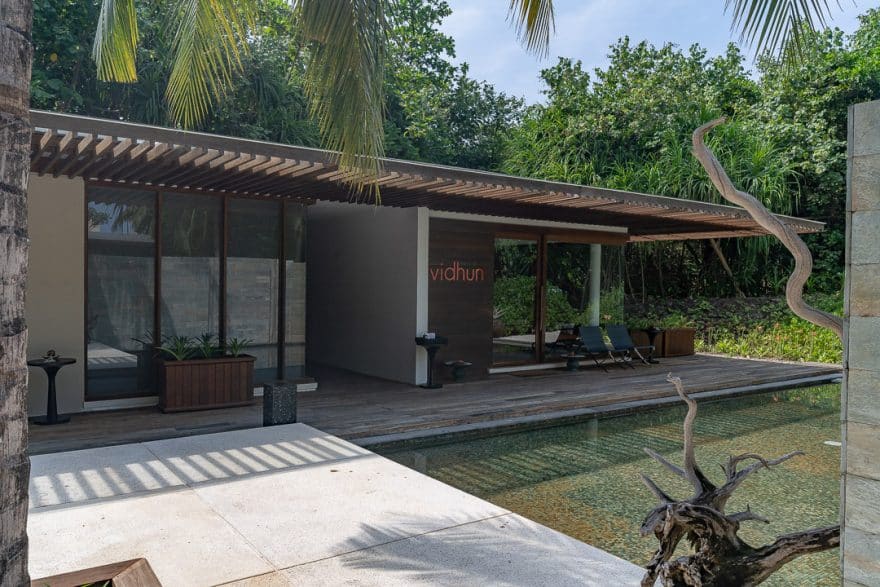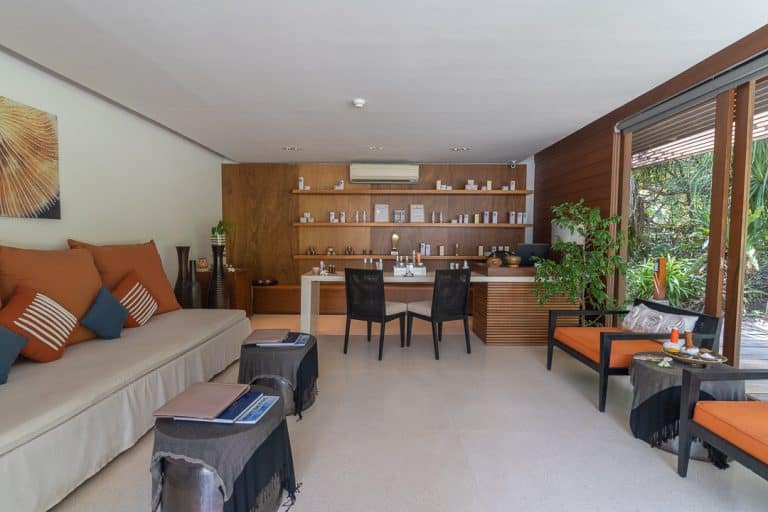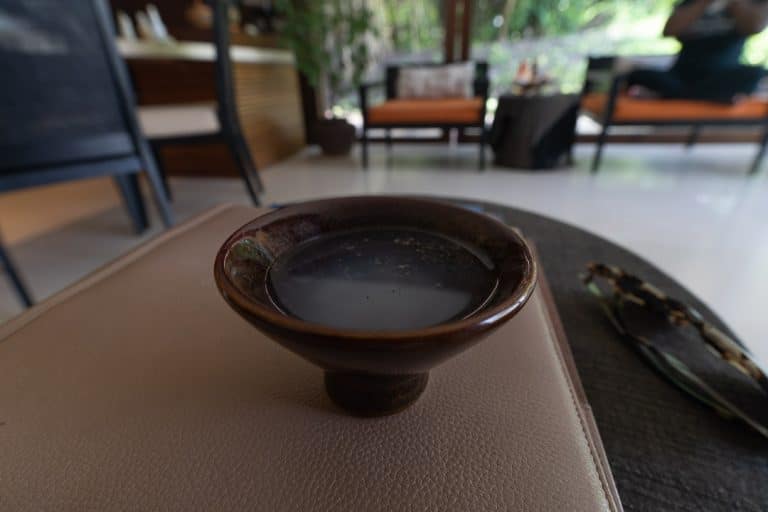 The spa villas are located in the interior of the island and come equipped with a separate changing room, treatment room and outdoor, courtyard bathroom.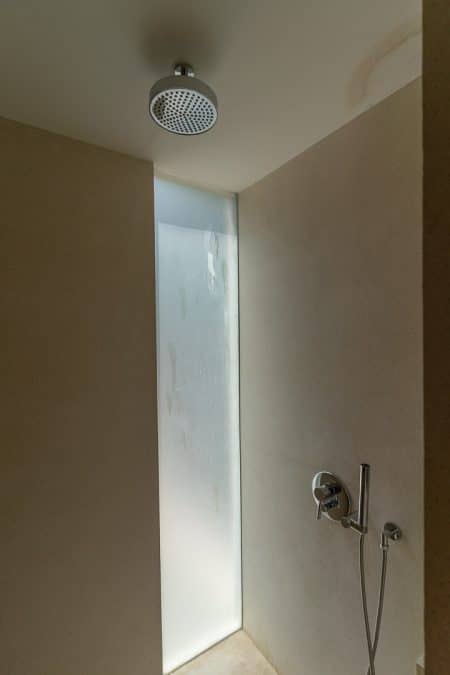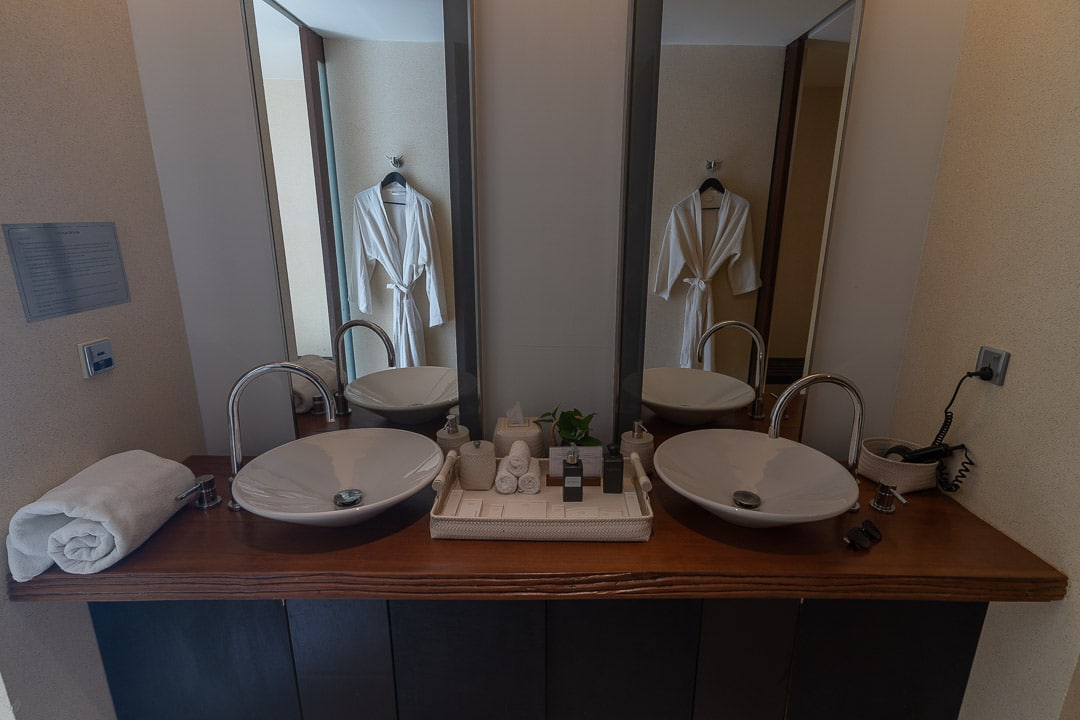 Once again the courtyard bathroom was 100% pure Alila in terms of design (which is fine by me).
Our couples massage treatment was very relaxing, I walked out feeling like I was the human embodiment of a cloud. I particularly liked the fact that they had electronically adjustable massage beds so that you could be slightly inclined for chest, neck and shoulder work.
Gym
The gym was split into two individual pavilions. One for cardio, which I never set foot in:
…And another for weights, where I spent a lot of time grunting and listening to Slipknot.
The blinds were all drawn as there's an issue with the AC. interestingly somebody responded to my Instagram story asking if it had already been fixed, meaning that this issue has been going on for some time.
It wasn't terrible but certainly a bit warmer than you would expect at a luxury hotel.
When I raised this with the GM he said that a new unit had been ordered and would arrive as soon as COVID related delays permitted.
The all-in-one Unica gym machine is great for saving space (and the preacher curl attachment is fantastic) but I wish hotels would stop getting roped into buying insanely expensive but useless Technogym Kinesis cable machines.
It's $12,000 that could be infinitely better spent on a commercial Smith Machine and some extra plates (with $8,000 change to spare).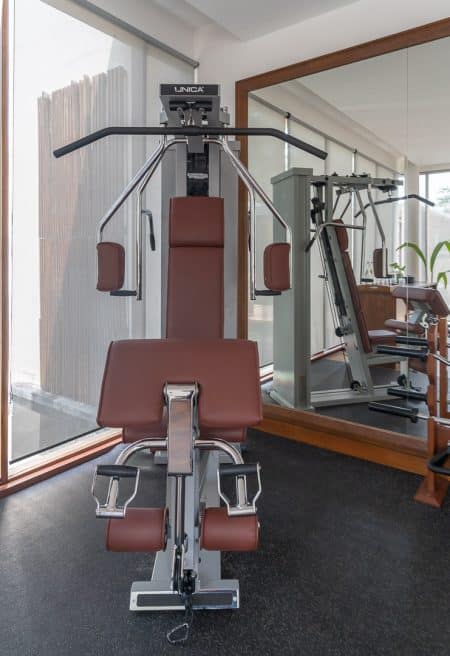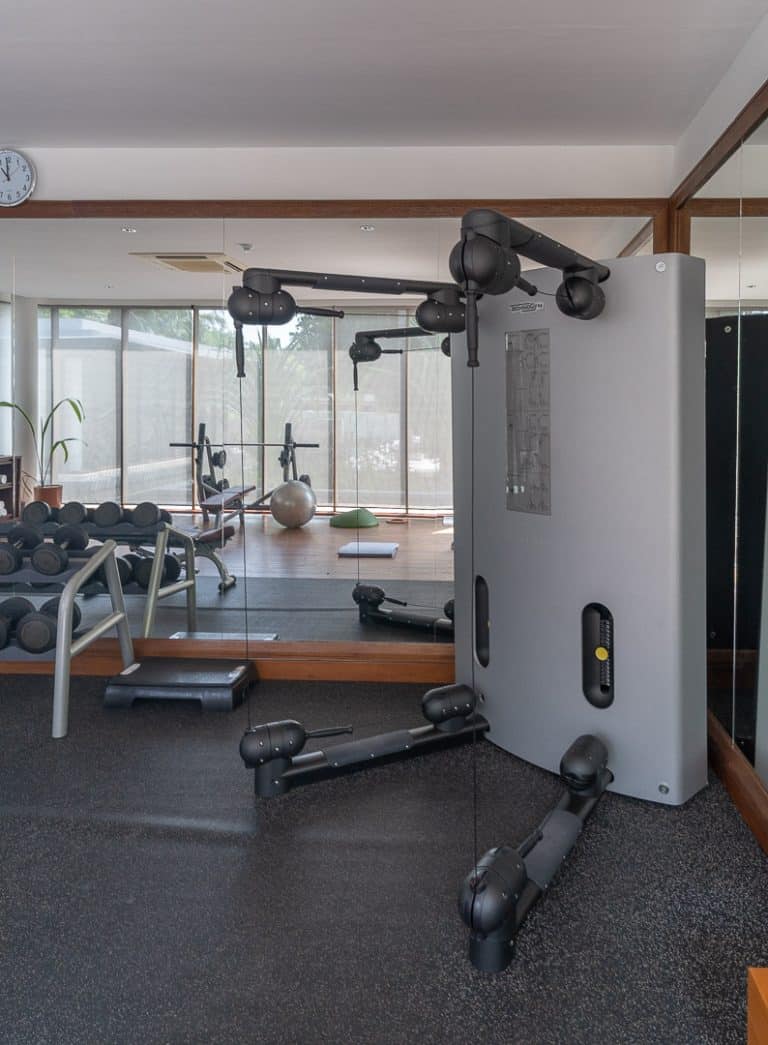 Filtered water was supplied in glass bottles and there was a Bose dock with aux jack ready to accept guest devices. Unfortunately there was no Bluetooth and the aux to thunderbolt adapter had been borrowed by a guest so we just blasted our iPhones at full volume instead.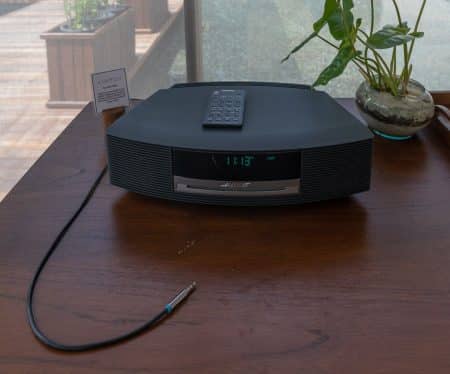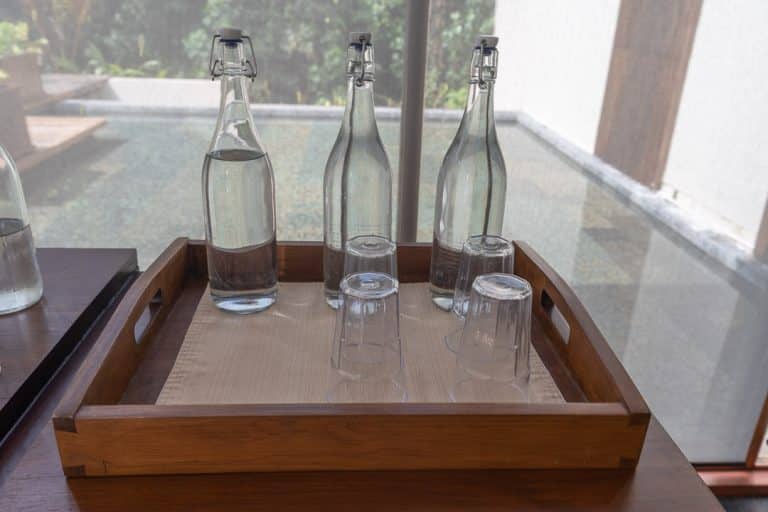 The gym was more the kind of facility you'd expect in a small city hotel than a proper resort. There's no question that this is the weakest gym offering I've seen from any hotel in the Maldives. Compared to the incredible facility at Constance Moofushi for example, this gym was really lacking.
.
The Main Pool
Somewhere that wasn't lacking though was the main pool area, which was incredibly visually striking (and more than a little Aman like).
The loungers were very well spaced and all faced out towards the ocean – a clever way of adding to the feeling of privacy, as you never found yourself facing other guests using the pool.
The convenience factor of such a small resort was readily apparent here. It felt very pleasant seeing the same familiar faces each day all coming and going from this central area. At meal times most guests would just shuffle a few steps over to the Dining Room and then straight back to the pool afterwards.
It isn't a particularly active way to spend a day but it is certainly very relaxing and hassle free.
The beach
The pool is right by the beach, meaning that you can set yourself up at either the beach or the pool and have access to both without needing to walk far at all.
The decking around the pool stretches right out to this oversized sofa area where you can enjoy the gentle ocean breeze and the shade of palm trees above.
Along from here was a section of beach featuring beanbags, loungers and the most perfect, cream-like sand I've ever encountered in the Maldives.
The thick and lustrous foliage right up against white sand and impossibly blue water really is the picture postcard vision of the Maldives that everyone imagines. To date this is the first and only resort I've visited in the Maldives to capture this feel.
Others have worse sand (bordering on gravel at the Waldorf Astoria) or have sandbags everywhere along to shore to stop erosion. Failing that there'll be tons of boat traffic, loud music or a beach that simply faces more villas, restaurants or nearby islands.
The Park Hyatt is really special in this regard. Walking along the beach it felt like we were a million miles from anywhere…
---
Activities
---
Park Hyatt Maldives Activity Menu
---
Equator Trip
Given the Park Hyatt's remote location, the property is able to offer guests a day long trip to the Equator at a cost of $1000++ per couple.
The trip includes a private speedboat and crew and lasts for 5 hours.
The speedboat used was the same one used for transfers to and from Kooddoo airport and was very comfortable for just the two of us.
We spent the first half hour of our trip heading to the edge of the Gaafu Alifu Atoll, where the hotel is located, before spending another half hour in open water with nothing but sea, sky and clouds in sight.
The scene would have been tranquil and relaxing were it not for the fact that the crew were basically treating it as their own boys' day out. They were booming out loud music on the boat's speakers, whilst loudly chatting and joking amongst themselves.
At times it felt more like we were tagging along on their trip rather than them being there as crew for us.
After around ten minutes of bobbing around, stopping and starting the engines, we managed to exactly land the ship's compass on 000'000.000'N… which was a bit of an anticlimax to be honest.
For $300 less you can do a full 5 hour trip with without spending 2 of those hours going back and forth to the equator. This would be my recommendation.
After heading back into the Gaafu Alifu Atoll the crew told us that we were heading towards a liveaboard vessel to get info on which uninhabited islands we could visit. Coincidentally this vessel was one that some of our crew had worked on previously and this gave them a chance to meet their old friends for a chat…
The crew checked and it turned out that the uninhabited island they wanted to take us to was filled with 20 people from the liveaboard vessel. They suggested we should go anyway.
We arrived to find an island full of people and unfortunately plenty of plastic trash. The Park Hyatt keeps an island closer to the resort in much better condition but we weren't able to visit due to the tides. I'd definitely recommend asking to travel on days when that island is accessible as you'll cut down on travel time and have a doubtless more pleasant experience once you arrive.
This nearby island is also where the Park Hyatt offers its latest activity – The Castaway Experience. A day trip where you learn to create your own shelter and even fish for lobster before cooking up a surely delicious feast on the beach.
Thankfully we were able to find a private sandbar moments away from 'trash island' and it was absolutely pristine, surrounded by incredible ocean colours and truly deserted.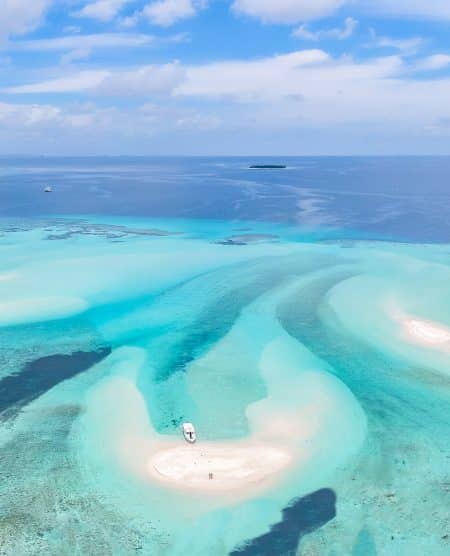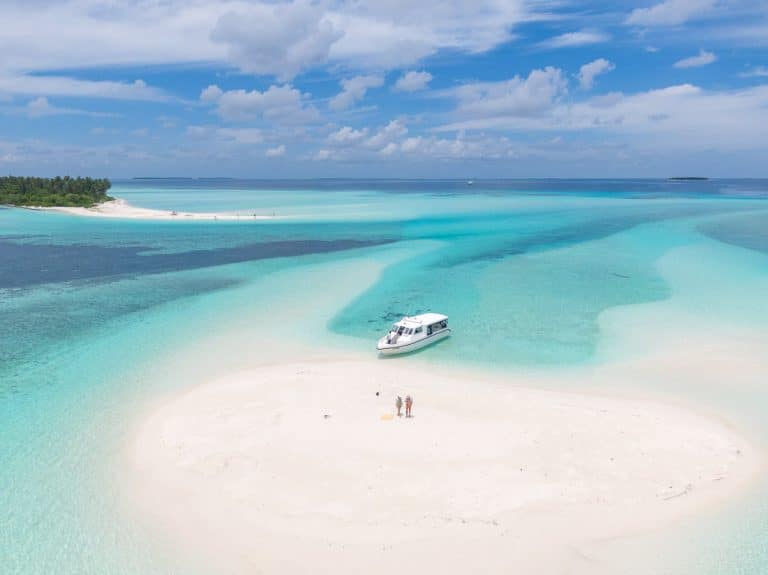 After spending some time swimming and taking pictures we hopped back onto the boat. The crew suggested that we should go looking for dolphins next. This was by far the best part of the trip.
We spent around 45 minutes navigating waters that were absolutely teeming with pods of spinner dolphins.
The dolphins were very playful, racing alongside our boat and jumping out of the water to perform the spins for which they are named. We ran around excitedly trying to spot them from all sides of the boat and never went more than a minute or two without being surrounded.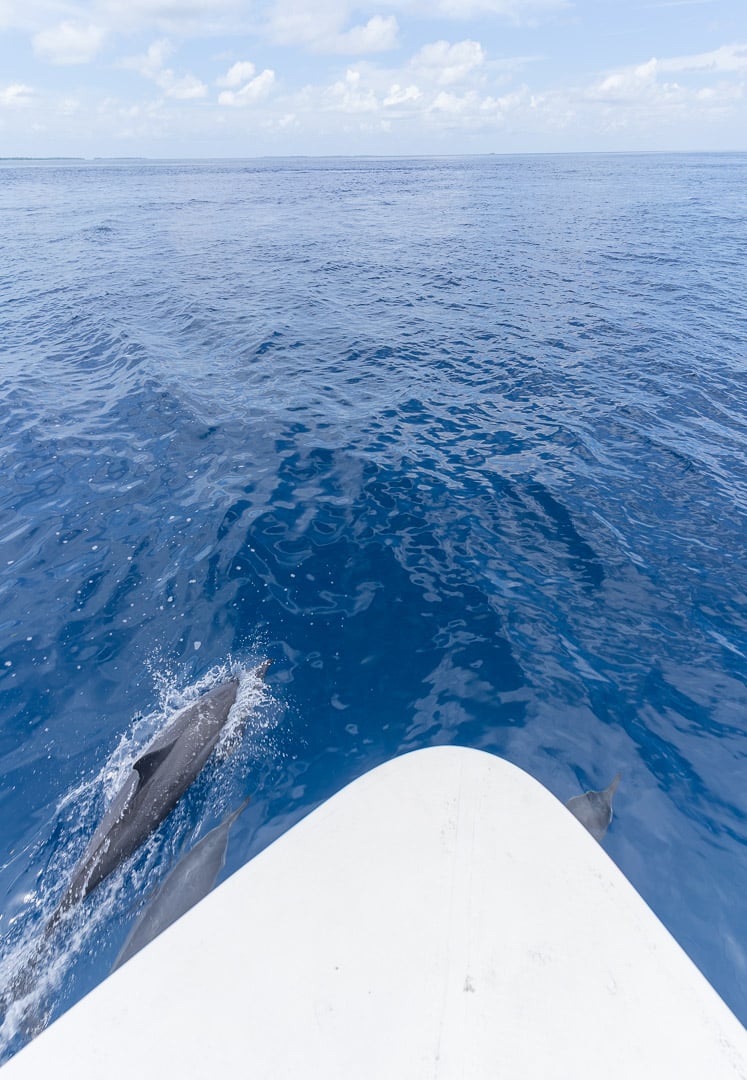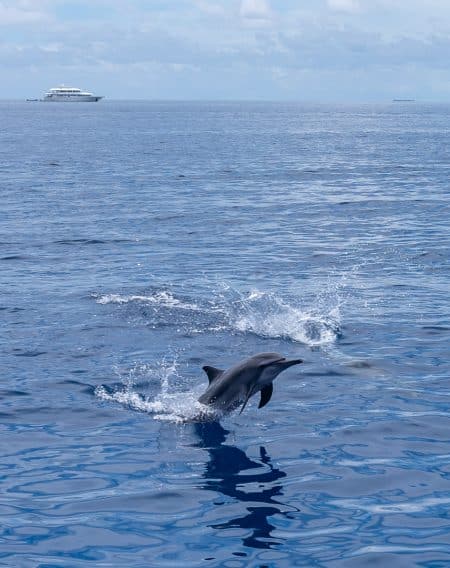 From what the crew were telling us, your chances of seeing them are basically 99.9%.
After our fun with the dolphins the crew suggested that we try our hand at line fishing. We gave it a go for around 40 minutes or so without a single bite and decided that eating lunch would be a more productive way to pass the time.
The day before this trip we were given the option of selecting either seafood, meat or vegetarian options for lunch. What was laid out for us was an extraordinary seafood feast that could easily feed a family of four.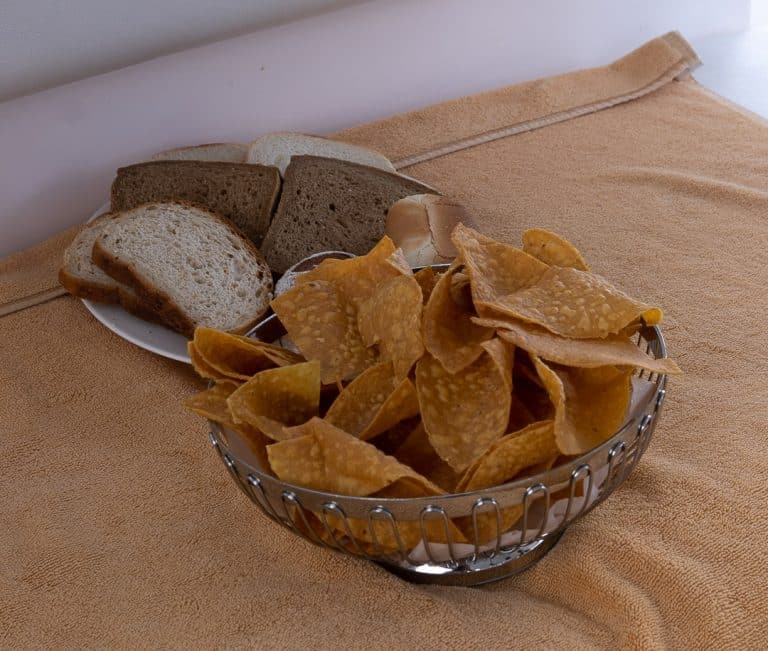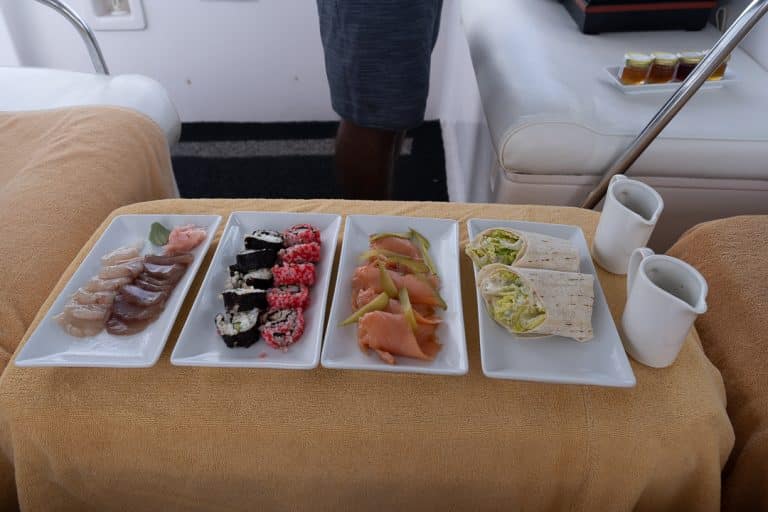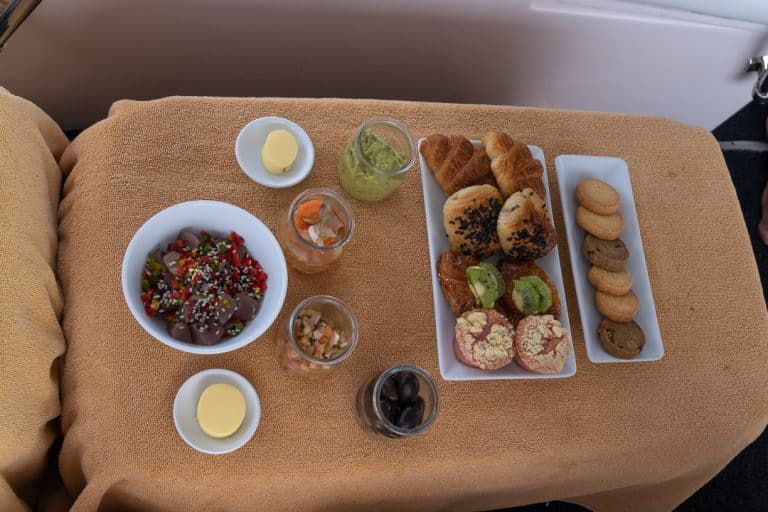 One thing we weren't asked about though were soft drinks so the only thing on offer for the entire 5 hours was water or full sugar sodas.
I get that the locals here really like sugary drinks (with staff at other resorts even claiming to me that sugar free drinks make you extra fat!) but on a $1000 trip you'd expect to either be asked your personal preference or for all types of soft drinks to be made available.
After finishing lunch we headed back to the resort where the captain asked if we had any feedback on the trip.
We said that we would have preferred to do the sandbank visit earlier to avoid the hottest time of the day…at which point he proceeded to explain why we were wrong and that visiting a sandbank with no shade at midday made the most sense because wet activities go after dry activities.
Kids Club
The Park Hyatt has always been billed as something of a honeymoon destination and as such it has never had a kids club…until now.
When I sat sat down to talk with the new GM he was very excited to tell me about his plans to introduce an alternative to traditional kids clubs.
The hotel has long featured a beautiful lounge with a roof shaped like a traditional Maldivian dhoni boat, however nobody ever uses it.
The idea is that this will now become a cultural centre of sorts where both children and adults can take time to understand more about Maldivian culture and crafts.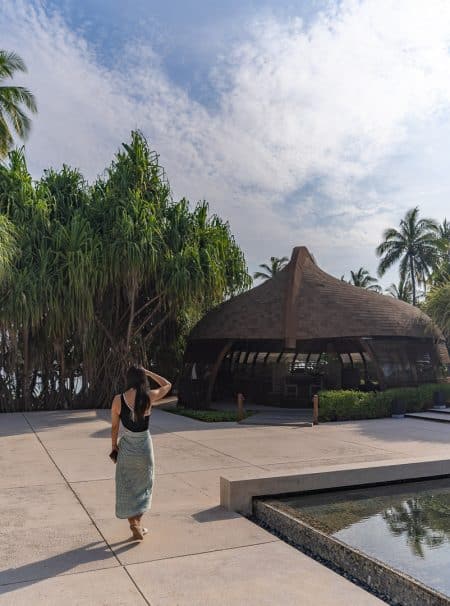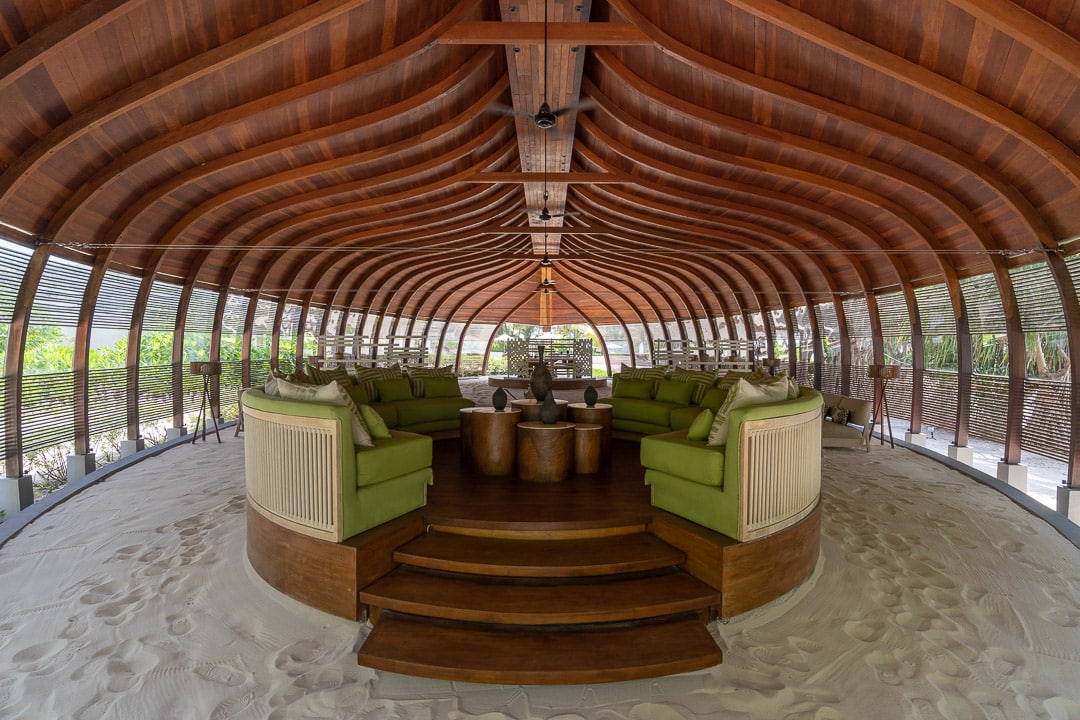 Instead of playing with the same old toys and watching TV shows, children will get to learn about how to climb coconut trees, or how to make fans and baskets using palm leaves.
We were given a taster of this new program and really enjoyed chatting about Maldivian life with the first female Maldivian we'd ever met! (Resorts are usually filled with local Maldivian staff but they are always male.)
We also tried our best to weave palm leaves into various toys and baskets…with varying degrees of success.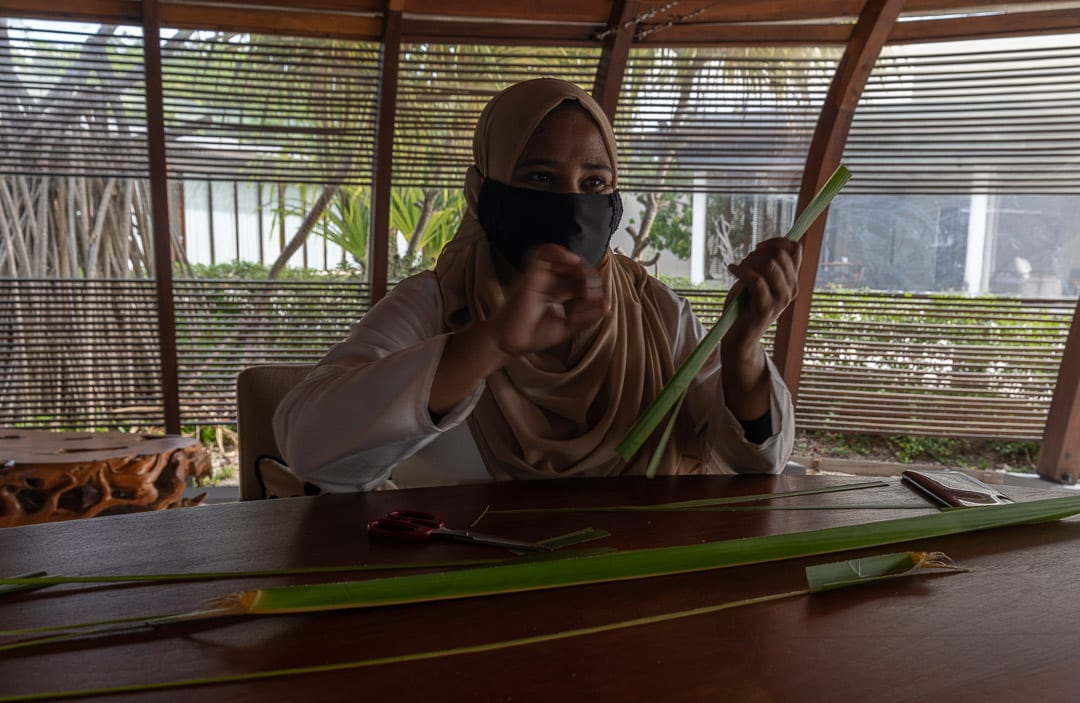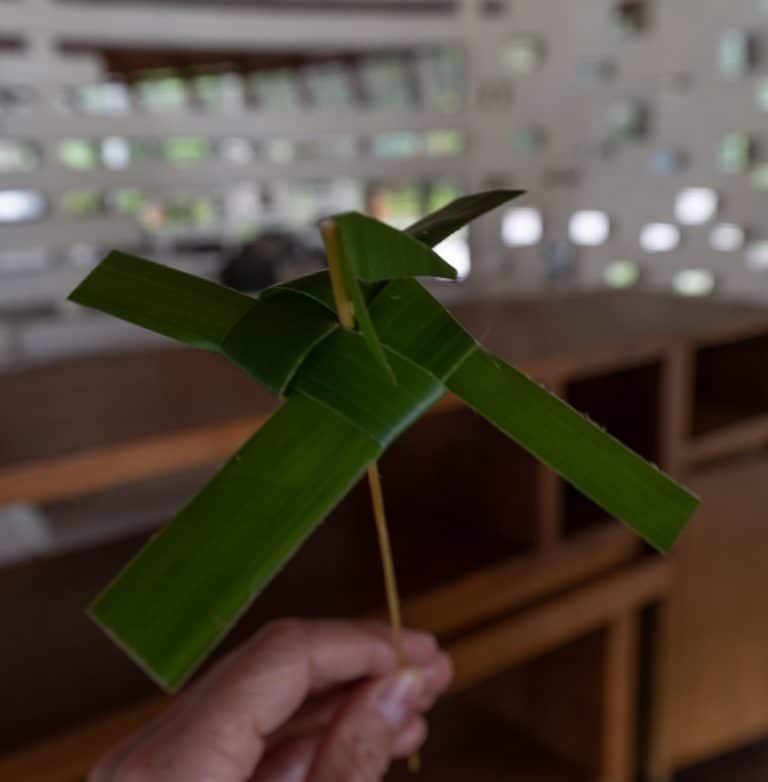 This program of cultural activities at the kids club has been so well received that Hyatt senior management plan to roll out something similar across all properties in Asia. I think this is a really great idea; if you're going to spend money taking your children all around the world it is far better to have them learn about the places they travel to than to just sit and watch cartoons.
In all honesty, much the same could be said for us adults too. It is sadly rather rare to have any sense of connection with Maldivian culture when staying in a lavish resort with overwater villas.
Having the opportunity to immerse yourself in the local culture is a most welcome departure from the norm for visitors of all ages.
---
Food and Drink
---
Up to date menus are available by clicking through to each restaurant here.
---
Food and drink is incredibly important at Maldivian resorts. You are totally captive in terms of price and quality since there is no mainland to visit and no viable way to dine away from your resort.
As a result, I always place much more emphasis on this aspect of the stay than I would at most hotels (outside of safaris).
Breakfast at the Dining Room
There's something truly magical about the feeling of jumping out of a luxurious hotel bed and taking a slow sunlit stroll to breakfast in the morning. Reaching the main pool area I immediately felt immersed in this amazing ambiance of total relaxation.
Although the resort was running at quite high occupancy, the tables are so well spaced that you almost felt like you had the whole restaurant to yourself in the morning. The service was, for the most part, excellent too.
Coffees and juices were brought out almost instantly and and staff remembered our orders after the first day too. The coffee was thankfully much better tasting than what was available in the room and strong iced coffees and cappuccinos were available too.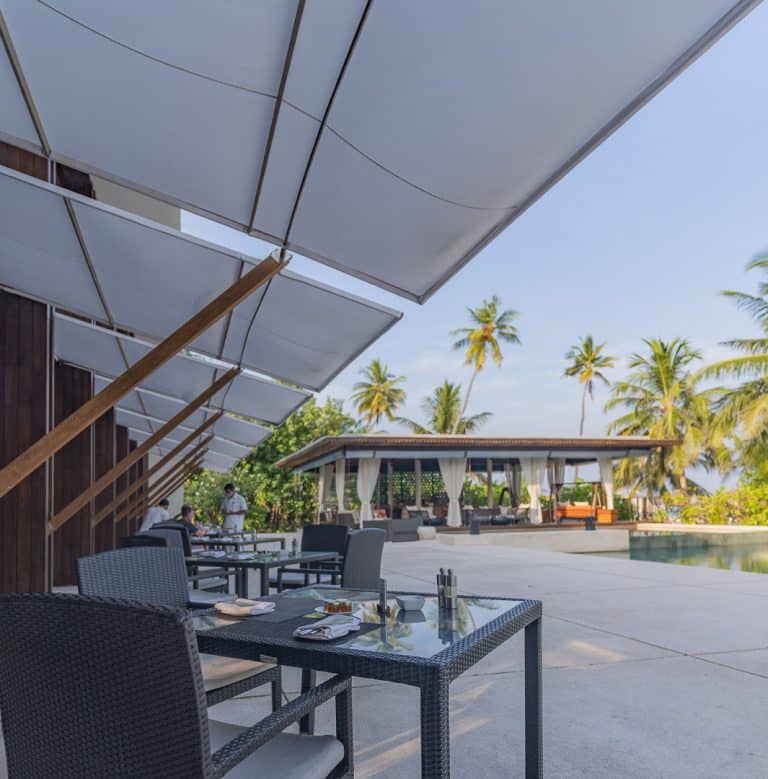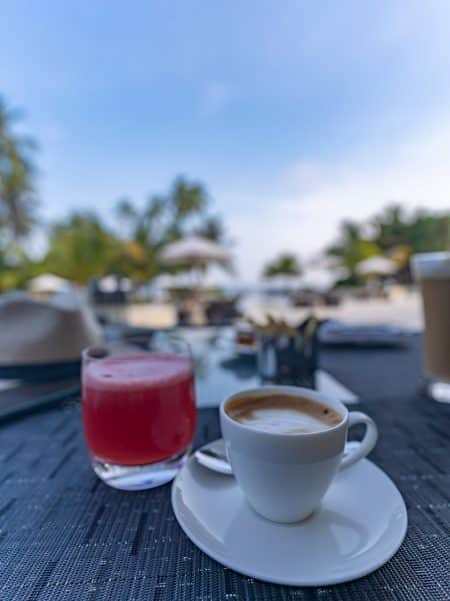 We had fresh coconuts for breakfast every morning except for the last one where staff on duty that day decided that coconuts weren't available at breakfast anymore and could only be retrieved from the bar (which opened an hour later).
A real shame since we'd really enjoyed starting our day with these and had been looking forward to one last coconut on our final breakfast before leaving the resort.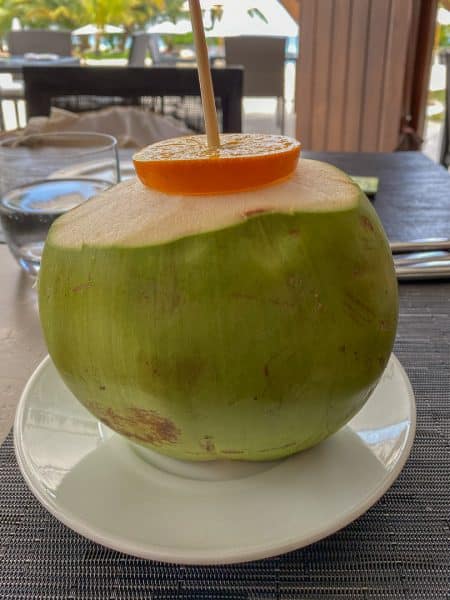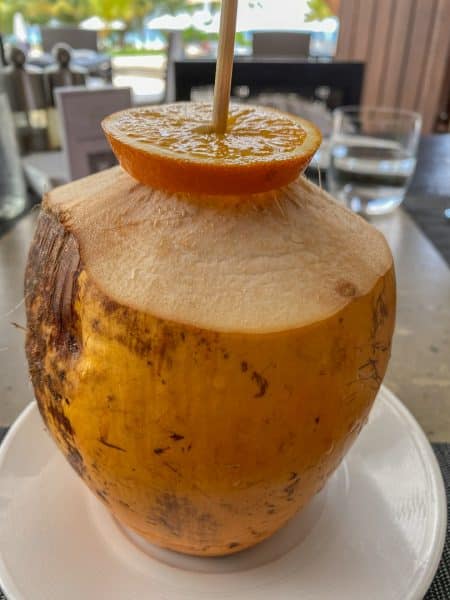 (My OCD really kicks in when I look at these coconuts. If you're going to put an orange slice on a green coconut then I feel like you should put a lime on the orange ones 😅)
A buffet was provided indoors with a variety of pastries, fruit, cereal, charcuterie and sushi. Guests who have breakfast included in their rate can either order two a la carte dishes or have the buffet plus one a la carte dish.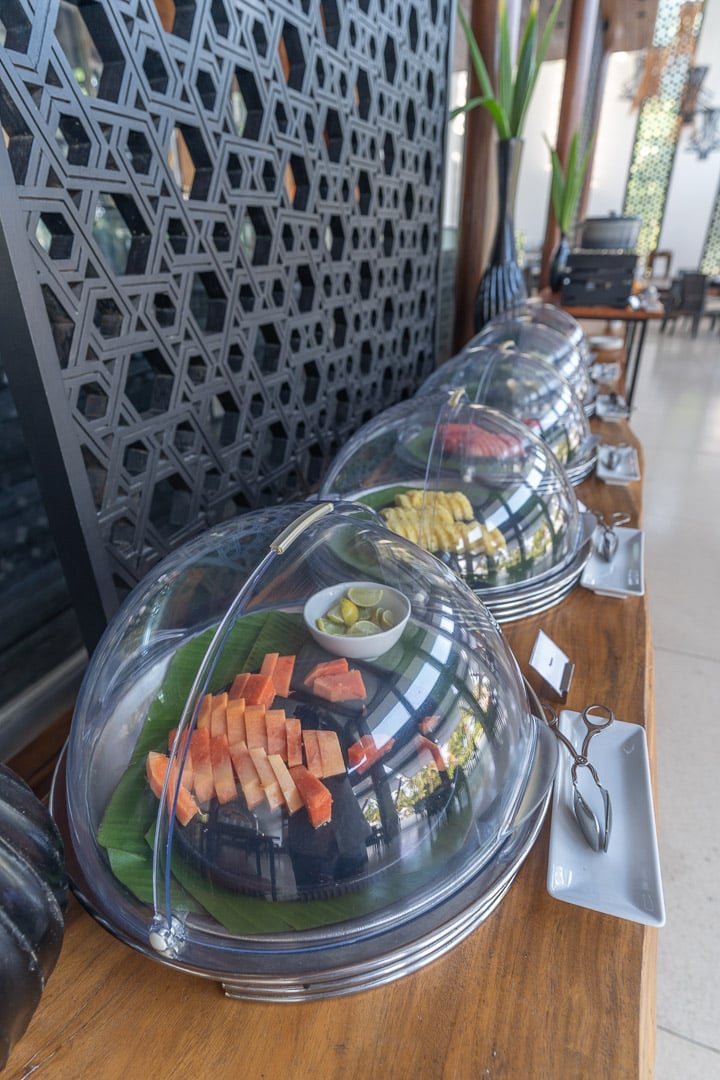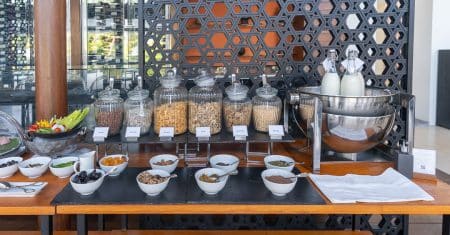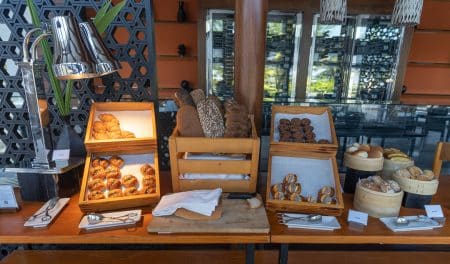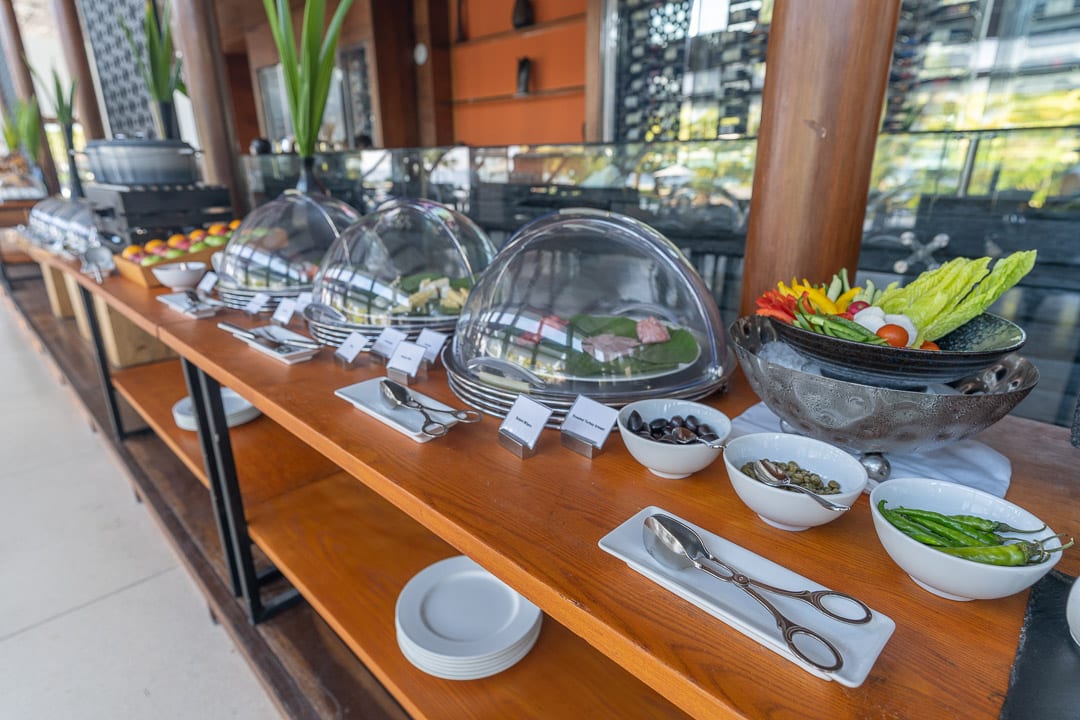 We stuck to the a la carte dishes since they all sounded amazing and we wanted to have the chance to try them all!
The 'Morning Mood' smoothie bowl with peanut butter and banana was a little too rich for my liking but the 'Think Pink' was really well balanced. The combination of cinnamon, berries and dragon fruit was very refreshing.
The chia pudding with coconut milk sounded like it might be too sweet but the fresh blackberries really worked well to counteract this.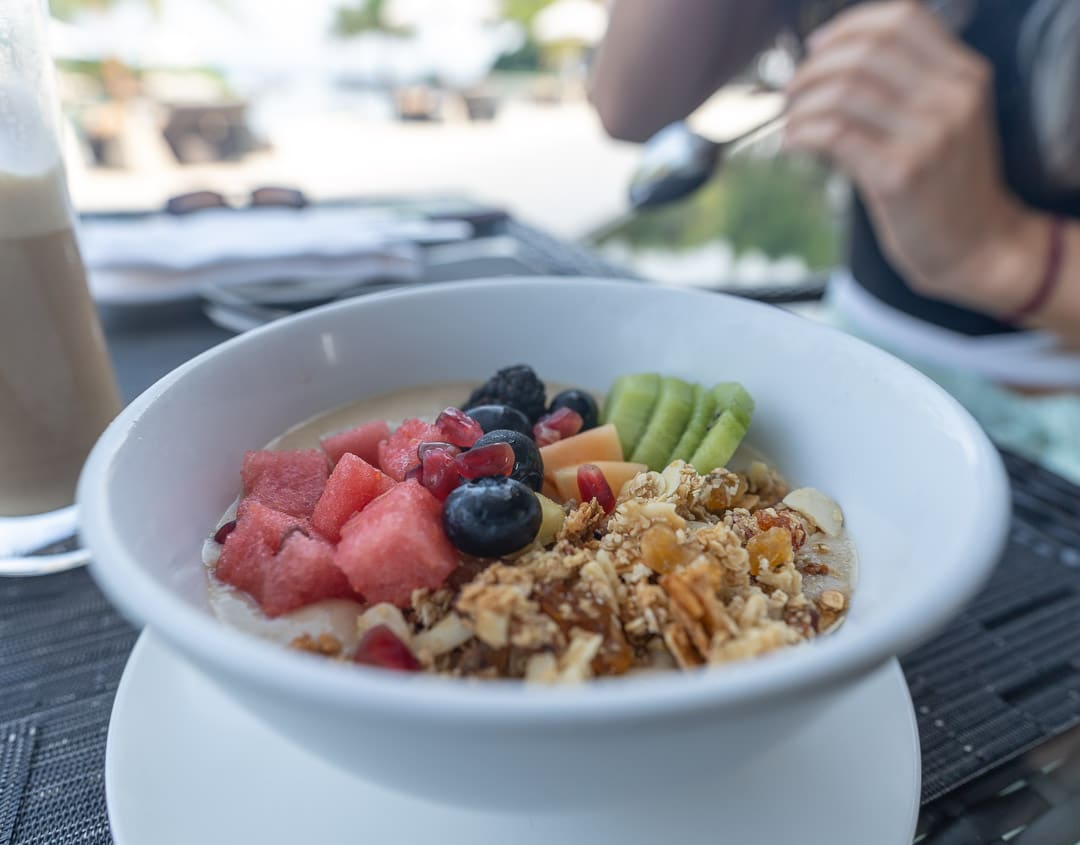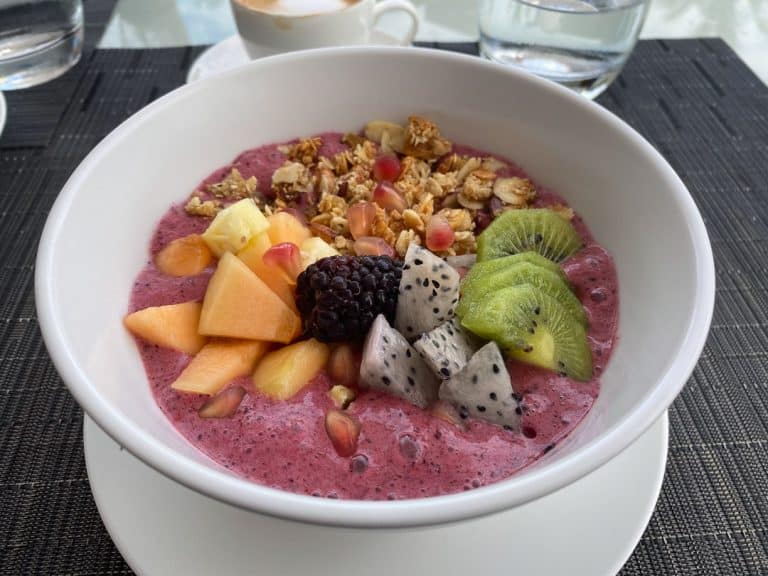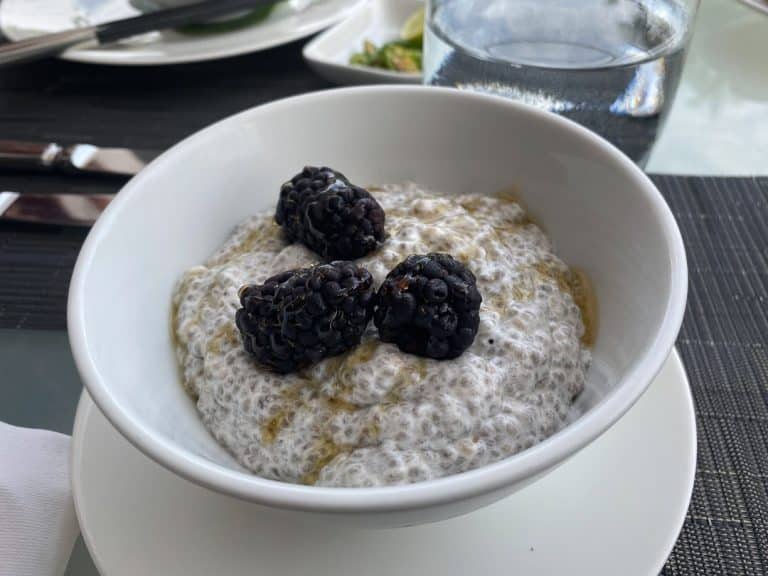 The carrot and beetroot hash and the green omelette were the kind of thing you'd expect to see in a trendy metropolitan coffee shop and both were very well executed.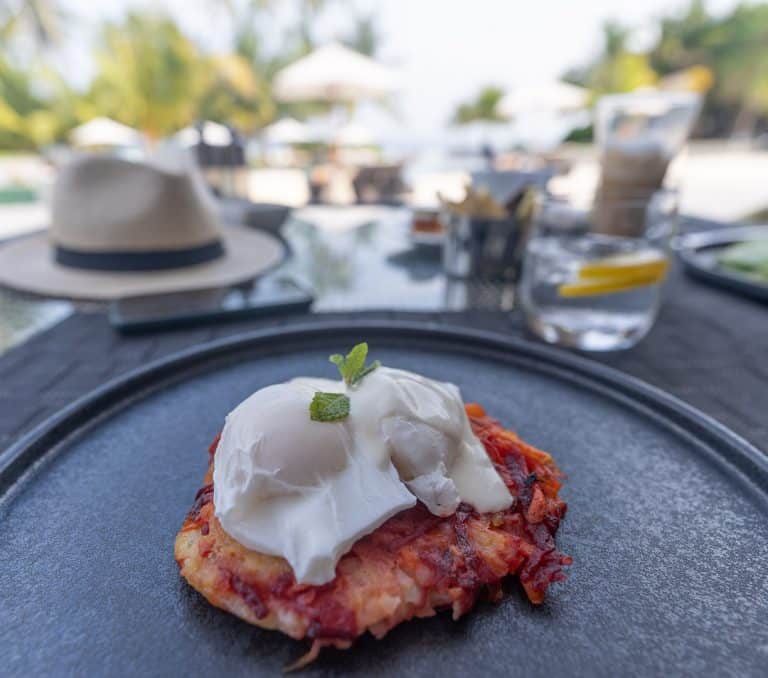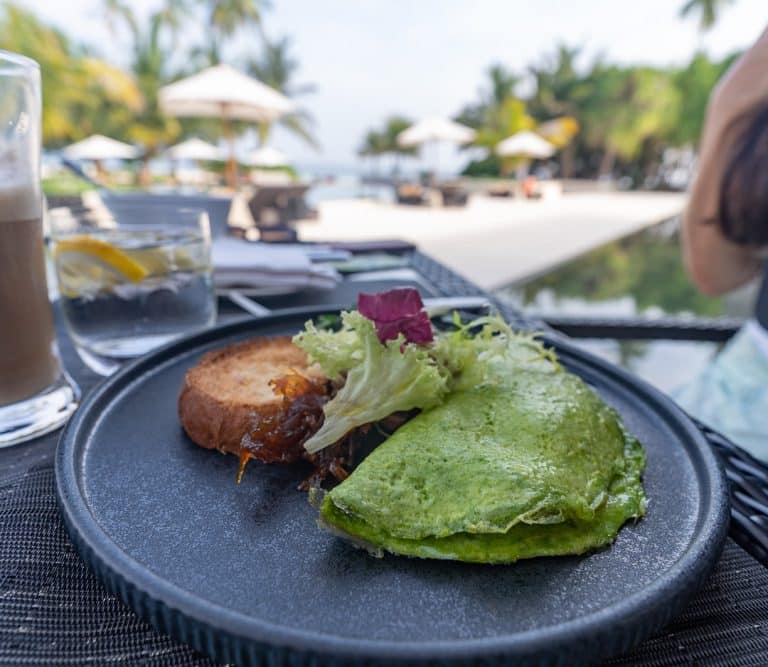 Speaking of trendy coffee shop favourites, where would a hotel breakfast menu be in 2021 without a smashed avocado dish? This dish was good but not great mainly because the sourdough was a little on the soft side. It lacked that real bite and unmistakable sour taste that you get at places like Ole & Steen or Gail's in London.
The frittata was delicious if a little more well done than I would personally prefer. The French toast was excellent.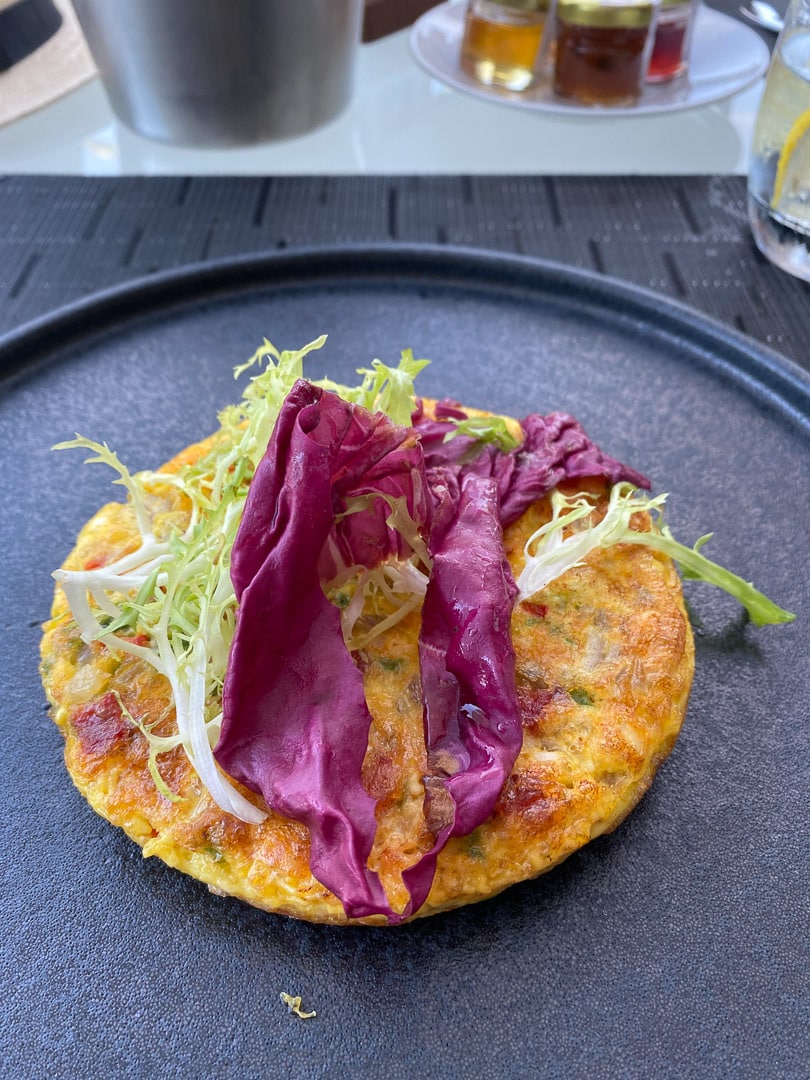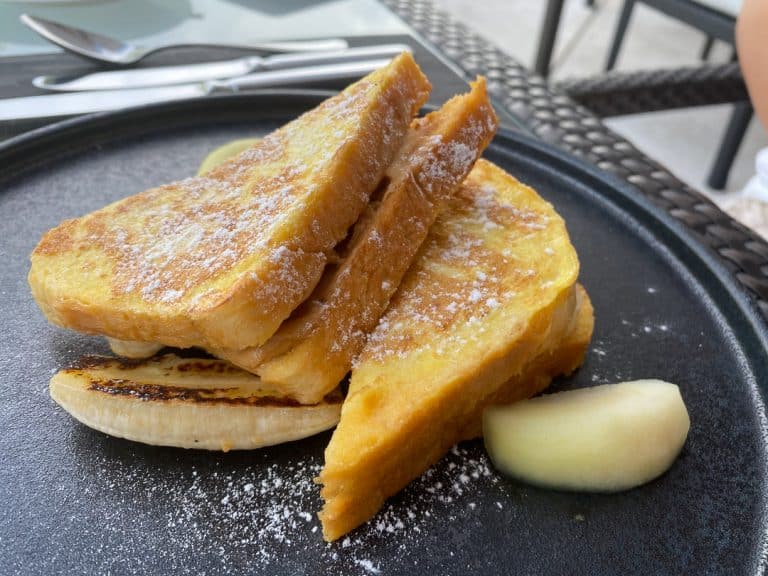 My favourite dish though? The pho, exactly like the one we had as room service and then again for breakfast at the Park Hyatt Saigon.
Lunch at the Dining Room
Usually by lunch time it was far too hot to sit at the tables near the pool so we looked for somewhere with ventilation overhead. This area between the Dhoni and the dining room was quite popular with larger family groups and given how different it feels to the main dining room I'm surprised it isn't rebranded as its own restaurant with a different menu.
The Dining Room itself had a very grand feel with its double height canopied ceiling and dramatically oversized furniture.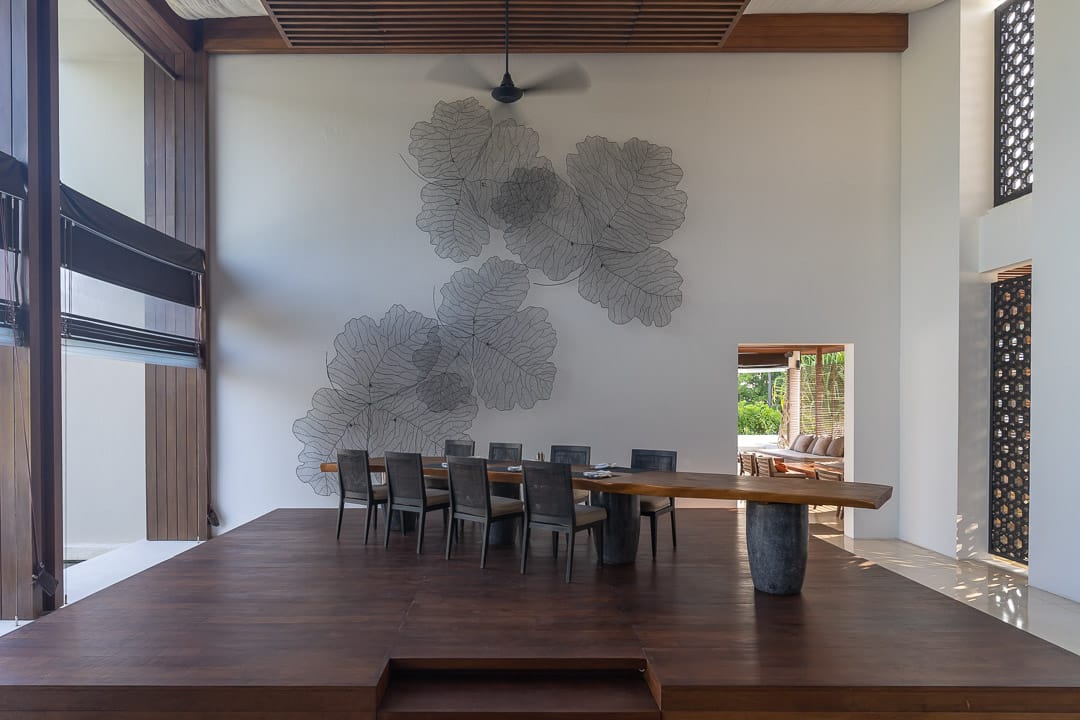 Breakfast was good but lunch was absolutely superb, every dish we tried was exceptional. The kitchen is blessed with a team of chefs from all over the world and nowhere was this more apparent than when I convinced Kamara to order her favourite Nasi Goreng.
She quite rightly noted that any time she orders it outside of Indonesia it's a monumental letdown. However having learned that one of the very friendly servers was Balinese I suspected the Balinese influence may extend into the kitchen.
The moment the dish arrived at the table I knew that my hunch had paid off. You could immediately tell that this was the real deal. The smile on Kamara's face after she took the first bite confirmed it!
Meanwhile my Maldivian Dhon Riha curry was amazing. I asked for it extra spicy and that's exactly what I got. The depth of flavour was superb, the rice was cooked to perfection and the roti was freshly baked.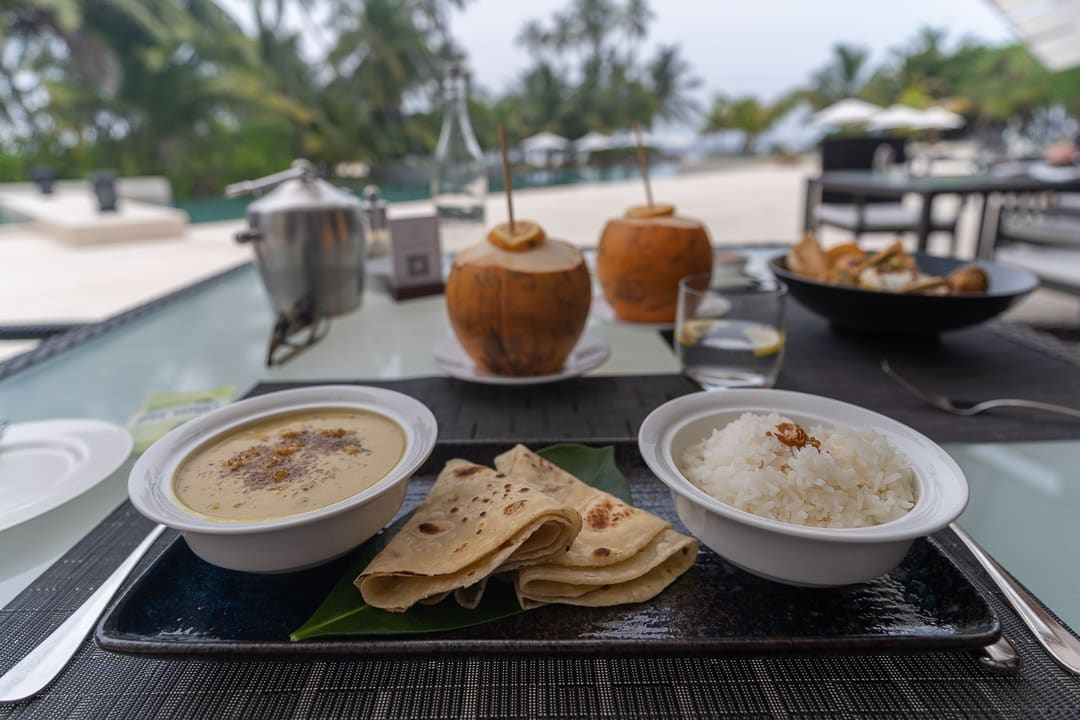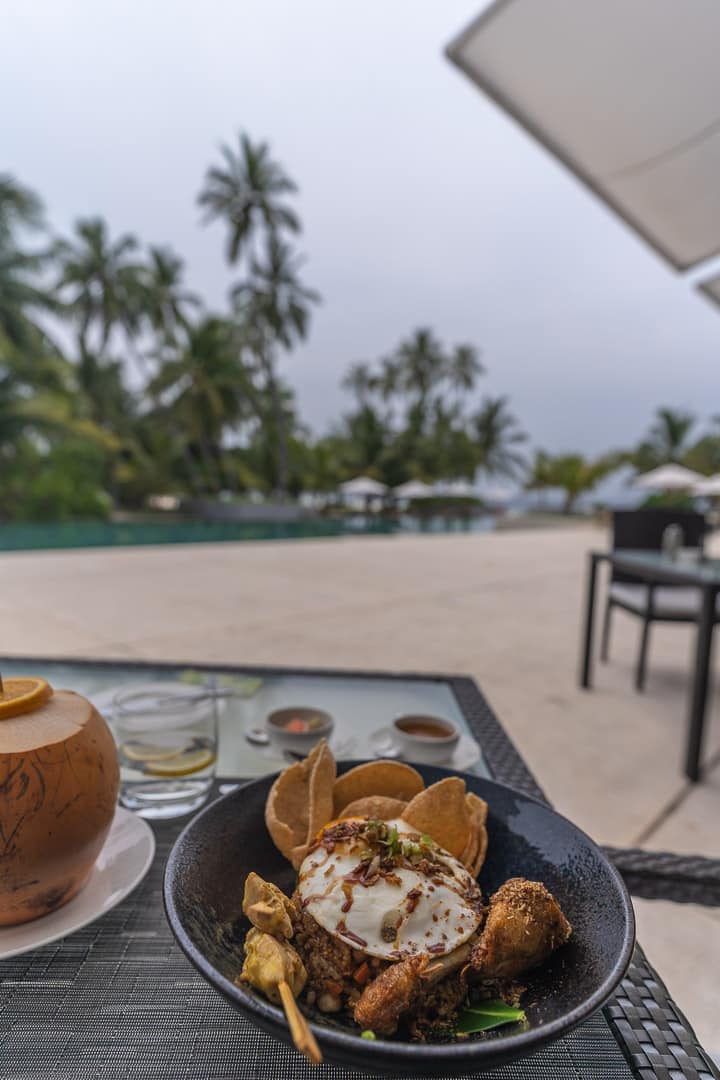 We were tempted to only ever order these two dishes but after seeing somebody else order one we couldn't resist trying a Napolitana Pizza. It was legitimately one of the best pizzas I can remember having in recent memory.
The crust was super thin and had an amazing crack as we bit into it. The ingredients tasted incredibly fresh too, the tomatoes had a real sweetness to them and the anchovies were very high quality and not overly salted, as can so often be the case.
The Bar
Located at the far end of the pool, the bar served food and drinks all day from 10am until the last guests went to bed.
We had lunch here on the first day since the Dining Room lunch service had already finished. The menu was identical though.
I tried the Som Tum, which was a lot milder than the Isaan levels of pure fire that I personally prefer but otherwise very tasty.
The calamari was the kind where the batter comes off like a small sock, another fallen soldier in the endless battle to find a superior dish to the salt and pepper squid at the Qantas First Class lounges in LAX and Sydney.
The gambas 'pil pil' and the fish tacos were both absolutely superb. The prawns had an almost confit-like softness to them and had received enough garlic to ruin a first date, which is exactly what you're looking for in this dish.
The fish batter was extremely crunchy and the protein itself was steaming and moist. Personally I'd have liked some guacamole to balance out the crunch and would prefer corn tortillas to wheat but overall these tacos were great.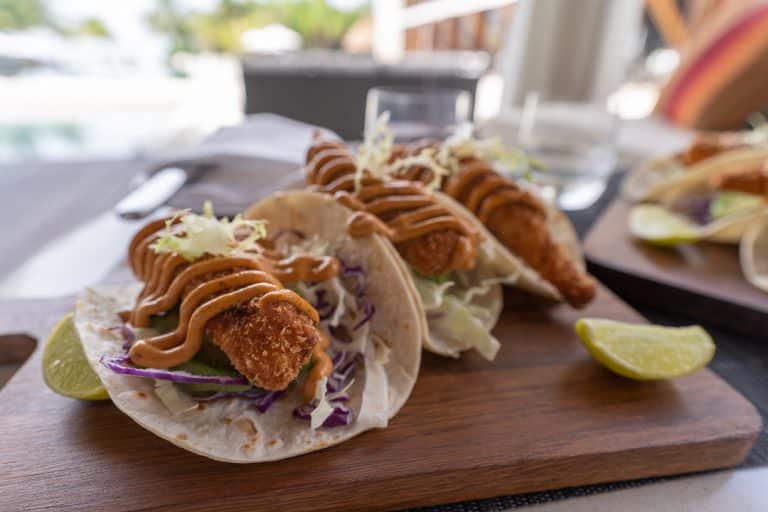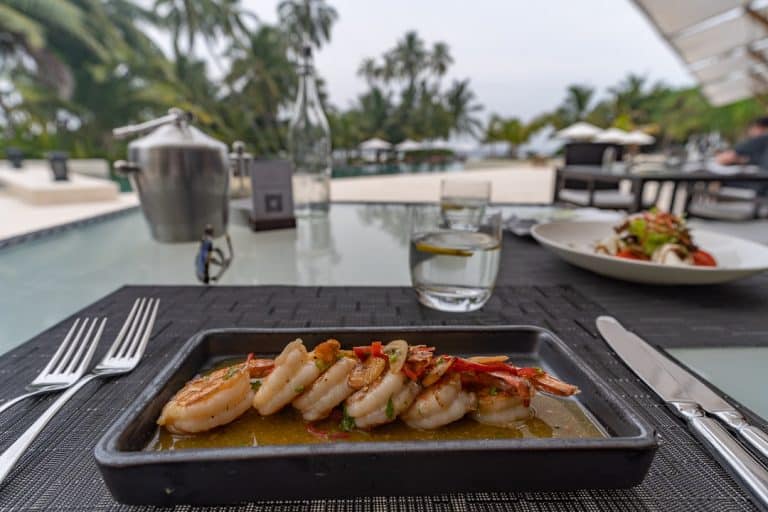 Kudos to the kitchen for seeking out corn tortillas after I mentioned this in passing to the GM (he really did come around every single day to check on every guest and ask questions like this).
The request got somewhat lost in translation as I was presented with totopos (tortilla chips) rather than soft corn tortillas but it was really resourceful of them to find corn tortillas of any kind in less than a day in the middle of the Indian Ocean.
At night the bar was completely transformed by gentle glimmering light of the pool and lanterns.
We came here for after dinner cocktails one day but came away rather disappointed. It feels like the drinks here are something of an afterthought. The menu looks like it hasn't changed since 1980, which is quite some feat for a hotel bought by Hyatt in 2011.
I'm all for classic cocktails and can understand and even admire when hotel bars ignore the fact that the era of speakeasies and molecular mixology ever happened.
There's an undeniable allure to somewhere like the American Bar at The Savoy that absolutely nails the classics.
However, the cocktail list was bordering on high kitsch: Grasshopper, Southern Sunset or 'For Her', anybody?
Kamara had a regular margarita which tasted like it had been made with the kind of tequila that people drink in their teens (and then go on to hate tequila forever).
My Paradis Margarita tasted almost exactly like Aesop toothpaste, which is something of an acquired taste as a dental product let alone a tequila based cocktail.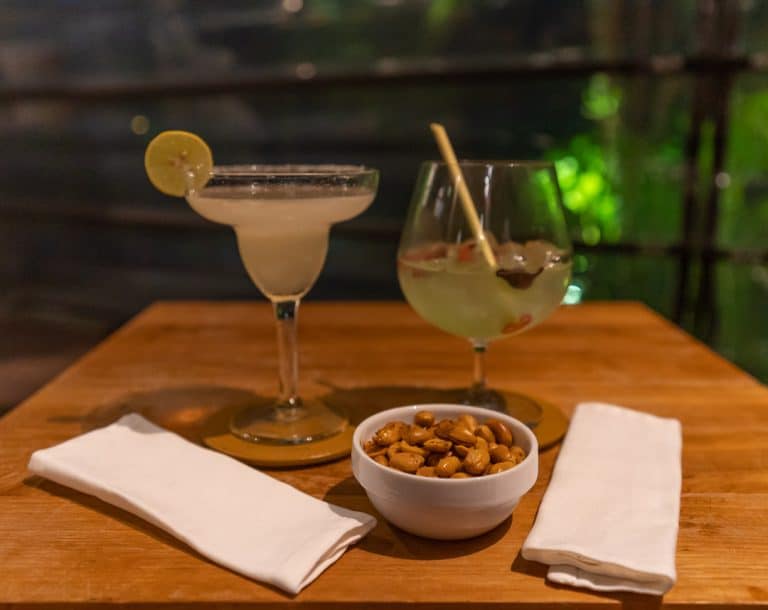 Fixing the drinks list is real low hanging fruit. A properly trained mixologist could radically transform this place in no time at all. I really hope they get somebody to create a far more streamlined list as well as introducing glassware that you'd expect at a hotel of this calibre.
Dinner at the Island Grill
The Island Grill is a sand floored restaurant open in the evenings only, it is chargeable to those on dining packages so tended to be quieter than the Dining Room.
The food was relatively simple but delicious (if a little oddly reliant on red cabbage as a garnish). The scallops were a particular standout dish.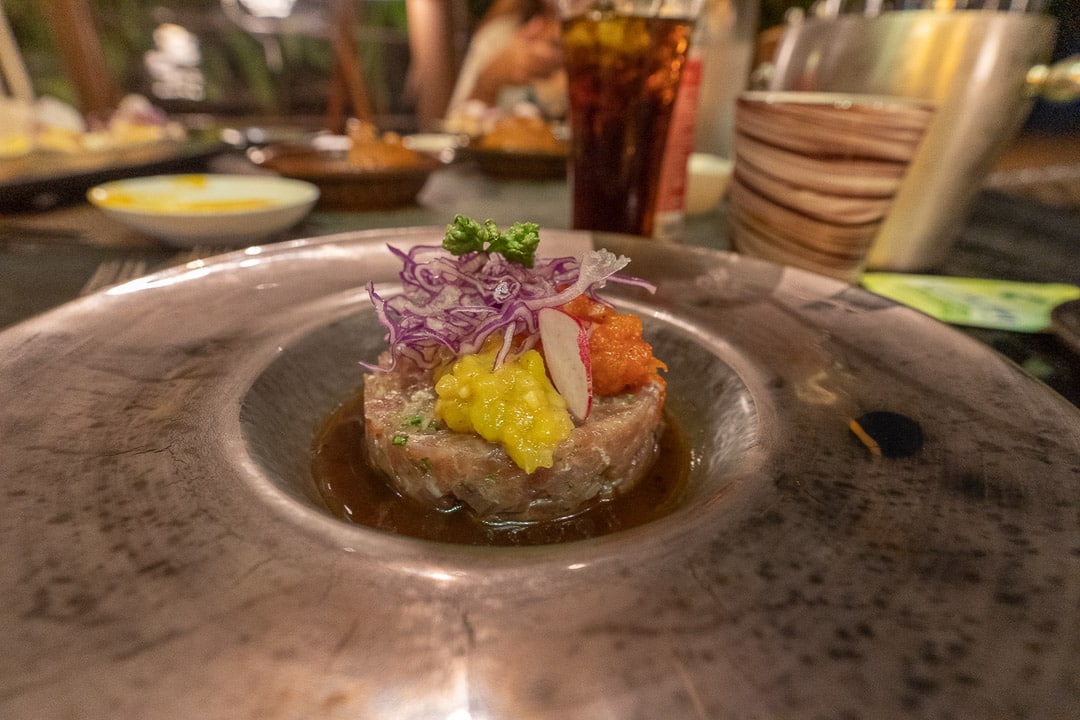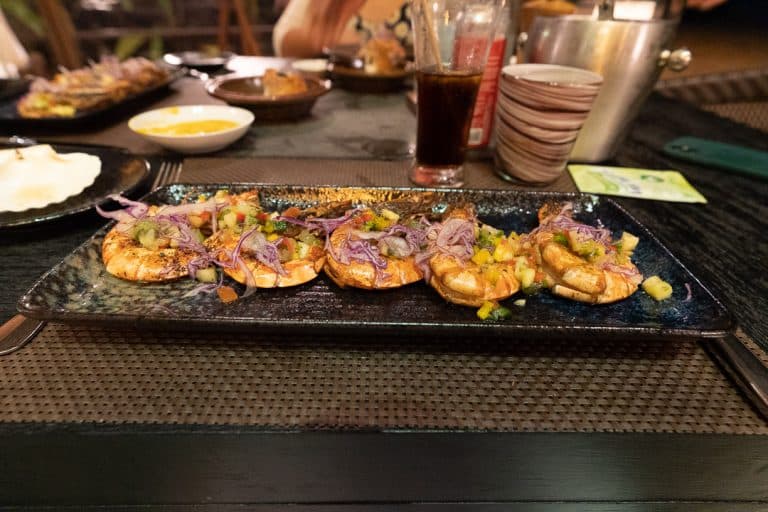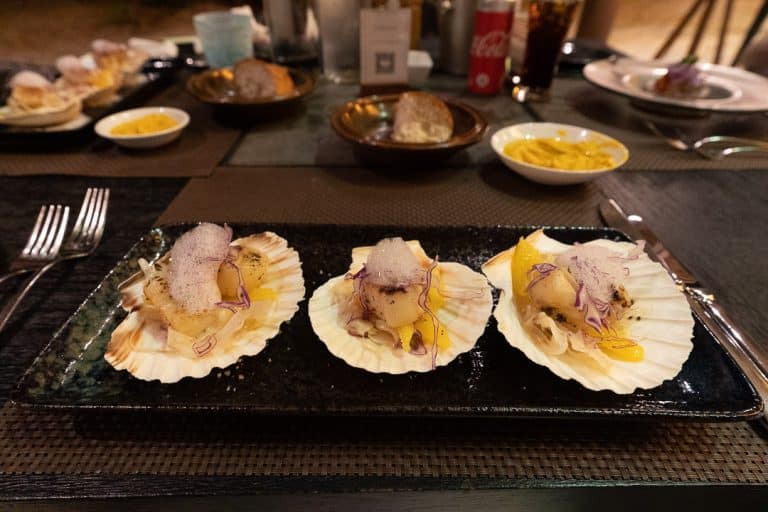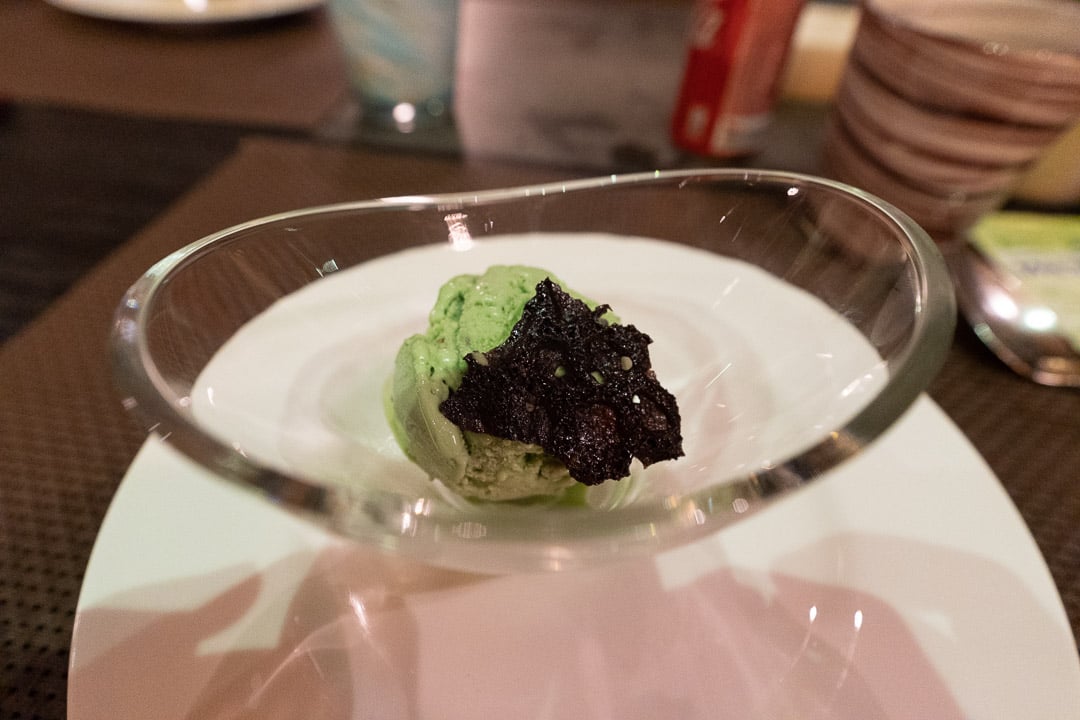 Maldivian Night at the Island Grill
One evening the Island Grill was transformed into a buffet of local Maldivian food. I love Maldivian fish curry but it can get a little boring after a while since it's normally the only Maldivian dish offered at resorts.
As such I was really excited to try some new dishes.
The variety was fantastic with a huge variety of hot, cold, sweet and savoury dishes on offer. My personal favourite was the whole grilled fish but I loved the vegetable curry too.
In addition to the Maldivian dishes there was also a station offering freshly grilled meat and seafood.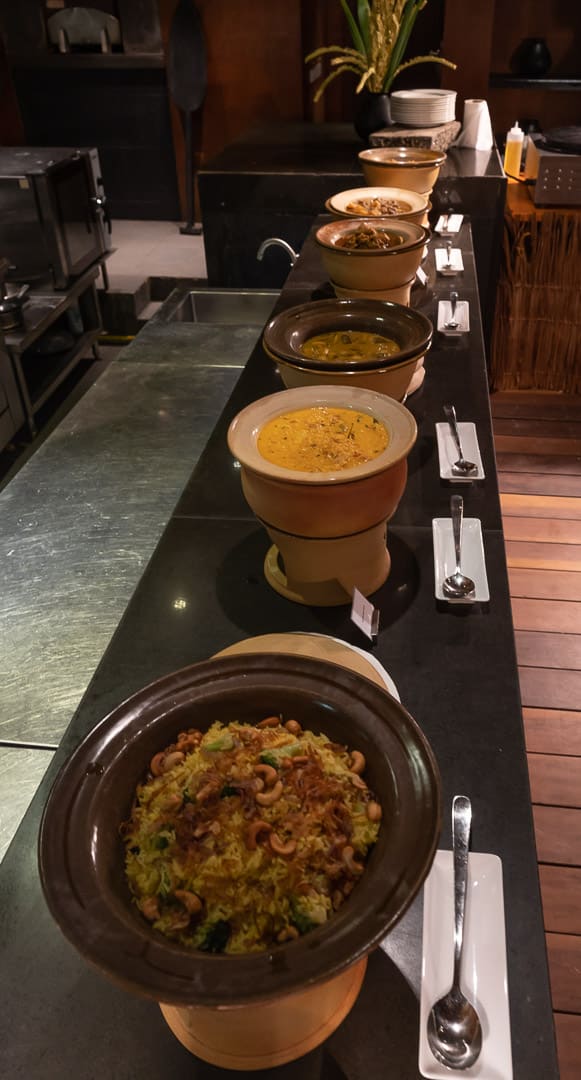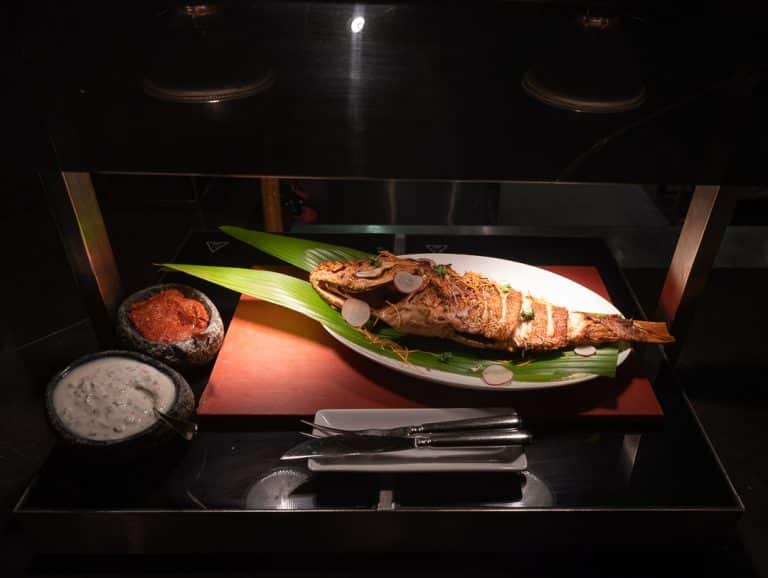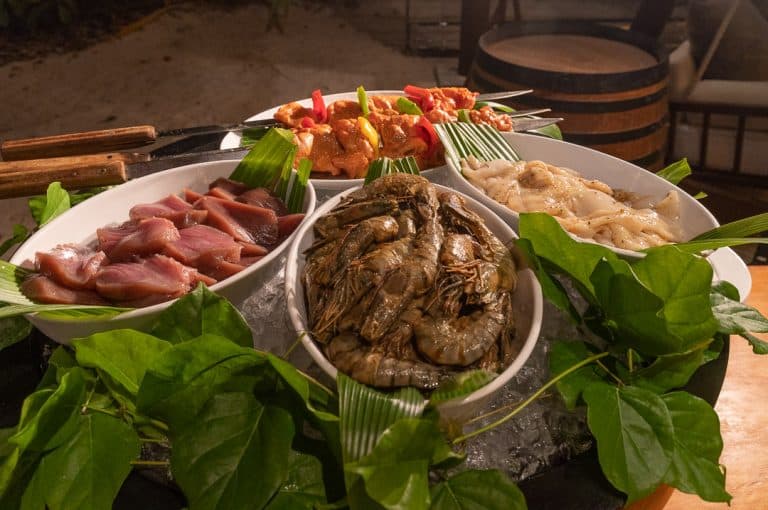 The freshly made dosa was a thing of beauty too. Dosas are so fragile and hard to get right, they start to soften up within minutes of being made so I always take the chance to eat one when I can see it being freshly made in front of me.
Similarly there were no rotis left to stand in a chafing dish, instead they were freshly made to order – a touch of extra quality beyond the usual buffet offering.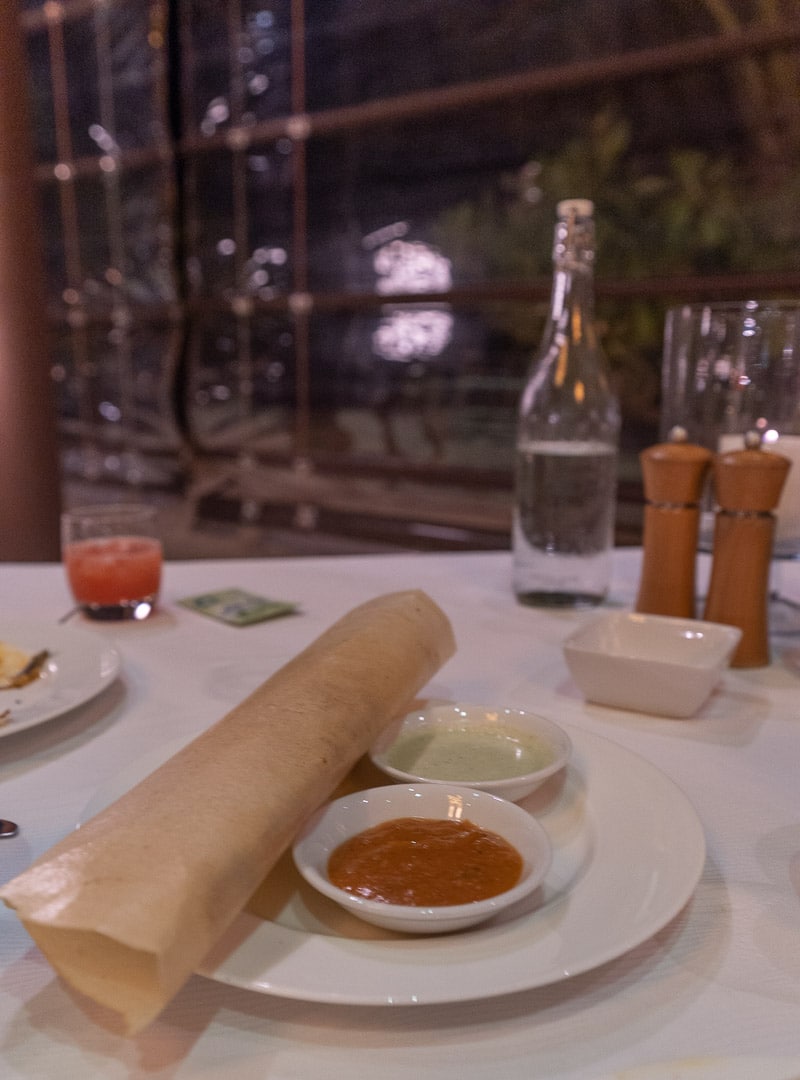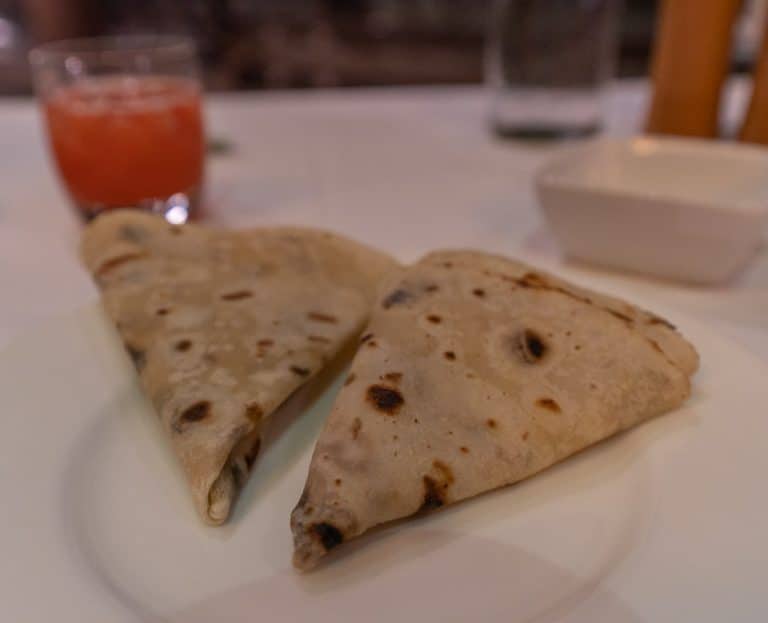 An extensive 'wine buffet' was also offered for a very reasonable $45++ per person.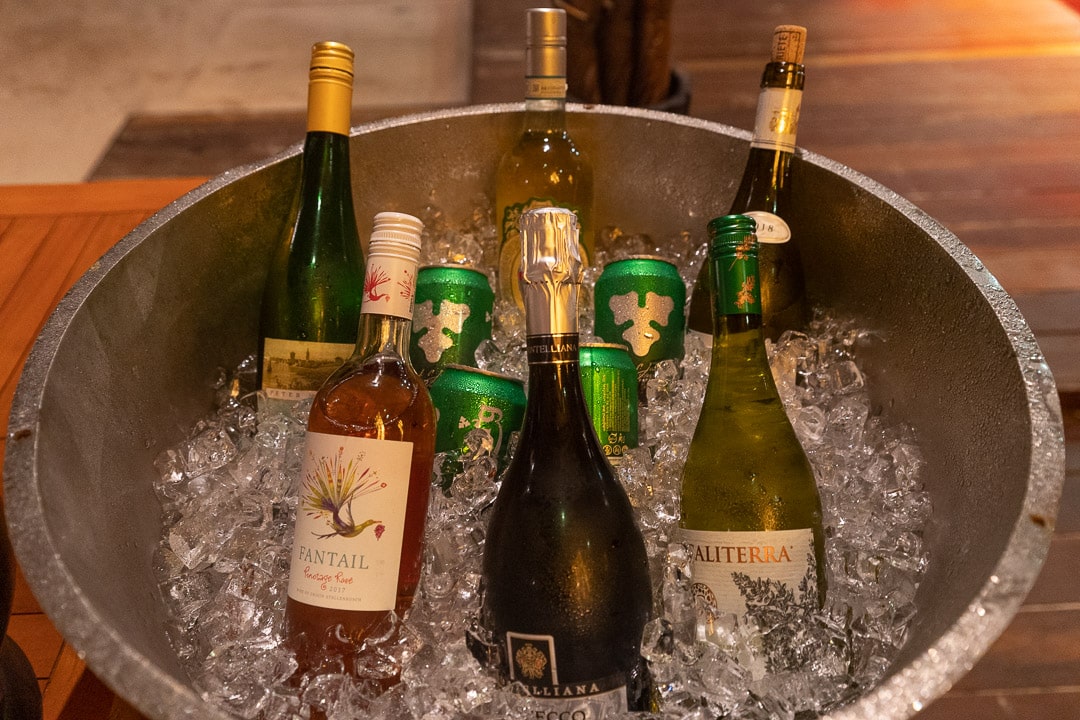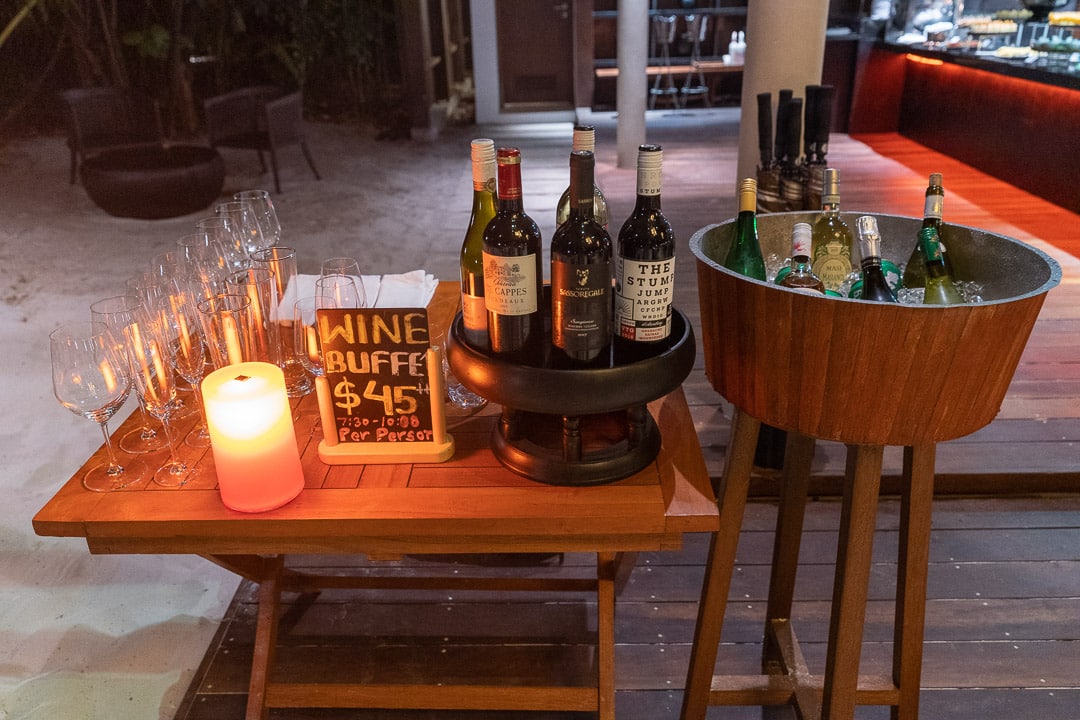 Dinner at the Dining Room
This is the standard dining option for those on meal plans but honestly it didn't feel like second best at all. The ambiance, service and food were all easily on the quality level of a flagship restaurant.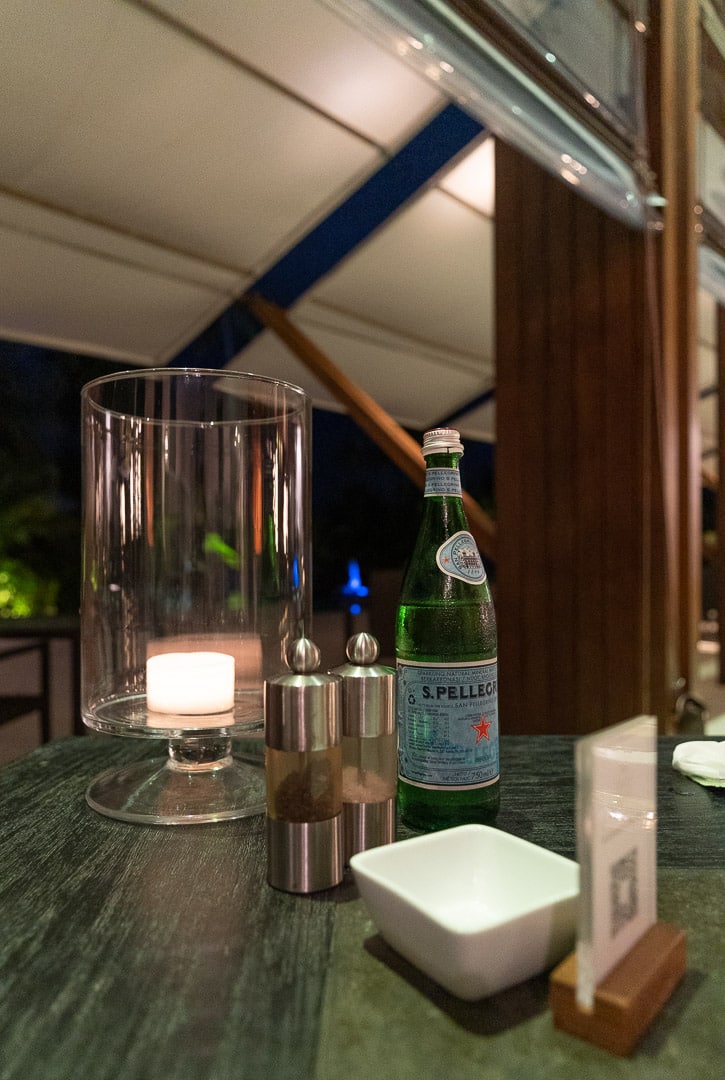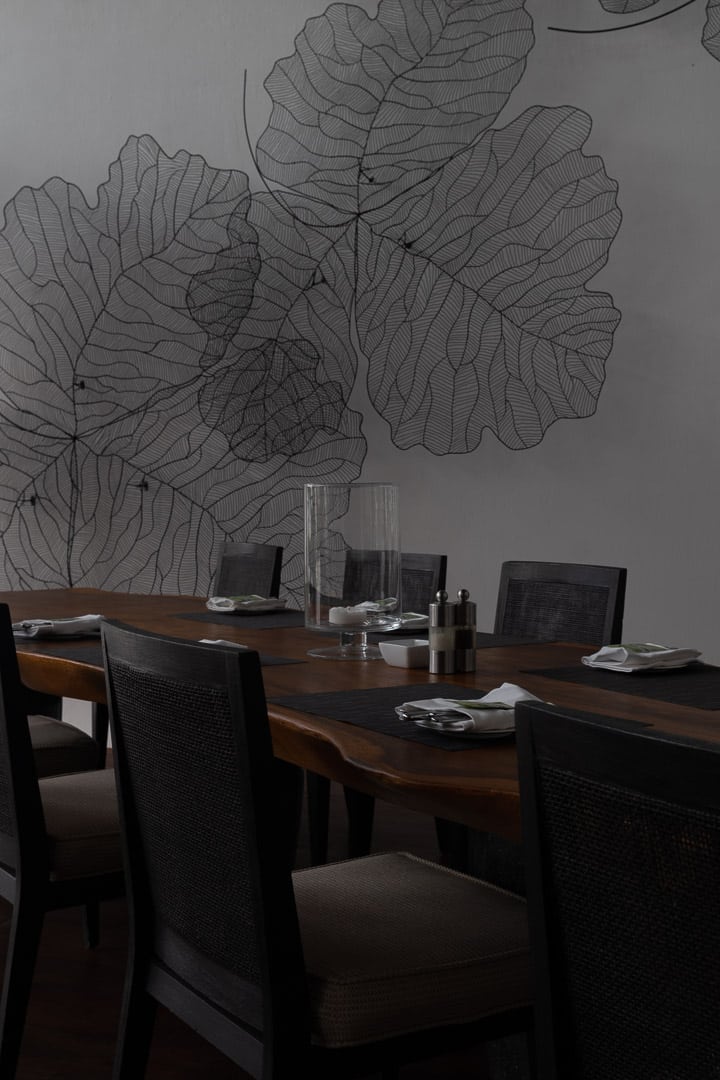 Indeed I personally preferred this restaurant to Island Grill since the menu had so many Indonesian influences and the poolside setting was so tranquil in the evenings.
The sateh skewers and grilled prawns with sambal sauce were packed with flavour, with home made pickles and lime providing a welcome sharpness to cut through the spice.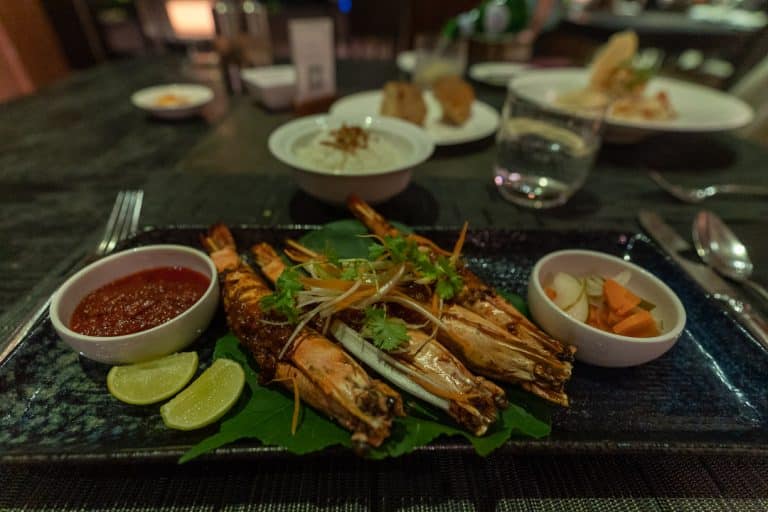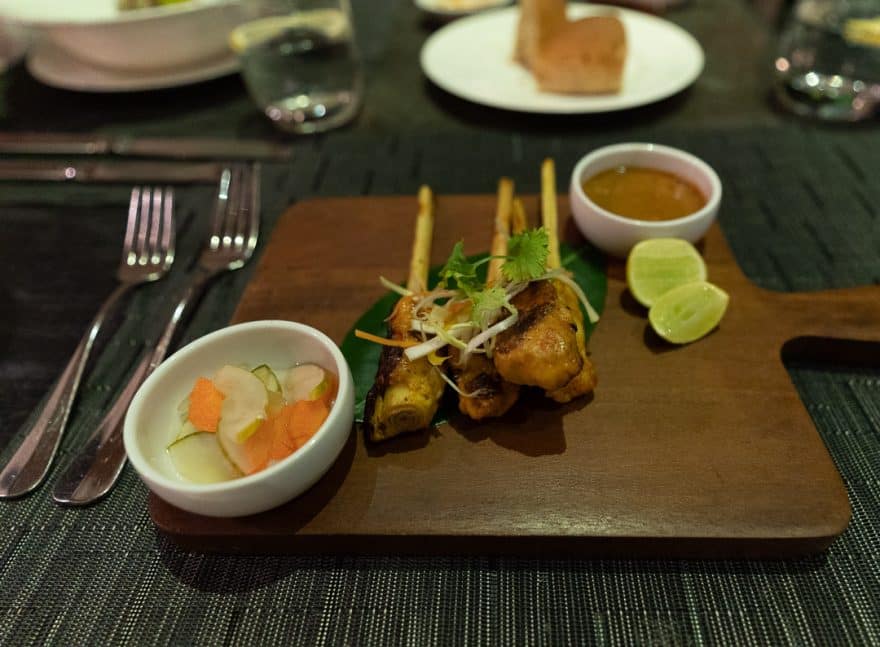 Kamara was in more of an Italian mood when we dined here and did not regret her choice at all. Both the seafood risotto and tiramisu were as good as similar dishes that we ate at NH Convento di Amalfi.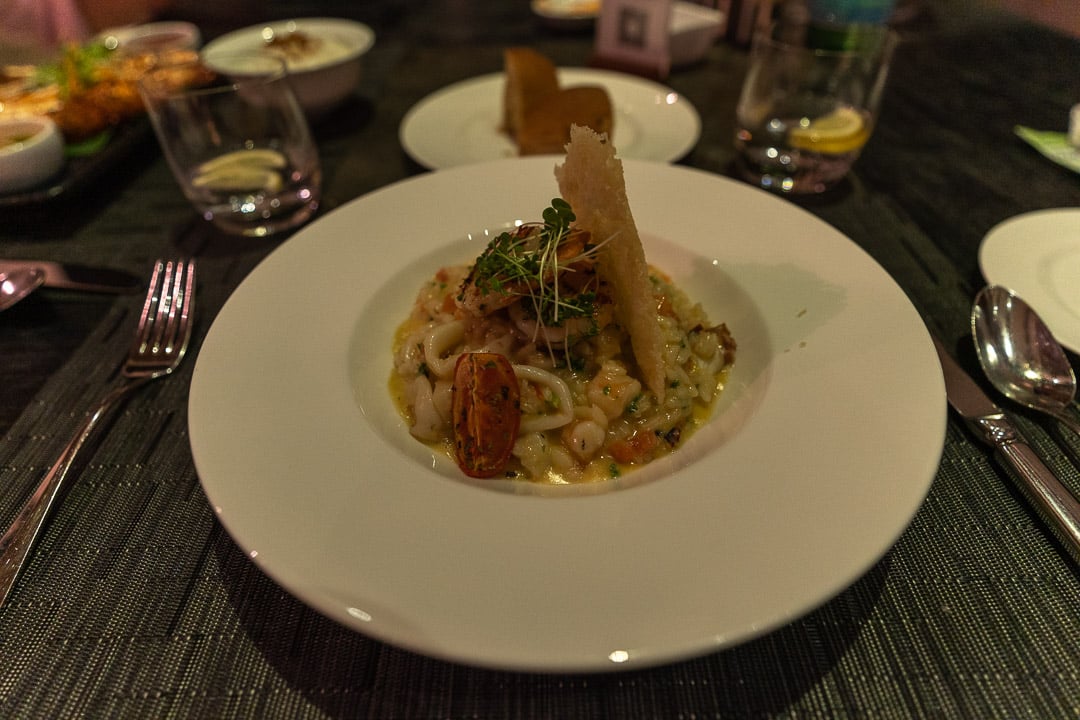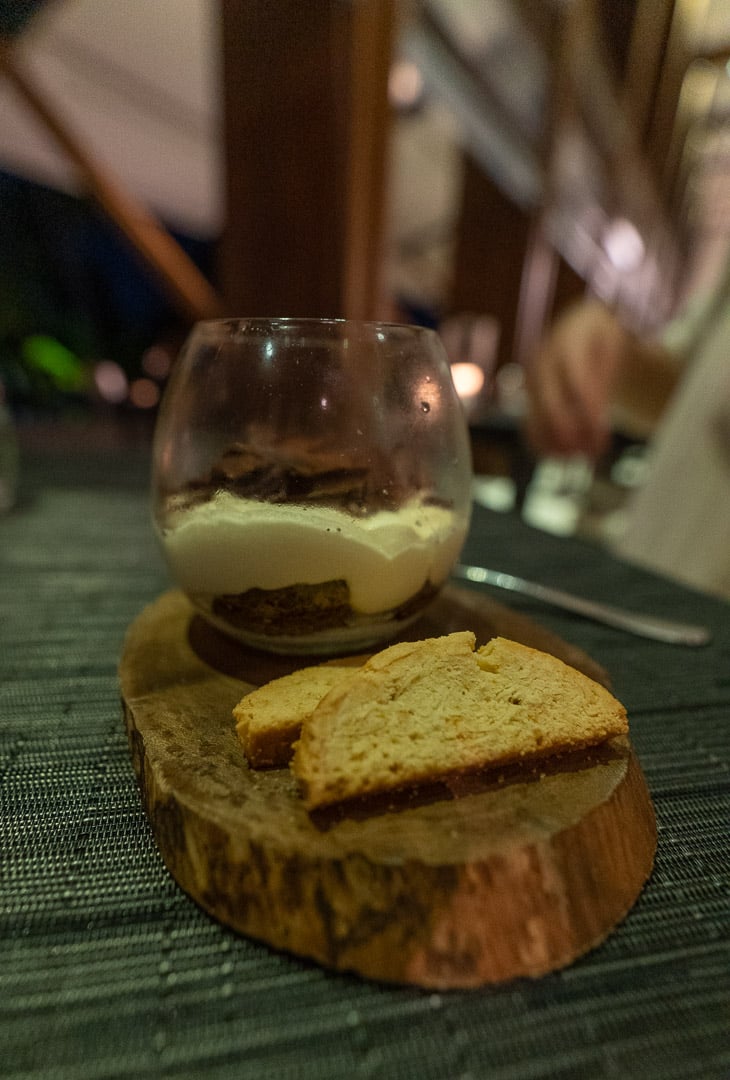 Room Service Dinner
On our first day at the Park Hyatt, Kamara was given a shot by the resort's impossibly kind and friendly doctor.
She had developed an allergic reaction to seaweed/the sun/something when we were at Amilla and the shot almost immediately improved her skin…whilst making her act like Hunter S Thompson in his heyday.
We thought it would be safer to keep her out of the public eye and enjoyed a quiet dinner on our pool deck instead.
We made our order over the phone and received our food around 40 minutes later. The server was great, he expertly laid out the table for us and was very outgoing, chatting with us as he prepared things.
Sauces, soups and garnishes were prepared tableside to ensure that everything reached us in peak condition.
The server also drew our attention to the fact that he'd left a tray near the table so that he could return to collect the mains and deliver our tiramisu around 30 minutes later. I thought this was a fantastic touch and not the sort of service level that is even possible at larger resorts.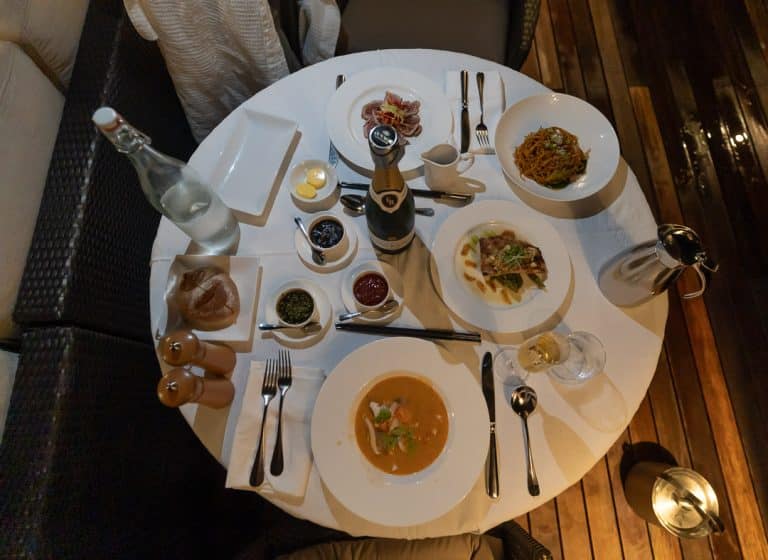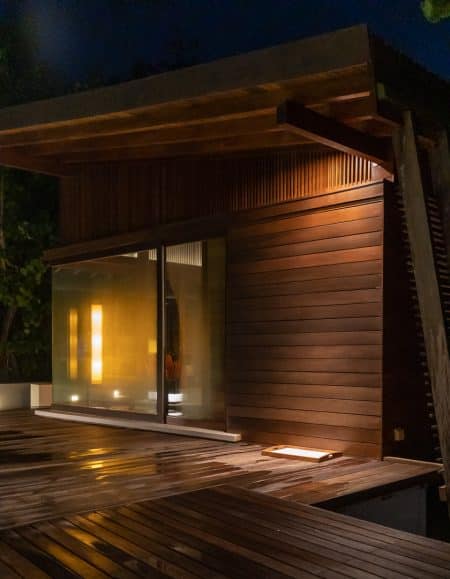 It really didn't feel like ordering room service was a compromise of any kind, we got a true restaurant level dining experience on our private deck with delicious food served at the correct temperature.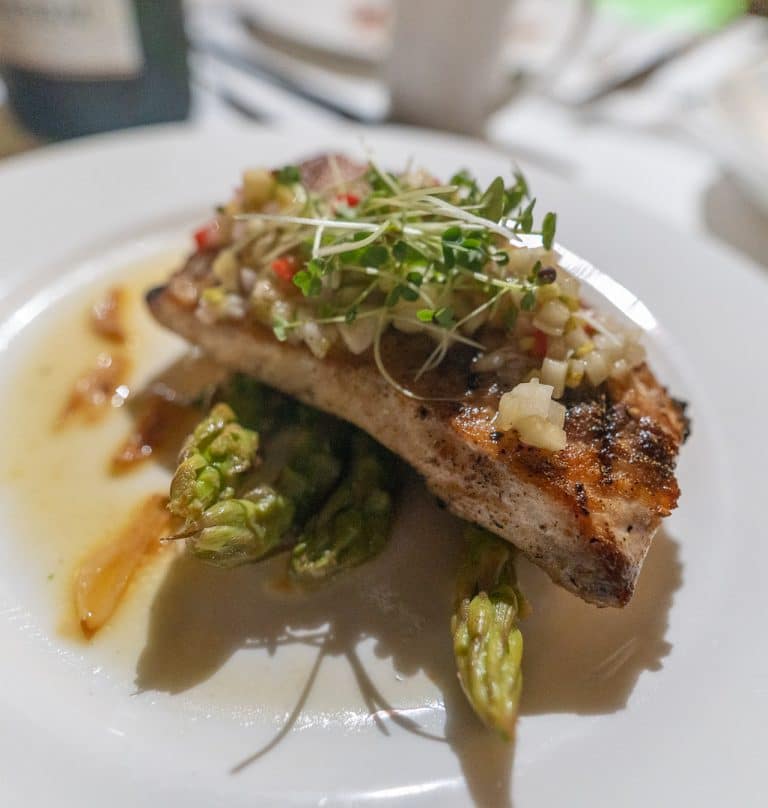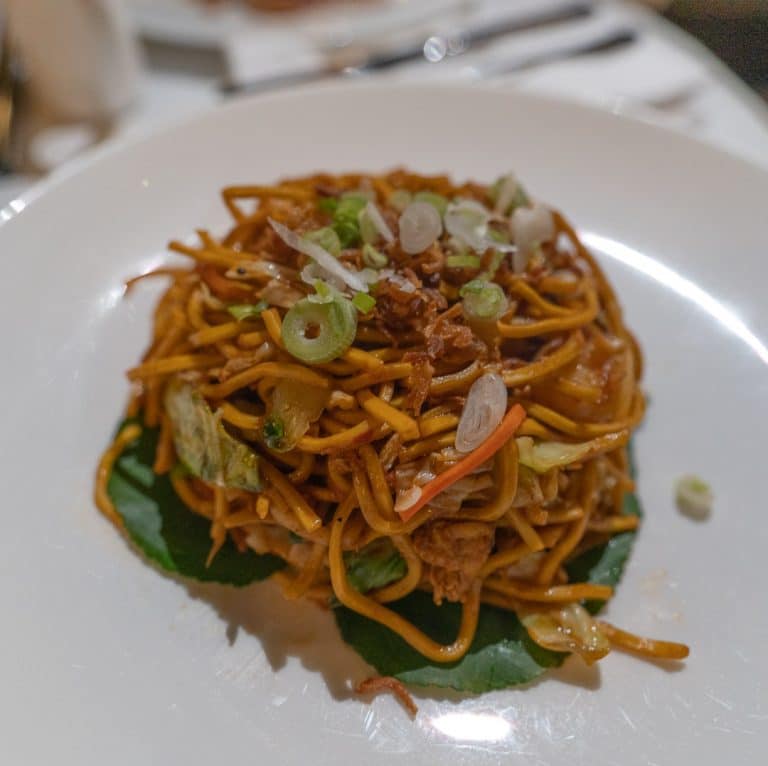 True to his word, our server returned with a fresh tiramisu just as we were finishing our mains.
---
Conclusion
---
Basics Checklist
☑︎ Power sockets near the bed
☑︎ Easy to understand light switches
☑︎ Coffee machine
☑︎ Separate shower and bath
☑︎ Blackout blinds
☑︎ Stable, fast and free Wifi
☑︎ Feather pillows
☑︎ Quiet and powerful aircon
People regularly ask me what the best resort in the Maldives is but really that's the wrong question. It's like asking what the best restaurant in London is. The answer is entirely personal and will depend on a number of factors which you will inevitably prioritise differently to other people.
Having said that, for me personally the Park Hyatt Maldives ticks the most boxes of any resort I've visited in the Maldives.
If you want a convenient transfer experience or tons of activities like jetpacks and waterskis, this is not the hotel for you. If you want a dazzling variety of different dining options you'll be better served by larger resorts like Anantara Veli or the Conrad Rangali (both of which also have stunning natural lagoons).
If you want the most extravagant overwater villas, you'll probably be looking at the Waldorf Astoria.
The Park Hyatt isn't attempting to compete with any of that though, it's not the point of the resort.
The transfer process is slightly longer than reaching a resort by seaplane and as a result it deters a lot of people from coming here. For those looking for a truly remote and tranquil island, this is the perfect barrier to entry. It keeps out the noisy groups looking to ostentatiously display wealth with as little effort as possible.
Indeed it's the only resort I've been to where guests regularly greet each other and interact as if they were residents of a small village (which they effectively are).
A lot of Maldivian resorts are like fast food: convenient, nicely packaged, initially satisfying but ultimately devoid of substance.
The Park Hyatt is the antithesis to this. You have to work harder to get here and on the surface you may feel like you're missing out because you don't have a water villa with a slide. However, there is an undeniable atmosphere of serenity that envelops the island that no amount of money can replicate at a larger resort, closer to Malé.
The architecture is also my personal ideal: elegant, clean and timeless. I can appreciate the audacity of maximalist design (indeed The Reverie Saigon is one of my favourite hotels in the world) but for an island getaway I find that less really is more. I don't need a water hammock or cargo nets which I'm never going to use.
What I did appreciate was a clear view to the horizon, minimal boat traffic, a 360° reef and the most unbelievable sand quality I've ever encountered in the Maldives.
If that sounds like your idea of paradise then the Park Hyatt Hadahaa is probably the resort for you too.
---
Book online with Hyatt Privé benefits
---
Hyatt Privé Partner Booking
Click the image to get the best available, flexible rate and also receive:
• Priority room upgrades, subject to availability
• Full breakfast for two in room guests
• $100 Hotel Credit
• Welcome amenity
• Early check-in/late check-out, subject to availability
Note: You will still earn stay credit and ALL elite benefits, exactly like a direct booking with Hyatt.com.
---
Enquiries
---
Are you looking to stay at multiple properties?
Send us an email here and we'll manage your bookings for you and secure you extra benefits, over and above a direct booking.
If you aren't sure which resort to choose and would like our advice, please fill out our quick & easy Maldives form and we'll match you up with your perfect property.
---
More Maldives Reviews
---
We are a luxury travel agency specialising in the Maldives, with plenty of first hand experience!
Here is a selection of our most recent Maldives hotel reviews:
---