Alila Villas Uluwatu
Location: Bali, Indonesia
Loyalty Program: GHA Discovery / World of Hyatt
Room Type: One Bed Villa (4th tier)
Cost: £370 per night
Priority Booking: Hyatt Privé
---
Sunrise
---

One of my favourite things about travelling far away is that there are always going to be residual elements of jetlag. You may wake up thirsty at 5am, have a sip of water and suddenly feel like you can't get back to sleep.
"What's good about that"? You may well ask yourself.
Sunrises in bed. That's what.
---
Breakfast
---

Once the sun had gotten reasonably high into the sky I leapt onto the sofa, slid the glass doors open and jumped straight into the pool. This was followed by a delicious Illy double espresso.
A note on the fantastic Alila service:
The staff caught on within the first few hours of our stay that I drink loads of coffee. When they came to do turndown on the first evening they left a fresh set of Illy capsules for us.
Similarly when K requested a tea after lunch that we didn't have in the room, we found 4 extra tea bags of that flavour waiting for us back in the room upon our return.
Given the beauty and privacy of the villas we felt that it would be a shame to leave our little citadel of luxury for breakfast. Thankfully we were able to order our morning meal using a very intuitive ordering system on the Galaxy tablet.
The breakfast arrived within 30 mins and it was exceptional.This time they saw my request for coffee and did one better. They brought me an entire fresh can of Illy capsules, as well as my freshly made cappuccino!
A word of advice, one breakfast is more than enough for two people, especially if you plan on having tasting menus for dinner and pitchers of frozen margaritas by the pool during the day!
On the first day we had our breakfast by the pool. We had two waiters setting up our table and refreshing our tea and coffee making facilities in expert fashion whilst making pleasant small talk and ensuring to ask if we needed anything else at all.
After finishing our food, the weather was looking absolutely perfect. We took a quick dip at the villa before heading down to investigate the main resort pool.
---
The Main Pool
---

The main pool at Alila Villas Uluwatu almost needs no introduction. The image of the sunset cabana extending over the cliff's edge next to the infinity pool is iconic in the travel industry. Any top pools or luxury resort list is positively anaemic if it lacks a shot of this spectacular piece of design.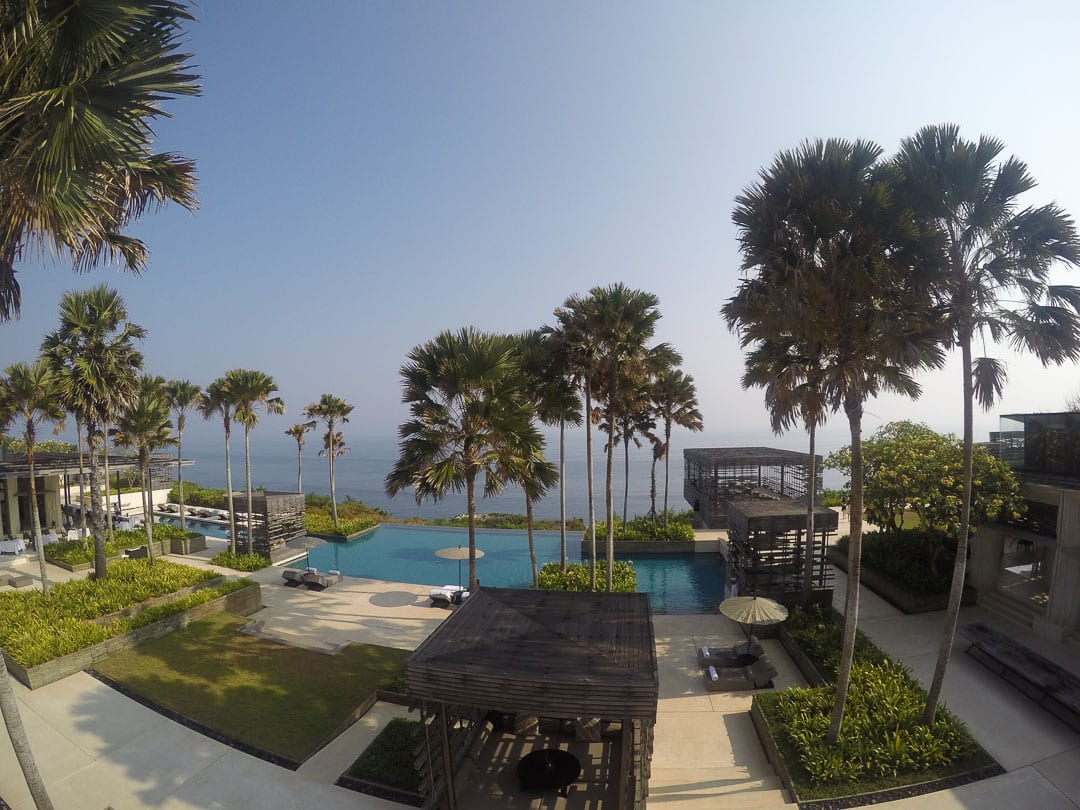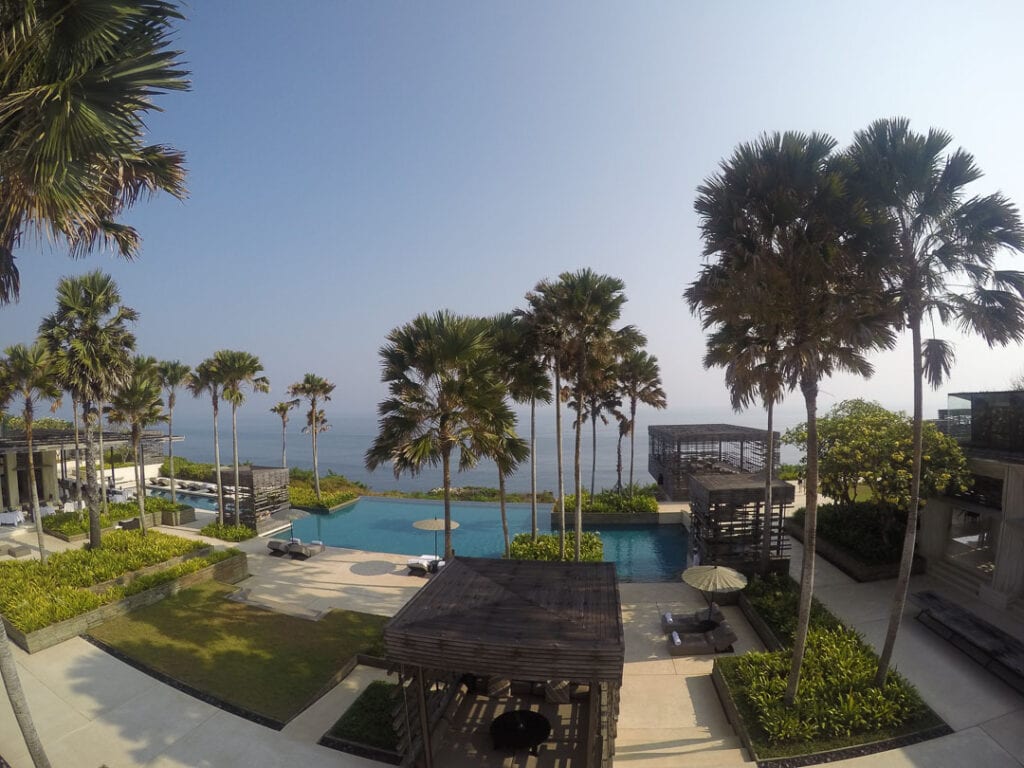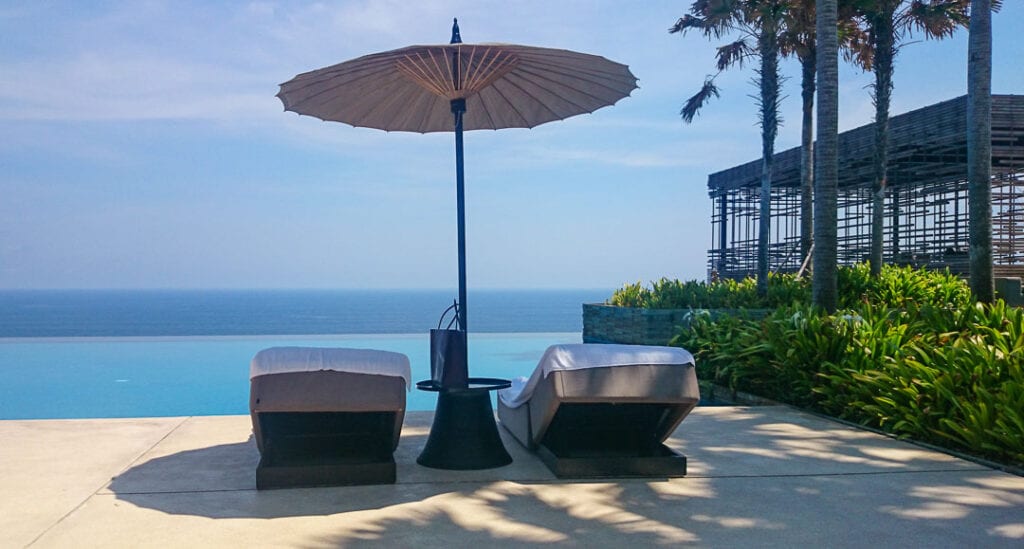 Beyond the aesthetics, the service at the main pool is also incredibly detailed and thoughtful. As we approached the loungers we were immediately asked whether we preferred sun or shade or perhaps we could take two sets of loungers and have both. Whilst our loungers were being prepared another member of staff appeared with a large wicker basket.
Inside it were a selection of ice cold amenities: Water, sunscreen, cooling mist, moisturiser, mosquito spray and scented towels as well as some food and drinks menus.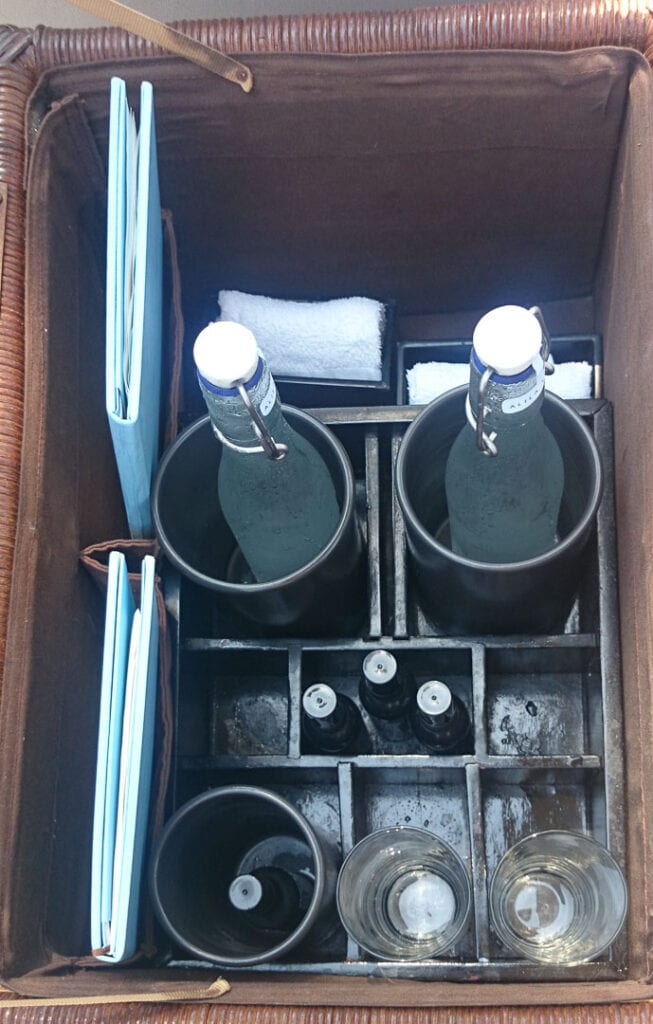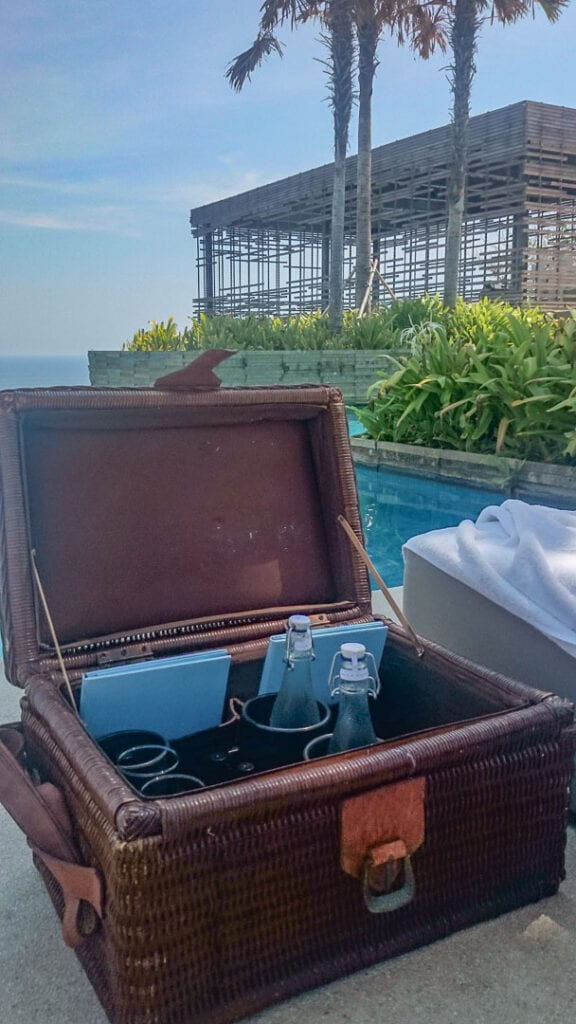 Everything you need to relax for a few hours by the pool, swimming and sunbathing.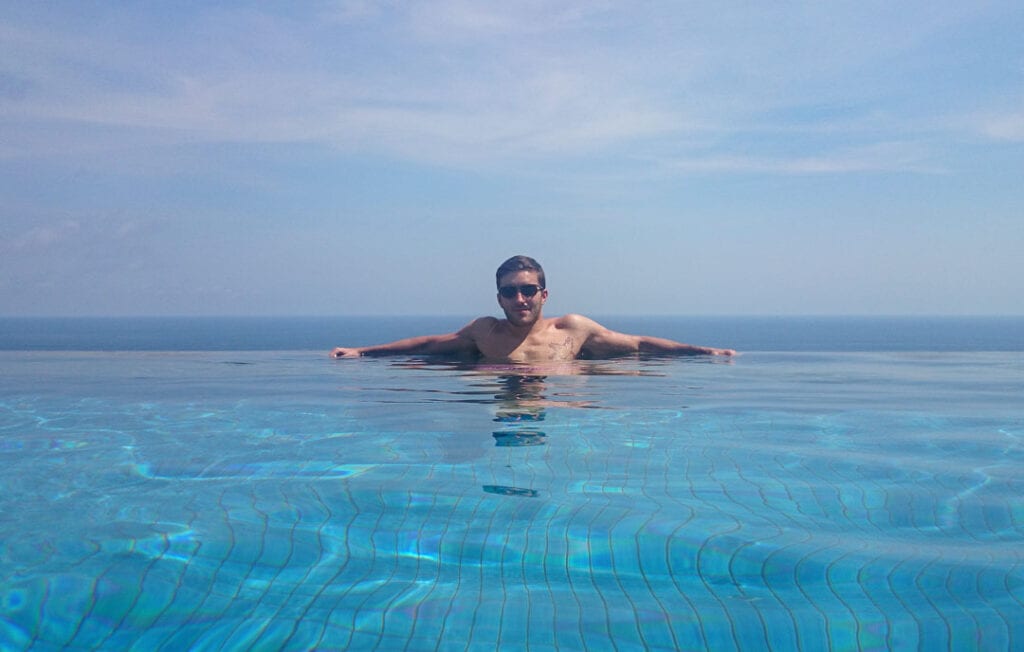 ---
Lunch at Warung Restaurant
---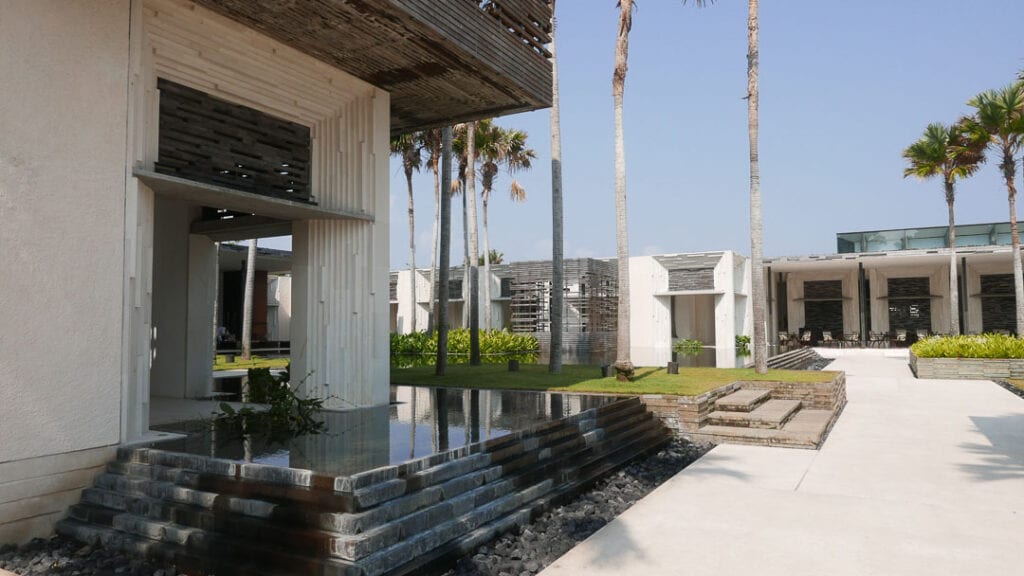 Since we had lunch and dinner each day at Warung, we got to know the staff quite well and they always surprised us with little extras. The service and food were of the calibre that you would expect for a resort in this price range. The prices on the other hand were actually cheaper than London prices (although London isn't cheap so make of that what you will).
Warung restaurant
The private bale and cliffside shrine
This was one of the most memorable meals of my life. Kamara and I both agreed that it was one of those moments that we'd keep revisiting in the future, our memories never quite capable of re-capturing the taste of the food, the sound of the ocean and wildlife or the sight of two endless blues- above and below, meeting in the horizon. The combination of all these elements was perfect. Reason alone for us to return one day, for one more meal if nothing else.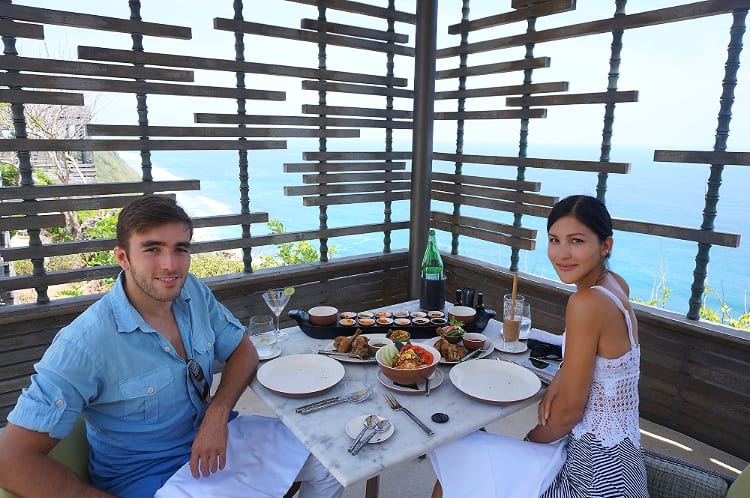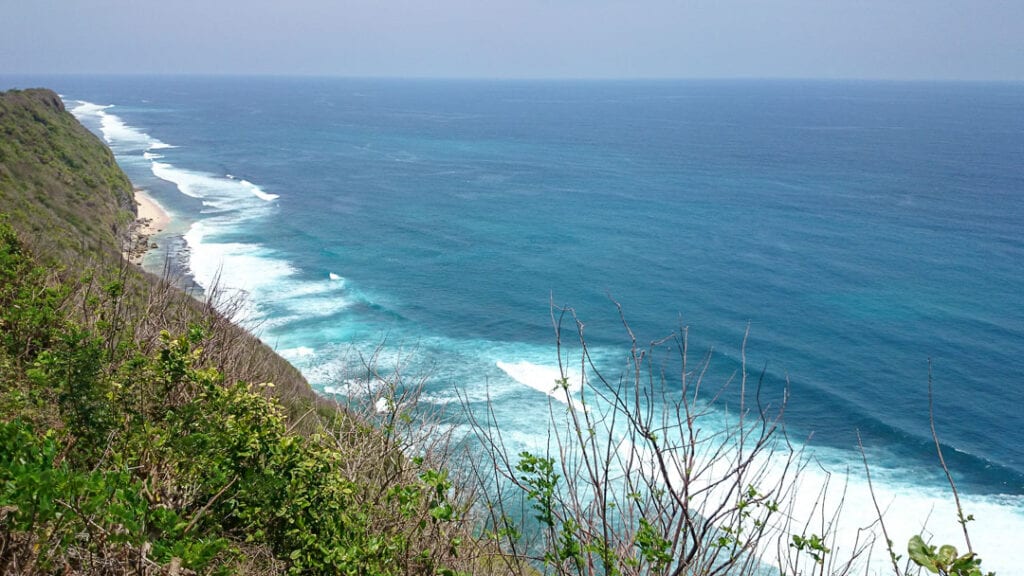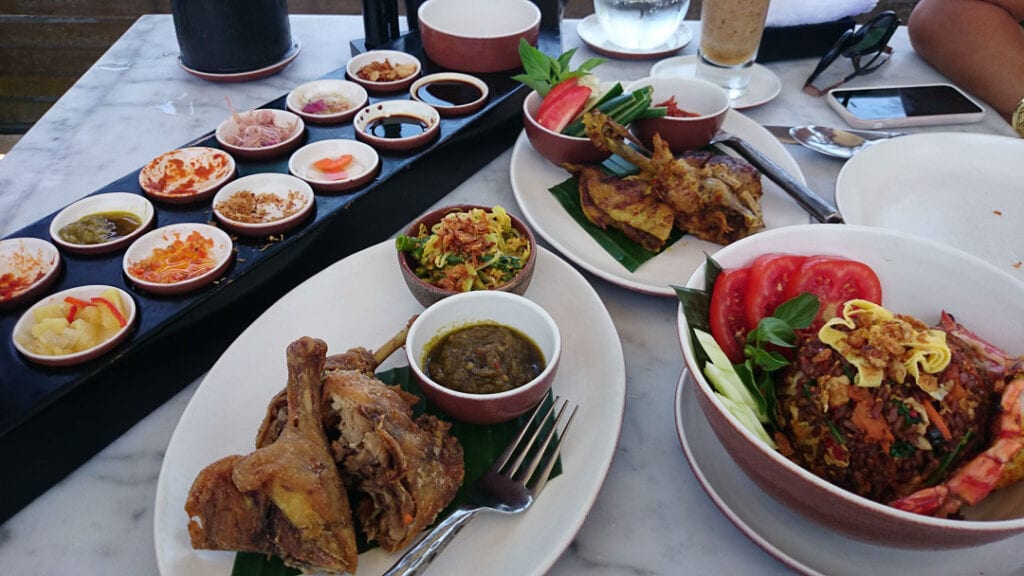 ---
Departure
---

As soon as we finished our meal we headed to the lobby area to check out. It was one of the hardest things I've ever had to do. My only consolation? The knowledge that Bali is only ever one mistake fare, or sweet spot miles redemption away…
We took an Alila car for the short 35 minute ride to the airport.


A vanity mirror and controller for the radio. (please excuse the blurry pic, the roads are a little bumpy!)

The ubiquitous Alila Living amenities even made it to the car

Even now, months later, this image is heart wrenching
We were met kerbside by a very courteous and friendly Alila employee who (rather unnecessarily) assisted us with check-in, made sure we had prepared money for the exit fee and carried our hand luggage for us, all the way to immigration. At which point he told us which direction our gate was and bid us farewell.
Great service from Alila, from start to finish. Probably the best hotel I've ever had the pleasure of staying in.
---
Book Alila Villas Uluwatu with Hyatt Privé benefits
---
Hyatt Privé Partner Booking
Click the image to get the best available, flexible rate and also receive:
$100 Hotel Credit.
VIP Airport Fast track arrival.
Full breakfast for up to two in-room guests.
Alila Villas Uluwatu Welcome Package.
Complimentary scheduled Alila Experience.
Complimentary morning yoga session,

from 7.30am – 8.30am.

Early check-in/late check-out, subject to availability.
Note: You will still earn stay credit and ALL elite benefits, exactly like a direct booking with Hyatt.com.
Alila Uluwatu can be booked directly online by clicking the "BOOK NOW" image.
First time booking with us? Here's how to quickly get set up:
---