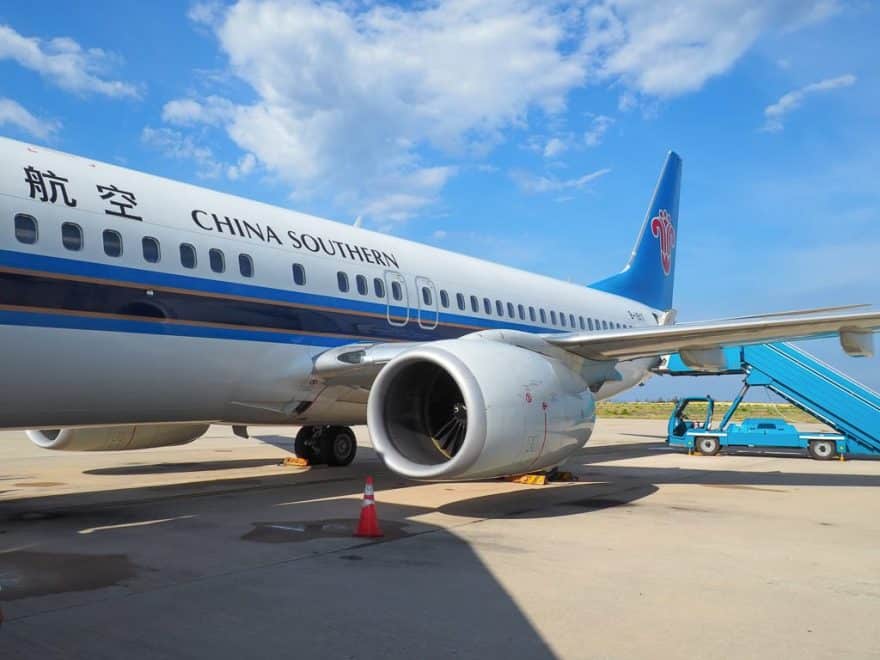 REVIEW – China Southern : Business Class – A321 – Guangzhou CAN to Saigon SGN
March 22, 2020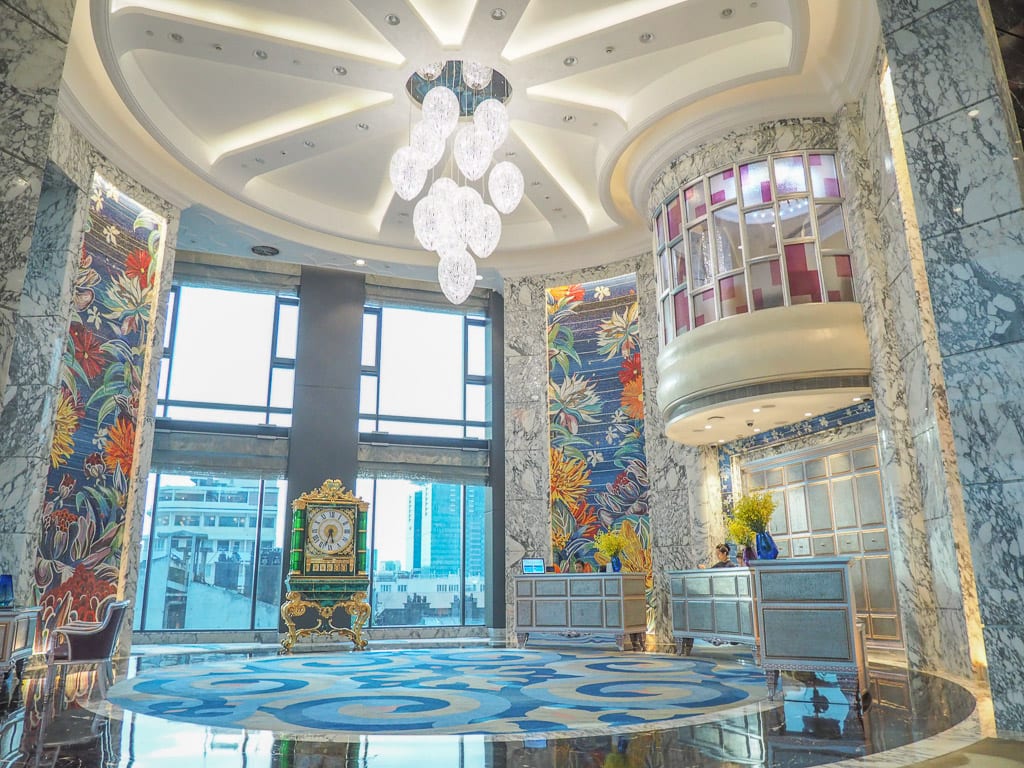 REVIEW – The Reverie Saigon (Vietnam)
March 29, 2020
Park Hyatt Saigon
Room Type: Deluxe Room with Pool Access

(upgraded from Deluxe Room)

Status during stay: World of Hyatt Discoverist
---
Booking
---
As a Hyatt Privé agent, I'd always recommend booking a Hyatt Privé rate at this (or any other) Hyatt property.
You'll get the Hyatt.com best available rate plus you'll also receive:
Free Breakfast
$100 dining credit
Early check-in and late check-out
Complimentary room upgrade (subject to availability)
You can book a Hyatt Privé rate at the Park Hyatt Saigon for yourself by using our online booking portal:
BOOK THE PARK HYATT SAIGON WITH PRIVE BENEFITS
If you're booking with us for the first time, here's a quick guide on how to use the booking portal:
If you are planning an itinerary involving multiple rooms or properties, please get in touch for immediate booking assistance:
---
Arrival
---
As I mentioned in the intro to this whole trip report, I booked this hotel more than anything to throw a complete curve ball at Kamara, making her think this would be where we were spending her 30th birthday. I know she loves Park Hyatt hotels and she would never suspect that we were going to only spend one night here before moving to another Saigon hotel that is on a completely different level.
We used Grab to get a car from the airport to the hotel since the Park Hyatt's transfer didn't seem to offer a discernable value at £72 for a 30 minute journey. Grab was around £5 in a clean and new sedan where the driver assisted us with our luggage and spoke English reasonably well (Uber has worked for intermittent periods in Saigon but Grab is my go-to ride hailing app throughout Asia).
We arrived at the hotel around 10pm and we were greeted at the car and assisted with our luggage.
The hotel is located on a busy square opposite the Saigon Opera house and despite opening in 2005 is built to resemble a classical, colonial property – which is rather unusual for the otherwise modern and minimalistic design ethos of the Park Hyatt brand (Park Hyatt Palacio Duhau in Buenos Aires is also furnished in a similar style but occupies a restored mansion building so this makes some sense). Whilst unusual for a Park Hyatt, the design is still very elegant and the enormous crystal chandelier, expansive floral display and grand staircase certainly make for a very impactful first impression. I also enjoyed the touches of modern art dotted around, letting you know that this is still a Park Hyatt!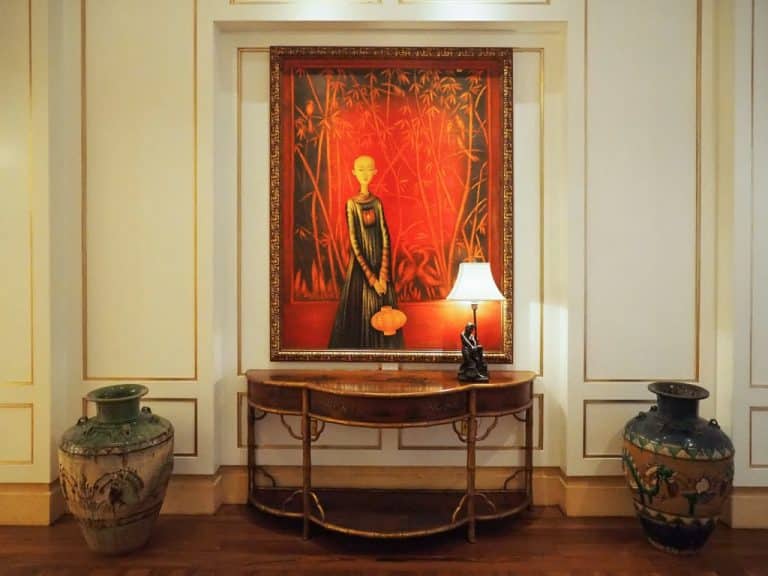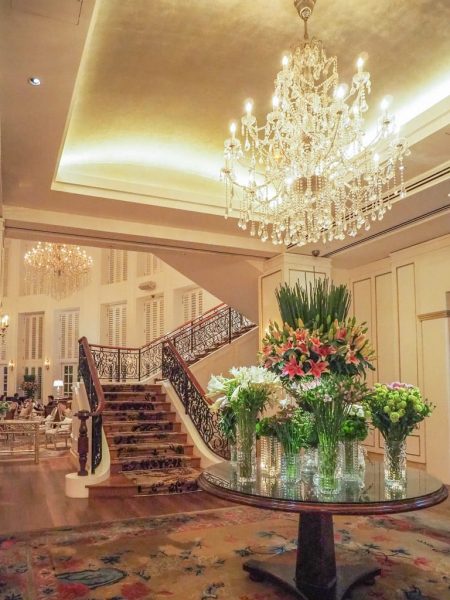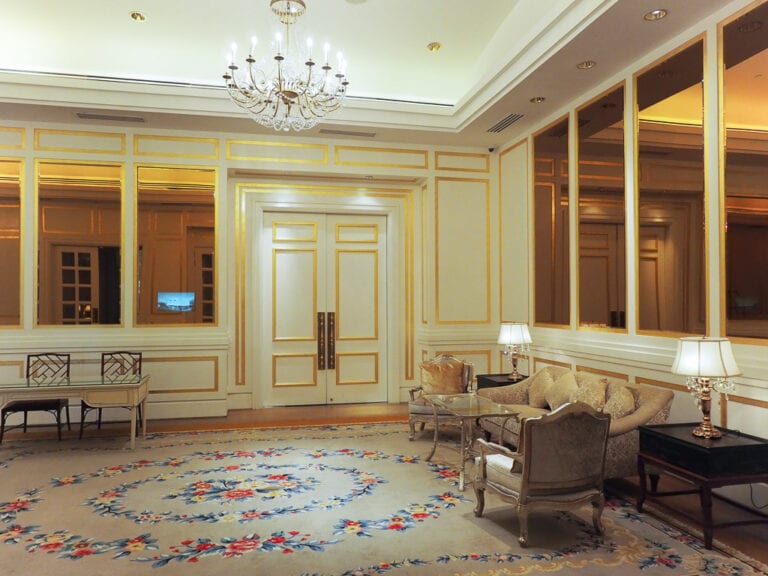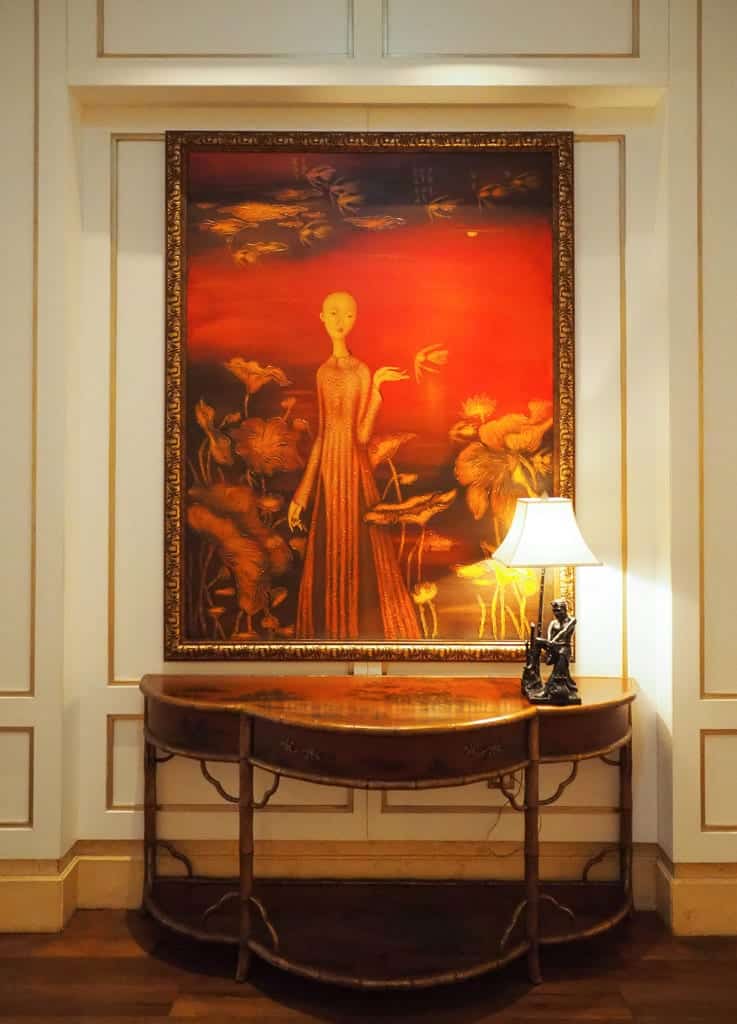 The check-in experience was fantastic. The receptionist was extremely thorough and professional, taking the time to explain all the various features of the property and also detailed our Classic Travel booking benefits. Although the room upgrade and 4pm checkout aren't guaranteed, both were proactively confirmed for us by the receptionist during check-in. He also let us know that our $100 credit was valid for all bars and restaurants as well as room service, which was useful given that the sit down restaurants were already closed by the time we arrived. He then gave us a pocket sized map of Saigon and circled a few points of interest for us before wishing us an enjoyable stay and directing us to the lifts.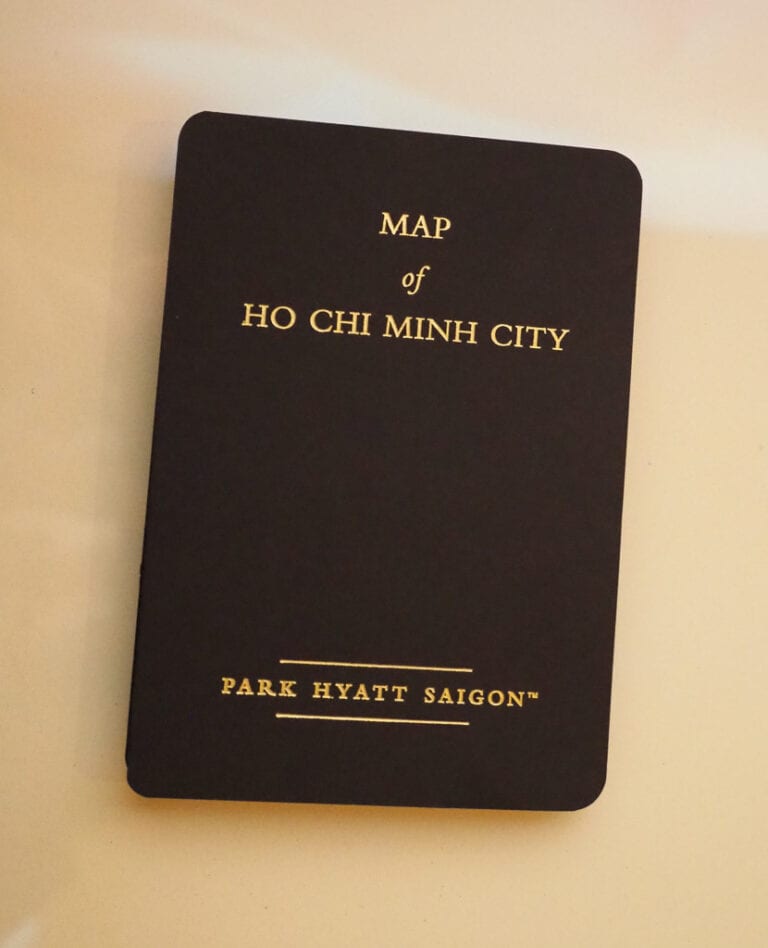 After completing the check-in formalities we took the very extravagant lift up to the third floor, passing the entrance to the pool on our way. The third floor has a large number of rooms that have direct access to the pool including our room: 317.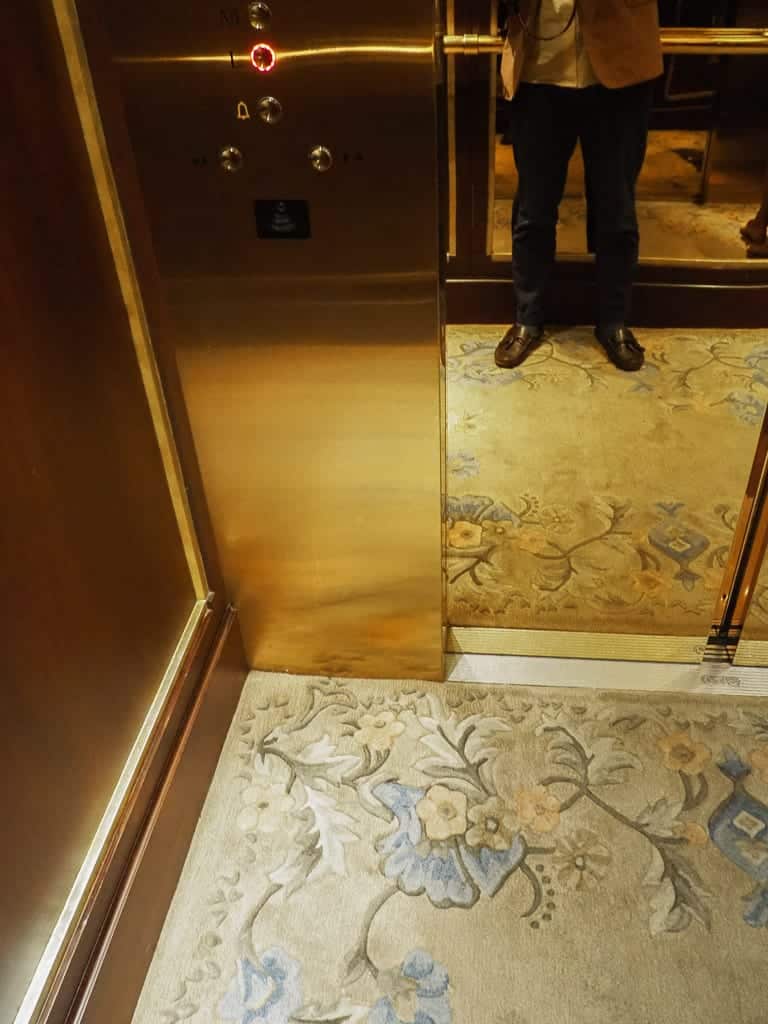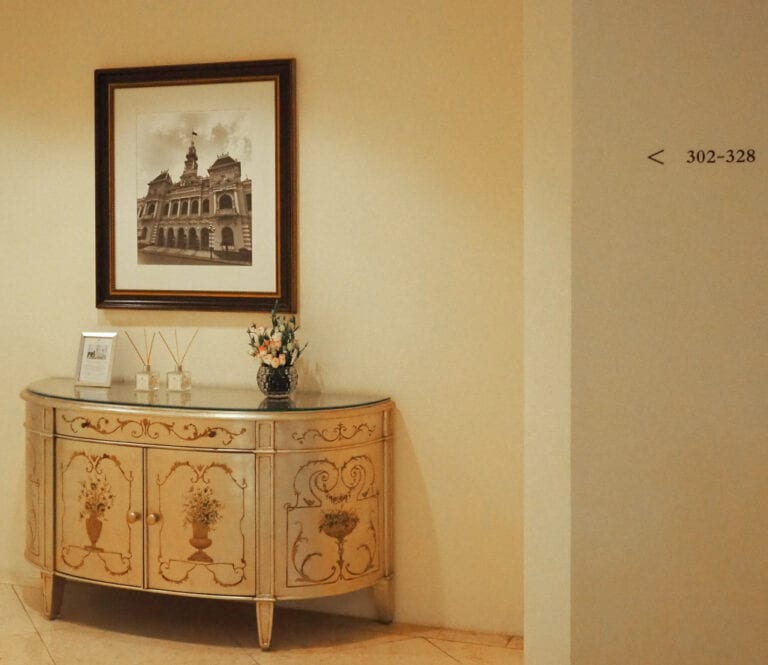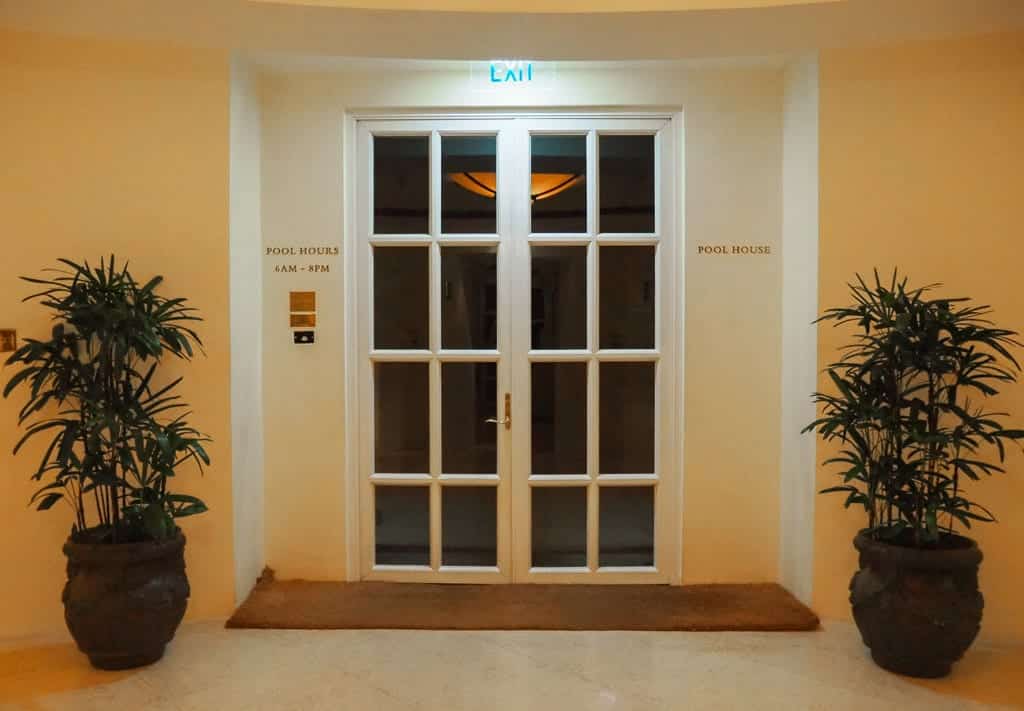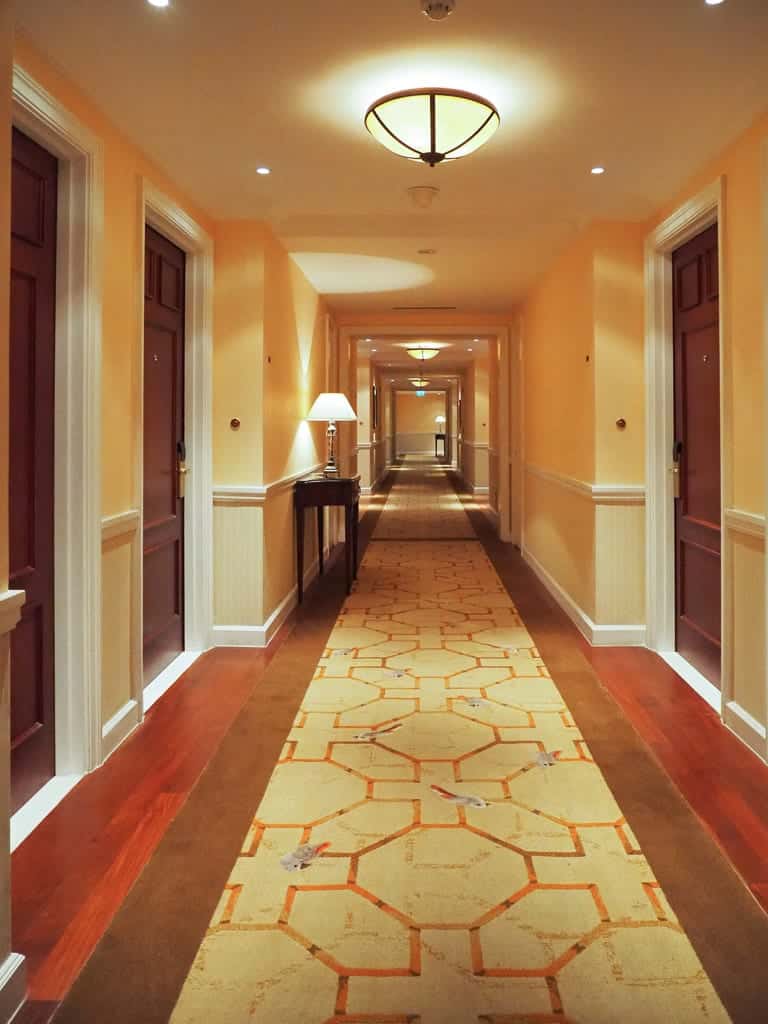 ---
Park Deluxe King w. Pool Access
---
Our Deluxe pool access room was decorated in a classical Indochinese style very much reminiscent of our accommodation at the Intercontinental in Bali. It even featured a similar dual opening wardrobe that could be accessed from both the bedroom and the hallway, in order to make the best possible use of the available space.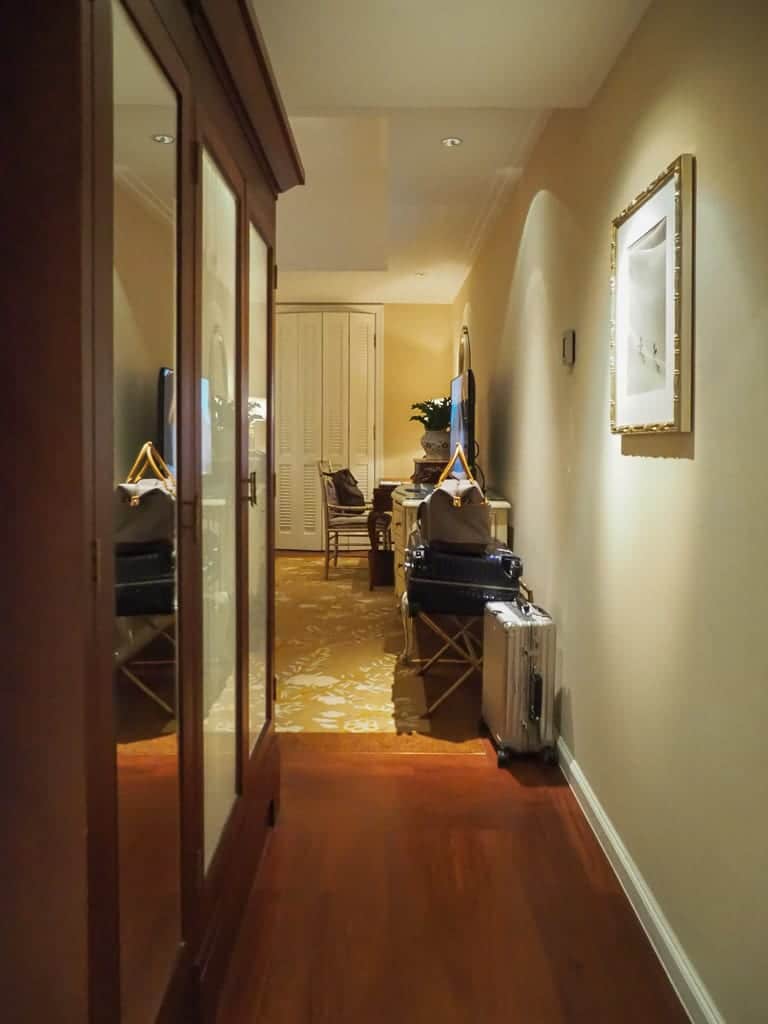 The bathroom was one of the smallest I've ever seen in a Park Hyatt, with only a single sink offered – although counter space was ample. I was pleased to see that the toiletries were the same amazing smelling products from Cochine that we encountered at the Park Hyatt Siem Reap in Cambodia. I really like to see hotel brands mixing it up and supporting local brands with their offerings to guests.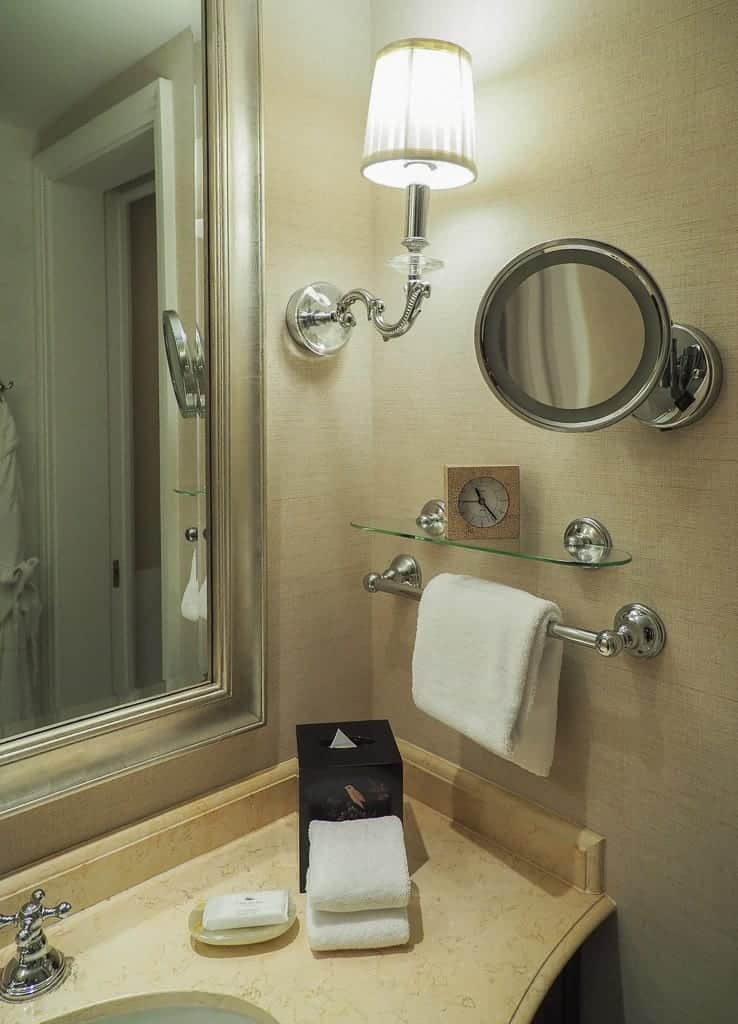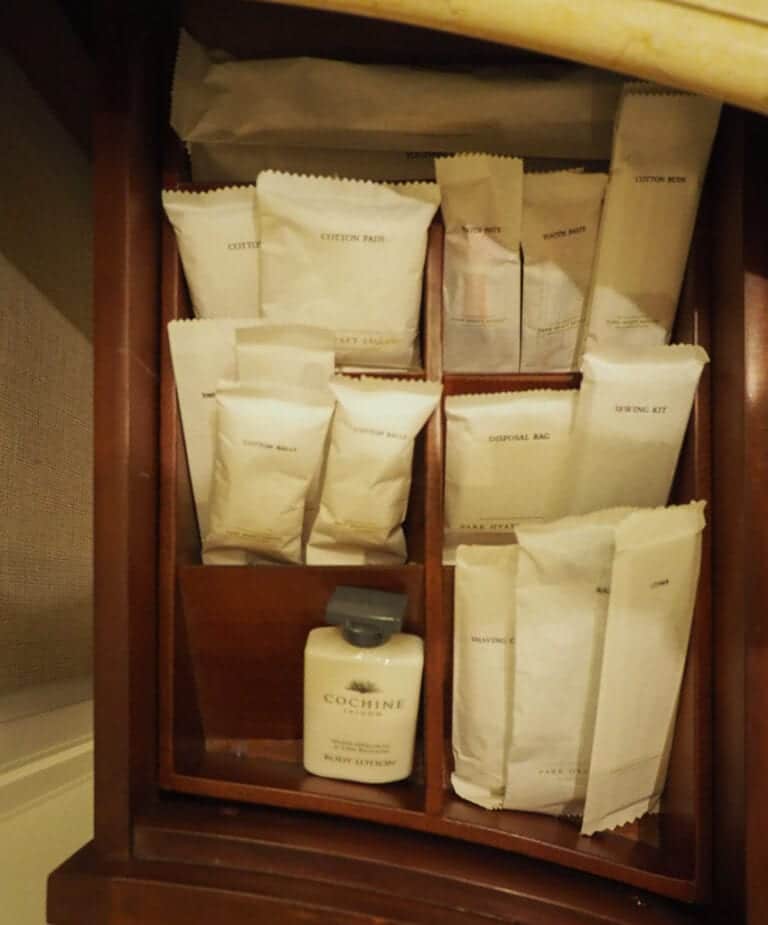 The shower and bathtub were located together within a single wet room, which is great if you want to clean off in the shower before moving straight into a bath full of hydrating salts. I can't do this at home and love having a relaxing soak on holiday!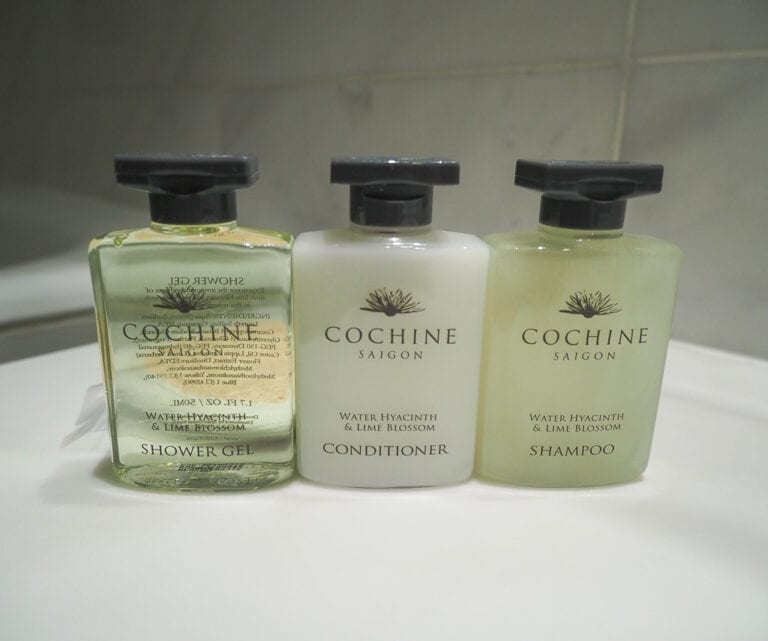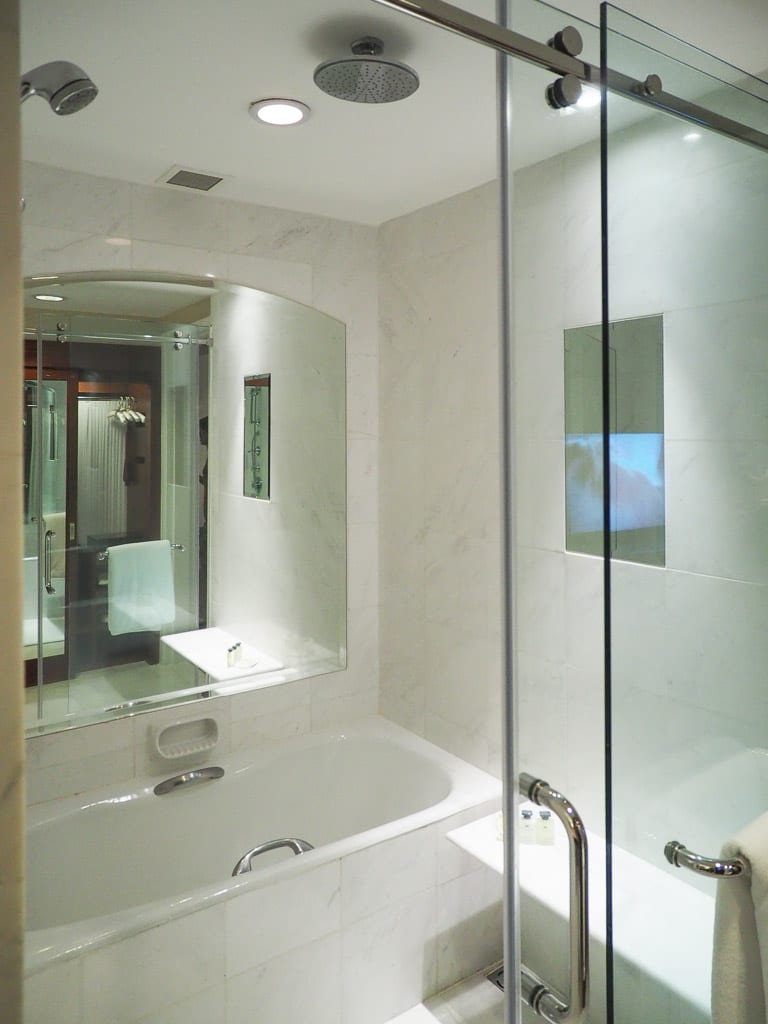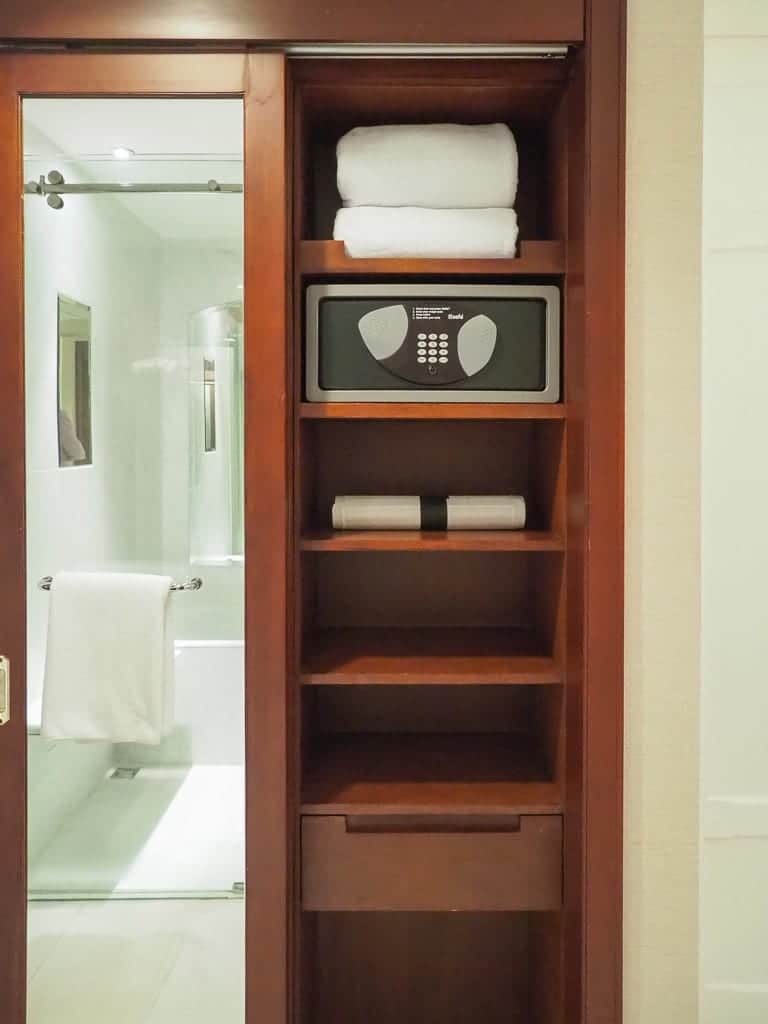 The bed was as comfortable as I've come to expect from Hyatt hotels. Sleep quality is the most important factor in a hotel stay and here the PH Saigon did not disappoint. The feather pillows were also that perfect combination of soft whilst still holding their shape overall. Despite the classic decor I was pleased to see that modern touches were present, such as universal power sockets on both sides of the bed and an LED TV with HDMI ports.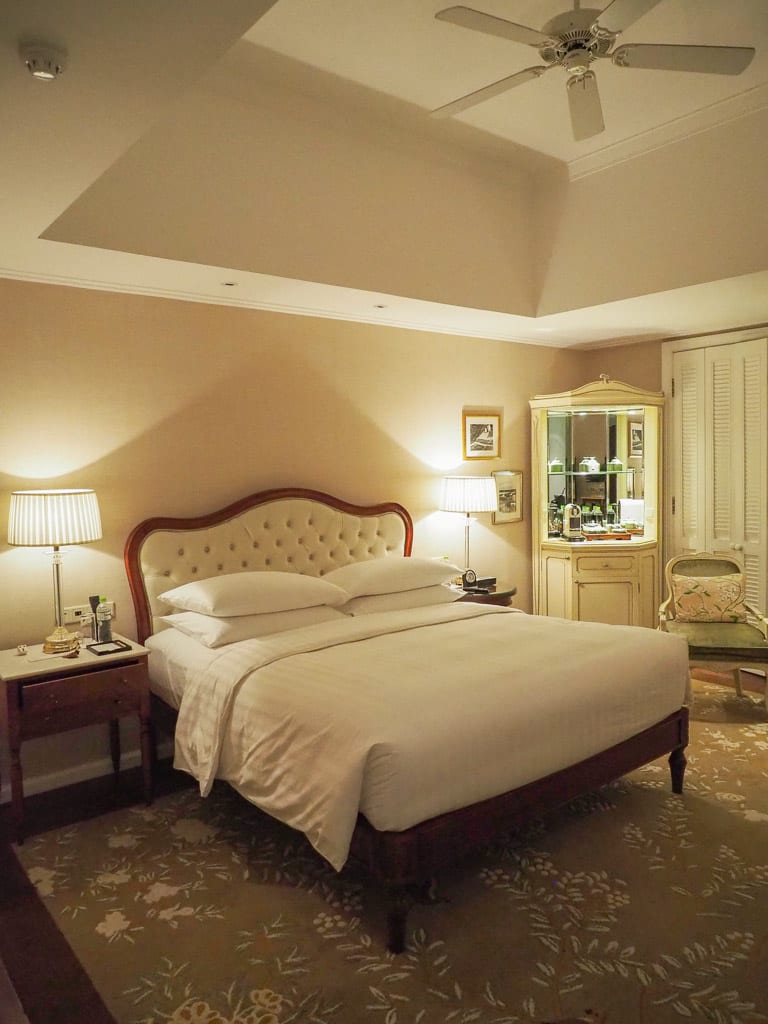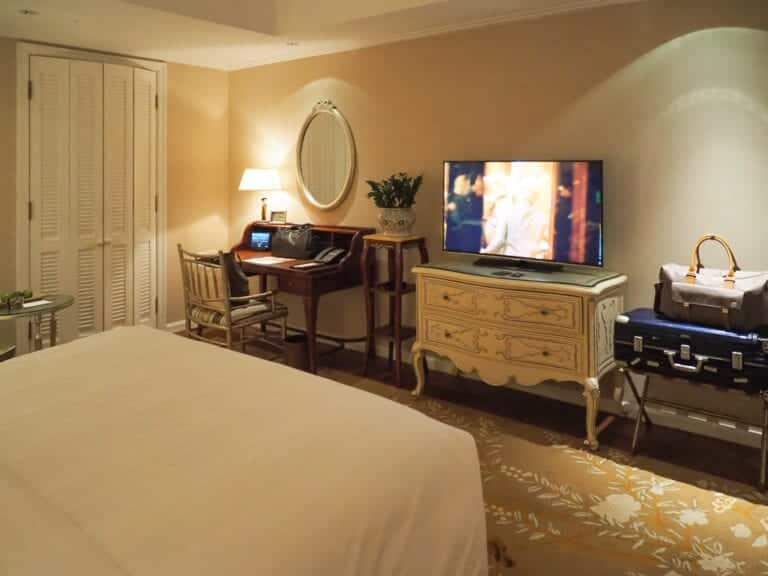 Speaking of modern touches, there was also an iPad located on the writing desk which could be used to explore the features of the hotel and to view room service menus. Unfortunately ordering wasn't available in-app and neither were room controls.
However we were still able to quickly browse the menu and place a room service order over the phone. Confusingly there is a section of the menu called "All day dining menu" but it isn't available all day. When we called at 10:40pm we had to pick from the late night menu but this was no great inconvenience since we were most interested in ordering an authentic bowl of pho on our first ever night in Vietnam.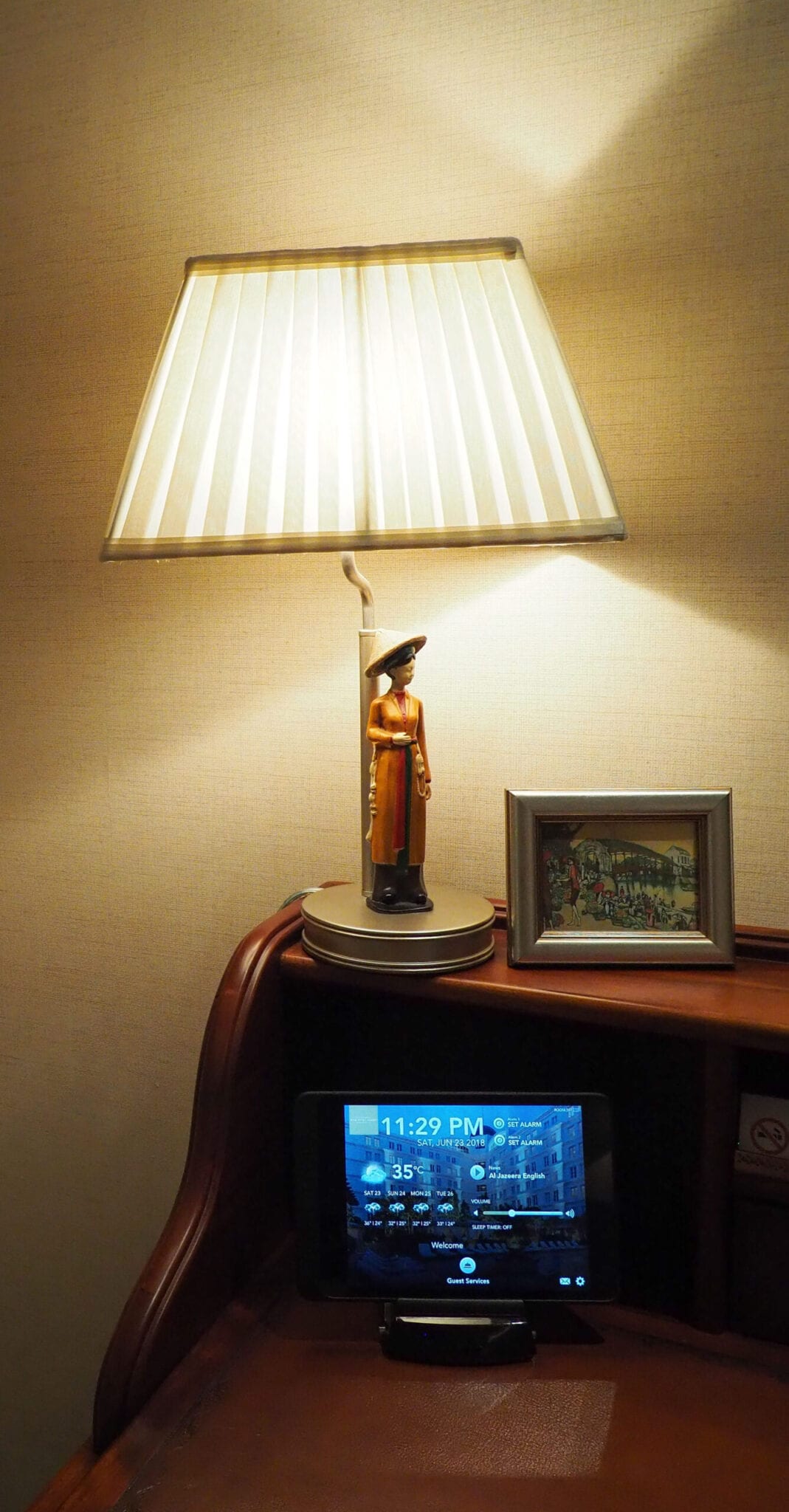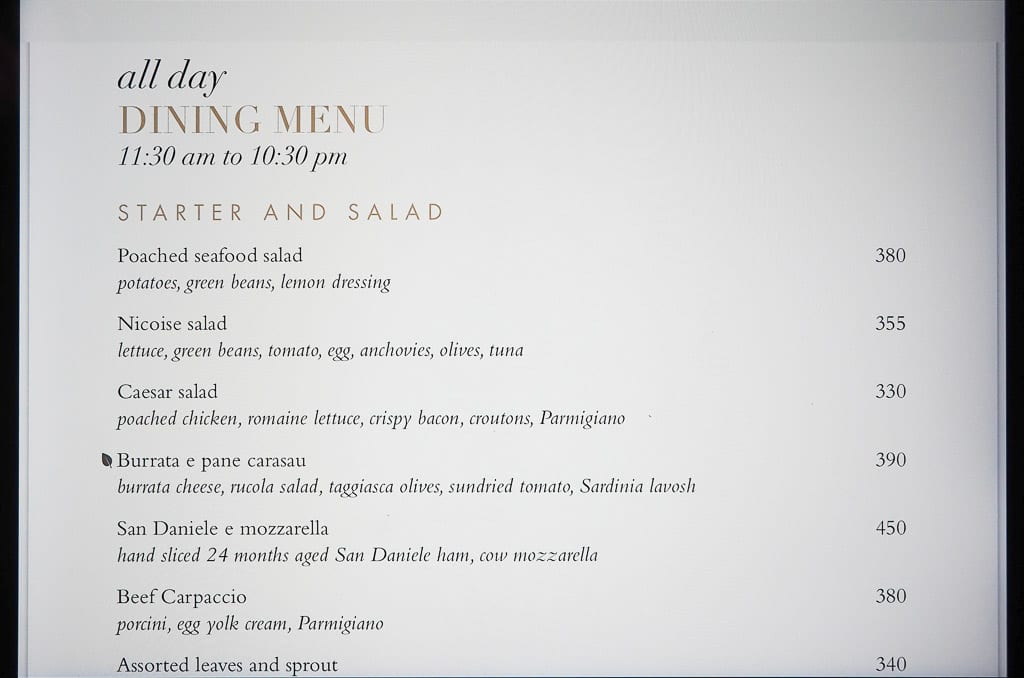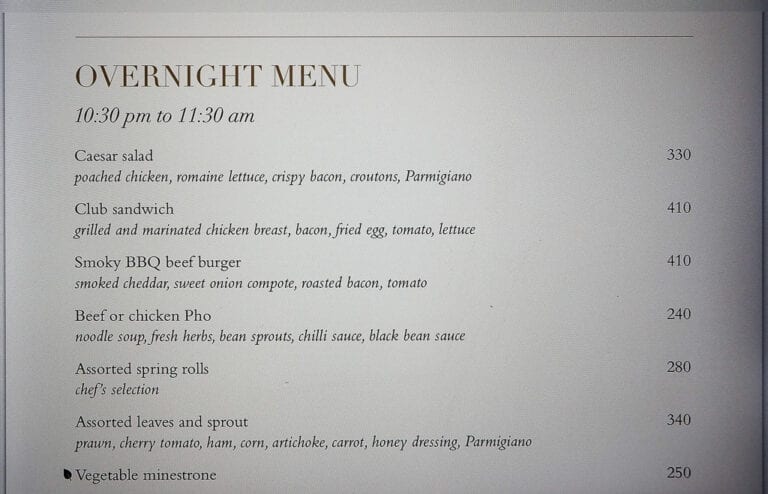 The Pho arrived within around 20 minutes and was absolutely spectacular.
We had the full process explained to us when the food was laid out, including how much of each sauce to mix and how best to tear up the herbs. I honestly wasn't expecting room service pho to be this good. Same goes for the tiramisu actually, which was superb.
Next to the bed was a small sitting area and a very grand, mirrored minibar.
We rounded out our late night meal with the welcome amenity of satsumas and dried papaya that was presented for us on the table.
The coolest thing about our room was easily the pool access and the small outdoor sitting area that this came with. As somebody who lives in a country that is cold and grey for the majority of the year, I feel a real sadness at the prospect of being in a hotel that is encapsulated in aircon when I know that the night air outside is hot and humid. I want to be able to go out there and experience it! For me there are few greater joys than sitting outside in short sleeves on a warm evening. The concept is borderline transgressive when you live in London.
This video illustrates just how close you are to the pool. Admittedly there could have been something of a lack of privacy but people tended to stick to the loungers to the right of us rather than those directly in front of our room.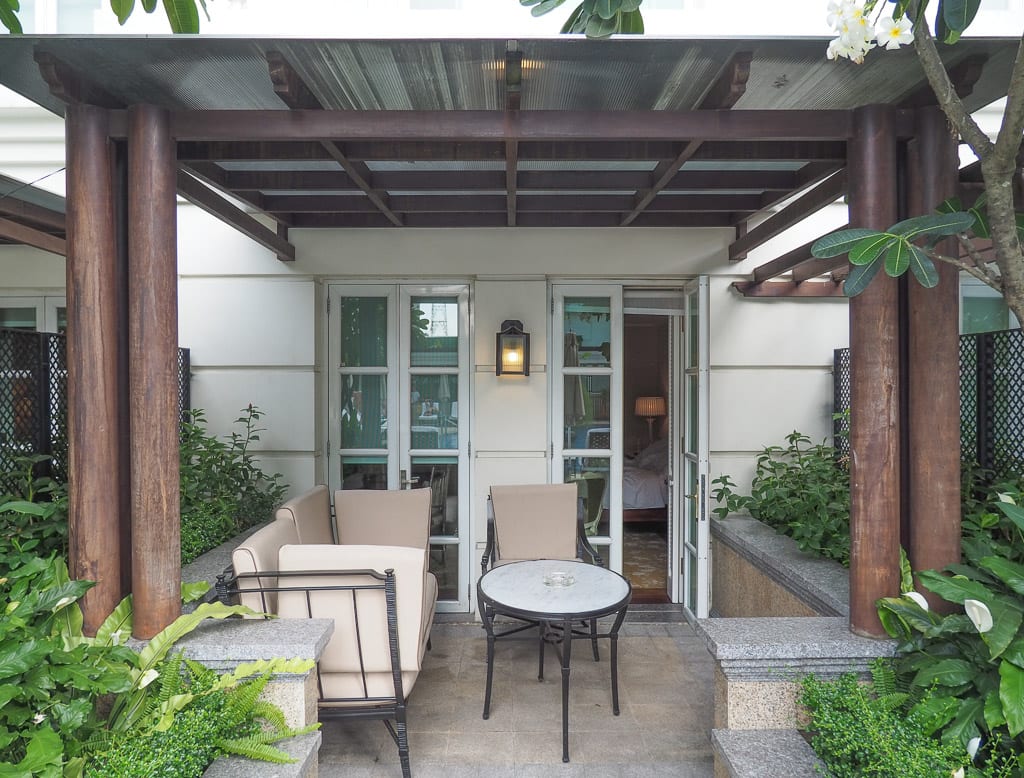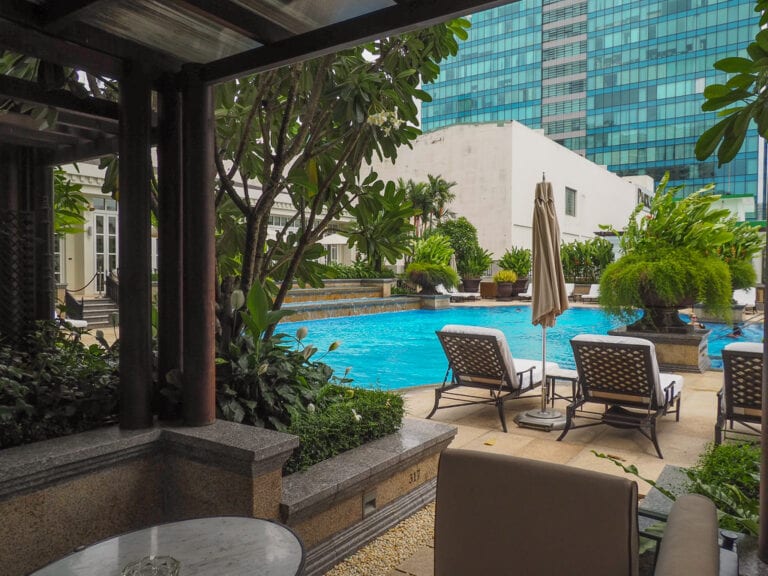 ---
Food and Drink
---
Nightlife
After finishing our room service meal we were still wide awake given that it was still only around 5pm back home. Since we hadn't come anywhere close to spending our $100 credit on the pho and tiramisu we thought it would be a good idea to explore the hotel bars.
The main bar had the ambiance of an opera house 30 minutes after the show has finished.
The hotel has another bar though called 2 Lam Son. It is a local institution with its primary entrance facing out onto the street and honestly you would never know it is part of a hotel. It is very modern and very lively. High ceilings, chrome, mirrors and a live DJ – a completely different feel to the rest of the hotel.
We took a seat at the bar and ordered two thoroughly excellent cocktails.
We weren't especially hungry but when we saw somebody else order the chicken wings we knew there was no way we could resist. These were truly up there with the best I've ever had, crunchy with a tang of vinegar, fish sauce and fried chillies with lemongrass. They were so good we came back whilst staying at The Reverie, just to eat these again!
Breakfast
Breakfast at the Park Hyatt Saigon is served in a long and bright room flanked with floor to ceiling windows along one side, which face onto an outdoor terrace area. The combination of buzz, brightness and fresh air is a wonderful way to wake up in the morning.
We were greeted near this coffee bar area which was mostly empty throughout our breakfast, save for the bustle of baristas shuttling back and forth to tables.
The real focus of the main dining hall was the buffet area. This is one of the more impressive buffets I've seen in Asia (and that's saying something!). The first section featured a selection of fresh meats, fish and dairy inside a deli style counter. Flanking this was a huge variety of freshly baked breads and pastries, capped by a small, un-chilled salad section.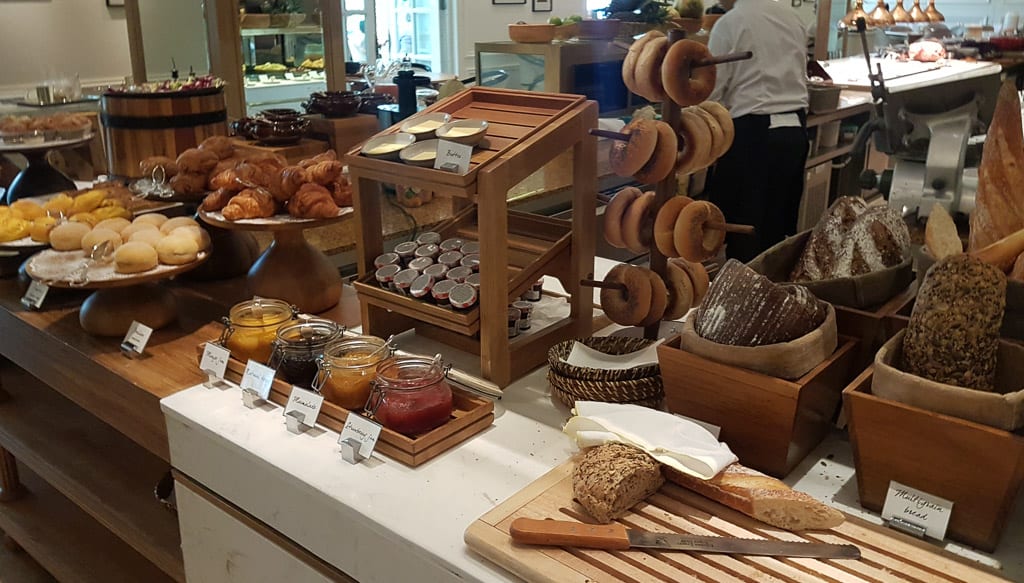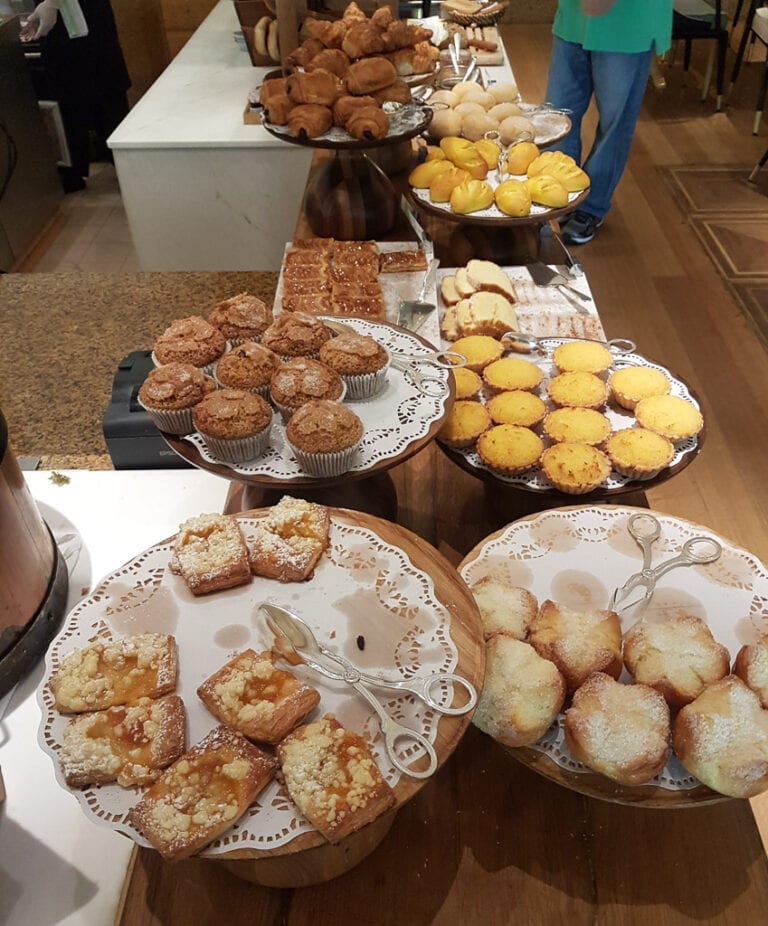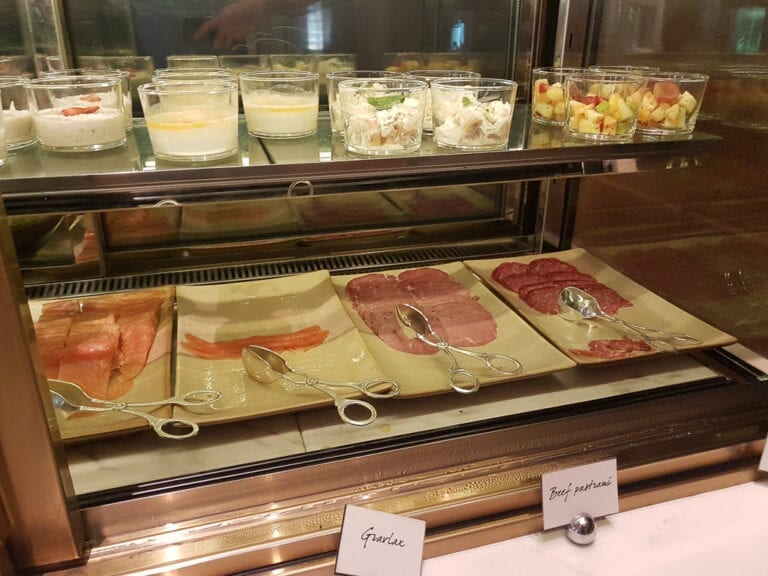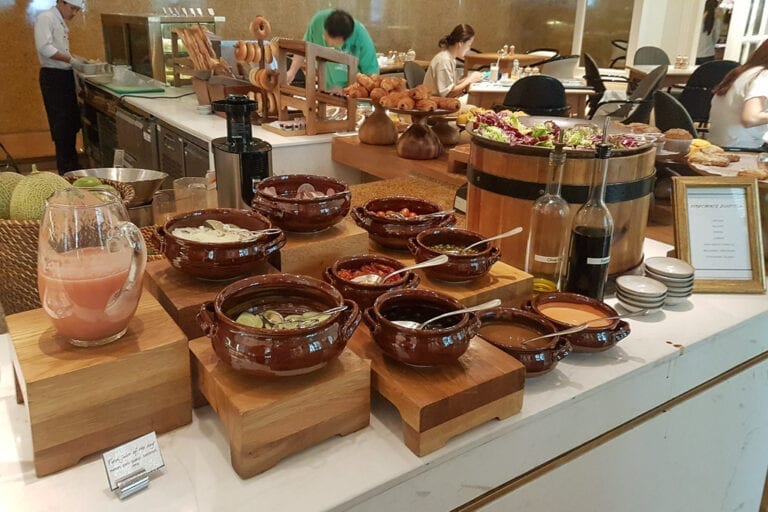 Next came and area focusing on fresh fruit, juices and smoothies. The young fresh coconuts were amazingly sweet and thirst quenching.
At the far end of the buffet was a section including numerous Western and Asian hot dishes including breakfast meats, eggs, noodles, curries and dim sum.
We opted to sit in the air conditioned interior terrace, since this was flooded with natural light but wasn't unbearably hot like the area outside. Our drinks orders were taken immediately and as soon as the server returned with our coffees, our a la carte food orders were taken. The full Park Breakfast was included as part of our Classic Travel Virtuoso rate, including all a la carte dishes and drinks.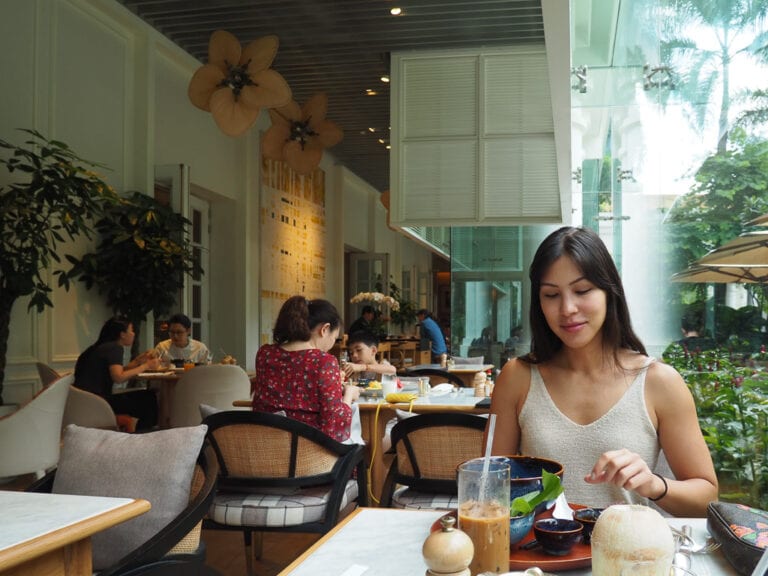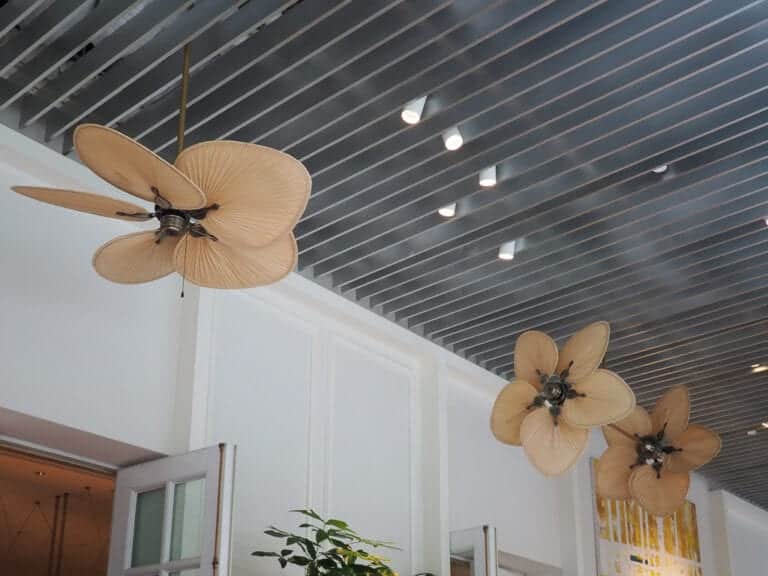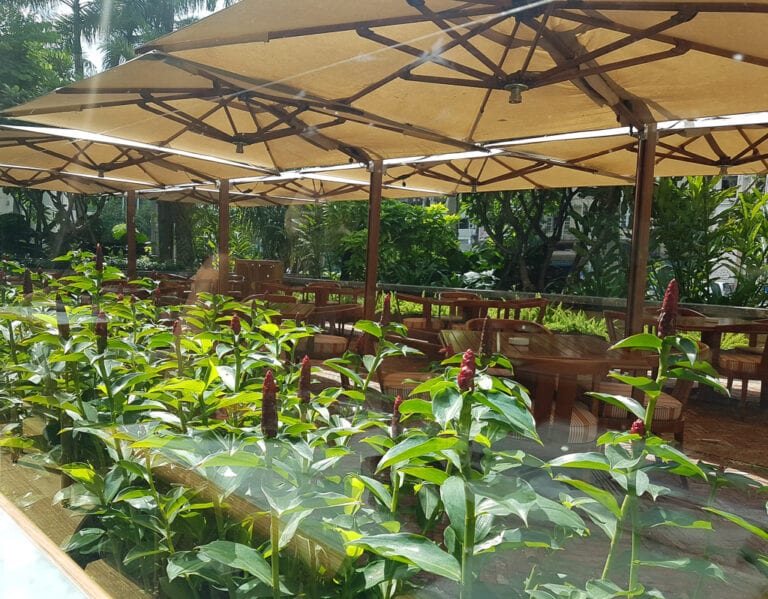 I started with a young coconut, house cured salmon, dim sum and a chia seed pudding. Everything was excellent – very fresh tasting. I also ordered a Vietnamese iced coffee without condensed milk. Vietnamese robusta beans are so sweet and chocolatey tasting anyway that you really don't need to add sweetener of any kind, in my experience. I followed this up with a cappuccino because honestly I can never have just one coffee at breakfast – even when one of them is legit rocket fuel.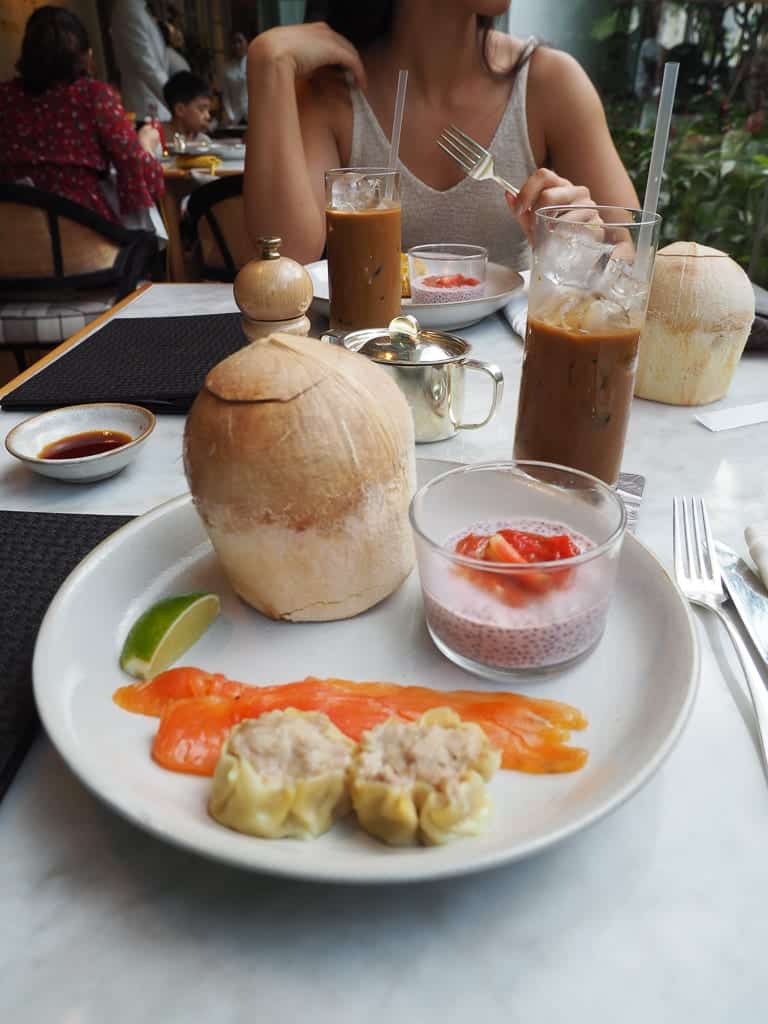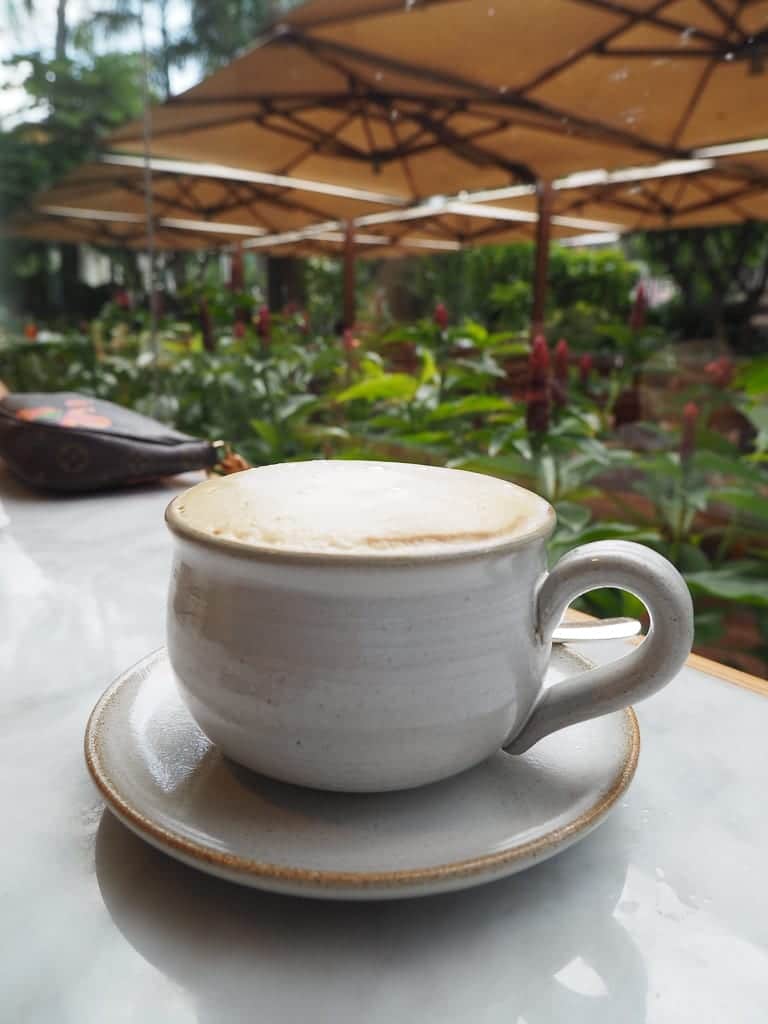 Both Kamara and I were most interested in the Vietnamese section of the a al carte menu.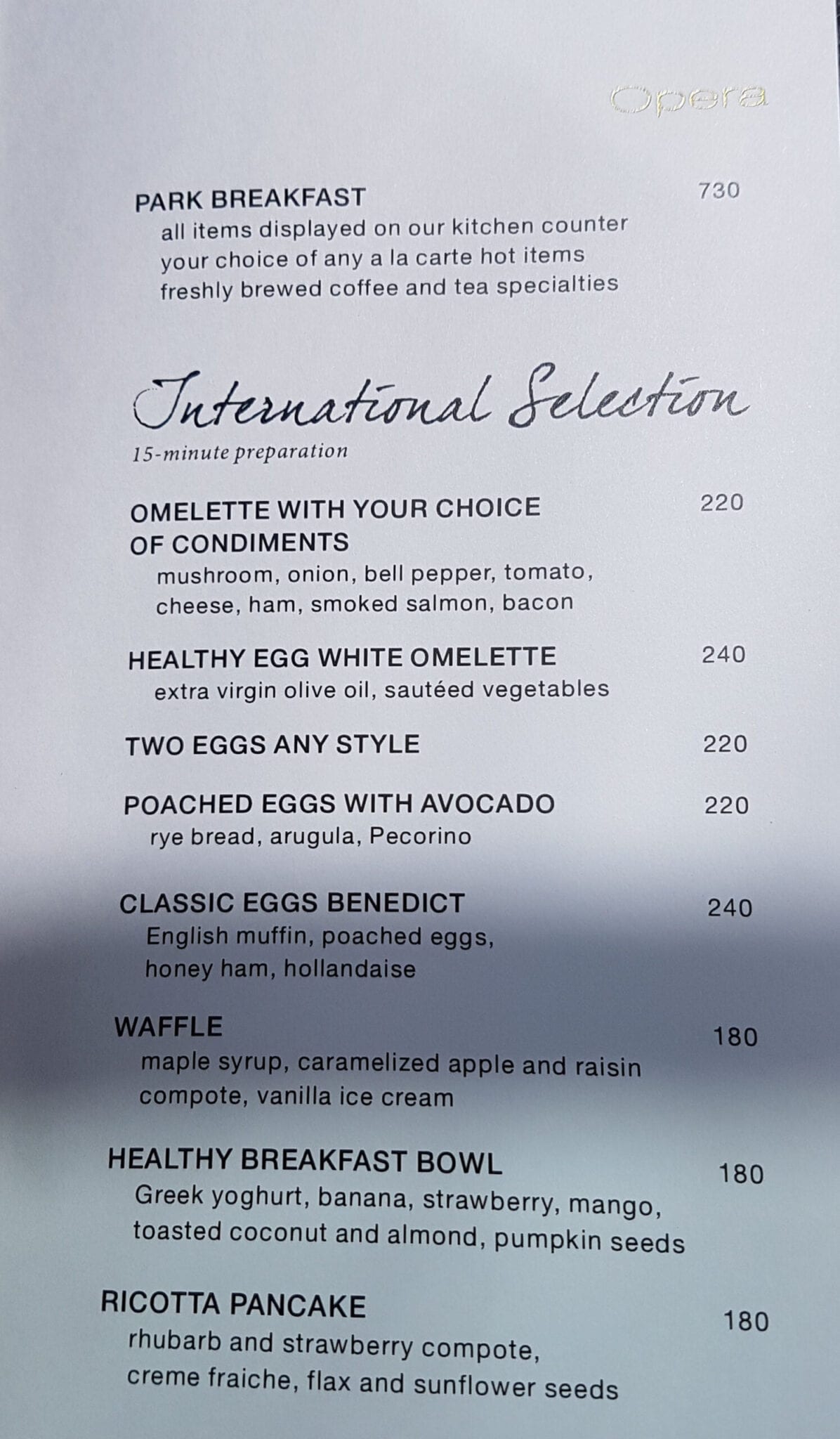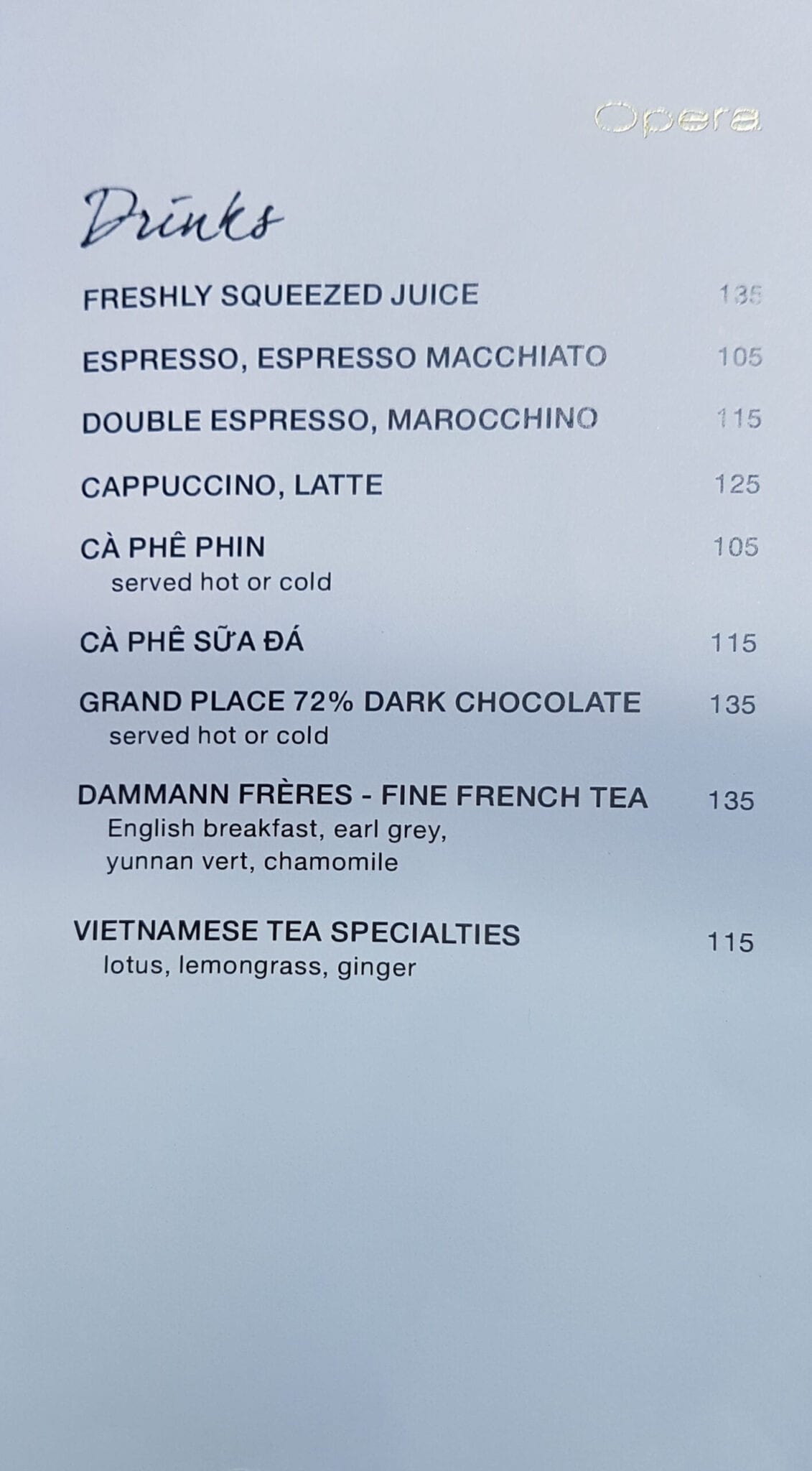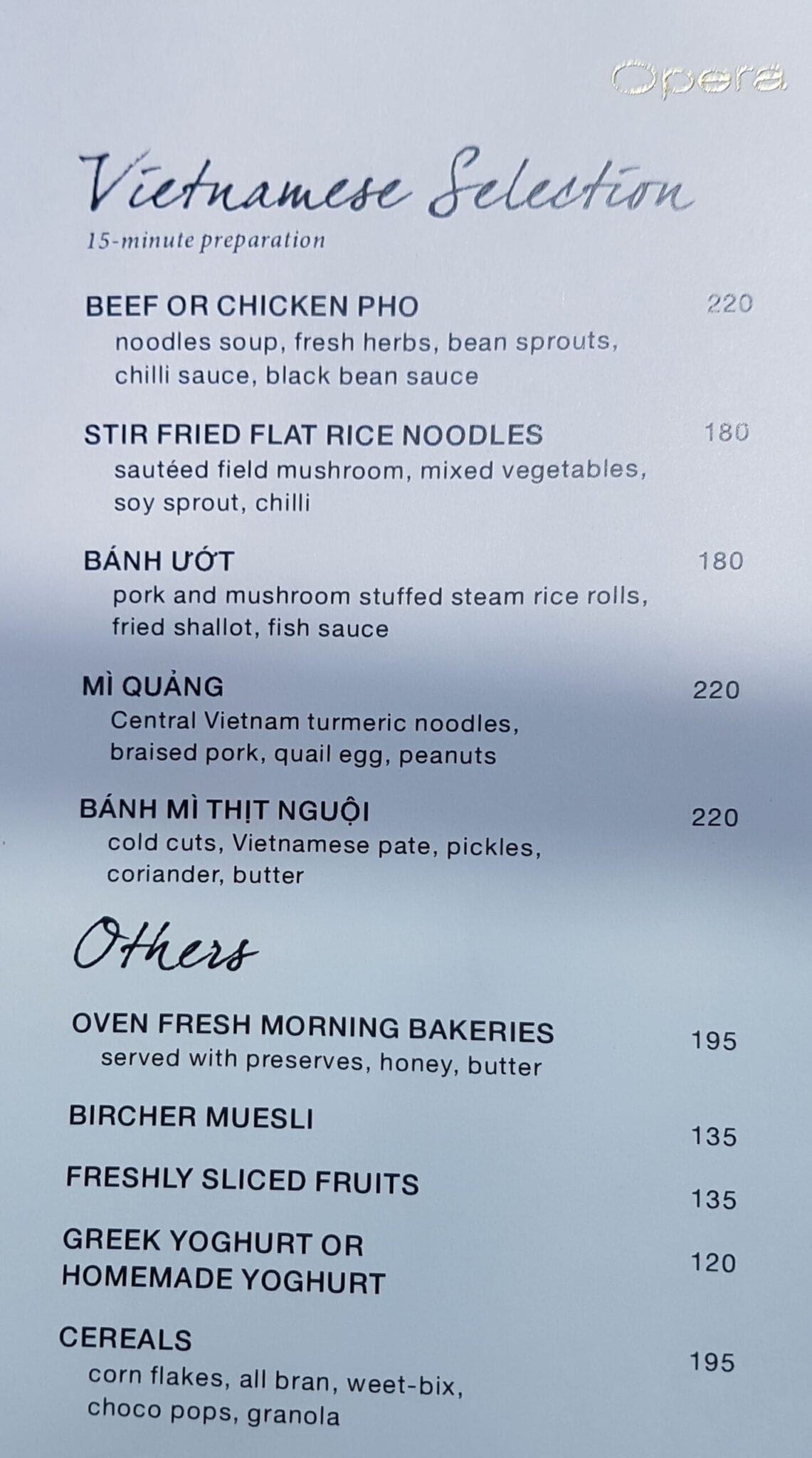 Kamara went with the exact same beef pho which we had the night before, whereas I opted for the Mi Quang – Turmeric noodles with pork, quails egg and peanuts. I was only a few hours into my first trip to Vietnam and already my mind was being blown by the food.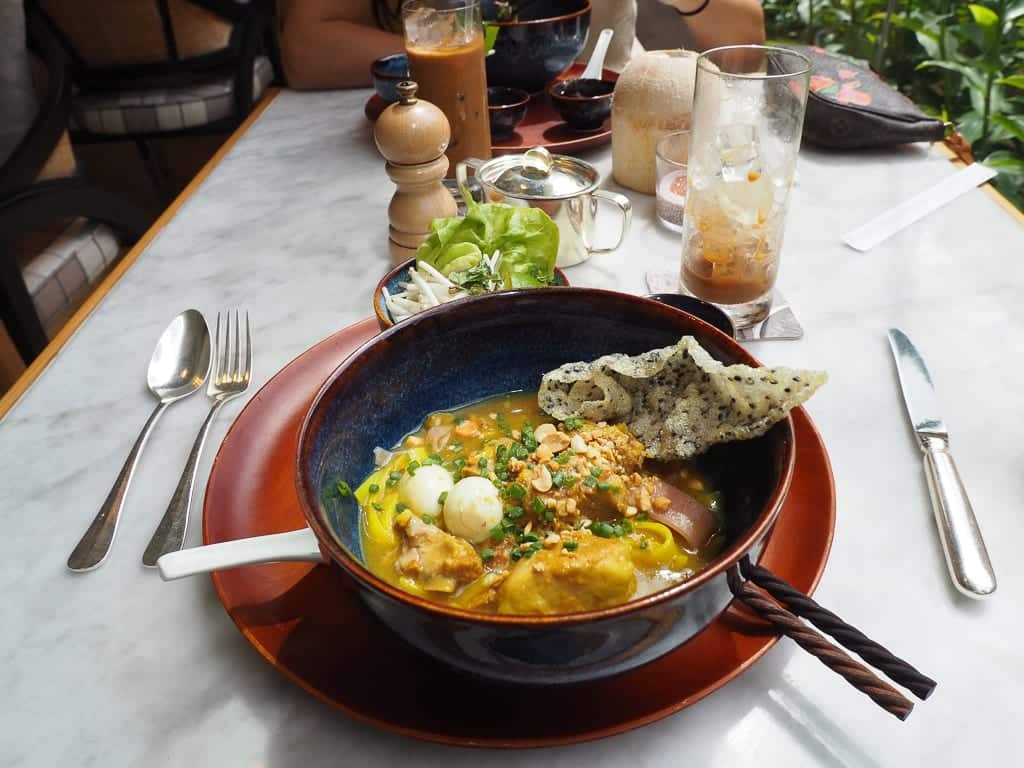 Overall it was hard to find fault with the breakfast. The buffet had a lot of variety and items were constantly refreshed, the a la carte dishes were delicious and the service was both efficient and friendly. A perfect way to start the day!
---
Gym
---
The gym is located on the third floor, immediately adjacent to the swimming pool. As is invariably the case with hotel gyms the equipment here is strongly tilted in favour of cardio. The Lifefitness machines are enough to get a full body workout done though, since a leg press and leg extension machine accompanied the usual pulldown/row/chest press combo station.
Bottled water, headphones and fresh fruit are also available.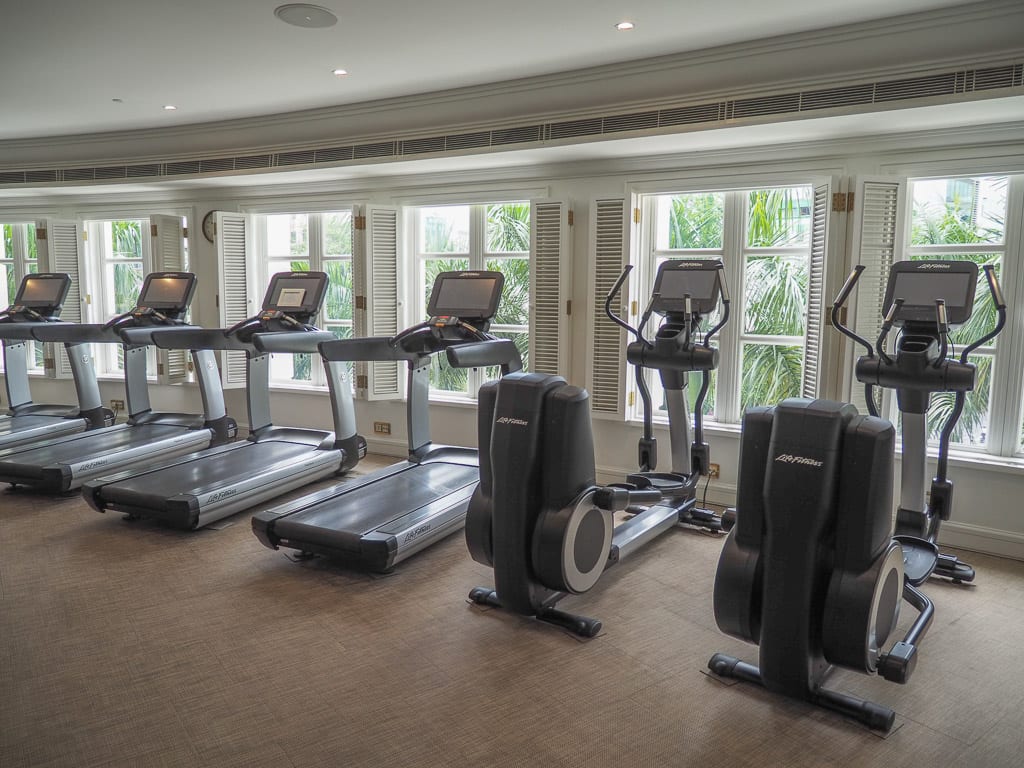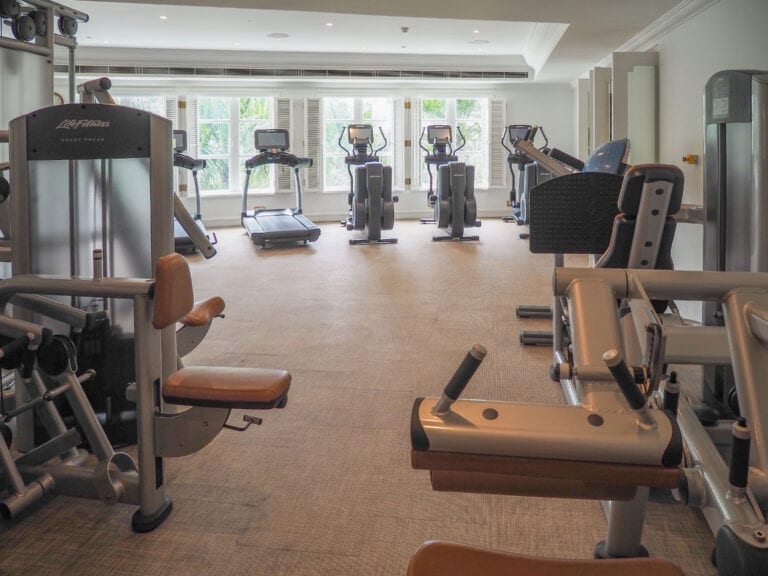 ---
Conclusion
---
Basics Checklist
☑︎ Power sockets near the bed
☑︎ Easy to understand light switches
☑︎ Coffee machine
☑︎ Separate shower and bath
Bonus points for the glass encased wet room
☑︎ Blackout blinds
☑︎ Stable, fast and free Wifi
☑︎ Feather pillows
☑︎ Quiet and powerful aircon

Not only does this hotel meet every single requirement on my basics checklist, it truly goes above and beyond
. If you don't mind the more antiquated style, you are certain to have a great stay here – especially if you reserve one of the rooms with direct pool access. I loved the resort like feel of the pool coupled with access to one of the coolest local hangouts in the form of 2 Lam Son bar.
More than anything though the service was uniformly exceptional. Housekeeping even knocked, addressing me by name, at 11am asking if they could make the room for us prior to our 4pm check-out!
If you don't like the look of The Reverie then you really can't go wrong by staying here instead.
---
Book online with Hyatt Privé benefits
---
Hyatt Privé Partner Booking
Click the image to get the best available, flexible rate and also receive:
Priority room upgrades, subject to availability.
Full breakfast for up to two in-room guests.
$100 hotel credit.
Welcome amenity.
Early check-in/late check-out, subject to availability.
Note: You will still earn stay credit and ALL elite benefits, exactly like a direct booking with Hyatt.com.
The Park Hyatt Saigon can be booked directly online by clicking the "BOOK NOW" image.
If you're a first time client and want to learn how our free service works and how to get set up on our booking portal, click below for the guide:
Do you have a more complex booking enquiry, involving multiples rooms or hotels? Email us for immediate booking assistance:
EMAIL FOR MULTI PROPERTY ENQUIRIES
---