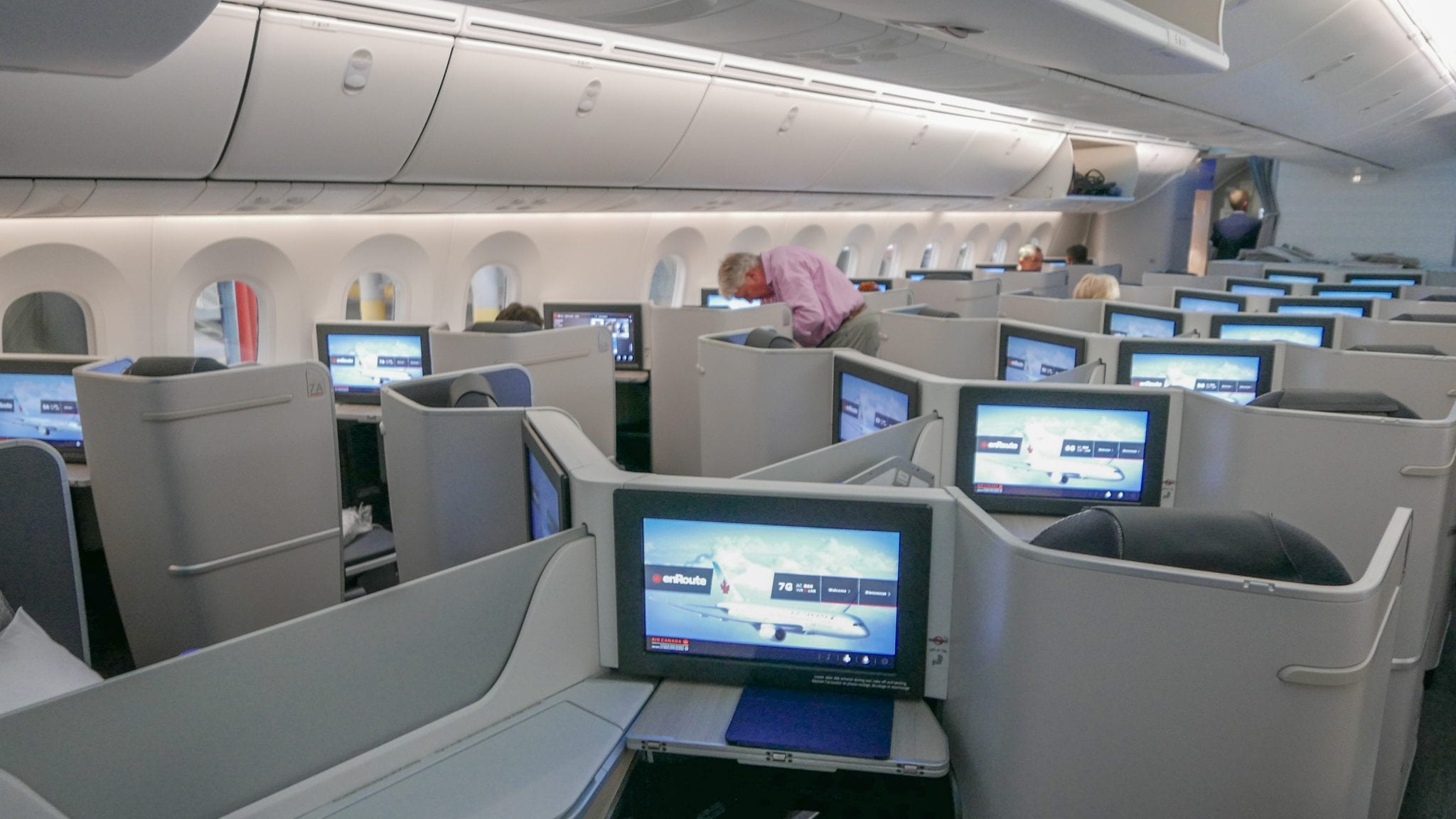 REVIEW – Air Canada : Business Class – Vancouver to London LHR (B789)
April 15, 2018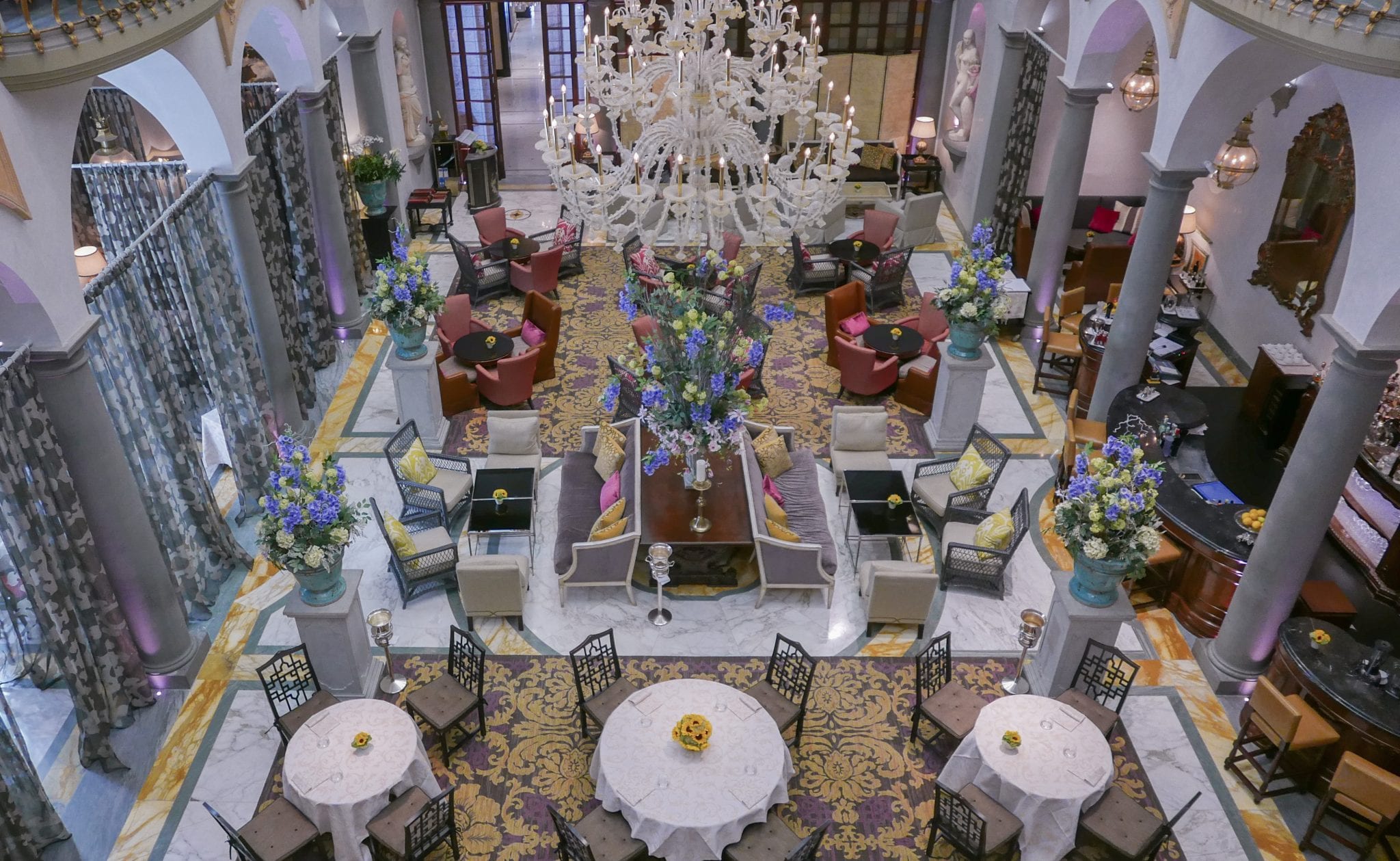 Best Rate Guarantee: How I booked the St Regis Florence for €280 per night including breakfast!
April 27, 2018
Victory House London an MGallery Hotel
Room Type: Executive Suite
Status during stay: Le Club Accor Hotels Gold
Cost: Complimentary Press Stay

Typical standard room rate: £180
Typical rate for Executive Suite: £450
---
Intro
---
People often ask me to give them hotel recommendations in my hometown of London. Whilst I can absolutely recommend certain parts of town, it's hard for me to make recommendations on specific hotels, without having stayed there myself. We did a staycation at the Hyatt Churchill one time, in order to use an expiring suite certificate, but generally I save my money for hotel stays further afield!
When Accor offered me a complimentary stay at their newest London hotel, I gladly took them up on the offer. I figured it would give me a chance to broaden my list of potential hotel recommendations, whilst spending time in a part of town that is of interest to most visitors to London. Leicester Square itself is not exactly my cup of tea, I find that your chances of having an interesting travel experience tend to be inversely correlated with your proximity to the nearest M&Ms world. However, just around the corner is China Town and next to that is Soho, both are parts of town where I really enjoy spending my time and where any visitor can get a feel for the driving energy and diversity of this great city.
The hotel entrance is a little hard to find as it is tucked away on a side street, just off Leicester Square. However, there are door staff at hand, ready to assist as soon as you approach.
Space is most certainly at a premium in this part of town and you immediately get a sense of that when you enter the lobby, which also doubles as a bar area.
Lively colours and booth seats help make the space feel bright and inviting. When we checked in on Friday evening all the seats were full of people drinking and chatting, this definitely doesn't have the feel of a cookie cutter hotel lobby.
The hallways feature some cool design touches like the recessed brass lighting and the black and white Pathé movie projections. There is certainly a strong Gallic feel in this hotel, a nod to Accor's home territory.
Our room was located away from all the others on this floor, with the door facing the stairs, rather than the main corridor by the lifts.
---
Executive Suite
---
At 35m² our Executive suite was by no means enormous. The design really helps to make the most of the space though. I really like the Mid-Century aesthetic here, much more fun than a lot of London hotels, who insist on modelling themselves on an Edwardian manor.
The little nook by the TV doubles as a workspace.
Not exactly what I would classify as a breathtaking view but still cool to be up close with the classical facade of the building next door. Given the location and the age of the building, the sound from Leicester Square below is noticeable at night. It isn't super noisy and we weren't woken up by it but equally, this location is not for you if you're looking to unwind and read a book in bed.
Speaking of the bed; it was very soft and very comfortable. You can almost immediately tell how comfortable a bed will be, just by looking at it. This bed looks like a marshmallow bulging from its packaging. This is always a good sign.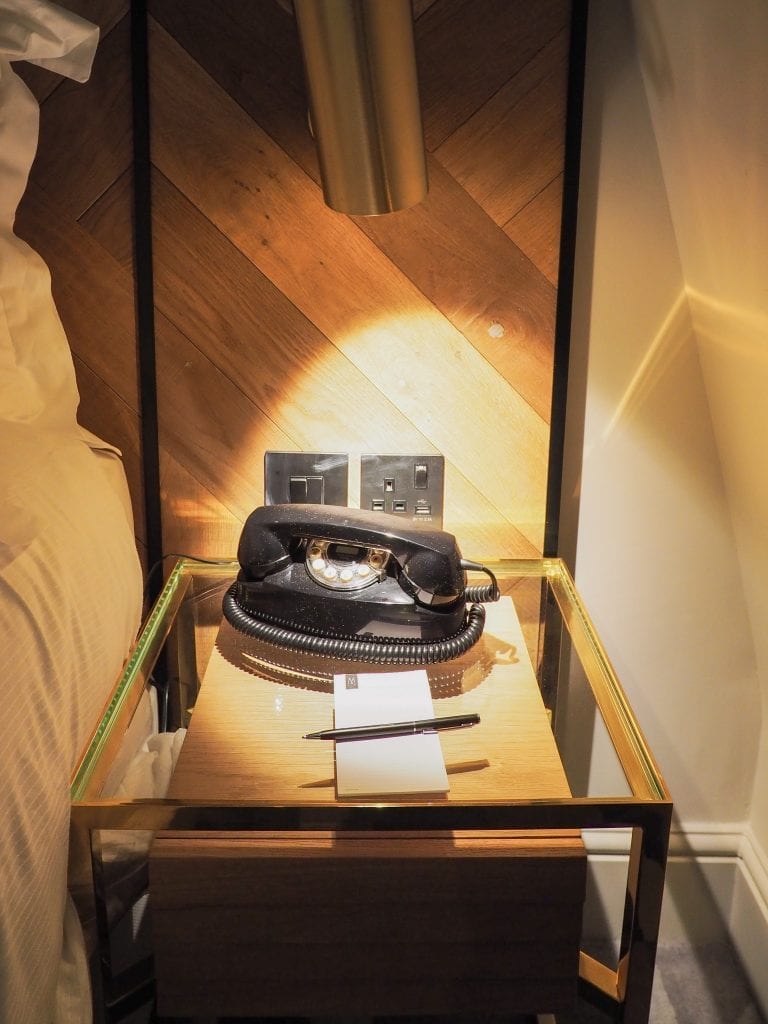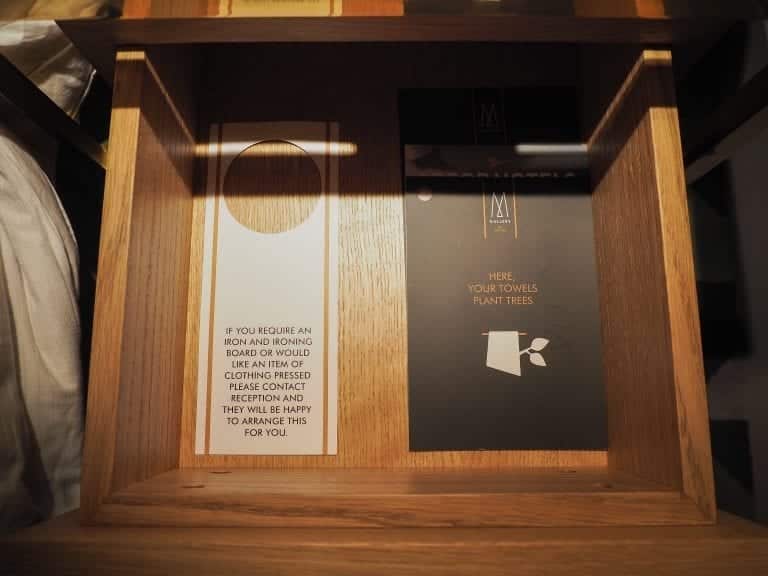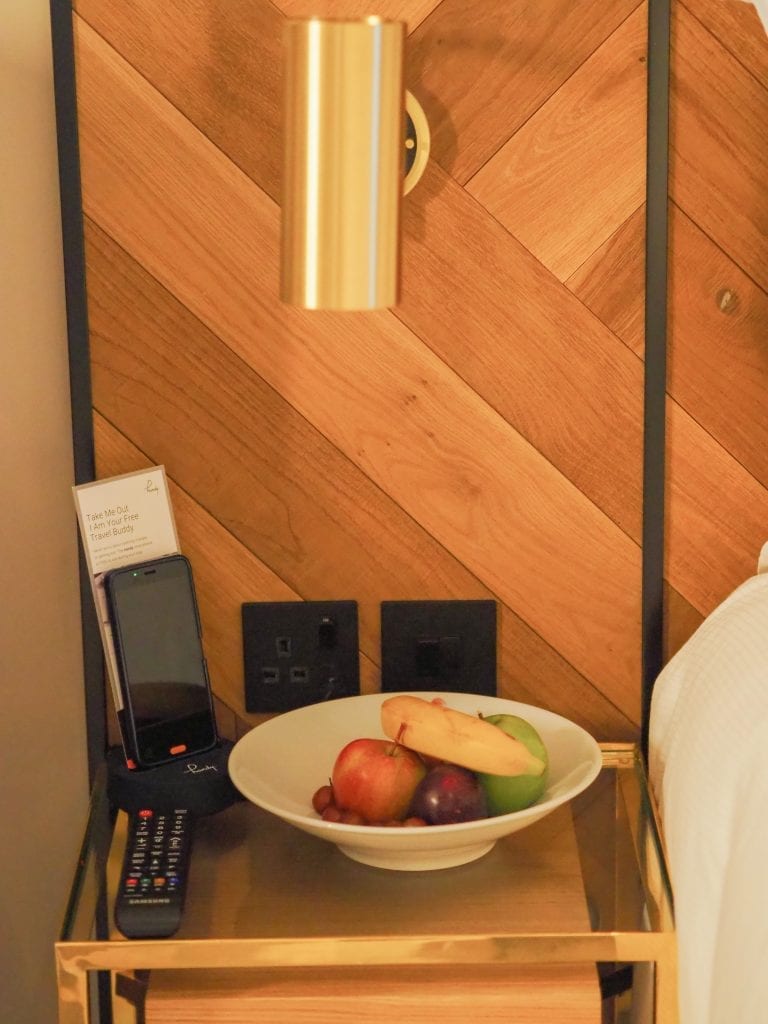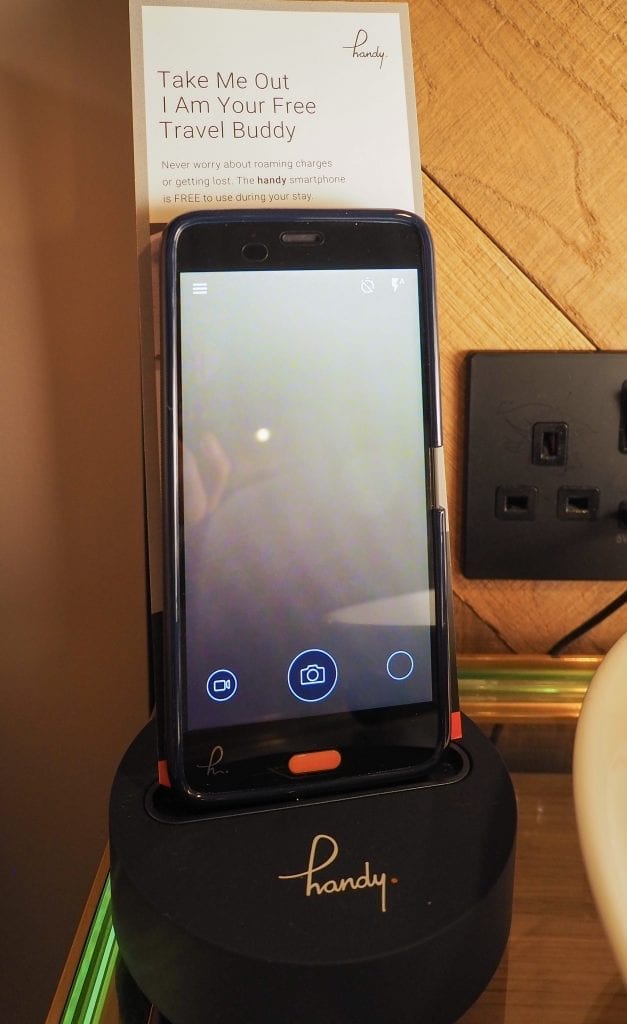 Both bedside tables featured power sockets, I've seen these complimentary handy phones in Asian hotels before but this was my first time seeing one in Europe. Given the cost of roaming in some countries, having one of these phones in your room could make a significant difference to your travel budget.
In addition to the bowl of fruit, the Executive suites come with complimentary snacks and soft drinks as well as one of the disc style Nespresso machines.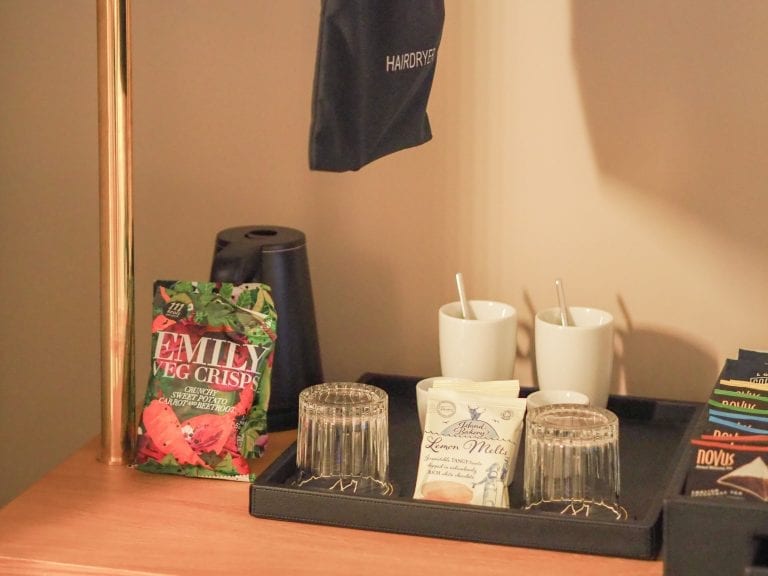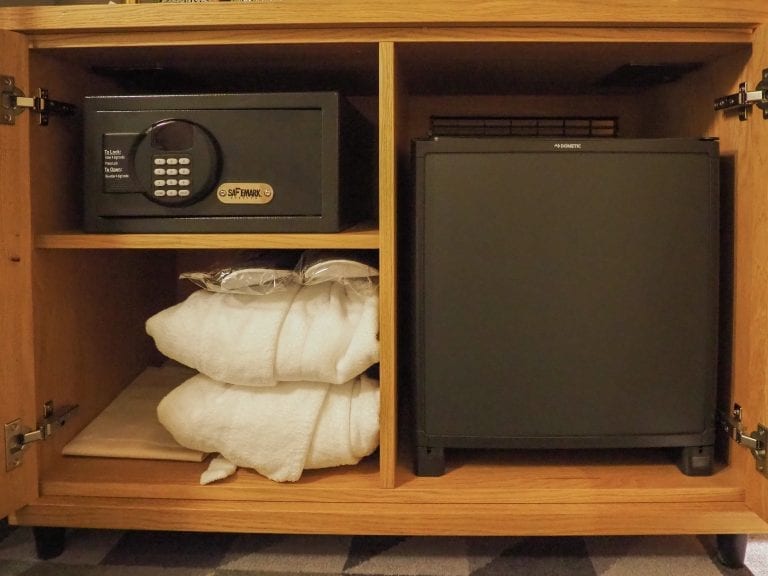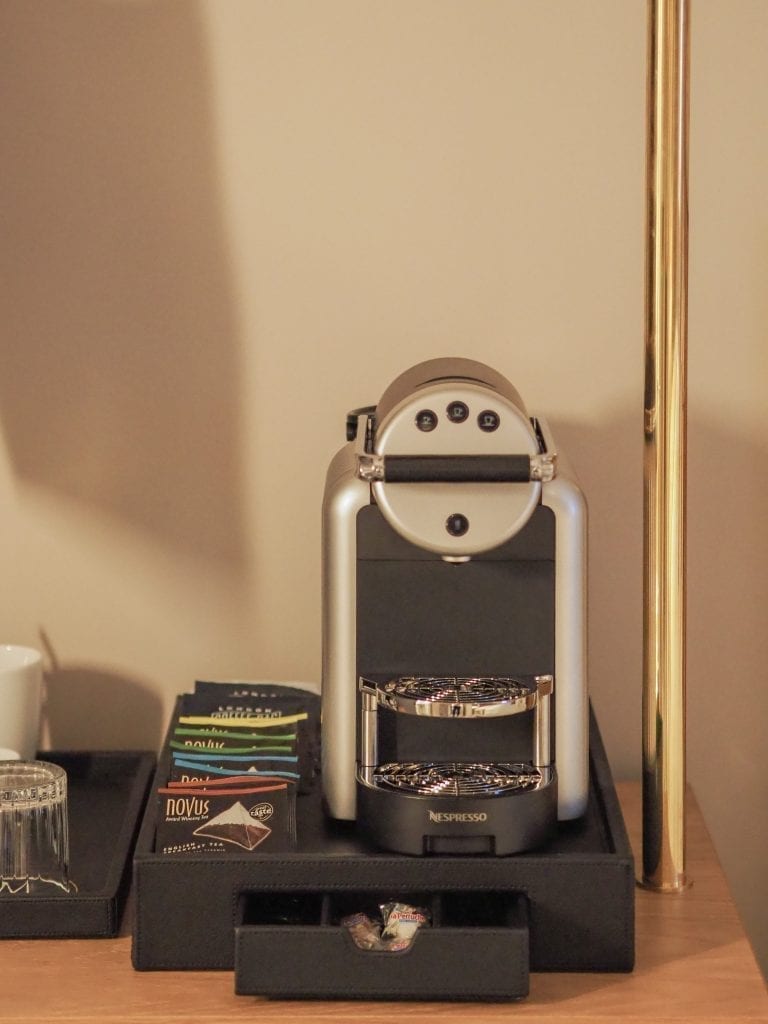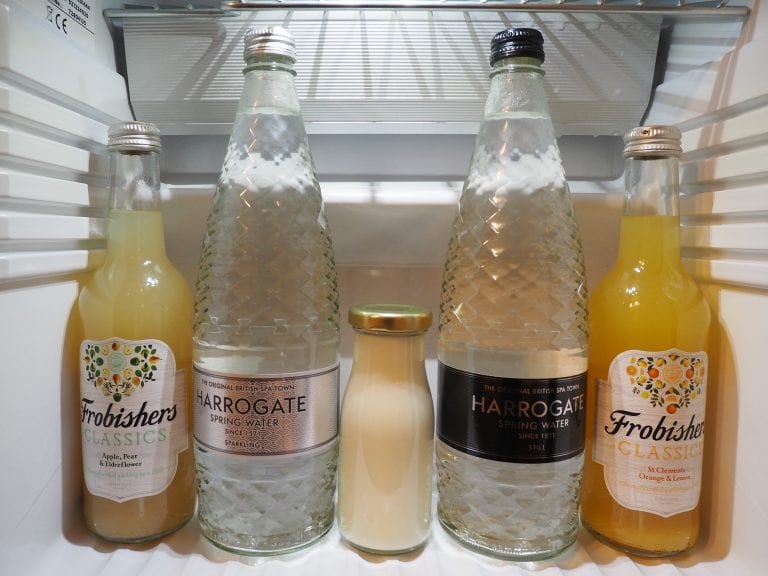 I must admit, I found the positioning of the coffee machine and snacks to be extremely strange. The open plan wardrobe already limits your storage space, having your clothing rubbing over the top of food and drink just makes the situation worse. Still, this was easily fixed by shifting the Nespresso machine to the living room.
Open plan wardrobe…weird.
Immediately to the left of the wardrobe area is the bathroom. Once again, I really like the decor here and I was definitely a fan of the shower pressure!
I could definitely have done with more storage space though. Perhaps they could install one more shelf above the sink?
C.O. Bigelow toiletries, just like on AA business!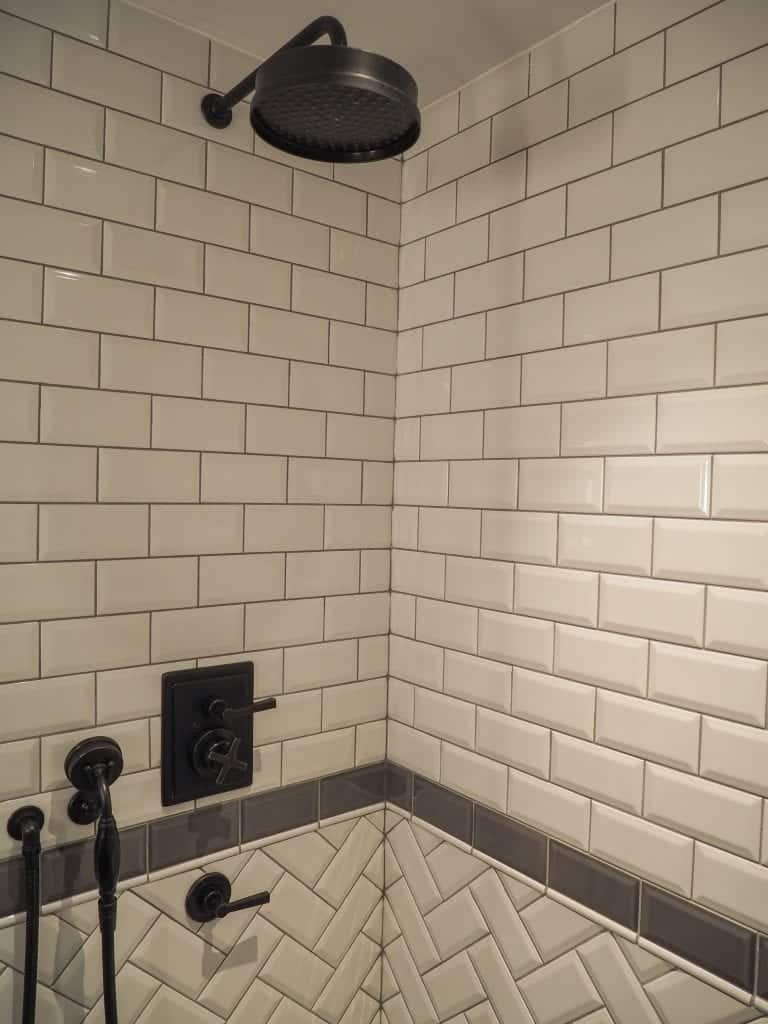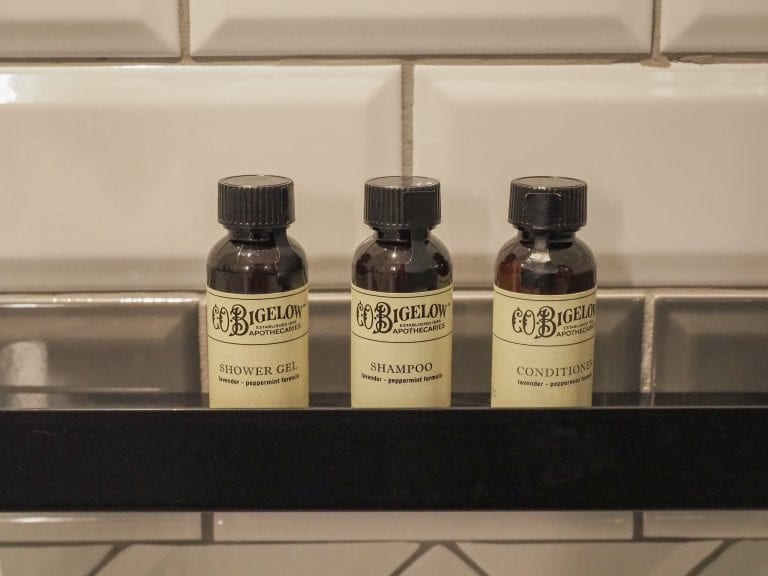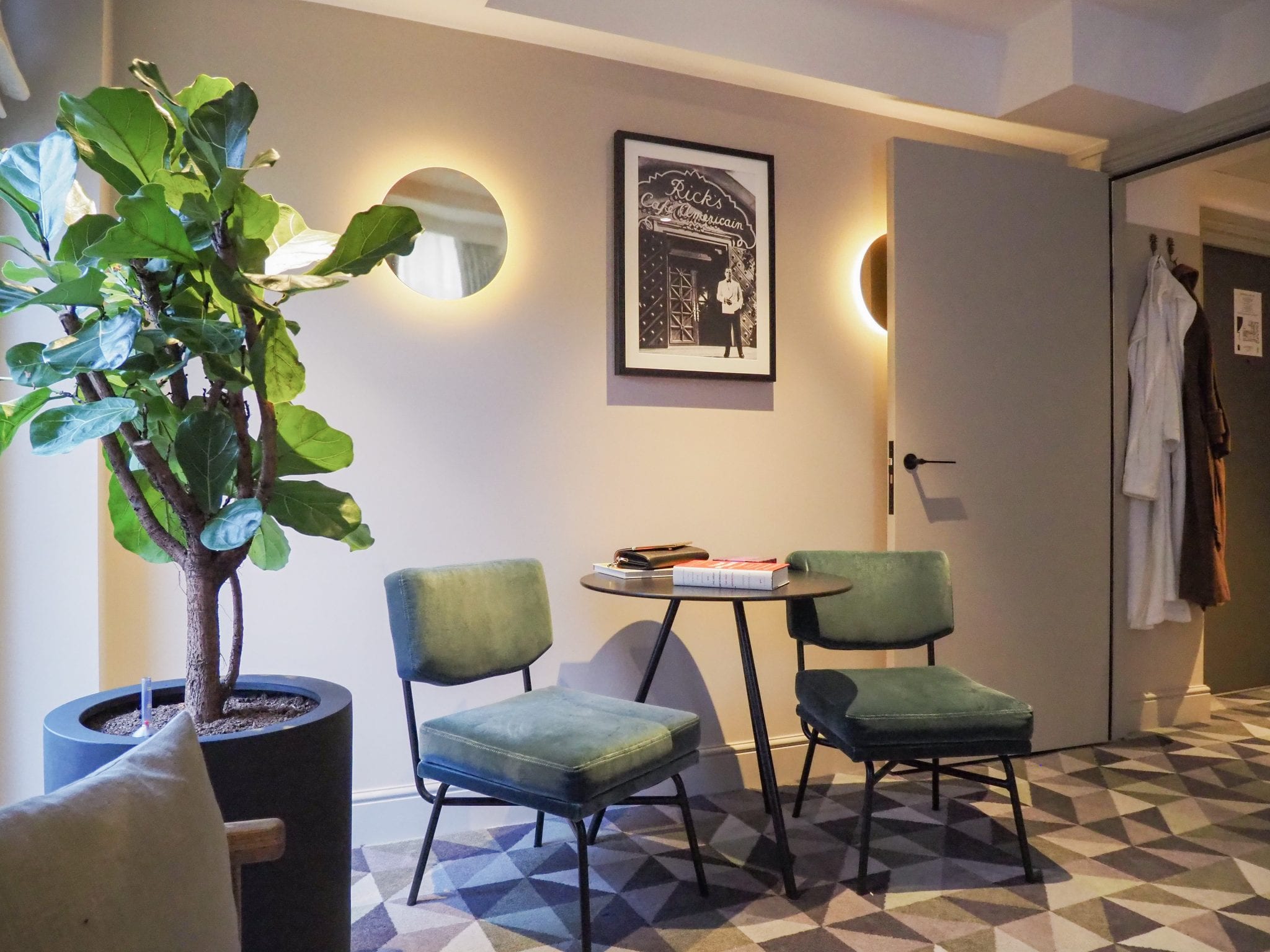 Despite the compact dimensions this is a true suite, meaning that there are proper walls and doors between the bedroom and the living area. This becomes particularly important when waking up in the middle of the night, the victim of jet lag. With a totally separate space you can catch up on emails or watch TV without disturbing your travel companion.
Given an old building to work with, hotel designers can often struggle to bring a room to life. I think that the amount of natural light and the addition of the plant life really works well in this space.
There is actually an enormous rooftop terrace just outside the living room. I'm surprised that this hasn't been furnished and added to dimensions of the suite.
The coffee machine's new home. Beneath it is the main storage space for clothing. Again, I feel it would have made more sense to put the fridge here, freeing up the drawer space in the bedroom for clothes.
The sofa was surprisingly comfortable, a great place to relax with an espresso…
…or perhaps something a little stronger.
We ordered the champagne from room service and were surprised at how quickly it arrived, particularly with it being a Friday night. The staff member who delivered it was very friendly and chatty and offered to take a picture for us.
I was also impressed when I asked the staff to print concert tickets for us and find out what time the headliners were on. An envelope was slid under our door with the tickets plus a printout of the stage times and even a map with directions to the venue, again within ten minutes of us asking. Obviously the cynic in me will point to the fact that this was a complimentary stay but thoughtfulness and extra attention to detail are hard to fake. Either the staff have the training and empathy to deliver quality service, or they don't.
---
Food and Drink
---
Breakfast
Breakfast is served in the Bistro on the ground floor between the rather civilised hours of 7am-11am.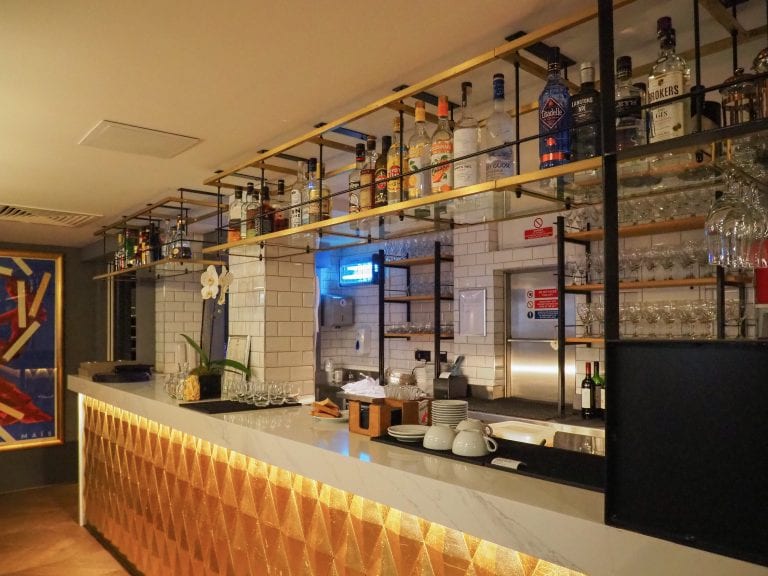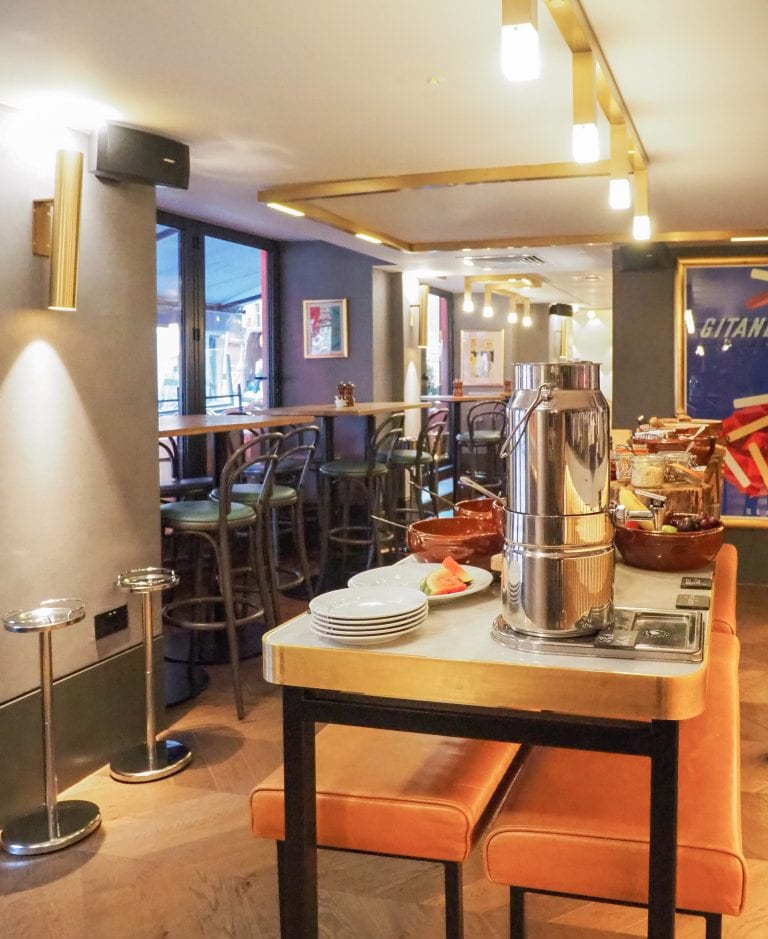 The breakfast is served as a continental buffet, with a la carte dishes available at an additional charge. At £18 the buffet doesn't feel like particularly good value, whereas eggs, bacon and French toast are an absolute steal!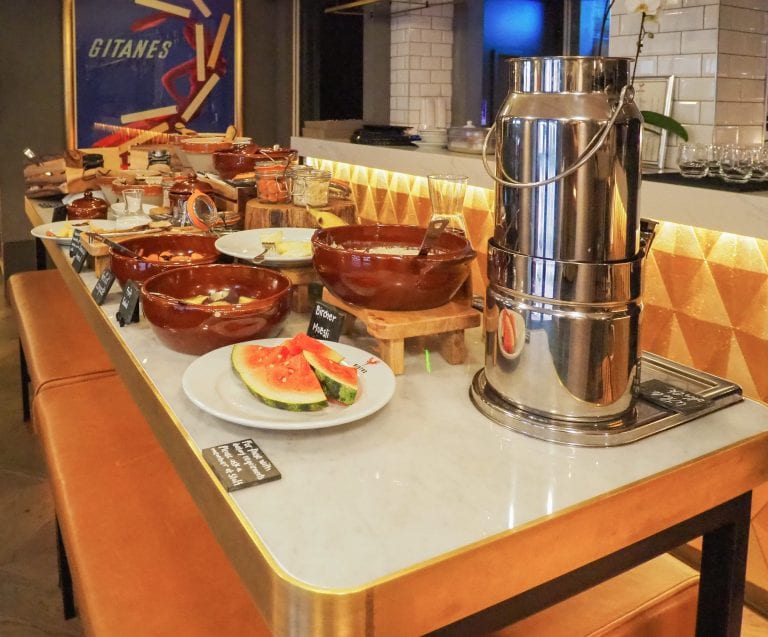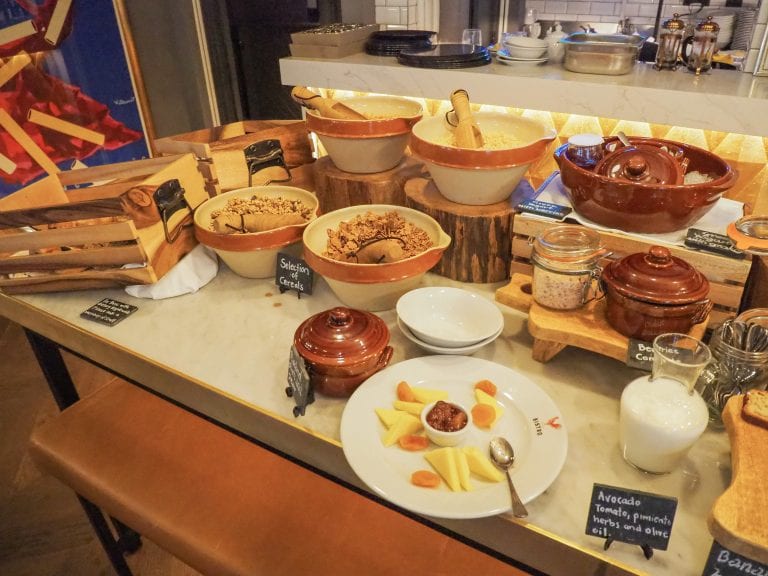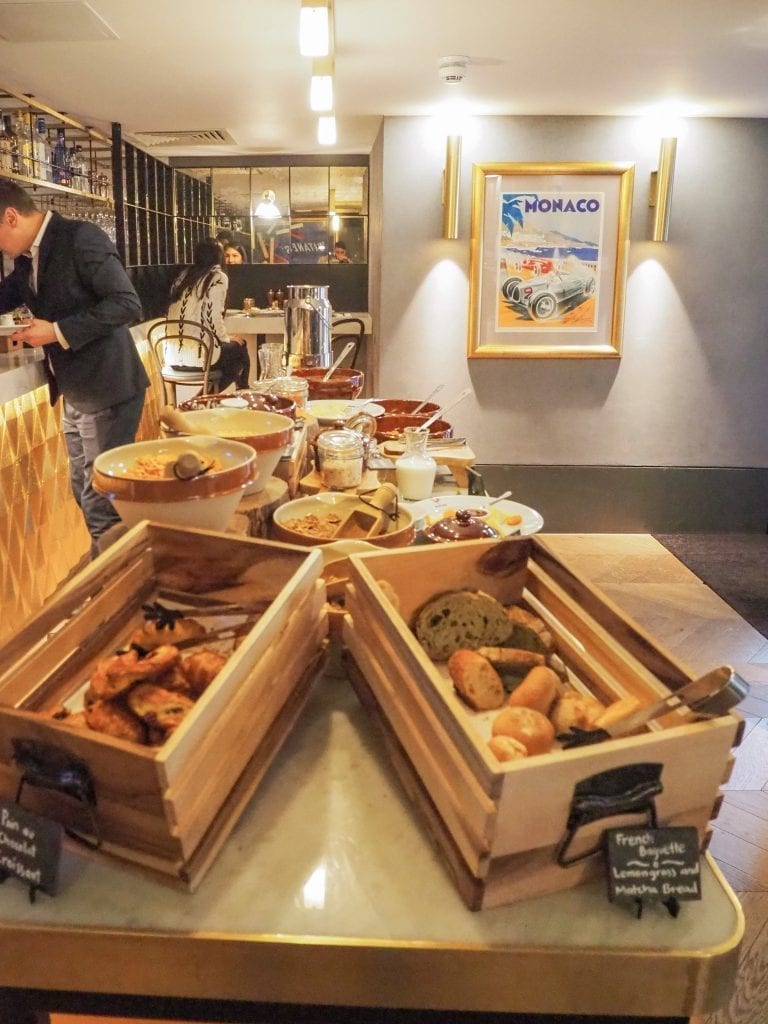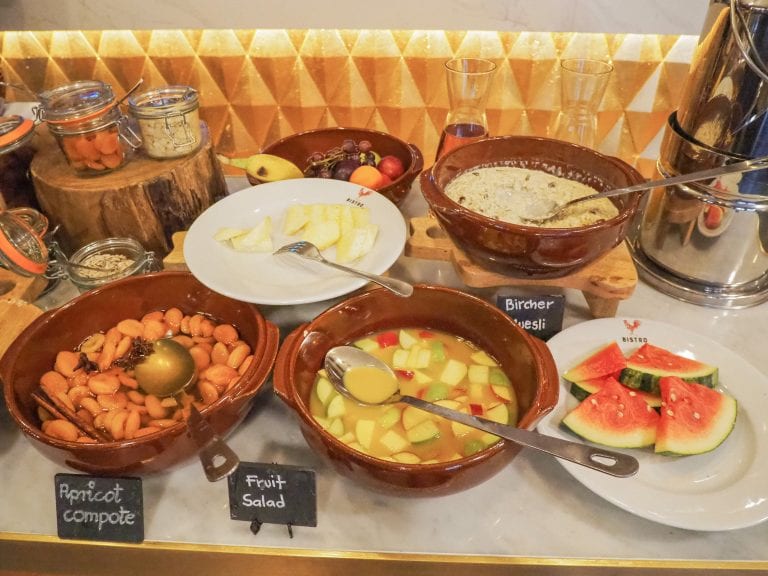 Eggs Benedict, decent but not mind blowing, it is a shame that these weren't served on a proper English muffin. The macchiato was genuinely excellent though.
The next morning we both opted for the scrambled eggs with smoked salmon, served on a brioche roll. These were fantastic, beautifully creamy and silky.
After keeping her composure on our first morning, Kamara broke down and ordered this carbohydrate monstrosity on day two. Having tasted a bit, I can confirm that this is absolutely worth spending some extra time in the gym for 😁
Victory House London – MGallery Hotel – breakfast.All the window seats were taken when we first came down to breakfast but we actually loved this little private nook, positioned in a prime location, right next to the coffee machine. (my personal favourite place to be in the morning 😉 )
Dinner
On our second evening we also had dinner in the Bistro. The restaurant was very busy and had a real buzz to it. The service did not suffer though; the staff were in high spirits and seemed to really enjoy working there. Once you get into the higher echelons of the luxury space, London's bars and restaurants can seem rather stuffy and a little cold. Here the experience was casual, fun and friendly.
Our meal began with a superbly executed dirty martini.
My starter of steak tartare was wonderfully seasoned and very fresh tasting.
Kamara's escargot were a little on the bland side but then again I'm not one to shy away from the kind of intensely garlicky flavours that would kill a vampire.
It would be a tragedy to eat at a French restaurant and not try the confit de canard. I'm happy to report that this tender piece of duck was packed with flavour and eager to slip effortlessly from its bone.
Kamara opted for the mountainous foie gras burger. A monolithic monument of meat. A fine burger, no doubt, but not a patch on my favourite, served a few streets away at Patty&Bun.
My floating island was lacking the customary custard but sported a delicious salted caramel in its place.
I was somewhat apprehensive about spending time in the touristy part of town but honestly the proximity to Leicester Square was largely incidental to us. Unless you are looking for moments of zen like calm in the evening, you could stay here and not be bothered whatsoever by the bright lights and loud groups on the streets below.
Instead, heading next door into Chinatown, you have a wonderful selection of restaurants and bubble tea shops, whilst a five minute walk further you have the dynamic and exciting area of SoHo, filled with an abundance of world class bars and restaurants, offering a taste of almost any country you can think of.
The central location means that space is at a premium but the design accounts for this rather well, for the most part, adding to the charm of the property. The decor is beautifully executed and a pronounced notch above the typical competitors in this price segment. Indeed, it is hard to think of a peer to this hotel when it comes to this style of upscale, retro-chic.
Given that the hotel is so new, I was expecting some service issues. We had a rather long wait for housekeeping one evening and a mix up with our dinner reservation but both issues were dealt with well and otherwise the service was warm, genuine and efficient.
A torrential downpour bore down upon us during our departure, yet we were walked to our vehicle by a doorman who sheltered us and carried our bags for two blocks, as we made our way to the nearest vehicle accessible area. He made sure to hold umbrellas over our heads as we entered the vehicle and wished us a safe trip home. This was a small personal touch that you don't always get in hotels charging four times the price, it was much appreciated and an apposite representation of our stay as a whole.
Looking to book a luxury hotel in London with added benefits? Email us for booking assistance: