W Mexico City
Location: Mexico City
Rate: $165 per night
Room Type: Spectacular Room

Upgraded from Wonderful Room

Loyalty Program: Marriott Bonvoy
Booking type: Marriott Luminous
---
Intro
---
After a late arrival into Mexico City, we needed somewhere convenient to stay for a single night.
We had a lunch booking at Quintonil the next day, so decided to keep things simple by staying in the same Polanco neighbourhood (Mexico City's answer to Mayfair).
I've always said that consortia rates like Virtuoso, Luminous, FSPP, etc. give the most value on a one night stay. This is because you receive a $100 credit per stay, not per night.
[On a 1 night stay, the credit is worth $100 per night – on a 5 night stay, it's only worth $20 per night.]
When I saw that rooms at the W were only $165 and included not only $100 back but also free breakfast, late checkout and an upgrade – my choice was easy.
Sure, I could have spent more to stay at Las Alcobas, but honestly I didn't feel like I'd make the most of the service, arriving at 11pm. Las Alcobas also has no gym and for me personally, a morning gym session after a long haul flight is a must.
Besides, if you conservatively value breakfast at $20 per person and then factor in the $100 credit, my out of pocket cost for an upgraded room at the W, with late checkout would only be $25!
I tend to find this kind of silliness hard to resist, if nothing else because it makes for a great story.
---
Booking
---
I would always recommend booking Marriott properties (including the W brand) via Marriott STARS/Luminous.
Marriott STARS/Luminous always match the best rate on the Marriott website, but ALSO offer extras such as:
• Upgrade of one category, based on availability at time of check-in.
• Full breakfast for up to two in-room guests.
• $100 food and beverage credit.
• Early check-in/late check-out, subject to availability.
You can book a Marriott Luminous rate at W Mexico City for yourself (and at all other Marriott properties) by using our online booking portal:
BOOK W MEXICO CITY WITH MARRIOTT LUMINOUS BENEFITS
If you are planning an itinerary involving multiple rooms or properties, please get in touch for immediate booking assistance:
---
Arrival
---
We took an Uber Black SUV from the airport, which took around 40 minutes at a cost of 600 MXN (around $30 USD).
Arriving late at night, it felt more like we were entering a nightclub than a hotel (I retook pictures during the day, when the lighting conditions were much improved).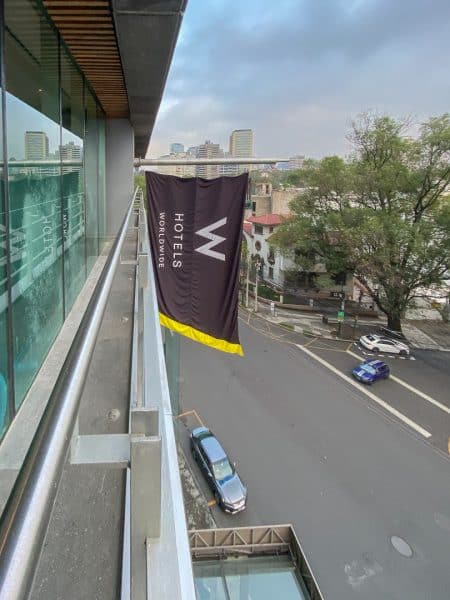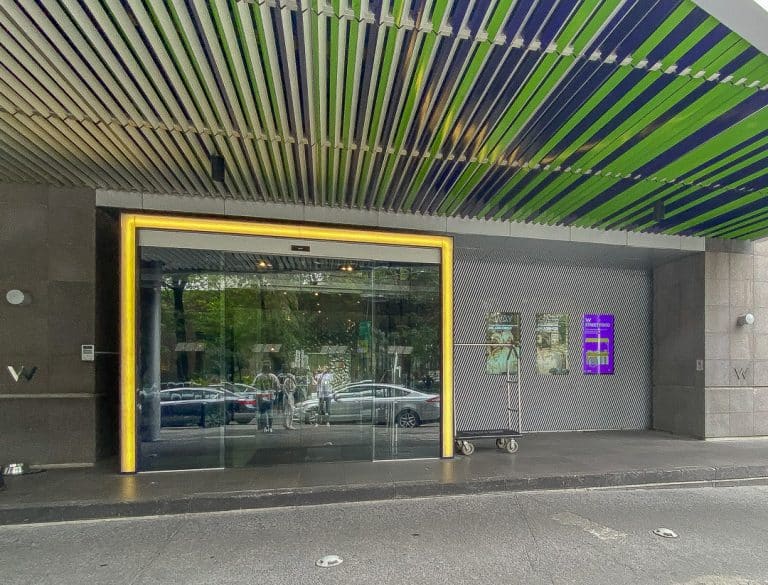 There were no staff on hand to greet us when we arrived but the reception was easy enough to find, being immediately to our left as we entered. On our right was a restaurant/ bar area, which was surprisingly quiet for a Saturday night.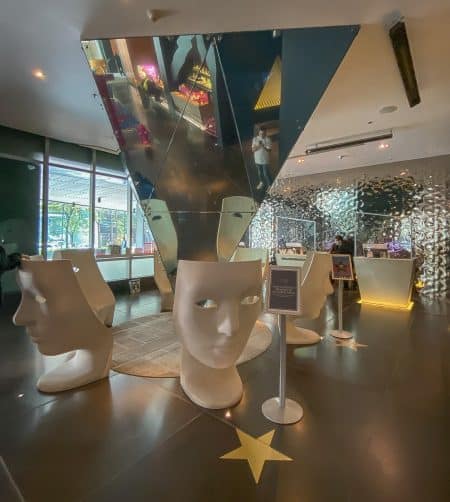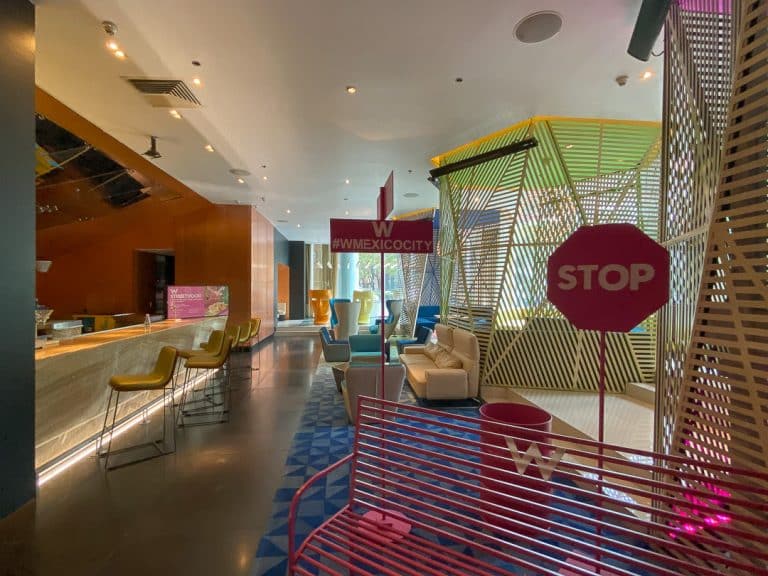 During check-in, we were handed a letter detailing our Marriott Luminous benefits; we were also told that we had been upgraded from a Wonderful room to a Spectacular room.
I always cringe slightly when I hear room names at W hotels but then again, Marriott's loyalty program is now called Bonvoy and Hyatt's program calls a tier of its membership program Explorist – so I guess the whole industry is headed in this direction…
The W is housed in a building which is 25 stories tall, with our room being on the 17th floor.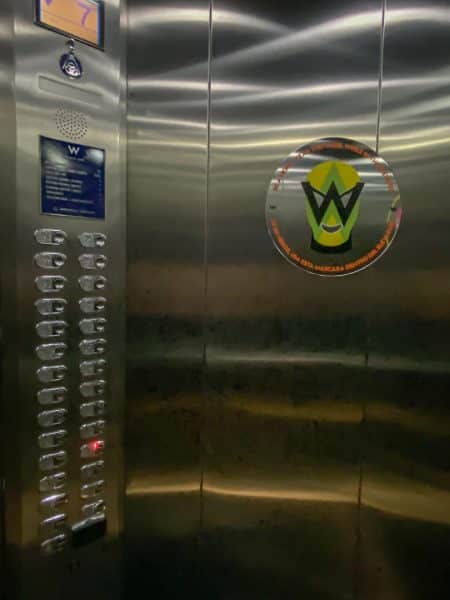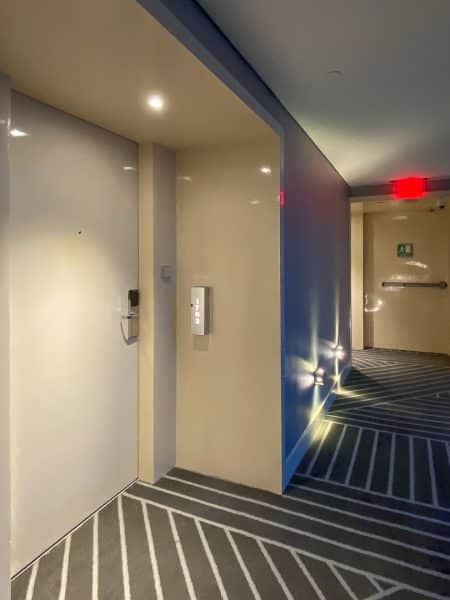 Despite ostensibly being a 5* property, nothing about the hotel really gave that impression visually. The Mexican wrestler face in the lift, the primary coloured walls and the garishly patterned carpets all had more of the feel of a youth hostel.
---
Spectacular Room
---
Bedroom
The bedroom was very bright and relatively spacious. The shiny floors and wipe clean sofas did make me question though, what exactly may have taken place within these walls in the past…
Immediately to my right, upon entering the room, was a seating area featuring a double wardrobe. I loved the fact that there was a dedicated luggage space, next to the sofa, perfectly positioned for unpacking.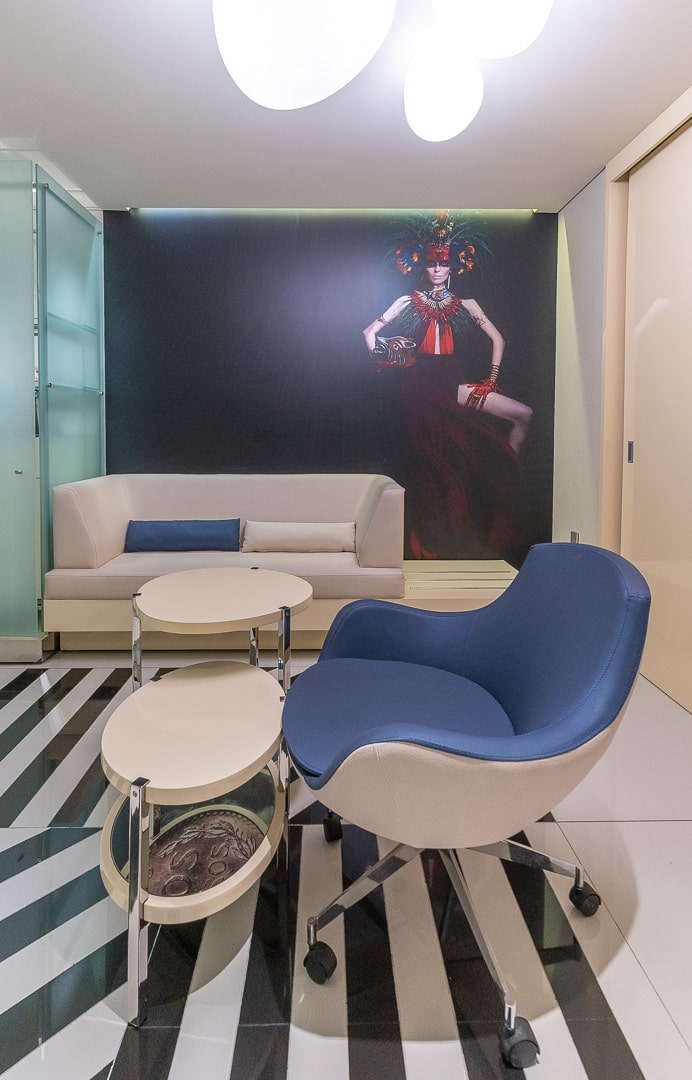 Separating the bed from the sitting area was a blue glass cupboard, containing a Nespresso machine. At the foot of the bed was a desk, featuring a variety of power sockets and USB ports. Next to this was a second sofa with a pull out drawer, useful for storing shoes.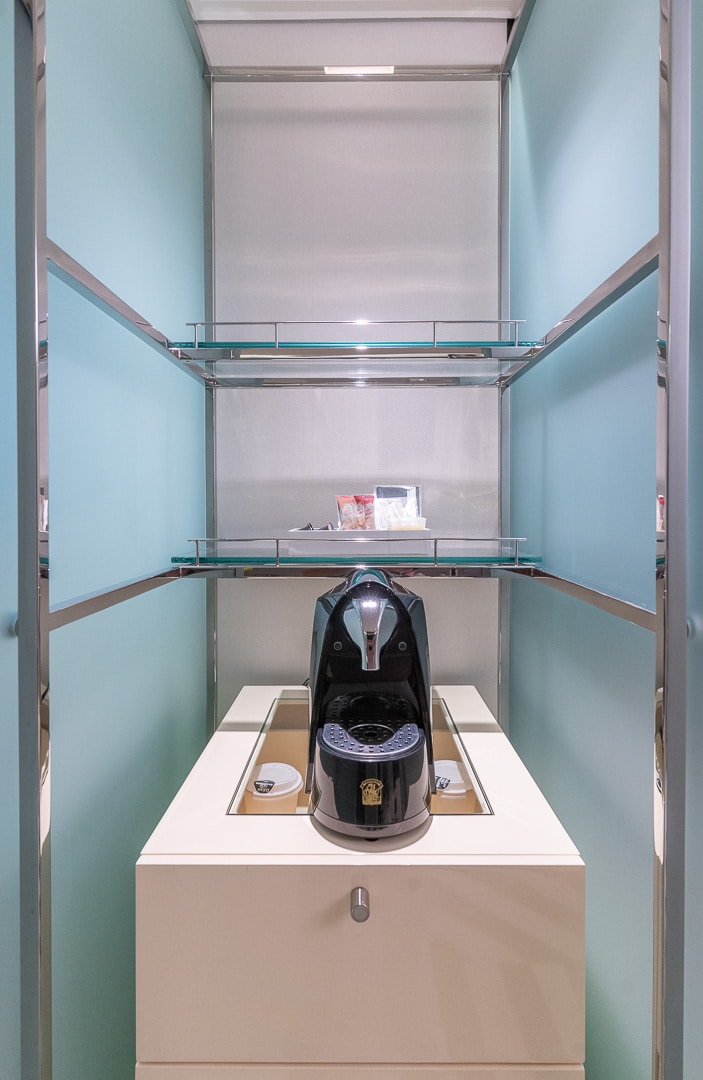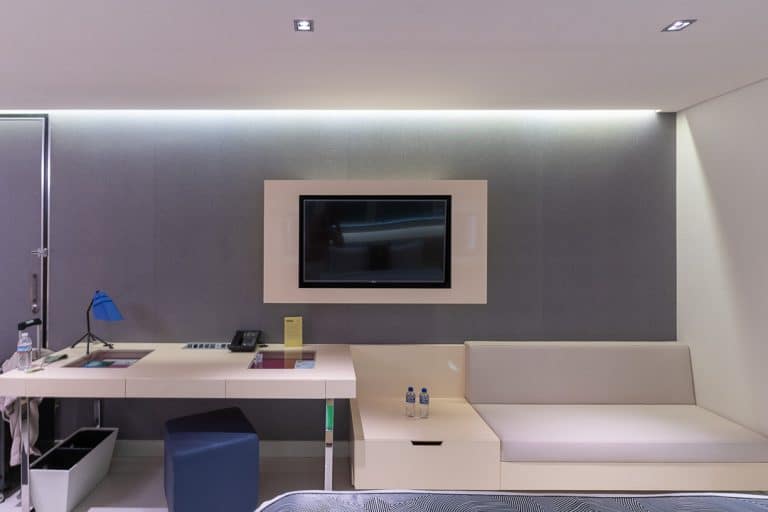 The bed itself was very large and comfortable. The floating design would have seemed a little severe by itself but coupled with the cushioned headboard surround, the space felt quite cosy – once you were in bed.
The bedside lamps occupied very little space but looked amazing. Both sides of the bed featured universal power, USB and a series of clearly labelled light switches. There was not only plenty of counter space but also additional storage within the bedside drawers.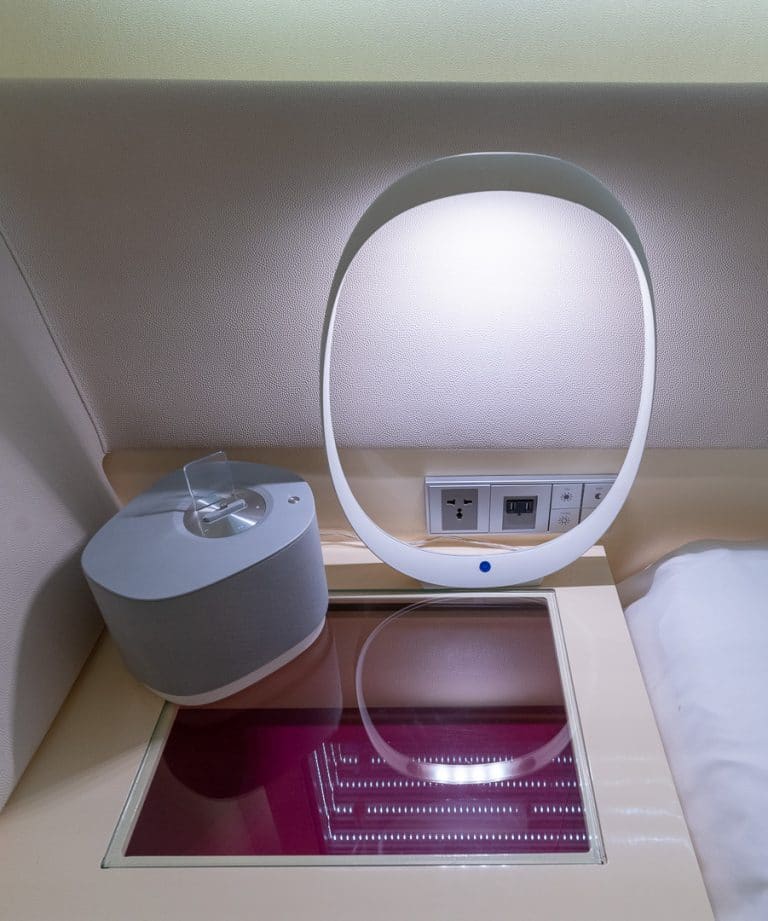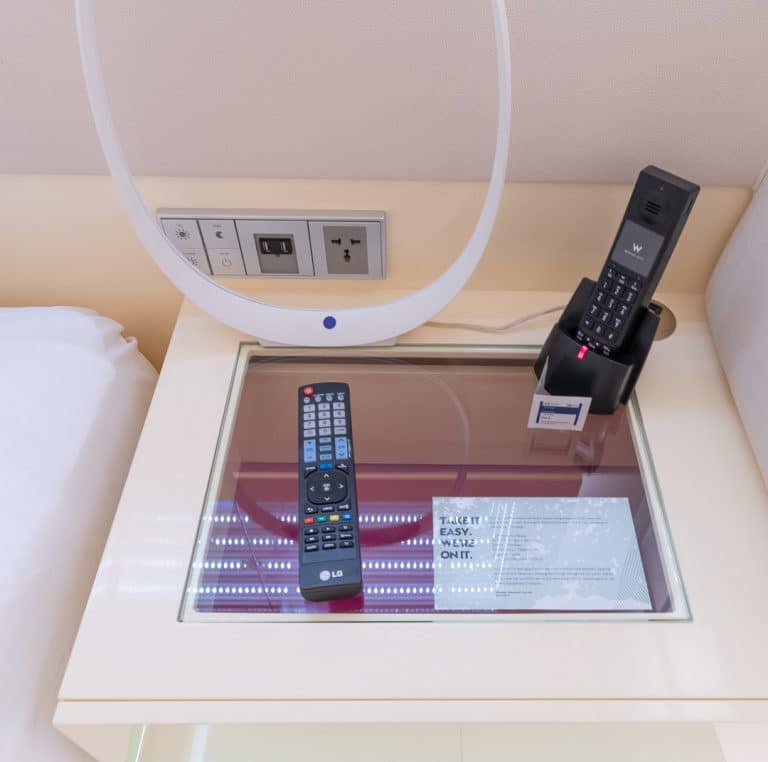 Bathroom
The bathroom was located behind a net curtain rather than a door…because this is a W. I was impressed to see twin sinks though and the mirror was very well lit. The bathroom also featured a giant window with fantastic 17th floor views.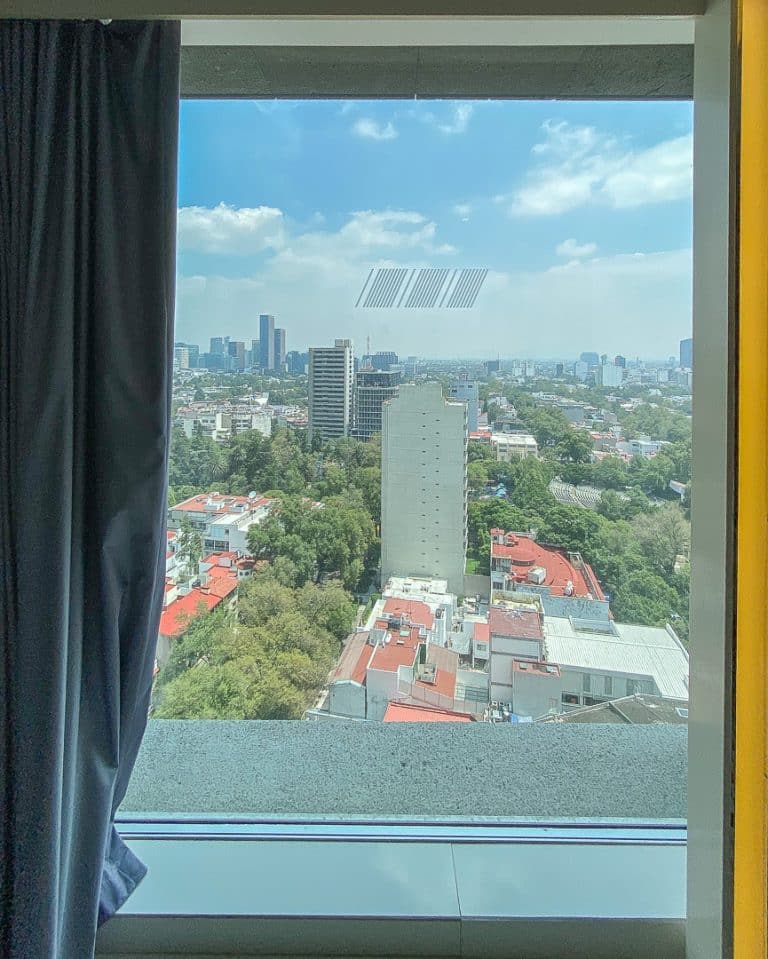 The shower and bathroom featured some rather aggressive checkerboard tiles, which made me feel slightly on edge. The shower was very spacious though, with great pressure. I liked the fact that a facial cleanser was also provided, alongside the usual toiletries.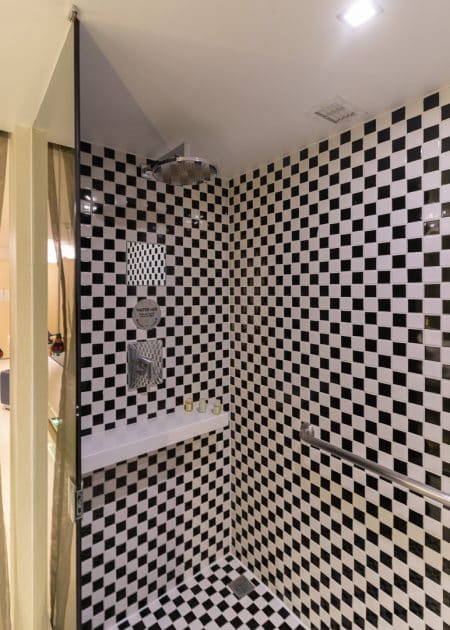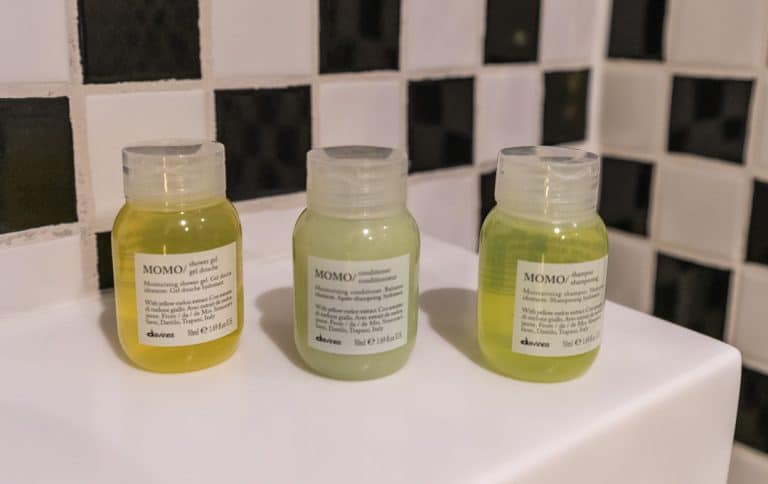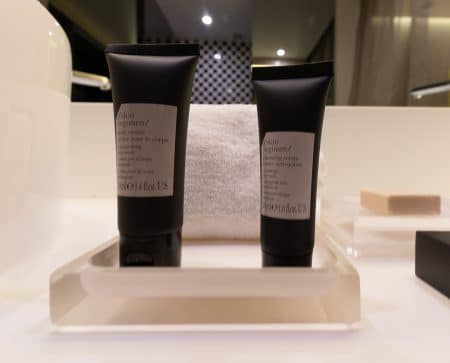 ---
Food and Drink
---
Room Service
We ordered room service immediately after getting to the room. It was 11pm local time but unfortunately there was quite a wait, with food not arriving until an hour later. The room service attendant was very friendly and super apologetic. He said that more than 10 rooms had ordered room service at the same time and the kitchen was completely taken by surprise!
You can scan the QR code below to see the latest version of the menu. It is incredible how reasonable the prices were for a 5* hotel, located in the most upmarket district of Mexico's capital.
Even after ordering a huge selection of dishes, we struggled to use $65, let alone the full $100 credit that came with our room!
The portions were huge and the food was all absolutely delicious. This wasn't ornate or delicate in any way but it was rich, flavourful and very satisfying.
Breakfast at 25 Dos
Breakfast was a real surprise. There seemed to be a real buzz around the W on Sunday morning, with group spinning and yoga classes taking place in large, bright rooms immediately adjacent to the breakfast venue: 25 Dos.
Well heeled locals sat amongst hotel guests, with designer handbags and show breed dogs in tow. Atmosphere is key for me during a hotel breakfast and stepping into the restaurant, I instantly felt energised and refreshed.
Service was as effusive and friendly as you'd expect in the USA. Big smiles, food served quickly and, once again, huge portions!
The quality of not only the food but also the smoothies and the coffee, was excellent.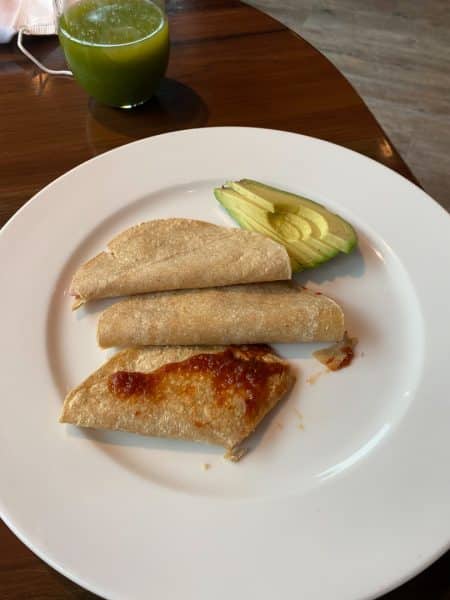 We were told that our breakfast included juices, coffee and a selection of the egg dishes, with a surcharge applicable for other items. Since we still had $35 of credit to get through I went all out and ordered the "Hurache": a steak dish with fried egg, pico de gallo and sliced cactus. It was amazing.
---
Leisure facilities
---
Pool
The hotel pool is more of an oversized hot tub and sits directly behind the reception area of the spa.
On the other side of the pool was a sauna and steam room, with daybeds strewn around the area. We visited at around 6am when the facilities had just opened but it looked like there was a full bar here, so definitely more of a party pool than a traditional spa.
Gym
The gym was located just behind me as I took the picture of the pool. The facilities were decent for a hotel gym, with a selection of Technogym machines and numerous pieces of cardio equipment, alongside a variety of old school dumbells and barbells.
---
Conclusion
---
Basics Checklist
☑︎ Power sockets near the bed
☑︎ Easy to understand light switches
☑︎ Coffee machine
X Large shower but no bath
☑︎ Blackout blinds
☑︎ Stable, fast and free Wifi
☑︎ Feather pillows
☑︎ Quiet and powerful aircon
W hotels are definitely not my style. I'm more into minimalism and clean lines. I prefer luxury hotels to feel like luxury hotels (and for nightclubs to feel like nightclubs).
Having said that, I really enjoyed this stay overall. The food was excellent, with breakfast in particular feeling like a genuine local hotspot.
The room had everything we needed and was fully modernised, in terms of connectivity, power, etc. The bed was also very comfortable.
Given the absurdly low price, I struggle to see why I'd pick anywhere else for a quick stay of this nature. I actually preferred the overall feel to the much more corporate and beige Hyatt Regency around the corner (where we stayed 2 years earlier).
If you can stomach the neon and the silly room names, there's actually a lot to like about this property.
---
Book W Mexico City with Marriott Luminous benefits
---
Marriott Luminous Booking
Marriott Luminous benefits, which may be available on your stay:
Upgrade of one category, based on availability at time of check-in.
Full breakfast for up to two in-room guests.
$100 hotel credit valid for dining and spa spend
Early check-in/late check-out, subject to availability.
W Mexico City can be booked directly online, with Marriott Luminous benefits, by clicking the "BOOK NOW" image.
Do you have a more complex booking enquiry, involving multiples rooms or hotels? Email us for immediate booking assistance: