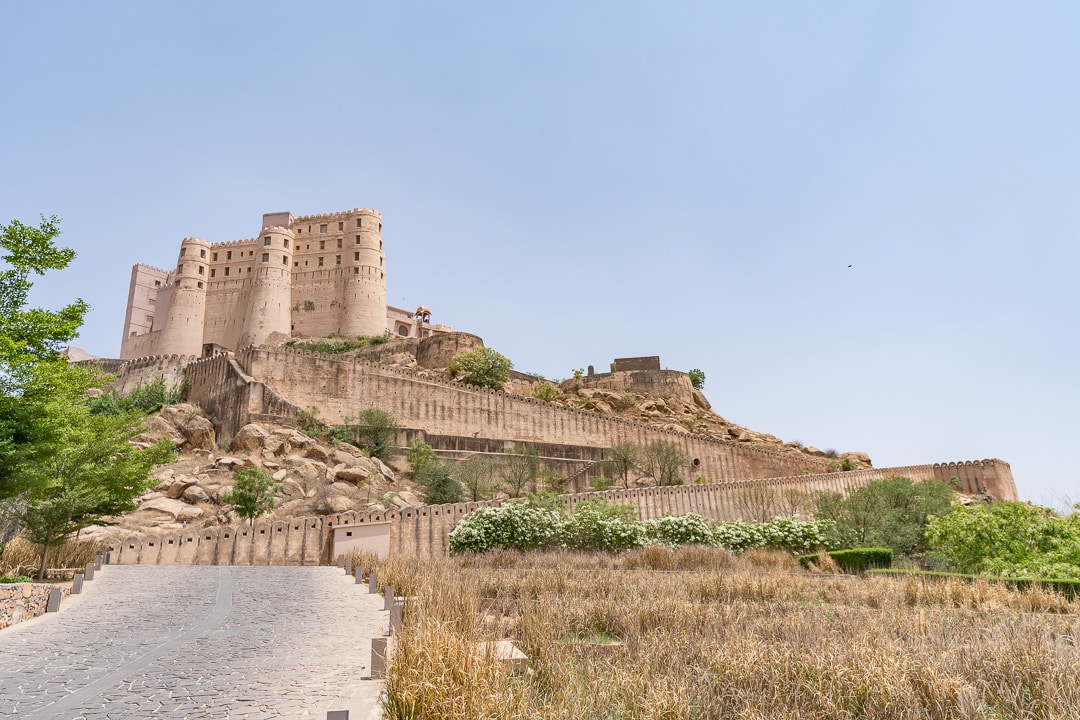 REVIEW – Alila Fort Bishangarh (Jaipur, India)
December 28, 2021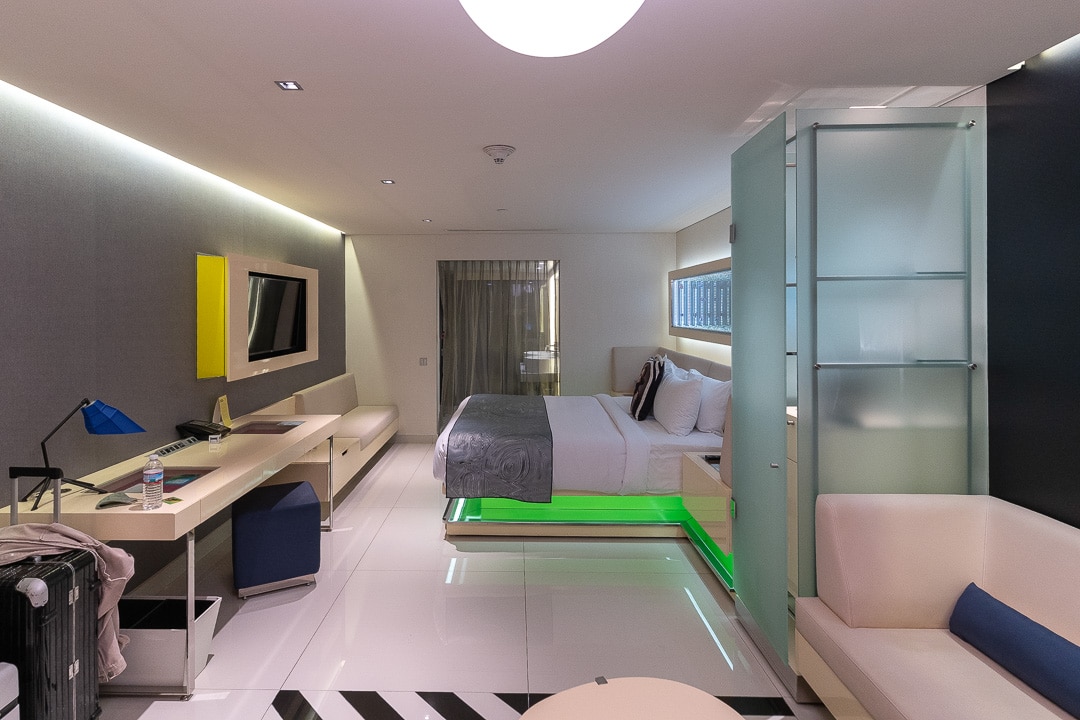 REVIEW – W Mexico City
January 17, 2022
,
Emirates (EK)
Flight: EK764
Class: Business Class
From: Johannesburg (JNB)
To: Dubai (DXB)
Duration: 8h15m
Aircraft: A380
Seat: 11K
Frequent Flyer status during flight: None
Booking type: Cash fare (LON-DXB-JNB r/t for £1376)
Flight date: December 2019
---
Intro
---
Emirates is quite possibly the world's most overhyped airline. The airline spends astronomical sums on advertising, often with a focus on its First Class product, above all else.
The hope has presumably always been that First Class will provide a halo effect, leading customers to believe that even in Business or Economy, Emirates is a cut above the competition.
In First Class, there is no question that suites with closing doors, onboard showers and $500 bottles of champagne put Emirates at or near the top of the pack. In Business Class though, the value proposition is a lot less clear cut.
I'd always viewed the Emirates A380 product as solid but not particularly great. The 1-2-1 seating configuration is similar to the likes of Garuda, China Southern or Etihad, however for some reason, there are people out there who genuinely believe that this is the best product in the sky. Surely the addition of faux wooden trim and an on-board bar wasn't enough to justify this? There had to be something that I was missing.
This flight for me was all about seeing whether the hype was justified, or whether it was the product of highly susceptible people who had insufficient experience of other carriers to know any better…
---
How I booked Emirates Business Class
---
I booked a London to Joburg fare for £1,576 per person in Business Class. I booked this with Amex Travel, making use of an Amex Platinum promotion, which offered a £200 rebate on flight and hotel bookings over £600.

This reduced the overall cost to £1,376 per person: an exceptional deal for Emirates Business Class flying out of London.
---
Emirates A380 Business Class Cabin
---
After a typically lacklustre visit to the Joburg Emirates lounge, I was excited to finally try Emirates Business Class for the first time! The windows at the gate area afforded us a perfect view of our whalejet for this evening's flight to Dubai.
Over the years, Emirates has taken delivery of 123 Airbus A380s and every few years the interiors have been refreshed, most notably in 2017, when not only the seats but also the onboard bars were overhauled.
Unfortunately, despite the updated livery, the interior appeared to be from the oldest generation on offer. Newer aircraft feature champagne coloured leather seats, with darker walnut effect wood.
These older generation of aircraft have a far more garish colour combo of grey and purple leather, combined with light orange, wood effect panelling.
As soon as I posted a picture of the seats on Instagram stories, somebody messaged me to say that they looked like "baby sneakers". I'd say this is accurate.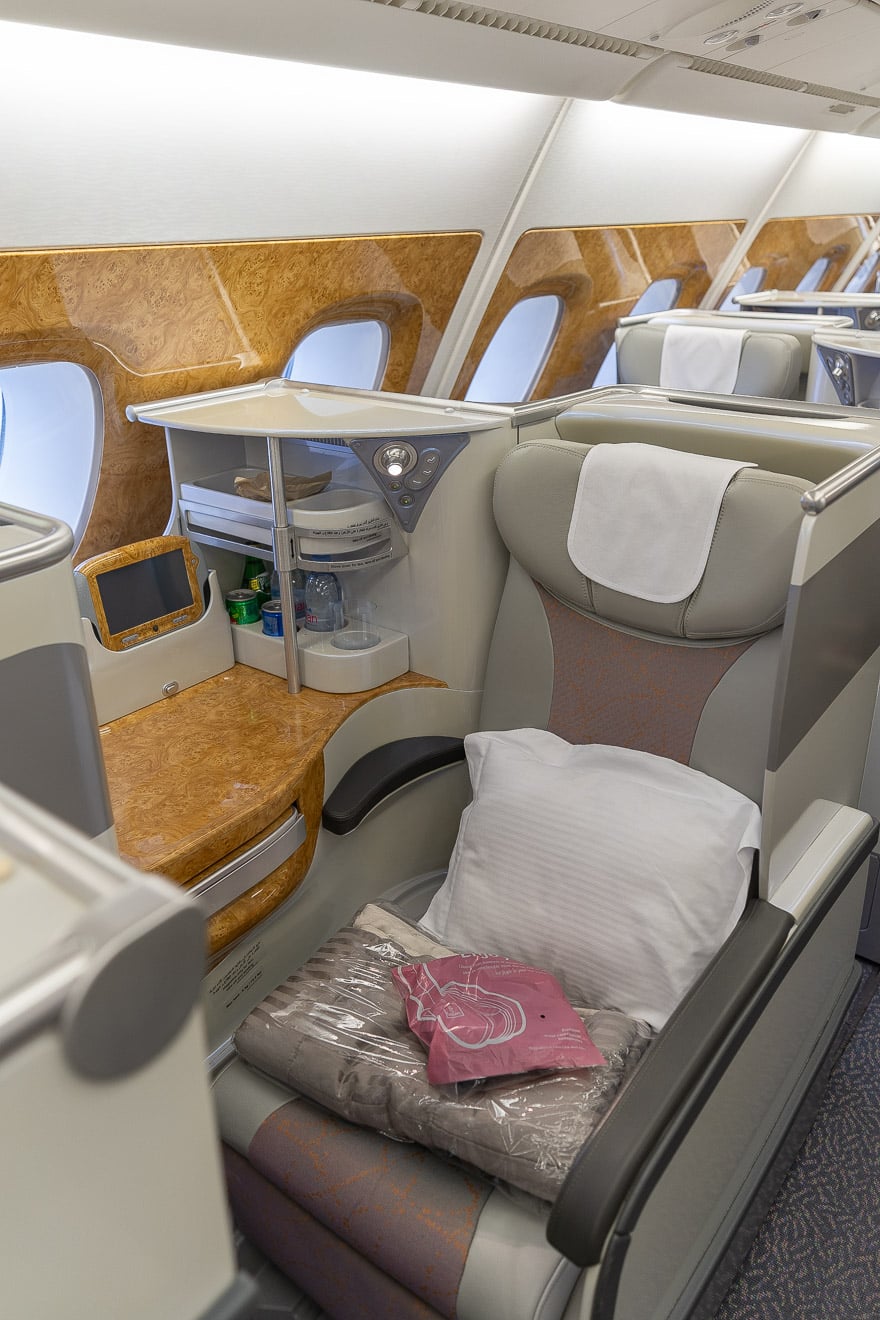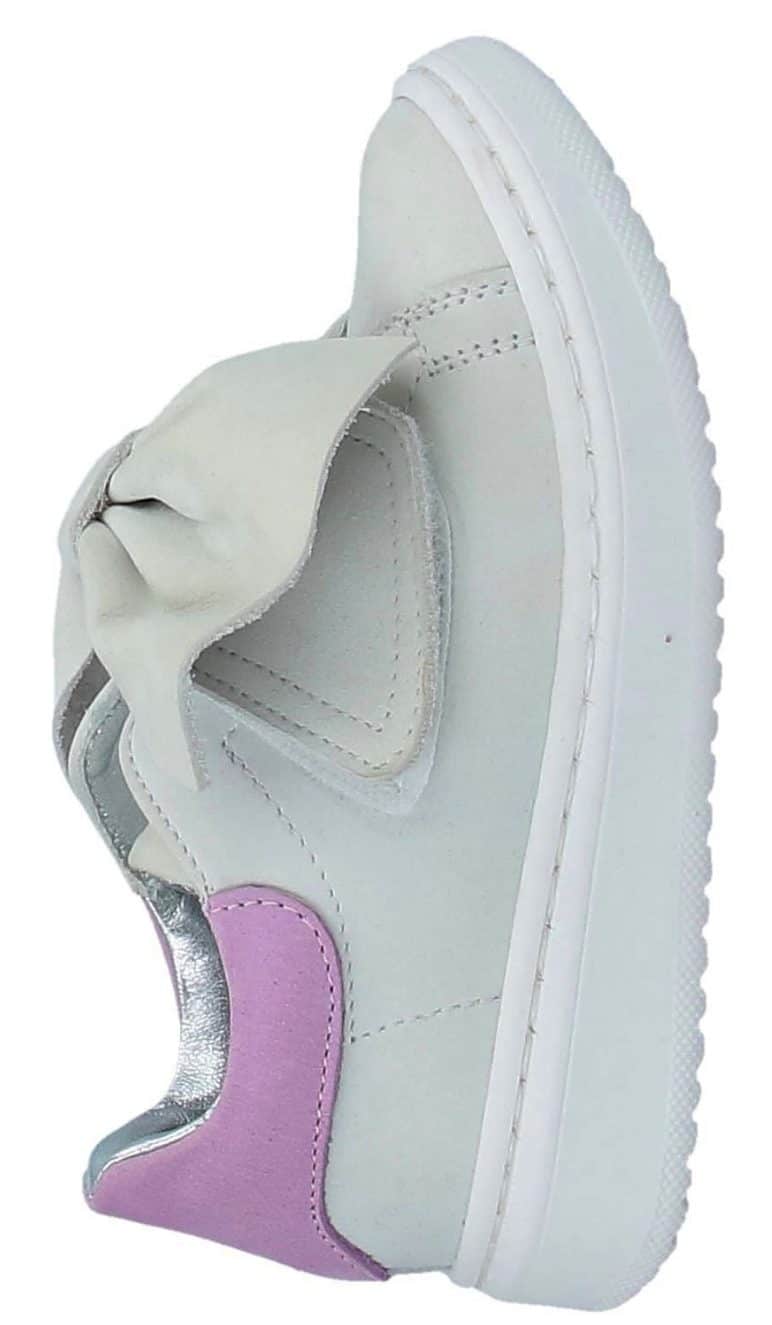 In terms of the cabin layout, the seats on Emirates A380s are distributed in a 1-2-1 formation. So far, I've shown seats in row 10: where the window seats are separated from the window by a table and the centre seats also have tables separating them in the middle.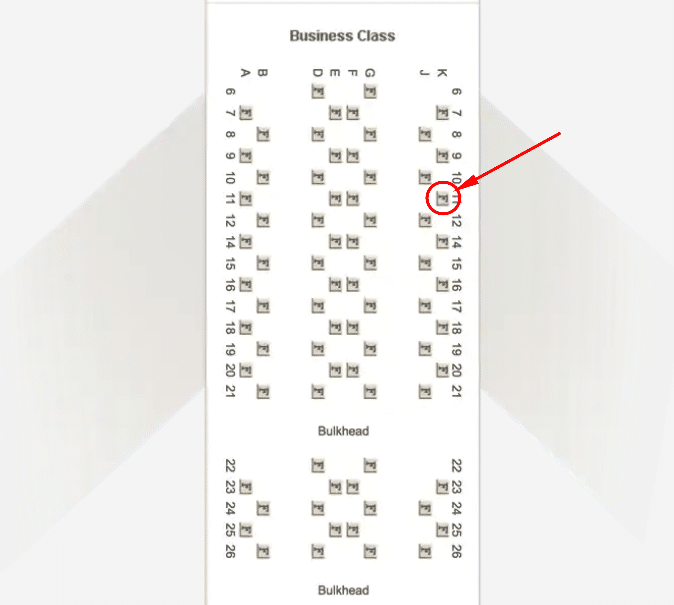 My seat was in row 11, which featured the opposite seat distribution.
My window seat was right by the window, with a table shielding me from the aisle.
Meanwhile, the centre pair in this row also had tables on the outside. The centre divider could then be lowered to make a cocooned and private suite of sorts.
Of all the seat types available, you're best off choosing a true window seat ending in the letter A or K. These provide the most privacy, benefit from extra storage compartments and also offer a proper window view, without any separation.
The additional storage compartments came in particularly handy, since there wasn't much storage on offer otherwise.
To my left hand side was a narrow storage slot, which could fit a small tablet device. Above this was a side table featuring an un-chilled minibar. This really seemed like more of a gimmick than anything, as the space could have been better used as a proper storage cupboard.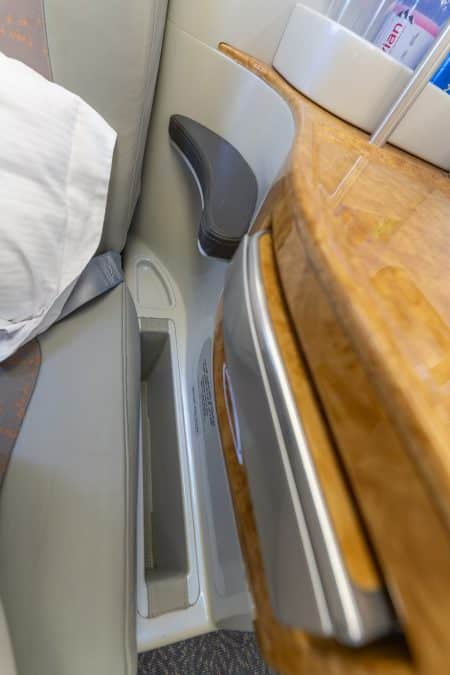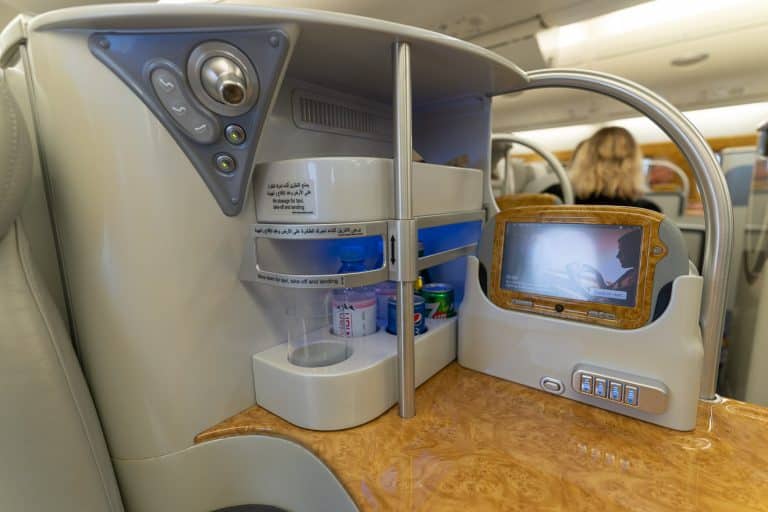 If you're going to ask for a glass of ice to enjoy your warm mini can of sprite with, you might as well just order a cold sprite and save the space next to your seat.
One great feature though was the personal air nozzle. I'm still not sure why so many carriers neglect to install these in their premium cabins.
Since this was an older generation plane, we had one of the bulbous 'tamagotchi' style tablets with which to control the IFE (window controls buttons were located on the tablet housing). Again, the tablet seemed a little gimmicky and unnecessary, given that there was another IFE controller under the screen.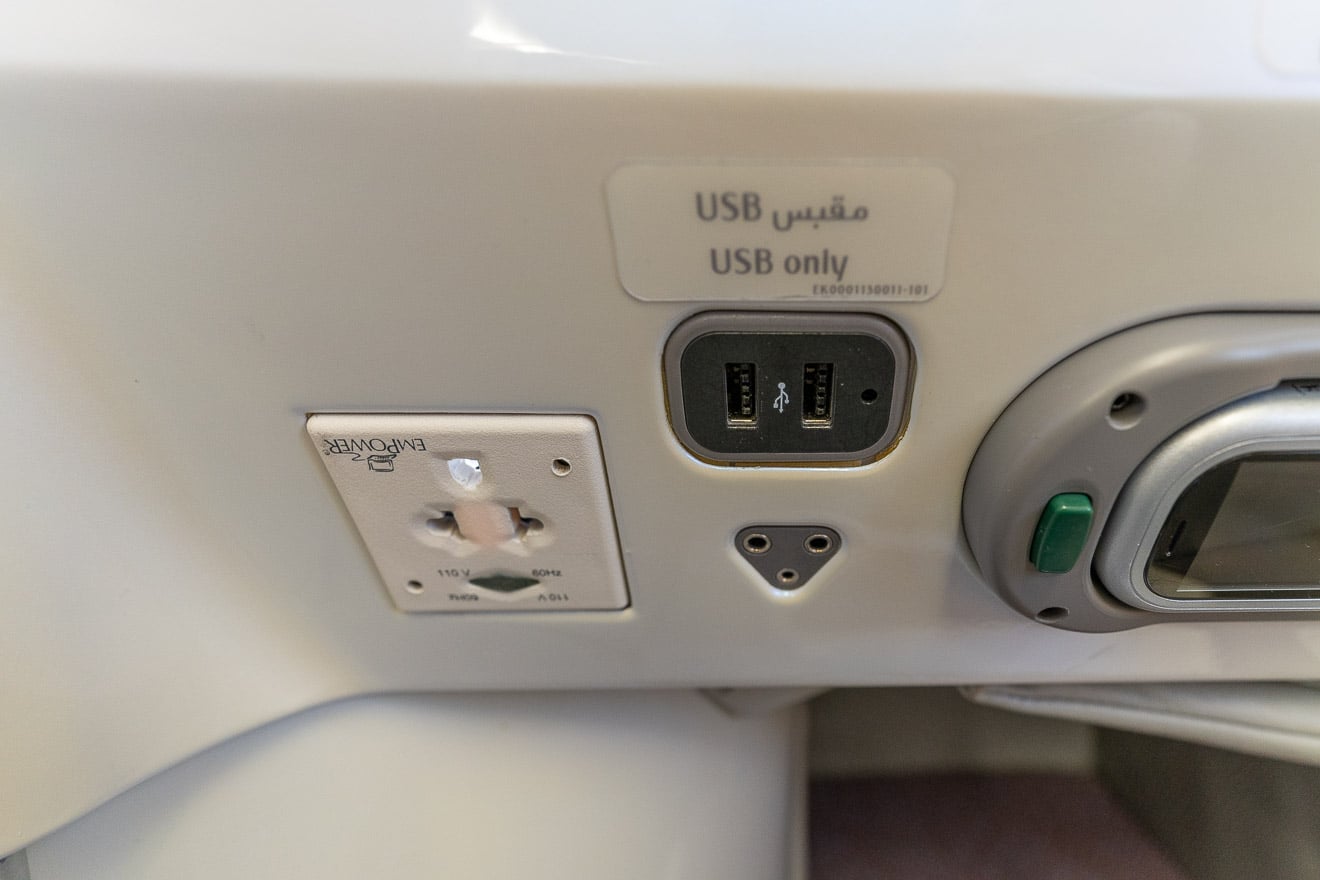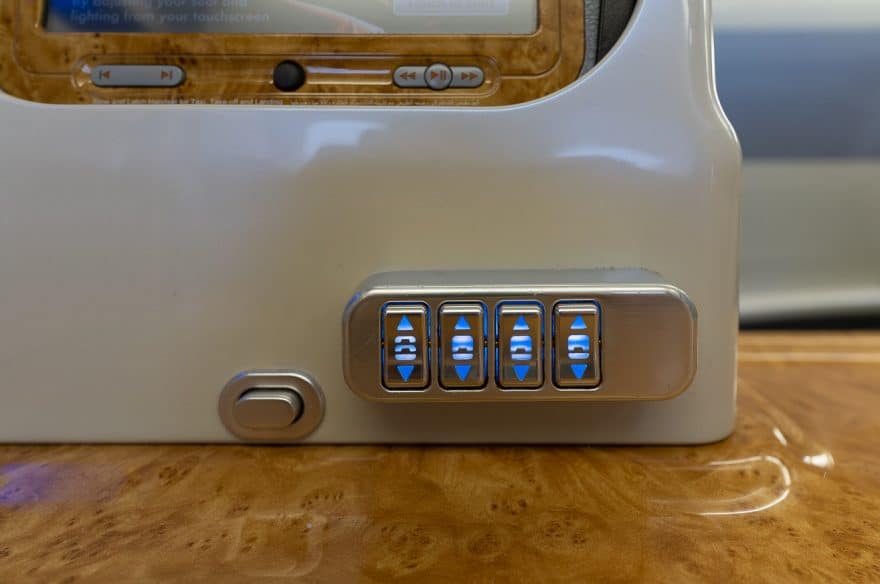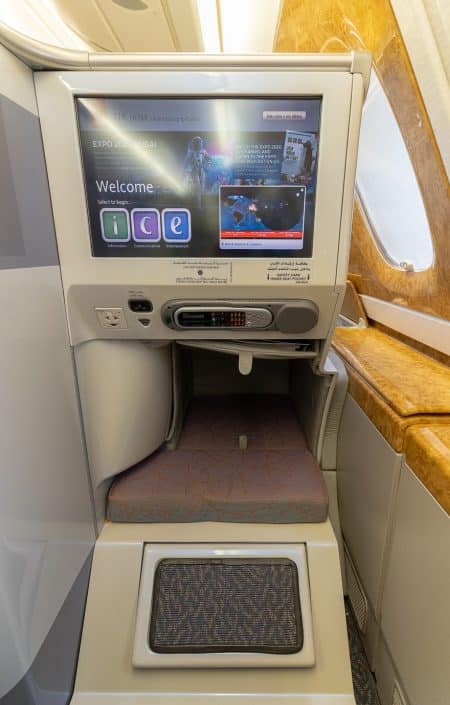 Both the tablet and the IFE screen were ostensibly touch sensitive, although both were unresponsive enough that it was easier to just use the buttons on the remote under the screen.
Emirates could easily remove the tablet and put a privacy shield, with extra storage, in its place. This would reduce the number of complex electronic components, reduce airplane weight and increase privacy for passengers.
Despite being an older plane, the seat had been retrofitted to incorporate both USB and an empower socket. Bizarrely, the empower socket was not universal as it could not take UK/HK devices.
One final thing that I noted with the IFE was that the headphone socket was directly under the screen; this meant that the cable dangled in front of me the whole time. This might not seem like much of an issue but during the meal service it was annoying having to ensure that the cable didn't knock over any food or drink.
In terms of screen quality and design, it really felt like the IFE had been directly ported from an Economy seat, without much consideration for the differences in a Business Class product.
A final storage compartment was built into the seatback in front of me, this contained in-flight magazines and the safety card.
Emirates Business Class Amenities
Amenity kits and slippers were distributed prior to take-off. Slippers are still something of a rarity in Business Class cabins outside of East Asia. I'm not sure why, given that outside of East Asia is where airplane bathrooms are generally the dirtiest… Either way, the Emirates slippers were comfortable and relatively high quality. As were the noise cancelling headphones (complete with faux wooden trim).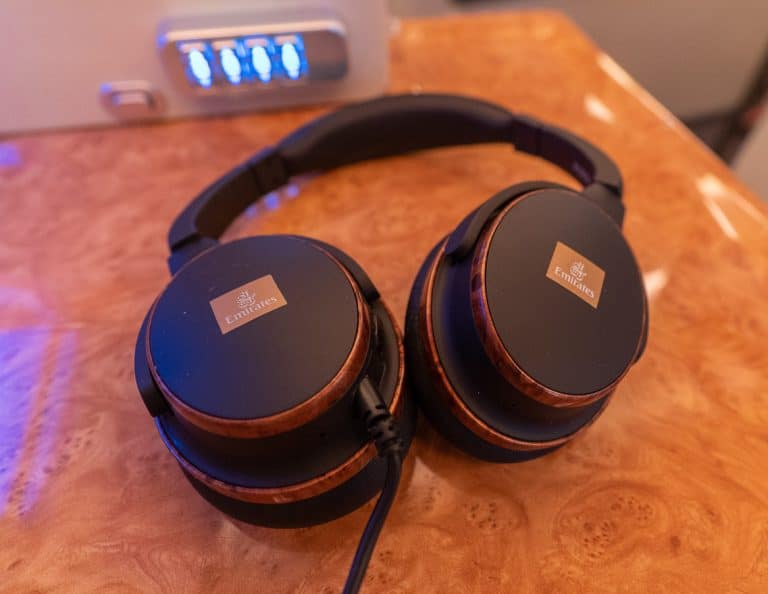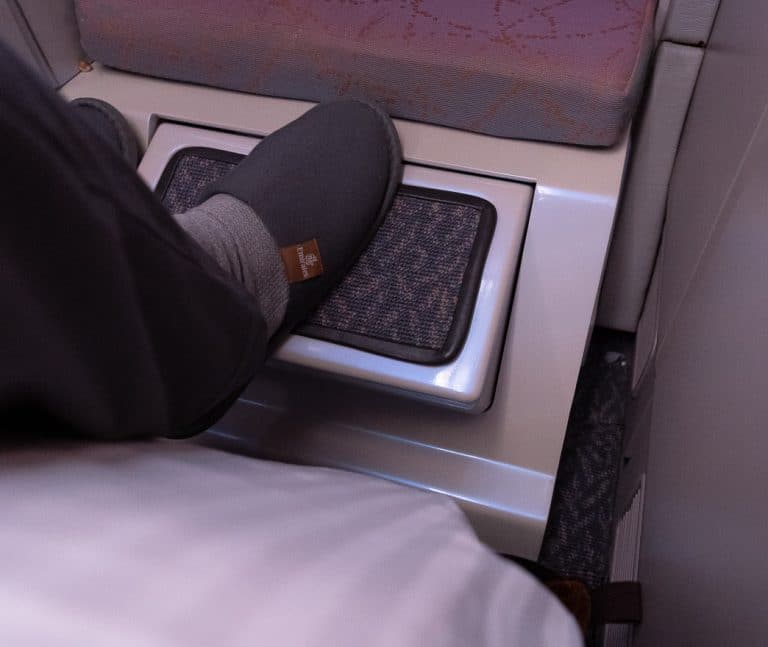 The Emirates amenity kits are quite possibly the best that I've ever seen in any Business Class cabin. The kit included Bvlgari aftershave and body lotion as well as a small cologne, a deodorant, shaving foam and a razor.
Everything was sized more like what you'd expect at a hotel than on a plane. I honestly struggled to distinguish this from a First Class amenity kit.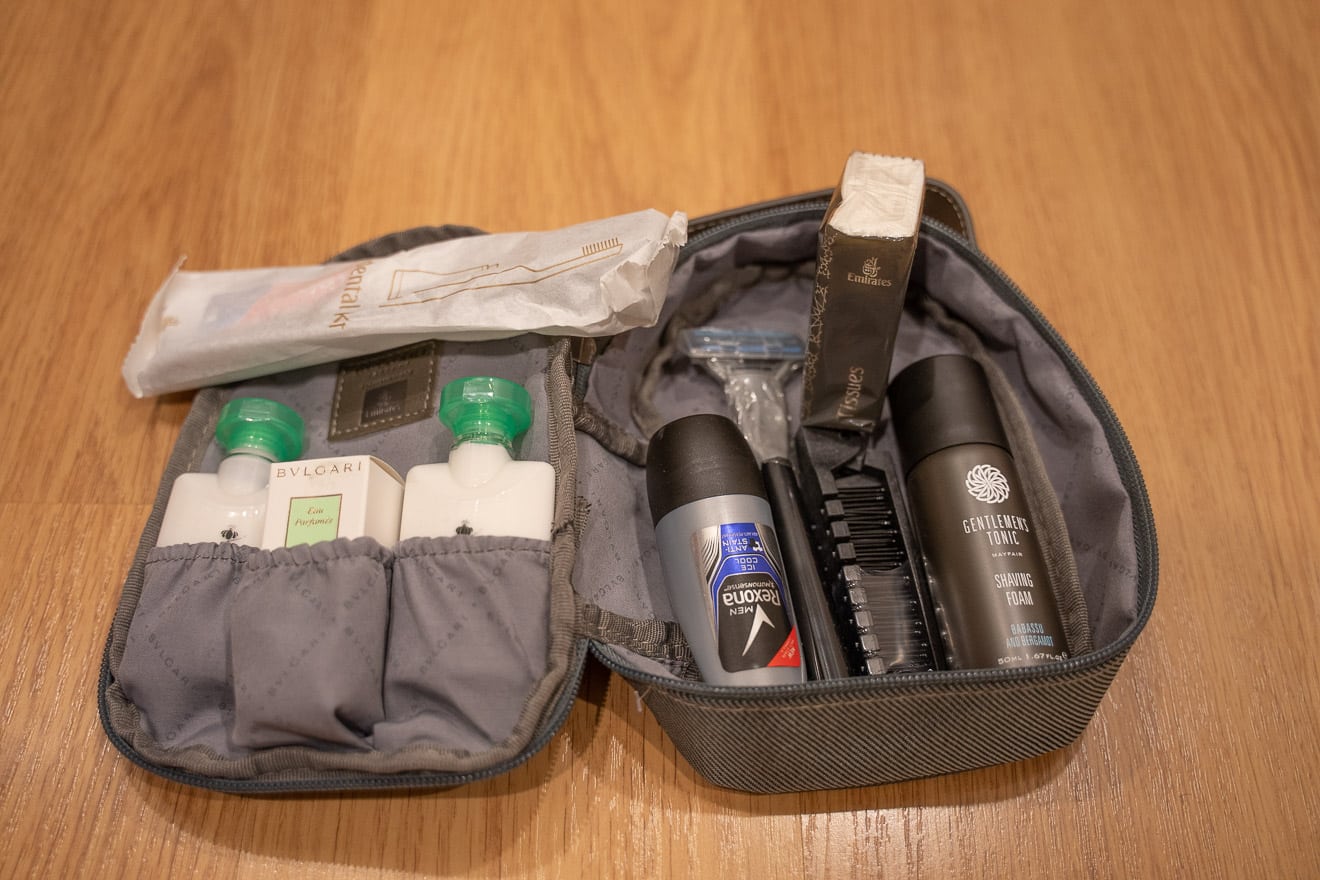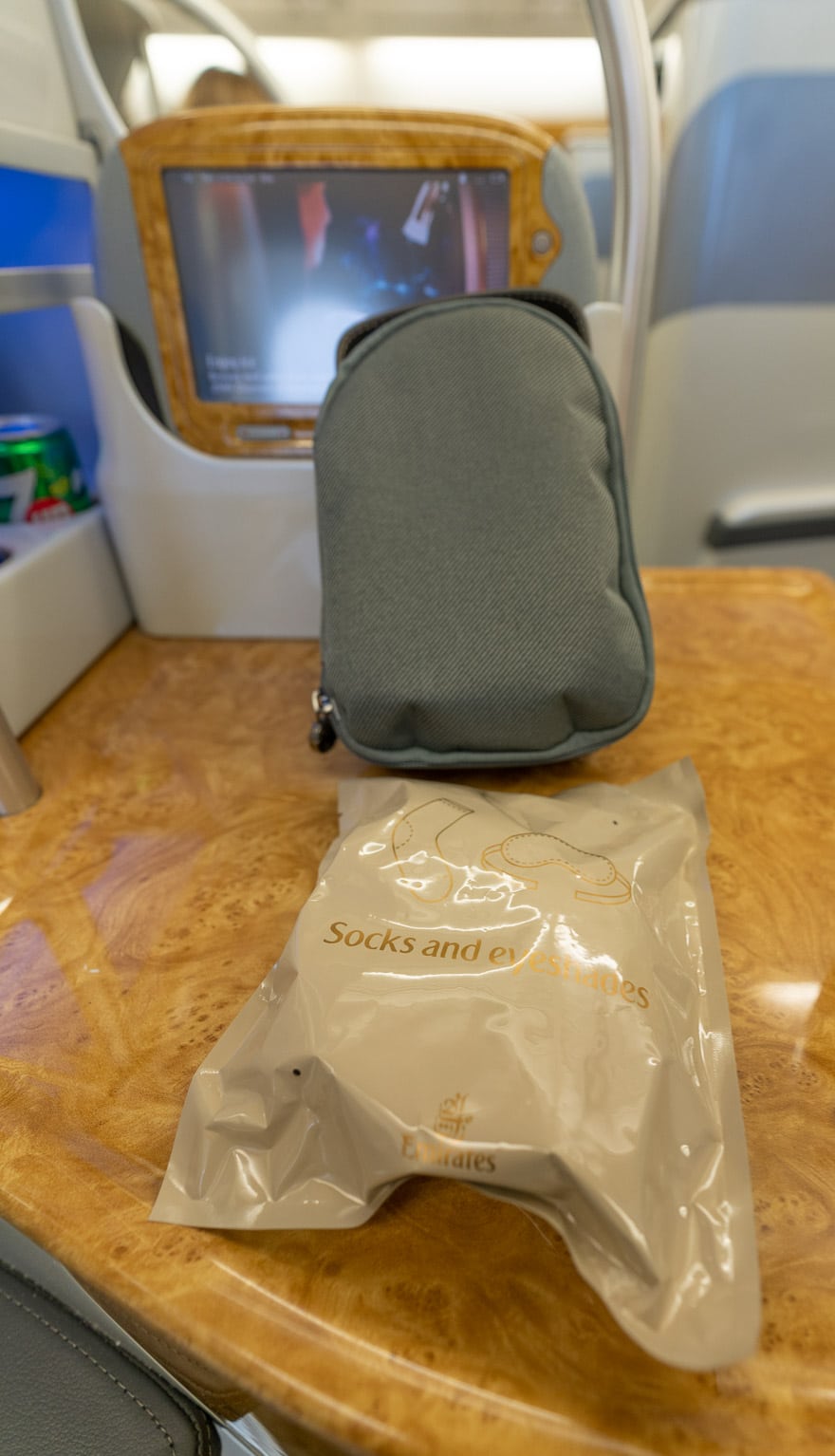 Emirates Business Class Menus
Prior to take-off, we were also handed food and drink menus:
Drinks List
Laurent Perrier is a well regarded champagne and having a decade old Bordeaux is impressive, too. The sheer variety of drinks on offer is what really made the drinks list shine though: 18 year old scotch, cocktails, mocktails, cognac, Campari, Amarula, Port form 1992.
Much like the amenity kit, this was a product offering that was closer to First than Business Class.
Food Menu
If you're used to flying European carriers, then the choice of 3 starters, 3 mains and 4 desserts will also be an extremely pleasant surprise. Unfortunately though, Emirates don't offer Dine on Demand (unlike their gulf rivals Qatar).
---
The Flight
---
As soon as I sat down, a crew member approached and asked if I would like a pre departure drink. Again I immediately compared this to Qatar, where you can order whatever you want, a la carte.
Emirates took a more utilitarian approach by handing out pre poured drinks from a tray. No top ups were offered.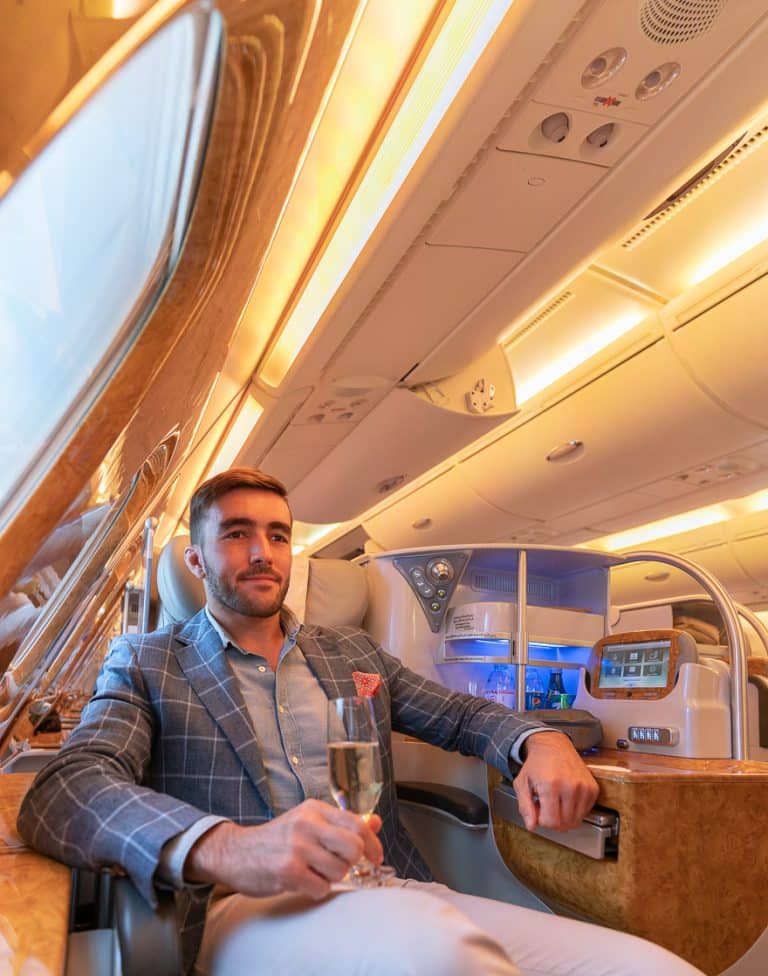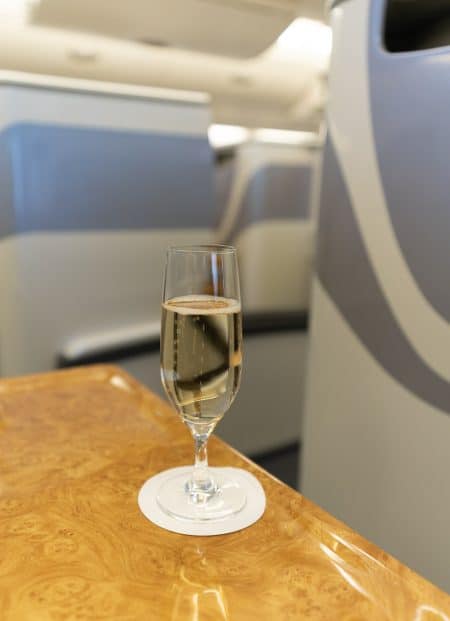 Once in the air, the dinner service commenced. We were first offered a pre-dinner drink but upon ordering champagne, I was left with an empty flute on my table. After 15 minutes of waiting, I pressed the call bell to ask where my drink was.
A very apologetic cabin manager appeared and said that he was unsure what had happened. He quickly went to the galley and returned with a champagne bottle. He professionally presented the bottle to me, saying: "our champagne, Laurent Perrier" before pouring me a glass. This was served alongside a ramekin of mixed cold nuts.
Dinner
The female FA who had left me with an empty glass earlier on came around to serve my starter. No acknowledgement of her mistake was made.
She seemed to be completely rushed off her feet and absentmindedly bumped into another passenger right in front of me (again without apology). The rest of the crew were visibly annoyed at her lack of professionalism but were clearly too busy during the meal service to pick up the slack.
The meal was served on a napkin wrapped tray, rather than being plated directly – as is usually the case on premium carriers. The bread was an inedible rock but I was happy to be offered a healthy side salad in addition to the starter.
The Rooibos smoked salmon was delicious but the avocado puree tasted like the kind of bargain basement guacamole that you used to get in movie theatres in the 90s.
After the female FA had served my starter, one of her co-workers came over to ask which main course I would like. When I ordered the ostrich, he immediately offered to pour me a glass of red wine now, so that it had a chance to breathe whilst I ate my starter.
I thought that this was a great touch, rather reminiscent of my prior flight on Emirates First – where my choice of red wine was decanted into a carafe, prior to the meal.
There was nothing First Class about the presentation of the main course, however. Despite the presentation, the ostrich was quite flavourful and the carrots were truly excellent.
At this point, I decided to skip dessert and went to the bathrooms to get changed into my sleepwear (kept from my prior First Class flight, since Emirates don't offer sleepwear in Business Class).
Emirates A380 Bar
There had been some minor turbulence at the start of the meal service, so the captain turned on the seatbelt signs. Despite a complete lack of any turbulence for at least an hour, the seatbelt signs remained on.
This meant that a large line of people had formed at the bar, all of whom had been instructed by the crew to sit down on the benches with their seatbelts on, waiting for the bathrooms to be unlocked.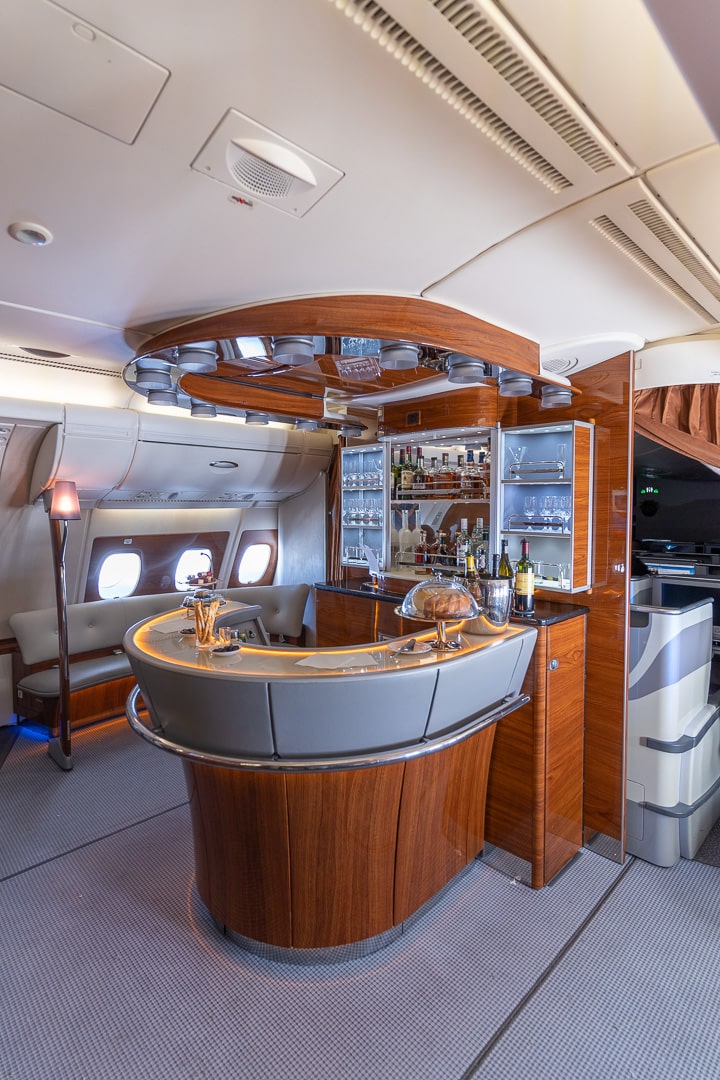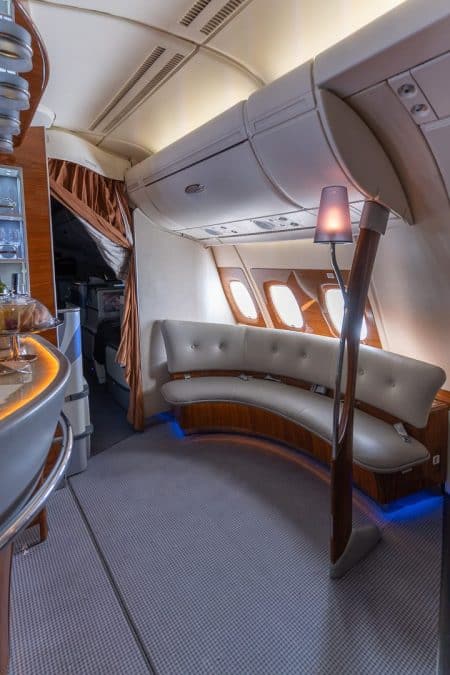 Eventually, people started complaining about the fact that they couldn't use the restrooms, despite the complete lack of any turbulence.
One crew member at the bar started to become rather intransigent, insisting that the seatbelt sign was 100% necessary and saying that the crew were authorised to fully enforce this rule. He clearly seemed like he was in a mood to escalate the situation if at all possible.
Moments later however, another crew member saw what was happening, disappeared for a minute and suddenly the seatbelt sign was turned off.
After a rather long wait for the queue to work its way down, I was finally able to get changed for bed.
Business Class Bathroom
The bathroom at the back of the A380 was very small, which made getting changed rather challenging. Full sized bottles of Bvlgari perfume and hand cream were offered though, which is certainly a cut above the usual Business Class offering on most airlines.
Business Class Bed
When I returned to my seat I found a small box, containing two chocolates, waiting for me.
I pressed the call button and asked a crew member to make the bed for me. A thin mattress topper was placed over the seat, together with a single plump pillow and a blanket.
I found the sleeping surface to be quite hard and lumpy, the mattress topper wasn't attached to the seat in any way, so it had a propensity to bunch up and come off the seat entirely.
After a few hours of broken sleep, I was woken up in the most jarring way possible. The cabin lighting went from darkness to full brightness instantly, as an extraordinarily loud Dubai tourism advert played over the PA.
The looks on everybody's faces were priceless. People were even angrier than they had been whilst waiting at the bar for the seatbelt signs to be turned off.
No breakfast service was offered, although light bites were available throughout the flight, after the main meal service.
---
Conclusion
---
Emirates offers flat beds with all-aisle access, in Business Class on the A380. In 2008 this was something special, a hallmark of quality that truly made Emirates stand out.
In the modern era though, this is the bare minimum.
Other airlines offer suites with closing doors, fitted mattress toppers, multiple pillows, dine on demand and complimentary sleepwear. Emirates offer none of this.
In many ways, this felt like an antiquated Business Class experience, a factory production line in which the service was rushed through in order to just get everyone to sleep ASAP.
The gimmicks may have been impressive in 2008, but the giant tablet and "mini bar" just took up space. Space which could have been better used to actually add value to the passenger experience.
The bar is still a rather unique and impressive proposition. For many people, the novelty of this area alone will justify the choice of Emirates over another airline. The amenity kits are undeniably fantastic too.
Personally though, I'd happily do without the bar and some Bvlgari creams in exchange for a more comfortable sleep, a better designed seat and more attentive service. Given a choice between this and Q Suites, I'd pick Qatar in a heartbeat.
---
Dubai Hotel Reviews
---
Here is a selection of our most recent Dubai hotel reviews: