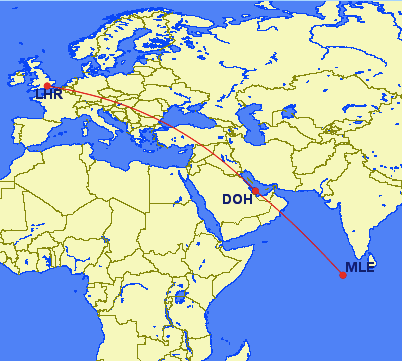 Qatar Airways (QR)
Flight: QR675 and QR9
Class: Business Class
From:Malé (MLE)
To: London (LHR)
Duration: 15h25m

including 2h45m layover in Doha

Aircraft: B777
Seats: various.
Frequent Flyer status during flight: Oneworld Emerald (BA Gold)
Booking type: £990 return Business Class fare
Flight date: November 2020
---
Intro
---
I originally booked a direct round trip between London and the Maldives, on British Airways Business Class, for £990. I upgraded to the new First Class Suites on the outbound but on the return my direct flight was cancelled.
Thankfully I was able to easily get rebooked onto an indirect flight home on Qatar Q Suites.
I've flown Q Suites in the past and wrote an in depth review here.
This review will focus more on the experience during COVID, rather than the seat, which I've already discussed at length.
---
Pre-Departure
---
During check-in at Malé airport we were required to show proof that we'd filled out UK passenger record locator forms.
BA never ask for this during check in for flights headed to London, so it was interesting to see a foreign airline with a stricter interpretation of the rules.
When we reached the gate we noticed that a lot of passengers were wearing face shields and a second line had formed next to the boarding line for passengers to collect complimentary Qatar branded shields.
Since there are no jet bridges at MLE we all piled into buses to board the plane. This is one area in which most airports fail to maintain social distance (even if distance is well maintained throughout terminal buildings).
---
Flight 1: MLE-LHR B77W
---
Upon boarding the main thing that stood out to me, other than the fact that we were all wearing face shields, was the fact that the crew were all dressed in full PPE, including white overalls on top of their uniforms.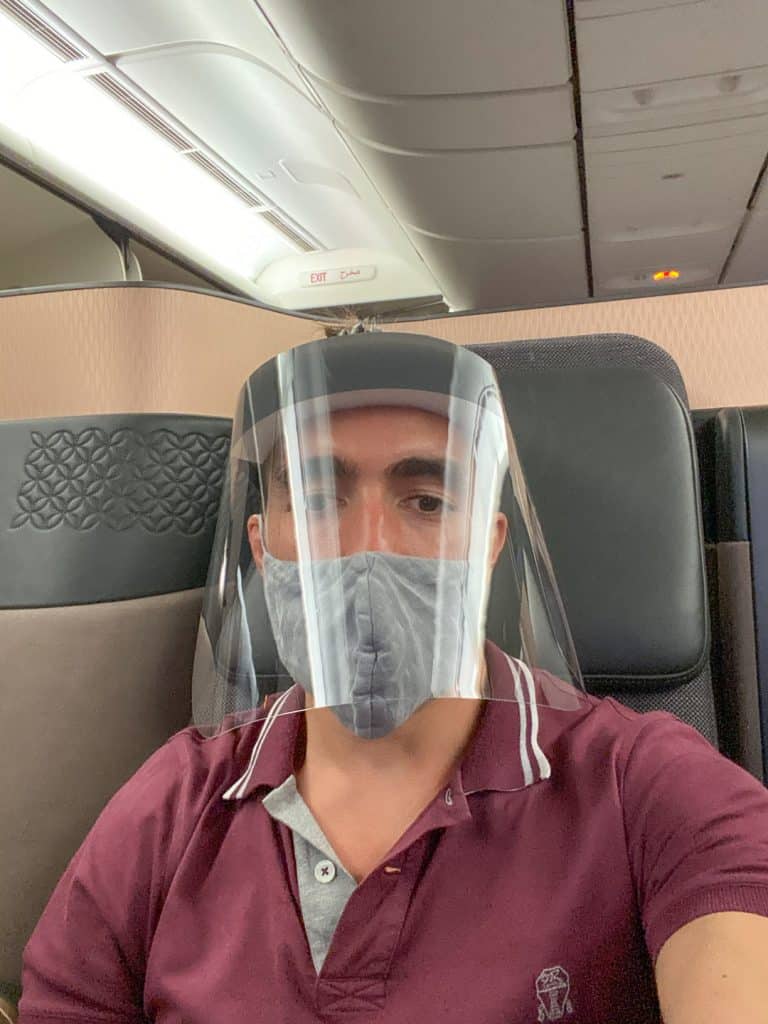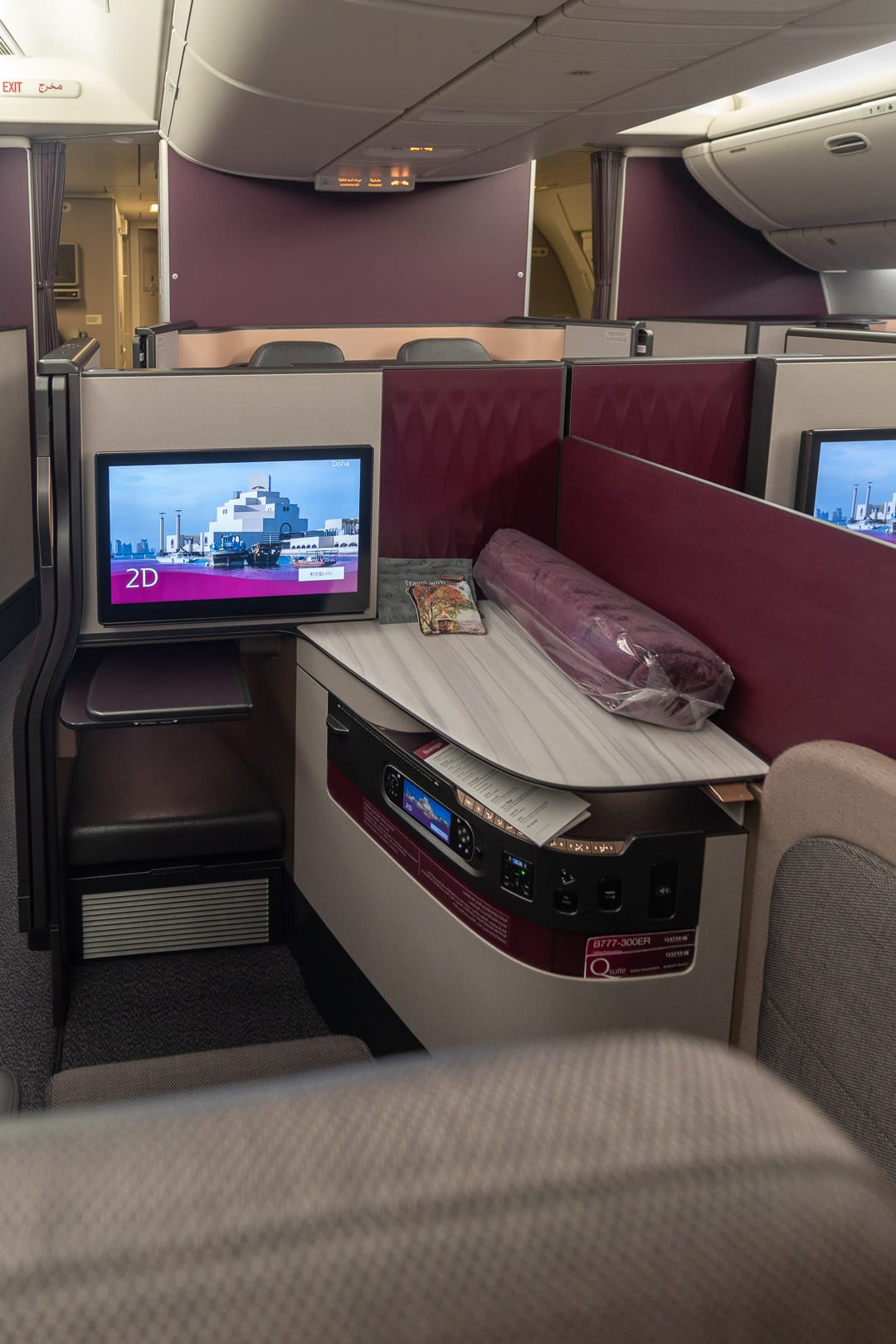 Despite this being a short haul flight there were proper blankets and even amenity kits provided at every seat.
The Maldivian authorities don't allow airlines to serve alcohol on the ground but the crew were out in full force making sure that we were settled in, introducing themselves and offering us our choice of soft drinks prior to takeoff.
In the past Qatar has always offered luxuriously thick wet towels to welcome guests. Best of all there is a choice between hot and cold towels, a small detail but one that really sets the tone for Qatar's elevated levels of service on a flight.
Unfortunately COVID has done away with this; we were instead given packaged towelettes in addition to a 'Travel with Confidence' kit. This kit contained a facemask, disposable gloves and a tube of Qatar branded hand sanitiser.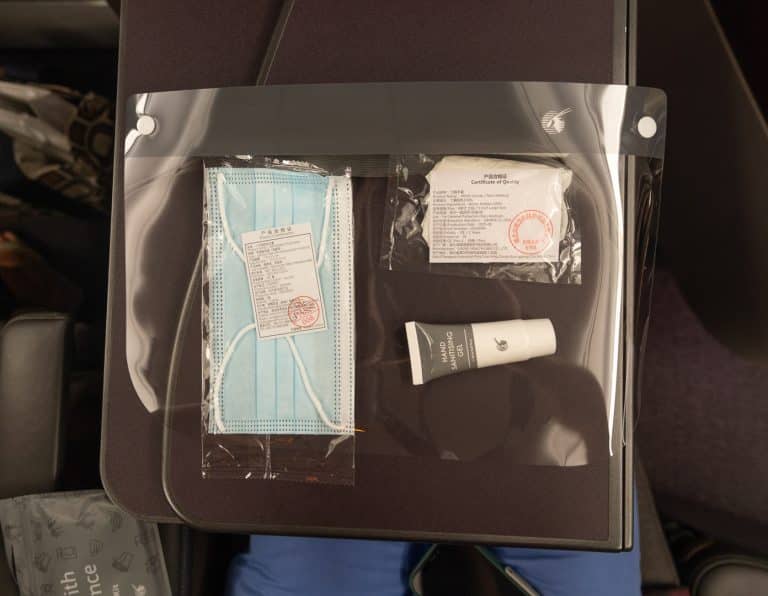 Unlike all of my BA flights this year, there was even a printed menu for the dinner service: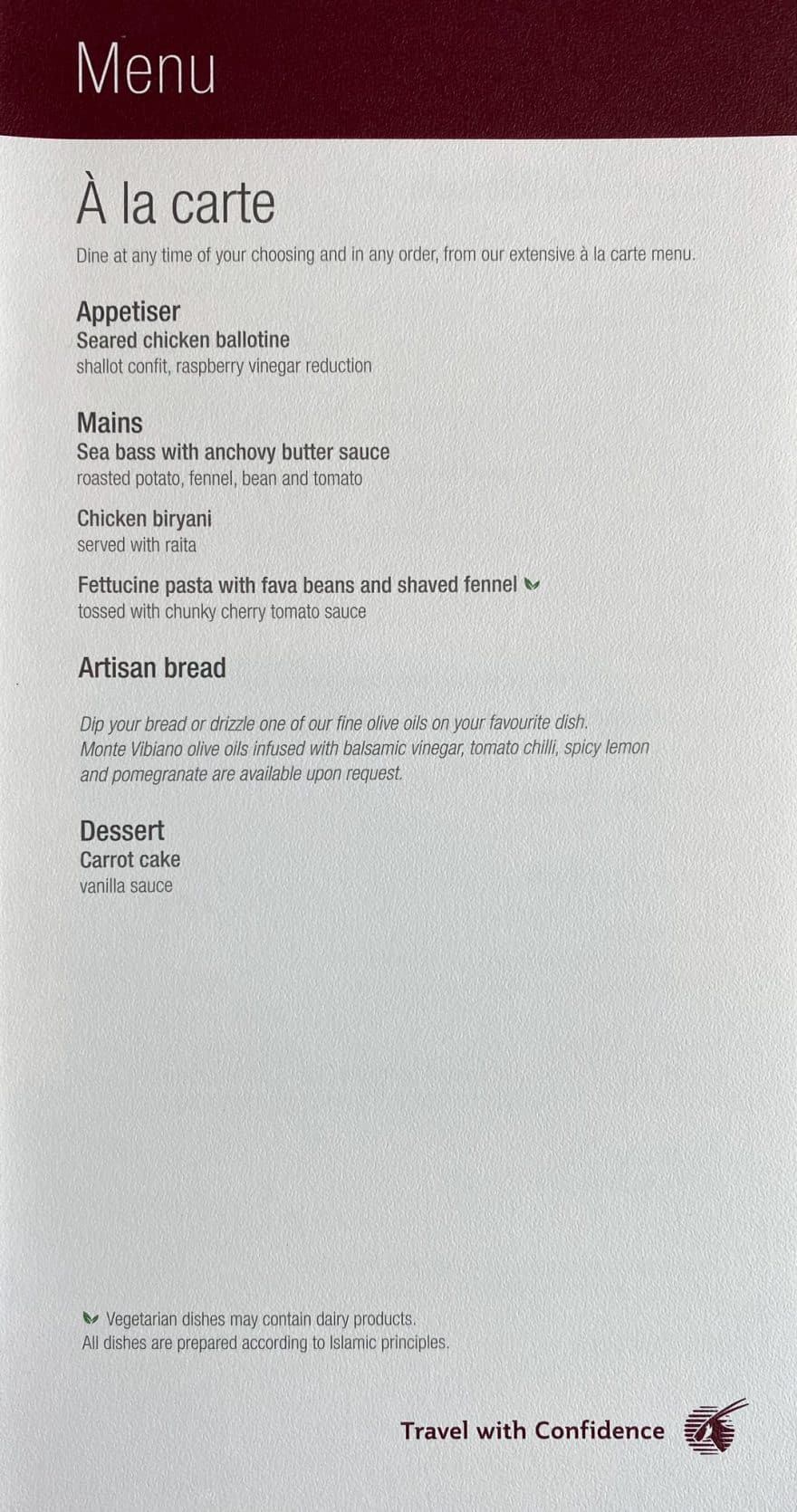 Better still, there was a full 11 page wine list! What a contrast to BA's First Class service on the way out – where the choice of drinks was not only extremely limited but not even printed anywhere for passengers to reference.
Wine list
Shortly after takeoff the crew came around to serve pre dinner drinks. I selected the Taittinger Rosé, which was again superior to the Nicolas Feuillatte served on BA First Class, whilst also being served in a proper flute.
The only divergence from pre-COVID service was that the ramekin of mixed nuts had a plastic lid on it. No corners (or costs) have been cut here.
Tablecloths were laid down for dinner, however the meal was served on a single tray as opposed to the usual Qatar brand standard of hand delivering each item.
Each item of the dinner was individually wrapped or sealed where possible but cutlery and glassware were provided as usual, rather than being replaced with plastic.
Once you unwrapped everything, this was more or less indistinguishable from the Business Class meal service you'd expect on any top carrier during normal times.
The triple bread has always been a favourite of mine, ever since I encountered it on a SWISS First Class flight a few years back, so that was a particularly welcome surprise!
Having spent the last 16 nights in the Maldives, eating and drinking relentlessly, I opted for the lighter sounding sea bass for my main course.
The dish was beautifully presented and clearly plated in the galley rather than being served in its heating vessel. The flavours were fresh and neither the fish nor the vegetables were overcooked.
Kamara put her turbo-charged Chinese metabolism to the test with the always spectacular Chicken Biryani. After trying one forkful of it, I immediately regretted my meal choice.
Sitting and eating this meal in my private suite, I genuinely felt like I lived in a COVID free world for a while.
The meal ended with a perfect double espresso macchiato and a box of Godiva chocolates – I didn't have any room to try the carrot cake.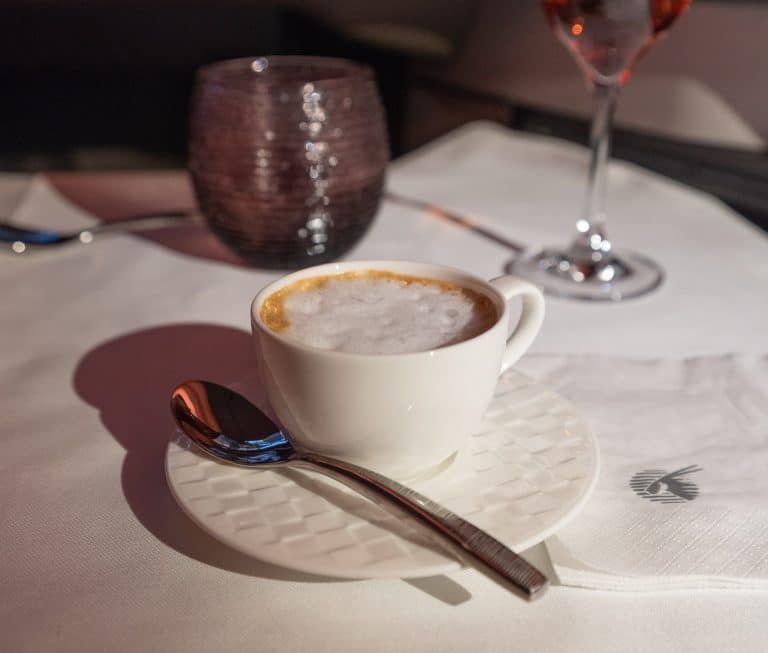 All in all this was by far the most normal flight I've had since the advent of COVID; the crew were extremely polished and professional although (understandably given the language barrier) not on the same level as BA in terms of friendly banter.
---
Transiting Doha
---
We had a relatively short 2h45m transfer in Doha. Just enough time to quickly head to the lounge before boarding our flight to London.
We once again found ourselves at a bus gate although to Qatar's credit, this is the only airport bus I've experienced during COVID that actually spaced passengers apart and departed before completely filling with people.
Transit security was as farcical as usual with all manner of beeps being ignored and passengers just being ushered through as quickly as possible. Interestingly, Qatar staff were on hand to tell passengers to remove face shields in the terminal as they interfered with facial recognition cameras.
I noticed that those who had opted to dress like ghostbusters/ house painters were ushered towards separate security lines, presumably since it would take them so much longer to pass through security than those just wearing face masks.
Once through security, we headed for the sanctuary of the excellent Al Mourjan lounge.
I've reviewed this lounge in the past, so will once again just focus on changes. I imagine that the people at the bottom of the staircase, verifying access, will be a lot busier in the months to come now that Qatar has started selling Business Class fares that don't include entry to the lounge.
The facility is as physically impressive as ever, easily in the top 5 Business Class lounges in the world. Service was always good here but things seem to have really stepped up a notch. The moment that we entered, we saw a wall of hosts waiting to escort guests to various parts of the lounge or even offer full guided tours.
The instant that we sat down at the Deli, we were offered drinks whilst we browsed the online menu via the QR code provided. We were also given regular menus, just in case we had any issues with the electronic one.
Main Dining Menu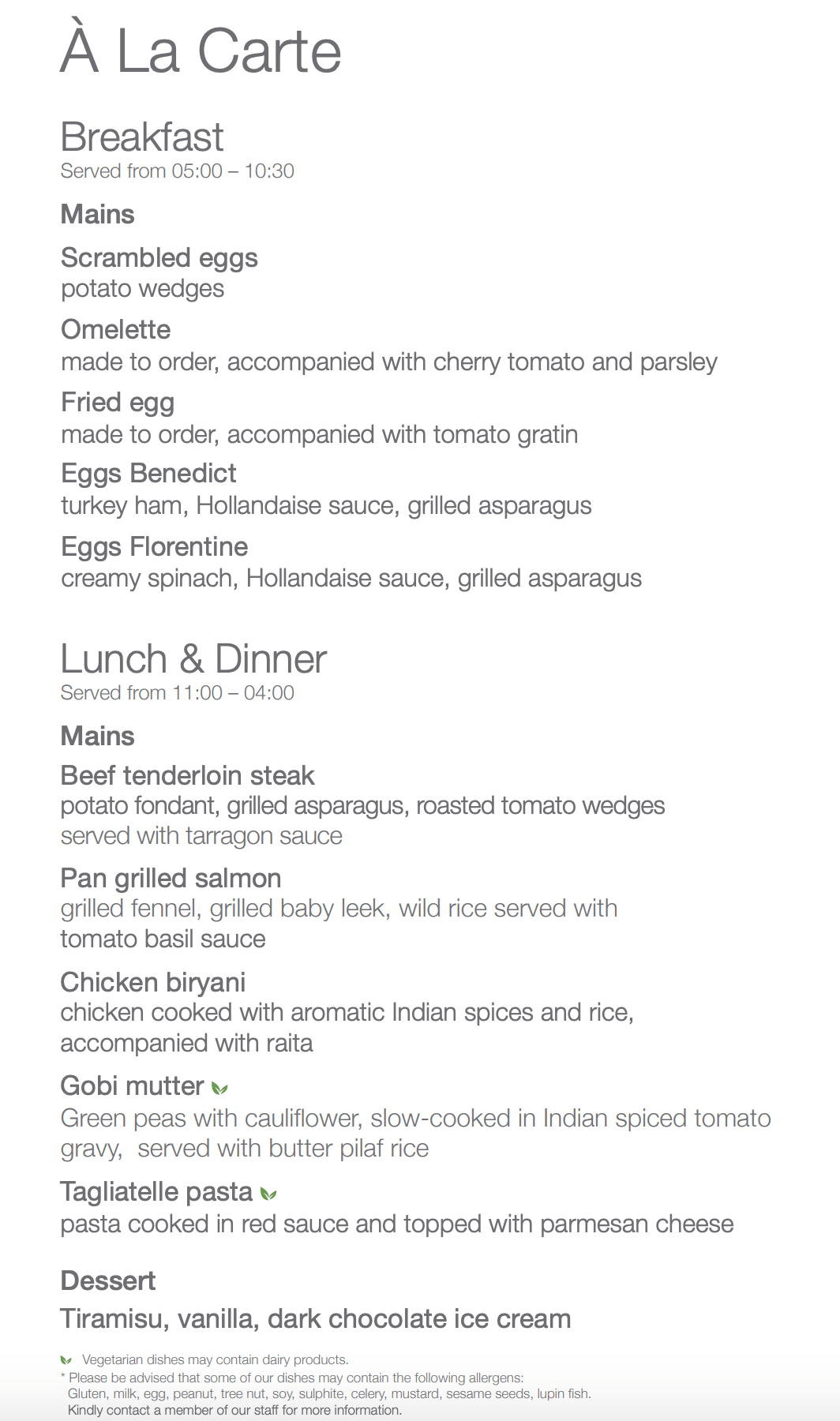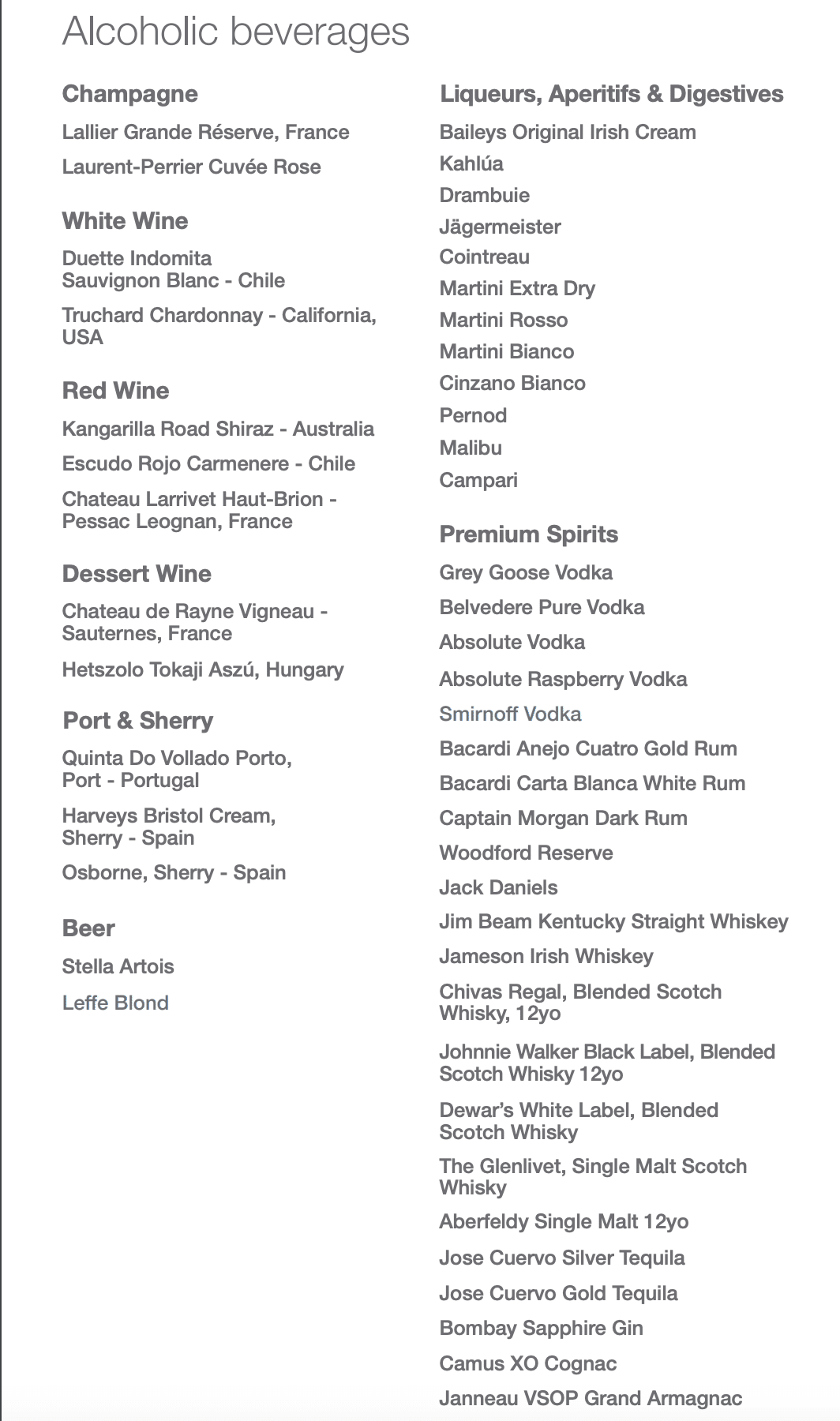 You can click HERE to see the latest version of the lounge menu.
The electronic menu showed the full selection of hot a la carte dishes (also served in the main dining room) whilst the physical one on the table showed the sandwiches and salads specific to the Deli. I asked for the smoked salmon as a platter rather than a sandwich, and this was duly accommodated by the staff. Alongside this, I enjoyed a glass of perfectly chilled Laurent Perrier Rosé, a champagne which I used to regularly enjoy at the old Cathay Pacific Lounge in LHR T3, prior to the radical Studio Ilse renovation in 2016.
Not quite as good as the times when this lounge served Krug or Cuvée Louise, but still a champagne only usually found in First Class lounges.
After finishing our food in the Deli, we decided to head over to the main dining hall to see how the service might have changed.
We were actively greeted and encouraged to take a seat, where a waiter took drinks orders. We were then once again given the option of either a QR code or physical menu from which to order. Surprisingly, there was still a buffet in addition to the a la carte dining.
The buffet included self service starters topped with clear plastic lids, like we had on board, as well as hot dishes, which were served by a staff.
The newest addition to the lounge is the sushi counter, which looked exciting but served up unagi rolls that required a microscope to correctly identify.
I ordered another glass of LPR to console myself and headed to the gate shortly after.
---
Flight 2: DOH-LHR A350
---
Boarding was a lot less shambolic in Doha than in Malé (as you'd expect). Most people already had face shields from their earlier flights, although new shields were available for the small number of point to point passengers, or those who had misplaced them in the airport.
Although I had previously flown on a Qatar A350 between Tokyo and Doha, this was my first time flying Q Suites on this aircraft. Honestly the difference is barely perceptible.
The main thing you notice is that there are no overhead lockers on the A350 but this has very little impact on Q suites, since you have so much personal storage space anyway.
We sat in the centre pair in row 1, which benefits from being the first to be served and to disembark upon arrival. The flip side is that the suite tapers at the sides and is smaller than all the other centre pairs on the plane.
The flight was only around 35% full in Business Class though, so we had plenty of space to move around, moving to window seats for takeoff and landing.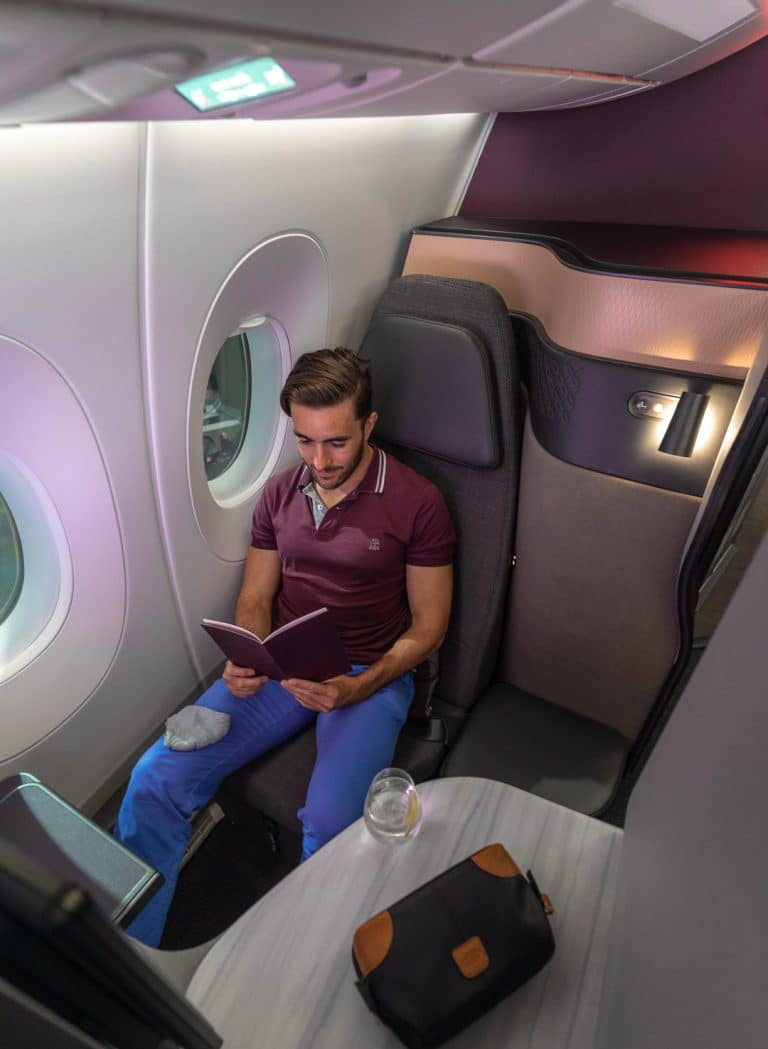 Where previously I would have always recommended a 'true' window seat (A or K), having now tried 2B, I actually found it a lot more spacious and just as private as 1A.
This time, the pre-departure service included any drink we wanted, although given the late night departure and the fact that I had work the next morning, I just went with a glass of water.
On this flight, the regular BRICS amenity kits were offered, as always. The image above also illustrates one minor difference between this and the B777 Q suites: the IFE remote on the A350 has a larger screen and the HDMI and USB port aren't located on the side table.
These are located instead under the screen, which to me seems messier. I'd rather keep cables tidied away on the side table.
Since we'd already eaten on the first flight and in the lounge, the focus here was on sleep. We opted to have our bed made immediately and went to change into the complimentary White Company PJs while the crew sprung into action.
One thing I've noticed on Qatar is that crews always focus on presentation when making the bed. Outside of Singapore Suites most crews just kind of throw the bed together quickly and move on. Here three crew members were involved in making our double bed with military precision.
It's still kind of crazy to think that this is Business Class, given that double beds in First continue to be a rarity.
I awoke with around 2 hours to go before landing and at this point I was ravenous. Since Qatar offers dine on demand in Business Class, I was able to order the full Tasting Menu for breakfast. Unlike the earlier short haul flight, this flight had a full printed menu booklet in addition to the 11 page wine list.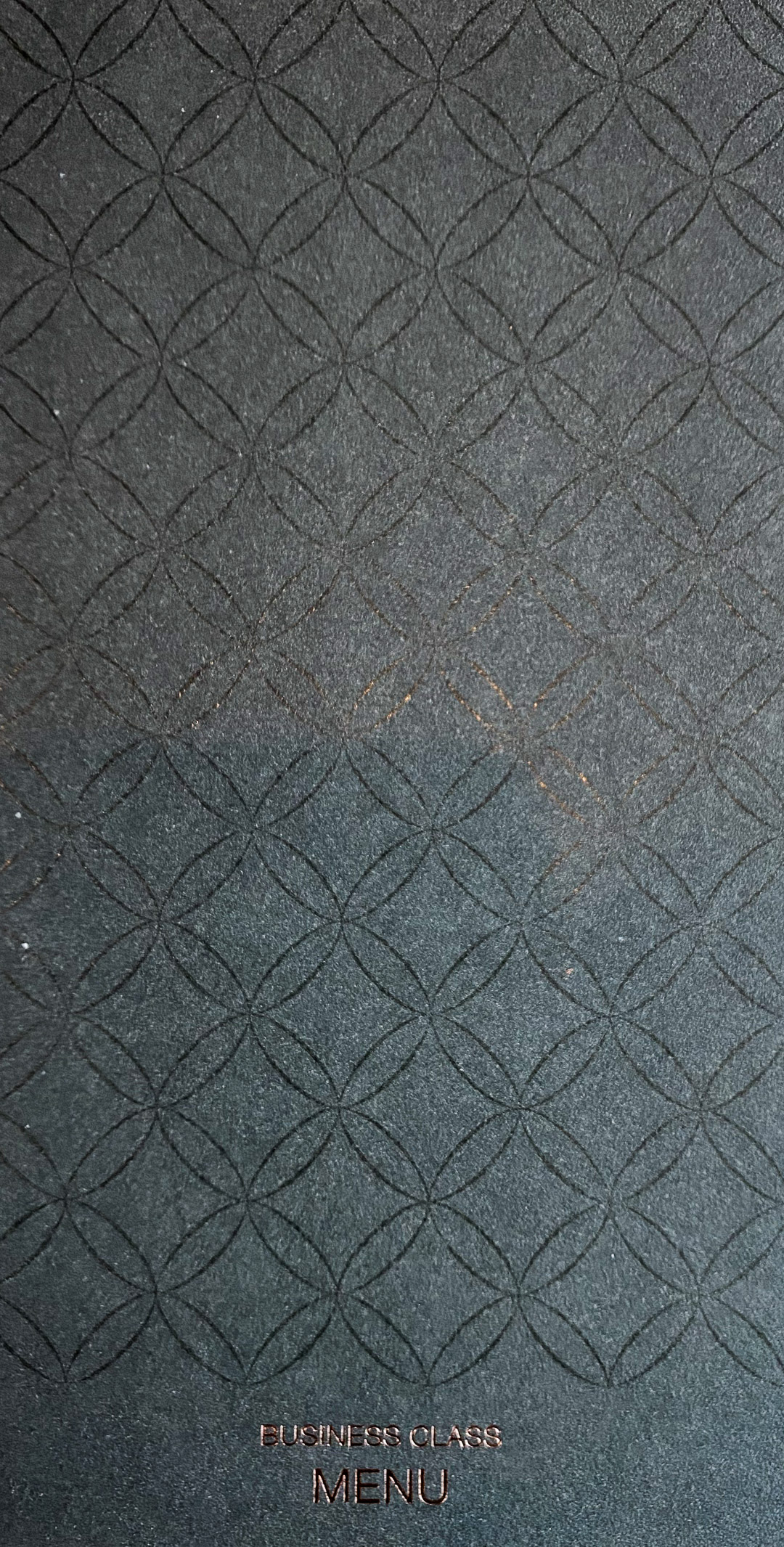 Despite ostensibly being a dinner menu, the combination of Arabic bread, cheeses and smoked salmon sounded a lot more appealing as a breakfast than the mountain of protein-free carbs otherwise on offer.
My kind of breakfast.
Again, there is no question here that the presentation and variety of food surpassed that in First Class on the outbound BA flight.
---
Conclusion
---
It is very interesting to see how two airlines which are so financially intertwined treat COVID so differently.
Whilst BA has gone down the route of creating additional plastic waste and reducing the quality of wine on board, Qatar has instead opted to give full bottles of sanitiser to passengers in addition to providing them all with face shields, gloves and face masks.
Both Qatar flights featured full service and there was no trace of stains or dirt on the seats… unlike two of my BA flights during COVID.
As a passenger, I definitely felt safer on Qatar as well as obviously having a far more pleasant experience in terms of the food and drink on offer.
If I was working as crew I'd certainly prefer to work in a cabin of people wearing face shields, whilst my colleagues and I wore full PPE too.
Without question, Qatar are offering better service and make me feel safer than BA during COVID.
---
Enquiries
---
Do you want to book a Maldives resort with added booking benefits? Maybe you have questions about picking the perfect resort for your needs and budget?
If so, please fill out our quick & easy Maldives form and we'll match you up with your perfect property.
---
Maldives Reviews
---
We are a luxury travel agency specialising in the Maldives, with plenty of first hand experience!
Here is a selection of our most recent Maldives hotel reviews:
---