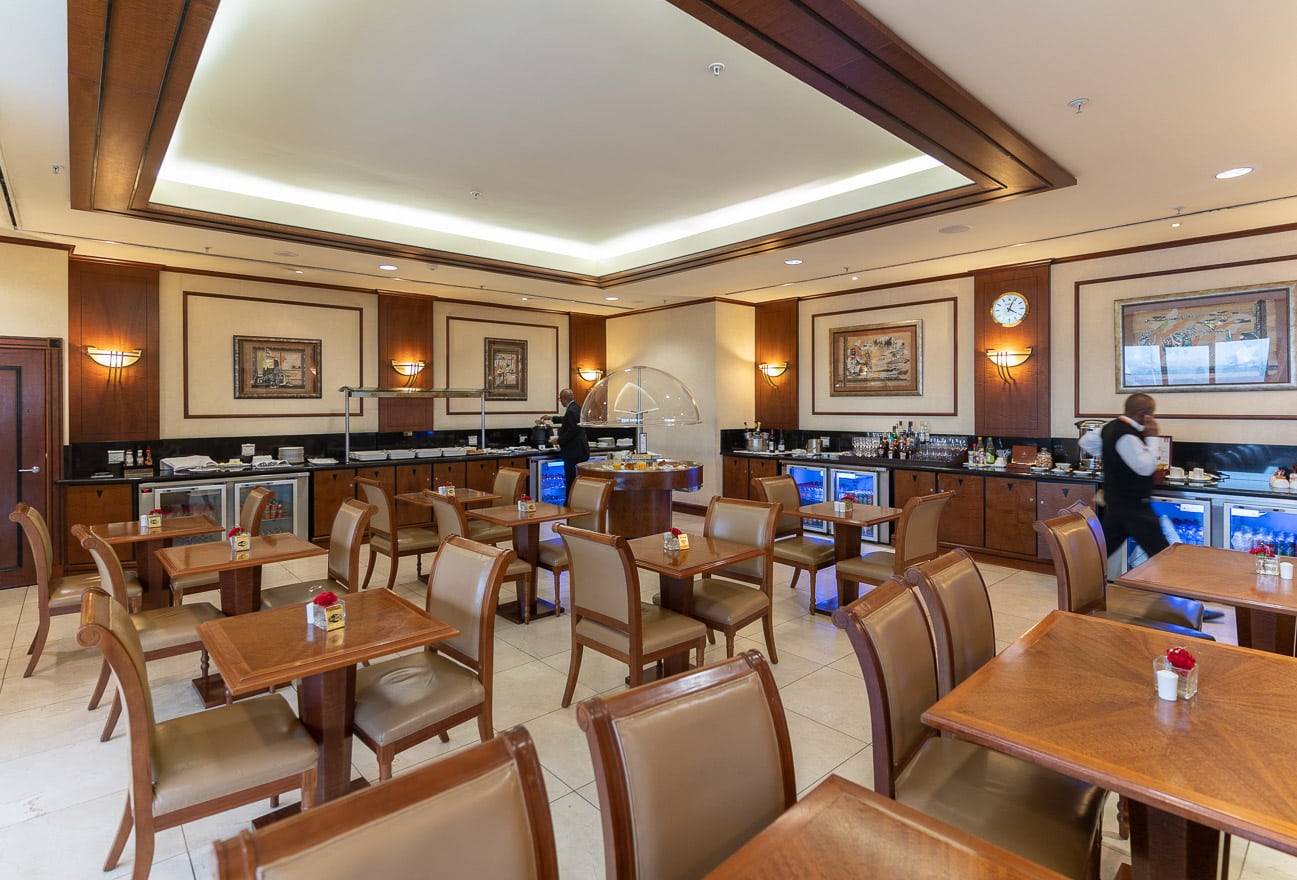 REVIEW – Emirates Lounge – Joburg (JNB)
December 27, 2021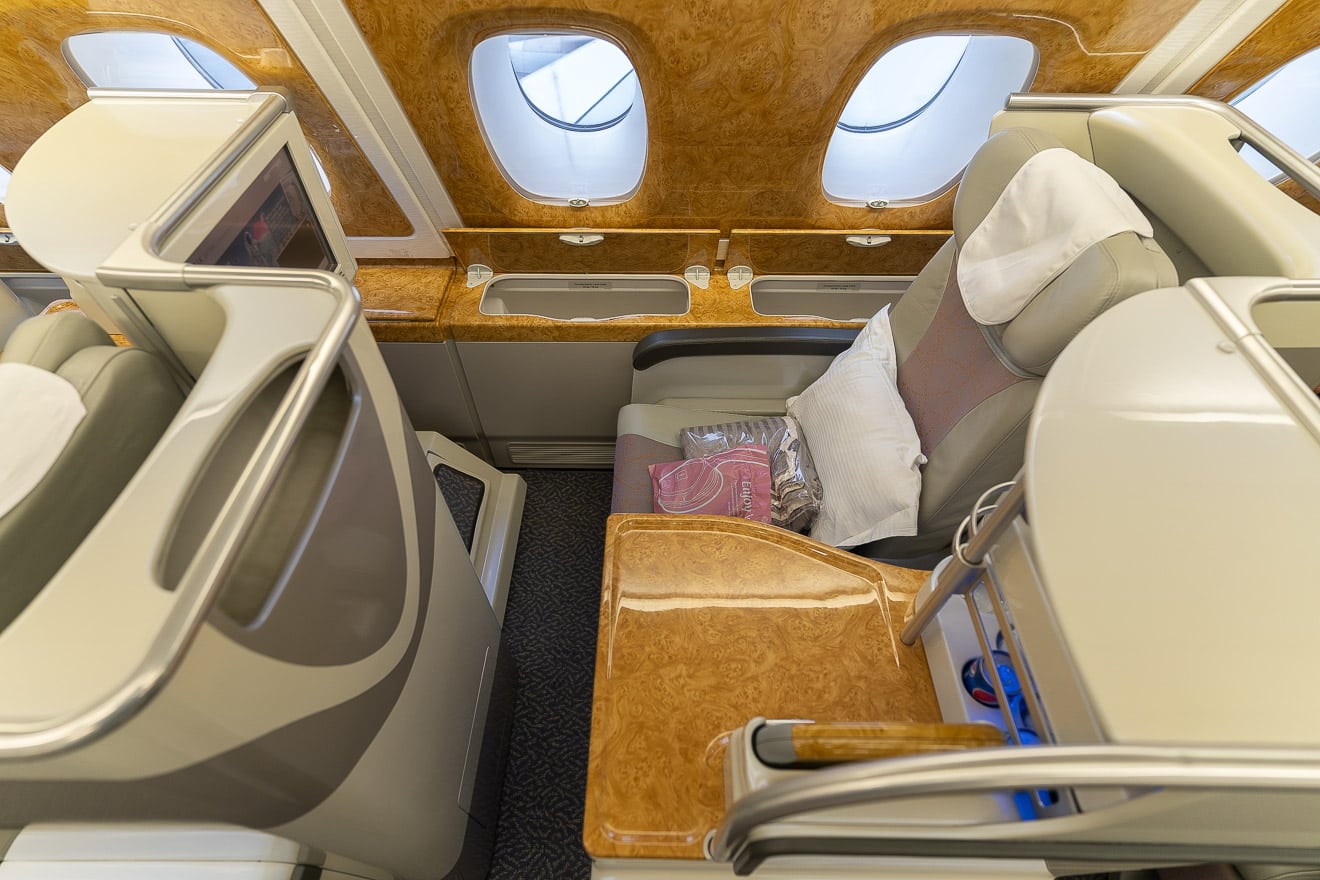 REVIEW – Emirates : Business Class – A380 – Johannesburg (JNB) to Dubai (DXB)
December 30, 2021
Alila Fort Bishangarh
Location: Jaipur, India
Rate: 19,000 INR per night
Room Type: Grand Suite

Upgraded from Royal Suite

Loyalty Program: World of Hyatt
Booking type: Hyatt Privé
---
Intro
---
Alila is right up there with my very favourite hotel chains in the world. Even after all these years, I still remember a stay at Alila Villas Uluwatu extremely fondly.
The chain was founded by former Aman employees and in my experience; the architecture, interior design and service are always a resounding testament to this fact.
As such, I was very excited for this particular stop on our itinerary. The property is located outside of Jaipur, which means that you'll either need to hire the services of a driver throughout your India trip (as we did), or alternatively, book day trips via Alila directly, should you wish to visit the Jaipur itself (the Amber Fort of Jaipur is one hour away by car, as an example).
What you lose in convenience, you more than gain in atmosphere and style. The hotel is housed within the skeleton of an old fort, which sits atop a hill, giving guests breathtaking views as far as the eye can see, in every direction.
This is a hotel which many will come to as a destination in and of itself.
---
Booking
---
I would always recommend booking Hyatt properties (including the Alila brand) via Hyatt Privé.
Hyatt Privé bookings always match the best rate on the Hyatt website, but ALSO offer extras such as:
• Upgrade of one category, based on availability at time of check-in.
• Full breakfast for up to two in-room guests.
• $100 food and beverage credit.
• Early check-in/late check-out, subject to availability.
You can book a Hyatt Privé rate at Alila Fort Bishangarh for yourself (and at all other Hyatt properties) by using our online booking portal:
BOOK ALILA FORT BISHANGARH WITH HYATT PRIVÉ BENEFITS
If you are planning an itinerary involving multiple rooms or properties, please get in touch for immediate booking assistance:
---
Arrival
---
We hired a driver for the entirety of our time in India, which is something I would highly recommend.The drive to Fort Bishangarh from our previous hotel, Amanbagh, took around 90 minutes.
Although the main hotel building is located within a fort, the reception area is located inside a large tent – adjacent to the property's pool and recreation area.
We were met at our vehicle by a group of hosts, who warmly welcomed us to the property and tagged all of our luggage, for transportation up to our room. We were then invited to take a seat on the edge of the reflecting pool, facing up towards the fort itself. Almost immediately, we were presented with refreshing welcome drinks and ice cold, scented towels.
A cool breeze blew across the water and across the marble floor of the tent, immediately we felt a wave of relaxation wash over us. Indian roads can be rather chaotic, so it was great that the property was set up to relax guests from the moment they arrived, rather than having a bustling lobby within the fort itself.
After check in formalities were completed, we were escorted to a buggy, which took us up the zig zagging road to the fort. On the way, our host explained many details about the property and stopped briefly to give way to a pair of parading peacocks.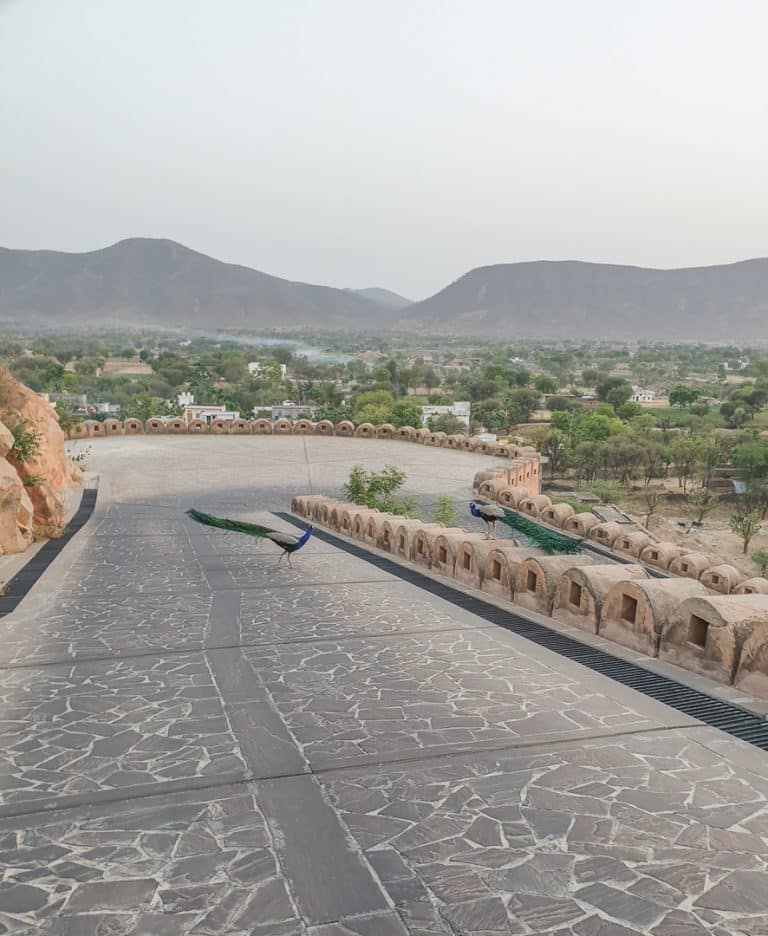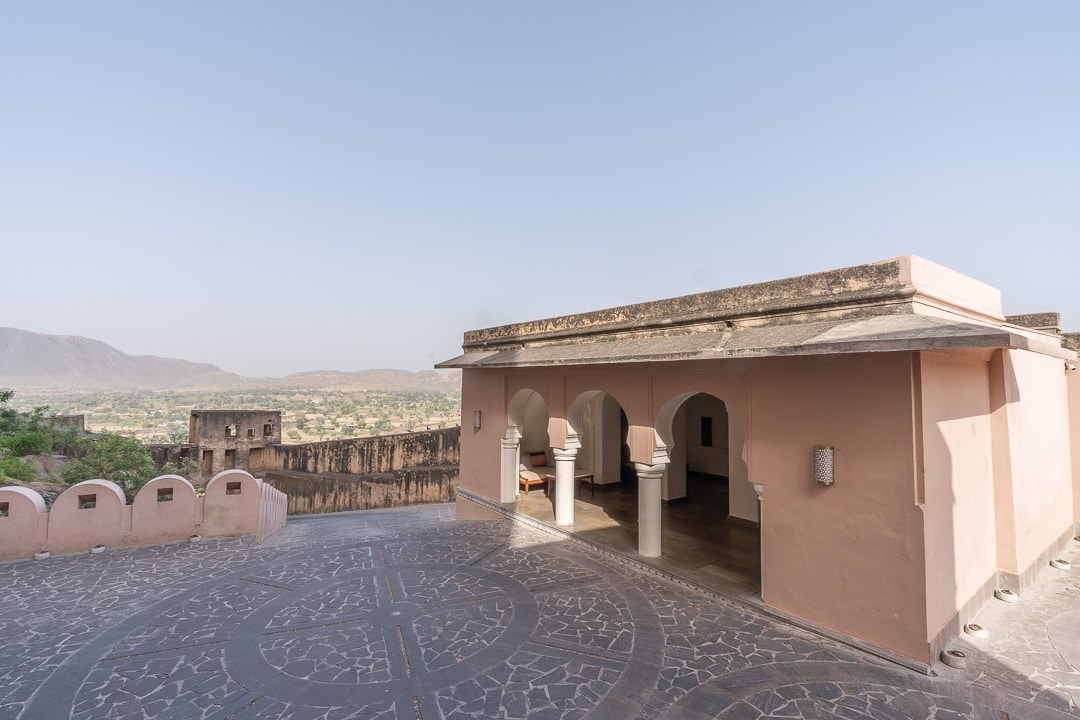 At the top of the driveway was a shaded waiting area, although in practice we never needed to use it, as buggies were always immediately available whenever we needed them.
Setting foot inside the fort for the first time was a truly magical experience. The central courtyard area was flooded with natural light during the day and at night, it was completely transformed by some remarkably tasteful and atmospheric lighting.
There is no way to replicate or emulate an experience like walking through the arched hallways of this ancient building. Around every corner was another comfortable nook, featuring daybeds, sofas or even a casually placed library.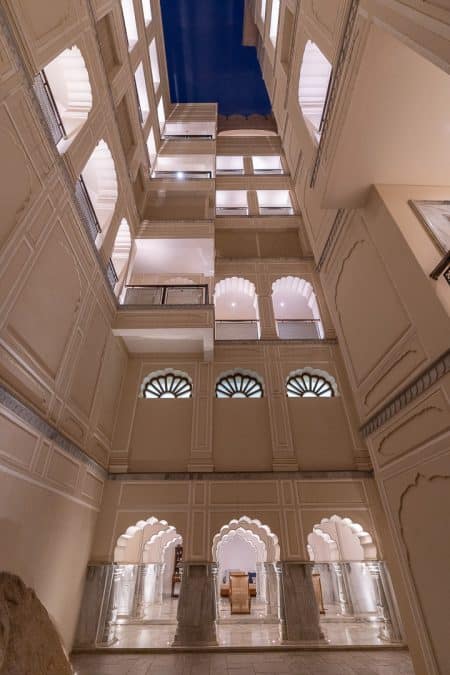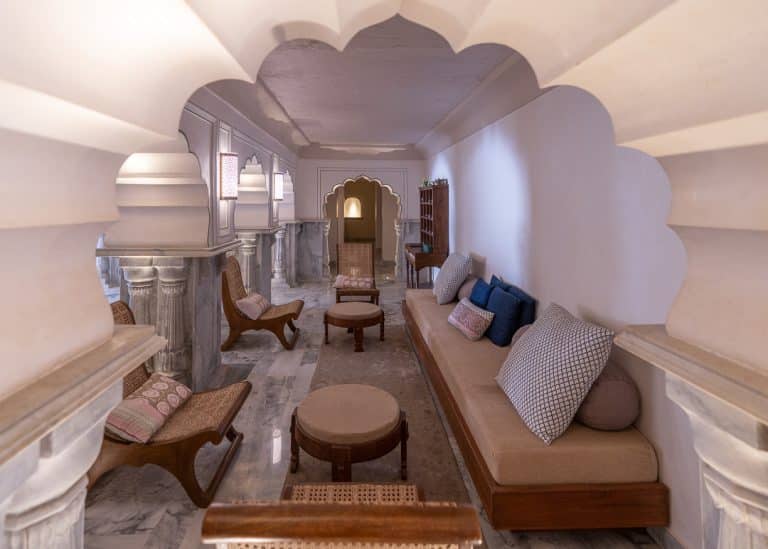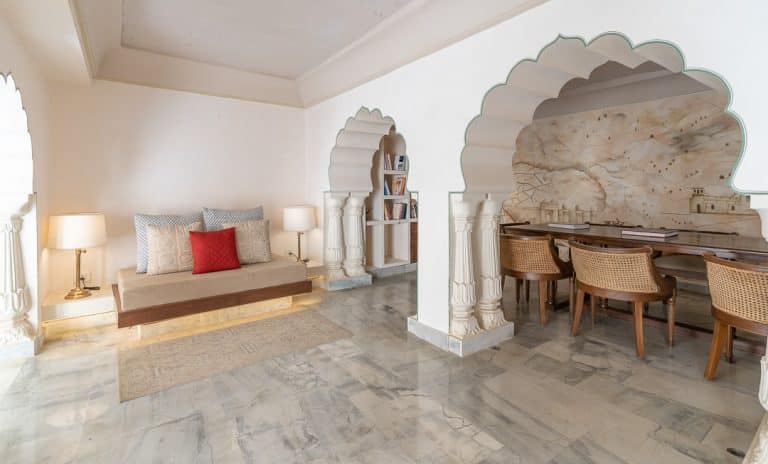 Sometimes a hotel will be so grand that you almost feel bad for making yourself at home there. Alila Fort Bishangarh did not suffer from this problem at all. The design really encouraged guests to just relax and unwind, wherever they may please.
---
Grand Suite
---
Our Grand Suite was located on the 7th floor of the fort and even before entering the room, we caught glimpses of the spectacular views from a very comfortable looking sitting area, in the hallway.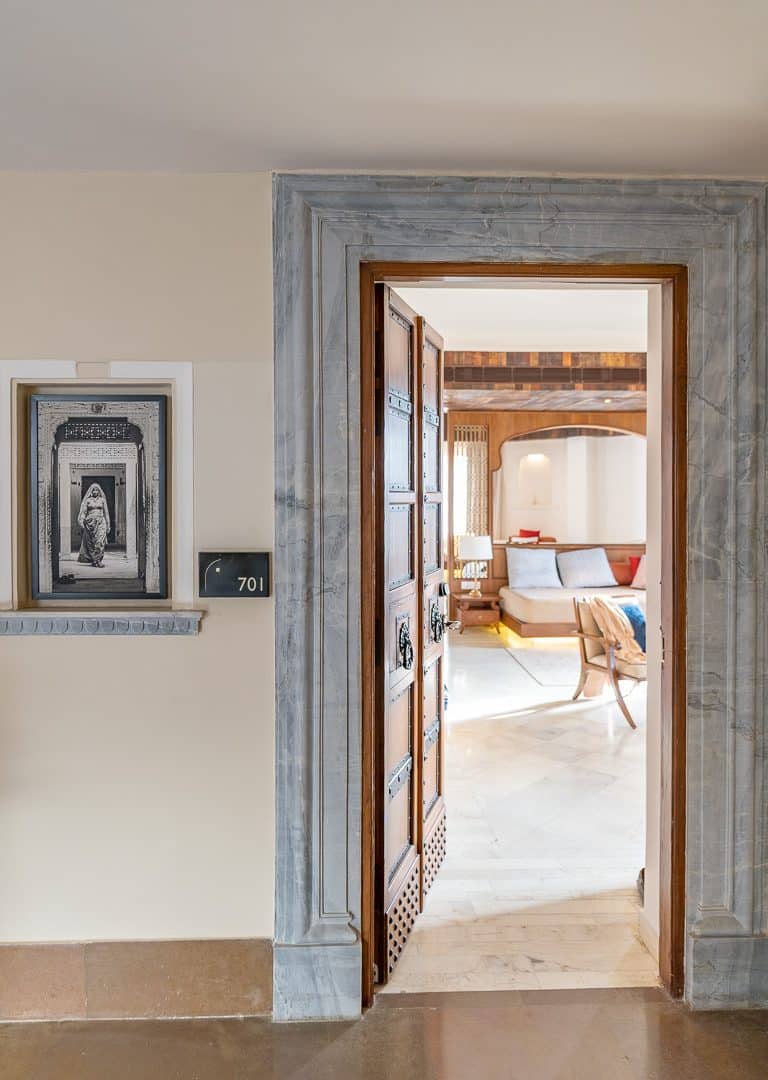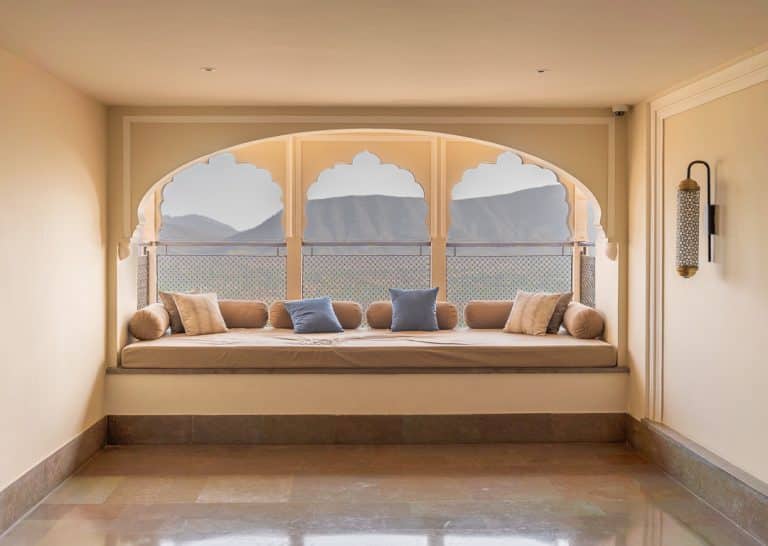 Video Room Tour
View this post on Instagram
Living Room
The rooms at Alila Fort Bishangarh come in all kinds of shapes and sizes, as you'd expect with such a unique building. The seven turrets that dominate the structure lead to a situation where almost every room contains a circular area of some sort.
We originally booked a Royal Suite, which is the second lowest category of room – measuring 65m². Thanks to booking via Hyatt Privé, we were upgraded to a 75m² Grand Suite. It is worth noting that even the entry level heritage rooms measure 52m², which is very respectable for any hotel, let alone one which is materially constrained by being housed in a repurposed fort!
Upon entering the suite, we found ourselves within a standard, square shaped living room. The far wall was occupied by an entertainment centre, housing both the TV and the minbar.
The TV offered an easily accessible HDMI port as well as power sockets, meaning that you could comfortably connect a laptop or phone. Unfortunately, the minibar did not feature a Nespresso machine, although a small cafetiere was provided, alongside some high quality Lavazza coffee.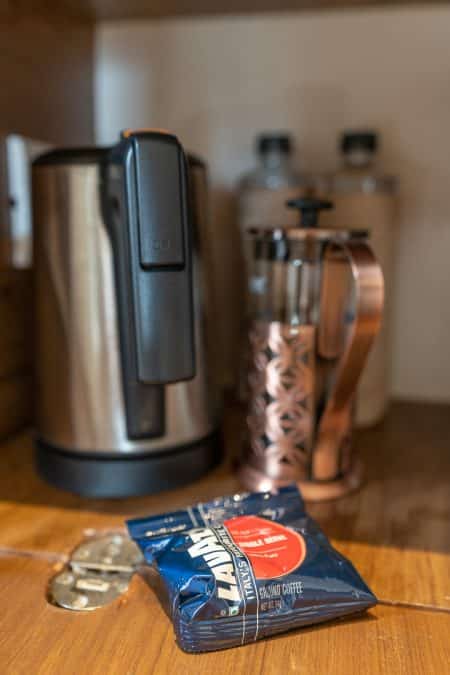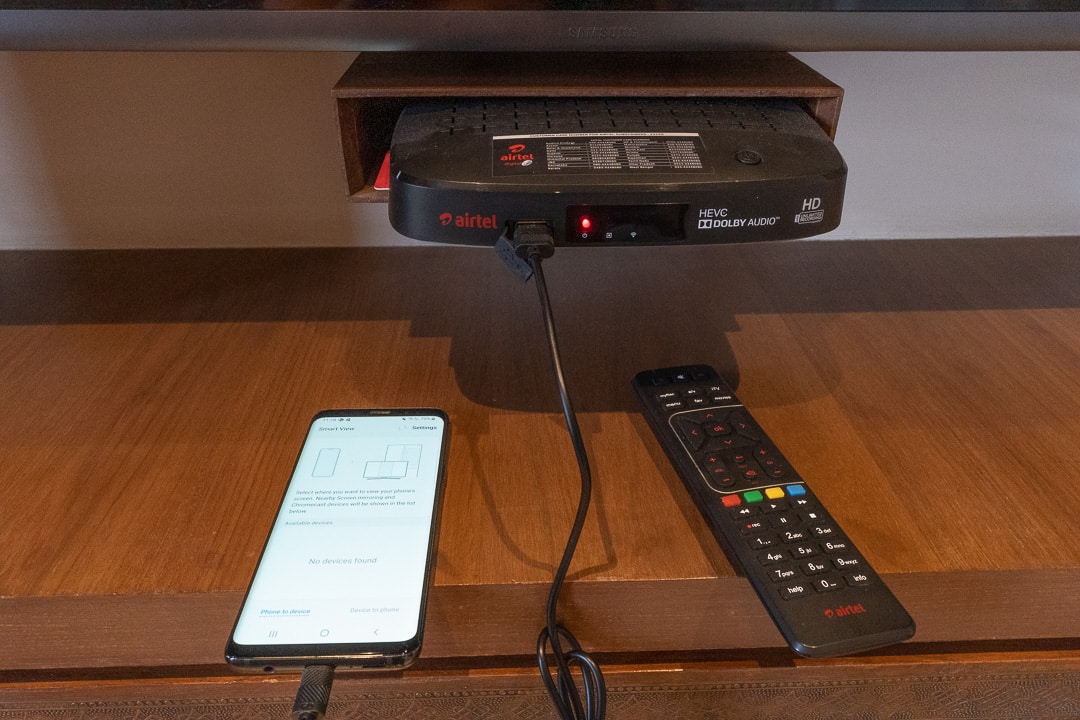 A small selection of Twinings teas was also offered, alongside a paid minibar of snacks and soft drinks.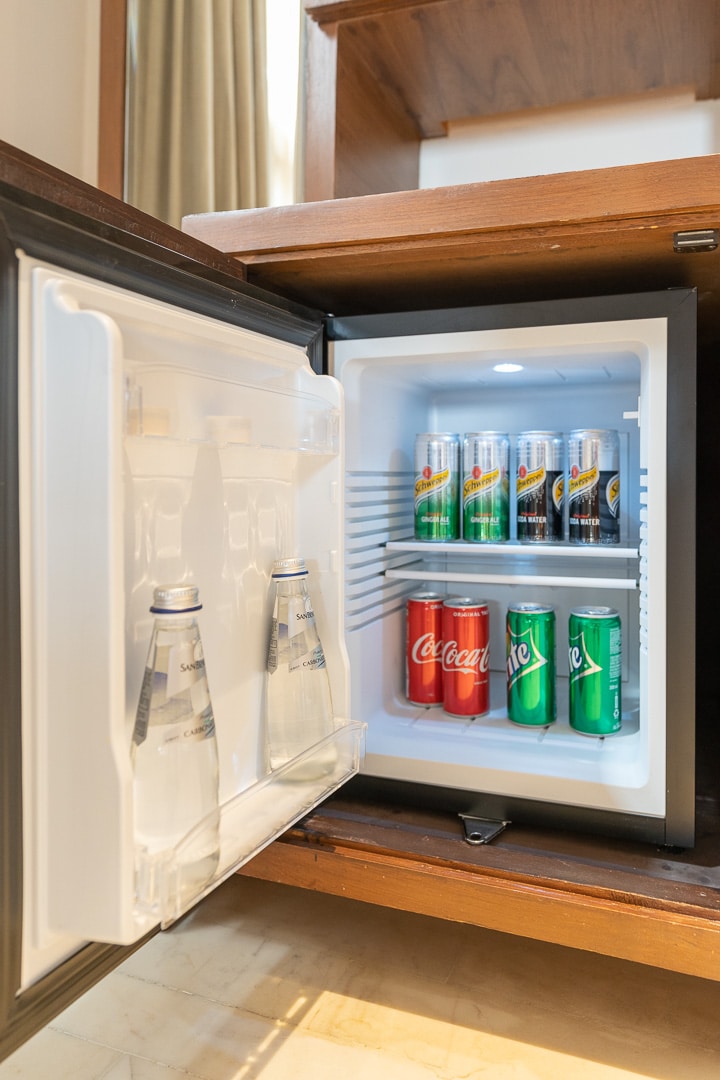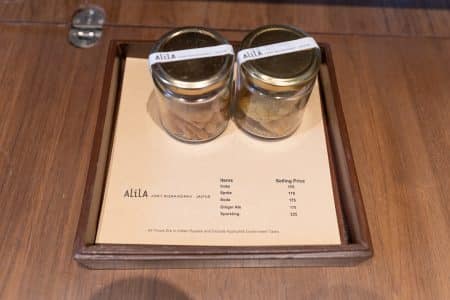 Behind the table and chairs was an oversized daybed, which could very easily be converted to fit additional guests in the room.
The daybed even featured bedside lamps and universal power sockets, making it all the more comfortable for use as a second bed. Immediately adjacent to this was the wardrobe. Although the space was somewhat limited here, there were additional empty drawers available by the minibar.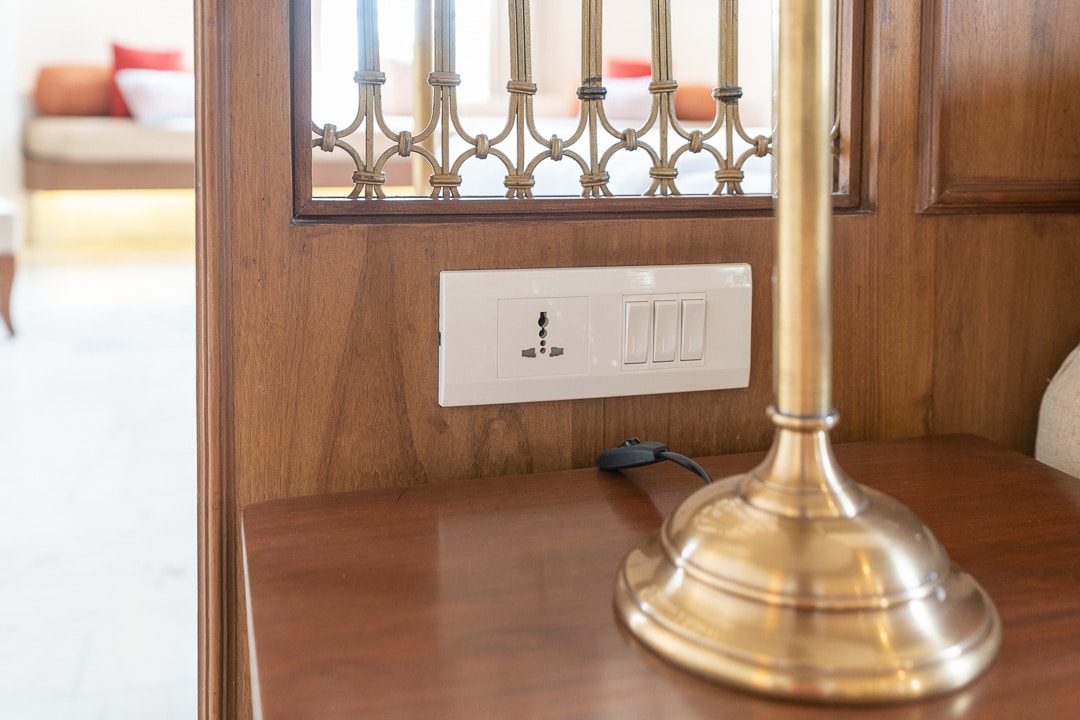 Bedroom
Just behind the living room, mirroring the daybed, was the bedroom. Here, we got a real sense of the unique design of the fort, as the curved wooden beams and multiple windows served to highlight the shape of the turret that we found ourselves in.
At the foot of the bed was an oversized seating area, featuring the same modern accent lighting as the daybed and presenting yet another possible option for a child's sleeping area.
Travelling alone as a couple, we really got the sense that we had an abundance of space in this room, as there were so many different nooks to sit and relax in.
Older buildings can easily feel dark and dingy, but having windows on all sides, coupled with clever lighting and a bright white canvas of marble and plaster, meant that the room always felt bright and airy.
Given the unique vantage point of the fort, the views in all directions were spectacular too!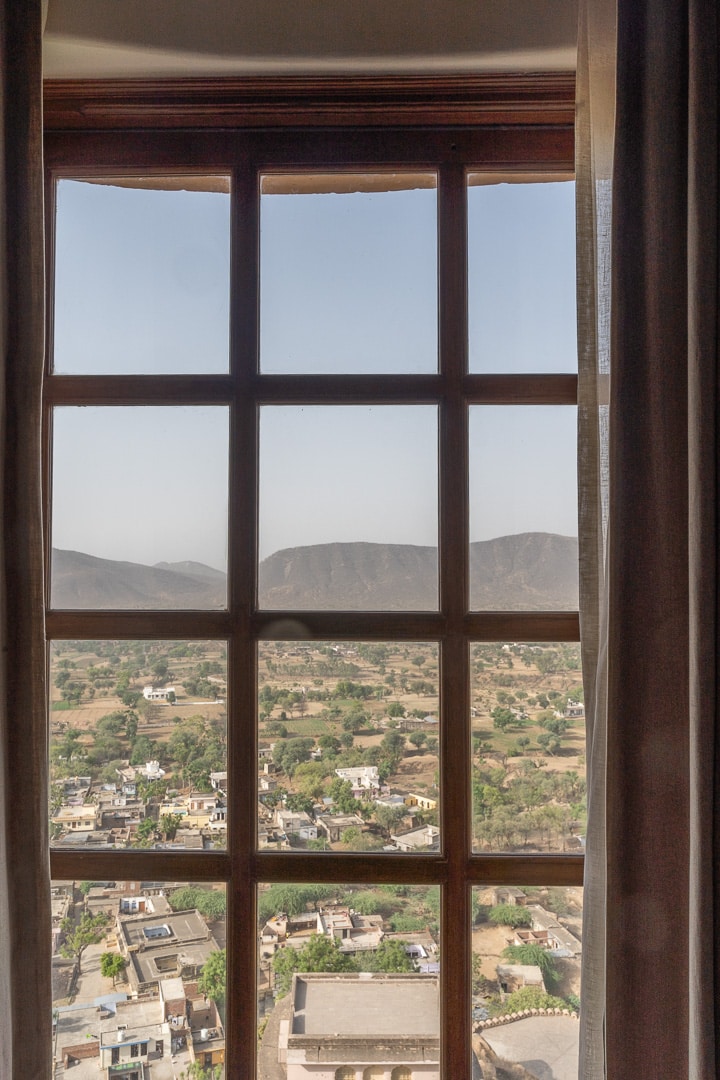 The bed itself was very comfortable and featured universal power on both sides.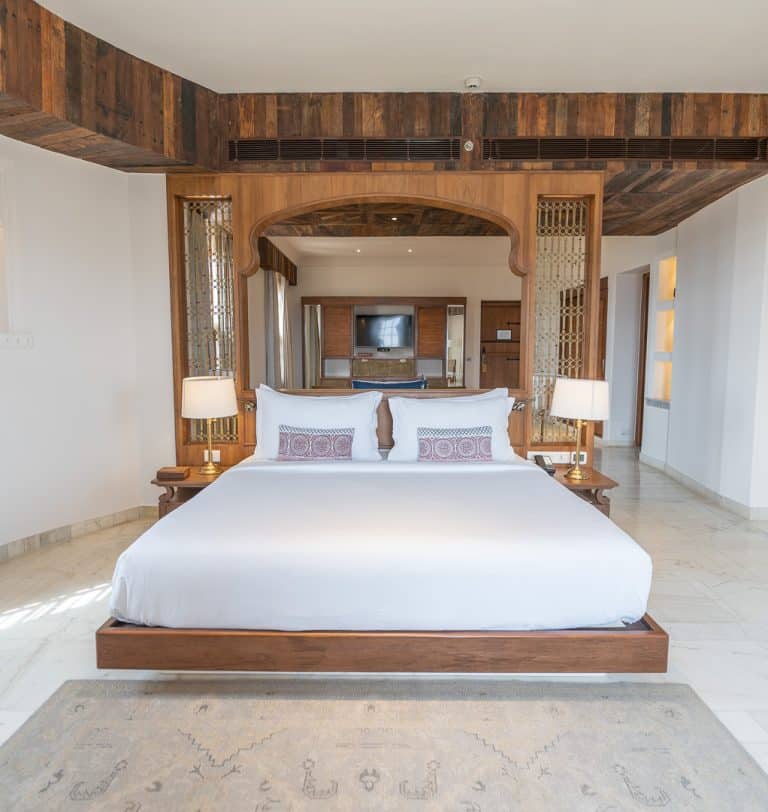 Bathroom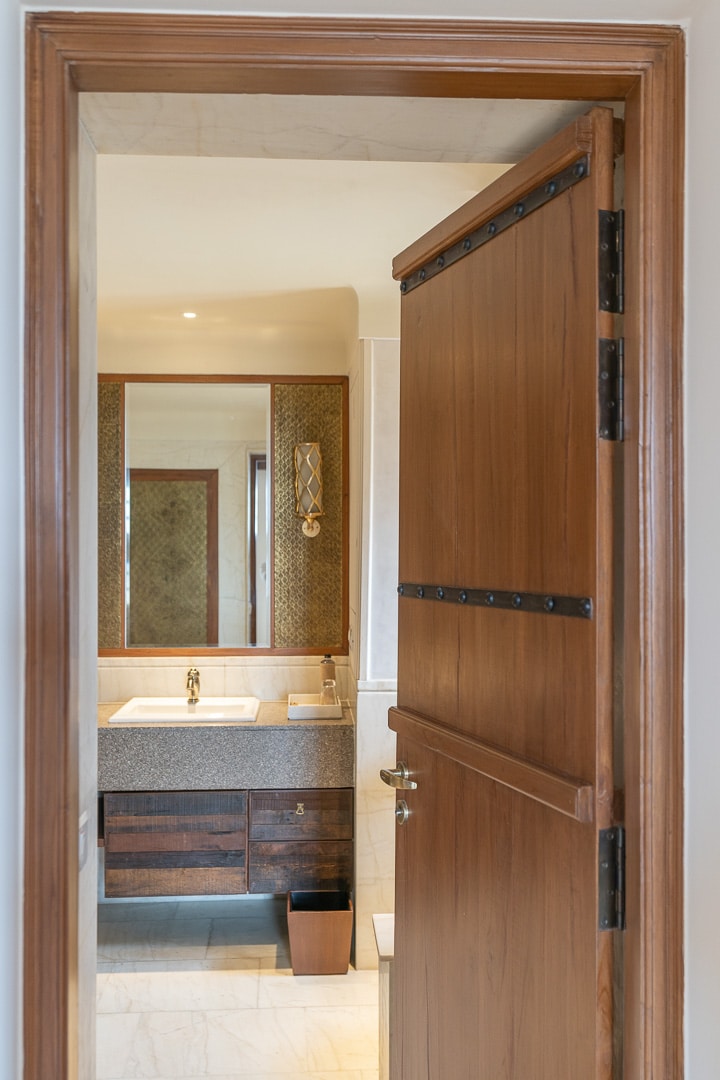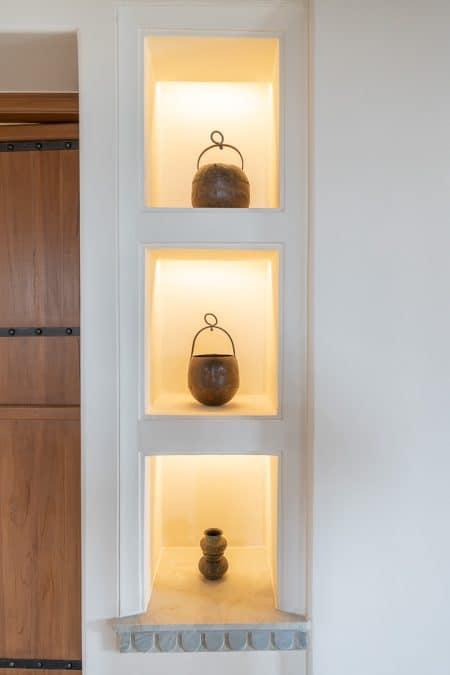 The footprint of the bathroom was very generous, however it did feel a lot darker than the bedroom as there was only one window and the room was dominated by grey and brown tones.
A brass accent wall was located directly behind the sinks, but honestly I feel like the bathroom would have felt more inviting if this had been omitted, leaving an expanse of white marble in its place.
Alila was really one of the first hotel chains to focus on conservation and green principles. As such, it was no surprise to find that toiletries were provided in refillable containers, whilst amenities were packaged in recycled paper and even included wooden toothbrushes.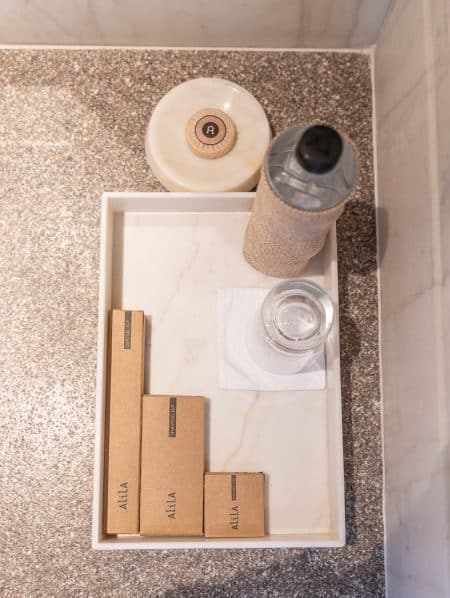 The granite shower was ample and featured a very powerful rainfall head. The attention to detail in the design was fantastic; even the small nook for the toiletries featured a traditional Indian arch design.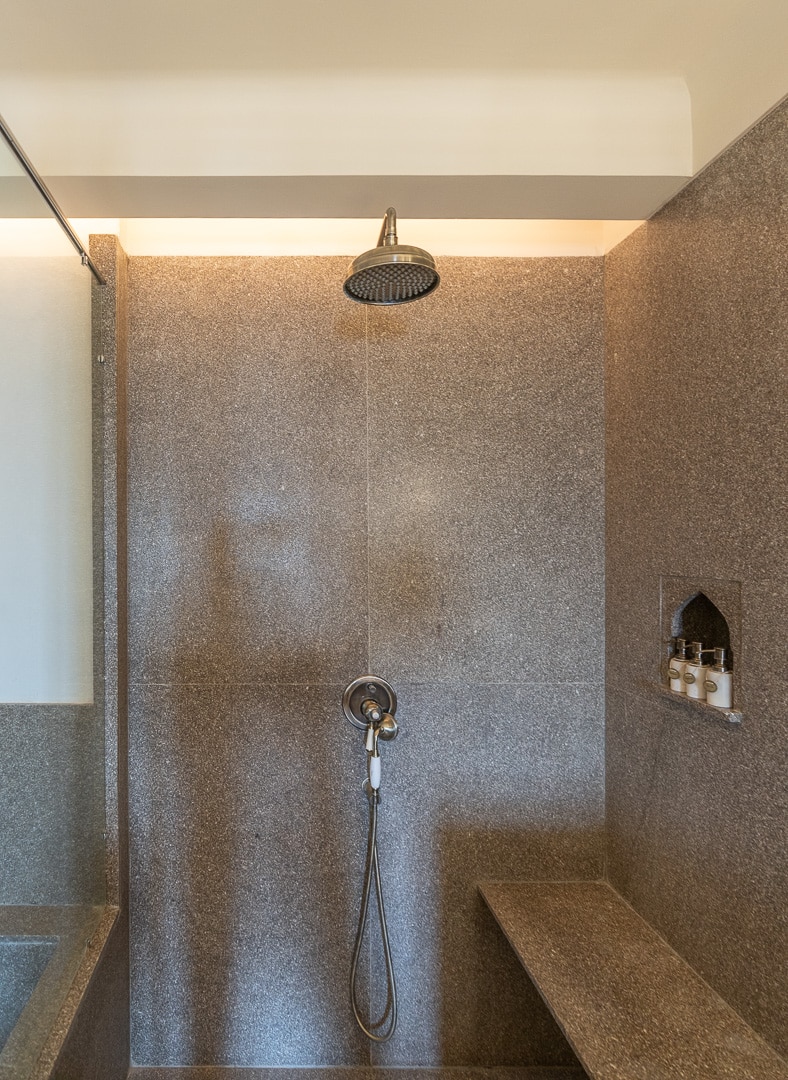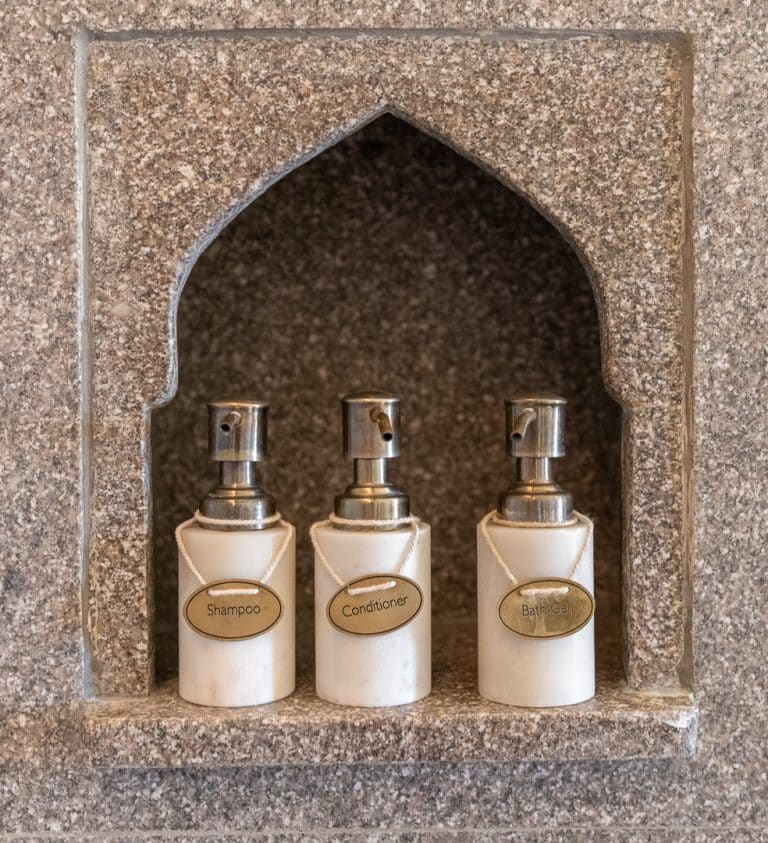 Next to the shower was an enormous bathtub. Thankfully, the taps enjoyed the same high pressure as the shower, meaning that the wait to fill the bath was rather brief.
The toilet was located within the main bathroom, rather than being separated behind a closed door. This is understandable, given that the very small window behind it was the only natural light source in the room. The vintage style fan above the toilet was a bit of a an odd choice, though. We never found ourselves turning it on.
---
Food and Drink
---
Breakfast at Amarsar Restaurant
Amarsar restaurant provided a wonderfully bright and bustling location in which to begin the day. Copious amounts of daylight streamed into the room, reflecting off the bright white walls and the marble floor and tables.
We absolutely loved the booths; they felt so cosy and magical compared to the regular tables.
Service was wonderful. The staff were super friendly and cheerful (much more so than I am first thing in the morning) and our coffee and juice orders were always delivered within a couple of minutes.
The first coffee that you order at a new hotel is always rather telling. I tend to risk asking for a double macchiato and then usually revert to asking for an espresso with milk on the side, as 50% or more of hotels will get this order wrong. Thankfully, Alila Fort Bishangarh not only understood the brief, they also delivered some great tasting coffee.
Although there was a small and basic buffet, our focus was very much on the a la carte dishes.
Amarsar a la carte Breakfast Menu
(Click on pages below to enlarge.)
Although we branched out and tried the Shakshuka one day, our favourites were the local specialities: Dosa and Poori Bhaji.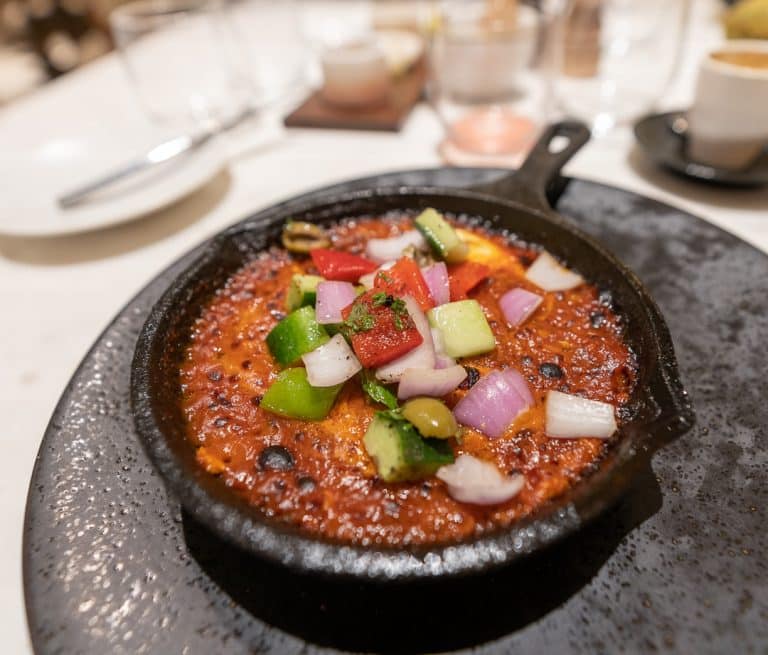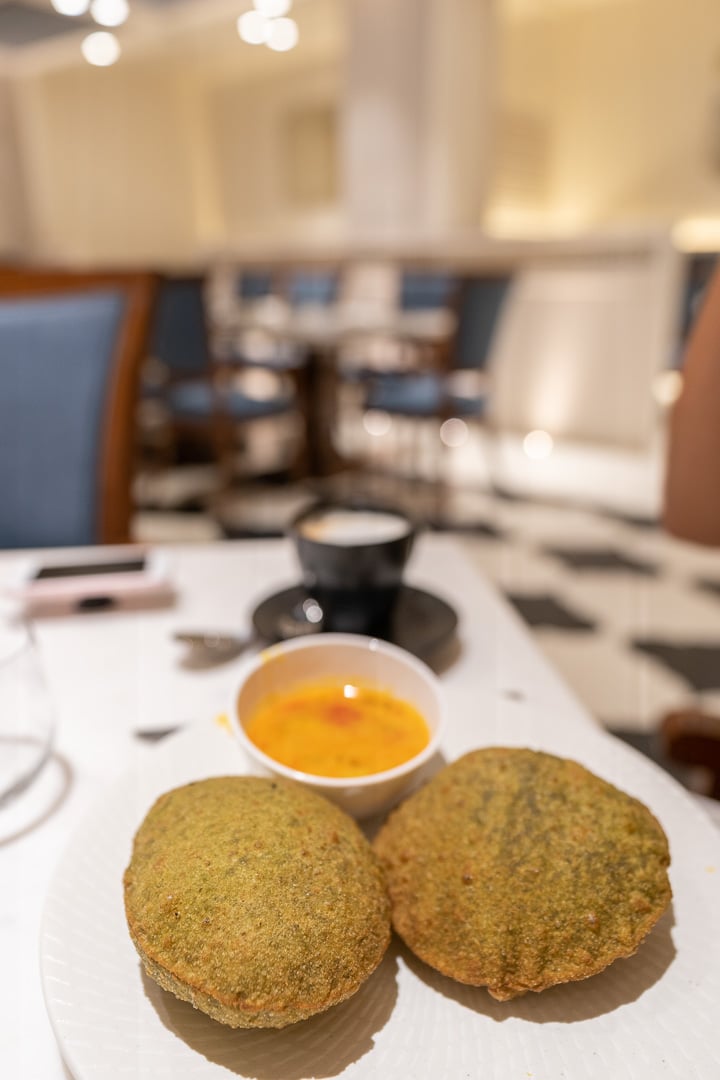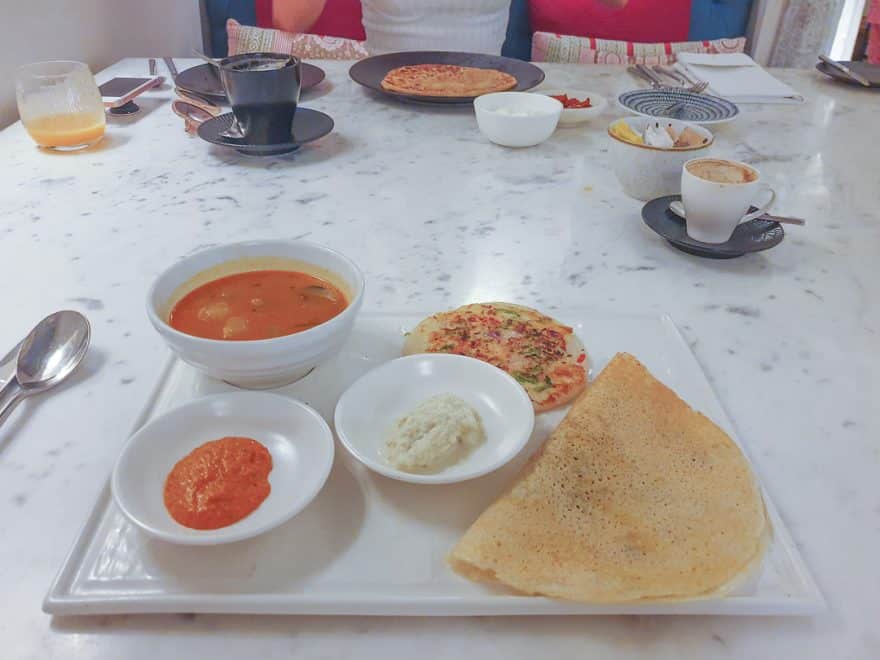 Lunch at Haveli Poolside Restaurant
Haveli Poolside Menu
(Click on pages below to enlarge.)
We spent two of our three days here exploring the city of Jaipur and the surrounding area but had time for lunch at the hotel on the third.
Although the poolside menu had a variety of interesting dishes beyond the usual pizzas and burgers, we preferred the look of the menu at Amarsar, so opted to have lunch there instead…
Lunch and Dinner at Amarsar Restaurant
Amarsar Lunch/Dinner Menu
(Click on pages below to enlarge.)
Sous vide watermelon, activated charcoal risotto, quail curry – certainly not the dishes of a kitchen that plays things safe! Having already spent a week in India, it was great to mix things up a bit and veer away from the Rajasthani favourites that had formed the majority of our diet up until this point.
Everything that we tried was truly exceptional, packed with flavour and beautifully executed. When you're at a remote resort like this, the quality of the food is all the more important. It's not like you can pop just outside the hotel and find multiple restaurants on your doorstep.
It is a testament to the management that they not only pushed the kitchen to innovate, they also kept the prices at the level of a city hotel in India.
Madhuveni Bar
(Click on pages below to enlarge.)
We never bothered with Madhuveni bar, as it always seemed preferable to spend our evenings in the enchanting surroundings of Nazaraa, with its panoramic rooftop views and live music.
The room itself was wonderfully decorated though and the addition of a separate cigar lounge, ensconced within its own turret, was a fantastic touch.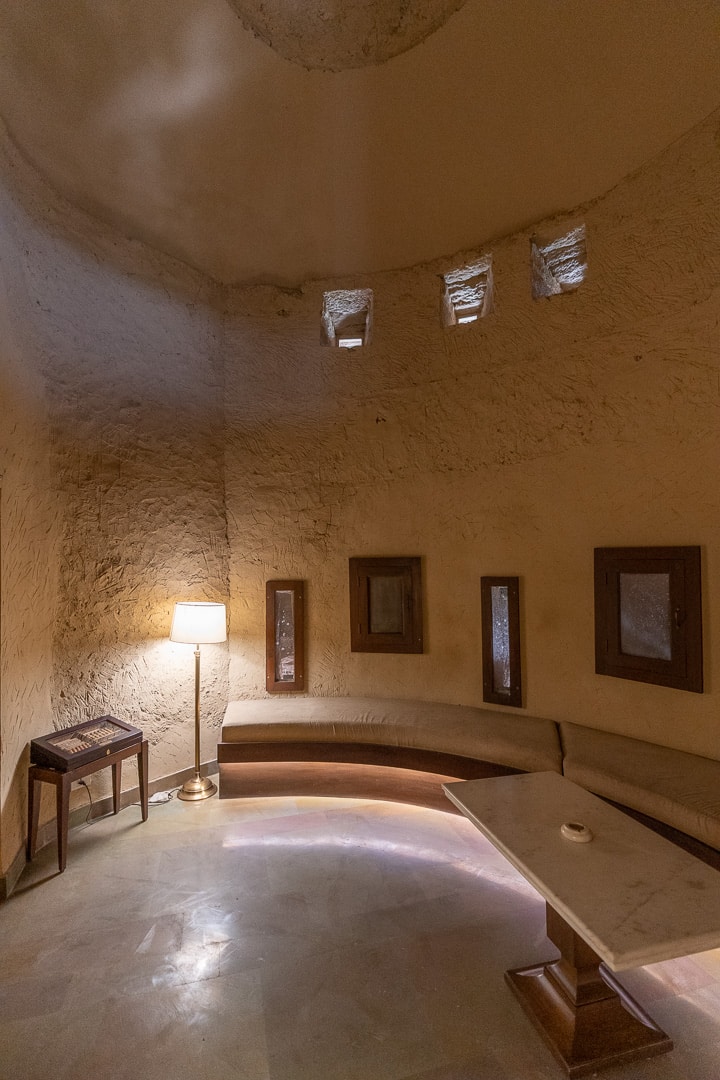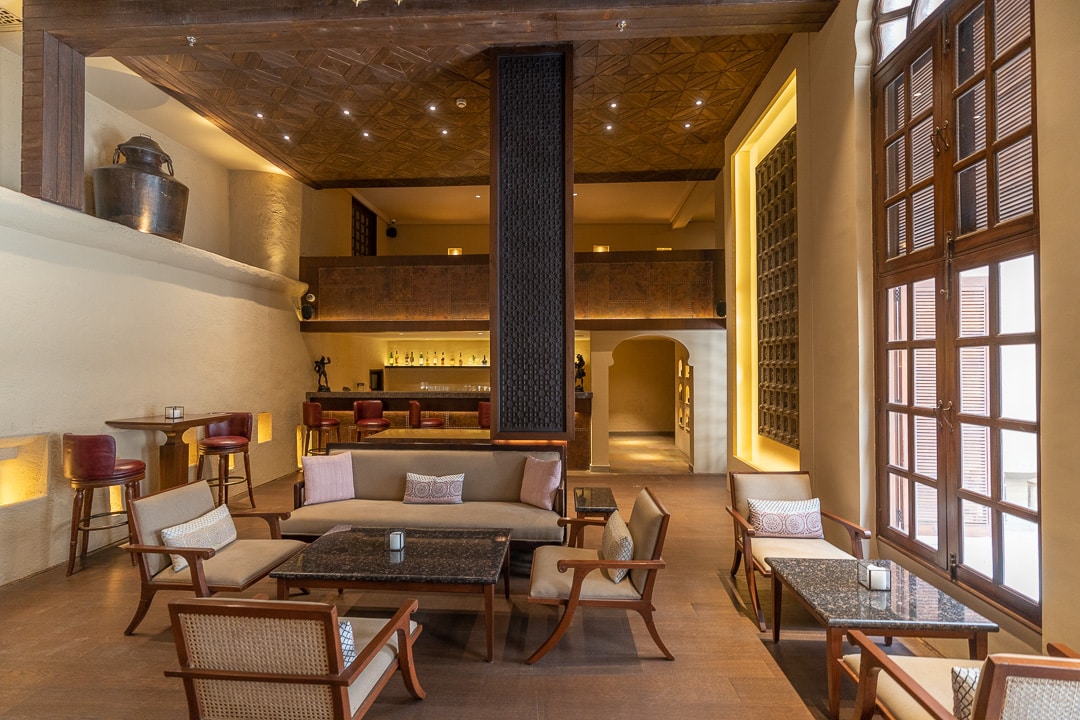 Dinner at Nazaara
(Click on pages below to enlarge.)
Nazaara was in many way the defining experience of our time at Alila Fort Bishangarh. As the sun set and the temperature dropped, the rooftop of the fort came to life under a canopy of bright stars, punctuating the inky black sky.
Flickering lanterns illuminated every corner as bats flew overhead and local musicians delivered a spellbinding performance of music, quite unlike anything I'd ever heard before.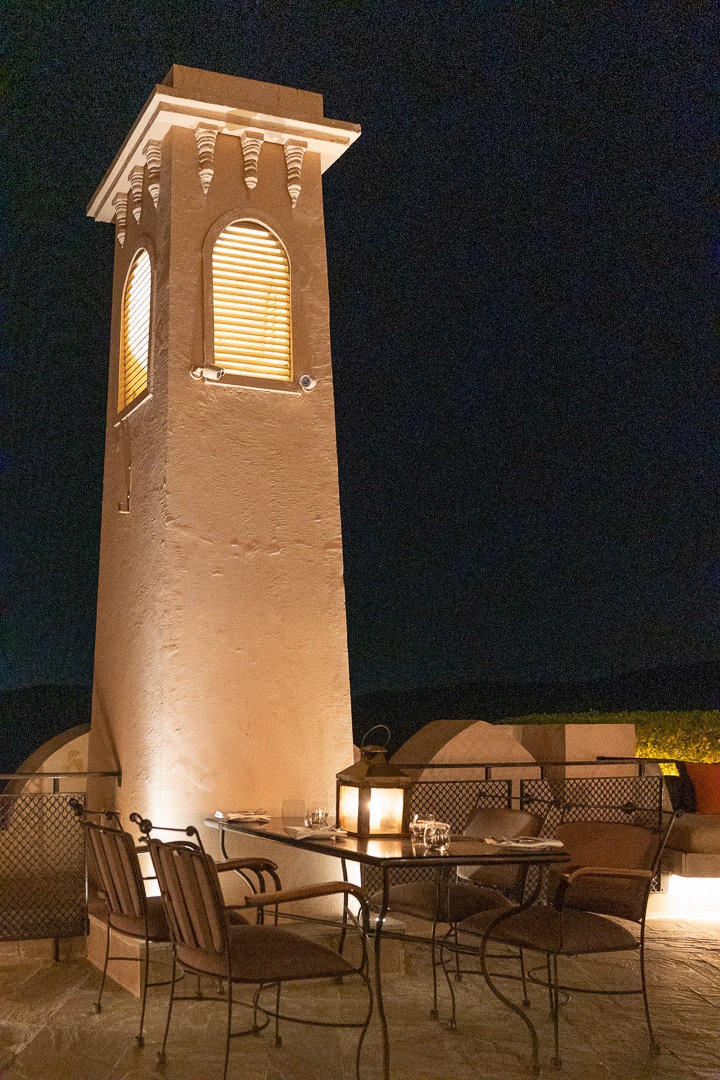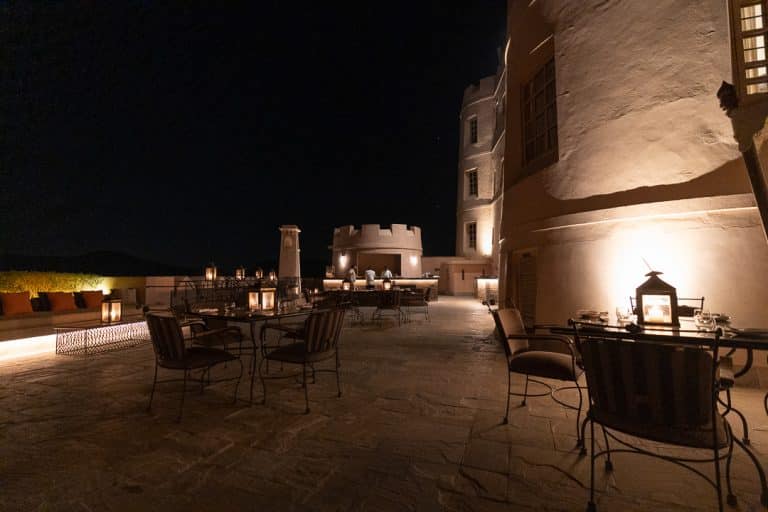 Given the setting, I would have frankly been rather forgiving if the food or service had been found wanting. Thankfully, this was far from the case. The staff could not have been kinder or more accommodating and every single dish that we tasted was utterly fantastic.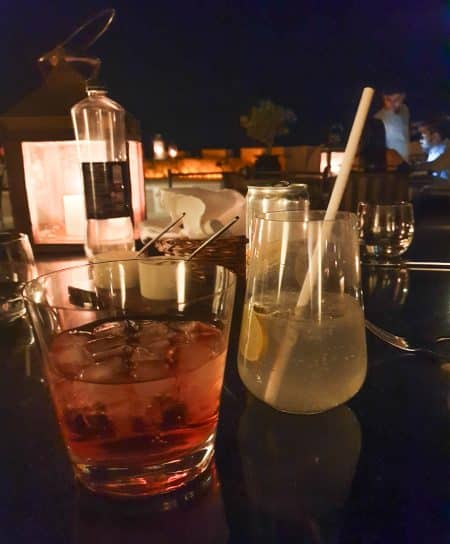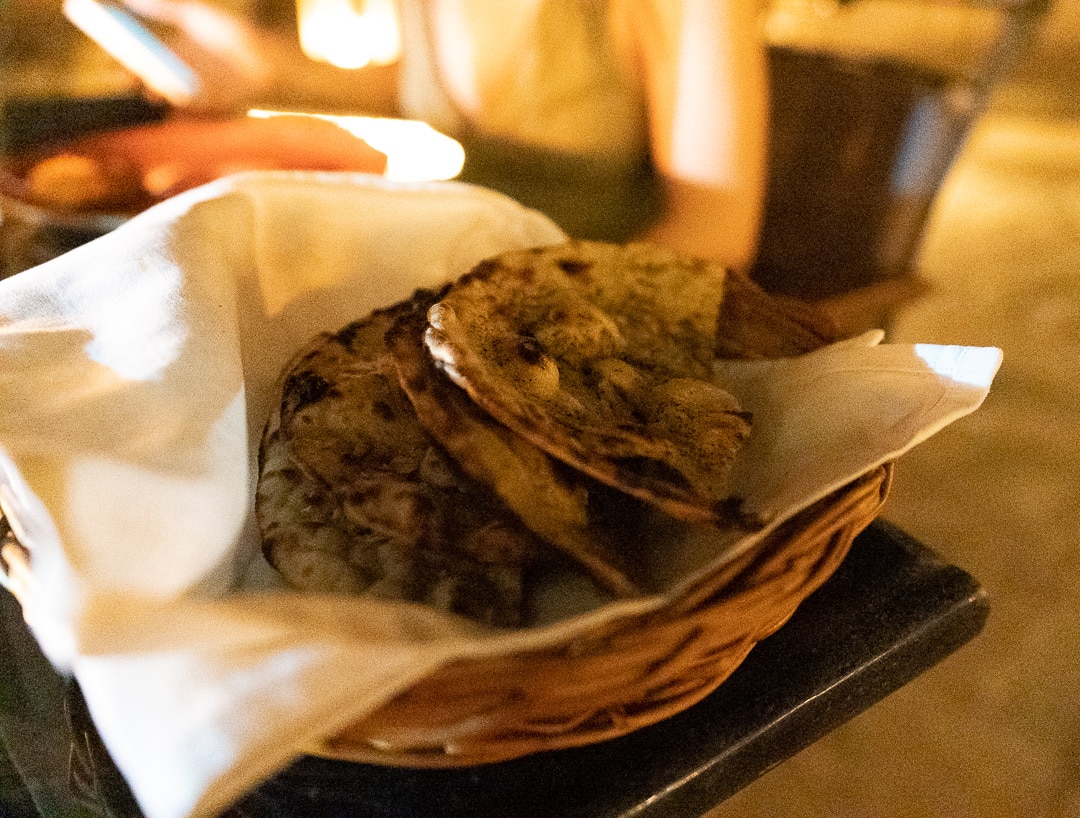 ---
Leisure facilities
---
Pool
Given the structural limitations of the fort, the hotel pool was located a short buggy ride away, next to the arrival pavillion.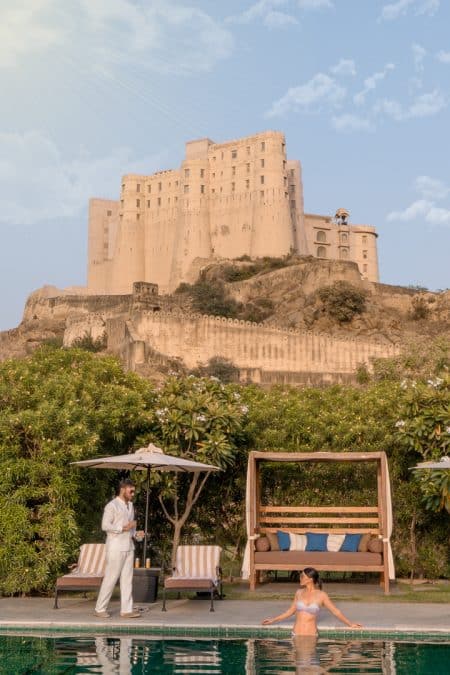 Early in the morning or just before sunset were the perfect times to be here. The rest of the time, it became apparent that there were far more guests than available loungers by the pool. There were also lots of large family groups with noisy children. Quite a contrast to the serenity of Amanbagh's pool.
This is also part of the reason why we opted to forego lunch at the poolside restaurant, dining at Amarsar instead. We also found that service from Haveli was exceptionally slow, when ordering drinks. In many ways, it felt like a completely different hotel to what we experienced within the walls of the fort.
Gym
The gym was located just across a courtyard from the restaurant.
Despite being a brand new building, the traditional design still made it feel as though you were in the grounds of a palace. A palace which was almost entirely baboon free…
One thing to note: despite being located a buggy ride away from the main hotel, the gym and pool offered no changing rooms.
We were caught out by this on our first visit to the gym and ended up changing in shower cubicles and then bringing our clothes into the gym with us on hangers (which the staff very apologetically rushed to find for us).
The gym was equipped with a standard selection of light dumbells, cardio equipment and a Life Fitness multi-station machine. Bottled water, apples and towels were also provided.
Although not really part of the gym, there was a huge lawn located just outside, ordinarily used for hosting large banquets. I found it to be the perfect length for running early morning sprints, before the sun became too hot.
Spa
The spa building is located within the grounds of the fort, in a small garden area. We didn't have time to use the spa but did note that it was very reasonably priced and featured Ayurvedic treatments, in addition to more familiar forms of massage.
---
Activities
---
Since we had our own driver for the duration of our trip to India, we arranged our own trips and activities. However, should you find yourself at Alila Fort Bishangarh without a driver, there is a very extensive programme of activities on offer, starting at an extremely reasonable $30 (per couple) for a 2 hour trip to the local dairy.
---
Conclusion
---
Basics Checklist
☑︎ Power sockets near the bed
☑︎ Easy to understand light switches
X Coffee machine
☑︎ Separate shower and bath
☑︎ Blackout blinds
☑︎ Stable, fast and free Wifi
☑︎ Feather pillows
☑︎ Quiet and powerful aircon
Our stay at Alila Fort Bishangarh exceeded expectations. Alila properties worldwide are remarkably diverse in terms of room hardware and physical setting. However, the chain is clearly unified by a service ethos and focus on quality that transcends any single property.
Our room was larger and more functional than we had anticipated, given the constraints of this unique, heritage building. The food was also of a very high standard, again better than we would have expected given the fact that all guests here are effectively 'captive'.
The pool is on the small side, given the size of the hotel, and clearly the property would benefit from adding another designated family pool. This would hopefully return a sense of tranquility to the main pool area and take some pressure off the staff at Haveli. Similarly, the addition of some changing rooms would avoid awkward situations where guests are getting changed in the toilets.
However, on the whole, this stay was truly magical. During the day, the views from our room were absolutely breathtaking and at night, the fort was transformed into an otherworldly domain of candlelit courtyards and enchanting live music.
There really aren't many properties on earth that compare to Alila Fort Bishangarh and I would certainly recommend a stay here as part of a trip to Jaipur. The distance from the city centre is more than compensated by the extraordinary service and location.
---
Book Alila Fort Bishangarh with Hyatt Privé benefits
---
Hyatt Privé Booking
Hyatt Privé benefits which may be available on your stay:
Upgrade of one category, based on availability at time of check-in.
Full breakfast for up to two in-room guests.
Complimentary lunch for 2 people, excluding alcohol and gratuities.
Early check-in/late check-out, subject to availability.
Alila Fort Bishangarh can be booked directly online, with Hyatt Privé benefits, by clicking the "BOOK NOW" image.
Do you have a more complex booking enquiry, involving multiples rooms or hotels? Email us for immediate booking assistance:
---
Visiting the Best Luxury Hotels in India
Part 1:

Part 2:

Part 3:

Part 4:

Alila Fort Bishangarh, Jaipur : Grand Suite

Part 5:

Umaid Bhawan, Jodhpur : Historical Suite

Part 6:

Oberoi Udaivilas, Udaipur : Luxury Suite

Part 7:

Leela Palace, Udaipur : The Royal Suite