Emirates Lounge
Location: Johannesburg JNB
Lounge access:

Emirates First and Business Class Passengers
Emirates Gold and Platinum status holders
Paid access: 115 USD
---
Intro
---
Emirates combines Business and First Class passengers into a single lounge, everywhere outside of Dubai.
This generally means that the lounges are slightly better than most Business Class facilities, whilst falling short of a true First Class experience for passengers in the top cabin.
Previous experiences in London Heathrow and London Gatwick cemented the notion that these are really not lounges worth coming to the airport early for. As such, we arrived with around an hour to kill, before our flight to Dubai.
---
OR Tambo Emirates Lounge
---
One thing that Emirates does very well is keeping consistent branding across the globe. There really is no mistaking the entrance to an Emirates lounge; you can spot the glass doors, dark wood and gold a mile away, even before being able to make out the Emirates logo.
Once inside, the decor was the same shade of overwhelmingly drab beige as the Gatwick Lounge. The room had the feel of 1990s Sheraton, albeit with slightly less charm.
Unlike the Gatwick Emirates Lounge, this room had windows. Unfortunately though, during our visit, the view outside was just as dreary as the interior.
Power sockets were something of a rarity and involved either lifting up a floor panel near a lamp…
…or finding a seat in a far corner, with local sockets only.
Tucked away in a corner of the main seating area was a bar featuring a variety of wines and spirits, including Moët champagne. Next to this was a business centre, which was every bit as modern as the rest of the lounge.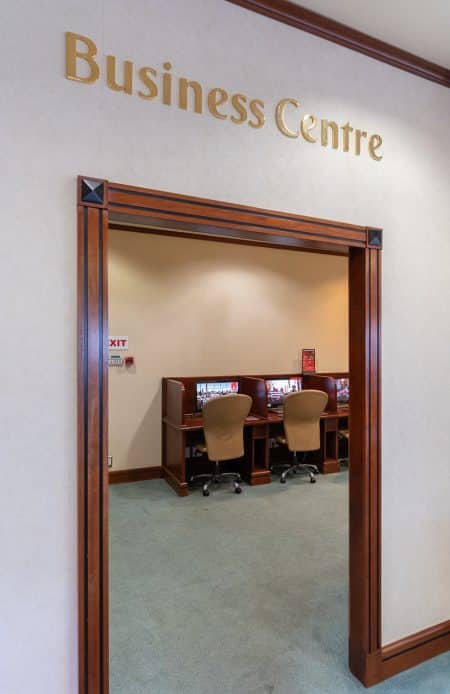 Dining Area
Upon entering the dining area, we were warmly greeted and asked if we'd like to order any drinks to our seats. There was a full self service buffet for both food and drink, but staff were very eager to assist, regardless.
The coffee was decent, but not a patch on the like of Qantas or Air New Zealand lounges, where espresso drinks are freshly made by baristas.
The exact same selection of wines and spirits was available here, as in the main lounge area.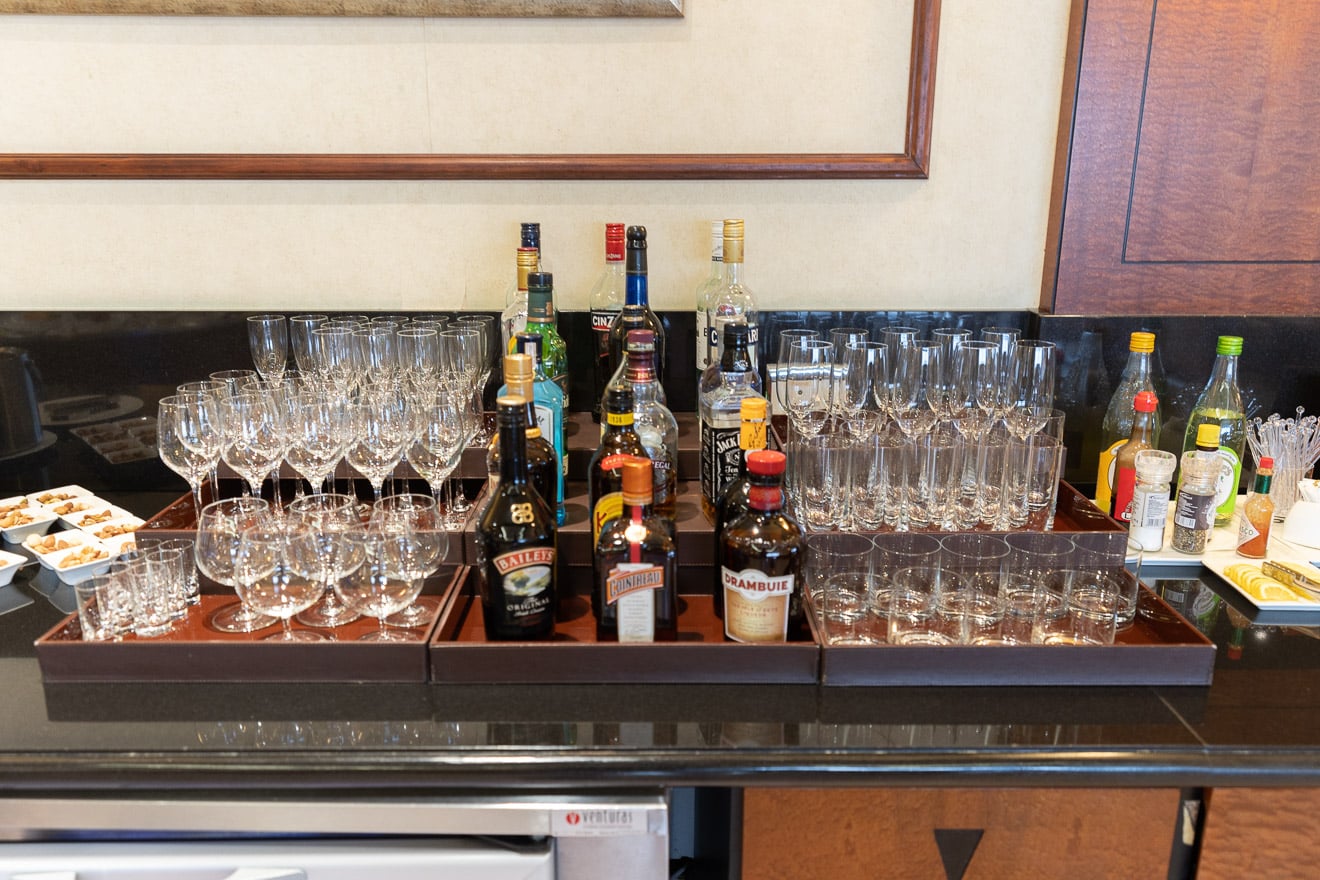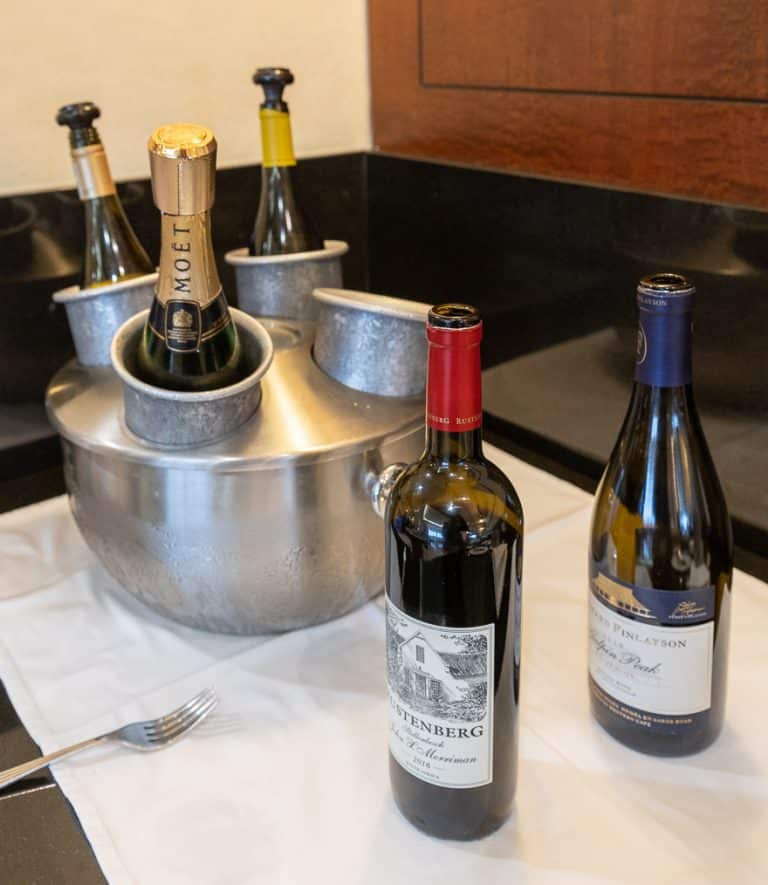 The cold buffet section featured a variety of pre-plated appetisers and desserts.
There was also a wide selection of hot dishes on offer. One thing that I really like about Emirates lounge catering is that they offer plentiful vegetables and offer proteins separately. This means that meats and fish aren't overcooked and that you can plate up a healthier meal for yourself than possible in most airport lounges.
Showers
Showers were available on a first come, first served basis. Towels were piled up on a stool by the shower and an unbranded conditioner and soap were attached to the wall. There was a handheld shower but no overhead shower head.
Definitely on the more utilitarian end of the lounge shower scale. Not a patch on the wonderful facilities at the Cathay lounge in Heathrow, for example.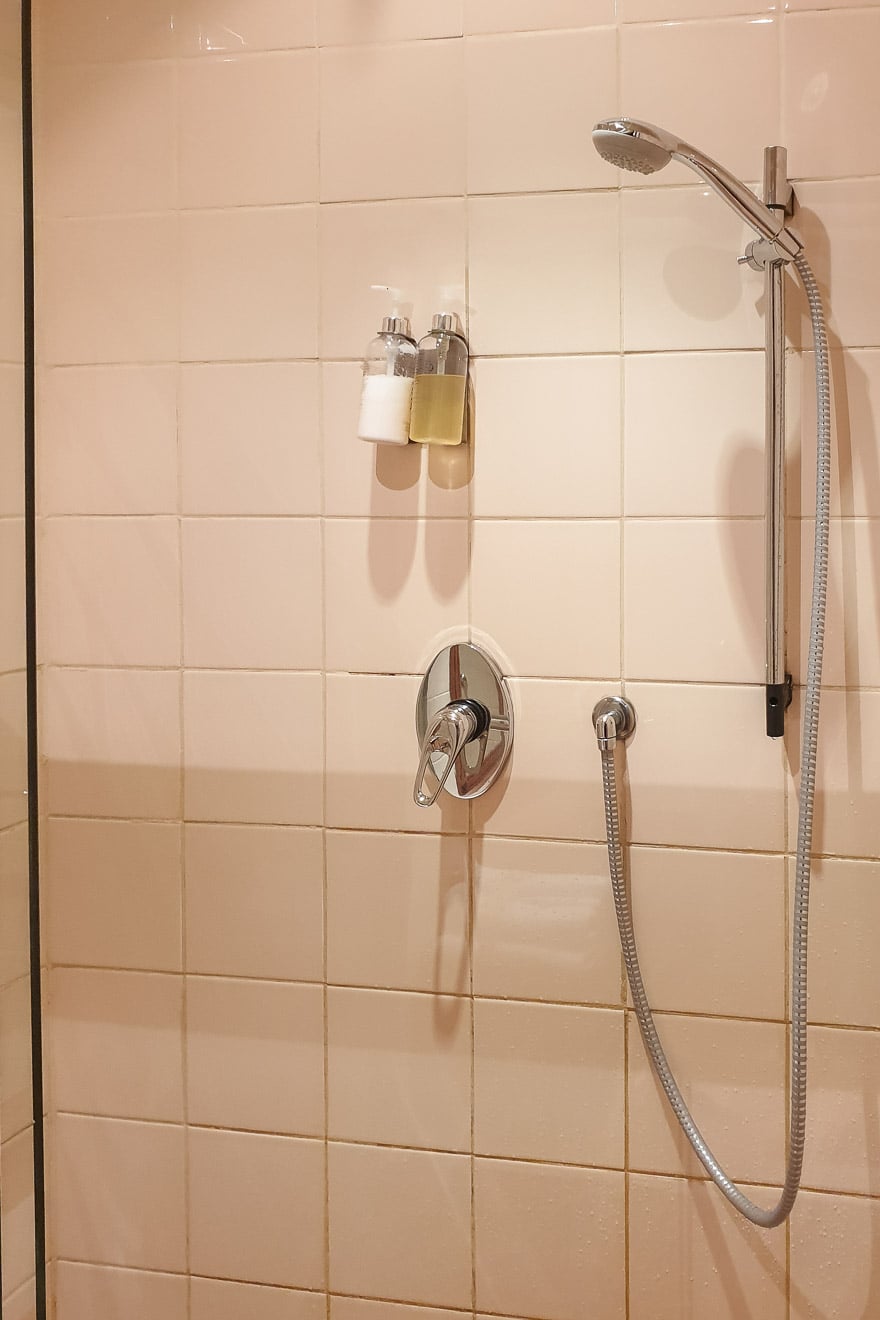 ---
Conclusion
---
The Emirates Lounge in Joburg is somewhere that you can quickly come and eat a relatively healthy meal before a flight. You can also come here to enjoy a few mid to bottom tier alcoholic drinks.
The surroundings are dreary and beige, there are almost no power sockets and the overall feel is like stepping 30 years back in time.
It is a lounge that succeeds in being marginally more pleasant than the gate area, but otherwise there's not much to recommend here.

---
South Africa Hotel Reviews
---
Here is a selection of our most recent South Africa hotel reviews: