The
Location: London LGW
Emirates Lounge access:

First and Business Class passengers on Emirates
Emirates Skyward Gold and Platinum Status
Paid access: $125

Date visited: December 2019
---
Intro
---
The complimentary Emirates Limo service came to collect me from a very cold and drizzly West London, with the drive to Gatwick taking around 90 minutes. About 45 minutes into the journey I was starting to lament my decision to opt for LGW over LHR.
Why did I pick Gatwick? Two reasons:
I had already reviewed the Emirates Lounge in Heathrow when flying on Qantas First Class
I had a feeling that it would be a lot easier to find upgrade space out of Gatwick (which turned out to be true)
I'm not sure if we were allocated an E-Class as a result of having originally booked into Business Class or whether this is the standard vehicle.
In the past I've been given an S-Class transfer when flying in First with airlines that offer a complimentary chauffeur service.
---
The Emirates Gatwick Lounge
---
Emirates aims to offer a consistent product throughout its network of outstation lounges. All outstation lounges blend First and Business class together, with the aim of elevating the experience far above that of most Business Class lounges.
This is the same policy that Qatar has pursued, with a great deal of success, in the Heathrow Terminal 4 Premium Lounge.
All of Emirates' lounges feature a signature wall of Rolex clocks showing world time zones and almost all offer direct boarding from the lounge – with London Gatwick being one of the rare exceptions.
Seating
Upon entering the lounge the main thing that struck me was how bright the lighting was. There are also plenty of emergency signs, fire doors and hydrants visible. I'm sure all other airport lounges in the UK have to adhere to similar regulations but for some reason it was really noticeable here.
The bright light definitely made it feel like we were still in a regular terminal building. In contrast facilities like Cathay's superb lounge in Heathrow Terminal 3 use and abundance of natural light and lamps to create a far softer and more residential feel.
Another really noticeable feature of the lounge was the fact that there were no dividing walls of any kind, which once again contributed to the feeling of just being in an upgraded terminal. A few semi-opaque dividers or even plants would really help to transform this space.
The fountain also paled in comparison to the magnificent onyx water feature in the aforementioned Qatar Premium Lounge, let alone the jaw dropping fountain in their Al Safwa Lounge in Doha. It reminded me of the sort of thing you'd get at a nice Chinese restaurant in suburban Britain. All that was missing were a few Koi swimming around.
Having said all of this it is clear that some money had been spent on the leather upholstery, marble tables and acrylic feature lamps.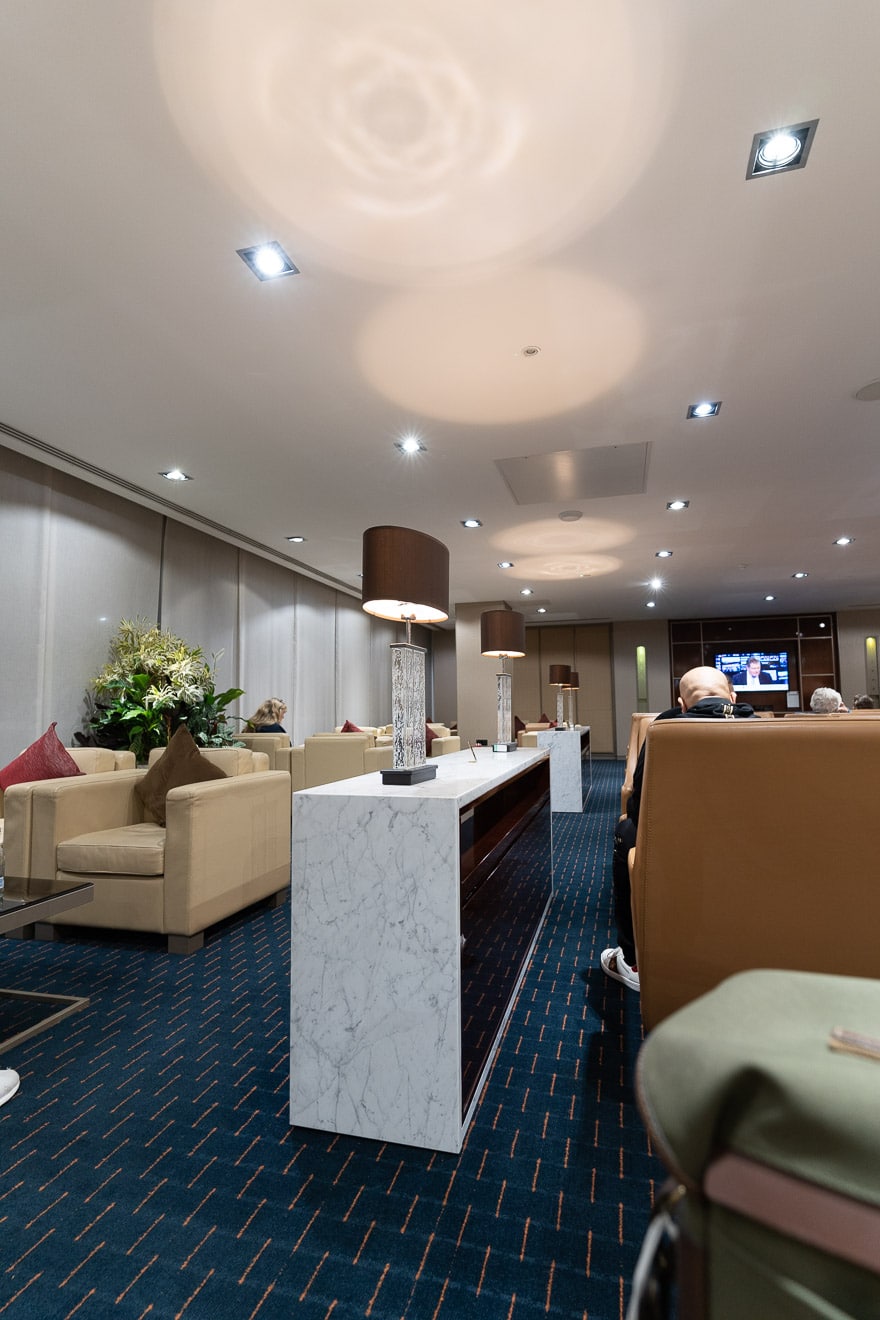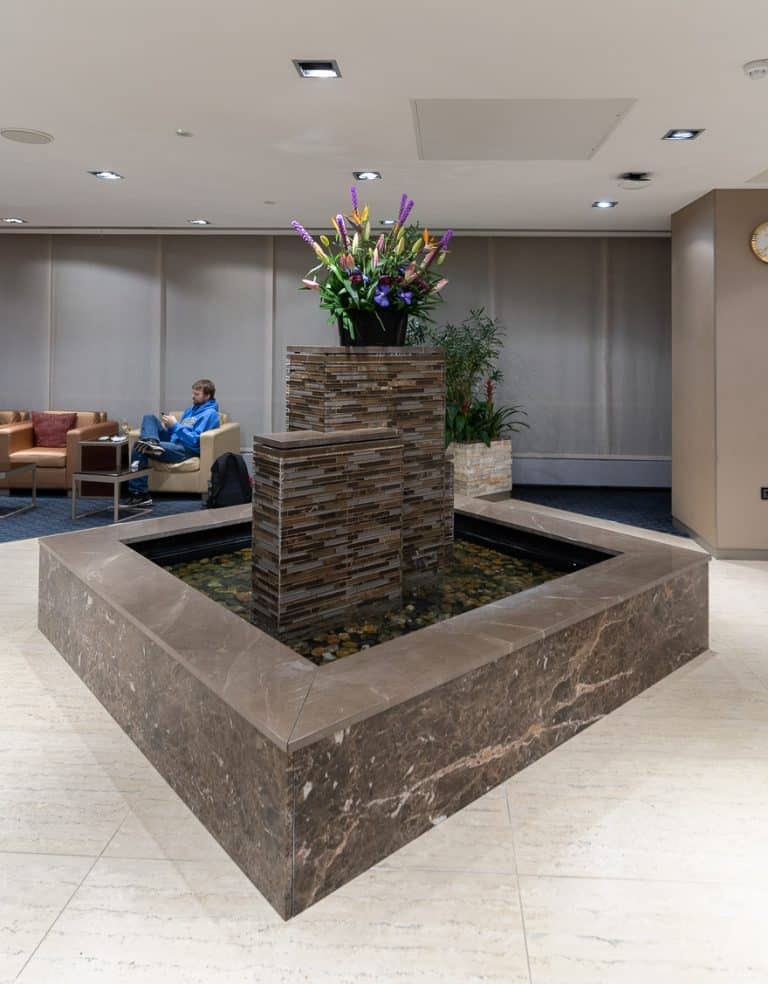 Away from the main hall there were some seating areas which felt a little quieter and more private.
At the far end of the lounge there is a second quieter 'mini lounge' of sorts too, which is immediately adjacent to the Business Centre.
Incidentally the Business Centre is where you're likely to end up if you want to charge any devices, since there are almost no power sockets anywhere in the lounge.
Business Centre
The Business Centre has a couple of PCs available for use as well some blank desks with numerous power sockets. It also had its own additional tea and coffee making facilities.
Showers
I managed to snap a quick picture of the showers but not the bathroom, since it was perpetually full of people and it seemed a little creepy to take photos with members of the public there. There were attendants handing out paper towels but the facilities were not particularly clean, with toilet paper left on the floor and urine all over the seats…which again nobody needs a picture of.
It's the sort of shower you'd expect in a Travelodge not in a top tier airline's premium facility. Once again my mind was drawn to Cathay's remarkable lounge in Heathrow Terminal 3 where the showers are awash in marble and brass, featuring an abundance of Aesop amenities. Quite the contrast.
Food and Drink
The 'mini lounge' area has its own small drinks area, featuring wine, champagne, beer, soft drinks, tea and coffee. The only food here is in the form of olives and nuts though. For something more substantial you will need to head to the main dining area.
Even from the perspective of a First Class Passenger, the food selection is very impressive. There was a clear focus on sourcing quality ingredients and the presentation was a cut above most lounge buffet food.
As a Business Class passenger this is one of the best buffet selections you'll ever encounter.
I think it's such a clever idea to have pre-plated dishes like this rather than large troughs from which people help themselves. It's not just the presentation that is improved this is also far more hygienic.
Even the hot buffet items were a cut above the usual lounge food. Proteins were cooked properly and weren't swimming in sauce or oil. The fresh samphire on the grilled sea bream was particularly noteworthy.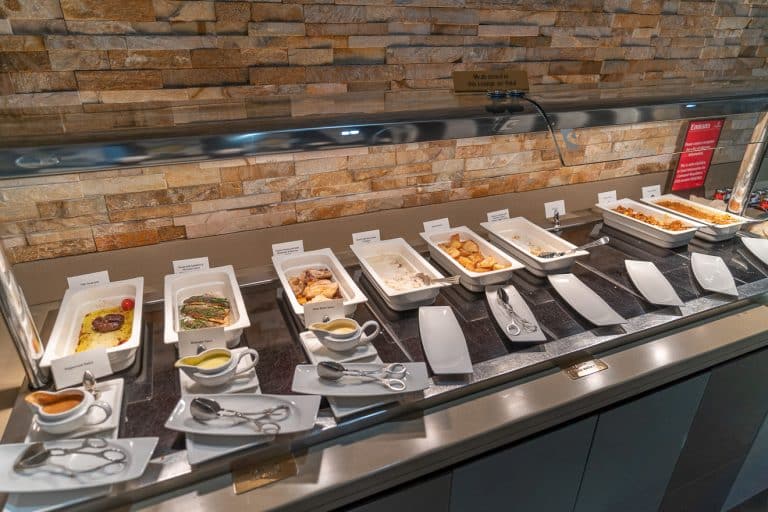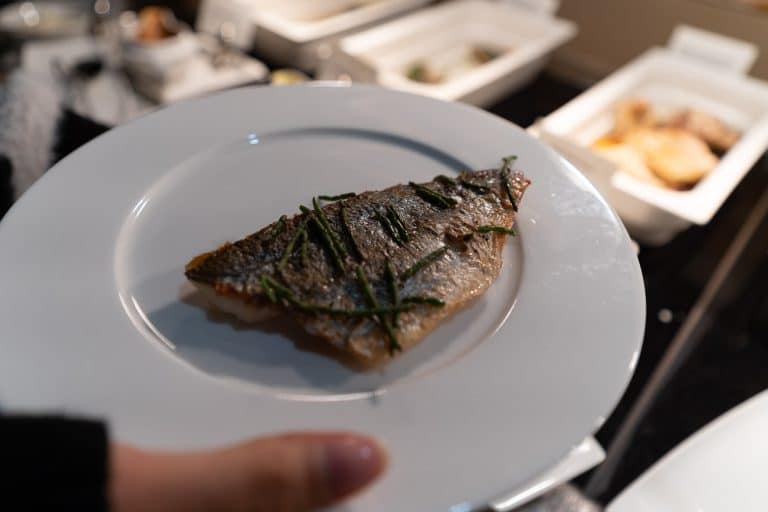 Having said all of the above, as a First Class passenger the lack of a la carte table service was noteworthy especially when you consider that both Qatar and Etihad offer this in their London lounges.
The drinks selection was also clearly in the Business Class camp with Laurent Perrier champagne being the only premium offering available.
Where the Emirates Lounge in Heathrow has ultra-premium Voss bottled water, the Gatwick lounge features a local no-name brand.
---
Conclusion
---
This isn't the kind of place the you turn up early to experience, although outstation lounges very rarely are. The food is the only truly premium aspect of Emirates' Gatwick lounge offering.
What's strange is how easily some glaring errors could be fixed to radically transform the experience:
Add a First Class area with a la carte dining and better drinks (perhaps where the 'mini lounge' currently is.
Install power sockets
Dim the overhead lights
Add some plants to breathe life into the windowless space and add privacy between seats
When you see such obvious fixes not being addressed it makes you question the management of the facility as a whole. Compared to the Emirates Lounge in Heathrow this certainly feels like a neglected sibling.