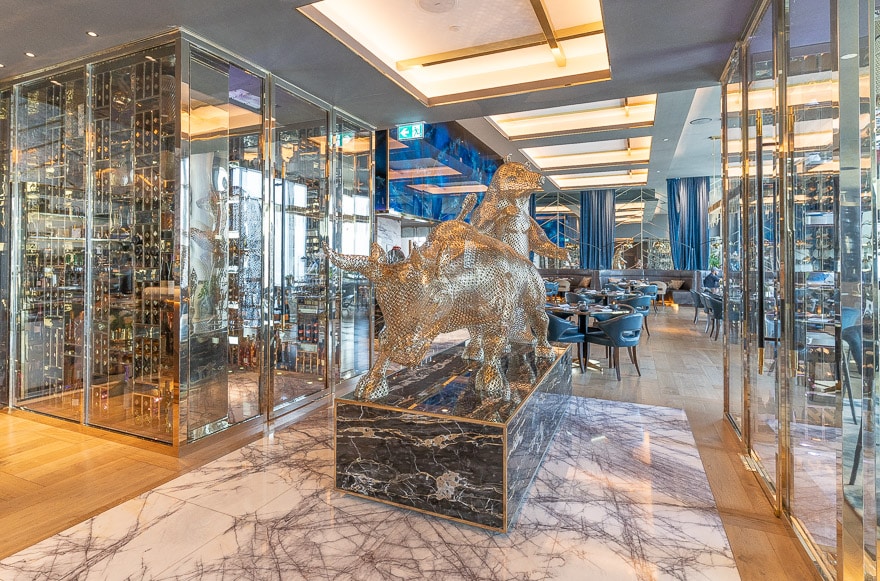 REVIEW – Waldorf Astoria Dubai DIFC [COVID-era]
October 28, 2020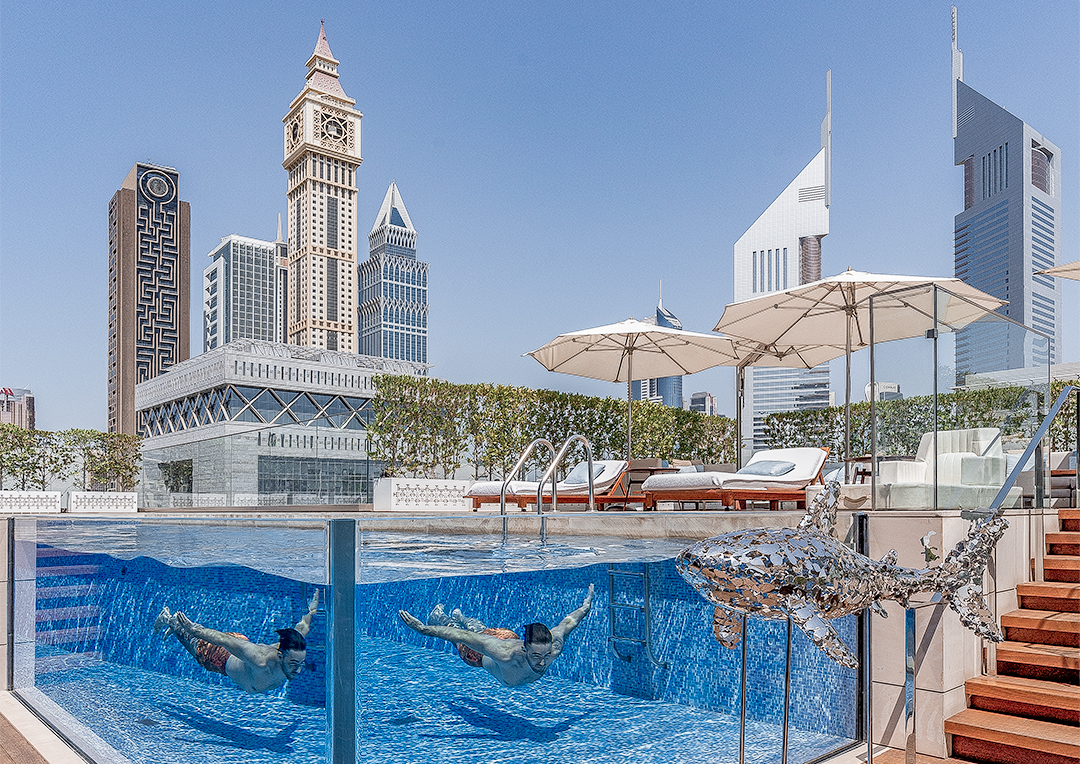 REVIEW – Four Seasons Dubai DIFC
November 29, 2020
---
Booking
---
The travel landscape has irrefutably changed in a very significant way this year and hotel prices have, for the most part, adjusted accordingly.
September is always a cheap month to travel to Dubai but when you factor in a 20% drop in prices for COVID and then stack this with 3rd and 4th night free offers, the pricing becomes borderline ludicrous.
Hyatt Privé has been offering a 3rd night free offer across almost all Hyatt properties this year (even including Alila and Thompson hotels). 99% of travel agencies make you go through a back and forth of emails in order to book Privé rates but luckily these rates can be booked directly online via Classic Travel.
The Classic Travel pricing matched the flexible rate on the Andaz website but came with some substantial extra benefits.
Every third night is free
A one category upgrade confirmed within 24h of booking
$50 hotel credit
Breakfast for two
Early check-in/ late checkout
Best of all, since Hyatt Privé rates are flexible they are still totally eligible for elite benefits, stay credit and points.
I have the lowest possible status with Hyatt at the moment (a far cry from my glory days of visiting the Park Hyatt Sydney and Park Hyatt Tokyo as a Hyatt Diamond) but booking the Hyatt Privé rate gave me benefits that were slightly better than a top tier Hyatt Globalist!
The most intriguing aspect of the Privé rate was the fact that upgrades can be confirmed within 24h of booking. There is no guarantee the upgrade will be available when you book and you may have to wait until check-in to receive it.
In practice though, I've found Hyatt properties always honour a one category upgrade in advance because if not, people will be tempted to cancel their flexible booking…
Knowing this I did the only logical thing: I looked for the largest possible price gap between two rooms and booked the cheaper room, in the hopes of getting enormous value from the upgrade.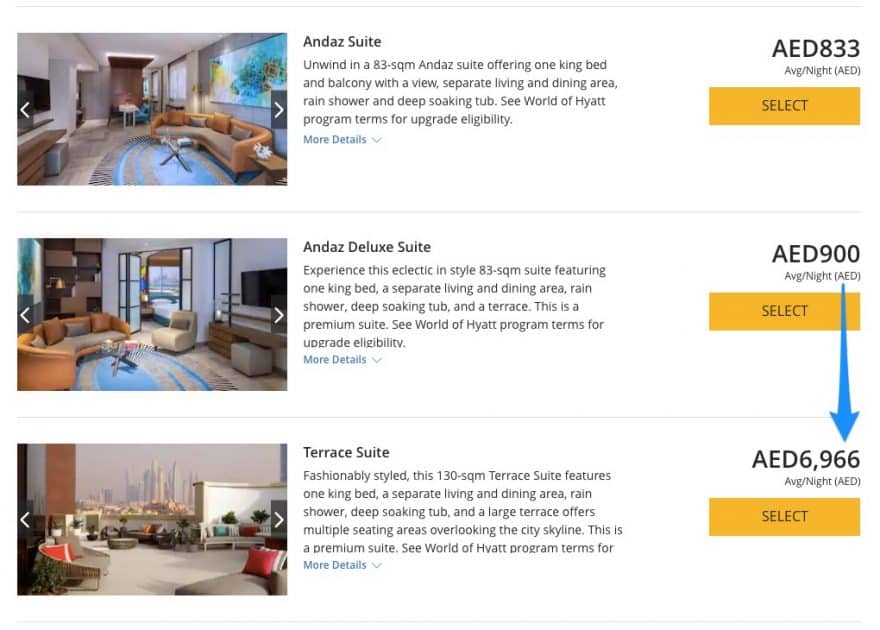 Unbelievably it worked. Within 24h of booking, the hotel upgraded me from a 900AED a night suite to one costing 7x as much!
Given that the 3rd night free promo can be booked up until December 31st 2020, for stays up until March 31st 2021, you can bet I'll be booking more Hyatt Privé stays over the next few months…
BOOK NOW WITH FREE HYATT PRIVÉ BENEFITS
---
Arrival
---
We took a Careem from the Waldorf Astoria DIFC which took around 25 minutes and cost next to nothing, despite our car being a Lexus.
The Palm is a bit of a weird place to stay in Dubai. If you're on one of the resorts on the outer halo, you're a long drive from anywhere else in Dubai and you also have to deal with tons of traffic coming in from all of The Palm's fronds.
Generally speaking, people who stay on The Palm won't leave for the duration of their stay. The Andaz however is located right at the base of the trunk. This means that it is still very close to Dubai Marina, Mall of the Emirates and the Madinat Jumeirah complex.
At night it's also a very quick drive to Atlantis for dinner at the likes of Hakkasan, Nobu and Locatelli.
Upon arrival we were greeted by staff who took our bags and ushered us towards the compact but very impressive lobby.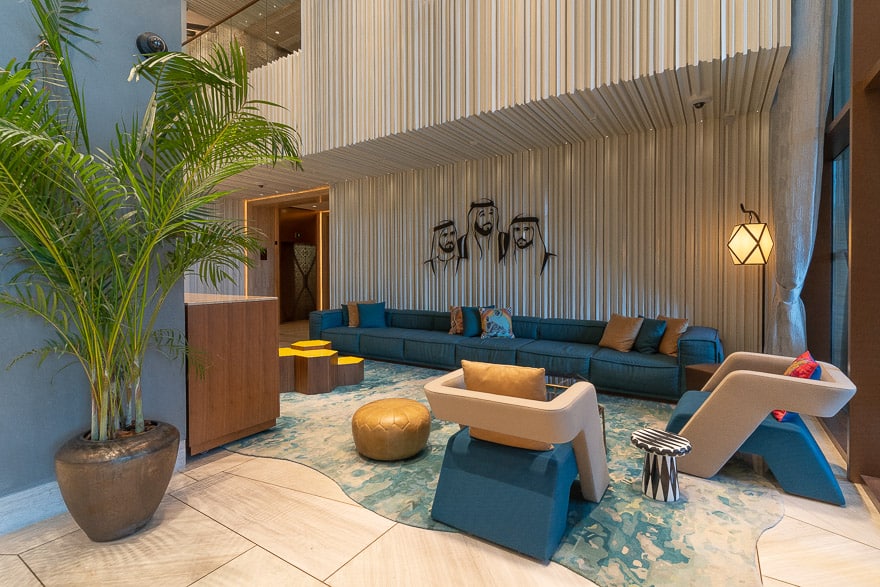 Both check-in desks were busy but an associate was on hand to take our details, offering us some water and asking us to take a seat whilst her colleague behind the scenes processed our check-in.
From the moment we arrived it was clear that the property was taking COVID seriously. All staff wore masks at all times and bright orange sanitiser stations had been set up throughout the property for use by guests.
During check-in we had all of our Hyatt Privé benefits confirmed to us, including the fact that we'd been upgraded to an "absolutely enormous" suite.
We were handed our wooden keycard and made our way up to the 14th floor. This was not only the location of our suite but also where the adults only pool and the gym were to be found.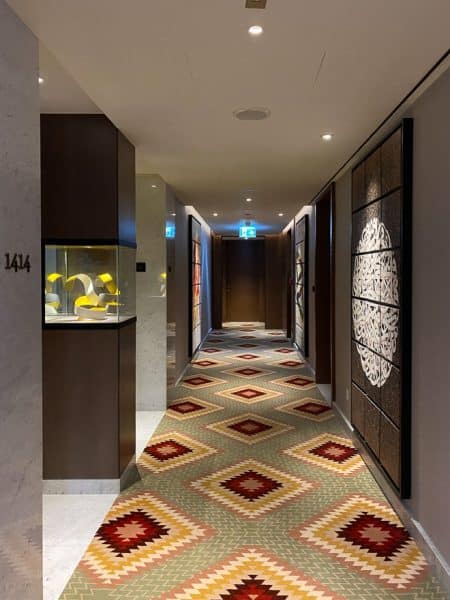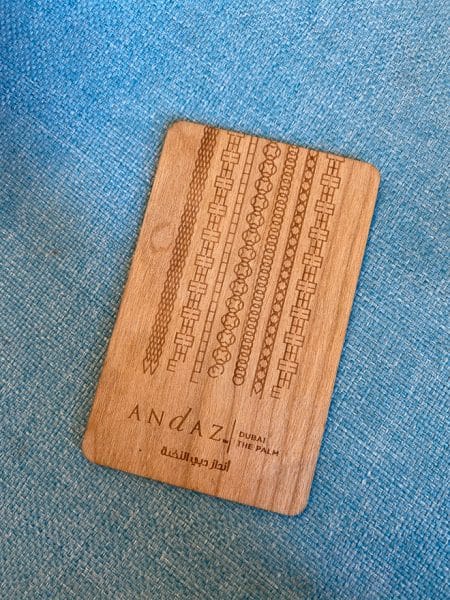 ---
Terrace Suite
---
IGTV Room Tour
Living Room
An unfortunate consequence of travelling as much as I do is that you become a little jaded over time. It becomes increasingly difficult to be truly impressed with hotel rooms.
As I stepped into this suite however, a massive grin appeared on my face. There were no two ways about it.
This room was silly.
So silly, in fact, that I was inspired to create this photo.
The Mondrian-esque stained glass and brightly coloured furniture were definitely a lot bolder design-wise than the Waldorf DIFC's subdued Art Deco chic but overall I really enjoyed the aesthetic. There wasn't that cheap, plasticky vibe that I got at the Andaz West Hollywood and I far preferred this to my suite at the W in Montreal (something about W hotels always makes me feel like the room is sticky, even when it's just been cleaned…).
A welcome note from Classic Travel and a box of chocolates were waiting for us at the console table.
The living room was bathed in natural light during the day, thanks to the floor to ceiling glass.
At the far end of the living room was a small dining table and a copper lined minibar. Andaz properties usually offer a complimentary minibar of sorts, including snacks.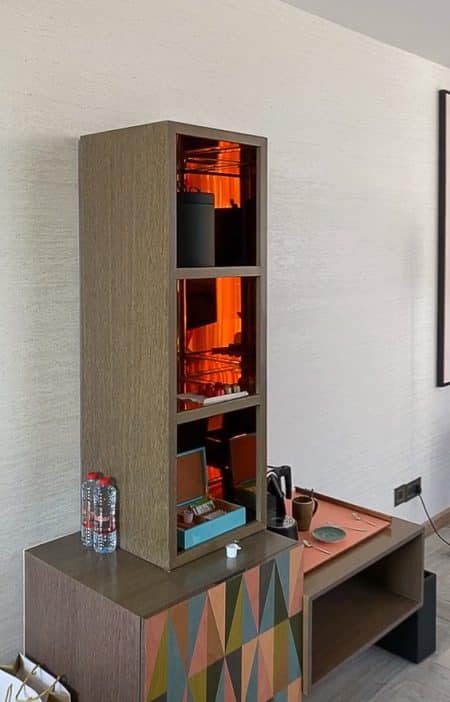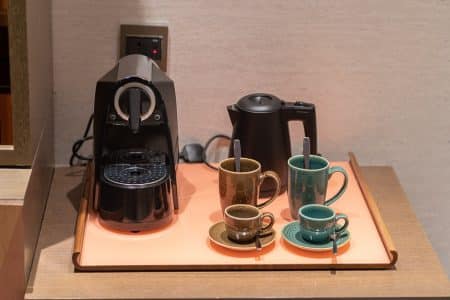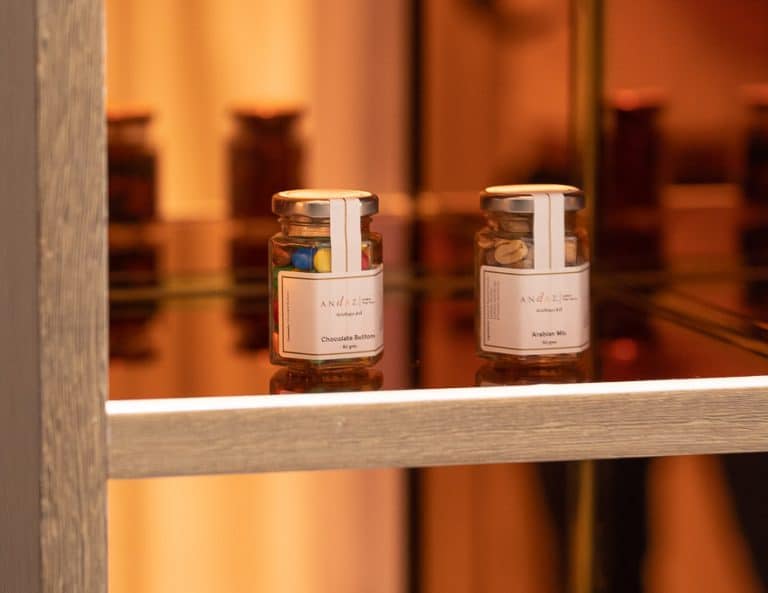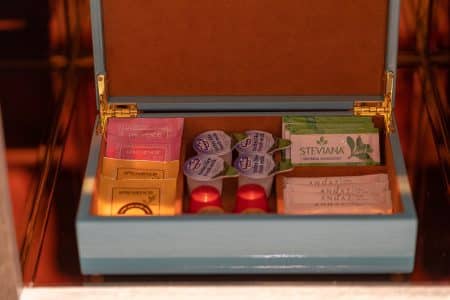 The Nespresso pods were a cheap generic brand and the minibar only contained 'drinking water' (i.e. distilled, not mineral), plus a single can of some odd looking local orange drink containing approximately 10 kilos of sugar.
Housekeeping were great at keeping snacks, capsules and water topped up whenever we asked for the room to be serviced though (something you have to do proactively now, due to COVID).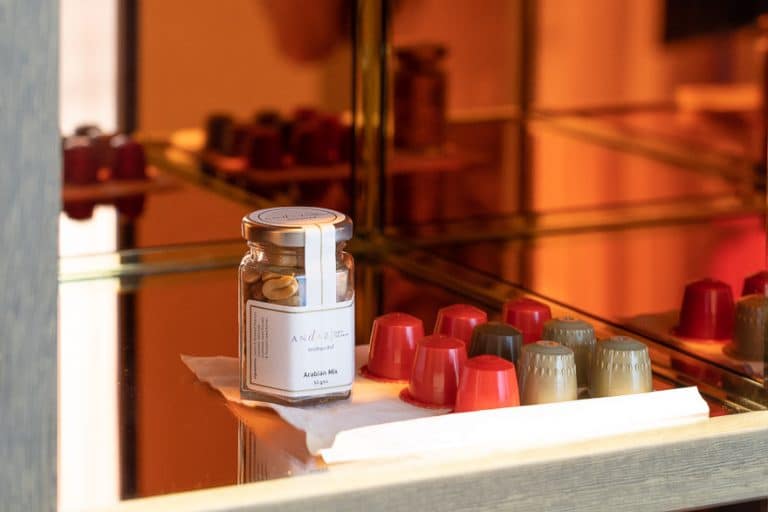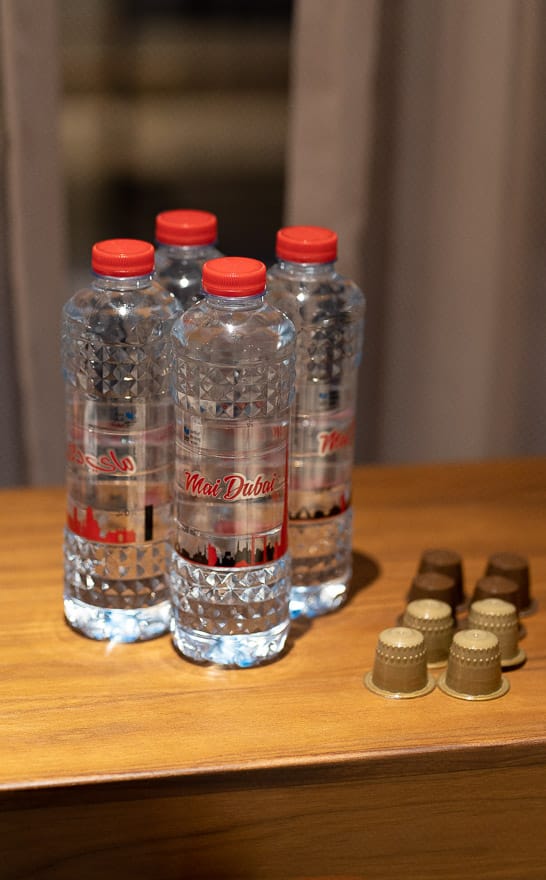 Unfortunately, the fridge was barely functional and despite numerous attempts to get it fixed, we were never able to get a bottle of champagne chilled to even British Airways levels. This is also the first hotel I've visited in Dubai where there was an actual language barrier when speaking English, meaning the first attempt to fix the fridge resulted in a crew being sent to investigate our air con (which worked perfectly).
Terrace
The terrace was a bit awkward to get to, as the very heavy curtains bunched up right in front of the door; this meant that you couldn't really take a drink outside without help as you needed one hand to pull all of the curtains out of the way and the other to get the door open.
The low ceiling and expanse of undecorated tiling gave the whole space a bit of a weird vibe.
I'm not sure what the idea of all this seating is. This long and narrow area would have been so much better as a pool.
Whilst the terrace itself had a slightly unsettling and unfinished vibe, the views were fantastic – especially in the morning as the mist was burned away by the scorching Arabian sun.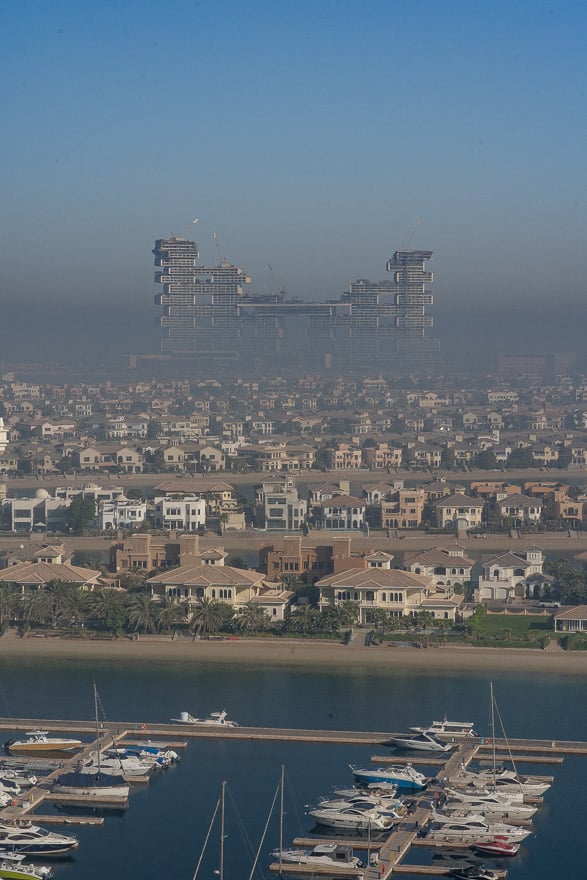 Guest Bathroom
Back inside, there was a wet bar area (which was completely devoid of any drinks or glassware), leading to a guest bathroom.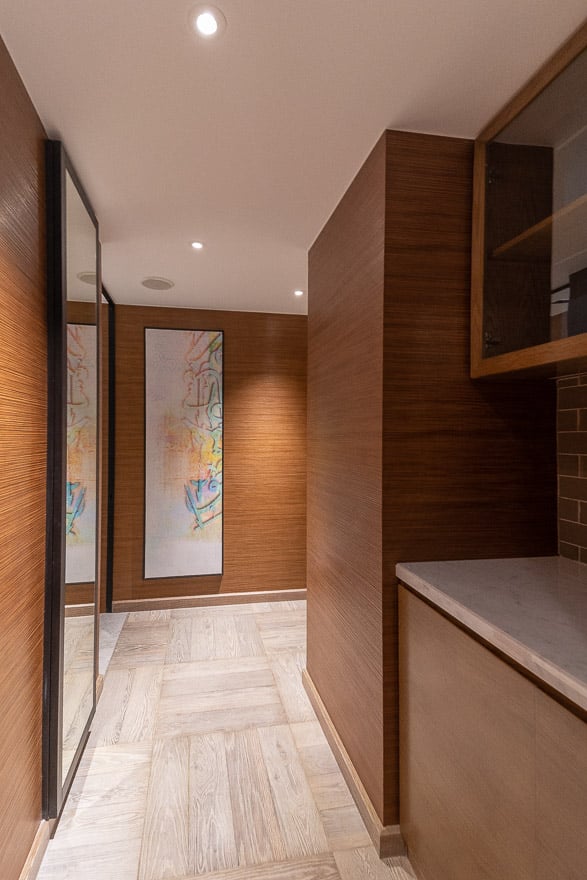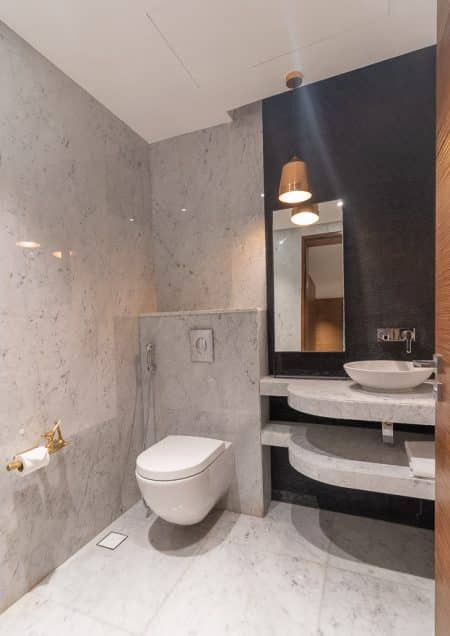 There wasn't any soap or even a soap dish in this bathroom, we tried asking but the staff got confused, even when we sent a picture via the hotel's Whatsapp service. We ended up with five extra soaps but still no dish, so improvised with a saucer from the coffee machine.
Bedroom
I absolutely loved the bedroom decor. The dramatic wood panel and brightly coloured furniture filled the space perfectly.
You know you've got a big suite when even your bedroom has two distinct sitting areas.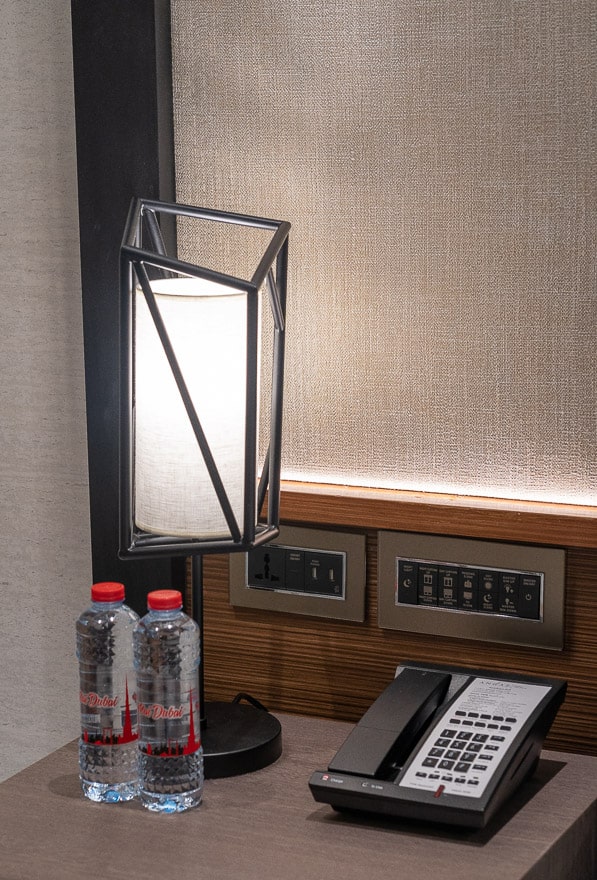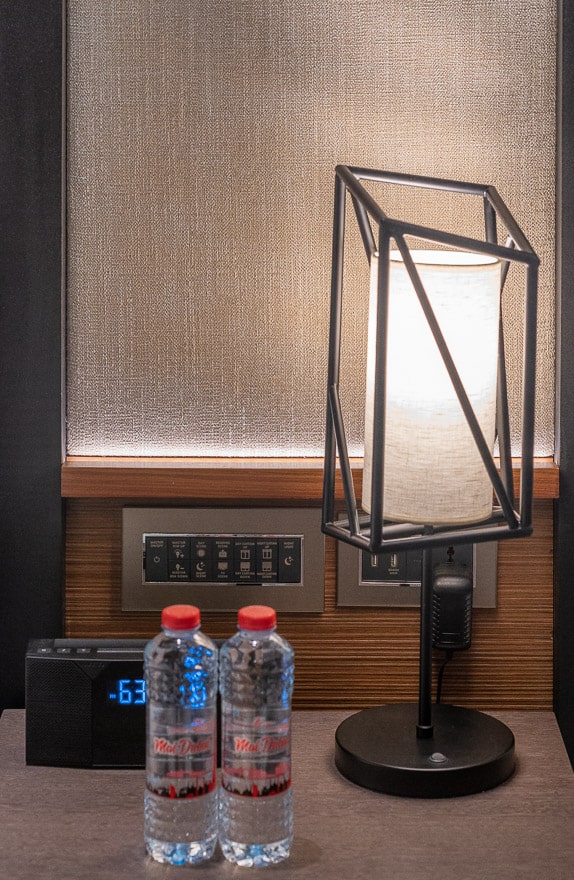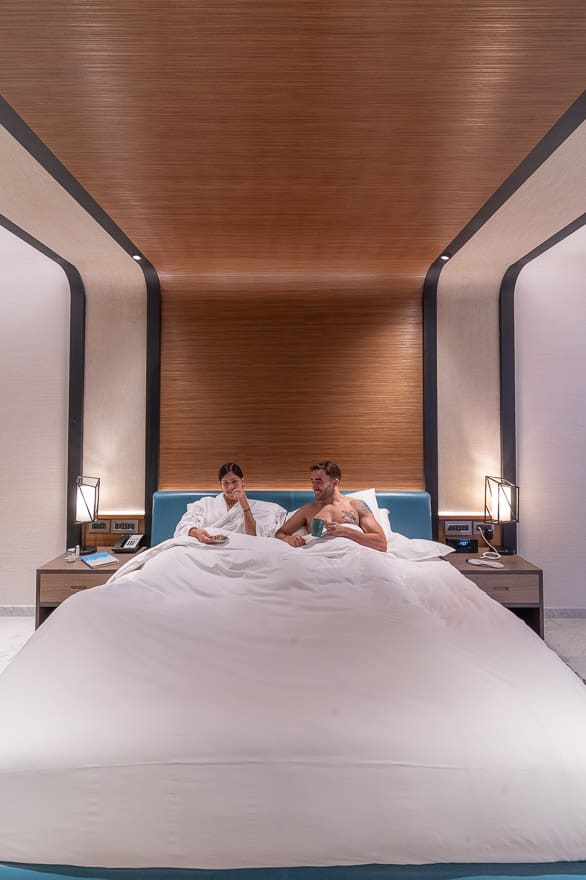 The bed was very comfortable and both bedside tables came with a full array of very well labelled light switches, as well as universal power sockets. The hotel uses some kind of hybrid pillows rather than true feathers but my sleep app recorded me as having 92% sleep quality on the first two nights and an astonishing 99% on the final night!
It's a good thing that I wear a sleep mask though as the blinds weren't really able to cope with the power of the morning sun. The curtains didn't properly reach the floor, weren't sealed at the top and didn't attach to the sides. I also found it strange that there was no terrace access from the bedroom – the windows were completely sealed.
At the far end of the room there was dressing table with a TV above it.
The off centre TV set off my OCD and the image quality was pretty poor. We gave up trying to connect via HDMI and just watched a movie on a laptop instead. Given the distance from the bed, a larger TV with a proper refresh rate would have been expected.
Walk-in wardrobe
A walk in wardrobe was located between the bedroom and the en-suite bathroom. There were a limited number of hangers with only two made for dresses and none for a jacket. There were also three glass fronted drawers as well as numerous shoe cubbies.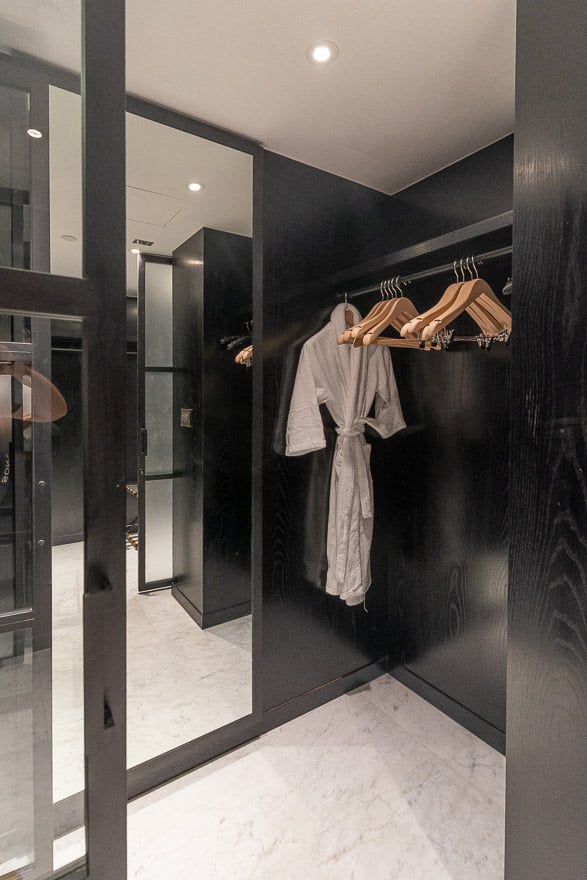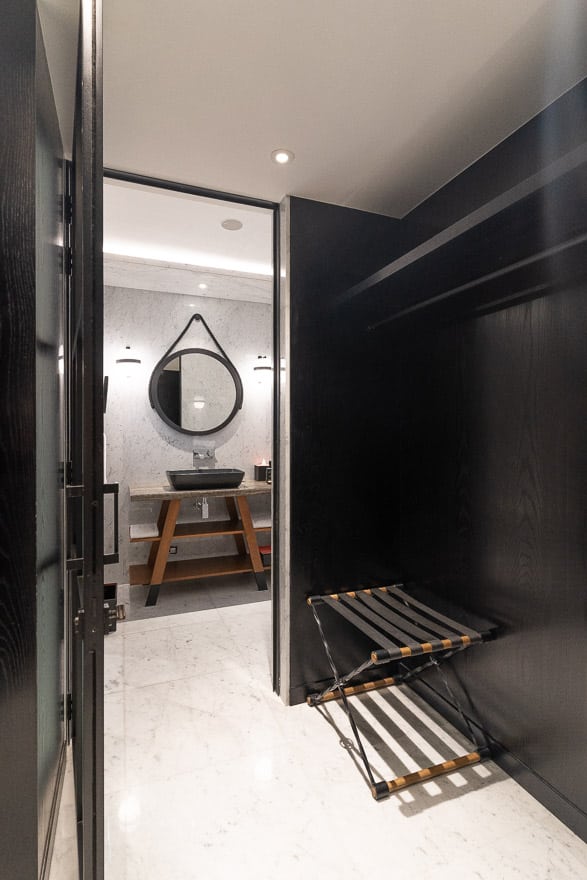 En-suite Bathroom
The main bathroom was very well lit and had a cool and contemporary feel. There was an abundance of counter space, a box filled with amenities and even a volume control so that you could continue listening to the TV or music whilst taking a bath.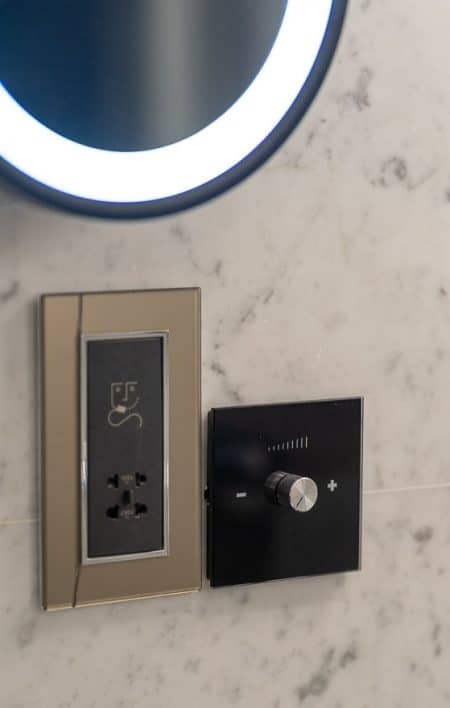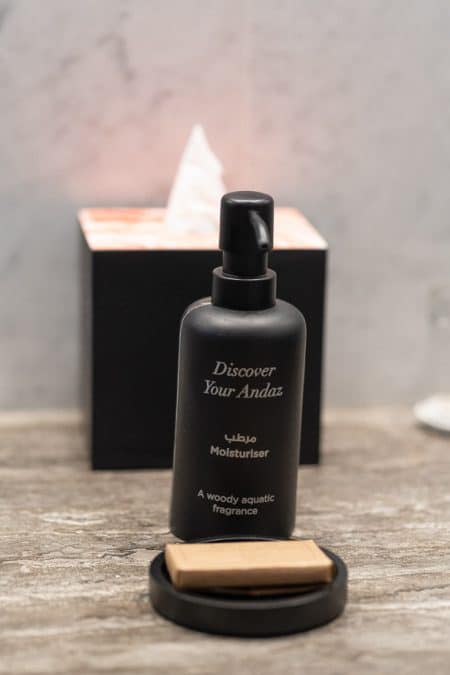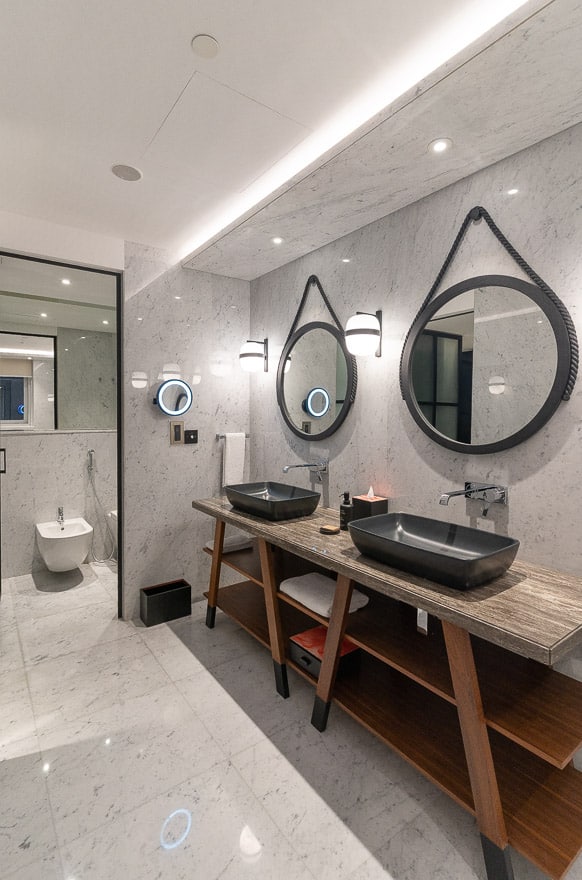 There was a large window above the tub that looked out toward the main pool, but during the day the glass was completely reflective and people couldn't see in. The bathtub was very reminiscent of the ones at the Conrad Tokyo (a good thing in my book) and the oversized shower was also very similar to the ones in the Splash Suite at the Andaz 5th Avenue in New York (also a good thing).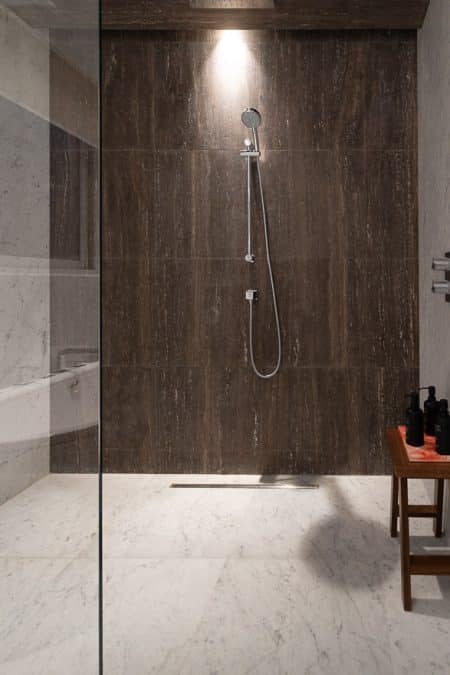 A weird COVID regulation specific to this hotel was that we had to take our own towels from the bathroom to the pool. I'm not sure why the Andaz was the only hotel in Dubai that we encountered doing this but at least they kept the towels well stocked.
Toiletries were unbranded and came in large refillable bottles.
---
Leisure facilities
---
Waterfront Pool
The hotel is flanked on either side by condos which have access to the gardens, beach and pool in front of the property. As hotel guests we were given wristbands to wear should we choose to use these facilities.
In September it was still incredibly hot at the beach during the day and the long walk from the hotel was neither shaded nor appealing.
When we went to take a look, the pool was overrun with nannies from the condos taking kids for a swim.
The overall aesthetic of the pool was quite stark and there wasn't any service to speak of. Just lifeguards congregating and chatting in the shade.
Although hotel guests have access, this really didn't feel like a hotel pool.
14th Floor Cabana Pool
We far preferred spending time at the adults only Cabana Pool on the 14th floor of the hotel, right around the corner from our suite.
The cabana pool bridges the two Andaz towers on the 14th floor.
Pool hours were very limited, ostensibly due to COVID, though again no other hotels we visited seemed to be quite so limited during our visit to Dubai. We were only able to access the pool from 10am to 7pm, with large numbers of people all being thrown out by staff at 7pm each day, most of whom would have presumably stayed longer (and generated more hotel revenue at the pool bar) had they been permitted to stay.
True to the pool's name, almost every sun lounger was located within a private cabana.
At each corner of the pool was a padded seat with a shade shaped like a palm tree.
The pool bar occupied most of one side of the pool.
The staff at the bar were very sweet and friendly, and they even helped Kamara to crack open a coconut that we'd bought from the shopping mall across the road – since the pool bar didn't stock any.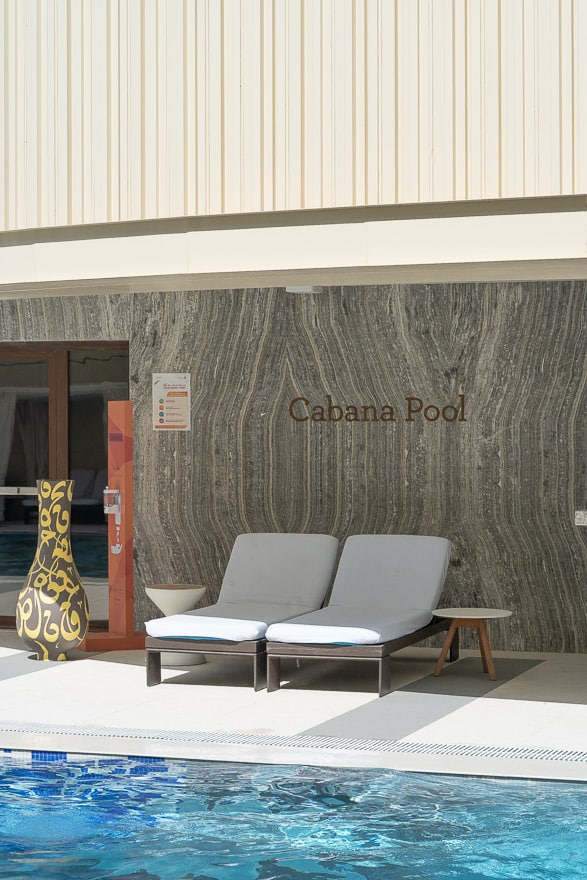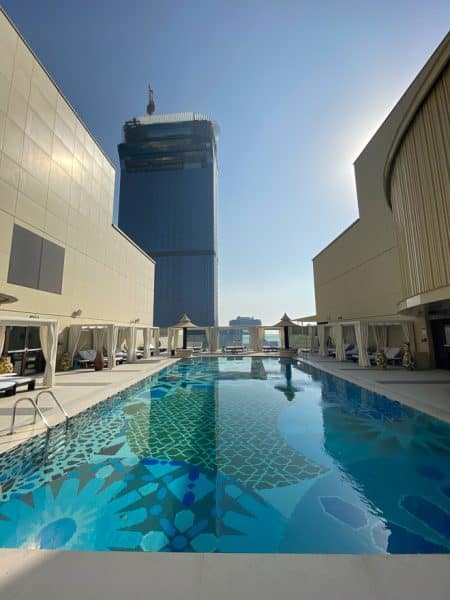 In the afternoons, the pool bar side was shaded by the hotel tower and our preferred spot was in the two loungers next to the bar. Here we had no neighbours and a sanitiser station on hand, plus we could always easily get the attention of bar staff for drinks orders.
Speaking of which, the food and drink seemed rather overpriced when compared to both the room rate and the surrounding.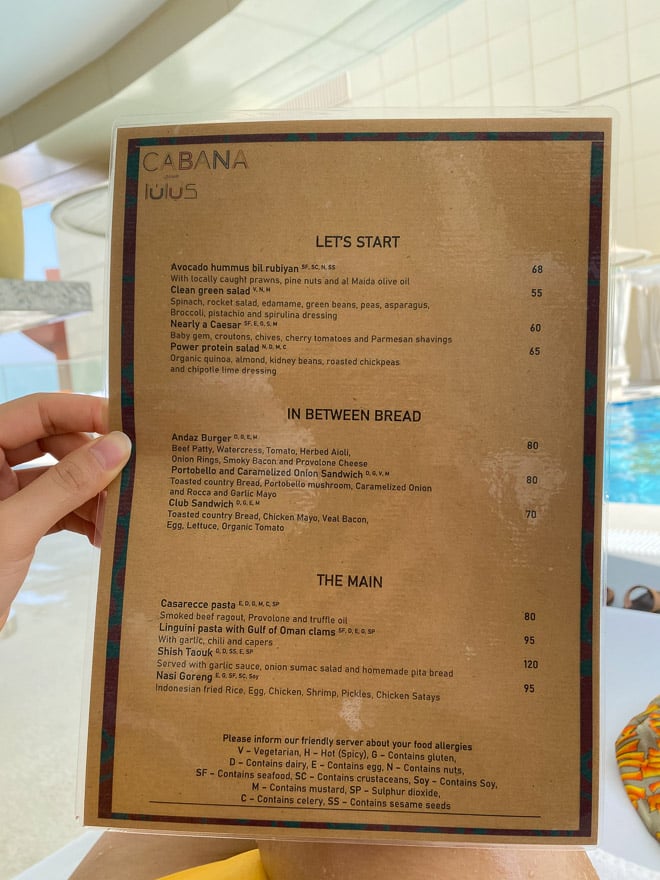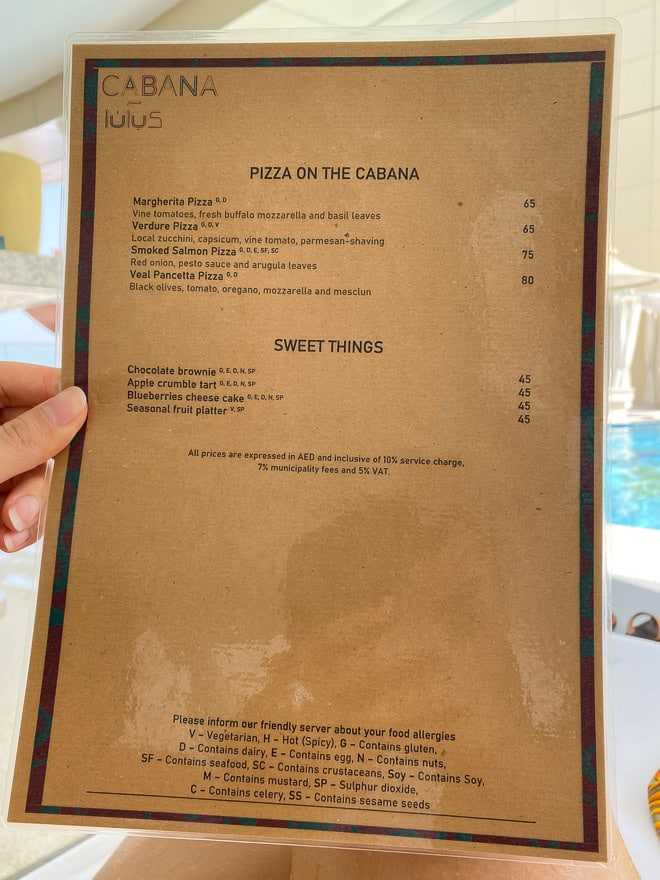 $20 for a starter, served at a pool that looks like it's located at the back entrance of a mall warehouse doesn't really seem right. Prices here were more expensive than at the Four Seasons or Waldorf hotels in DIFC. Both of which had far nicer pools. The distinct lack of any landscaping or foliage gave quite a barren feel to the space at the Andaz.
I ordered a clean green salad and was able to add grilled chicken for an extra 20AED.
I did enjoy the views at either end of the pool though…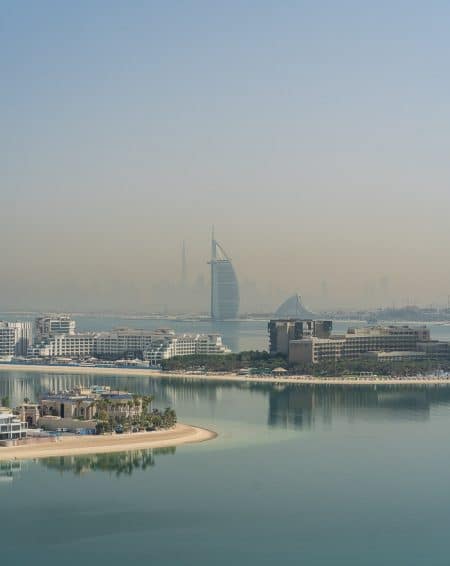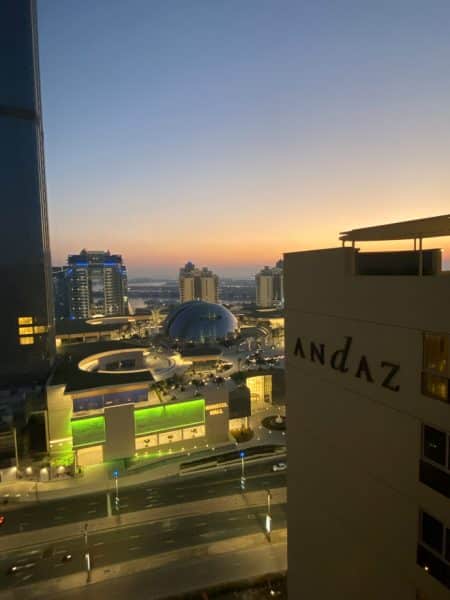 The Gym
The gym was accessible during the same opening times as the pool and capacity was limited to 6 people in total. Access was via the still closed spa, located through the glass doors, next to the Cabana Pool bar.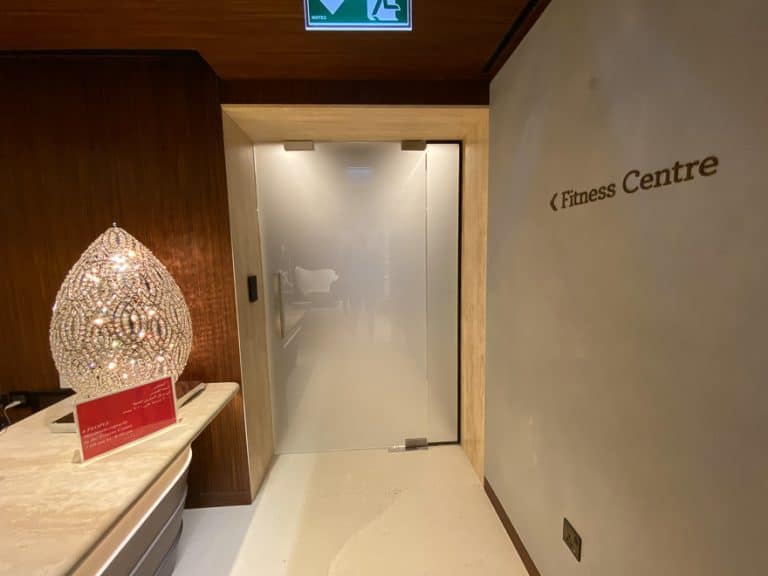 The gym had the usual hotel gym ratio of 5 cardio machines to every piece of weight lifting equipment.
Cardio with a view.
Dumbbells went up to a measly 16kg.
No machines at all for legs and no smith machine. At least there was a cable crossover though.
Once again, the views were pretty great, with this part of the hotel facing the Burj Khalifa.
Andaz Lounge
This area was located just above reception and looked like it was designed as a cross between a bar, a coffeeshop and a business centre. Presumably this is where the traditional Andaz evening drinks would be served although this hotel has suspended complimentary evening drinks in the name of COVID…whilst still serving drinks which must be paid for.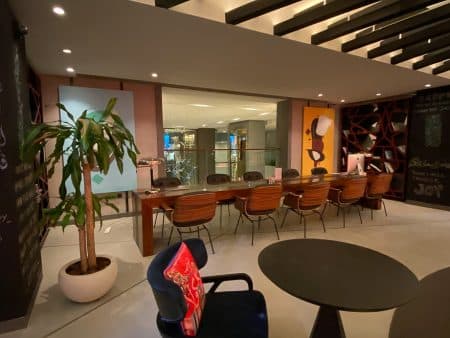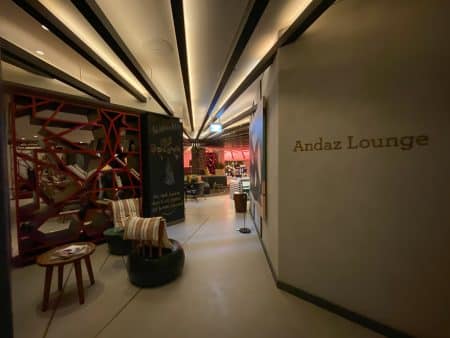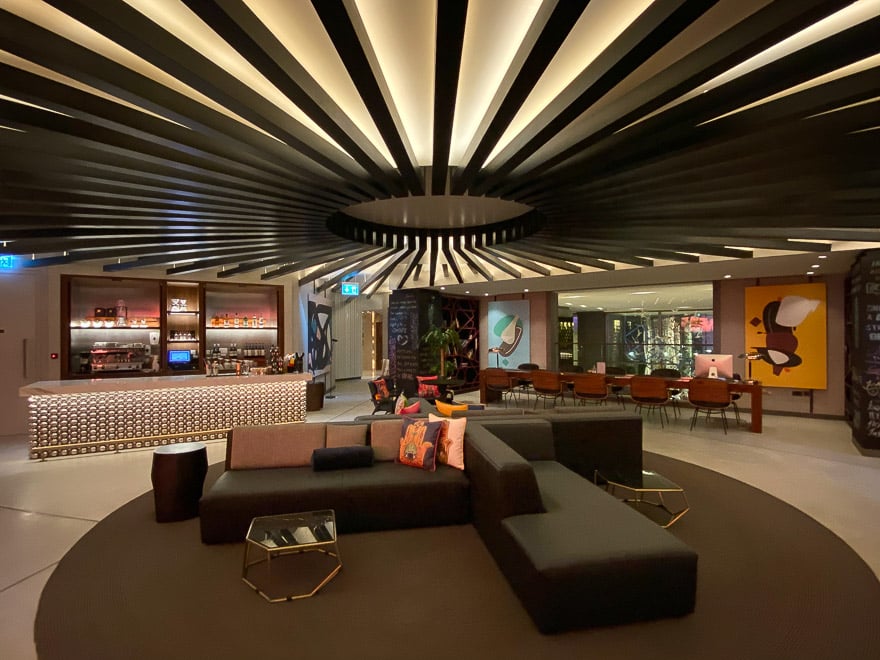 ---
Food and Drink
---
Breakfast
Breakfast was split into two sittings with a half hour break, for a thorough clean of the tables, between the two.
There was a small coffee shop at the entrance to the restaurant, for those not wanting the full breakfast experience.
The restaurant was really bright and inviting with the illuminated cathedral ceilings and expansive windows provided an abundance of light. Stepping into this room you felt a very real energy that made you feel awake and invigorated.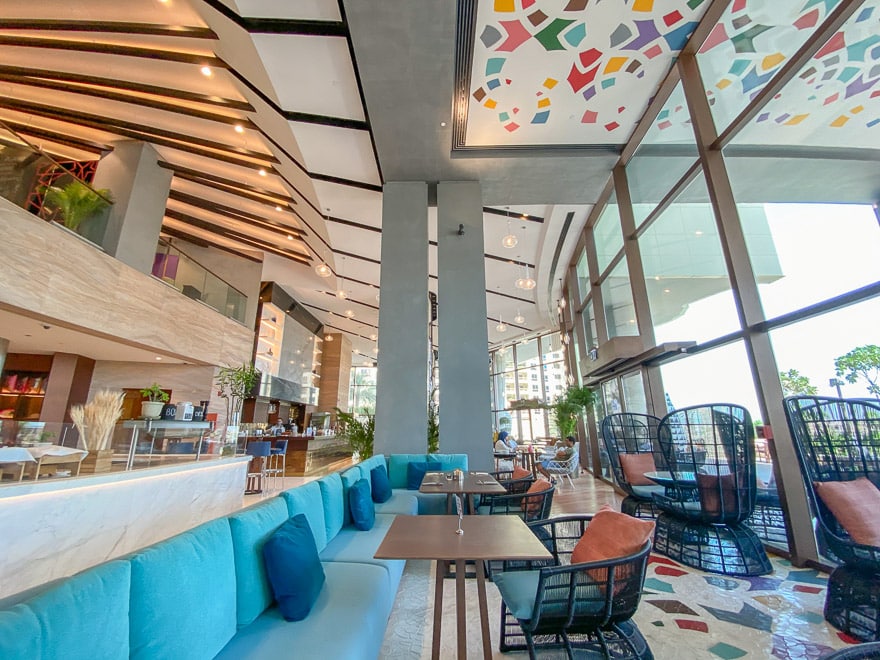 On our first two mornings the breakfast was a la carte only, although we were told that we could order as much as we wanted.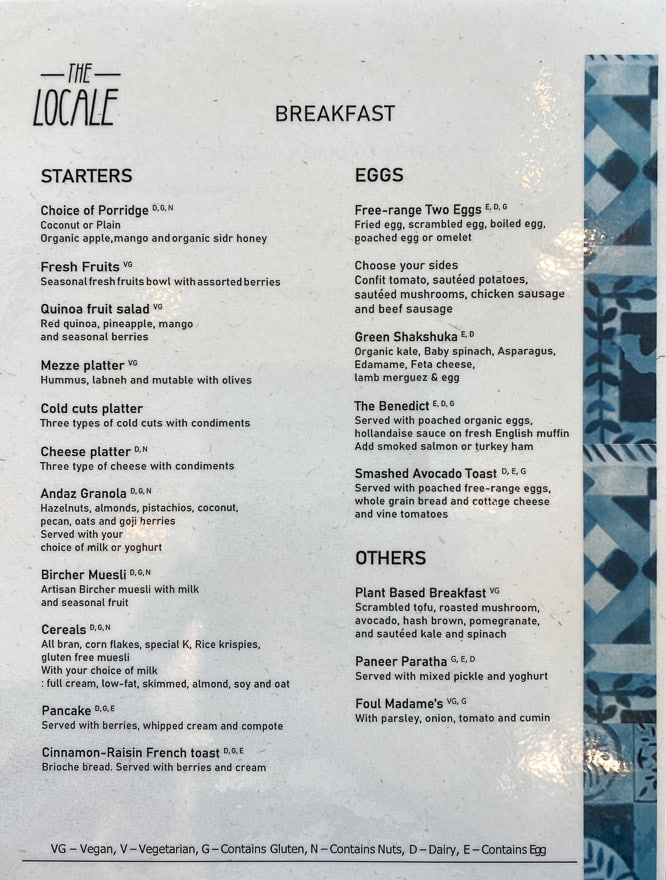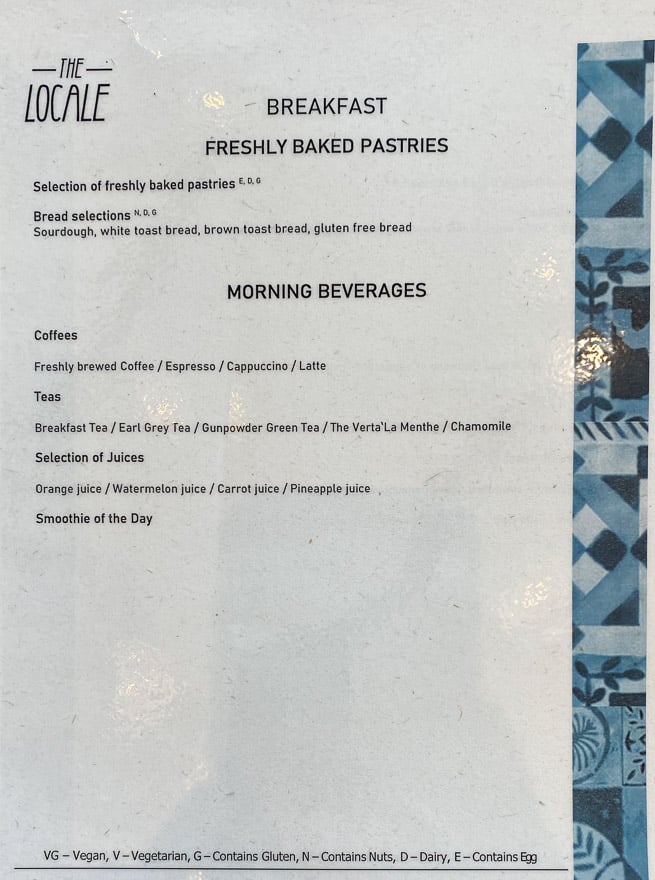 Service was completely variable with some staff being super proactive and friendly whilst others seemed to be wandering around bewildered, or doing their best to hide behind columns, out of sight of customers.
Given that the coffee was coming from a proper barista made coffee shop, I thought I'd take a chance and order a strong cappuccino. What came out was an enormous mug of scalding hot milk that had what can only be described as a homeopathic relationship with coffee. I left this and ordered an espresso macchiato instead, which looked and tasted exactly as it should.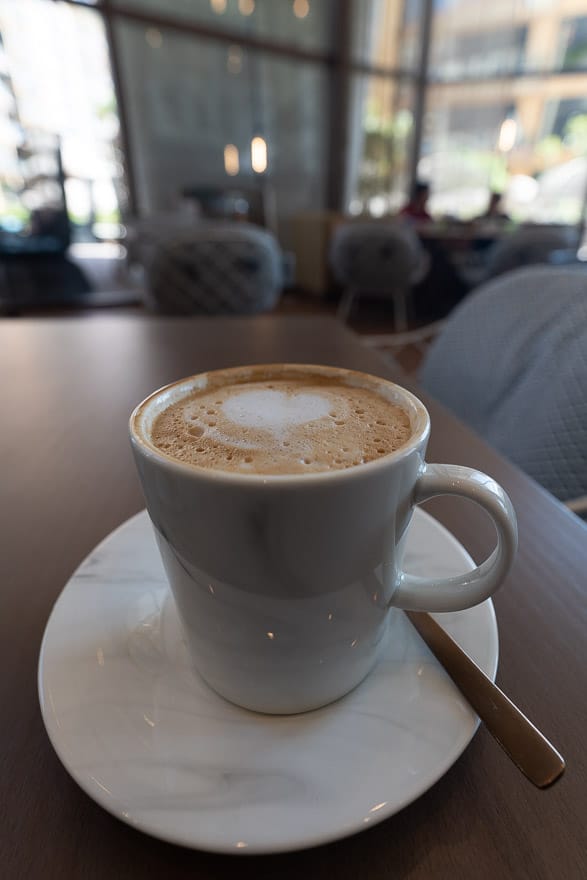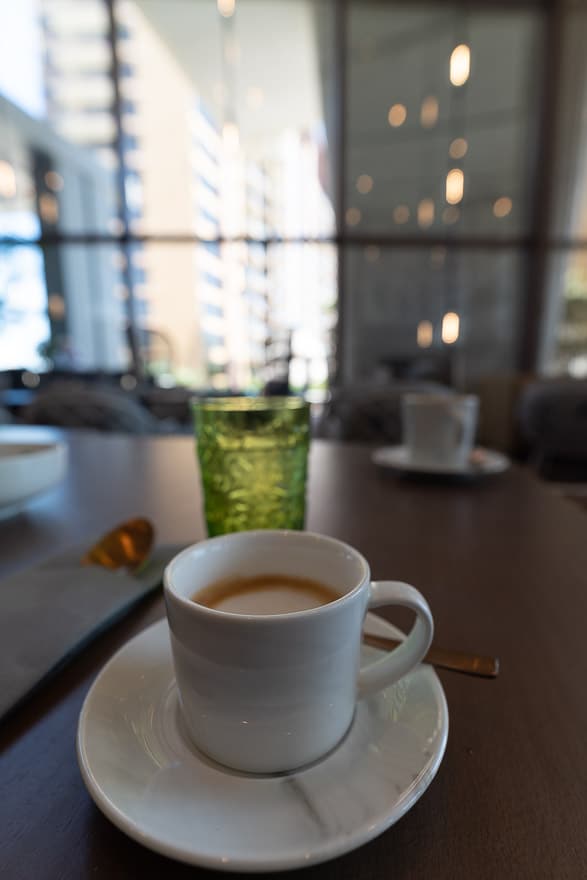 We tried a variety of a la carte dishes over the course of two breakfasts and all of them were good but not great; eggs were overcooked (without staff asking how we'd like them) and portions were rather on the small side.
The fresh fruit was a standout though as was the paneer paratha.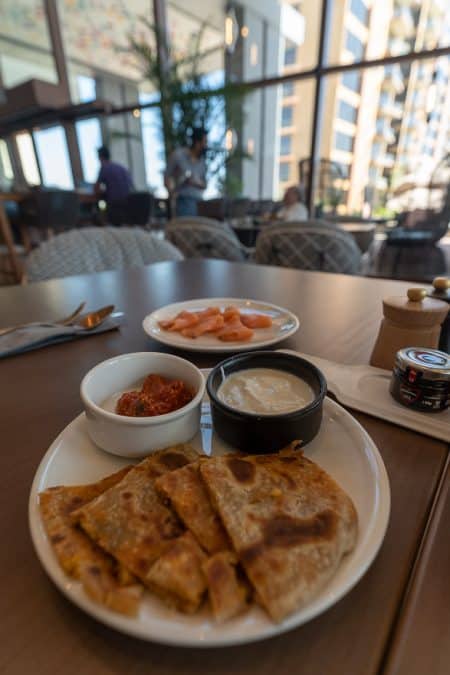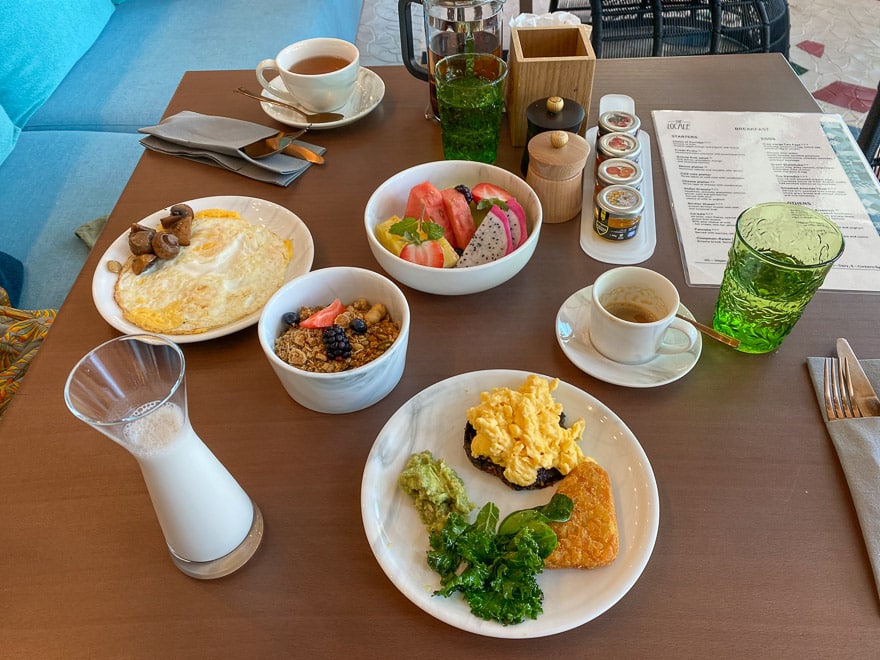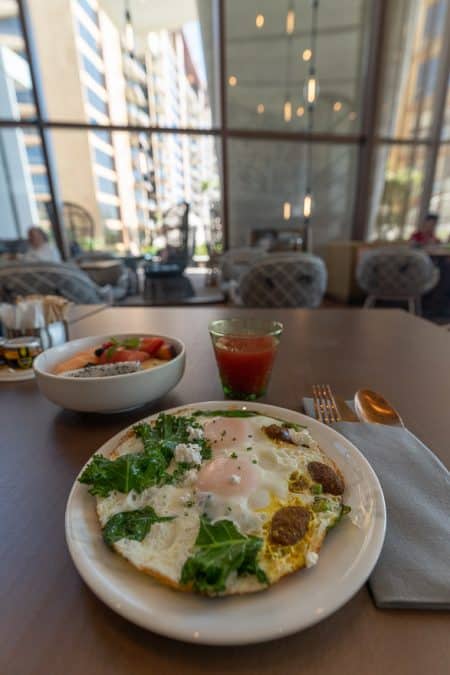 On weekends, the approach completely changed with a la carte falling away in favour of an absolutely enormous buffet, up there with some of the best in Asia like the Fairmont Manila, Intercontinental Bali or The Reverie in Saigon.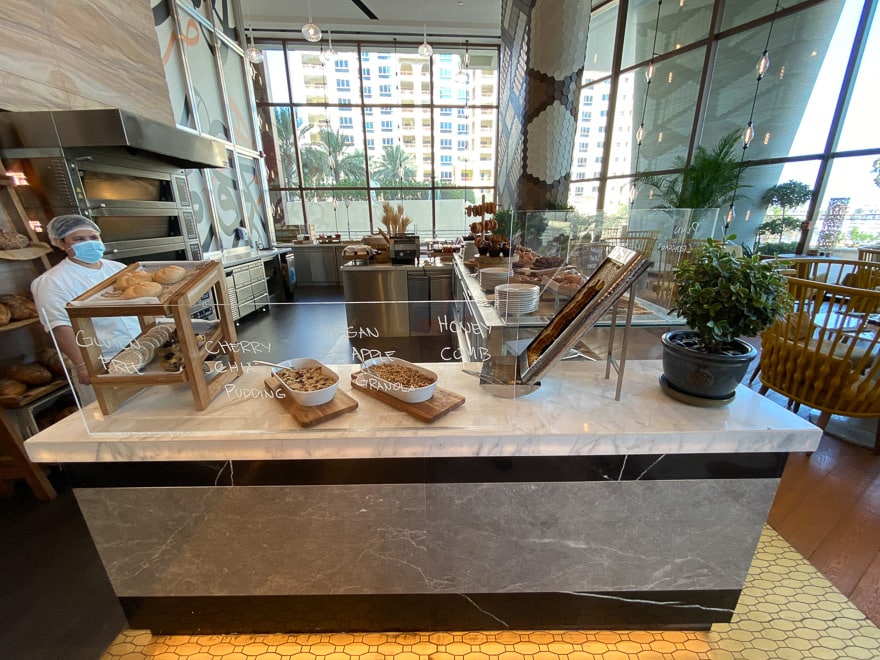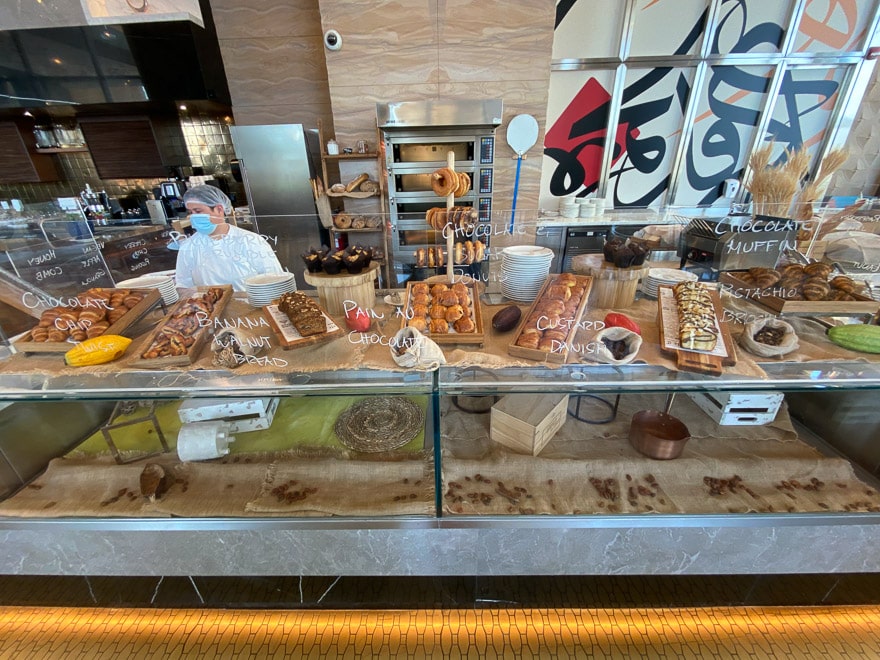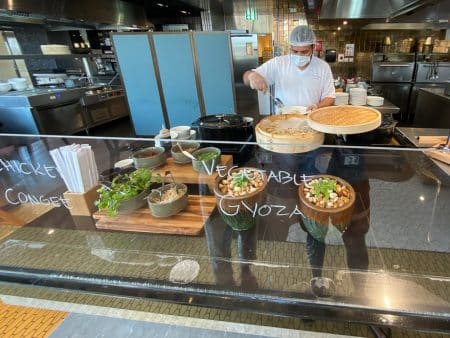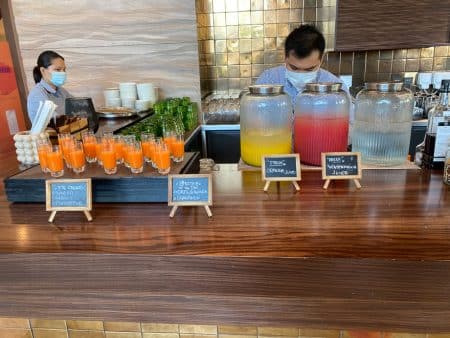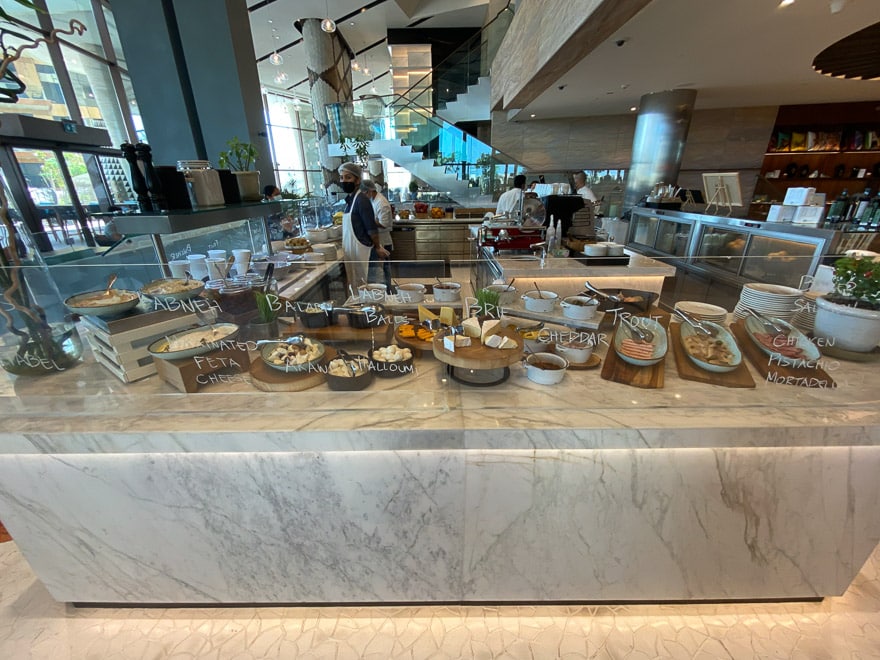 The variety and food quality was absolutely excellent, with hot and cold dishes from around the world. There was a very extensive selection of healthy options like the flaxseed pudding in addition to a bakery producing all manner of delicious pastries, for those less conscious of their calories whilst on holiday!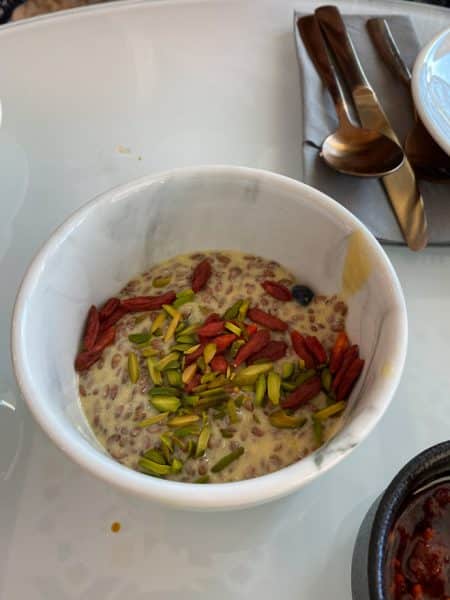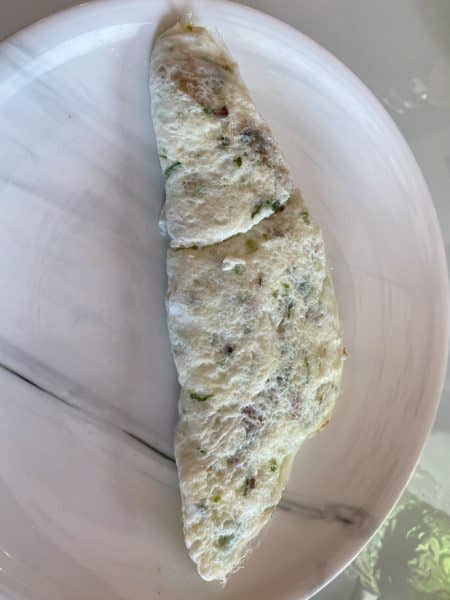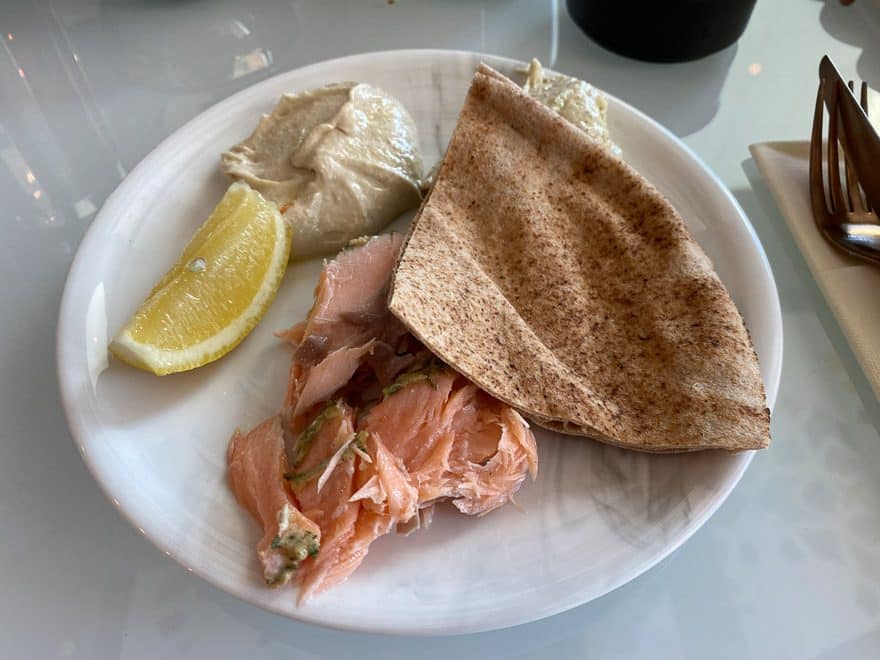 Hanami
Since our Classic Travel rate included a $50 hotel credit we figured it would be worth checking out the Andaz's Japanese rooftop restaurant one night.
I absolutely love Japanese food and we had already dined at both Zuma and Nobu on this trip, so my standards with regards to my favourite cuisine in Dubai, are certainly high.
The Andaz is such a new hotel that Hanami hasn't really had a chance to make an impact yet but honestly it should be on everybody's radar.
As soon as we emerged into the neon lit entrance, we knew that this place was going to be good.
The interior of the restaurant is beautifully decorated but we opted to sit outside on the terrace with a view of the sunset.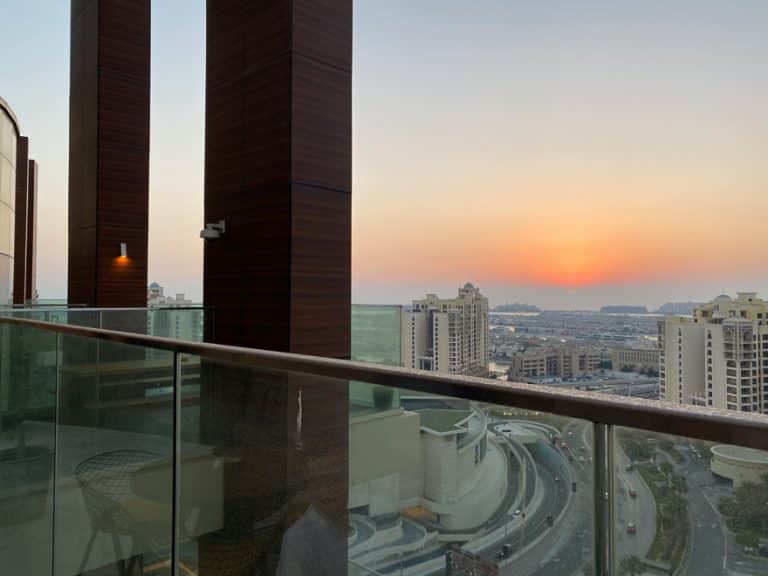 As the evening wore on, we moved around to the front of the deck, where the tables faced an illuminated downtown Dubai, including the Burj Khalifa.
Service was absolutely superb. The staff spoke impeccable English and were extremely proactive. The moment that we so much as lifted our heads, we immediately had somebody coming over to ask if they could do anything for us.
Initially we just ordered some snacks and drinks but once we tasted how incredible the spicy grilled edamame and the yakitori were, we decided to turn our snacks into dinner.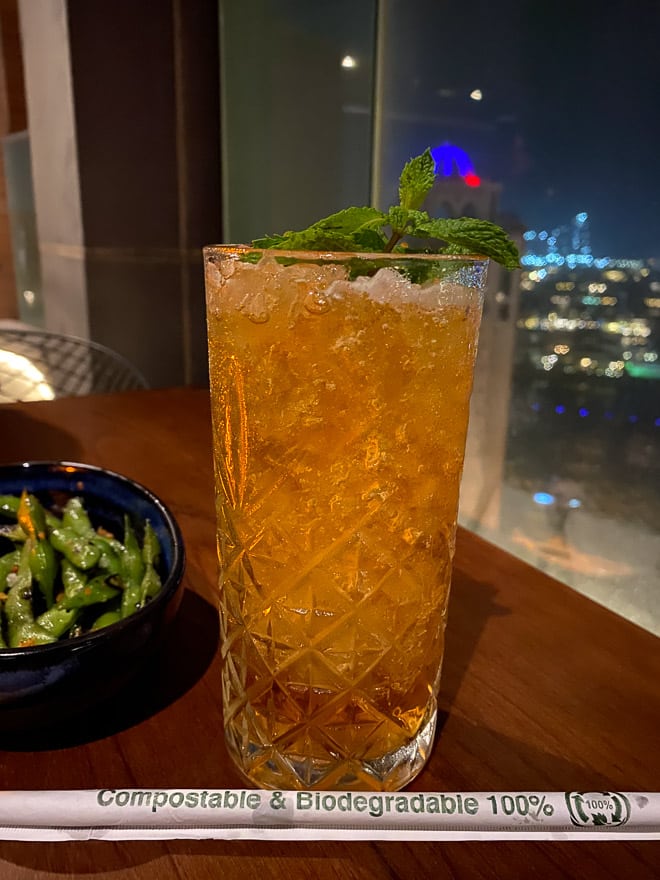 It is rare that Japanese restaurants excel in so many areas but we genuinely did not encounter a single weak dish here.
The gyoza had a remarkable flavour and were very creatively presented on their bed of twigs.
The grilled langoustines had the perfect amount of charring and even came with properly teppan pressed heads.
Last but not least, the sushi rolls were fresh, inventive and generously proportioned.
Dinner was an absolute knockout, easily holding its own against the big name Japanese restaurants in Dubai.
What's more we returned the following evening for happy hour with a group of friends, where spicy plum wine margaritas were 30AED each. I'm not joking when I say they may be the greatest margaritas I've ever had in my life and are certainly in competition for being some of the cheapest.
If you're in Dubai, even if you're not staying at The Andaz, come here – you won't be disappointed.
CLICK HERE for the full menu at Hanami, Andaz the Palm Dubai.
---
Conclusion
---
Basics Checklist
☑︎ Power sockets near the bed
☑︎ Easy to understand light switches
☑︎ Coffee machine
☑︎ Separate shower and bath
X Blackout blinds
☑︎ Stable, fast and free Wifi
X Feather pillows
☑︎ Quiet and powerful aircon
I'm not going to lie, I've had mixed experiences with the Andaz brand in the past. I struggle to see how a hotel can be both casual and luxurious at the same time. All too often you'll find that youth oriented brands like W, Andaz and Edition are just cutting corners but still charging luxury prices.
Only this hotel isn't charging full price. It's ludicrously cheap. It is almost to the hotel's detriment that room rates are so low, as I'm certain that it discourages people from coming here.
How can a 5* hotel only charge £70 a night? (including breakfast and a $50 credit if booked via Classic Travel.)
I suspect the answer has a lot to do with the very deep pockets of the underlying investors and their desire to keep staff well trained and to keep the reviews coming, in the hopes that sooner or later COVID will become a thing of the past.
Now if you've read this far, you'll notice that I highlighted quite a few areas where the hotel didn't deliver. These related mostly to service and overall, it would be impossible to make the case for this being a true luxury property.
What it is, is a very modern hotel, with an adults only pool, a great restaurant and some outlandishly large suites available for startlingly little money.
Is it more worth your while to spend three nights in a Terrace Suite here than one night in a regular room at either of the Four Seasons properties? Personally I'd say it's infinitely better value for money and staying here will not feel like a hardship.
If it's your honeymoon, splash out and stay at one of Dubai's far more expensive hotels. Whilst the low rates last here though, you'd be crazy to not at least consider a stay at the Andaz Dubai The Palm…
---
Book Andaz Dubai The Palm with Hyatt Privé benefits
---
Hyatt Privé Partner Booking
Click the image to get the best available, flexible rate and also receive:
A one category upgrade, confirmed within 24h of booking!
Full breakfast, for up to two in-room guests.
$50 hotel credit.
Welcome amenity.
Early check-in/late check-out, subject to availability.
Note: You will still earn stay credit and ALL elite benefits, exactly like a direct booking with Hyatt.com.
Andaz Dubai The Palm can be booked directly online by clicking the "BOOK NOW" image.
First time booking with us? Here's how to quickly get set up: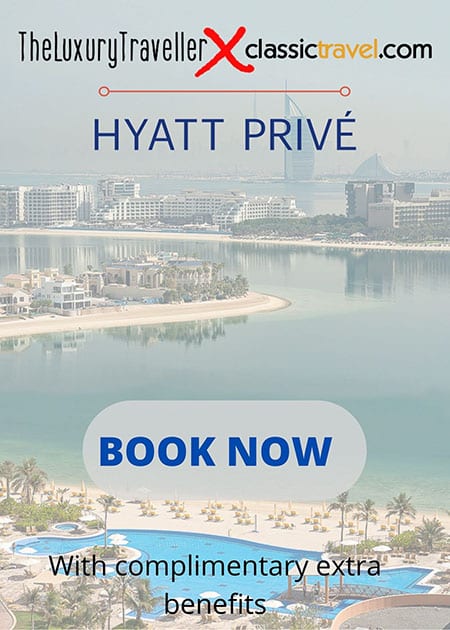 ---
Another birthday trip to Dubai…this time during COVID
Part 1:

Part 2:

Part 3:

Andaz Dubai The Palm : Terrace Suite

Part 4:

Four Seasons Dubai DIFC : Four Seasons Room & Studio Suite

Part 5:

Four Seasons Resort Dubai Jumeirah Beach : Deluxe City View Room

Part 6:

GUIDE : Leveraging huge discounts to eat our way around Dubai