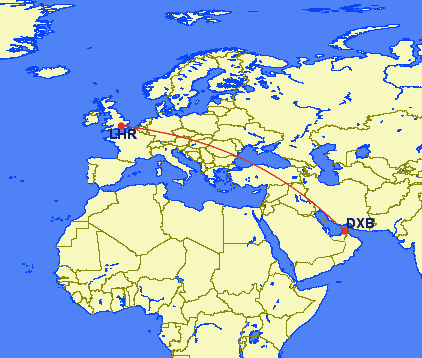 British Airways (BA)
Flight: BA109 / BA108
Class: Business Class
From: London (LHR)
To: Dubai (DXB)
Duration: 7h45m
Aircraft: A350
Seat: 17 A/K
Frequent Flyer status during flight: Oneworld Emerald (BA Gold)
Booking type: Premium Economy Cash fare upgraded with 48k Avios per person round trip
Flight date: September 2020
---
Intro
---
Jump straight to The Conclusion
---
This was a very last minute booking but given the current COVID situation I was still able to lock in an excellent fare. I've always been a huge advocate of buying Premium Economy flights and then upgrading with Avios.
When you buy an outright Avios ticket BA's surcharges are so high that you may as well have bought a cash ticket anyway.
The difference with going down the PE and upgrade route is that you have an underlying cash fare which earns you Avios back and you pay a lot less Avios overall for your Business Class seat.
Of course this only works when Premium Economy seats are cheap…right now (and for the foreseeable future) they are.
In total for two people's round trip tickets (booked less than two weeks out) we paid:

Before being allowed to fly to Dubai we both needed to take PCR tests. I detailed the entire experience in THIS GUIDE.
At the airport I noticed quite a change from our August trip to Italy; there were considerably more travellers and considerably less staff working… not exactly an ideal combination.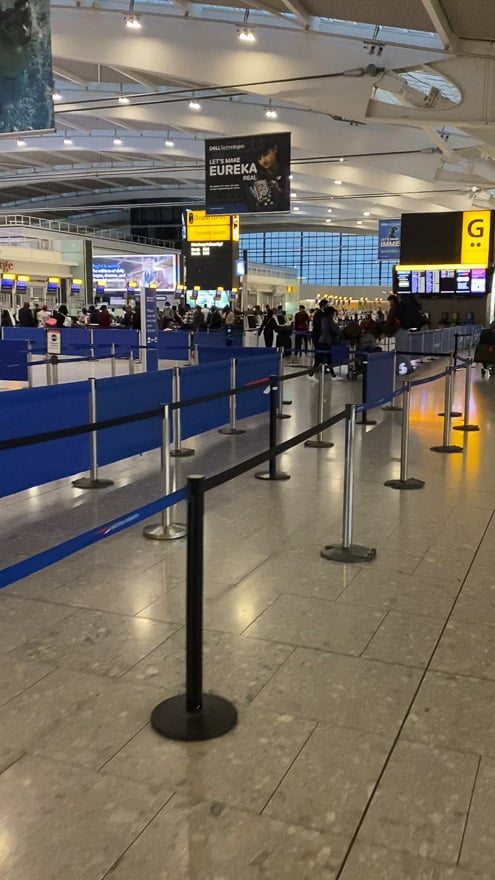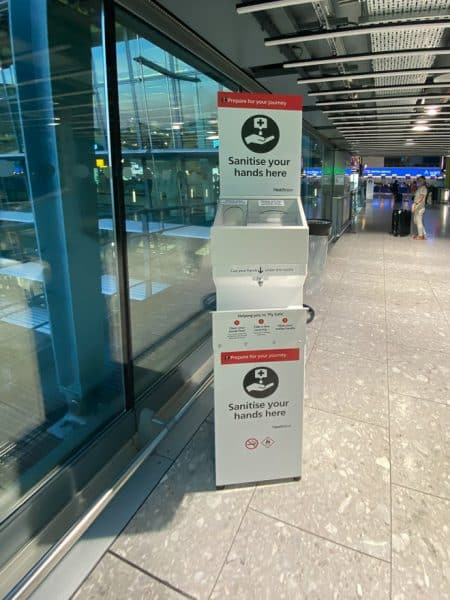 Inside, there was a queue of 4 people, each of whom appeared to have at least of 10 suitcases, with a further entourage of at least 8 people dotted around on the sofas. There was a single member of staff working at the First Class check-in. This includes all of the podiums on the way to security, which were also unmanned.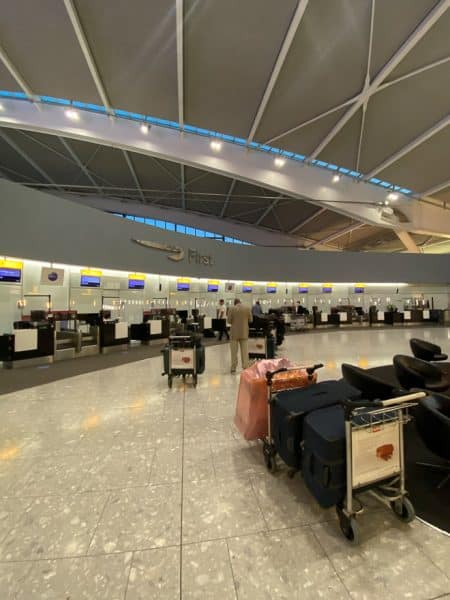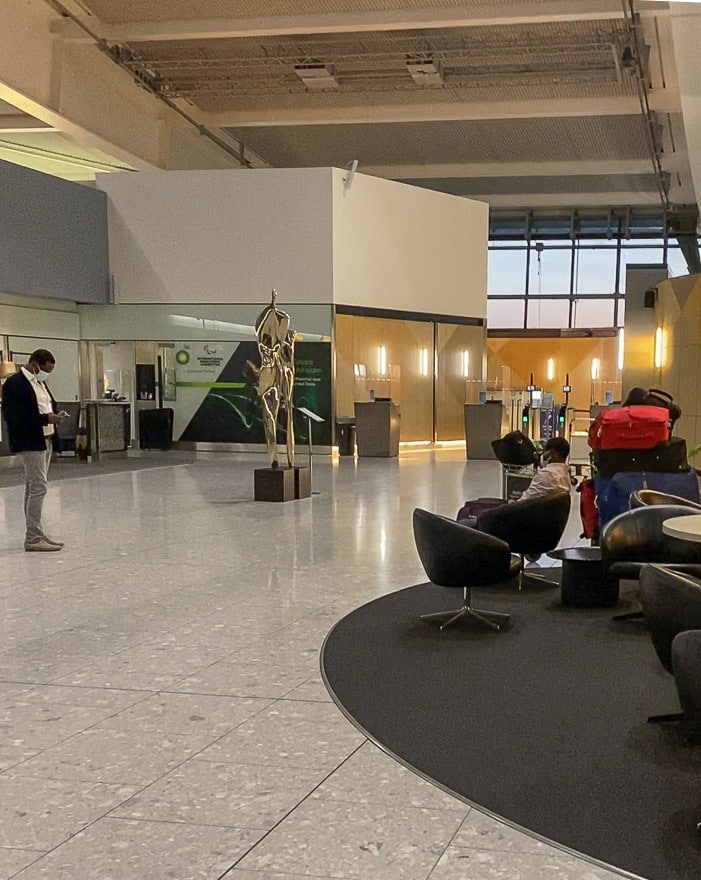 After waiting 20 minutes and seeing that the first person in the queue still hadn't been processed, we decided to take our chances with one of the regular desks in the main hall.
After another 20 minutes or so we were finally checked in. The check-in agent asked to see our paper print outs of our PCR test results, with our boarding passes indicating "PCR TEST OK" on them. We were also handed COVID arrival forms for Dubai but these were never collected.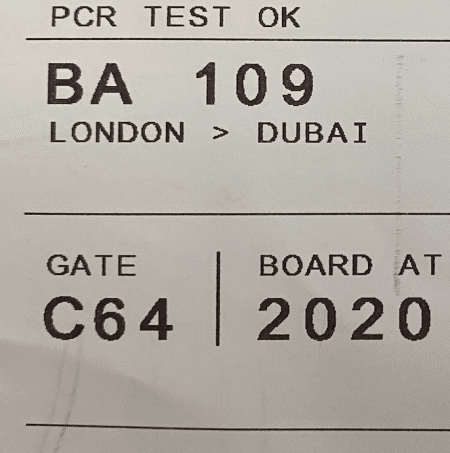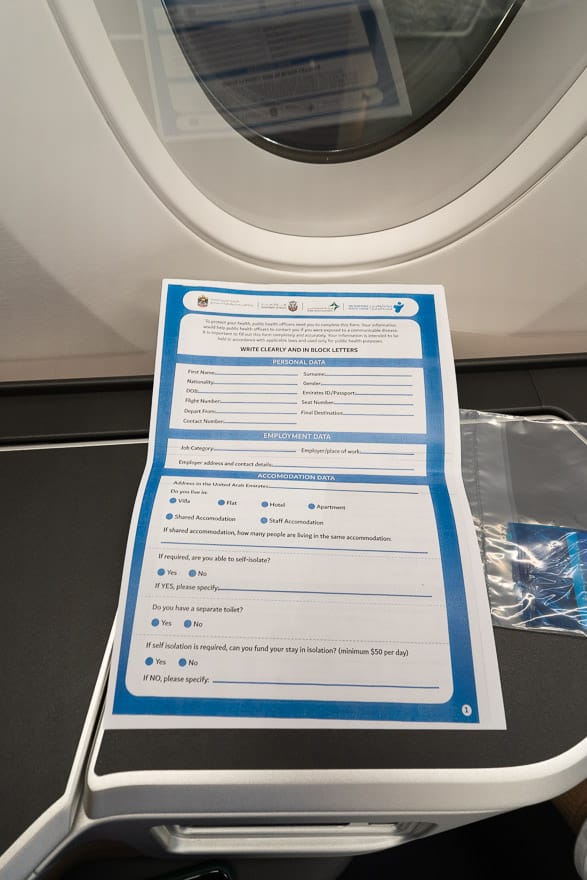 Since our flight was departing from a C Gate we only had 30 minutes or so to enjoy the new and improved service in the First Class Lounge. I made sure to order enough food for a proper dinner since I was well aware of BA's onboard catering cuts.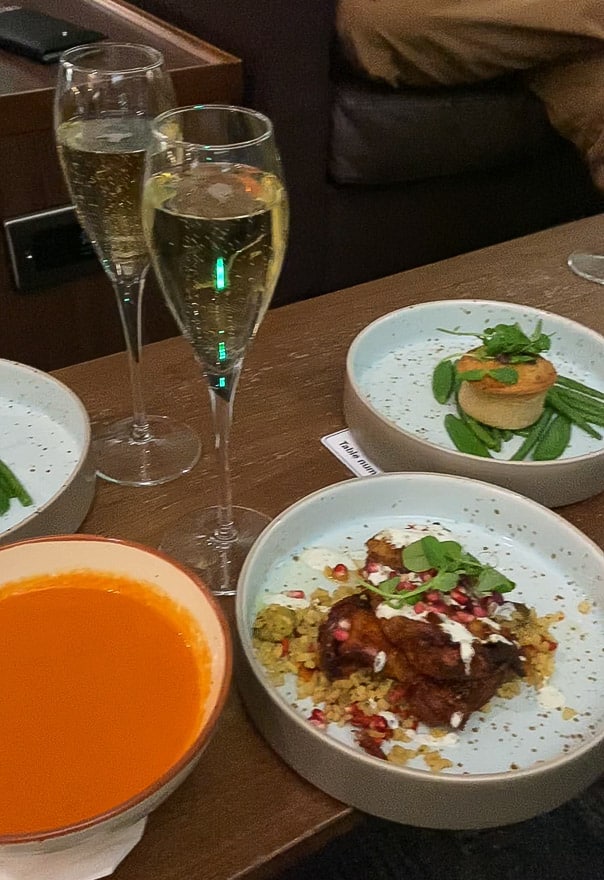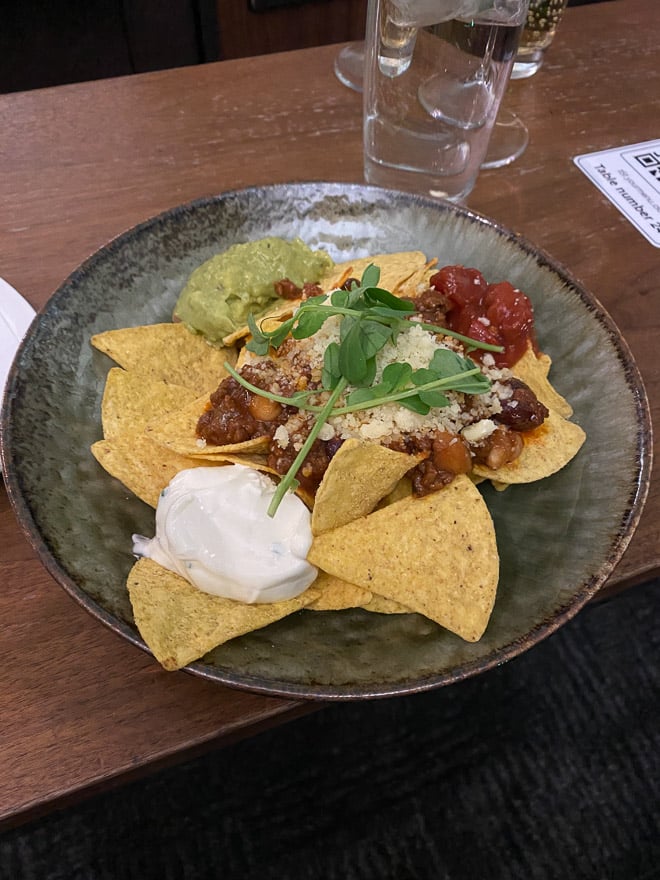 Tomato soup, harissa chicken, chicken and tarragon pie, nachos and blanc de blancs champagne…not a bad dinner!
Boarding was pretty chaotic at the gate, with an attempt being made to enforce priority boarding, which quickly fell apart.
Despite the fact that everybody had "PCR TEST OK" printed on their boarding passes, indicating that documents had been checked by BA staff, we still had to show the paper document again at the gate.
This meant that most people then had to start opening up their carry ons with various arguments breaking out. For what it's worth we weren't even questioned about our PCR tests at the Dubai border, let alone asked to show evidence of a negative result (presumably our test results were electronically available to border agents, since we were tested via the official Purehealth.ae system).
---
The Seat
---
NOTE: Some of these cabin shots are from my first ever flight in Club Suites (also on the Dubai route) back in September of 2019.
I opted for seats in the mini-cabin, as opposed to being seated in the main Business Class cabin. I always tend to prefer seats in the minicabin where possible since it makes Business Class feel a little more private and secluded. I've done this on numerous airlines in the past and have rarely regretted the decision: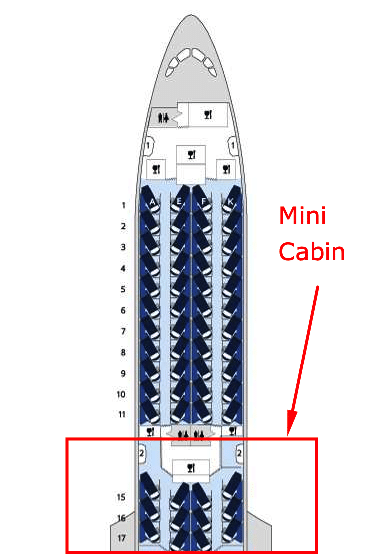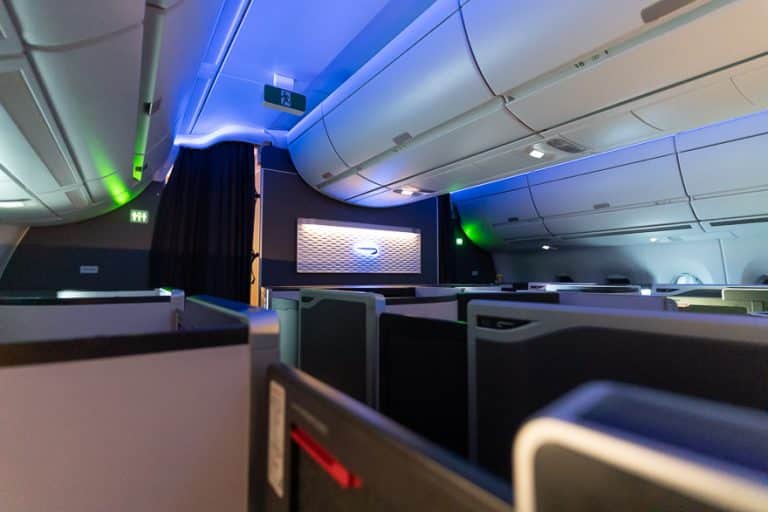 The downside of sitting in the mini-cabin is that the entirety of Economy and Premium Economy board through the same door, meaning that you can't take your time putting your baggage away and you have to deal with the usual comments that people make about the 'idiots paying all this money for a few hours of comfort'.
Although to be fair, these comments are more amusing than anything particularly when you consider that last minute economy fares can be many orders of magnitude more expensive than our seats were.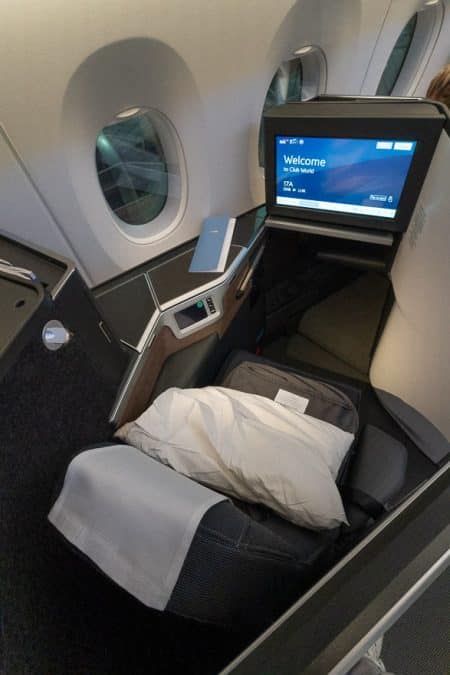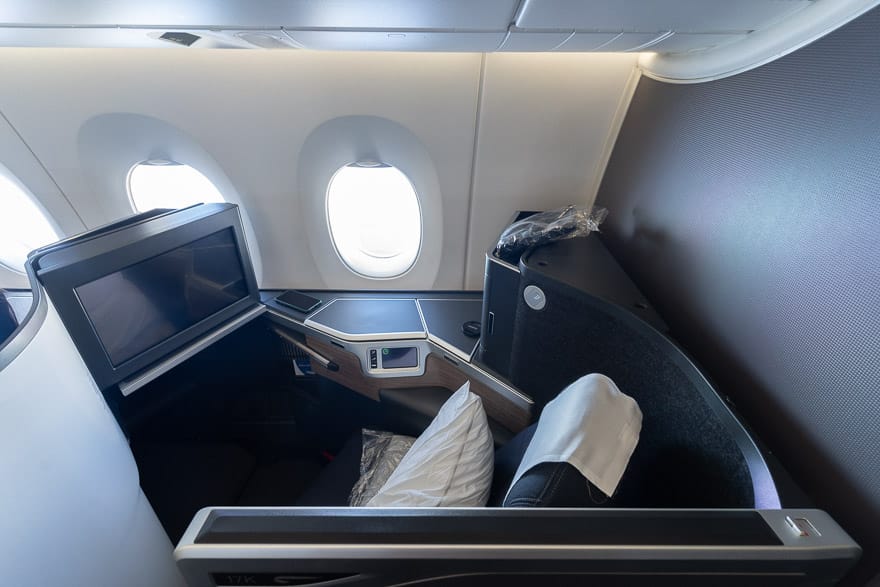 On to the seat itself. The seat is the same Collins Aerospace Super Diamond featured on the Air Canada Dreamliner that I loved so much, with the notable addition of a closing door.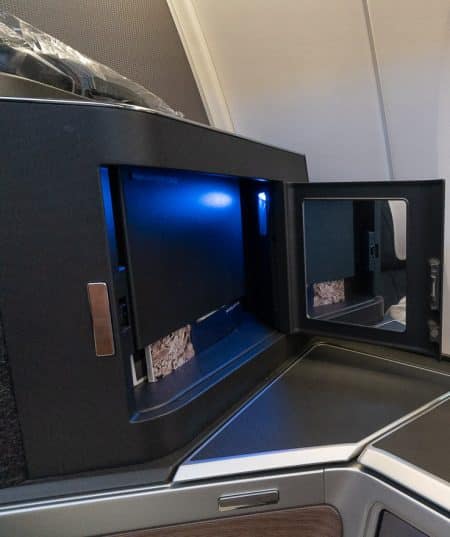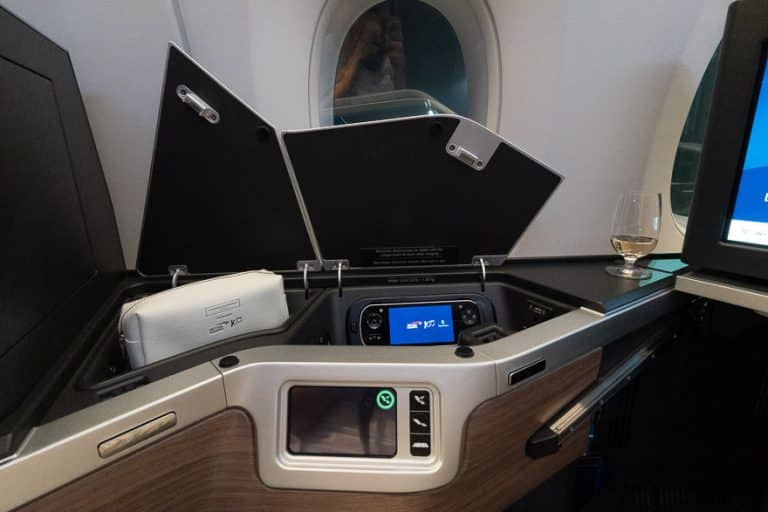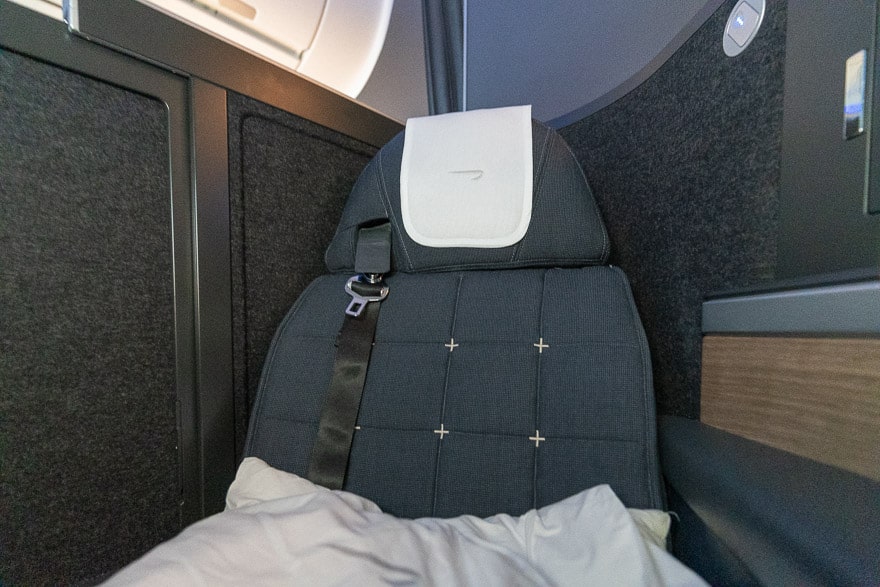 The seat features a 3 point seat belt that must be worn during takeoff and landing. I have no idea why this is required when the almost identical AC seat doesn't have this feature.
The padding is comfortable enough for sitting in but not quite as soft as the old Club World seat, however I really like the overall aesthetic. I've long been a fan of the elegant design of BA's First Class cabins and it's great to see features like the wooden trim and blue LED lights make their way into Business Class.
Storage, or more precisely the lack of it, was always one of the major criticisms of the old Club World product. With Club Suites, BA have addressed this concern admirably.
I find the small storage cupboard to be quite slim and far too small for a laptop but it is perfect for a book and a set of Bose QC25s.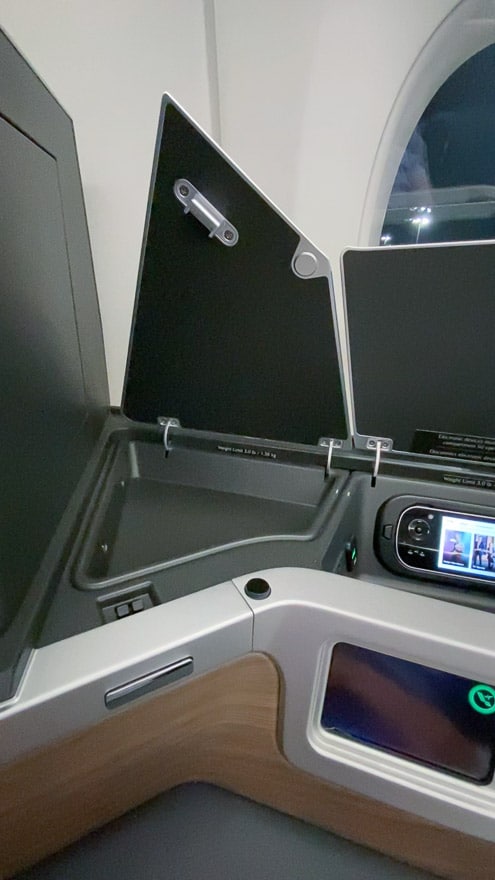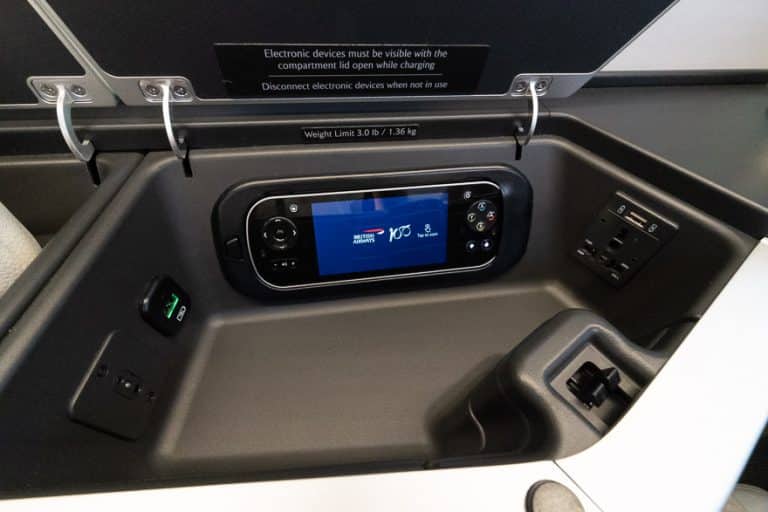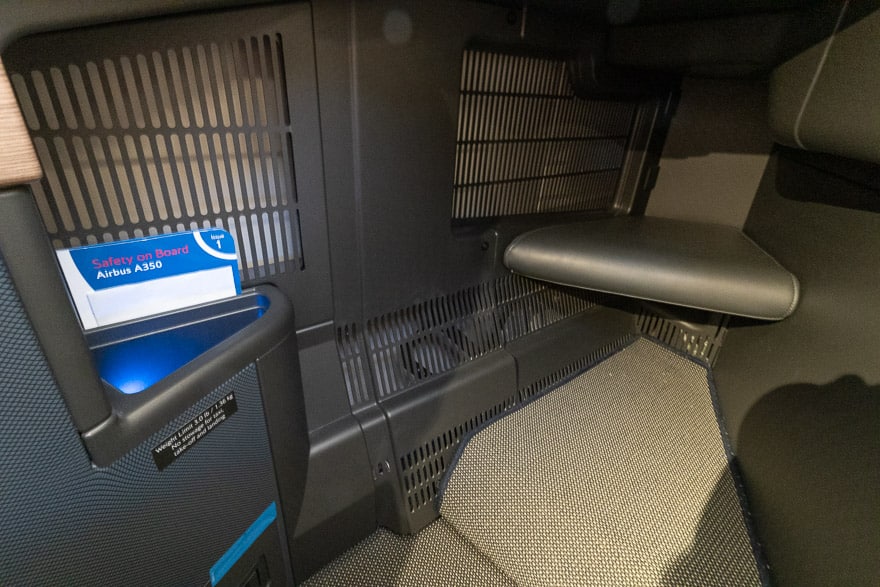 Where previously there was only a single storage drawer, inaccessible whilst the bed was deployed, now there are multiple tabletop storage cubbies.
The main storage compartment features two USB ports, the headphone socket, a universal empower socket and the IFE controller.
Not ones to shun tradition, BA have kept a storage compartment which is difficult to access whilst in bed mode. This is large enough to store a water bottle but not much else. Even with the upgraded storage, this seat doesn't really have anywhere obvious to store a laptop – you'll have to place it on display, on the the side table, when not in use.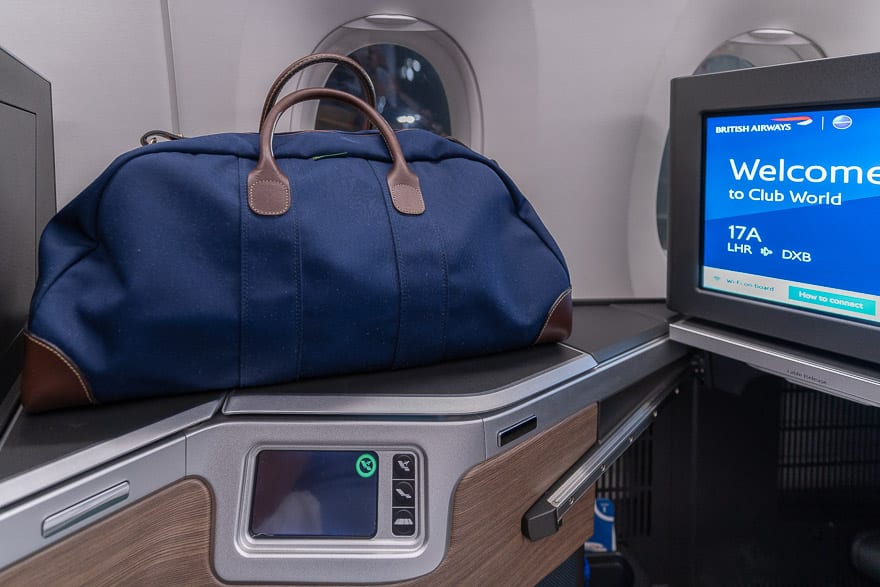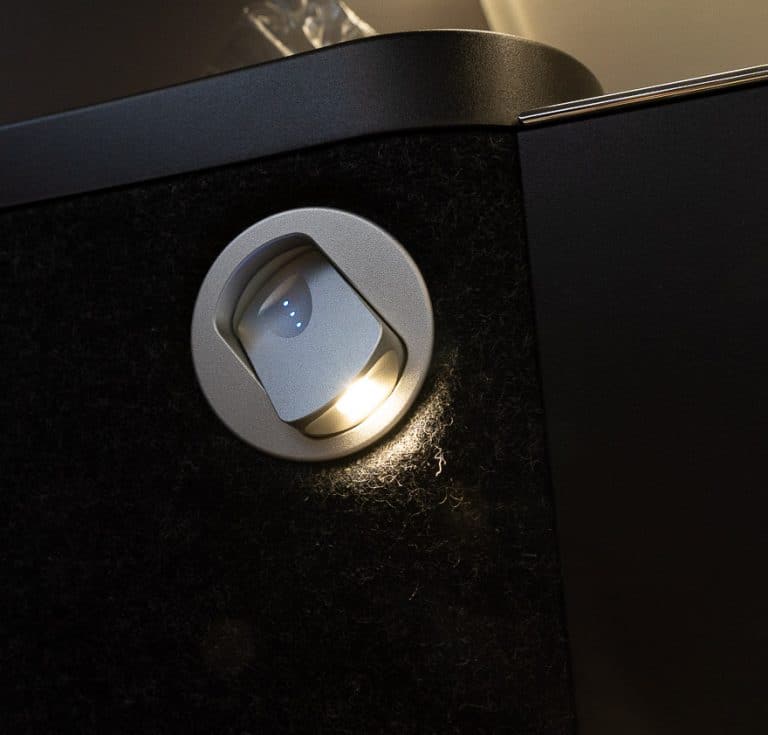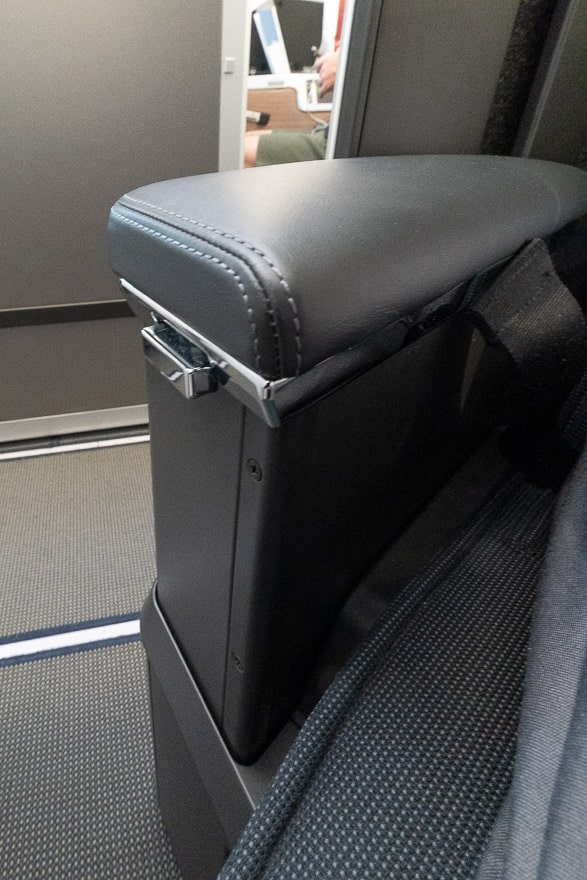 The seat controls come in the form of a full digital control panel, not often seen outside of First Class and I really like the design of the flip out reading light built into the wall.
I feel that BA missed a trick by not fitting storage into the movable armrest though. Qatar's Dreamliner seat has space for a water bottle and headphones here, which has gone to waste on Club Suites.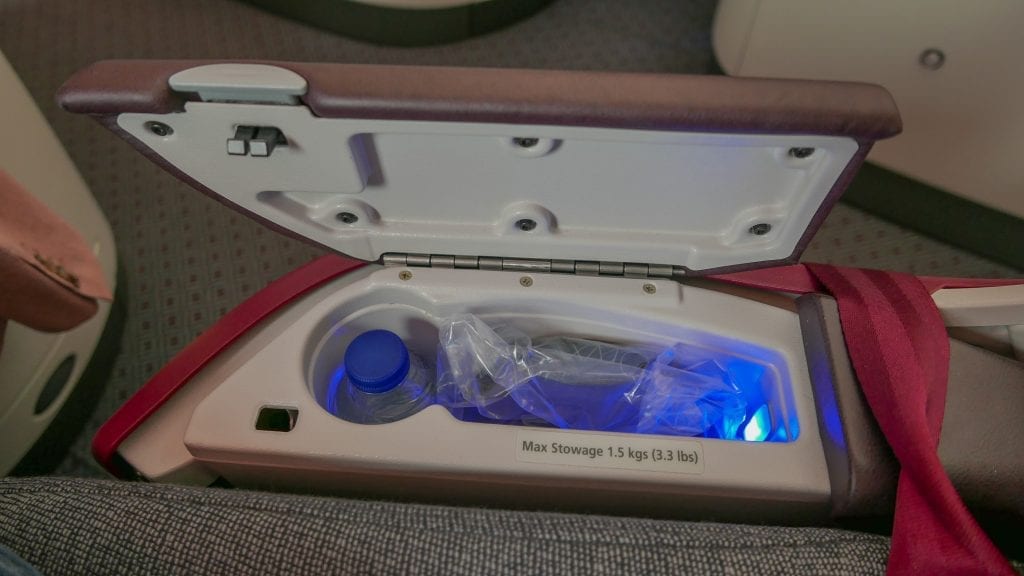 Integrated storage inside Qatar's movable armrests.
I've always felt that BA has provided a solid offering in terms of in-flight entertainment, with plenty of new and classic movies as well as numerous box sets available to watch. The screens on Club Suites are very sharp and responsive and all A350s also offer (paid) Wi-Fi.
The major selling point of Club Suites is privacy above all else: by adding a door in Business Class BA are leapfrogging the pack and joining such esteemed company as Qatar's Q Suites and ANA's The Room.
Here's the problem though: The door barely adds any privacy to the seat since it is only about one metre high. Anybody walking through the cabin can still see right into your seat and more than anything it just creates a bit of an obstacle for crew to reach over when serving passengers.
On the margin it makes you feel a bit more cosy when you're lying down in bed mode but honestly it just feels mostly like a gimmick.
---
Sleep Quality
---
Last year there was a full printed menu and a large bag of White Company bedding waiting for me at my seat. This time around there was still a pillow but the duvet and mattress topper have been removed in the name of COVID. In their place was a thin, plastic wrapped blanket (which previously would have gone on top of the mattress topper).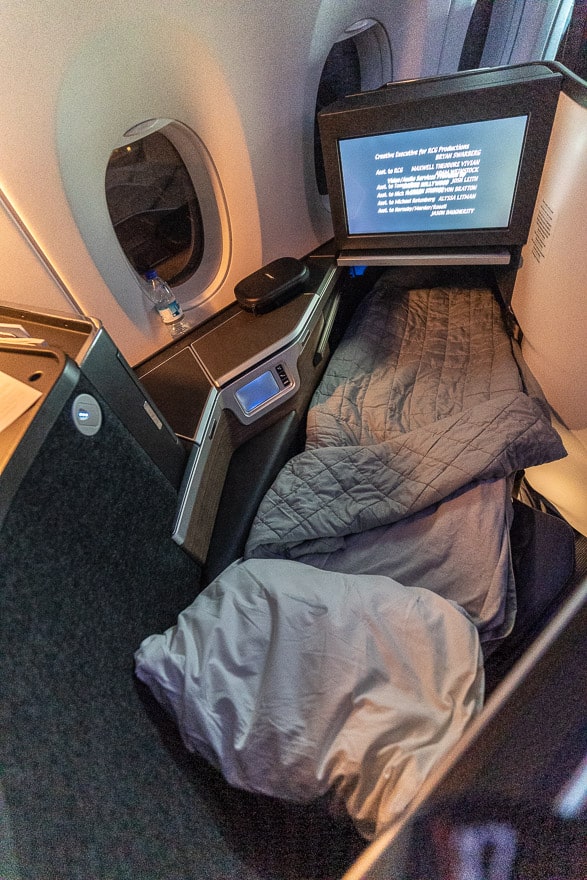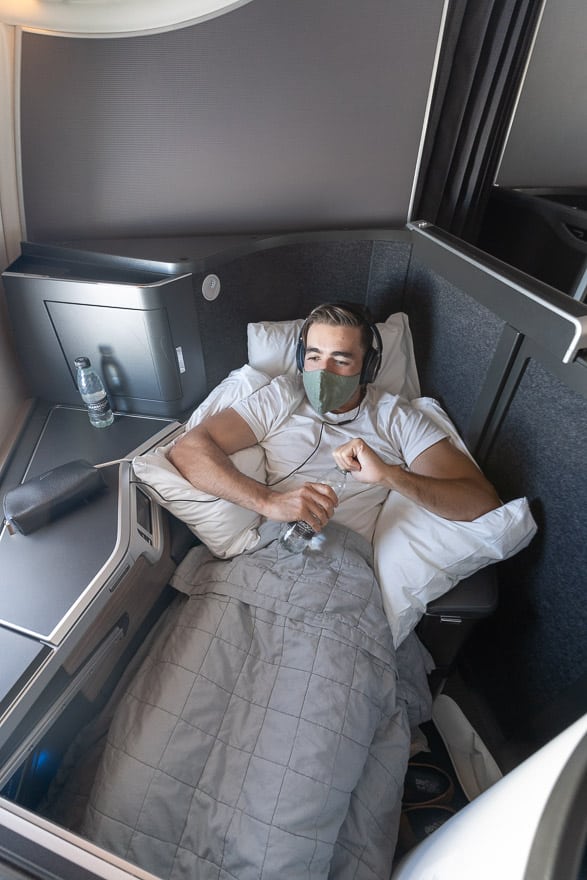 I'm not sure why marginally more uncomfortable bedding is better at preventing COVID but that's the decision BA have made. On the plus side I was able to grab extra pillows on both of my flights this time around since BA still set out a full set of bedding at every seat, even if it's empty.
Presumably this is logistically simpler than matching the bedding to the passenger count, given that this could now change at a moment's notice.
In terms of the actual sleep comfort, I know that a lot of people complain about having to put your feet into a cubby but I didn't personally find this to be an issue. However, I did note that the seat is quite hard when compared to the previous Club World product. I woke up multiple times on each of my three flights, with pins and needles in my arms and legs.
---
Club World service during COVID
---
I previously reviewed the cutbacks to short haul Business Class service in July.
Short haul Business Class never had pre-departure drinks and arguably switching from hot to cold meals doesn't make a huge difference on a 2-3 hour flight. Overall I didn't feel like the experience was massively different to pre-COVID times, other than the fact that we were all wearing masks and were given multiple sachets of sanitiser and wipes.
In Club World the deterioration in service is far more noticeable.
Pre-departure drinks have now been entirely removed from Club World service as have glassware, metal cutlery and porcelain. I can honestly live without a pre departure glass of champagne and can totally understand why having crew milling around the aisles with drinks isn't sensible right now. That special little start to the journey is gone but I don't think it's reasonable to expect it in a cabin that the entire plane has to board through.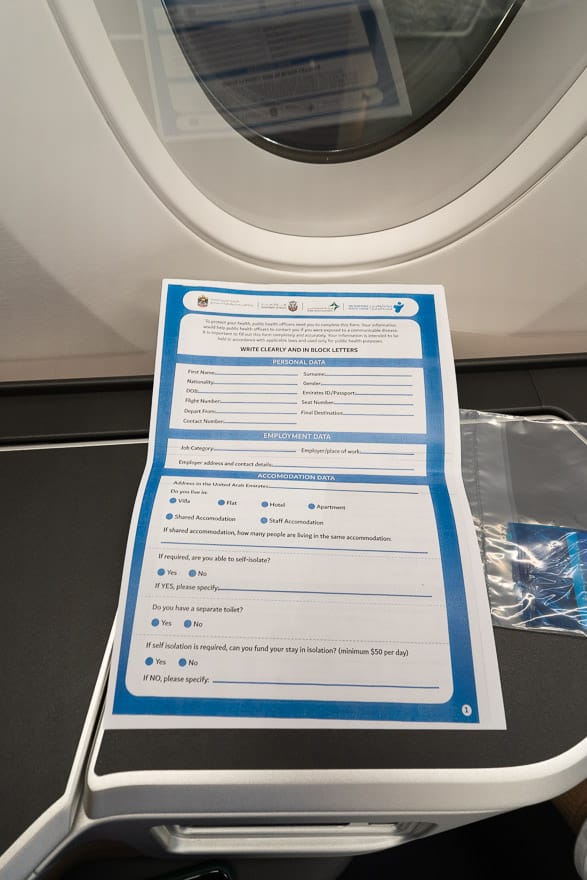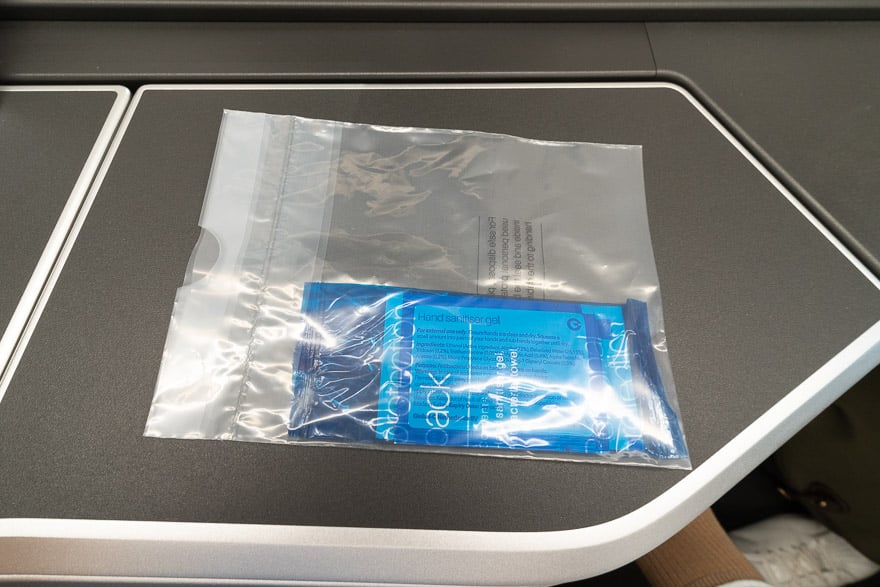 Pre-departure service in the COVID era: sanitiser, wipes and form filling.
However, switching to plastic cups and cutlery as well as cold food makes zero sense to me when most other airlines aren't doing it. BA themselves will serve you a hot meal on a porcelain plate and champagne in a proper flute in the lounge but in the air it gives you COVID?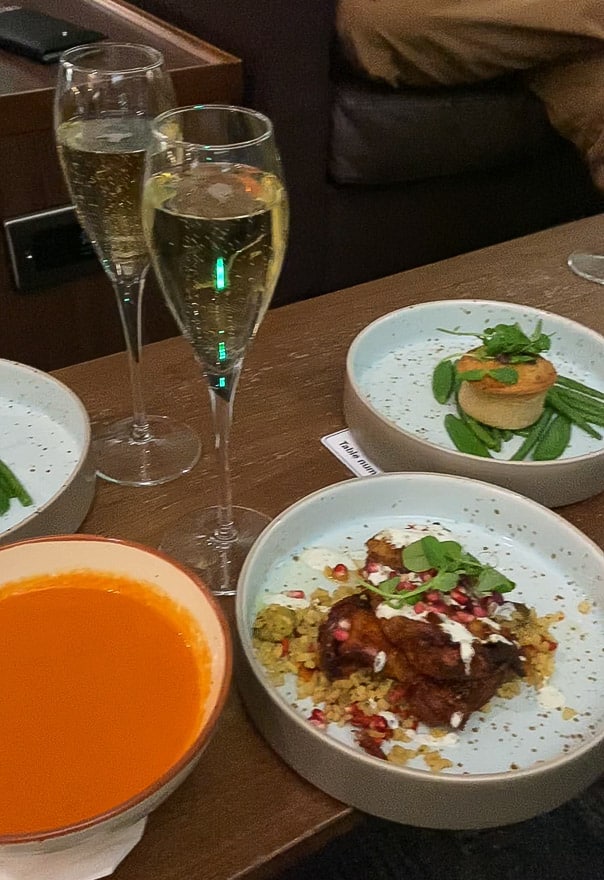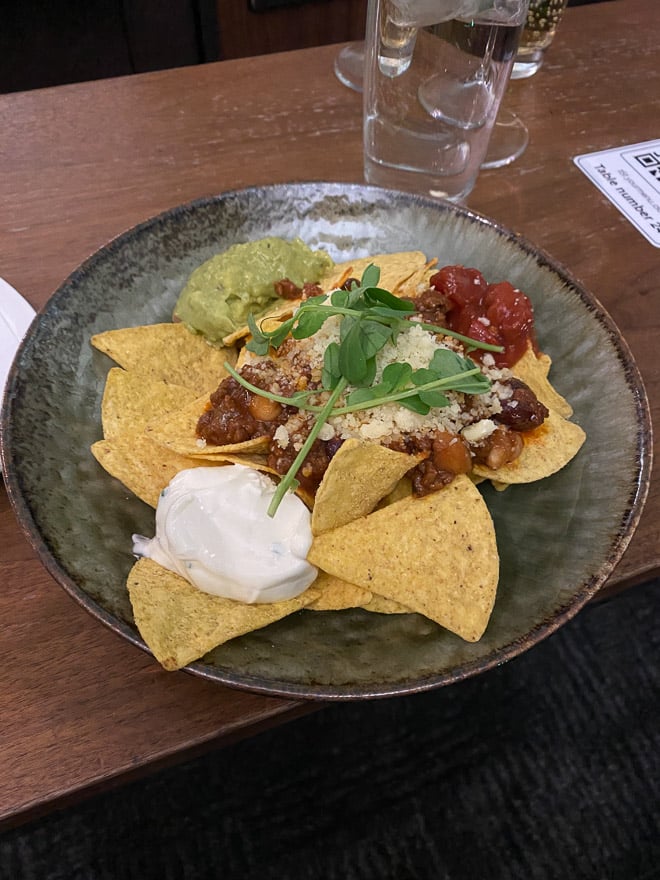 BA First Lounge catering during COVID.
I honestly fail to see the justification there.
In First Class hot meals are still possible but in Business they aren't, even though hot meals come individually sealed and COVID can't survive in an oven.
It all comes down to one thing: clearly, BA are cutting costs in order to stay afloat. Which is perfectly understandable. It's also something that I think people would forgive if it wasn't for the way in which BA frame it. "We're doing this for the safety of our passengers and crew". They aren't. They're doing it for the safety of their balance sheet.
Here is what "dinner" ex-LHR on BA109 looks like. It was also served as the second meal on the daytime BA108 flight from DXB-LHR.
Great if you want a ton of cold vegetarian carbs and fat, otherwise not so much…
On daytime flights the smaller meal consists of a hot chicken tikka sandwich (with a 10:1 bread to filling ratio), a Kit Kat and a biscuit. Airplane food has never been renowned for being particularly healthy but this is ridiculous. Bread and sugar and not a single vegetable in sight.
Compare this to what was recently being served in Club World, after the much feted introduction of Do&Co catering: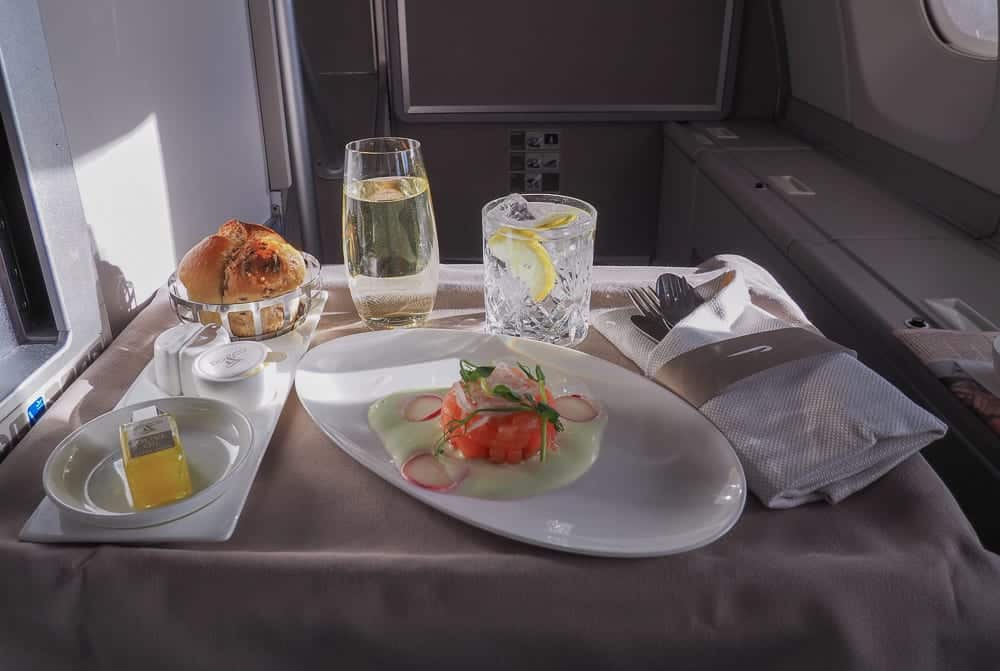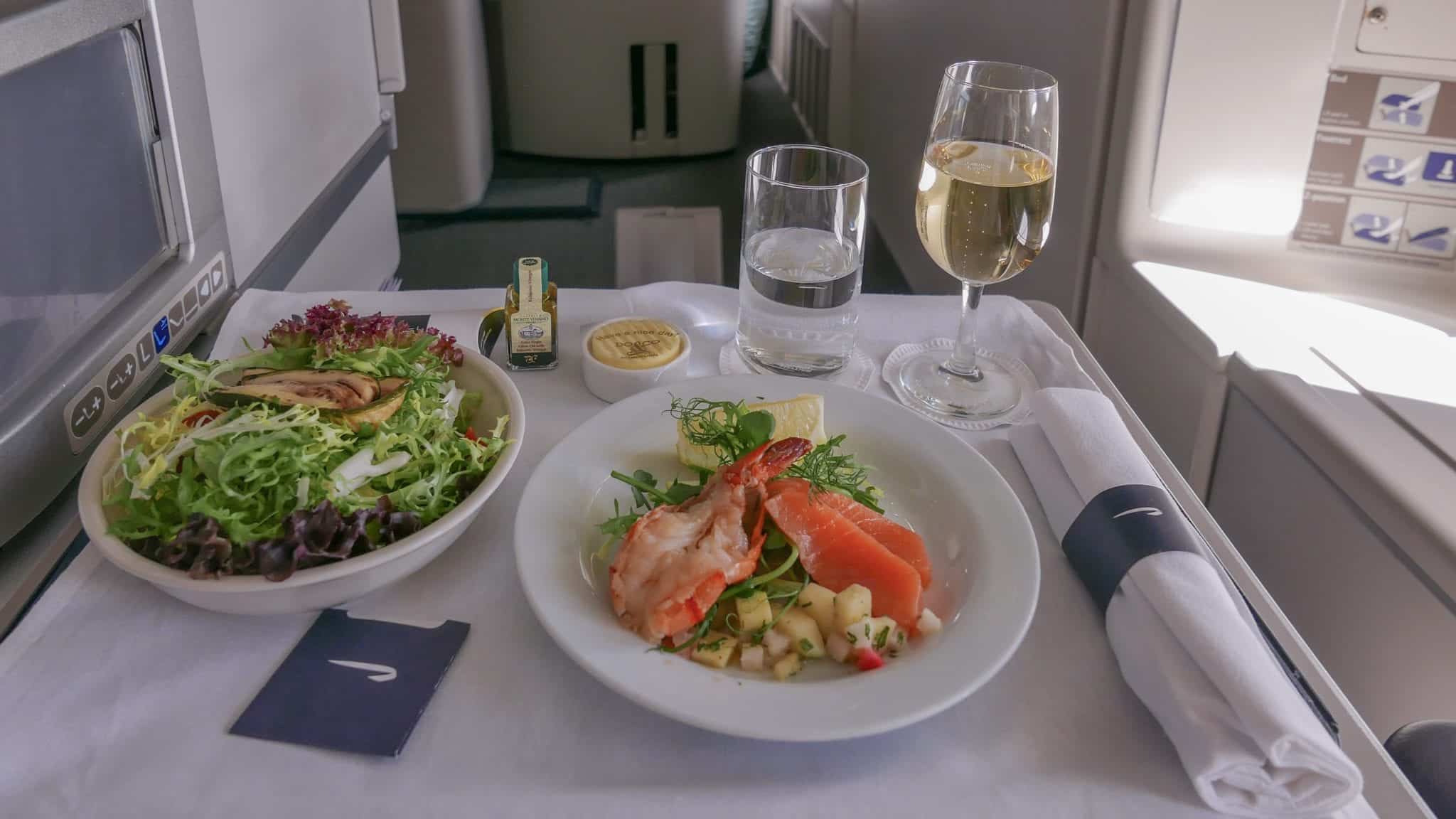 Breakfast has never been especially noteworthy in Club World and in all honesty the difference here was a lot less perceptible.
The main issue here is really the amount of needless plastic waste. Also the paper cups only hold around 200ml of tea.
Still I must admit that as I sipped my miniature tea, watching the sun rise over the flexing wing of this A350, I was very happy.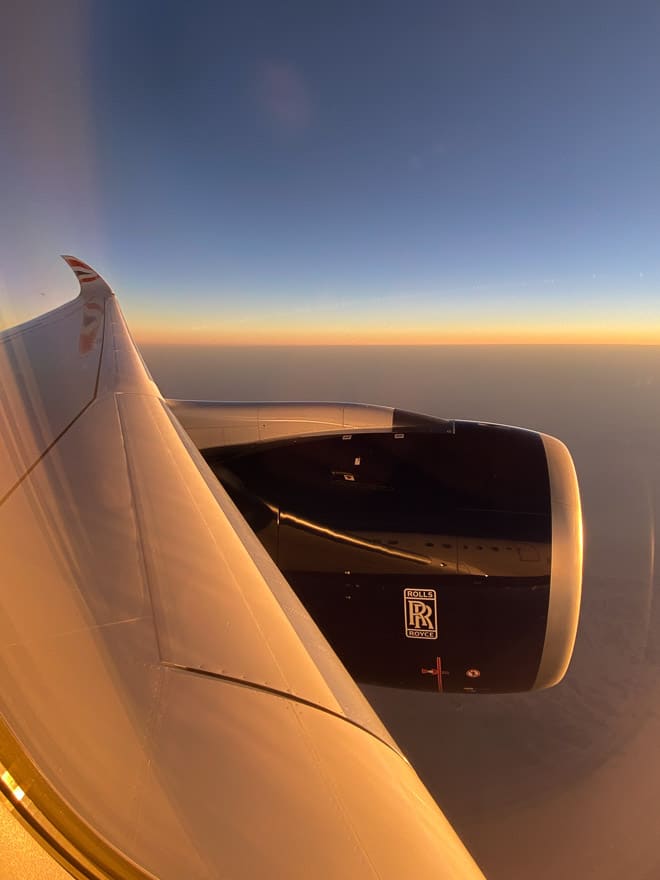 It had been so long since I'd set foot on a plane that I honestly felt incredibly fortunate just to be able to travel again.
This attitude seemed prevalent in the crew, who were excellent on both legs of our Dubai trip too. They all apologised for the sub par catering, said they'd heard it would improve in November and thanked us profusely for flying when so many are still reluctant to do so.
I have to give a particular shout out to TJ, the cabin manager on our return flight, who was very personable and eager to ensure that everyone had a fantastic flight. His stocking of the Club Kitchen was a thing of a true beauty and constituted a significant improvement on what I'd seen on the A350 a year earlier: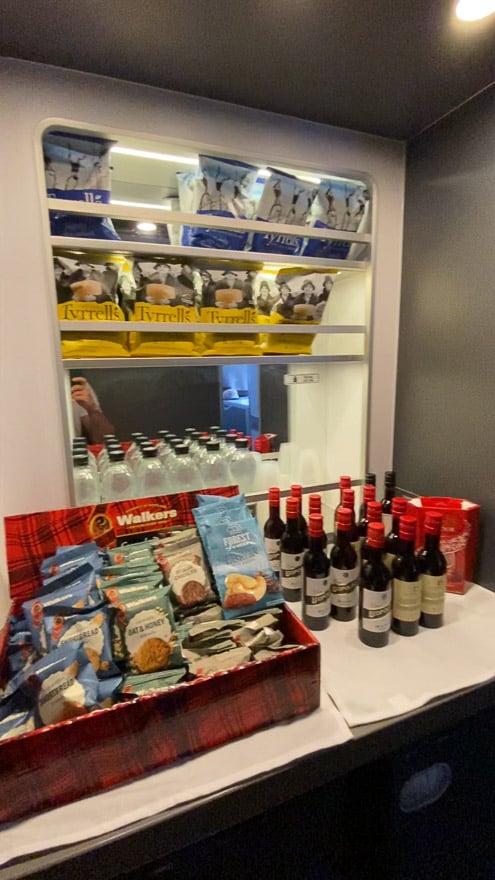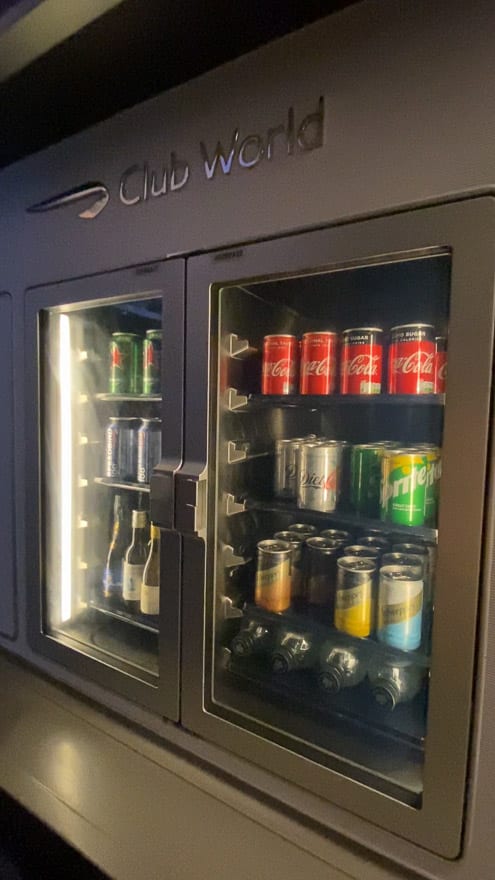 ---
Conclusion
---
Club Suites is a superb hard product, in the current landscape of Business Class seats, few come close to this.
Sure they could have added more storage in the armrest and admittedly the door is kind of pointless but overall this is a monumental step forward for BA. Back in January of this year it seemed like this combined with the new bedding and catering would lead to BA once again being viewed as a global leader in premium air travel.
However, since the outbreak of COVID it has once again fallen on the crew to use their charm and ingenuity to make up for service cutbacks from Waterside. Cardboard boxes filled with Kit Kats and champagne served in plastic cups is inexcusable when other airlines are serving proper meals, as are restaurants and even BA's own lounges.
Right now though convenience is king and London based travellers are rather limited in their choice of airlines at the moment unless they want to connect. In the current environment I suspect that very few people would add a connecting flight for the sake of a meal. They'll do what I did and eat beforehand and if they're particular about glassware I know a fair few who have resorted to taking flutes from the lounge, to be used on board.
To be able to fly at all right now is a real privilege in the current era and BA's Club Suites present you with just about the most socially distanced product you could hope for in Business Class. If you're hungry, eat before; if you're thirsty, you'll be taken care of. Right now this is the new normal and for the time being I'm ok with it.
I would never consider booking First Class at the moment though since the Concorde Room is shut, the champagne served is the same as in Business and the food is almost identical, with the addition of what looks like an Economy hot meal.
In the meantime I'll be flying this product again in a month, on my way to the Maldives. Stay tuned to my instagram to see if anything has changed by then…
---
Another birthday trip to Dubai…this time during COVID
Part 1:

British Airways : Club Suites Business Class – London (LHR) to Dubai (DXB) and back [COVID-era]

Part 2:

Waldorf Astoria DIFC Dubai : King Corner Suite

Part 3:

Andaz Dubai The Palm : Terrace Suite

Part 4:

Four Seasons Dubai DIFC : Four Seasons Room & Studio Suite

Part 5:

Four Seasons Resort Dubai Jumeirah Beach : Deluxe City View Room

Part 6:

GUIDE : Leveraging huge discounts to eat our way around Dubai