Singapore Airlines (SQ)
Flight: SQ319
Class: Business
From: London (LHR)
To: Singapore (SIN)
Aircraft: Boeing 777-300ER
Seat: 11A
Booking type: 25k Avianca Lifemiles + $333.82 in tax
Flight date: April 2015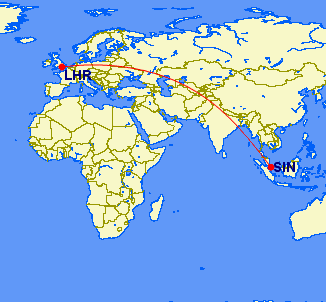 ---
I booked this flight using Avianca Lifemiles, miles which I purchased directly from the airline. Even though Singapore supposedly restricts partner airlines for redeeming on prime long haul routes, Avianca often has access. The reason for this is that being a Colombian airmiles program, it has exactly the kinds of checks, balances and IT infrastructure that you'd expect a Colombian airmiles program to have.
Not only did I have access to Singapore award flights using Colombian airmiles, I was able to get this flight for 22.5k Avianca miles + $333.82 in taxes due to some very interesting quirks in the online booking system. When people say that airmiles are worthless I shake my head and think of flights like this…
---
There was a slight 20 minute delay to our flight (as usual Google updated me about this long before the gate agents had a clue) but soon enough, the efficient boarding process had us all onboard.
I was lucky enough to secure seat 11A which is in the front row of business class, in a 2 row mini cabin of 8 seats in a 1-2-1 configuration, exactly like F.
Pre-suites SQ had trouble in differentiating its premium cabins, with the latest product on the 77WN the "problem" returns. Which is why you can understand their drive to eliminate F entirely on the A350.
My first impression of the cabin?
I was utterly blown away.
The space is much more private and welcoming than BA F on the 744 a few days earlier. The layout was actually more similar to JL F and in some ways, such as the location of power sockets and storage, I prefer SQ J. The sleekness of the design definitely trumps JL's spartan and utilitarian F offering.
I was immediately offered food and drink menus and asked for my choice of PDB, as well as having my jacket taken. This is a far cry from a number of other airlines I've flown in J where you get either water or juice, picked from a large tray as your PDB.
The Drinks List
SQ's J drinks menu is absolutely out of control. Talisker 10? The Isle of Skye's nectar is a finer drop than most carriers load in F. Also quite an extensive cocktail list given that BA's crew have been known to struggle when asked for the one single cocktail they offer in J.
I opted for a glass of the Taittinger Prelude, I was hoping this flight would have some Bolly loaded but you can't have it all I guess! The champagne was brought to me individually and poured at my seat.
The meal service began promptly after we levelled off. I was offered a top up of my Taittinger and offered another entirely different "Prelude": the signature Singapore satay service.
Having heard how good some of the options can be and more importantly not wanting anything too heavy after a week of non-stop eating (and more sure to come in the days ahead) I pre ordered Lobster Thermidor from SQ's Book the Cook program.
Whilst she was setting my table the FA asked if I'd ordered Lobster ex-LHR before. I told her that I hadn't and that this was in fact my first ever flight on SQ.
She was very excited to hear that this was my first SQ flight and made conversation about other airlines, asking me how I thought SQ compared. I told her that I was loving it so far and this really seemed to make her day.
In any case she told me that I had chosen very well. In fact all the FAs had gathered in the galley to admire my lobster before serving it, due to its high degree of magnificence.
I was fairly sure that there was a degree of hyperbole at play but smiled and went along with it, rubbing my hands in excitement.
The flavour was sweet and rich and the meat was enormously plentiful, the claw meat had clearly been added back into the chopped tail to add to the indulgence.
The vegetables were also perfectly cooked and still slightly crunchy. The entire dish was leagues ahead of the rubbery lobster and frozen peas and tomato that you're served when you pre-order the lobster thermidor on TG F.
Once I'd finished, the FA came over to ask if the lobster was as good as it looked.
"Better," I said.
"I'm so glad to hear it. I hope you left some room for dessert."
"Oh I'm not sure I'm really full."
"Why don't I just bring one over and you can try it, I promise you don't have to finish it!"
"OK you've convinced me" (yeah I know, I'm weak)
The meal service as a whole was truly spectacular. It was not quite the calibre of ANA First Class but short of that, it was one of the best meals I've ever had in the air.
The service was a perfect mix of professional and friendly.
Every dish was spectacular in its execution.
The table and glassware was of a high quality.
Refills were proactively and frequently offered.
Would I have preferred Krug to Taittinger? Yes. Is Krug a fundamental prerequisite to a decent meal? No.
After the meal I spent some time watching a movie whilst in bed mode.
During the night time portion of the flight I got a couple of refills on my tea. It seems that on SQ it is vey easy to get trapped in a vicious cycle. Each time I went to the bathroom, as I walked back to my seat, Fiona the delightful second shift FA would ask if there was anything she could get me.
Much like the dessert conversation I'd had with her colleague during the meal. It was very hard to resist. She would always make it seem like a fantastic idea to drink more tea, maybe have a biscuit, or some chocolate, perhaps some whisky to help me sleep etc.
So that is my one complaint about SQ. The FAs are so unbelievably nice and eager to ensure you have a good time, that you end up eating and drinking more than you intended to ?
Nonetheless I was able to get a good 6 hours of sleep and woke up at that special moment when most other people are still sleeping.
I really enjoy being up before everyone else on a longhaul flight. The atmosphere is very tranquil, you can hear some light clinking of trays as breakfast preparations are made but FAs have generally not had anyone new to speak to for a while and will happily make you a coffee and chat for a while. If you're really lucky you'll get a chance to experience an airborne sunrise, although on this flight I'd missed the opportunity by a good few hours. North/ South flights are the best for that.
Breakfast was great. Far too often it is treated as an afterthought by other carriers, not only in J but even in F. SQ has gone for premium ingredients, espresso based coffees and multiple courses, with the option to pre-order numerous mains too. The only carrier that comes close in EVA Air.
This was something of a bittersweet moment. I genuinely did not want the flight to end. The service was just so unbelievably next level, I could have stayed in that cabin for a week without losing interest.
On the other hand, I couldn't help thinking, "If J is this good, how unbelievably ridiculous will F be?"
SPOILER ALERT: HIGHLY RIDICULOUS.
---