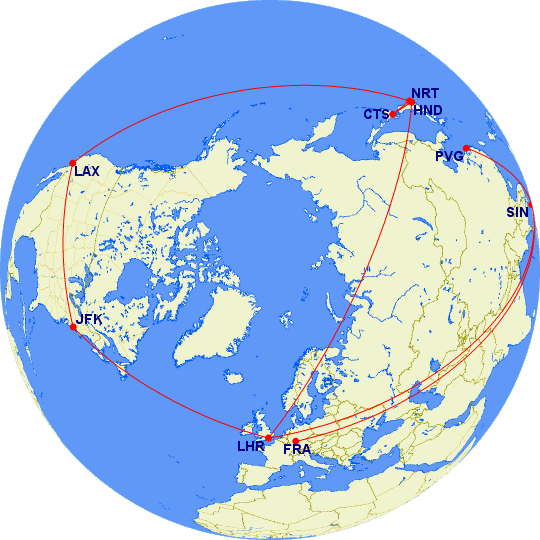 This trip was awesome.
Super awesome.
I went one and a half times around the world in the space of two weeks.
I snowboarded in Japan, hung out by the pool in LA, went to Katz's deli in NY, drank at a rooftop bar in Singapore, hung out in the world's tallest Park Hyatt in Shanghai and tried four different SQ premium cabins.
That is the power of miles and points.
The trip was tiring but definitely doable, given the comfortable surroundings in which I found myself. With enough coffee, booze and sleeping tablets you can make any timezone work…
The sheer diversity of experiences was monumental. Before visiting FlyerTalk I had never even conceived of the possibility of seeing the world like this. Flying in Business Class… one day. That was the dream.
How things have changed. The Flyertalk Trip Report forum made me aware of the possibility of itineraries like this. Much as I derived inspiration from the experiences of others, I hope that my trip reports will inspire you guys to go out and plan some wild adventures of your own.
---
How would I rank all of these products having flown them all in such quick succession?
---
Best Seat
---
SQ Suites is the best. No surprises there. The hard product is just so insanely breathtaking that nothing could ever spoil it.
---
Best Service
---

Singapore Airlines. My F flight on the 777 and J on the 77WN were both stratospherically good. Unimaginable. The level of personalisation and care was truly beyond reproach.
---
Best Food and Beverage
---
JL F the wine list is exceptional (quite possibly the best there is) and you get the impression that no expense has been spared anywhere. Cedar chopsticks, Loewe amenity kits, $200 tea in a wine bottle etc.
---
Best Lounge
---
I visited some overrated lounges: QF F at LAX, CCR at LHR and TPR at SIN. A bad lounge: CA at PVG. And then there were two pleasant surprises: AC at FRA and SQ F at SIN.
The best lounge by a long way though was JAL's superb new First Class facility at Tokyo HND airport. The combination of excellent food, top shelf alcohol (including Hibiki 17), spectacular runway views and the AVGeek paradise that is the Red Lounge; all combine to make for a truly wonderful experience.
---
Honorable mention
---
SQ J on the 77WN. Given the option, I would definitely take this over BA F from LHR-SIN. The service was up to the quality of the hard product too. A cabin of 8 people in J is fantastic. Something about the layout and colour scheme makes it infinitely nicer than rows 3 and 4 on the AA 777 too.
As an introduction to SQ it exceeded my expectations wildly. EVA Air has better F&B as well as PJs etc. but it doesn't feel luxurious.
SQ's J on the 77WN leaves you with the same lasting impression as a good flight in First. The level of customisation, personalisation and attention to detail is just fantastic. I would seriously love to fly this again.
---