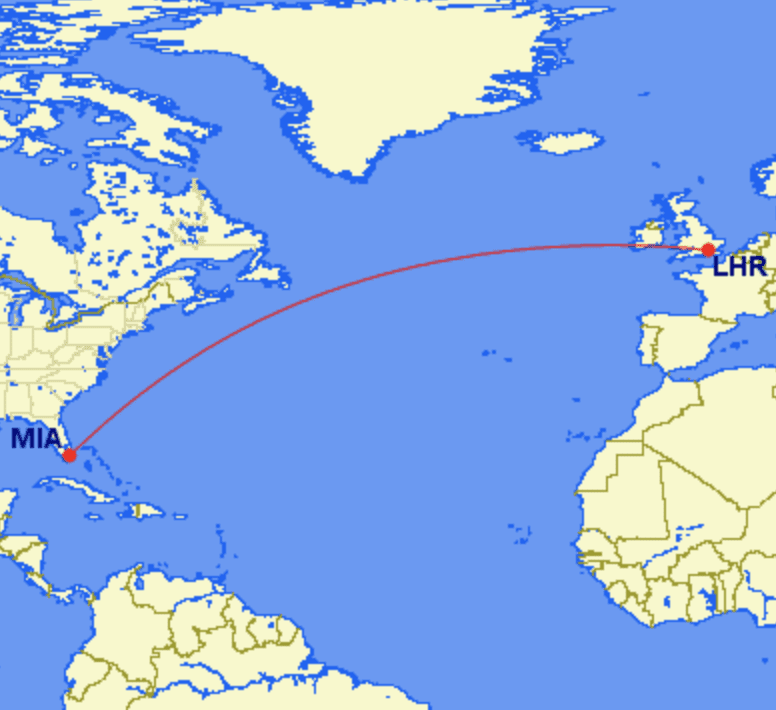 British Airways (BA)
Class: First Class
Seat: 3K
From: London (LHR)
To: Miami (MIA)
Duration: 9h55
Aircraft: Airbus A380
Status during flight: OneWorld Sapphire (via AA Platinum)
Booking type: "Viking Fare" for £350 round trip in business class

upgraded to First Class one way for £650

Flight Date: February 2016
---
Booking
---
I booked this flight as a Viking Fare, one of several tickets that I bought on a fateful Thursday morning back in the summer of 2015, when BA and AA were selling Transatlantic round-trip Business Class out of Norway for £350.
Having flown both BA and AA before in business class, I was firmly of the opinion that AA offered the better product and so planned to go to and from Miami with them.
One day before we were due to fly I got an alert from Awardwallet telling me that our seats had changed… I did not have a good feeling about this. Back when I took this flight AA were still flying some Transatlantic routes with planes fitted out with ancient reclining seats, instead of the modern and comfortable flat beds which are now ubiquitous in their fleet. Upon checking the new seatmap my fears were confirmed. If I didn't do something we would be spending 10 hours in the recliners.
Our inbound flight from OSL to LHR landed in Terminal 5 and we didn't have a huge amount of time to complete transfer security and get to Terminal 3, where AA are located. When we arrived at T3 we were ushered into a giant hall, heaving with transfer passengers who were connecting onto AA flights. I hadn't been expecting to go through this extra document check and was super thankful to have OneWorld status, meaning we joined a line of 30 people instead of something that looked like the line for Space Mountain.
Whilst the AAgent checked our documents, I asked if we were really going to end up on the recliners. She said that we were and that some other people had switched flights as a result. I asked if it would be possible to switch us to another flight too and to my surprise she said yes! The next available flight was on the BA A380 but there were no window seats available. Still, an aisle seat flatbed on BA beats a reclining seat on AA!
We then made our way to the BA transfer desk with two paper tickets from AA, emblazoned with the words: "INVOL EQUIP CHANGE" (knowledge of this particular code in AA's systems has come in handy since!) and asked to be checked in for the BA flight. Whilst we were there I figured I would ask if they were selling any upgrades to First. Unlike many airlines, BA offers discounted upgrades on the day of travel and these can be significantly cheaper than the advance fare difference between the two cabins in question.
The BA Agent said we could upgrade to First for £650 per person which was higher than I was expecting and ordinarily not a price that I would entertain. However, given that on this occasion the round trip in business had only cost us £350, I figured that a total price of £1000 for outbound in First and return in Business was still pretty great. Besides, I had never tried BA First on the A380 and at the time this was one of the few routes that featured the First Class tasting menu (now sadly discontinued). I was basically sold on the upgrade but asked one more question just in case: "Do you still have window seats available?".
"Yes, there are two window seats still left", the BA Agent answered.
Sounds like destiny to me. Sold!
---
British Airways First Class Lounge LHR Terminal 3
---
With First Class boarding passes in hand we made our way to the BA First Class lounge as the Cathay lounge was still undergoing its renovation. I previously reviewed the BA lounge back in 2014 and there were a couple of changes in that time:
The Elemis spa reopened as BA were once again flying from T3, although they only had a single slot free in the three hours we had to wait for our flight.
The restaurant area was no longer reserved for ticketed First Class passengers and the table service was a much more pared down experience.
---
Boarding and exploring the seat
---
Boarding was the usual mess that you expect from BA, with about 80% of the plane boarding at once, since even Oneworld Ruby (BA Bronze) get priority boarding. Still, it was hard to be bothered by the shambolic nature of BA's ground operations when I had something far more important to think about. I was about to try a new First Class product for the first time! Not just any old first class product either, this is BA's flagship product on the largest commercial airliner in the world. As we made our way up the jet bridge and approached the staff waiting at the door, my heart started beating faster and the smile on my face grew ever wider. There are few feelings in the world as amazing as setting foot in a new airplane cabin for the first time ?
The crew greeted us at the door and accompanied Kamara and I to our seats and immediately offered us PJs and amenity kits.
My initial reaction to the seat was extremely positive. There is no way in hell that this could ever be described as 'business class plus', an accusation often levelled at BA's other First Class products:

Comparing this to the 777 seat there are a number of notable differences:
Each seat has a large personal wardrobe, with enough space for a large coat, shoes and a carry on.
There is a full sized wall to give you privacy from the aisle, rather than just a winged headrest.
There is an additional storage compartment between the side table and the wall where the lamp sits.
BA's first class has never suffered from dull or gaudy looking finishes. In fact the brushed metal, navy blue leather, piano gloss surfaces and blue neon combine to project a very polished and modern air of luxury. The problem previously always came down to a lack of space. On the A380 however, BA's First goes from bottom of the pack to market leading.
As I explored my seat a member of the cabin crew came over to offer me a drink and a (horribly thin) hot towel. I asked for a glass of champagne and the CC member returned promptly with a bottle of Laurent-Perrier Grand Siècle and poured me a glass at my seat. LPGS is probably my least favourite prestige cuvée served in a modern First Class cabin but is still a decent drop, albeit one that is cheapened slightly by the thick and squat champagne flute.
Suitably hydrated I set about photographing every nook and cranny of the seat.
The cabin crew on this flight were all very proactive and chatty. All of the other passengers on this flight appeared to be retired couples (we were going to Florida during European winter after all!) and seemed to really enjoy have long conversations with the crew and making the most of the First Class experience.
The crew struck a perfect balance, making sure to spend as much time as possible with each passenger whilst ensuring that nobody was ever left waiting with an empty glass.
What impressed me the most were the little details: when coming to offer me a top up, the crew member asked if I was finished with the nuts and went to fetch me another bowl. Having noticed that I left the walnuts she made sure to serve me a bowl of only cashews and almonds this time. She didn't ask, she didn't say anything, she just observed and adjusted to my preference seamlessly. That is First Class service.
---
---
I was given a menu when I first took my seat and spent quite some time leafing through the myriad options. I took this flight at a time when the A380 still had a special tasting menu, used to showcase the capabilities of the modern galleys aboard this enormous aircraft. This menu has unfortunately since been discontinued, which is a real shame. The variety of dishes on offer was fantastic and overall the experience was very close to what you would expect from a decent restaurant.

The menu was laid out as a set five course tasting plus a separate a la carte section but I was encouraged to mix and match as I wanted. I asked if I would be too full if I substituted dishes from the a la carte menu but was assured that all the portions were relatively manageable.
So with some assistance from the cabin crew I settled on the following:
---
Starters
Loch Fyne Kinglas smoked salmon with tartar sauce, shallot rings, squid ink paint, watercress velouté and Oscietra caviar
Cold smoked sesame tuna and Blood Mary dressing
Soup
White butter bean velouté with white truffle
Main Courses
Pan-fried seabass with puy lentil, spinach, confit tomatoes, vegetables pearls and sherry sauce
Seared pork belly, pulled pork croquette and butternut squash with rhubarb and Tellicherry pepper sauce
Dessert
Raspberry délice and cannelloni with kumquat
Cheese
Cornish Kern, Harrogate blue, Quickes Red Leicester, Normandy Camembert
---
The aroma of white truffles began to fill the cabin a minute before this arrived at my table. The very friendly crew member suggested switching to the Chardonnay as a pairing with this; she must have read my mind. Both the soup and the wine were fantastic. Even if the entire meal had consisted of only this combination of wine, garlic bread and soup… I would have been very happy!
By the time the cheese arrived I was ready for a lie down but wasn't willing to back down, having come so far already. The biscuits were very carefully selected and went far beyond the usual water biscuits served by most airlines.
The contrast between the cranberries and fresh grapes was excellent too. My particular favourite was the combination of blue cheese with the fig biscuits, washed down immediately with a sip of Warre's Colheita Port.
---
The Bed
---
After my extraordinary feast I went to change into my PJs and returned to find my bed made. Thankfully the two smaller pillows were complemented by a larger, more comfortable pillow for sleeping. The mattress topper also made for an ideal sleeping surface. Whilst in bed I could easily access all of my personal items and had a lot of space for drinks and my laptop too.
---
Afternoon Tea
---
---
Conclusion
---
BA's First Class is oft maligned and in some ways I can see why. The CCR is a dreary and miserable lounge, for flights departing from Terminal 3 you have access to the Cathay Pacific First Class Lounge though which is far better in my opinion. There is no special ground experience, no assistants to walk you to the plane, no airport buggy rides and almost no chance of being driven to the plane in a luxury car.
However, there are plenty of other airlines which have similarly bare ground experiences and their products are still universally praised, as a result of the onboard experience. On the A380 BA offers a very large and private suite with a comfortable bed, plenty of storage space, ample power sockets and a seat which is perfect for lounging in. The finishes are also some of the most clean and elegant of any airline. JAL offers a fantastic First class experience but their seat is very drab and sanitised. Thai has great ground handling and serves Dom Perignon on board but their A380 seat is more dull and generic than BA's, whilst being far less private.
On this flight the crew were proactive, intuitive, engaging, competent and welcoming. An almost perfect service.
The tasting menu was of an extremely high standard and delivered as close to a restaurant quality experience as you could reasonably expect on a commercial airliner. It is a real shame that this has been discontinued. My hope is that this dining experience will be reinstated when the First Class catering gets an overhaul from Do&Co next year.
Overall this was one of my most enjoyable First Class experiences. My only reservation is this: going West I don't think you can make a case for taking any other carrier to the East Coast of the USA. The required connection to fly LX, AF or LH would probably not be worth it, given how pleasant the direct experience is on the BA A380. However, going East BA flies the A380 non-stop to HKG and SIN. Whilst I certainly enjoyed this experience, would I rate it higher than Cathay Pacific on the 777 or Singapore Airline's Suites? No way.
BA gives a very good account of itself with the A380 F product but it cannot compete with an extremely private cabin of six seats, replete with Krug, freshly scrambled eggs with caviar for breakfast and designer toiletries. And it certainly can't compete with all of the aforementioned factors plus a fully enclosed suite with a double bed.
Realistically this is certainly a Top 10 First Class product but in order to crack the Top 3 BA would have to make some serious changes. Of course, this would probably come at a higher cost, with less opportunities to redeem miles for the experience.
BA's A380 First Class offers an experience truly worthy of the name. It is very pleasant, relaxing and comfortable. However BA falls short of being truly spectacular. Given what other airlines are doing with their flagship products these days, it seems a shame that a once great airline isn't aiming to beat the world.